Hi there lovely ones. We have an absolutely gorgeous seaside wedding to show you today. Ruth, a children's doctor and Andy, a physiotherapist were inspired to use the beautiful emerald colour of Ruth's engagement ring and the yellow of the gorse and flowering rape seed fields surrounding Harvest Moon in East Lothian, as feature colours. Their Humanist wedding on the 2nd of May last year has a handmade feel, reflecting their own tastes and the couple made sure to use local suppliers including the fabulous Lindsey of Mack Photo.
"We wanted the day to be about us and didn't want to conform to the rules that seem to determine the plan for so many weddings. We chose Harvest Moon as we absolutely love the beach and we got engaged there so it seemed fitting to get married there. There is so much space and such amazing scenery that you have a blank canvas to create the wedding you want. No matter what the weather it is always spectacular. Most of our guests could stay on-site we had a whole long weekend with friends and family. We had a bonfire the night before the wedding and a big barbeque the next day."
Photography by Mack Photo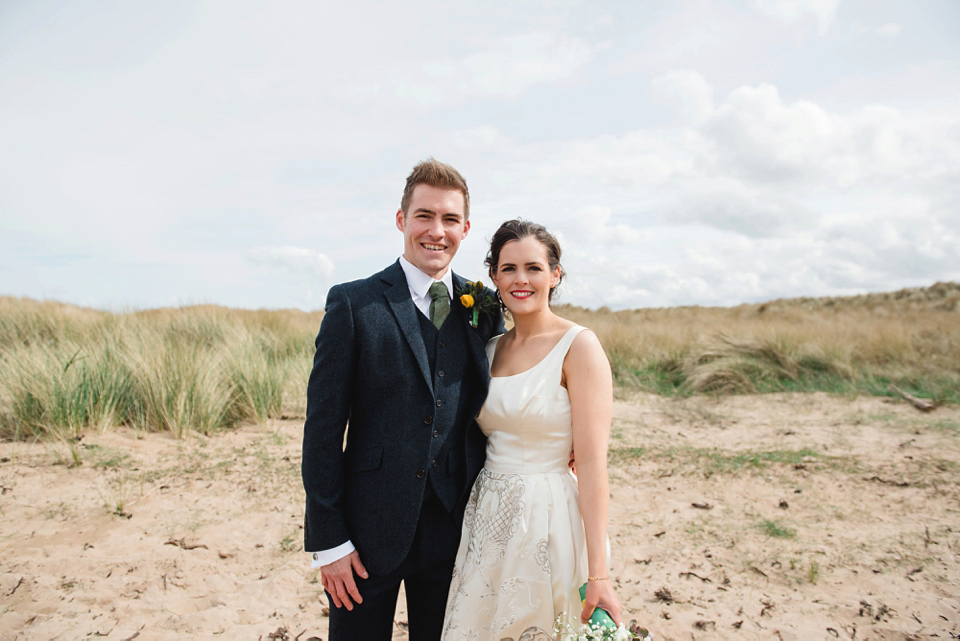 Ruth's stunning vintage dress from Those Were The Days in Edinburgh was not a wedding dress originally, it belonged to an aristocrat and she had it designed for a party.
"It was not the type of dress I intended on getting but loved it when I tried it on. I loved the intricate hand sewn embroidery and the way the underskirt still had some marks on from when it had previously been worn back in the 1950's showing that it had been loved before and had a history to it."
"My sister did all of the flowers including the bouquets and button holes. We really loved the colour, shape and texture of billy balls and chose daisies to go with the bridesmaids dresses. We wanted something natural and colourful and she did an amazing job!"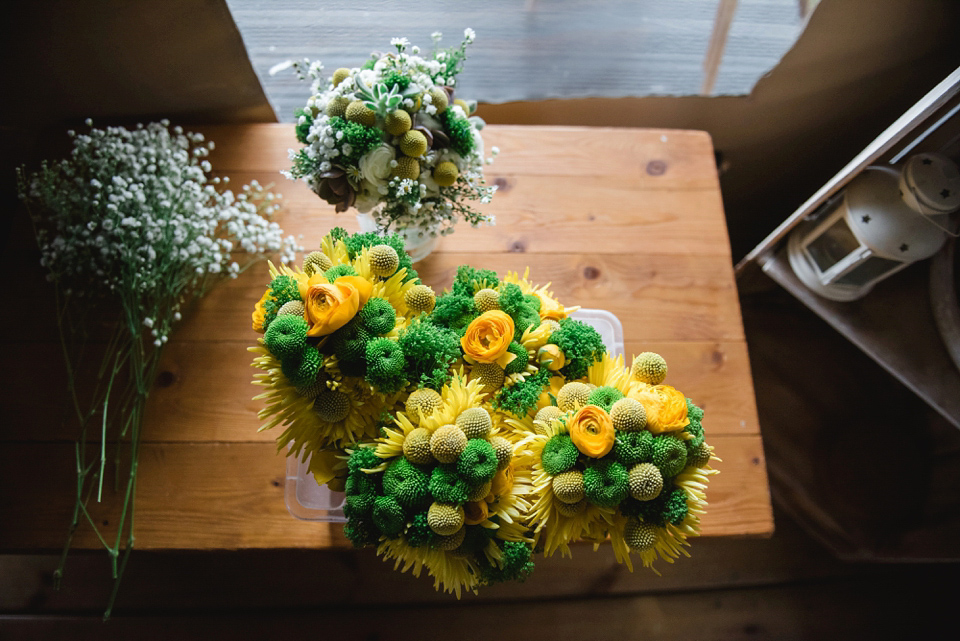 "I bought my shoes from Schuh. I had originally looked at more expensive shoes but I wanted something comfortable that I could wear on all terrain and not worry too much about ruining them! They ended up being perfect!"
"We met in the student's union at Durham University in 2002. We have been together ever since and moved to Scotland in 2010 and got engaged in October 2013."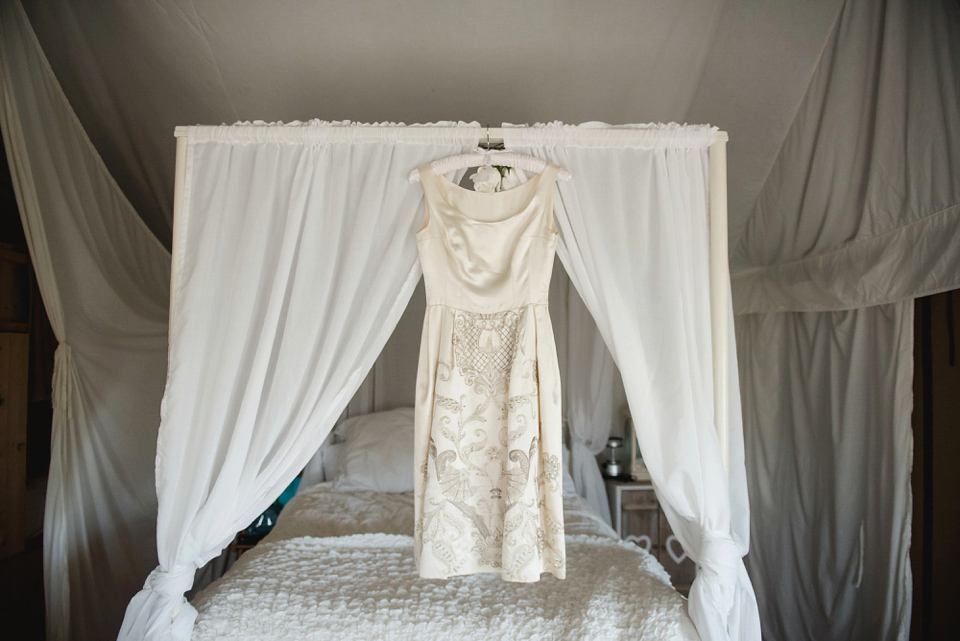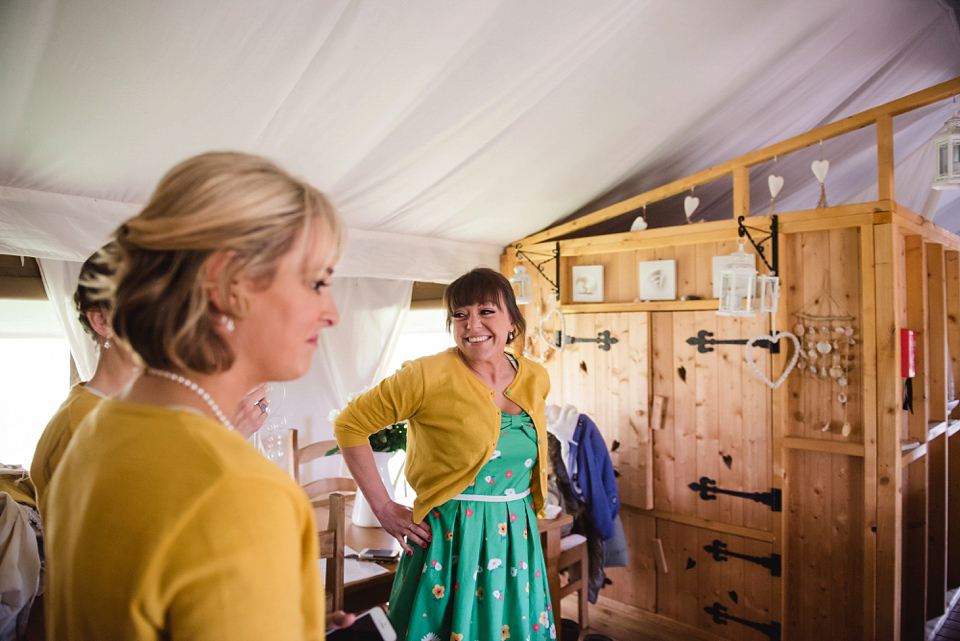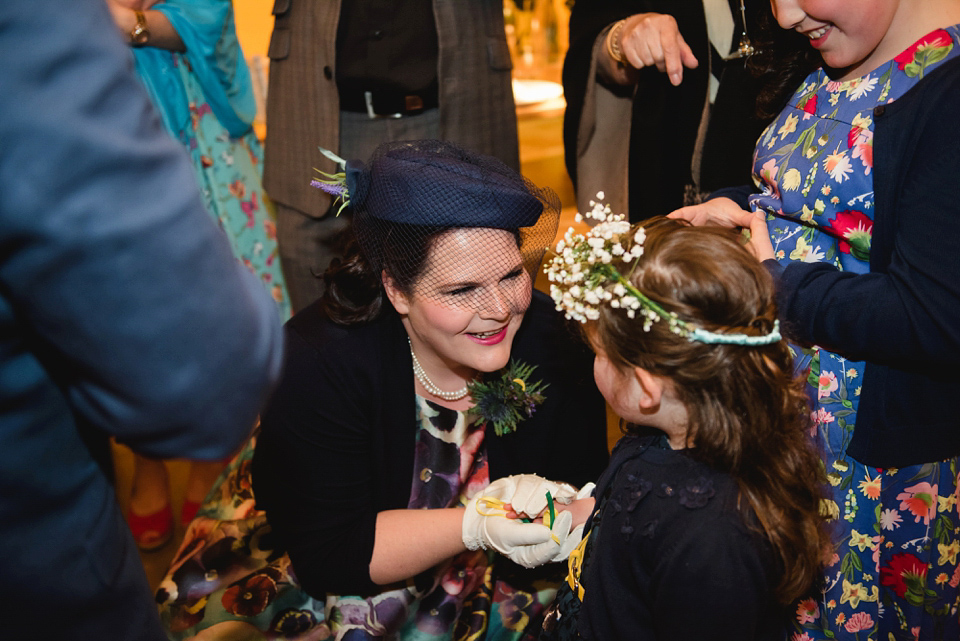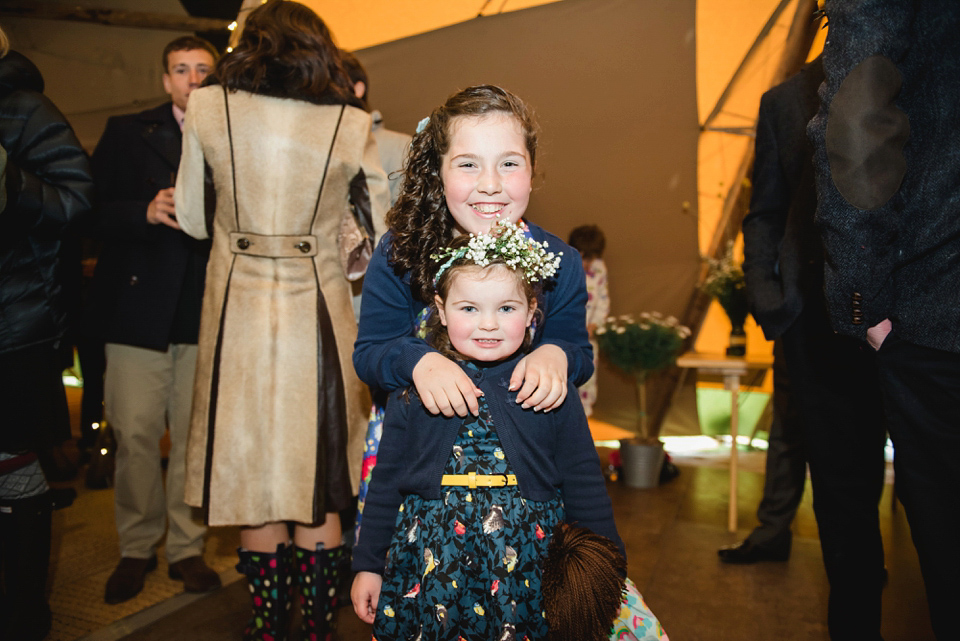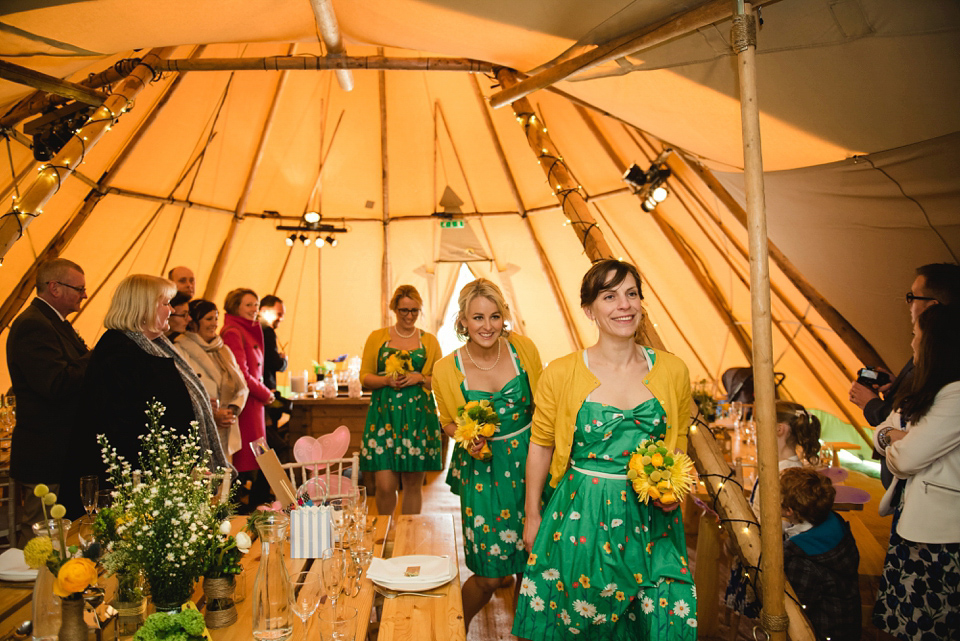 Ruth walked down the aisle with her dad Brian to 'Comptine d'Un Autre Été' by Yann Tiersen from the film Amélie. The newlyweds walked out to 'All I want is Moonlight, Music and You' by Laura Greene.
Ruth and Andy wrote some of the ceremony and the vows below with their amazing humanist celebrant Ivan Middleton.
I will give my love to you 
equally with my body my heart and my mind, 
and will be open to your love always. 
I will do my utmost to understand your needs, 
feelings and wishes. 
Through good humour and imagination 
may we inspire each other 
and may we always find a way to overcome 
challenges in our path. 
In the presence of our friends 
I ask you to be my companion, my wife/husband and lover in life.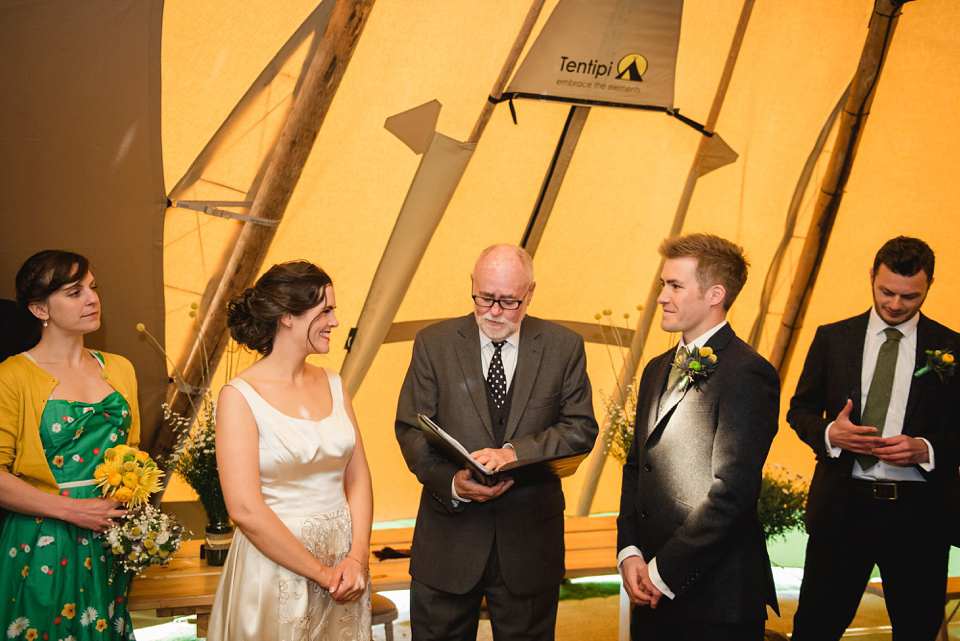 "We chose 'Union' by Robert Fulghum and 'Love' by T.E. Blackstone (below) as readings. We didn't want anything too soppy and we have already been together for 12 years so lots of readings didn't really seem appropriate."
Love puts the music in laughter, the beauty in song, 
the warmth in a shoulder, the gentle in strong. 
Love puts the magic in memories, the sunshine in skies, 
the gladness in giving, the starlight in eyes 
Love puts the fun in together, the sad in apart, 
the hope in tomorrow, the joy in the heart.
Ruth's best ladies wore lovely green flower print dresses by Trollied Dolly with yellow cardigans.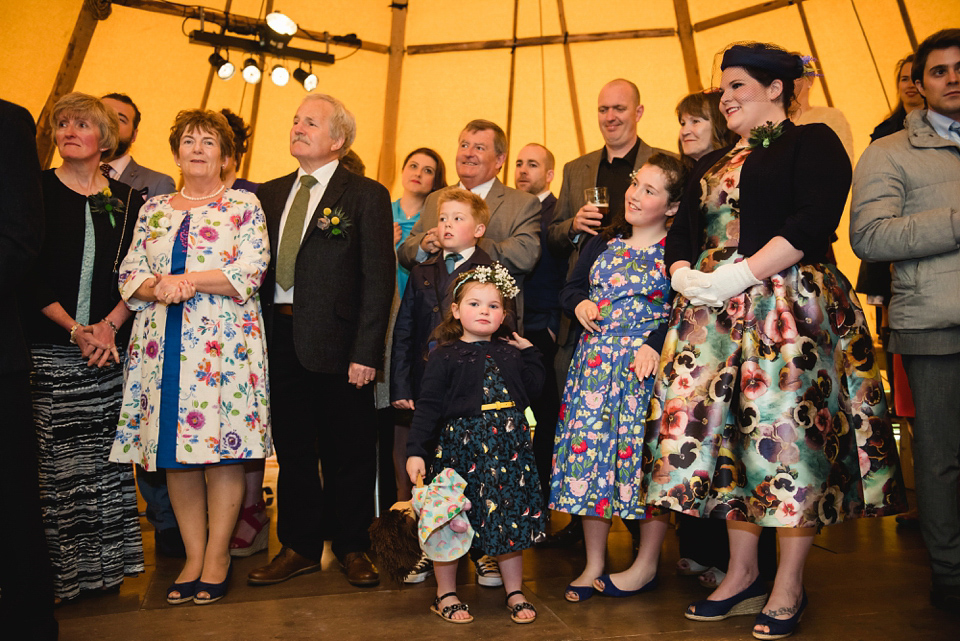 Ruth and Andy are lucky to know Lindsey of Mack Photo through a friend and knew that she would do a wonderful job of capturing their wedding in a natural, organic way.
"We loved Lindsey's ethos of having natural photos that reflected the joy of the day and not too many shots of people standing in the cold! We also had similar ideas of good places to shoot the pictures of the two of us and she was really good at taking as little time as possible to get the shots we wanted so we did not miss too much of the party! Lindsey managed to melt into the crowd and get lots of natural shots of the ceremony, speeches and dancing! We are really pleased with the results."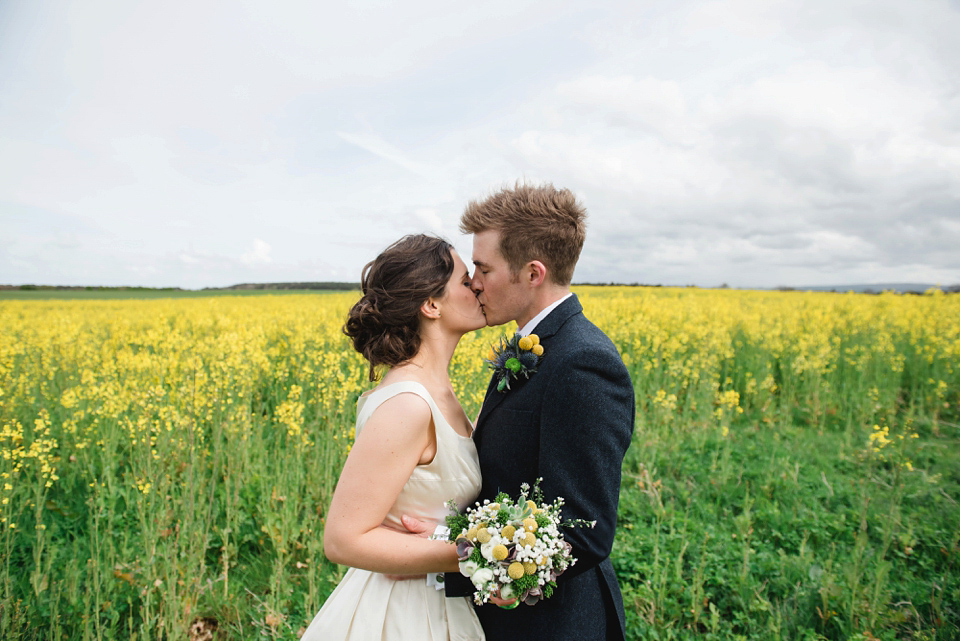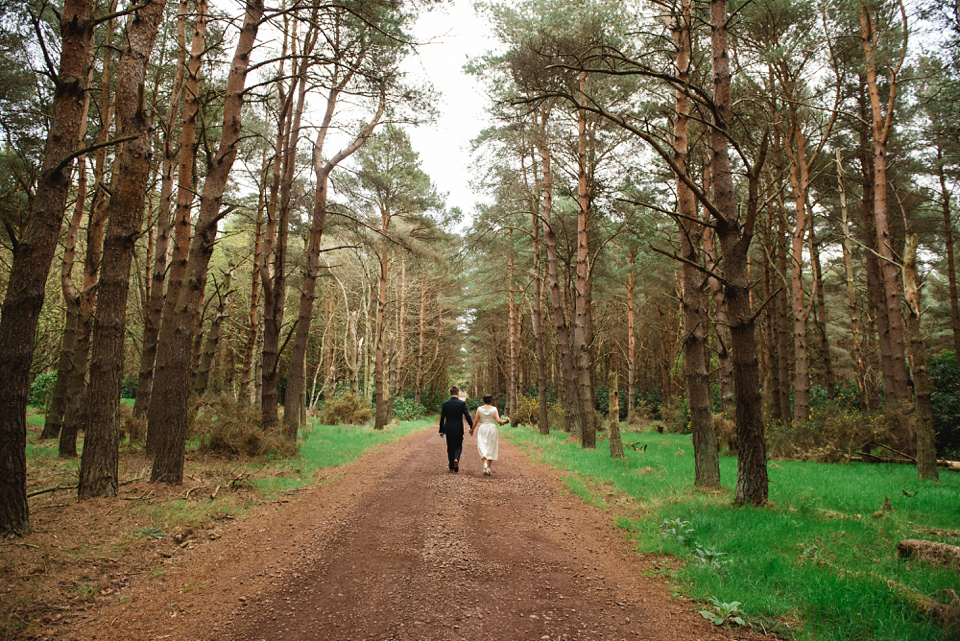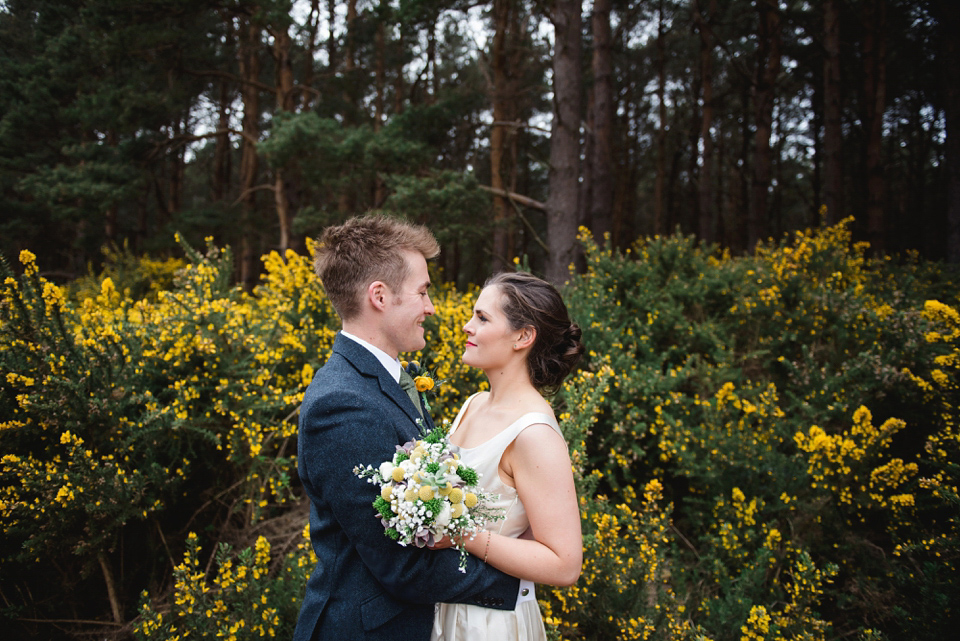 Continuing with the green splashes of colour, Andy got his suit and green tie at Walker Slater in Edinburgh.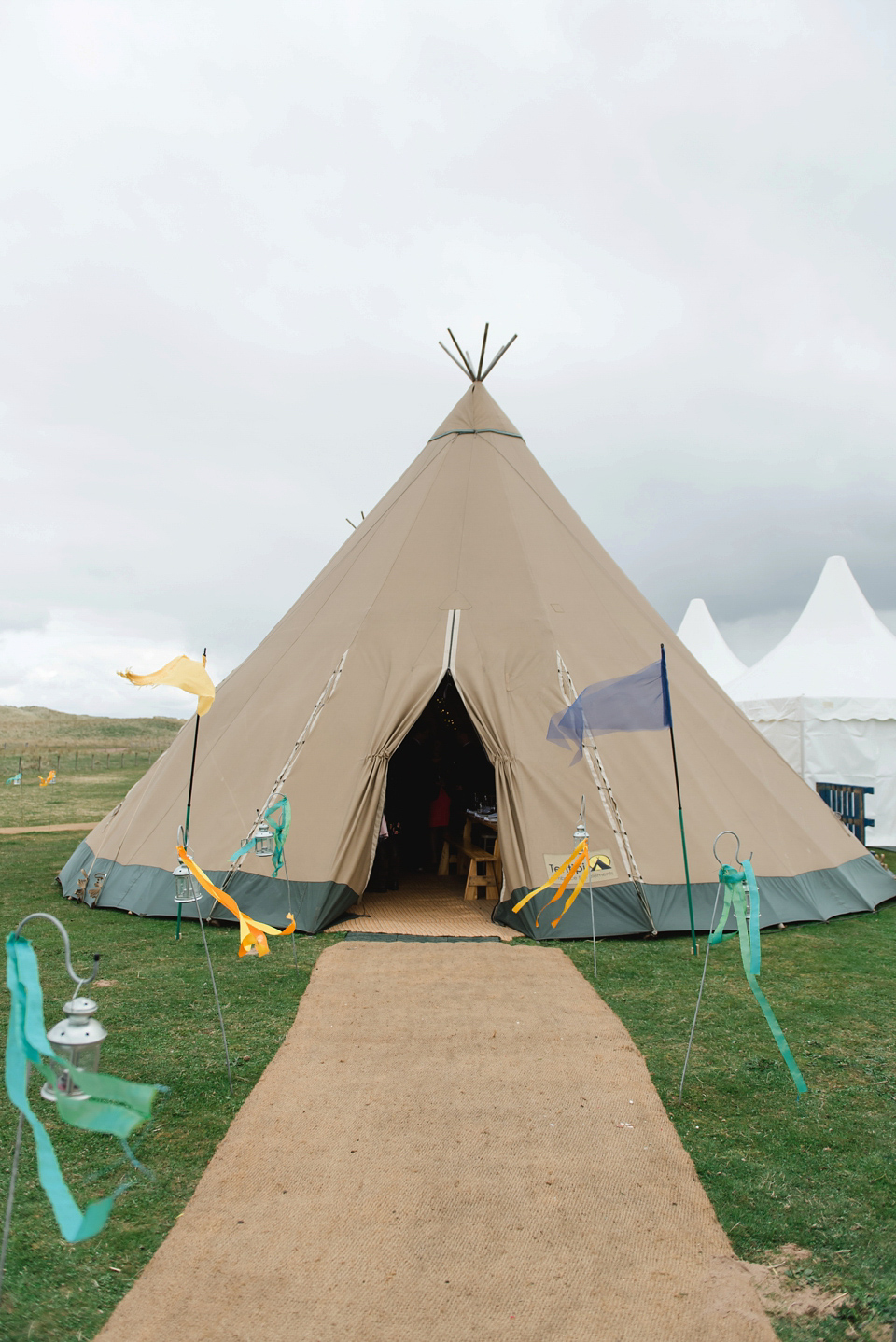 "The bar was our favourite creation! We spent ages making the 'Bar' sign out of corks and our chalkboard drinks menu, the homemade signs and shelves made out of palates we found lying around. We also loved having Barney's Beer on tap!"
Everything used to style the venue was homemade. Ruth, her sisters, Mum and Andy's sister made the vases and candle holders out of old jars, Andy's sister made the bunting and Ruth's sister made the flags.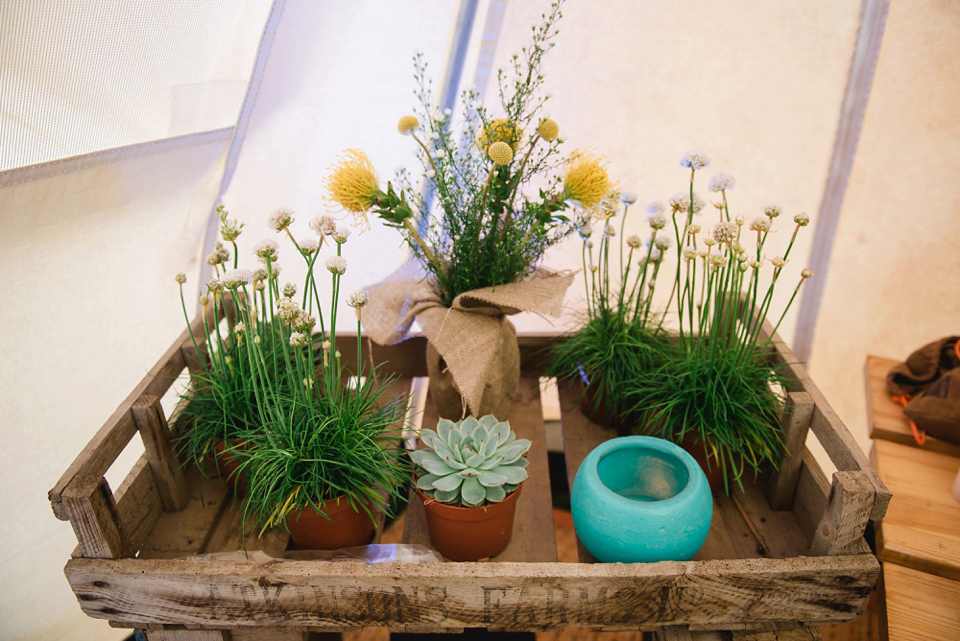 "We cannot rave on about our caterers Scoop enough! They were amazing at going along with our alternative thoughts on the wedding food. We decided to have sharing dishes so that we could have more interaction at the table and also give people more choice. They also provided great staff who made sure everything was perfect and even withstood the cold in our bar tent!"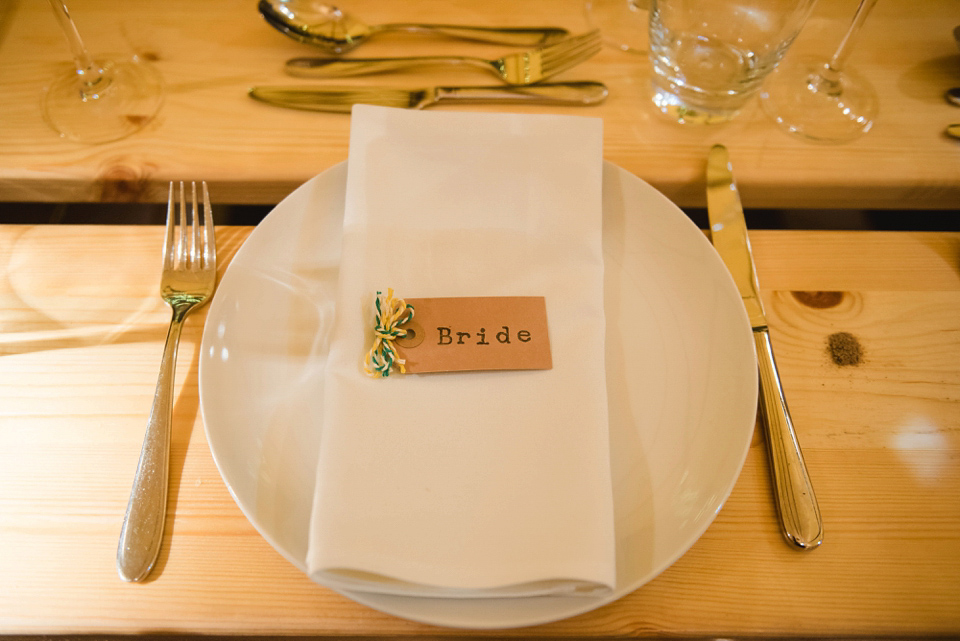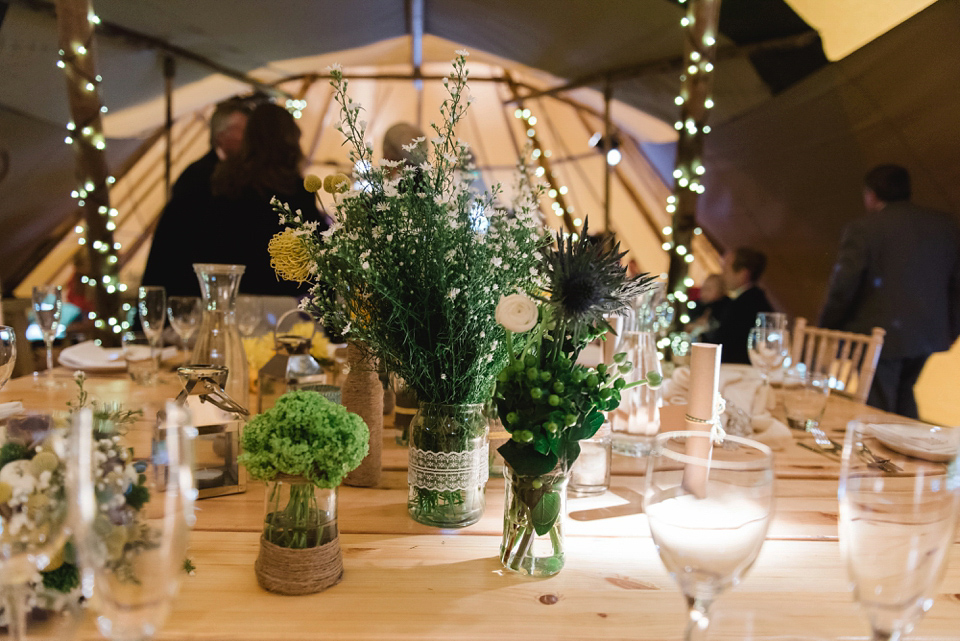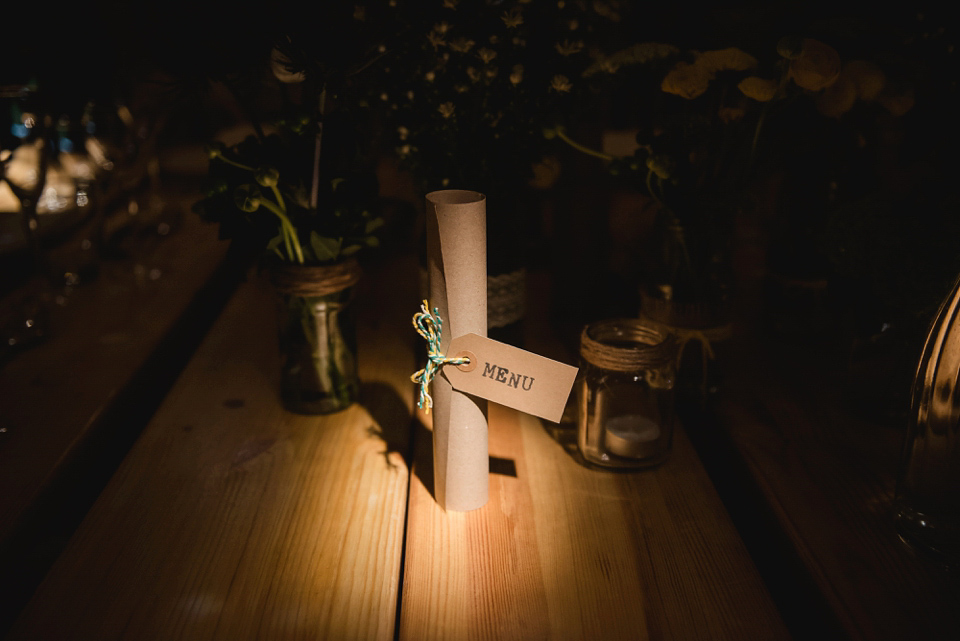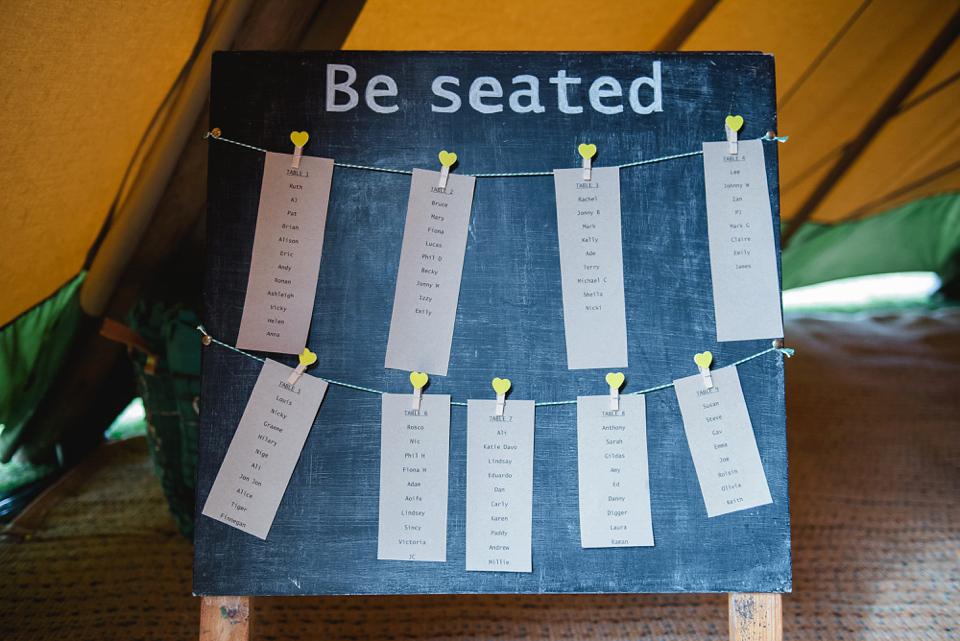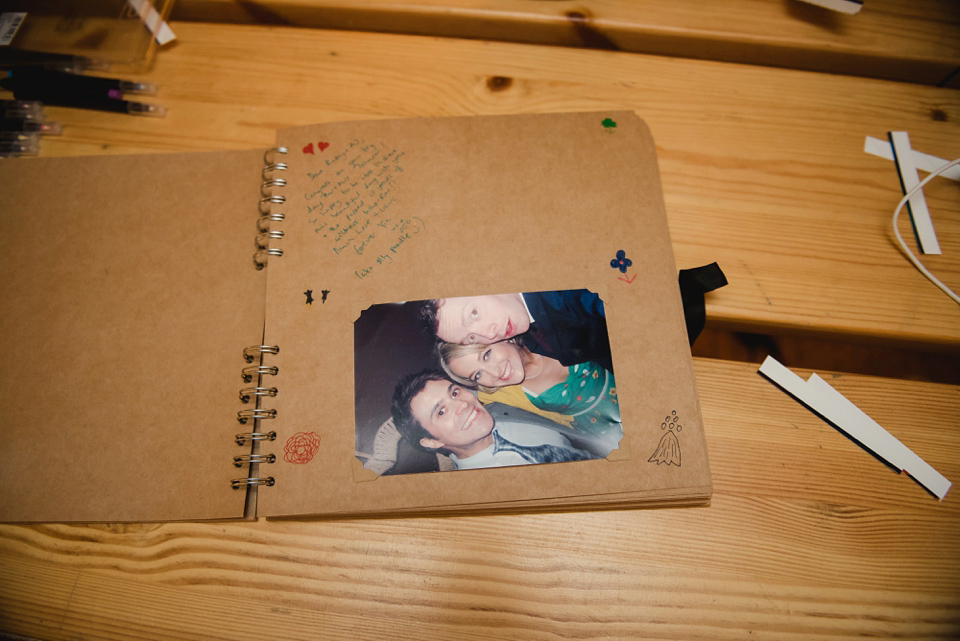 "We hadn't planned on doing a first dance as we didn't really see the point and neither of us particularly like dancing. However, it was a pretty cold day and people seemed reluctant to shed their blankets and get up and dance so we did an impromptu dance to 'Love Rollercoaster' by the Ohio Players and that soon sparked the dance-offs!"
"The best part of the day was having people around us that we love, sharing our big party. We loved the food, the ceremony and despite the cold everyone seemed to have a great time."
Words of Wedded Wisdom
"Have the day you want. Don't be swayed by tradition and what's supposed to happen. Do what you want, invite the people you would like to be there and wear something you feel amazing and comfortable in. Also don't forget to eat breakfast!"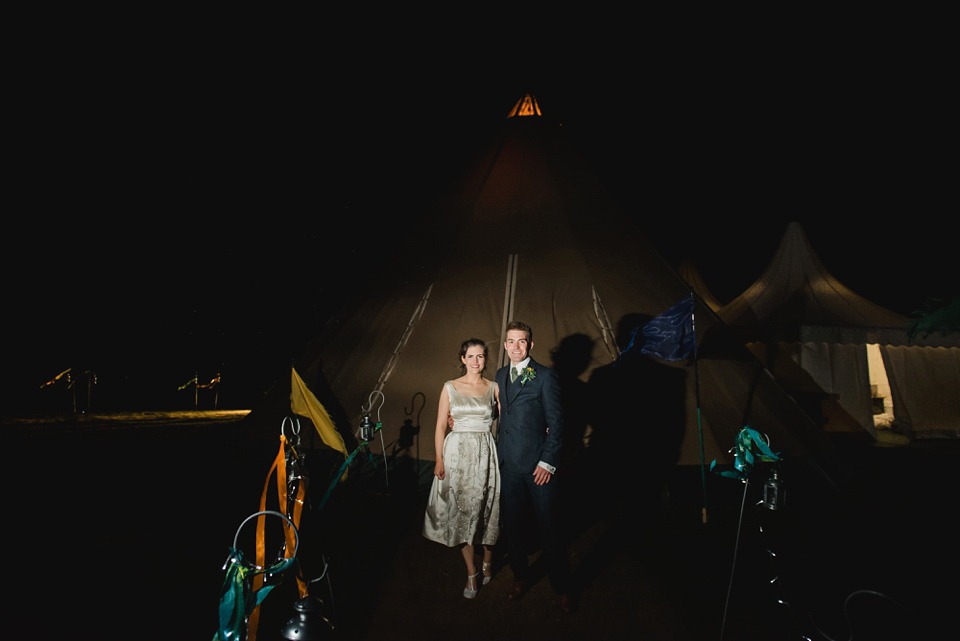 Thank you very much to Ruth and Andy for sharing your beautiful wedding day with us. Huge thanks also to Lindsey of Mack Photo for the stunning images. If you are inspired by this wedding, we have featured many more humanist ceremonies on Love My Dress.
Love Caoimhe xx
Photographer – Mack Photo
Venue – Harvest Moon, Lochhouses Farm, East Lothian, Scotland
Wedding Dress – Those Were The Days, Edinburgh
Shoes – Schuh
Accessories – Christopher Ness
Groom – Walker Slater Suit and Tie + Marks and Spencer Shoes + Thomas Pink Shirt
Bridesmaids – Trollied Dolly from Cookie, Edinburgh
Florist – The Bride's Sister
Entertainment – Hi-Life
Rings – Christopher Ness
Catering – Scoop
Hair Stylist – Jenny McLachlan Dunbar