Hello everyone – I'm Bianca, one of three new writing team members to join Love My Dress this week! Annabel will be sharing more on our expanding team and what we're up to behind the scenes soon on the blog, for this morning, I'm keen to get to work sharing my very first wedding!
As a mid week treat, we're revisiting the summer of 2015, to bring you the beautifully homemade wedding of Zannah and Oli. Zannah who works for a branding agency and pilot, Oli, were married on the 8th August at St Peter's church, Hascombe right in between the home villages of each of their parents. Followed by a garden marquee reception in the very beautiful garden of Zannah's parents.
The day is full of personal homespun touches  and Zannah along with her family and friends took on the huge task of creating her floral vision along with only a little help from the professionals. I am seriously impressed with the outcome and I'm sure you will be too, the foliage hoops are a dream.
"I'd always wanted to get married at home and it was so handy to be able to use it as a base. My parents were incredibly patient as Oli and I steadily filled the place with various decorations and it made setting up in the days before so easy as we could really take our time with it and get it just right. We both stayed in the house the week before the wedding and seeing the marquee being built and the whole place come to life made the lead up really exciting. More importantly though, I found it very calming to be in my family home."
Photography by Lucy Davenport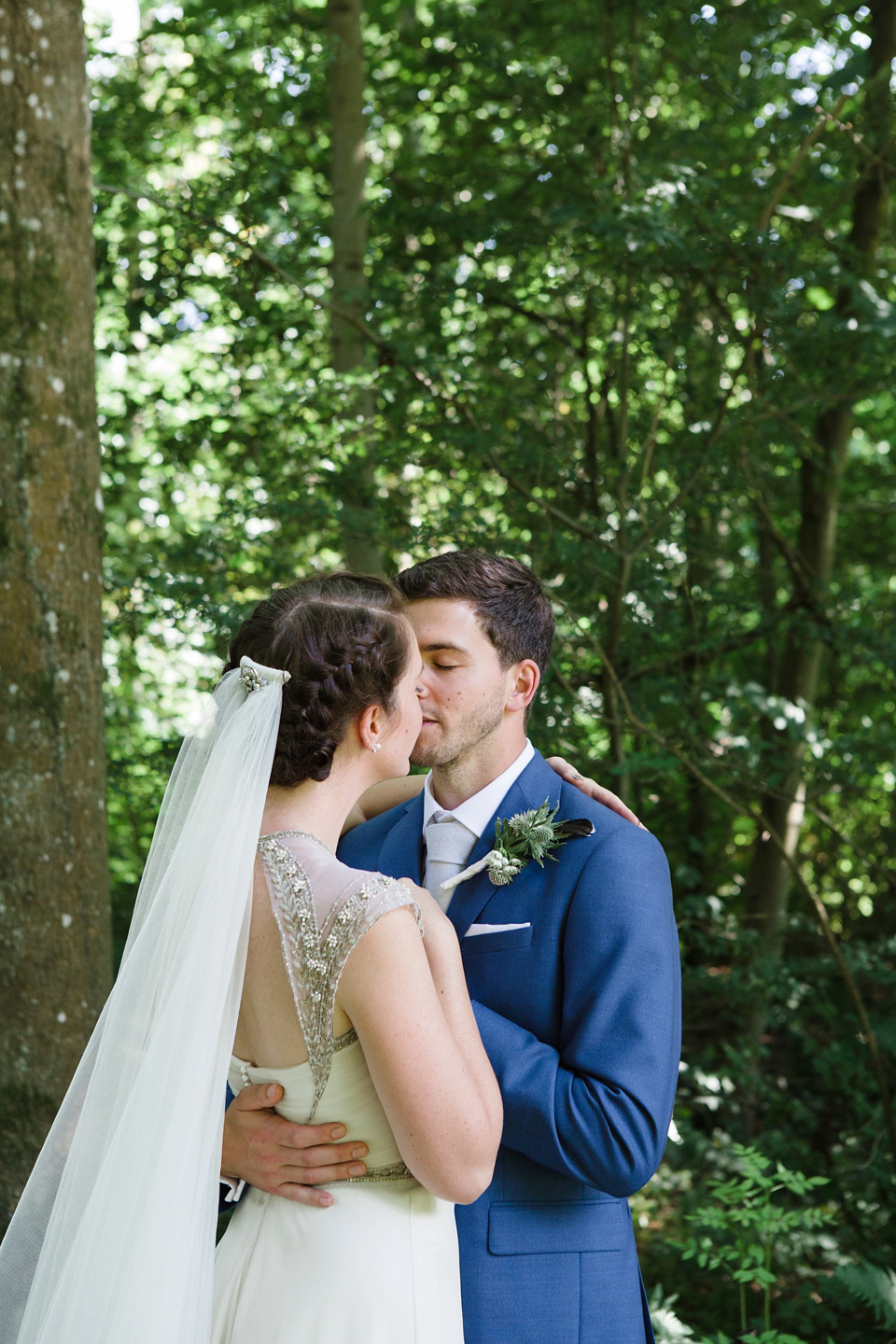 "We decided to have green and white as our main colour theme, with some splashes of purple and silver glitter to break it up. Oli likes a more minimalist look whereas I like the odd bit of whimsy or quirk, so our emphasis was on keeping things fresh looking and relatively simple but with the odd twist here and there. I was also very keen to keep to our budget so we handmade as much as we could."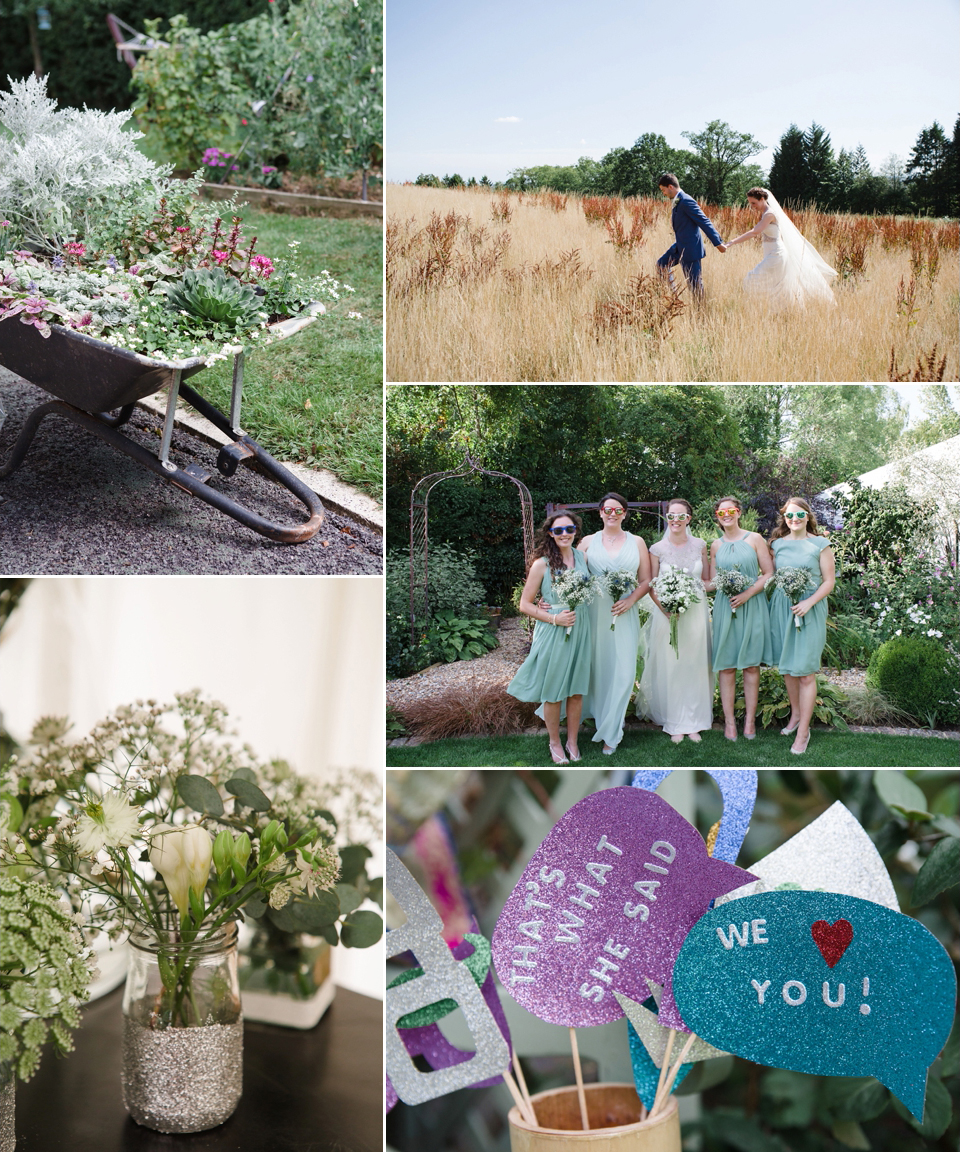 Zannah wore a gown by Gwendolynne which she adored – although the journey to finding it was rather stressful. That was until she discovered our Little Book for Brides member Luella's Bridal in Wimbledon.
"I had a big list of things I didn't like or didn't think suited me and only an idea in my head of what I did like, that I couldn't articulate. I tried on so many dresses and became quite disheartened so I was delighted when I found Gwendolynne's designs."
Find Luella's Bridal in Little Book For Brides
Follow Luella's Bridal on Instagram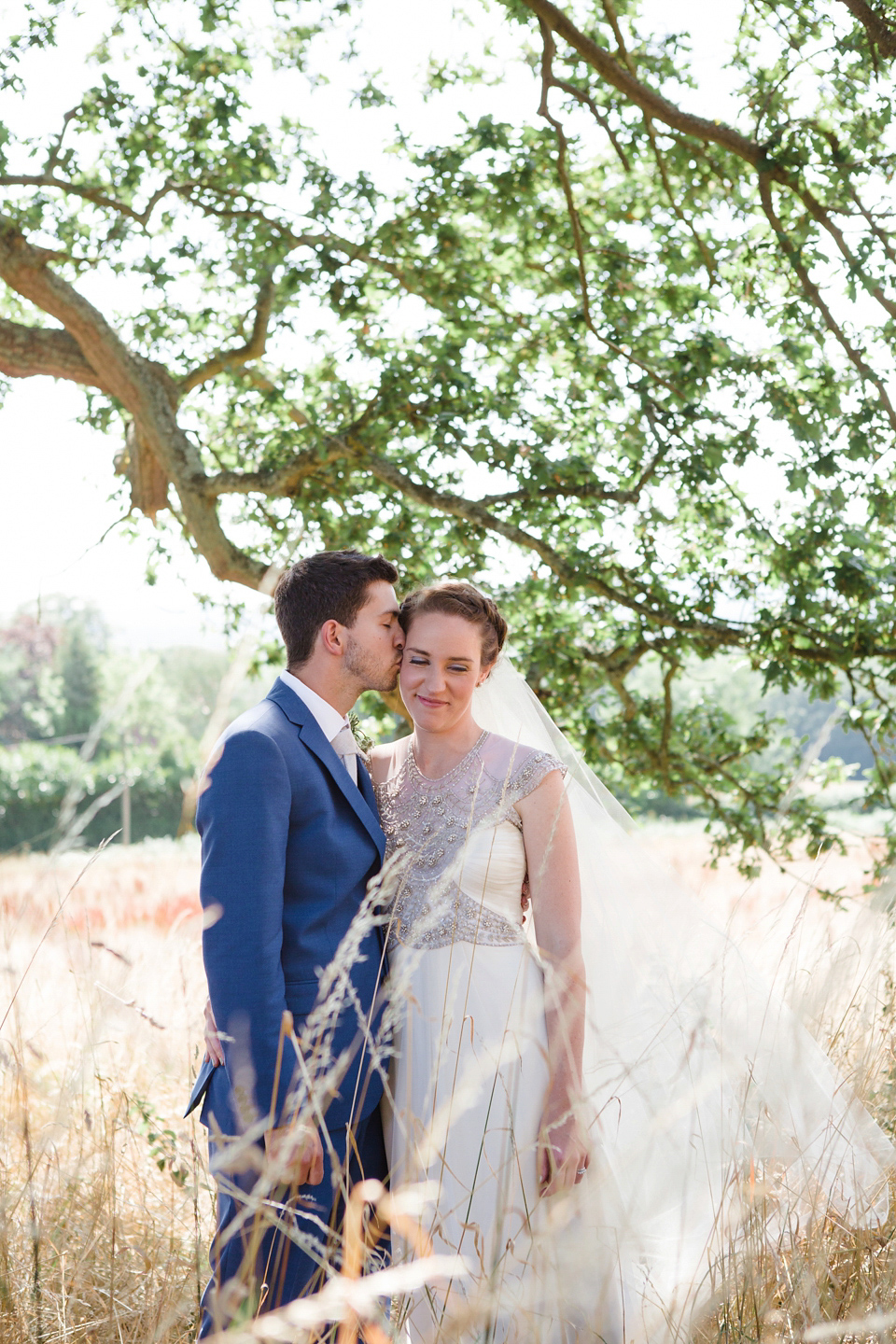 "Our wedding invites were ordered through Minted and we were really pleased with the quality and speed of delivery.  We printed our order of service booklets ourselves at home and bound them together with green and white twine. Our menus and table plan and place cards were all hand written by my Mum, who has a bit of a flair for calligraphy."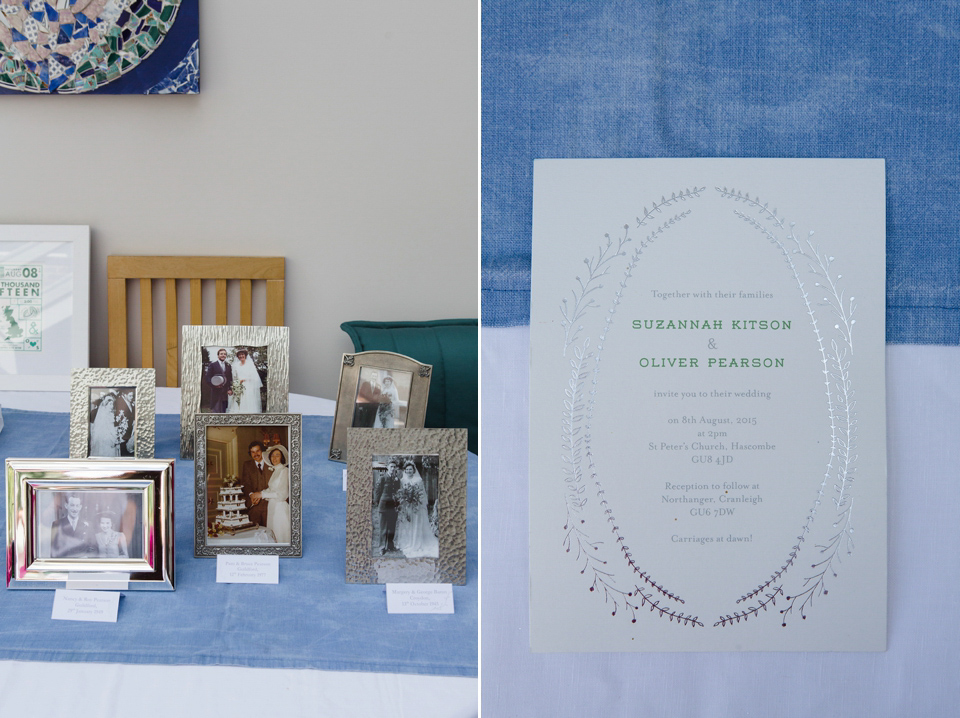 Zannah had four bridesmaids, her sister and three school friends. Their soft sage green dresses were from another Little Book for Brides member, For Her and For Him and the girls each chose the styles they liked. The maid of honour wore Jenny Packham for Debenhams.
Zannah purchased her dress as a sample and it was in need of a little extra love.
" I contacted a local wedding dress designer, Caroline Arthur and she was an absolute miracle worker! By the time she had done, the dress looked brand new and fit me perfectly. I was so worried I had made a mistake buying a sample but she reassured me all the way and I couldn't have been happier in the end."
The bride accessorised with gold ballet pumps from Office, for dancing,  her mum's veil, as her 'something borrowed' and a brooch of her grandmother's, who had sadly passed before the wedding, which was sewn on to the veil comb as her 'something old'; "It meant so much to me to wear something belonging to them both."
"My hair was by a salon in my parents village called 137. I wanted an up do so the open back of my dress wasn't covered but nothing too traditional. Charlotte at 137 created this amazing look with big, slightly messy braids that I loved and didn't want to take out! My make up was by a local beautician called Laura who was recommended to me by my friend Tammy as she'd done her wedding make up too."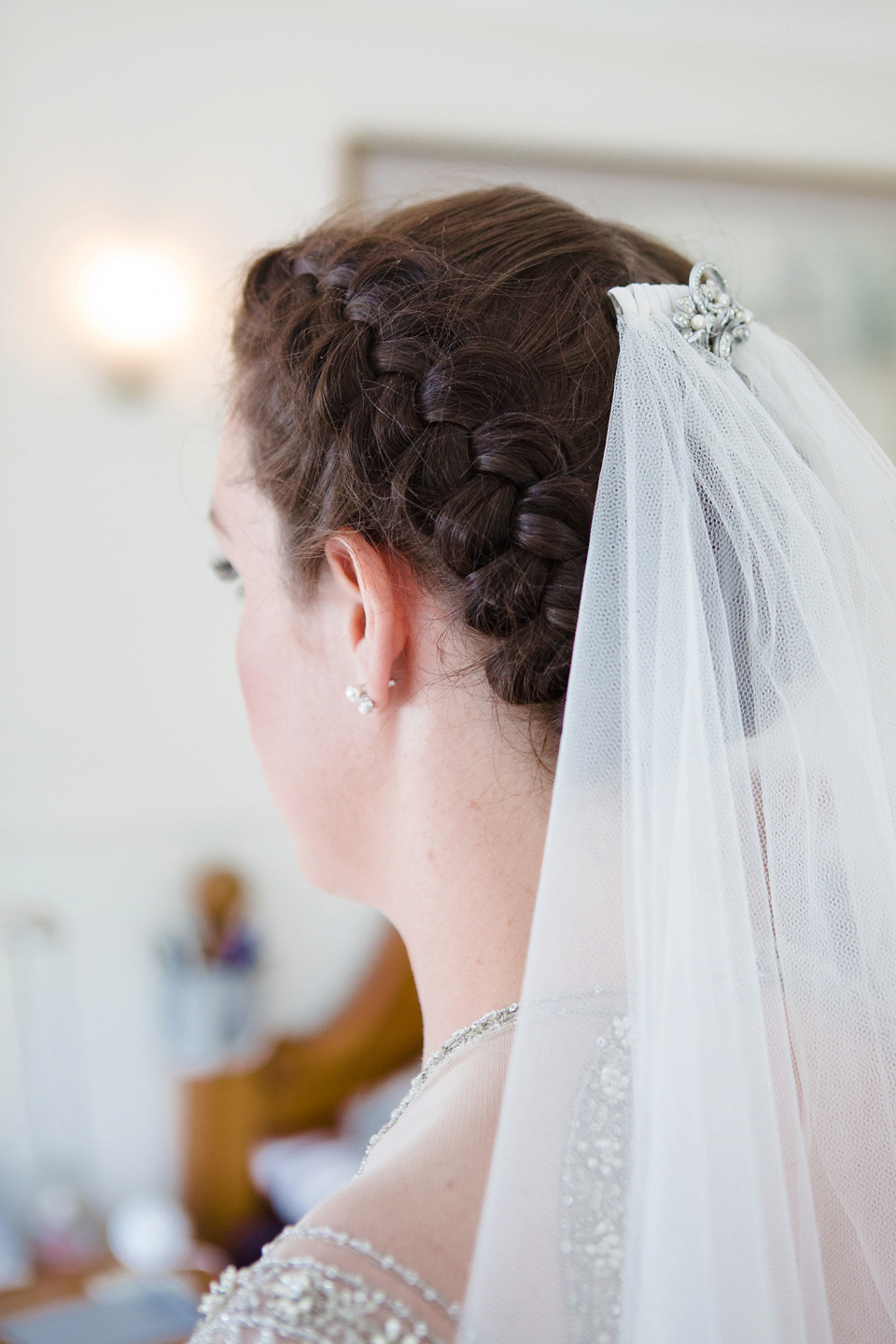 "I loved that that my dress was fairly simple in the skirt but with this incredibly beautiful detailing at the top. I loved that I could eat and dance and breathe in it! And mostly I loved that I felt like me in it, and not like I was in fancy dress."
The groom was dapper in a bright blue suit from Reiss and a silver grey tie from OTAA, chosen to complement Zannah's dress. He worse classic tan brogues by Grenson and silver cufflinks that had been a 21st present from his parents. As a wedding gift Zannah bought Oli a Tag Heuer watch.
"Oli had two Best Men, Joe and Ben, and our brothers, Adam and Jamie, were groomsmen. We asked them to wear any blue suit they wanted and bought them a tie that was a similar colour to the bridesmaids dresses."
The pair met at Zannah's friend's party, who at the time happened to be dating Oli's brother and the friends are now sisters in law!
"We got engaged in Bruges. I had arranged the holiday as a birthday present for Oli but he completely turned the tables on me by proposing– I hadn't expected it at all! It was such an amazing moment and we spent the rest of the trip celebrating. We were engaged for almost exactly two years before the wedding. We were trying to buy a house so thought we'd give ourselves more time to save the money for both, and in hindsight it was nice to have a long time to plan, although at the time I was horribly impatient and really struggled to wait that long!"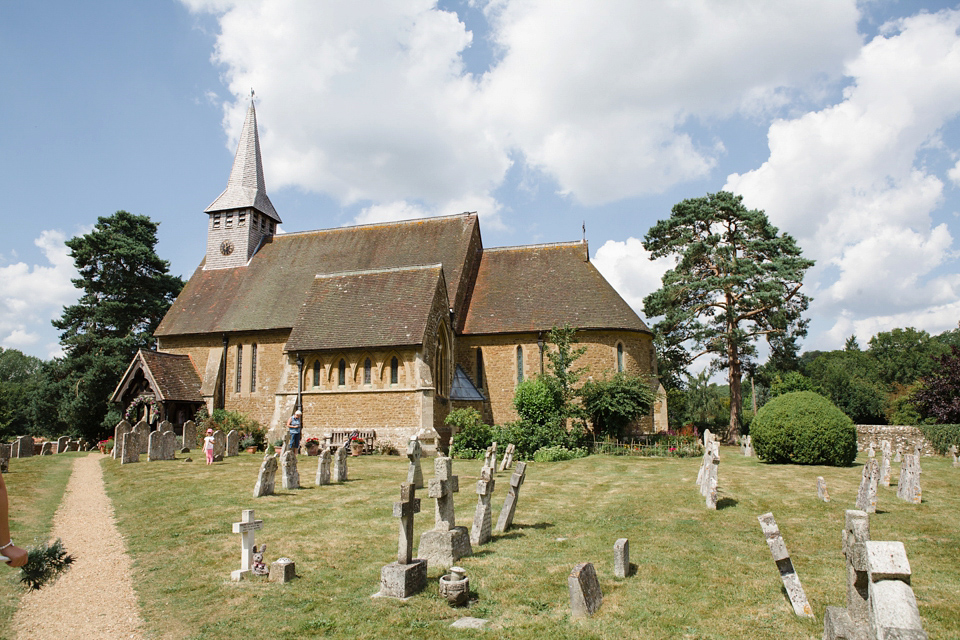 Zannah walked down the aisle with her dad to 'Honeymoon' by Ilan Eshkeri.
"It's a beautiful piece but I was so nervous and excited I walked quickly so the congregation didn't get to hear much of it!"
"We chose to make the service relevant and special to us with our reading choices. We wanted to have as many people as possible involved in the wedding so had three readings. Oli's sister, Sharon, read a Bible passage called Song of Solomon; we chose it as we felt it was more poetic than some other traditional Bible wedding passages and Sharon read it beautifully. My sister, Sam, read a passage from 'Union' by Robert Fulghum, which I chose because I find the words really moving; too moving perhaps as both Sam and I cried through it! Finally, my mum closed out the ceremony with a traditional Irish blessing which reminded me of my Granny.
"Whilst we were signing the register, my cousin Tom and his girlfriend Teia played the guitar and sang 'Fairytale Lullaby' by Bombay Bicycle Club which was lovely."
"Oli and I both thought we would find the ceremony too nerve wracking to enjoy, and would prefer the reception instead. However, whilst the reception was just incredible and we loved every minute, the ceremony was our favourite part after all. It was so nice that we knew the vicar well by that point so that helped us relax, the service was really meaningful (other than a slightly odd reference to marriage being like a beetroot that made everyone laugh!) and I loved how everyone belted out the hymns. In particular, saying our vows to each other will stay with us forever.
To walk out of the church with everyone we loved smiling back at us was an amazing feeling."
"Our photographer was Lucy Davenport, I loved the lightness and fresh look of her photography as well as her natural reportage style. As with a lot of people, it can feel a bit uncomfortable being in front of a camera and the sole focus of a shot but from the start Lucy was so lovely and friendly it was easy to relax. Lucy came down to the area around the church to do a recce for our couple's photos and I showed her this huge oak tree nearby that I love."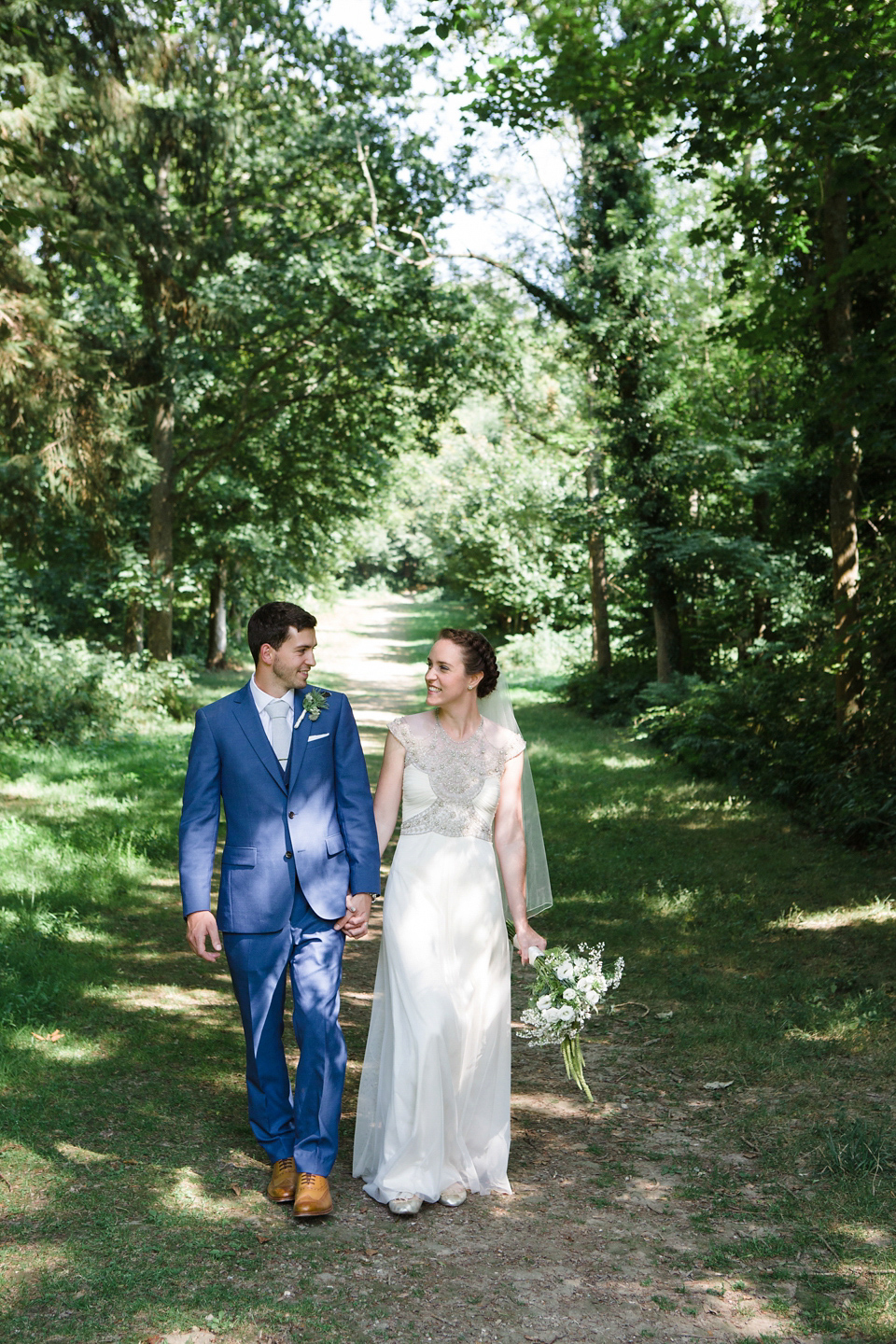 "On the wedding day we were totally buzzing right after the service and climbing up the hill to the tree with Lucy for our couple photos was such fun and a great memory."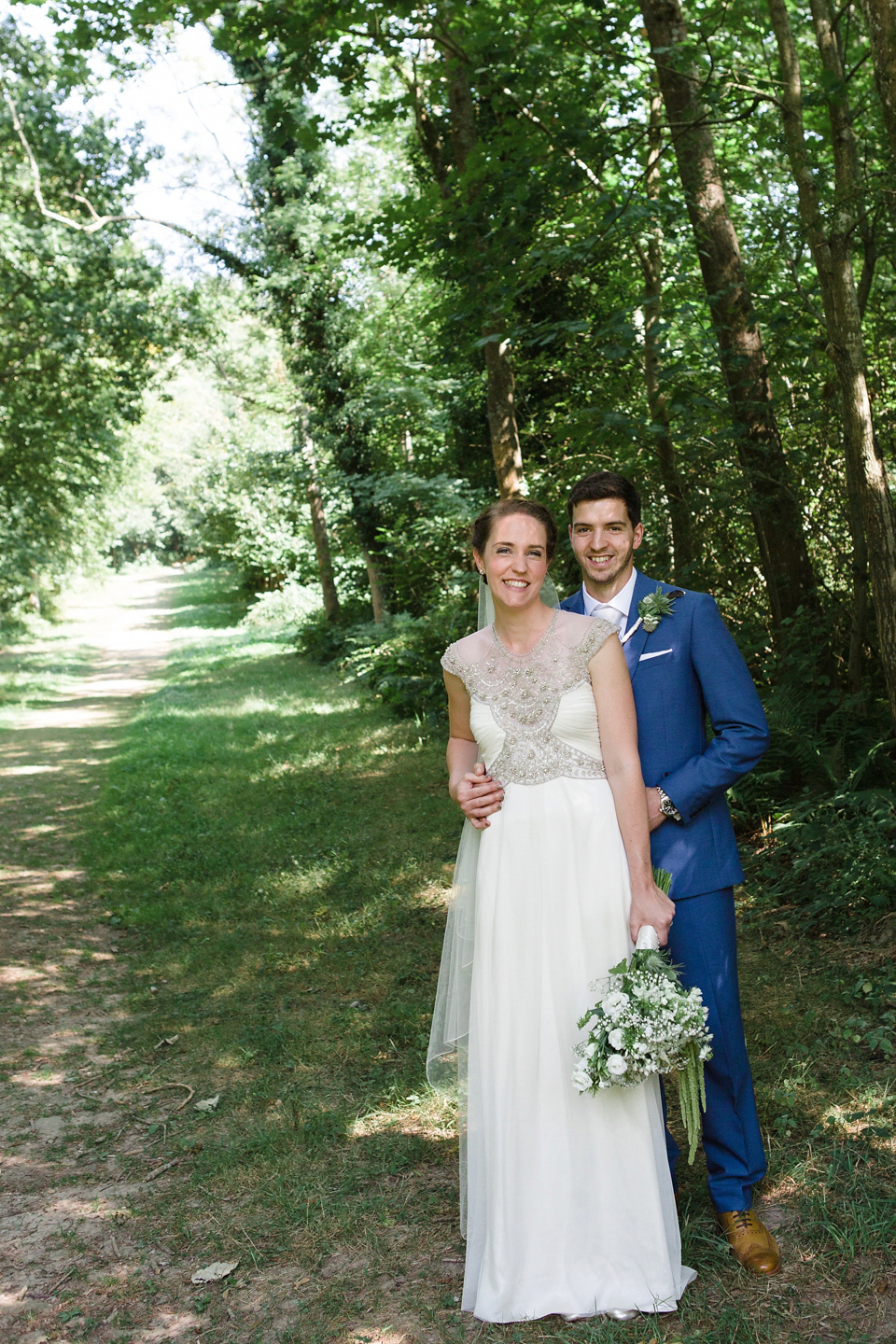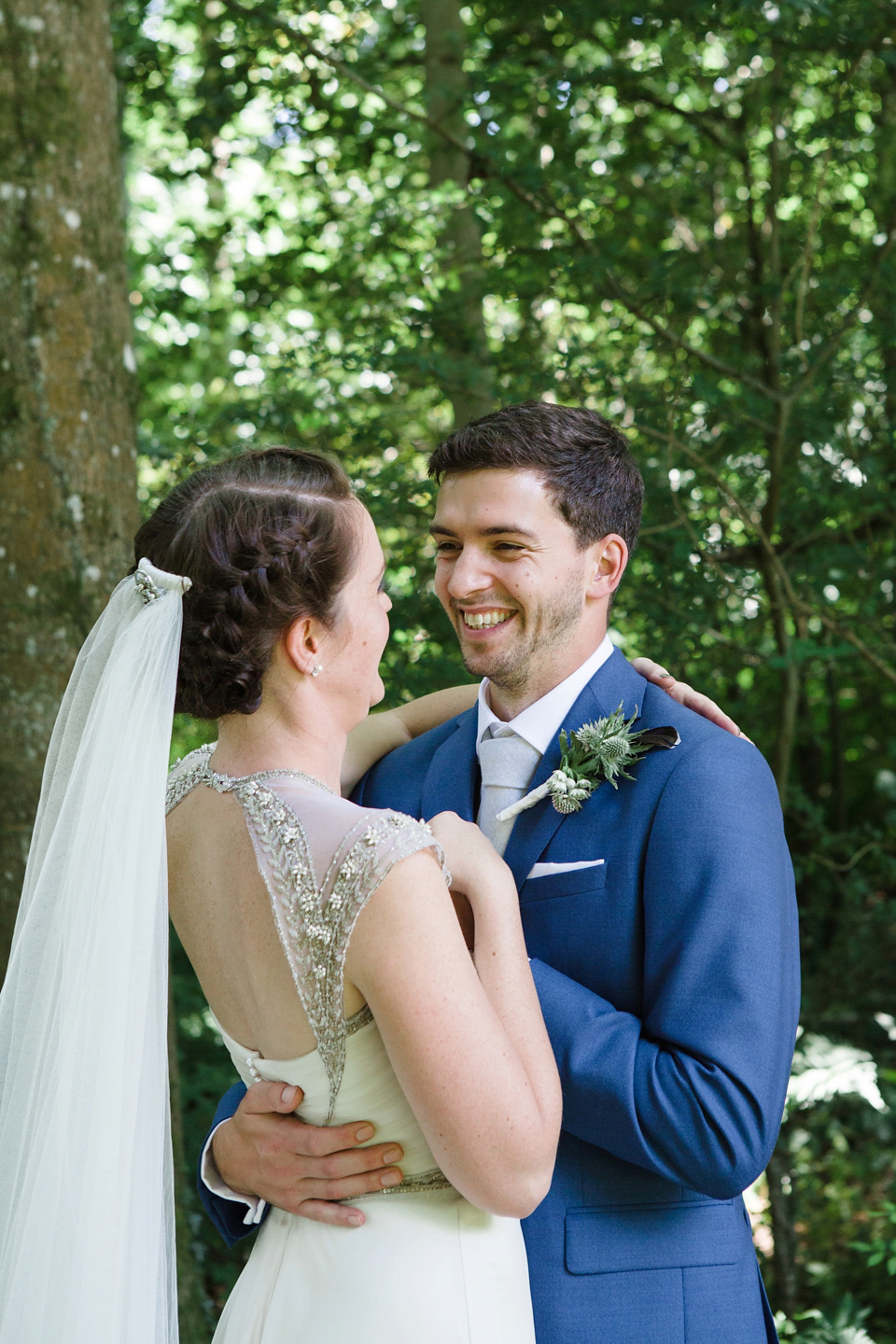 "Another reason we chose to marry at home is that my parents garden is absolutely stunning and is my Mum's pride and joy. Both she and my Dad spent our two year engagement working incredibly hard to get it looking even better for the day, and as such we saw it as an extension of the venue and tried to echo the look of the garden in the marquee with the flower choices and hanging hoops."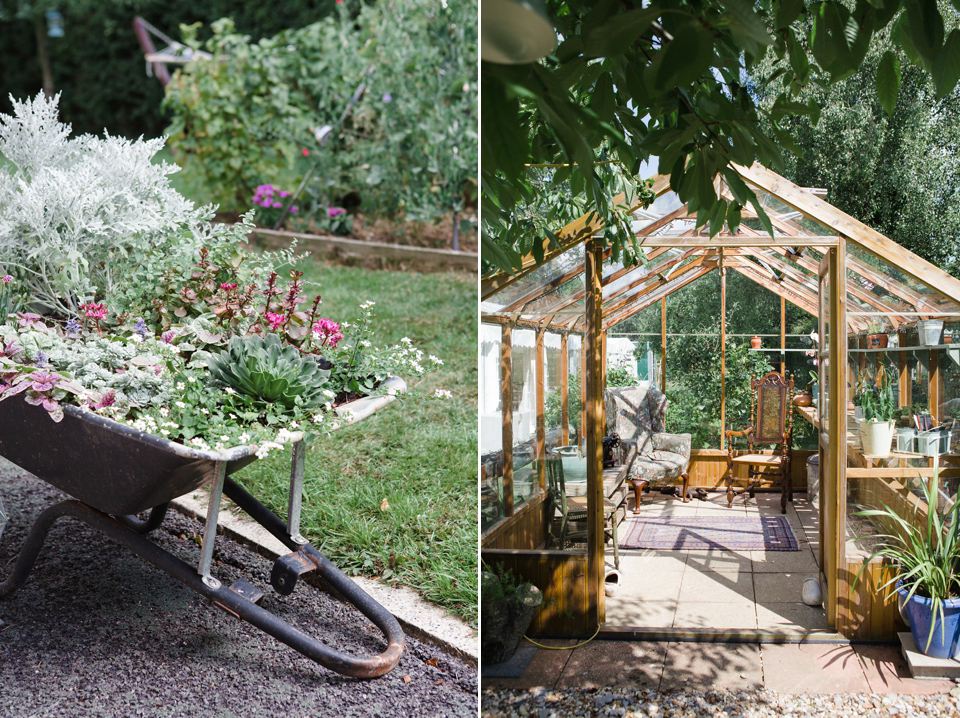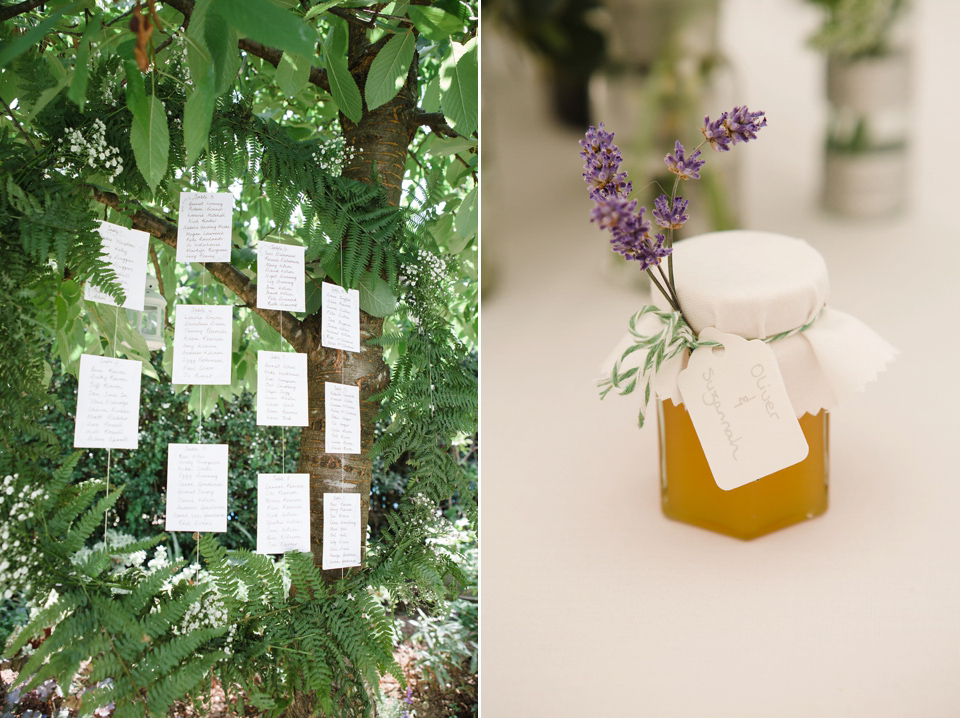 The pair decorated the marquee and garden with fairy lights and set up the greenhouse as a quirky seating area with vintage props including a Singer sewing machine. As their grandparents couldn't be there for the day, it was important to Zannah and Oli that they were still included, so they had an area of family wedding photos and also asked guests to sign the edges of a white linen tablecloth, just like Zannah's grandparents did.
"For the arch garland around the church door we used a local florist called Stella Rose. Our brief was fairly vague, just the green and purple palette but other than that it was up to her; my only request was hydrangeas, which I love. We hadn't wanted to decorate inside the church too much as it's already very ornate but the garland was perfect for the entrance in and looks great in the photos."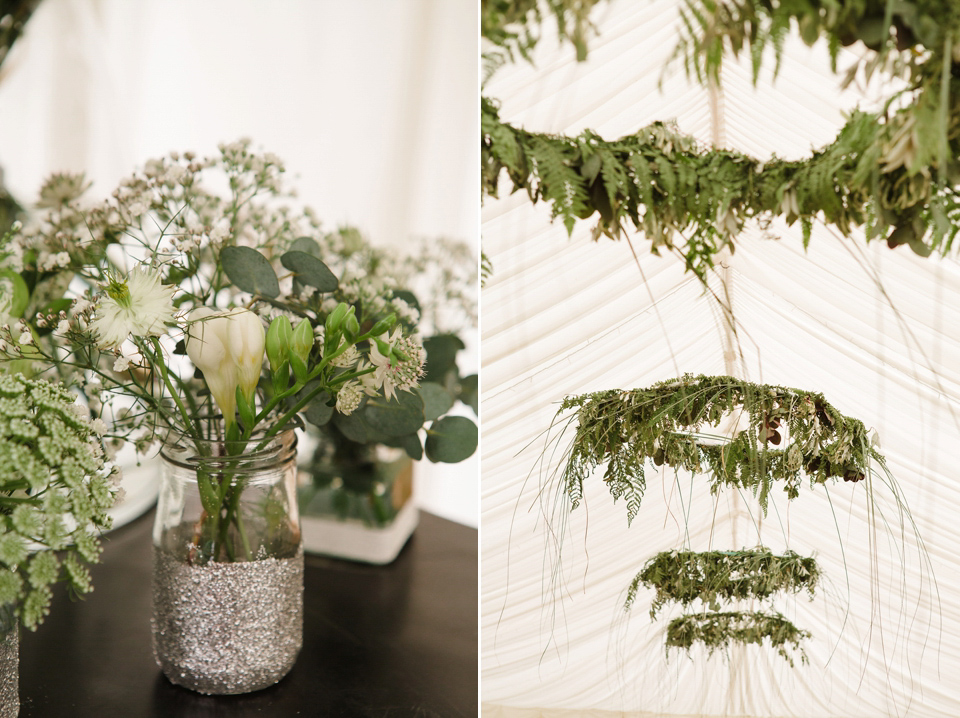 "For all the bouquets, buttonholes and marquee decorations I decided to have a go myself, despite having never done flower arranging before! My sister, mum and I all went up to Covent Garden Flower Market at 4am on the Thursday before the wedding and bought whichever green and white flowers we liked. On the Friday we all got together and started arranging, I made my bouquet with my mum and sister, combining what we thought would look best. I wanted it to look loose rather than too structured, and only chose green and white flowers.
My bridesmaid Jo made all the bridesmaids bouquets of gypsophila and thistle, and then was in charge of the table decorations too. The tables each had 10 jam jars on them (lovingly covered in silver glitter one 'crafternoon' by my awesome friends and bridesmaids) and a mixture of flowers in each. For the marquee, I had seen a picture on Pinterest of these hoops that were covered in foliage and suspended down, and really wanted to re create it."
"I wasn't sure it would work but luckily my mum's best friend Liz had a go at one which was exactly how I'd imagined, although it then meant she had to do the other three too, as well as a similar one for our table plan… she may have regretted offering after that! Finally, the boys buttonholes were gypsophila and thistle with a blue mallard feather behind it.
It was all such a huge undertaking but thankfully everyone worked so hard and were extremely patient so the finished product was absolutely perfect. I am so grateful to them for that and also for a wonderful memory of a very happy, if manic, few hours!"
The couple used JRC Catering, family friends that Zannah used to waitress for. Whenever I look at a menu my eyes are immediately drawn to the dessert and this one does not disappoint. Rather than a traditional cake, the pair opted for a cheese cake from The Cheese Works in Cheltenham and their wedding favours were little jars of honey from bee keeper family friends.
"We had a variety of canapés during the champagne reception, followed by lamb and potatoes dauphinoise. We wanted food that would get people talking so designated one person on each table to carve the lamb joint, giving them all an apron and a chef's hat. It went down brilliantly and everyone told us how wonderful the food was. For dessert we had a mango and passion fruit roulade with coulis. Later that evening we put out the cheese from the cake, along with chutneys and crackers, which went down a storm as there wasn't much left!"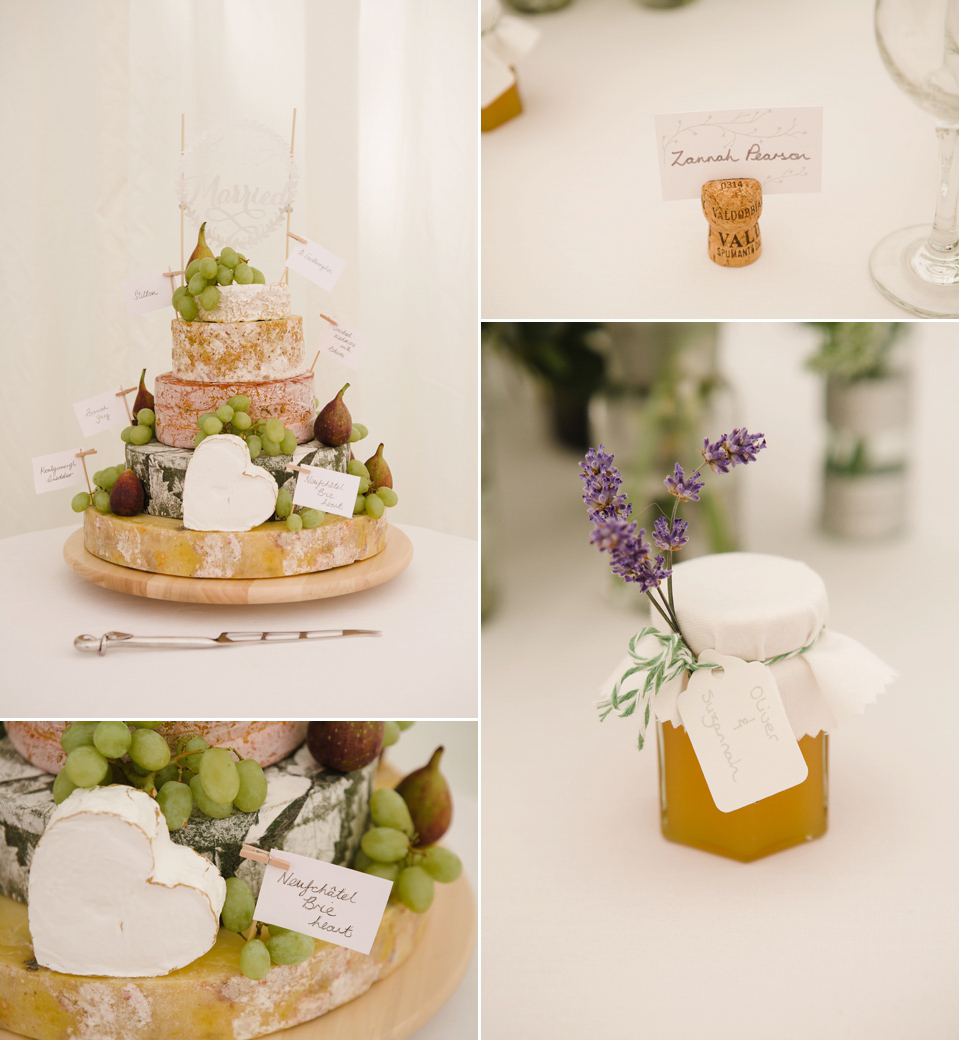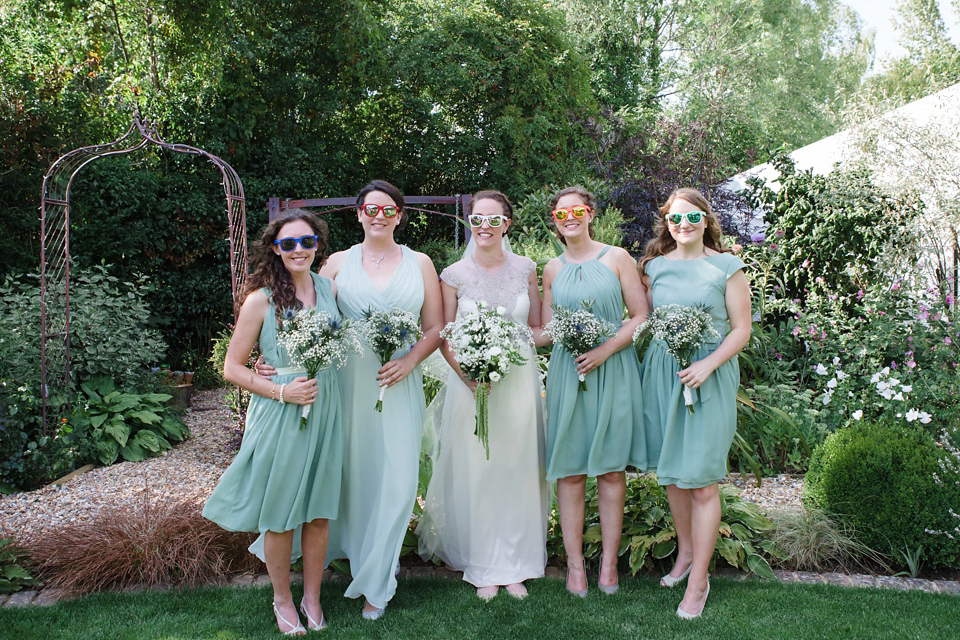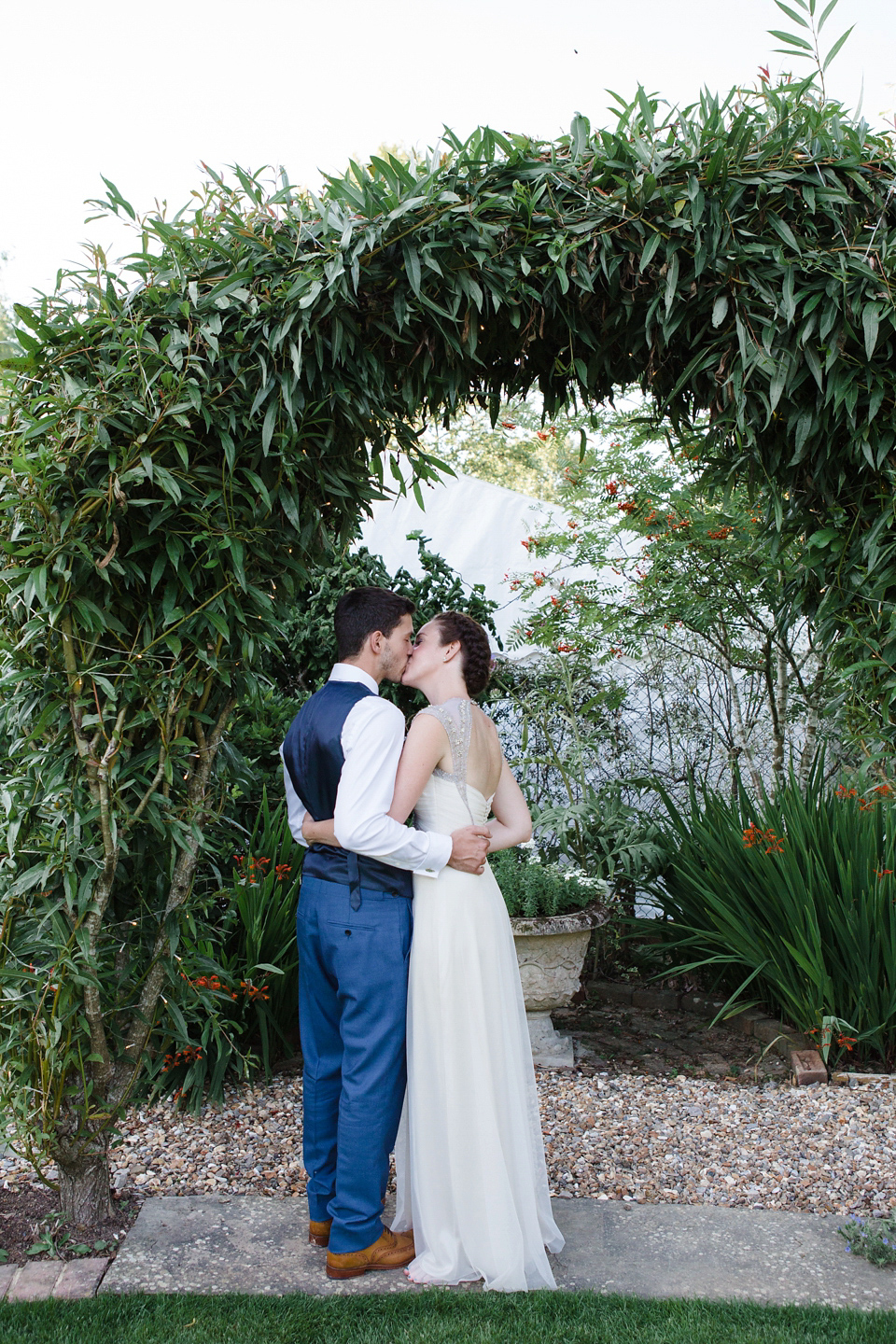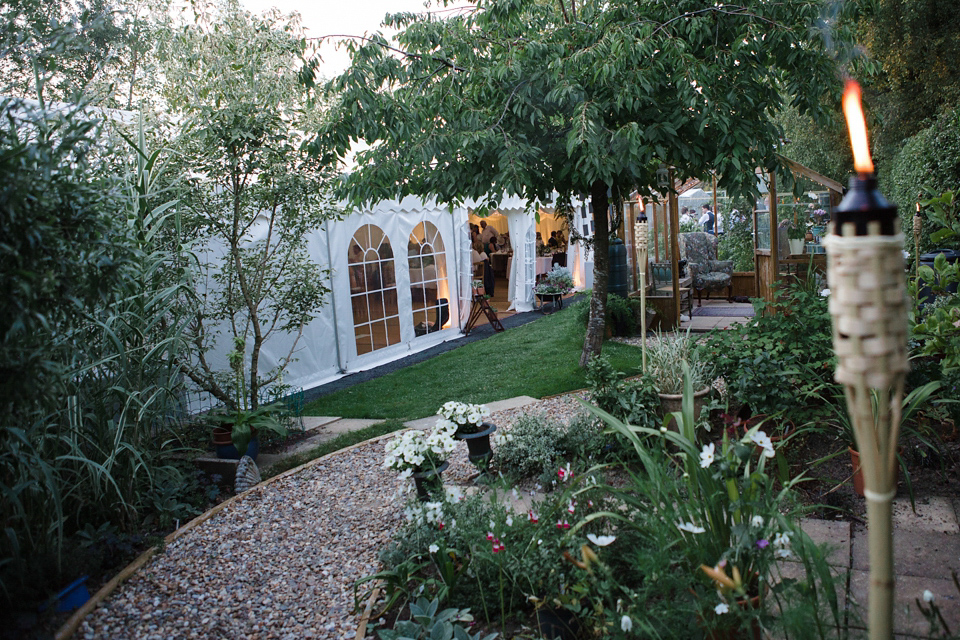 "Our first dance was to 'Is This Love?' by Bob Marley. I love the song anyway but because Oli and I are both awkward at dancing we wanted something that wasn't too slow or too fast and this has a nice tempo. Two of my bridesmaids, Megan and Louise, let off confetti cannons after the first chorus and we have some great photos of the surprised reactions of everyone watching."
"Oli eventually dragged me to bed at 2am but the last stragglers kept going til 4am! The next day my Mum made a huge brunch for everyone, which was brilliant and let us have a de-brief of our favourite bits and all the things we might have missed."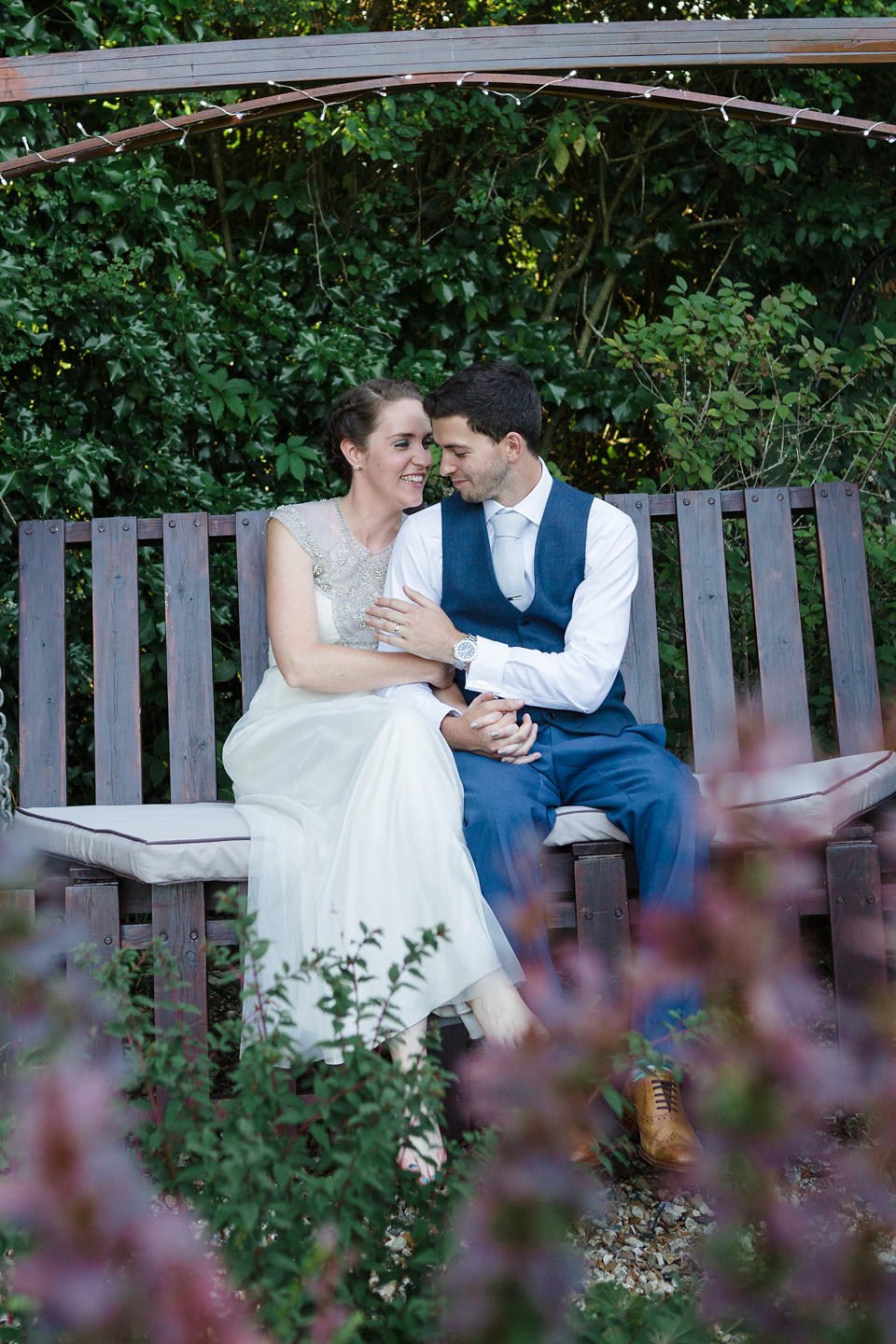 Words of Wedded Wisdom
"I don't think I could add anything original to what most real brides on Love My Dress have said in the past. All those things like sticking to your budget, doing what you want to do and not what others think you should do, and taking time out of the day to have a breather with just the two of you, really are very true.
The only thing I would have changed is our mini-moon. We went on our 'real' honeymoon a month and a half after the wedding but because we had that coming up we only had one night away right after the wedding and then we went back to work. This was a huge mistake as we were so tired after the wedding we could have really done with a proper break, and more importantly it meant the lovely post-wedding happy bubble was popped way too soon!"
Thank you so much Zannah and Oli for sharing your wedding with us, I love the special personal touches you added to your day and I still can't believe you did those flower arrangements without any experience…. amazing! Thank you to photographer Lucy for sharing the lovely images with us.
If you would like to see more summer garden weddings, please take a look here.
Bianca x
Photographer – Lucy Davenport
Ceremony Venue – St Peter's Church, Hascombe
Reception Venue – Bride's parents garden
Wedding Dress – Gwendolynne at Luella's Bridal
Alterations – Caroline Arthur
Shoes – Office
Perfume – 'Signorina' by Salvatore Ferragamo
Groom – Reiss suit, OTAA tie and Grenson shoes
Bridesmaids – For Her and For Him and Jenny Packham at Debenhams
Florist – Stella Rose
Cake – The Cheese Works
Transport – Talisman Cars
Entertainment – DJ from Sound Division
Rings – Cry For The Moon
Catering – JRC Catering
Stationery – Minted
Hair Stylist – 137
Makeup Artist –  Laura 07807 266 631