Happy lunch time folks! we have a completely delightful handmade wedding to show you this Friday lunchtime – some inspiration for a spot of weekend crafting perhaps. Claire, a trainee anaesthetics doctor married Lee, a courier, on a hill with the most spectacular views over Scotland's beautiful landscape at The Bunkhouse, Glassie Farm in Aberfeldy, on the 29th of August last year. Photographed by Euan Robertson show the results of the hard work the couple put in to make their wedding truly personal as well as the fabulous fun they had with their guests, from garden games to the late night party.
"We saw this wedding on Love My Dress and it convinced me to have a wedding (I wanted to elope!). We visited The Bunkhouse and it was perfect to have a wedding weekend and get married in a field. Also we could have 40 people stay in the bunkbed accommodation with the addition of a motor home for new parents in the bridal party. We were really keen to keep our wedding relaxed, like a weekend away with friends and family, and have everything provided so guests could just relax and enjoy. I also really wanted to get married outside, ideally in Forrest Gump's garden – but alas. We had a rustic woodland type theme to bring the outdoors in."
Photography by Euan Robertson Photography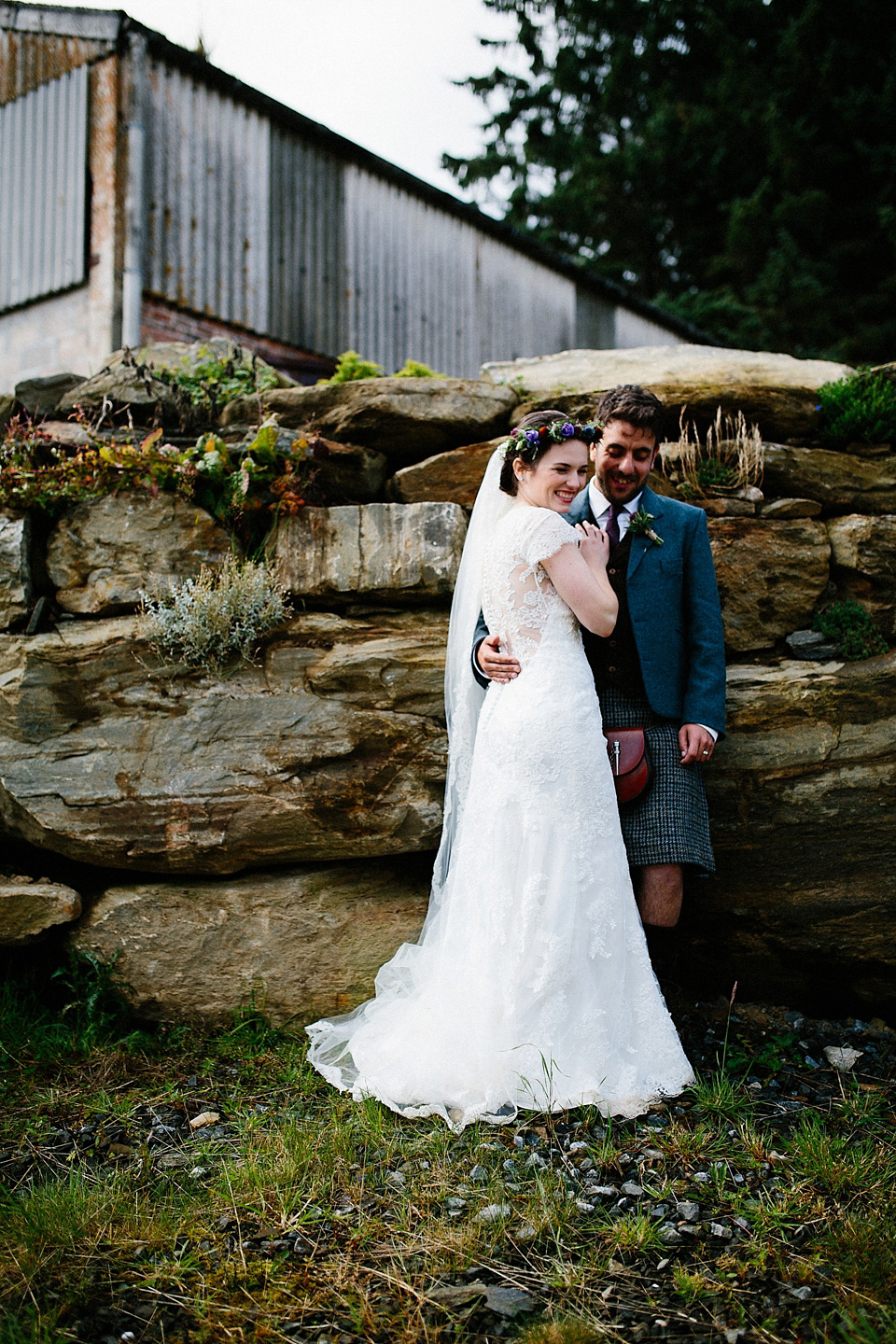 "The Bunkhouse also had a lovely outdoor space for the 'Highland Tipi' tents to hold the reception. They were absolutely fantastic, totally worth it! We were very lucky to have friends and family helping out. Everyone got involved together and we could not have run the day without them."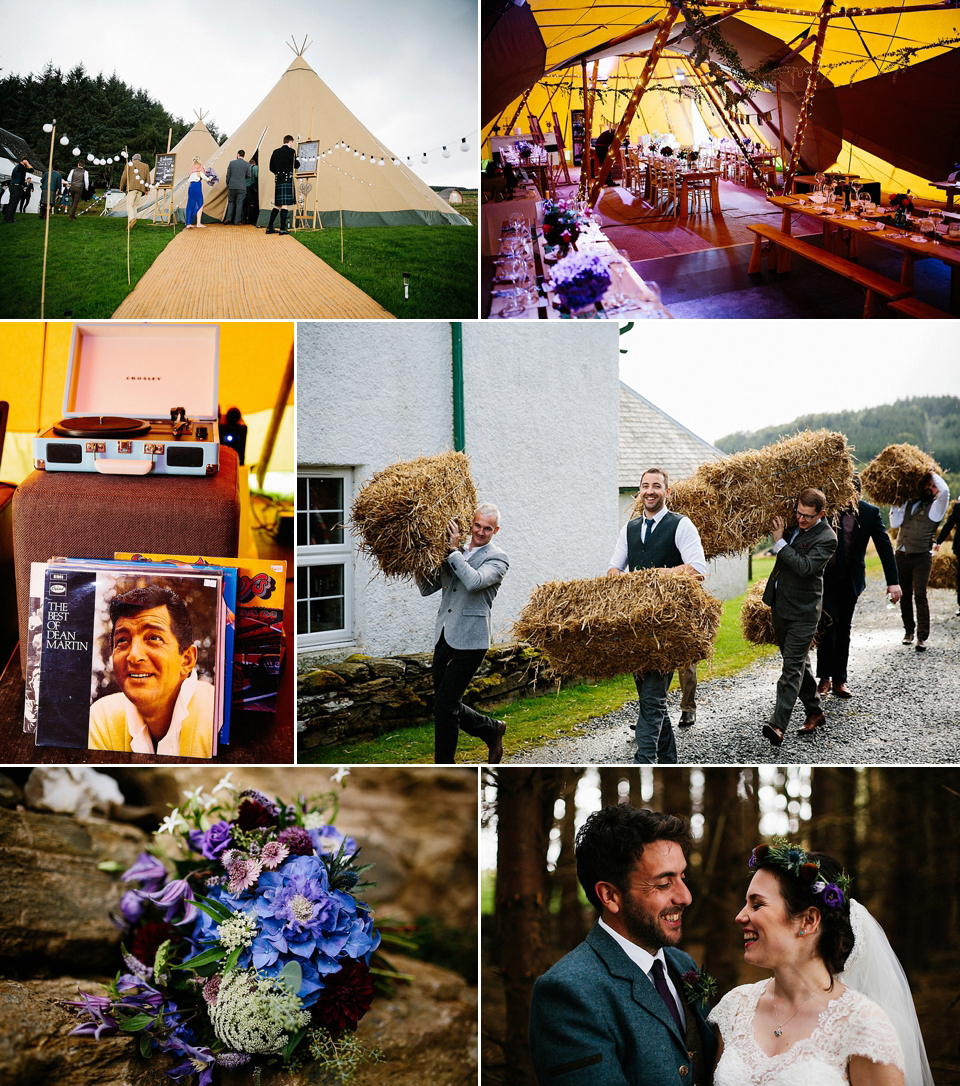 Claire's Maggie Sottero dress was the epitome of understated glamour with the beautiful lace and fitted shape. The bride borrowed her veil from a friend and her wonderful florist made that gorgeous flower crown.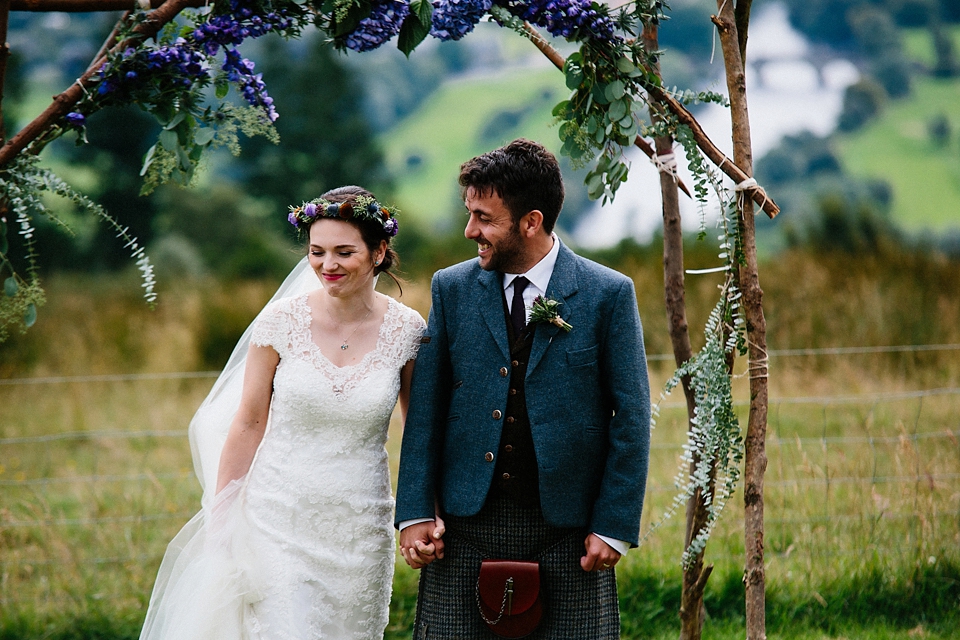 "Kathleen from Atholl Beauty Rooms was an absolute gem on the day, perfected a number of braids and helped out massively on the morning."
"Fiona Cross was the only person I trusted to do my makeup and not put too much on."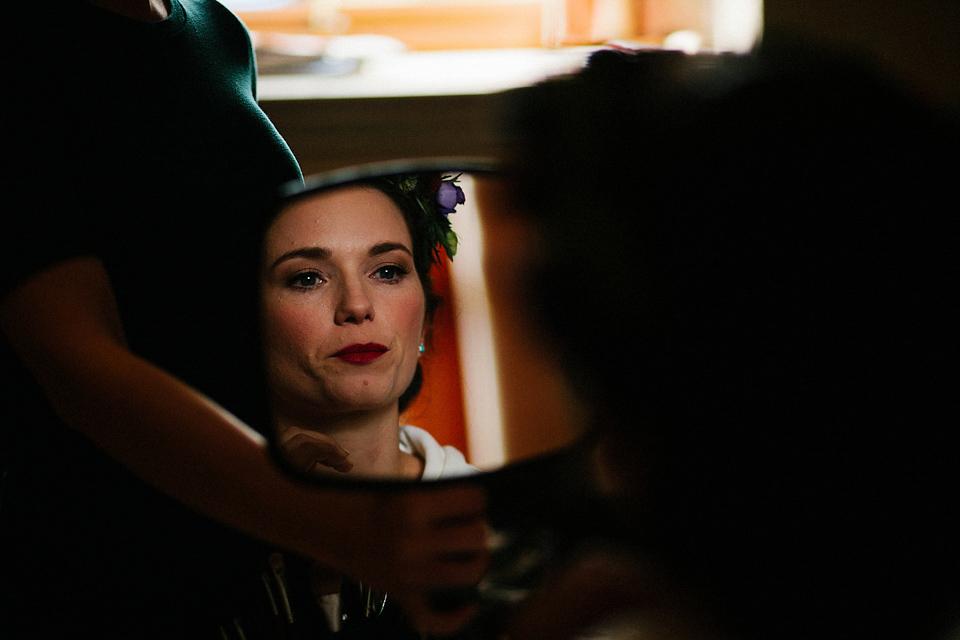 The couple got in touch with their florist Lisa Hodgens of Sparrow and Rose via the Glasgow Wedding Collective, an invaluable resource for suppliers north of the border who have featured regularly on these pages.
"We wanted wildflowers and a fragrant mixture of some white flowers with purples, deep reds, lots of greenery. I was also desperate for a floral crown and keen to have some thistles. Lisa did an exceptional job from the table flowers, to the loose, wild bouquets and I especially loved the decoration for the arbour and the garlands inside the tipi which smelt amazing."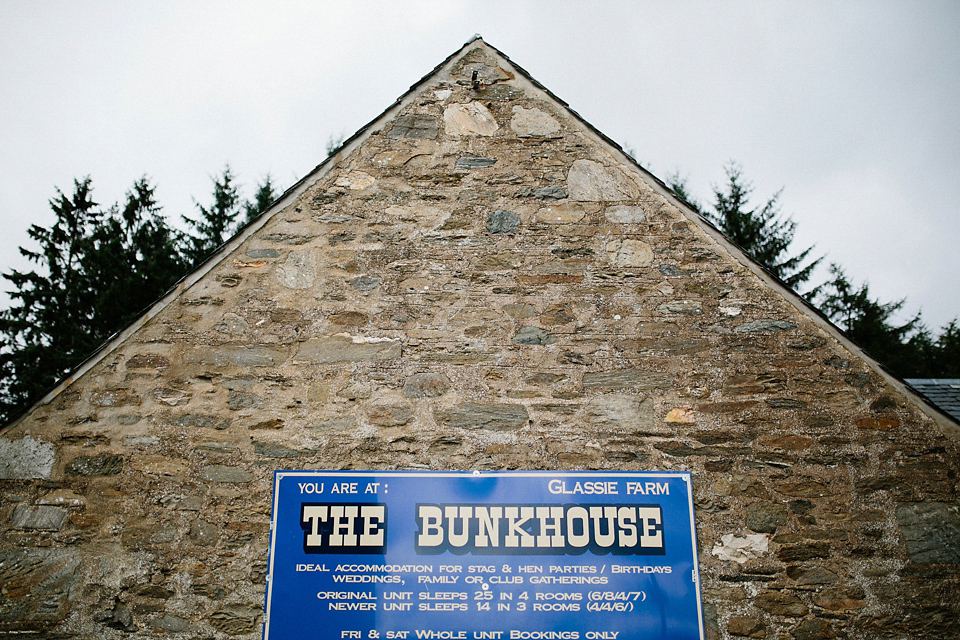 "We've known each other all our lives as our mums were at school together. We were boyfriend and girlfriend aged 11 for 2 weeks and each others first kiss! We parted ways throughout university and work. We got together in December 2012 after a Christmas night out in our hometown and have been together ever since. We lived together for a few months before I went to Africa to do voluntary work. Whilst in Ethiopia, Lee came out to visit me and proposed in June 2014."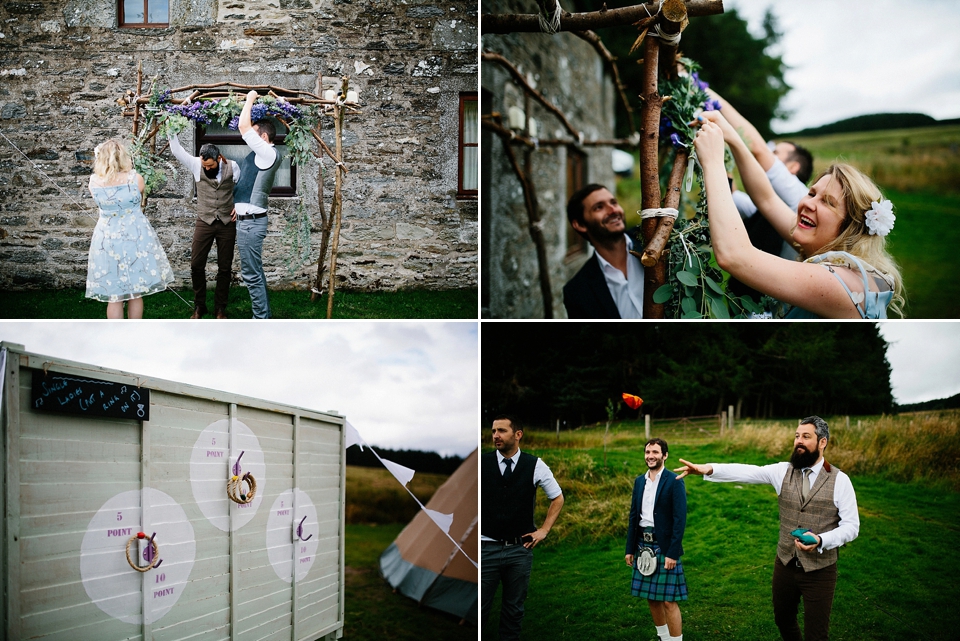 Lee's bespoke Harris tweed kilt, Donegal jacket and Yorkshire waistcoat were made by Howie at 21st Century Kilts in Edinburgh. His groomsmen wore tweed waistcoats to match with trousers from River Island.
"The sun came out as soon as I walked down the aisle with my dad. Alan was playing 'Here, There and Everywhere' by The Beatles perfectly and I knew everything was going to plan."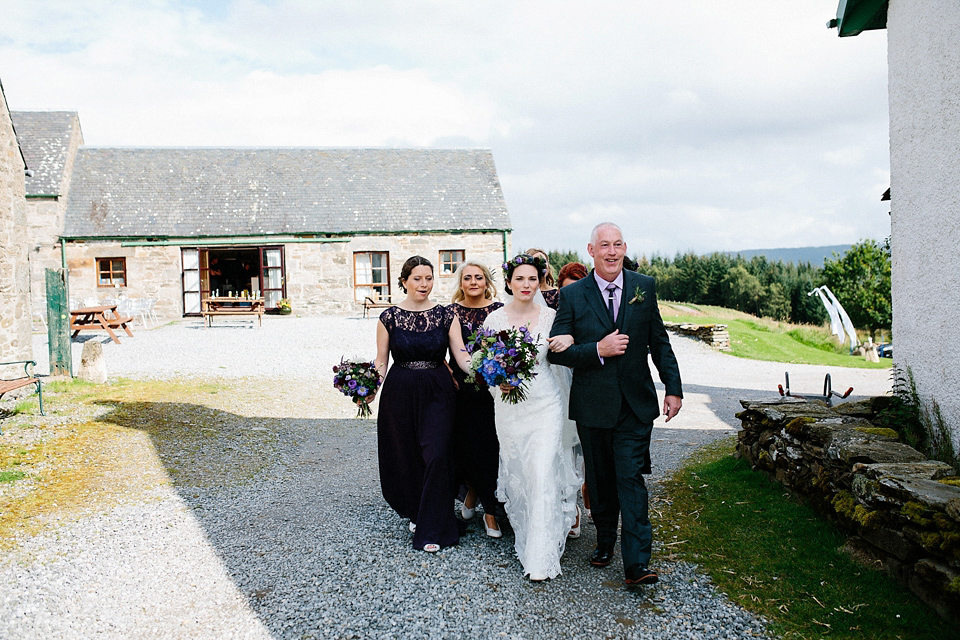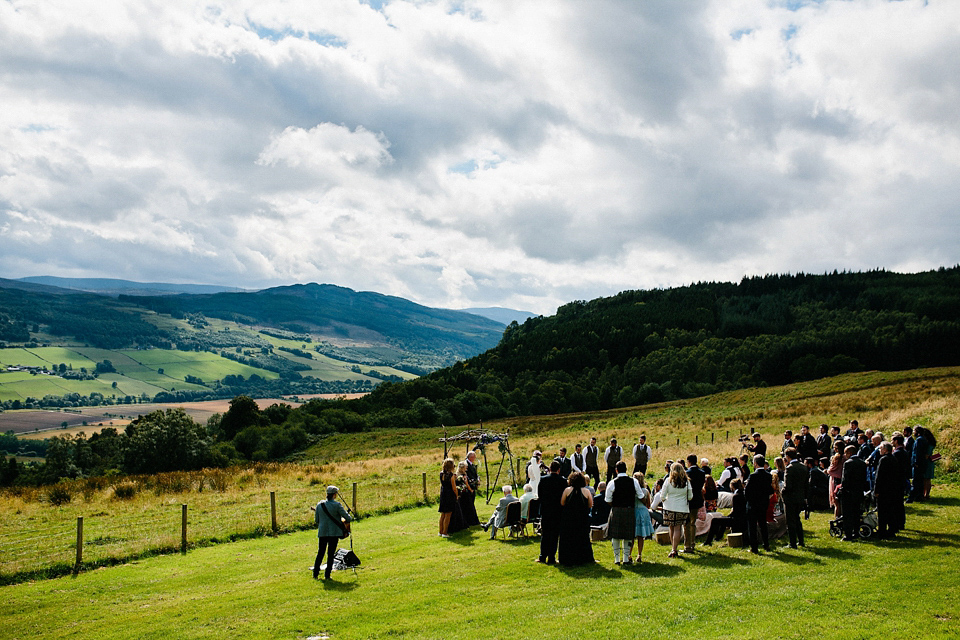 The couple wrote their own vows and had a lot of say over what would be included in their humanist ceremony. The bride herself also did a reading.
"My friend Cara read 'I Carry Your Heart' by EE Cummings. It says exactly how it feels to be far away and always have someone in your heart. Groomsman Stuart read an extract of the song 'Right Down The Line' by Gerry Rafferty, chosen by Lee as a surprise for me and I read 'Love' by Roy Croft…"
I love you for putting your hand into my heaped up heart and passing over all the foolish weak things that you can't help dimly seeing there and for drawing out into the light all the beautiful belongings that no one else had looked quite far enough to find.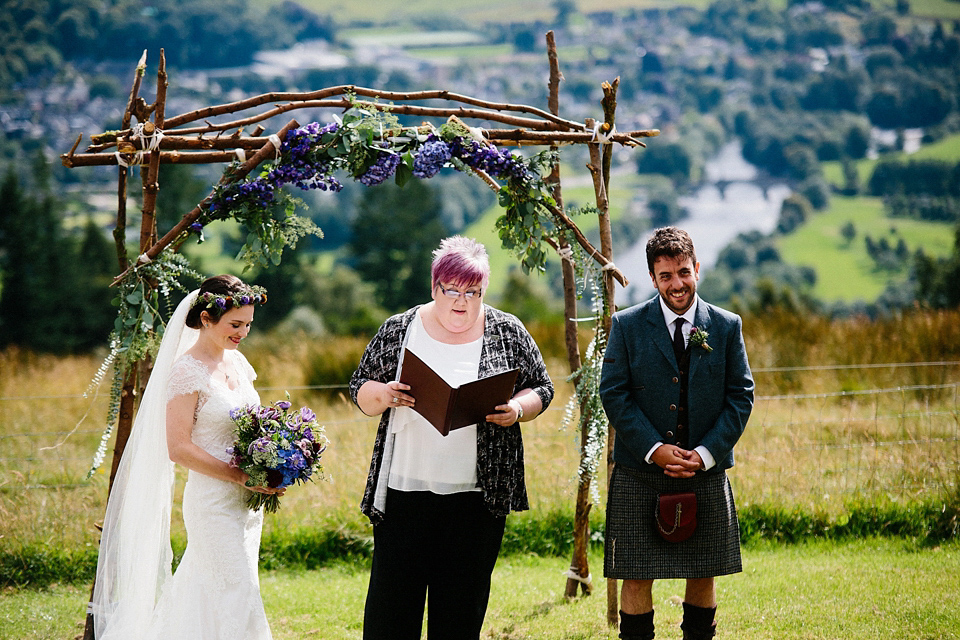 This bride bought the bridesmaids dresses before she bought her own dress! The ladies wore their dip hem lace dresses from Lori Lee by Coast with fresh flowers in their hair.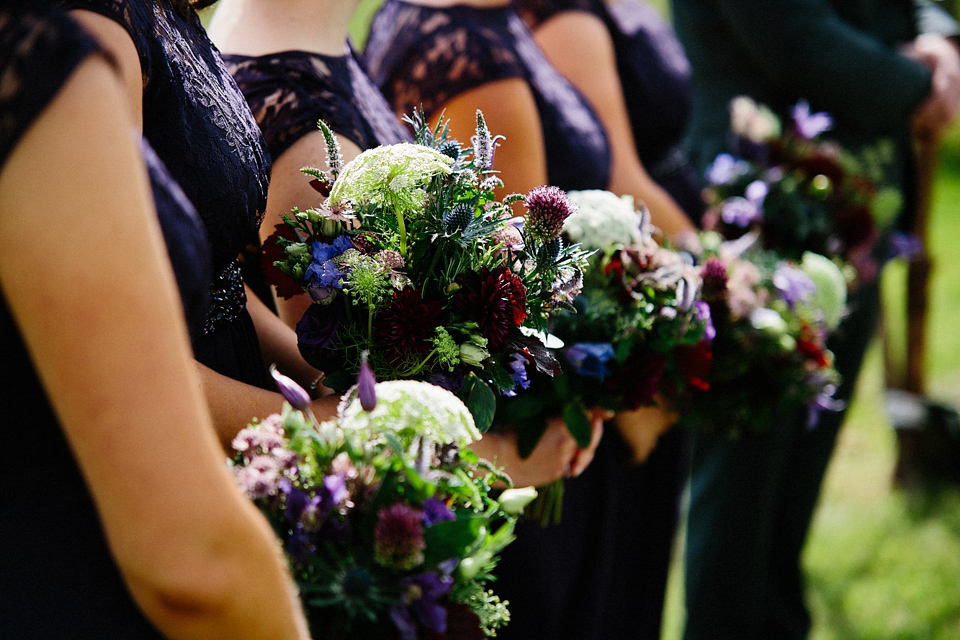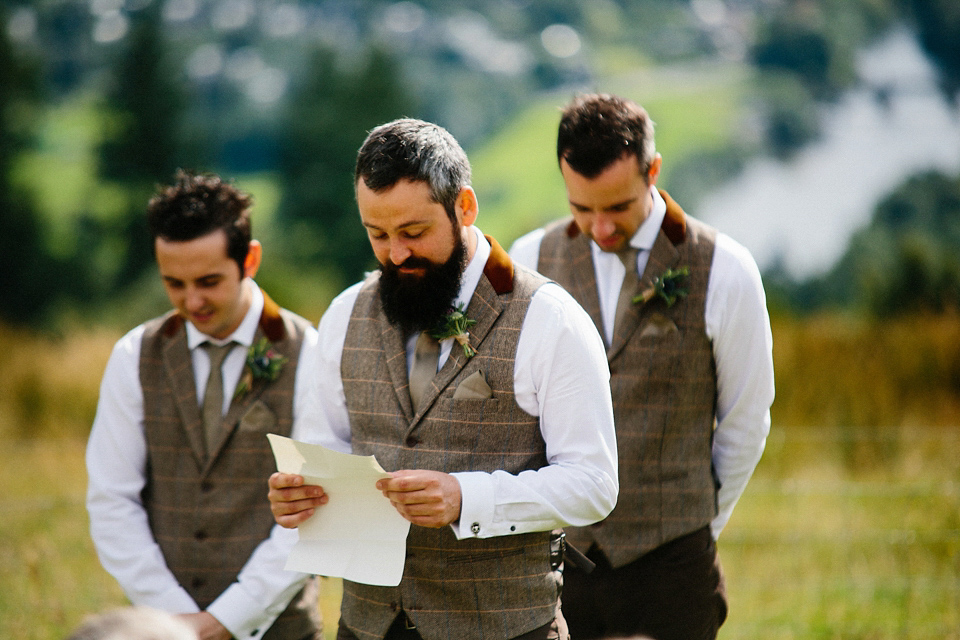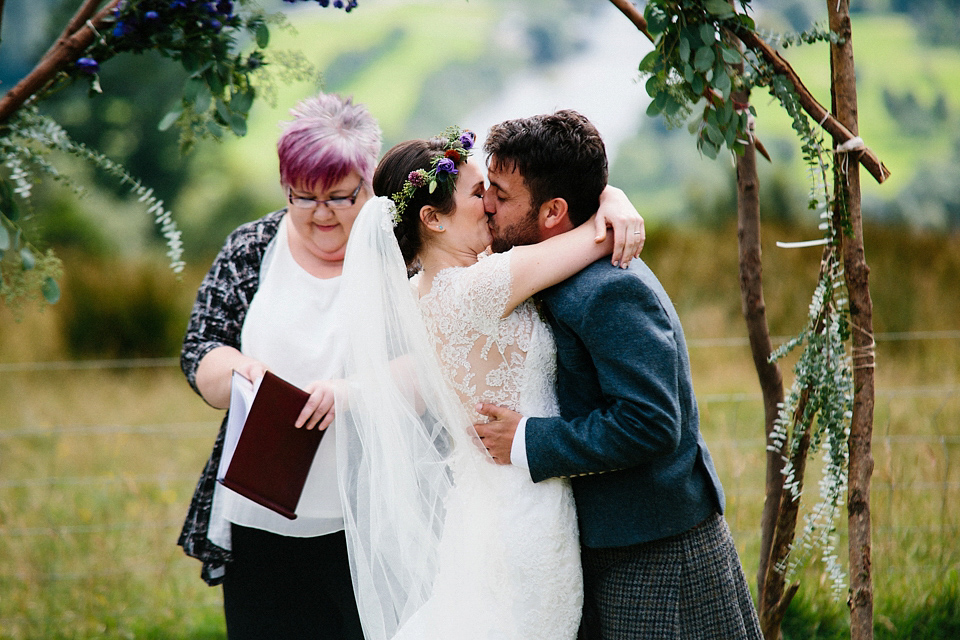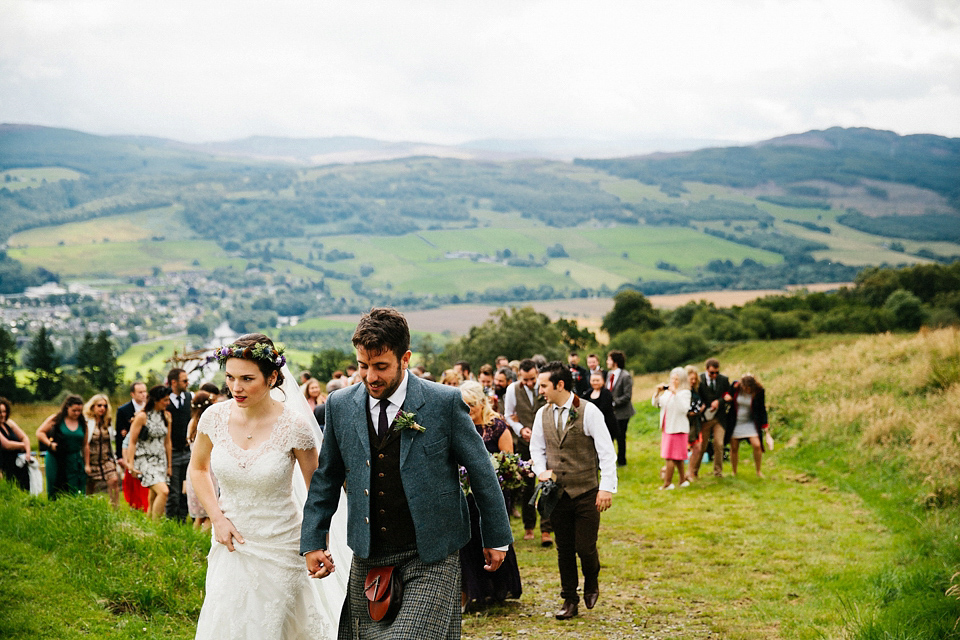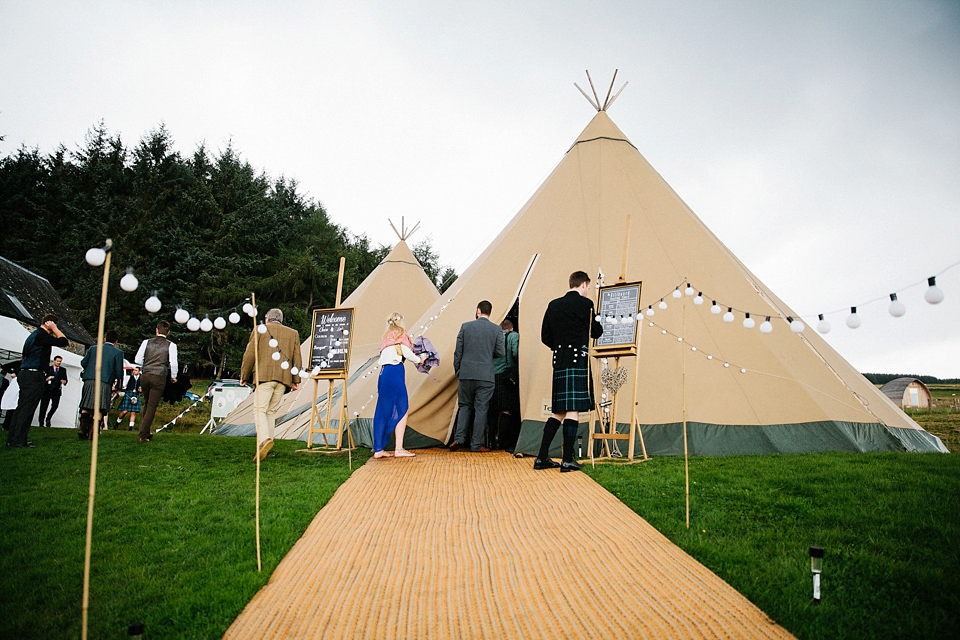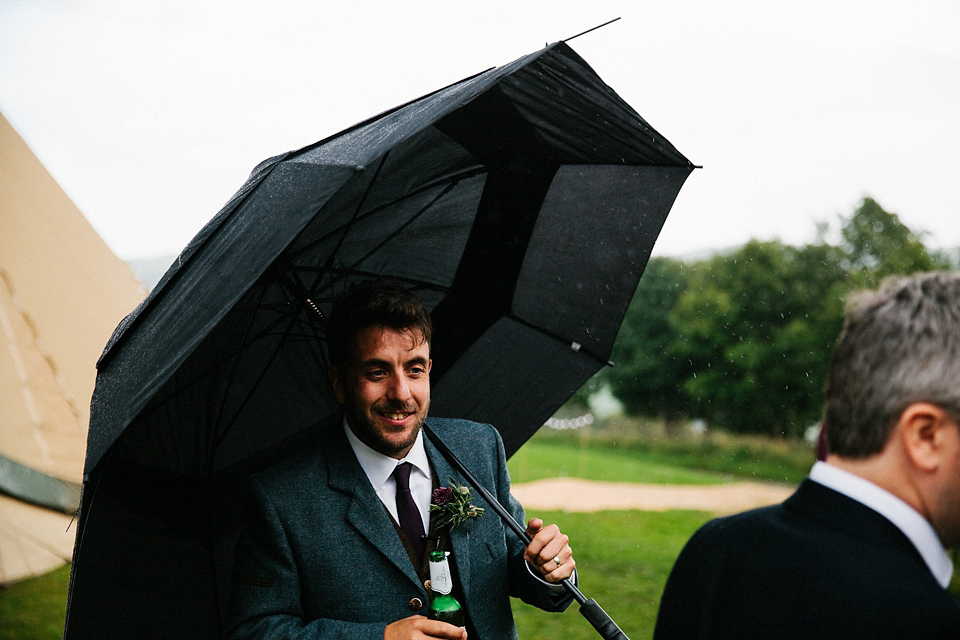 The couple chose Euan Robertson to photograph the day. He has captured the essence of the day perfectly and the images really do speak for themselves.
"I cannot say enough good things about Euan, he was perfect, totally got the feeling of the day and was actually a brilliant guest! He really helped massively on the day with nerves, advice and kept everything going. His pictures are just fantastic."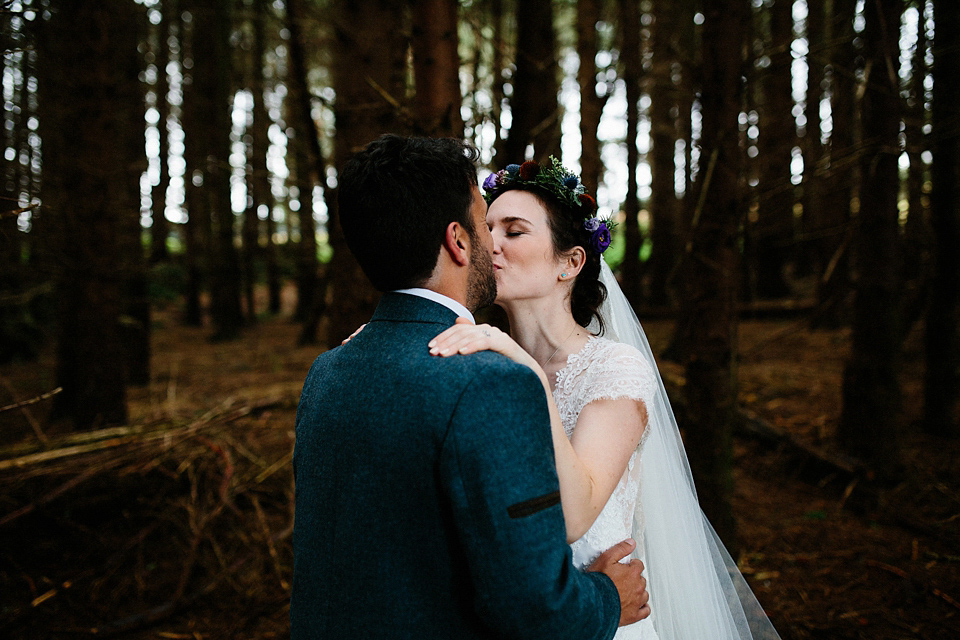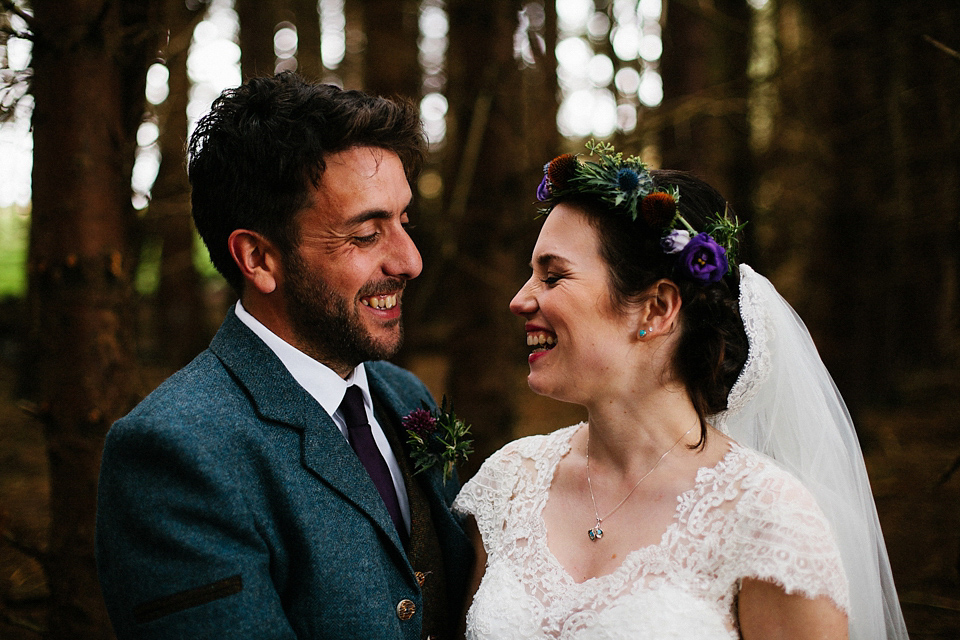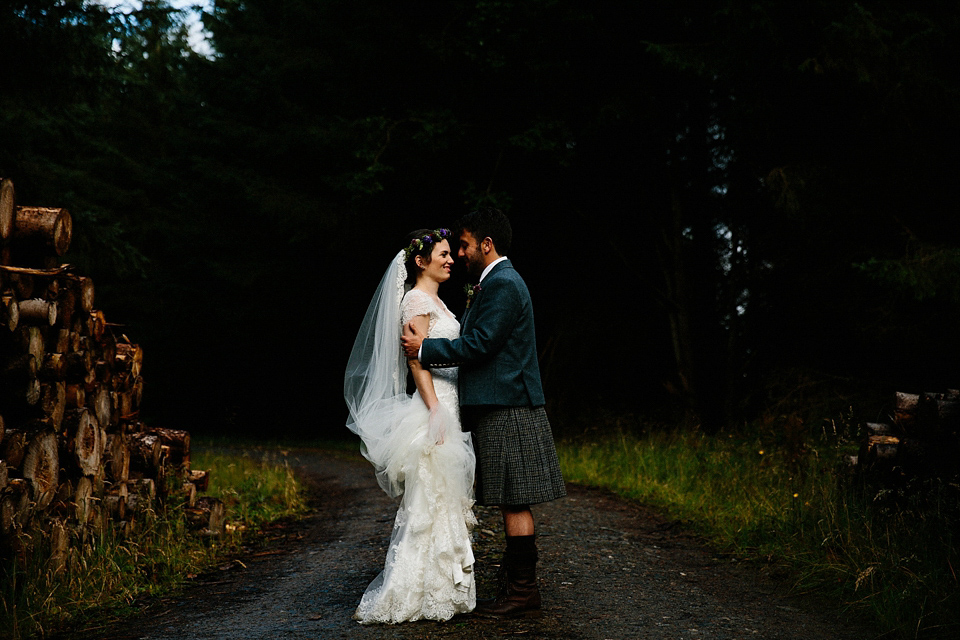 "I became obsessed with our moss table runners. I got some wood from a local yard, my parents found pine cones and we added these to the table decorations with the flowers loosely arranged into jars. Eucalyptus garlands were strung around the tipi and we had a photo table featuring our families. We managed to get hold of hay bales from a local farmer and bought throws in bulk to throw over them.
Favours were homemade tablet made by my mother-in-law in bags stamped with the wedding logo and Macmillan cancer charity pin badges."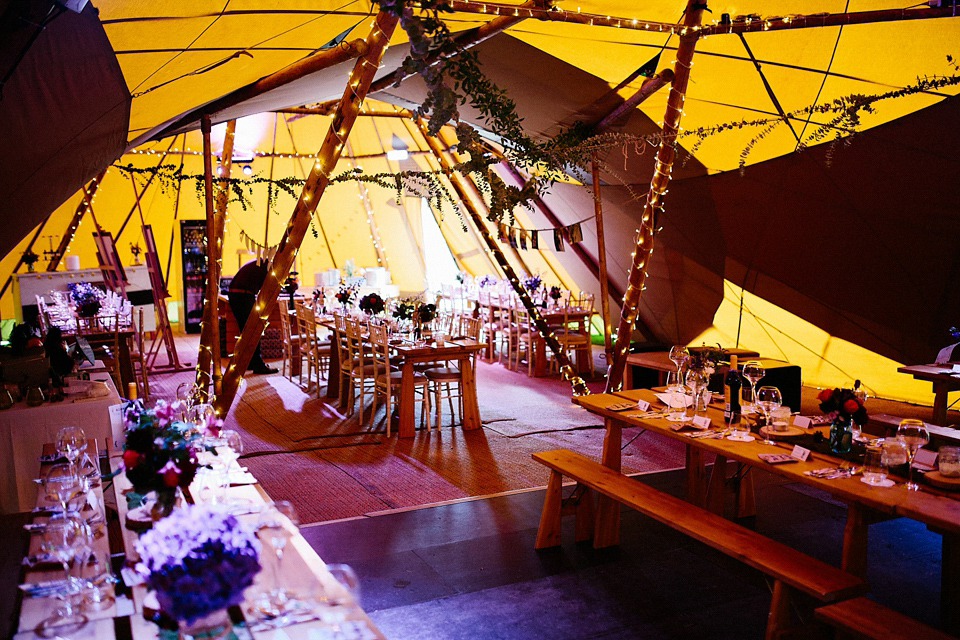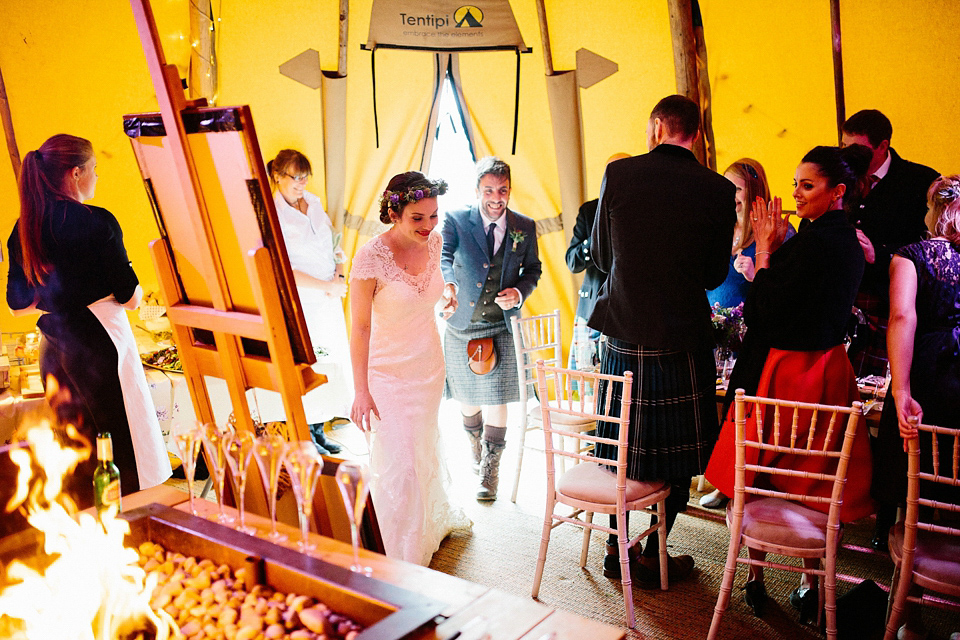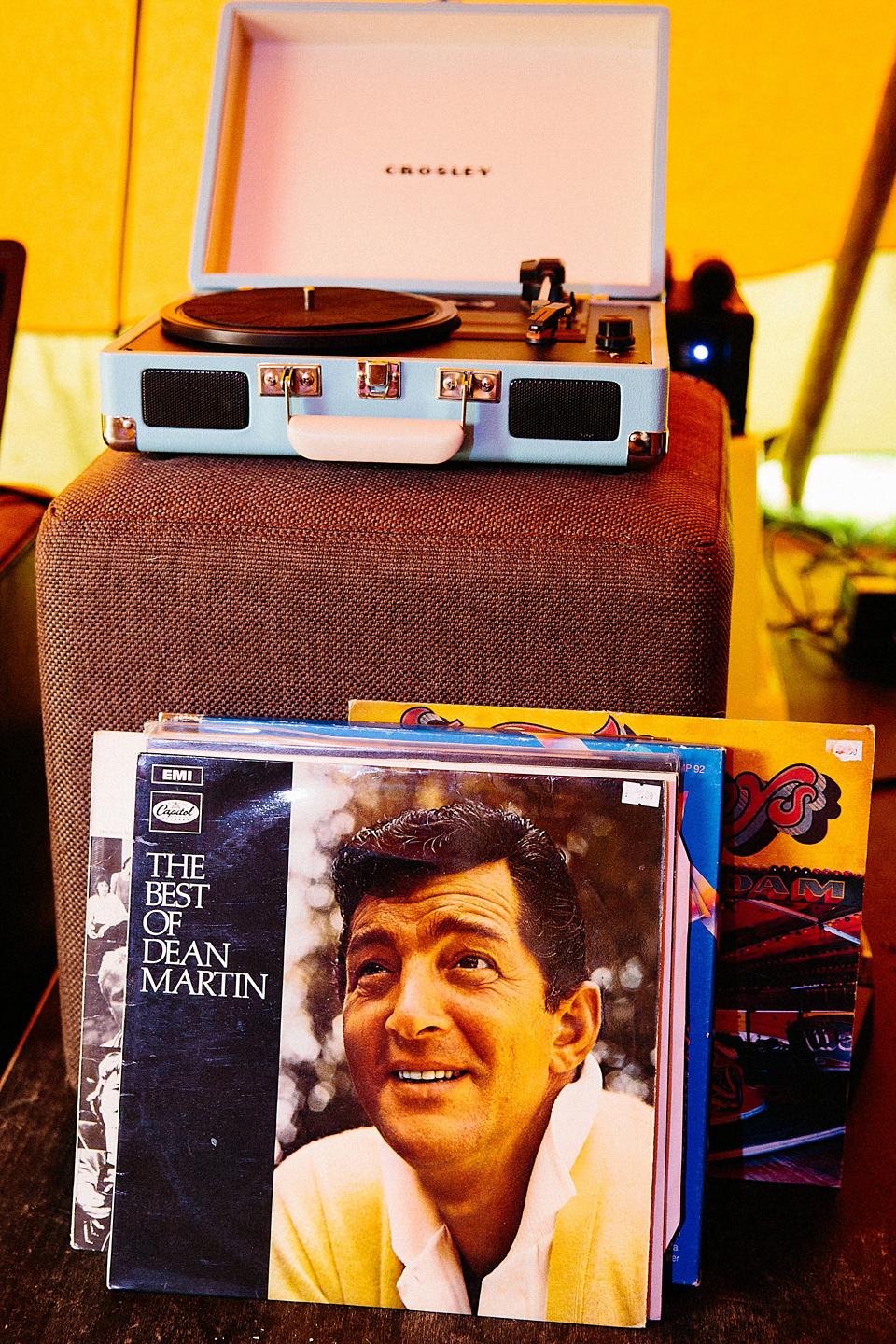 "Our caterer Reagan Hallett was a star, from support and discussion leading up to the day, flexibility on using the kitchens already in the accommodation and serving on a makeshift area in the tent, her food was fantastic, tasty deli food just exactly how we wanted it. Reagan and her staff were great on the day, adjusting to the day as it unfolded, running from the house to the tent, avoiding the rain!
We are both mad about cheese so we ordered rounds from George Mewes. It was very reasonably priced, but so the cake lovers had something, we picked up cakes from Costco at £12 each and they were great too. The staff even iced our wedding stamp onto the cake for us."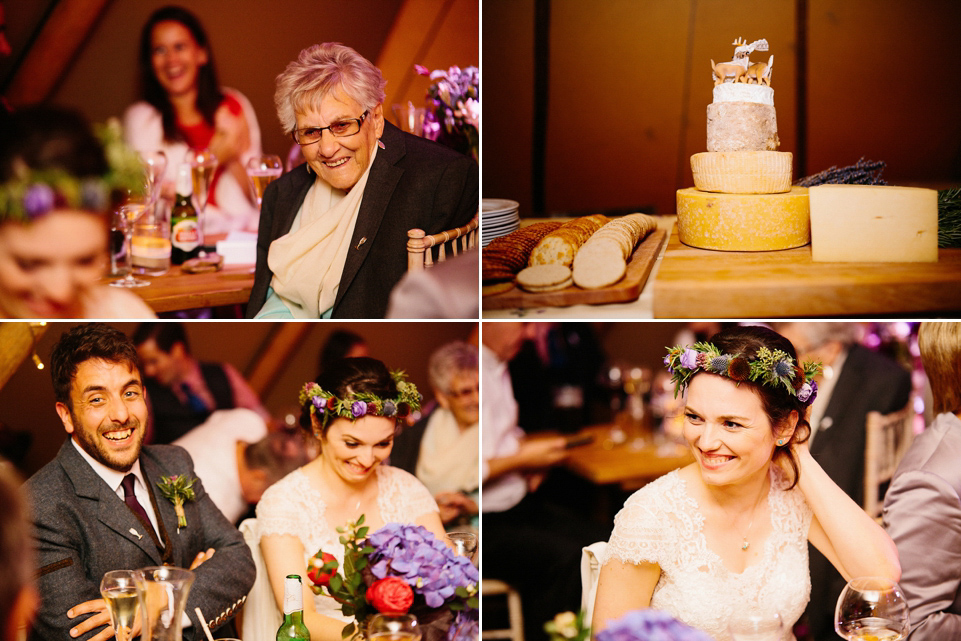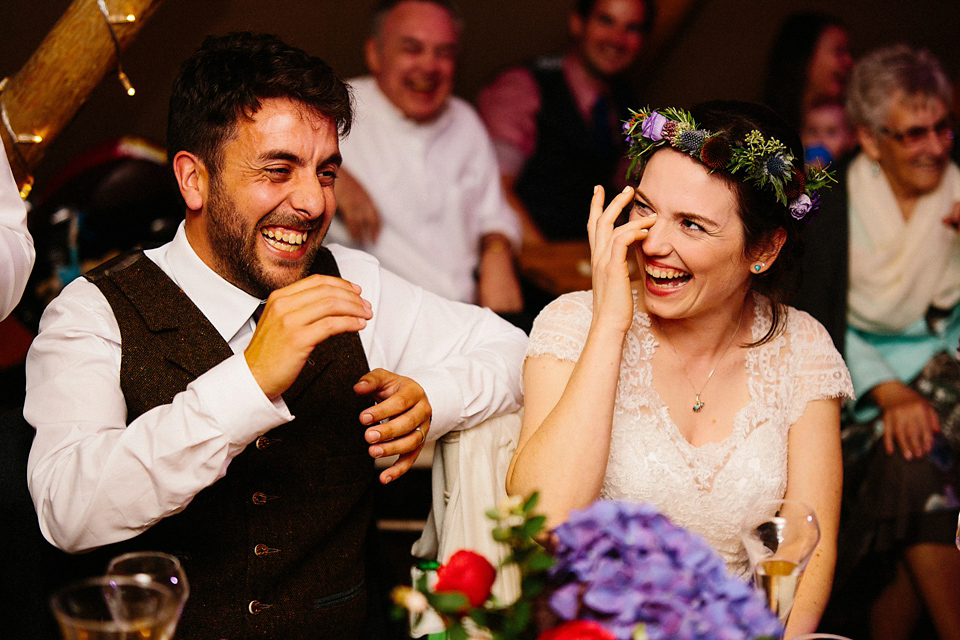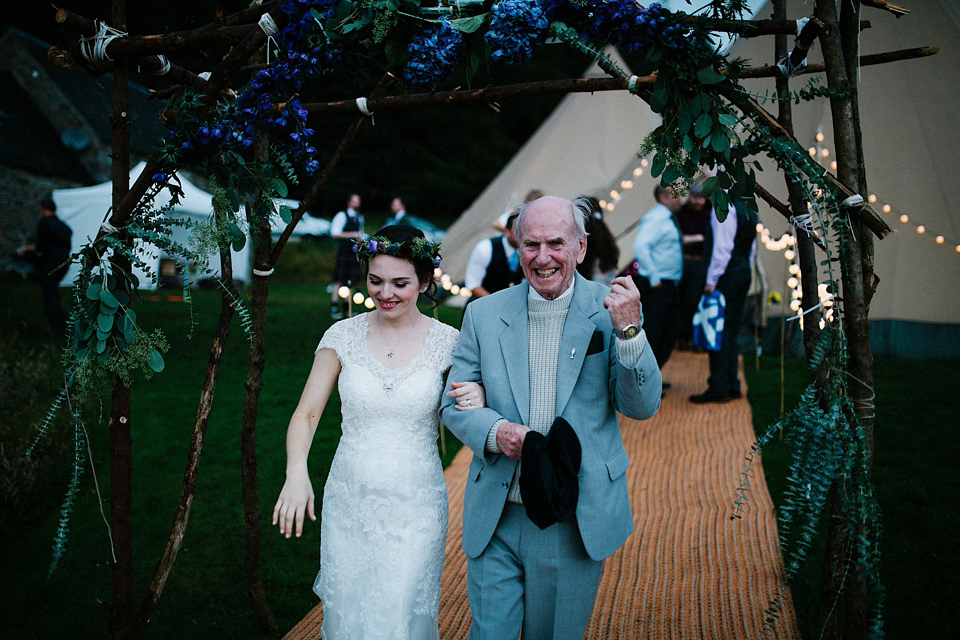 "The wonderful The Daddy Naggins, a Glasgow based bluegrass band who we just loved when we saw them perform in the pub circuit played in the evening. They do bluegrass covers of popular hits, céilidh and their own music. We also hired Alan Tennie, a busker on Buchanan Street, Glasgow. He played while our guests arrived and as I walked down the aisle.
Our first dance was to 'How Long Will I Love You' by The Waterboys, Lee's favourite band. We danced to this in our hotel in Ethiopia after we go engaged."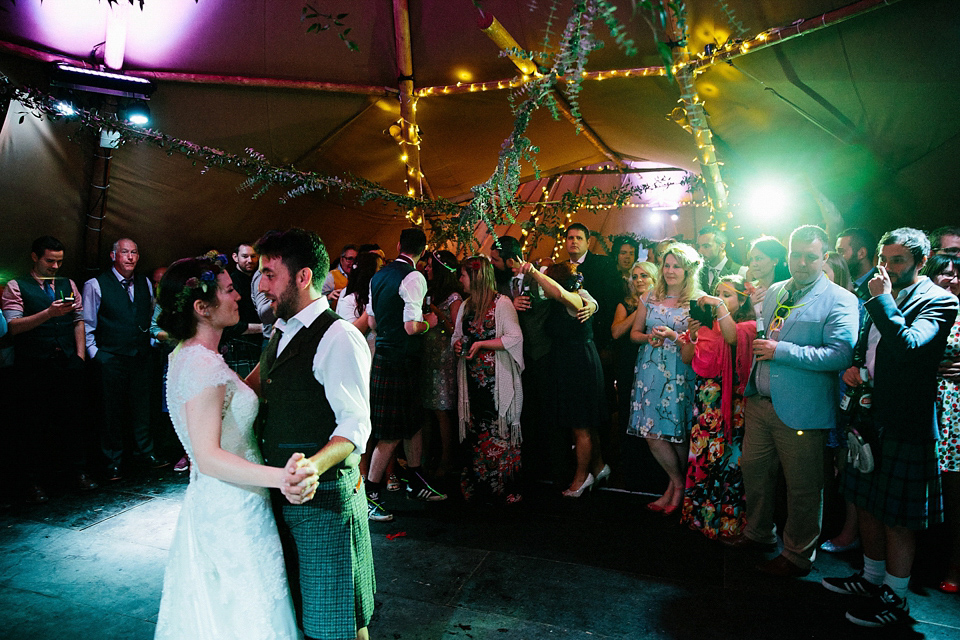 "My favourite part of the day was probably when everyone was up dancing like crazy to the band playing a mash up of Johnny Cash and hip-hop with bluegrass instruments. It's impossible not to dance to a banjo! I'd love to do the day again, knowing that everything would turn out as I'd planned."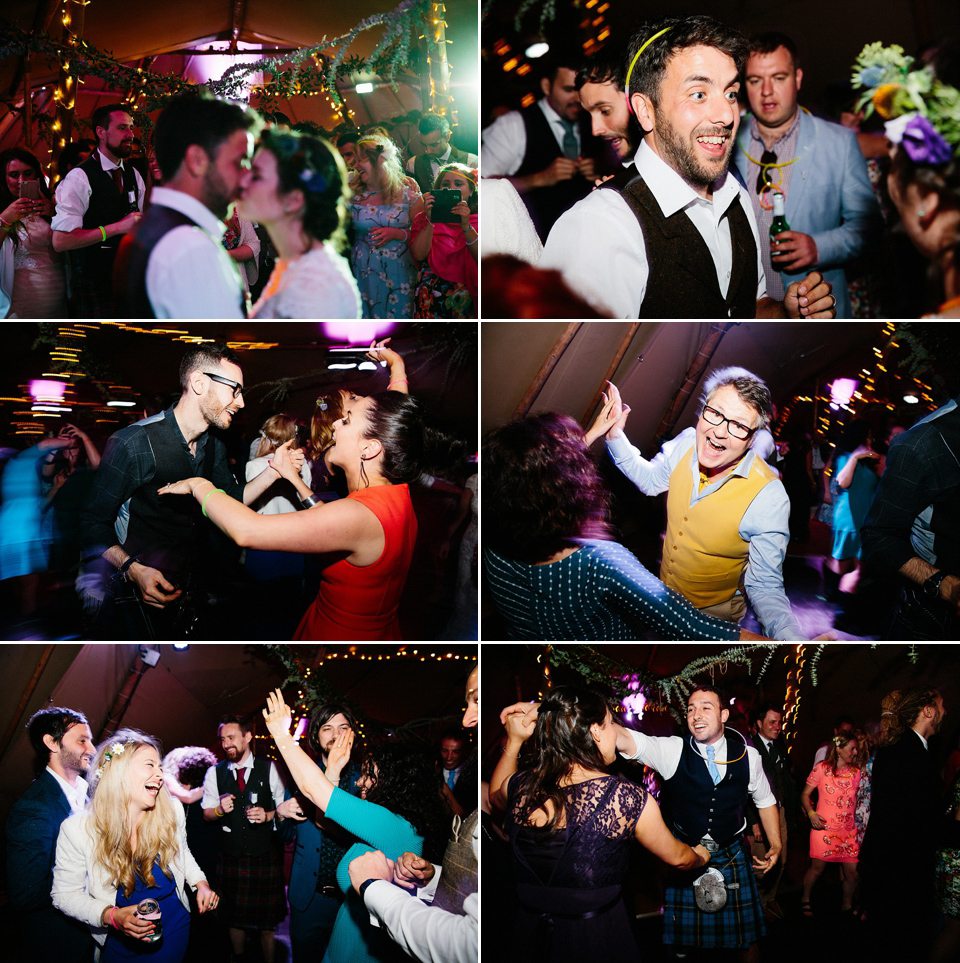 Words of Wedded Wisdom
"If you are planning a lot of DIY elements, choose suppliers wisely, speak to them beforehand and get the best your budget can afford. Ask friends and family about secret talents and get them involved. Don't be afraid of DIY, but definitely pay for a good caterer and a decent marquee (especially outdoors in Scotland) And beware of last minute spending after being initially very good with your budget."
Thank you so much to Claire and Lee, it has been a pleasure to write about your wedding and also to photographer Euan Robertson for the wonderful photos.
Love Caoimhe xx
Photographer – Euan Robertson Photography
Venue – The Bunkhouse, Glassie Farm, Aberfeldy, Scotland
Wedding Dress – Maggie Sottero from Lady G Brides, East Kilbride with alterations by Fabricated Alterations
Veil – Borrowed from a Friend
Headpiece – Sparrow and Rose
Shoes – Kukla Shoes
Accessories – Nancy Smillie
Bride's Scent/perfume – Dipytique Vetiver
Groom – 21st Century Kilts
Bridesmaids – Lori Lee by Coast
Florist – Sparrow and Rose
Cake – George Mewes
Entertainment – The Daddy Naggins + Alan Tennie
Rings – Bernstones + John MacIntyre
Catering – Reagan Hallett
Stationery – PaperSushi + BacktoZero
Hair Stylist – Atholl Beauty Rooms
Makeup Artist – Fiona Cross