One thing I absolutely love about working in the wedding world is seeing all the fantastic ideas people have for their weddings days- its incredibly inspirational and I'm always seeing new things I would have never dreamed of.  Today's wedding is one of these- the bride arrived by barge, which I just love, and after the ceremony the bride and groom surprised their guests with a champagne reception on that same boat, before their main reception at their favourite Bar and Restaurant.  It's very personal, slightly quirky and very beautiful- I love it, I'm sure you will too.
Meet David, an architect, and Victoria, who works in administration, who married at St Mark's Church, Primrose Hill, on the 12th of September 2015, followed by a reception at The Hill Bar and Brasserie, just down the hill from their home. ..
"I have always loved the 1920's and so wanted an essence of that without it feeling too much like a 'theme'.  Having got engaged in Paris we wanted to bring a sense of that vintage class to our day and Baz Luhrmann's 'The Great Gatsby' also caught our eye. With David being an architect and myself having a fashion degree, we were both really involved in the design side of the day."
Photography by Hearts on Fire
Find Hearts on Fire in Little Book For Brides
Follow Hearts on Fire on Instagram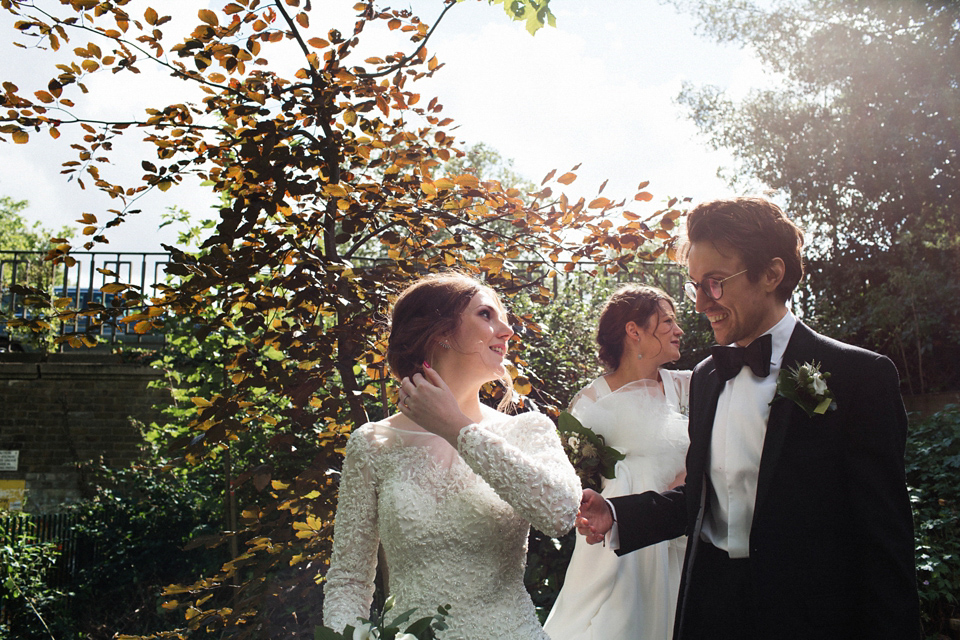 London based photographer Karolina of Hearts on Fire was chosen to capture the day and she did so with great style.  Victoria and David were thrilled – as are we, that Hearts on Fire are a member of our Little Book For Brides; "Karolina was amazing!  One of the most important aspects for me was the photography- neither of us were very comfortable at the idea of having our photographs taken all day but she was wonderful and put us at our ease straight away."
"We wanted a relaxed reportage style of photography that Karolina got immediately and we were so pleased and happy with the results.  All of our friends and family look like they are having a blast and she caught the mood of the day perfectly."
Victoria wore the absolutely beautiful 'Asli' by Maria Senvo, purchased from Heritage Brides at Hatfield House.  I am a huge fan of the fact it have sleeves and I'm in love with that low swooping back and all the wonderful beading!  (Also, don't you just love the photograph of Victoria's dad seeing her in her dress for the first time?  So lovely).
 "I have never really been into the big meringue style of dress and so wanted something a bit different.   I had my heart set on a feature back and long sleeves and finally after hours of research I found Asli.  The boutique was also just ten minutes from my Grandparents house which was a nice link.  The heavily beaded top was stunning and appealed to my inner princess!"
To accessorize, Victoria chose a gorgeous back necklace, purchased from Heritage Brides, earrings by Dannijo, and flat ballet slippers from French Sole.  To make sure she smelt as lovely as she looked she also chose a new perfume for the occasion- Penhaligon's Ellenisia.  Hair and make up were the work of Lisa Hauck, Victoria's usual hairdresser.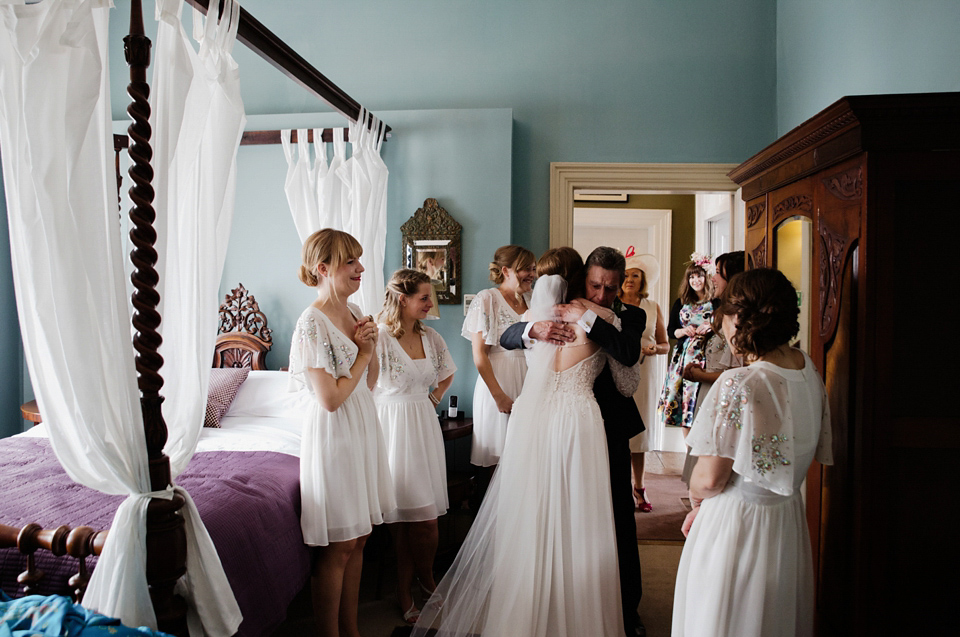 "We met on a dating website; David was the first date I went on and after a spectacular twenty-four hour first date it went from there!   Three years later we became engaged on my twenty fifth birthday in Paris on the 'Pont de l'Archeveche' bridge, near the Notre Dame, just the two of us and an accordion player. We obviously put a love lock on the bridge to celebrate."
Victoria arrived at the Church by canal boat!  A different arrival if ever I saw one- what a lovely idea.
"They then waited for us and we surprised all our guests with a canal boat cruise to Little Venice and back, even our parents had no idea!  After that it was then David's turn to surprise me with a vintage 1930's car to whisk us away to Regent's Park for some photos."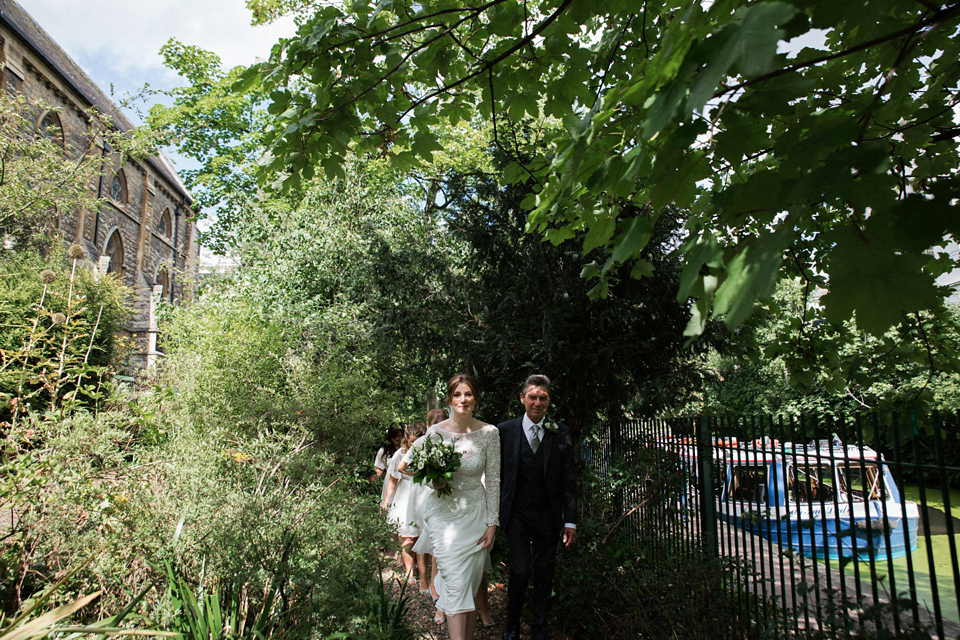 "We both wanted a local London wedding so our guests could experience our life and favourite places.  We chose St Mark's church as we walk past it all the time and it has such a beautiful setting beside the canal."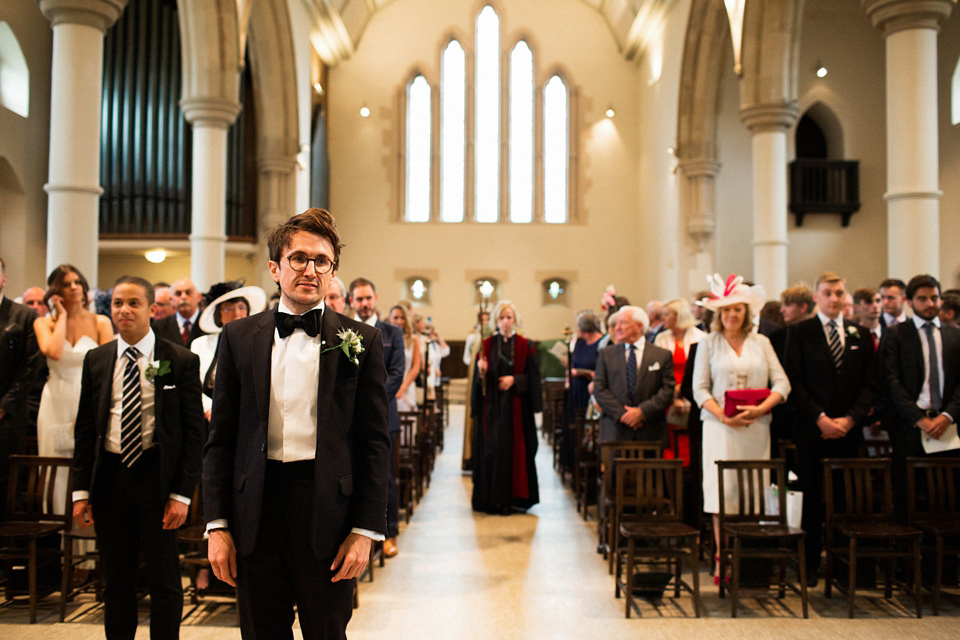 Victoria was accompanied down the aisle of the church by her father Richard, who was incredibly proud.  They walked to 'Ave verum corpus' by Mozart sung by the St Mark's choir, which must have sounded wonderful in the large building.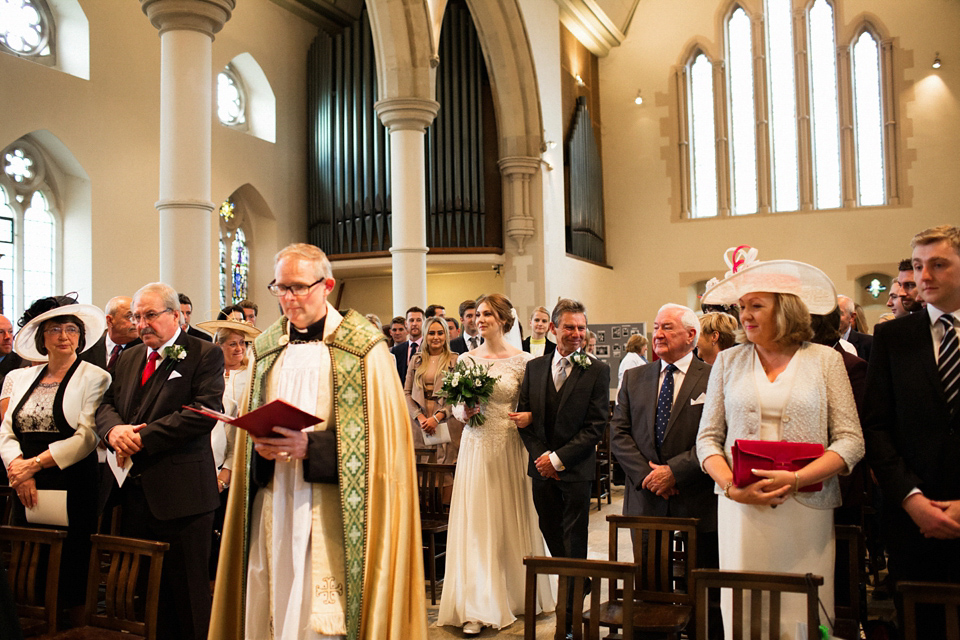 For readings, they chose  The First Letter of St Paul to the Corinthians 13: 1-13 read by their friend Ruth and then an extract from 'Les Miserables' by Victor Hugo read by Fran, one of the Bridesmaids..
The future belongs to hearts even more than it does to minds. Love, that is the only thing that can occupy and fill eternity. In the infinite, the inexhaustible is requisite.  Love participates of the soul itself.  It is of the same nature. Like it, it is the divine spark; like it, it is incorruptible, indivisible, imperishable. It is a point of fire that exists within us, which is immortal and infinite, which nothing can confine, and which nothing can extinguish. We feel it burning even to the very marrow of our bones, and we see it beaming in the very depths of heaven.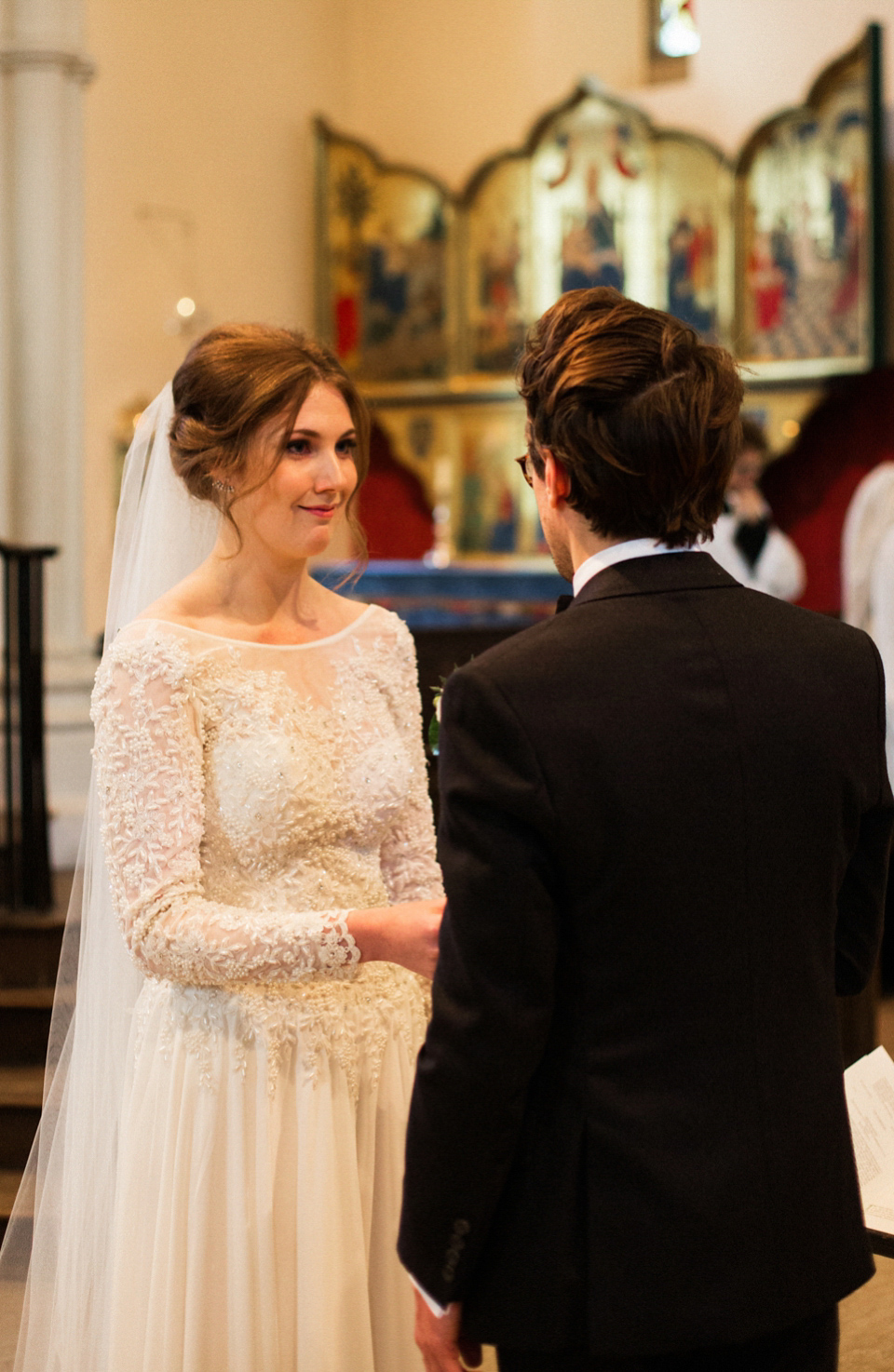 "My wedding ring was made by the same company that David commissioned my engagement ring from – Rings By Design in the North East. David decided not to have a traditional wedding ring but we adapted his signet ring (also cast by the same company) with an special engraving."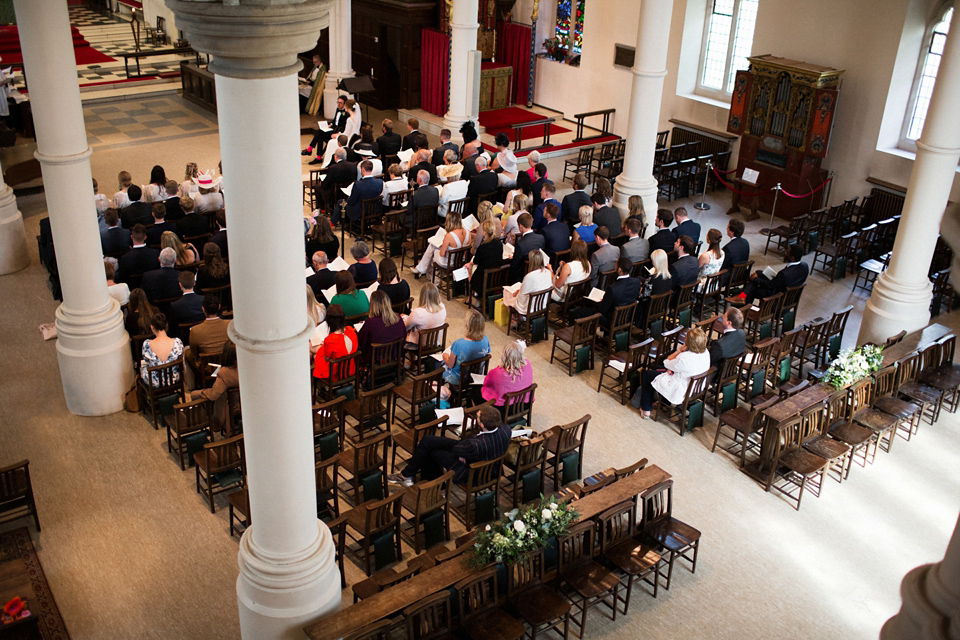 David looked incredibly smart in a dinner suit by Cuthbert James, Savile Row, paired with a Ralph Lauren dress shirt and Charles Tyrwhitt socks in pink.  There is definitely an old Hollywood feel to this slick outfit which works just perfectly for a wedding with a hint of 1920's glamour.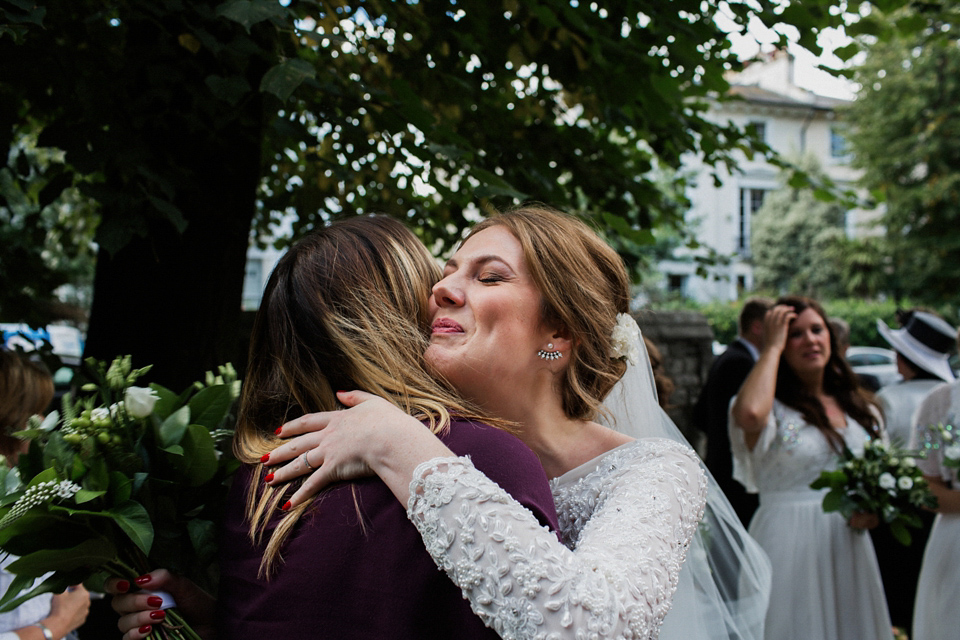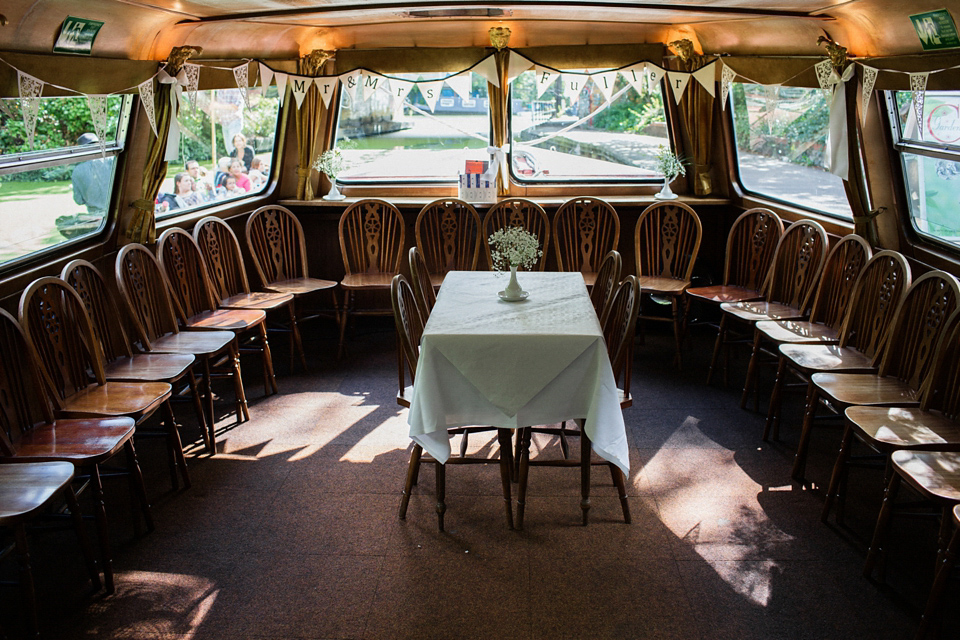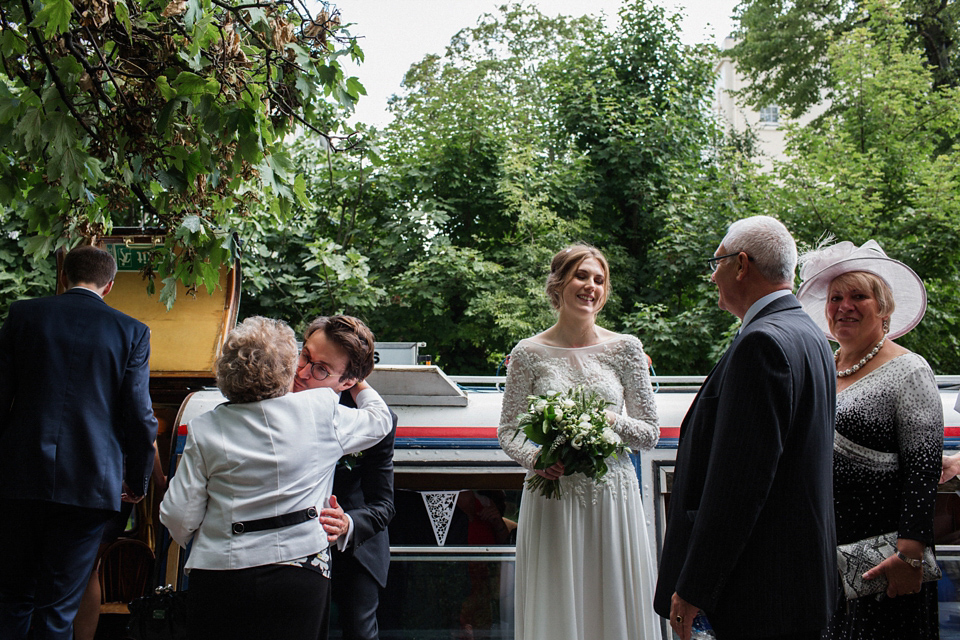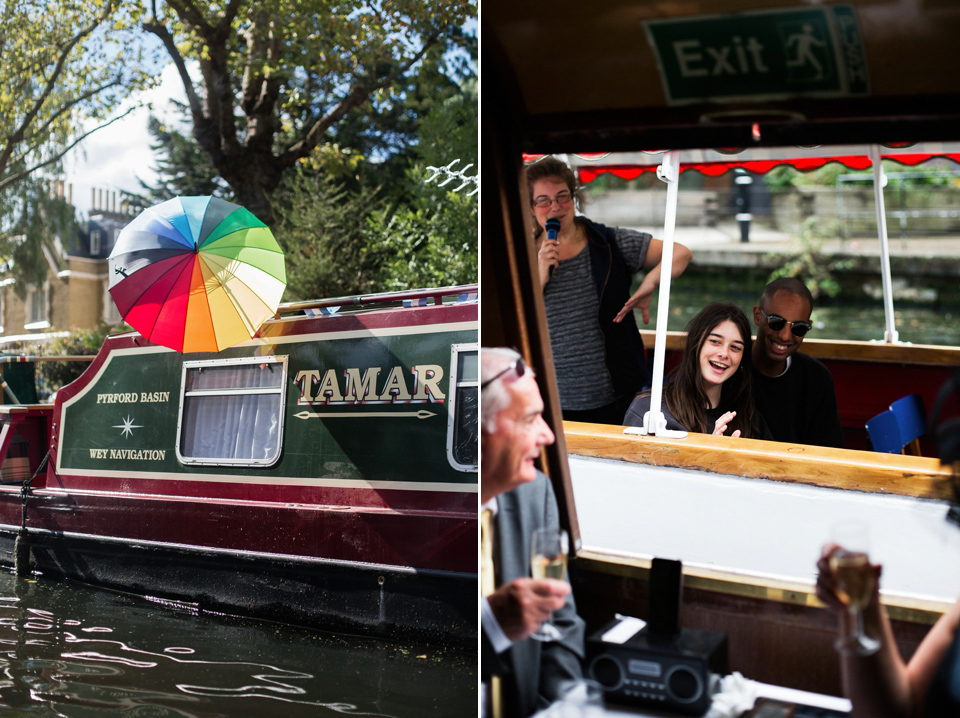 "My aunt Jacquie did our flowers.  A trained florist, I asked her to design us a scheme using a colour palette of green, white and creams.  She created a wonderful series of bouquets using interesting textures and even made us an arch of hanging ivy for guests to enter through to our reception."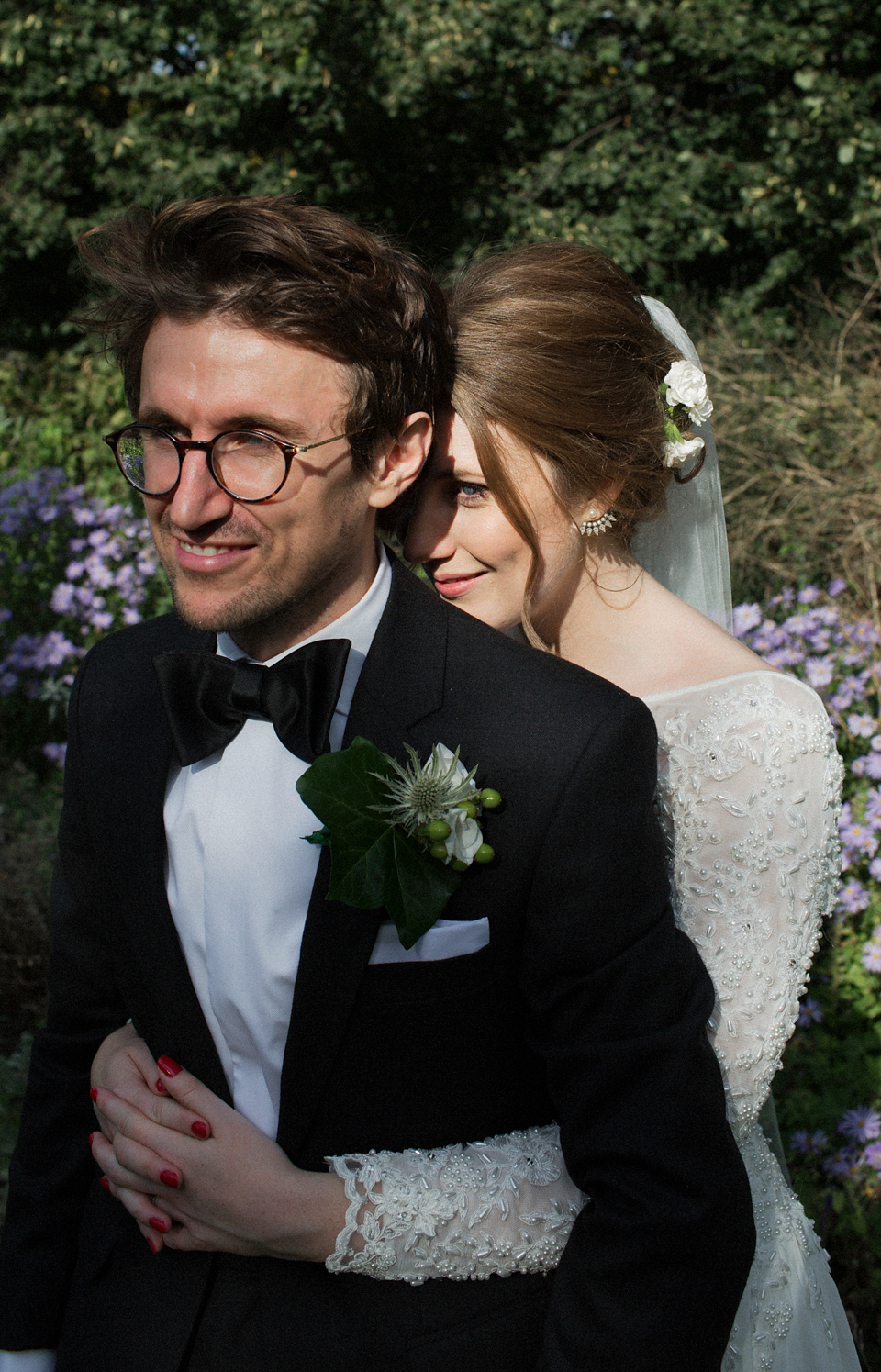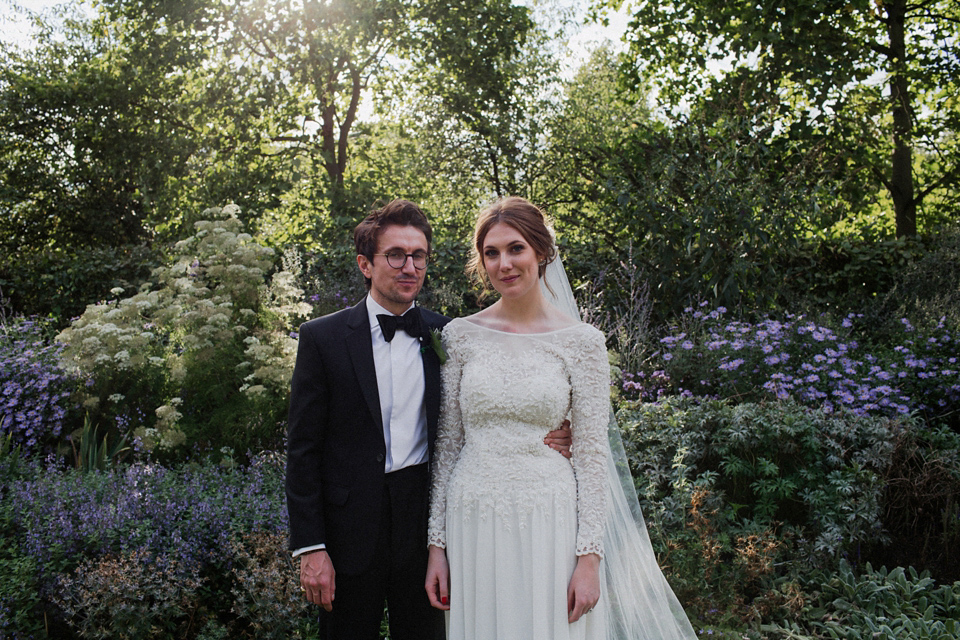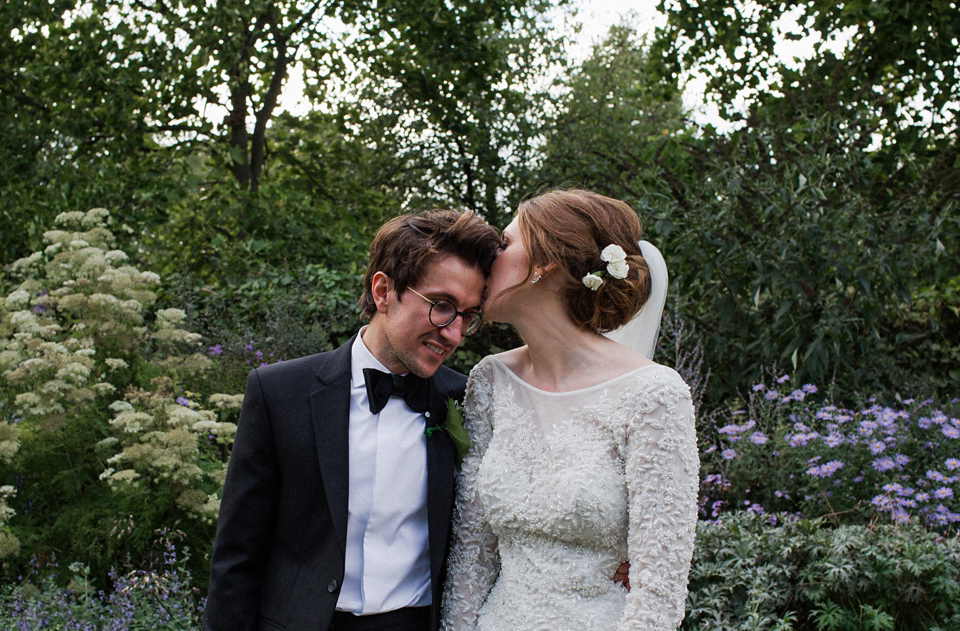 "Arriving at the venue after our photo's in Regent's Park and having all our friends and family outside the venue to greet us overwhelmed me with love and gratitude for them all.  We are so lucky to have them, and it also resulted in my favourite photo of the day."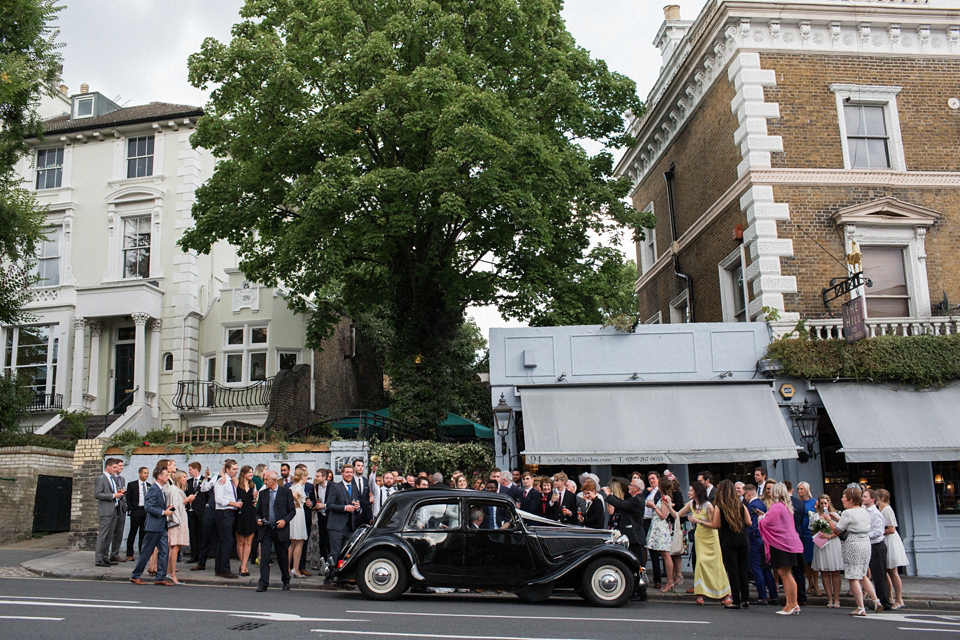 "The reception was held at our favourite bar/restaurant at the end of our road- The Hill Bar and Brasserie in Belsize Park- as we had become friends with the staff there and having always wanted an intimate wedding, as soon as we got engaged we knew it was the right place for us."
"My maid of honour Emily is a patisserie chef and made our four tier blue and gold masterpiece.  Her brief was Blenheim palace!  Each tier was a different flavour and included the traditional fruit cake, apple crumble, earl grey and lemon and chocolate and kirsch."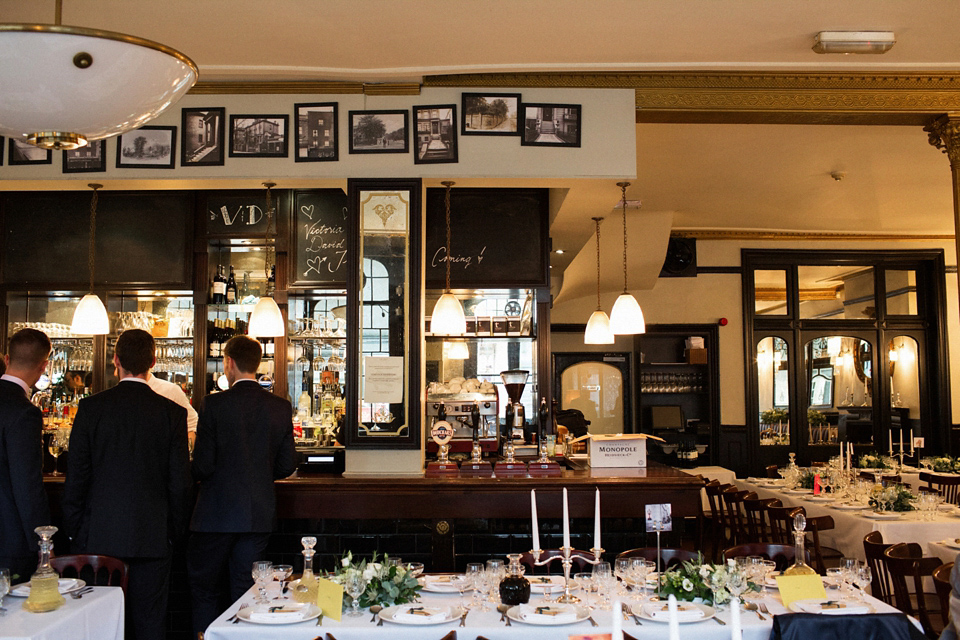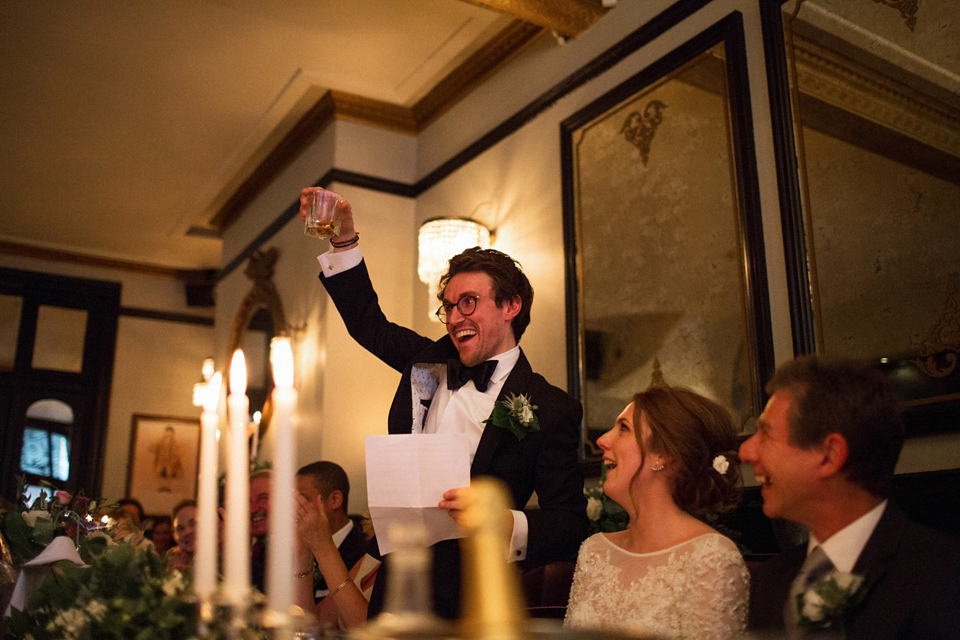 Another friend, Ruth, provided the couple's favours. Each guest received home made tablet which is traditionally given out at Scottish weddings.  Each pack was tied with tartan ribbon and acted as a nod to Victoria's heritage.
Victoria's grandad also got in on the act and hand drew an illustrated map to go in each wedding invitation (designed by Strawberry Sorbet).  The original now hangs on Victoria and David's wall.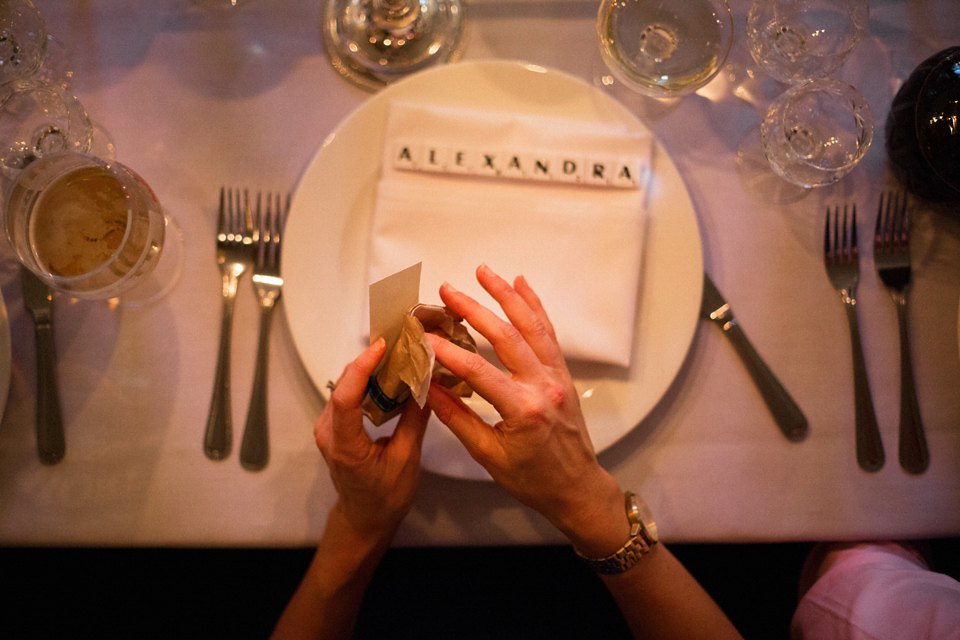 "Our Best Man's dad played the piano for us during the meal and then to get the party started we had the brilliant Harry from DiscoWed.  As soon as we saw their policy of no PA announcements and no songs that contain dance routines we knew we were on to a winner."
Words of Wedded Wisdom
"Book a pamper session for you, your mum and the girls the day before and once you walk through those salon doors, let go and leave all the stress and planning behind you.  The day goes by so quickly and you need to absorb it all, not worry about what you didn't get round to doing – your guests will never know anyway.
As someone who tried to organise a really personal wedding, I found reading about other bride's weddings on @lovemydress gave me the drive to keep going – I knew the result was out there! So many magazines give you the same faceless advice; it was so refreshing to actually hear from real brides achieving their version of a perfect wedding."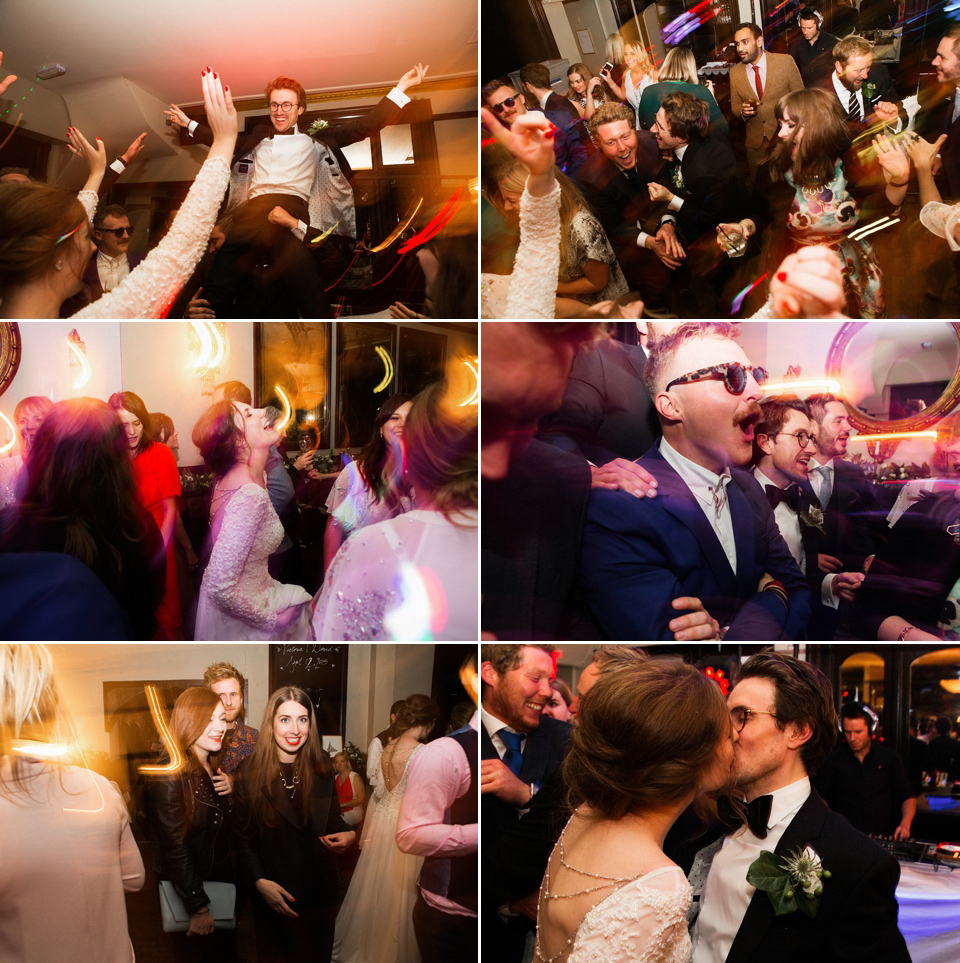 I really liked this comment- we hope to give you some beautiful weddings to pore through daily, but with a bit of realism and lots of individuality- life is nt a magazine shoot and I think we show you that while the real thing might not be completely flawless, it will be perfect all the same.
Much love,
Shona x
Photographer – Hearts on Fire
Venue – The Hill Bar and Brasserie, Belsize Park, London
Wedding dress –  Asli by Maria Senvo, purchased from Heritage Brides at Hatfield House
Veil – Purchased online (no details)
Accessories – Back necklace from Heritage Brides, Earrings by Dannijo
Shoes – French Sole
Perfume – Penhaligon's Ellenisia
Bridesmaid dresses – ASOS
Groom – Suit by Cuthbert James, Savile Row; Ralph Lauren dress shirt; Charles Tyrwhitt socks
Florist – Family
Cake – Made by one of the bridesmaids
Rings –Rings By Design
Hair and Makeup – Lisa Hauck
Entertainment – DiscoWed
Stationery- Strawberry Sorbet