Hello, we're so happy that you've joined us today. Hopefully you're having a great week so far. Here at Love My Dress we are big fans of the wonderful Charlie Brear and we are always delighted to show you a bride in one of her stunning designs. Jen is an environmental manager while her new husband James is an investment analyst. They were married on the 3rd of October 2016 at the lovely St Alkmund's church followed by a reception at Combermere Abbey, Whitchurch.
The images by Amy B Photography capture the wedding beautifully and with a real sense of fun. Please also take a minute to check out the film made by the wonderful York Place Films. I adore the music in this film – it wonderfully captures the fun, party spirit of this lovely wedding.
"Matt and Alex of York Place Films were brilliant, we didn't know they were there as they mingled capturing loads of great footage! It's amazing how much you forget from the day so they really brought it to life for us.  We are so excited for the long version! We wouldn't hesitate to recommend them."
Film by York Place Films 
See York Place Films in Little Book For Brides
Follow York Place Films on Instagram
Jen first came across at Charlie Brear at The White Closet in Didsbury and loved the concept of having a base and adding elements to change the feel and style of the dress. Keen to try more, she headed to the Charlie Brear flagship store in London.
Film by Amy B Photography
See Amy B Photography on Little Book For Brides
Follow Amy B Photography on Instagram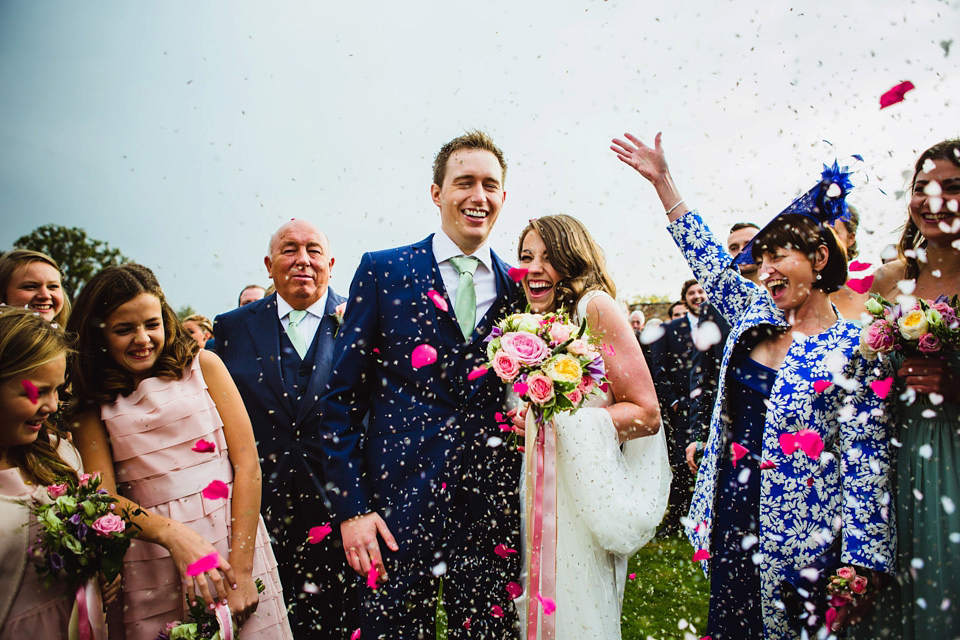 "The Charlie Brear store is amazing – one of the best dressed showrooms and the staff there, Hannah, Holly and Mandi, were so lovely and helpful. After much deliberation I picked my dress because it was comfortable, fitted like a glove and felt light."
"My dress was classic yet still had personality and it was something I didn't think James or my friends would think I'd pick! It took a while to decide as I'm so indecisive. I wasn't one of those people who said "that's the dress", I think there's a lot of pressure sometimes to find the one. In reality I think there's usually two or three that are great!"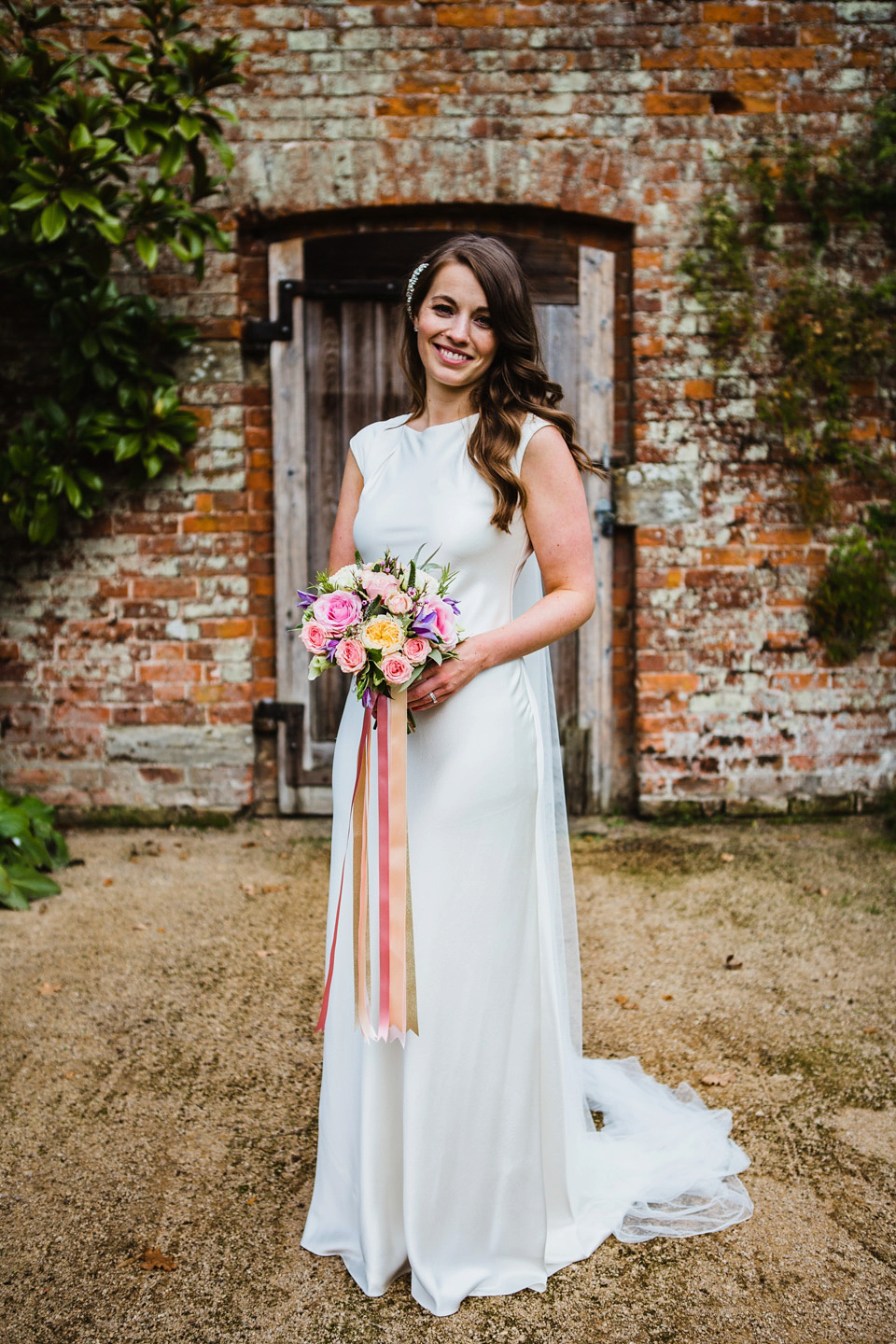 "I'm from Liverpool and James Hertfordshire so we were looking for a venue somewhere in the middle. Combermere Abbey was one of the very first venues we visited, we both immediately felt at home there so we knew that was the one for us.
We're both keen on the outdoors and Combermere offered the perfect balance of being outdoors and indoors (should we have bad weather). The walled gardens added an interesting feature and we loved the fact the wedding day could move from one garden to the next – we had our drinks reception in the pavilion and the reception in the walled garden. The cottages on site slept just under 50 and it allowed us to have friends and family stay and entertain guests the night before too."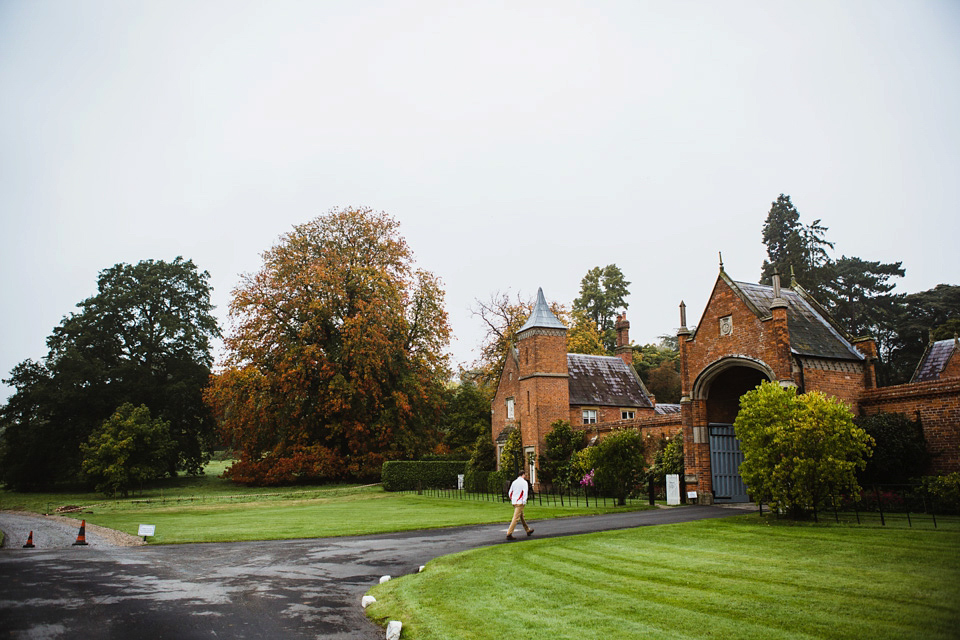 "We were actually set up by our best friends from home who are married. We went to the Lake District for the weekend with them and hit it off. We had our first proper date in London a few weeks later (paid for by James' mum – we think she was quite keen for James to get a girlfriend) and the rest is history.
James proposed on Waterloo Bridge in London. We lived just behind the Oxo Tower on the Southbank for a few years so the area held lots of happy memories for us both. The proposal was a total surprise, it was a pretty average Saturday. James was revising for exams and I was lunching with friends so meeting James on the bridge with a ring was unexpected. We went to Skylon on the Southbank afterwards for some celebratory champagne."
The bride chose a side clip from Jenny Packham to compliment her veil from Charlie Brear. She also added a bit of sparkle with her bag and shoes Karen Millen.
"I love candles, flowers and mercury glass so these were the inspiration for the day! We were keen for the venue to look warm, colourful and inviting so went for a soft palette of pinks, peaches, gold. I'm also an amateur florist so flowers were important and even toyed with doing them myself. I wanted colourful bouquets, peonies are my favourite but being out of season Sam at The Flower Divas suggested David Austin Roses which have similar features. I then had a mixture of roses, tea roses, wax flower, clematis and rosemary with foliage. The table displays in the reception also had hydrangea.
I'm getting my wedding bouquet preserved into a paper weight by The Flower Preservation Workshop as a lovely keep sake."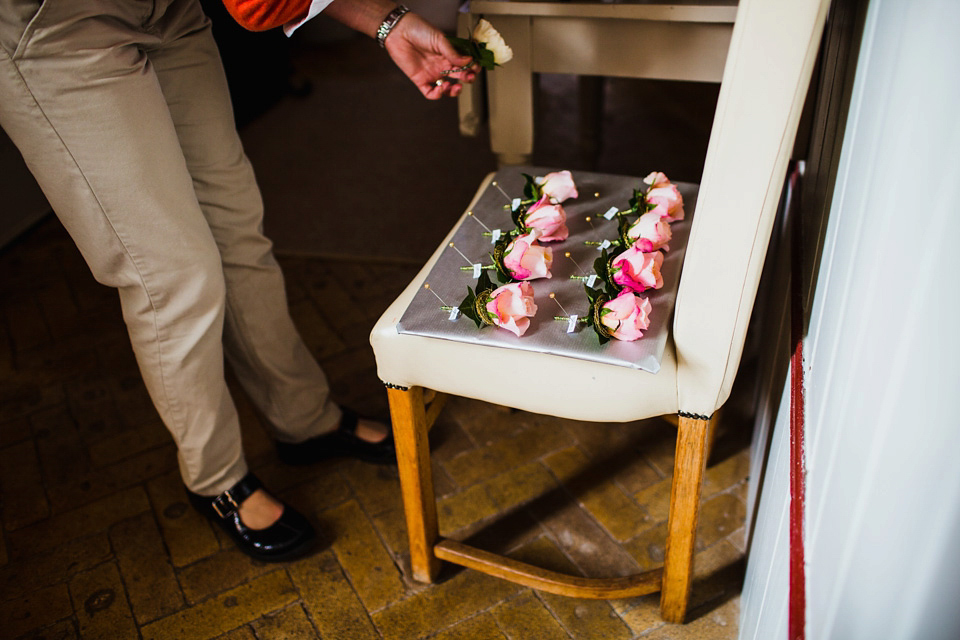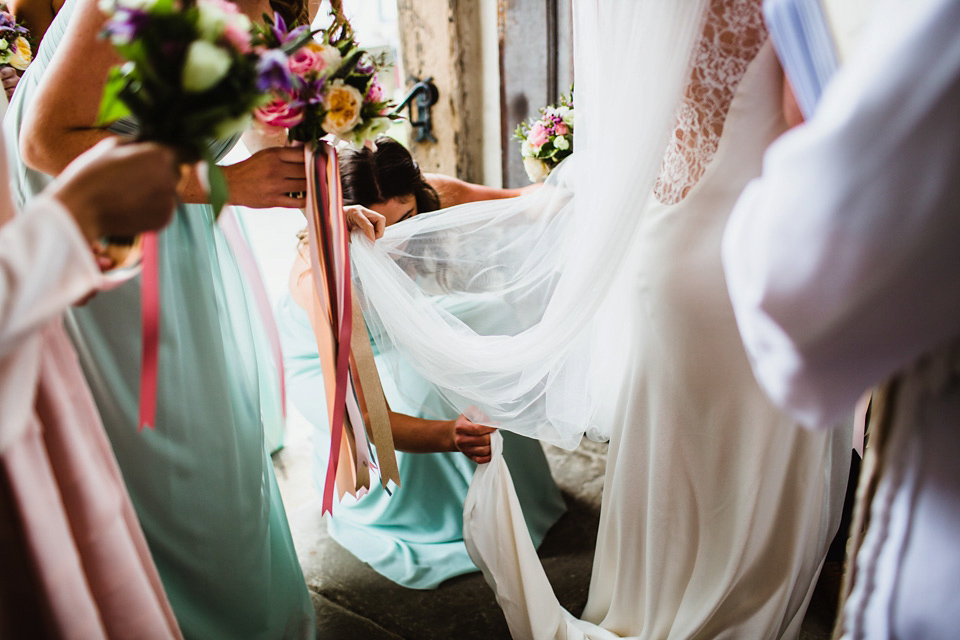 Jen's six bridesmaids wore gorgeous mint green dresses from Debenhams with their own choice of metallic or nude shoes. The ladies all wore accessories from Orelia and Accessorize. The gorgeous flower girls wore pretty pink dresses and a cardigan from BHS.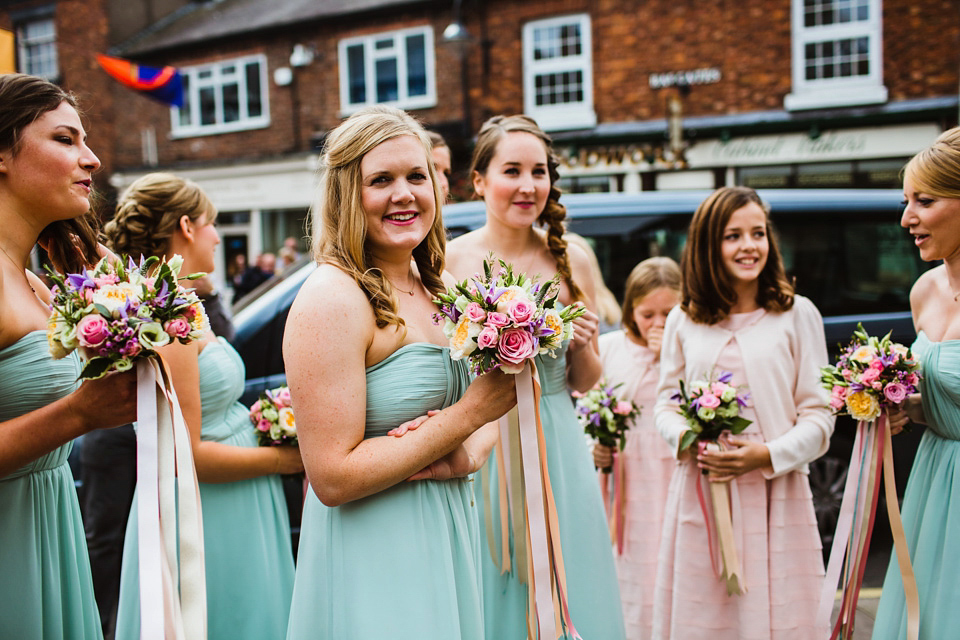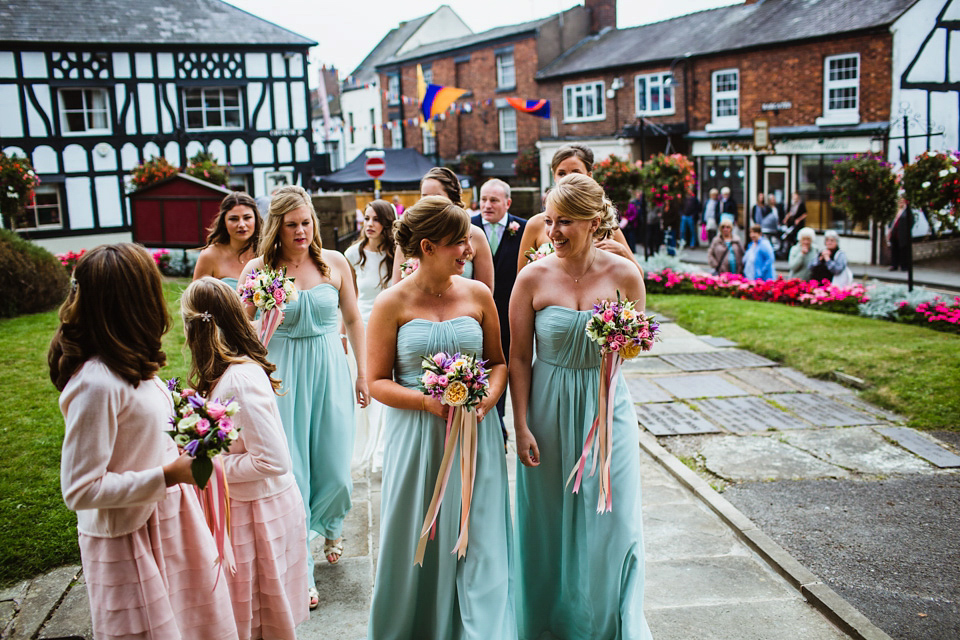 Jen's dad walked her down the aisle to 'The Cinematic Orchestra Arrival of the Birds'.
"Walking down the aisle and actually getting married was the best bit of the day for both of us, it was such an emotional moment walking towards James down the aisle and the same for James with me, it all felt pretty real then and amazing that our friends and family were here to support us and celebrate."
Groom James was kitted out in a blue suit by Austin Reed and a Swagger & Swoon Tie, matching his groomsmen. All of the guys matched James in a blue three piece from Next.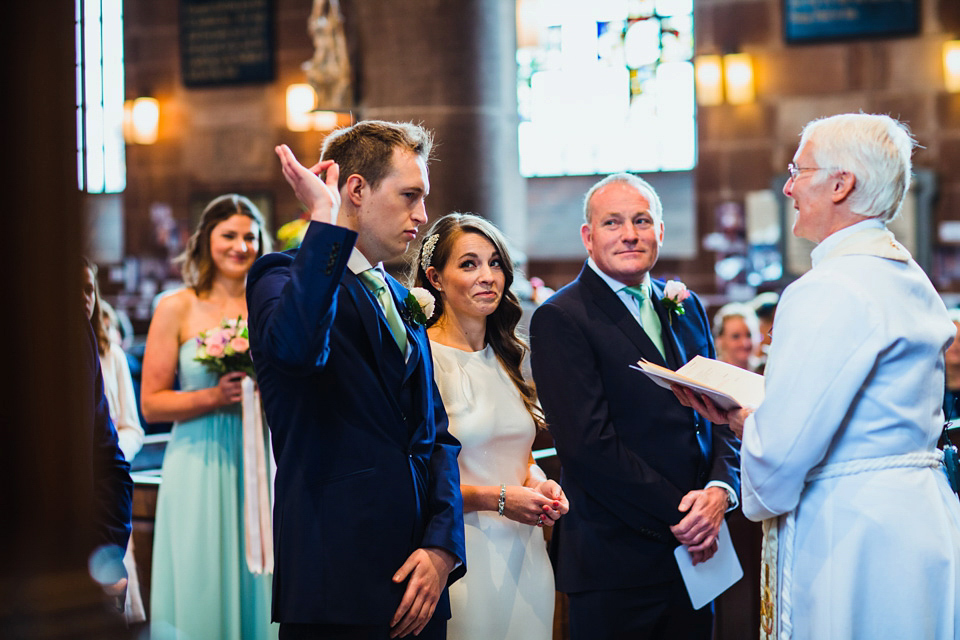 "We made traditional vows and had two readings, the lyrics of 'Wouldn't It Be Nice' by The Beach Boys and Corinthians Chapter 13 (below)…"
Love is patient, love is kind. It does not envy, it does not boast, it is not proud. It is
not rude, it is not self-seeking, it is not easily angered, it keeps no record of wrongs.
Love does not delight in evil but rejoices with the truth. It always protects, always
trusts, always hopes, always perseveres. 

Love never fails. But where there are prophecies, they will cease; where there are
tongues, they will be stilled; where there is knowledge, it will pass away. For we know
in part and we prophesy in part, but when perfection comes, the imperfect
disappears. When I was a child, I talked like a child, I thought like a child, I reasoned
like a child. When I became a man, I put childish ways behind me. Now we see but a
poor reflection as in a mirror; then we shall see face to face. Now I know in part; then
I shall know fully, even as I am fully known. 
And so Faith, Hope and Love abide. But the greatest of these is Love.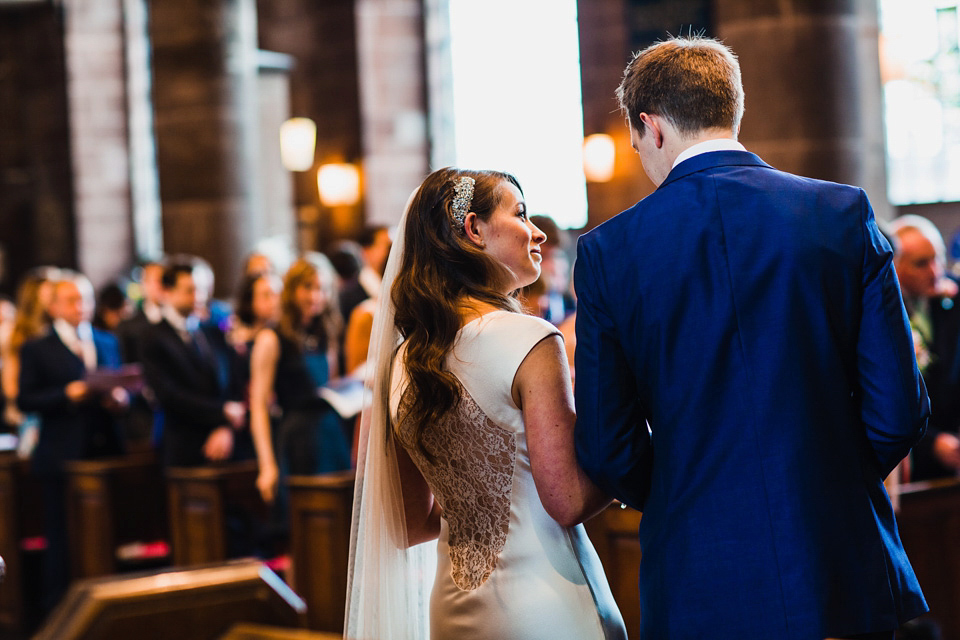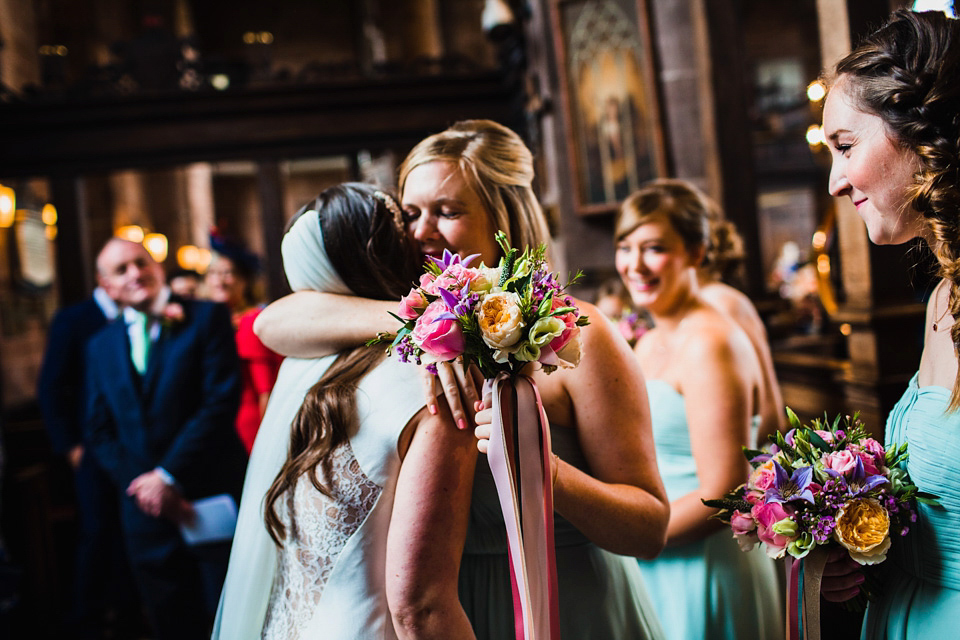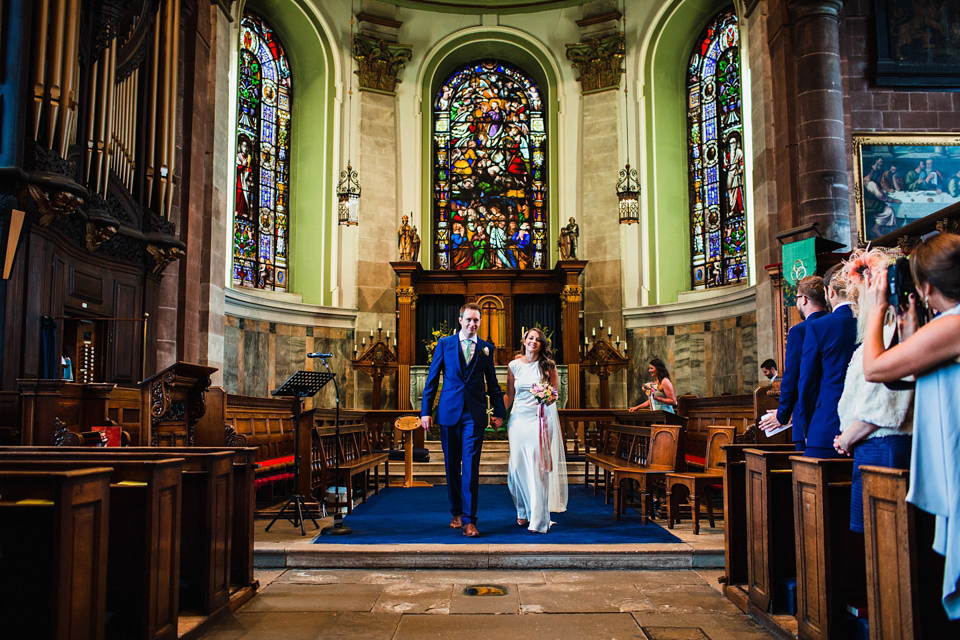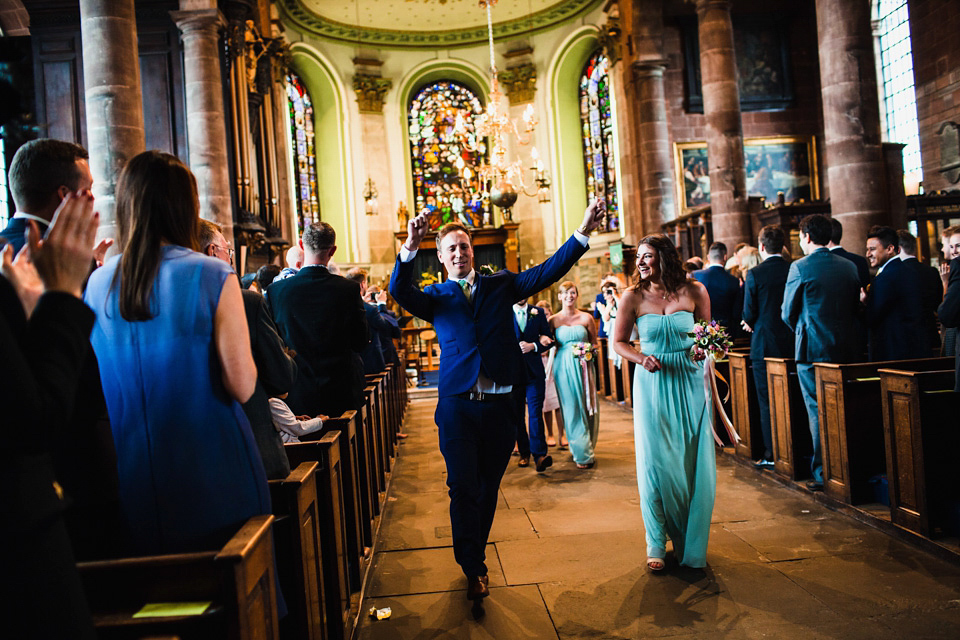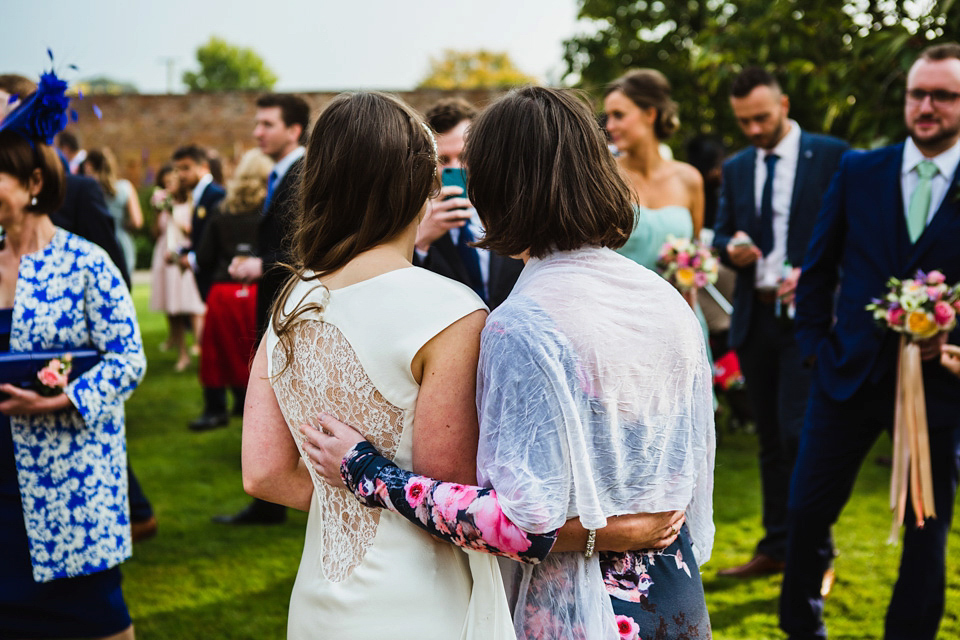 Amy B Photography captured these stunning images. Her pictures are so full of character and I am particularly partial to a good confetti shot. Amy's image of Jen and James may be one of my favourites, the pink petals pop and really bring the image to life. She comes highly recommended by the newlyweds.
"Amy was amazing, she is so friendly and talented and made us feel immediately at ease. Amy captured so much emotion from the day and everyone has commented on our photographs to say how much they loved them. We would honestly recommend Amy to everyone – great photos, lovely person, great to have there on the day."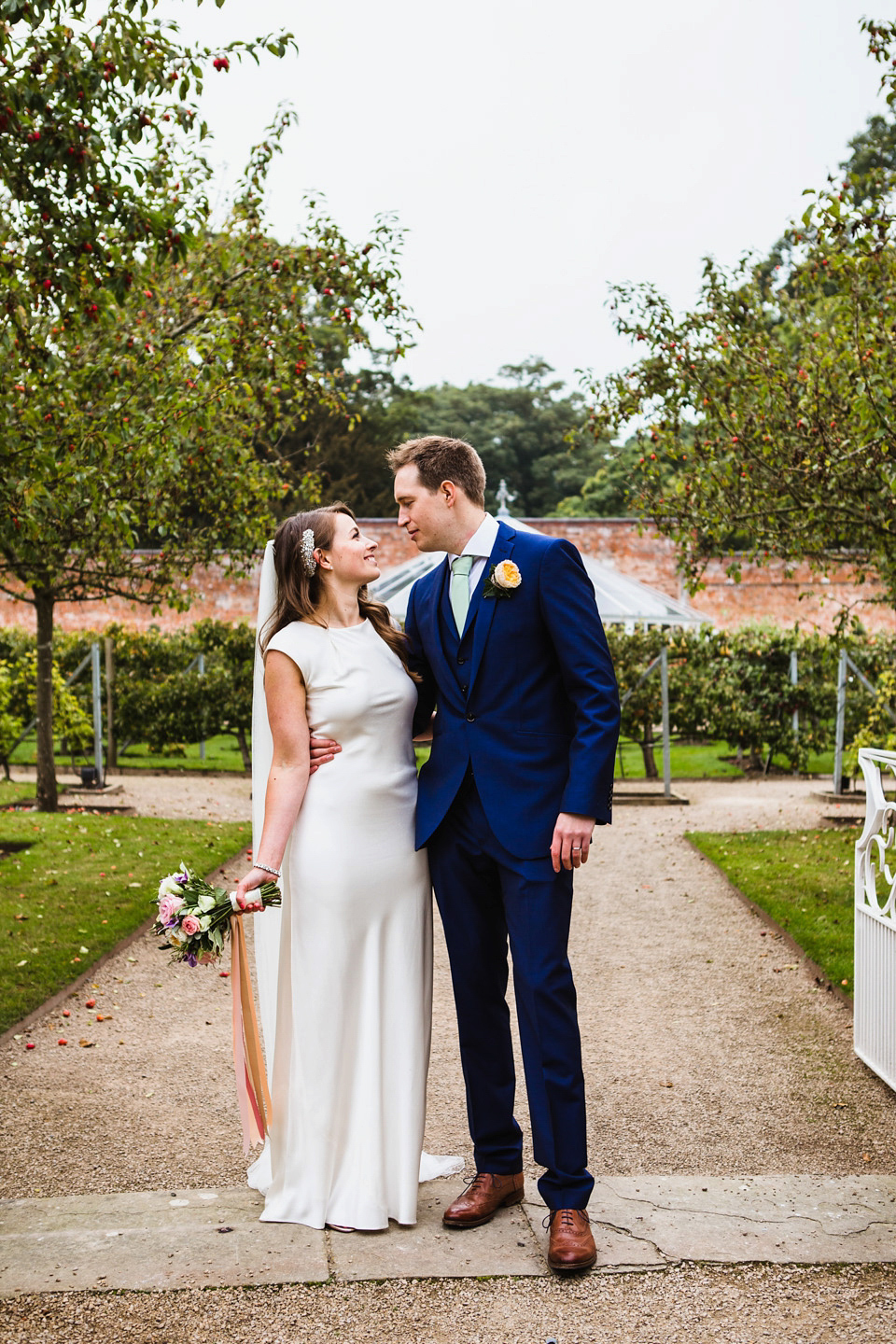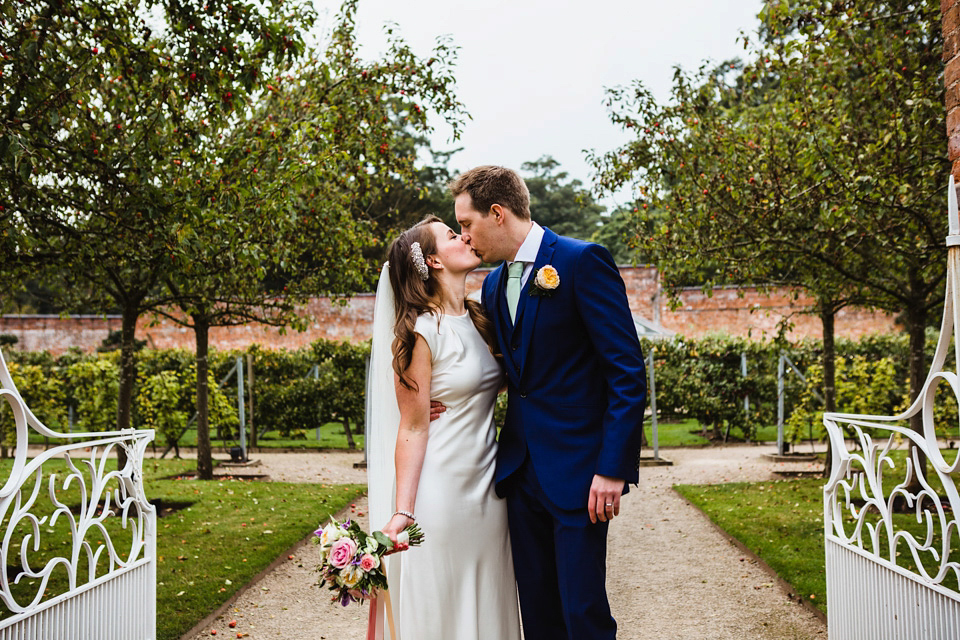 Jen's mum made the lemon, carrot and chocolate cakes, with her work colleagues as chief tasters. Sam from The Flower Divas put some flowers on top of each cake.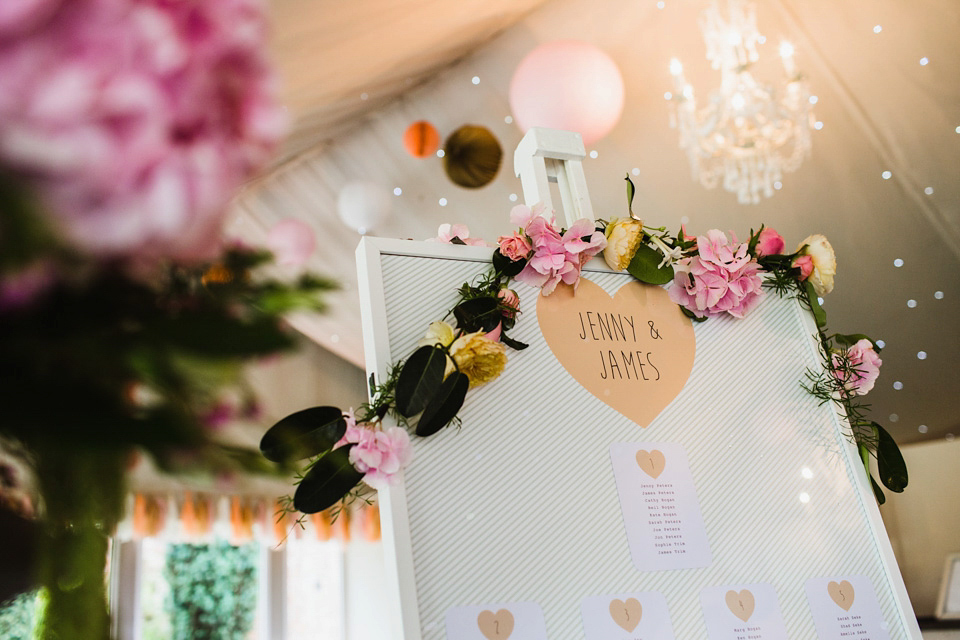 "We made 600 paper tassels and had to rope in a lot of family to get them done on time. It was an achievement but took so much longer than we thought it would, James and his ushers were up first thing on the day putting them up in the marquee."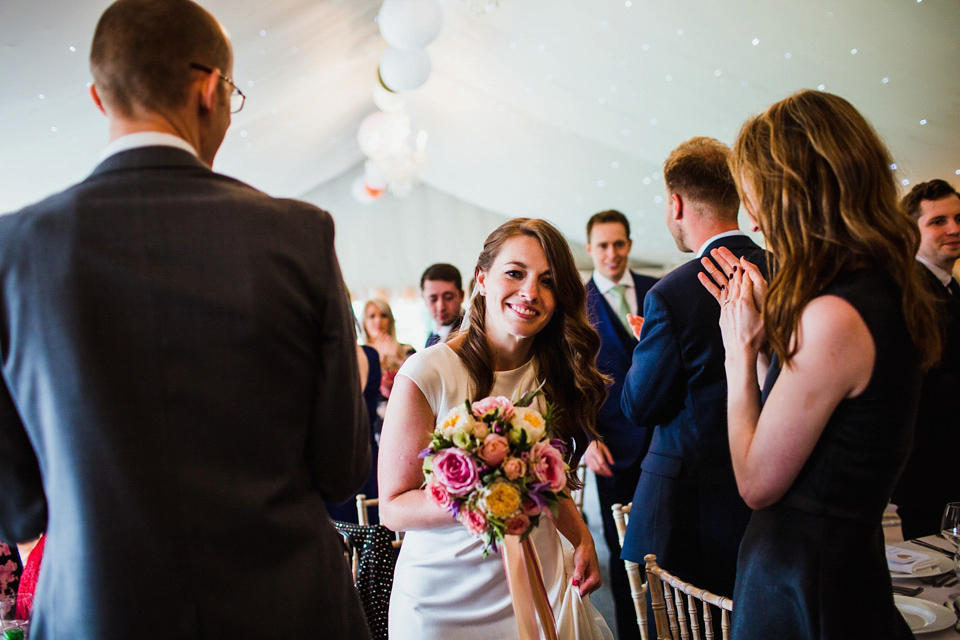 "The speeches were an unexpected highlight, my sister sang her speech and James' brother had his impressions down to a tee. They ran massively over but were absolutely brilliant."
"We decided to make our own photobooth using lengths of ribbon and paper fans. We bought a Polaroid camera and props for people to have fun with. It worked out really well.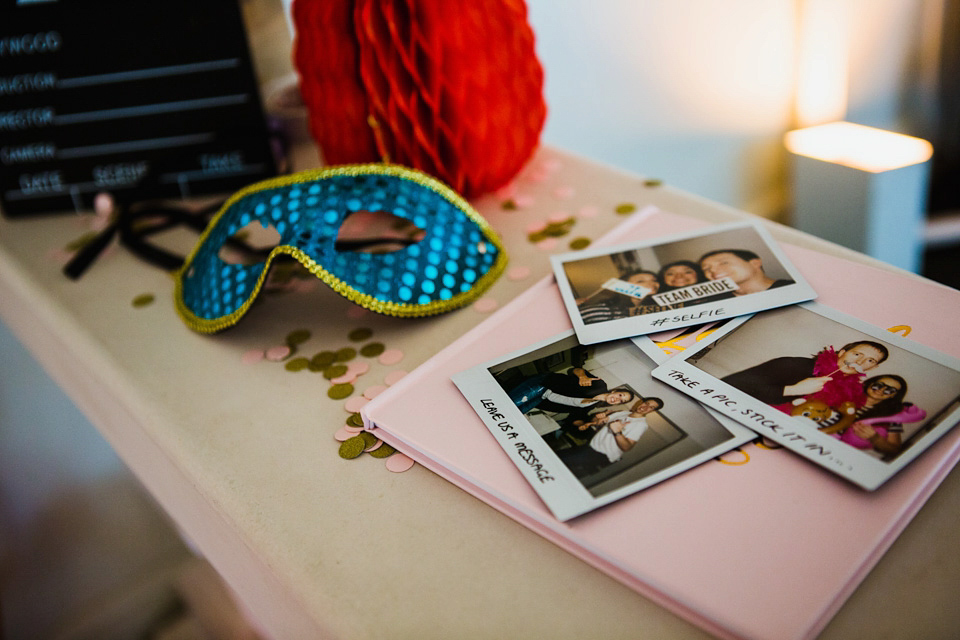 "Groove Anatomy were great, the dance floor was packed and it was literally bouncing at the end. We chose  'This Will Be' by Natalie Cole for our first dance. We don't actually have a song and just really loved this one."
Words of Wedded Wisdom
"Enjoy the day, the moment, the fuss, the love – it's honestly the best day of your life! I think it's the one day to indulge in having some attention and it's so special to have everyone there supporting you both, don't worry about little things that don't go to plan on the day it'll only be you and your partner that notice. And it's ok to ask for a bit of help to get you through the months and days leading up to the big day.
Also in hindsight, we were so conscious of not bothering people that we probably swamped ourselves with things to do. The paper tassels and ceiling decorations were brilliant but we should have finished them the month, not the week before the wedding, when really perhaps should have been resting up."
Thank you very much to Jen and James for allowing us to show your beautiful wedding to our readers. Also thanks to Amy B for the images which tell the story.
Love Caoimhe xx
Photographer – Amy B Photography
Film – York Place Films
Venue – Combermere Abbey, Whitchurch, Shropshire
Wedding Dress + Veil – Charlie Brear
Headpiece – Jenny Packham
Shoes – Karen Millen
Accessories – Carat + Jenny Packham
Bride's Scent/perfume – Coco Noir by Chanel
Groom – Austin Reed Suit + Marks and Spencer Shoes + Swagger & Swoon Tie
Bridesmaids – Debenhams Dress + Accessorize + Orelia Jewellery
Flowergirls – BHS + Little Nell Necklace
Florist – The Flower Divas
Cake – Made by the Bride's Mother
Entertainment – Groove Anatomy
Catering – Olive Tree Catering + Wood Fired Pizza Engine
Hair Stylist and Makeup Artist – Victoria Bond