Lovelies, are you ready for some serious glamorous dress inspo? This beautiful wedding I'm sharing features one of my all-time favourites: the divine 'Eden' by Jenny Packham and, as seen in these gorgeous images by our Little Book For Brides member, Razia N Jukes, the couple's day was filled with loads of sweet personal touches and entertainment galore for their nearest and dearest.
Bride Lisa, a sales director, and groom Ian, who works as a pub commercial director, were married on 15th August 2015 at the very quirky venue The Bell Inn in Ticehurst, East Sussex.
"We wanted to make our day as much about us as our friends, family and the places where we have come from (South Africa, Hong Kong and the UK). Pinterest was a great source of inspiration for how to bring our view to life and add a touch of glamour suited to our wedding. The elegant and quirky ambience of The Bell Inn was the perfect backdrop and really led the styling. I did not want to detract from this magical wonderland of a venue and chose a mish-mash of small, personalised details that were in keeping with the relaxed, rustic 'pub' feel."
Photography by Razia N Jukes Photography
Find Razia N Jukes in Little Book For Brides
Follow Razia N Jukes on Instagram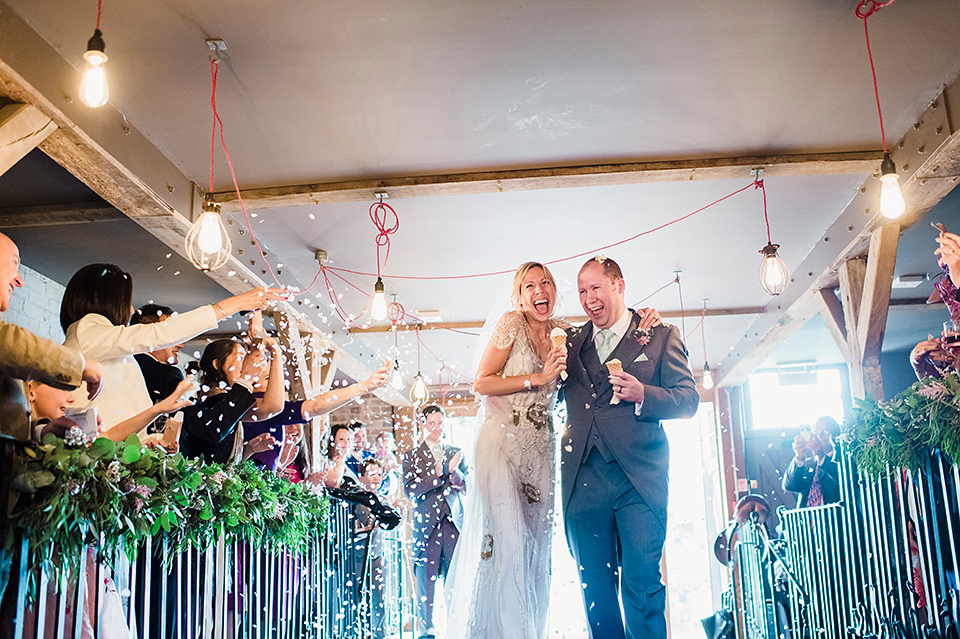 The unique blooms for Lisa and Ian were absolutely incredible and paid homage to Ian's South African background. My mum lovingly tended to a protea bush at the house where I grew up in Australia and I vividly remember their distinct style and have always marveled at their intense beauty; "Sophie from Astilbe and Sorrel was recommended to me by my friend Victoria and I am so glad she was part of our wedding. Her flower arrangements were the perfect balance of wild and beautiful and she really took all our suggestions and ideas in her stride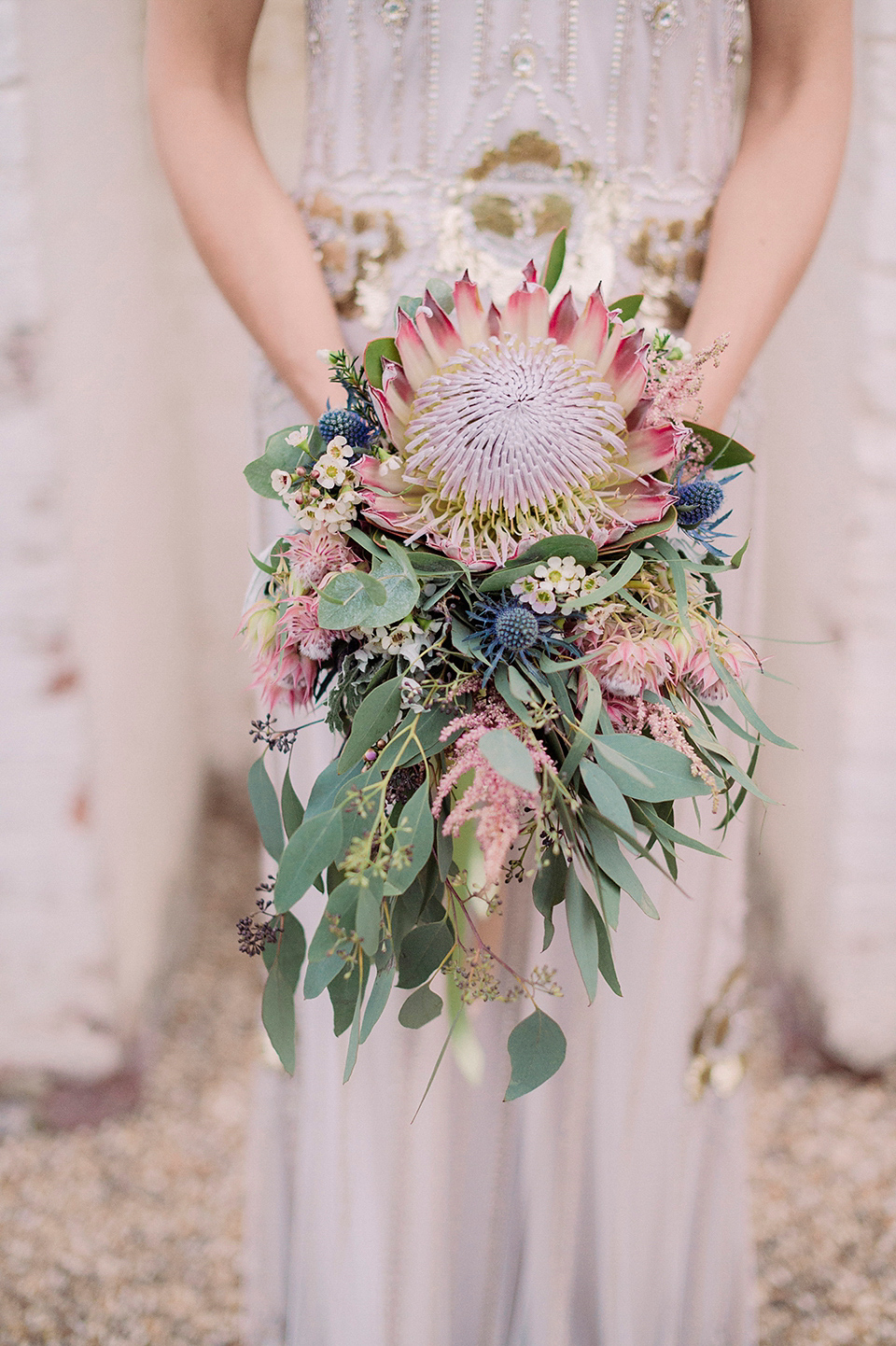 Lisa found a glamorous Gatsby-esque headpiece from Doloris Petunia on Etsy.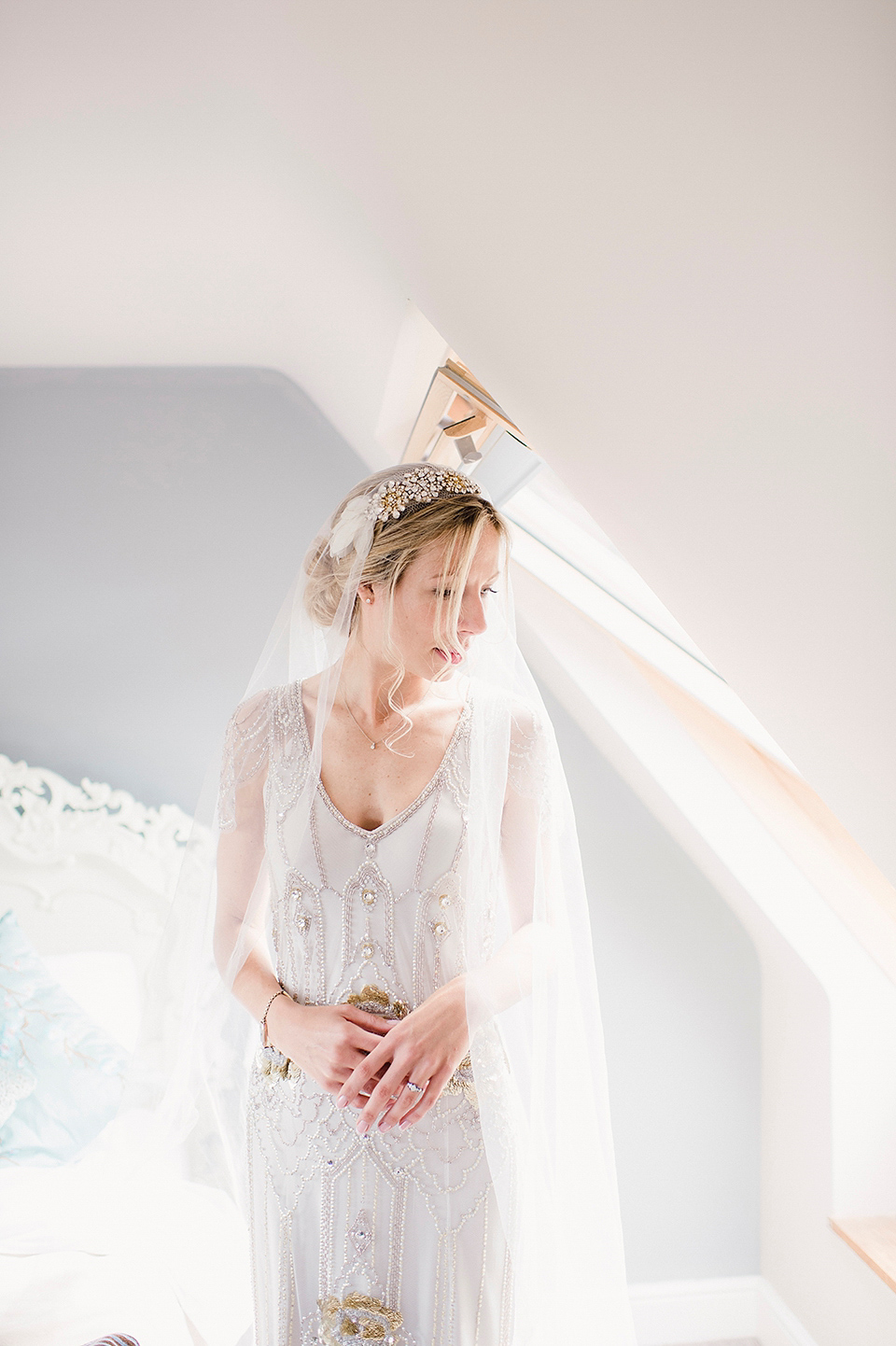 "I always knew that I wasn't one to go for the big, white dress. Even after trying one on just to make sure, I felt like I was playing dress up. They are gorgeous in their own right, but just not me. Jenny Packham has always been a favourite designer of mine and her wedding dresses embody timeless elegance with a unique vintage touch."
"My dress was by Jenny Packham and I chose the 'Eden' style in platinum from an amazing bridal store called The Pantiles Bride in Tunbridge Wells on their designer day. I have my mum to thank for helping me make my dream come true and Maria and Alexandra from The Pantiles Bride were incredibly helpful, attentive and made it a really amazing experience. The next big choice was which of these exquisite gowns was for me. Luckily, Eden in platinum was an easy choice – the soft grey silk lining and incredible beaded detail really gave it that classic, art-deco feel. I felt so beautiful, I had the moment, I cried and so did my mum. Decision made!"
The beautiful bride added the single-tier Sassi Holford 'Charlotte' veil in mink, also from The Pantiles Bride, and wore the veil inverted to fall in a puddle behind her dress as she walked down the aisle, how stunning! Lisa donned 'Twiggy' LK Bennett low heels in iridescent silver with a touch of golden shimmer. With a spritz of 'Love Story' by Chloe, Lisa kept her jewellery simple.
"I opted for a delicate diamond necklace that was a birthday gift from Ian, the diamond studs to match, which were my wedding gift and my grandmothers' vintage gold watch. In my Accessorize clutch bag was a gold and diamond ring my mum let me borrow that was given to her by her mum – unfortunately it was too big for me to wear."
"The makeup artist, Ellie Gill from The Beauty Aisle, recommended Liz Bower from Simply Beautiful Wedding Hair and they were an exceptional team. I am not one to wear a lot of makeup, but wanted to look my best 'polished' self on the day (and all through the day), which Ellie really understood – we chatted through different looks, colours, and how to accentuate features in the consultation, so that on the morning of our wedding it was completely stress free.
Liz was incredible and instinctive; she really created the look that I was going for – a loose, low bun with side braid that matched my dress, headpiece and style of the day. I felt amazing walking down the aisle and can't recommend this artistic duo enough."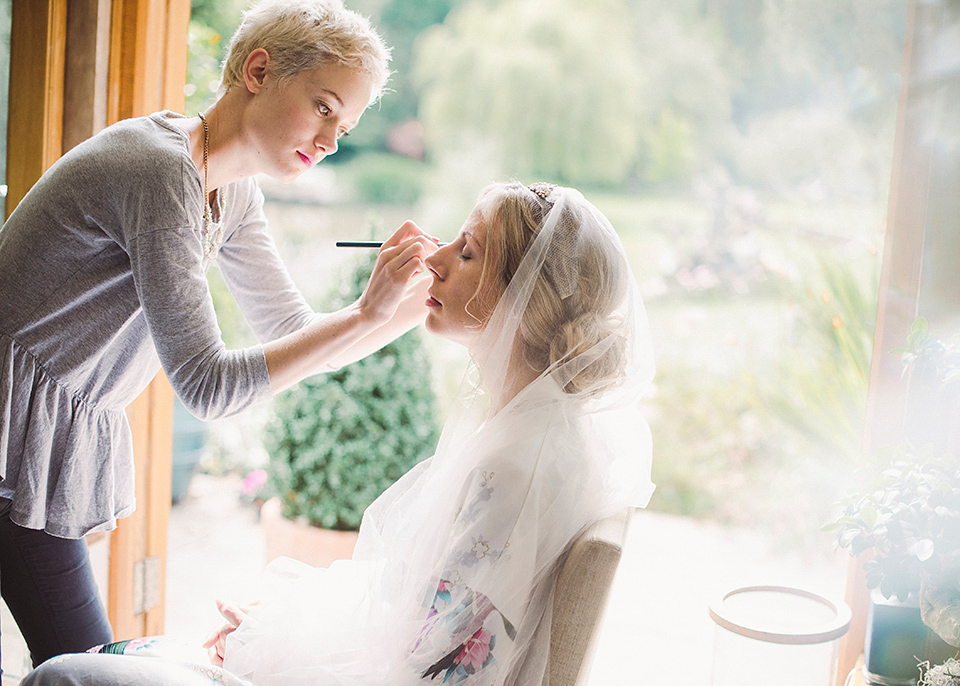 What a beautiful shot of that gorgeous headpiece by Doloris Petunia on Etsy – some of you may recognise it from this wedding we recently featured too.
Ian's sister helped out with the suggestion of the colour scheme, which was reflected in the choice of colour for the maid of honour and bridesmaid's glamorous gowns. The ladies wore their own shoes and added a touch of sparkle with silver clips and grips from Accessorize.
"In terms of a colour scheme, with the venue being quite rich and bold, I thought that a cool, pastel palette would be a perfect complement and balance, so opted for dove grey, pale aqua and mint. I actually have to commend Ian's sister Mandy (who was my maid of honour) for that decision, as when we went to try on my dress (which has a pale grey lining and the most amazing silver and gold beading), Mandy was carrying an amazing pale turquoise clutch bag and things developed from there.
Mandy wore a gorgeous pale mint floor length gown from the Jenny Packham No. 1 range at Debenhams that had a beautiful silver beading detail on the side. My other two bridesmaid's Mel and Holly both wore soft grey floor-length dresses that we bought from David's Bridal in Westfield. To try and link the dresses together, I found a silver beaded appliqué similar to what was already on Mandy's dress that was sewn onto the front of the gowns."
Lisa and Ian hired a groovy blue and white Plymouth Savoy from All American Wedding Cars to transport the groom and bridal parties to the venue. Walking down the aisle linking arms with her dad to the orchestral version of 'A River Flows in You' by Nathan Wu (original by Japanese pianist Yiruma) was a very happy and emotional moment for Lisa. The couple chose to have a civil ceremony and composed their own vows, rings were by Rohan Cherry Designs (a school friend of Ian's from South Africa), and they included a special reading by Lisa's friend Victoria.
"We met about eight years ago and have always got on and had a laugh (mainly due to Ian supplying the vodka and me attempting the running man), been able to talk the night away and not judge each other scoffing KFC at 3am in the morning. It wasn't until our bridesmaid Mel's birthday party in London in March 2011 that one of us actually made a move (we still argue who kissed who).
Something must have gone right as Ian joined me on a business trip to Rome the following week, and so the story began."
"We got engaged on the 8th March 2014 at Lainston House in Winchester. After a busy couple of months for both of us at work, Ian suggested we take a trip away and go and have a look at a couple of his pubs and that it made sense to stay nearby to make the most of it, so I was none the wiser. We had both been given welly boots for Christmas, so we decided to finally use them and go for a nice long walk in the country whilst we were in the area. It was on the walk that Ian got down on one knee in the wet and muddy grass and produced a box.
As soon as I saw the box I knew and burst into tears and squealed 'Yes!'. over and over again. When the box was opened, inside there was the most beautiful Haribo sweetie ring – it was a joke that I used to say about how I loved him so much I would marry him for a Haribo ring! There was a second box, and in it the most magical ring ever that I couldn't wait to keep on my finger for the rest of my life."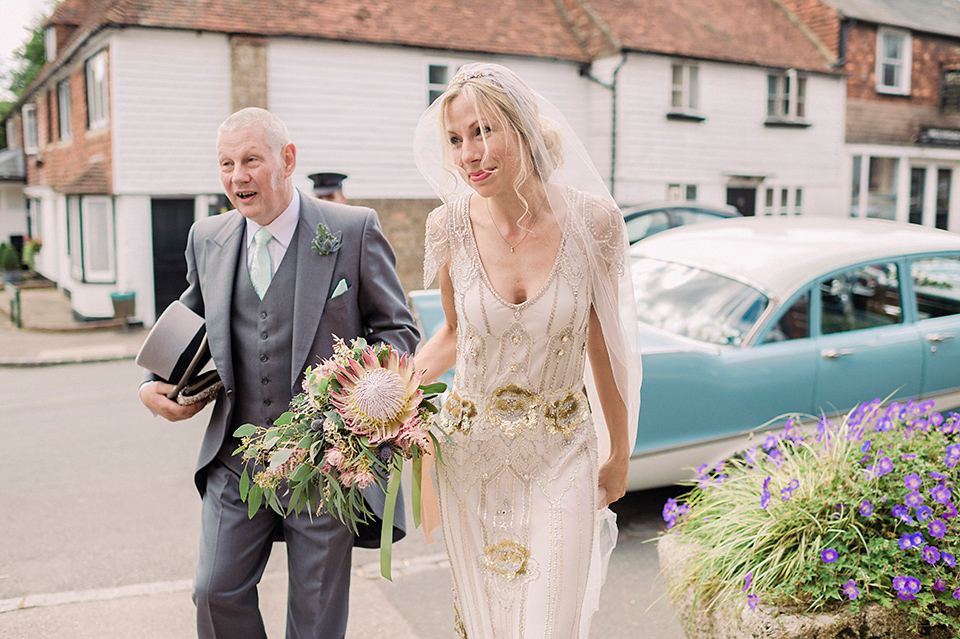 The male wedding party looked handsome in their suits, with ties and pocket squares from Moss Bros, plus top hats to finish off their stylish look. And the couple sings the praises of the best man for all of his fantastic help.
"After all the jokes of Ian turning up in shorts and flip flops (his usual attire) or a white suit, I was amazed that Broadleys in East Grinstead kitted him, the two dads and our best man Guy in wonderful grey three-piece suits. They all looked so handsome and dapper. My husband can certainly scrub up well when occasion dictates and I fell in love with him all over again walking up the aisle. 
Our best man Guy Shand was a real superstar. Ian and Guy have been best friends for so long from back in South Africa that they call each other brothers and he flew over to the UK with his wife Anna especially for our wedding. He wore the same attire as Ian, and made such an impact on the day that it really wouldn't have been the same without him. Guy's speech will be forever remembered as a highlight of the day."
"Walking up the stairs to the ceremony room on the arm of my proud dad and catching Ian's eye as he stood at the end of the aisle is a moment I will never forget. Before I turned the corner and started walking, seeing all our family and loved ones in the room filled me with such emotion, but as soon as I saw my husband-to-be all of that faded away. In my mind it was just me and him, no crowd, no music, just my heart beating with excitement and that rush of falling in love all over again. We held each other's gaze all the way through, and even though I know it's not the done thing to 'kiss' until told by the officiate, as soon as Ian smiled at me and grabbed my hand at the end of the aisle, I couldn't resist, gave him an almighty smacker and said 'I love you'."
"As Ian and I have the pet name for each other of 'monkey' and one of my favourite authors is Edward Monkton, it was only fitting that the reading was from his book called 'Love Monkey'. It is such a cute story about how a boy monkey goes in search of his perfect match to give her his heart. It has such sentiment, but is fun and light hearted too with an emotional happy ending that left no dry eye in the house. Victoria did a great job and even read part in a South African accent, which really entertained all our guests. Here is an extract:
Love Monkey put his arms around her and they held each other for a long, long time. "I shall treasure this heart for as long as I live," said Dream Monkey, running her fingers over its ridged and dimpled surface. Then they looked into each other's eyes and, feeling the joy of truth in their souls for the first time, they began to laugh.  And often they sit together still, holding each other's hearts in their warm hands, lifting them to the light … and laughing. Always laughing.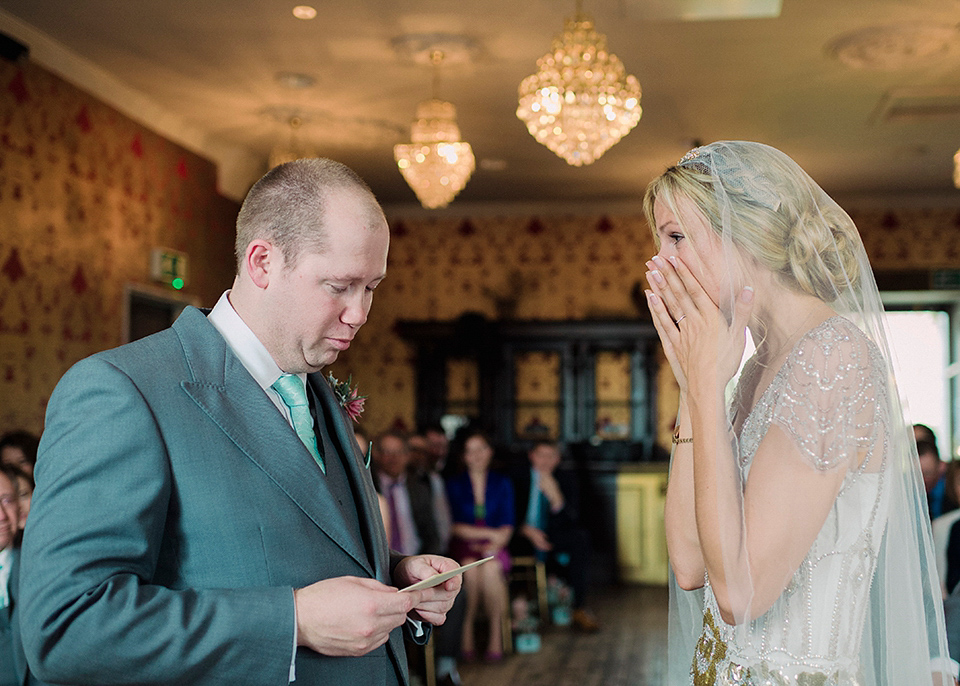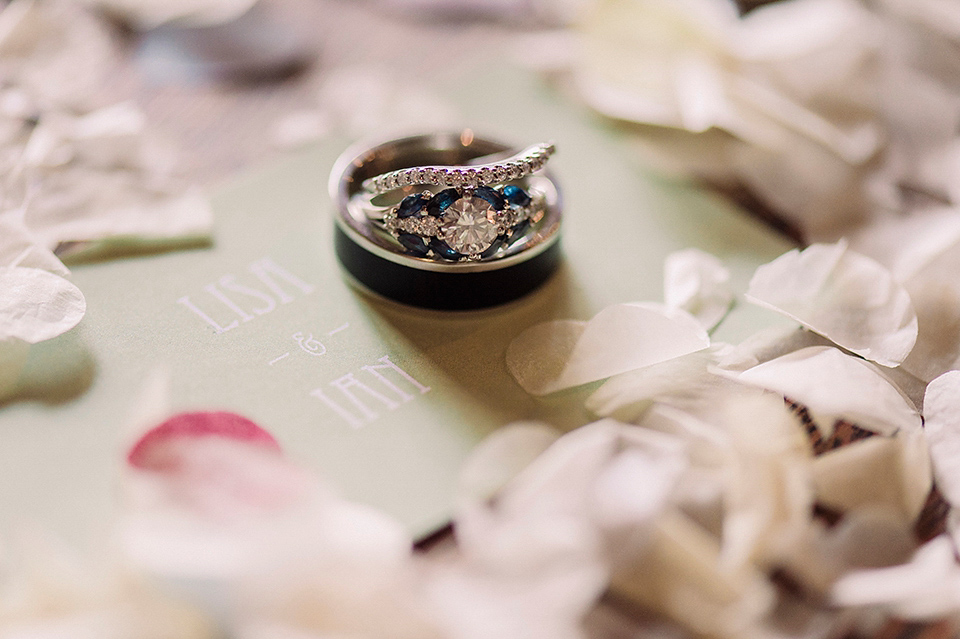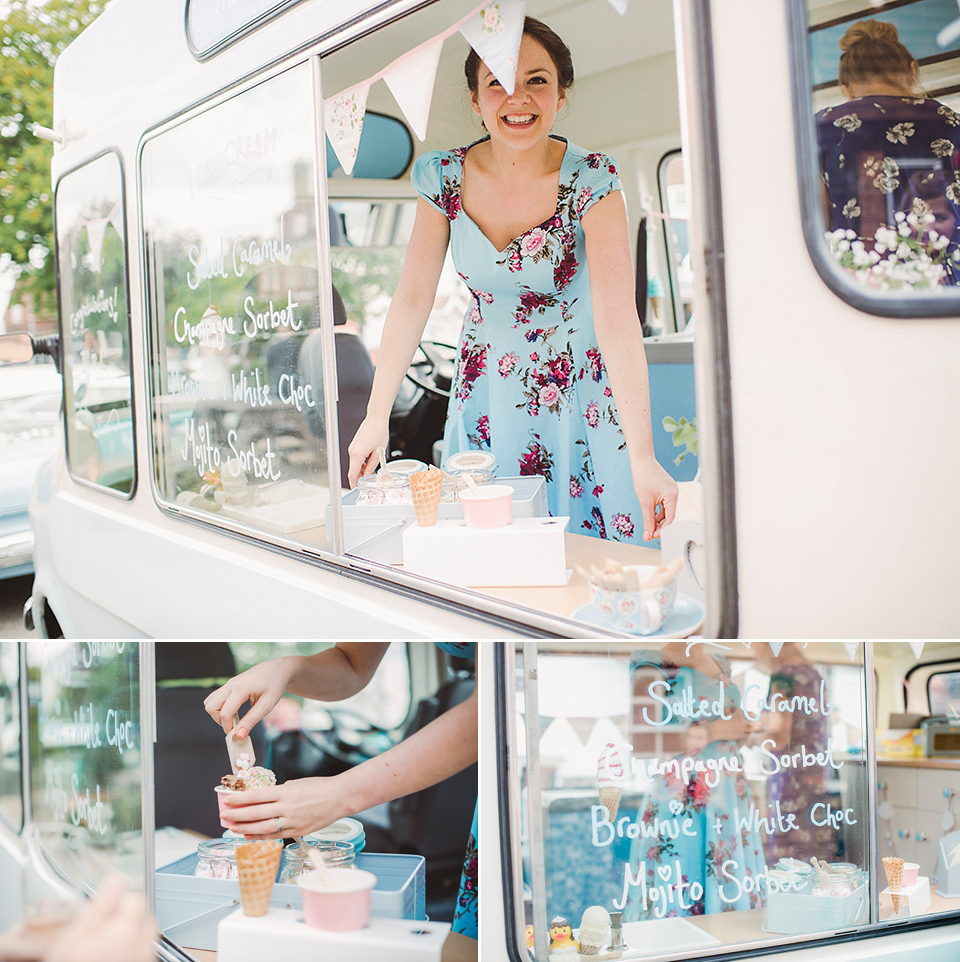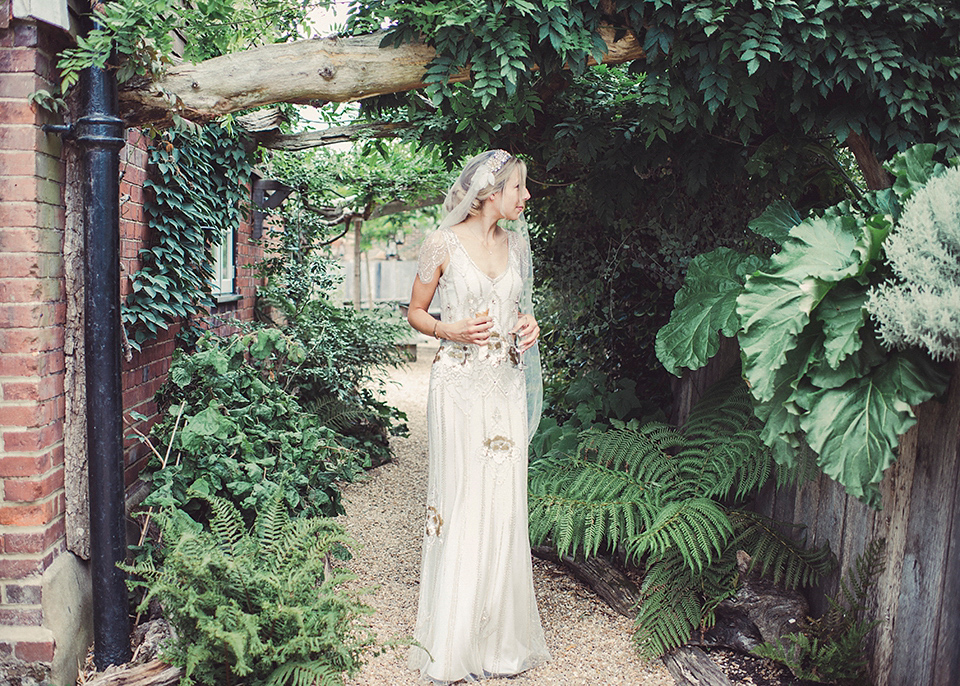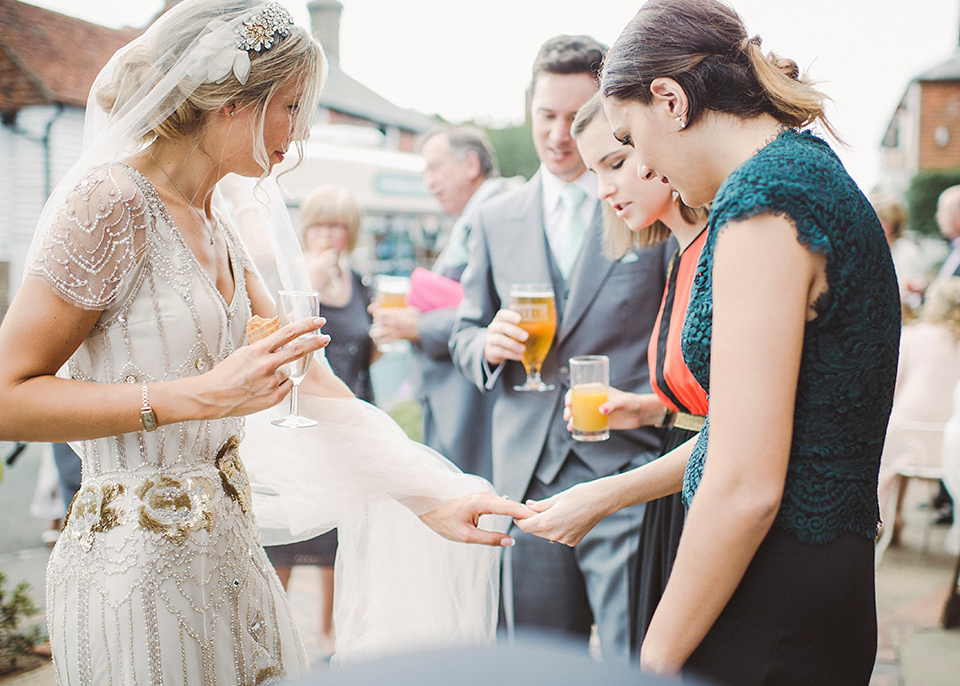 "Our photographer Razia from Razia N Jukes Photography was superb. I can't say enough good things about her. We actually met at a friend's wedding the previous year where we were sat next to each other and bonded over a mutual addiction to Haribo Tangfastics! On seeing her photos, I knew right away that her intimate, informal, journalistic style was ideal for how we wanted to remember our wedding. Even now looking back at the photos, I see a story of joy and emotion captured in people's faces and those spontaneous moments that Ian and I may have missed."
"Razia was a pleasure to work with from start to finish and I am pleased to say that she felt more like a friend than a photographer on our day. I am not the most comfortable in front of the camera, but her guidance and patience really helped. All of our guests commented on how fun and dedicated she was and love the pictures produced."
"Ian's mum thought it would be a lovely idea to incorporate the flower of South Africa, the king protea, into the wedding and I will be forever grateful for the suggestion. I wanted something unusual and rustic with a soft colour palette to contrast the opulence of the venue and complement my dress. What I was delivered on the morning of our wedding can't be described in words – I was blown away. All of our guests commented on my bouquet – they had never seen anything like it!"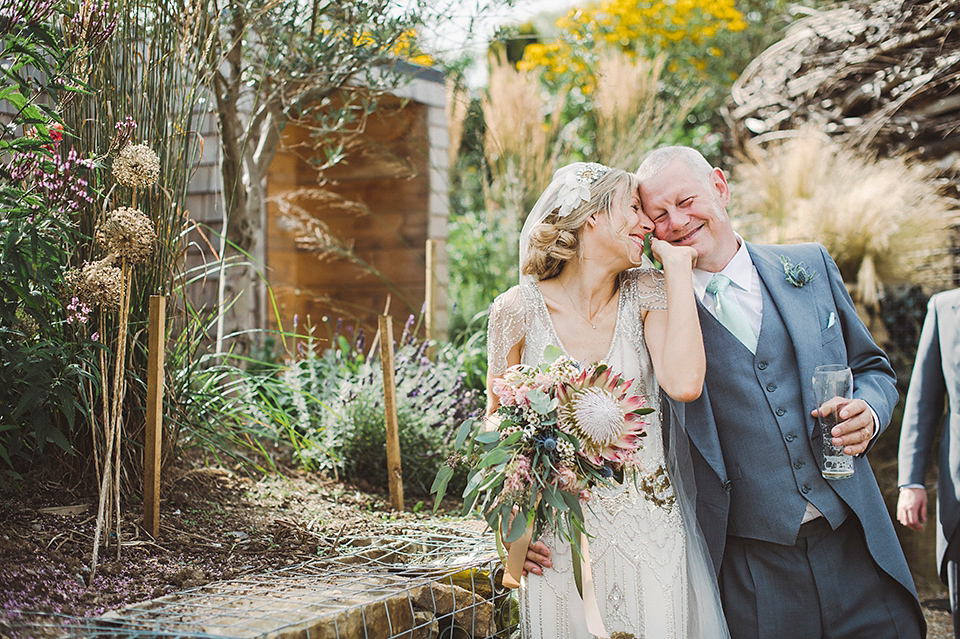 "The table flowers were a mix of blushing bride protea and English roses in jam jars and milk bottles inside wooden crates that I had made and personalised for our special day by Diana who owns a company called Shackadale that I found on Etsy."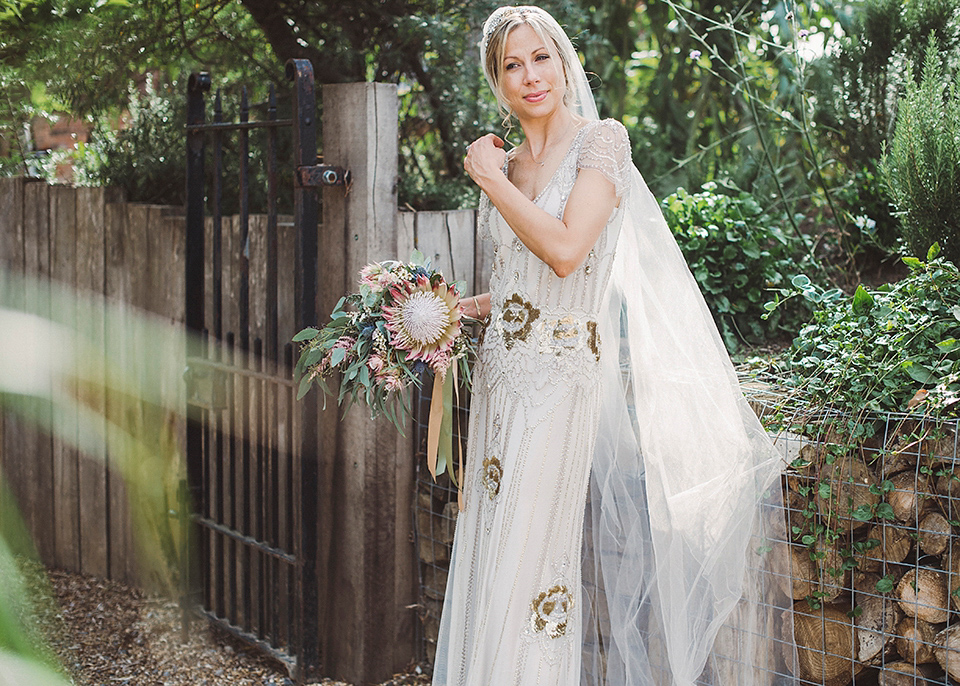 "From the stuffed squirrels, bowler hat lights, mighty moose head and saxophone urinals (yup, that's right!), The Bell Inn is full of eccentricity with quirky décor and rustic charm. After being a little underwhelmed by country manors and marquees, we were thrilled to find out that they did weddings and pretty much booked it on the spot. Ian and I prefer informality and really wanted something more individual that made us and our guests feel relaxed and at home as soon as you walk through the door.
"Many of our friends and family travelled from overseas for the wedding (Ian is from Cape Town and Lisa grew up in Hong Kong) so we knew we wanted to have all our guests in one place and really spend the day with them in one venue; everyone there played a part in getting both of us to where we are today. The venue, in the quintessentially British town of Ticehurst, really reflected what we wanted and we were able to host the ceremony, wedding breakfast and evening shenanigans in one place."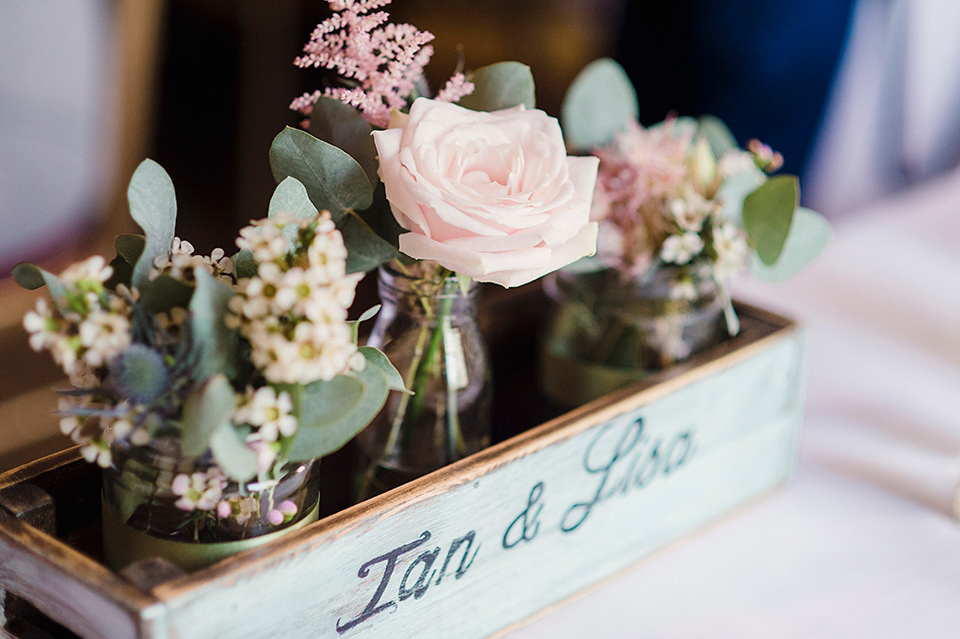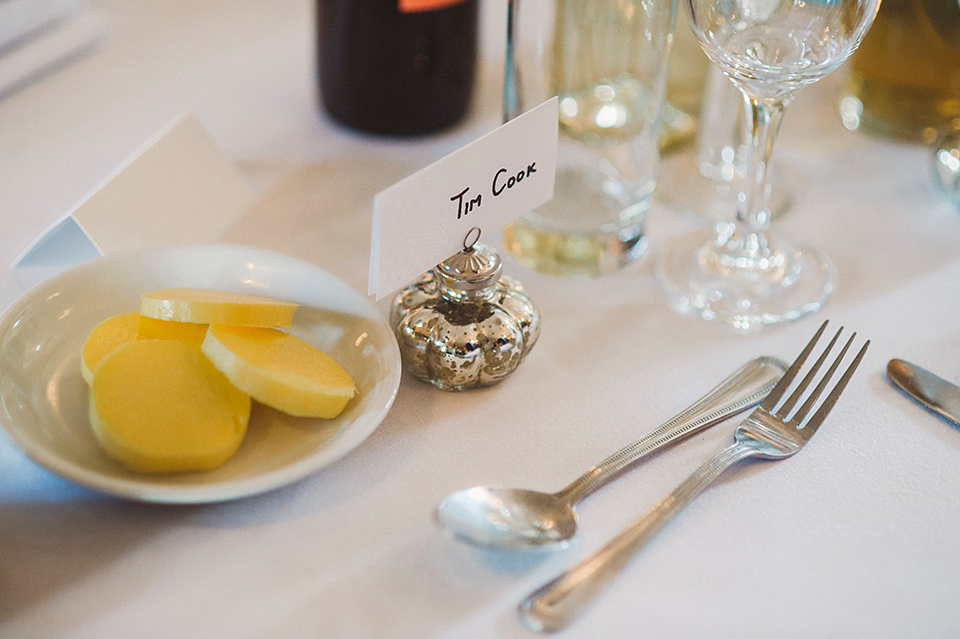 The Bell Inn created their delicious feast, with tempting canapés and doughnuts for dessert. The bride also arranged a special surprise for her new husband.
"I scheduled as a surprise for Ian during the post-ceremony drinks – a 1970s vintage ice-cream van from Vera Vanilla Pod which served up homemade salted caramel ice cream, chocolate fudge brownies, champagne sorbet and a decadent delight of retro sweets. All the guests enjoyed it, and on the perfect summers day, I couldn't have asked for anything more – just the look on Ian's face when 'Vera the Van' peeked round the corner was priceless!"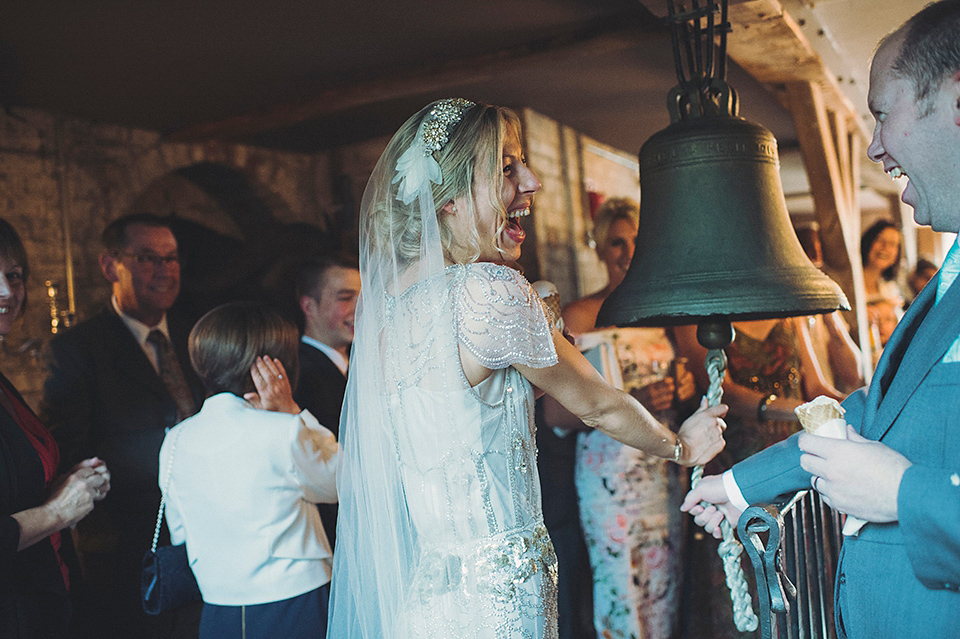 "My friend Victoria is a superstar baker and kindly made our naked sponge cake as our wedding gift – it was delicious! Buttercream, fresh berries and a delicate sponge was perfect, thankfully I kept the top tier away from everyone so Ian and I have something to savour on our first anniversary.
For our cake topper, I wanted something a little unusual and more personal to us, so we thought a monkey-based cake topper would add a nice touch of humour for the day. I found the perfect company to do this on Etsy who do animal moulds called Melabo."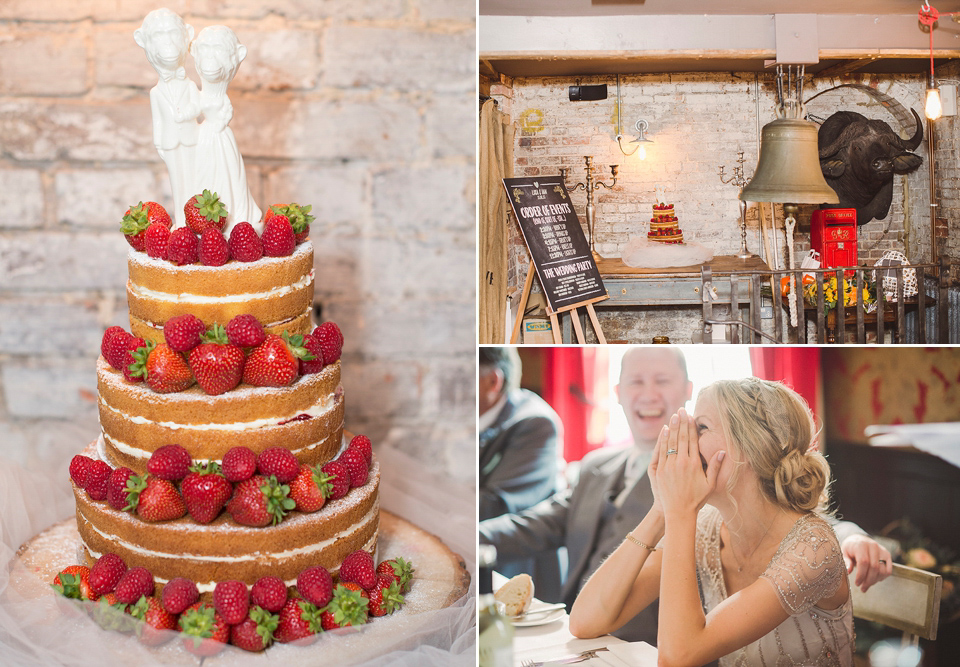 The bride and groom wanted lots of musical entertainment incorporated into their big day. They chose a live band called the MP3's, found via, who kept the guests dancing and energised well into the night – but to get everyone warmed up and in the party mood after a long boozy lunch, they started with a wonderful cockney duo called The Gents.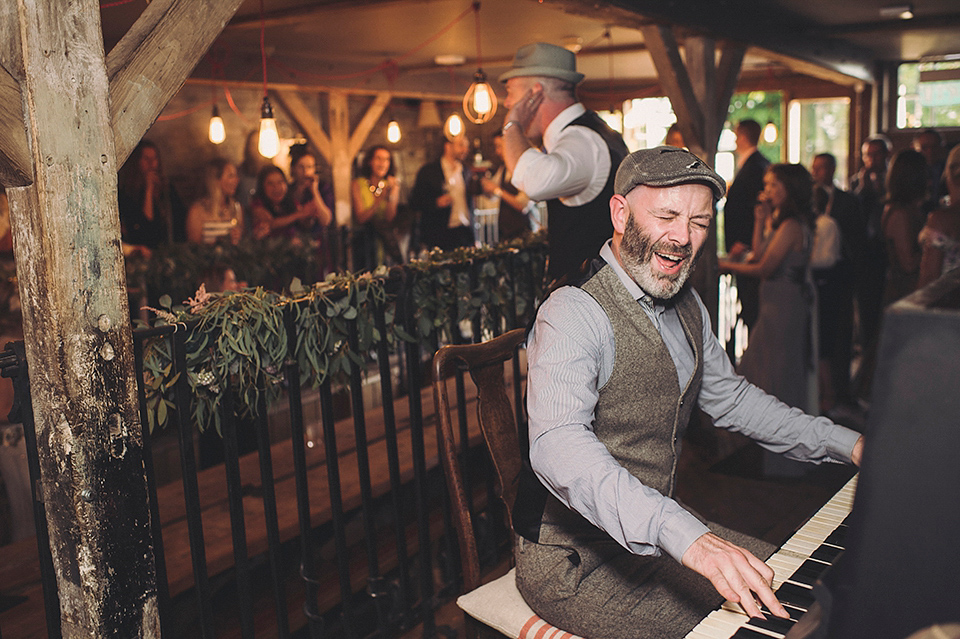 "No one could have snapped us out of the food coma better! Think East London, piano, beer, everyone on kazoo's and a right ol' sing along. They whipped up frenzy with audience participation and were such a laugh that we couldn't think of anything else to get the night started. The floor was jumping, and their charm was infectious. How better to give those that had travelled over from South Africa a taste of real London – everyone was in awe! I was so pleased that Ian managed to secure these guys and highly recommend them."
Words of Wedded Wisdom
"Build the day around you as a couple and what you enjoy. Save up and book what matters to you first. Get inventive and don't be afraid to go outside of the 'typical' wedding; there are so many things that can be done with a little thought and time and keep each other involved. But mainly just enjoy the celebration.
 With all the buildup, the day tends to feel surreal and like a dream, so make sure you spend time together and sit back and enjoy yourselves. Not everything will go exactly to plan, but it will be one of the best days of your lives regardless."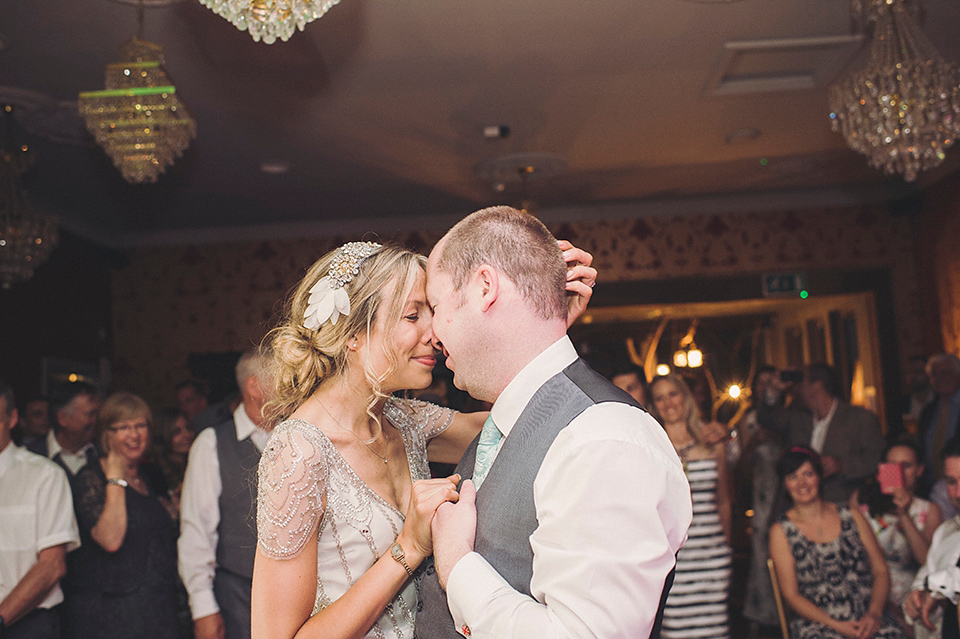 Such sound advice! Many thanks to Razia for sharing these very sweet pictures of the happy couple and I'd like to send big thanks also to Lisa and Ian for allowing us to view all the little details of their very special day.
You can view more glamorous JP gowns here and if you've been inspired by their quirky pub venue, see here for another wonderful wedding we featured recently.
Love Jo -x-
Photographer – Razia N Jukes Photography
Venue – The Bell Inn, Ticehurst, East Sussex
Wedding Dress + Veil – Jenny Packham dress + Sassi Holford veil via The Pantiles Bride
Shoes – LK Bennett
Perfume – 'Love Story' by Chloe
Jewellery – Diamond necklace and diamond studs (gifts from Ian) + bride's grandmothers' vintage gold watch + gold and diamond ring (borrowed from bride's mum) held in Accessorize clutch bag
Bridesmaid Dresses – Jenny Packham No.1 range via Debenhams + David's Bridal
Bridesmaid Shoes – Own shoes
Groom + Groomsmen – Suits via Broadleys + ties and pocket squares from Moss Bros
Florist – Astilbe and Sorrel + wooden crates to display florals via Etsy
Rings – Rohan Cherry Designs
Catering – The Bell Inn + vintage ice-cream van from Vera Vanilla Pod
Cake – Handmade by bride's friend Victoria + cake-topper via Etsy
Entertainment – Cockney duo The Gents + live band the MP3's via Warble Entertainment
Stationery – Zazzle
Favours – Necklaces via Gemondo + wooden beer tankards via Etsy (shop no longer exists) + prints and frames of family crests via Award Medals
Photo booth – The Photo Booth Guys
Transport – Plymouth Savoy from All American Wedding Cars
Makeup Artist – Ellie Gill from The Beauty Aisle
Hair Artist – Liz Bower from Simply Beautiful Wedding Hair