If you're already reminiscing about what a wonderful loooong weekend that was, I have such a beautiful mid-week treat that's sure to lift your spirits. Take a break over a steaming hot cup of tea, as you view these breathtaking images by one of our favourites, Ed Godden Photography, who's also a member of our very helpful bridal resource Little Book for Brides.
Bride Victoria works in television planning for the BBC, whilst Jim the groom is an IT consultant, and the lovely couple married on the 4th of July last year at Barcaldine Castle, north of Oban in Scotland; a picturesque setting on the shores of Loch Creran with sweeping views of snow-capped mountains that was the perfect location for their intimate day.
"We always knew that we would prefer to have a small wedding. Ideally we wanted to have a place that was luxurious, but on a small scale and where we could accommodate our immediate family for an entire weekend. Barcaldine Castle was the first venue that we went to see and it fitted the bill perfectly. The views of Loch Creran in the background on a sunny day are fantastic."
Photography by Ed Godden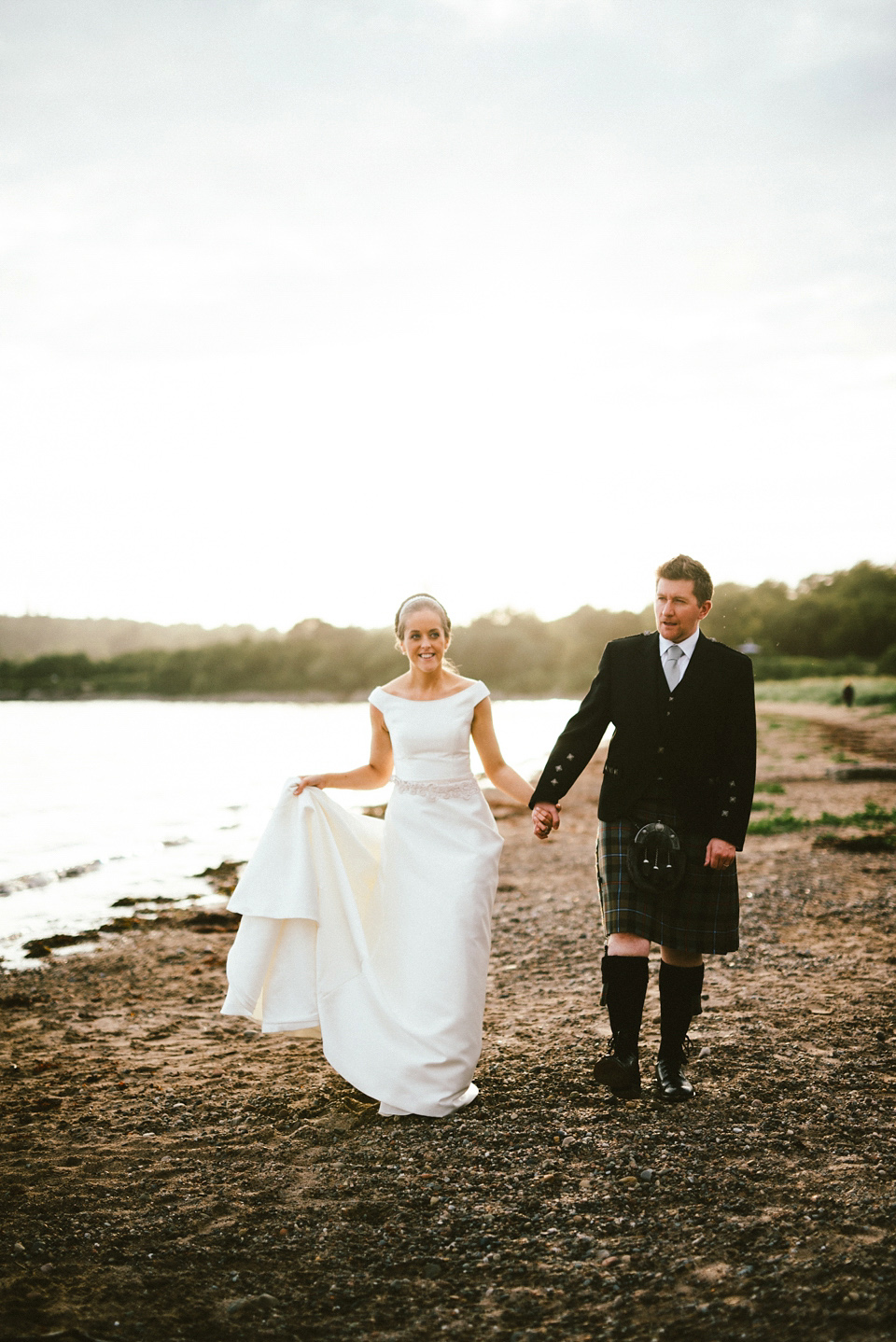 "The thing that really started the whole planning process was the bridesmaid dresses. Once we had them sorted – from No.1 Jenny Packham via Debenhams – everything else fell into place. I loved the soft green colour of the dresses."
"After that, I had the idea that everything else should be soft in colour. Also, as we were having a Summer wedding, I wanted to keep it light and airy. Another element was quality, as I was very keen to have great quality in everything involved in the day."
Victoria and her mum and two sisters (who were both bridesmaids) travelled to Barcelona to visit the Raimon Bundó shop, where they discovered her classically elegant gown.
"I had done my research beforehand, so the shop had a list of dresses that they knew I wanted to look at and try. My dress was the third one that I tried on and instantly I knew that was the 'the one'. I had another appointment arranged for a different designer afterwards but I cancelled that. All in all it took only about 45 minutes to choose my dress. I think that a lot of brides want to try on every dress that they can. But I think that when you know what shape you suit, that's half the battle. I decided to go with my instinct and what I felt great in. I loved my dress because it was simple, classic and elegant. The shape suited me perfectly and it made me feel beautiful."
Victoria added a simple long and silky veil, also by Raimon Bundó, 'Melissa by Westerleigh' heels from Elegant Steps and a beautiful pearl hair band from Richard Designs. She completed her simple, elegant look with pearl earrings from Ernest Jones, a bracelet that was a gift from her parents and a gorgeous Jo Malone scent – 'Velvet Rose and Oud'.
Jim proposed in the most romantic way – I grinned immediately upon reading this lovely tale of his sweet gesture and I'm sure you will be beaming in delight too.
"Jim and I went to New York in 2013. It was my first trip to the USA. On the night of the 4th July we had tickets to see the Independence Day fireworks on Pier 83 overlooking the Hudson River. It was a real party atmosphere – there was music playing, people dancing and a BBQ. When the sun went down the fireworks started with music playing. Rihanna's song 'Diamonds' began and the fireworks at that moment were particularly glittery. Caught up in the moment I said "Oh look! They are just like diamonds!" and then Jim leaned over and said "I think it's about time I got you a diamond." I think I just blinked and said, "What?" and then he officially proposed.
We went to Tiffany's on 5th Avenue the next day where I chose my engagement ring. Jim said later that he had been waiting for the right moment to pop the question and he had considered doing it at the top of the Empire State Building. But I'm so glad he waited. Although we were in a large crowd, the moment felt very private as everyone was so busy watching the fireworks – it was very romantic."
"We always knew that we would prefer to have a small wedding. Ideally we wanted to have a place that was luxurious, but on a small scale and where we could accommodate our immediate family for an entire weekend. Barcaldine Castle was the first venue that we went to see and it fitted the bill perfectly. The views of Loch Creran in the background on a sunny day are fantastic."
"I liked the idea of having rose in my wedding scent as my bouquet was made of peony roses and what drew me to this particular scent is that it is warm, sweet and sophisticated."
The maids accessorised with earrings from No.1 Jenny Packham via Debenhams and fabulous Kurt Geiger heels. Make-up was by Carol Wilson, the bridesmaid's hair by Agnes MacCallum, and the bride's clever hairdresser mum crafted Victoria's gorgeous hairstyle.
"My dad, who is also called Jim, walked me down the aisle. When I was a little girl I used to listen to my dad's old Beatles records. I chose to walk down the aisle to a violin/guitar version of 'Here, There and Everywhere'.
Our humanist celebrant was Andrew McSorley. Andy and Jim met when they were both in the Army years ago and have been friends ever since. It made it so much easier having someone there that we knew and above all had a good sense of humour and could bring this to the ceremony. Before the wedding we each had to write a number of things that we love about each other and send them to Andy, which were revealed on the day of the wedding."
"We asked Jim's sister Helen to give a reading at the ceremony. In fact, she did two readings. It was one of the most touching parts of the day. We didn't know what she had picked, so upon hearing what she had to say, we were both emotional. Every year at Christmas Jim always buys Helen a Redstone diary. From the series of diaries that she has she picked out some quotes relating to love and made a poem out of them. For her second reading, she chose the poem 'I Wanna Be Yours' by John Cooper Clarke – here is an extract: 
"I wanna be your vacuum cleaner breathing in your dust
I wanna be your Ford Cortina
I will never rust
If you like your coffee hot let me be your coffee pot
You call the shots
I wanna be yours."
"Both rings were purchased from Tiffany & Co. My engagement ring is a princess-cut diamond which sits high on my finger and the wedding band that I chose is a semi-circle of diamonds and sits neatly with my engagement ring. In my opinion the two rings really complement each other. Jim's ring is platinum and is slightly rounded in shape.
He never wore any rings before getting married, so it was important to him to feel comfortable wearing it. He tried on slightly chunkier rings but we both loved the simpler styling of the ring that he ended up choosing."
"Moreen at Flower Basket in Oban supplied our pretty flowers. I decided to go with peony roses for my bouquet and for the bridesmaids' bouquets. I chose this type of flower as I loved the fluffy fullness of the roses and the beautiful soft pinks and whites that fitted with the colour scheme perfectly."
"We knew from the outset that having a great photographer was a real investment. Initially we looked into local Scottish wedding photographers, but after a bit of research we discovered that we were looking for a certain style. We wanted a photographer to capture the special moments and really tell the story of the day. We were keen to not have so many staged pictures; instead, we wanted it to be relaxed."
"We cast our search area a bit wider and that's when we found Ed from Ed Godden Photography. We didn't actually meet Ed until our wedding day, however we had such a positive feeling about him. In the lead up to our wedding we kept track of his blog where we saw all of the other weddings that he was doing. The photographs were fantastic and really made us excited to see how ours would turn out.
We could not have been happier with Ed as our photographer. He was so friendly and relaxed and for people like us who don't like getting our pictures taken, we were really enjoying ourselves by the end!"
"Nothing was a problem for him and he even made a little holiday out of his trip north of the border. The photographs came beautifully boxed – you can tell Ed really takes great care of every part of the wedding photographs experience. Our wedding photographs are something that we will treasure forever."
"Everyone was given a small bottle of a different tipple, particular to individual tastes from Demi John. We also included a small heart shaped box of chocolates of different flavours from Charbonnel et Walker. For the women, the favours were in a small picnic basket lined with soft green gingham material found on an American craft website – Factory Direct Craft. The men were given their favours in a small metal tub found on Etsy also lined with the same style of gingham."
The couple's cake was a deliciously divine three-tiered Victoria sponge creation called a 'Naked Victoria' and their fantastic porcelain figurine cake-topper was in honour of their dog Woody.
"We chose this cake because we have never been a fan of the traditional wedding cakes and liked the summer time feel of having a Victoria sponge. Liggy's Cake Company delivered the cake in the morning and dressed it with fresh berries and a dusting of icing sugar. Best of all, the cake was absolutely delicious. 
We bought our wedding cake stand from a seller on Etsy that produced beautiful personalised pieces. The cake stand comes in a pale green colour and has our names on the front and our wedding day date on the back. Our cake topper is actually an ornament from the Spanish porcelain company Nao. I spotted the 'Together Forever' figurine in Barcelona but didn't purchase it until I got home and checked the measurements would fit the top tier of our cake. Luckily it did and I was so happy. The figurine is of two dogs, both of which look just like our dog Woody. I love that I am able to keep this for years to come.
"There were so many great moments within our wedding day. It's very difficult to choose just one. I think my most favourite part of the day was in the evening when the weather got better, the sun came out and Jim and I went down to the beach. It was gorgeous and what we had dreamed of when we chose that particular wedding venue.
By that time the ceremony was over, the meal had been eaten and the speeches given and we were relaxed and just enjoying ourselves. Some of the pictures that were taken of that time are the best of the day. It was a moment where we could take it all in what had just happened."
I adore this sweet image of the couple with their beloved pooch Woody. Are you going to include your pet as part of your big day?
"Woody had to stay at a nearby kennel while we were at the castle. However, we managed to bring him to the castle for a while so we had a few photographs with him. He is part of our little family and is such a character. It was important for us to include him in our photographs and I'm so glad we did, although he was scared of Jim's sporran!"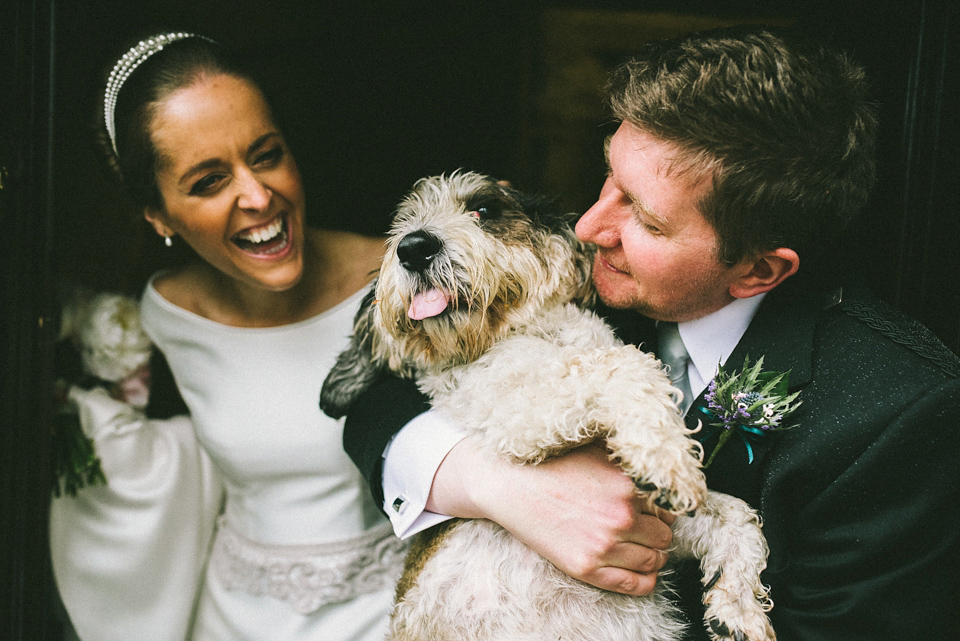 Thank you so much to Victoria and Jim for allowing us to view all these simply beautiful elements. I wanted to finish up with a gorgeous little trailer of their wedding video by CineMate Wedding Films, as the video perfectly highlights the sweeping views of the magical, fairytale castle venue – do take a few minutes now to view (and be sure to have a tissue at the ready).
"We chose CineMate Wedding Films as we thought that their style tied in really well with Ed's. Gregg and Simon were just lovely and so easy being around on our big day. We are so happy with our wedding film. It was beautifully filmed and even included drone footage of the castle in the evening with the loch in the background."
Words of Wedded Wisdom
 "When it comes to the wedding day, do try to relax! Everyone says this to you and it's true. Blink and the day will be over, so take a moment to try and soak it in. Make use of the people around you to alleviate any worries that you have and give each person a responsibility. Try to fill your day with meaning particular to you/your partner/family – it helps to make people feel more involved and creates beautiful memories."
And a huge thanks, as always, to the talented Ed for these stunning and stylish shots – you can see more of Ed's wonderful work featured on this beautiful blog here.
Love Jo -x-
Photographer – Ed Godden Photography
Videographer – CineMate Wedding Films
Venue + Catering – Barcaldine Castle, Oban, Scotland
Wedding Dress + Veil – Raimon Bundó in Barcelona
Shoes – Elegant Steps
Headband – Richard Designs
Perfume – Jo Malone
Accessories – Pearl earrings via Ernest Jones + bracelet (gift from bride's parents)
Bridesmaid Dresses + Earrings – No.1 Jenny Packham via Debenhams
Bridesmaid Shoes – Kurt Geiger
Groom + Groomsmen – Via Houston Kiltmakers
Florist – Flower Basket
Rings – Tiffany & Co.
Cake – Liggy's Cake Company + cake stand via Etsy + cake-topper via Nao
Stationery – Via printed.com
Décor – Pom poms and tea-light candle holders via Ebay + fairy lights via Lights 4 Fun + giant balloons from The Giant Balloon Company
Favours – Bottles from Demi John + chocolates from Charbonnel et Walker + baskets via Factory Direct Craft + tubs via Etsy
Entertainment – Bag piping by the groom + the bride's sister Nicola as DJ
Transport – Via 4×4 Vehicle Hire
Hair Stylist – The bride's mum + Agnes MacCallum
Makeup Artist – Carol Wilson