Hello, I hope you've managed to take a few days off over the holidays and that you're having a chance to relax. I do love a couple who stamp their personalities all over their wedding and today's wedding is just that. Ruth and Brad who both work for the same media production company, have a great love of all things vintage and retro. They hired Penmaen Manor House in the heart of the Gower Peninsula, Swansea for a week and put a marquee up in the garden to house their beautifully fun wedding reception on the 23rd of May last year. Taking furniture and bits and bobs from their own house, their wedding feels personal and fun with a great big dollop of glamour in the form of Ruth's fabulous Stephanie Allin dress and their photographer Howell Jones Photography used the spectacular coastline to frame the most breathtaking portraits of the couple.
"I have a life-long love of all things vintage especially the 1940's and 50's. I was definitely born in the wrong era. Luckily for me, Brad is an old gent in his whole attitude, and also loves history and antiques. I would have loved to have worn my beautiful gran's 1940's wedding dress but it was far too small but we certainly wanted her and my Papa to be incorporated into the styling of the day. We used a lot of our own furniture to try and make it feel as antique as possible (as much as you can in a marquee). Everyone said the wedding was very us which is exactly what we'd hoped for."
Photography by Howell Jones Photography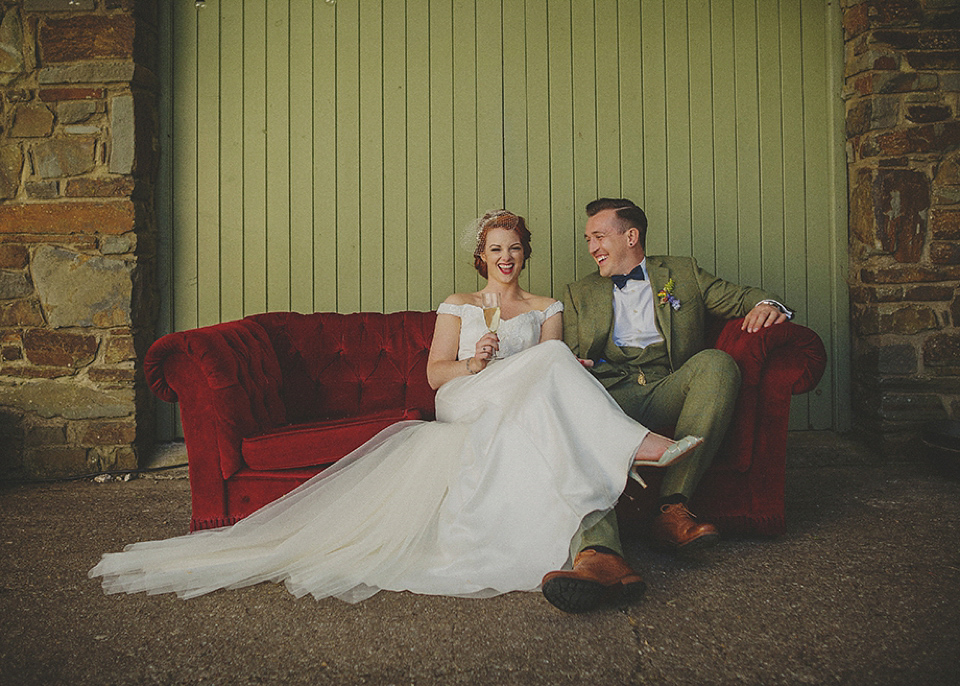 Ruth got her stunning off the shoulder gown from Stephanie Allin in Mumbles, Swansea. The dress perfectly compliments the rest of her retro styling.
"The whole dress shopping process was a bit of a faff for me. I thought I knew exactly what I wanted and it took me a good year to realise that not only did that dress not exist, but the styles I wanted didn't necessarily go together or suit me so I headed to Stephanie Allin. I had a bespoke dress made from two designs, I loved that she allowed me to change it as much as I wanted to."
Find Stephanie Allin on Little Book For Brides
Follow Stephanie Allin on Instagram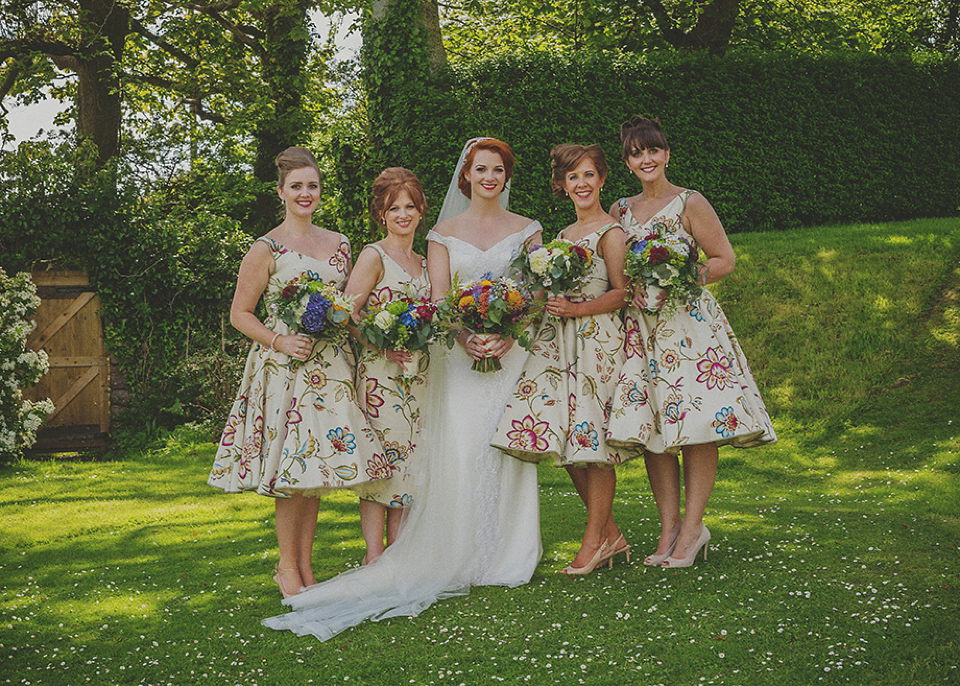 "Hayley and Stephanie were absolutely incredible from start to finish, we had the most fun and I can't speak highly enough of the service they provided. Nothing was too much for them, and I just knew I was in safe hands."
"We had a bit of a dress drama the week of the wedding where, being the perfectionist she is, Stephanie still wasn't happy with the way the top of the dress was sitting so she took it home herself and added more embellishment which actually made me love the dress so much more! The dress made me feel so beautiful, with that old vintage glamour that I was hoping for. I hope that one day if I have a daughter or granddaughter, they would love to wear it too."
"I'm from Swansea and Brad completely fell in love with the Gower when he visited first. We chose Penmaen Manor House because it was very laid back, with plenty of history and character and we could pretty much do what we wanted there. We liked the idea of us all staying together for the week, dragging it out as much as we possibly could! The house has incredible views which look out over the famous Three Cliffs Bay, and we were lucky enough to have amazing weather all week.
We met on the internet, met up a week later and that was that! I think we both knew from the first date that it was going to be something serious. Brad proposed in Cornwall when we were on holiday with my family two years later."
Ruth's usual hairdresser was the obvious choice for her wedding day. Emma Price did an amazing job creating the ladies' retro up-do's while Emily Porter's make-up finished the vintage look.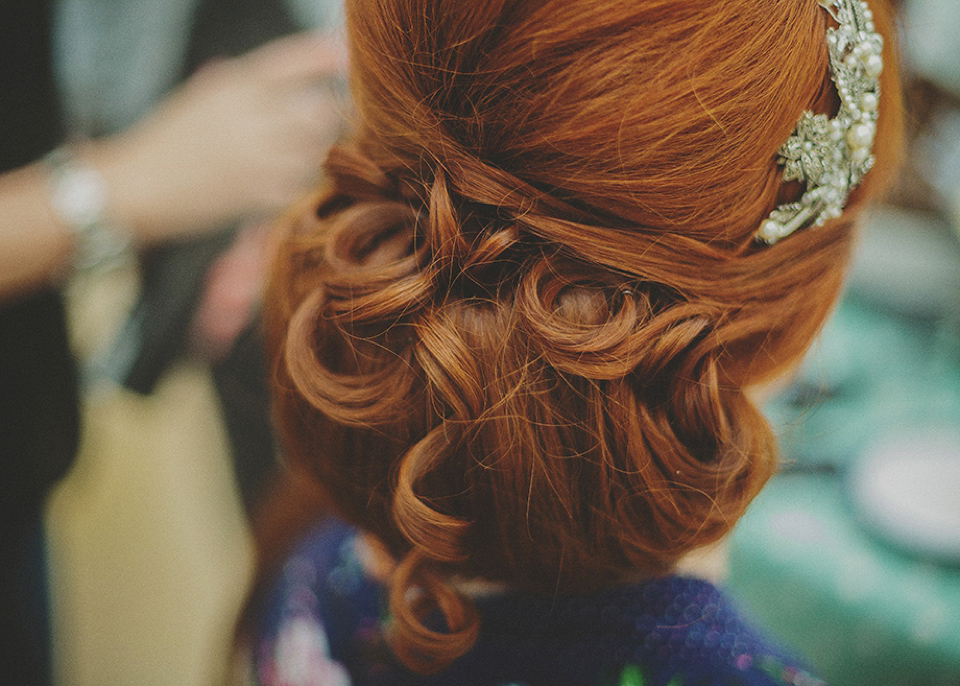 Ruth had a rough brief for flowers in rich colours with daisies after her dog and lavender which reminds her of her gran. Eve Francesca Designs interpreted this perfectly with the beautiful bouquets and gorgeous arrangements filling the marquee.
"How I loved the flowers! When they were delivered I couldn't get over how beautiful they were, the most incredible flowers I have ever seen and the flowers in the marquee looked even better than I could have hoped for! She also kindly made me a special couple of jam jars which I popped on my Gran and Papa's grave the day before the wedding which really meant a lot to me."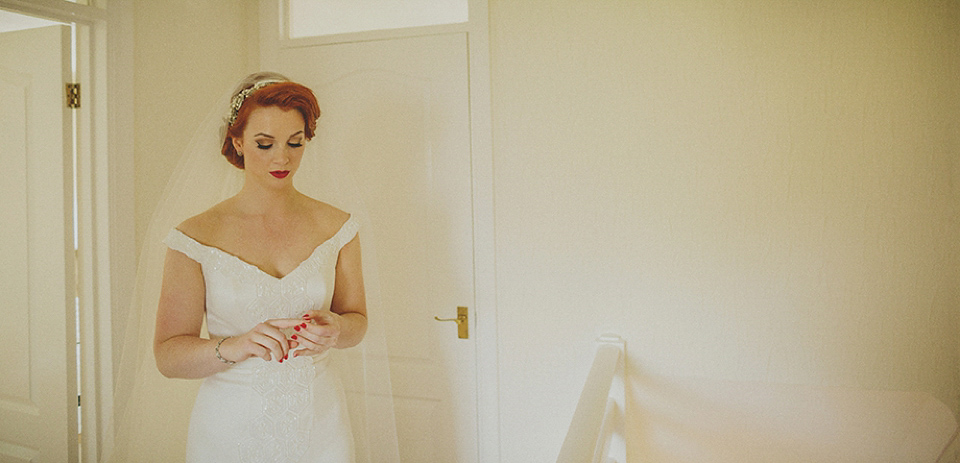 "Dapper groom Brad wore a tailored Magee tweed suit with a double breasted waistcoat made by a local tailor. He looked just the part of an old school gent with his 1920's gold pocket watch and a bow tie with pocket square from Mrs Bow Tie. His groomsmen wore a flannel suit with a bow tie and pocket squares in the fabric of the bridesmaids dresses."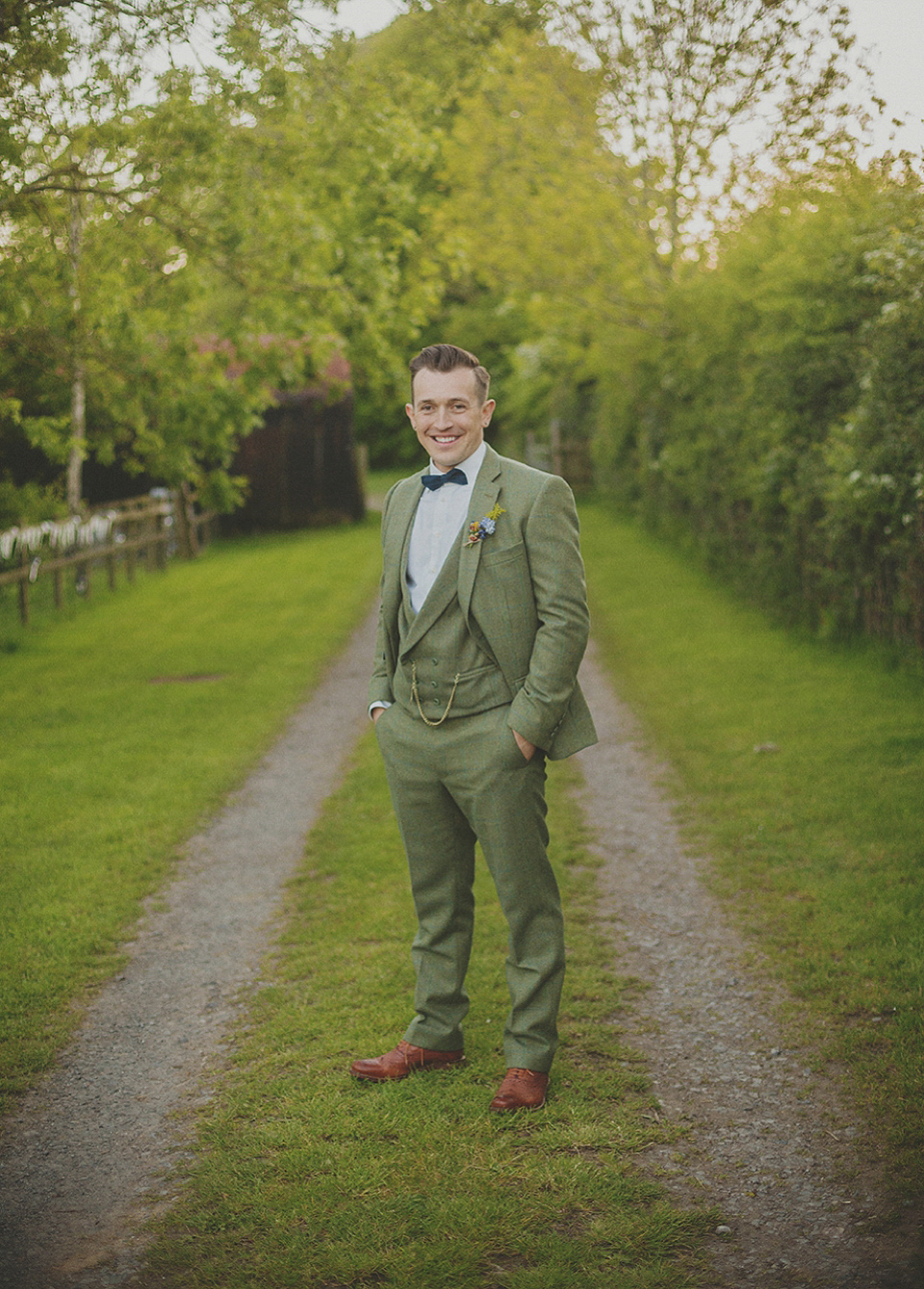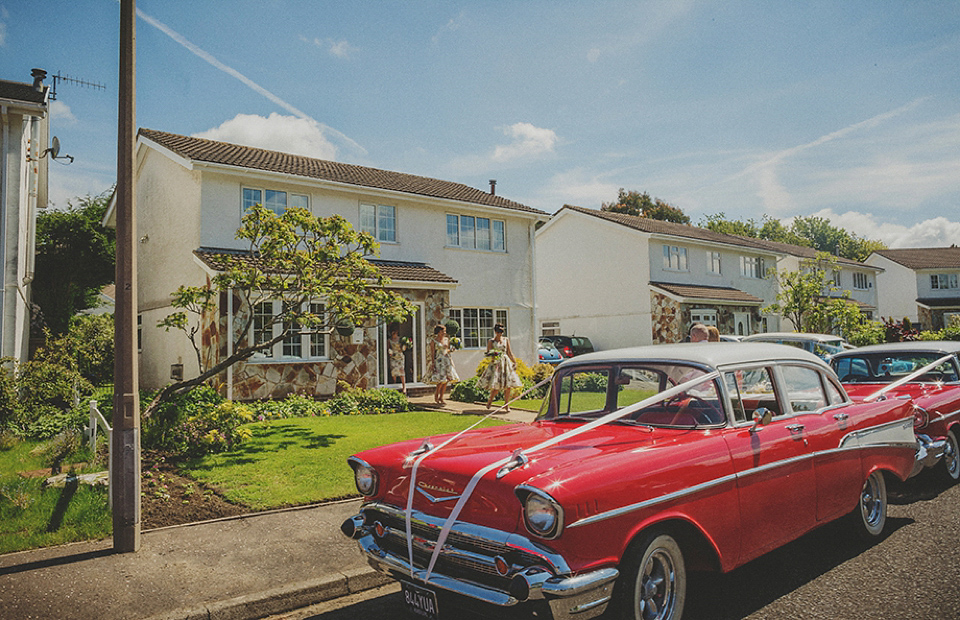 "We were incredibly lucky with our transport. My cousin had won the use of three 1950's American Chevrolets in an auction with us in mind, and offered them as a gift. We felt like old glamour movie stars and I had no idea how much passers by would make such a fuss of us, waving and shouting good luck and congratulations, it was wonderful."
Ruth gave the girls jewellery from Gill Clement to wear and they all bought their own nude shoes.
"My good friend Katie Fitzgerald is an amazingly gifted dress maker. When she offered to make the bridesmaids dresses I obviously jumped at the chance. Off the shoulder is my favourite neckline with a circle skirt for my three best friends, and a wiggle for my sister who was my Matron of Honour. They all looked so retro and beautiful."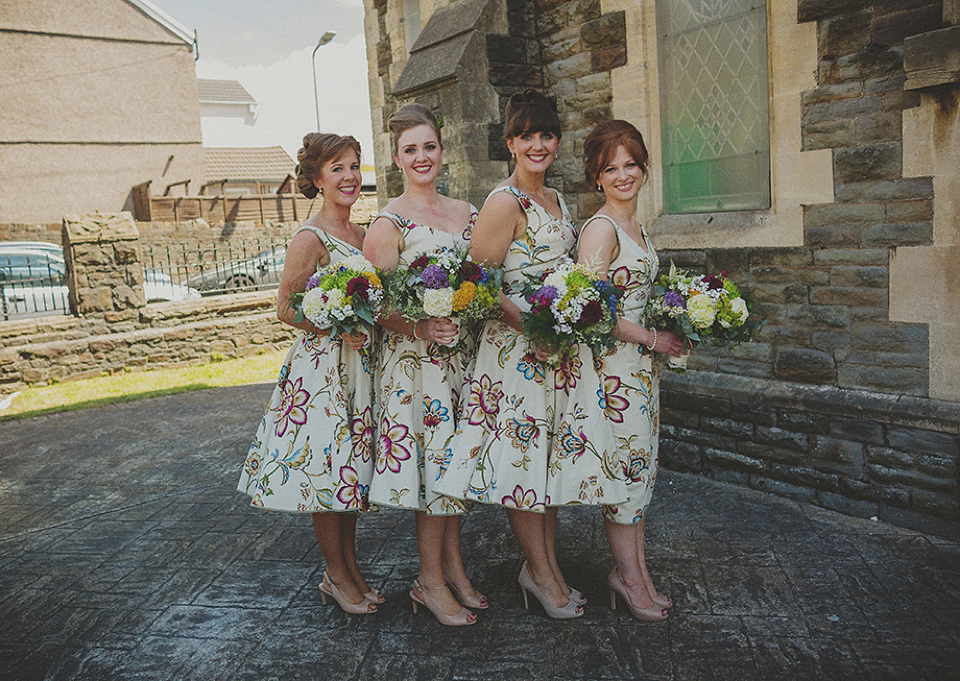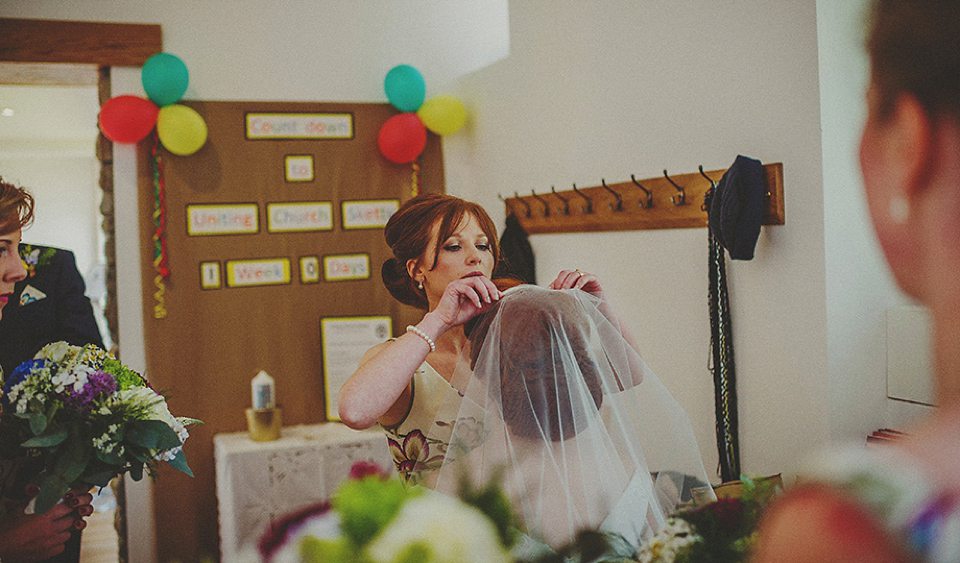 "My pops walked me down the aisle. We were both very emotional and he did a great job of distracting me and talking me through our entrance to calm me down. I couldn't have imagined walking down to anything else but 'The Wedding March'."
"I loved the way our Minister Leslie worded our vows. She really made everyone feel a part of it and not only talked about the promise Brad and I were making to one another, but the promise that our guests had made to their spouses and what it meant."
The couple chose three readings, St Corinthians, Mi Gerddaf Gyda Thi/ I'll Walk Beside You – a Welsh poem followed by the English translation and 'Because She Would Ask Me Why I Loved Her' by Christopher Brennan.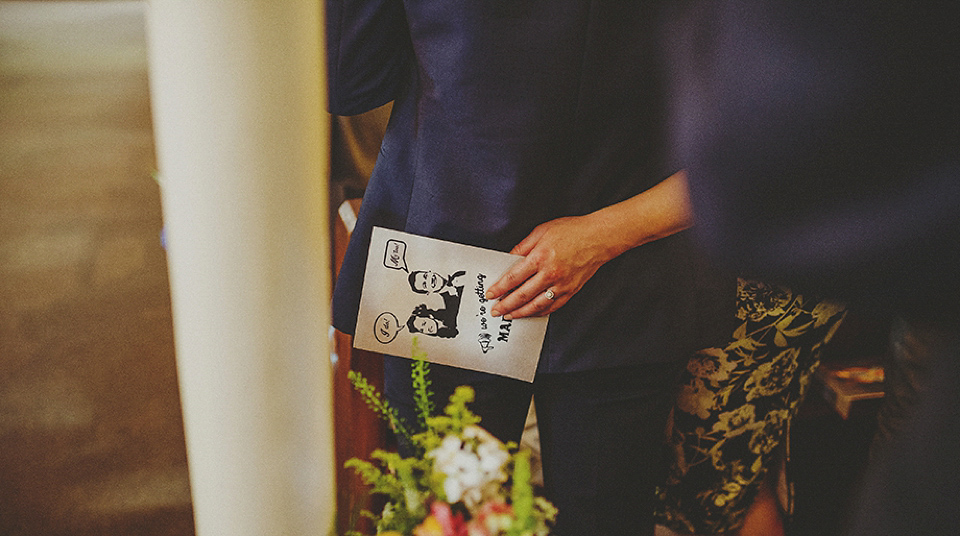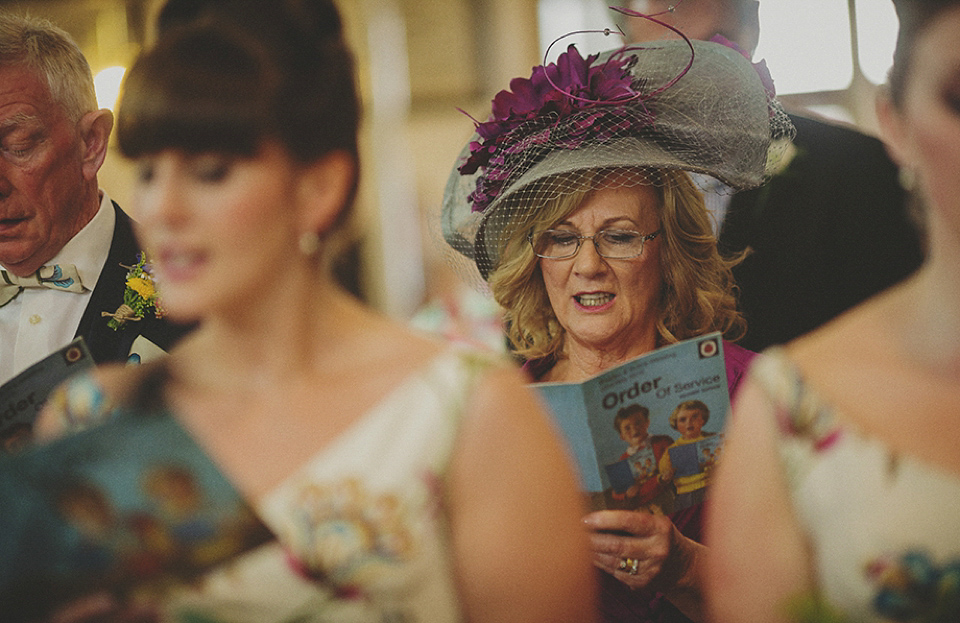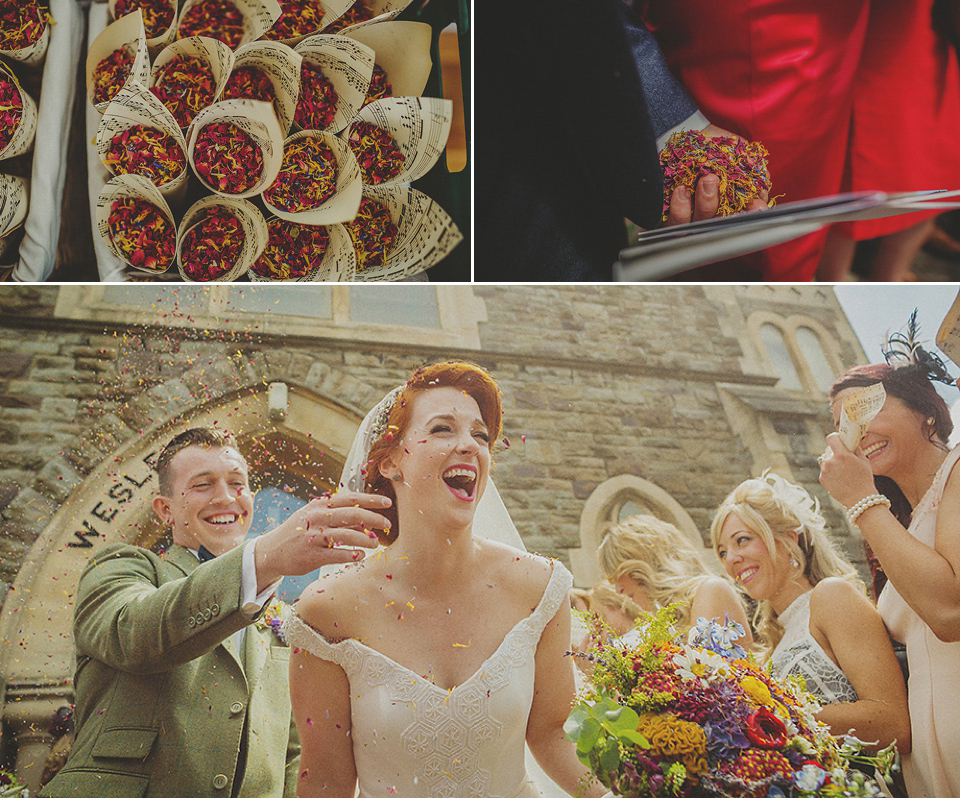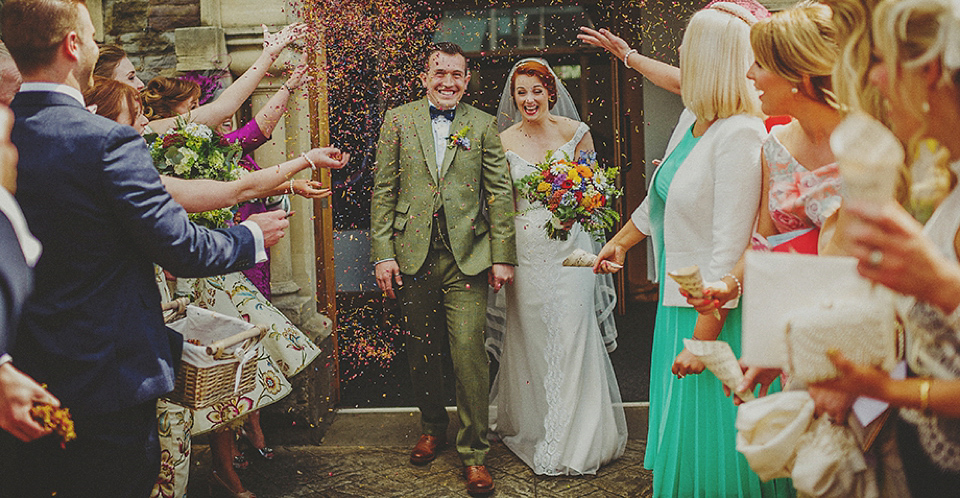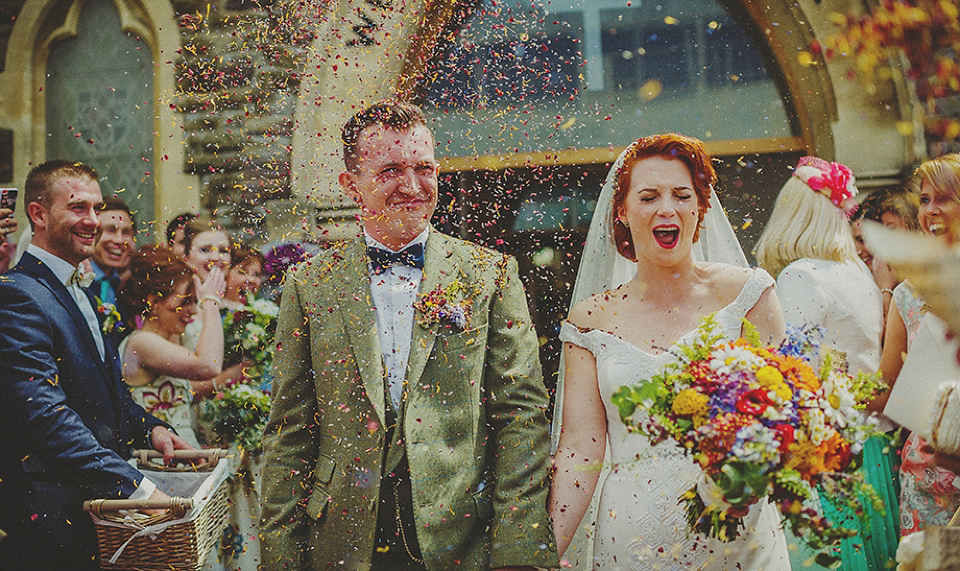 "When everyone had sat down to eat, we took a minute together and just looked around at all of our favourite having a blast together. They were all there for us, to celebrate us and that was such an overwhelming feeling. We're both incredibly lucky with all the special people we have in our lives, and seeing them all having a laugh together was an amazing thing to see."
"Kelly and Cerys and the team at Food Street Catering worked so hard on the day and even battled with the generator breaking down, which we knew nothing of on the day, it must have been so stressful but they really pulled it off. Our friends and family still talk of how good the food was.
We also hired a bar service from a friend in our local village. Basher sorted everything and even sourced the exact wine we wanted and Brad's very favourite welsh lager."
"We had a BBQ and then got aunties, cousins and friends to bake cakes for our cake table instead of dessert. A good friend of Brad's mum made our naked three tier cake which we cut, she had a nightmare journey and didn't arrive until 1am the night before the wedding, and made the cake before the next day! What a legend! We couldn't have been more grateful."
Ruth and Brad gave their guests moustaches and lipsticks on sticks made by her sister and mother as favours. They could take a quick pic then devour them!
"We used a lot of our own furniture and ornaments including our beloved gramophone, and we also trawled antique fairs, charity shops, and eBay collecting table cloths, crochet doilies, old tins, vases, frames and accessories. Our friend Jenny made our napkins from old curtains. The best buy was the red chesterfield sofa which we got for £20 and make for some of the best photos."
"My bridesmaids wrote a song to the popular Welsh folk song 'Hymns and Arias' and passed the words around so everyone could join in singing the chorus. It was so SO unexpected, only one of the girls can sing and the other three really hate anything that involves performing, so it was such a shock to see them get up complete with instruments! I've never been such a mixture of emotions, I blubbed, laughed and sung the entire way through, I felt so overwhelmed."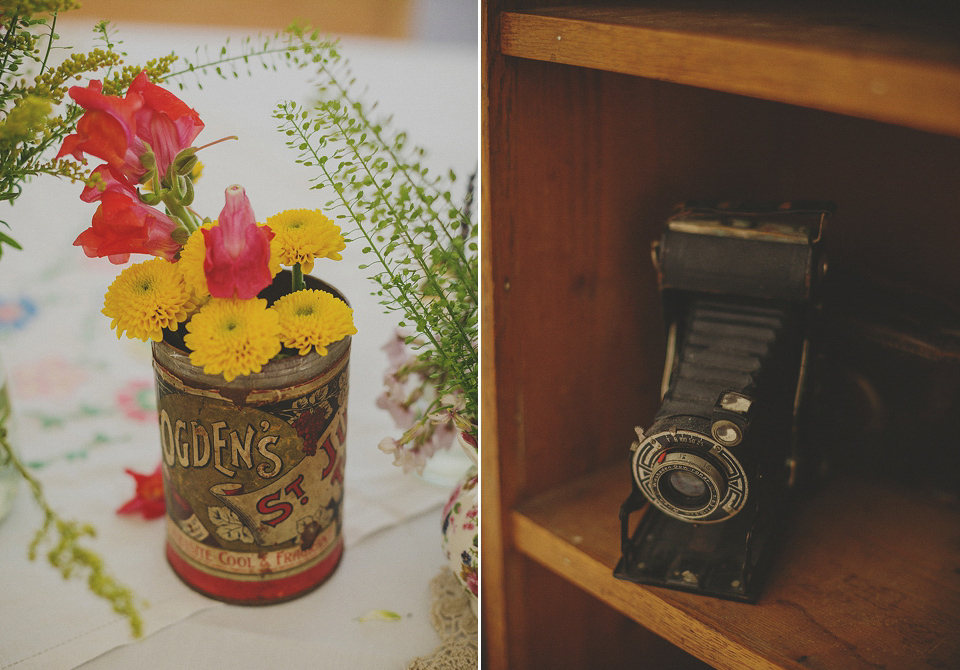 The images of Brad and Ruth on the Gower Peninsula are enough to make you want to move there. The background is so spectacular but the images of the couple are so tender.
"Brad is a part time photographer he was quite particular when it came to choosing a photographer. We came across Woz from Howell Jones Photography on a blog and really loved his documentary approach style and his incredible eye for detail means those moments he captures, however small they may seem, really show the overall feel of the day. After meeting him we knew he was perfect for us, he's the nicest guy, so laid back and will not finish until he feels he has got all the best images he can. Woz and his assistant Jamie didn't get in the way, they just shot everything as it happened, and we couldn't be happier with the images, so many special memories that we missed and it really shows the true reflection of the day. I couldn't recommend them enough."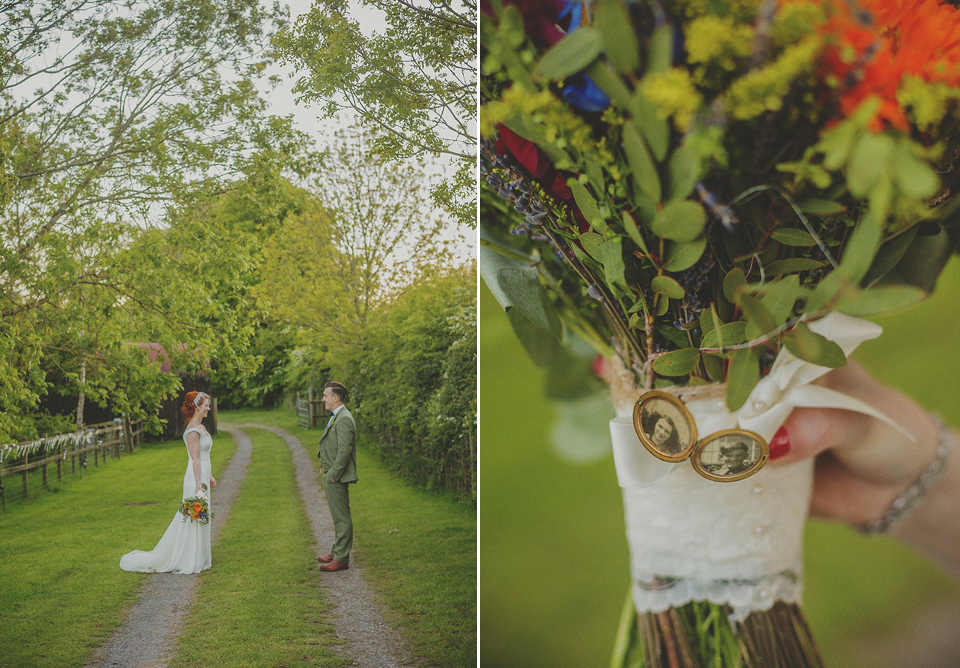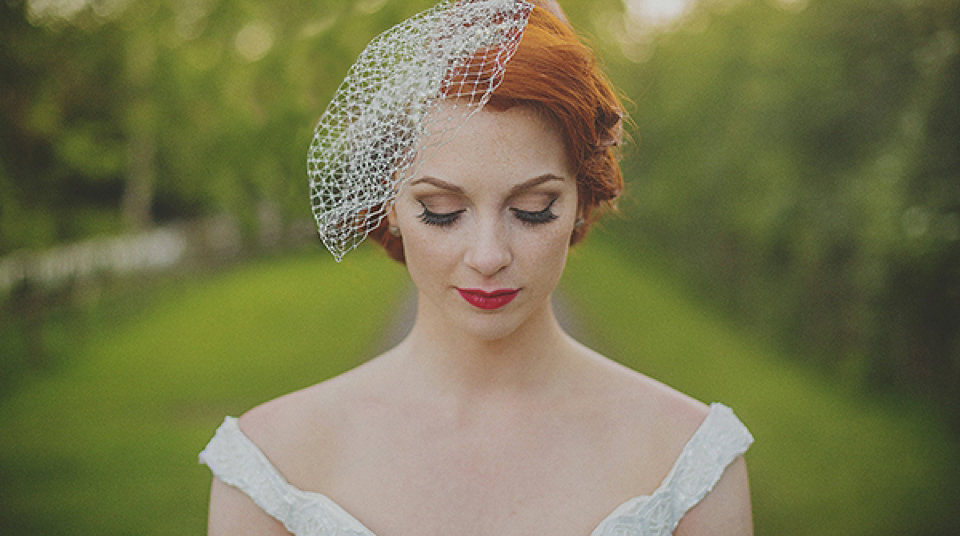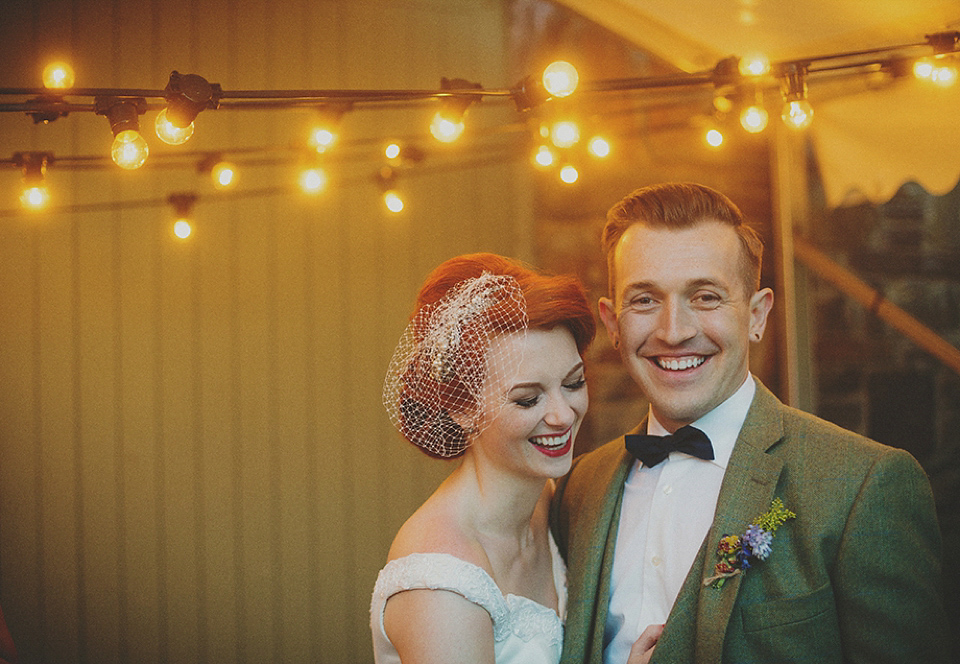 "We had our first dance to the 'Ho Hey' by The Lumineers as it's the only track that really reminds us of each other."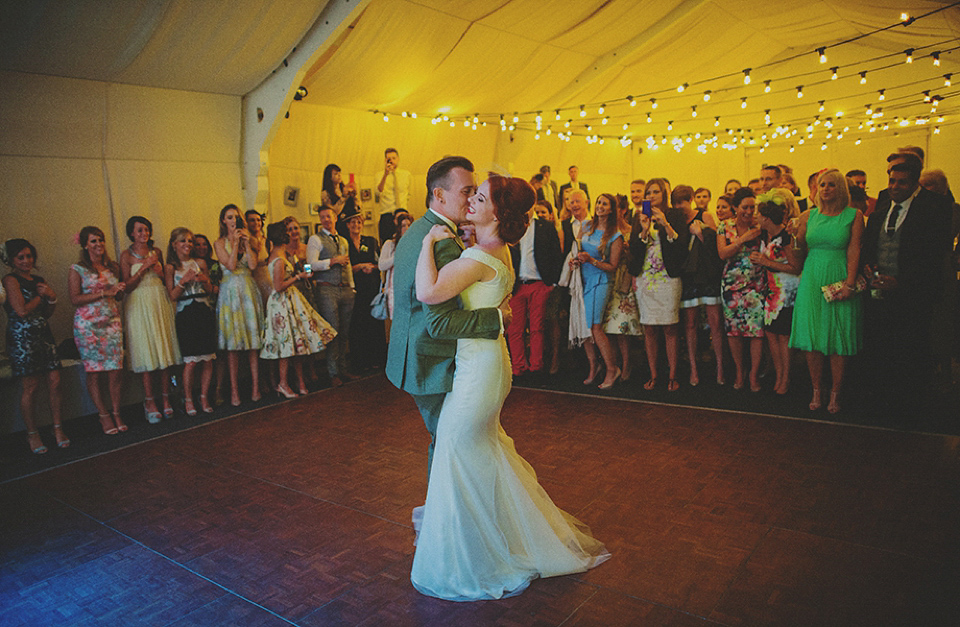 Words of Wedded Wisdom
"Remember why you are doing it. I let the stress get to me, I had to have a word with myself to stop letting little things get to me, I wanted to remember it as a fun time, with all our nearest and dearest coming together. I gave up control, had some dinner with my Mam, sister and bridesmaids and started enjoying it.
Things weren't finished and did it matter? No. Did I care? Nope. Everyone mucked in and had an absolute blast. We got married with our favourite people watching and the marquee could have blown away for all we'd cared. We were husband and wife and life was good. Also, try to see your new husband/wife as much as you can on the day. Grab them as often as you can, and take it all in together, it's such an overwhelming experience."
Thank you so much to Ruth and Bradley for allowing us to take a peek into your fabulous wedding day. Thanks also to photographer Howell Jones for the amazing photos. More of his work on Love My Dress can be seen here.
That just leaves me to wish you all a very Happy Easter, hopefully with plenty of family time and a chocolate egg or two!
Love Caoimhe xx
Photographer – Howell Jones Photography
Venue – Penmaen Manor House, The Gower, Wales
Wedding Dress – Stephanie Allin
Veil – Stephanie Allin + Cherished Vintage
Headpiece – Cherished Vintage
Shoes – Rachel Simpson
Accessories – eBay + Pandora
Bride's Scent/perfume – Chance Eau Tendre by Chanel
Groom – Suit made by a local Tailor + Mrs Bow Tie Accessories
Bridesmaids – Katie Fitzgerald Dresses + Gill Clement Jewellery
Florist – Eve Francesca Designs
Cake – Made by a Family Friend
Rings – Classic Jewellery
Catering – Food Street Catering + Mobile Event Bar
Stationery – Designed by a Friend
Hair Stylist – Emma Price from Andrew Price Group
Makeup Artist – Emily Porter