Hello lovely readers. Today marks the beginning of the Easter bank holiday – Hooray! To help kick start the long weekend, we are sharing an elegant, English country, winter wedding sure to put a smile on your face. Chris, a consultant anaesthetist, married Emily, proprietor of Two Many Cooks Catering, on the 21st of November, 2015, at Christ Church, in Brockham Green, Surrey, followed by a marquee reception, across the green at Emily's mother's home; South Lodge.
Grab a cup of tea and let's begin by taking a few moments to enjoy the couple's beautiful wedding film, captured by Ed Schofield of Cedar Film.
"Even though I have organised hundreds of weddings in my role as a caterer, I had never thought about how I would like my own wedding to be. The only thing I knew was that I wanted to get married in a church, hold the reception at my mum's house and have a damn good party!"
Find Miss Bush on Little Book for Brides
Find Two Many Cooks Catering on Little Book for Brides
Emily purchased her gorgeous Suzanne Neville gown and jacket from Miss Bush Bridal, in Surrey. We are big fans of Miss Bush, here at Love My Dress. The proprietor, Emma, has been a supporter of the blog since the beginning and her beautiful boutique (a converted chapel) is listed in our Little Book for Brides. Emma recently shared this wonderful article exploring some of the challenges she faced while planning her own wedding, as well as some stunning images from the couple's engagement shoot – do take a peek.
"I always knew Miss Bush Bridal would be my first port of call, but I walked into the chapel with a very vague idea of what I wanted to wear."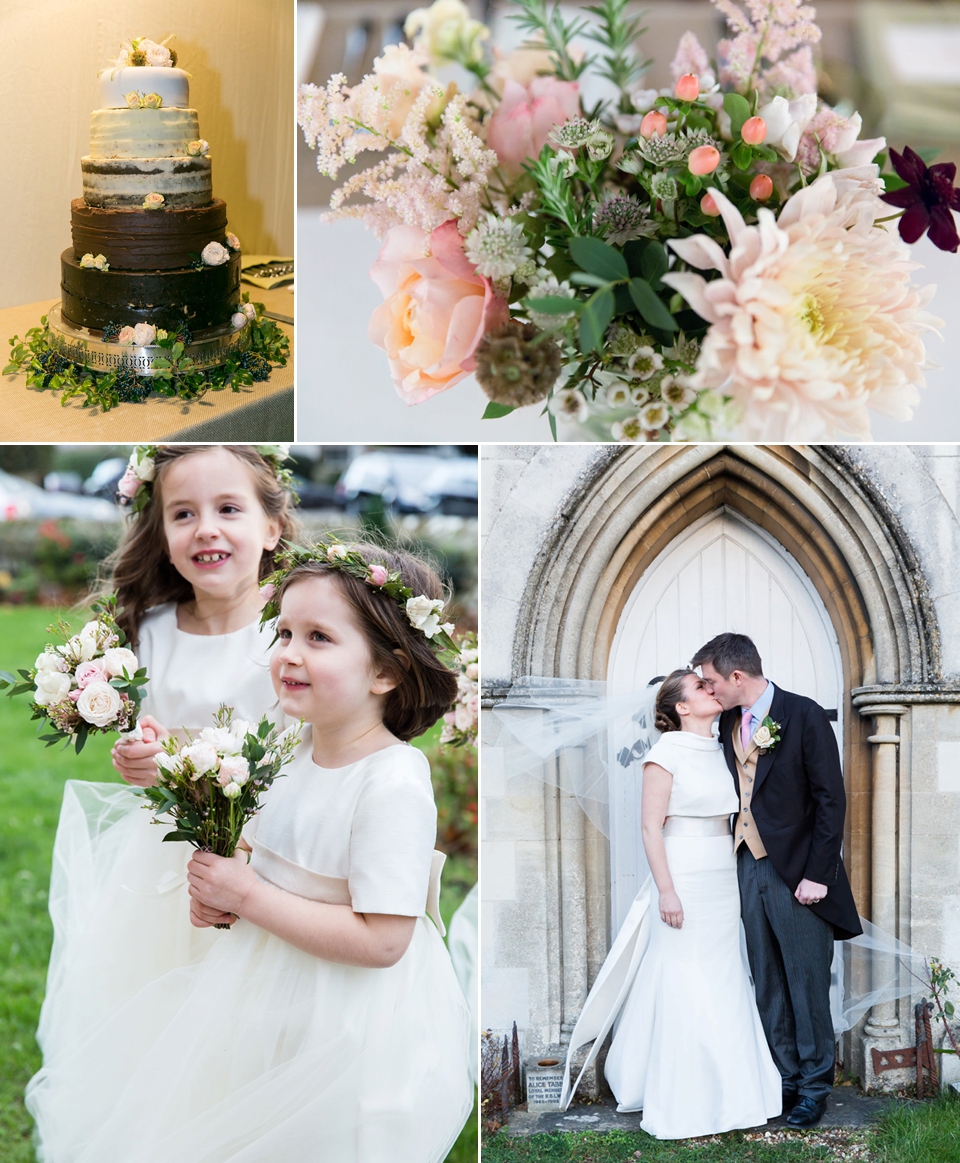 "After trying on what we knew probably wouldn't work, Emma appeared with a Suzanne Neville dress and jacket. She placed a veil on my head and gave me a hydrangea to hold and mum and I both went very quiet knowing this was it! All we needed to add was the massive bow and sash."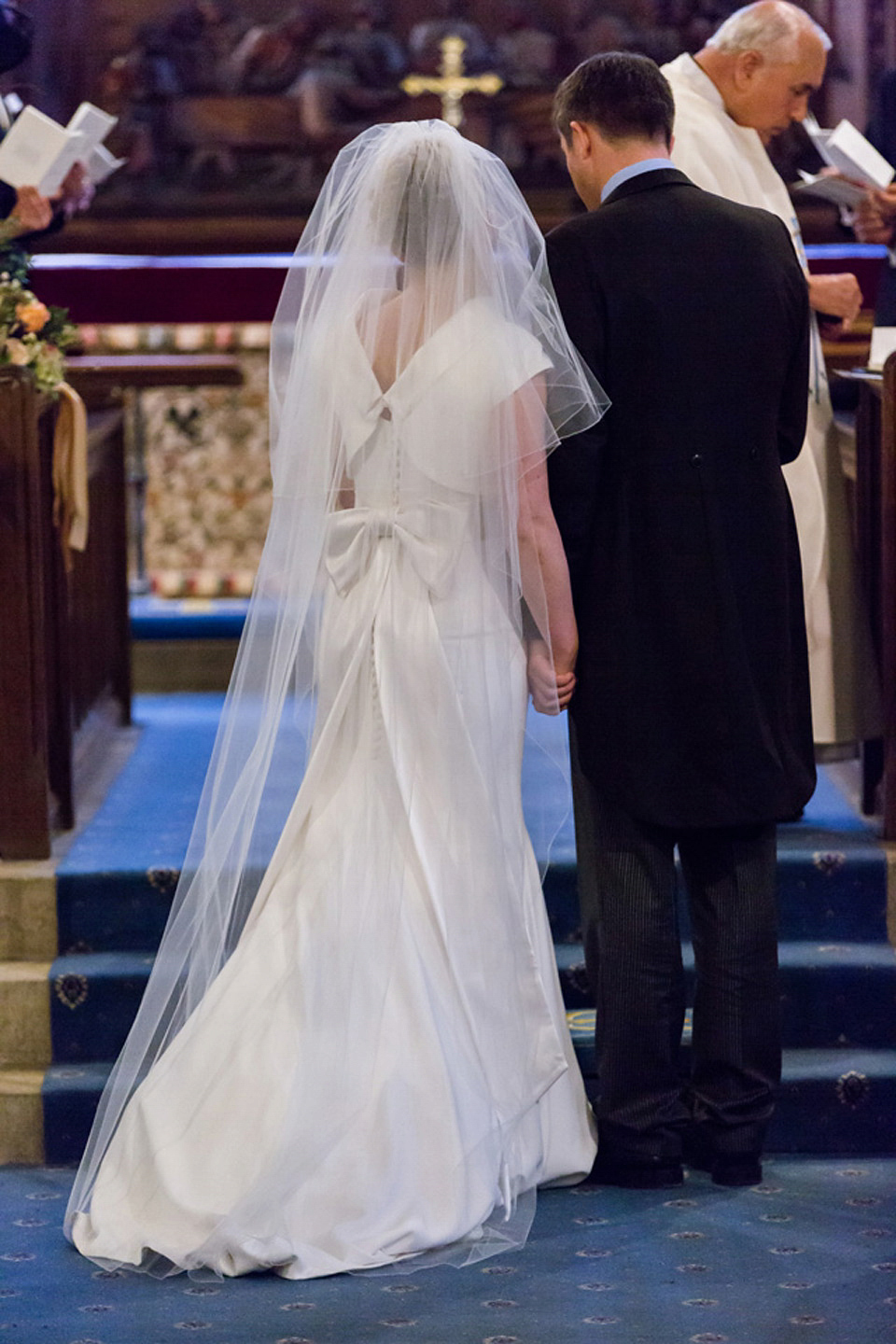 "My mum's house is in the perfect location – by the village green with a pub and a church all within walking distance. Mum runs a B&B at South Lodge, so is used to the house being full of people all the time and we were lucky enough to have a lawn large enough and flat enough to house the marquee."
Emily and Chris' seasonal floral arrangements were lovingly put together by Marion of The Kingfisher Farm Shop
"Marion and I have worked together for years and she knows what I like and don't like and quite how fussy I am about things! The flowers were perfect and my bouquet brought me to tears as Marion and her family gave it to me as a wedding present. I love natural flowers, foliage and twigs and my general motto for everything is 'more is always more'."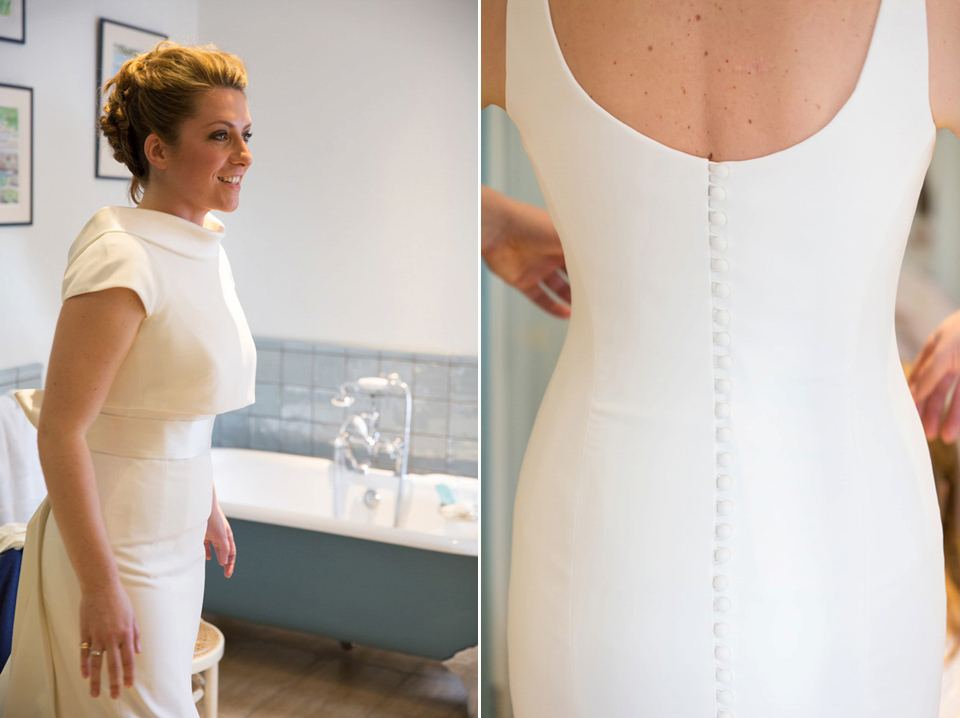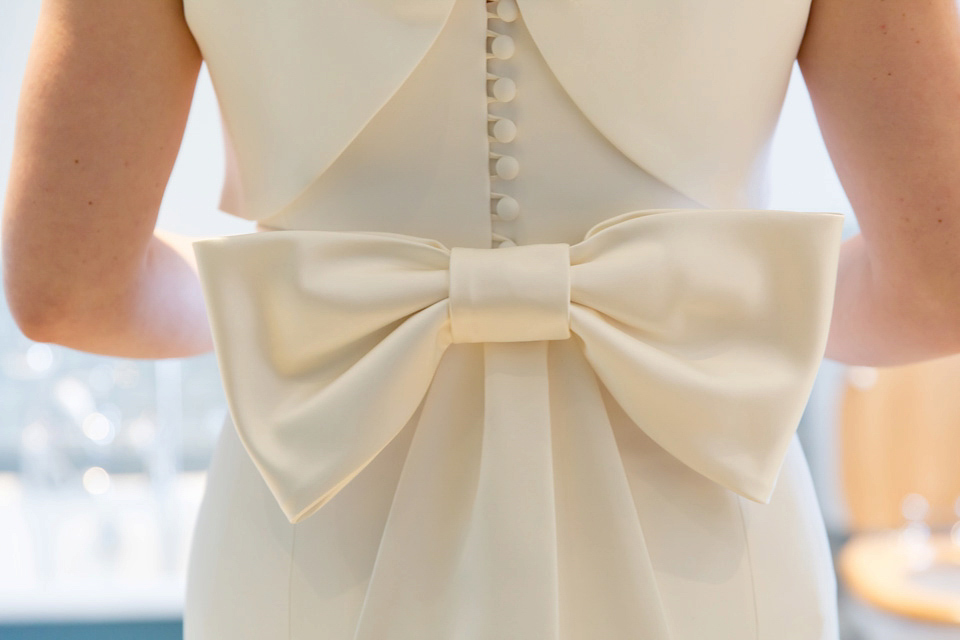 Emily wore a pair of sparkly, gold, Jimmy Choo's and accessorised with a ring gifted to her by her two best friends.
"My shoes were the first pair I tried on with a very hungover friend – she was thrilled it was a one shop wonder!"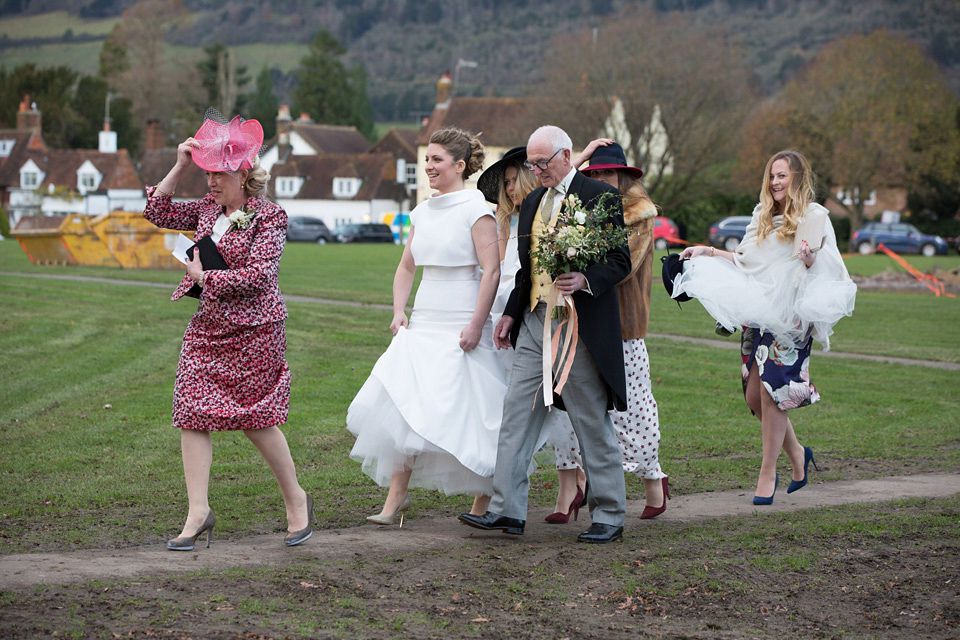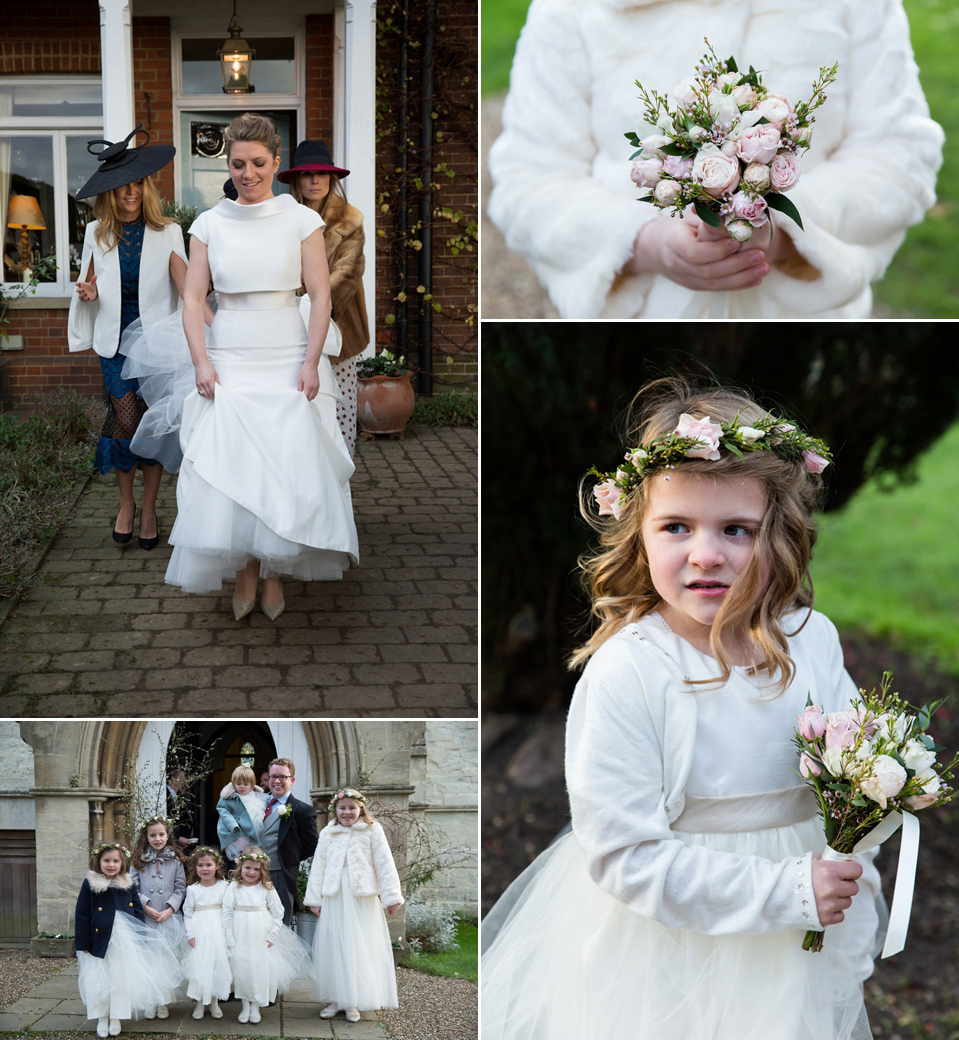 The couple's super sweet flowergirls looked lovely in fresh flower circlets and bespoke dresses designed by the bride and created by seamstress Emma K Wilkinson.
Emily and Chris tied the knot in a traditional service at Brockham Green's pretty village church. Emily walked up the aisle, accompanied by her father, to the sounds of trumpeter Crispian Steel Perkins and a singer from the village.
"My mother and step father walked me along the path to the church and my father gave me away. Chris and I moved house in October and discovered that our wonderful neighbour, Crispian Steel Perkins, was a world famous trumpeter, and free on our wedding day!
Along with an incredible soprano from Brockham Village, Crispian played 'The Prince of Denmark's March' by Jeremiah Clarke as I walked down the aisle, 'Let the Bright Seraphim' by Handel during the signing of the register and played us out to the magical 'Trumpet Voluntary in D' by John Stanley."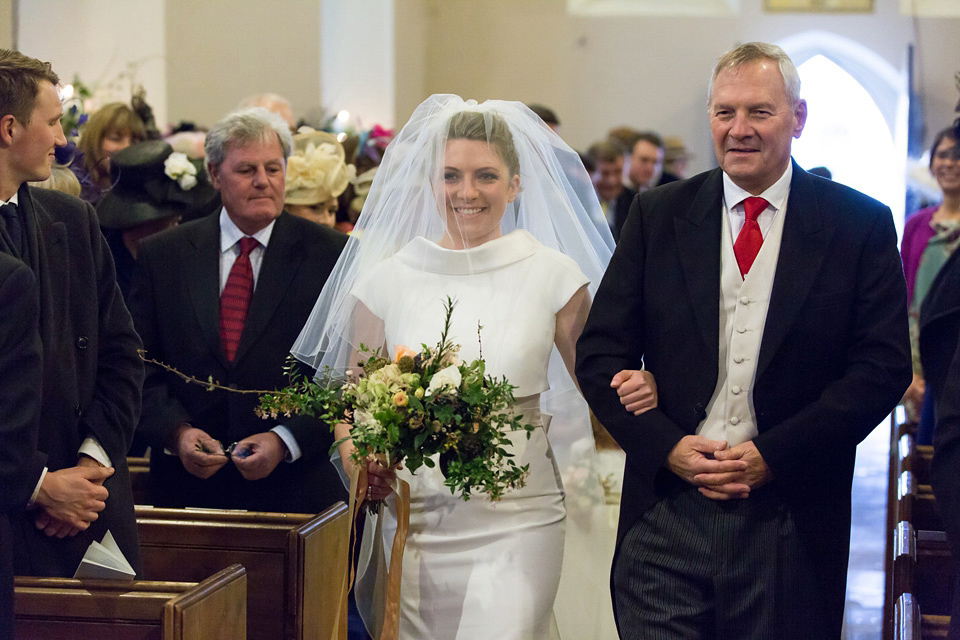 "Chris and I met online, through My Single Friend, and feel incredibly lucky to have found each other.  Our first date was at a pub in Reigate, where we ate, drank and talked all night.  I told one of the girls I was working with that week that I was going to marry him one day. Ten months later, Chris proposed whilst we were on a long weekend in Croatia.  Five months later we were married."
The couple chose two readings: an extract from Jane Eyre by Charlotte Bronte and 'These I can promise' by Mark Twain.
"The service in the church was so special, with hymns sung with gusto, accompanied by the trumpet and soprano. Mum's outfit was incredible and my beautiful little bridesmaids were so brave against the cold."
Our dashing groom wore his own morning suit, paired with a waistcoat and tie from Ede & Ravenscroft.
"Chris wore a morning suit that he's had for years and still looks rather handsome in! I did insist on a new waistcoat and tie which we got from Ede & Ravenscroft  – the first shop we went in to on our little trip."
Emily and Chris' big day was documented by James Darling Photography. I love the way these images capture the emotions behind each shot…
"For me, choosing a photographer was the hardest part. I wanted someone to capture the happiest moments of our lives and shots that would never age or go out of fashion. An old friend reminded me of her husband, James, who we have used for lots of parties in the past and I knew immediately he was who we needed. James was unobtrusive, easy going and, most of all, I knew his shots would be wonderful, capturing the mood of the day."
After the ceremony, the wedding party made the short walk from the church to Emily's mother's house where they held their reception in a beautifully decorated marquee set up in the garden.
"The Diamond Boys played outside the church, walked us back to the house and then played during the reception and the beginning of the meal."
"We went with Inside Outside for our marquee, who we have a strong relationship with. I knew the marquee would not only be stunning but would also stand up to the potential hazards of the winter weather. On the day, it did in fact blow an absolute hoolie – I think we were at the tail end of a gale – but you wouldn't have noticed in the marquee. We were safe and warm."
Emily and Chris transformed the marquee into a winter wonderland using lots of trees and clever lighting, creating a warm and inviting space in the process…
"As we were in a marquee for the whole evening we needed to make sure it was cosy in this cavernous space. From the word go, all I wanted was trees and we were lucky enough to have an old family friend at Light Water Plants who could make this happen. Light Water Plants painstakingly entwined all the branches with the fairy lights.
Dressing a marquee for a winter wedding is easier than a day time wedding, as it is already dark outside so you can maximise the lighting and set the scene. Lighting with Intent provided all the electrics and wonderful warehouse lightbulbs to go over the dining area and Vowed & Amazed (find them in our Little Book for Brides) supplied the ever incredible huge C&E for the corner, giving off the most gorgeous light."
"The fabulous Barrel & Cask made a bespoke bar for me with an oak top and tongue and groove side and we decorated the tables with hessian style cloths with white runners."
"The week before the wedding I came up for with an idea for the table plan. Marion and her team at The Kingfisher Farm Shop were up for the challenge and made epic moss covered frames which we then suspended over the dancefloor for guests to take their cards."
The couple's delicious looking wedding breakfast and cake were both prepared by Emily's very own catering business: Two Many Cooks. You can find Two Many Cooks in our Little Book for Brides, a beautifully curated directory of the best suppliers in the wedding business. If you are looking for the perfect supplier for your big day, I highly recommend taking a look.
"My team at Two Many Cooks were incredible. The whole thing was seamless, the service and food were both equally stunning. We're so lucky to have such wonderful staff, we really couldn't do any of this without them."
"We made the cake in house at Two Many Cooks. The cake was made up of our favourite recipes – from the bottom up: a whopping double slab of 'chocolate come again', my granny's original recipe and one we have used for years; ultimate chocolate cake covered in ganache; rich ginger cake with rough white icing; carrot cake with a cheese butter icing and traditional fruit cake with white fondant. In a very faint nod to the Irish side of the family, I thought it sort of resembled a pint of Guinness!"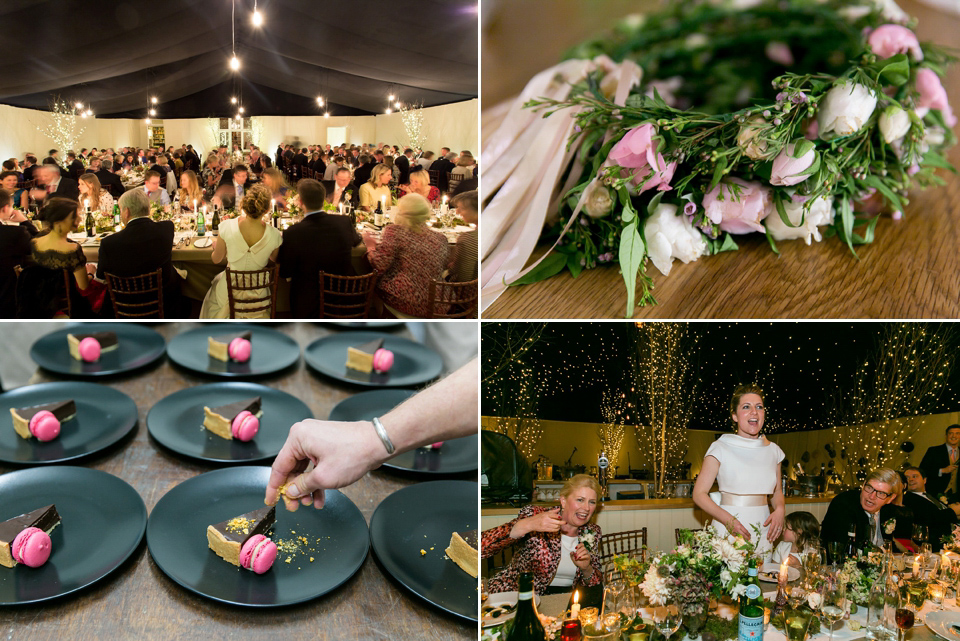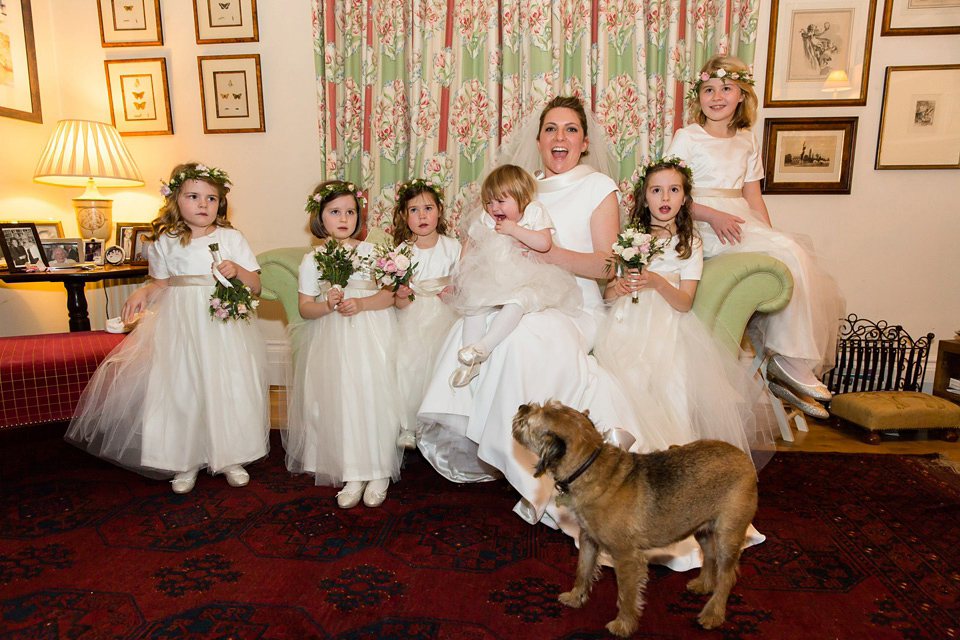 For their evening party, Emily and Chris hired the skills of six-piece band Rollercoaster, to help keep their guests entertained.
"Our wedding day was booked around the band! We have worked with Rollercoaster for years and I've always said, if I were to ever get married I would book them.  The dancefloor was never empty and so many thank you letters have commented on how fabulous the band were. We were thrilled.
It's cheesy but it really was the happiest day of our lives. There was so much love and laughter throughout the day, right up until the end. I wouldn't change a thing – I've married the man I love, I laughed all day and never once had a nervous thought in my head. Every time I look at the photos and video, I can see the happiness of the day and will remember it for ever more."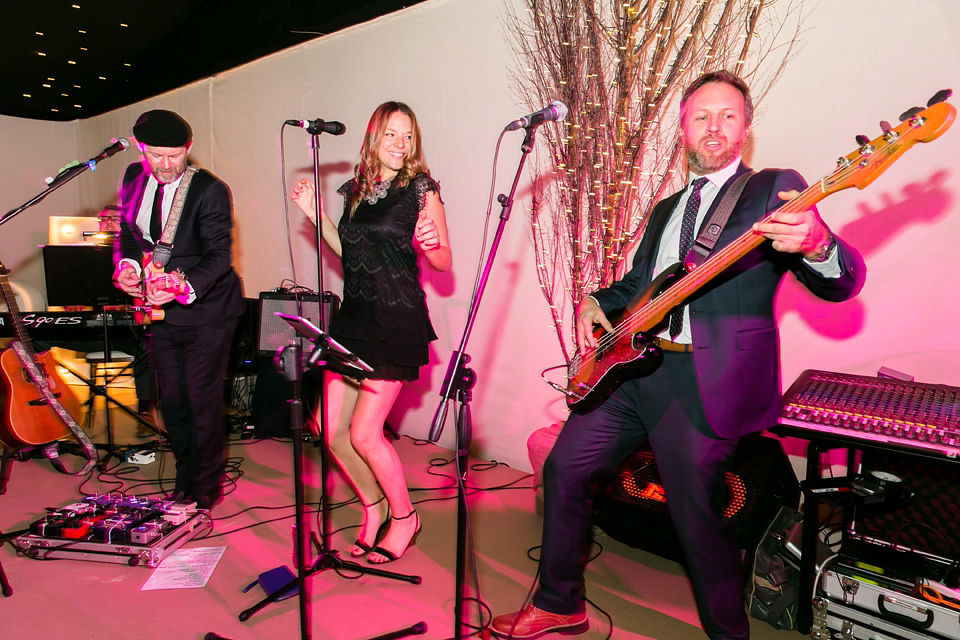 Words of Wedded Wisdom
"Enjoy every single second from the moment you're engaged to reminiscing over the photos. Have faith in your suppliers and go with your gut instinct. It really will be the best day of your life…it certainly was for us…so far!"
A huge thank you to Emily and Chris for sharing the details of their big day and to photographer  James Darling Photography and videographer Ed Schofield of Cedar Film for capturing it so very well. If you're looking for more winter wedding inspo, make sure you take a look at our extensive archives.
Wishing you a wonderful long weekend!
Annora x
Photographer – James Darling Photography
Film – Ed Schofield of Cedar Film
Venue –  Ceremony at Christ Church, Brockham Green in Surrey, followed by a marquee reception around the corner at South Lodge.
Marquee – Inside Outside Marquees
Wedding Dress + Jacket + Veil – Suzanne Neville, purchased from Miss Bush Bridal, Surrey
Shoes – Jimmy Choo
Groom – The groom's own morning suit + waistcoat + tie from Ede & Ravenscroft
Flowergirls – Bespoke dresses designed by the bride and created by Emma K Wilkinson + fresh flower circlets by The Kingfisher Farm Shop
Florist – Marion of The Kingfisher Farm Shop
Entertainment – Crispian Steel Perkins + The Diamond Boys + Rollercoaster
Lighting –Vowed & Amazed + Lighting with Intent + Light Water Plants
Catering + Cake – Two Many Cooks
Stationery – Gee Brothers
Hair Stylist – Jo Irving
Makeup Artist – Clare Reed