Good morning, isn't it fabulous to feel like we are finally leaving the cold and rainy winter behind us! Today we are heading back to a lovely bright Autumn day for the wedding of psychology teacher Danielle and plasterer/builder Chris on the 27th of October last year at The Yorkshire Wedding Barn, in Gilling West, North Yorkshire. I love that they embraced the rich orange and maroon tones of the surrounding trees and the photography by Paul Santos shows it to its fullest.
"The whole focus for us was to make sure everybody had fun. We didn't want anyone to feel on show or that they had to be a certain way. We kept some traditional elements that meant something to us, but put our own spin on it as much as possible. On the day I felt really proud of Chris and happy about what we have together. I was overwhelmed by everyone being there and the effort people make for you. It really is a special time."
Photography by Paul Santos Photography
Danielle went for full on glamour with her Allure Bridals dress from J and J Designs, Stoke, a stunning headpiece by Lou Lou Puchalka and the most amazing pair of Gianvito Rossi boots.
"Chris was my brother's friend and used to stay on my mum's sofa after nights out! One summer on a night out I spotted him dancing to Lady Gaga's 'Poker Face' and it made me laugh so much. That pretty much nailed it for me! Five years later we both took three months out of work to go travelling. Chris proposed in Kho Samui, Thailand on the balcony after having a beer and playing cards. It was a mischievous night."
Danielle wore her mum's pearl earrings and her nana's gold tri-colour ring. Her mum also had a garter made by Lou Lou as a surprise.
"As soon as I went to meet Lou Lou Puchalka I thought she was amazing! Such a lovely person with so much creativity and talent! I told her I felt like a swan in my dress and that I wanted something really different so she said she would create something for me. I was overwhelmed with it! I also bought my fur stole from her to keep warm and add a bit more feathers to the mix."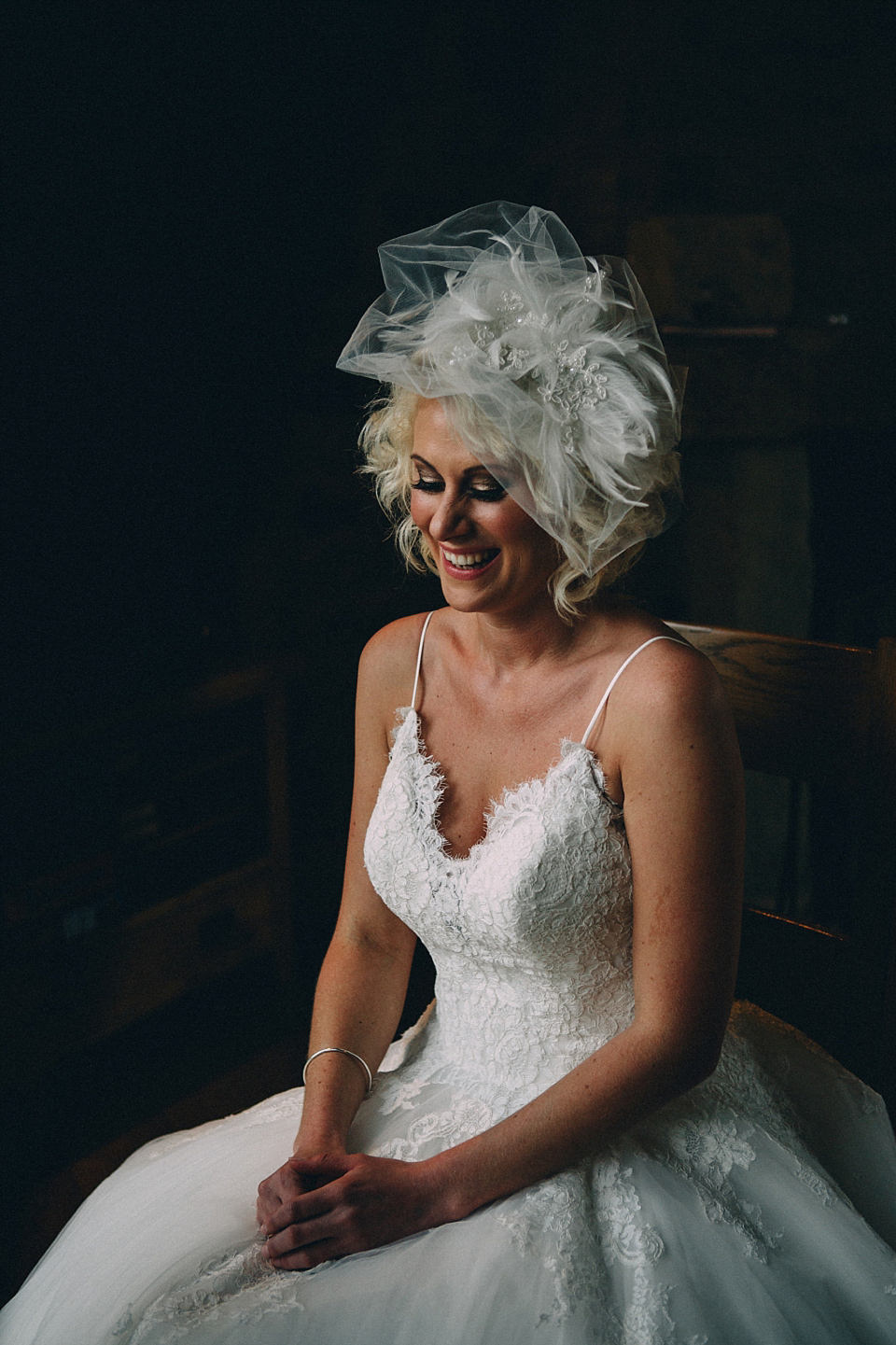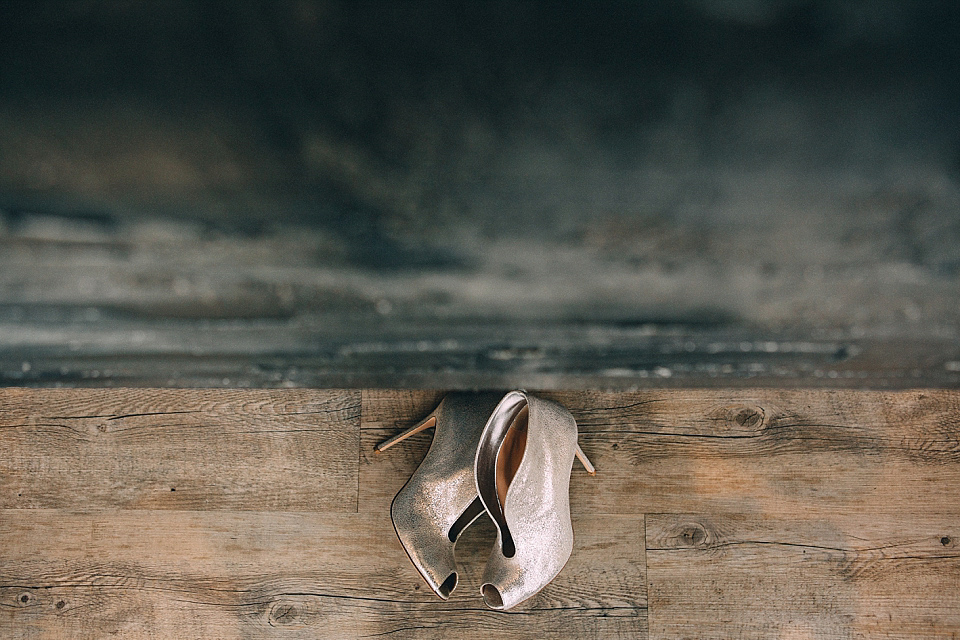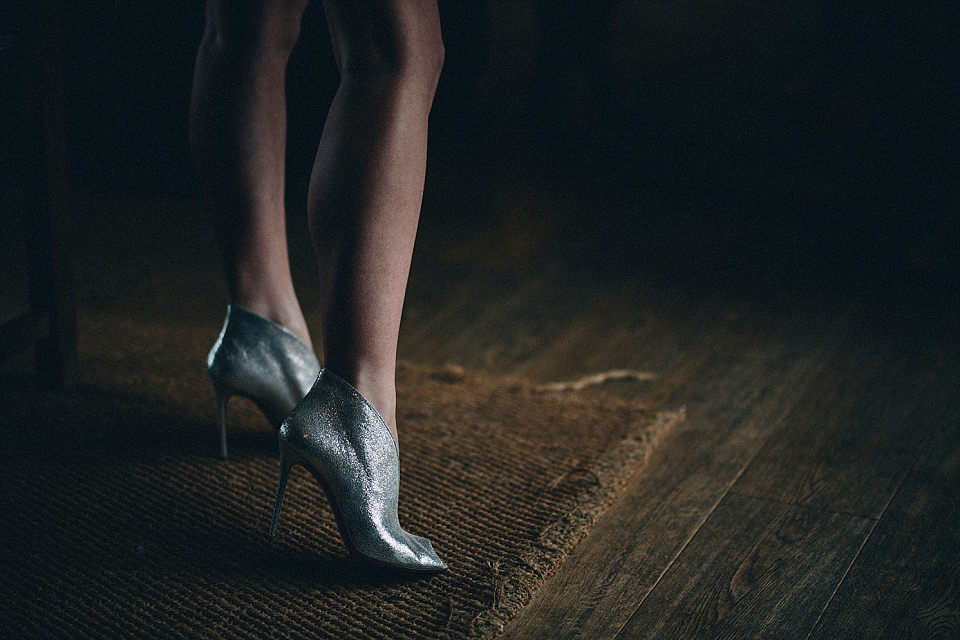 The bridesmaids wore navy Monsoon dresses which looked fabulous against the bright orange flowers they carried. Each of the ladies got a pearl headband to match the detail on her dress. The flower girl also wore Monsoon with a fur stole to match the bride.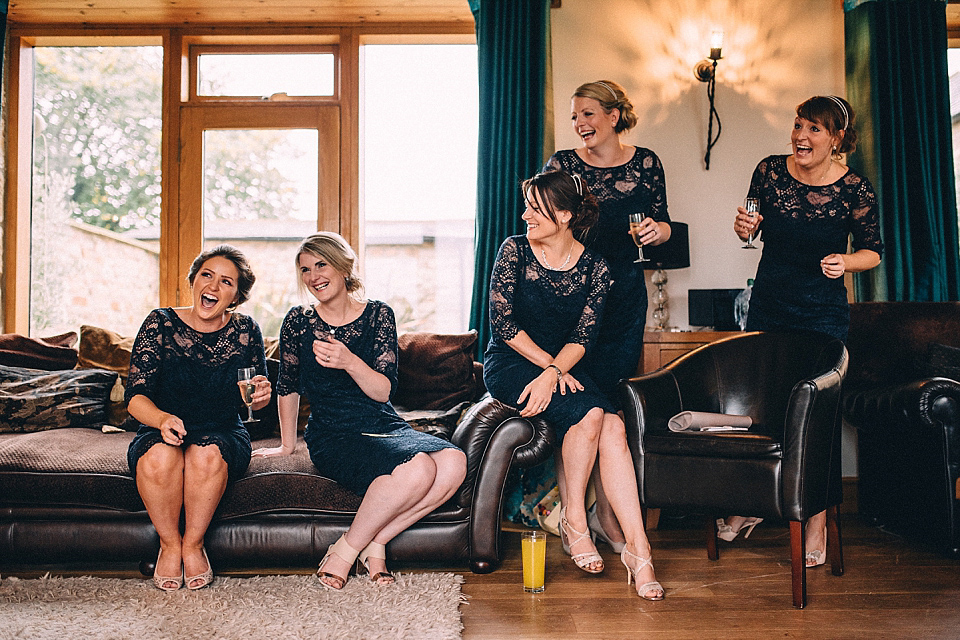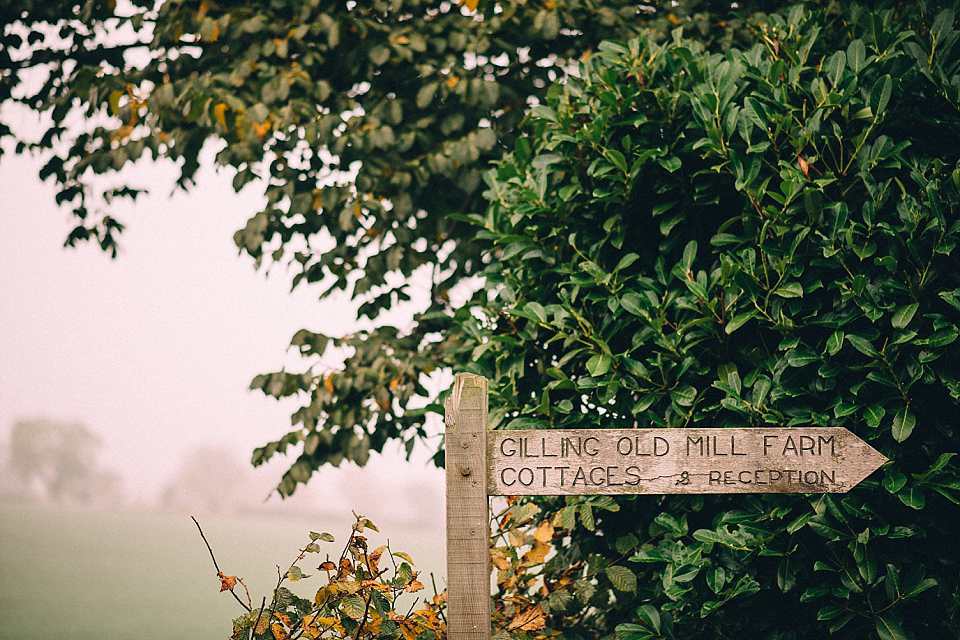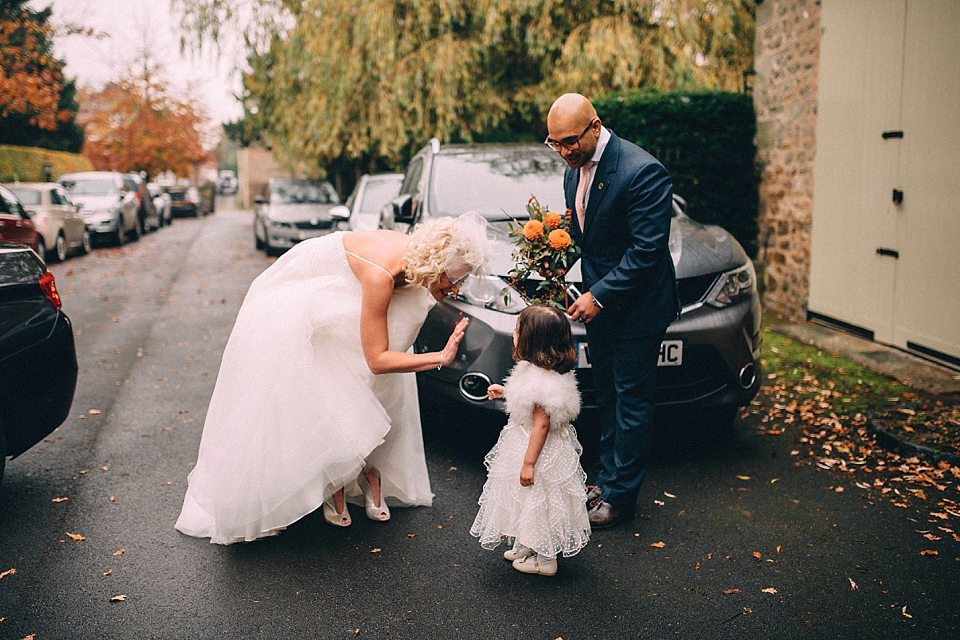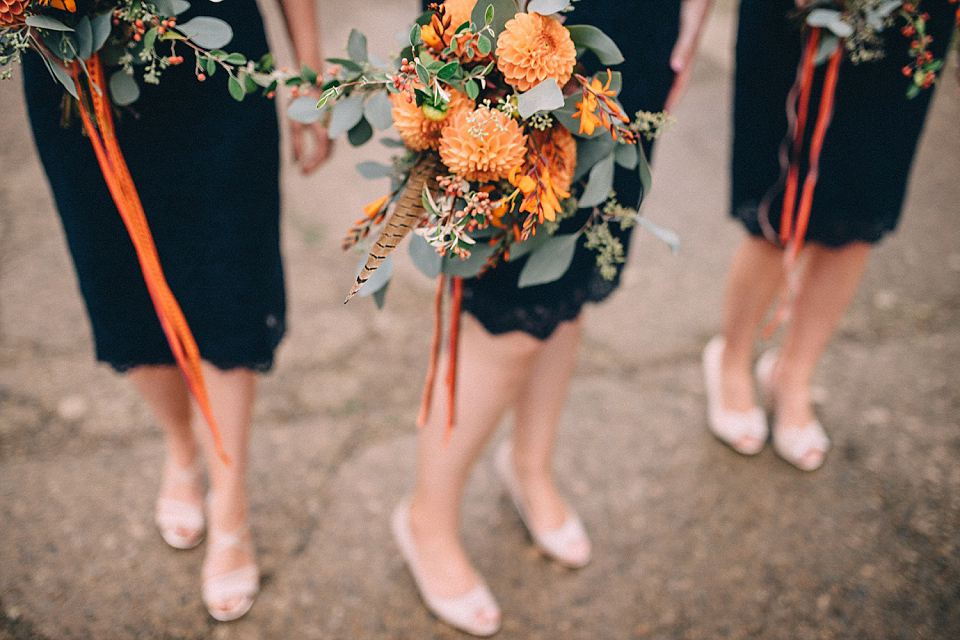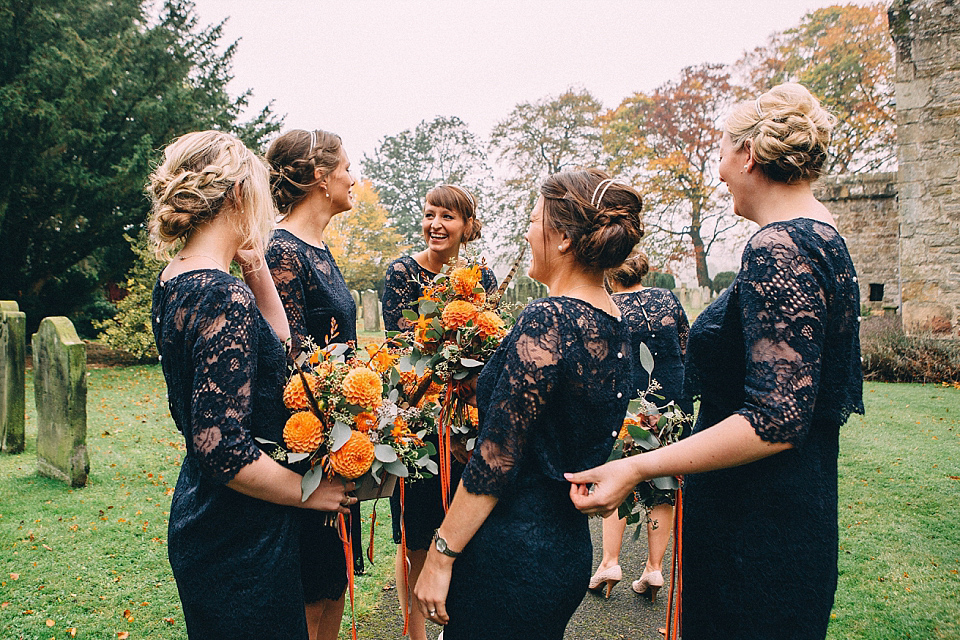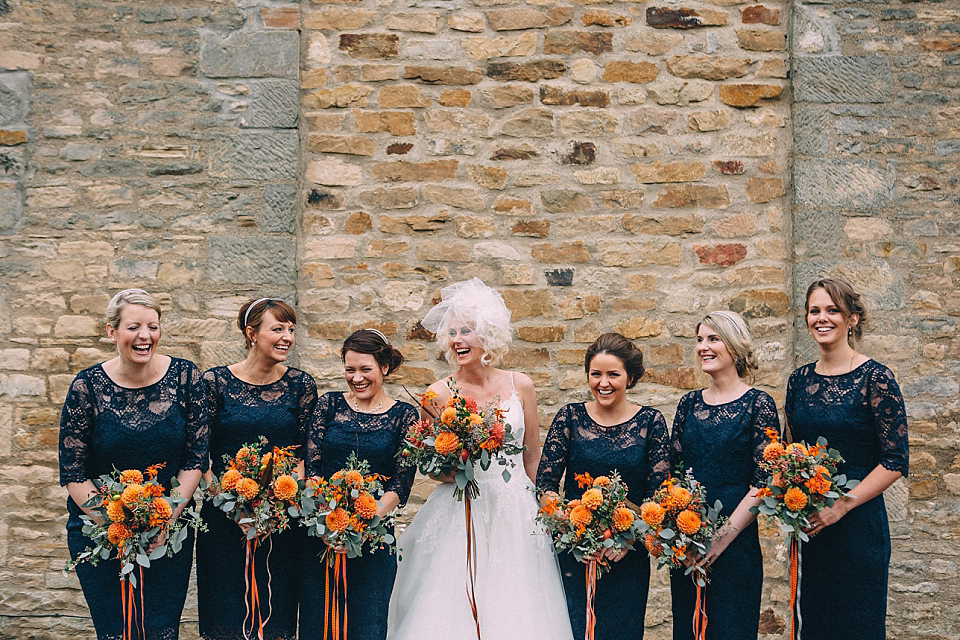 "Adam Prest was the most creative, passionate and inspirational florist, we loved him! He will never do the same wedding twice and uses new and innovative ways to make a statement. He decorated the room with flowers and branches with things like carrots, tea lights and letters hanging from them. This man does not do boring! On the day he was so great and made sure everything was perfect. We could just trust him and let him do his thing!"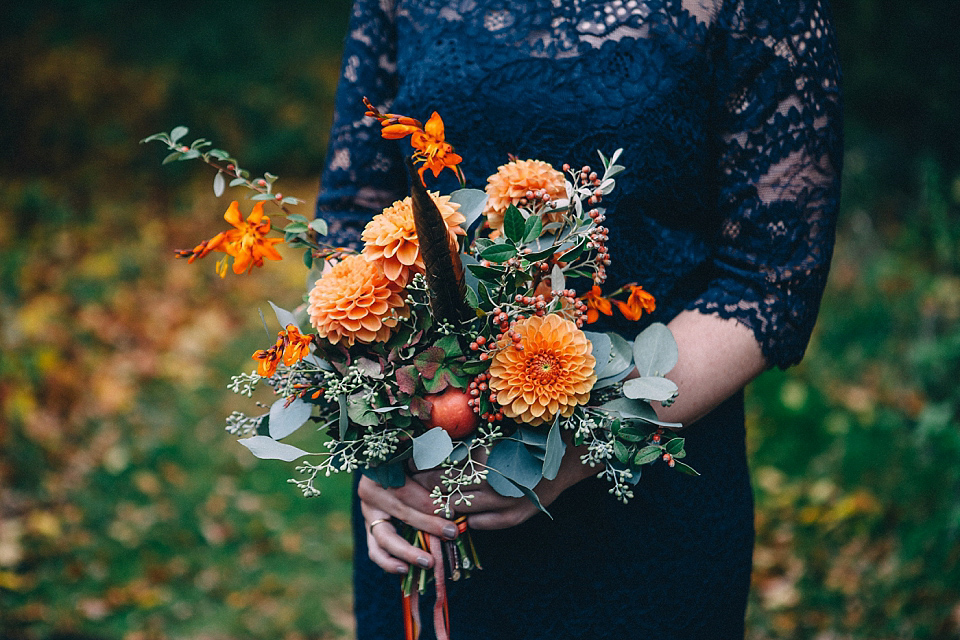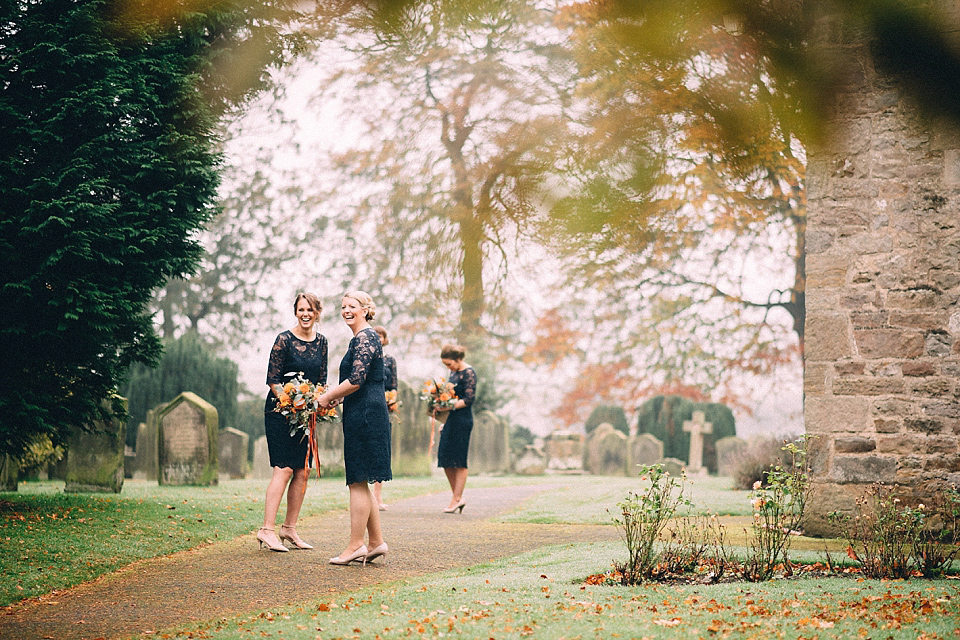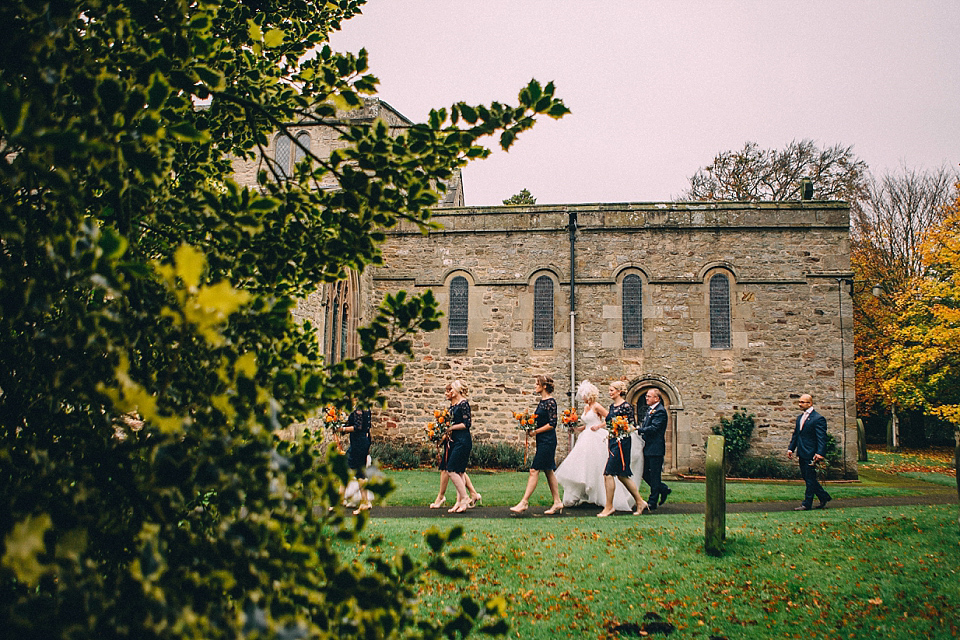 "Chris saw his Victor Valentine suit online. Their only store is in Southampton so we made the trip and he loves the suit. He wore brown brogues and had cuff links made by TM Lewin. The best men and groomsmen wore a navy herringbone suit from Greenwoods with navy braces and maroon ties to match Chris."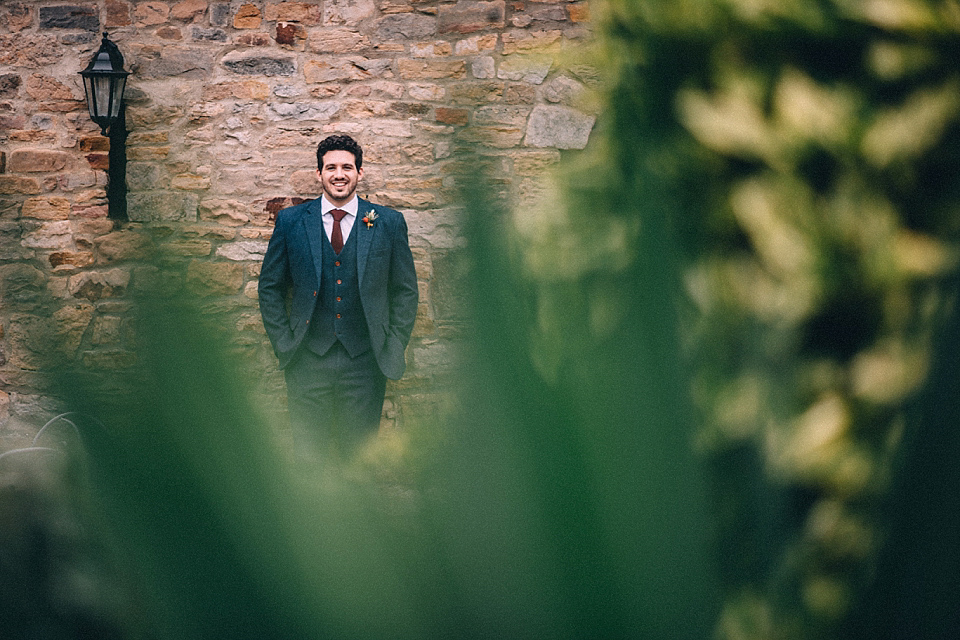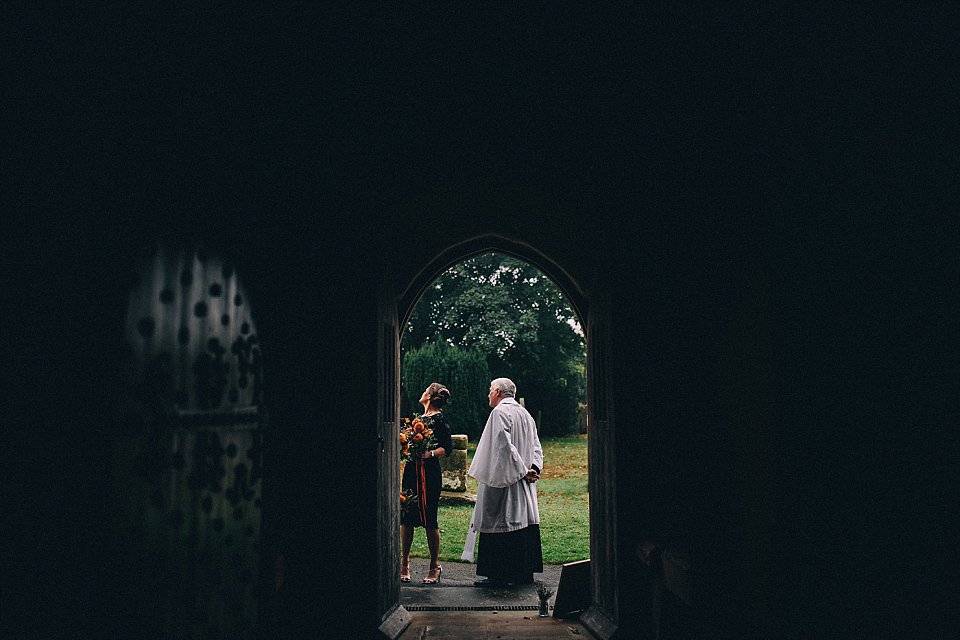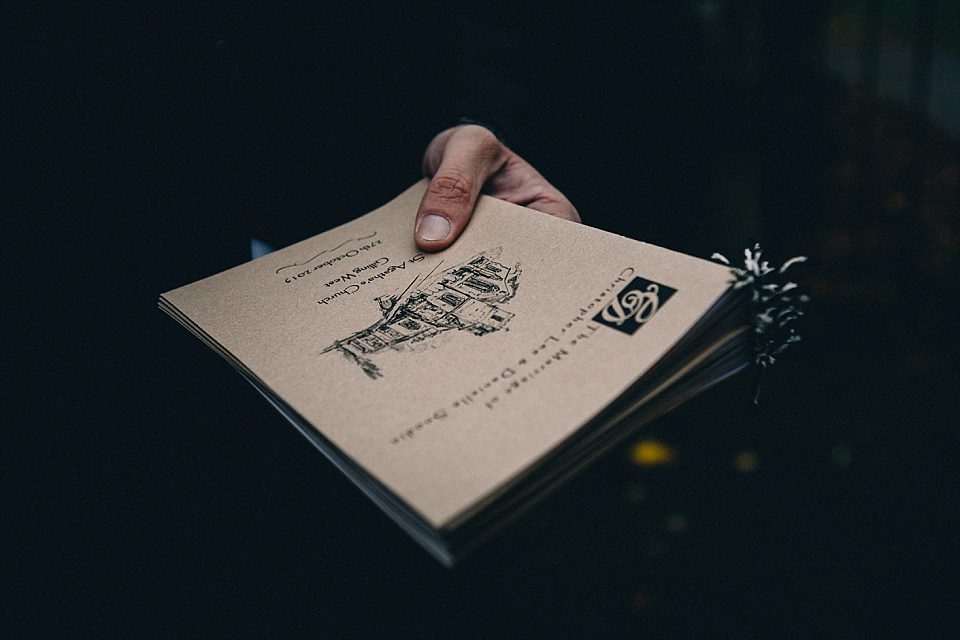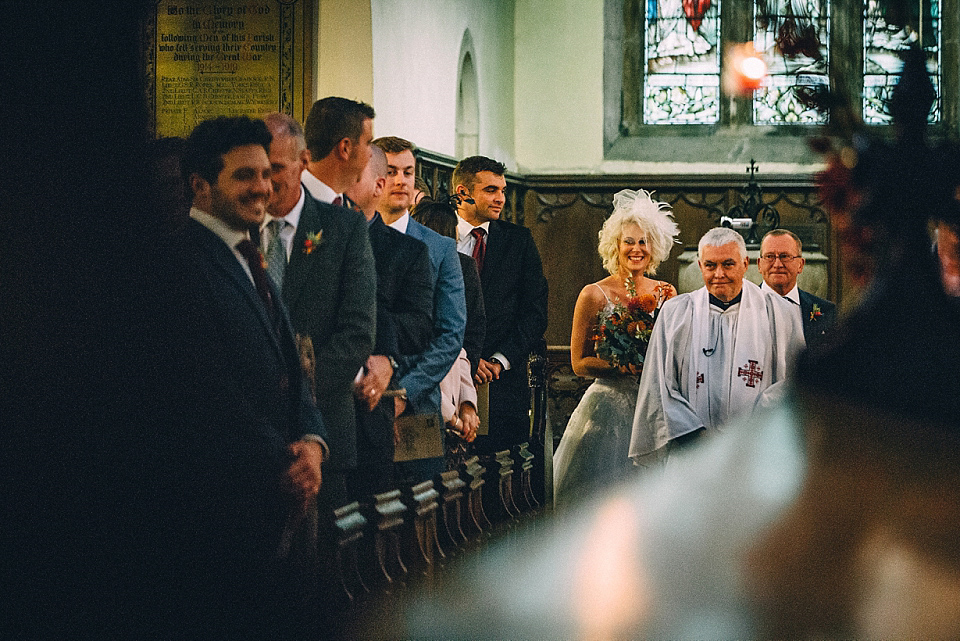 "My dad drove me to the church, then walked me down the aisle to 'Waiting For You' by Kenny G from 'The Bodyguard'. I love the sound of the saxophone as well as the film. My brother's girlfriend Di also sang 'If I Ain't Got You' by Alicia Keys in the church."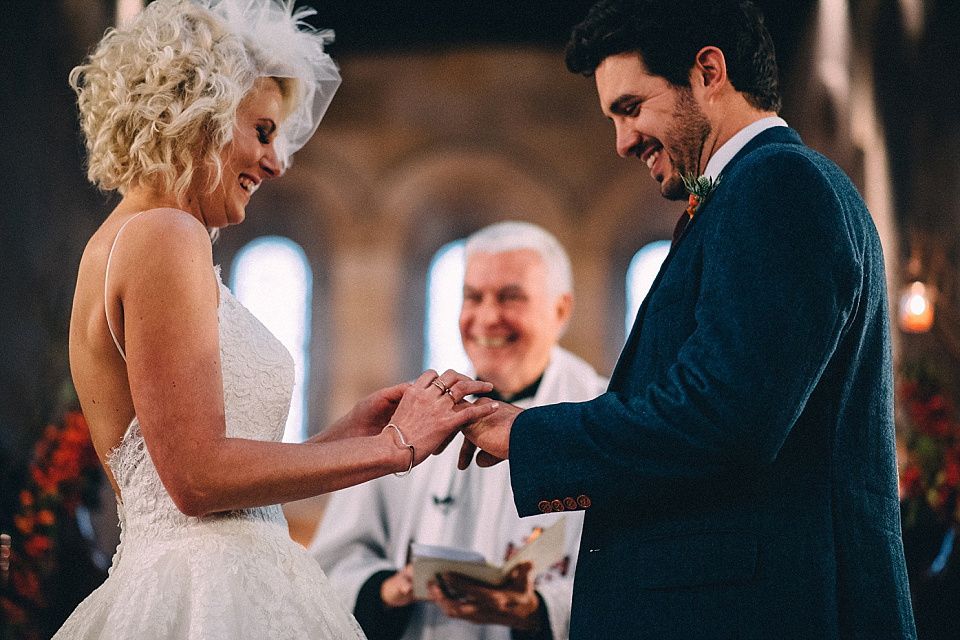 "My friend Sajeela read  'A lovely Love Story' by Edward Monkton and Chris' dad read 'A Love Poem Between Two Lovers (Song of Solomon, Chapter 2, verses 10-13; Chapter 8, verses 6&7)."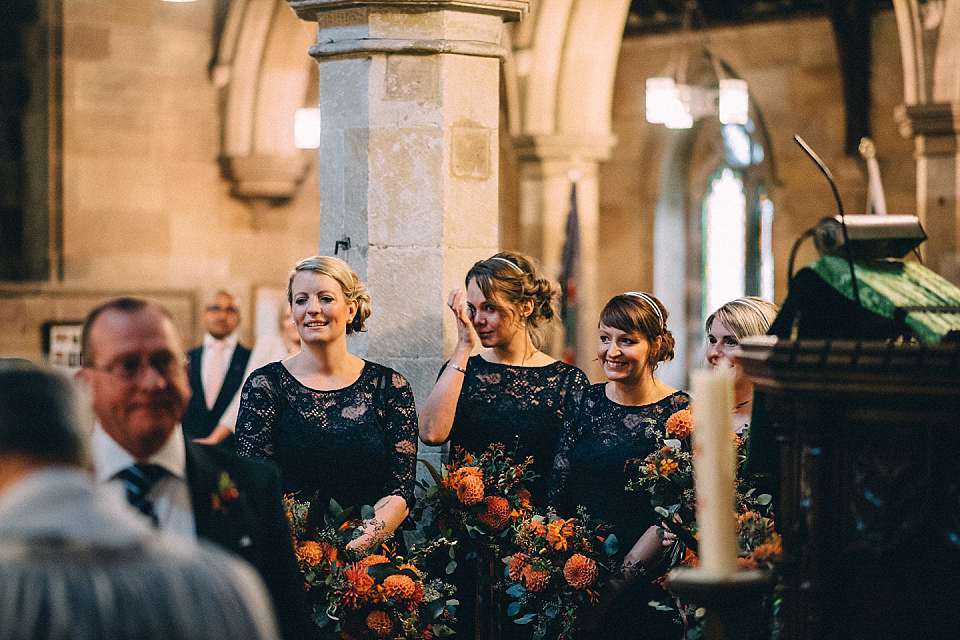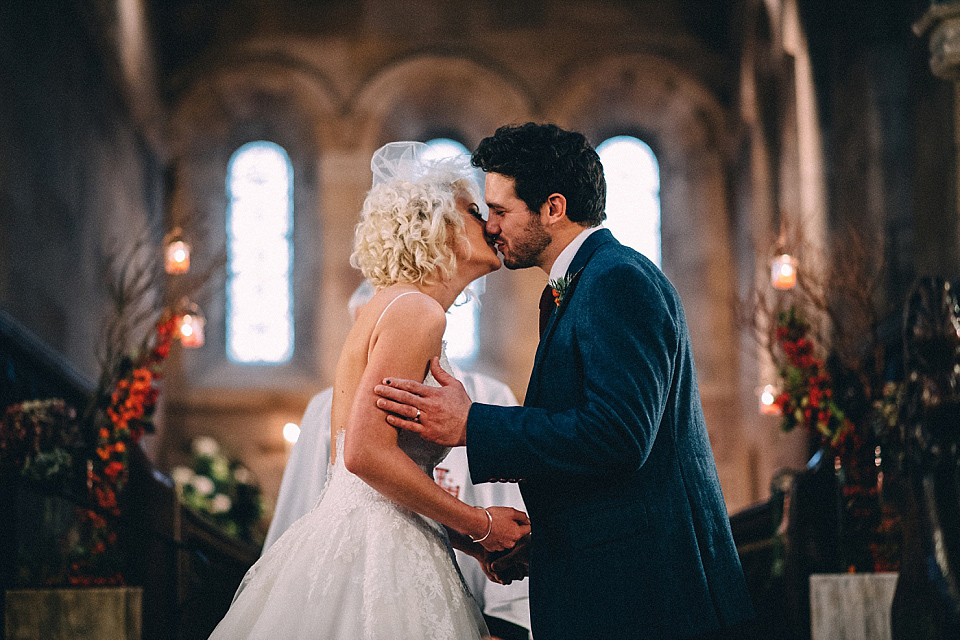 The couple chose Paul Santos Photography to capture their beautiful wedding day. I love the vibrancy of the Autumn colours, the images are truly breathtaking.
"We picked Paul because we liked his quirky and natural photos. We don't enjoy having our picture taken and we were drawn to ones that were not posed. On the day we could not have asked for more. His second shooter Caroline Briggs was also amazing. We didn't notice them most of the day and when it came to the portraits we had a right laugh! They made us feel so at ease.
We provided sparklers for the night do which were great fun and gave a good alternative to a confetti photograph. When the photos came through we were over the moon! So different, personal to us and really captured the most amazing moments! We can't thank Paul enough and would highly recommend him!"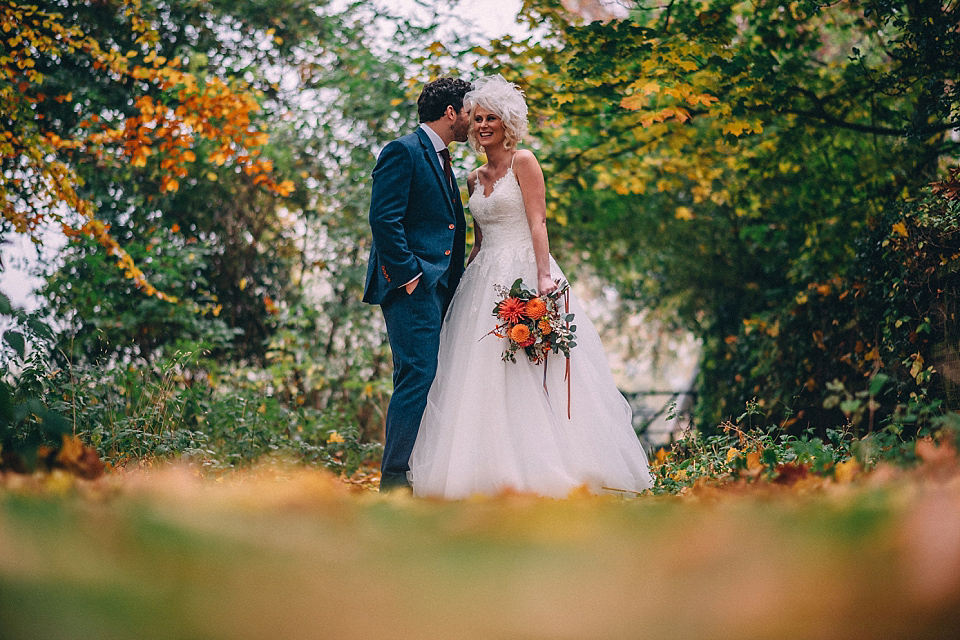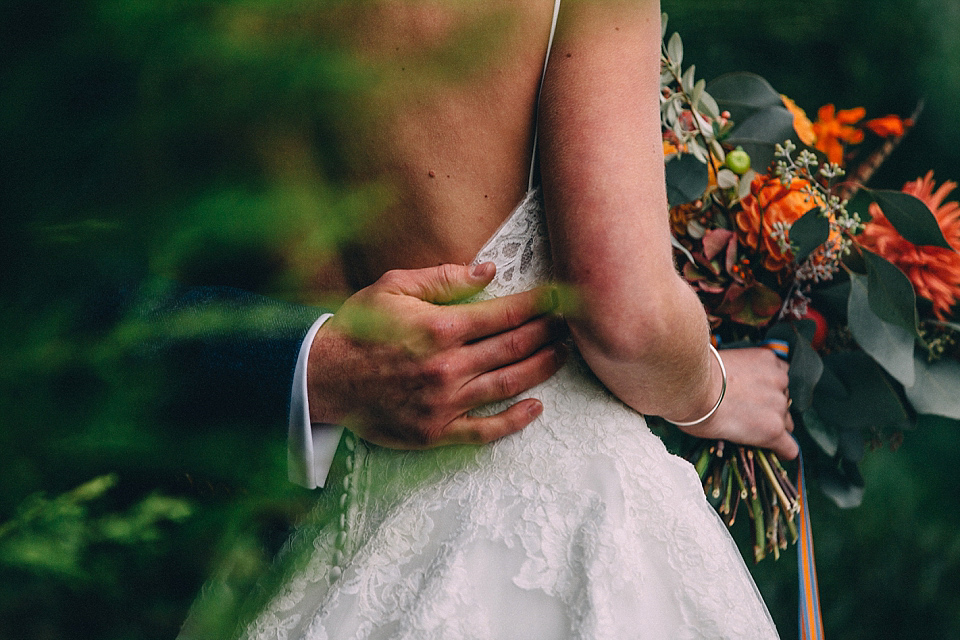 "Chris found The Yorkshire Wedding Barn on the internet while we were away. It was the first and only place we looked when we came home. We just knew it was for us! A real country feel, very relaxed and they were OK with us providing gin for every table! A definite must! We were so excited and booked the next available date they had."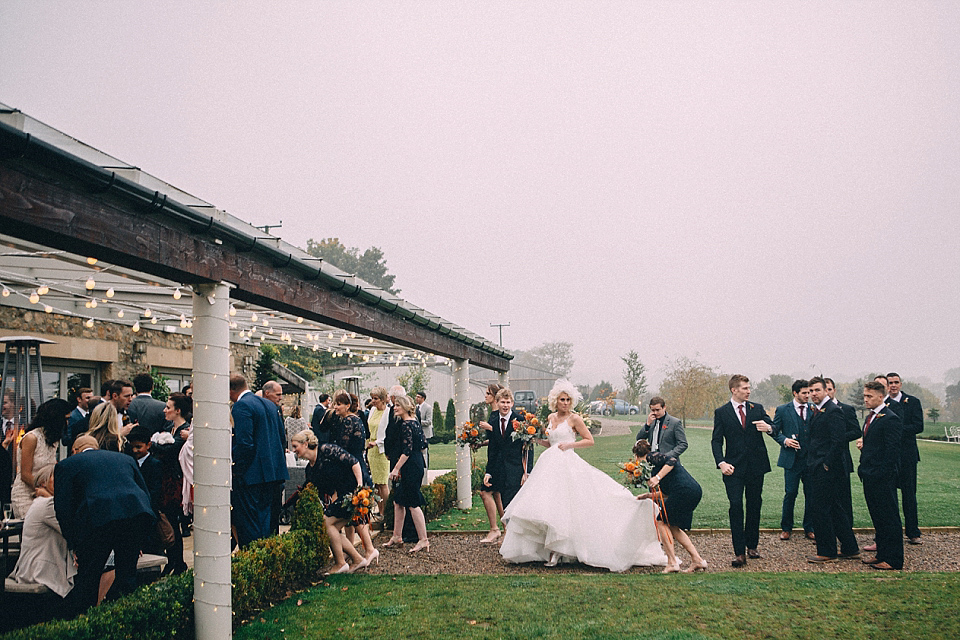 "We provided a canvas and paints for guests to draw something that reminded them of us. My friend Hannah designed and made the order of service using a drawing that her dad did of the church. My bridesmaid Jen helped us to tie brown luggage tags with names and an individual message onto mason jars."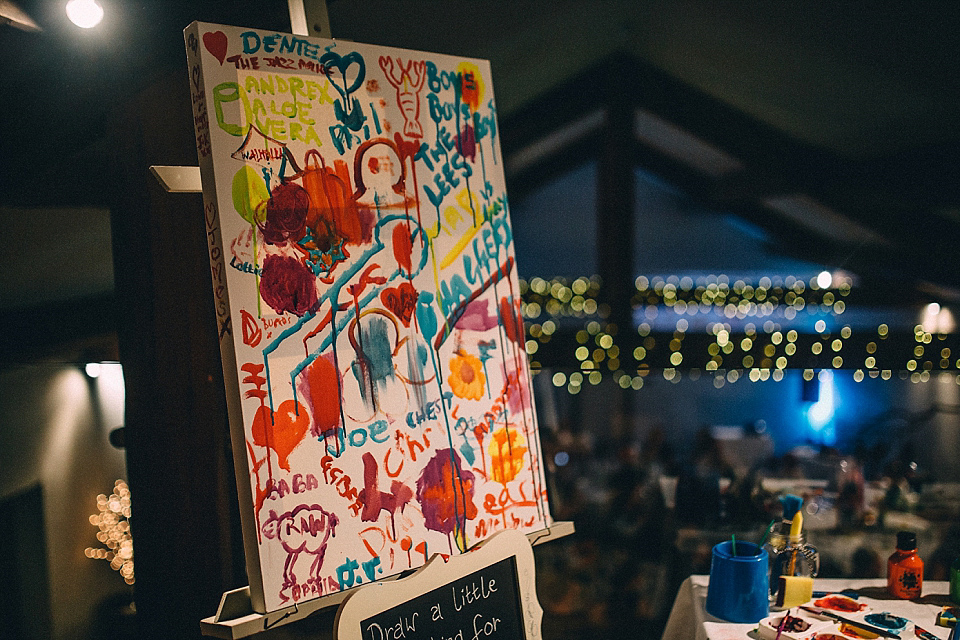 "We wanted the food and drink to bring people together and be a real focal point. Our caterer Dean from The White Swan in Richmond, North Yorkshire had a great understanding of what we wanted and he is really into supporting local produce and sustainability. We were sold on his enthusiasm and he designed the perfect meal for us!
Later in the evening Proved Pizza came in their van. That was great fun and really tasty."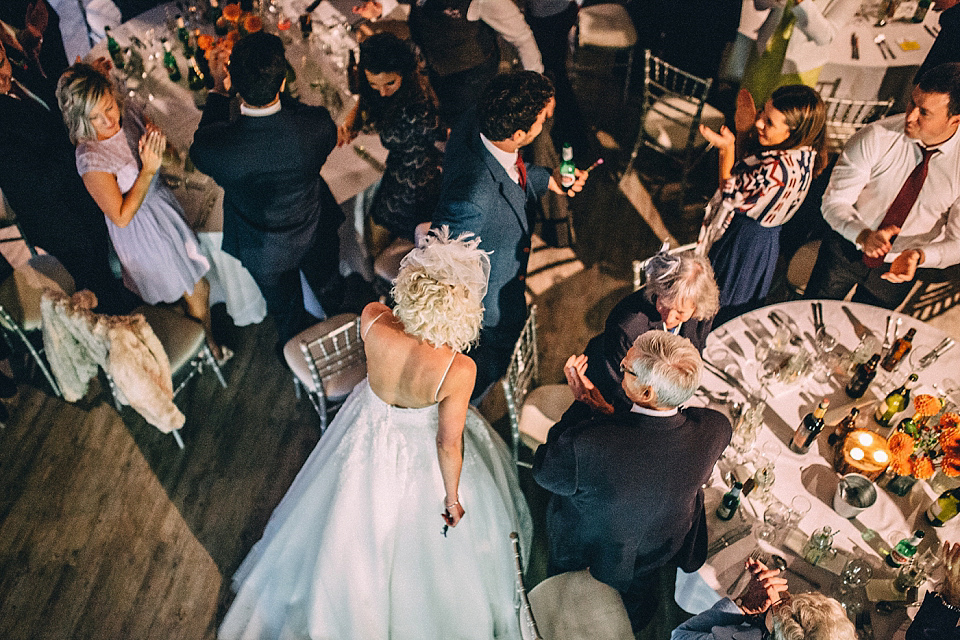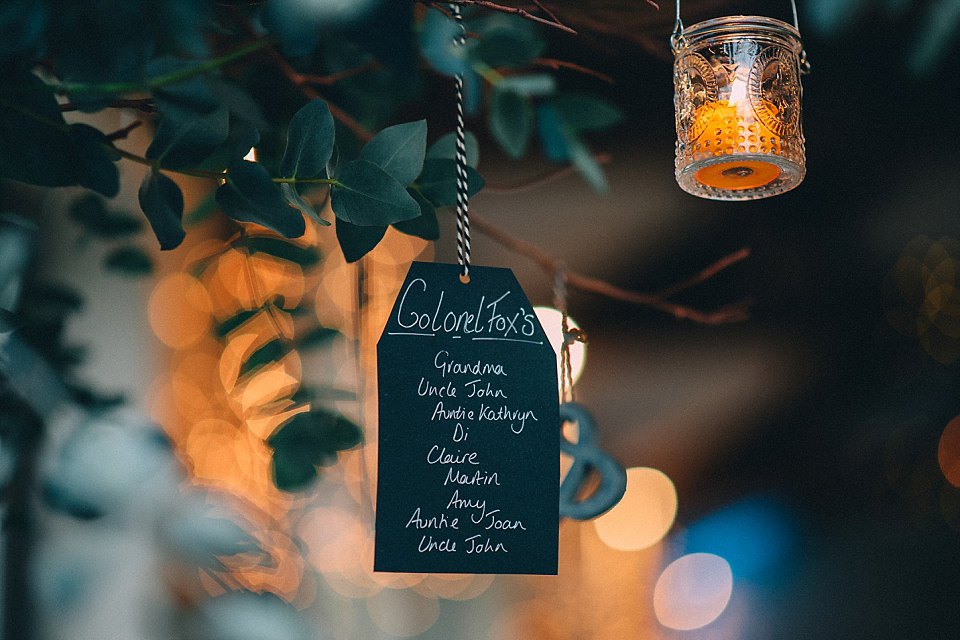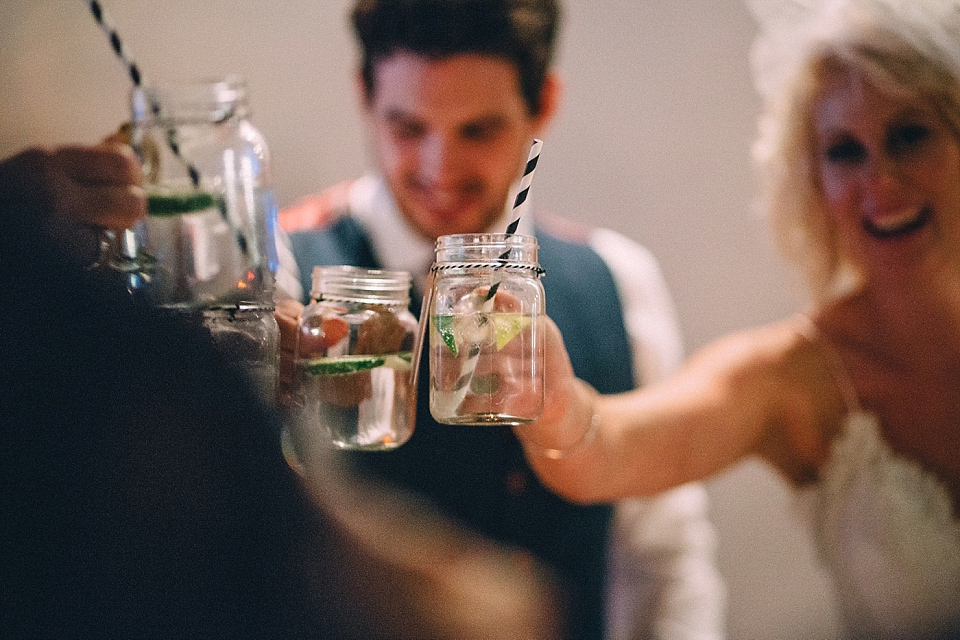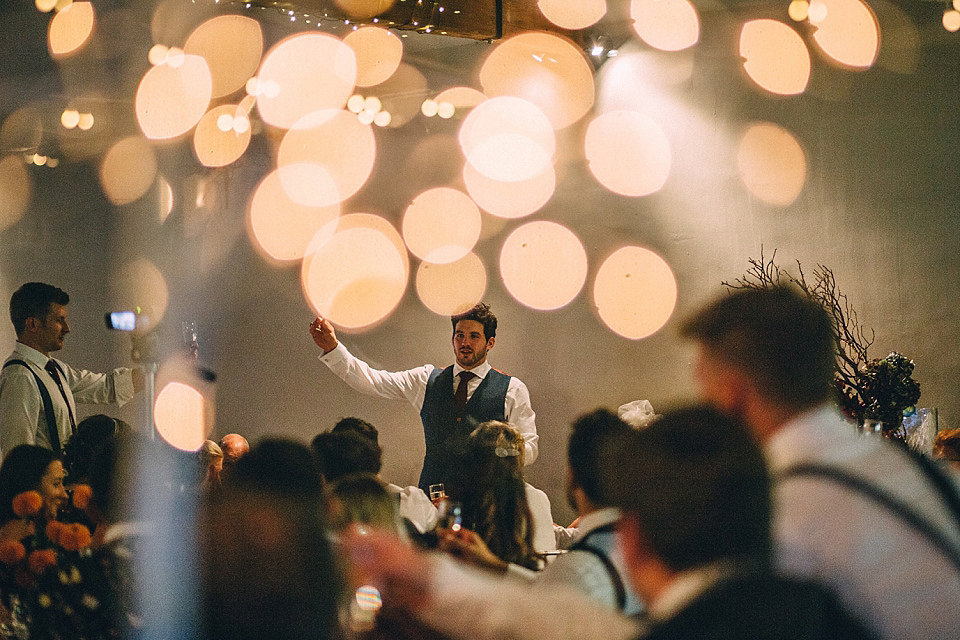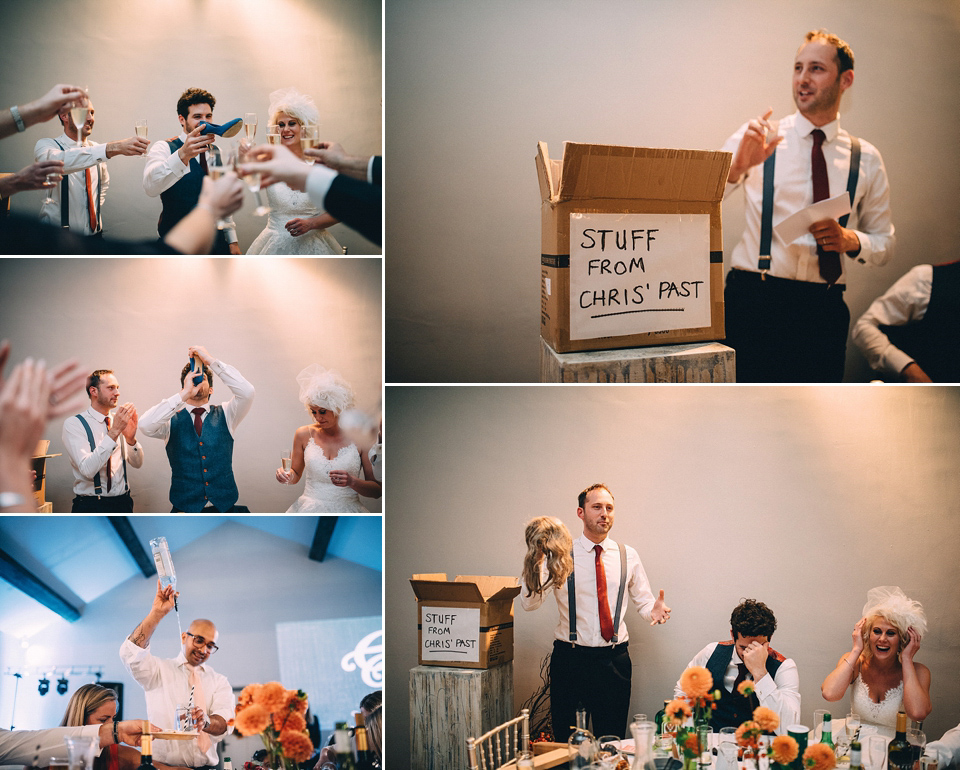 "My brother and his girlfriend provided the unique bottles of gin for every table, which was a real treat. We had Daffy's on our table as there is a girl on the front who had blond curly hair like me."
"We chose Sade 'By Your Side' as our first dance. The words are so true for us and I know that Chris has been with me through the good and the bad."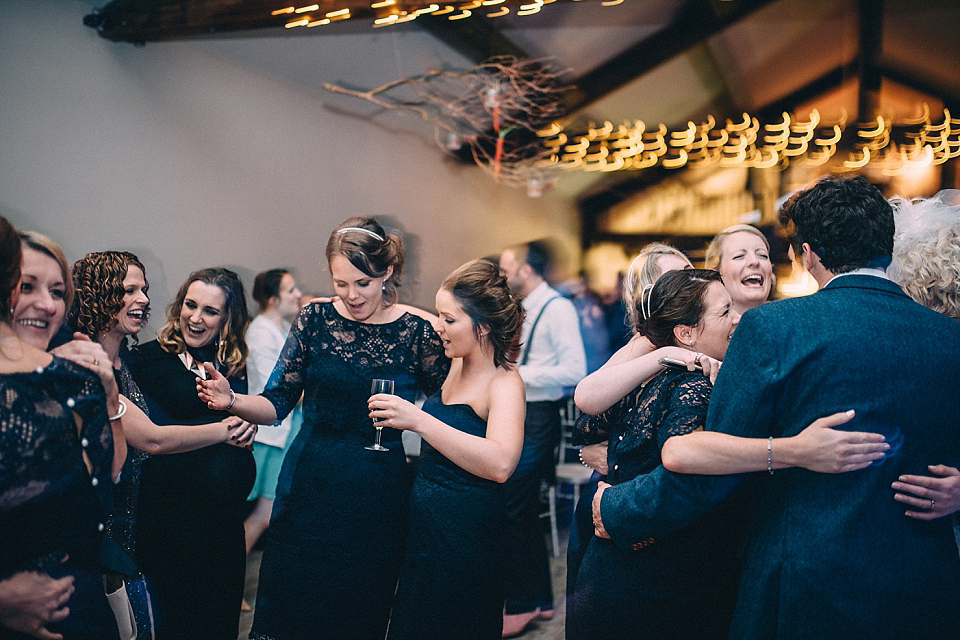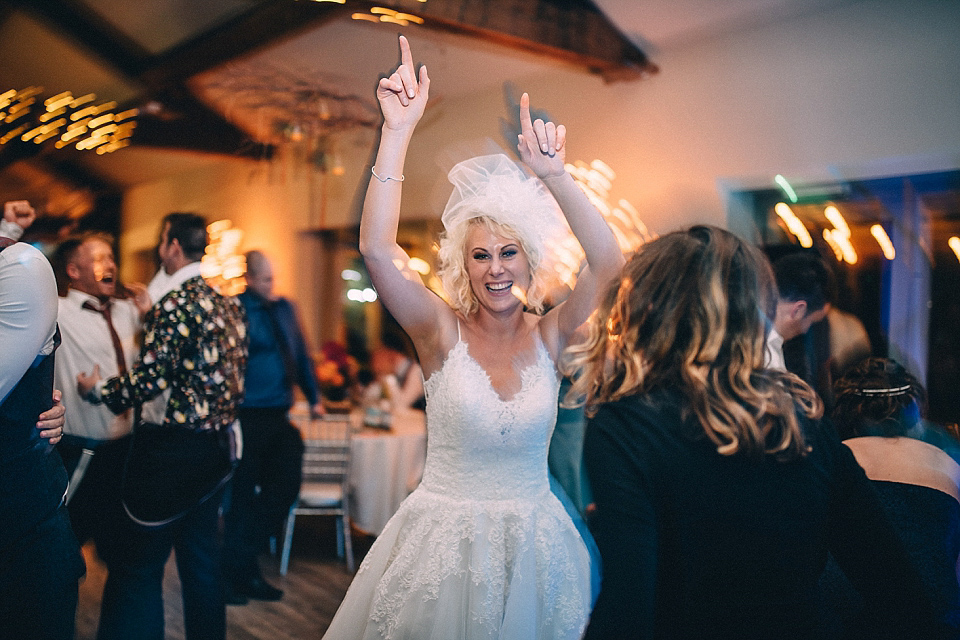 Words of Wedded Wisdom
"Accept the help of friends and family for as much as you can, they will do a better job! It is also much more special when you get the ideas of loved ones and they are able to help.
Make the most of every minute as you will want to do it again. Don't worry about timings on the day, let other people guide you and go with it! It's so special to have all the people you love so much in one place at the same time so make the most of it.
My bridesmaid Laura said to me  'Don't sweat the small stuff. No one notices. She was right! Listen to your friends."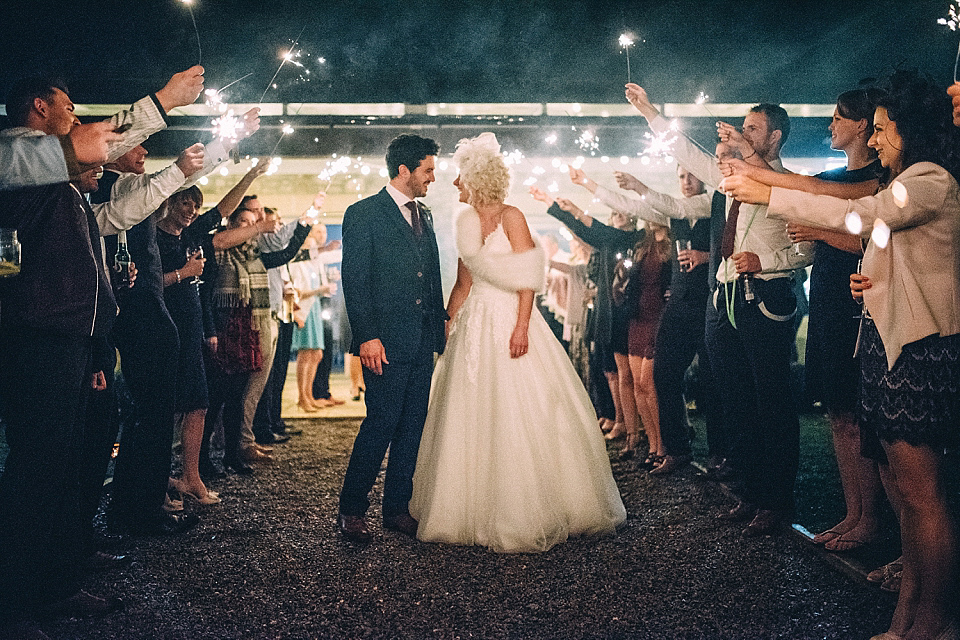 Thank you so much to Danielle and Chris for sharing your amazing wedding with us. Also to Paul Santos for the gorgeous images. If you love his work, do check out his blog.
Love Caoimhe xx
Photographer – Paul Santos Photography
Venue – The Yorkshire Wedding Barn, Gilling West, Richmond, North Yorkshire
Wedding Dress – Allure Bridals from J and J Designs, Stoke
Headpiece – Lou Lou Puchalka
Shoes – Gianvito Rossi
Bride's Scent/perfume –  Dolce by Dolce and Gabbana
Groom – Victor Valentine
Bridesmaids – Monsoon
Flowergirl – Monsoon
Florist – Adam Prest
Cake – Culpin's in Uppingham, Rutland (no website)
Entertainment – Jonny Ross
Rings – Phillip Stoner
Catering – Glaves, Scarborough + The White Swan + Proved Pizza
Stationery – CM Wedding Invitations
Hair Stylist – Kara Scott
Makeup Artist – Kitty Kerry