Nothing gets me as annoyingly enthusiastic like Autumn does. I throw myself into it, eagerly buying scarves (very similar to those purchased last year that I'd forgotten about) and Instagramming each and every tree I walk past. In my humble opinion it's the best season; sunny, leaf-crunching strolls coupled with those first nips of winter chill that can only mean Christmas is approaching. I fell in love with my fiancé during a particularly special autumn four years ago, so un-necessarily bulky coats and shops crammed full of plastic capes and fangs always make me feel wonderfully nostalgic.  I *may* still be recovering from a hen do last weekend, so I really needed this leafy Wednesday pick me up- enjoy lovelies!
Meet Dan, a chartered accountant and Alexa, a marketing manager for a software company. They tied the knot on 7th November 2015 at Dulwich College Old Library and held their relaxed celebration at their local, The Rosendale. Their life together inspired much of the day; they proudly celebrated their home of Dulwich and London as a whole, creating gold-accented memories in all their favourite places. Some couples struggle with the age old Videographer decision. I think this delightful treat from Shutterbox might help make up some minds…
"Having previously lived in Canary Wharf, and then moved to leafy South London with Dan, I felt like I had newly discovered trees and nature, so it felt only right to inject this into the day. I also love Autumn, and given that you absolutely cannot guarantee good weather on any day in our country, we thought November would be as good a month as any (plus it was the first weekend we wouldn't be watching the Rugby World Cup!). The style we ended up with was very Autumnal, with a 'boho luxe' feel (as I now have discovered it is called!). We wanted the day to be relaxed and less formal than an out-of-the-box hotel wedding with ribbons on the backs of chairs."
Film by Shutterbox
"We definitely added elements of tradition, and added a bit of gold glitz (hence the luxe part of the theme). Lastly, with the wedding being in London, this was also incorporated into the day. Most of our suppliers were London based and we wanted the local theme to really shine through. The style of the wedding really evolved over time but I think we ended up with something that reflected us as a couple, and my creative style!"
Photography by Kat Hill Photography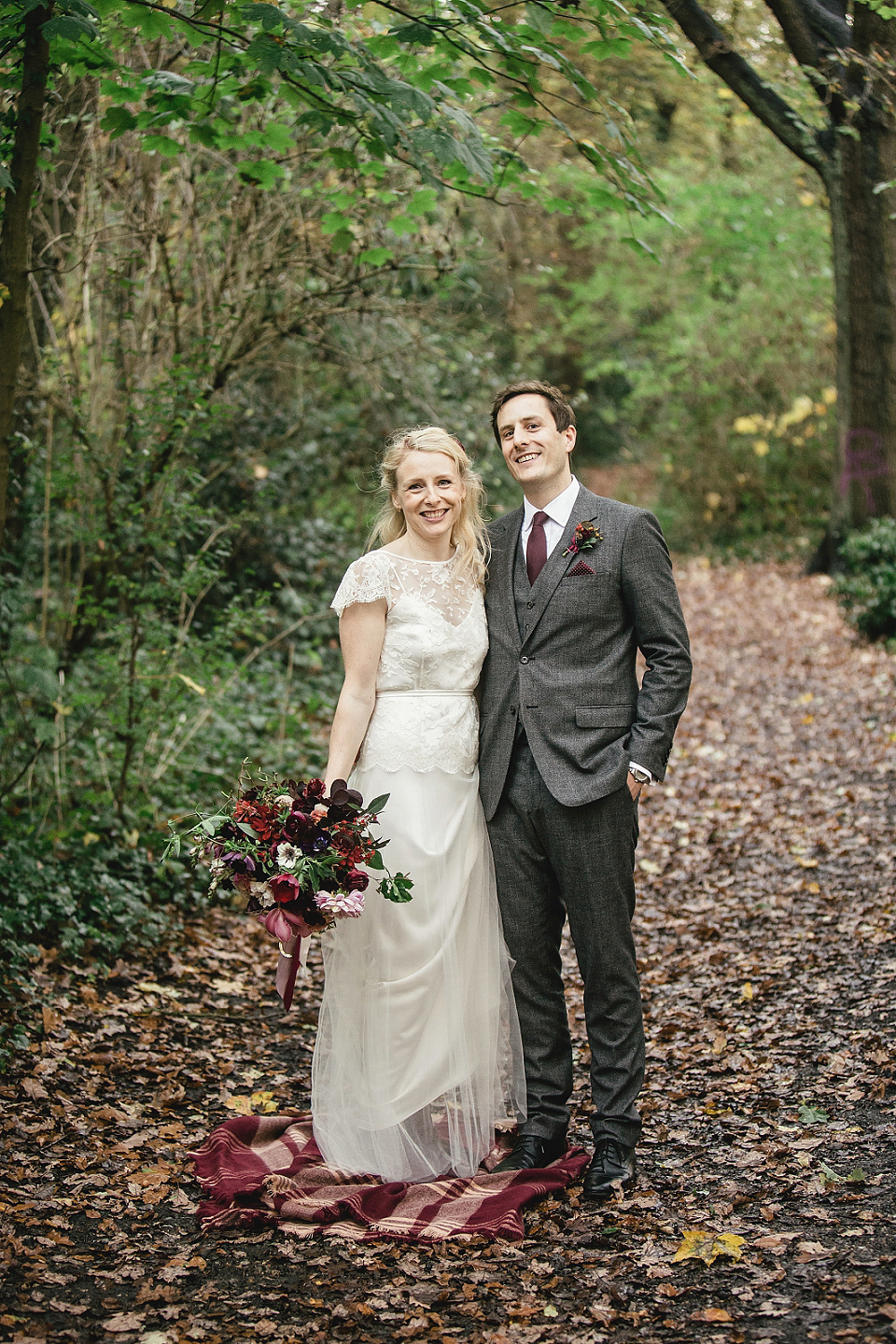 Alexa wore the delicately layered 'Iris' gown from Halfpenny London, which looked sublime against the deep hues of the delectable autumnal blooms and sparkle of the bridesmaid's dresses.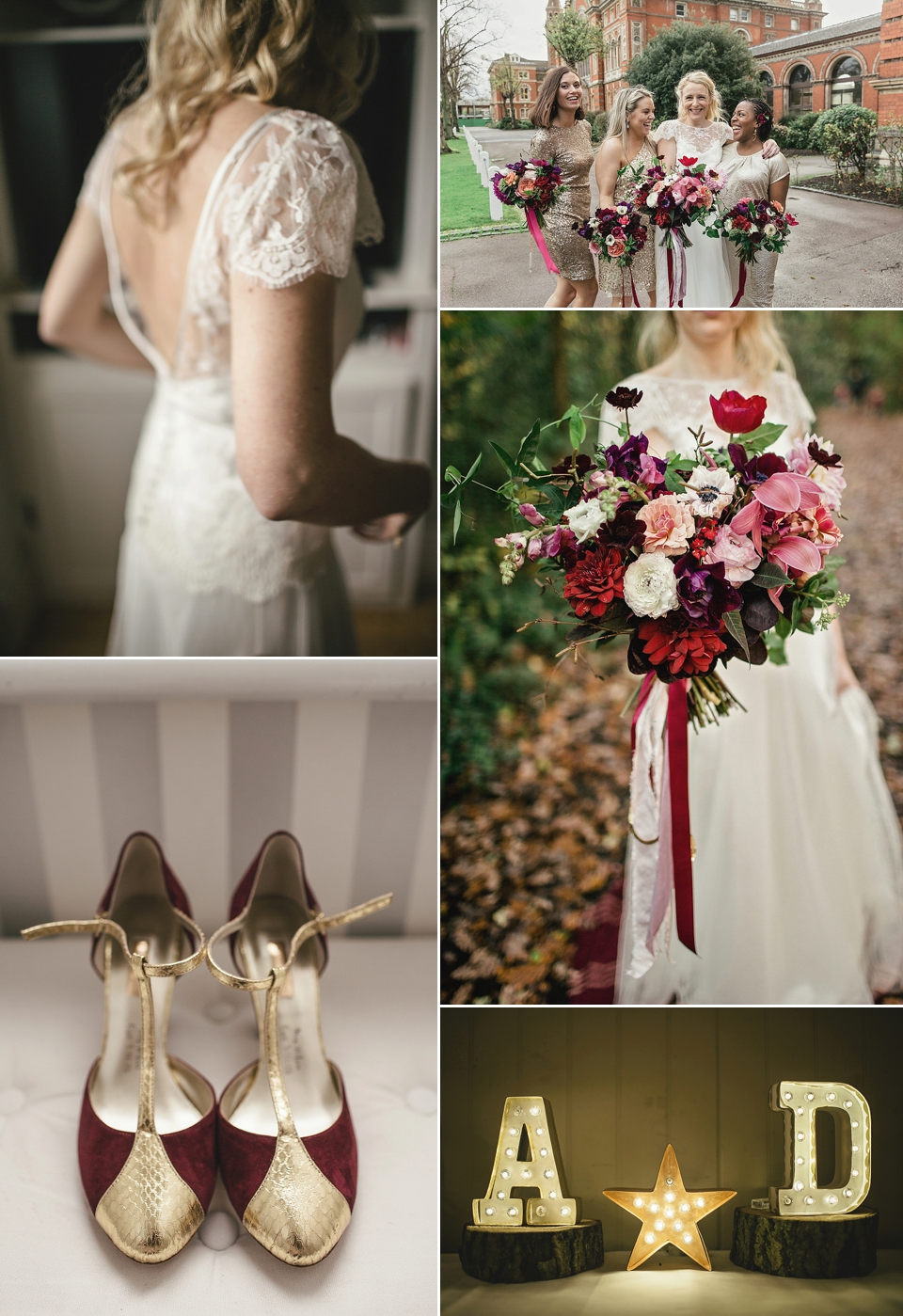 "I did all of the stationery myself, from save the dates to venue signage – my basic graphic design skills came in handy! I used photos I had taken of the local area, wooden stamps and a foiling machine for the invitations, save the dates and RSVP cards, and I hand wrote the envelopes with gold calligraphy ink. The table plan was a string of Polaroid style fun photos of each guest so that they could find their face to find their place, the table names were printed pictures of our favourite pubs with the menu on the back, and the name cards were a real labour of love. Dan and I went out on a sunny autumn day and gathered real leaves which we then sprayed gold and I wrote the guests names on.
It looked great and I didn't fancy the usual folded placards. We didn't have an order of the day but I designed some little cards to say 'Shhh until the kiss…then ring for wedded bliss!' and my mum and I attached two little bells to each one. As we weren't in a church, it was really nice to hear everyone jingling the bells when we were announced as husband and wife!"
Appealing to the perfectionist in me and a possible saviour for those of you trawling google on your lunchbreak for the *perfect* shoes, our bride designed this lovely pair herself! Sadly, the actual company Alexa used is no longer trading, but she assures us we can all play shoe designers on Shoes of Prey instead. (In the name of research I selflessly spent a whole afternoon confirming this).
Completing our bride's boho luxe look were deliciously dark blooms in her hair, glinting gold accessories from Alex Monroe and a spritz of her favourite Chloe perfume.
"I was really trying to find natural accessories, with leaves and vines, to go with the autumnal feel, and then I remembered Alex Monroe! My earrings were gold leaf studs and I also bought a delicate bracelet with a little leaf on it."
The bridesmaids were given a brief of sparkly gold cocktail dresses in different styles and once the festive party wear hit the shops they had no trouble finding the required glitzy glamour. Happily, they will now always have a go to LGD (that's Little Gold Dress) tucked away in their wardrobes! The girls wore their own shoes and jewellery and were given a burgundy shawl from New Look to keep cosy.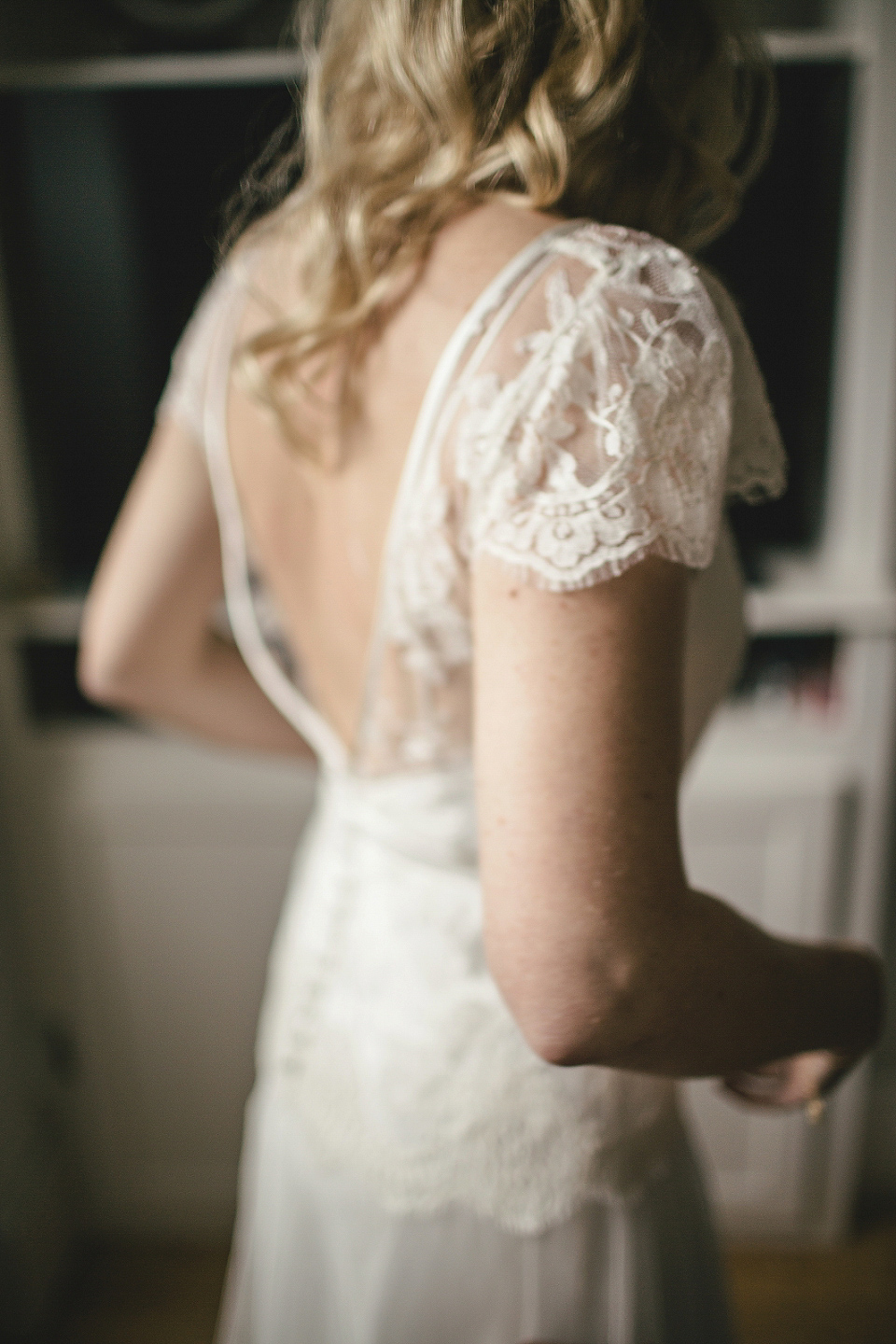 'Dan and I met through friends at the end of 2010. Dan asked his friend for my number and we started dating in 2011. We bought our home in 2013 and Dan proposed in January 2015 on our fourth anniversary on a minibreak in Oxford. Knowing that I am very sure of what I like and do not like, Dan proposed with a £12.00 heart shaped ring from Accessorize! We went shopping at Greys Antiques the following weekend and made a day of it."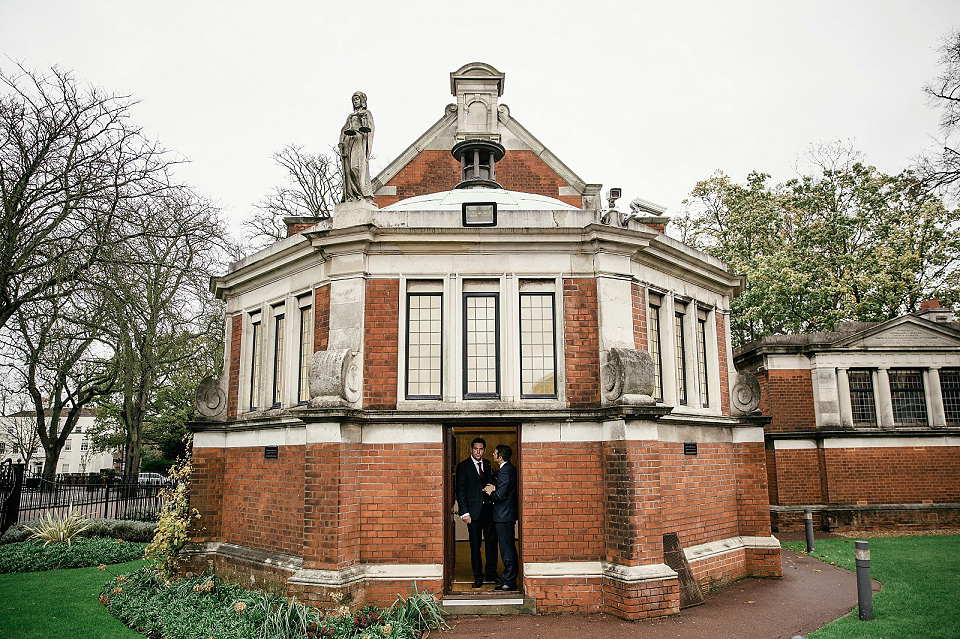 Dan wore a seasonally sensitive brown suit from Reiss. The groomsmen were given a range of burgundy ties to choose from and asked to wear navy suits, which most of them already owned.
Dulwich College Old Library's noble red brick and a divine parquet floor provided the perfect backdrop for dark green foliage, juicy berries and metallic delights.
"My Dad walked me down the aisle. I'm not sure who set the pace but were informed we went pretty quickly! We really wanted to involve our friends and family in aspects of the day so one of my Bridesmaids sung me into the ceremony with 'Night and Day'. Whilst we signed the register, we had another couple of friends sing 'How Sweet It Is' with their guitar. It was really lovely and personal."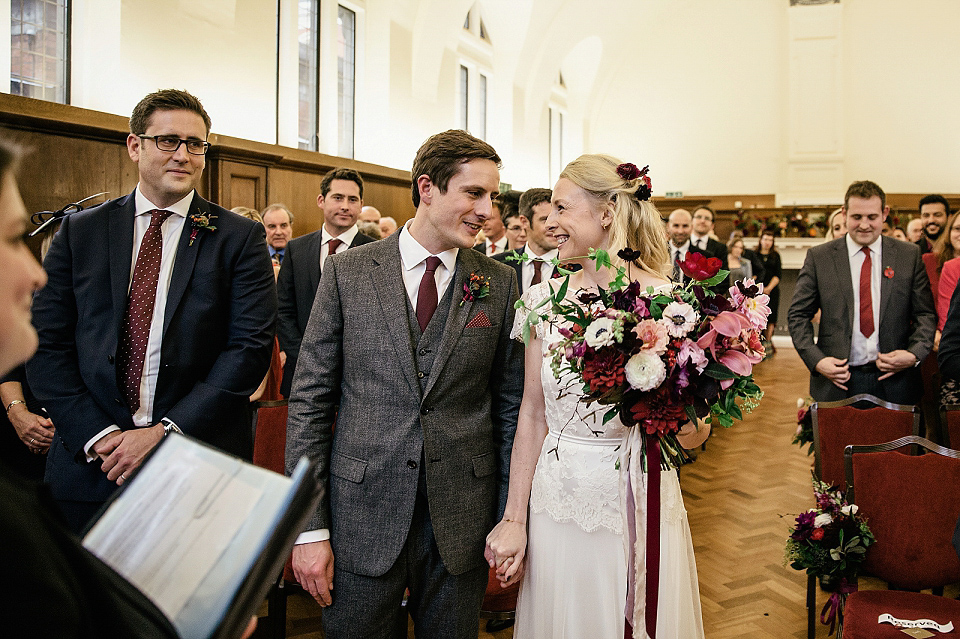 Very sweetly, Alexa's wedding ring played a part in her parents love story.
"I used a ring that my dad bought for my mum in Australia when they'd just got married. It fits in an arch perfectly around my engagement ring and means something to me. Dan's ring is a simple titanium band from an online retailer. He wasn't too fussed about wearing a ring so there was no need to go crazy!"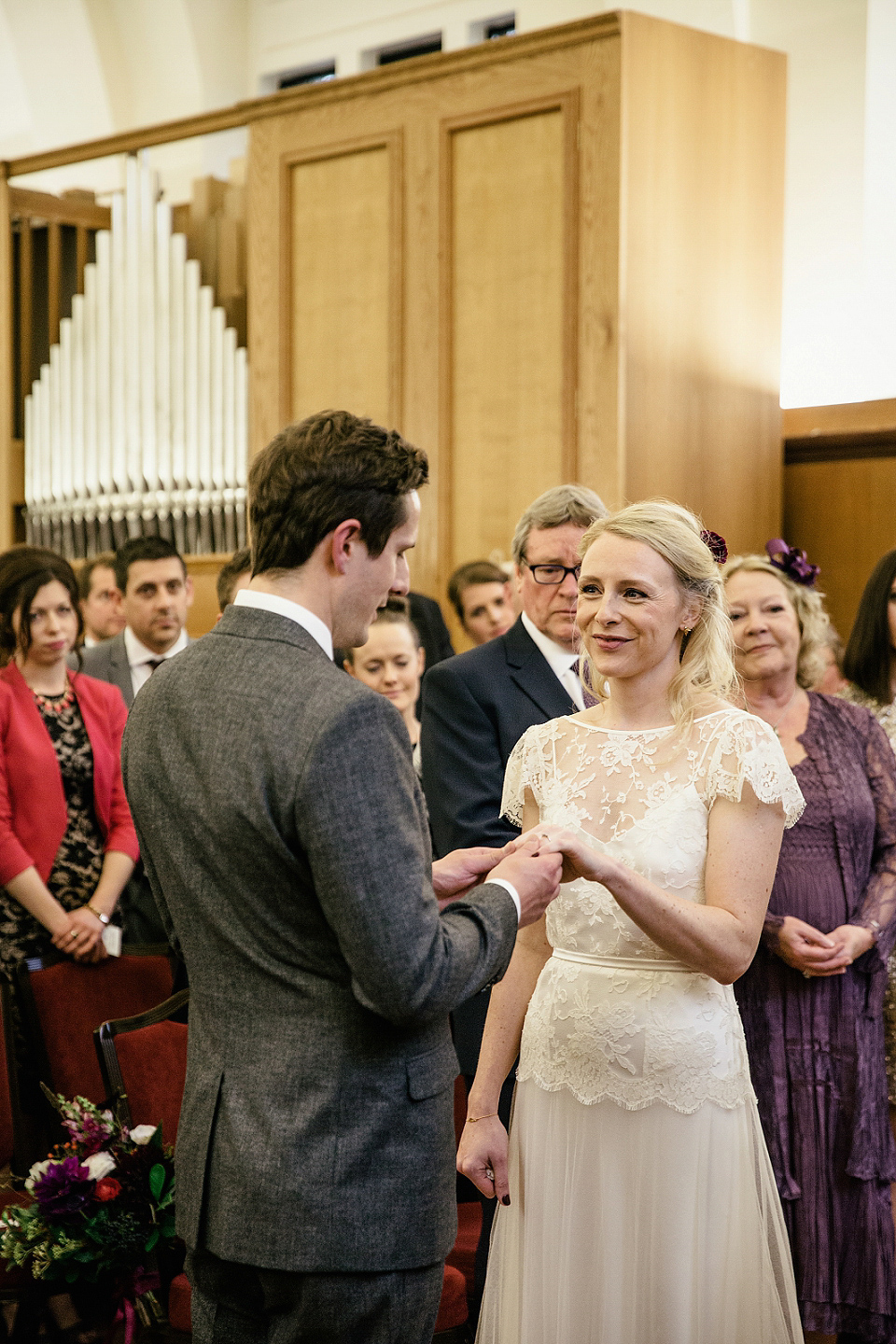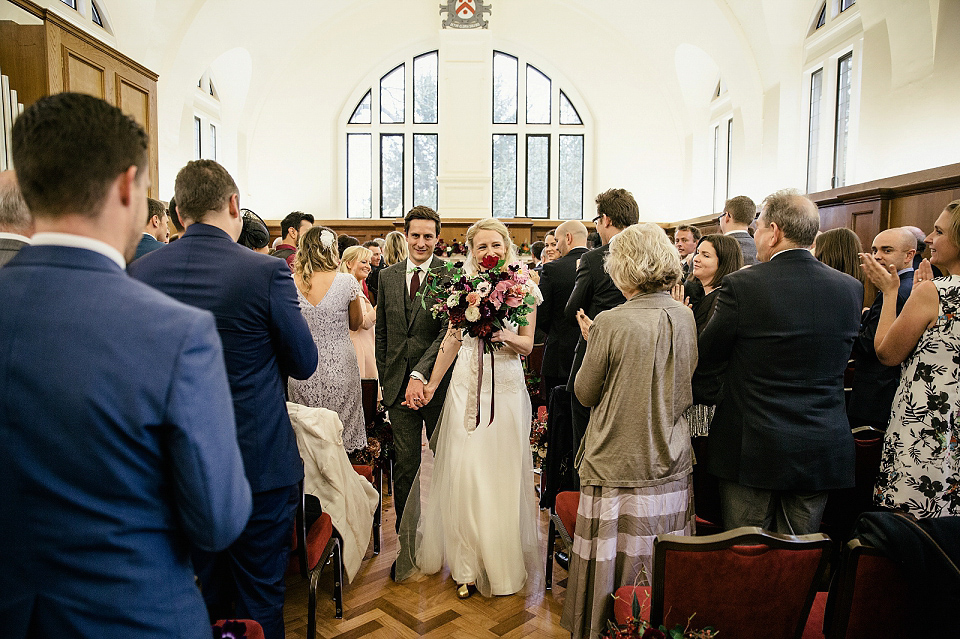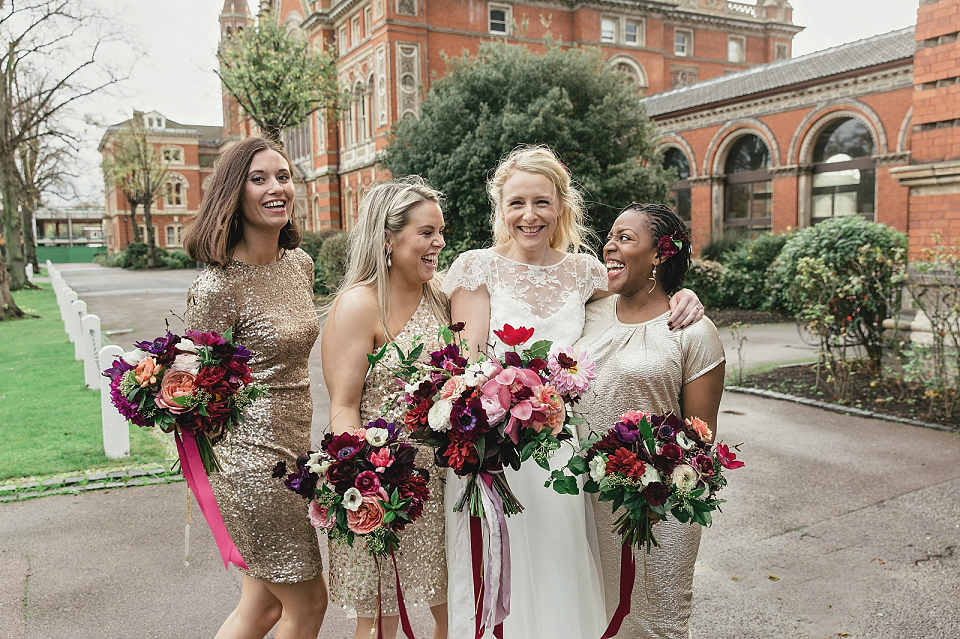 I'm not ashamed to admit that I am completely obsessed with these flowers; the depth of colour is utterly sumptuous, and packs a serious punch. Vibrant textures, seasonal berries and statement blooms by Palais captured the deliciousness of autumn in a seriously bold way.
"My Pinterest and Instagram browsing led me to the lovely, natural, colourful and undone style of Palais. I wanted the flowers to feel earthy and feature some beautiful deep autumnal colours. I have a vivid memory of the girls arriving on the morning of the wedding and waltzing into the house with the beautiful bouquets –I nearly cried as they were just how I'd imagined."
The wonderful Kat Hill Photography showcased the autumnal glow of the day beautifully; the shots taken in the woods are what November wedding dreams are made of!
"We had a certain style of photography in mind, and when I found Kat, I knew that she would take photos we would love. Then when we met her, she put us both at ease and took some awesome engagement photos on a sunny October day so we knew what to expect on the wedding day."
"Photography is one of the biggest parts of your day so I definitely think it's worth exploring and making sure you've made the right choice and the right investment. Kat's chilled approach and informal style really suited Dan and I as a couple."
The couple's local pub, The Rosendale in West Dulwich got all dolled up to celebrate with them. Glorious gold, twinkly lights and soft pom-poms adorned the walls and tables, along with beautiful gilded leaf garlands that were hand sewn by the Bride's mum. A pair of smitten squirrels topped a skyscraper of cheese, surrounded by some seasonal blackberries and grapes. Yum! I especially adore the sprayed leaves as place names, so simple and a lovely autumnal wedding prep memory for our happy couple.
The pub also provided scrumptious in-house catering; I'm reliably informed that the starter of poached eggs and asparagus was a crowd favourite!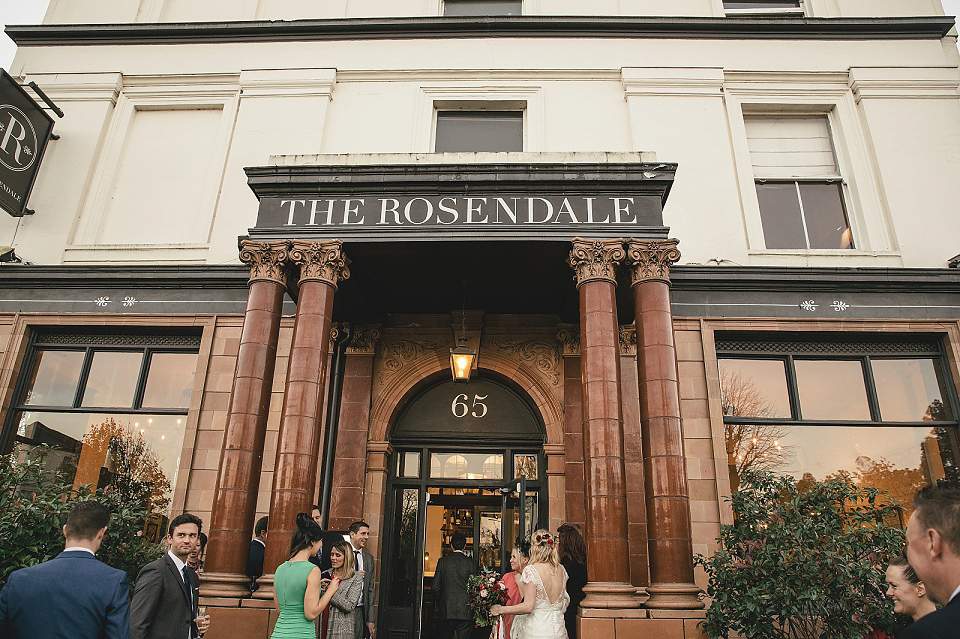 "I don't think I could pinpoint one favourite moment but I loved wandering in the woods with Dan just after the ceremony -the sun came out, we were surrounded by leaves and it was dawning on us that we'd just got married! Another favourite moment was the sparkler welcome into the reception. We got each guest an indoor sparkler and the ushers asked them to light them just as we entered the wedding breakfast. The room was filled with smiles and sparkles – perfect!"
As a lovely extra touch, guests were given favours of gold Cancer Research UK Badges from Alex Monroe. A band hired through Ear Candy kept the party popping with a mix funk and soul music.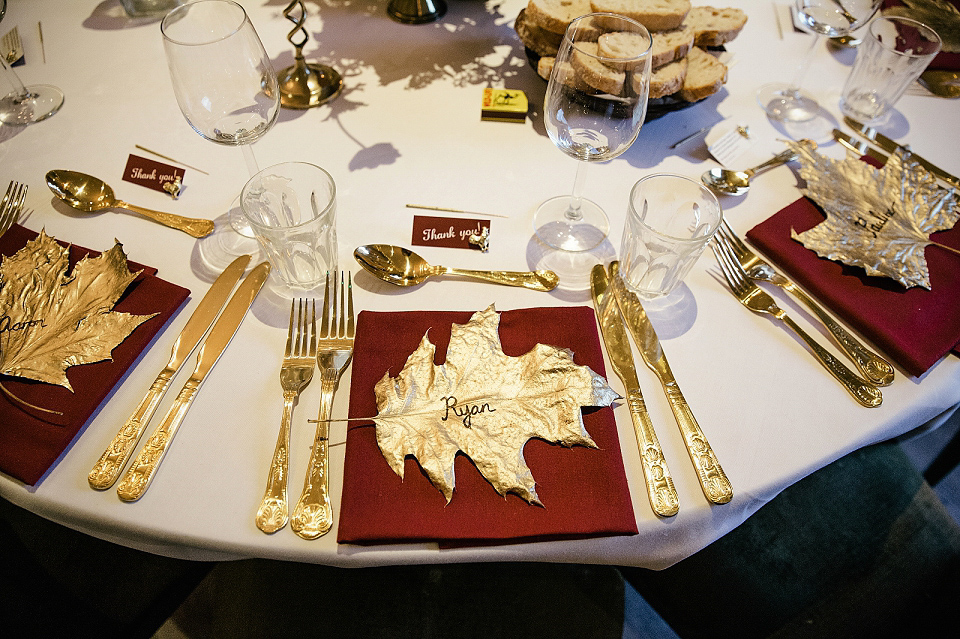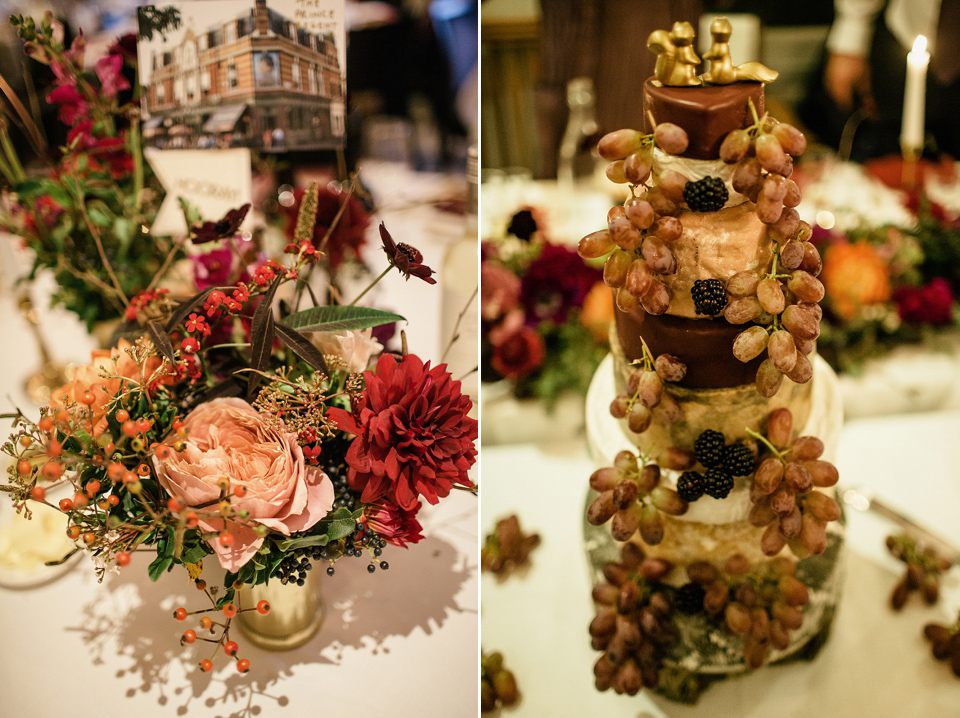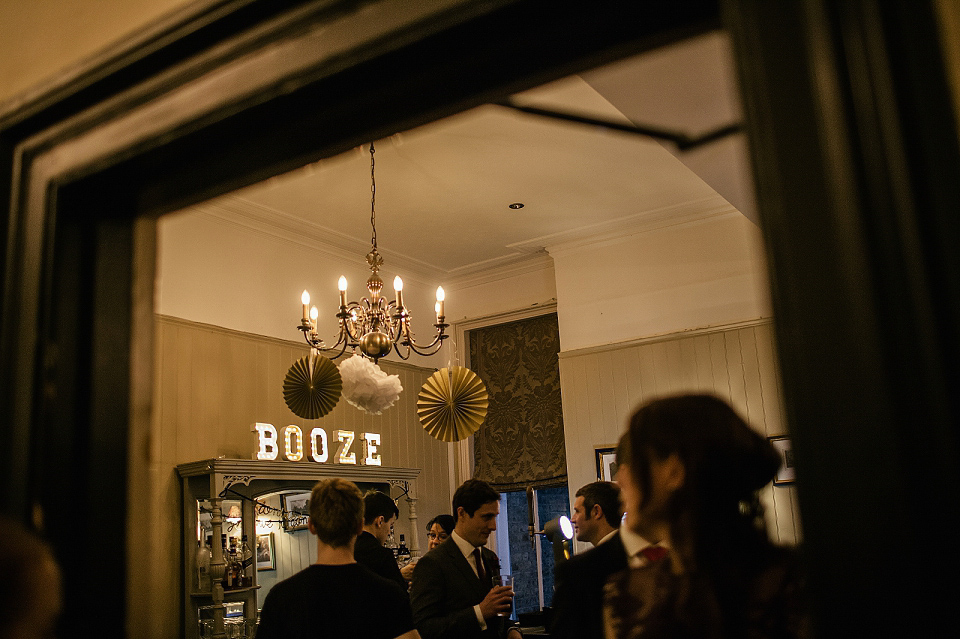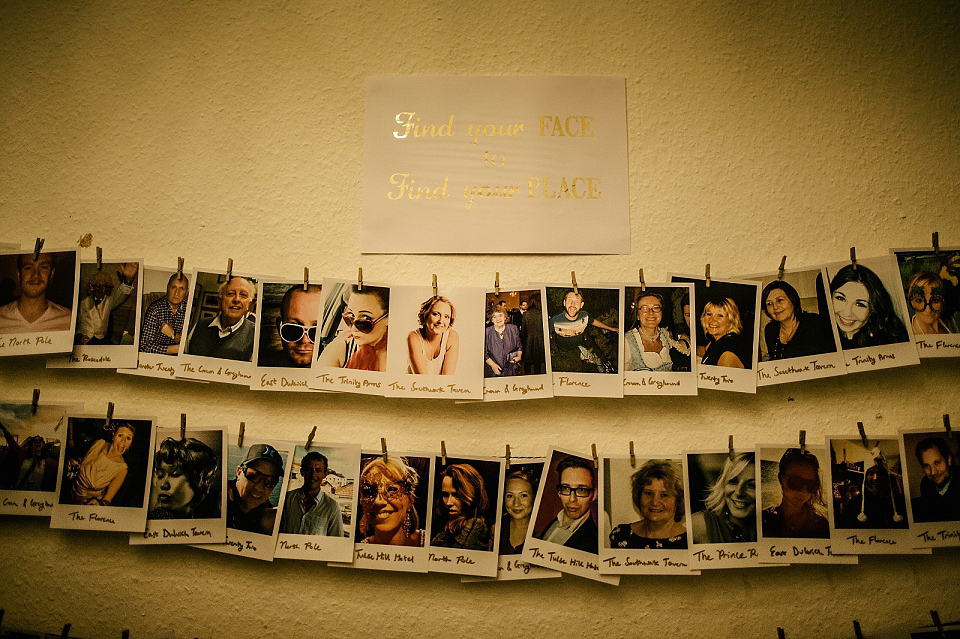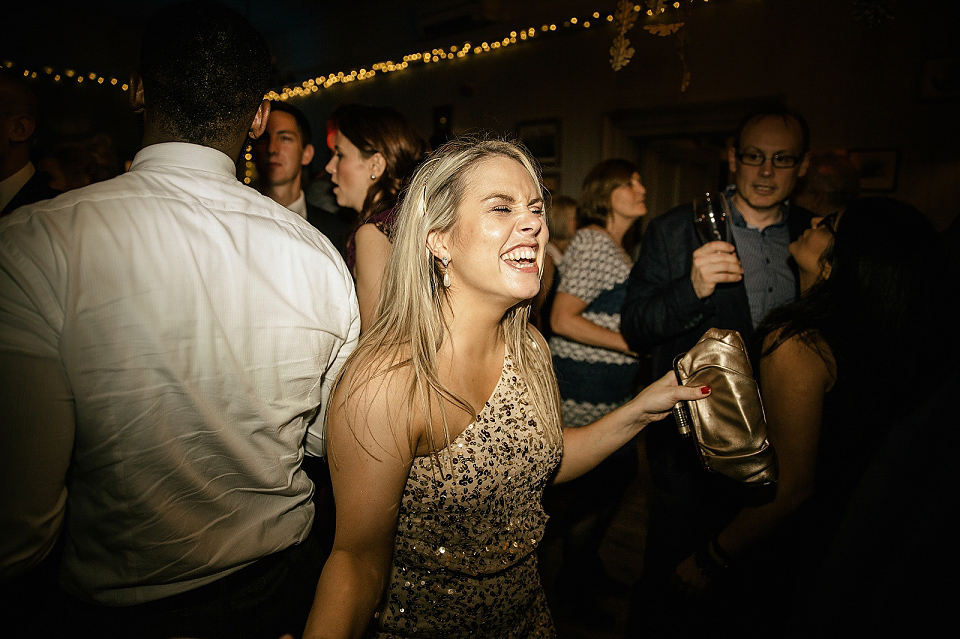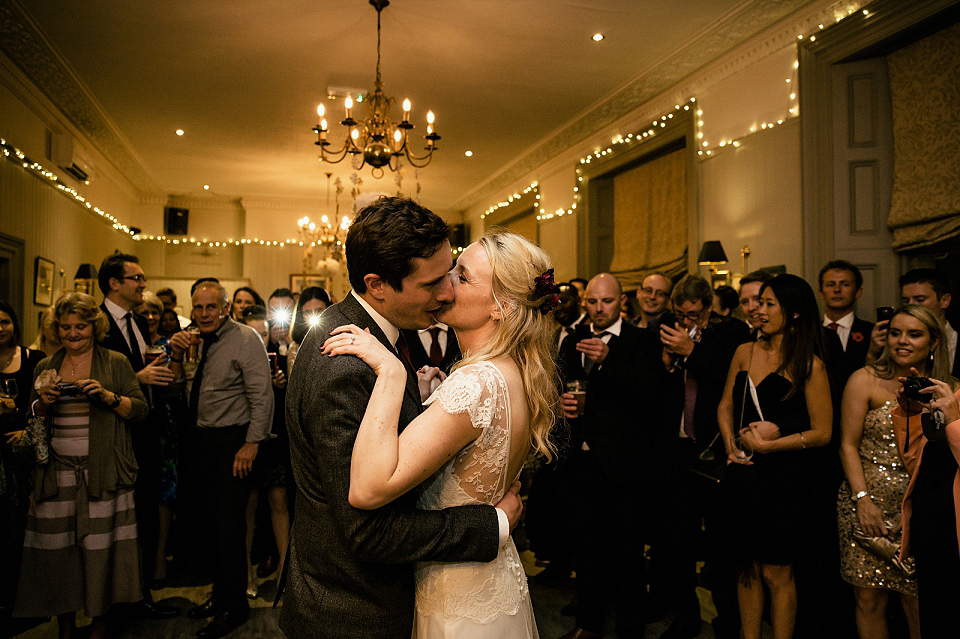 Words of Wedded Wisdom
"Get stuck into what you enjoy. I loved really getting absorbed in the detail – the little touches that thankfully, a lot of people noticed! I know it's not important to some people, but it was important to me, and I'm glad I gave it the attention I did. I spent a really nice few days with my mum in the run up to the wedding, making things, grabbing lunch, getting our nails done. We don't live close to each other and it was nice to get that quality time. It really is an opportunity to spend special time with your favourite people so exploit it!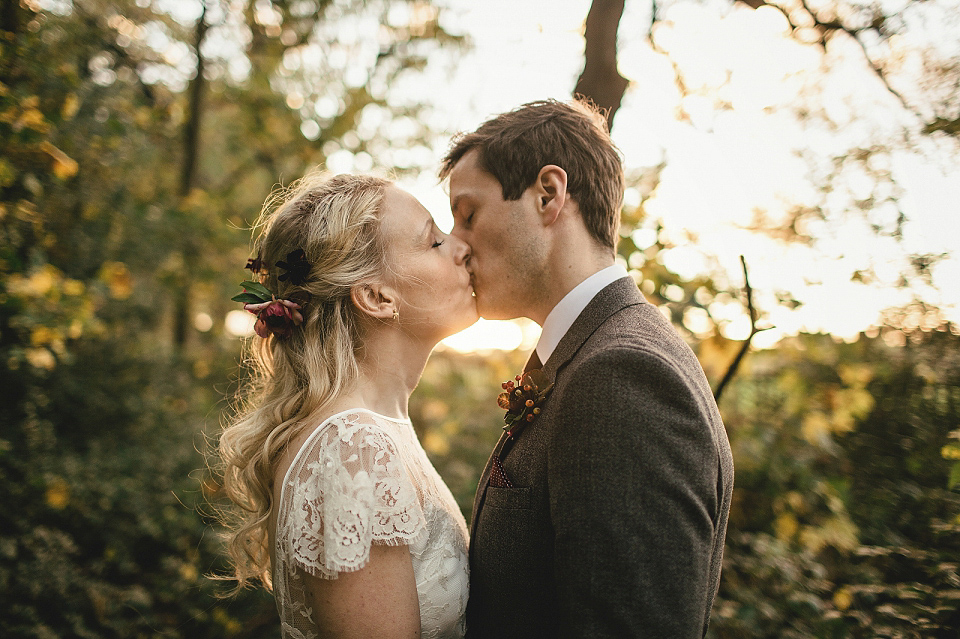 This makes me feel all warm inside! Combine wedding errands with special memory-making trips with your favourite humans, no stress needed. And if Alexa's attention to detail has got you reaching for the spray paint, you are in luck! Love My Dress is full to the brim with all manner of detail inspiration- make full use of the search bar and have a browse in our pretty spectacular archives.
Huge 'Thank You' hugs to Alexa, Dan and Kat Hill for allowing us to share in this autumnal delight. How lovely to see a couple so invested in their home turf!  I plan on spending my weekend making the most of my environment in much the same way: leafy walks and pub grub.
Love,
Emily xx
Photographer – Kat Hill Photography
Videographer – Shutterbox
Venue – Dulwich College Old Library and The Rosendale
Wedding Dress – 'Iris' by Halfpenny London
Shoes- Designed by the Bride (company no longer trading)
Accessories – jewellery by Alex Monroe
Perfume- Brides usual Chloe perfume
Groom –Suit by Reiss
Bridesmaids- Own dresses, shawl from New Look
Florist- Palais
Catering – The Rosendale
Stationery – designed by the Bride
Hair/ Makeup Artist – Boho Belle Makeup
Band – hired through Ear Candy