The moment the one word 'wedding' is uttered, the stereotypical image that conjurs in the mind is more than likely of a beaming bride in a floor-length white dress and veil. We beg to differ here on this blog, as we celebrate not only beautiful brides in stunning long white dresses, but also a range of lengths and styles, such as on-trend two-piece ensembles, and lately we are seeing more and more brides sporting bold, colourful gowns. Today's wedding is no exception and when I first saw these images by the talented Lee Garland (see Lee's Little Book for Brides listing here), I gasped in delight – an alternative, cool, quirky and ever so fabulous bride in multi-coloured rainbow stripes. Happy Tuesday!
Megan, a ballet teacher, and Rob, who runs the restaurant at The Anchor and Hope pub, tied the knot on 19th December last year on a chilly Winter's day in London. Their ceremony was held in the elegant Council Chamber of the Stoke Newington Town Hall, followed by a reception at Rob's restaurant; the perfect location to host their knees-up party.
"We met 12 years ago when I came to eat at Rob's restaurant. I ended up working there and we got together shortly after. We decided to get married 11 years and two children later – we were engaged in April 2015 and married that December. We just wanted a delicious dinner and a fantastic party; nothing too wedding-ey or fussy."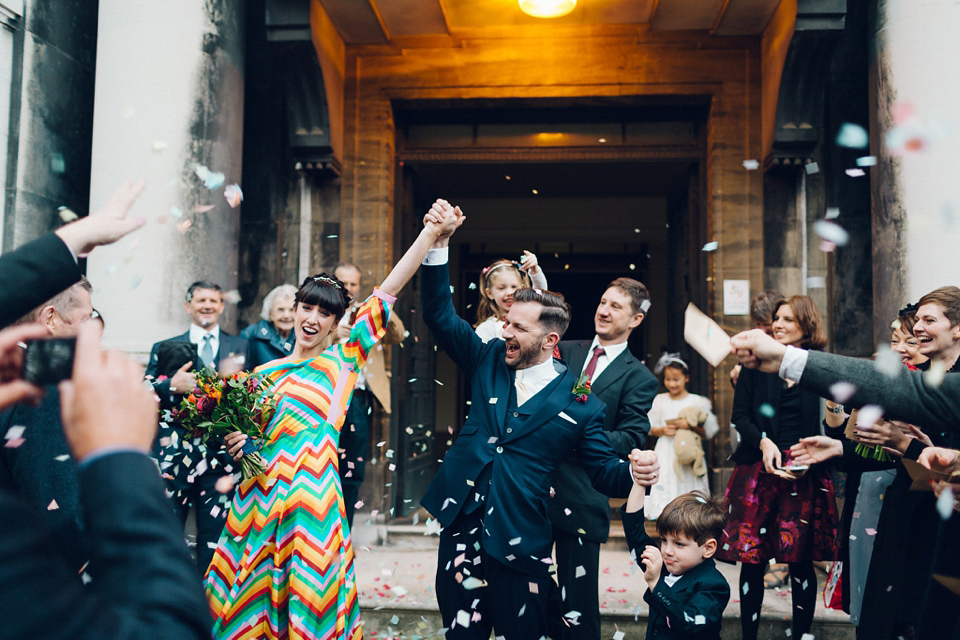 Megan experienced a special moment when she saw her dress for the first time – an utterly fabulous Valentino gown from the Marylebone matchesfashion.com store. I just loooove the long sleeves and bright striped pattern and totally understand how Megan felt. Take a peek at Megan's incredible Tory Burch shoes, aren't they absolutely stunning?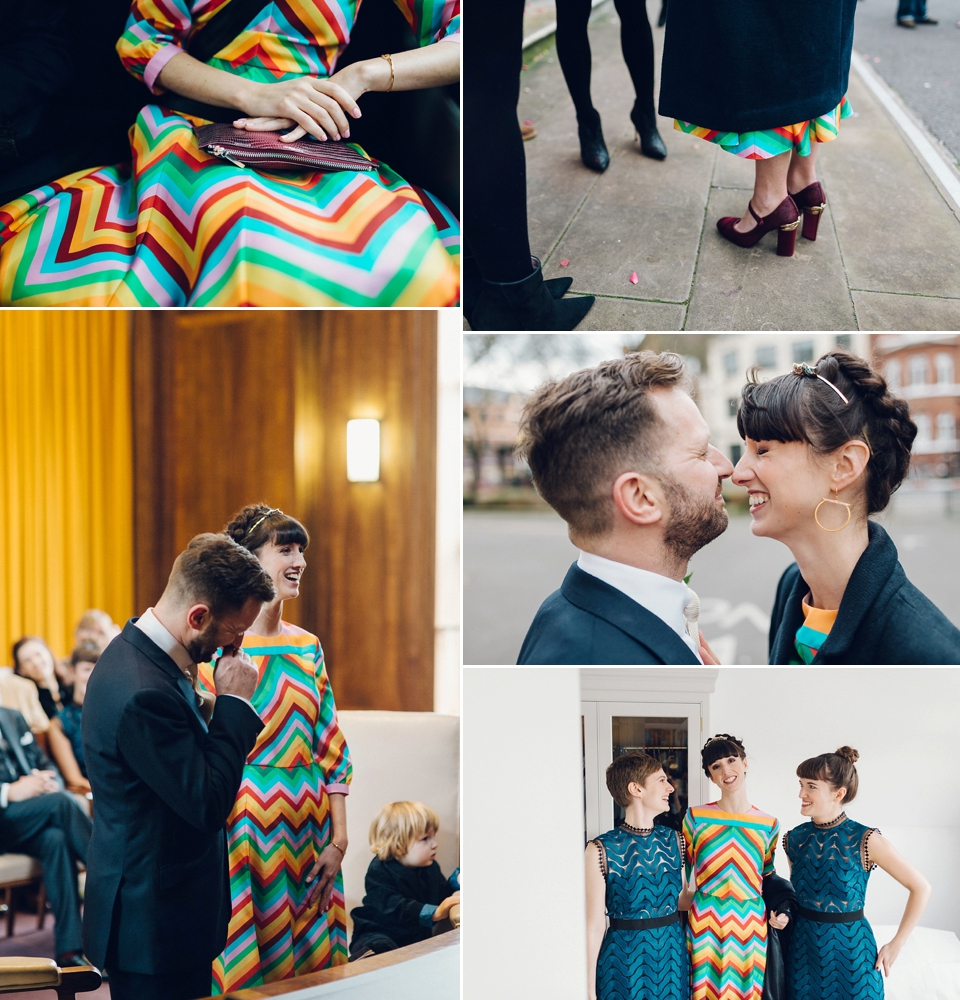 "It was love at first sight. I definitely wasn't going to wear a big white gown and I knew this was the dress for me."
The bride also added a colourful beaded Rosantica hair accessory, a touch of Mui Mui scent, and bold gold hoop earrings. Make up was by Jackie Hamilton-Smith via Caren, with hairstyles by Stephanie from Daniel Galvin.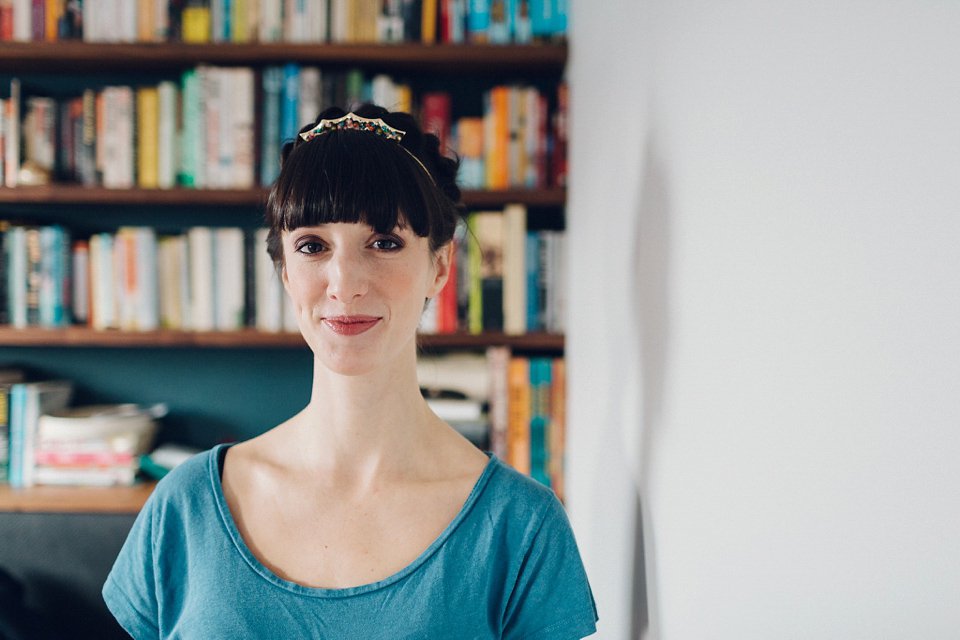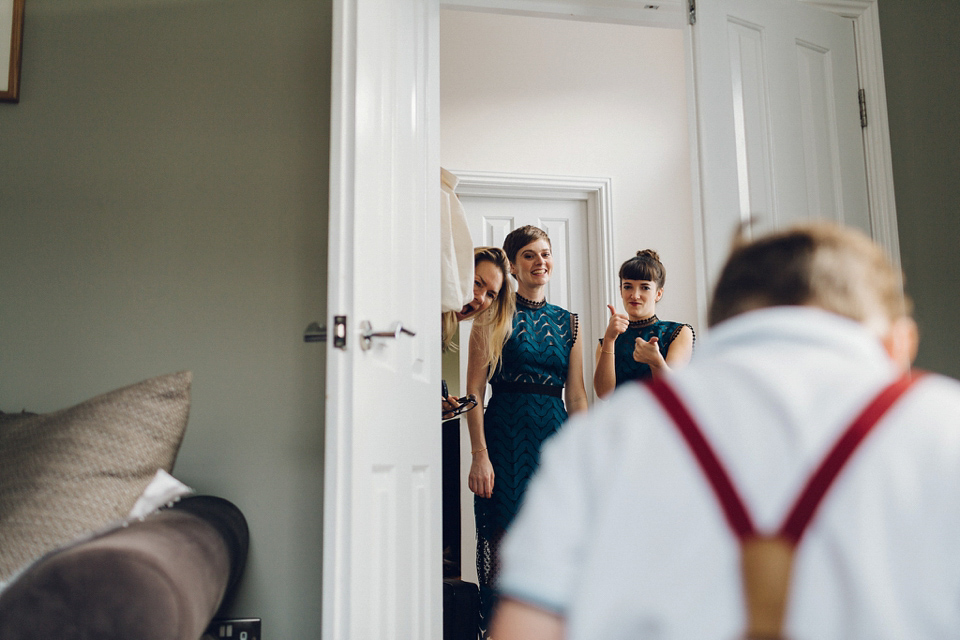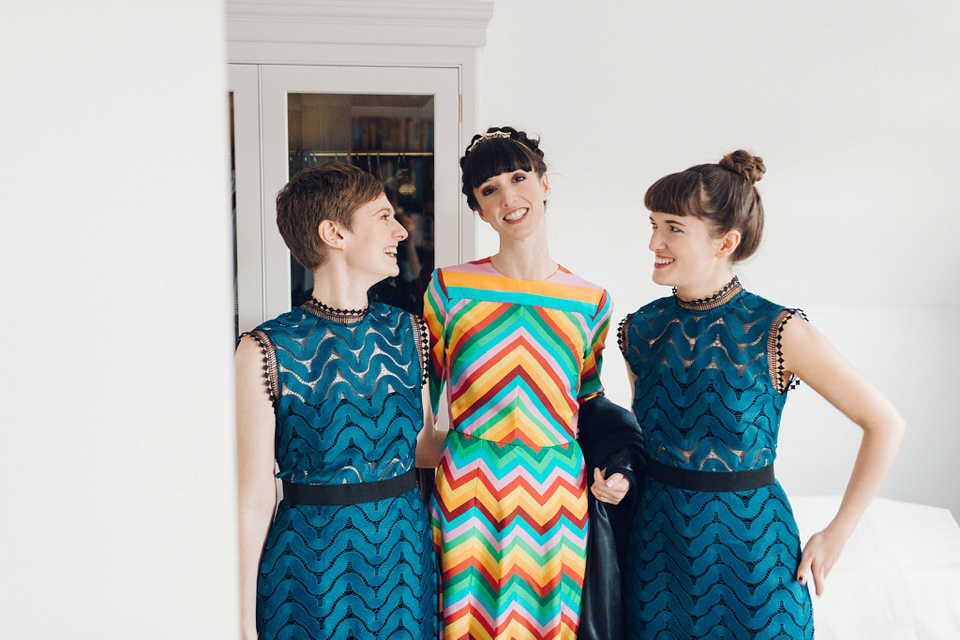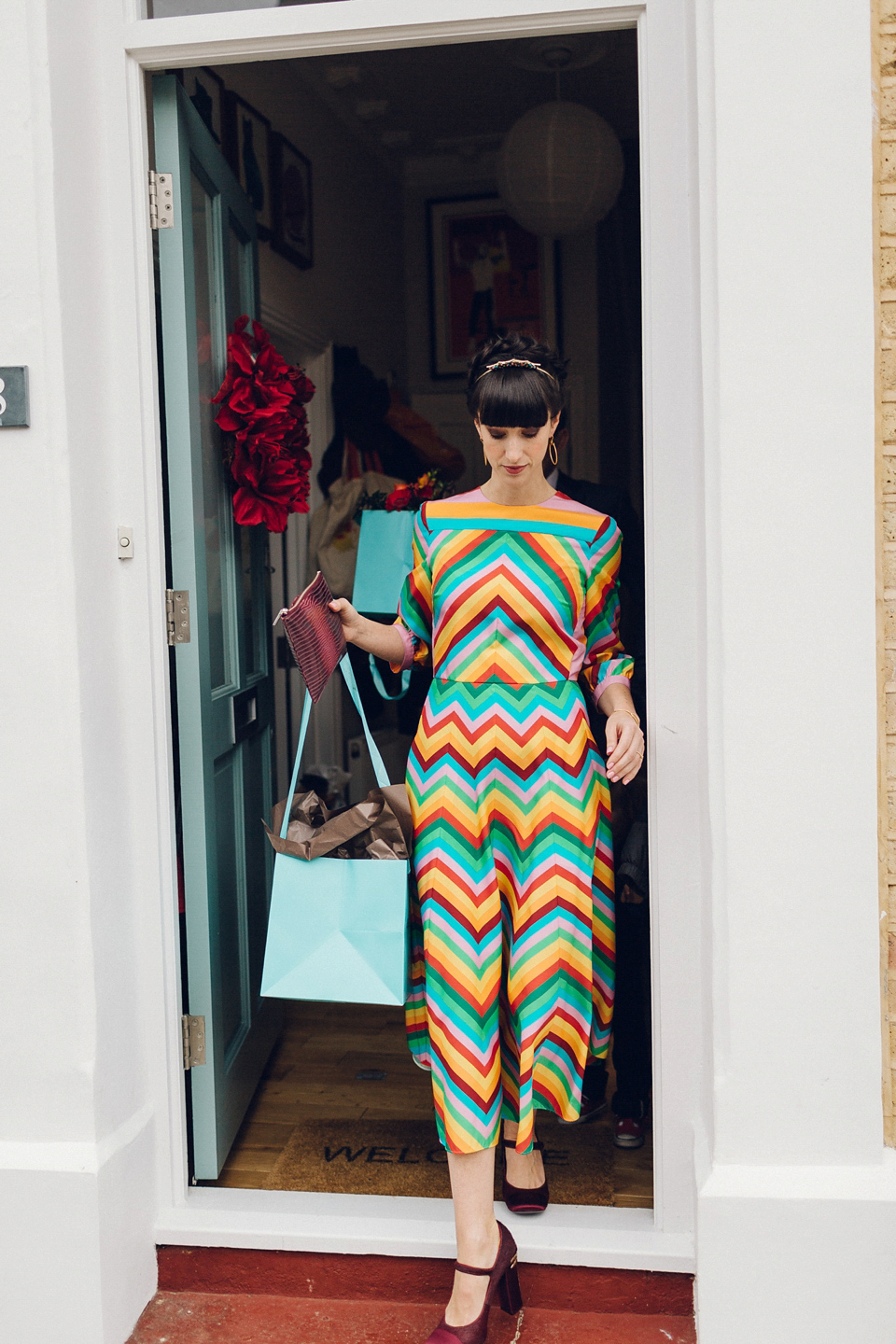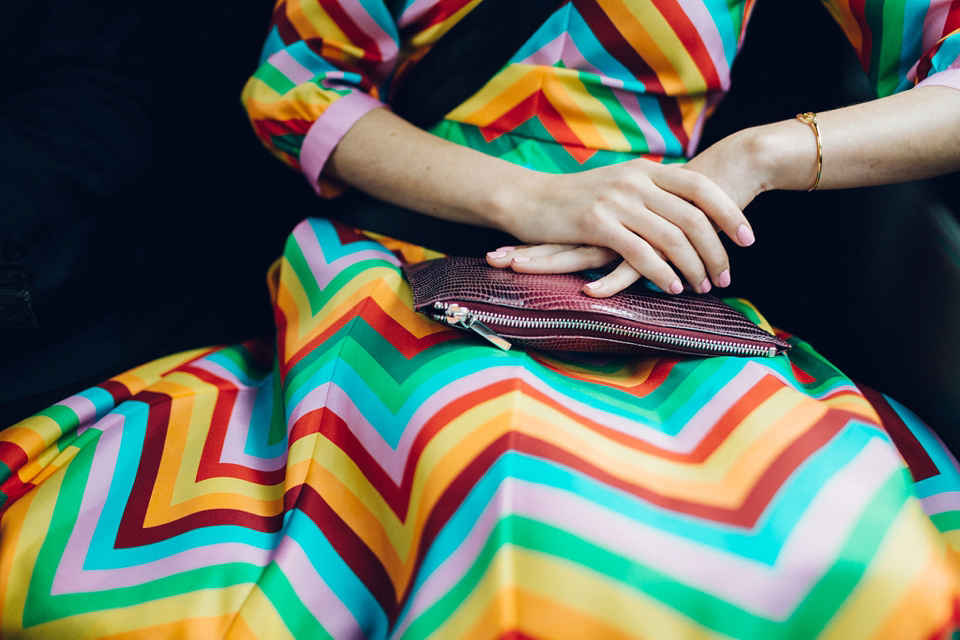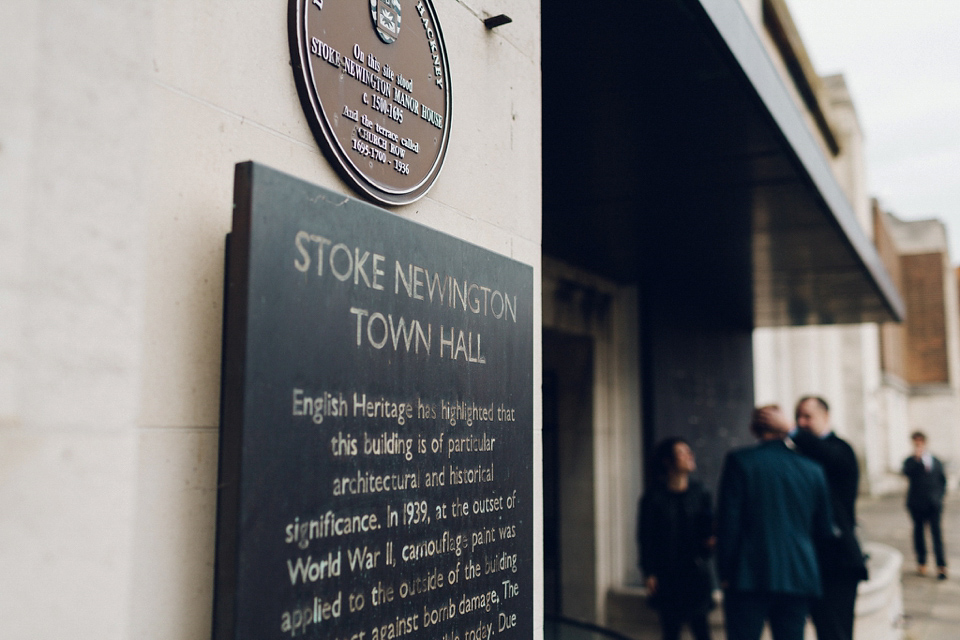 The handsome groom and his best man both donned a bespoke suit from Mark Powell London, with shoes for Rob via Marc Jacobs.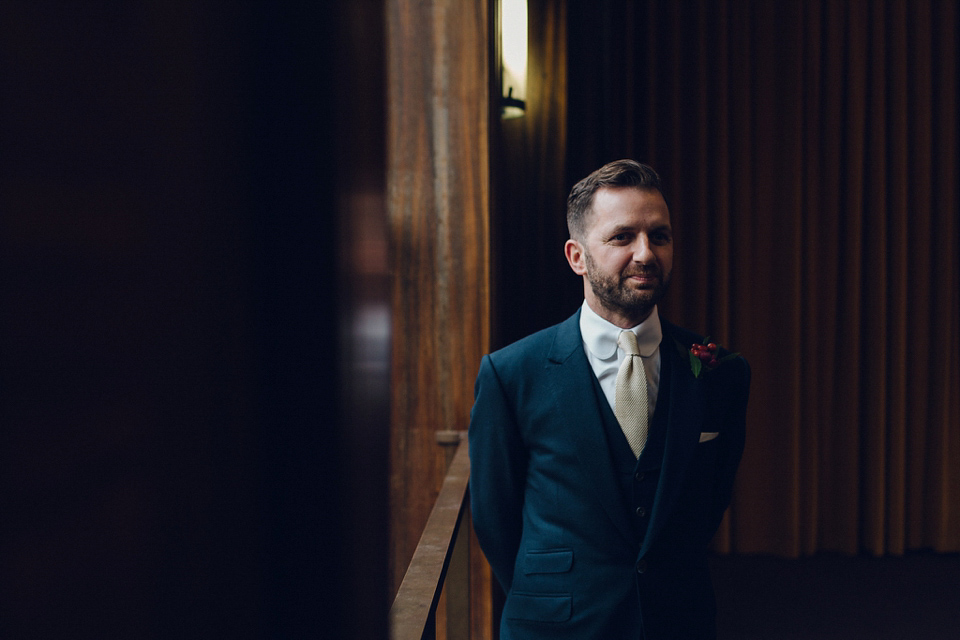 Music was a major highlight of Megan and Rob's day, particularly during the ceremony. Megan's father walked her down the aisle to the instrumental version of 'Here Comes My Baby' by Vitamin String Quartet from their album of music from the films of Wes Anderson. The newlyweds signed the registry to 'Oh Yoko' by John Lennon and 'Good Vibrations' by The Beach Boys played as they left the building. The ceremony and bus ride across London were the favourite moments of their big day.
"Walking in to the ceremony and seeing everybody's faces was one of our favourite moments. Also, the bus ride over Waterloo Bridge on the red double-decker London Routemaster bus was amazing, with Motown tunes playing and people cheering."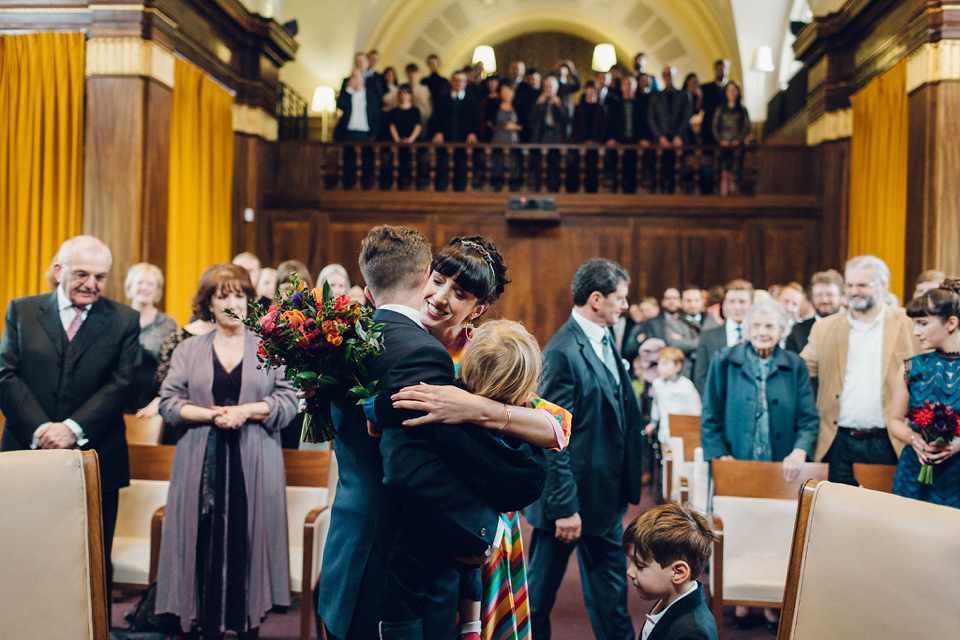 The couple's rings were from Ingle and Rhode Jewellers, who specialise in ethical diamonds.
The sweet young helpers, the couple's two sons, look adorable in a mix of attire from Fred Perry and H&M.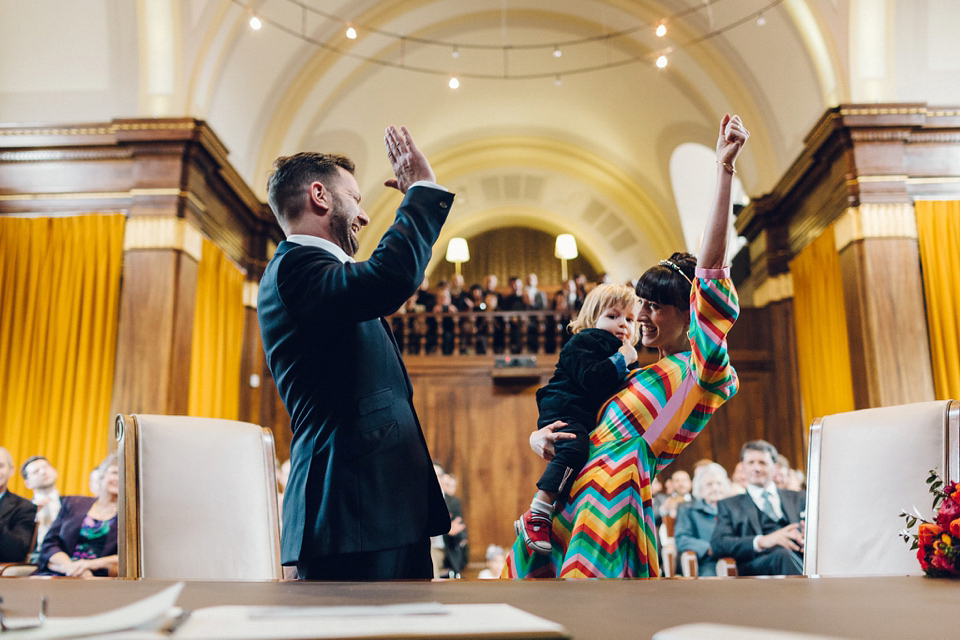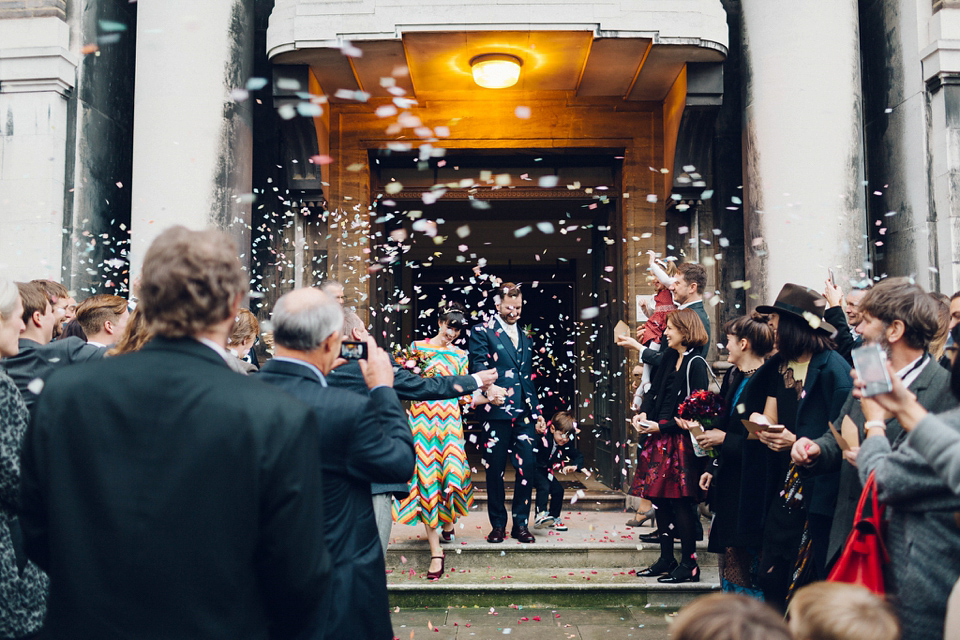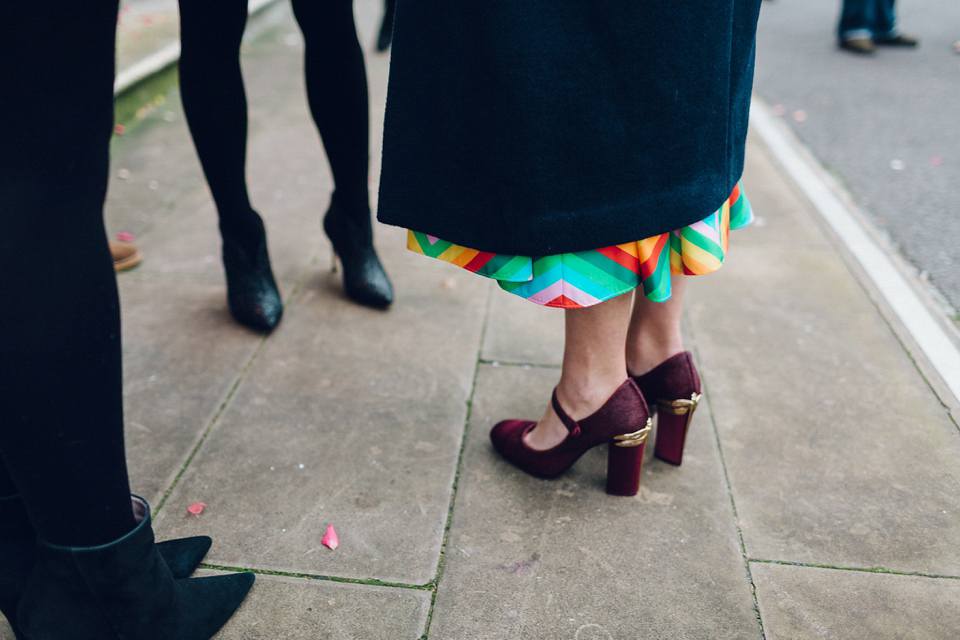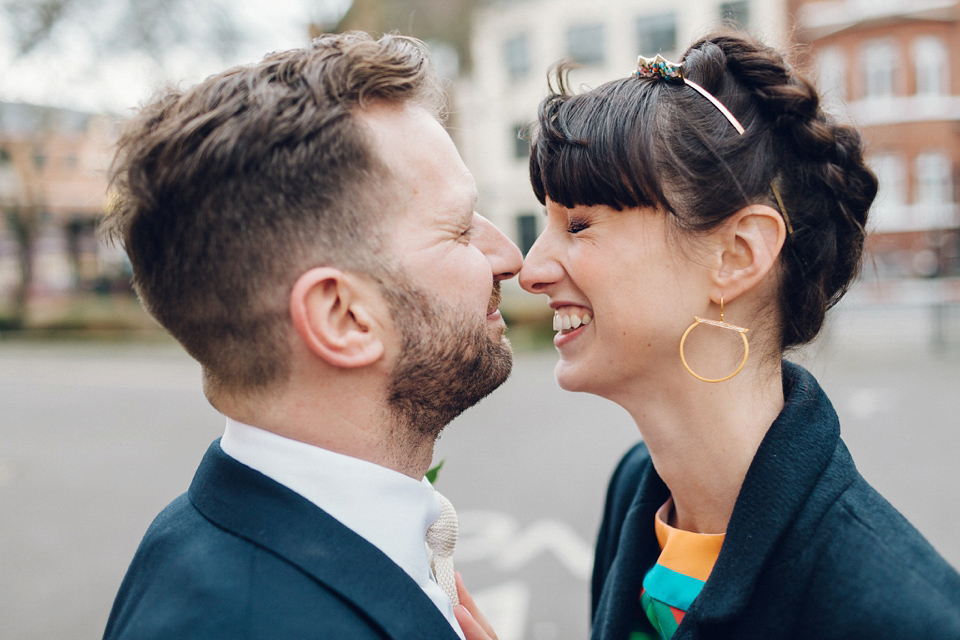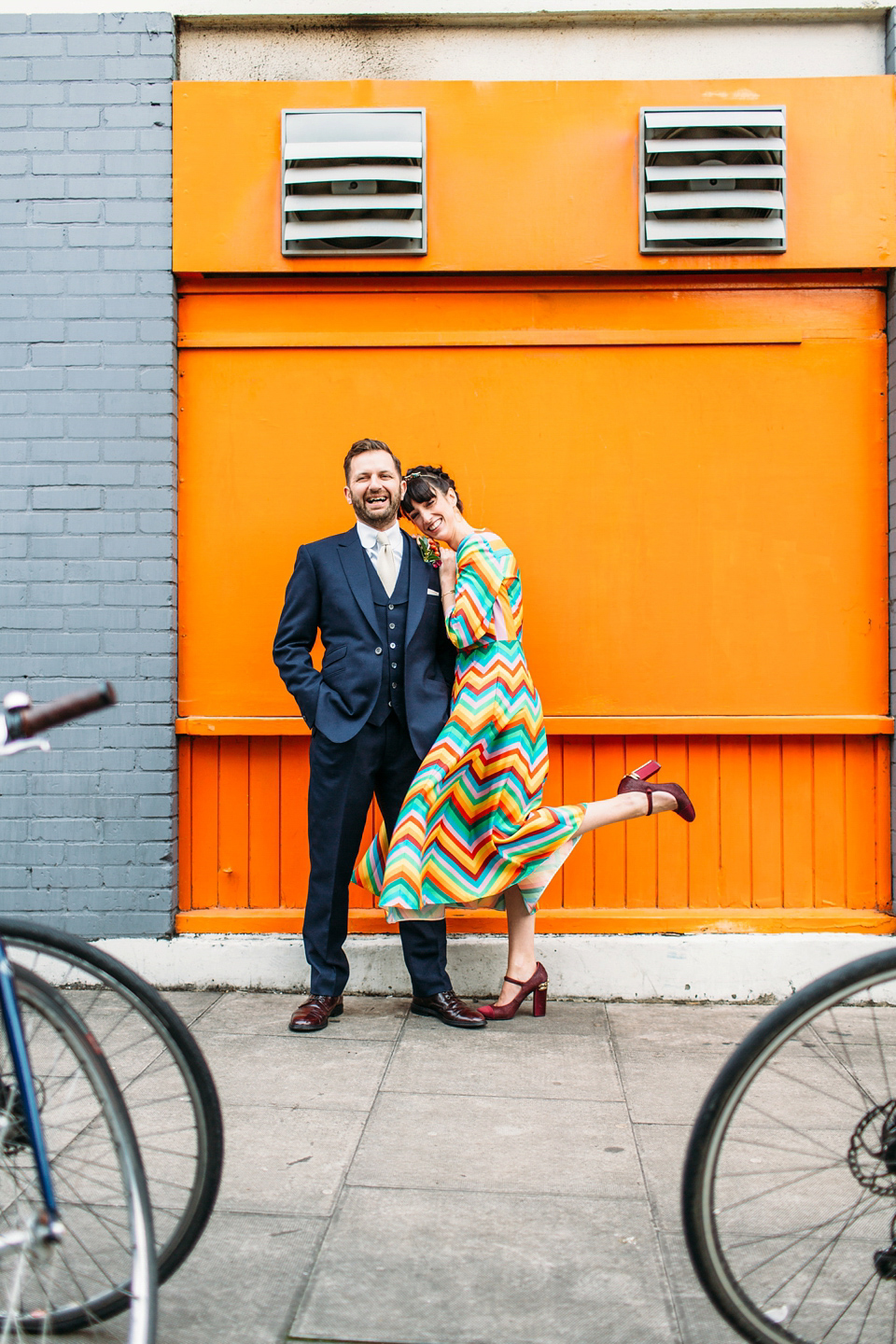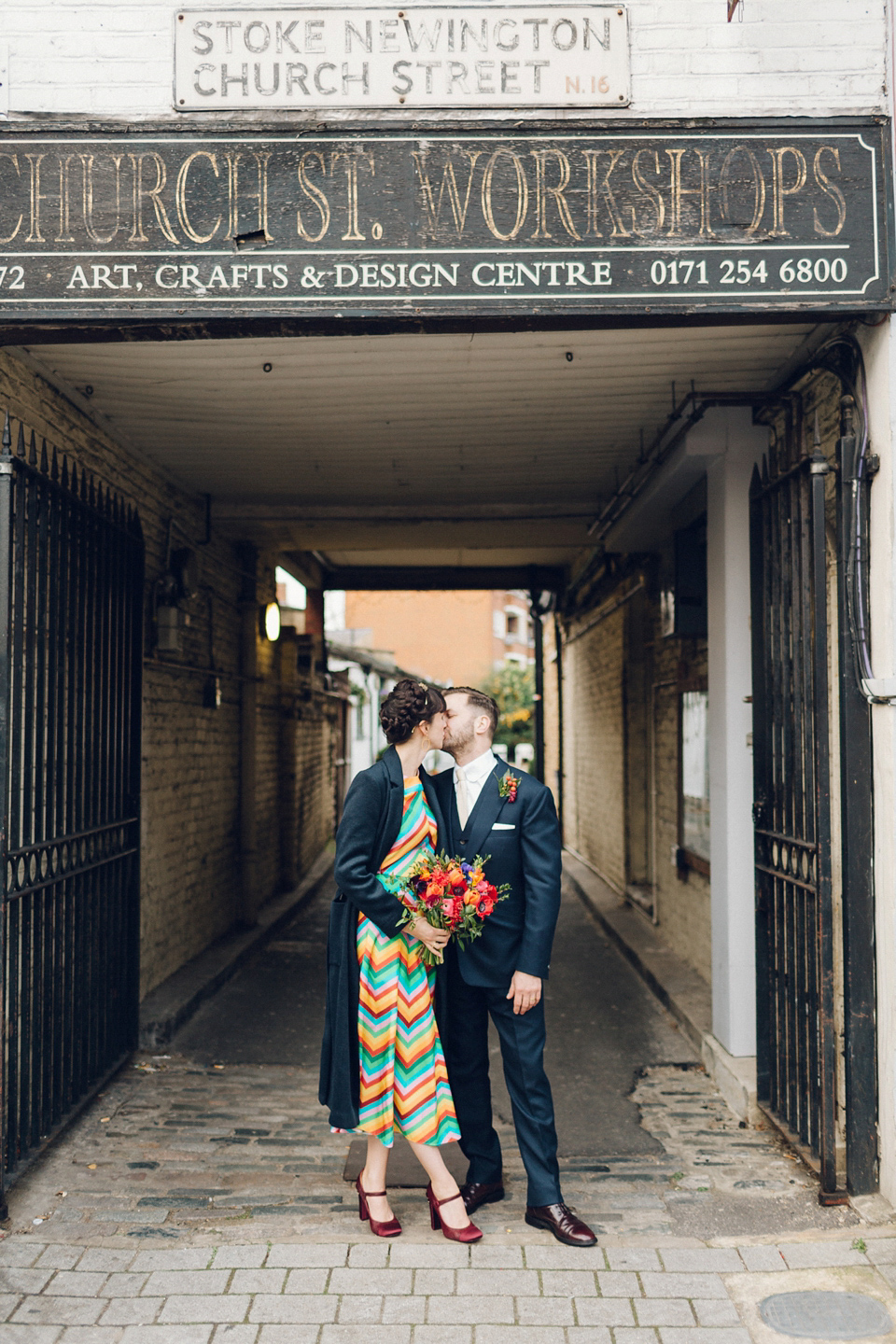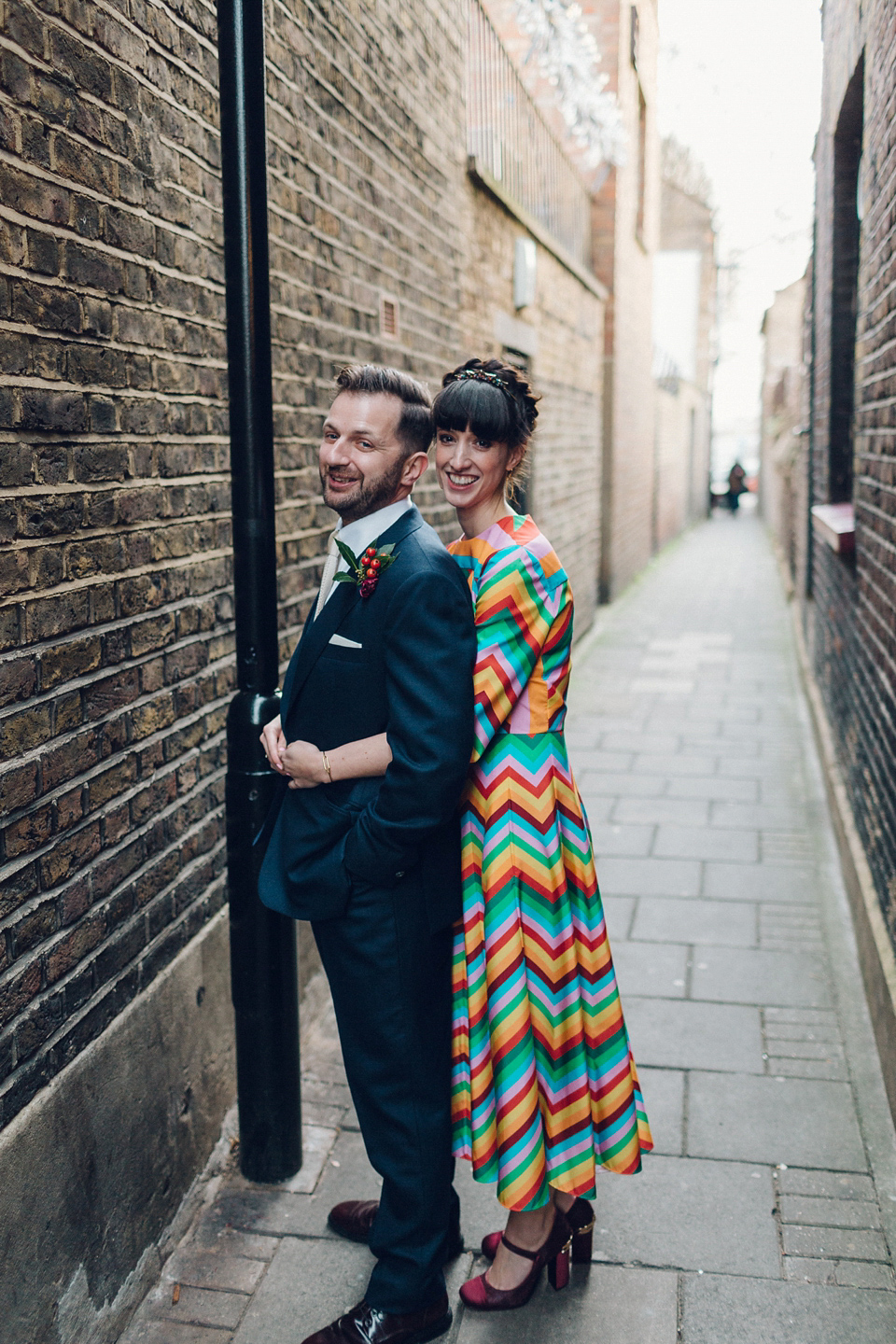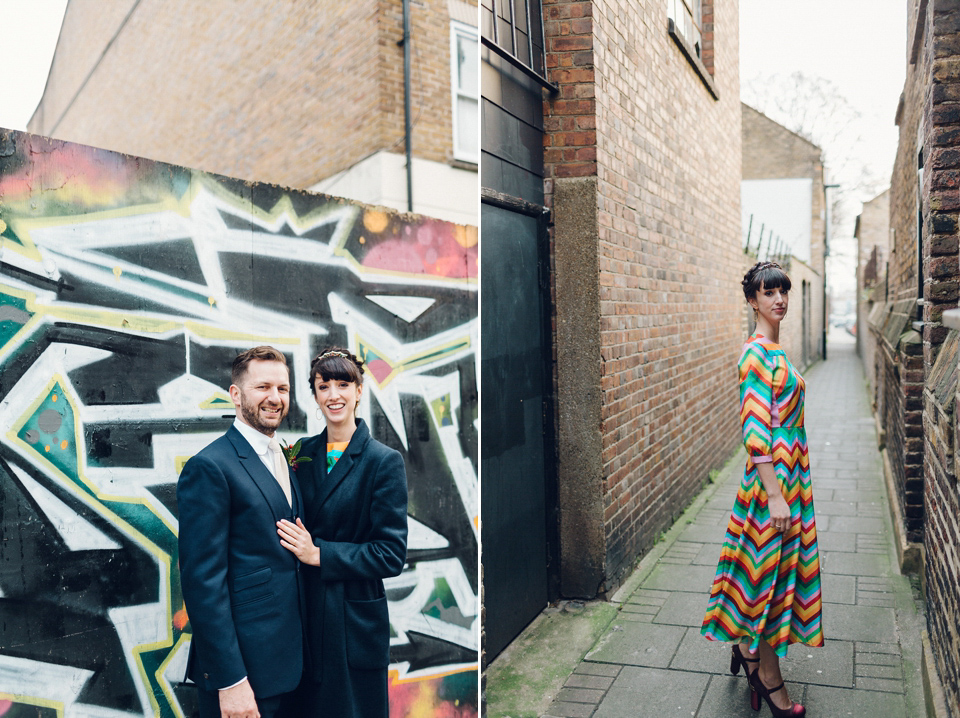 The two maid's statement self-portrait dresses in blue are simply divine and they added Ted Baker heels and accessories from Whistles.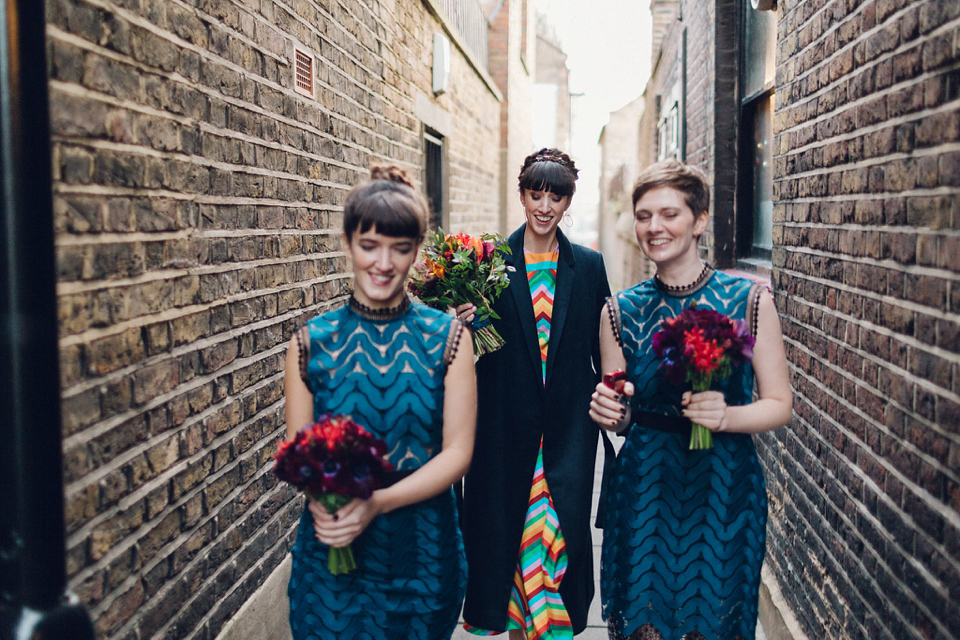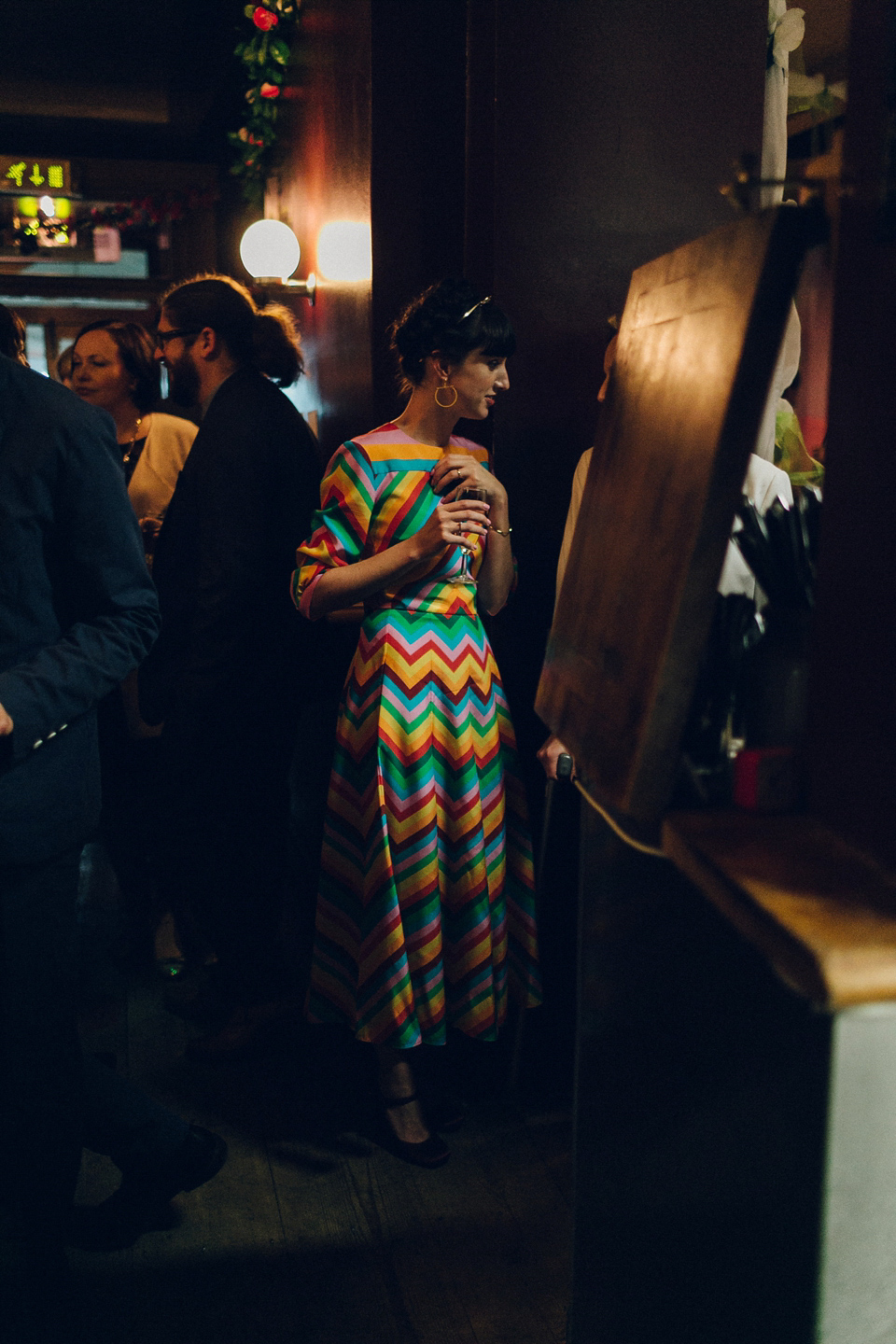 The table cards and confetti were from Peagreen Boat and decor was kept simple, with bright pops of colour from flowers on each table, swathes of drapes, and pretty handmade garlands.
"The main decorative elements were the flowers and the garlands covering the room that were a surprise gift from an artist friend."
The couple chose a devilishly delicious red velvet cake with cream cheese chiffon icing from Violet Bakery, which is totally making my mouth water – those celery and carrot sticks I've just consumed for a snack definitely haven't curbed my craving!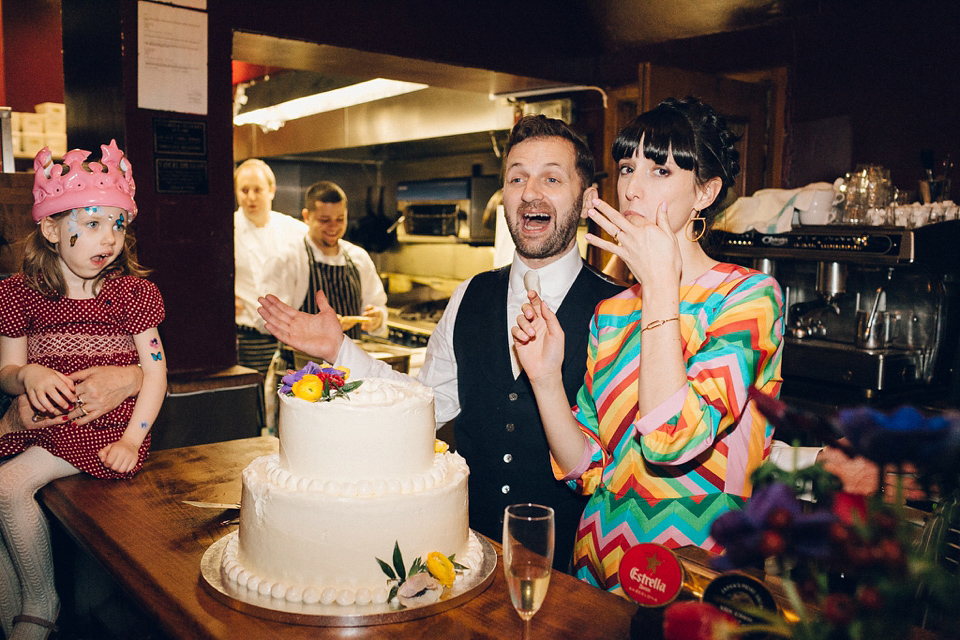 The blooms by Rebel Rebel are simply bright, unstructured, and beautiful, complimenting Megan's vibrant dress to a tee.
"For the flowers, we wanted to make sure they were not at all Christmas-ey or too traditional wedding-looking; instead, seasonal and a little bit un-done."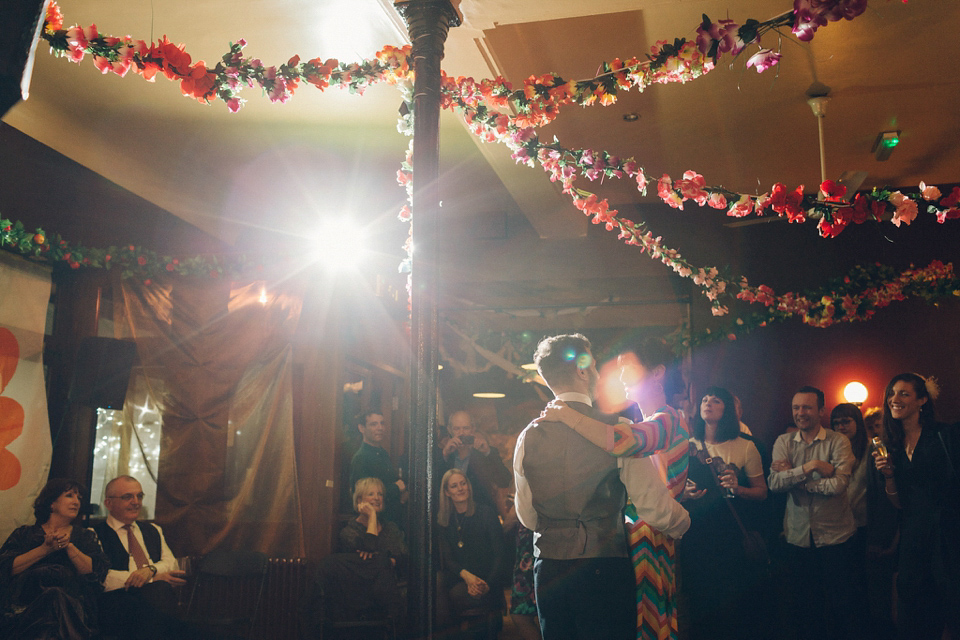 Megan's very musical family all took it in turns to sing a variety of songs by Jacques Brel, Simon and Garfunkel and The Beatles to entertain the guests – and the couple's first dance song is one of my faves.
"Our first dance was to 'The Only Living Boy In New York' by Simon and Garfunkel."
Words of Wedded Wisdom
"Don't waste energy worrying about where to put 'awkward' family or friends, or if they will behave themselves. People really are on their very best behaviour and will pleasantly surprise you on the day!
Table plan wise – get big cardboard templates and use post-it notes to figure out table plans.
And brides, don't be afraid to give a speech!"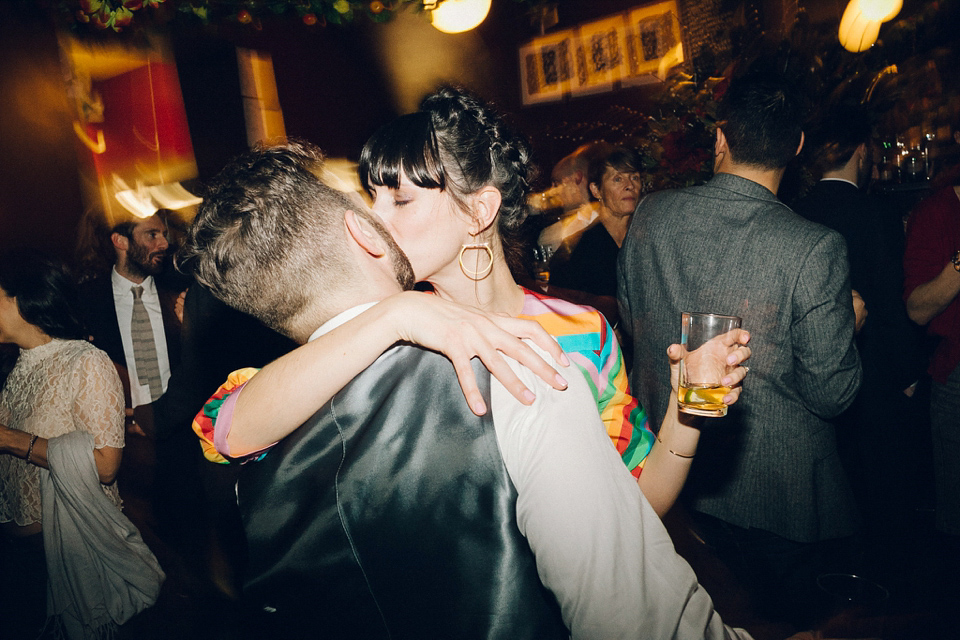 A very big thank you to the lovely Megan and Rob for allowing us a window into their wonderful wedding day. I predict that Megan's dress is going to be a huge inspiration to our readers and encouragement to be brave and take the plunge!
Also thank you to Lee Garland for sharing these brilliant and emotion-filled images – you can view more of Lee's photography here.
Enjoy the rest of your week lovelies.
Love Jo -x-
Photographer – Lee Garland Photography
Ceremony – Stoke Newington Town Hall, London
Venue + Catering – The Anchor and Hope
Wedding Dress – Valentino via Marylebone matchesfashion.com store
Shoes – Tory Burch
Hair Accessory – Rosantica
Perfume – Mui Mui
Bridesmaid Dresses – self-portrait
Bridesmaid Shoes – Ted Baker
Bridesmaid Accessories – Whistles
Groom – Mark Powell London suit + Marc Jacobs shoes
Pageboys – Fred Perry and H&M
Florist – Rebel Rebel
Rings – Ingle and Rhode Jewellers
Tablecards and Confetti – Peagreen Boat
Cake – Violet Bakery
Transport – London red double-decker bus via Routemaster
Entertainment – Members of the bride's family
Hair Stylist – Stephanie from Daniel Galvin
Makeup Artist – Jackie Hamilton-Smith via Caren