Good morning darlings! How does this find you? I hope well and rested after the weekend. I'm heading off to London this week – you can follow my adventures on Snapchat (how obsessed am I with Snapchat now I finally get how it works – hehe!) and Instagram. So, let's get started shall we because oh my, we have some exceptionally beautiful celebrations due to appear on this beautiful wedding blog over the next few days.
Lou, a PA in an asset management firm, tied the knot with her beau Brad who works in Operations for a hedge fund, on 28th November last year at Dorney Court, an exceptionally beautiful Tudor manor house located in Windsor.
The couple were supported in planning their wedding by Christina at Absolute Taste, a London based company who manage events for Dorney Court.
"We wanted a wedding that reflected all the things we love most about winter; warming festive drinks, roaring fires, cosy candlelight and beautiful greenery. Rather than go for Christmassy styling, we decided to inject a little bit of our shared love of skiing and alpine theming into the proceedings with little touches including vintage skis and sledges, an après ski themed bar area and tables named after ski resorts. Colours were kept very soft to reflect all the colours of a winter sunset. Whites, greys, some pink and even touches of burgundy."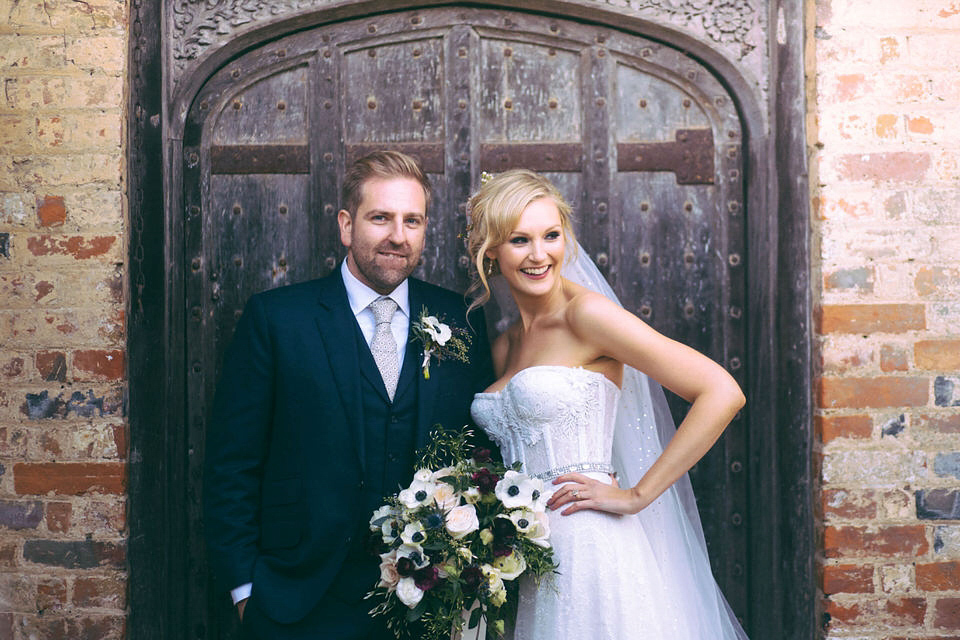 Lou's gown is by a designer I've had my eye on for some time now – his designs aren't for the shy bride and make a really feminine, sexy statement. Lou pulled off the look with absolute perfection.
"I wore 'My Fairy' by South African designer Kobus Dippenaar which I bought from Morgan Davies Bridal in London. I then changed into a dress from Self Portrait which I had bought from their online store for the evening party."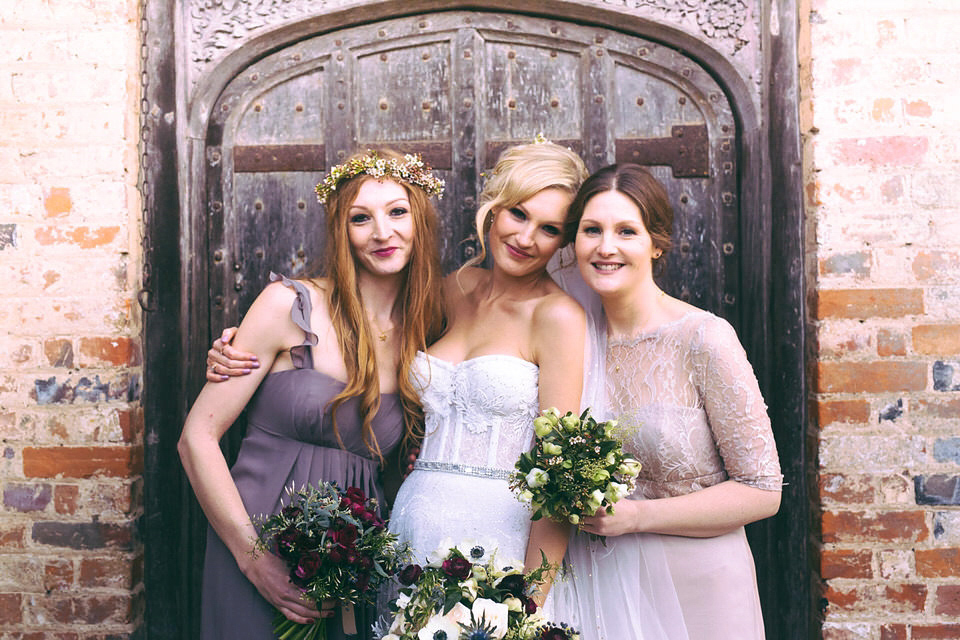 "We met online when Brad moved back from a work placement in New York and I moved up to London. Brad pretty much nailed our first date by booking the Red Room at Milk & Honey and getting the cocktails in nice and early, but he really got me hooked by asking for a second date at Thorpe Park!"
"We have so much fun together and knew early on that we had both found the other half of our seashell. Brad proposed at sunset on Evaristo Beach in Portugal, before celebrating with fresh lobster and champagne at our favourite restaurant, and we were engaged for 18 months before the wedding."
"Our save the dates and wedding invitations were from Project Pretty, and place cards and Orders of Service came from To Have and To Hold Invitations on Ebay. I also made a few of the other signs and notices which were dotted around the venue myself which I loved doing."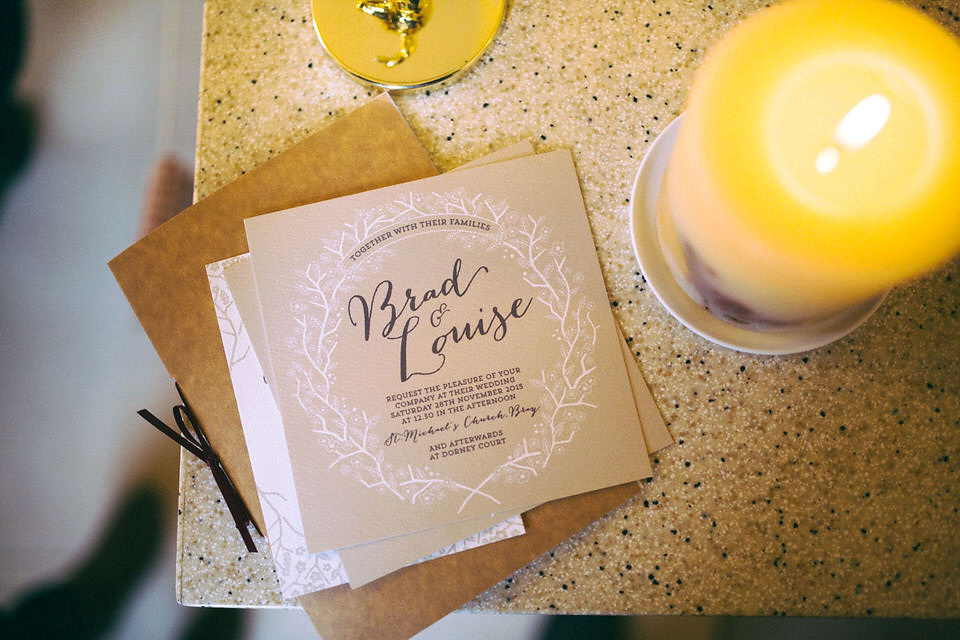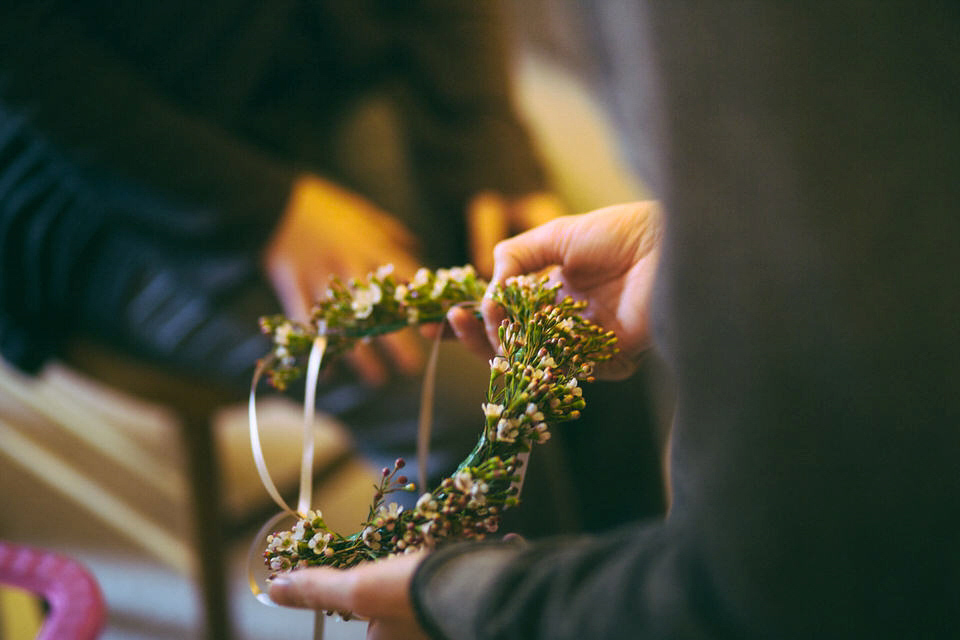 "My good friends Jamie-Lee O' Sullivan and Nicola Tanswell handled make up for me, the bridesmaids and my mum. They were so great, calmly working through all the girls, making sure each of us felt super pretty, and the makeup lasted all day. Another friend kindly offered to style each of the bridesmaids' hair but my hair was styled by my usual hairdresser, Federica of Top Hat in Maidenhead. We discussed going for a soft, romantic fairy meets Hollywood look, and Fede worked and reworked the style several times to make sure we reached a point where we both agreed it was perfect."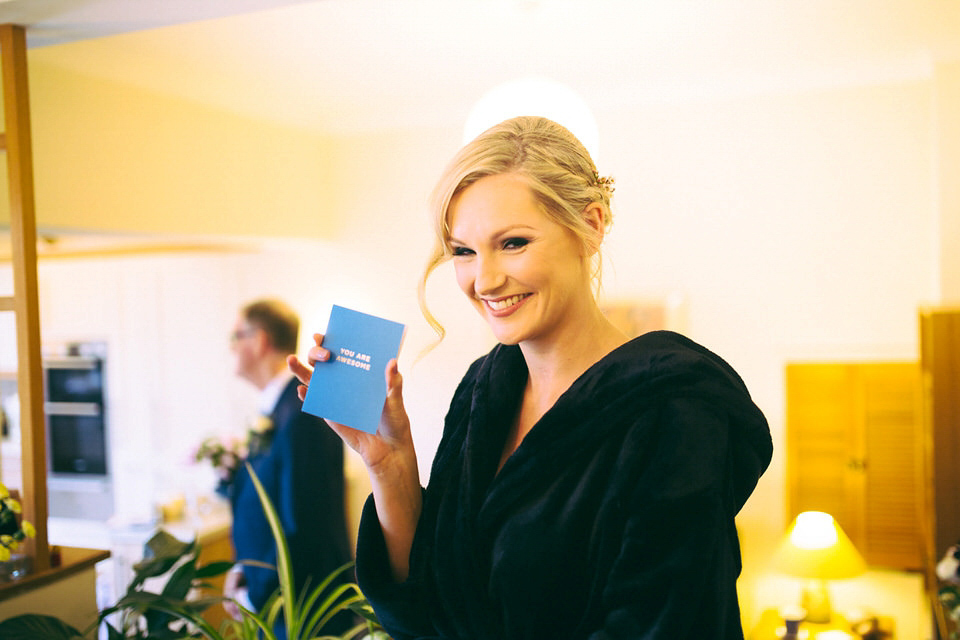 "I absolutely loved the result and it was really nice to go down to the salon on the morning and have some space to prepare and relax knowing I could completely trust her to do a gorgeous job."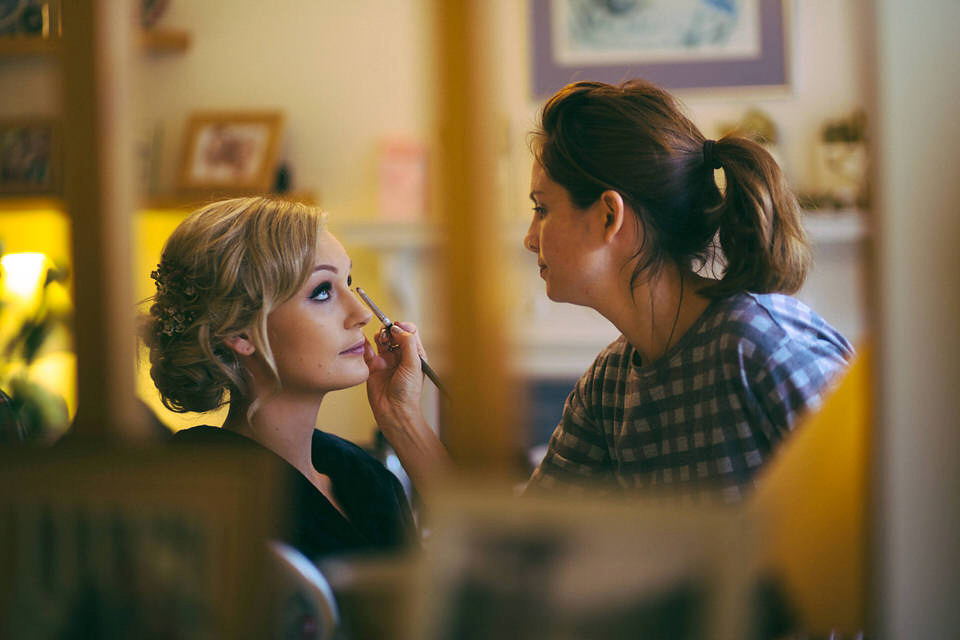 "I always wanted to get ready at my mum's house surrounded by all of my family, but as one of five children (all married with kids), and with six bridesmaids and a flower girl, the peaceful, Prosecco drinking oasis of calm I envisioned looked more like the opening scene of 'Home Alone', with everyone running round trying to get ready and bags, shoes, toys and people everywhere."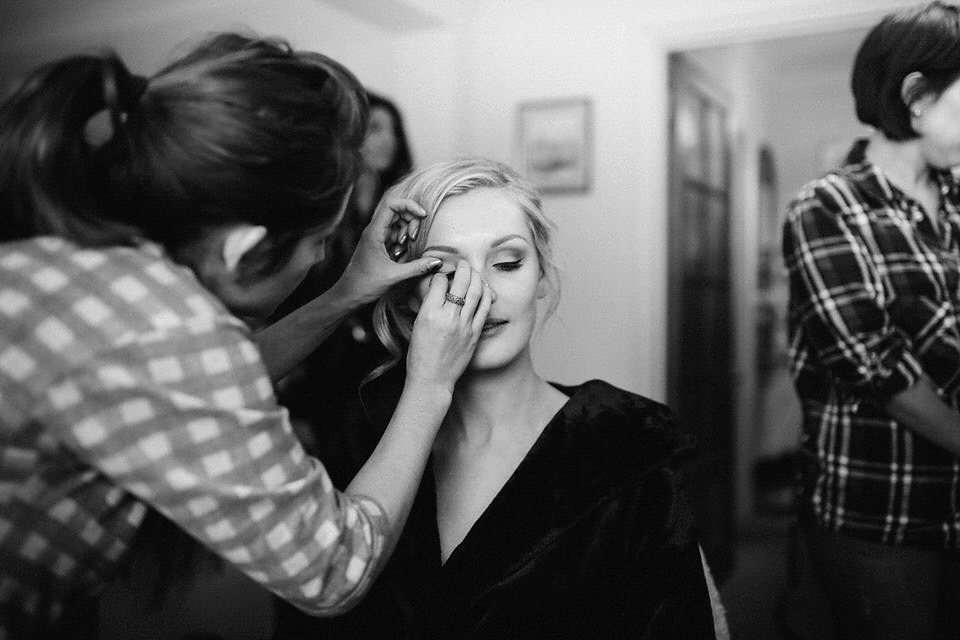 "On reflection I might have kept things a little quieter although it does make me chuckle to look back on the scenes of devastation that awaited our photographer Joseph and the girls when they came back from Brad's chilled out hotel."
"I had a button from my Grandad's RAF jacket sewn into the belt of my dress as my something old and felt so proud to wear it in memory of him. My earrings were my something new and were bespoke from Kelly Spence. Kelly crafted them out of pearls to look like they were rose petals nestled in the snow; they are absolutely beautiful and so precious to me."
"My Grandma was very sadly unable to join us for the day but lent me her engagement ring to wear as my something borrowed which was so special.
I wanted to have a new perfume so that whenever I smelt it after the wedding I would be transported back to all our happy memories. My cousin and I share a love of fragrances and tell each other about the latest ones we've fallen for, and she was kind enough to buy Noir by Tom Ford for me as a wedding gift. It is a beautiful scent and does give me a very special feeling whenever I wear it.
My something blue was a beautiful sky blue beaded bracelet from Astley Clarke. My garter (which I totally forgot to wear in my wedding morning haste!) was handmade by Emma Louise Design of Ascot."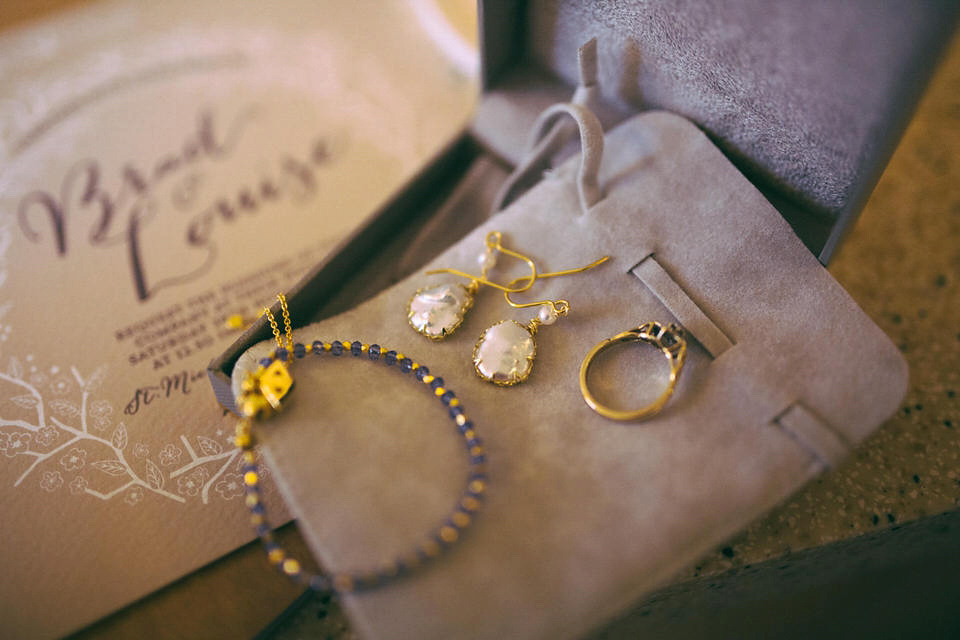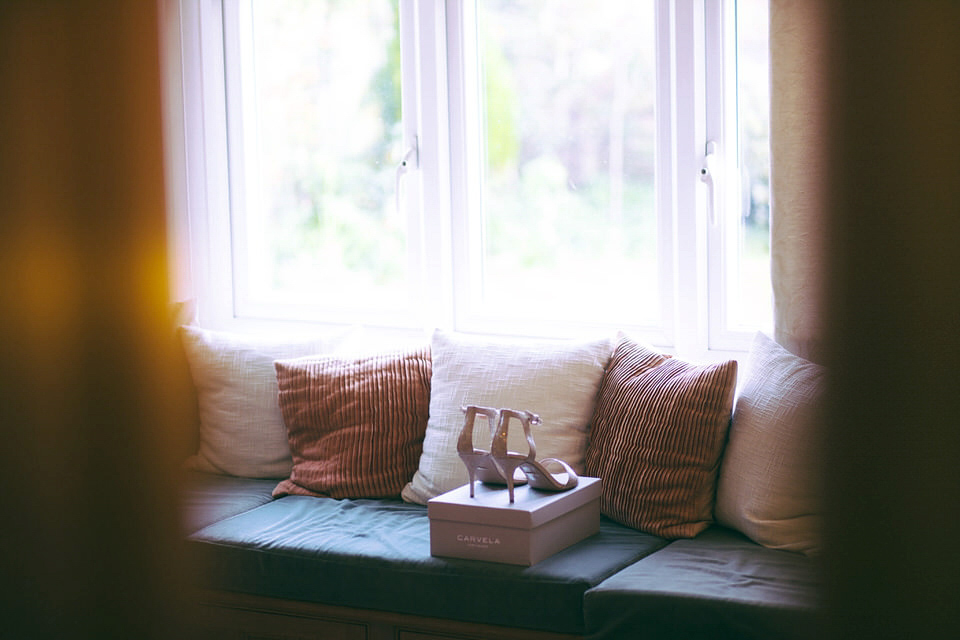 "We chose to work with Christiane of Honeysuckle Flower Co. for our flowers, and she knocked our socks off with the results. Christiane is an absolute artist, not only because of her incredibly beautiful work and attention to detail, but for her ability to interpret a vision exactly. We met with her quite early on to discuss the kind of look we wanted and she just nailed it, suggesting flowers neither of us had ever heard of but which fit beautifully with what we wanted."
"Christiane even picked up on my saying I was a big Marilyn Monroe fan and included the Norma Jeane rose in my bouquet, alongside white ranunculus, black centred white anemones, scented paperwhites, white hellebores, burgundy ranunculus, white hydrangea and spray roses, all surrounded with beautiful wintry grey foliage. We wanted lots of wood and winter greenery, so she filled the venue with logs, beautiful garlands and gorgeous wintry wreaths, and gorgeous floral table centres to match my bouquet.
She lined the aisle of the church with logs, flowers and candles to give me my winter fairy entrance and included a little nutcracker decoration in a wreath on the door there as a nod to our choice of music. Everything looked so incredibly beautiful and we loved working with Christiane."
"Our ceremony was held at St. Michael's Church, Bray; I was very close to my Grandad who is buried in the churchyard of Bray, so it was really special to be able to be married there."
"My Dad walked me down the aisle. I walked down the aisle to the Pas de Deux from the Nutcracker, which Brad took me to see just before our first Christmas together. It's such a romantic piece of music and we both absolutely love it. Having chosen it we both kept playing it in the car and getting so excited for our big day, so it's a very special one for us.
We have so many incredibly special memories it's hard to choose a particular favourite, but for me it was the walk down the aisle, seeing all of my loved ones smiling and excited for me and having Brad turn to look at me. I couldn't wait to get down there and marry him! I also loved waking up really early and spending some precious time with my mum and sister before everyone arrived, listening to Christmas carols and quietly getting excited for the day ahead."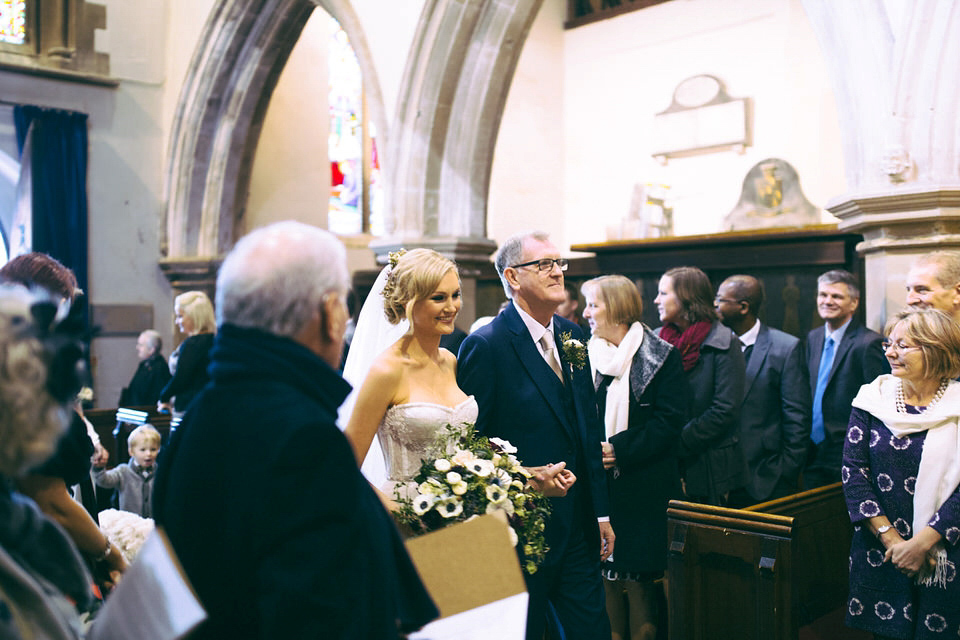 "We had three readings at our wedding. The first was the Commitment Reading of the Pueblo Indian which we both thought was absolutely beautiful, followed by a bible reading, Song of Songs 2:10-13 – chosen because of Brad's love for a particular dessert I make using figs. Our friend Olly selected and compiled a few beautiful Bob Marley quotes which he read for us and which we both really treasure."
Commitment Reading of the Pueblo Indian – Unknown
'Before we met, you and I were halves, unjoined except in the wide rivers of our minds. We were each other's distant shore, the opposite wings of a bird, the other half of a seashell. We did not know the other then, did not know our determination to keep alive the cry of one riverbank to the other. We were apart, yet connected in our ignorance of each other, like two apples sharing a common tree. Remember? I knew you existed long before you understood my desire to join my freedom to yours. Our paths collided long enough for our indecision to be swallowed up by the greater need of love. When you came to me, the sun surged towards the earth and moon escaped from darkness to bless the union of two spirits, so alike that the creator had designed them for life's endless circle.
Beloved partner, keeper of my heart's odd secrets, clothed in summer blossoms so the icy hand of winter never touches us. I thank your patience. Our joining is like a tree to earth, a cloud to sky and even more. We are the reason the world can laugh on its battlefields and rise from the ashes of its selfishness to hear me say, in this time, this place, this way – I loved you best of all.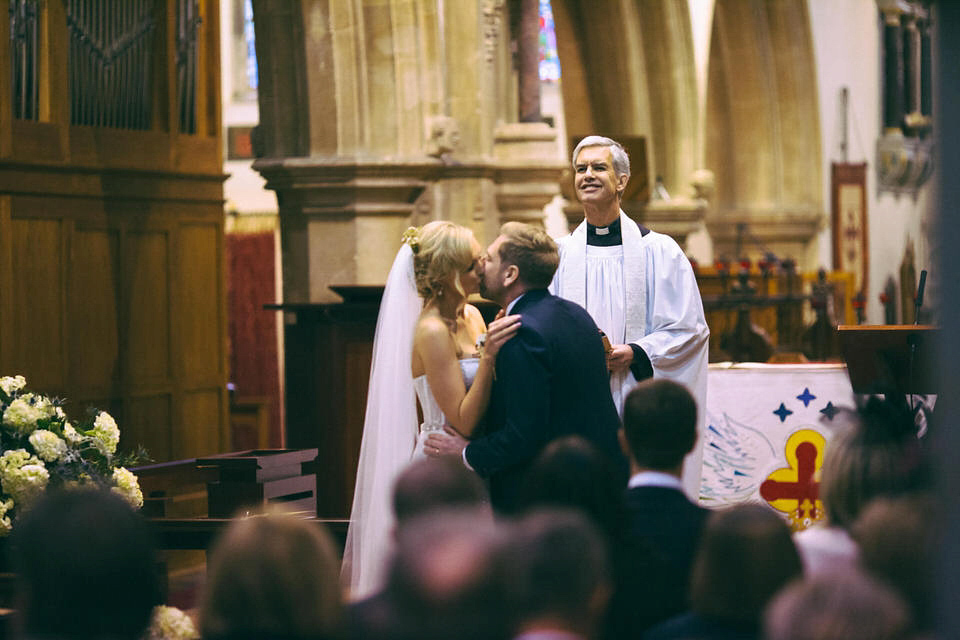 Song of Songs 2:10-13 New International Version
'My beloved spoke and said to me,
 "Arise, my darling, my beautiful one, come with me.
See! The winter is past; the rains are over and gone.
Flowers appear on the earth; the season of singing has come, the cooing of doves is heard in our land.
The fig tree forms its early fruit; the blossoming vines spread their fragrance.
Arise, come, my darling; my beautiful one, come with me."'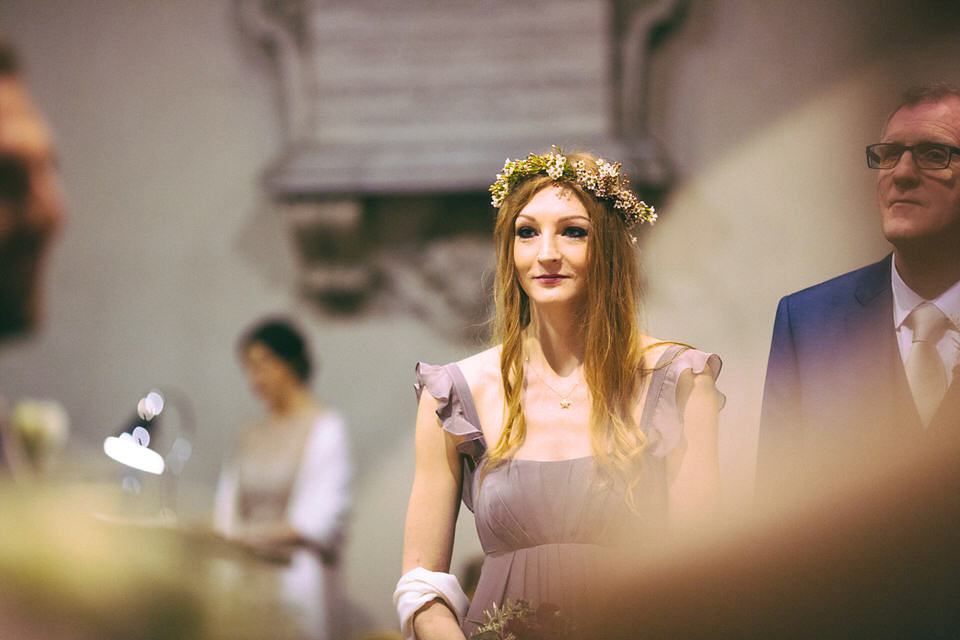 'He's not perfect. You aren't either, and the two of you may never be perfect together, but if he can make you laugh, cause you to think twice, and admit to being human and making mistakes, hold onto him and give him the most you can. He may not be thinking about you every second of the day, but he will give you a part of him that he knows you can break—his heart. So don't hurt him, don't change him, don't analyse and don't expect more than he can give. Smile when he makes you happy, let him know when he makes you mad, and miss him when he's not there. Love hard when there is love to be had. Because perfect guys don't exist, but this guy is perfect for you. If she's amazing, she won't be easy. If she's easy, she won't be amazing. If she's worth it, you won't give up. If you give up, you're not worthy. If she loves you, what else matters?' (Bob Marley)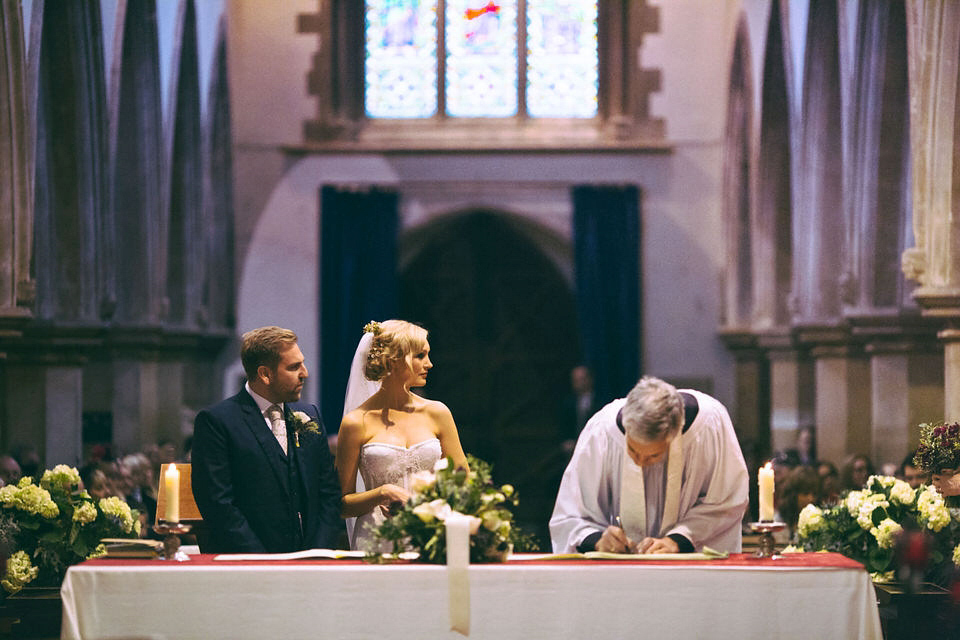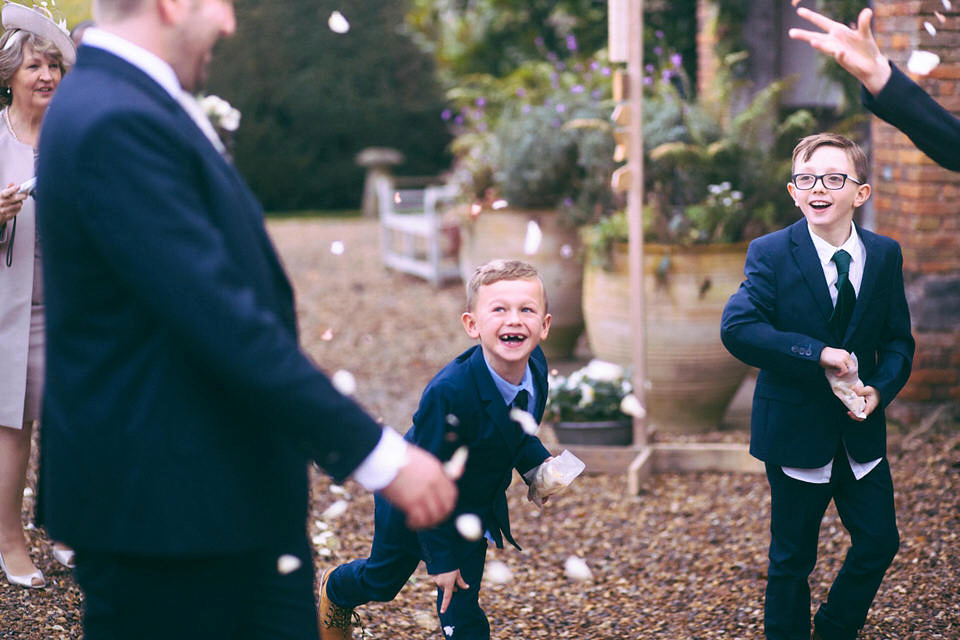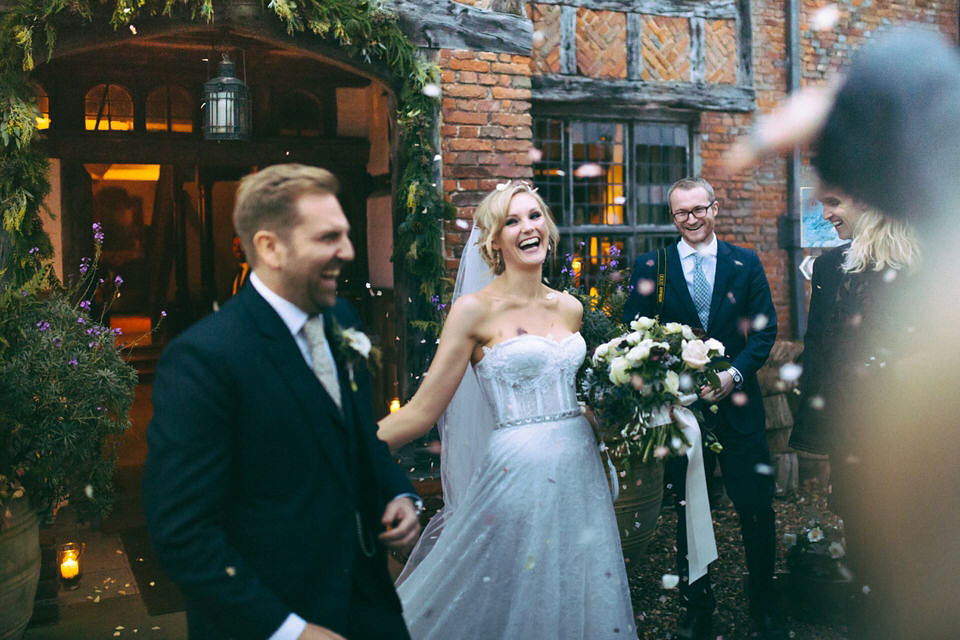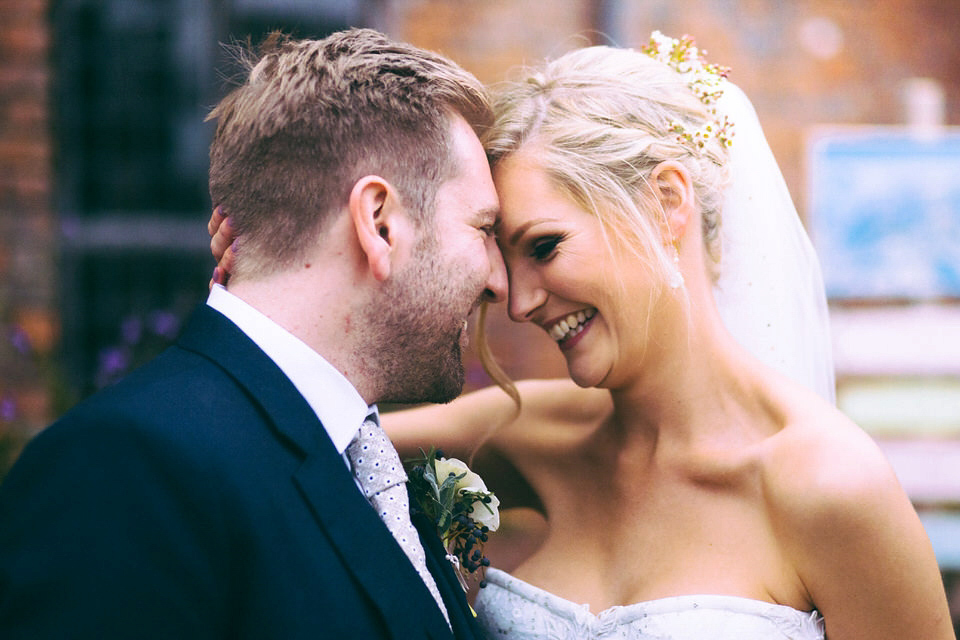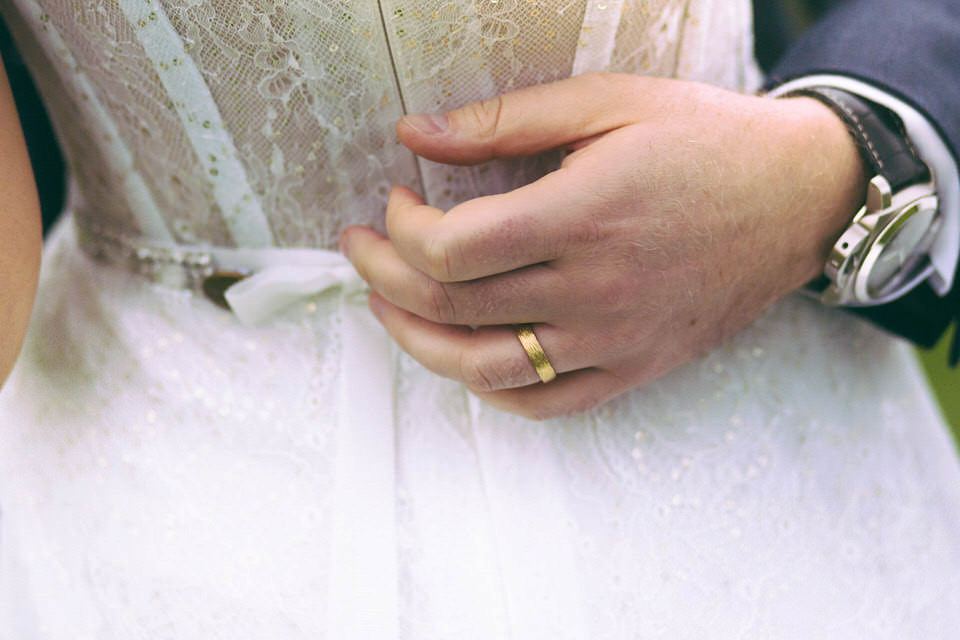 "My nephew was our page boy and looked amazing in his Zara trousers and braces, with a digger print bow tie from Mrs. Bow Tie and sweet little brogue trainers."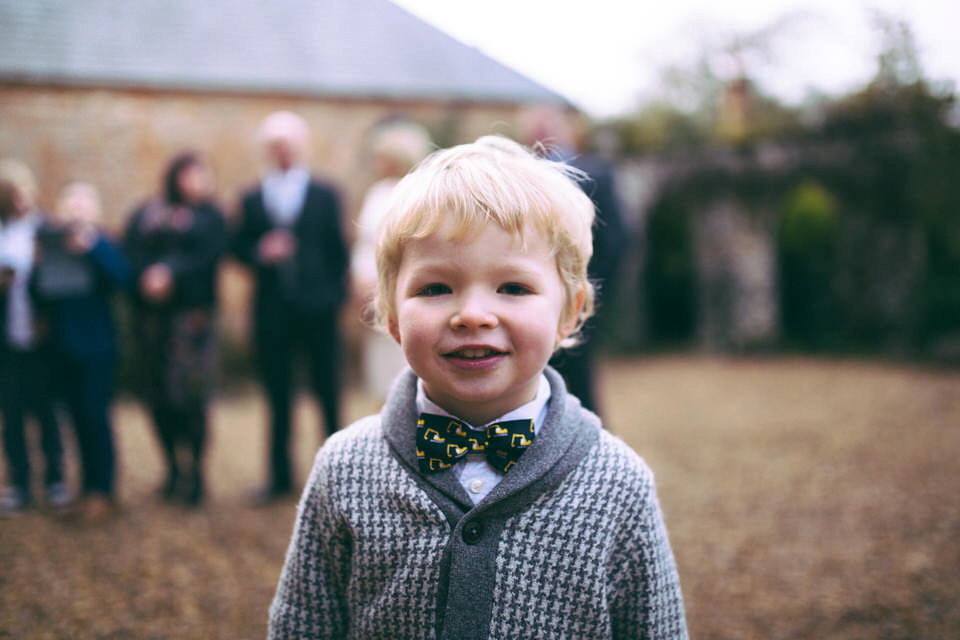 "Brad bought a bespoke deep blue three piece suit from King and Allen. His tie and pocket square were from Suit Supply and his shoes were from Justin Deakin. He wore a pocket watch from Shinola, which was my wedding gift to him. I didn't see his suit or accessories before the day and loved getting my first look as I walked down the aisle. He looked so handsome and I was super proud to be beside him."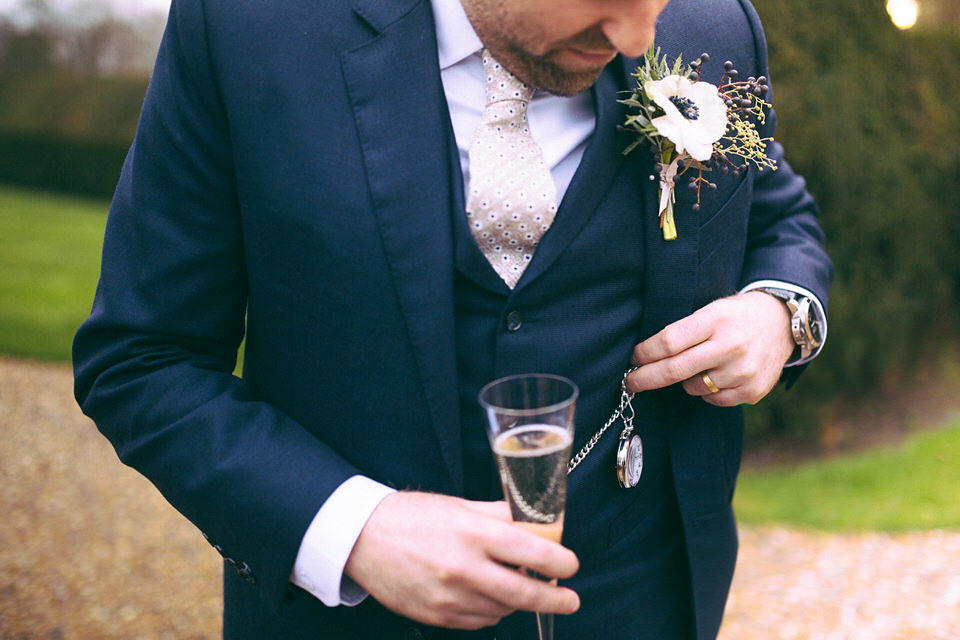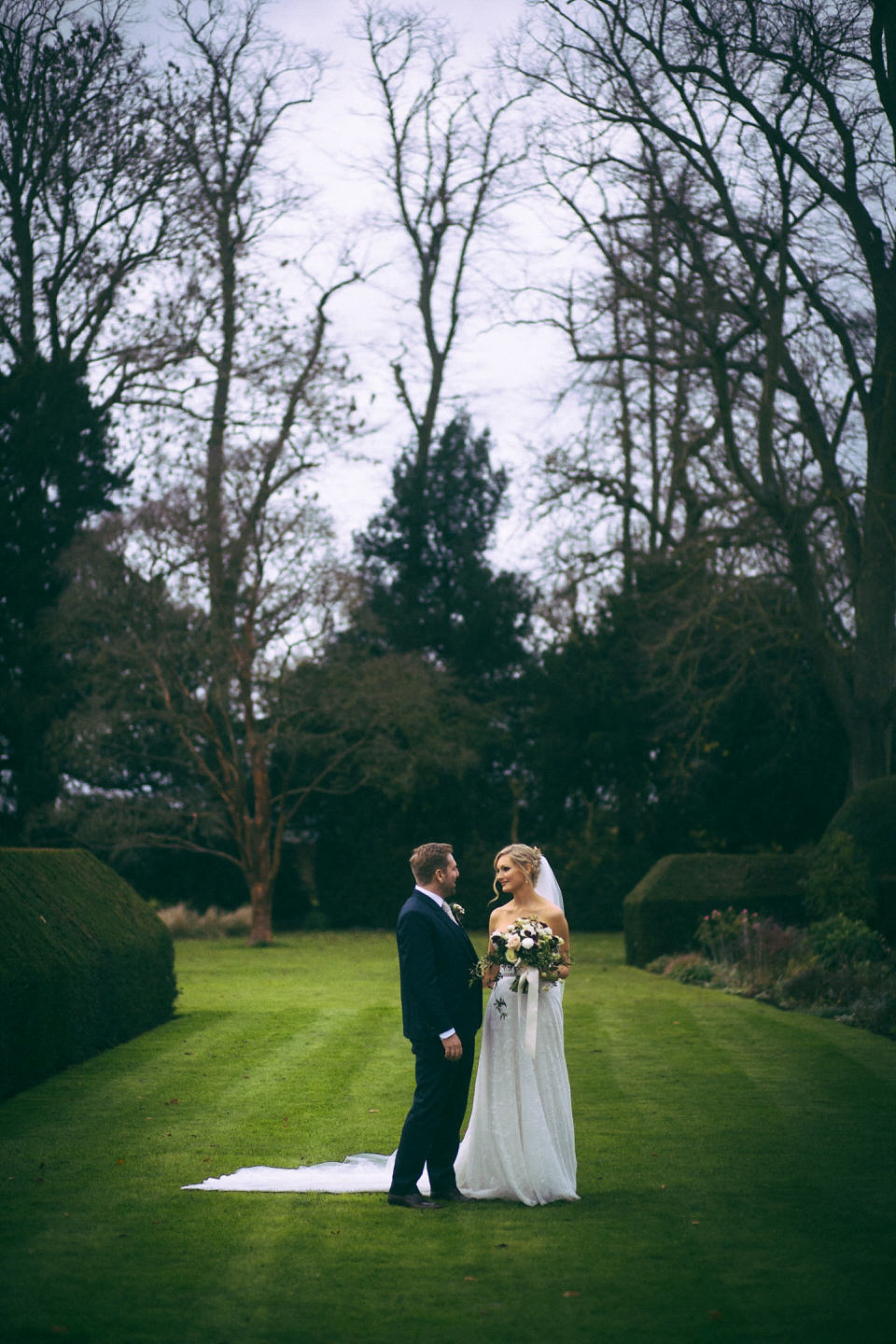 "Our rings were purchased from Anne Sportun, who Brad had commissioned to make my engagement ring. Anne is based in Canada and we both fell in love with her unique designs and the brushed gold of the bands. I chose a half eternity band and Brad went for a bark finished yellow gold band."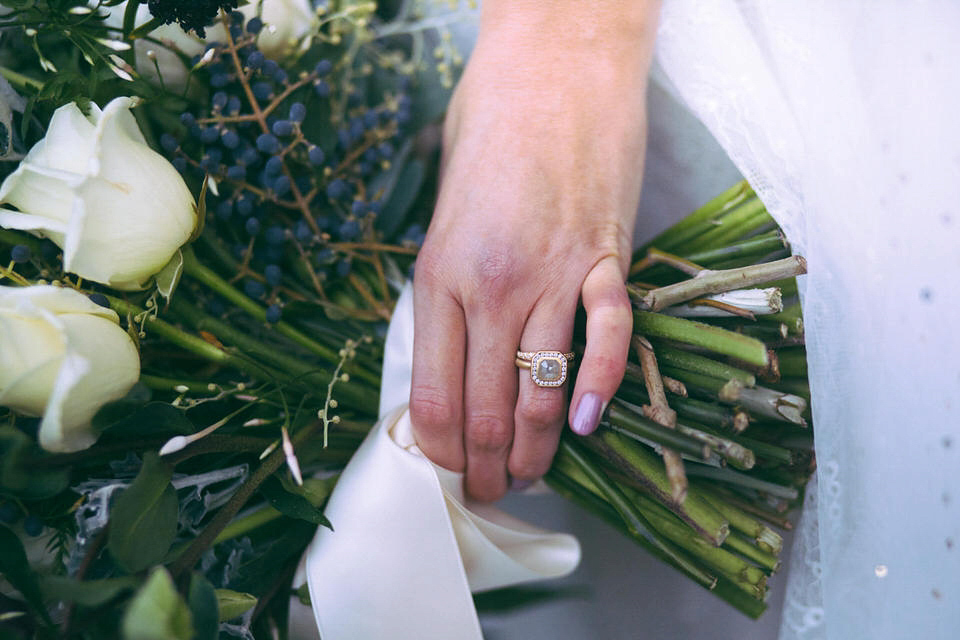 "I had six bridesmaids, all totally unique and totally different so I gave them free rein to wear whatever they liked as long as the colours were reasonably similar and they felt their most beautiful. We all went together to Emma Louise Design of Ascot. Emma was so sweet and helped the girls to find a style each of them loved. I worked with our florist to give each of them a unique bouquet that I felt reflected their style and personal beauty and I think they all looked completely gorgeous.
My beautiful niece was my flower girl and wore a dress, tights and shoes from Monsoon with a necklace from Little Ella by Estella Bartlett which I gave to her on the morning of the wedding. She carried a flower wand of spray roses and requested an 'Elsa' plait that we poked sprigs of wax flower into."
"As a little girl I would wear my gran's fanciest petticoat as a dress, carefully position a lace tablecloth on my head and slip into a single white glove found in my dressing up box to walk down my garden pretending it was my wedding (my older sister always proudly carried my 'train' and took my bouquet of silk flowers)."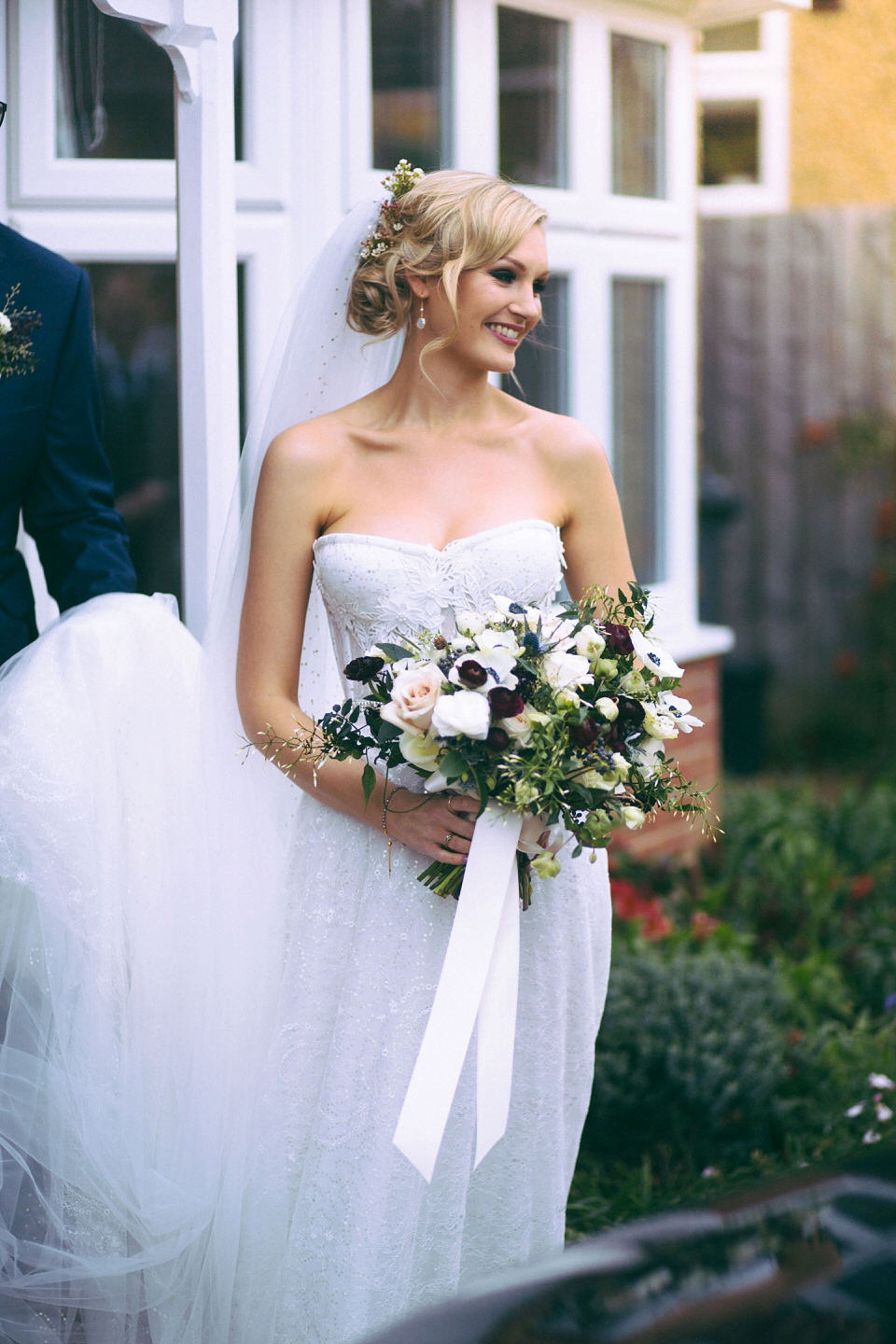 "I would gaze wide eyed at Julie Andrews walking down the aisle in The Sound of Music and Grace Kelly in her beautiful lace wedding dress, watch classic movies like the Seven Year Itch and Calamity Jane on repeat and religiously stay up all night to watch the Oscars Red Carpet.
That love of fashion, Hollywood and the unveiling of a beautiful bride has stuck with me ever since, so it's fair to say that my look was always going to be an important aspect of the planning for me."
"I wanted to be a winter fairy, soft and feminine, but with a touch of classic Hollywood glamour. My sister and I took a trip into town and while I had a blast trying on virtually every style of dress in Morgan Davies Bridal boutique (girls seriously, do it, it really helps get you clear on what you want and is so much fun!), as soon as I put on 'My Fairy', we both knew we'd found what I was looking for.
My parents came along to see the dress a few weeks later and my mum sent me a text after the appointment to say it was absolutely the one for me, and sparkled like sunshine on snow. SOLD."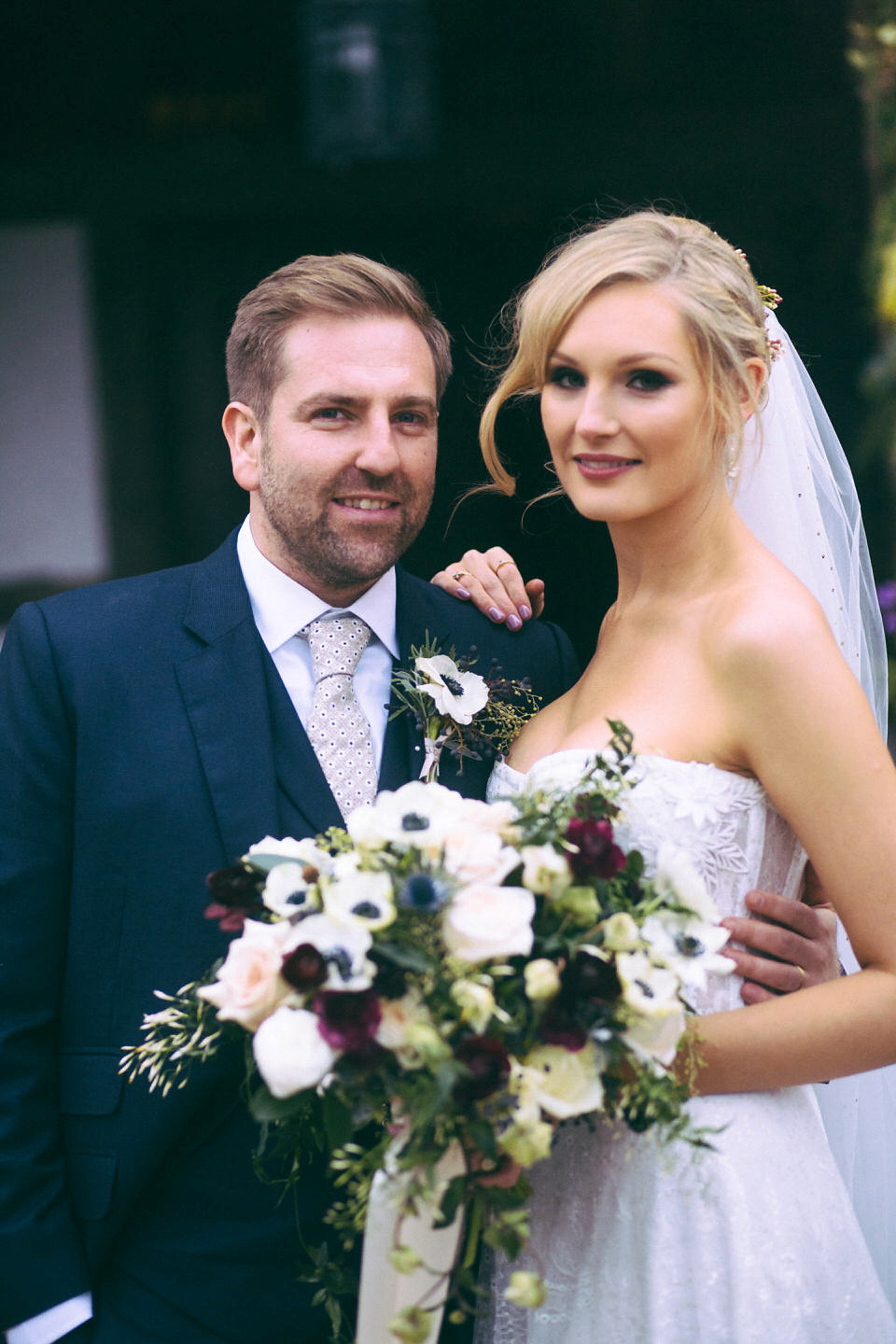 "I met designer Kobus Dippenaars on my first fitting and discussed all of the dreams I had for my dress – he was so sweet and along with the team at Morgan Davies helped to make the dress truly mine, adding in an epic length train so I could have my Julie Andrews moment, and spending hours working on the placement of the applique flowers. I loved wearing it and felt beautiful all day."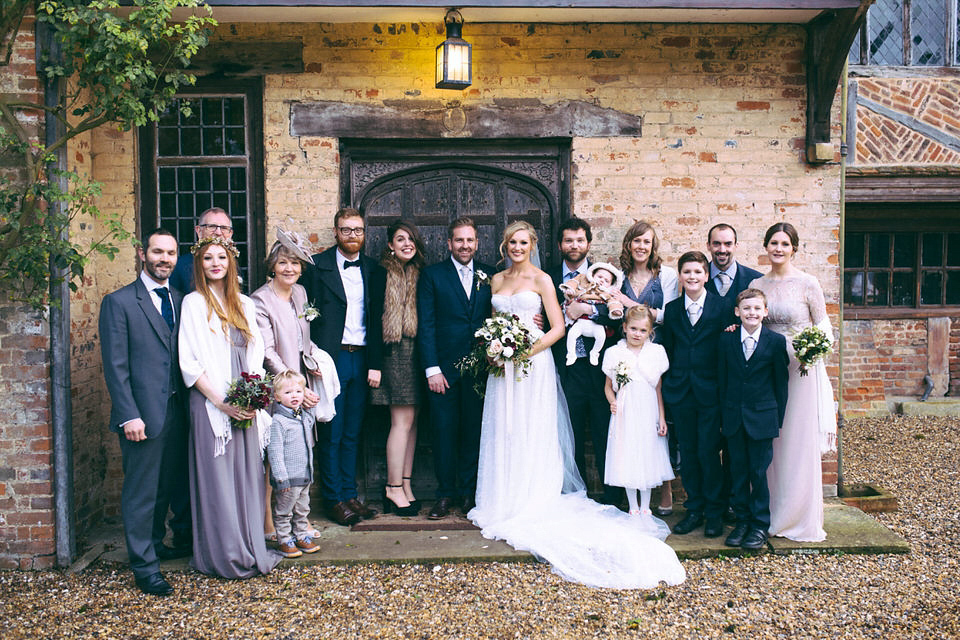 "My veil was a bespoke design by Kelly Spence. Kelly is just superb, both in terms of the quality of her work and attention to detail and in the way she gets on board with an idea. When I went to her asking for a Sound of Music and winter fairy fusion, not only did she not laugh but she got to work creating the most beautiful veil for me which nailed the look I was trying to achieve.
I wore fresh wax flower sprigs in my hair and over my veil."
"Our wedding car was a silver blue Bentley from London Legend. Our lovely driver Marc took us on a detour on the way to the venue to give us a nice bit of time to chat to each other and prepare for the afternoon, which was so special."
"We chose Dorney Court for our reception after being blown away by its beauty and history (it's still owned and run by the same family over 600 years after it was built), and the versatility of moving between the Great Hall in the original house, an opulent and stunningly beautiful space which needed virtually no decoration, and the Coach House Barn."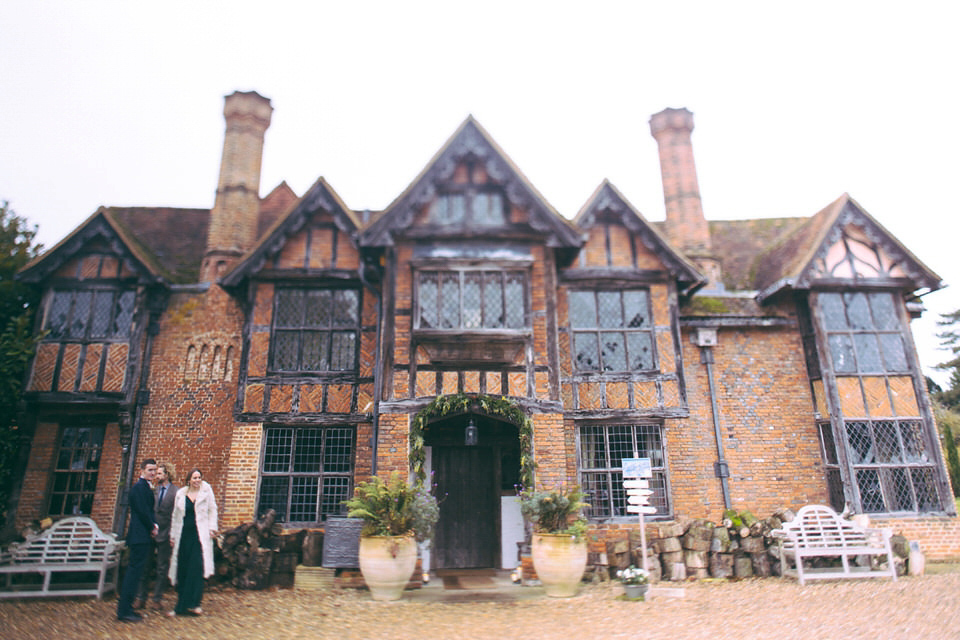 "We mounted old ski posters and collected various decorations for the après ski bar area. My parents kindly donated a small hazel tree to us, which we covered in ribbons to look like a winter sunset and set behind our cake table. We had a little chill out area just outside the barn where we strung festoon lights and laid out sheepskins and blankets to keep our guests warm, which went down very well. I wanted little wintry and alpine touches rather than an abundance of decoration and was so pleased with the overall effect."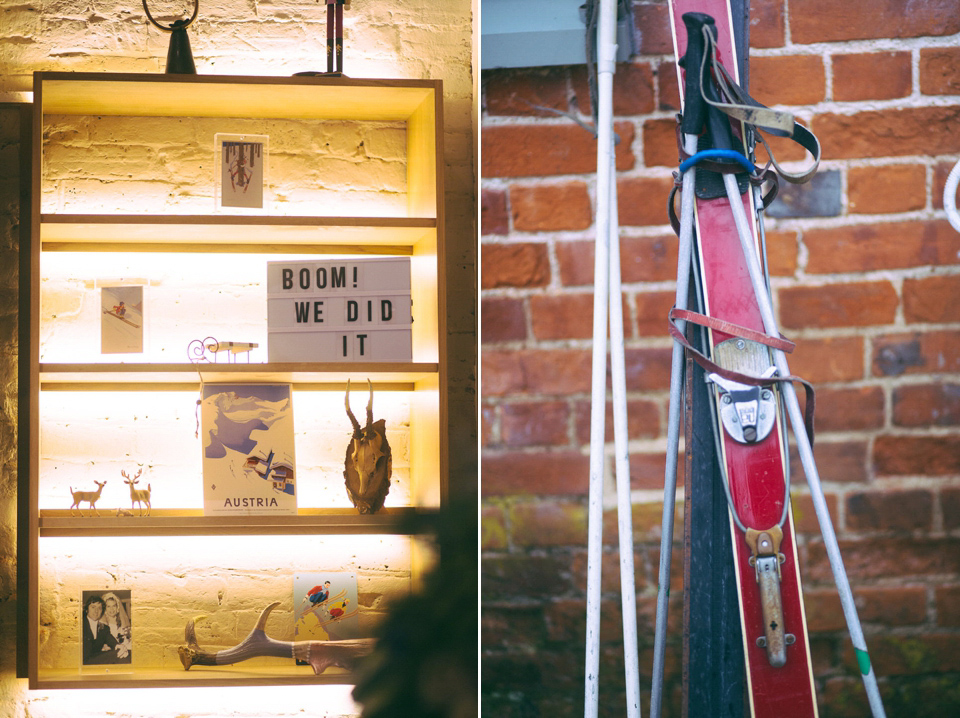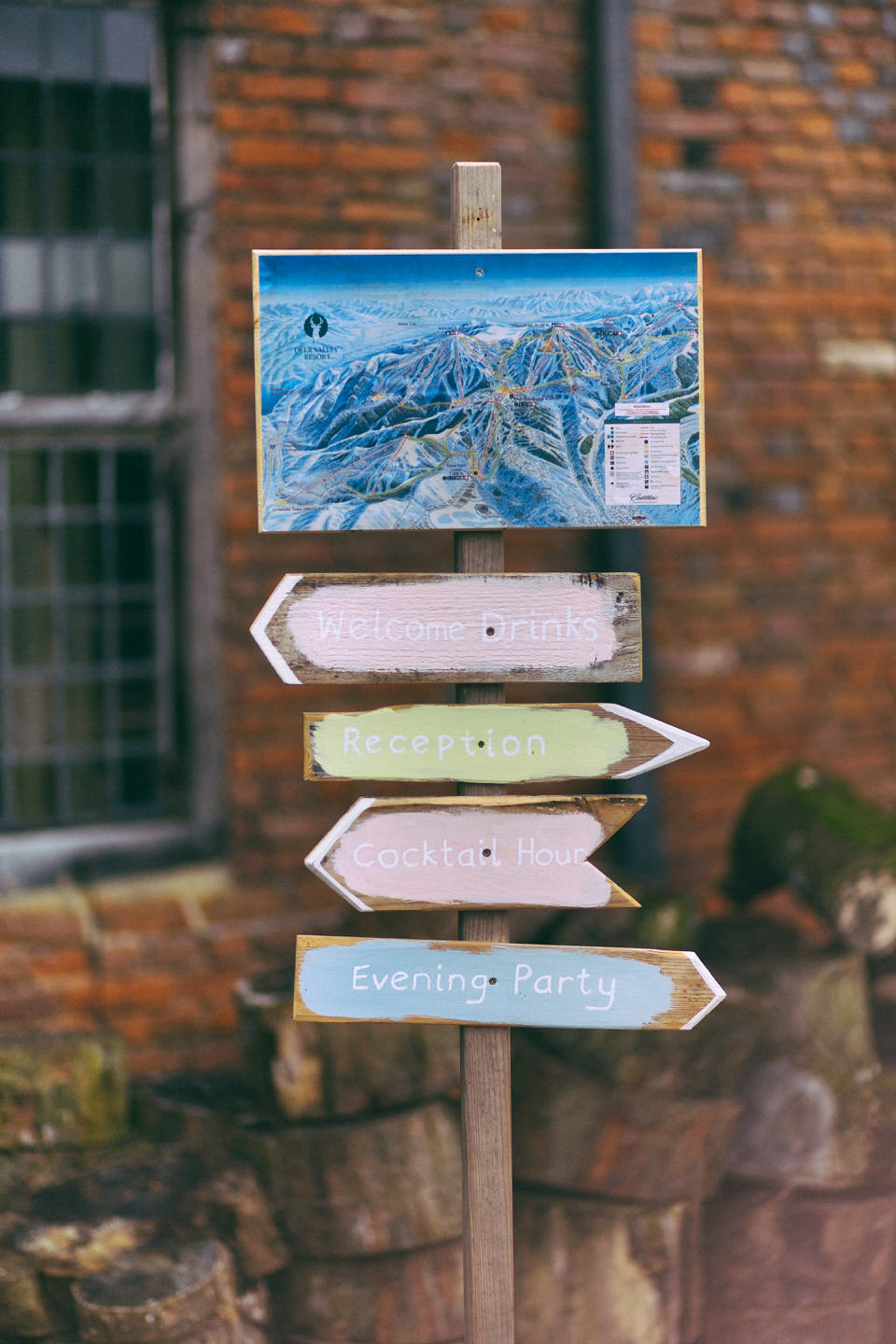 "We worked with Christina at Absolute Taste, a London based company who manage events for Dorney Court. We really cannot speak highly enough of the team, who worked so hard from start to finish to make sure all our dreams were realised."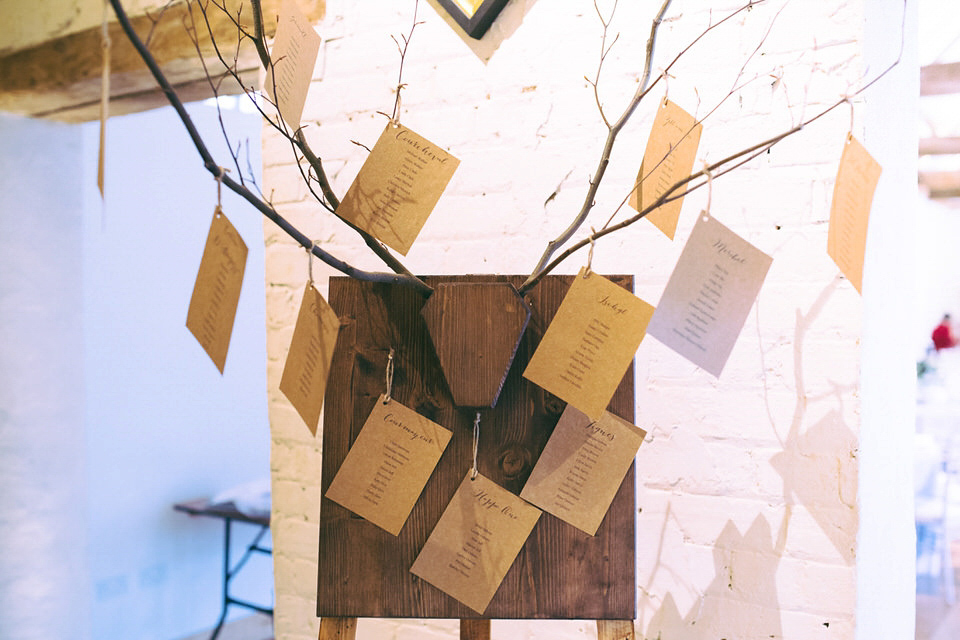 "Brad's favourite moments were being announced as Mr and Mrs and walking into the wedding breakfast to see all our friends cheering and smiling, and the rendition of American Pie he performed with his dad at the end of the night."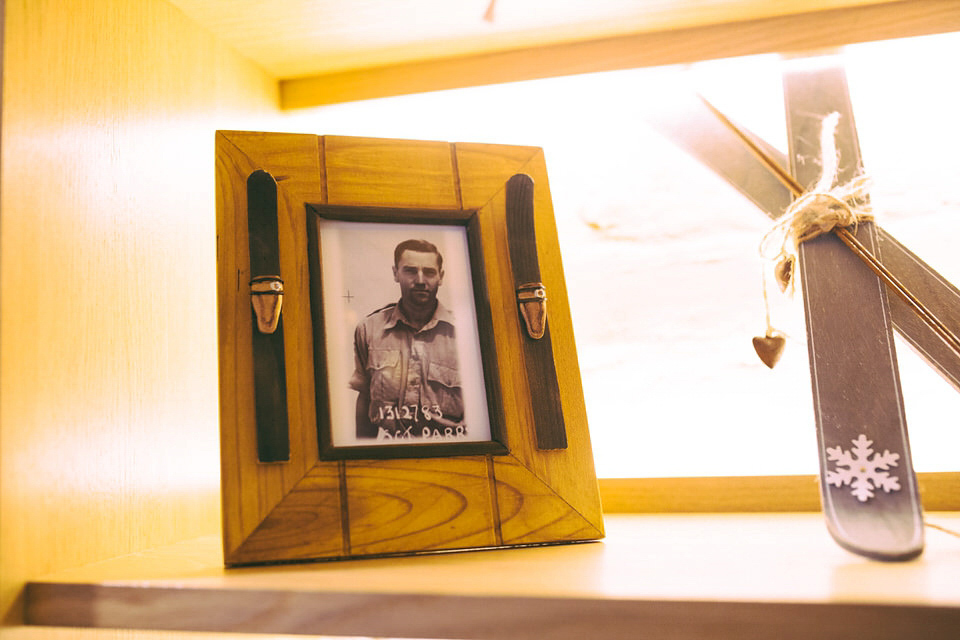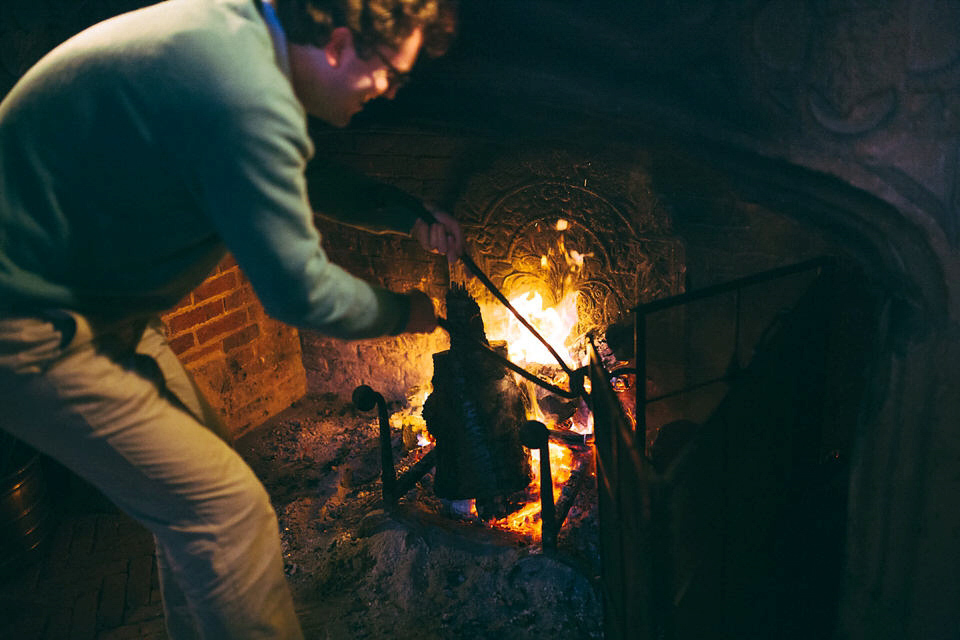 "We wanted to make sure everyone was well fed and had plenty to drink, and Absolute Taste, did a superb job, providing a delicious menu which all our guests absolutely loved. The highlight of the day for many of our guests was the cocktail hour after dinner, where we took a breather before getting into the party to return to the great hall for lychee martinis, dark and stormy cocktails beside the fire and to make the most of the whisky bar that Brad had kitted out for the evening.
Christina was really open to all of our ideas and worked so hard to make sure that everything turned out beautifully."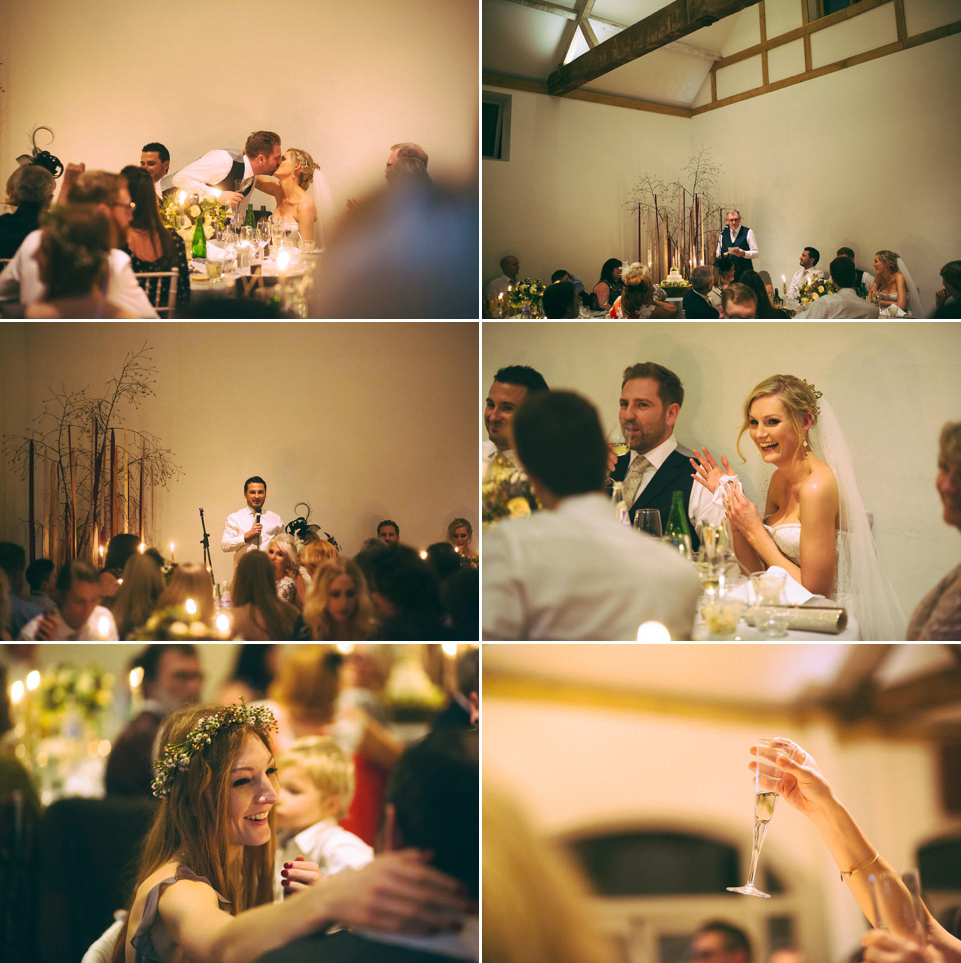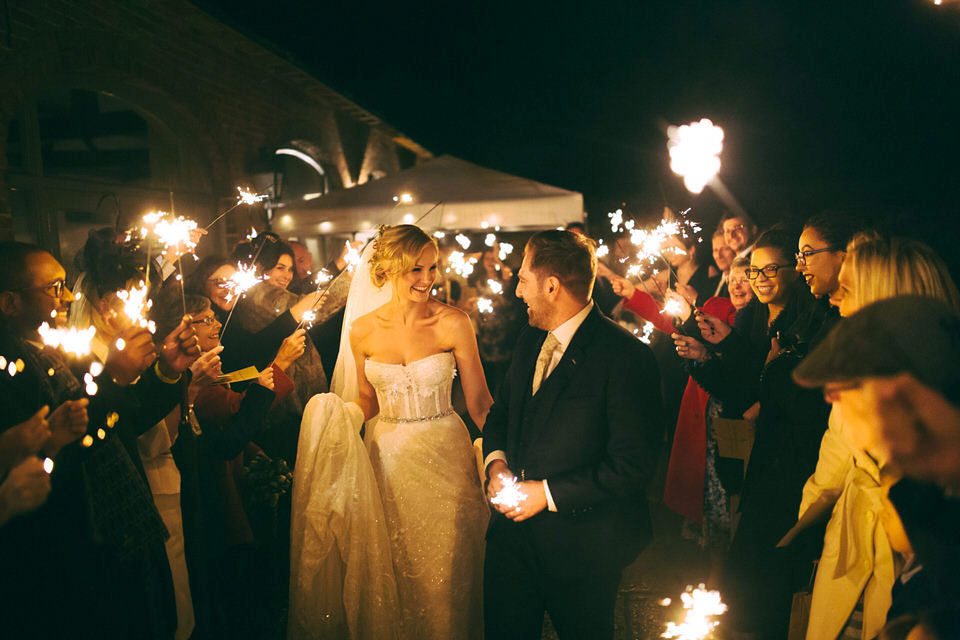 "We had so much fun choosing and making decorations for the venue. My dad helped me build a table plan using branches styled to look like antlers, as well as a handmade wooden signpost including a piste map to welcome guests when they arrived. I spent a wonderful weekend with my sister and 3 year old nephew crafting place name holders out of walnuts dipped in glitter and painting antlers which we bought from Ebay."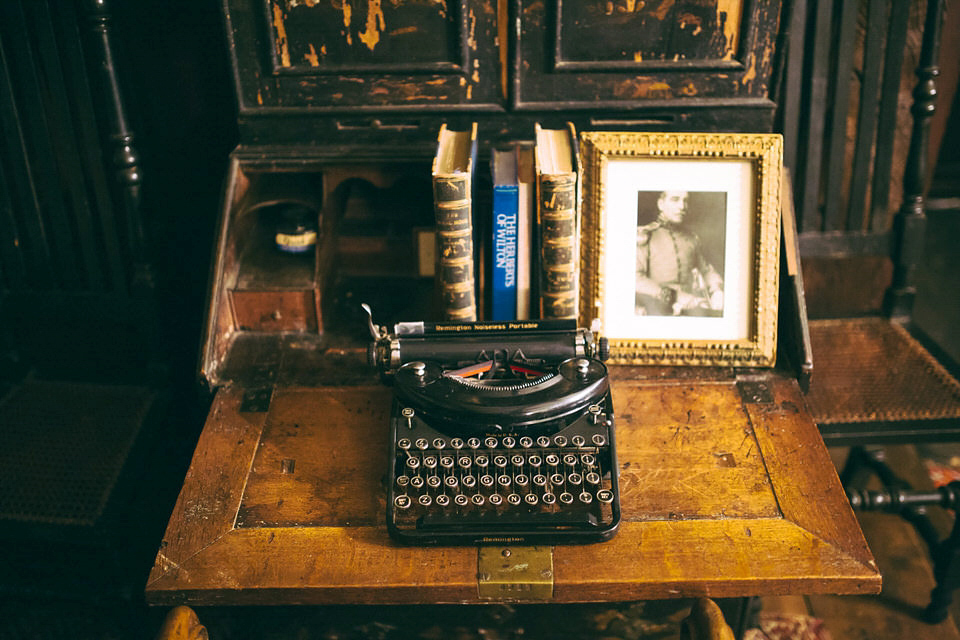 "Our wedding cake was from Marks and Spencer and was decorated with fresh flowers by Christiane of Honeysuckle Flower Co. We also ordered in several trays of mini cupcakes from my favourite London cupcake store, Crumbs & Doilies. Both were delish."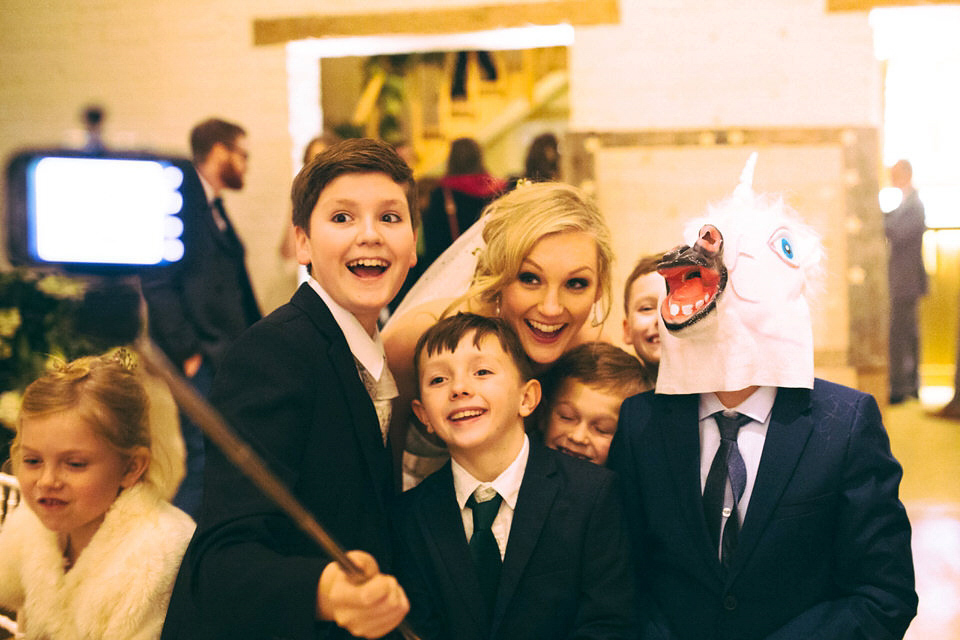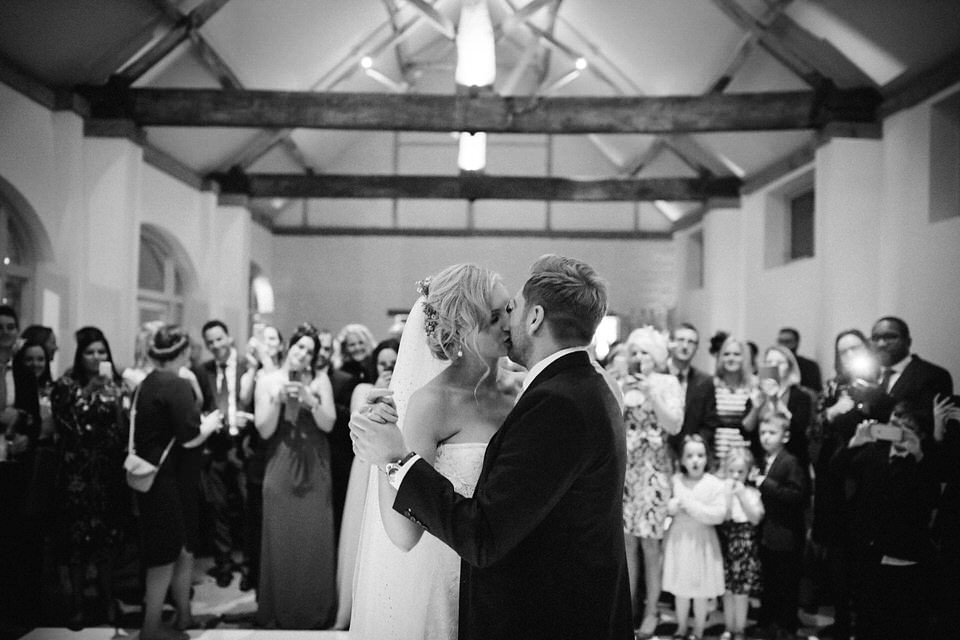 "We recruited my brother and uncle to put together great playlists for our welcome drinks and cocktail hour, with a soundtrack of all my favourite late 60s and early 70s rock and folk music for the day and a speakeasy jazz feel for the cocktails which worked perfectly. Our evening entertainment was courtesy of The Blame, a Manchester based band with an awesome repertoire of rock, motown and indie music from the 50s through to the 90s and everything in between. We'd seen them at another wedding and they were so great throughout the planning process and on the day. It was amazing seeing everyone up dancing and having such a great time!"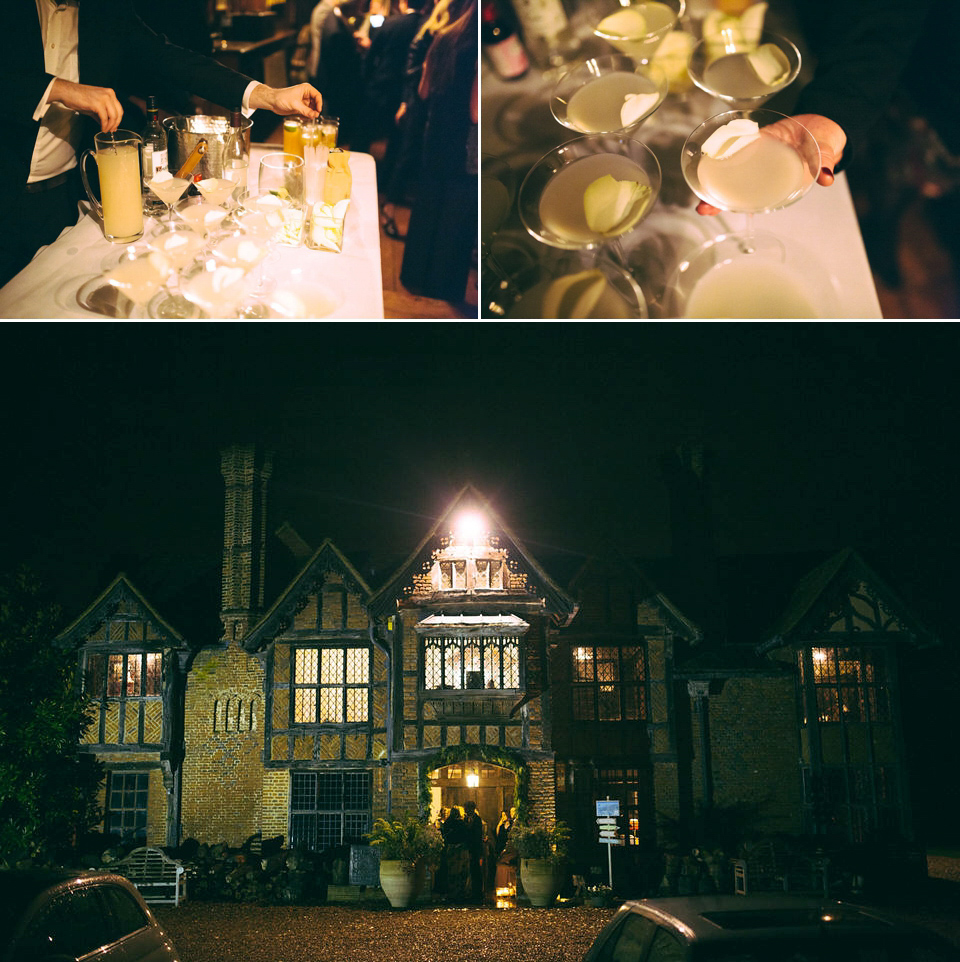 "I knew that with the tightly boned corset and super long train of my gown I would want to get changed by the evening, so chose a dress from Self Portrait, a brand I love for their modern, clean reworking of classic shapes and embroidery. I got loads of compliments on the dress and it gave me the freedom to really get involved with the party."
Words of Wedded Wisdom
"Be kind to yourself, both throughout the planning and on the day itself. Whatever your size, style or looks, being in love and being yourself will make you a beautiful bride, and the best weddings are those that are filled with love and fun, so don't doubt worry about the details, be proud and comfortable in your body and all the things that make you you, and enjoy getting excited!
So many people told me how fast the day goes, but I was lucky enough to have a private yoga session a few days before the wedding, where my amazing teacher told me to remember to be present in every moment and to be grateful throughout the day. I was able to really take everything in and the pace of the day was perfect as a result of remembering to do this (and not just because we took the party back to our hotel until 3am!). The gods of mischief will always have their way and things will go wrong but you will be so happy they just won't matter. Remember why you're there, spend time with everyone and if you feel stressed or anxious, breathe and focus on being present."
"I spent every morning and afternoon coffee break at work perusing Love My Dress, ooh-ing and ahh-ing over the amazing weddings on the site (and getting some very reassuring advice from the team and the Lovettes). What I love most about Love My Dress is that whilst it's a goldmine for ideas and a great place to find suppliers, at its heart it will always be about the things that matter most; celebrating couples as they take this incredible step together and sharing their joy, their love and every bride's natural beauty and unique sense of style. I will definitely continue to read it and love it now our big day is over!"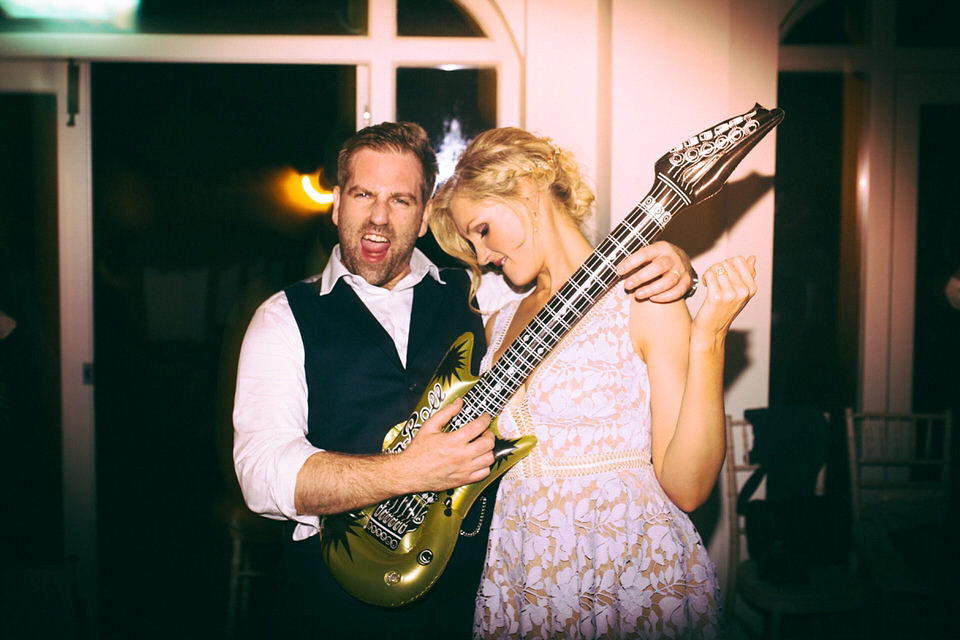 Oh Lou – what a wonderful, fun, glamorous, gorgeous wedding – everything that Love My Dress represents and this wedding does our beloved little wedding blog so proud. Thank you so much lovely lady for letting us share your beautiful day.
Readers, I cannot rave about photographer Joseph Hall enough – he is such a nice guy (yes, I have met him and spent several days in his company on a workshop actually!) and I truly love his work. If you'd like to see more of Joseph's photography on Love My Dress, click here.
Have a lovely morning,
Love Annabel x
Photographer – Joseph Hall
Film – The Costa Sisters
Stylist – Catering – Absolute Taste
Venue  – Dorney Court, Windsor
Wedding Dress – Kobus Dippenaar via Morgan Davies Bridal
Veil + Accessories – Kelly Spence
Shoes – Carvela
Perfume – Noir by Tom Ford
Groom – King and Allen
Bridesmaids – Emma Louise Design of Ascot
Flowergirls – Monsoon
Page Boys – Zara + Mrs. Bow Tie
Florist – Honeysuckle Flower Co.
Cake – Marks & Spencer
Transport – London Legend
Rings – Anne Sportun
Stationery – Project Pretty + Ebay