Happy Saturday ladies and gentleman. It's been a most wonderful week so far, I've learned to create films, enjoyed the sunshine, spent time with best friends in London, finally got my head around Snapchat and enjoyed a touch of quality time with my children ahead of being away from home this weekend so that I can attend the launch of the brand new collection by 'Lyn Ashworth by Sarah Barrett'.
I'm shifting my focus a little for today's post and am going to be talking about the wedding gift list.  It's quite confusing for many newly engaged couples to know what to do about gift lists. Many of you I know can feel awkward about asking for or accepting gifts, when most of you already have everything you could actually need. The concept of saving for the bottom drawer has died a death over the past quarter century as most couples these days choose to live together before they tie the knot, and 'asking for things' can feel weird, cheeky – and rather presumptuous, I know. But you know what folks – here's the thing. All if not most of your guests, family and friends will really *want* to buy you something for your wedding.
Let's be honest – most people take pleasure in gifting – it's one of life's lovely things – a simple gesture of kindness.  Your wedding guests are no different. In fact, they provide the model example of people who want to gift for genuine, loving reasons. And here's the other thing – all if not most of your guests, family and friends will really appreciate you providing them with a little guidance on what to gift you with. It will help them save time, money and faff in their busy lives and it will ensure you receive something of genuine value. And this is where brilliant, tailored services like Prezola step into play.
[fve]https://www.youtube.com/watch?v=cAsl6t4gAiA[/fve]
Prezola is the UK's leading, independent wedding gift list service – a service who has helped literally thousands of couples since their launch in 2010. You can read more about the lovely couple behind this brilliant concept, Ali and Dom Beavan, right here.
Their site is sophisticated yet simple to use and makes the task of browsing for things that you love and desire a genuine pleasure. This I know, because in preparation for this feature, I decided to test out the Prezola website and list-building service myself, and I was most genuinely impressed with my experience.
Once I'd set up my account so that system had all my essential details (pretend wedding date and all), it took no time for me to get into the swing of things and suss out how to explore, locate and more importantly keep safe those items I loved by adding them to a special gift list.
The other lovely touch that I really appreciated was the arrival of this helpful welcome pack in the post just a couple of days later.  I love receiving post – emails fill my inbox in a 'fit to bursting' fashion every day, so snail mail is a longed for antidote at times, and especially when it contains something personal.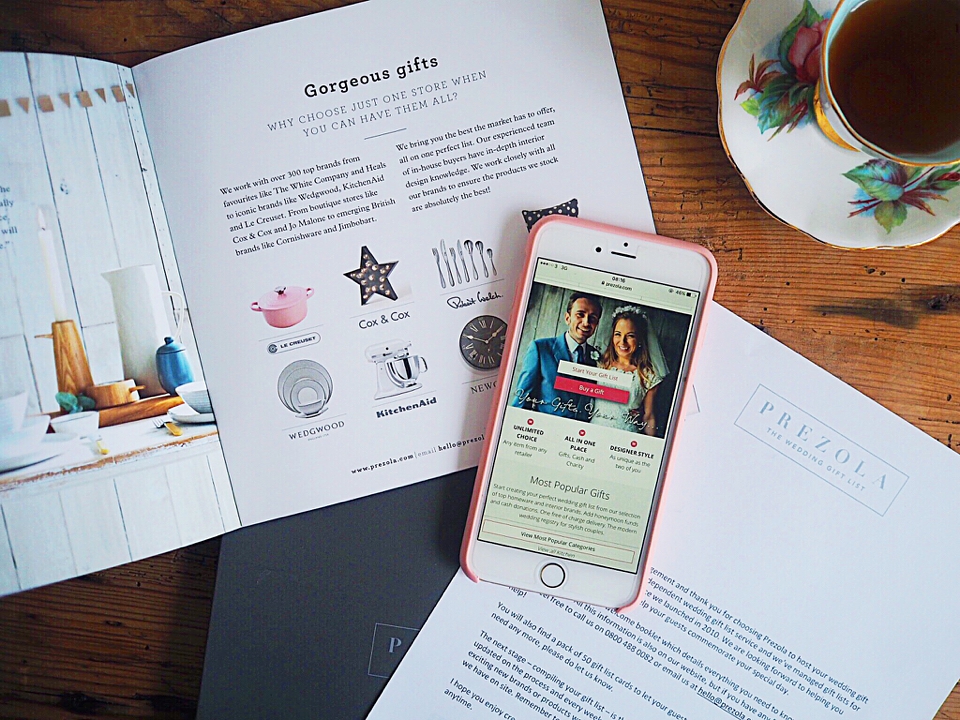 The pack contained a lovely welcome, a really useful booklet outlining the way Prezola works and even a pack of 50 gift list cards for me to let me 'imaginary' guests know about my Prezola gift list (and a sweet note letting me know I could ask for more if I needed them).
The process of actually compiling the gift list was actually a lot of fun and I really enjoyed being able to discover charming and covetable new items that I longed (I mean 'long'!) to fill our home with. Products are very helpfully grouped into eight main categories as so; Kitchen, Tableware, Bed & Bath, Home Décor, Electricals, Outdoors, Travel, Honeymoon Fund, Cash & Charity – with a number of useful sub categories too. Note the 'Honeymoon Fund' and 'Cash and Charity' options – meaning there are avenues to explore for those couples who really would prefer not to ask their guests for physical gifts.
I thought it would be fun to share some of the items on my list with you today to help encourage you to test the service out for yourself and consider it as a really helpful, sensible, efficient, organsied and FUN method of dealing with the whole 'what do we do about wedding presents' conundrum.
So here are some of my faves – in no particular order at all.
I loved this Willow 4 person blue tweed hamper – we've not long moved into our new home and this year we plan to do the whole 'staycation' thing as we work on renovating and decorating, enjoying our beautiful garden and field and the surrounding North Yorkshire countryside over the summer months. This would a perfect way of enabling us to grab and go quickly and enjoy a picnic in style if we fancied it.
Willow 4 person blue tweed hamper
Wedding season has kicked off now and so from a very selfish perspective I suppose, I couldn't help but spot these amazing Bang & Olufsen wireless headphones. I'm an avid Podcast and Radio 4 Womans Hour listener, so these super luxury headphones would be absolutely perfect for me whilst away from home. But these are luxury headphones – so I'd be sharing with my husband of course 🙂
B&O Play BeoPlay H8 Wireless On Ear Headphones
I've lusted after one of these Rose & Grey Retro Barber Boards for a long time now. I just love the cool, retro vibe of this design – our little girls would love it too.
Rose & Grey Retro Barber Board
We moved into a gorgeous stone built house at Christmas – the interior of which we completely need to gut and start afresh on. And because the house is built with stone, it can get a little colder than centrally heated houses (we have an oil tank and a log fire). So I'm always looking out for warm, stylish blankets to rest over the edge of the sofa or to leave for guests. I really loved the look of these Nkuku Lambswool Throws in Oatmeal.
Nkuku Lambswool Throws in Oatmeal
I've mentioned already that we plan a 'staycation' this year and to make the most of our outdoor situation, we plan on 'prettying up' the garden – think bell tents, moroccan rugs, warm blankets and lanterns and these gorgeous little festoon lights hanging in the trees 🙂
Cox & Cox Festoon starter kit (9.5m)
Talking of lights, we're in desperate need of a floor lamp in our living room, and I truly adore this film-set style lamp
Culinary Concepts Wooden Tripod Floor Lamp
Our children are now aged 5 and 10 and both of them have been brought up on Bowie music, so I know the whole family would love this fun, pop art style Bowie print to be hanging somewhere in the house. I'm guessing the kitchen or dining room might be a nice idea.
Bold & Noble Bowie Print
There were way too many lovely Wedgwood china mugs  to choose from, so I kind of picked them all… 🙂
Wedgwood Archive china mugs
The White Company's breakfast in bed tray would be a much used product in our household on a Sunday morning – perfect for balancing my healthy porridge and cafetierre whilst I read through my favourite blogs on my iPad.
The White Company's breakfast in bed tray
And finally, just to round up my choice of lovely lovely things to 'ten', I am lusting over literally all of the Niki Jones soft cushioning. Damn you Prezola. Can I just buy all these beautiful things for myself? Maybe a 'vow renewal' or second wedding isn't really that bad an idea after all?
Thank you so much Prezola for this opportunity to review your services. I've really enjoyed the experience very much indeed – you certainly get a very firm 10/10 from me!
Readers –  you can learn more about how the Prezola wedding gift list service works yourself here and there's a really useful FAQ section here too. You will also find Prezola over on Facebook, Instagram, Twitter and Pinterest.
Have a jolly lovely Saturday,
Annabel x
This is a sponsored post