Hello you lovely lot! Now I know it's only Tuesday, which feels ungraciously far away from Friday, so make yourself a massive cup of tea (or coffee if you're more grown up than me), slice of cake optional (only joking, cut a bigger bit) and prepare for a great big cwtch from today's wonderful Welsh wedding. 'What's a cwtch?' I hear you say – well I've watched every episode of Gavin and Stacey enough times to be reliably informed that a cwtch is in fact a massive cuddle.
Meet the lovely Ricky, a Surveyor, and Nicole, a Paediatric Doctor and our gorgeous Welsh bride. The couple tied the knot in a beautiful pastel-toned wedding on 30th August 2014 in the Brecon Beacons, incorporating Nicole's favourite colours of seafoam green, peach and coral. Now doesn't that sound like a pretty gorgeous pantone palette. No fewer than three of our Little Book for Brides darlings and totally brilliant suppliers – Stephanie Allin, Freya Rose and Debbie Carlisle, made up Nicole's beautiful bridal ensemble. These beautiful photographs were taken by the very talented film photographer, Victoria Phipps.
"It all began with choosing my favourite colour – a seafoam green, and then matching peach and coral flowers to 'warm' the colour scheme. We found the venue, (which happened to have a similar colour scheme in the reception room) then my dress, which had a similar vintage feel, and then everything else fell into place."
Photography by Victoria Phipps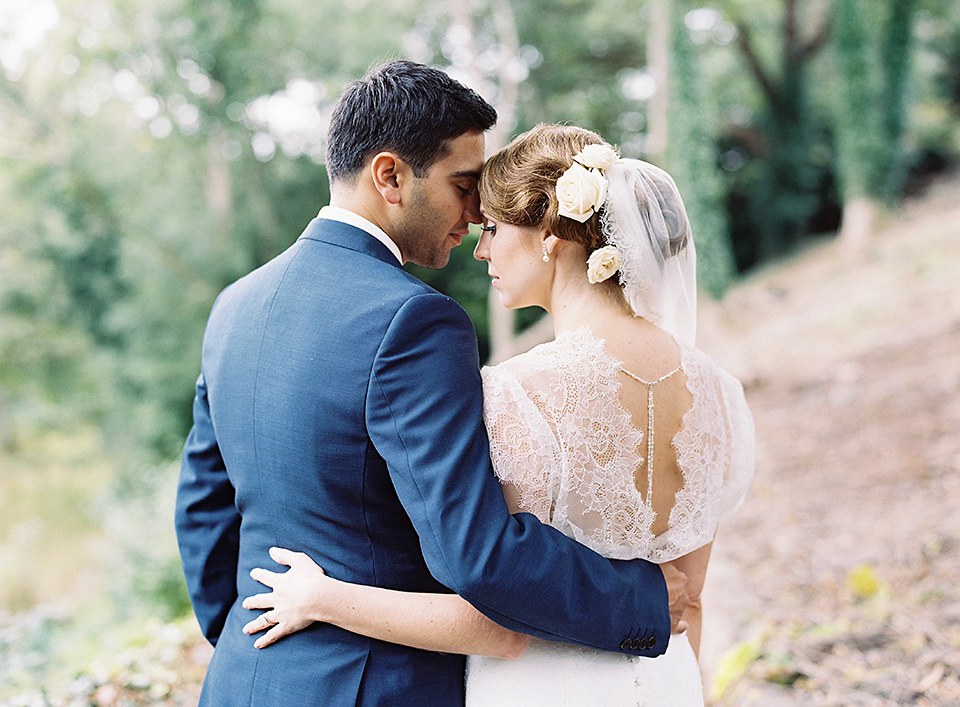 "Although we live together in London, we quickly decided that we wanted to have a traditional Welsh wedding. After looking at several venues in South Wales, as that's where I am from, we chose Petersone Court. It immediately ticked all the boxes; beautiful setting in the Brecon Beacons, gorgeous Georgian reception room, delicious food sourced from a nearby farm and just a short walk down a country lane from a quaint, pretty church."
"We saw the range of Ghost dresses and then noticed this colour, which I loved. They offer a range of different styles and then dye each dress to order. The bridesmaids tried on a few different styles but preferred the 'Taylor' which luckily suited all four of them. We really liked the flattering panels and vintage feel of the dresses and thought they would match my dress well."
The rolling landscape and sun-dappled hills have me itching to get out of London and breathe in the fresh country air – something I always loved about studying at a University outside of a city. University was exactly where Nicole met her future husband and though Ricky passed up on a classic proposal opportunity a month into their relationship (totally alone on top of the Eiffel Tower after hours – how did this even happen?!), his London proposal was worth the wait.
"We met at University. I had already been in London studying Medicine for a few years and then Ricky switched from Leeds to King's College London in 2007 to start a Masters in something I still don't fully understand. He ended up waiting another 7 years to propose to me, although I will say that his proposal was perfect and I couldn't have asked for a nicer day. It started with a surprise day trip around London visiting our favourite places and ended with a romantic proposal with a beautiful ring. With the help of my parents, we quickly secured our dream venue and married 5 months after our engagement."
A spritz of Valentina by Valentino perfume, a gift from the thoughtful groom on the day of the wedding, Liberty In Love earrings and a Tiffany & Co. bracelet borrowed from Nicole's sister, Leah, and our girl was almost ready to slip into her 'Peace' by Freya Rose shoes.
"A friend recommended Annie and her daughter Charlotte – we had a hair and make-up trial a few months before and I loved the outcome. Annie managed in only a few short hours to do my hair, all four bridesmaids, my mum and flower girl. Charlotte previously worked for M.A.C and provided our make-up. They are both so lovely and friendly."
"Our flower girl, Sophia, looked perfect in her Monsoon dress, and at the wedding she told everyone (quite rightly) that her dress was the nicest!"
Sophia you look absolutely beautiful – there's a very good reason Monsoon are another of our Little Book for Brides listings. Sweet Sophia was crowned with fluffy gypsophila and the bridesmaids too were adorned with fresh flower crowns created by the couple's florist, Love, Lily.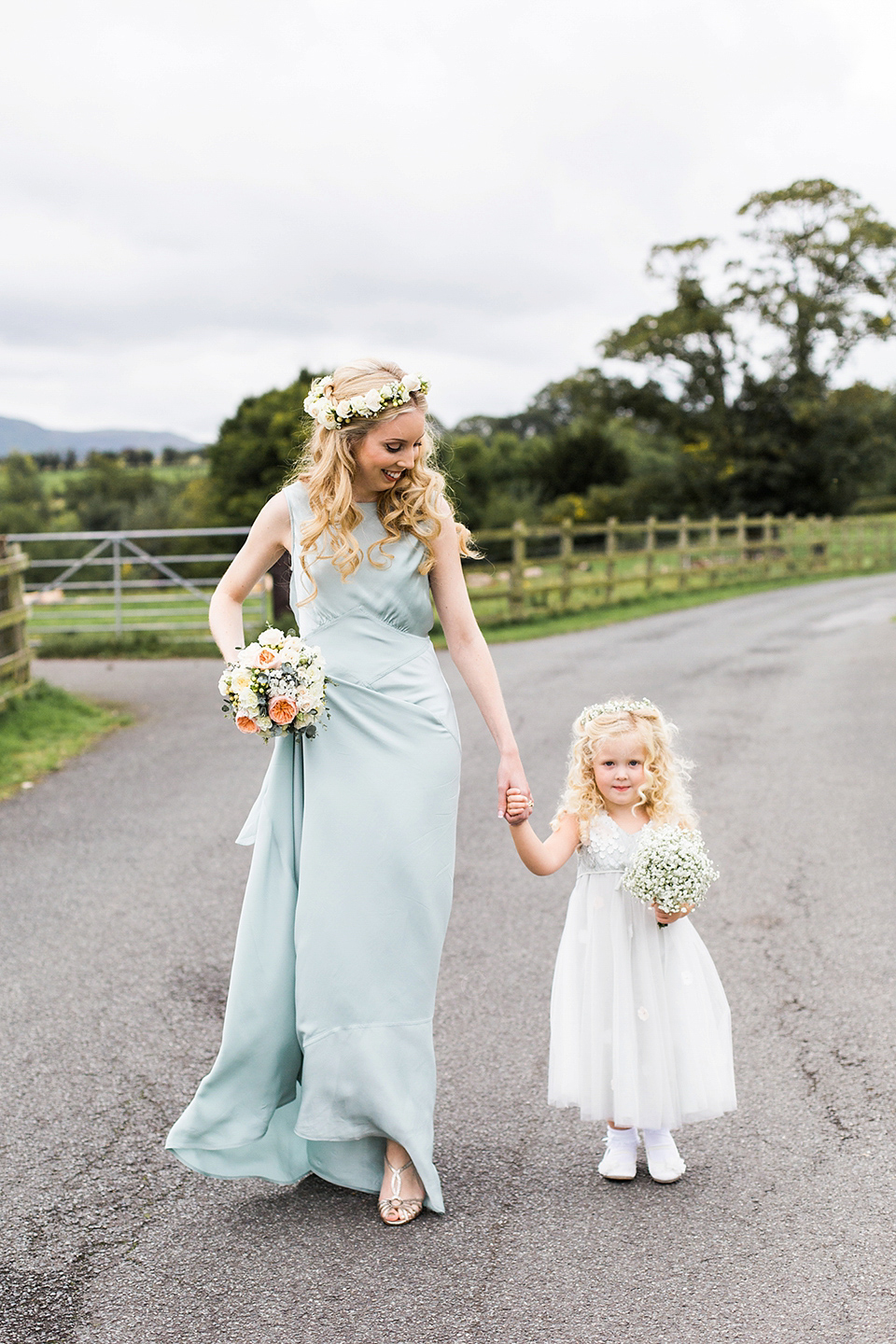 Now a bride who locks down her dream venue straight off the bat and plans a wedding in a mere five months has my utmost respect and admiration (written as I approach the 13th month of our engagement, ie. about halfway there). It really is no surprise that Nicole was just as certain about where to shop for her wedding dress: the wonderful boutique of Stephanie Allin.
 "My mother, sisters and I went to Stephanie's shop in Mumbles, near Swansea, where her studio is based. My sister had her wedding dress made there the previous year. After trying on only a few different dresses I knew I'd found the right one; I loved the back detail and beautiful delicate lace. The dress was made to measure and I really enjoyed the whole experience. My veil was also made to match by HM Veils, purchased from Stephanie Allin."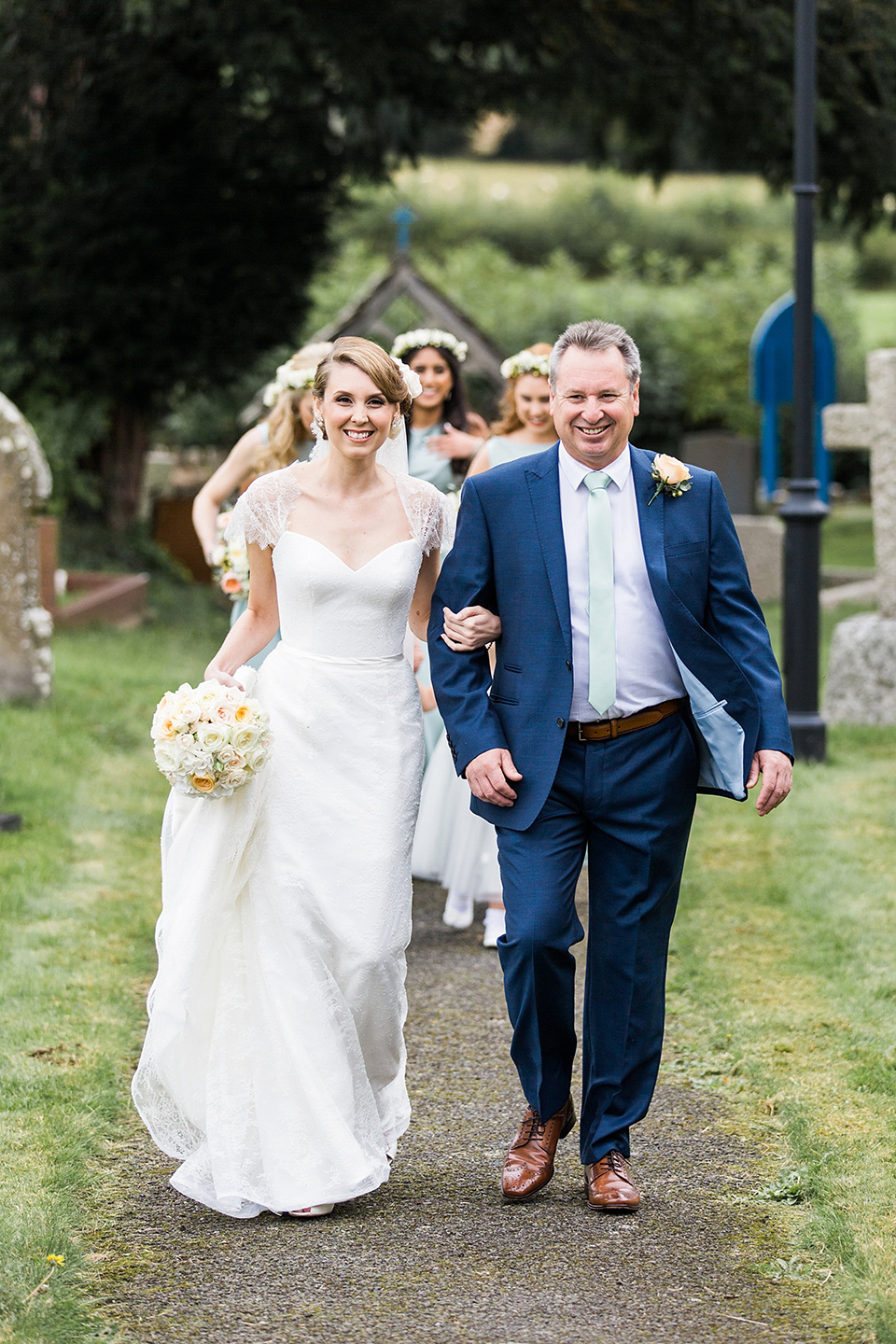 I personally believe you can NEVER have enough sweet treats and I adore the heart-shaped welshcakes baked by Nicole's mum and sisters to her nan's recipe. These cute favours were beautifully packaged in stationary provided by Paperknots, who also created the sugary-soft toned wedding stationery.
"With just 5 months to arrange everything – I'm sure I was an extremely demanding customer! Lisa was very patient, constantly replying to my many emails and produced all of our wedding stationery in a beautiful matching scheme. She even found time to create some bespoke elements just for us, including table numbers based on our ages with corresponding photos, and signage for the venue. Our invites arrived beautifully packaged, wrapped in ribbon, addressed and ready to be posted – and our guests all contacted us on receiving them to tell us how lovely they were!"
The couple asked friends Jim and Lucy to deliver a reading each, choosing the biblical Song of Solomon as well as a poem; 'Once Upon a Time' by  Kathy R. Jeffords. Here's one to bookmark if I ever saw one:
"Once upon a time, a boy met a girl, she gave him her hand and he held it tight.
Together, they set off down the unknown path in front of them.
Sometimes they walked slowly; sometimes at a quicker pace.
Sometimes they ran so fast it felt kind of like flying.
Whenever he lost his footing, she steadied him and whenever she tripped, he helped her back up.
Whenever she grew weary, he'd carry her.
Sometimes they didn't know which direction to go, but though they would occasionally lose their way, they never lost each other.
They wandered contentedly and lived happily, forever and always side by side."
"Ricky had been put in charge of finding an instrumental version of Lana Del Ray's 'Videogames' for us to walk out to…but as we got up from signing the registry to leave the church, a Bhangra song by Punjabi MC came on the speakers and of course everyone had a good laugh at seeing the shock on my face."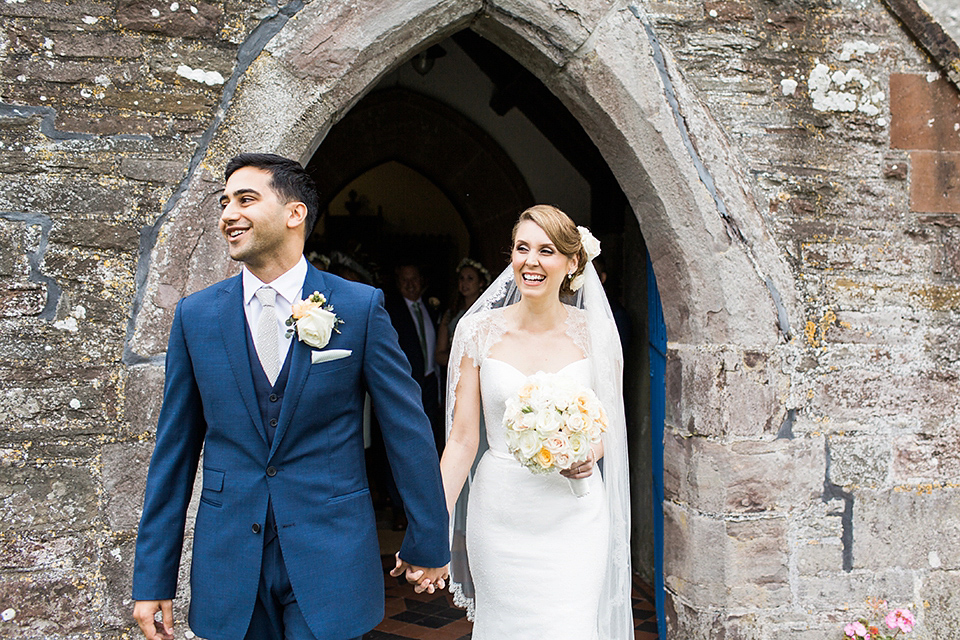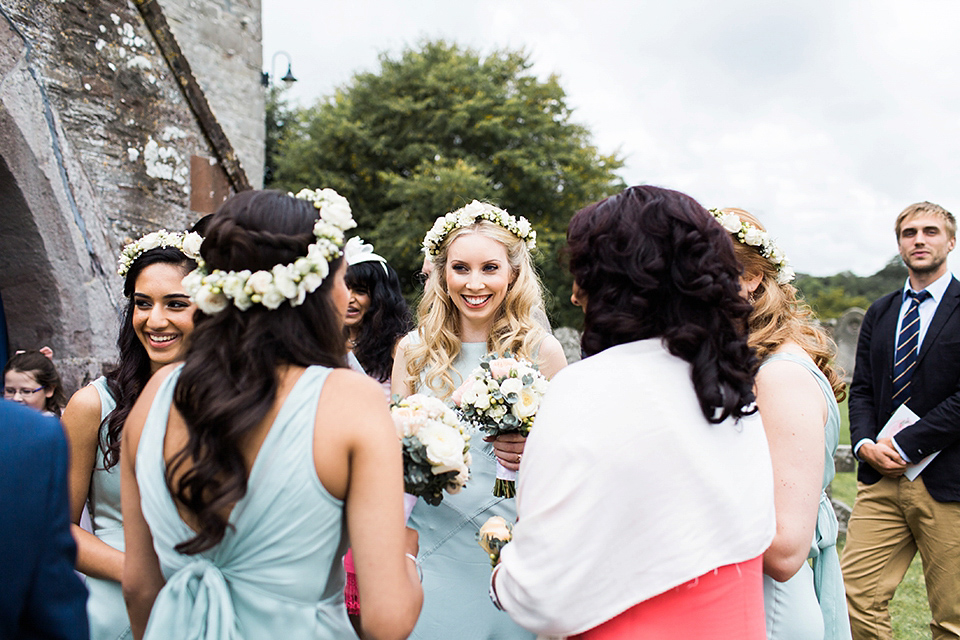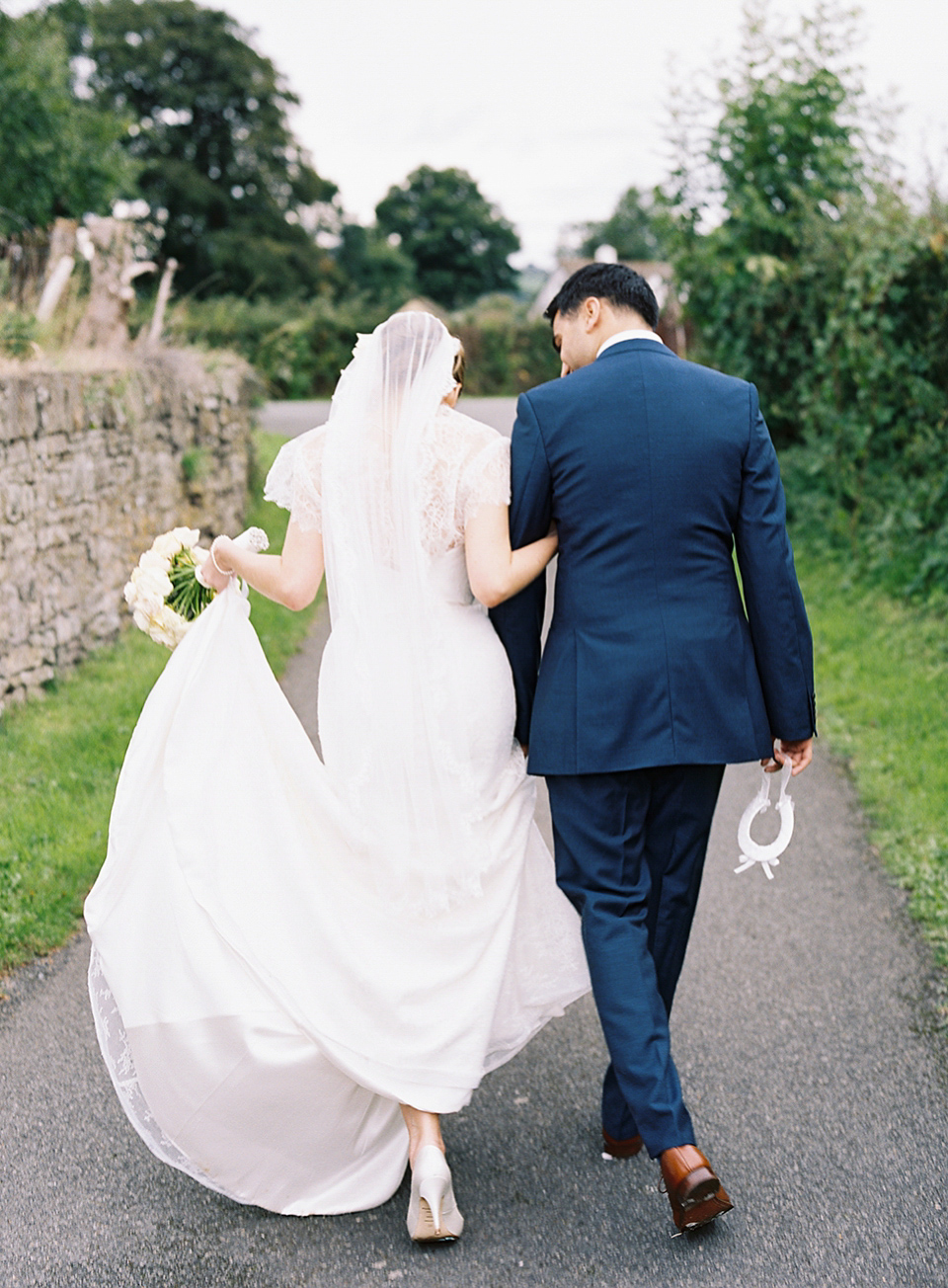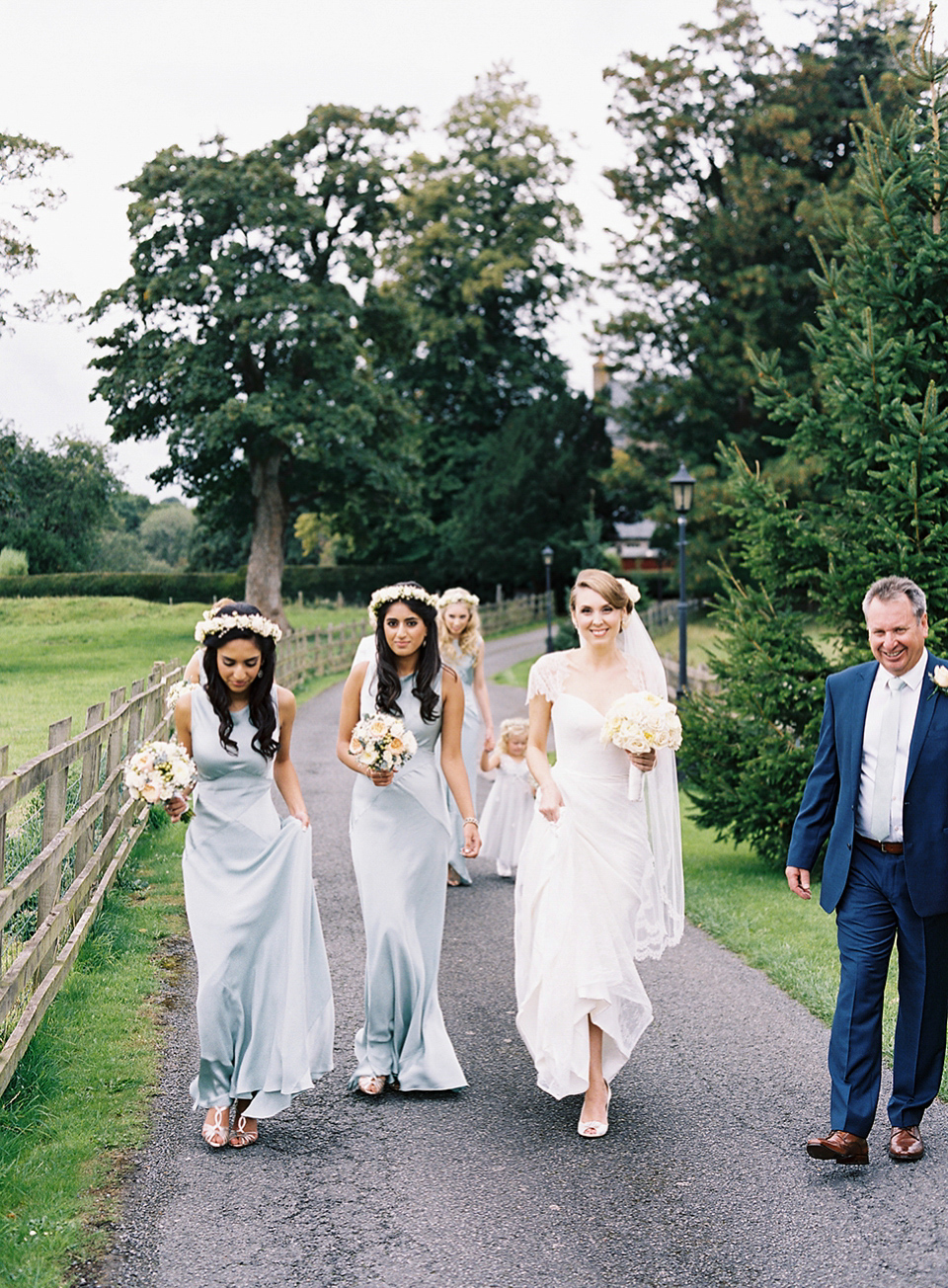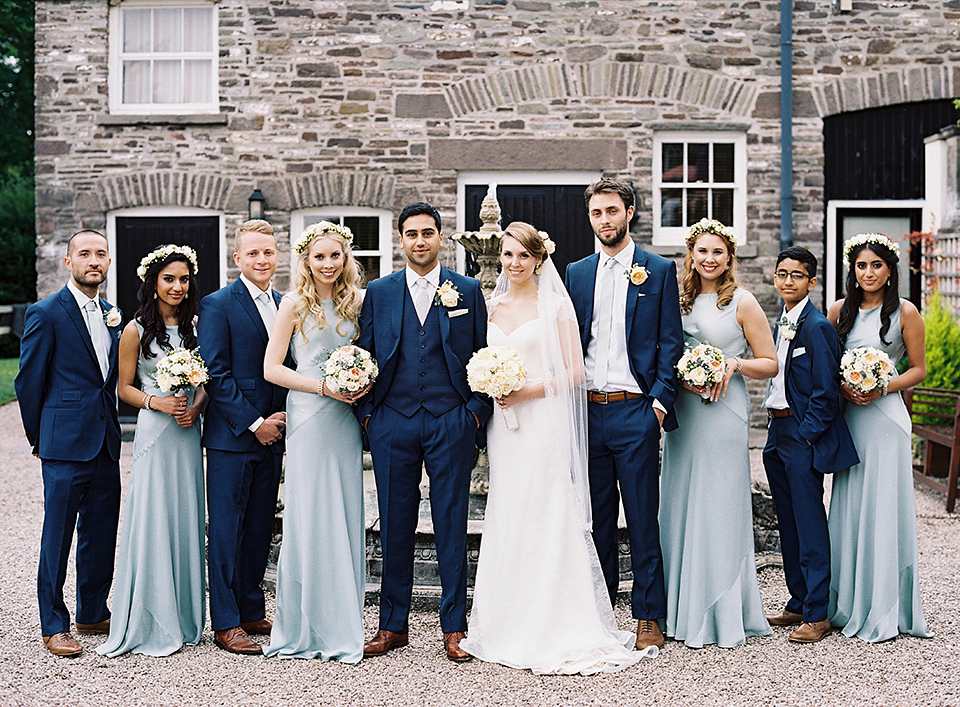 The lovely, light-filled images you see before you were captured by Victoria Phipps Photography. I love how Victoria has focussed on the soft pastel tones throughout the day, not to mention the intricate lace detailing of Nicole's dress.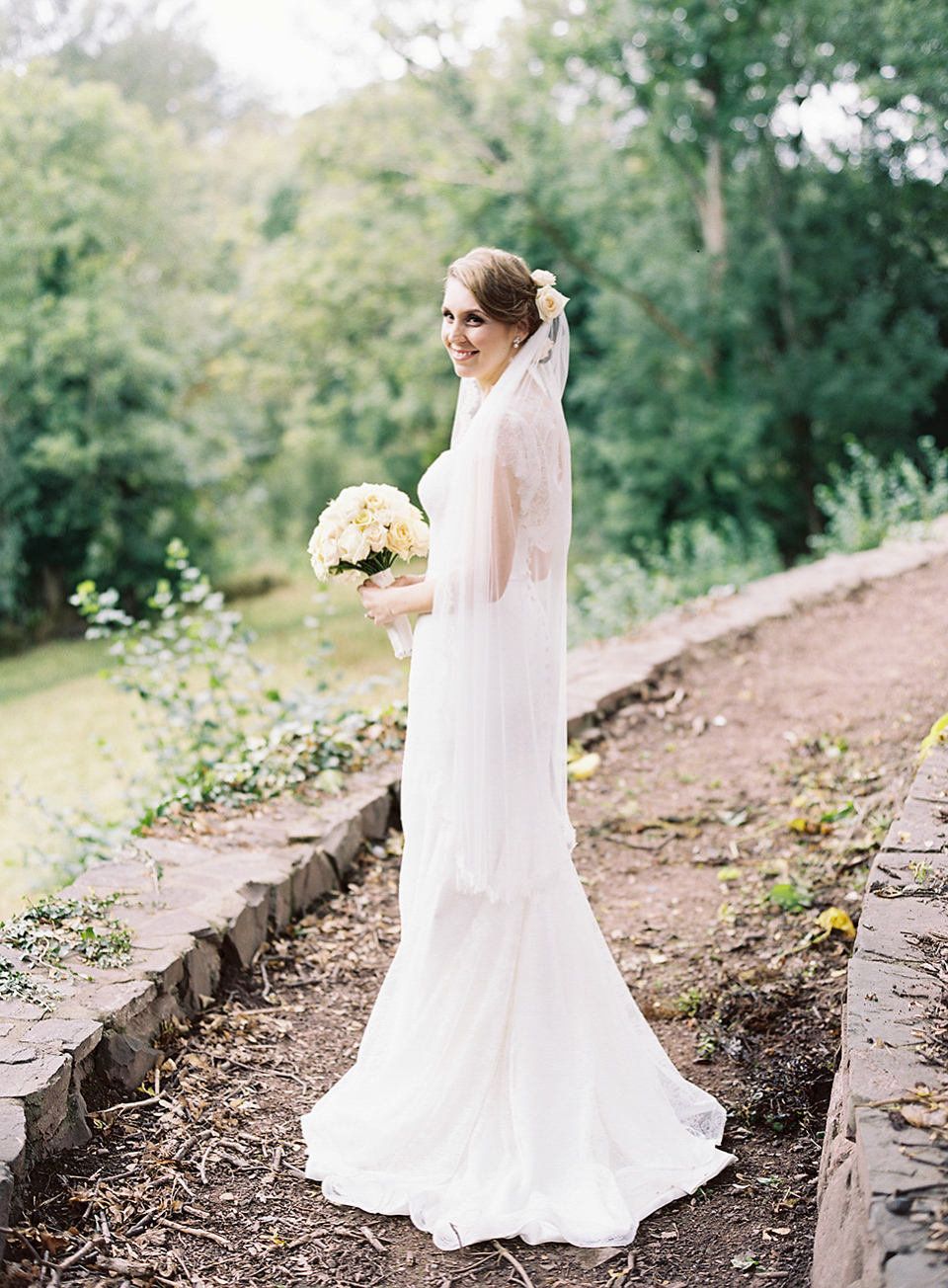 "When we first started speaking to Victoria about our ideas, we knew that we had picked the right person. She instantly made us feel really comfortable and shared our excitement about the amazing potential that Peterstone Court has for photos. Victoria and her lovely assistant, Angharad, fitted in well with our guests and were just really fun to be around."
"One of our most treasured memories of the day was just after the church ceremony, when we left the crowd for a short time so that Victoria could take our portrait shots. Despite this being a really surreal and new process, Victoria made us feel completely at ease and it ended up being one of our favourite parts of the day and one of the few times on the day we spent time 'alone'."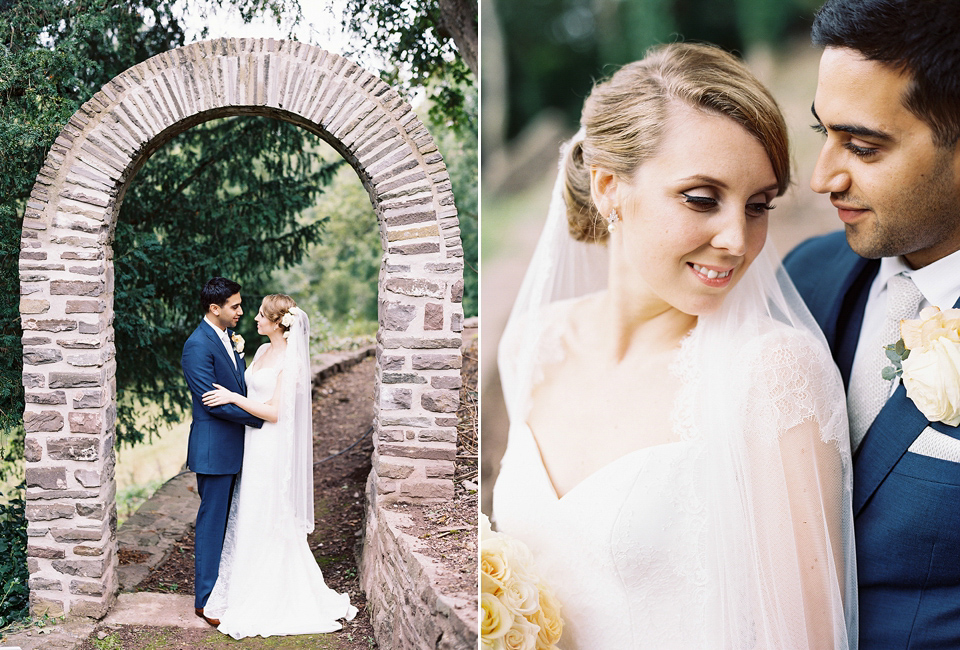 Don't Nicole and Ricky just look utterly blissful? I love the subtle pop of colour from Ricky's suit against his bride's gown and their lusciously green surroundings. Ricky accessorised with a Marwood tie and a Reiss pocket square, and he and his boys all wore suits from French Connection, found at an outlet for a purse-friendly price.
"As the suits were such a steal – Ricky then splurged on his accessories. His Crockett & Jones brogues from Liberty, were more expensive than my shoes!"
Oh Nicole, I feel your pain! My fiancé is currently on a strictly imposed shoe ban as his collection is creeping further and further into my side of our wardrobe. The groomsmen were gifted their suits as well as ties and pockets squares sourced from Etsy to match the bridesmaid's dresses. Dresses, I might add, that are absolutely blooming gorgeous in the most delicate shade of dusty green, set off beautifully by Dune shoes and jewellery from Accessorize.
"The venue recommended Love, Lily to us. After looking at all the recent weddings they've done I was completely sold. My mum and I went to meet Emma in the gorgeous shop in Abergavenny – she was so organised and understood straight away exactly what I wanted and made some great suggestions when I was unsure. We were so happy with the bouquets and hair circlets!"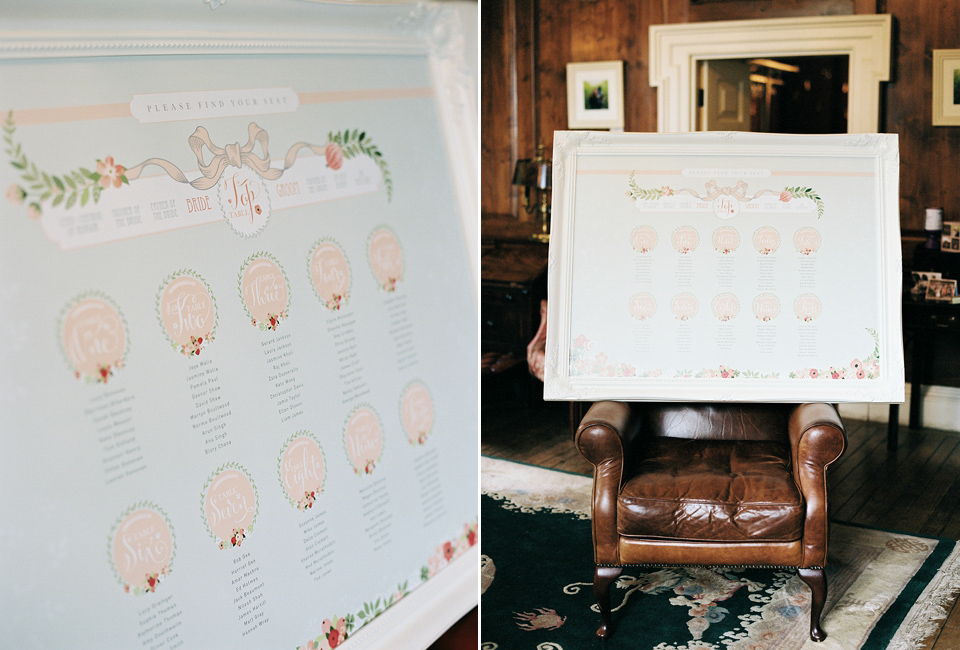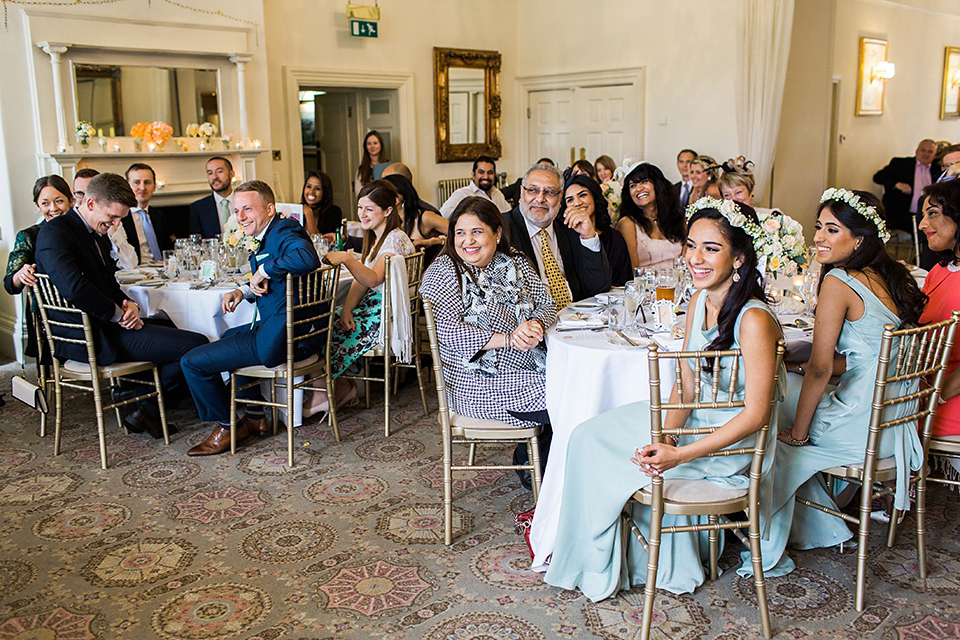 The reception room was decorated with peachy blooms, illuminated giant letters from Aisle Hire It, and Nicole framed photos of the couple's parents and grandparents weddings, which were a special talking point.
As the guests arrived at the gorgeous Georgian splendour of Petersone Court, they were also greeted by a magnificent blue-green and peach cake provided by Cotton & Crumbs.
"I chose a cake called 'Borrowed Blue' from the website and Tracey kindly allowed us to change the colours to match our theme. Each layer was a different flavour and they were all absolutely delicious! Unfortunately Tracey was busy delivering to another wedding on the same day as ours so Ricky had to make the journey from Birmingham to Brecon with the cake in his boot – but it arrived in perfect condition (after a 5 hour journey in the slow lane, or so I'm told!) Our guests all commented on how lovely the cake looked and tasted."
"It is very difficult to name just one part of the wedding as my favourite as there were so many special moments dotted throughout the day. If I had to name one, it would be looking around the room and seeing all our friends and family laughing and getting involved in the wedding speeches. During our reception, we'd made the decision to stagger the speeches in between each course and allow ourselves some time to walk around and speak to our guests before the next course was served. This allowed us share all the jokes and  reactions, rather than feeling separated at the top table for the whole meal."
"Instead of having a traditional first dance we wanted to include our families, especially as my grandparents were celebrating a very special anniversary that year. We played "When I'm 64" by The Beatles and with our friend Amar expertly compering, he invited all the married couples to the dance floor. After the first verse, he asked all couples married for 6 hours to leave the dance floor (us!), then after a minute all the couples married for 1 year, then 5 years, 10 years and so on.
My Auntie Julie and Uncle Richard were celebrating their 30th wedding anniversary on the same day so got a special mention. By the end, only my grandparents, who celebrated their 60th wedding anniversary that year, were left on the dance floor and received a massive round of applause. The photos we have of this dance are amazing and truly special to us. Jamie, a friend of Ricky's who he used DJ with in Leeds, kept our dance floor filled all night and even had his mother dancing to Notorious B.I.G at one point!"
"For the evening reception, I removed my veil and flowers – then added a hair comb and sash. Both were from Debbie Carlisle. Following a few emails, she sent detailed pictures and suggestions which matched my wedding dress and we chose the 'Rosa' comb and 'Lily' sash. Debbie was so lovely and helpful, and the items came quickly and were packaged beautifully."
Words of Wedded Wisdom
"Everyone who had got married recently told us – 'the day just goes too quickly'. We had all of our friends and family in the same place, really wanted to spend time with all of them and remember as much of this amazing day as we could. So when another friend, Rob, told us to stop and look around to absorb what's happening as often as we could, we tried to take his advice. At least every hour, we took a moment to stop and look at all the fun, laughter and love in the room, take a mental snapshot and hold on to that memory.
I especially loved looking at all the little details and finishing touches other brides had thought up and they gave me so many ideas for our own décor. It was also nice to see other weddings with a similar colour scheme to our own – again to get ideas and confirm all the elements I'd picked out would work together!"
Oh Nicole, it worked like an absolute dream of pastel-hued loveliness! That just leaves me to thank Nicole and Ricky (they've both got Instagram and Nicole's got some enviable honeymoon snaps) for sharing their beautiful day with us and a big thank you to Victoria Phipps Photography for the lovely images.
I hope some of Nicole's super organised style rubs off on me; I'm attending my second consecutive glorious weekend wedding on Saturday and I'm also the make-up artist *gulp.* I'll let you know how it all goes next week, and in the meantime I'm off to take a look at some more wonderful Welsh weddings.
Love, Em x
Photographer – Victoria Phipps Photography
Venue – Church of St Peter and St Illtyd + Petersone Court
Wedding Dress – Freya by Stephanie Allin
Veil – HM Veils purchased from Stephanie Allin
Shoes – Freya Rose
Accessories – Debbie Carlisle hair comb and sash + Liberty In Love earrings + Tiffany & Co. bracelet
Perfume – Valentina by Valentino
Groom – French Connection suit + Crockett & Jones shoes + Marwood tie + Reiss pocket square
Bridesmaids – Ghost dresses + Dune shoes + Accessorize jewellery
Flower girl – Monsoon
Florist – Love, Lily
Cake – Cotton & Crumbs
Rings – Hatton Garden
Stationery – Paperknots
Hair & Make-up Stylists- Annie + Charlotte