OK guys, I think we're all in agreement that this temperamental weather is getting slightly tedious. I'm cold, I'm hot, I've forgotten my coat, I'm soggy (I never learn). As always, we all get slightly too eager to shed our winter layers and purchase copious amounts of tea dresses before remembering this is in fact British Springtime and it is in fact raining. So, how's about we celebrate grey skies for once? Trust me, once you see the treat we have in store for you this afternoon you will never bemoan another ominous cloud again. In fact, if you are lucky enough to have snagged The Kitcheners as your wedding photographers you may well be planning a rain dance.
It is my absolute pleasure to introduce you to Charmmie and Ryan. Residing in America, the couple run their own businesses and wanted to take it back to Ryan's roots for their wedding. Deciding to askew a traditional celebration for an altogether more intimate and spiritual exchange of vows, the couple eloped and married in August 2015 on otherworldly Scottish Isle of Islay.
"We didn't want a traditional wedding – we wanted to elope so we could have a special, private and spiritual moment with just us. It gave us the opportunity to really be able to enjoy and cherish each other at the moment we exchanged vows and made a promise. In terms of planning and inspiration we just kind of went with the flow. We knew we wanted to go to Scotland because Ryan has roots there and in particular, Islay. It was perfect because it was beautiful, serene and full of lovely people and great scotch distilleries."
Photography by The Kitcheners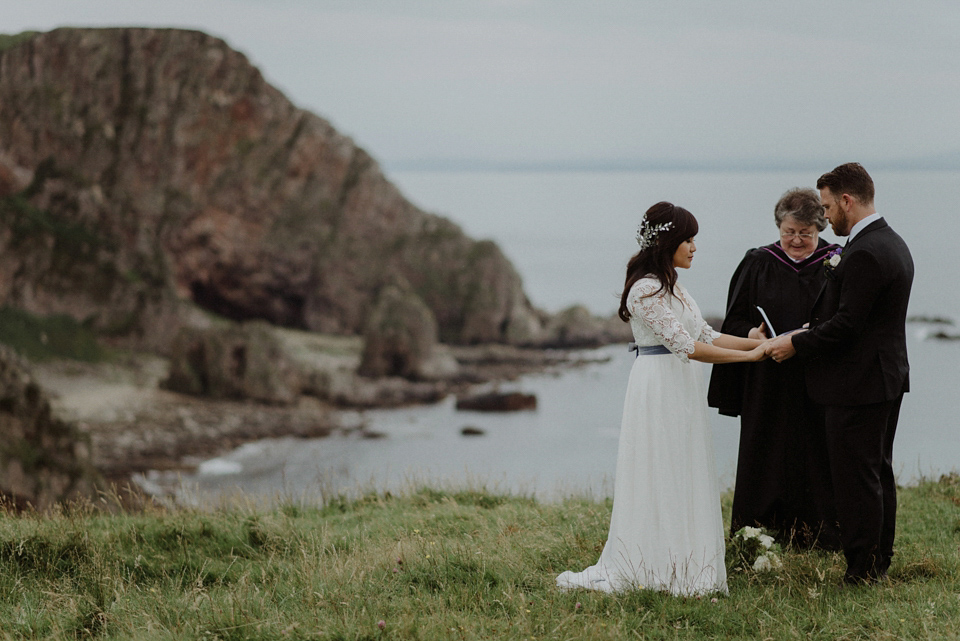 If you, like me, have been admiring Charmmie's unusual dress you may need to have a scout around in your family's attic. Made with elements of Ryan's mother's retro wedding gown, our bride designed a dress as dreamily dramatic as her chosen island getaway.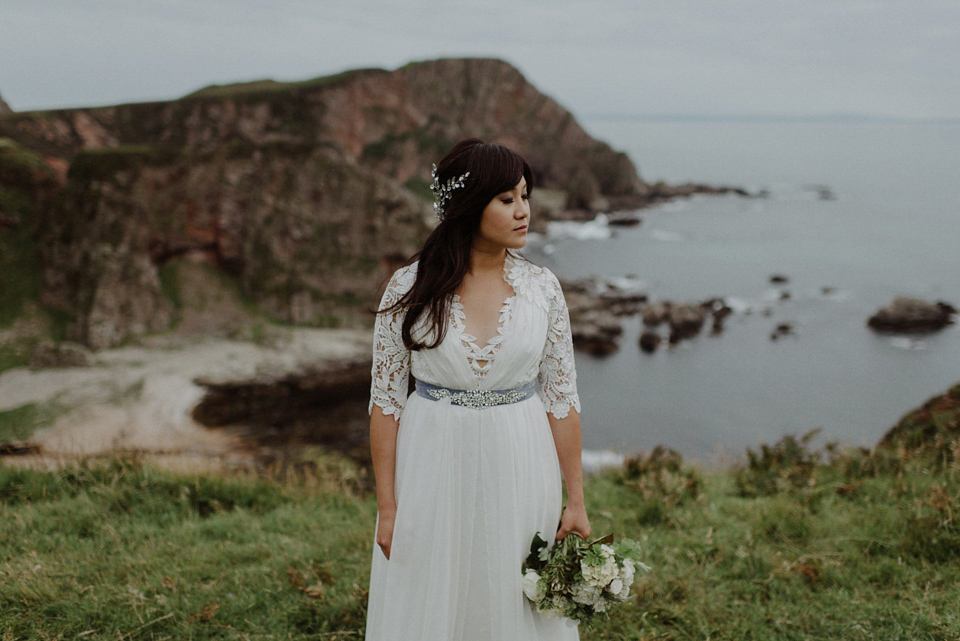 "Ryan's mother gave me her early seventies, empire waisted wedding dress and so I used this as a template. I used the ruffle bottom for one layer of the skirt and the ruffle collar for the back neck detail. The rest of the dress was made of lace, soft silk organza and silk satin. I designed my dress with the help of Thomas Ogden, a designer and costumier in California. Vintage and classic silhouettes inspired me, with the dress being designed, constructed and finished in 3 months!"
Dress & headpiece by Thomas Ogden
As you will have noticed (because you have eyes), The Kitcheners are a pair of exceptionally talented people. The perfect choice to capture moody skies, dramatic scenery and interested livestock; the duo have excelled themselves with these cinematic shots. I simply cannot stop looking at the scale of this scenery, and the wild romance of a bride and groom wandering through it. Rugged, intense and enthralling natural beauty provides a wealth of textures and jaw dropping backdrops. Do yourself a favour and check out even more atmospheric Kitchener Photography delights shared by Love My Dress here (you're welcome).
"The images speak for themselves and made lots our friends and family cry. They captured the truth of our adventure and special moment."
After practising her desired hair and makeup styles with local salons in California, Charmmie felt confident enough to execute the look herself. Scent was important and so the couple headed to renowned perfumer Penhaligons in Edinburgh whilst in Scotland. Charmmie wore 'Sawira' by Penhaligons to mark the occasion and forever be reminded of Ryan and their wild Scottish elopement.
"We both wore something that represented our astrological signs. Ryan had custom cuff links made; one cuff link had the Pisces constellation on it (Ryan) and the other the Libra constellation (me). I wore Libra flats by Charlotte Olympia."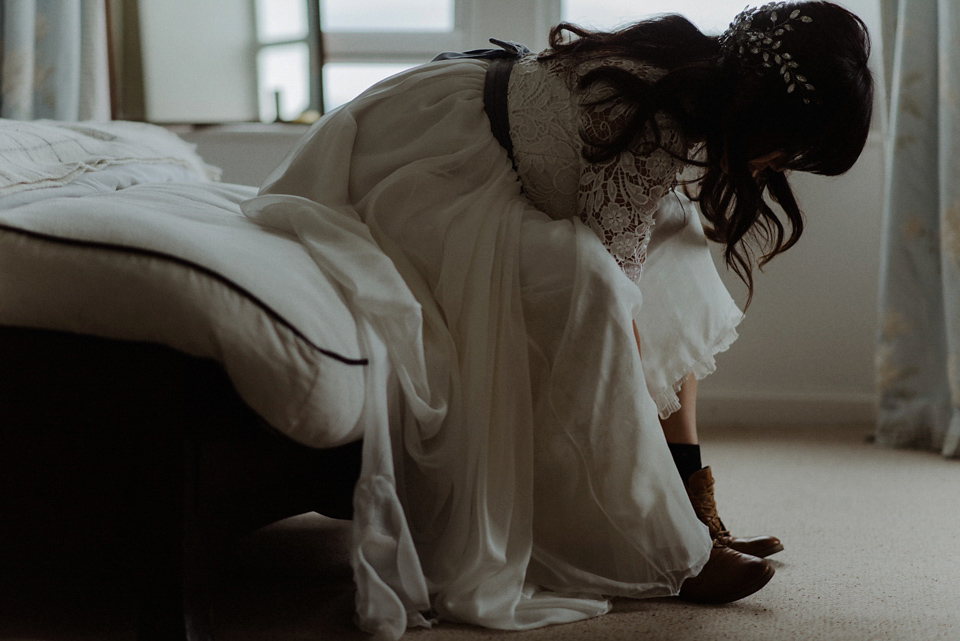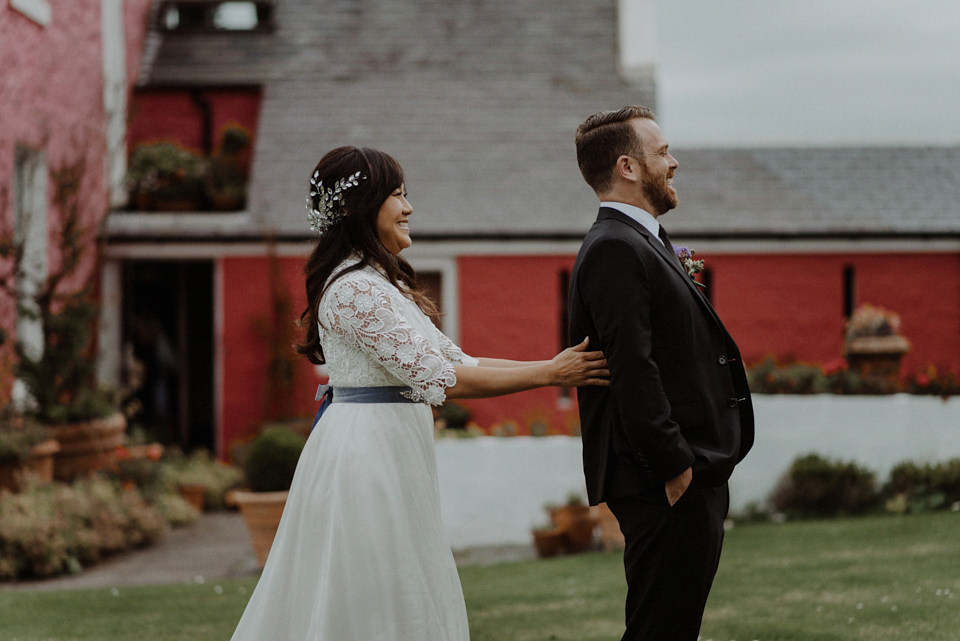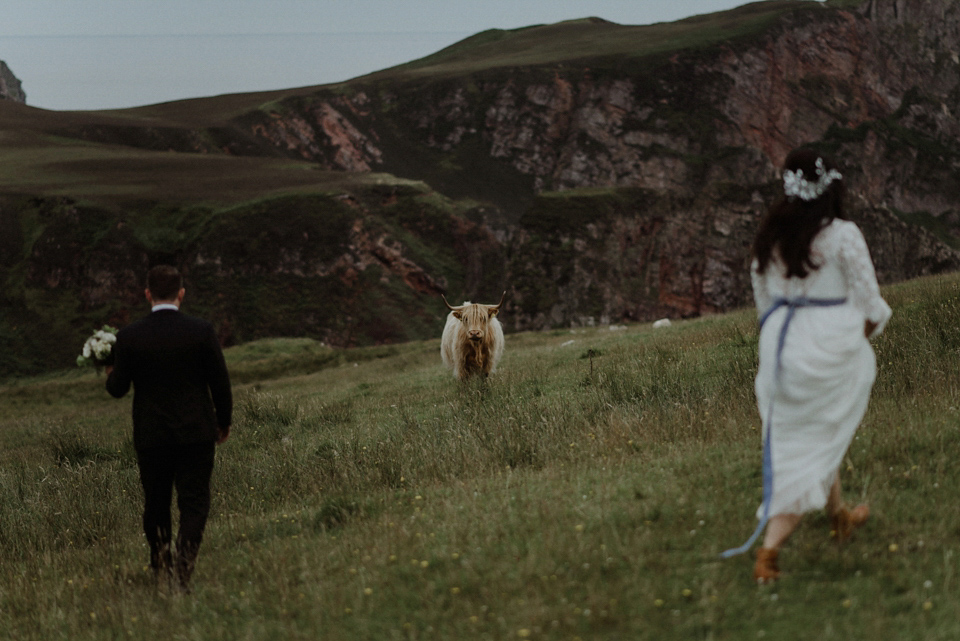 As the southernmost island of the Inner Hebrides, it's very easy to see why Islay is often referred to as the 'Queen of the Hebrides'. With just 3000 inhabitants, I love that the local folk lent a hand in making this a day to remember. The island vicar conducted Charmmie and Ryan's spiritual blessing and their B&B host/island florist was on hand to provide beautiful blooms from her garden.
"We didn't have any preferences for the flowers except that we just wanted local and in season. They turned out beautifully. It's strange how when you don't have many expectations or demands, things just fall into place perfectly and more amazingly than you ever imagined."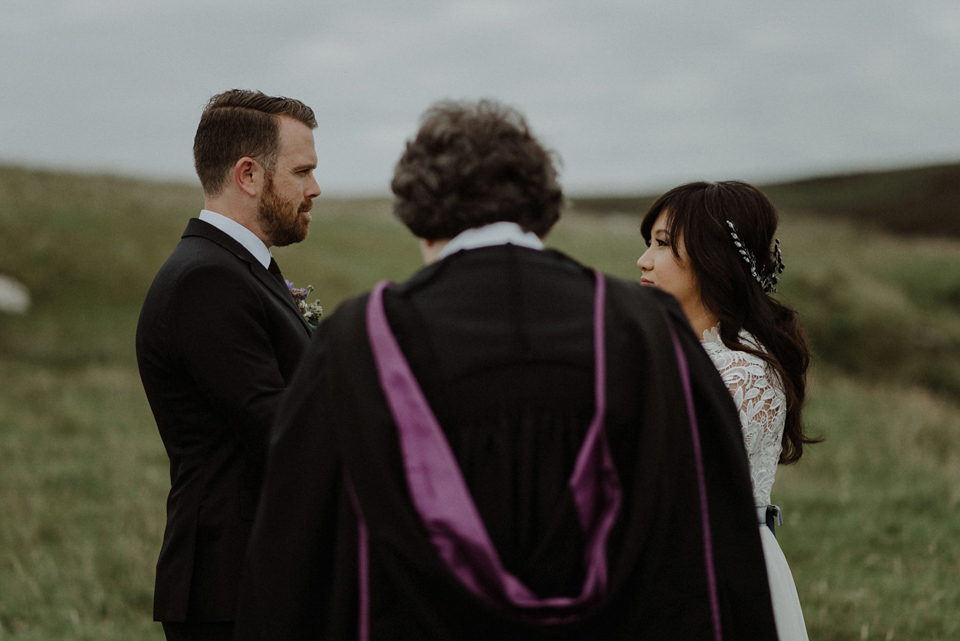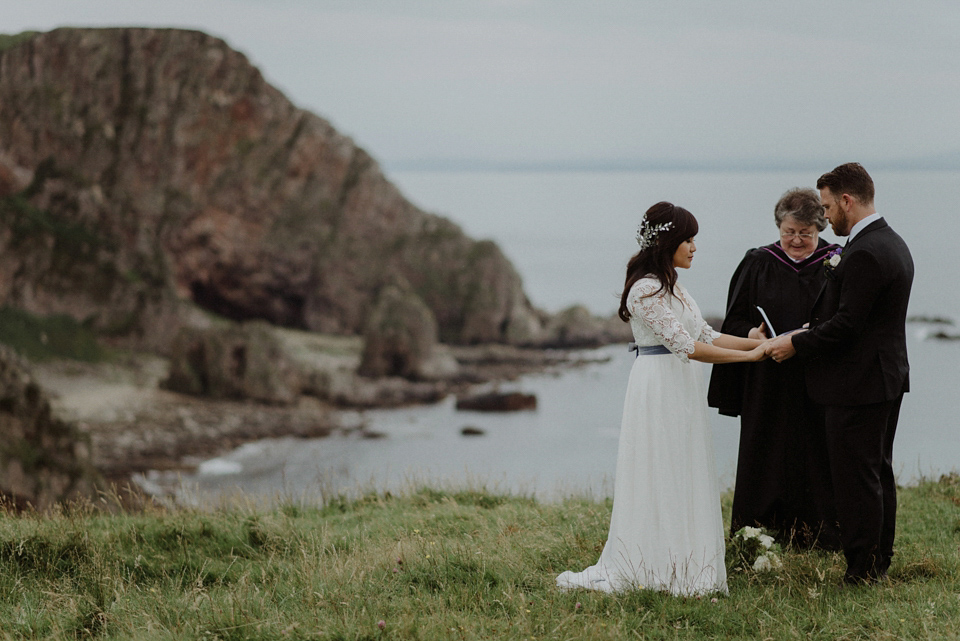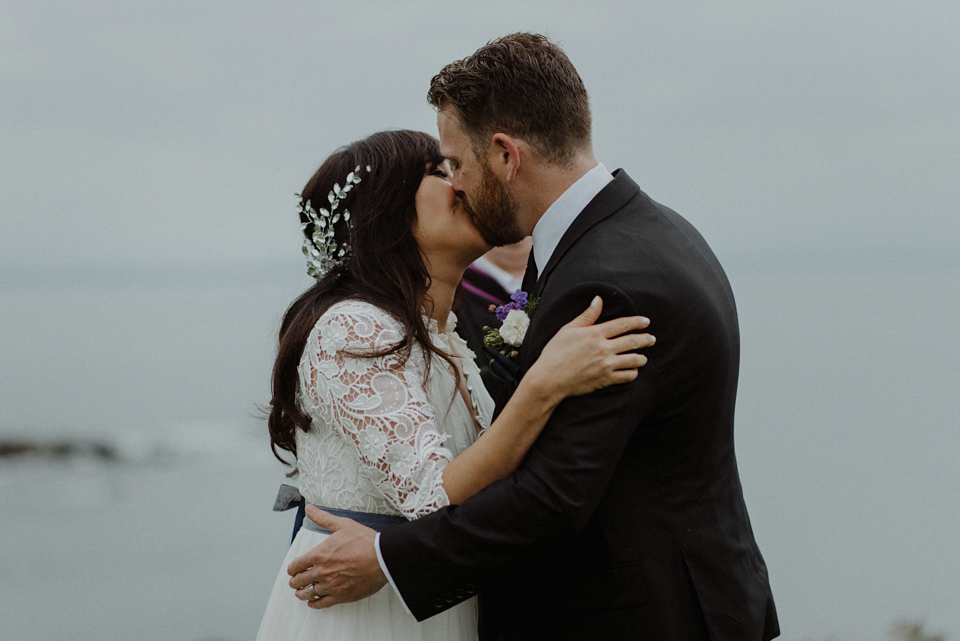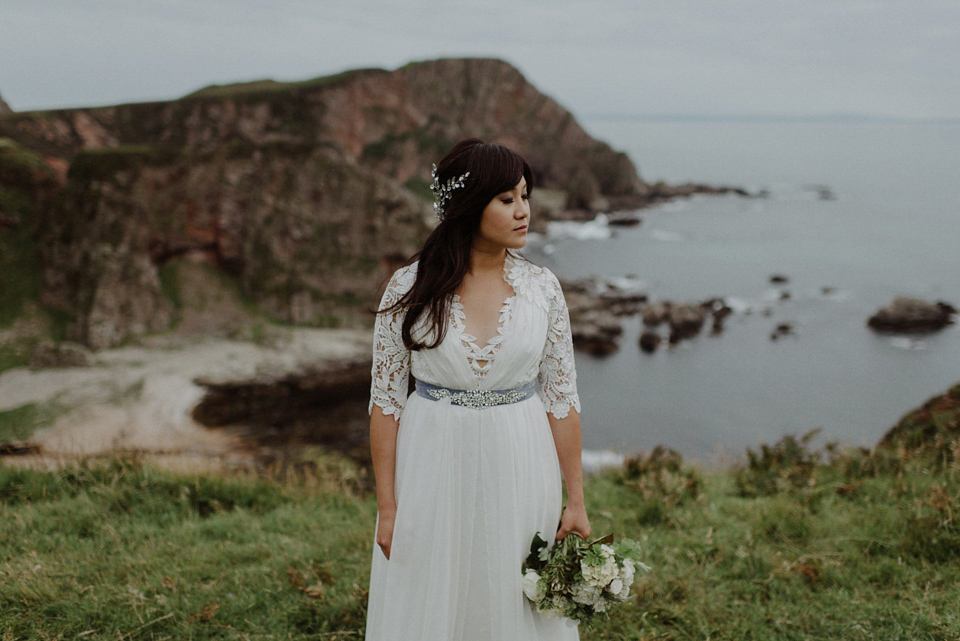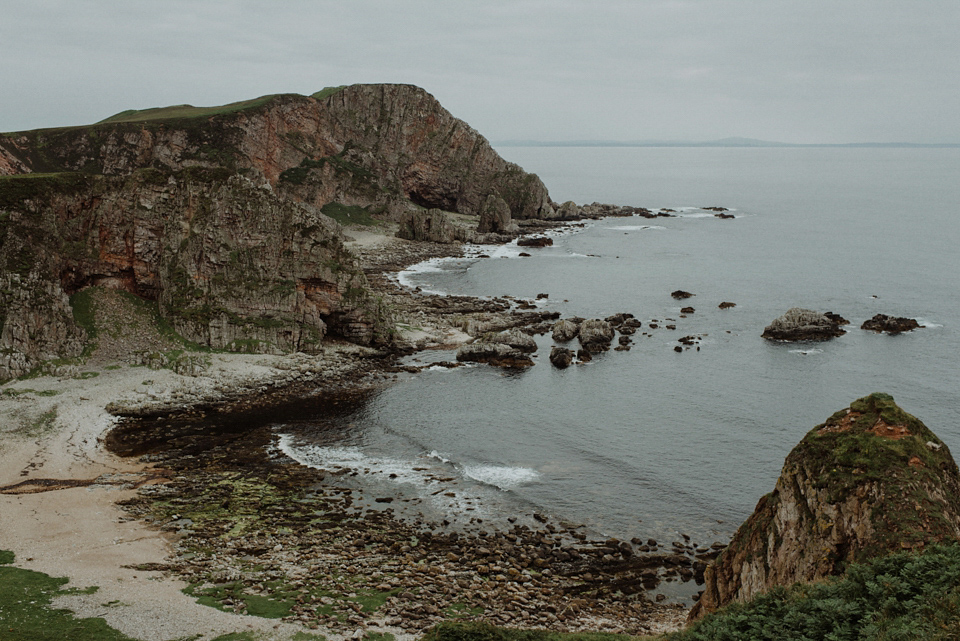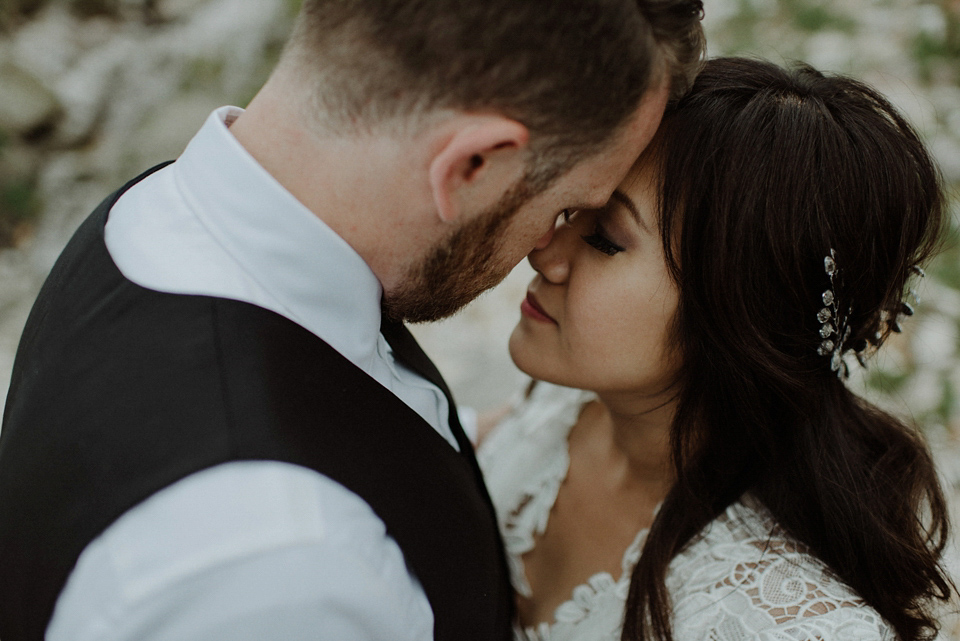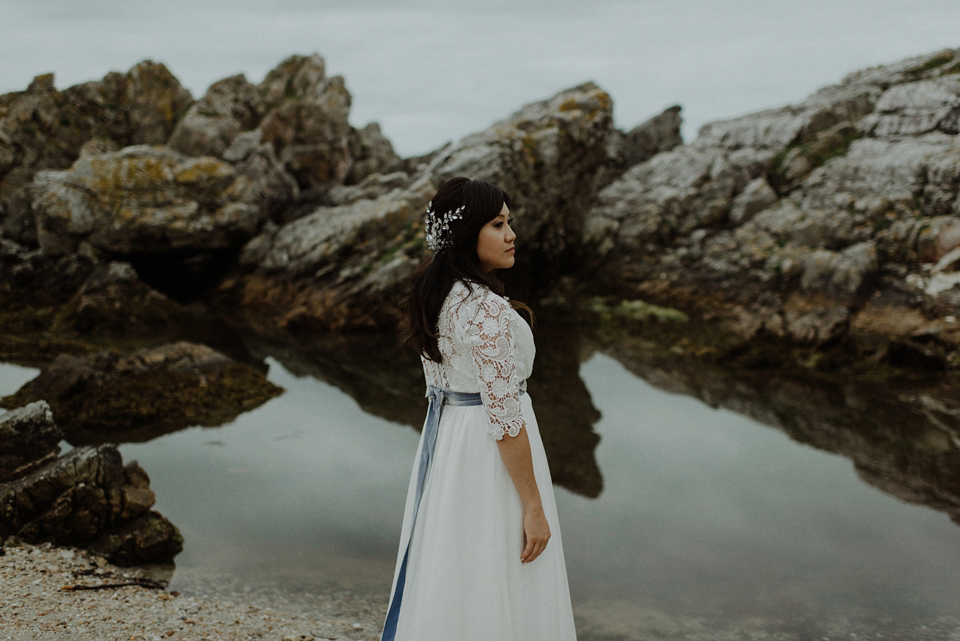 "Everything was perfect. We wanted overcast skies so that the light was diffused and we got it. It didn't rain and this is Scotland! The natural backdrop was intensely beautiful.
The Kitcheners were the perfect photographers. The people of Islay were so warm, lovely and welcoming, we couldn't have asked for better wedding guests. We spent a total of 16 days in Scotland, and fell completely in love with the country and its inhabitants. If there was anything we could do differently it would be to stay in Islay longer and make it to the most southern region of the country."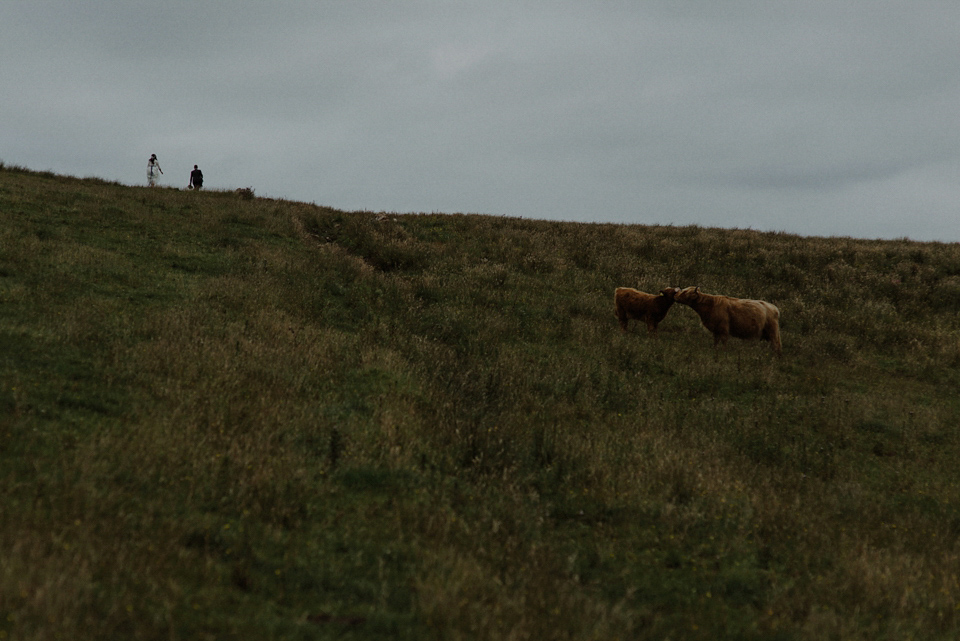 Words of Wedded Wisdom
"Always make sure your wedding is done the way you and your partner want it to be. Don't do things because others expect you to. Do everything with the intention of your day making you happy and don't get bogged down with the silly details."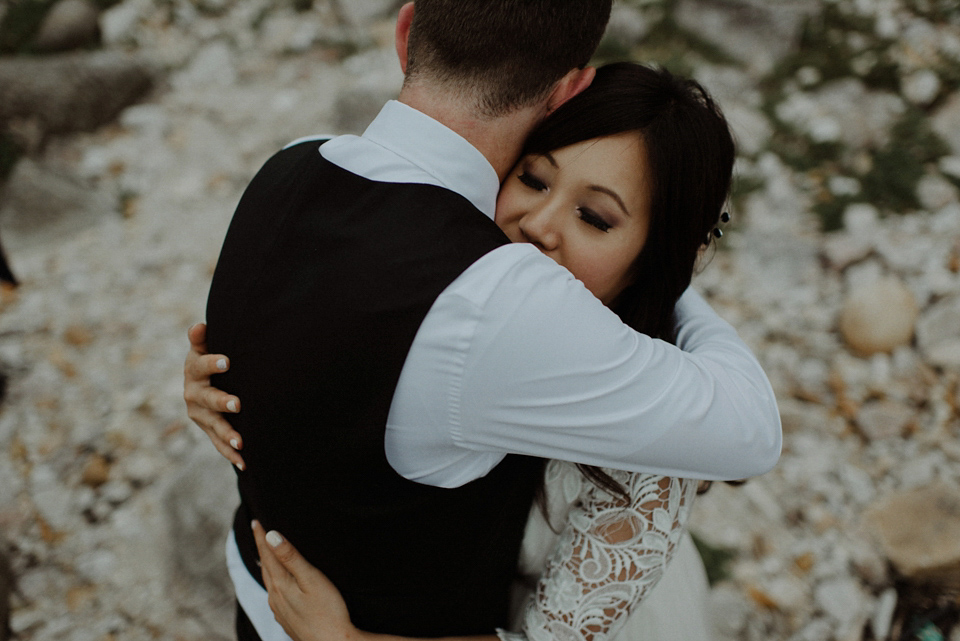 What an adventure! To fly off to a rugged Scottish isle and get married amongst the cliff faces, crashing waves and highland cows; just so impossibly romantic. If you're keen for more Scottish inspiration, catch up with my pal Emily D's magical celebration from last week (crowns AND a fairytale dress -it's a must) or treat yourself to oodles of big skies (and a few kilts) by looking at all of the Scottish treats our glorious blog has to offer here . Thank you Charmmie and Ryan for sharing your intimate day with the masses, and hats off to The Kitcheners for being, well, perfect. I've loved every second spent looking at these enthralling pics.
I'm pretty partial to an elopement and we'd love to hear your all about yours in the comments section below. I'm off to plan a holiday to the Isle of Islay – these shots should be used by the local tourist board!
Have a great week lovelies,
Emily xxx
Photography – The Kitcheners
Dress + Headpiece –Thomas Ogden (designer/costumier in California)
Location – The Isle of Islay, Scotland
Florist – Chatterbox Flowers
Fragrance – Penhaligons
Shoes – Charlotte Olympia