Hooray, it's Friday again! I hope you've got some lovely weekend plans ahead of you dear readers. On Sunday I'll be attending my very first wedding as a grown-up and I've got a *very* special job to do. I am 'The Guardian of the Ring-bearer' – a beautiful Border Collie/German Shepherd cross named Bella. To say that I'm excited would be an understatement, in fact I feel a full-scale theatrical Crufts moment coming on.
This wedding excitement leads me beautifully to introducing you to today's leading lady Victoria, a Playwright and Lecturer at the University of the West of Scotland and her beau David, a fellow Lecturer and Director. These whimsical images of their wedding day on 12th September 2015 on the beautiful island of Inchcailloch have me completely transfixed. The island of Inchcailloch, which means 'Isle of the Old Woman' in Scottish Gaelic (I'm a language geek), with it's dense, dramatic woodland, made the perfect setting for this most magical wedding. I really don't use the word magical lightly but the painterly, antique feel of the photography by The Drawing Room, combined with the remote, wild setting conjures mystical scenes of wood nymphs and enchanted forests. I've got serious goosebumps. Oh and by the way, this is our third wedding this week where the bride wore a non-white wedding dresses.
"We decided some time ago during a day trip that we would claim sovereignty of this island, and we got engaged there on our two-year anniversary so it was the obvious place to get married. The crowns were props left over from a theatre production David directed."
Photography by The Drawing Room
When I first saw the way Victoria was captured, picking her way delicately across sodden rocks and forest floor with swathes of russet fabric pooling around her, I had a proper moment. Now this is special and more than a little different: a bride who couldn't give two hoots about the rain hammering down and there's not a church or white dress in sight.
Our achingly cool alternative bride chose her show-stopping gown from Aftershock London and managed to snap it up in the House of Fraser sale. I can't decide if she looks more like Shakespeare's ethereal Ophelia, a modern day Marie Antoinette à la Kirsten Dunst in Sofia Coppola's film or a woodland elf straight out of Lothlórien (hello Lord of the Rings fans).
"I really like Aftershock London – they make these unique evening dresses. I tried on a few but felt amazing when I tried this one on, and it looked gorgeous. It has a princess/bridal look but because of the colour it is much more unique."
There's been a recent spate of gorgeous weddings on Love My Dress where the couple chose to do totally their own thing, whether that be downsize their day to an intimate celebration, or wear a rainbow coloured dress (swoon), and Victoria and David are no exception. After working and living together and producing their gorgeous daughter, they decided to take the plunge and plan a wedding in just five weeks. The result as you can very clearly see, was not only 100% a reflection of the pair as a couple, it was also pretty blooming spectacular.
Victoria paired her fabulous frock with some statement shoes from Irregular Choice and she accessorised with a Mikey ring worn years ago at her sister's wedding, Etsy unicorn earrings (I know!) and a rose gold hair comb also from Etsy to which our bride added delicate tulle from a dressmakers shop. Crafty brides take note, this is one gorgeous take on a veil.
"I wore my mum's gold bracelet made of gran's wedding rings and other family jewellery, a horseshoe broach that belonged to my gran (something old) and I used my mum's Hermes perfume as I forgot to take any."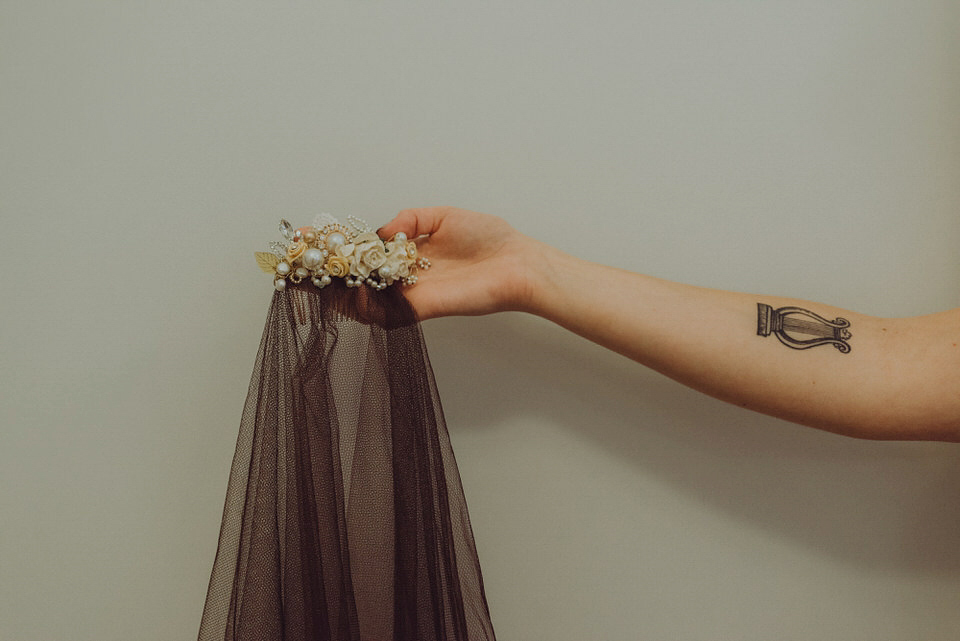 "We both work at the University of the West of Scotland and teach on the Performance course. We have been together since 2011 and our daughter, Iona, was born in July 2014. David proposed on the island in May 2013 and we had plans for a big country house style wedding some time in the future. Then sitting around the flat one day we made the impulse decision to just get on with it and we were married five weeks later."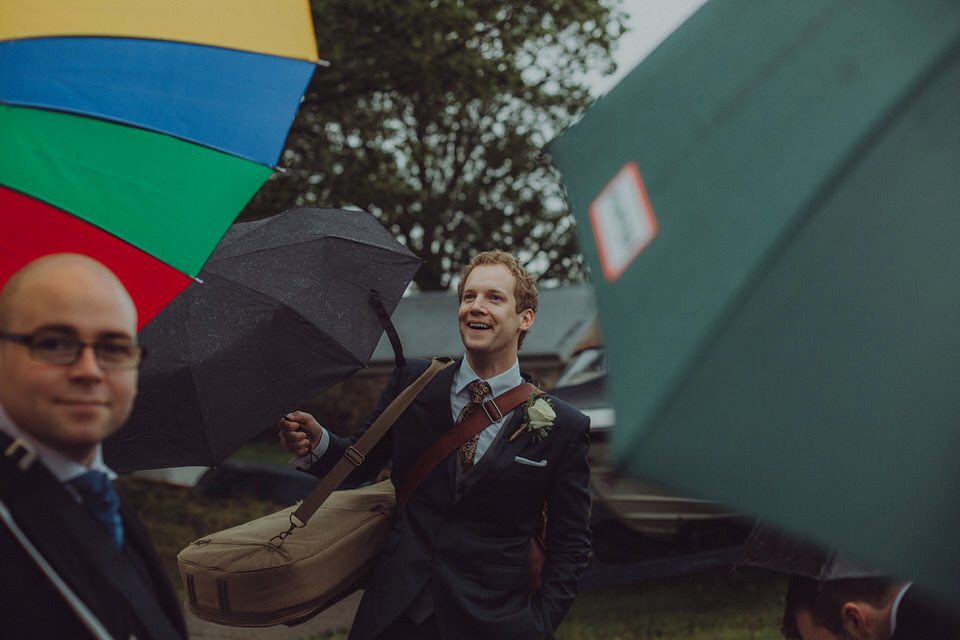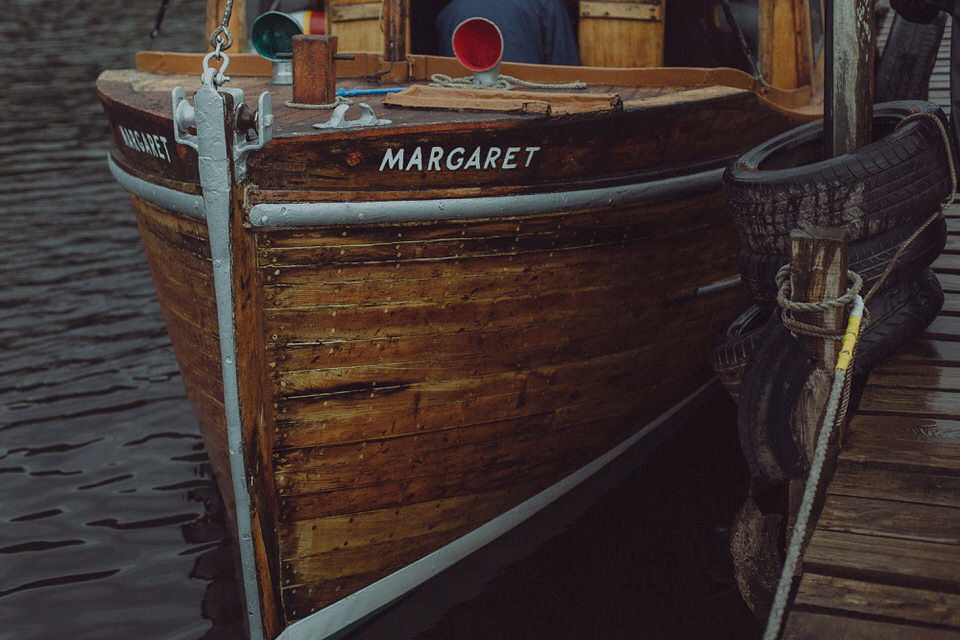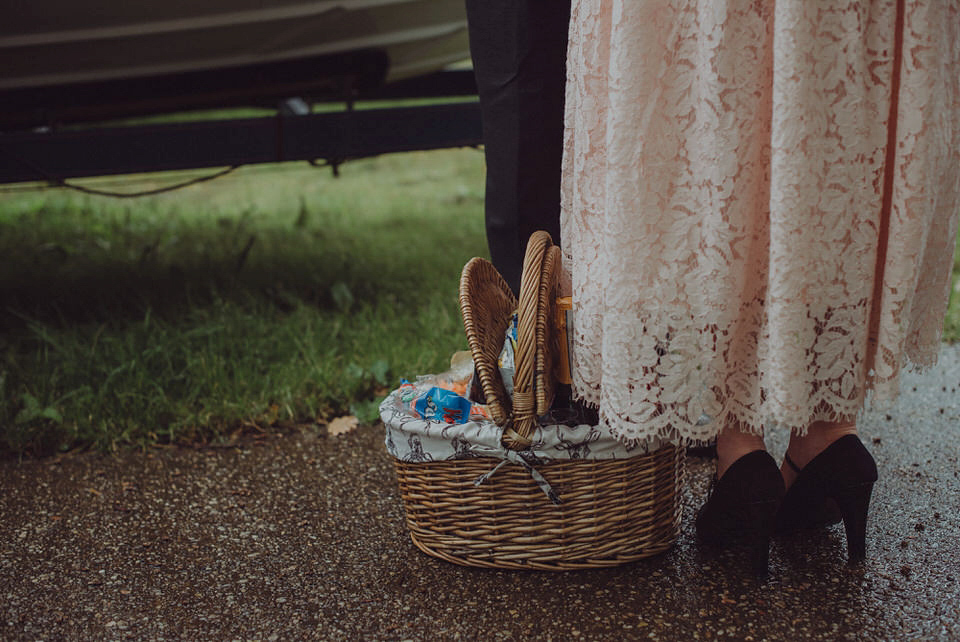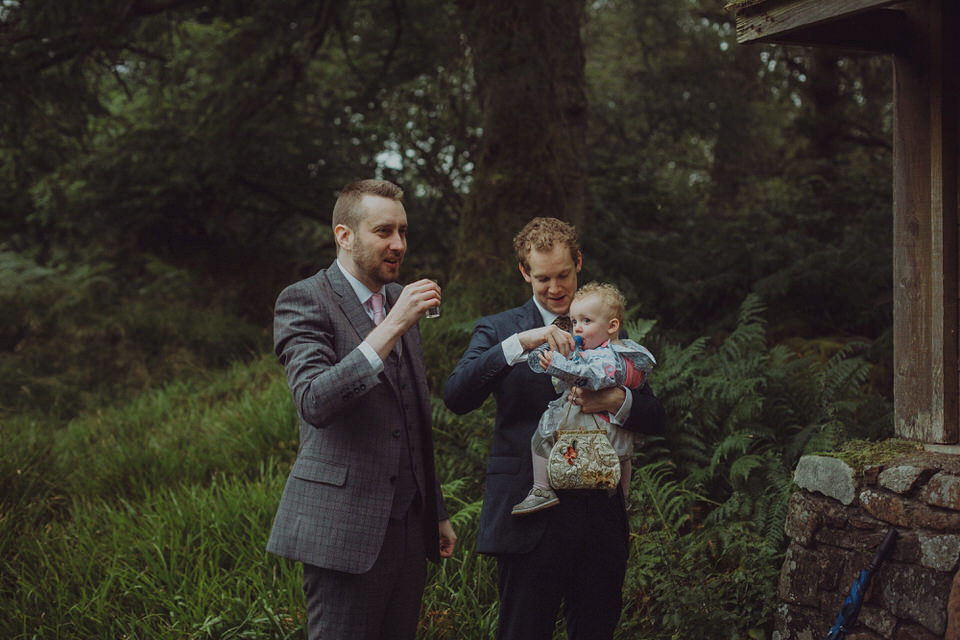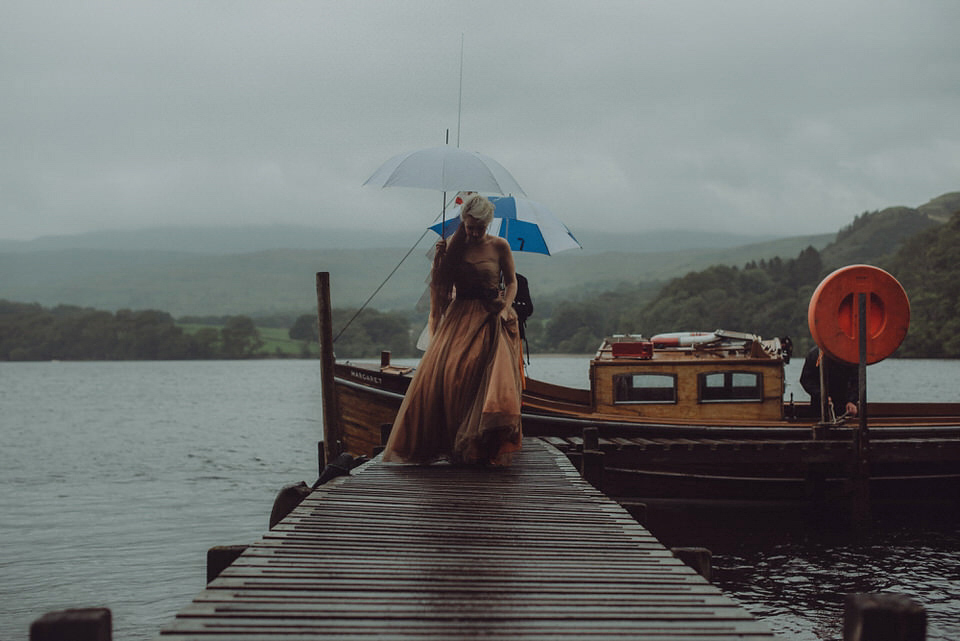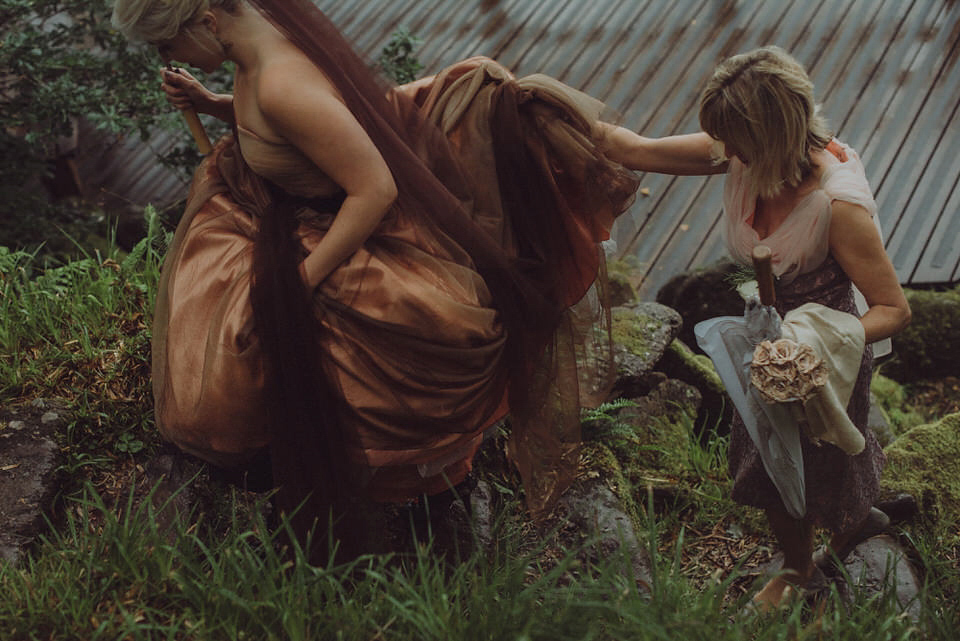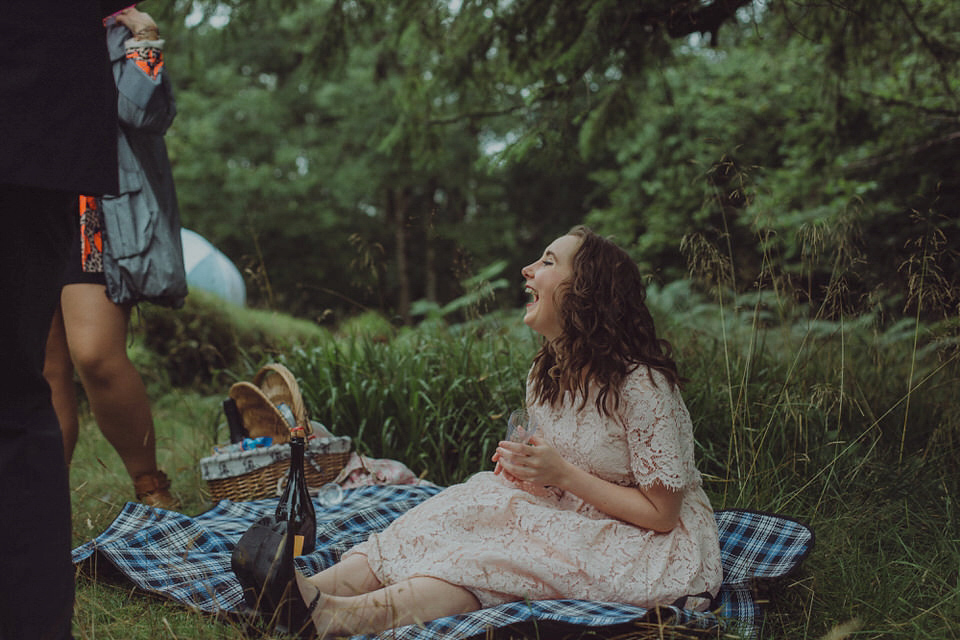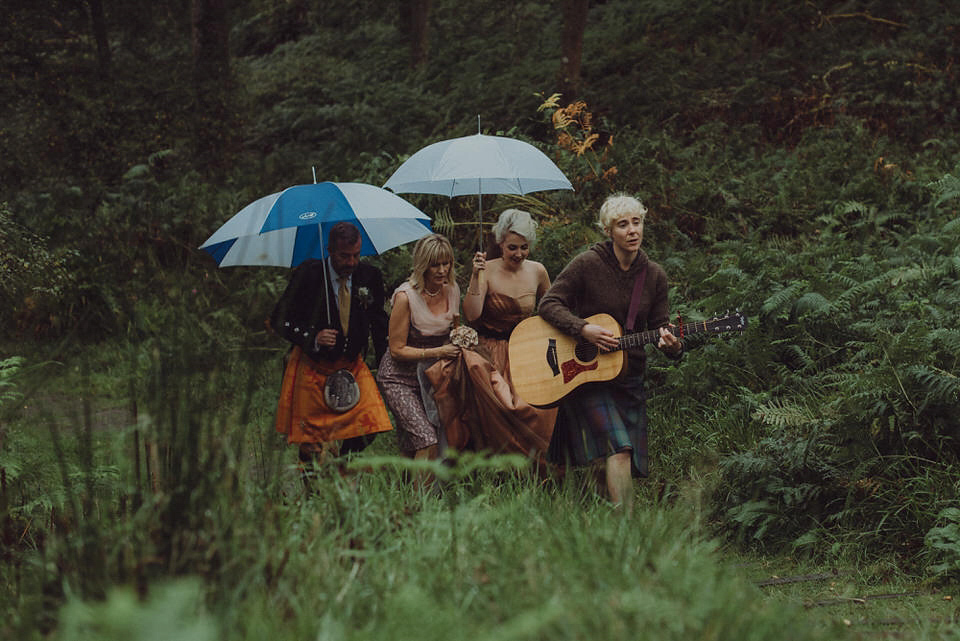 David looks like the happiest man on earth as his beautiful bride approaches, and very smart too in his  Marks and Spencer Collezione suit, Dune shoes, Ted Baker shirt and paisley print tie. The black and white image of the newly married pair caught up in a nose-squishing, toe-tingling, clothes-rumpling kiss makes my hair stand on end every time I look at it.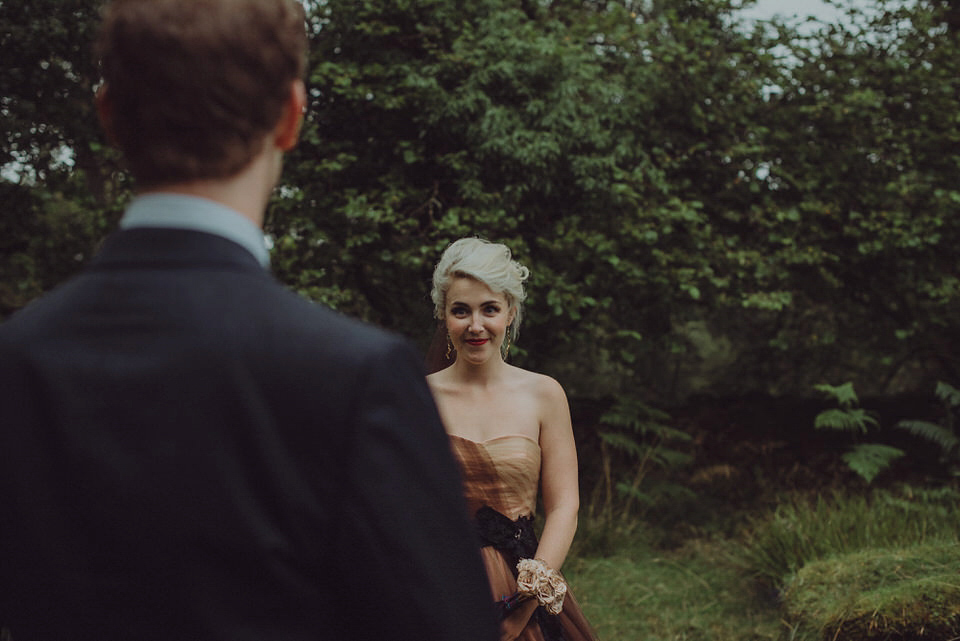 "We identify as agnostic rather than Humanist, but this was a Humanist ceremony for legal reasons. Our good friend James is a celebrant and he conducted the ceremony."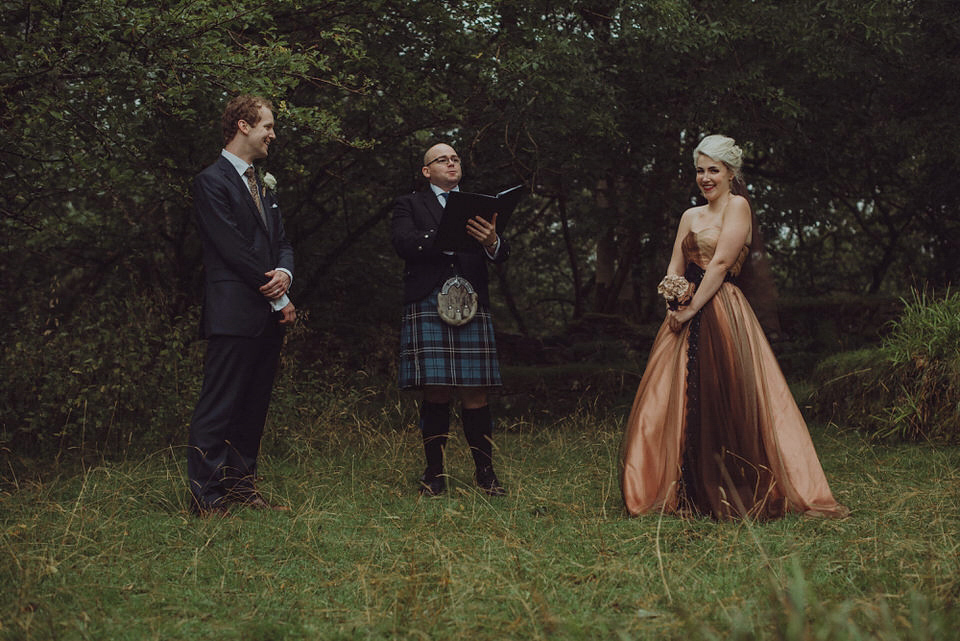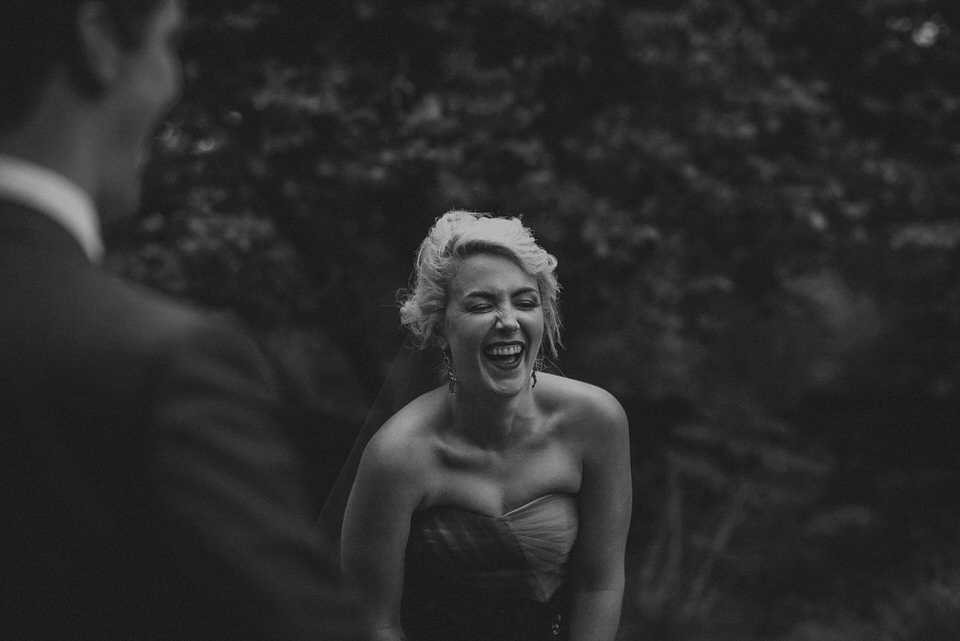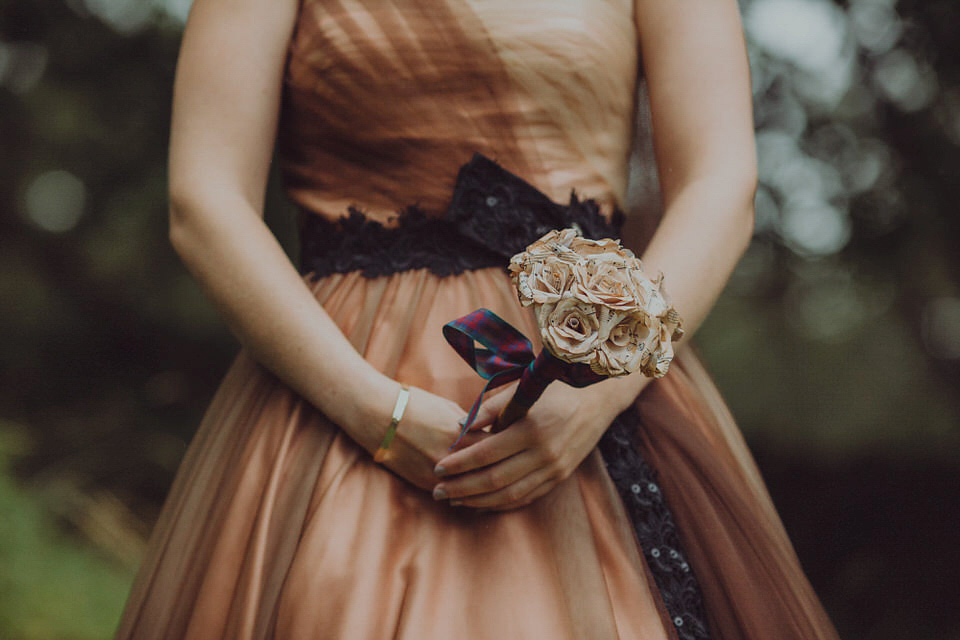 Victoria's mum and dad gave her away while her sister, Lauren, sang and played Let's Get Married by The Proclaimers on guitar. Victoria and David's coast rings from Damson Jewellery are things of sheer beauty with a very sweet and meaningful sentiment behind them.
"Mine is a ring of three parts with the coastline of the Isle of Iona (our daughter's namesake) and of Inchcailloch. David's is two parts with coast line of Inchcailloch."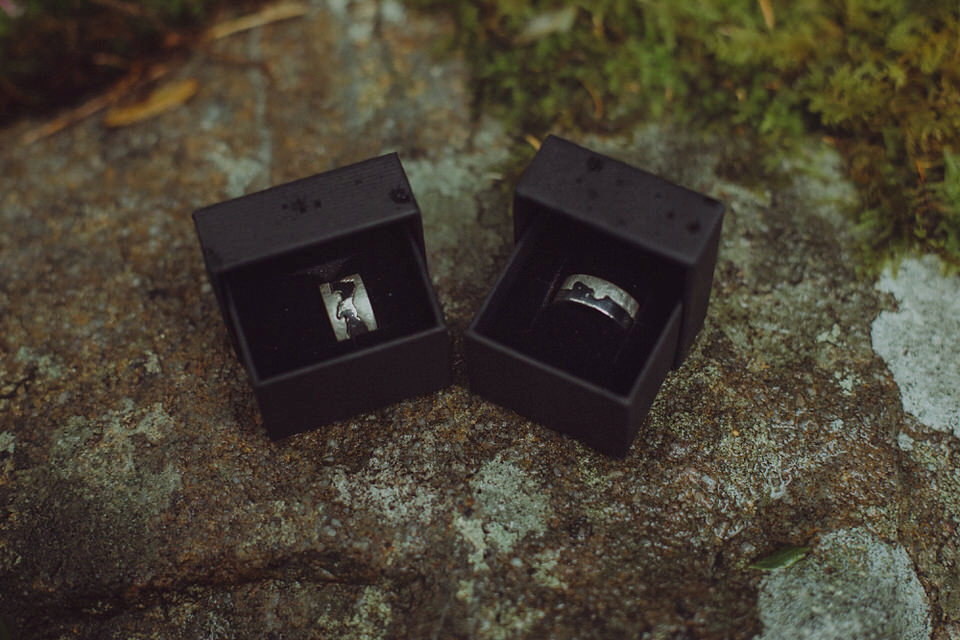 After the exchanging of rings (and crowns! and of course baby Iona got her own mini tiara) the intimate wedding party enjoyed music created by guests among their number and a picnic, which everyone pitched in to supply. The joyful party then made their way back across the Loch by boat, where a rather soggy but absolutely radiant Victoria and David bundled (bottle of prosecco in hand – good man) into a blue Rolls Royce and were whisked off to Hotel du Vin Glasgow.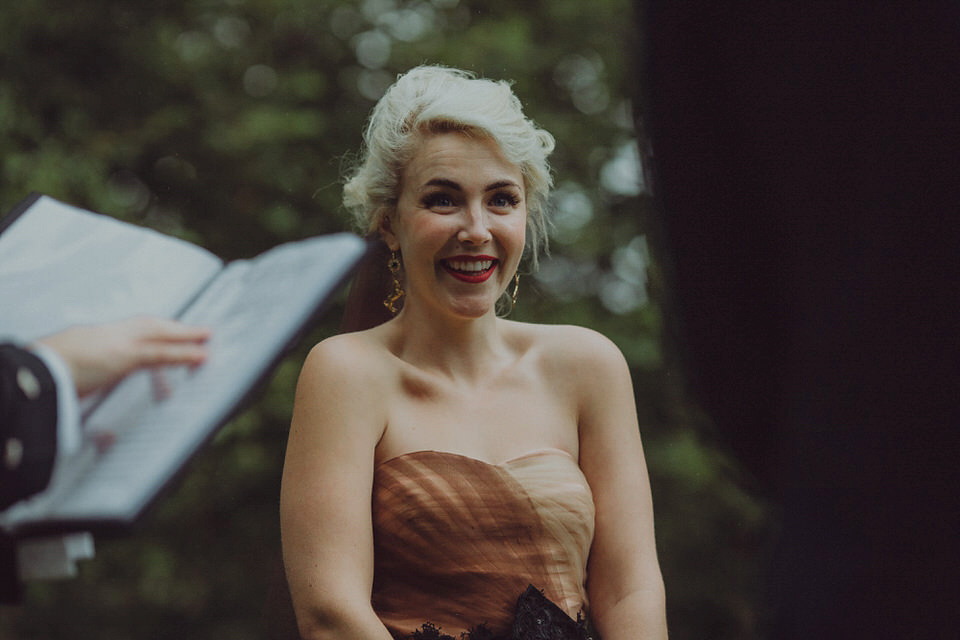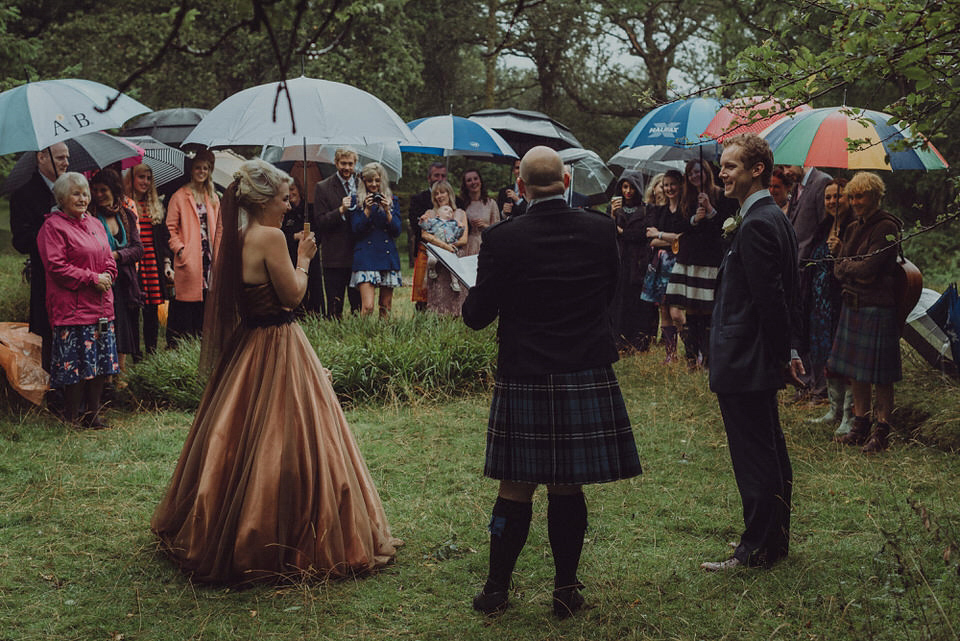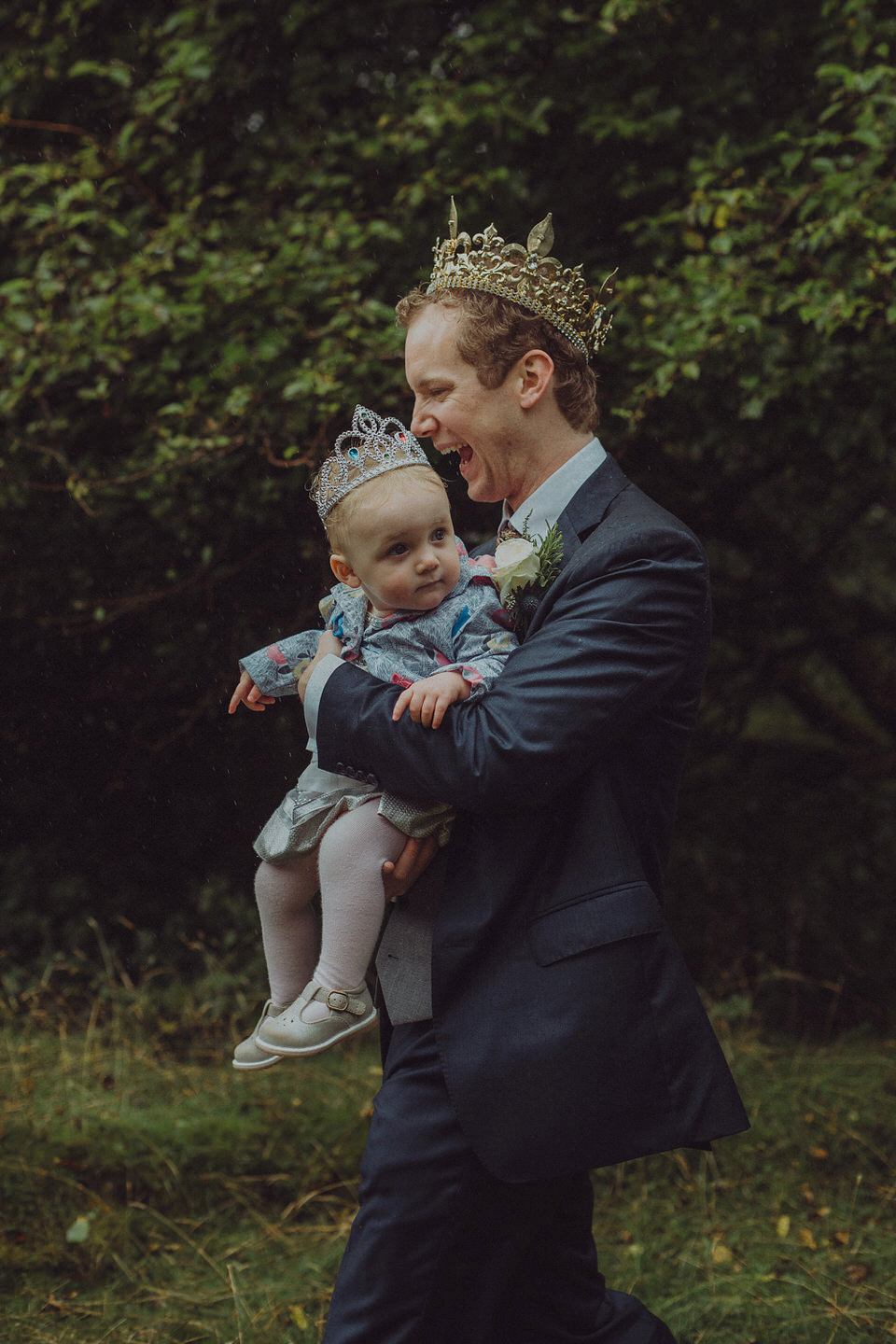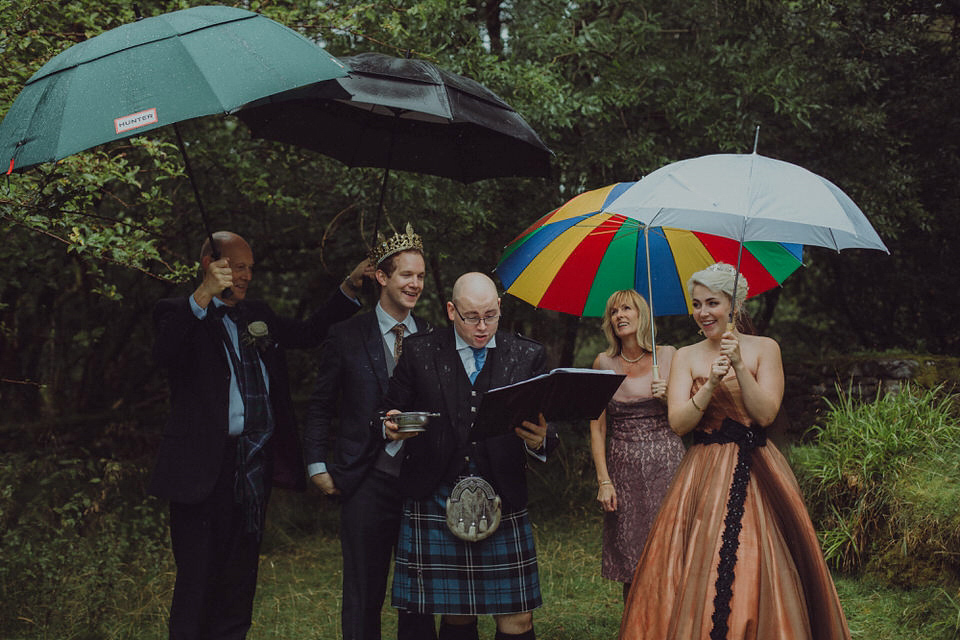 Equally meaningful is the couple's choice of flowers; the buttonholes, provided by Roots Fruits & Flowers in Glasgow, contain a thistle to represent Victoria's Scottish heritage, and a rose to represent David's English roots. I adore the little Scottish nods throughout the day; scarves, picnic blankets, kilts, bagpipes, obligatory shots of whiskey and a sweet tartan ribbon around Victoria's bouquet.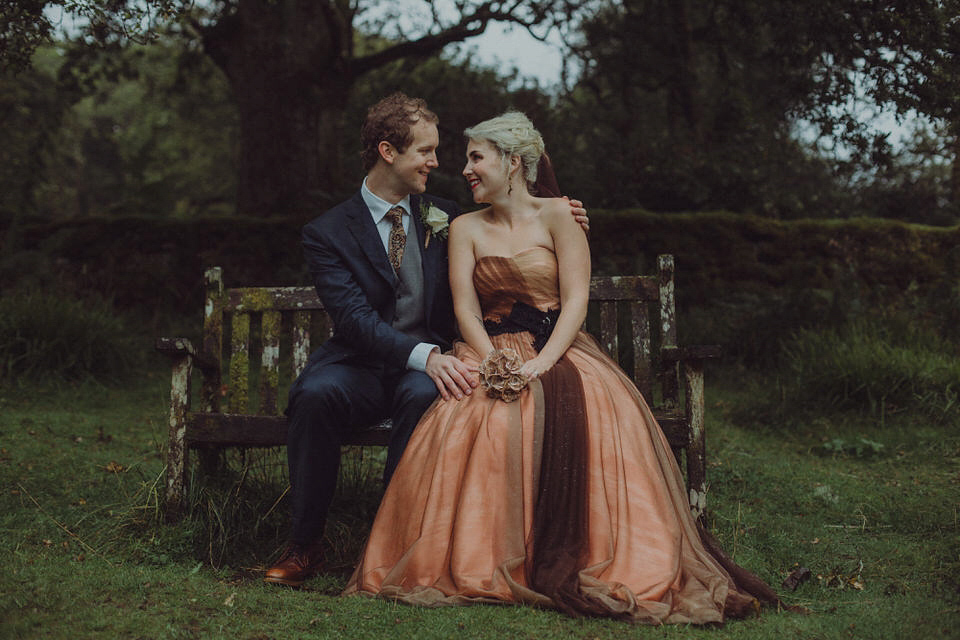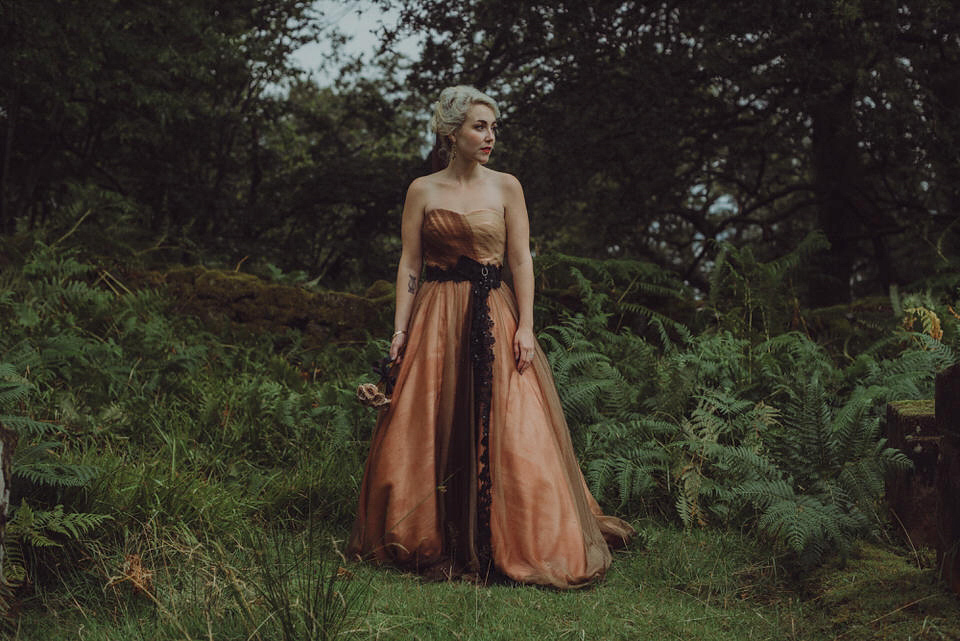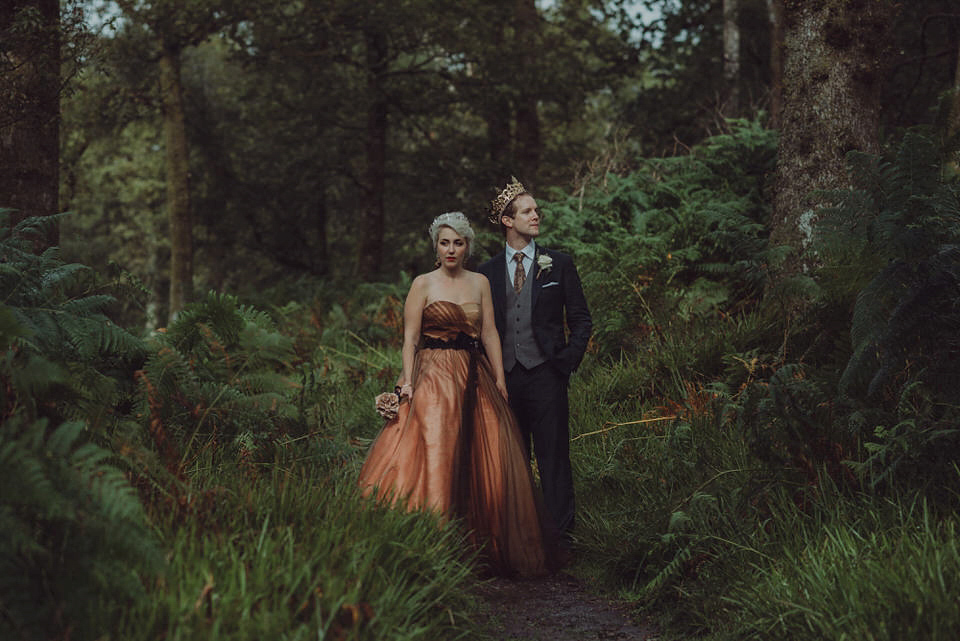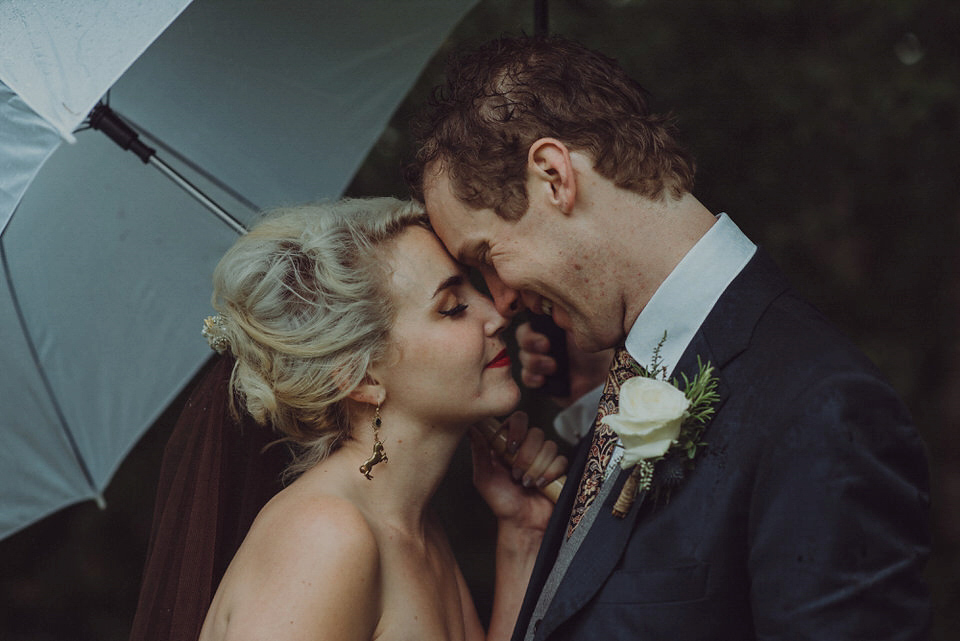 And wow did it rain, right from the moment the guests arrived on wooden passenger ferries from Balmaha Boatyard. I adore the shot of a gorgeous guest, shoeless and muddy in the heart of the forest with a massive smile on her face. With all the very relaxed, bohemian vibes going on I was both unsurprised and delighted that the bride and groom chose to write their own vows for their woodland ceremony.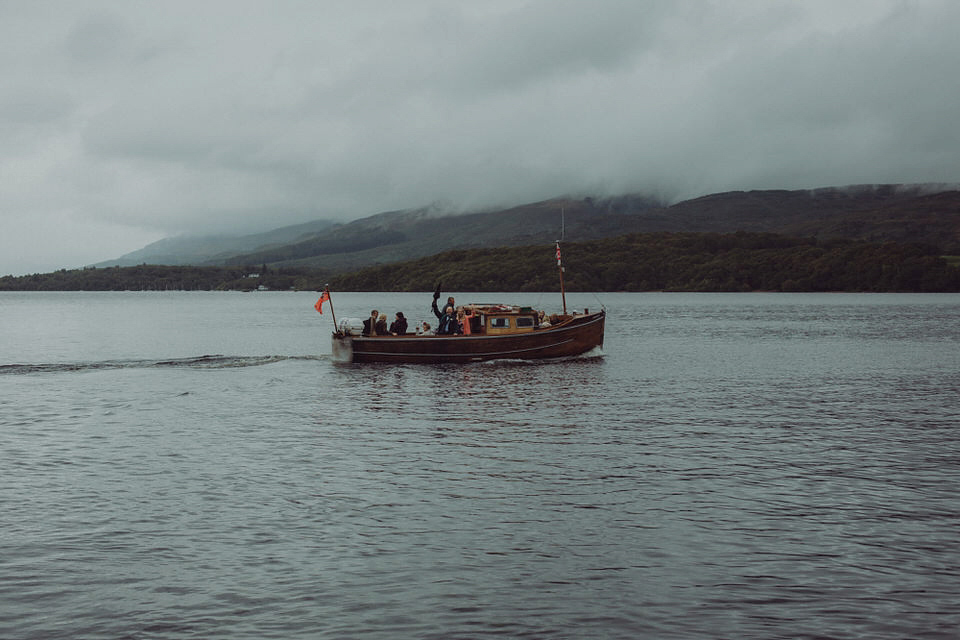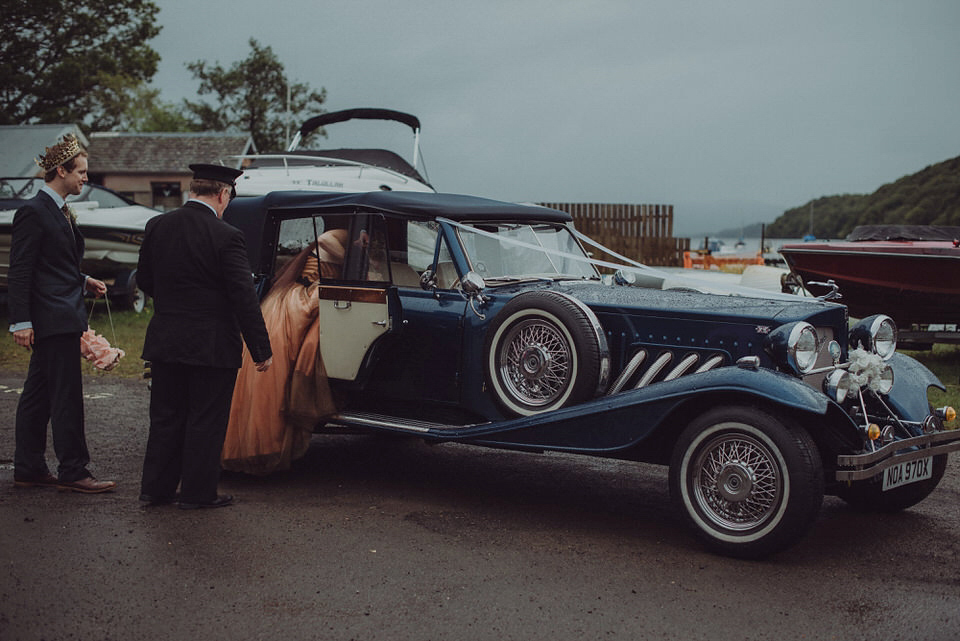 Victoria and David chose The Drawing Room to capture their day. This is some of my favourite wedding photography EVER. Alex and Ingrid have captured the love, joy and jubilation in such a candid, evocative way that at times writing this feature, I felt I'd fall right through my screen and into the middle of the day.
"Alex and Ingrid were excellent – they were an understated presence on the day but were busily photographing all the key moments while avoiding the incessant rain."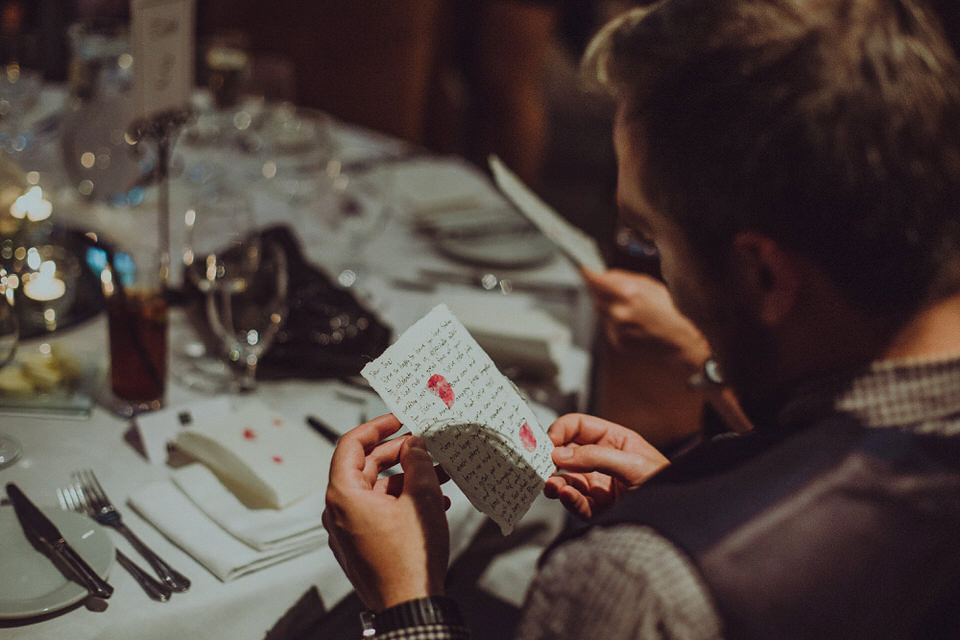 Victoria changed into a rather gorgeous beaded (and dry!) second dress, reminiscent of the of the ballet Swan Lake, with their little girl Iona resplendent in her own matching embellished frock. Cue an intimate evening of speeches, tears and proper from-the-stomach, head-thrown-back, eye-crinkling laughter.
"As our wedding was small (30 guests) we had a big party in December and saved the cake for then. It was Inchcailloch island with us in our wedding outfits sitting on top of a hill, supplied by Top Tier in Glasgow. We wrote everyone a personal letter thanking them for being there, and for being so important in our lives."
Victoria and David chose not to have a first dance but did make sure that Let's Stick Together was on the playlist. There are some serious shapes being thrown on that dance floor, I hope there weren't any kilt incidents!
The intimate, rain-soaked ceremony on Inchcailloch was the newlyweds favourite part of the day – proving beyond doubt that there really is no such thing as a 'perfect' wedding. Celebrate those imperfections, revel in the things that go wrong – as long as you end up married to your favourite human being it really doesn't matter one jot.
"The rain pouring down, James (the celebrant) forgetting the bit with the rings, umbrellas held over us, and the ink running on the certificate. Perfect. We wouldn't change a thing."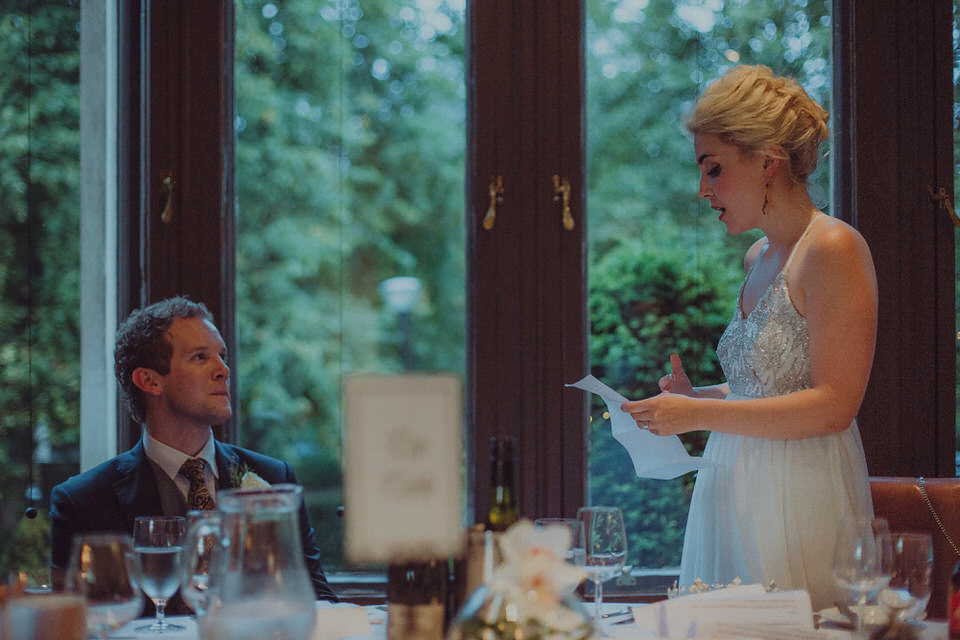 Words of Wedded Wisdom
"Do exactly what you want to do – it's your day and anyone with an opinion about how you should do things needs to understand that."
I feel totally compelled to visit Inchcailloch. In my relentless browsing of Victoria and David's spell-binding photographs, while wondering if I could ever again persuade my fiancé to take a camping trip up to Scotland with me (the last and only time I took him camping it took him several days to recover), I came across Walter Scott's poem The Lady of the Lake, in which he refers to the island. These words express better than I ever could the dream-like, other-worldly nature of the setting of this wedding. Dreamy sigh….
A slender crosslet formed with care
A cubit's length in measure due
The shafts and limbs were rods of yew
Whose parents in Inch Cailliach wave
Their Shadows o'er Clan Alpine's grave,
And, answering Lomond's breezes deep,
Soothe many a chieftain's endless sleep.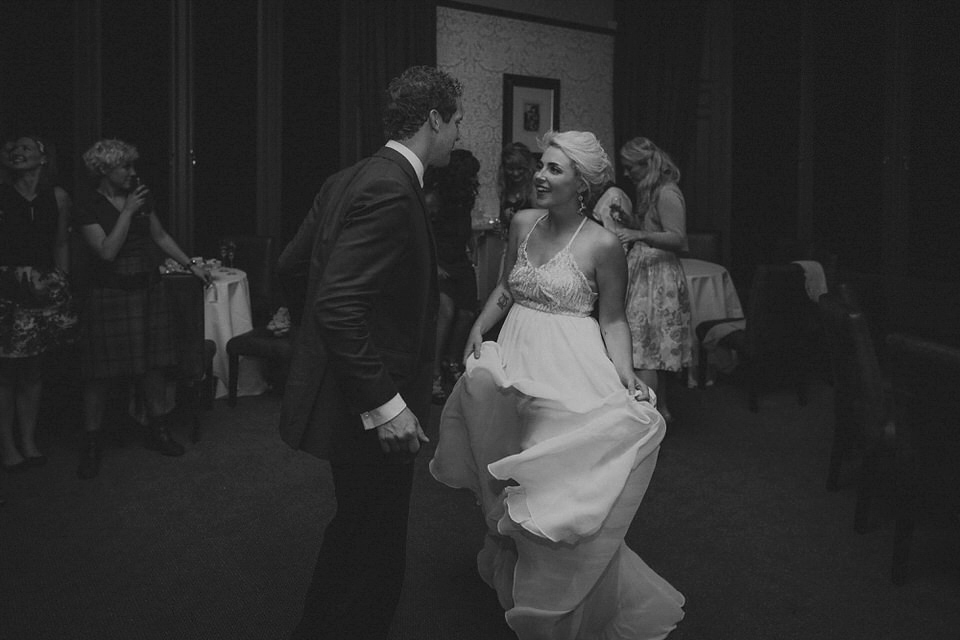 Victoria, I can tell you for sure that there will be a whole host of brides reading this who need to hear those exact words – this is an issue that recurs time and time again in the wedding planning process so your words are an extremely poignant and ever-helpful reminder that you really can do whatever you like. AND your guests will love it. End of.
Thank you so very much Victoria and David for allowing us to share your spectacularly beautiful day and a big heartfelt thanks to The Drawing Room for these covetable images. I'm sure I won't be the only bride-to-be glued to the blog for the next several hours (who am I kidding, days).
Please do peruse our fabulous archives of Scottish weddings and most definitely check out more fabulous brides who most certainly did not let rain ruin their wedding days.
I better get practicing my aisle walk lovelies, I've got a four-legged VIP guest to accompany to a family wedding this Sunday (you know, in addition to my fiancé). I'm creating a little mental checklist as I write to you: LOTS of tissues (I'm 100% a crier at anything emotional – don't even talk to me about Marley and Me), lipstick and, oh yeah, poo bags. Glamorous life isn't it.
Love, Em x
Photographer – The Drawing Room
Venue – Inchcailloch + Hotel du Vin Glasgow
Wedding Dress – Aftershock London via House of Fraser
Shoes – Irregular Choice
Accessories – Mikey ring+ Etsy earrings + Etsy hair comb
Perfume – Hermes
Groom – Marks and Spencer Collezione suit + Dune shoes + Ted Baker shirt
Florist – Roots Fruits & Flowers
Cake – Top Tier
Rings – Damson Jewellery
Transport – Balmaha Boatyard