Hello lovely Friday people – thank the Lord the weekend is here – so much has happened since Monday that the past 5 days feel like they've  hurtled past at breakneck speed – feels like I'm having to clutch on to everything around as a whirlwind passes by!  I shall be jolly glad for a nice long lie in on Sunday morning and an opportunity to read the papers and pour over my very favourite blogs (ahem, talking of which, make sure you've bookmarked lovemydress.net for easy Sunday morning reading).
So we've already featured the most wonderfully quirky and alternative wedding planned in just 5 weeks today – a most wonderful and atmospheric celebration in outdoor Scotland. For this afternoon's wedding, I'm whisking you away to the warmer, sunnier climes of Italy for the wedding of Katherine and Mike, which involves one very glamorous Maggie Sottero gown.
Katherine, Sales Manager at Fairmont Pacific Rim Hotel (which also happens to be Canada's #1 City Hotel) married Mike, Owner and Creative Director of Cowie & Fox at La Morra in Piemonte, located in the Province of Cuneo which is about 50KM southeast of Turin.  The couple's ceremony was held at Palas Cerequio followed by a reception at Cantina Comunale di la Morra and on hand to document the day in imagery was photographer James Allan.
"We chose subtlety in our very minimal décor – we used small vases of olive branches and custom designed menus by the groom, and that was all. The rolling vineyards and landscape of Barolo and Barbaresco Piemonte wine country were style enough."
Photography by James Allan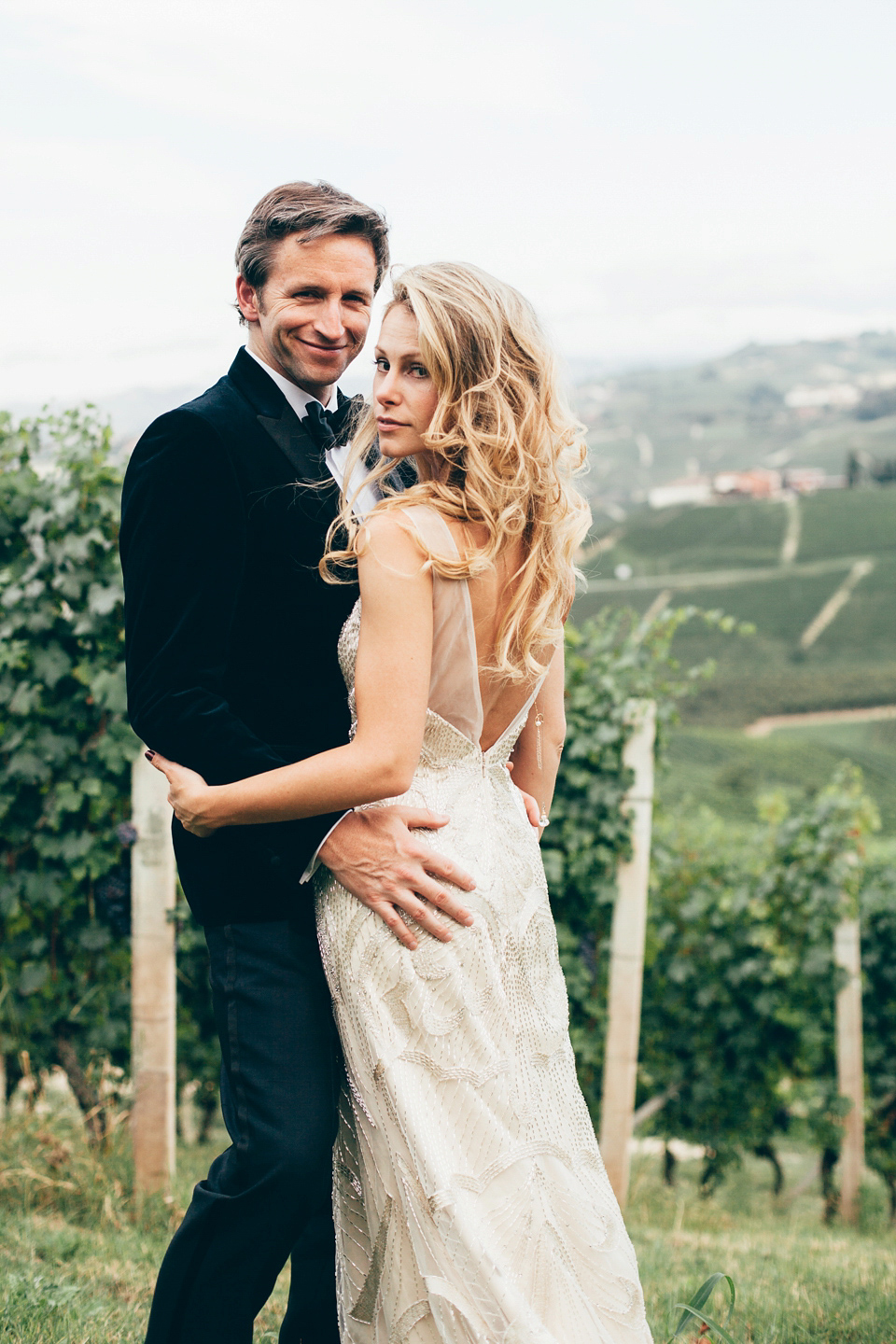 Katherine wore the 'Gianna Marie' gown by Maggie Sottero – a dress she purchased through a private boutique located in Vancouver, British Columbia.
"My gown was unique, stylish and fit all my criteria for the perfect dress: not strapless, not mermaid, no fishtail, unhipster, and above all – no ruching. After trying on all the Veras and Jenny Packhams in the exclusive boutiques, I have to admit to being left feeling underwhelmed."
"On my second dress shopping excursion, we went to a fairly bustling boutique on a Saturday, so you can imagine how busy it was. The moment I put on what seemed like a slightly daring dress, every other bride to be and their family and friends could not stop looking over at us – it had that much of a wow factor. It was unique, I felt great in it, and I knew then and there that this was 100% the right dress for me."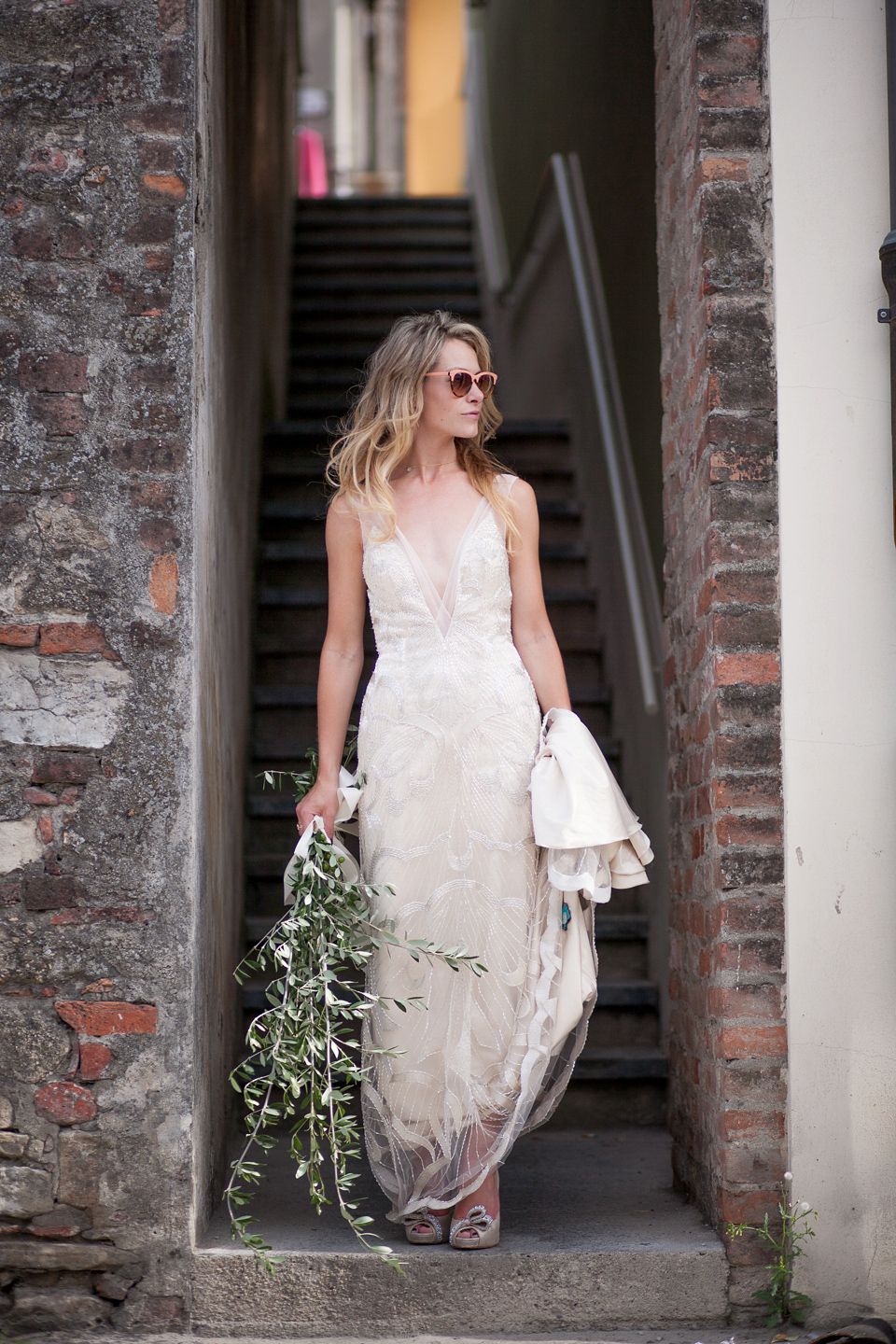 "Our photographer was James Allan, aka, the best wedding photographer of all time. We get compliments ALL THE TIME concerning James' work. So much so that when one of our wedding guests got married themselves, they flew him all the way over to the West Coast of Canada for their British Columbia Gulf Island wedding."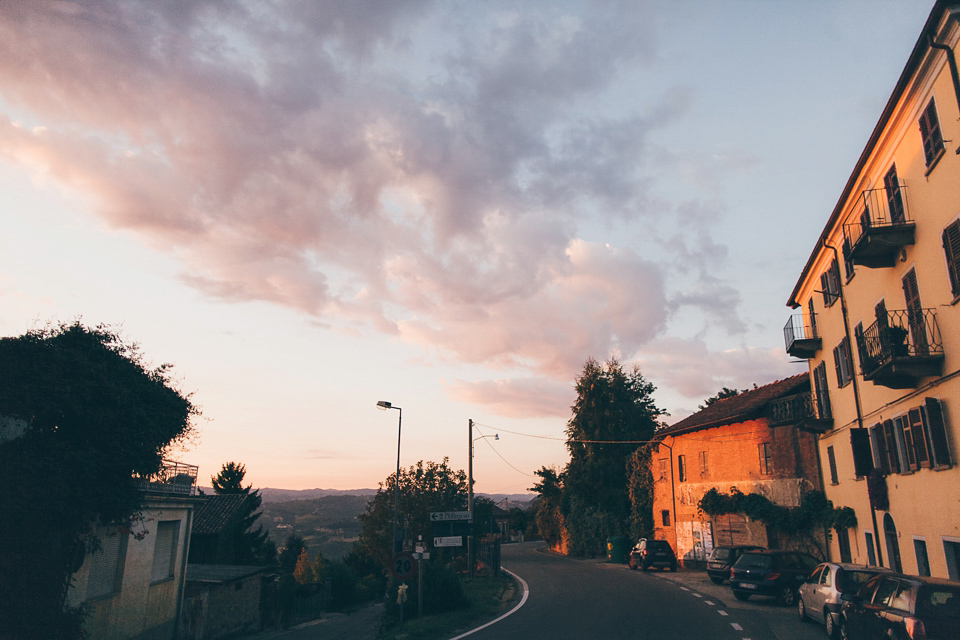 "James was an integral part of our weekend and was with us throughout the whole wedding experience documenting everything from our "Last Supper" rehearsal dinner in Barolo to our wedding morning run through the vineyards of La Morra and Barbaresco/Barolo. When James was up with the gals to snap pics of our early morning run at 7:00am, and he was running up the cobblestone hills ahead of us in his brogues and khakis to capture just the right shot, I knew we'd be in for some great work.
He was dedicated, anticipated all of our needs and expectations – he was an absolute dream. Plus – could there be any better wedding photo than the 'Vanity Fair Italian Cathedral' shot that features all of our wedding guests in a 12th century church?! It was simply stunning. James is a real talent."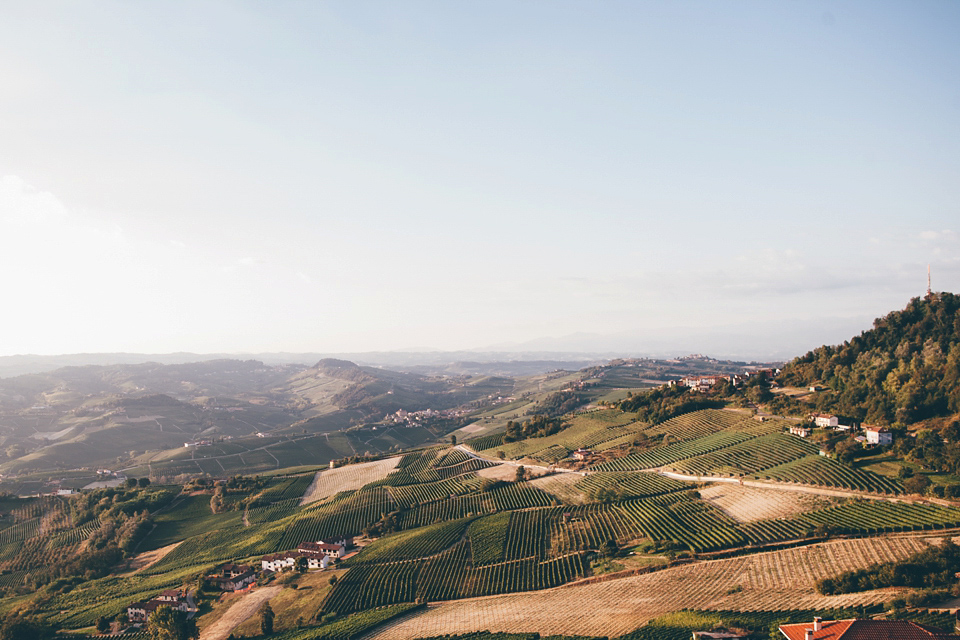 Katherine and Mike met in Vancouver in December 2008 and started dating a few months later. They got secretly engaged in December 2012 on the Pont Louis-Phillippe in Paris, following which they held an official engagement celebration in Spain. 
"We lived mere blocks from one another on the Westside of Vancouver for years before meeting one fateful evening in December 2008 on the Eastside. After two hours of constant across-the-room eye contact, it was my best friend who ran an interception distracting Mike's party date, thus clearing the way for me to make a beeline for Mike. 'We don't have much time…', I said – and the next 30 seconds involved quick introductions, another Christmas Party invite for the following weekend and an exchange of numbers. I dashed away leaving Mike's date none the wiser. The rest is history."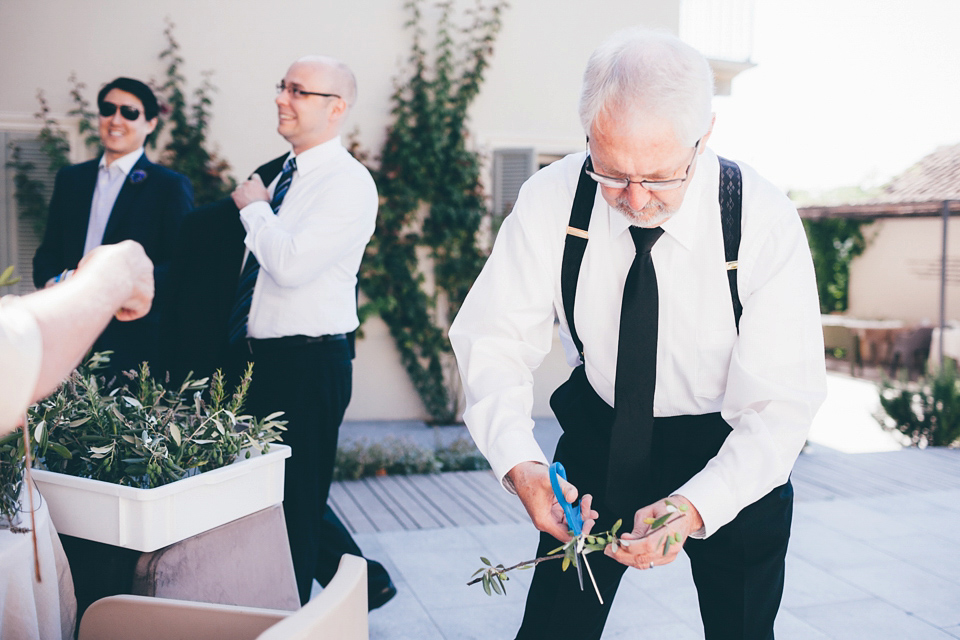 "We were friends for almost six months, before our first date on 8th May 2009 – which ended in absolute disaster! All was rectified the very next day however, and within a couple of months, we were Europe-bound for an extended vacation where we spent seven weeks really getting to know each other in Italy, Spain, Holland, Ireland and France. One full month of which was spent in Lucca, Tuscany where Mike was treated to my handmade gnocchi. There was simply no going back after that!"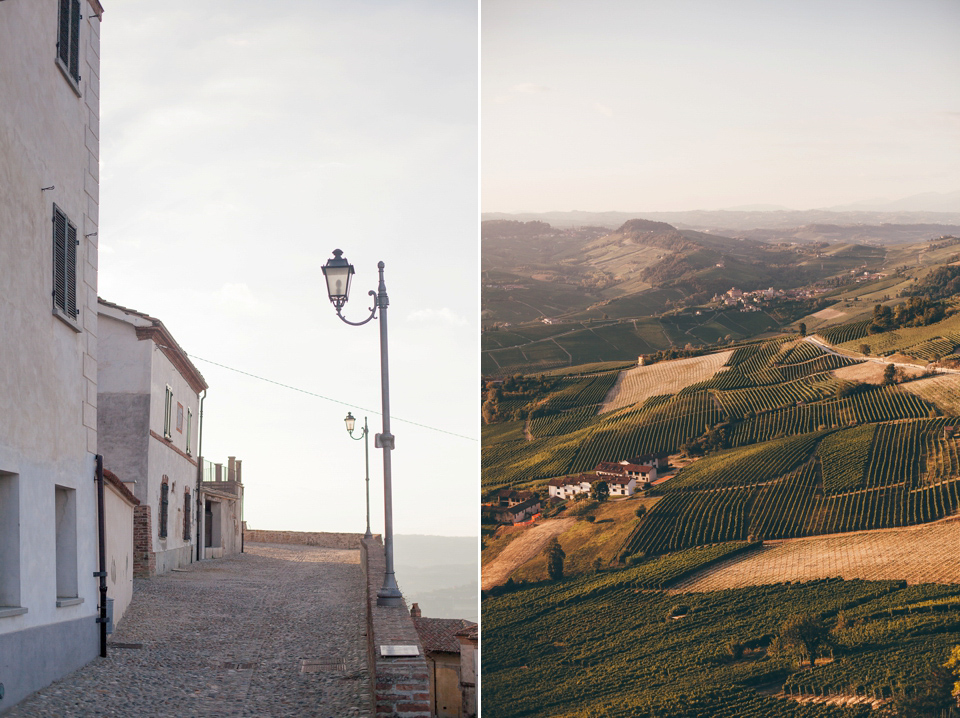 The couple chose to keep things natural and opted not to hire a florist, feeling that their environment provided all the natural beauty required for the day.
"The backdrop of the gorgeous rolling hills and vines provided all the natural touches we needed. I chose a simple lofty 'bouquet' of fresh olive branches tied together with cream ribbon.  Mike sported a boutonnière of olive branch stalks featuring tiny, green, unplucked olives on his Dries Van Noten suit. Dinner tables were set with simple arrangements of fragrant rosemary sprigs, fresh lavender stems and bundles of green olive branches."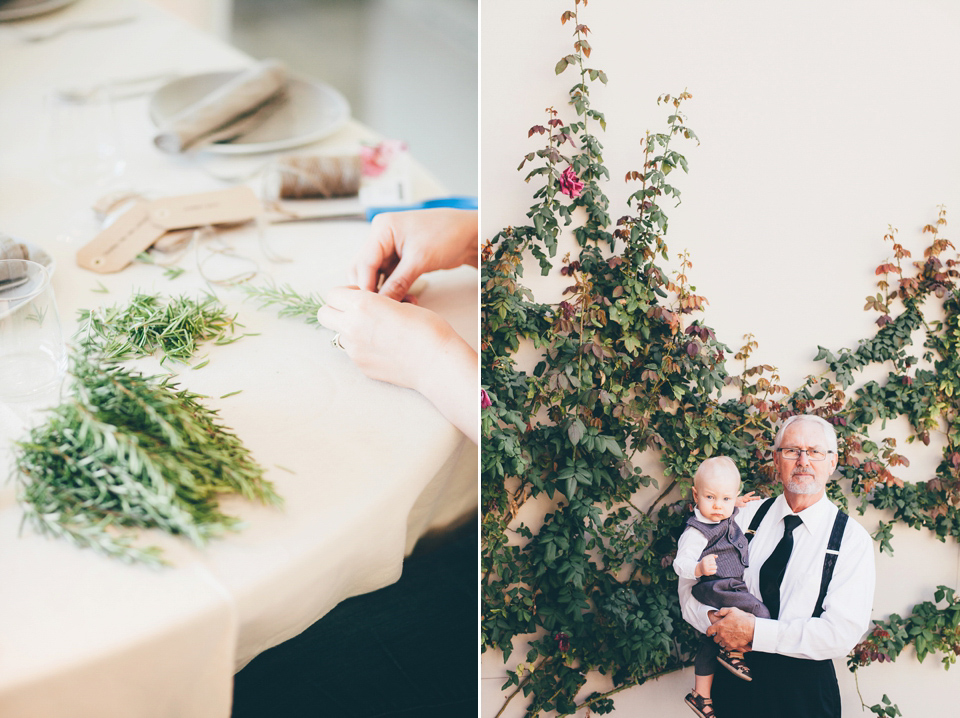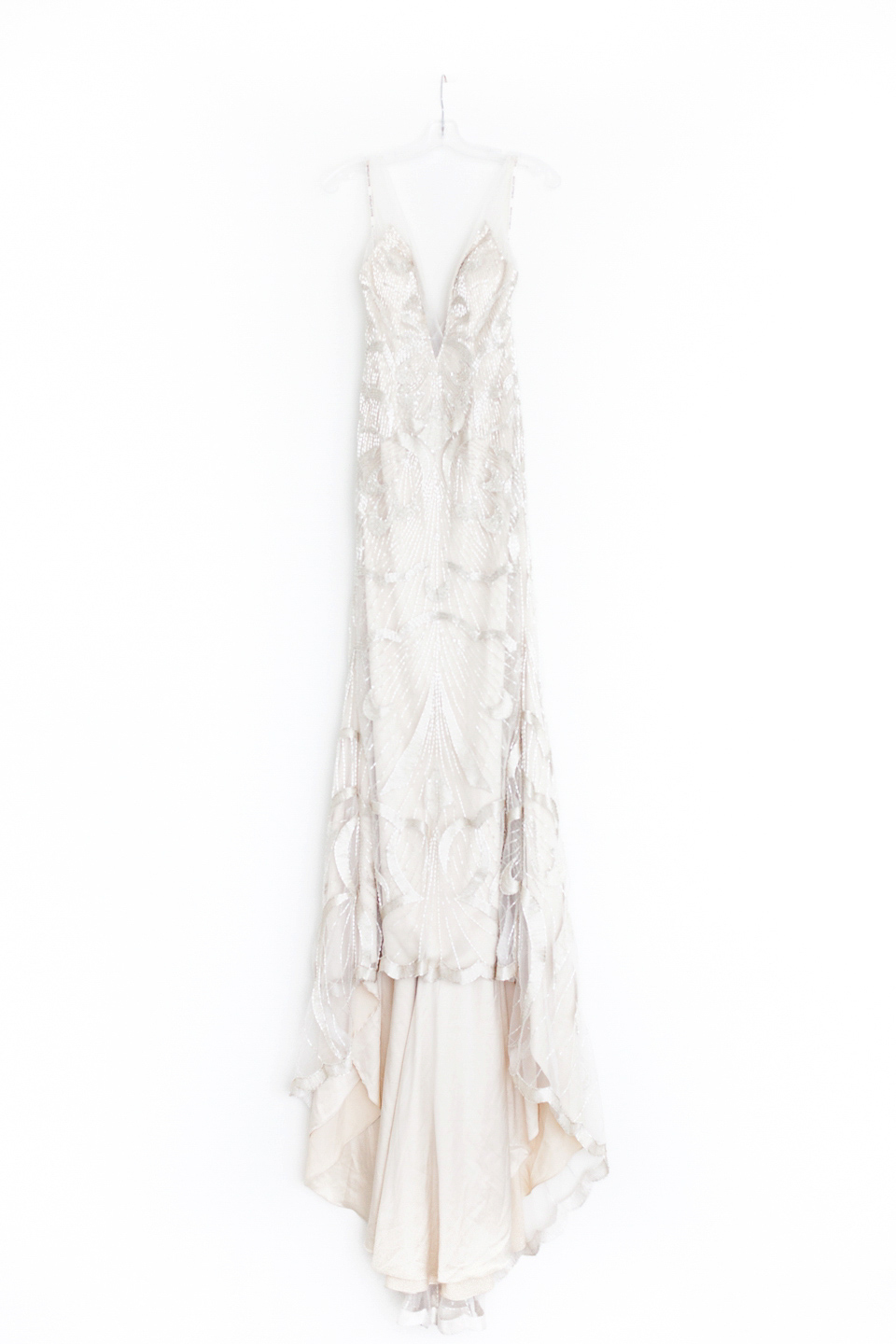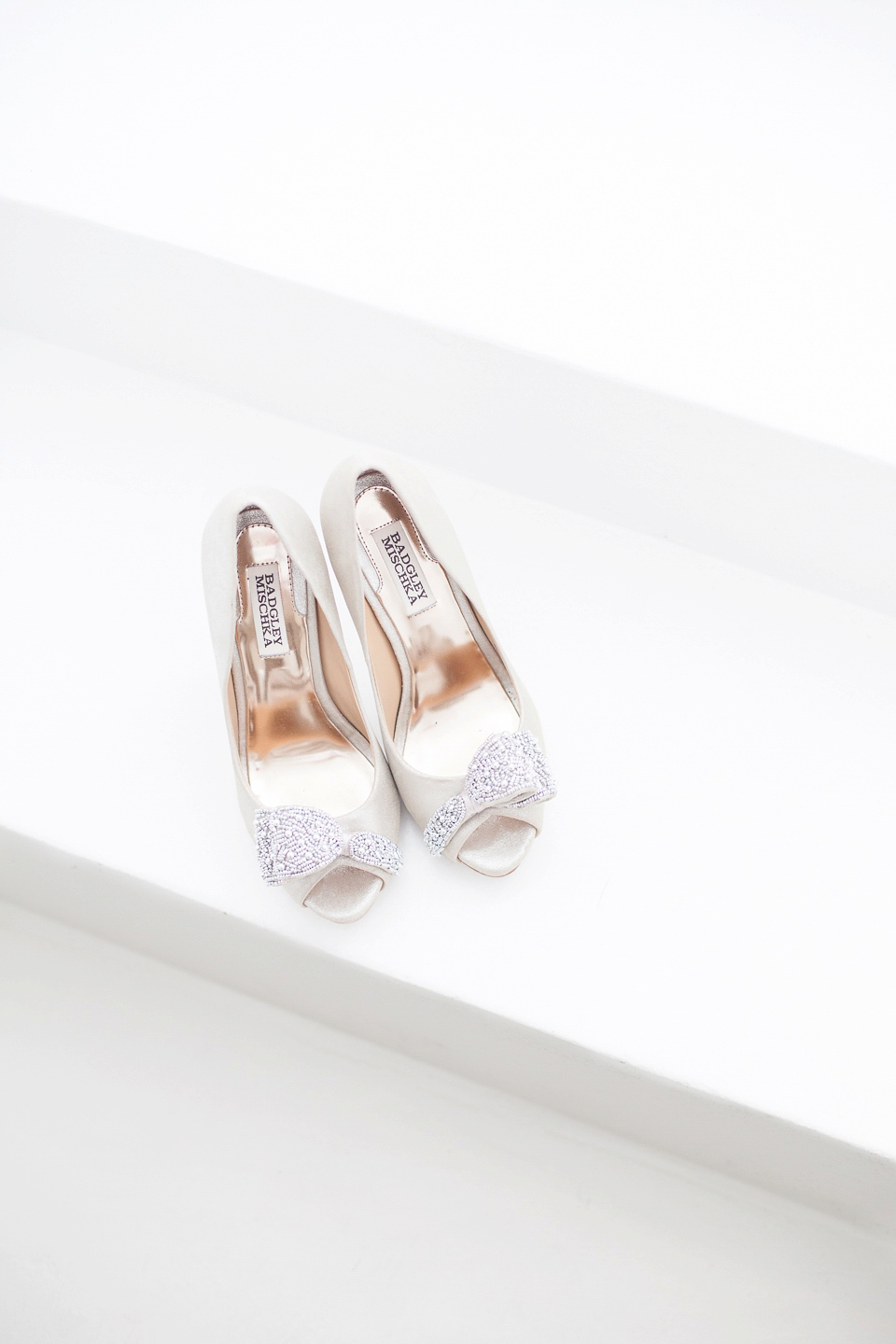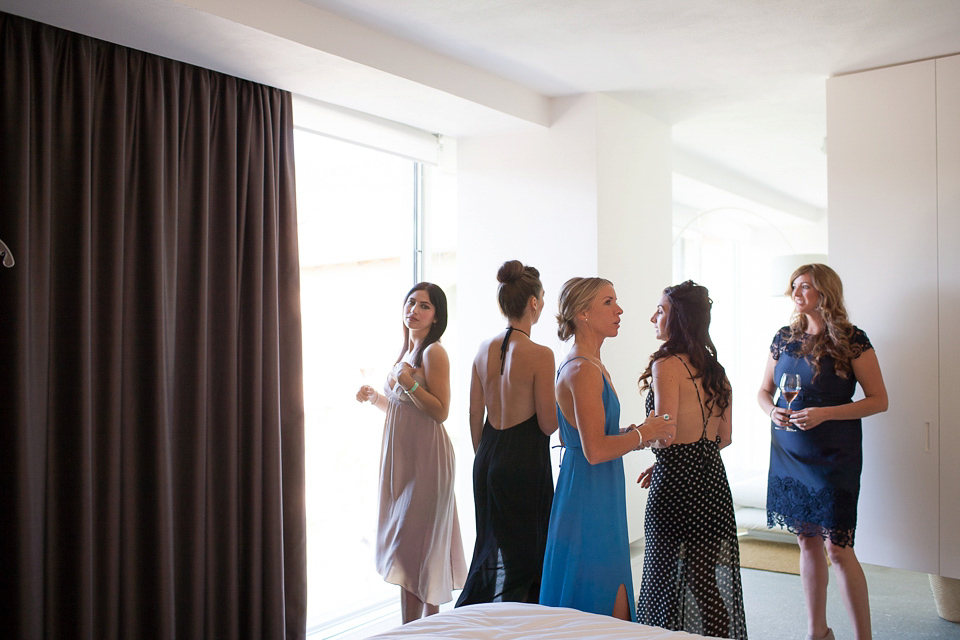 Katherine did all of the planning on her own from her home in Vancouver, Canada, which meant countless 5am phone calls, but it all came together in less than two months. For legal document assistance and for onsite coordination, the couple turned to Barbara Gourdain of Extraordinary Weddings for assistance.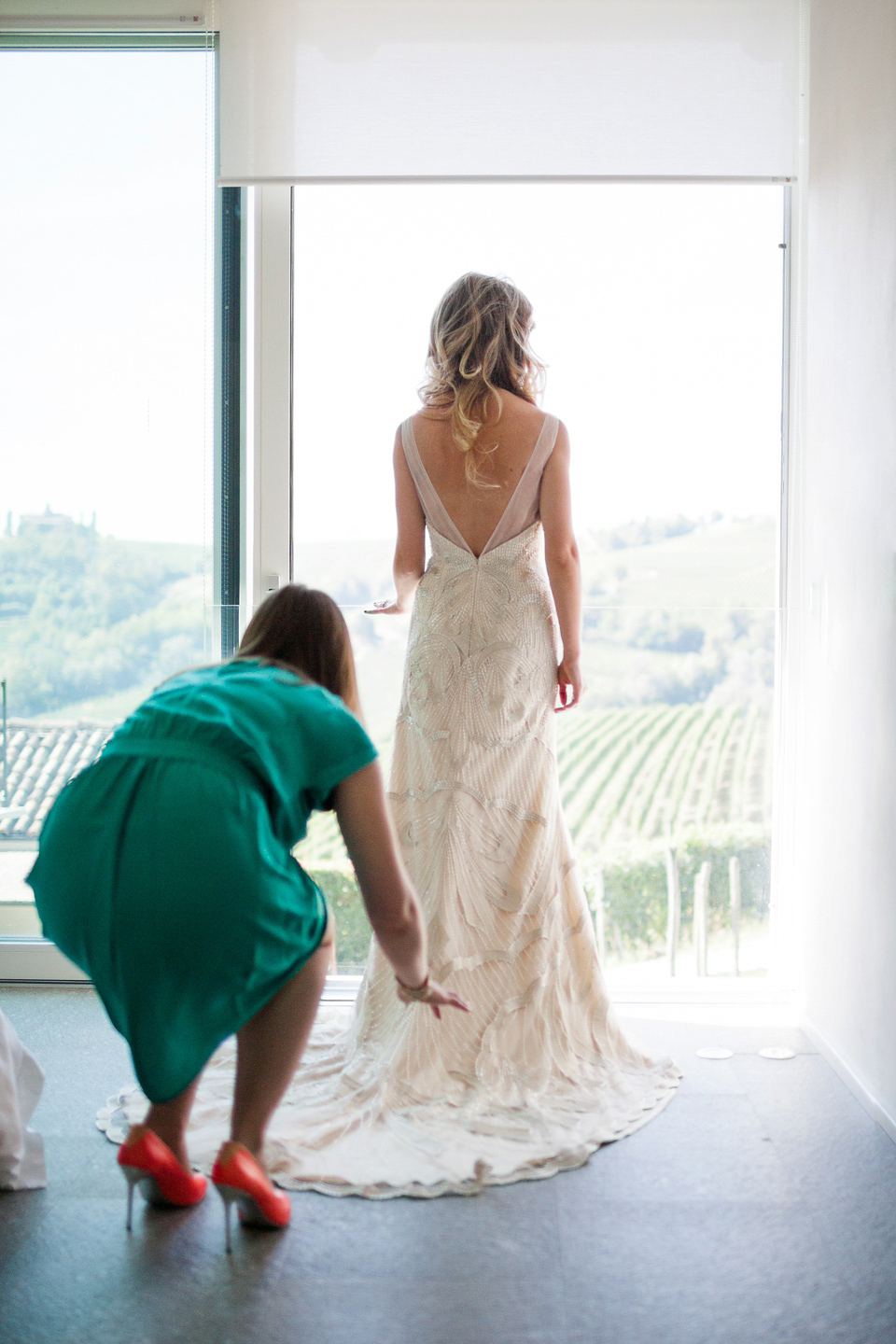 "My Dad walked me down the aisle all dressed up in his tux and Dutch orange sash to Louis Prima's 'Buona Sera' and my husband and I marched back down the aisle together to Rosemary Clooney's 'Botch-a-Me'."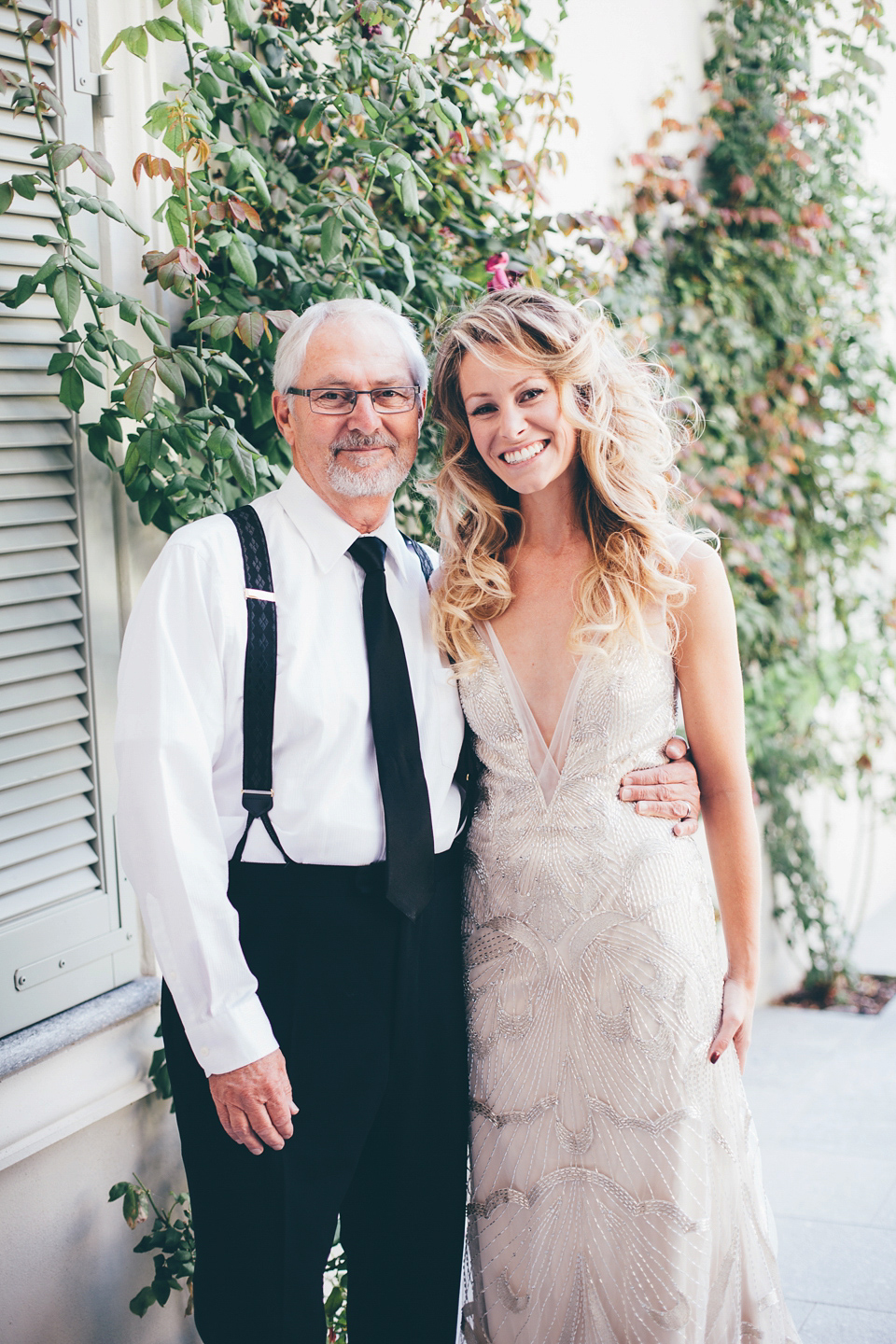 "All men attending the wedding were gifted Official Wedding sashes of their native countries. Nations represented were: Canada, Britain, Luxembourg, India, Latvia, the Netherlands, United States of America. The sashes were designed and custom made in Vancouver."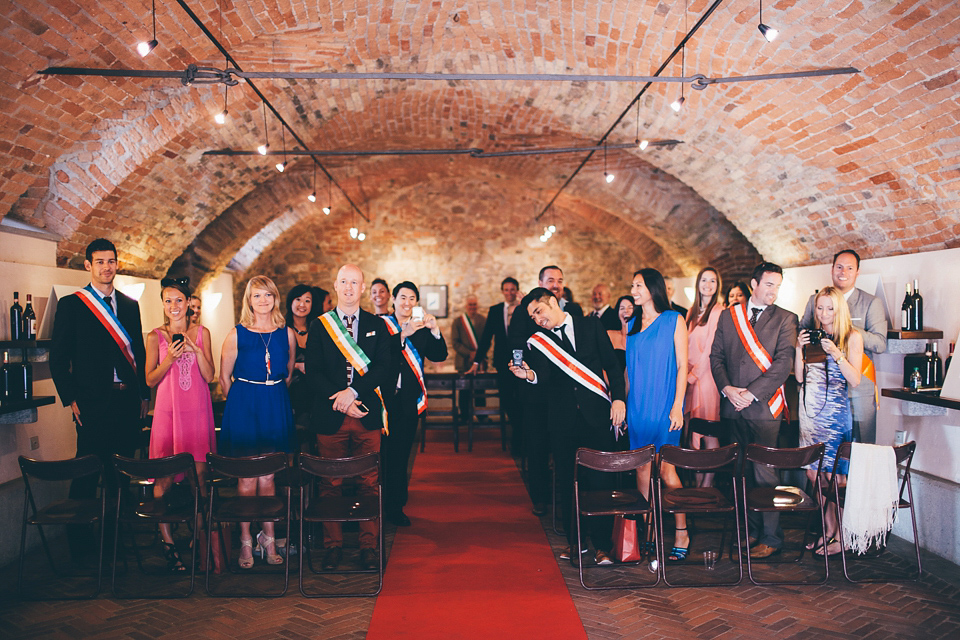 "We loved the Italian Civil Ceremony vows and their focus on equal rights and duties in the partnership, including choosing together where we would live and raising our children by fostering their natural abilities. It was our true ideal of what a partnership should be…"
'Art. 143 
Reciprocal rights and duties of the husband and wife. 
Upon marrying, the husband and wife acquire the same rights and assume the same duties. 
The state of matrimony requires a reciprocal obligation to fidelity, to moral and material assistance, to collaboration in the interest of the family and to cohabitation (that is, sharing a family home). 
Both the husband and wife are expected to contribute to the needs of the family, each pledging in relation to their own financial circumstances and personal capacity, relative to their profession, whether inside our outside the family home. 
Art. 144 
The address of the family home 
The husband and wife will agree together on the physical address of their home and establish the family residence according to the needs of both, and of the pre-eminent needs of the family itself. 
It is within the power of each of the spouses to bring the agreed upon address, into being. 
Art. 147 
Duties regarding children 
The state of matrimony requires from both the husband and wife the duty of supporting, raising and educating their children, keeping in mind their natural abilities, their inclinations and aspirations.'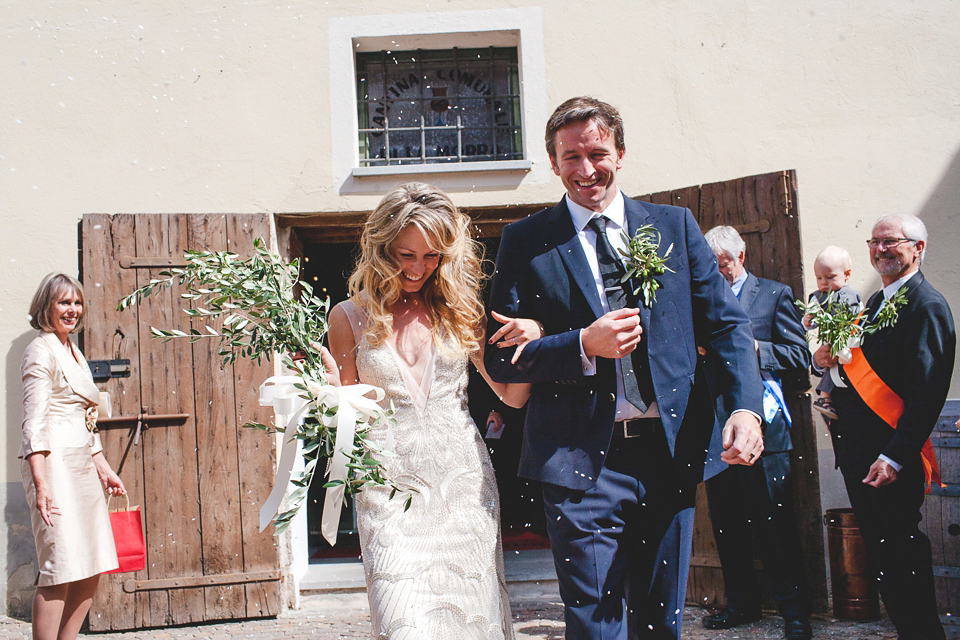 "We all crashed this gorgeous 12th Century church for a full Vanity Fair inspired photoshoot. Then we were on our merry way to our 'Enoteca Crawl' whereby we stopped at wine bar after wine bar as we all traversed the cobblestones through the town in our gorgeous gowns and heels, the men in their tuxes, suits and sashes – the locals couldn't get enough of us."
"The enoteca crawl featured little plates of aperitivo snacks at two different wine bars in town followed by a casual authentic pizzeria lunch on a beautiful outdoor terrace at Osteria Pizzeria Per Bacco. Regional wines and varietals complemented all of our food offerings throughout the day."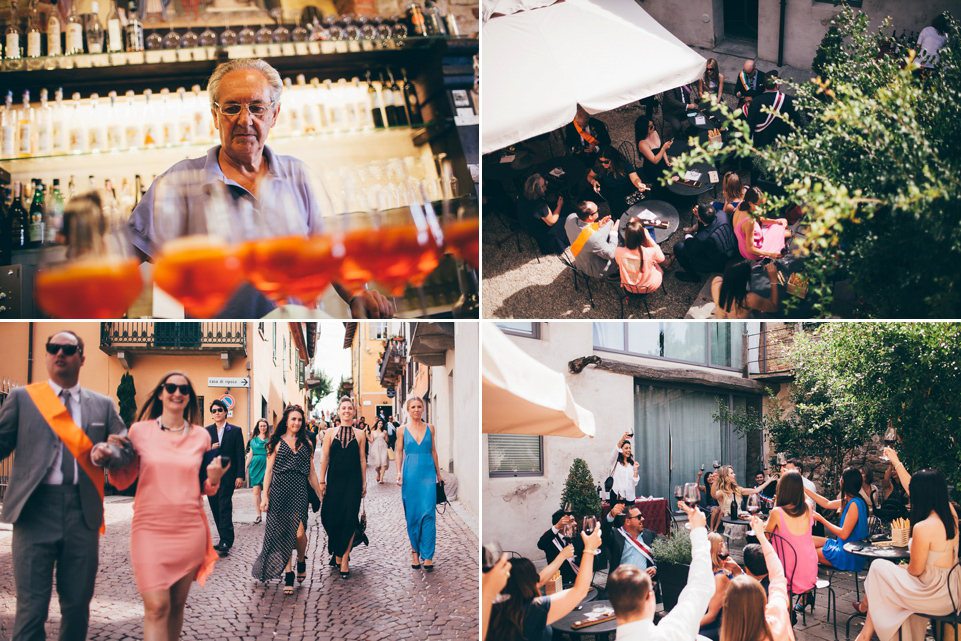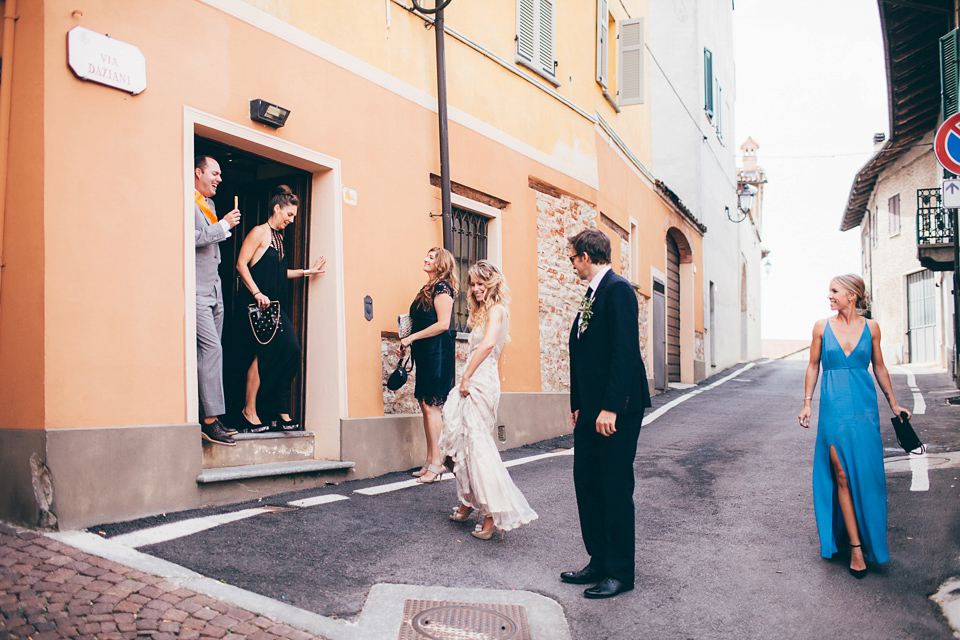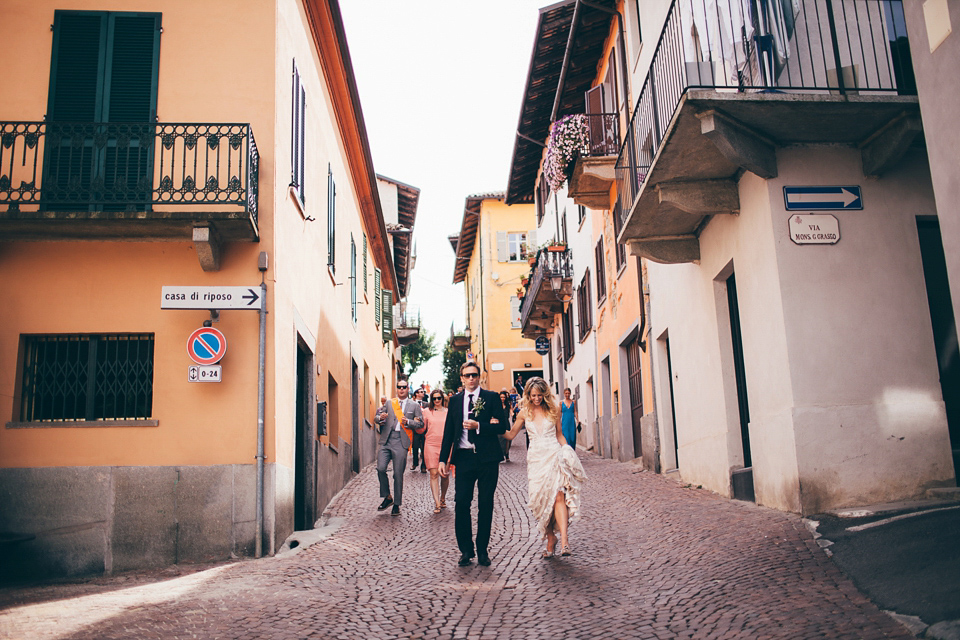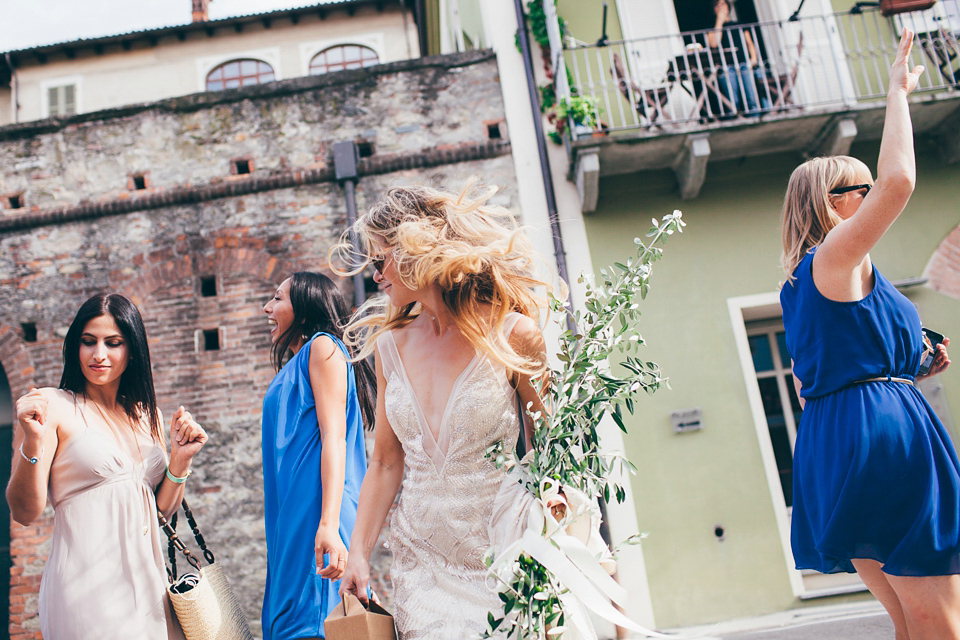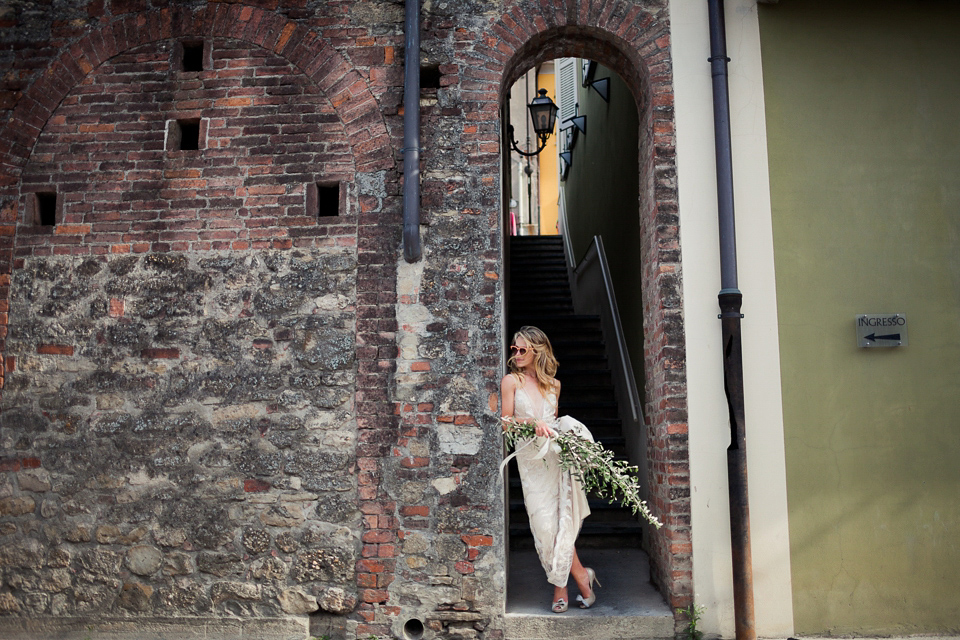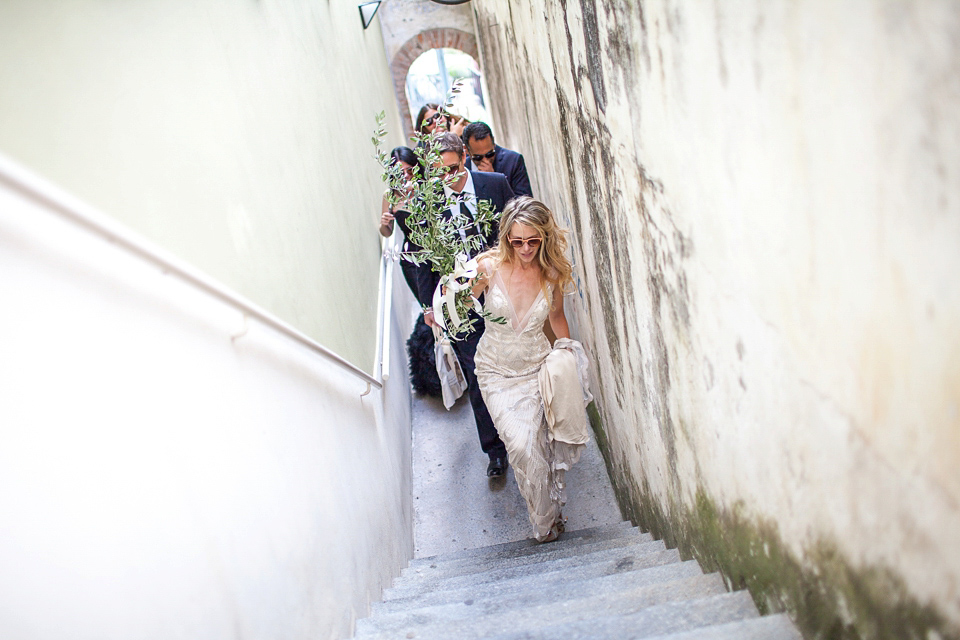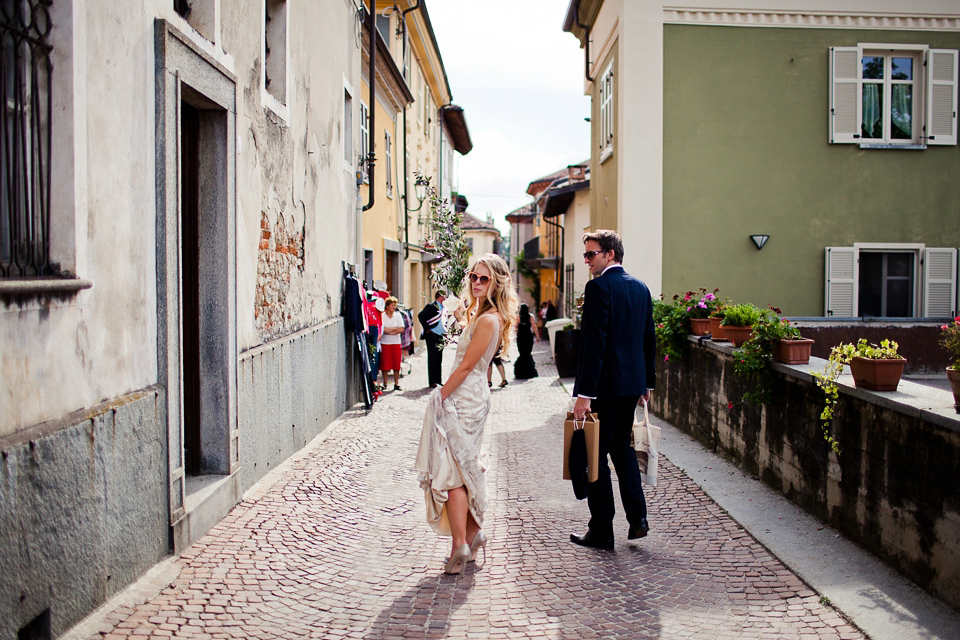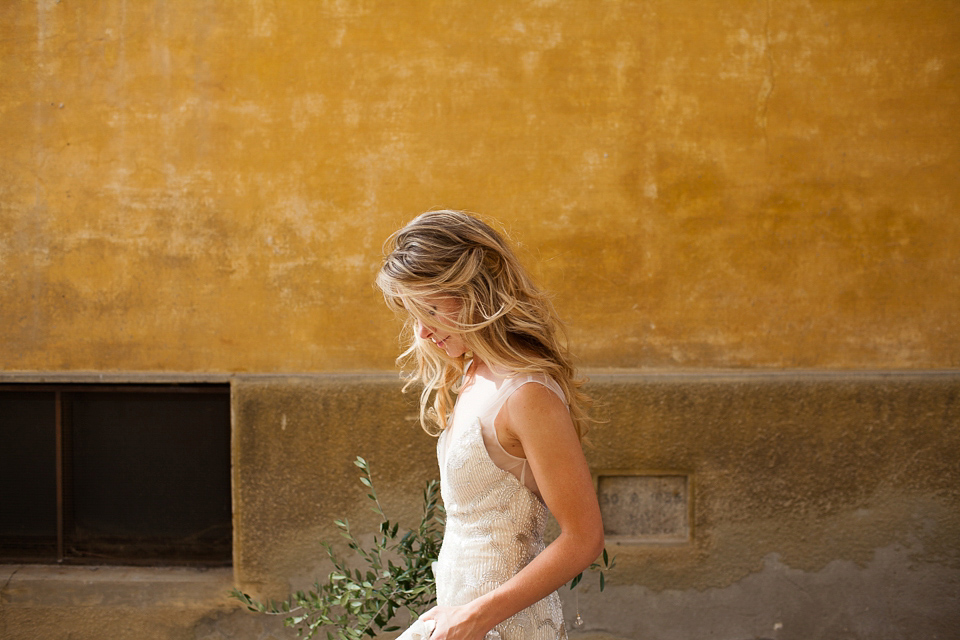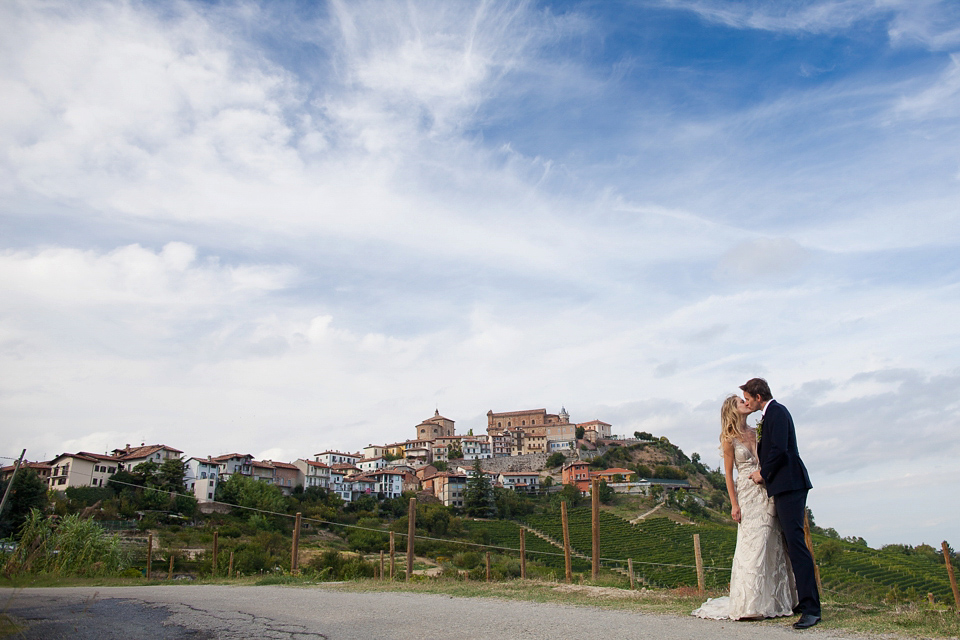 "The spontaneity of it all was one of my favourite aspects of the day – we surprised guests with trivia questions and those who answered correctly were put on the spot as impromptu MCs and speech-givers to the amusement of all in attendance. To keep it fun and light, we played 'First Dance Roulette' whereby we acquired guests' song submissions and suggestions and on the night of we picked from a hat. The winner? The Final Countdown by Europe! It was a total riot.
I loved the sense of camaraderie too – from wine tours to lunches and dinners all weekend-long, everyone got to spend time together getting to know one another. When it came time to be goofy and have fun while parading around town on our enoteca-crawl photo shoot after the ceremony, everyone was able to let loose and be a real part of the overall wedding experience. And the after party in the wine cellar at Palas Cerequio was off the hook. We danced (sometimes on the bar!) until three in the morning."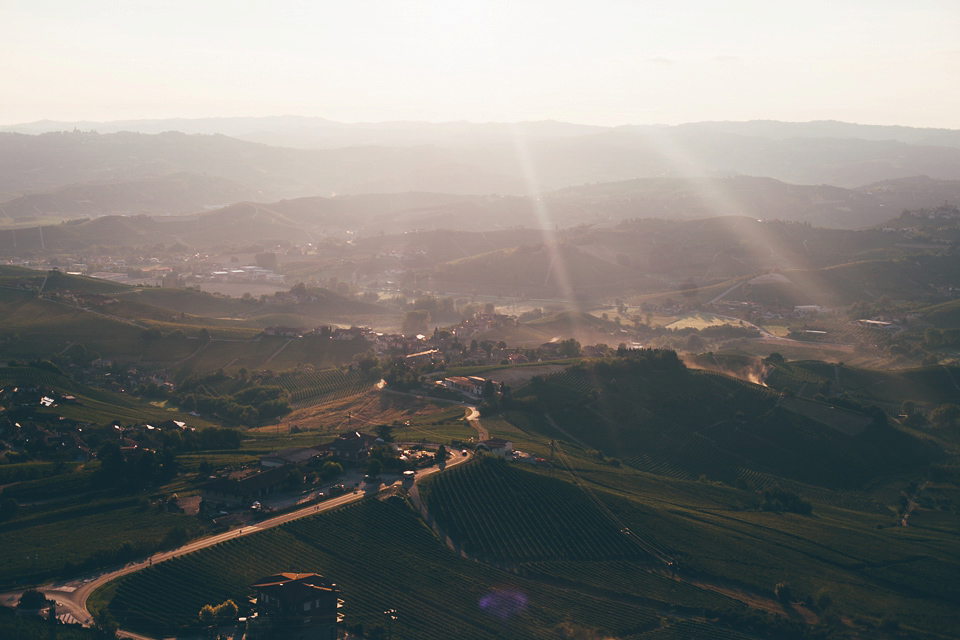 "The wedding dinner at Palas Cerequio featured five courses of regional gastronomic favourites such as Vitello Tonnato, Agnolotti with butter and sage, sous-vide Tagliata beef, hazelnut cake, and an extensive local cheese course paired with Arneis, Barbera d'Asti, Barolo, Moscato d'Asti and Grappa.
For favours, guests received small welcome packages upon arrival in Italy, which included small packets of Arborio rice to throw after the ceremony, Italian sweets and treats, a recipe card with my special handmade gnocchi recipe."
"The food and the wine was also unforgettable. We had done plenty of research during the previous year's truffle season, so we knew precisely where to go and which trattorias to book out."
What was most important to us regarding our wedding day was ensuring a memorable, over the top weekend-long celebration for all our guests. Nothing from a wedding 'must-do' list or anything cookie cutter. We wanted to create a never before seen or felt experience for all while introducing our guests to a gorgeous and unique setting in which we knew they would fall in love. It was a whole weekend-long affair and 'destination wedding' in it's truest sense."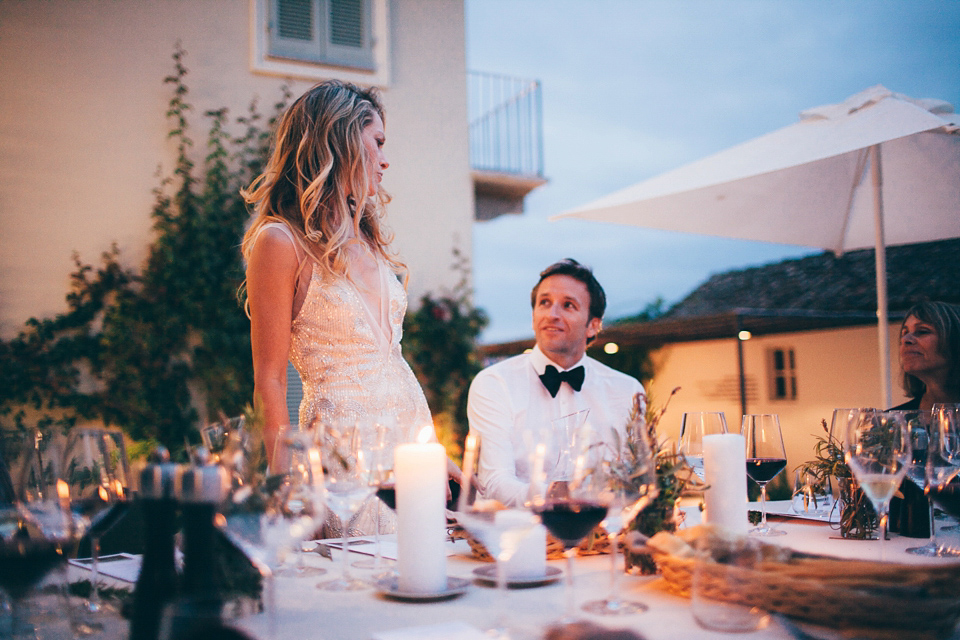 "Food and wine were of utmost importance to us both. Family style meals had been well researched at small, local restaurants featuring wines and dishes of the Piemontese region. As we had entitled our wedding 'Pop the Prosecco', bubbles were served at every meal, even breakfast!"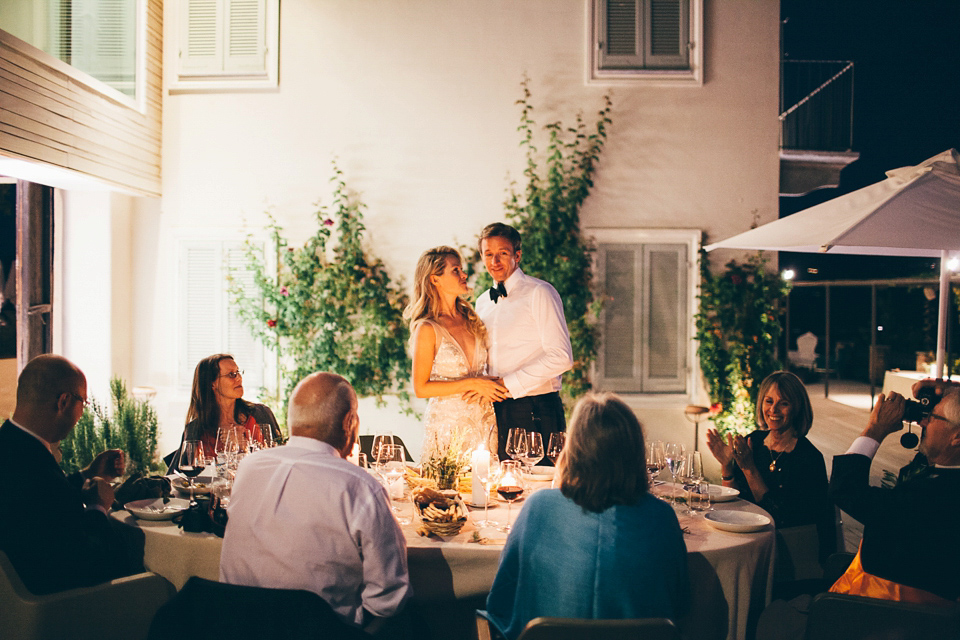 The bride and groom hired their good friend and expert music curator, Jarrod Banadyga, Creative Director of The Social House in Dublin, Ireland, as their DJ for the wedding weekend. He called himself DJ Crazy Calabrese and even had his own rider for the gig.
For the ceremony, classic 1950s and 60s Italian-inspired crooners were played. The bride walked down the aisle to Louis Prima's Buona Sera and the couple walked back up the aisle to Botch-a-Me by Rosemary Clooney. The couple's first dance was Europe's The Final Countdown.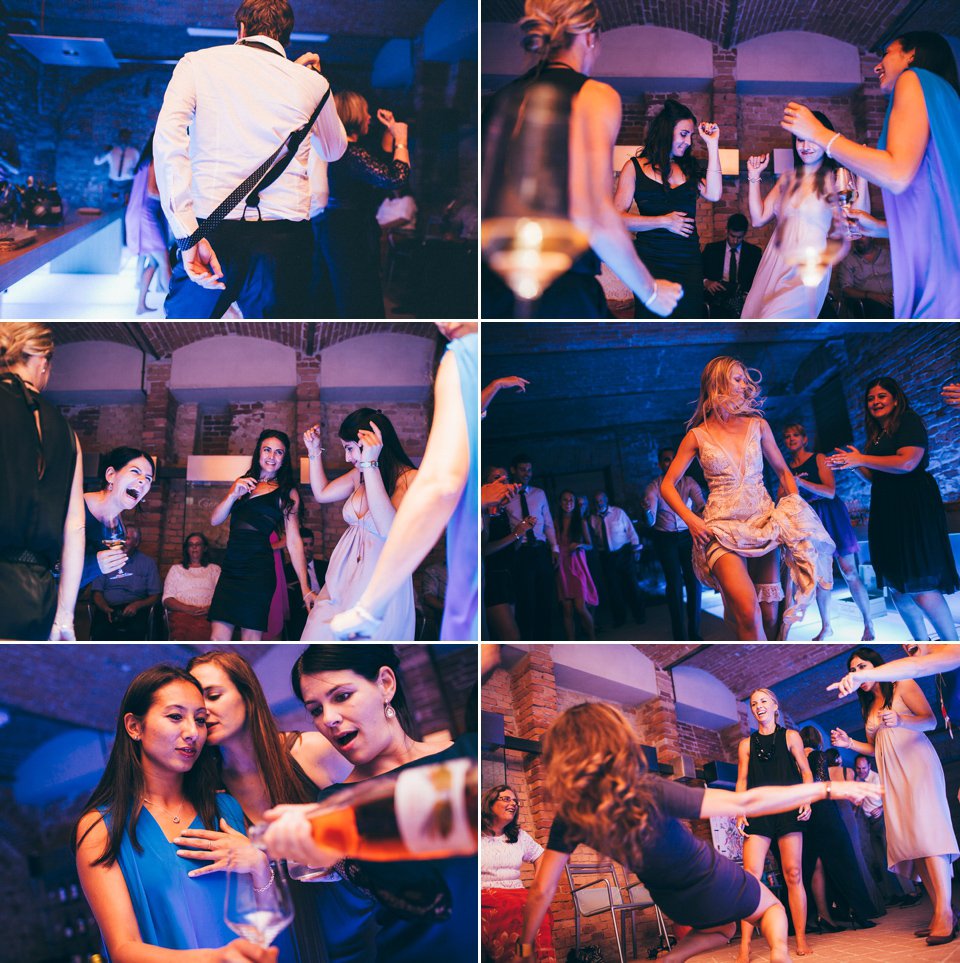 Words of Wedded Wisdom
"Ditch the checklists for weddings. Dream up how you want your guests to feel and create that experience with a clear vision in mind, not the so-called "must-dos". No one remembers your cake, colours, flowers, speeches or signs. Spend time thinking about the photos and memories you'll want and how you will accomplish them. Keep your guests involved and interacting with one another all weekend. These organic experiences will build lasting memories of your wedding.
It doesn't matter if the ribbon matches the napkins that match the menu font that match the bridesmaid sashes! Plan an experience for your guests – how do you want them to feel at the ceremony, reception, etc? Will they remember the nitty gritty decor details? They will not. Focus on creating a fun and inviting and memorable experience that people will be talking about for years to come. Legitimately make it #bestweddingever!
Everything about the entire weekend was perfect – we just went with the flow and enjoyed ourselves. Wouldn't change a thing." 
What brilliant words of wedded wisdom Katherine, thank you so much for letting us share your beautiful Italian wedding.
Huge thanks to photographer James Allan for being so lovely to work with in gathering all the information we needed to share this wedding with you.
Have a lovely Friday evening all,
Love Annabel xx
Photographer – James Allan
Planner/Stylist – Extraordinary Weddings
Venue  –  Palas Cerequio + Cantina Comunale di la Morra
Brides Dress – 'Gianna Marie' by Maggie Sottero
Bride's Shoes – Badgley Mischka
Grooms Suit – Dries Van Noten + Massimo Alba for the evening
Transport – Fiat 500 dressed in Italian wedding lace