I strongly advise you to prepare yourself a hot beverage and a little snack before you read on lovelies, as I guarantee you'll get hunger pangs when you view these delightful images by Kristian Leven Photography of the wedding of Alex – a chef, food writer, owner of The Hole in the Wall restaurant and a Masterchef finalist – and his beautiful bride Charlotte, who runs a content marketing team in London.
They tied the knot on 20th June 2015 in Cambridgeshire at Childerley Hall; the perfect spot for a sprawling, relaxed, and street food-filled Summer wedding celebration.
"We wanted to throw a huge summer party, outside in the summer sunshine, to thank all of our friends and family for being there for us throughout our lives. We had a lot to be grateful for; my mother died when I was 18 and I was given a huge amount of support by friends and family through that time – and Alex's time on Masterchef and subsequent setting up of a restaurant definitely tested our relationships – so we wanted to use this celebration as a chance to say a heartfelt thanks to those we loved."
Photography by Kristian Leven Photography
In her gorgeous Fur Coat No Knickers tea-length dress with long lacy sleeves, Charlotte rocked the 'Gin & It' style to a tee.
"I had first clocked FCNK about three years previously during my work for a professional photography magazine, and always kept them at the back of my mind. I knew I wanted a shorter dress for dancing and to be able to move around freely."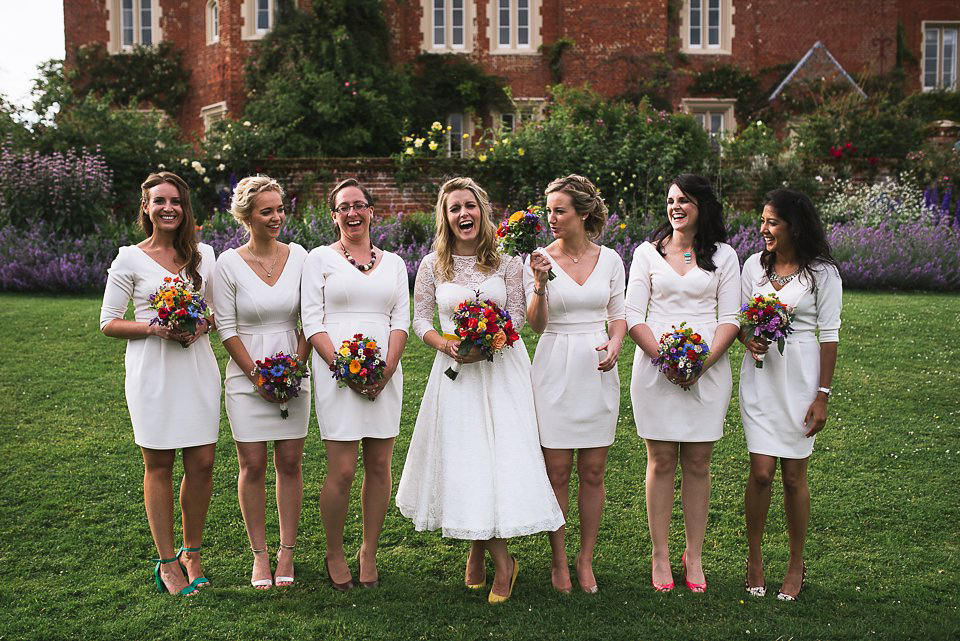 Charlotte's six beautiful maids wore short cream gowns by Closet London and their own shoes and jewellery.
"I love Closet London dresses and knew I wanted something with sleeves, something structured and fun. These cream dresses popped up in a sale and were absolutely perfect, and suited all of my best women."
Charlotte tells the most beautiful tale of their little love story and I truly do believe in the theory that when two people are meant to be together, everything just feels right.
"Alex and I met at university in Cambridge, and since graduation had kept in touch as part of a wider circle of friends. In 2007, I had to go to the Lakes for a photography shoot and arranged to stay with Alex (who lived in Manchester at that time) on my way up North. The night of my arrival he threw a dinner party for some friends and I helped to cook the feast – and that's when we first thought 'hang on…'.
He started spending a lot more time with me in Cambridge – and just a few weeks later, he quit his job and we put in an offer on a thatched cottage just outside the city. Yep, we moved super speedily, but when you know it's right, why wait?"
"Six years later we were still in the cottage but joined by three chickens, two cats and a whippet named Toby. We'd been through a giant amount together – lots of travelling, a huge amount of eating, one quitting of job to go freelance as a writer and photographer (me), one life-changing experience reaching the final of Masterchef (him) and one founding of what is now considered one of the best restaurants in the UK (mainly him, though a little bit of me too!) – and through all the madness there was never a doubt that we just made sense.
Alex got down on one knee on my 30th birthday, at the end of May in 2014, and we were married just over a year later."
"I wore Jo Malone's 'Orange Blossom' layered with 'Peony Blush Suede' – I'd wanted to work orange blossom in somewhere as I'd read that this was a traditional bridal flower in the UK, so this fresh, citrus-inspired fragrance mixed with the softer blush scent seemed perfect for the summery day we'd planned."
With her hair in loose curls, by Heike Martin from Cambridge Wedding Hair, and pretty Kate Spade drop earrings, Charlotte added a pop of colour to her attire with a yellow belt and yellow Zara heels; found for a right bargain on eBay.
"I wanted yellow heels and had seen a pair of Louboutins which I was all set to purchase, then one half-hearted search later, these totally gorgeous beauties popped up."
"I actually found my dress on my first visit to the Fur Coat No Knickers boutique – which was also the first shop I visited on the hunt – but felt that I should probably look at other ones. As with my relationship with Alex, I really should have trusted my gut on this and just gone with it!
I loved the sleeves, the scoop-neck lace and the way the dress moved as I walked. It was perfect for the relaxed celebration that we'd planned."
The bride was driven to Childerley Hall by her dad in her beloved Figaro for the couple's humanist ceremony. The original plan was to get married outside on Childerley's lawns, surrounded by the garden's summer flowers, with everyone sprawled around on rugs and low cushions, however an unfortunate spot of horizontal rain meant that everything was rapidly moved indoors. This certainly didn't put a dampener on spirits at all, as the ceremony ended up being one of Charlotte's favourite moments.
"I got my dad to drive me over to the venue in my much-loved Figgy. I made my brother fold into the back for fun – lucky we did this, as he became chief umbrella holder through the rain."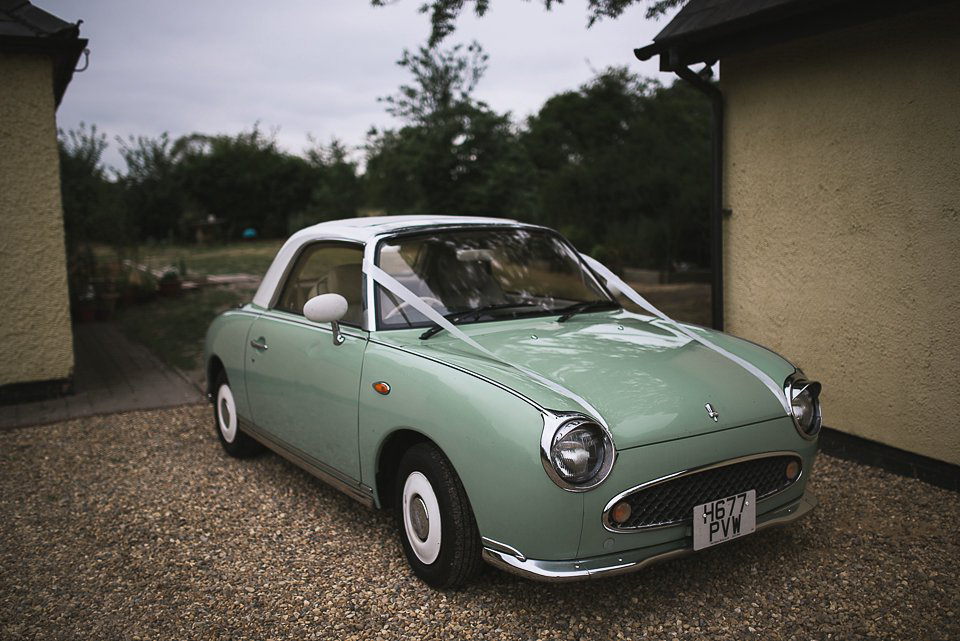 "Alex's outfit ended up being a panic-bought combination of Topshop and Reiss, grabbed about two weeks before the wedding. You'd genuinely never know. It worked quite well, didn't it?
The groomsmen wore their own chinos and white shirts, and we supplied the John Lewis kin ties and braces, and buttonholes to match. Again, it is amazing how well this worked. Adam (the best man) randomly decided to wear a dark waistcoat on the day, which went so well with Alex's paler waistcoat."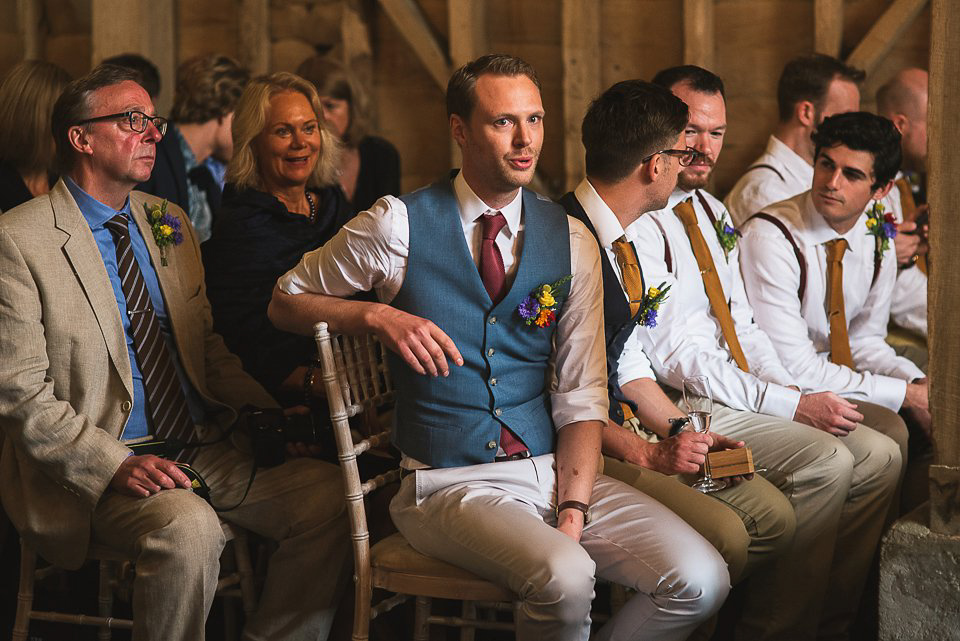 "My dad walked me down the aisle to 'Slow Show' by The National, played by our band The Handlers."
"We had a Humanist celebration and Leigh Chambers, our celebrant, was totally wonderful – she got the tone perfectly right and was so supportive during the run up. And also coped admirably when a morning of horizontal rain meant we had to move the ceremony into Childerley's barn."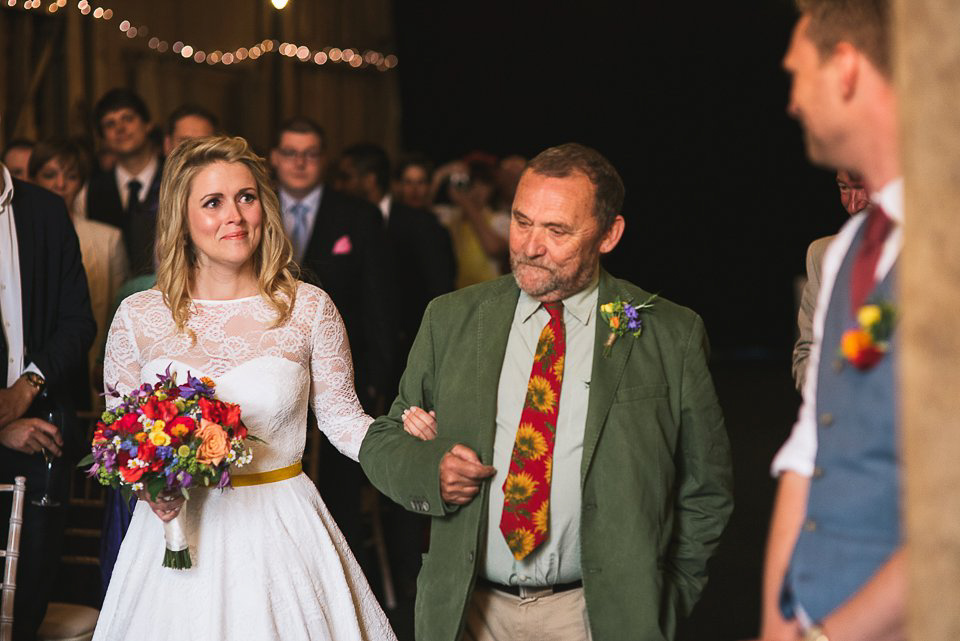 "I was utterly delighted with the way it worked out: the more 'formal' setting for the ceremony (rows of chairs, us at the front) balanced beautifully with the informal remainder of the day – and when the sun did come out, halfway though the ceremony, the end of the barn lit up and glowed with the most astonishing light, perfectly framing us against the old wood of the walls.
It couldn't have been stage-managed better and what astonished me the most was that you wouldn't have known the plan for the wedding was different until about twenty minutes before it started. The ceremony ended up being one of my favourite bits of the day."
"We had a reading from 'Appetite' by Nigel Slater – a section called "What goes with what" about ingredients that work perfectly together – and the poem 'Love' by Roy Croft. Unexpectedly, Alex chose the poem and I chose the foodie reading. We chose these because Nigel Slater books were where we doubled up when we combined our (extensive) libraries upon moving in together – and I love poetry, so wanted a piece read during our ceremony. This simply and perfectly summed up how I felt about Alex, and how he felt about me."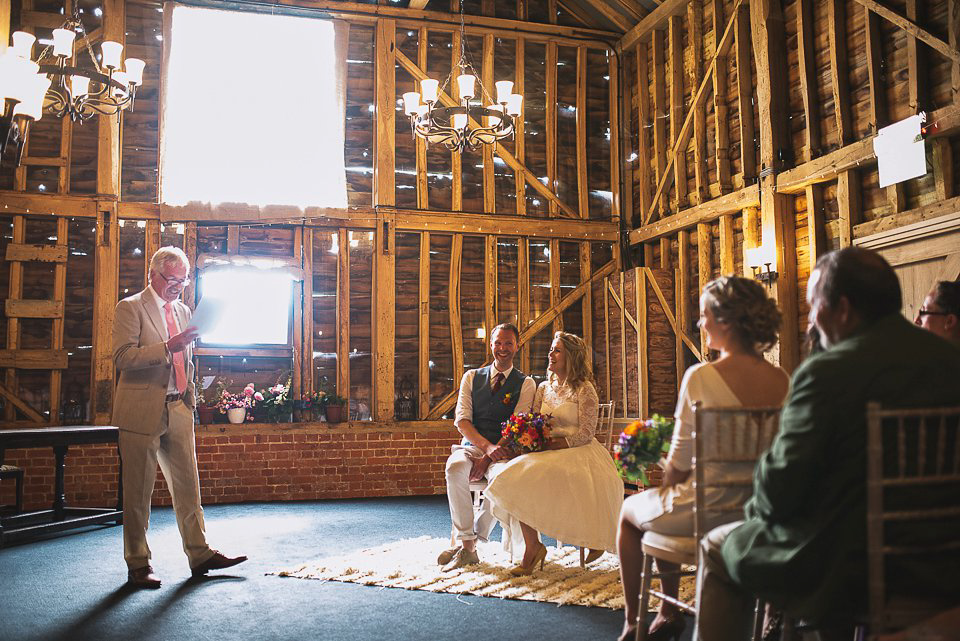 "My engagement ring is by Jennifer Meyer and our designer Louise from Harriet Kelsall in Cambridge created a beautiful set of rings that were to our own personal tastes, yet also neatly (and secretly) linked."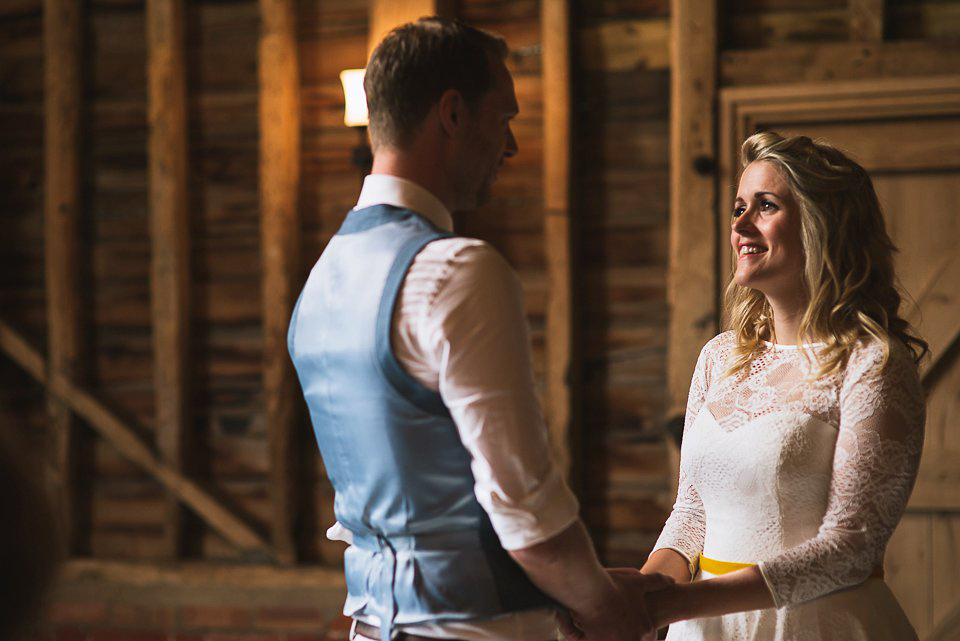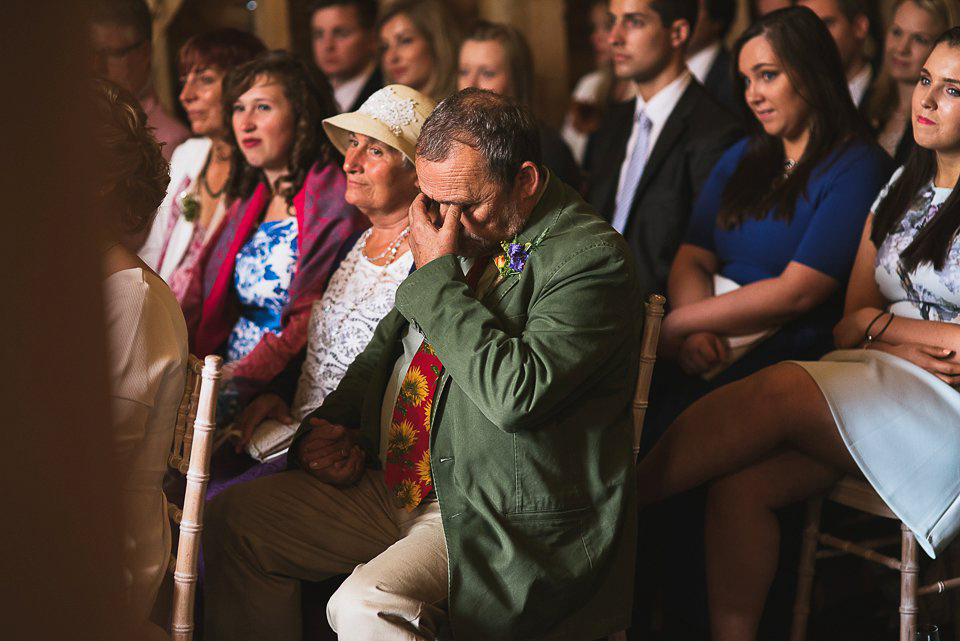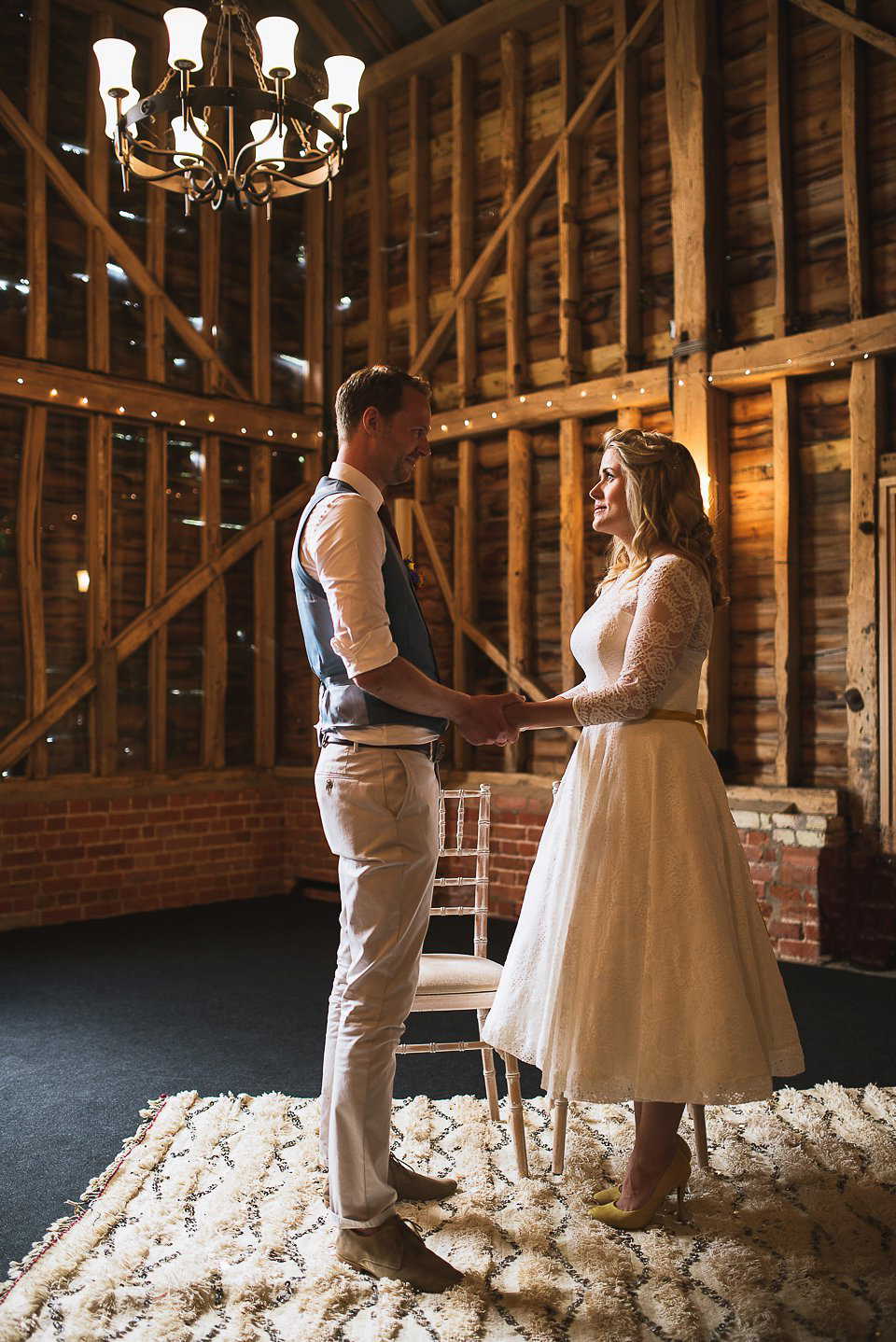 One of my favourite things about this wedding is the beautiful flowers, which work so well against the bride and bridesmaid's dresses. Nothing beats bright pops of colour and the florist did a fantastic job.
"Heather Carpenter originally supplied flowers for Alex's restaurant, so she was my first and only choice and got my brief of hot, summer, bright, relaxed wild flowers absolutely bang on the money. I was completely thrilled with the bouquets she created for me and my ladies, and the arrangements for the tables in the barn, and everyone commented on how perfectly they matched the event."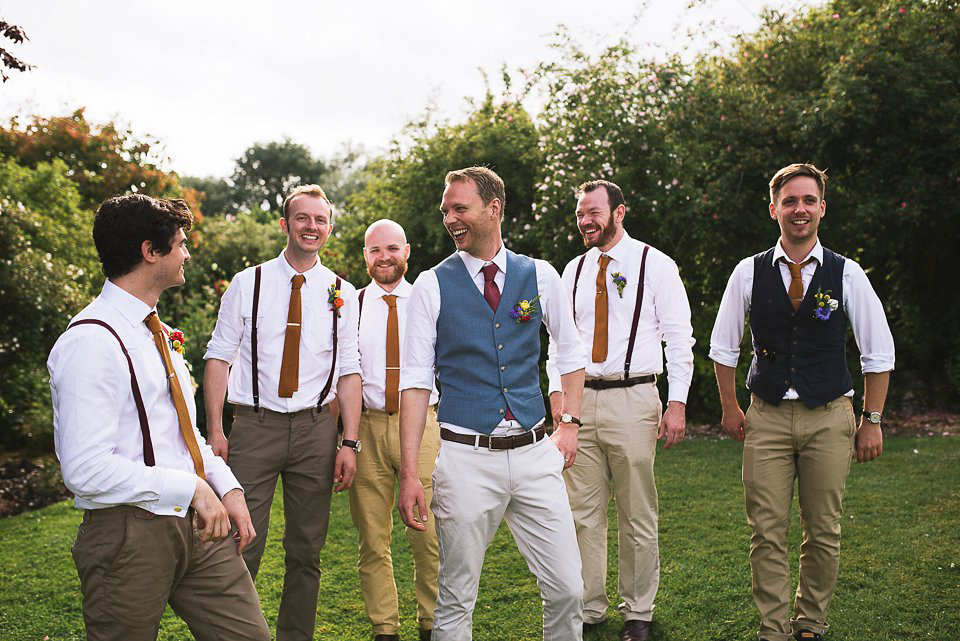 Upon first sight of the couple's photos by Kristian Leven Photography, I was immediately drawn in and actually felt I was part of Alex and Charlotte's day. There's so much life, laughter and emotion captured by Kristian in every photo – he is one exceptionally talented photographer and I'm certain we will be showcasing more of his brilliant work in future blogs.
"Kristian was absolutely outstanding and I could not recommend him highly enough; he created a set of stunning, candid, filmic images that perfectly sum up our celebration. Everyone commented on how professional and friendly he was, and he never seemed to stop working – there were quite a few images where we couldn't work out how he'd got to that angle without being in the way! Incredible work from an incredible guy."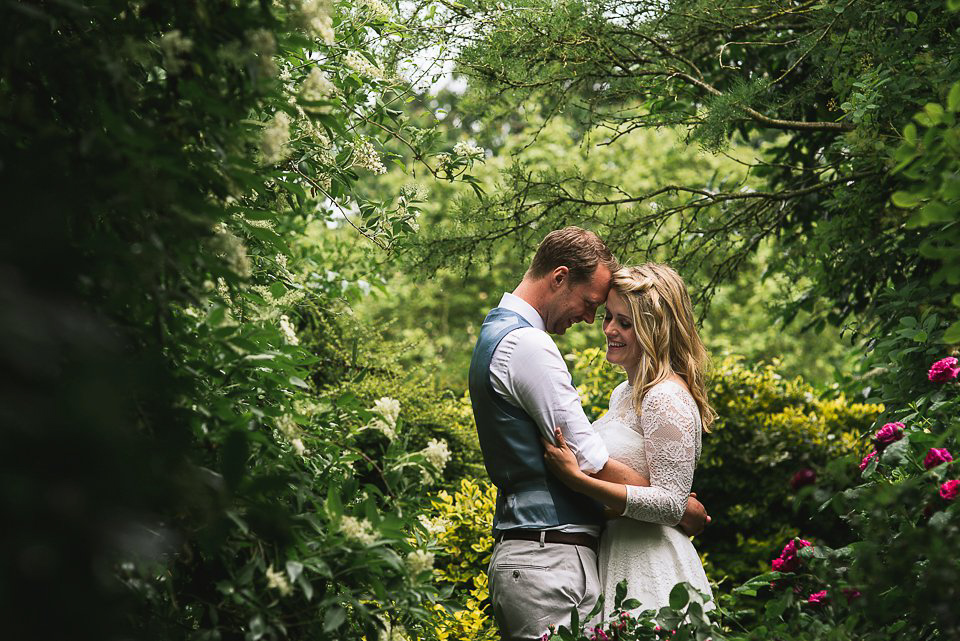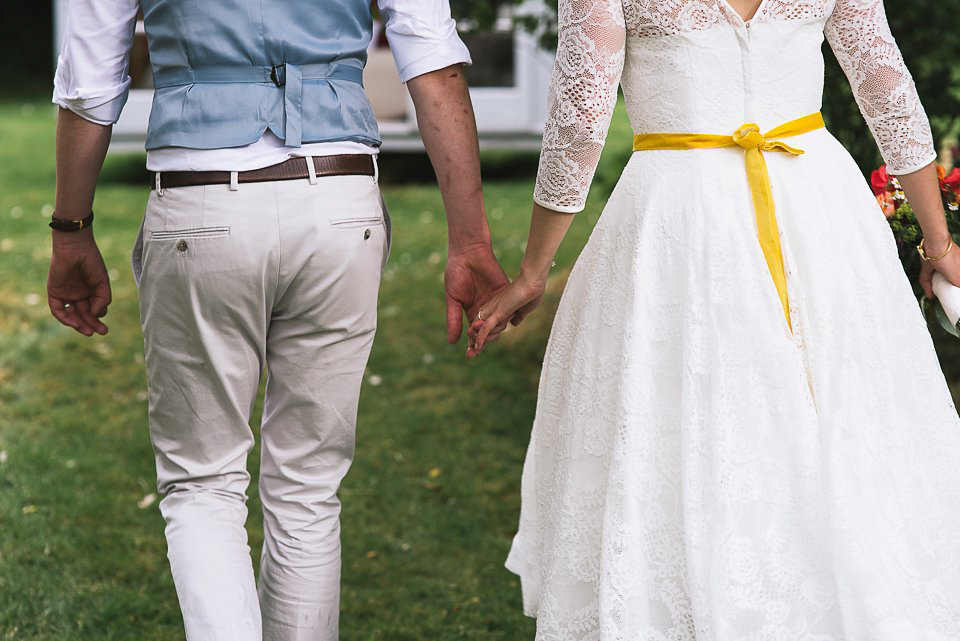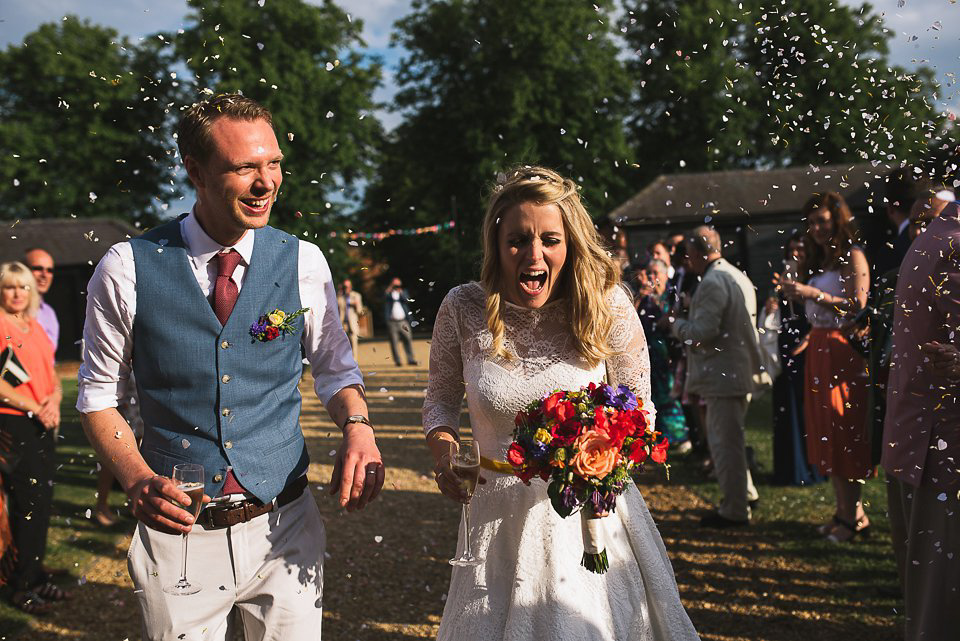 "My very favourite part was the speeches held in Childerley's barn with everyone standing and gathered around – it was just the most magical, hilarious, emotional bit of time."
The couple hardly needed to do any decorating of the venue due to the sheer beauty of the grounds and the gardens of Childerley Hall; simply adding pops of colour in the form of bunting and the bright table flowers.
"Childerley and the gardens were so beautiful as they were that I didn't want to detract from it – and also couldn't work out how I could have added to it! We had bouquets from Heather for the barn's tables, and then I'd bought a few strings of £1 paper bunting from Tiger because I loved the colours. I also borrowed some paler bunting from a friend and put this up in the meadow to lead people to Childerley's gardens, and that is literally all we did."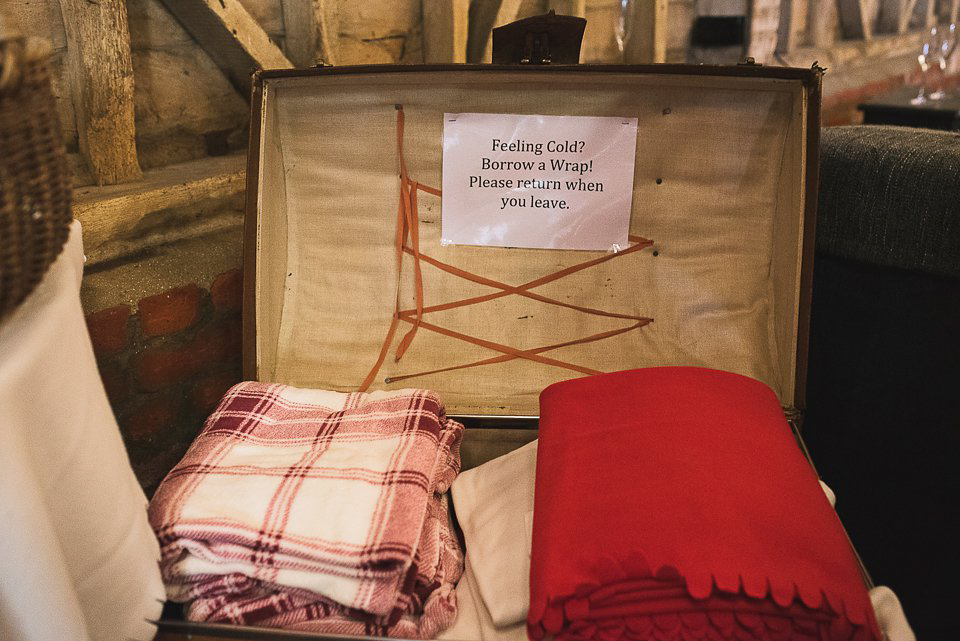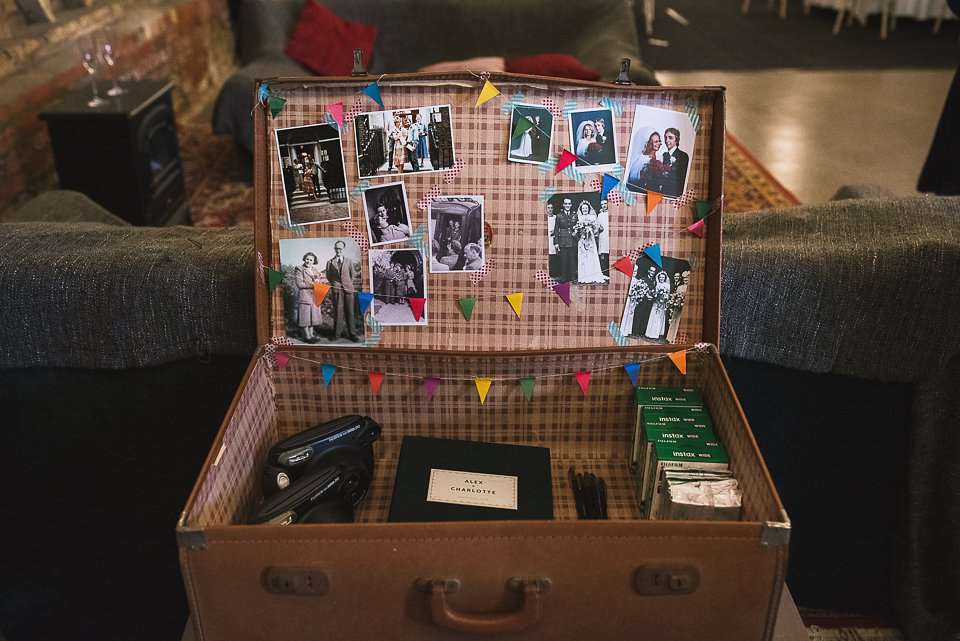 "Our wedding invitations were done through Paperless Post and we didn't have formal seating, so there was no table plan. I knocked up a tiny 'menu' for the day's events a few days before the wedding (and accidentally ended up cutting out 2000 rather than the 200 we needed!). 
We had a Fujifilm Instax at the event to take our own silly photos and we got a beautiful Instax album from Etsy for people to pop them in and write notes. Since our wedding I've seen a lot of the photos on people's fridges, so these sort of acted as unplanned favours."
"Dr Tim Kinnaird was in the finals of Masterchef with Alex and now runs a patisserie and celebration cake business in Norwich called Macarons & More. As a wedding gift to us he created a multi-layer cake of incredible flavours and decorated it in the same relaxed, summery way that matched the event. And it was utterly and totally delicious."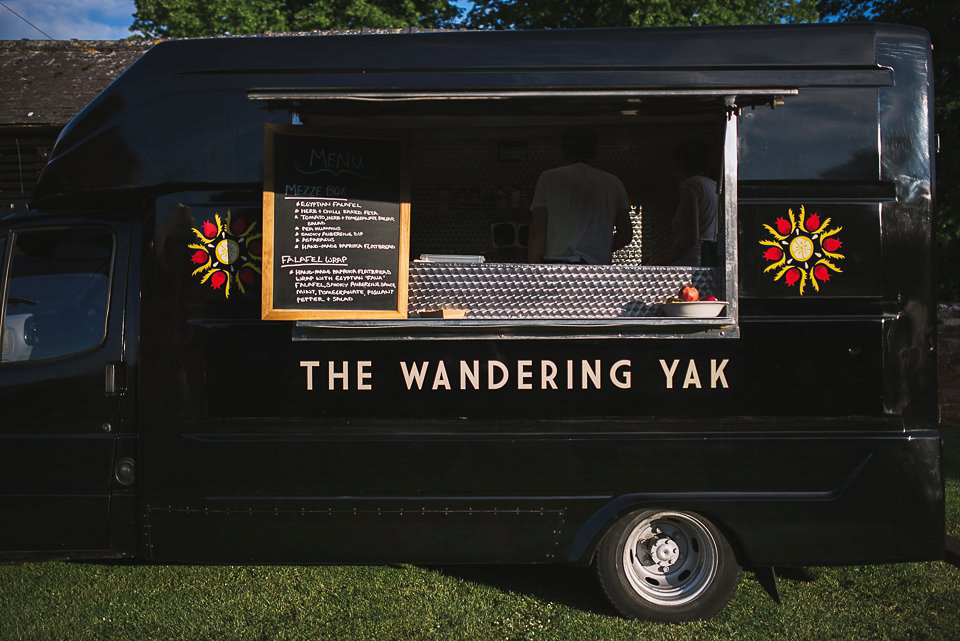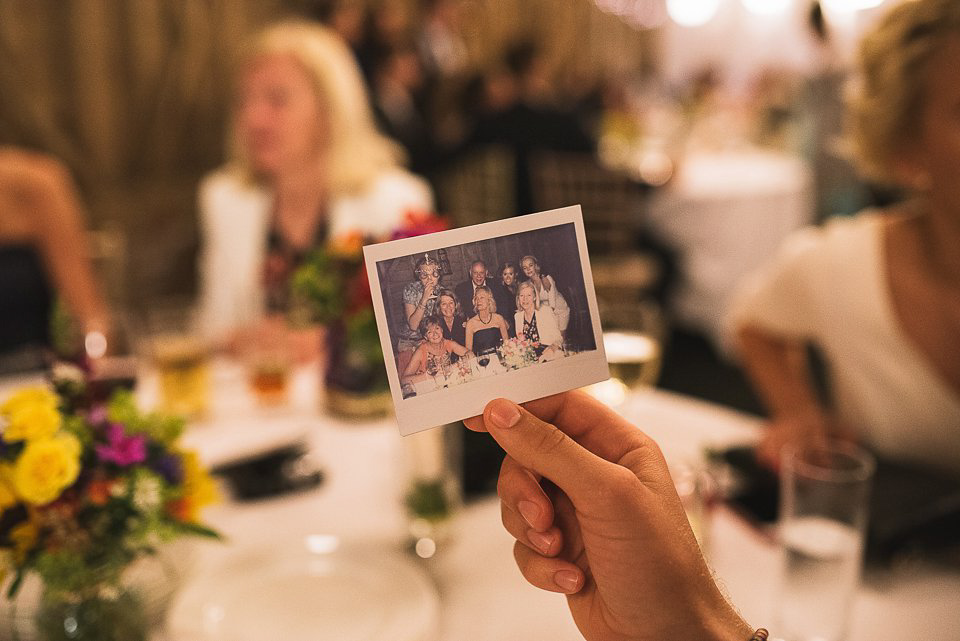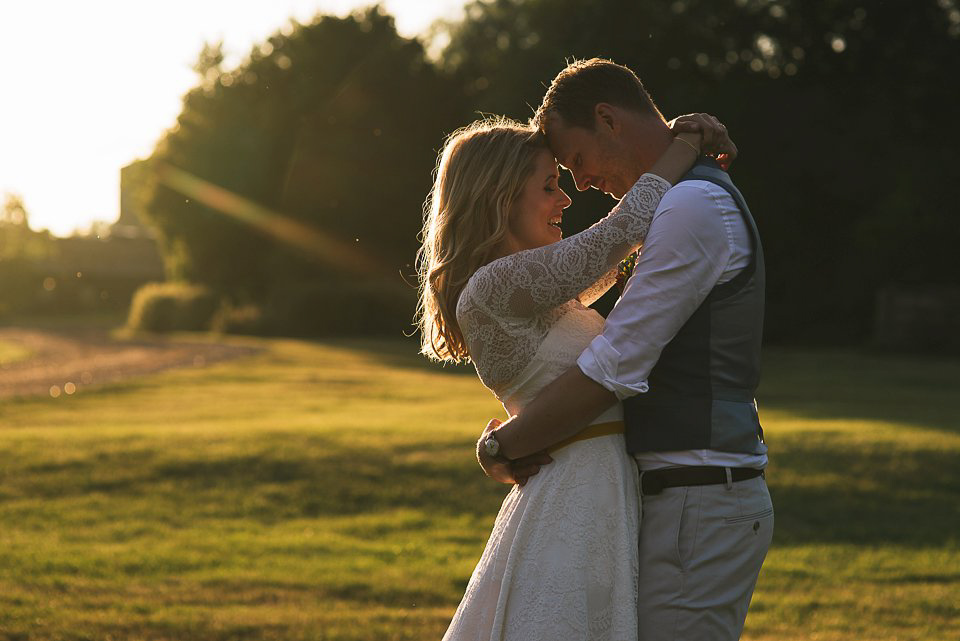 Continuing the celebrations into the night, the couple arranged Cambridge college band The Handlers to entertain the guests.
"The band was absolutely outstanding. Everything was arranged in about two weeks before the wedding and they were simply brilliant; we couldn't recommend them highly enough.
We ended up dancing our first dance to 'Dog Days are Over' by Florence and the Machine and got everyone else involved – but as Childerley was so sprawling and many of our guests were outside tucking into street food, we didn't have a huge audience for this dance, which made it all the more magic."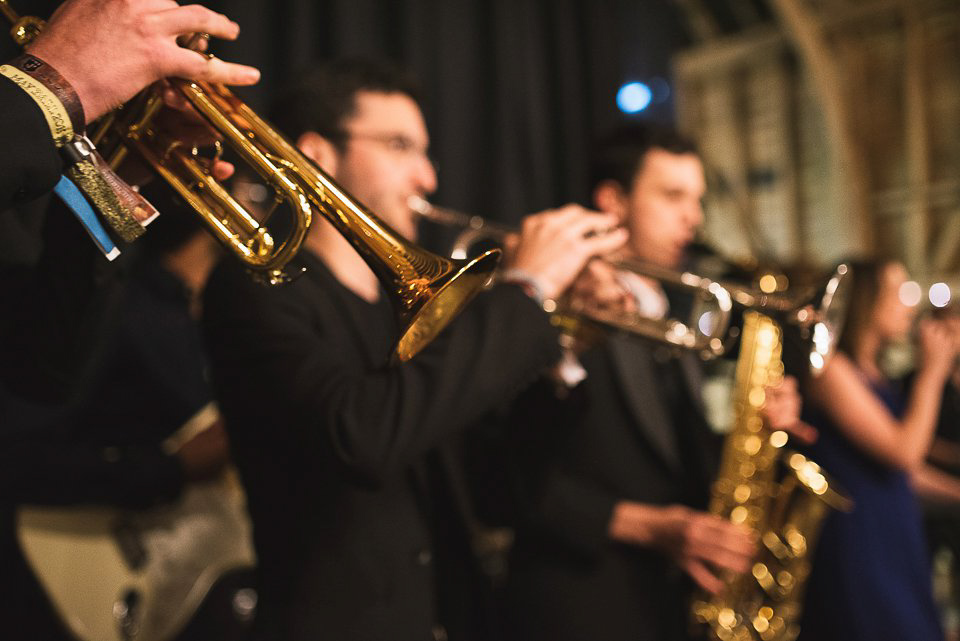 "As you would expect, food was hugely important to us and we were genuinely terrified of serving mediocre salmon (my main wedding nightmare was that people might be hungry) – so we binned the idea of a formal sit-down meal and instead got MF to provide post-ceremony canapés, then invited the finest members of Cambridge's lively street food scene to drive their vans over and fill Childerley's courtyard with foodie options for our friends. Steak & Honour handed out burgers, fries and hotdogs (and secret mac and cheese), The Wandering Yak offered veggie mezze boxes and falafel, Pata Negra provided huge platters of Parma ham, Manchego cheese and Marcona almonds on each of the tables and Jack's Gelato created bespoke ice-creams for afters. Two barrels of ale were lined up in the courtyard, and Cambridge Wine supplied some stunning wine and fizz to accompany everything.
 As well as avoiding a sit-down meal, we also didn't want to have formal place settings – we wanted people to wander and enjoy discovering the food, the bar, and the beauty of Childerley for themselves. This approach worked SO well – we saw people running excitedly from area to area, shouting about what they'd found and rounding up other guests to come eat the ice cream they'd discovered. People are still talking about the food nearly a year later. Hurrah!"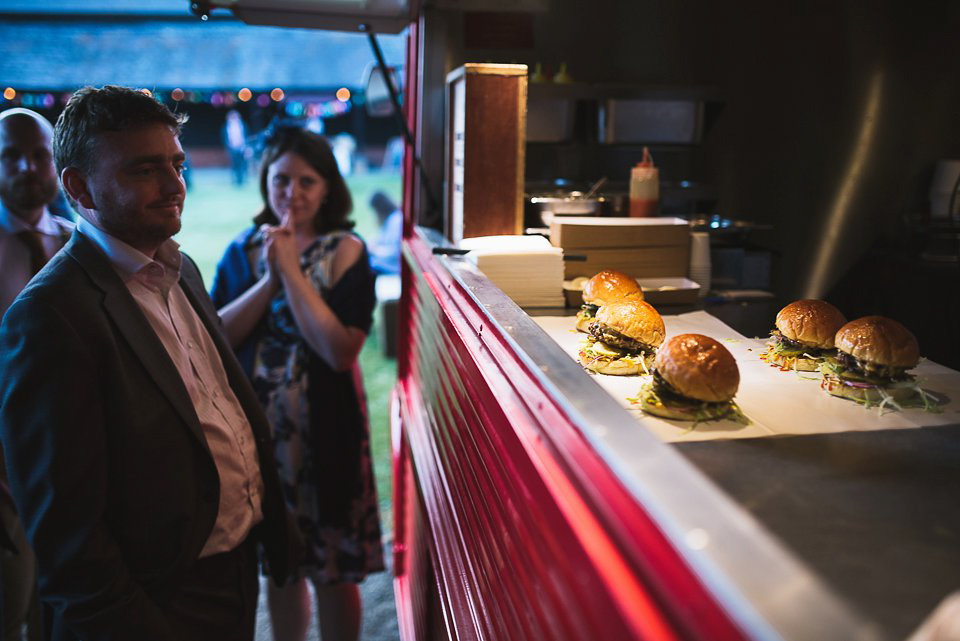 Words of Wedded Wisdom
"Don't sweat the small stuff: people do not notice if you don't have favours, or don't have matching bunting and napkin rings.
If you're able to set the pace and style of your day, give people drinks and food before the ceremony. We had prosecco and cheese straws to greet the guests when they arrived and held a sort of half-hour drinks in the barn before the formal ceremony began – this perfectly set the tone and loosened everyone up for the fun and feasting ahead. So many of our guests commented on what a lovely touch this was and wondered why more people don't do this!"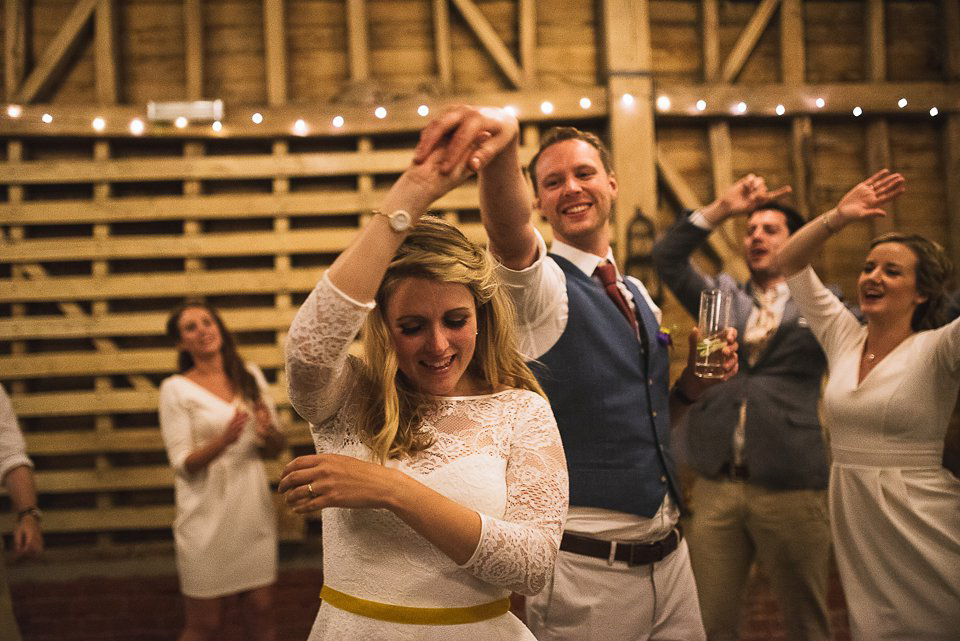 I am speechless. Where do I start with how much I love Charlotte and Alex's nuptials? The colour, the divine food, the relaxed and chilled vibe, Charlotte's dress and her pretty maids, and the tears and laughter in the photos – everything is just absolutely beautiful. Thank you to the very lovely couple for allowing us a peep into your day and next time I'm in the UK I am taking a trip to Cambridge to dine in your restaurant Alex!
And a special mention to Kristian for sharing these incredible images – they brought tears to my eyes and I so understand how it must feel when you meet lovely couples like Charlotte and Alex where their love and intense bond is evident in every picture.
Here's to a brilliant rest of week lovely readers.
Love Jo -x-
Photographer – Kristian Leven Photography
Venue – Childerley Hall, Cambridgeshire
Wedding Dress – Fur Coat No Knickers
Shoes – Zara via eBay
Jewellery – Kate Spade earrings
Perfume – Jo Malone
Bridesmaid's Dresses – Closet London
Bridesmaid's Shoes – Own shoes
Groom – Topshop + Reiss
Best man and groomsmen – John Lewis kin ties and braces + own chinos and white shirts
Florist – Heather Carpenter
Catering – Childerley Hall + street food vans (Steak & Honour + The Wandering Yak + Pata Negra + Jack's Gelato) + wine from Cambridge Wine
Transport – The bride's Figaro
Entertainment – The Handlers
Rings – Jennifer Meyer (bride's engagement ring) and Harriet Kelsall (bride and groom rings)
Cake – Macarons and More
Stationery – Paperless Post
Hair Stylist – Heike Martin from Cambridge Wedding Hair