Happy Friday lovely readers, I hope you have all had a great week and have been slightly better presented than me in my scruffs running around after the puppy. Despite the fact I don't seem to have worn make up in a while (applying make up with her around is impossible, everything gets snatched and my beauty blender is in shreds) she is the most adorable thing and is currently curled up on my lap sleeping.
As a Friday treat we have a such a lovely wedding to share with you, to give you a taster we have a fairy tale meeting, a fairground, lego men and just incredible photography. Please allow me introduce you to Alice and David, Alice a cabin crew member and David a train conductor, the lovely pair married on 5th September 2015 at Blists Hill Victorian Town Museum in Ironbridge.
"We chose that venue as we always knew we didn't want a 'traditional' wedding. David is from the area and I love Ironbridge, it's so picturesque. When we walked in we just knew, it had such a unique and exciting feeling that we wanted for our day. I love the history and David said it felt like Main Street USA at Disney. Perfect."
Photography by Fairclough Photography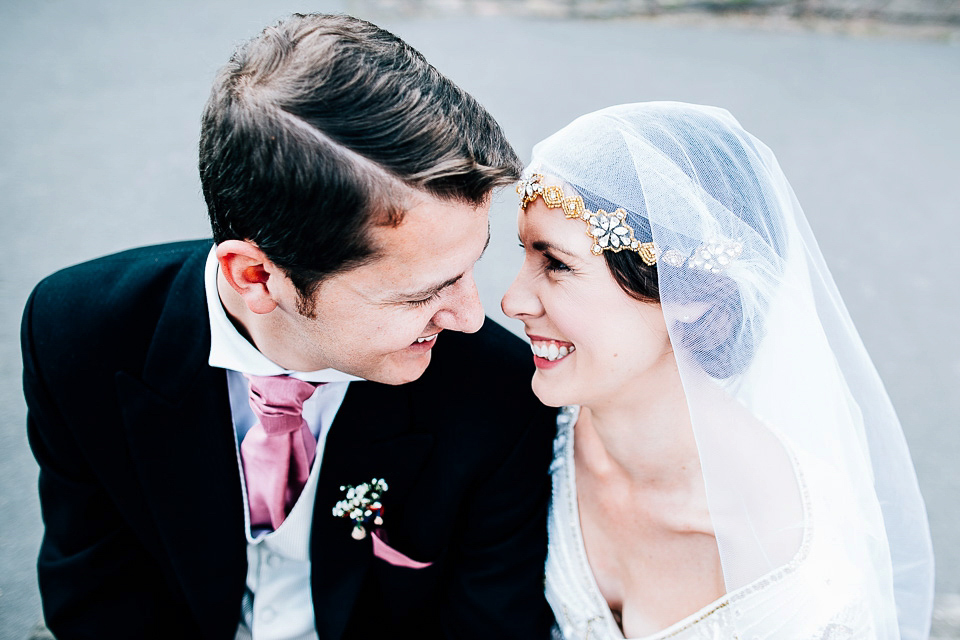 "It was the most wonderful day and I want to do it over and over as it really was the best day of my life."
Alice took a very relaxed approach to selecting the bridesmaids attire, they wore dusky plum dresses from Debut at Debenhams with nude shoes and a pearl necklace from Accessorize to match Alice's pearls.
"I wore Lancome La Vie Est Belle. It's a beautiful, floral smell which I kept especially for that day. It is also long lasting so I didn't have to keep reapplying it! 
My earrings were vintage pearl which had a been a previous present from David. They match my engagement ring which is vintage pearl and diamond.
I used Salon Ten from Much Wenlock, Shropshire to do my hair, make up and the bridesmaids. Really wonderful set of ladies that came to the hotel we were getting ready at."
Our bride, Alice, found her embellished dress at a small boutique in the Brighton Lanes called Pretty Eccentric, such a fantastic find and it looks very much like a design of one of the big bridal names.
"I never wanted a big dress, due to my previous job at Disney, but it didn't stop me trying them on. In the end I got my dress whilst on my own and not telling anyone about it. I fell in love and just knew. No where, any bridal shows or bridal shops, sold the Juliet cap style I wanted so I took a risk and got it from Etsy."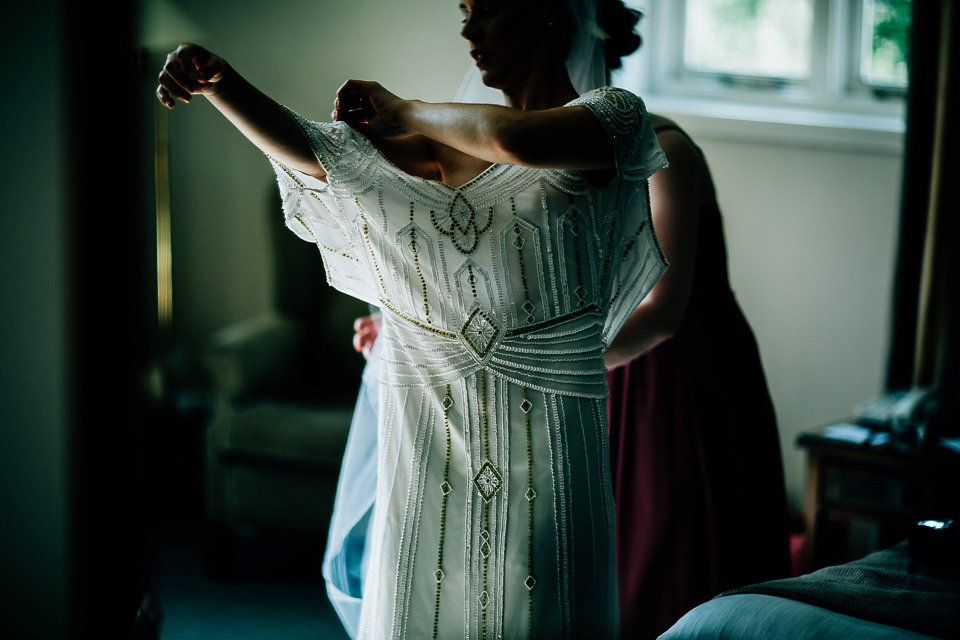 "I am in love with my veil, and didn't want to take it off. My shoes were Irregular Choice with the bride and groom on them. I think they are brilliant and were so comfy. I had glued to the bottom of them a silver sixpence, which I got the first time we went to Blists Hill and changed our money to the old fashioned money."
"I didn't want my bridesmaids in anything too formal as they wouldn't have matched everything else. But these were chosen by my 2 sisters after trying on lots. I wasn't fussy and left it up to them as they were the ones wearing them. I think they went really well and really suited the venue."
The bridesmaids also wore the prettiest gypsophila head bands, also from the mecca that is Etsy.
"My mum had had flower head garlands on her wedding day to Dad, so I liked the idea of a little nod to that. Also the gypsophila they were made of was also used in the flower decoration."
Our groom David and his groomsmen wore classic 3 piece morning suits hired from Moss Bros, check it out the boys also feature on their website looking very model like!
"My bouquet was the first thing that I got for the wedding. It was made by BespokeBroochBouquet on Etsy. I love it. I added a brooch to it for my something old so has a lot of meaning. The rest of the flowers were by Memories of Vintage."
"We didn't want lots of different flowers so kept it simple by only choosing dusky pink roses with gypsophila. This was used for everything from the bridesmaids bouquets, button holes, decorations for the wedding ceremony, the jam jars of flowers for the tables during the meal and for putting with the wedding cake."
"David and I first met whilst we were working at Disneyland Paris together, its somewhat of a real life fairy tale. We worked together in 2006 then we both left to pursue different jobs and both ended up going back to work at Disney in 2009. Our friendship then blossomed and now we're married! David's proposal was perfect. I was going away for a few days so he suggested a date afternoon."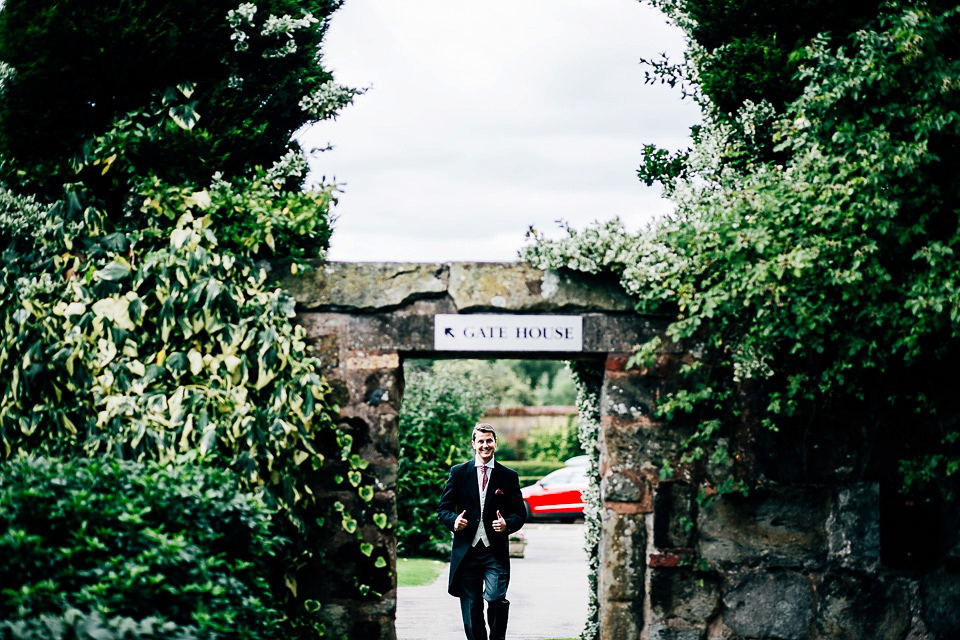 "We went to Arundel, one of our favourite places, but it was torrential rain when we arrived. David was adamant it would pass. Sure enough it did. We then had a champagne picnic next to Swanbourne Lake during which David got on one knee and proposed whilst Trains 'Marry Me' played in the background. I was so stunned it took me about 10 minutes of happy crying before I said yes."
"Getting married in the museum, we knew we didn't want anything too formal. We wanted a relaxed and really fun wedding, more like a village fete. We used a lot of bunting incorporating it in lots of areas including the invites, the cake and the decor. September can be tricky for weather so we went with dusky pink as the colour to hopefully be lovely on any kind of day.
It was the bridesmaid dresses, grooms party cravats and pocket squares along with it being in the flowers, invites and hints of it on anything on tables."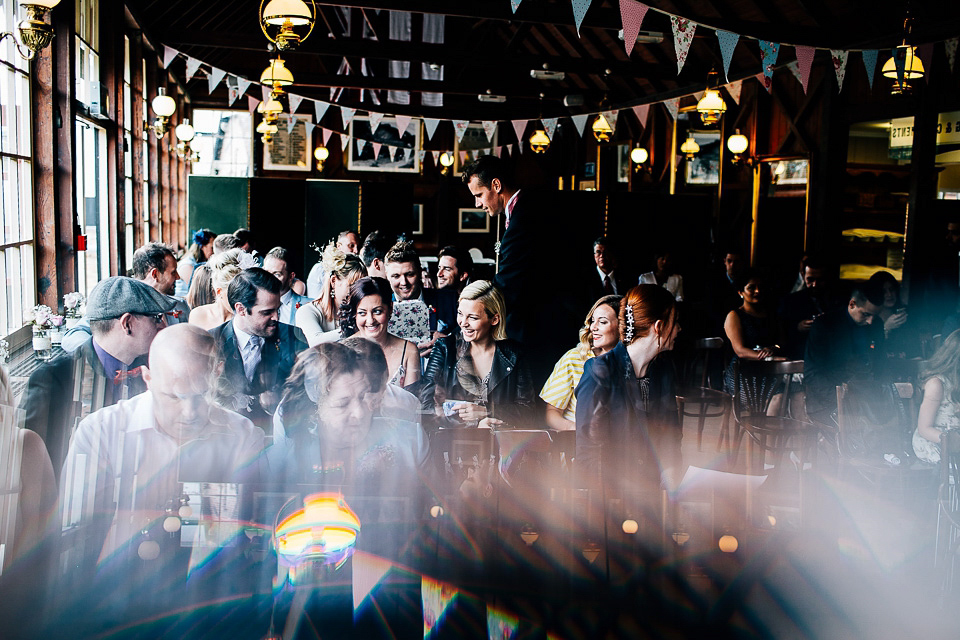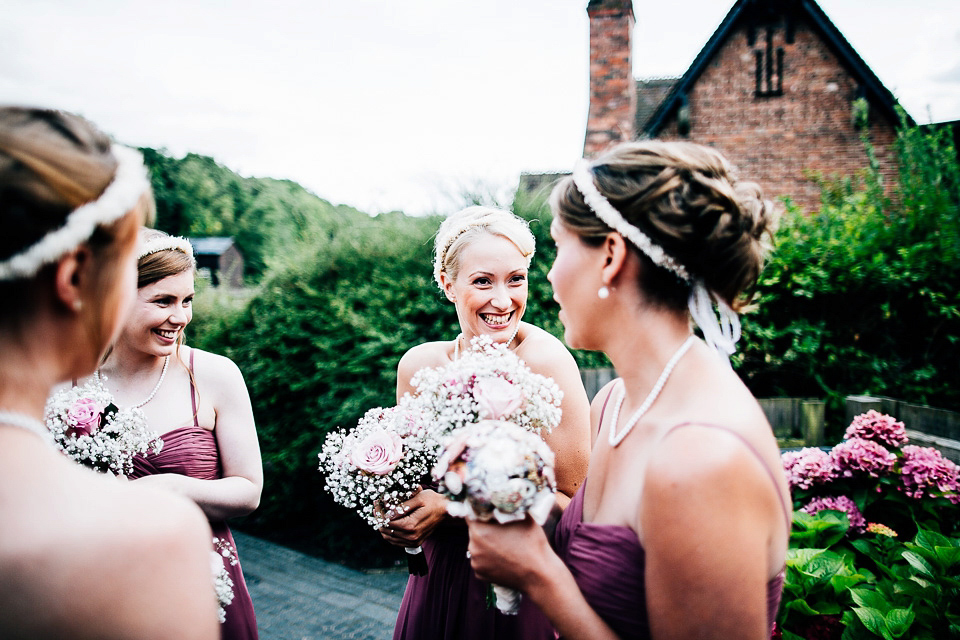 Alice walked with her father down the aisle, to the Piano Guys version of 'A Thousand Years' and the newlyweds exited to 'You're the top' from the musical Anything Goes.
"We had two readings at our wedding by 2 friends. One was 'Love isn't perfect' and the other 'An uncommon love'. The first one has so much meaning in the words and really speaks volumes about what love is and how to live with it. The second was written in a card to us by our friend Laura who we then got to read it at the wedding."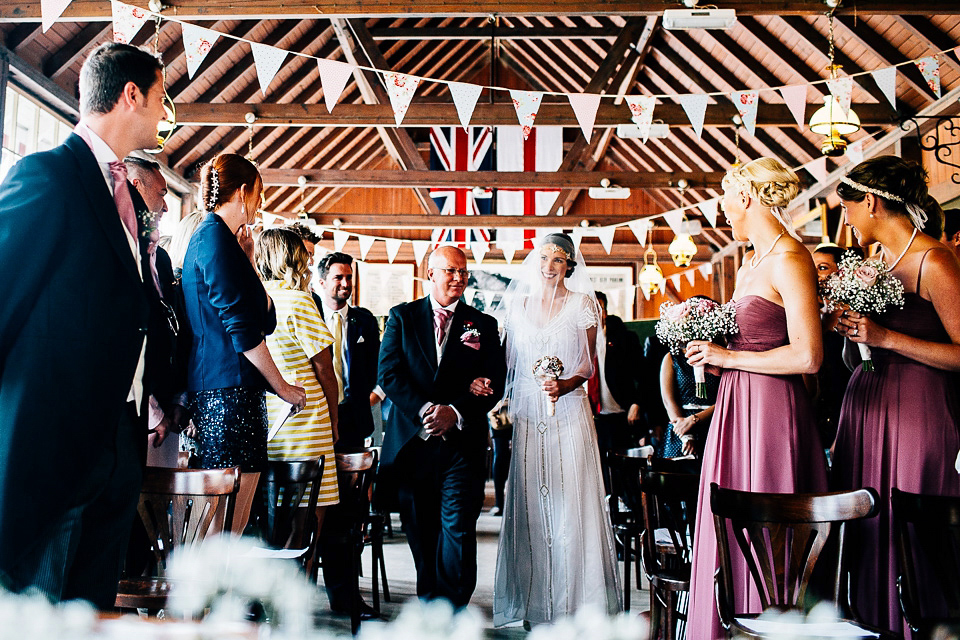 "As my engagement ring is vintage, the gold was really hard to match. After seeking advice we went with a plain gold band that had a slight rose gold added to it. You cannot see the difference in the colour and it matches perfectly, again this was from the Brighton Lanes. David's wedding ring was from H Samuel, he knew he wanted a two tone band so went with a beautiful simple ring with a band around the middle of matt gold. I love seeing his ring on his finger."
Alice and David hired the funfair at Blist's Hill, what an amazing focal point to have at your wedding and certainly something the guets will never forget. Also just look at the incredible pictures you could have. Please can somebody invite me to a wedding with a funfair?
"It was great fun and we often hear how good it was to do something so different and enjoyable instead of waiting around. For the evening entertainment we hired a band called The Sharps. They were absolutely fantastic. The first set being a mix of rat pack style songs and jersey boys which went down really well and got us all dancing. Then after a break they did more modern and up to date songs which kept everyone dancing. Really great band."
I previously mentioned the incredible photography of Alice and David's day, well the responsible photographers are Katie and James Fairclough of Fairclough Photography, I just love the colours and the depth in each of the photos, they are stunning and a great example of why it's worth spending on your photographer for your big day.
"We couldn't have chosen any better than these two and we still get blown away when we look at our photos. We fell in love with the style of photography. It's quirky and unusual yet stunning. The photos they take being like pieces of art and are to be really treasured."
"We love the fact that they are a duo and were there for us both getting ready and at each end of the aisle. They are so easy to get on with, letting us relax with the photos and capturing some beautiful moments as the day progressed. The two of them cannot be praised enough and we would hire them again and again. They were joy to have capture our day and for us to look back at our memories they captured for us for years to come."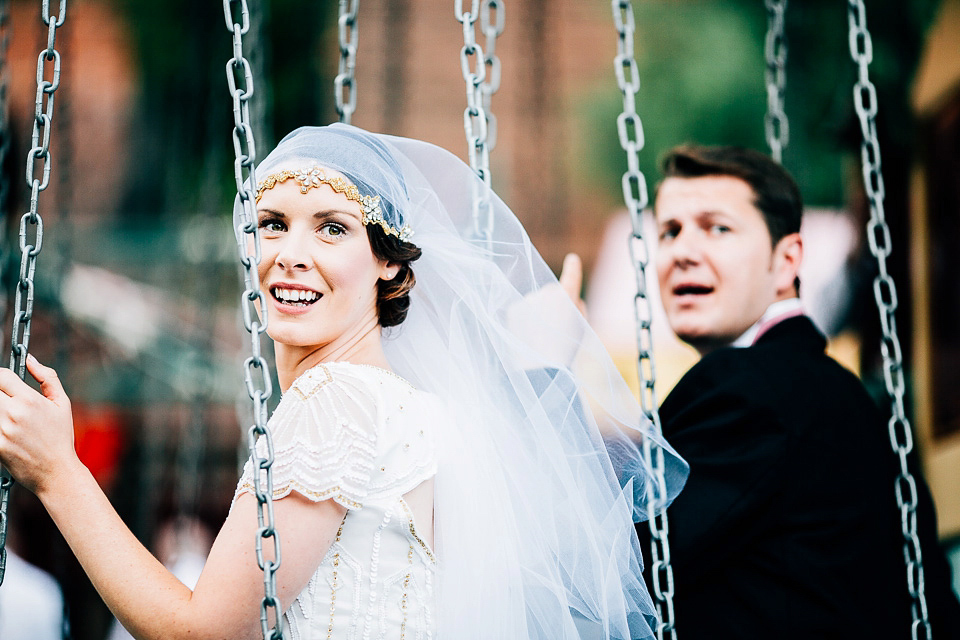 "For the favours we gave out fairground tokens for everyone to use on things like the coconut shy. Also David loves superheroes, so to tie this in, I made Lego superhero brooches for each of the male guests. The ladies received a vintage style handkerchief (incase of tears) the groomsmen handed these out to each of the guests as they were seated waiting for the wedding. Everyone seemed really pleased with the individual thought that had gone into each favour."
I seriously think the Lego brooches are the best favour I have seen yet, just so cool.
"Blists Hill museum use Jenkinsons Caterers so that is who we had to have. The food was so delicious we wouldn't have chosen anyone else anyway. They were really accommodating when we were choosing the menu, adding sticky toffee pudding as one of the pudding choices as this is what I wanted. We also had to make changes with a couple of peoples menus but they didn't mind at all, just helped us."
"We had our first dance to 'A Thousand Years' the John Barrowman version. We love this and holds so many memories for us one of them being that at a John Barrowman concert (that David had taken me to) this song was being sung. David pulled me up during up it and started dancing with me in the aisle. It was one of my favourite moments. John Barrowman started crying and commented that we should never stop dancing together." 
It's not very often I find that couples do share a song with meaning but wow, I'm covered in goosebumps right now at the thought of this.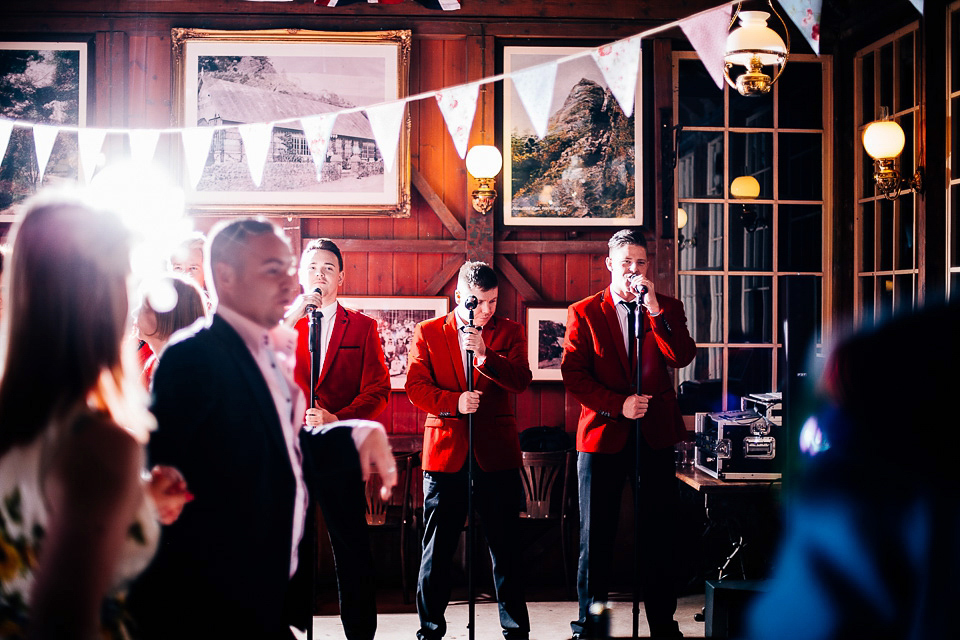 Words of Wedded Wisdom
"It is your day so do what you and your partner want not what anyone else thinks or wants. Looking back we would have hired a videographer so we could see things like our guests enjoying the funfair."
Simple and to the point, also I share the very same and only regret, Alice, I wish we had hired a videographer too. Thank you so much to to you both for sharing your truly wonderful day with our readers and thank you Katie and James for sharing your stunning images, I hope to see more of your work on the blog again very soon.
For more fairground inspiration, check out this link. I'll be back tomorrow with yet more prettiness!
Bianca x
Photographer – Fairclough Photography
Venue – Blists Hill Victorian Town Museum
Wedding Dress –Pretty Eccentric
Veil – Etsy
Shoes – Irregular Choice
Perfume – Lancome La Vie Est Belle
Groom – Moss Bros
Bridesmaids – Debut at Debenhams
Cake – Marks and Spencer
Transport – Shropshire Lady Wedding Cars
Entertainment – The Sharps
Rings – H Samuel
Catering – Jenkinsons Caterers
Stationery – Postman's Knock
Hair Stylist & Makeup Artist – Salon Ten