Don't we all love a true English wedding? Well today we have an English summer wedding at it's very best, a classic English rose of a bride, spectacular blooms and eccentricity. We are so privileged at Love My Dress to be in a position to receive and share such beautiful weddings with our readers, we really do get the very best of the bunch and today's wedding is no exception.
Lou Lou and Ted married on the 8th of August 2015 at the beautiful Sherborne Abbey followed by a marquee reception at the family home in Dorset.
"We really wanted the wedding to be a relaxed day with a very moving and thoughtful service followed by a brilliant party. We wanted everyone to enjoy being in the garden and it to feel like the best summer party ever. Ted was very keen for us to have a marquee wedding and that was perfect for me as I really wanted to have it at home in the garden, couldn't think of anything better!"
Photography by Louise Adby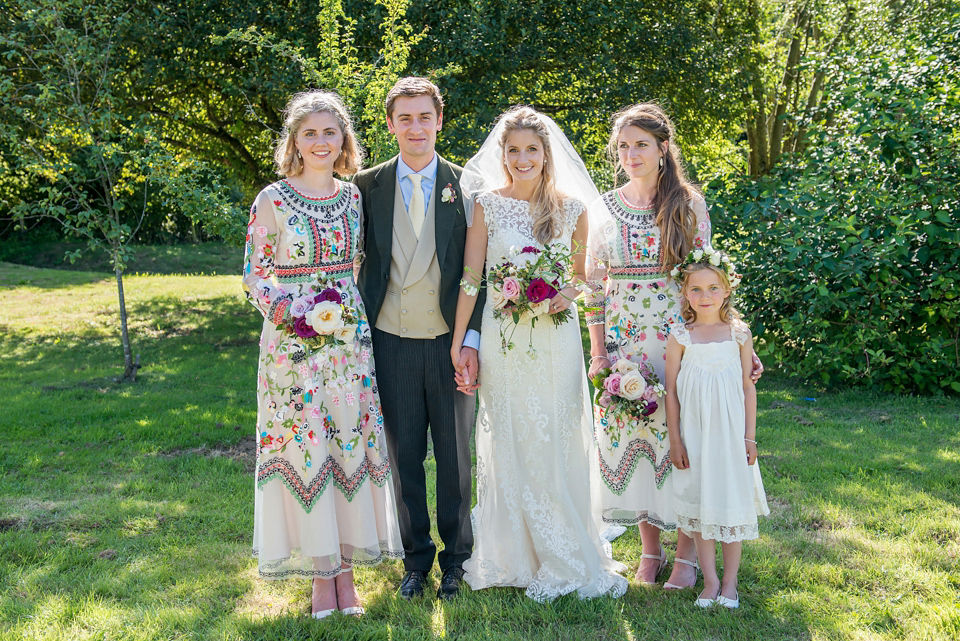 LouLou and Ted definitely had some of the most spectacular floral arrangements I have ever seen, the colours, the fruits – can you imagine how beautiful it smelt? They were created by LouLou's amazingly talented sister Tattie Rose.
"My sister Tattie Rose Flowers did the bridal flowers and the ones in the marquee – they were breathtaking. I loved my bouquet, it was so pretty and wild with some rich colours mixed with lighter shades, she did a brilliant job. Everyone said it was like a midsummer night's dream in the marquee but I think it was even more magical than that."
LouLou found her beautiful embroidered Mori Lee dress at You are Precious which she paired with a fantastic pair of shoes by LK Bennett with bespoke pom poms.
"I loved my dress, I thought it was quite unusual and I loved the bigger style of lace. There are so many beautiful dresses out there, it is hard to choose but I just thought when I tried them on, 'which one do I feel most like me in?' and it was that one."
The flower girl wore the most pretty white dress with a cross back finished with the most delicious looking flower crown made by Tattie Rose, complete with white roses and brambles.
"We chose Sherborne Abbey because I was confirmed there and went to lots of services there when I was at school in Sherborne. As an army child, we moved a lot and so I didn't ever feel particularly close to one church apart from Sherborne Abbey. It is such a sensationally beautiful building – you can't help but feel a sense of awe when you walk in and look up. I guess I had always thought it would be lovely to get married there but never thought it would actually happen."
I absolutely love the folk style embroidered bridesmaid dresses, so up my street, but unfortunately for us LouLou sourced them from Australia. Could you share the details with us please LouLou?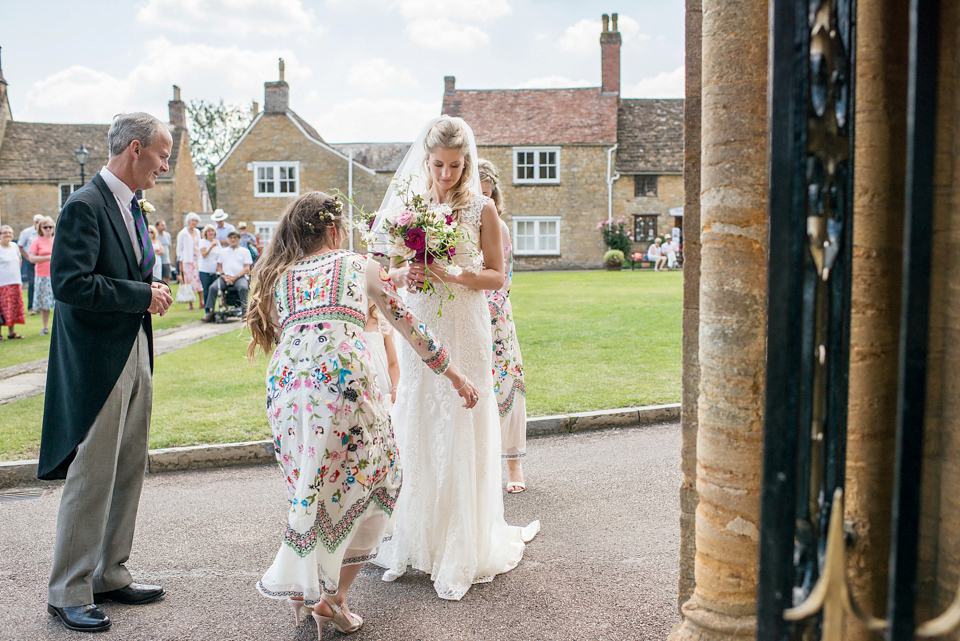 The bride walked down the aisle with her beloved daddy, which was so very special to her.
"The ceremony took a lot of thinking about, it was very important to us to get the balance between formal and 'us' so we chose a traditional bible reading followed by a passage from Les Miserables which I cobbled together from two parts of the book that to me just speak so clearly about love. I adore the book and when I was searching for something, it just resonated with me and to have my brother read it was particularly special. Ted was keen to have 'Lord of the Dance' as a hymn but I felt it was too much of an Easter hymn and not for a wedding but I asked the organist to play it just before the processional music so that Ted would hear it as a surprise."
"We also wrote a prayer which was read at the end of the address, that was quite an emotional moment for me because only Ted and the vicar had read it and suddenly it was laid bare for all to hear, I hope people liked it. We didn't want to write our own vows but felt that the traditional vows don't say everything you want to say so the prayer was a way of asking God to help us do all the things we would like to vow to each other."
"My little sister sang 'How Great Thou Art' as we signed the register and wow, what a voice, you could hear a pin drop and it was incredible. She sang without accompaniment and it was beautiful, lots of tears! Then the organist played the theme tune from the Black Beauty film – perhaps sounds a bit naf but I love the book and the film and some of it was filmed at a house my grandparents used to live in so that felt very special."
"After we had said our vows we walked up to the front of the abbey and Ted and I turned round to look at all our friends and family and the stunning abbey – that was pretty incredible."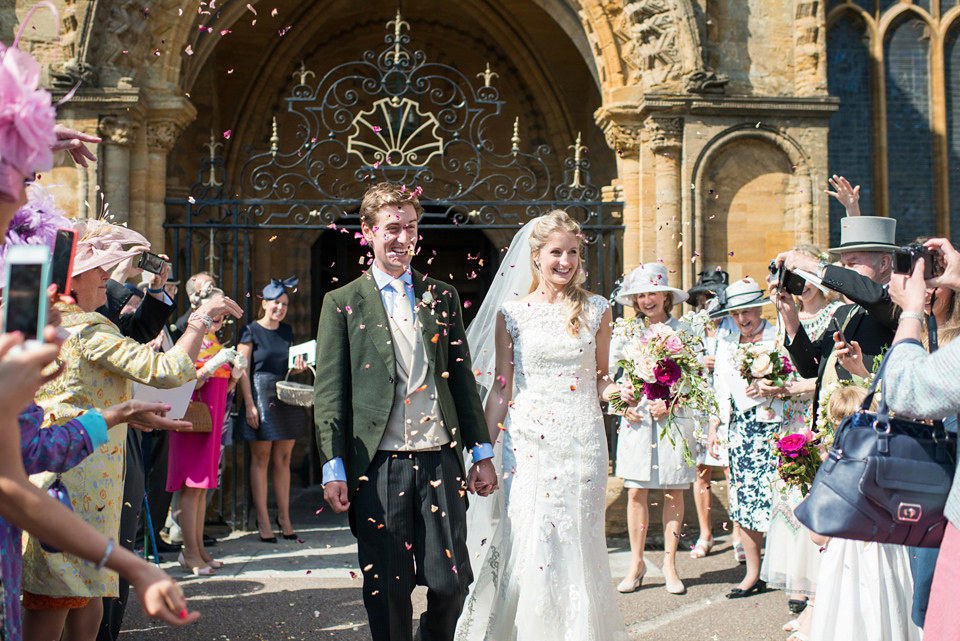 The couple discovered Louise Adby to photograph their special day.
"We chose Louise because I had seen some of Gee Lakeman and Bella Grant-Peterkin's photos and thought they were so beautiful, natural and really truthful to the day, that is exactly what we wanted and Louise did exactly that with real calmness and a gentle approach to photography. We never felt bossed about our like our personal space was invaded and she managed to capture so many incredible moments. We can't thank her enough!
"
"My sister is a florist so she was the creative genius behind the decoration of the marquee, I wanted it to be a floral wonderland but not use typical pastel wedding colours and she did such a fantastic job of understanding what I wanted and actually exceeded our expectations, as she always does with her flowers."
Catering was provided by Catherine Saunders and the chocolate coated cake was kindly made by Lou Lou's brother's fiancée and decorated with yet more flowers and brambles.
"My amazing Granny made bucket loads of fudge for people to enjoy with coffee, we didn't want to do favours."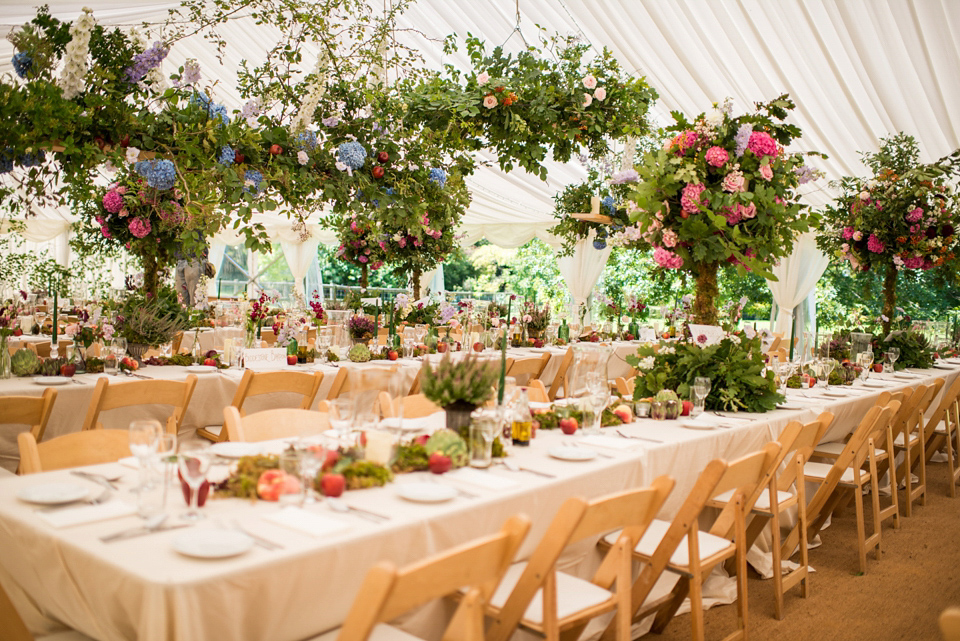 Reflecting on the day, the newlyweds remember their favourite moments of the day.
"The speeches were funny, moving, witty, charming. We loved walking into the marquee when everyone was sitting down and all the candles were lit and it just looked beautiful. My dad and brother playing the bagpipes was an unbeatable moment, just so special to hear them both play. I also loved the moment with my mum when I put my dress on, it was a moment of quiet and calm before we left for the abbey and then of course my dad walking me down the aisle, that was very special."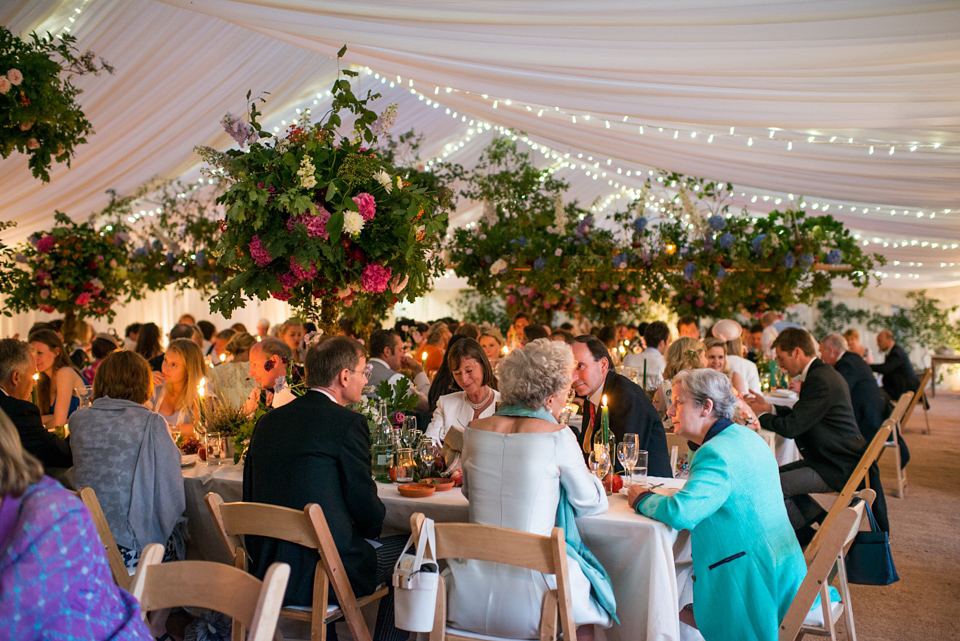 The newlyweds had their first dance to 'Great Balls of Fire' by Jerry Lee Lewis, as you can see it certainly set the party tone for the evening!
"Ted chose it because it was fun and easy to dance to!"
Words of Wedded Wisdom
"Just make sure your wedding reflects who you are, and don't panic about it, wedding planning is actually great fun if you don't let it get stressful. Write a list of 'must haves', 'would love to have' and just 'would be nice to haves' and work through them and see what your budget allows. We felt the whole day reflected who we are as a couple and that is exactly what we wanted."
F
Thank you so much LouLou and Ted for sharing your big day with us all, it's making me want to do mine all over again.  Thank you also to the wonderful Louise Adby for allowing us a sneek at these spectacular images.
To see more fantastic English weddings, just follow this link.
Hope you have a great weekend!
Bianca x
Photographer – Louise Adby
Venue – Sherborne Abbey followed by marquee reception at the family home
Wedding Dress –  Mori Lee from You are Precious
Shoes – LK Bennett
Florist – Tattie Rose
Cake – Bride's brother's fiancée
Entertainment – The Low Riders
Catering – Catherine Saunders
Hair Stylist – Friend
Makeup Artist – Dorset Beauty House