Meet Amy and Shaun who tied the knot at the magical Alnwick Treehouse, Northumberland on Saturday 24th October 2015. The new Mr and Mrs LeMercier work from home on their web design and development business and created a day that encapsulated all of their very favourite things. Chock full of personal touches, autumnal leaves and even Harry Potter references, I'm adding this to my ever growing list of favourite real weddings straight away. Is there anything more romantic than a Treehouse full of fairy lights?
"I always knew I wanted sequinned bridesmaids, so we just kind of worked around that and it came together nicely. We both picked a colour; I chose rose pink, Shaun chose mint and then we added gold which went really nicely with all of the twinkly lights in the Tree house."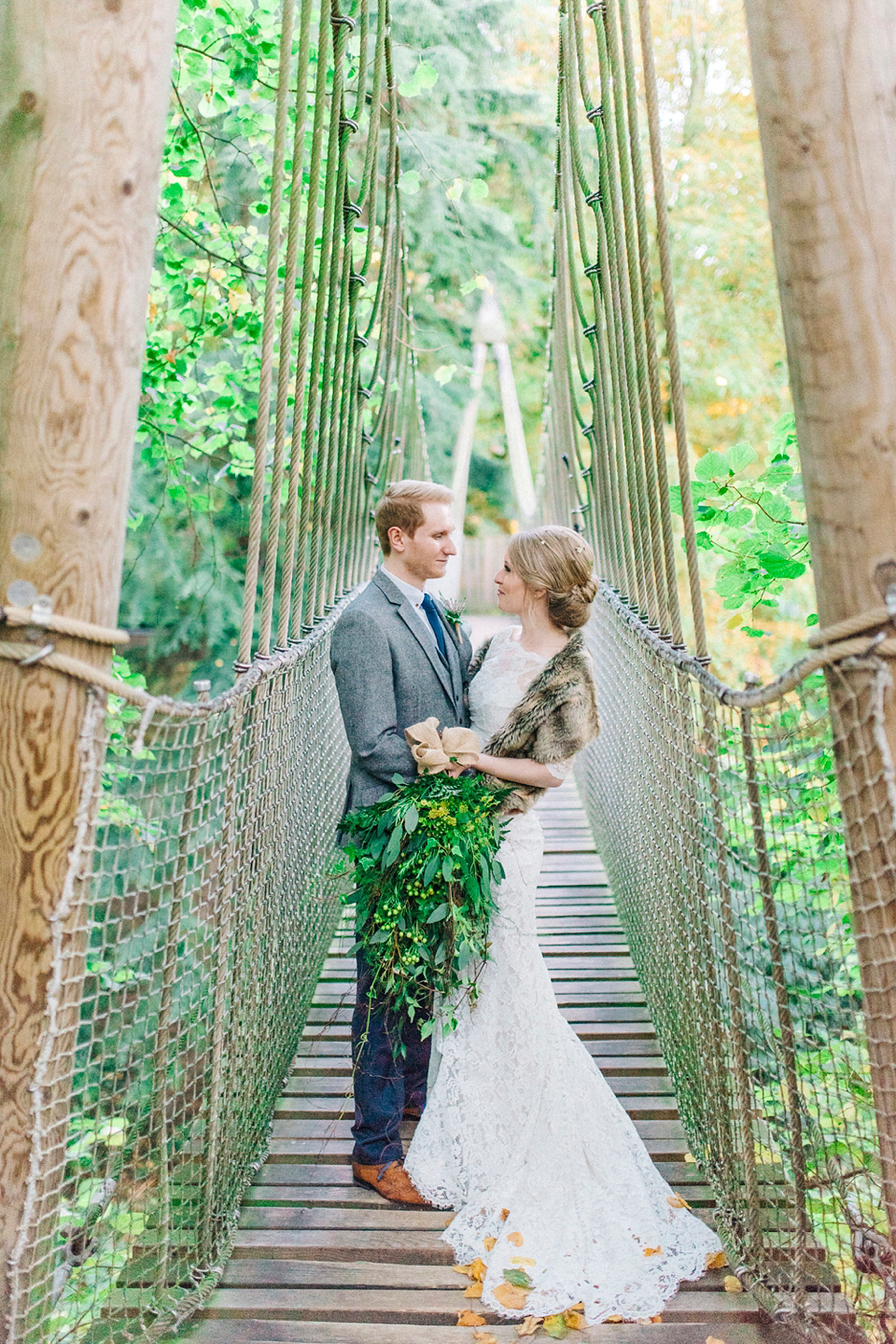 Potter, sequins and a treasure chest; I told you this wedding was a treat.
"We used heart shaped confetti made from pages of Harry Potter books with gold sequins to decorate the tables. We also made centrepieces from small glass jars filled with pink heather and tied with gold ribbons. Our card box was a handmade treasure chest made by a family friend."
The very aptly entitled Emerald Forest Designs created a cascade of elegant evergreens that looked utterly divine against Amy's off the shoulder, lace gown.
"Eileen made my beautiful bouquet and the button holes. My bouquet was trailing and made entirely from foliage, berries and twigs. I absolutely loved what she did! She listened to exactly what I wanted and absolutely delivered. I like the symbolism of evergreens and how they last all year round"
Delighting in this wonderland of yellowing leaves and wobbly rope bridges was photographer SJ Ethan.
"We couldn't have found a more perfect photographer for our wedding. She managed to capture the warmth of the venue and excitement of the day without being seen – she was an actual photo ninja! She made us feel so relaxed and comfortable and everyone commented on how lovely she was."
"A pair of beautiful pearl earrings were 'something borrowed' from my sister, my Cadenzza bracelet was a gift from my mum and Shaun gave me an ankle bracelet on the morning of the wedding".
A spritz of 'Blooming Bouquet' by Miss Dior and thoroughly befitting 'Faerie Wing' hair clip completed the bridal magic.
Incredibly, these sparkly Bridesmaid delights were handmade by the Bride's mum. I love the chunky knitted scarf from Accessorize paired with those sequins – autumnal glamour at its cosiest. Lanterns held by the bridesmaids transported the guests back to Shaun's festive proposal in Lapland, a great way of weaving in some snowy, top of the world memories.
"Mum spent hours and hours designing and sewing the bridesmaid's dresses! They were totally perfect and exactly how I dreamed they would be.
The bridesmaids didn't have flowers to hold; instead they had mint green lanterns with some LED fairy lights inside. They were similar ones at our hotel in Lapland which we loved – so we re-created them!"
Our bride wanted a dress with a vintage feel and was instantly attracted to the colour of her White Rose dress, purchased at Jdezire Bridal Boutique in Lincoln. A furry stole kept Amy toasty.
"Heavy corded lace in ivory on top of an 'oyster coloured satin gave it a really nice vintage look. It was probably the 3rd dress I tried on and I just fell in love with it as soon as I saw it!"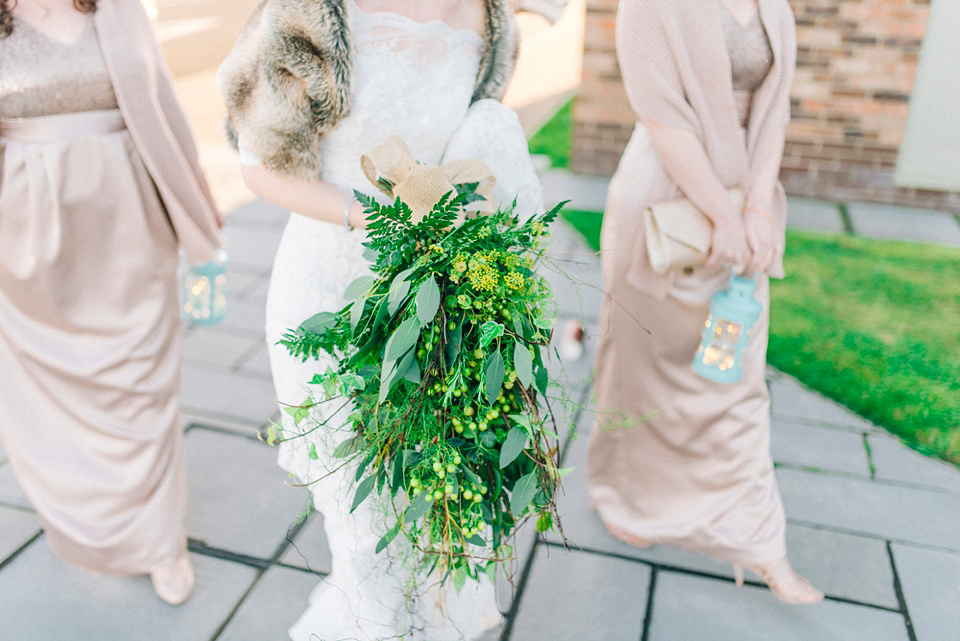 This love story comes complete with a knight in shining armour and a mountain top proposal. Sigh.
"We met in 2005 at University in Lincoln. Shaun lived in the flat above me! I was really home sick when I moved to University and wanted to quit but then I met Shaun and everything changed! We have been inseparable ever since. He proposed in Lapland on Christmas Eve in 2012 at the top of a snowy moonlit mountain. We waited 3 years to get married after becoming engaged, for us it was the right amount of time to prepare both mentally and financially."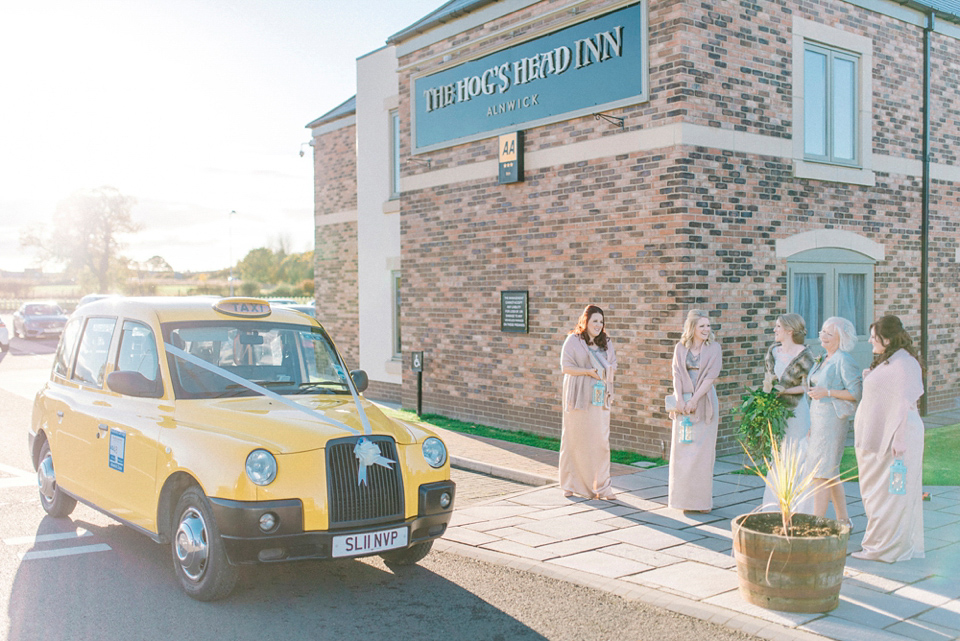 Shaun sourced his outfit from a number of stores to personalise his look. For a full list of his very dashing high street pieces, see the supplier links below; my highlight is the mint silk pocket square that belonged to the Amy's late father nestled in his Patrick Grant at Debenhams jacket.
Amy walked down the aisle to 'Dearly Beloved' by Yoko Shimomura from Kingdom Hearts 2, a PlayStation game that the couple love to play together.
"My mum walked me down the aisle. I lost my dad in 2008 which left a big hole in our day, but mum was more than willing to do the job".
If you're missing someone special from your Big Day, have a Love My Dress hug and read our From the Heart feature here.
How wonderful to combine two generations of love stories in one ring.
"My ring is a platinum and diamond wishbone shaped ring that I designed myself at Diamond Heaven in Birmingham. Shaun's is palladium on the outside and yellow gold on the inside. The gold was from Shaun's dad's old wedding ring which was broken in the eighties when he was working down in the pit. He kept the pieces and were really glad because it made a beautiful ring for Shaun, with added sentimental value"
I especially love these evening shots; I feel snug just looking at the warmth of all those fairy lights glowing in the canopy. If like me you are utterly enthralled by this most extraordinary venue, take a peek at some more timber treats from Alnwick Treehouse here. Not a Whomping Willow in sight.
"The whole day was incredible and so magical it's hard to choose one part. I will never forget seeing Shaun's face as I entered the Treehouse and another part that stands out is when we released some balloons in memory of my dad."
"Even though it was emotional, there was such a warm atmosphere and we really felt the love and support of everyone there".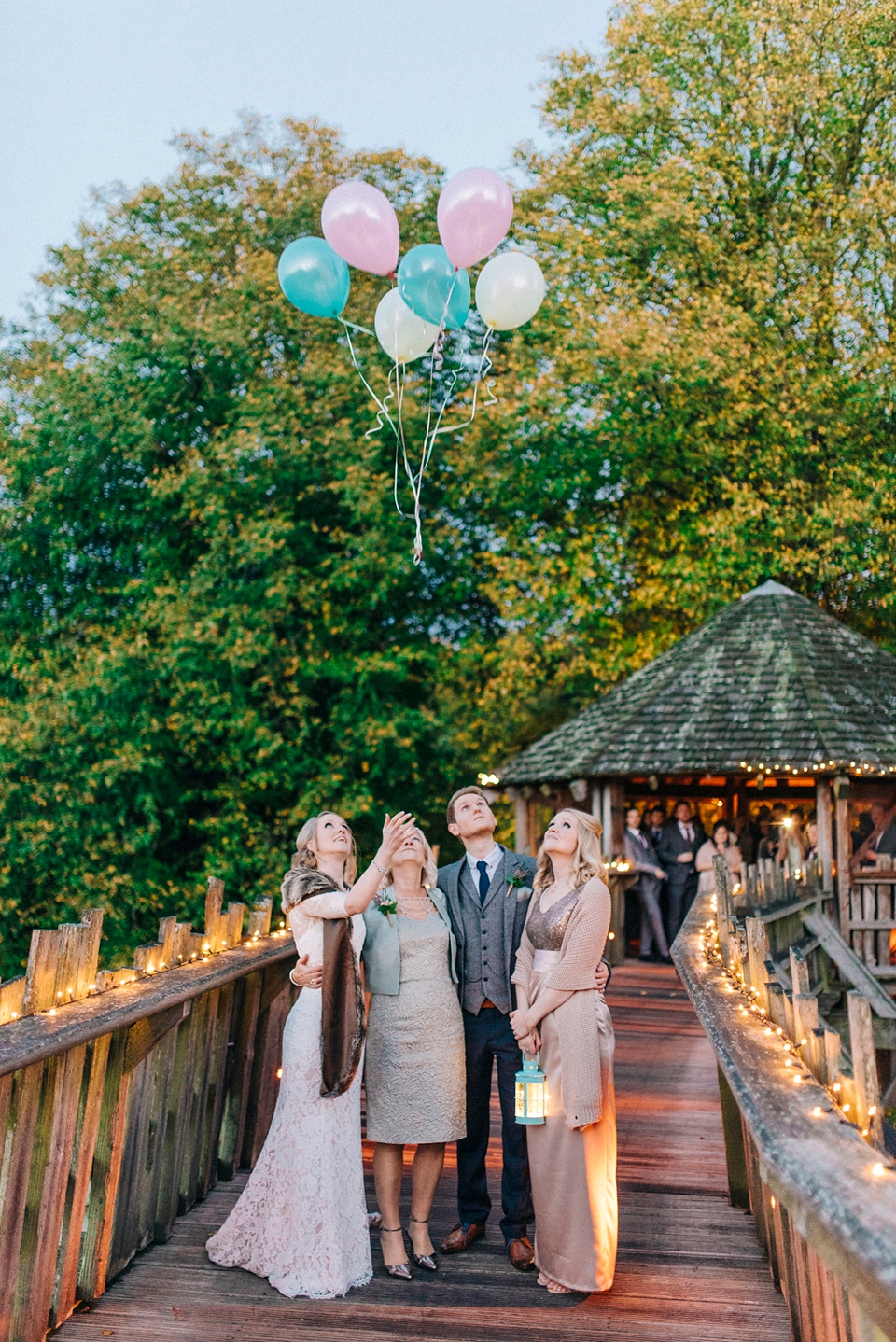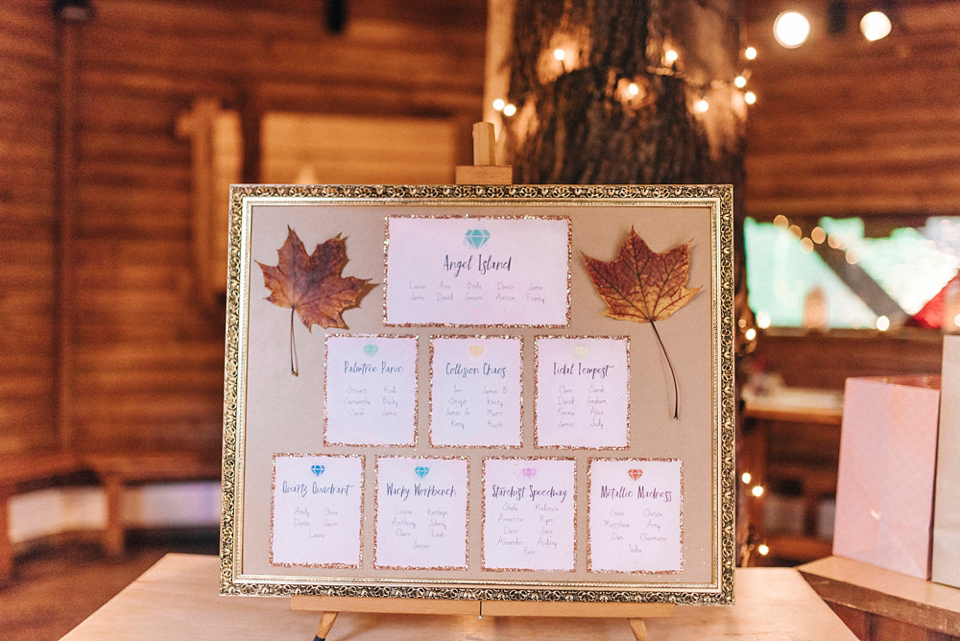 I'm pretty confident that JK Rowling would be a fan of all this magical revelry that, let's face it, wouldn't look out of place in the middle of the Forbidden Forest (fingers crossed for Hagrid and Buckbeak popping for a celebratory drink). She may also be interested in the frankly genius creation of Ferrero Rocher Golden Snitches.
"We made a little wooden tag for everyone's place setting with their initial on it. We also made everyone a little Golden Snitch from Harry Potter out of a Ferrero Rocher and some gold card."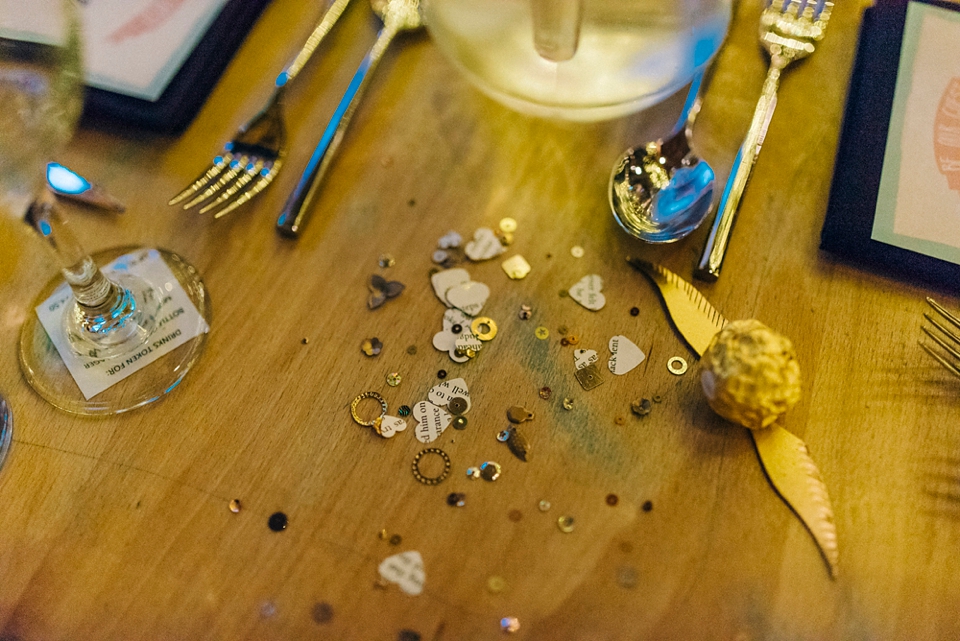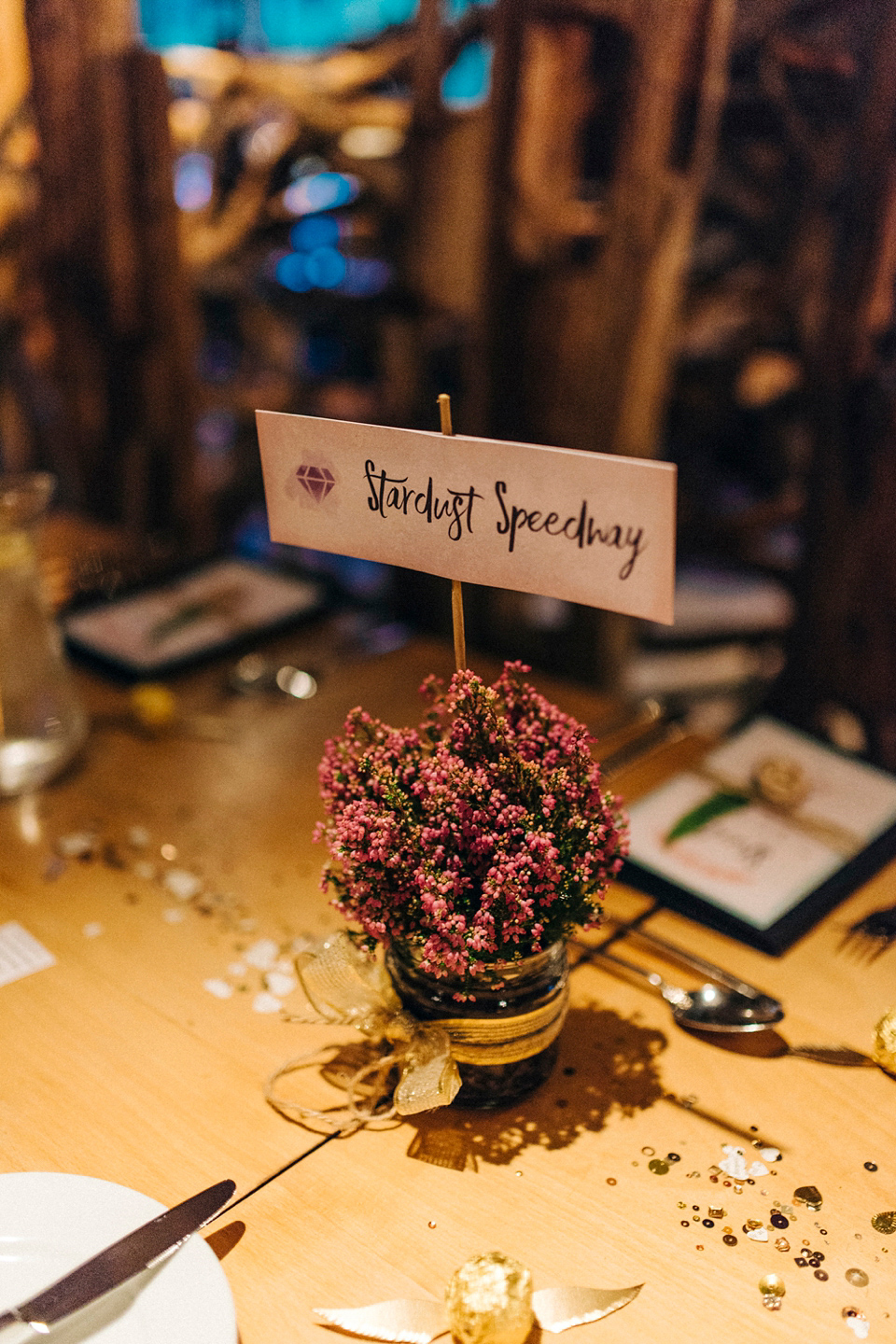 Sandra's House of Cakes made the only mint and pink, leaf covered Cherry Bakewell cake I've ever seen. I need some more information on her postal service!
"We opted for a mint coloured buttercream icing with gold leaf detail over the top of a Cherry Bakewell (our favourite cake!) flavoured sponge with cherry jam. The sponge inside was pink which people were not expecting! Sandra was amazing and so helpful. She even sent us a sample of the cake in the post – score!"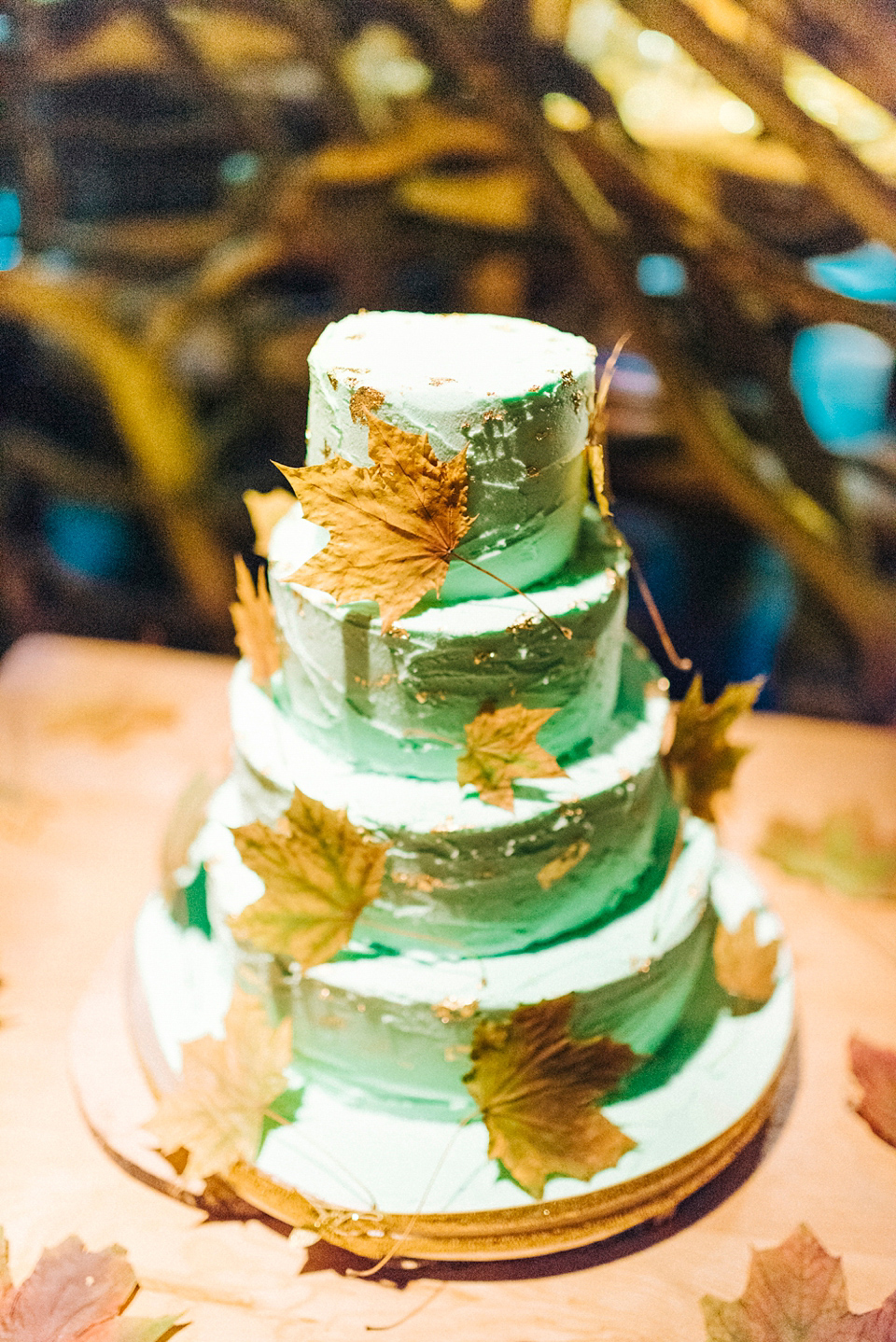 "We chose the acoustic version of 'Mountains' by Biffy Clyro for our first dance. This has always been our song and there was no question about which song we would choose."
Words of Wedded Wisdom
"This day is about YOU TWO. Make sure everything you do is because you want to do it, not because you feel like it's something you 'have' to do. You have to be comfortable and if tradition isn't your thing, don't worry, carve your own path! This includes not being restricted by location, if there's a venue you love and it's nowhere near home, don't worry! Just go for it. You only get one wedding so it has to be the perfect place. We live a 4 hour drive away from the Treehouse, but nothing would have stopped us choosing it as our venue.
Keep it personal to you. Everyone loved seeing little touches, and they really make the difference, it makes them feel like they are entering your world!
Seriously don't stress! I am the world's biggest worrier, and I'm telling you, as soon as you've got your dress on and see your husband waiting at the end of the aisle, everything else fades away!
Honeymoon in Disney World – nowhere else you can see fireworks every night and get congratulated by hundreds of people every day. We were treated like royalty!"
Print this Dumbledore-esque wisdom out and stick it on the fridge fellow brides to be; Amy's got it nailed. Welcome loved ones into your world and use your nuptials so celebrate whatever makes you happiest. Then go to Disney World. I think even Neville Longbottom could remember that.
As total tree hugger, I confess to now wanting to live in Alnwick Treehouse and eat mainly Ferrero Rocher Golden Snitches; that is how much I love this wedding! Thank you SJ Ethan Photography for allowing us to share your enchanting images and HUGE congratulations to Mr and Mrs LeMercier; I wish you a lifetime of Happily Ever After.
Enjoy your weekend lovely muggles, copy Shaun and Amy and fill it with all your favourite things.
Emily B xx
Photographer – SJ Ethan Photography
Venue – Alnwick Treehouse
Wedding Dress – White Rose from Jdezire Bridal Boutique
Headpiece –'Faerie Wing' by UndertheIvy2 on Etsy
Shoes- Rose coloured 'Belle' by Ruby Shoo
Accessories – Bracelet from Cadenzza
Perfume- 'Blooming Bouquet' by Miss Dior
Groom – Jacket and Waistcoat Patrick Grant at Debenhams, Trousers from Burton, Shoes from Ted Baker
Groom Accessories – Chrome pocket watch from EBay, Belt from H&M, Pocket Square that belonged to Brides late father.
Bridesmaids- Dresses made by Brides mother, scarf from Accessorize, jewellery from New Look
Florist- Emerald Florist Designs
Cake- Sandra's House of Cakes
Transport- Rothbury Motors provided the yellow school bus, Taxi from The Yellow Taxi
Rings – Diamond Heaven in Birmingham
Catering – Alnwick Treehouse
Stationery – designed by the Bride and Groom, printed by Solo Press
Hair Stylist – Kara Scott
Makeup Artist – Amy Philipson at Rose and Bird
Balloons- Party Atmosphere in Alnwick