Happy Friday lovelies! The weekend is approaching us with great speed, so I have the most delightful wedding to get us in the mood and this very special one celebrates the beautiful fusing of two cultures. Aman, a global research manager, and reinsurance analyst James married on 16 October 2015 at Elmore Court in Gloucester, set amongst the picturesque, rolling hills of the Cotswolds. The stunning venue caught their eye with the English manor front and magical twinkling lights in the sustainable Gillyflower at the back of the venue – a modern contrast to its traditional frontage. The couple decided upon a fusion wedding, as well as showcasing the colourful season of Autumn.
"We settled on an Anglo-Indian fusion theme and both wanted to make the day about us, whether it reflected our heritage, families and personalities. As we were marrying in October, there was no doubt we'd also go with an autumn theme with its classic colours."
Photography Jackson & Co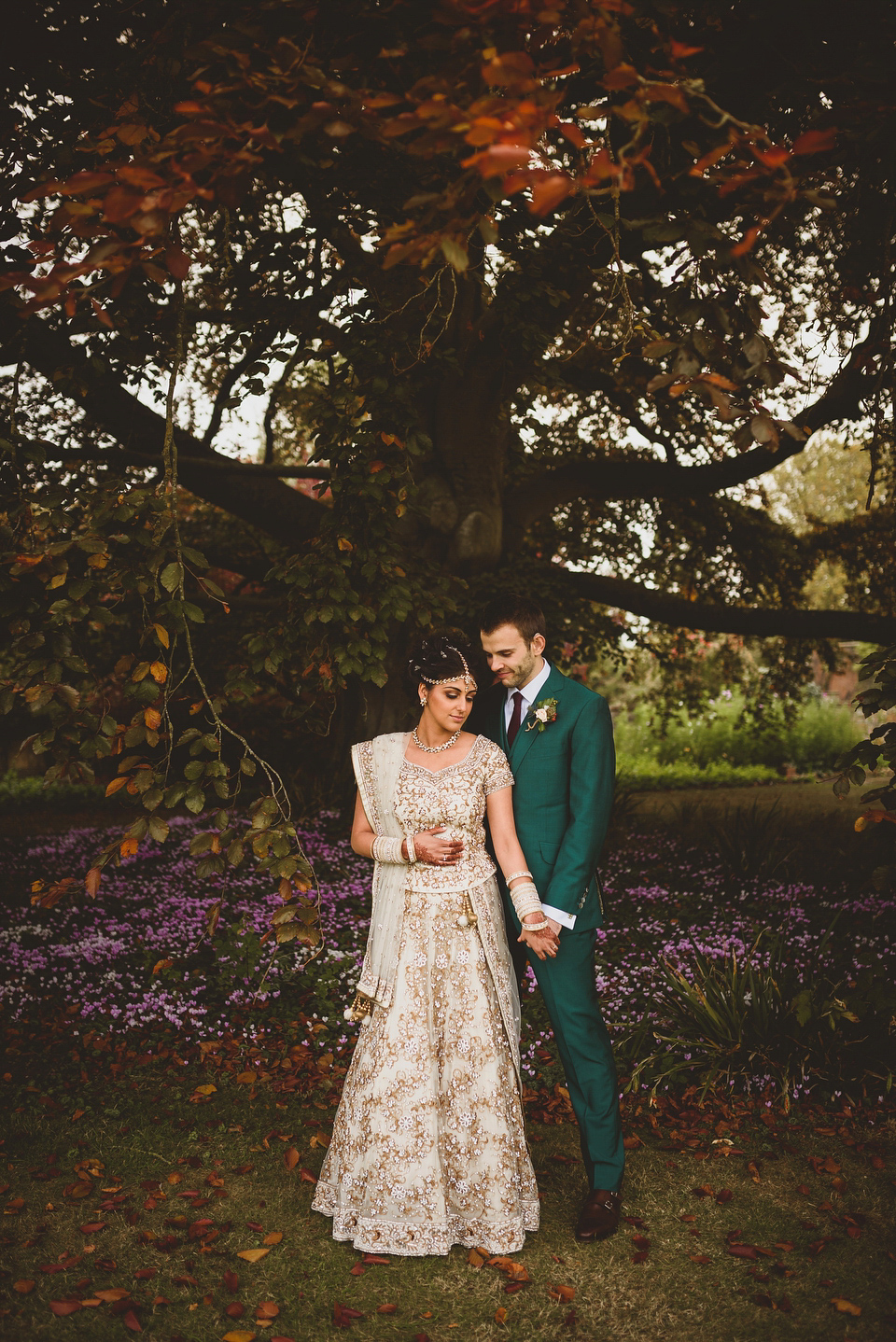 Aman discovered their photographer, Michael from Jackson & Co Photography, after seeing his photos on this very blog.
"I previously saw Michael Jackson's photos on a Love My Dress wedding blog post and absolutely loved his style of photos. The fact we were getting married in October and indoors meant I wanted a photographer that was able to take soft photos in the dark. He was also all about au natural too."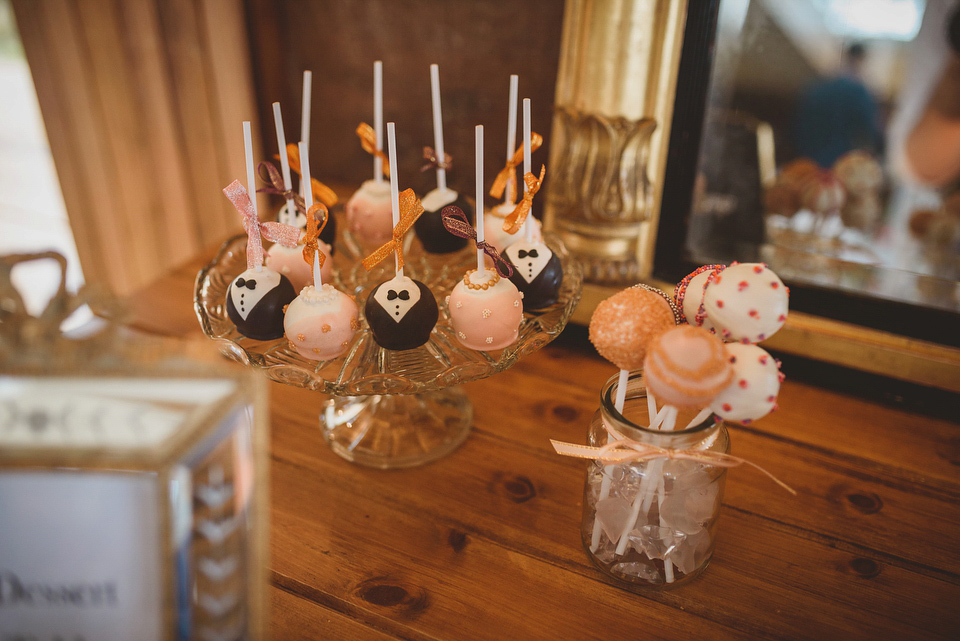 The flowers by Lily Jones were completely reminiscent of the colours of autumn – and I just adore the addition of berries to the buttonholes.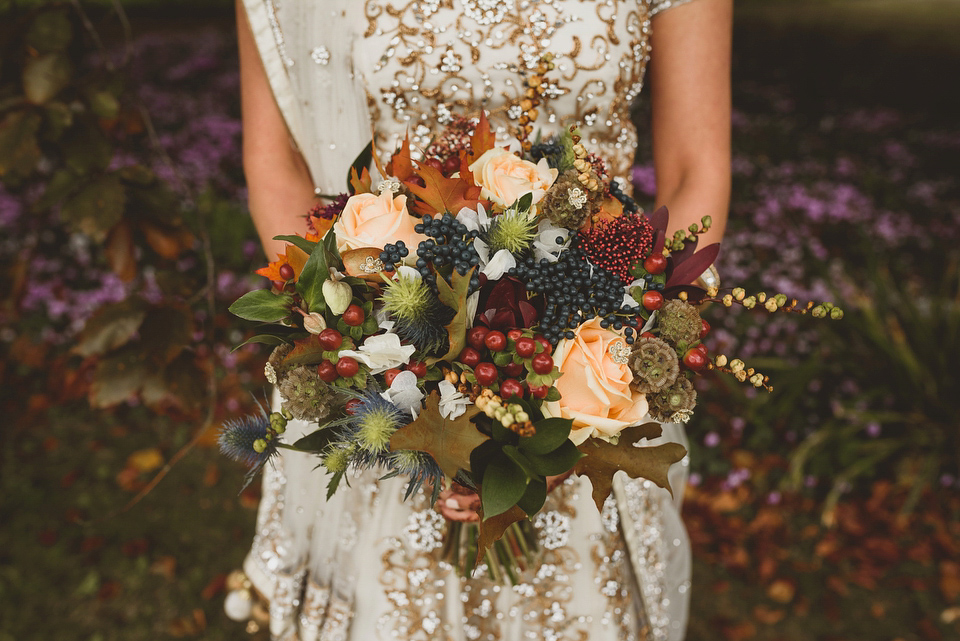 "James and I met through mutual friends, in fact, my sister was in the same class as him. While we knew of each other since the age of twelve, we caught each other's eyes in 2010 at an Egyptian fancy dress party and the rest is history.
James proposed at Pfeiffer Beach along the Big Sur coast on our amazing Californian road trip in 2014. While it was a romantic proposal, James presented the most awful ring imaginable, and I seriously struggled to hide my perplexed face (not very well may I add) and it turns out James had the real ring waiting for me back in the UK because he was too scared to bring it out on our travels! We were engaged for a year."
"As I love all things vintage, I wanted classic English shoes to go with my outfit and the 'Francesca' style shoes from Emmy London had me as soon as I saw them. They weren't too high either which is perfect for dancing, and there was a lot of it at our wedding."
"A friend kindly got my custom-made bangles to match my bridal outfit and wrist size from India and my talented cousin, Nitasha, did my 'Mehndi', which is an intricate design on both my hands and feet inspired by my bridal embroidery and autumn leaves."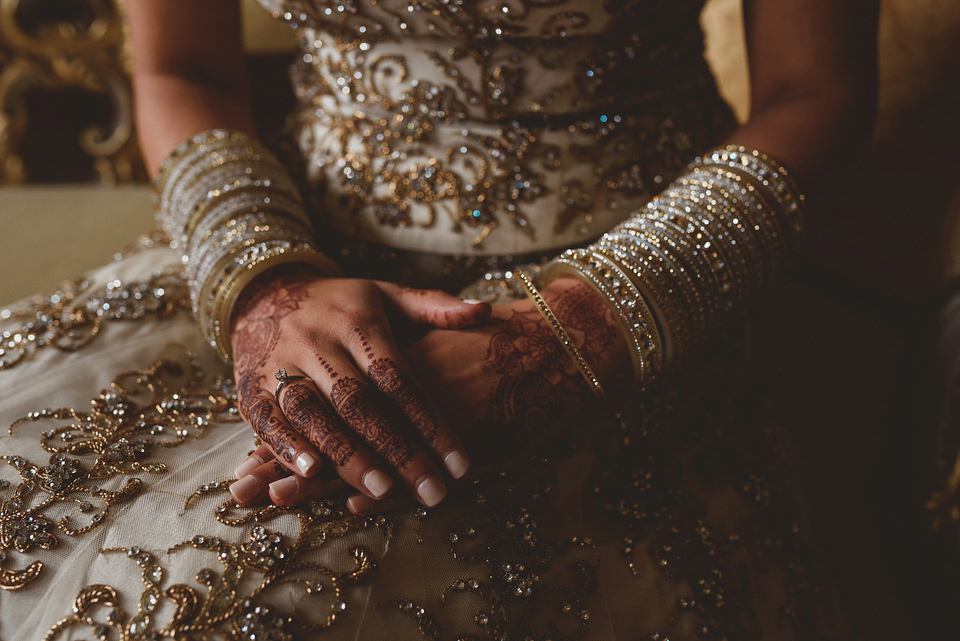 Aman's bridal outfit, her 'lengha', is simply stunning, with its exquisite rose-gold leaf embroidery. She added a veil, Emmy London shoes, beautiful gold bangles, a headpiece from Kyles Collection and an intricate 'Mehndi' design on her hands and feet, whilst hair and make-up was by her dear MAC friend, Anita Uppal.
"I had no idea what my lengha was going to be and thankfully, my sister saved the day by taking me to Kiran's on Soho Road in Birmingham. While Indian brides traditionally wear red, I wanted a mix of English ivory colour and with Indian embroidery. I saw an outfit that I liked in terms of the colour, material and rose-gold leaf embroidery but wanted a different style. Luckily they were able to assist by designing it and got it made in India. It fitted beautifully and I really did feel like an Indian princess as soon as I put it on.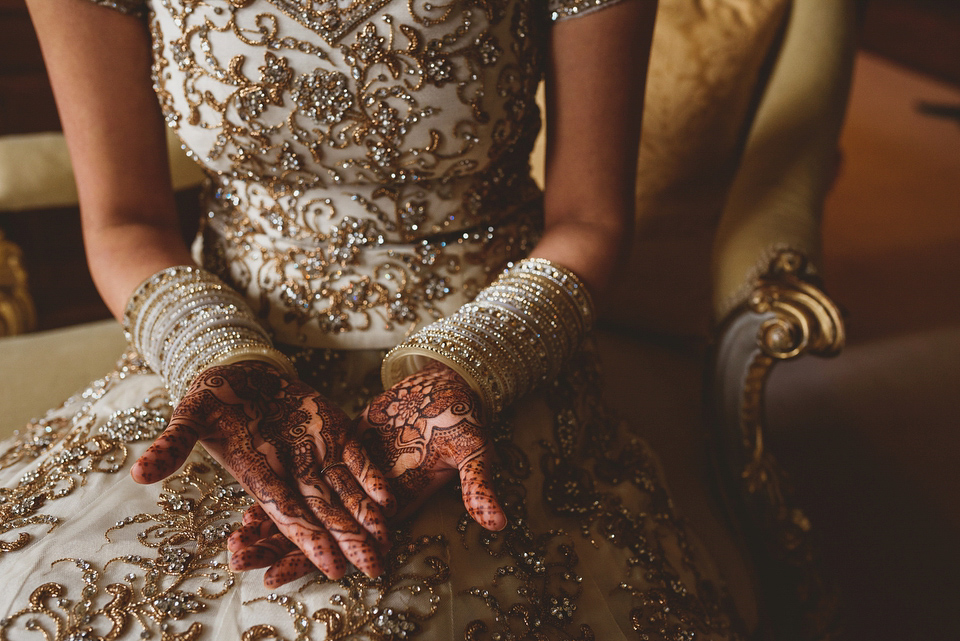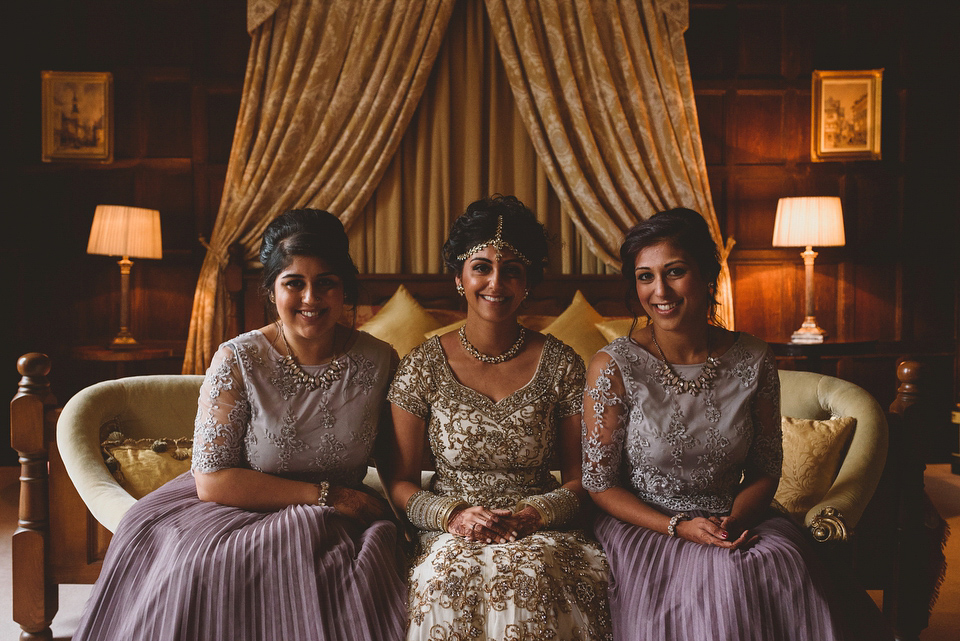 "Originally I wanted an Indian sari for the bridesmaids, but we couldn't find one so we went for a vintage-looking outfit with subtle soft colours from Coast. The girls accessorised with necklace, earrings and bracelet from Next and their own shoes."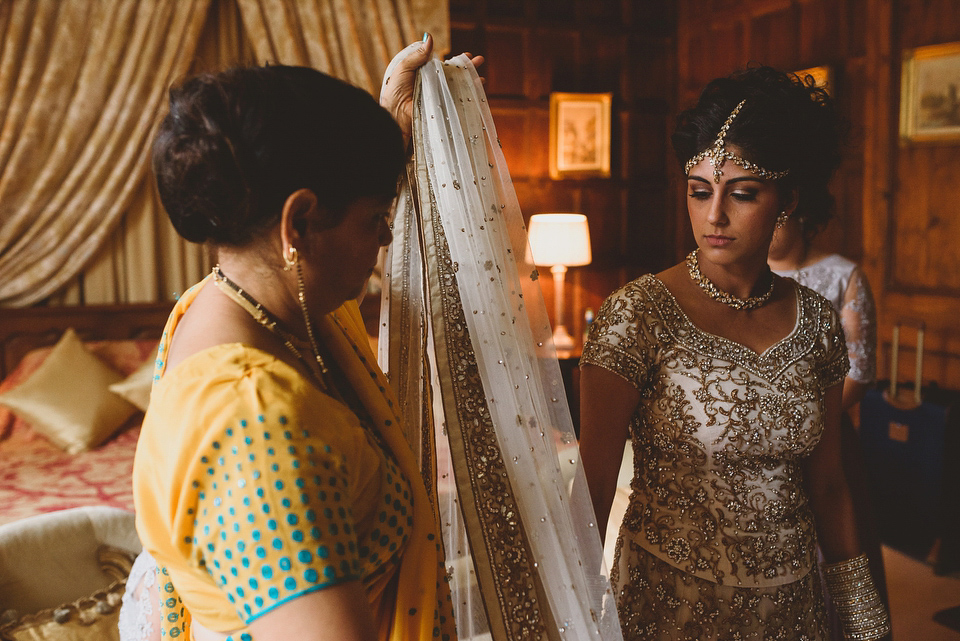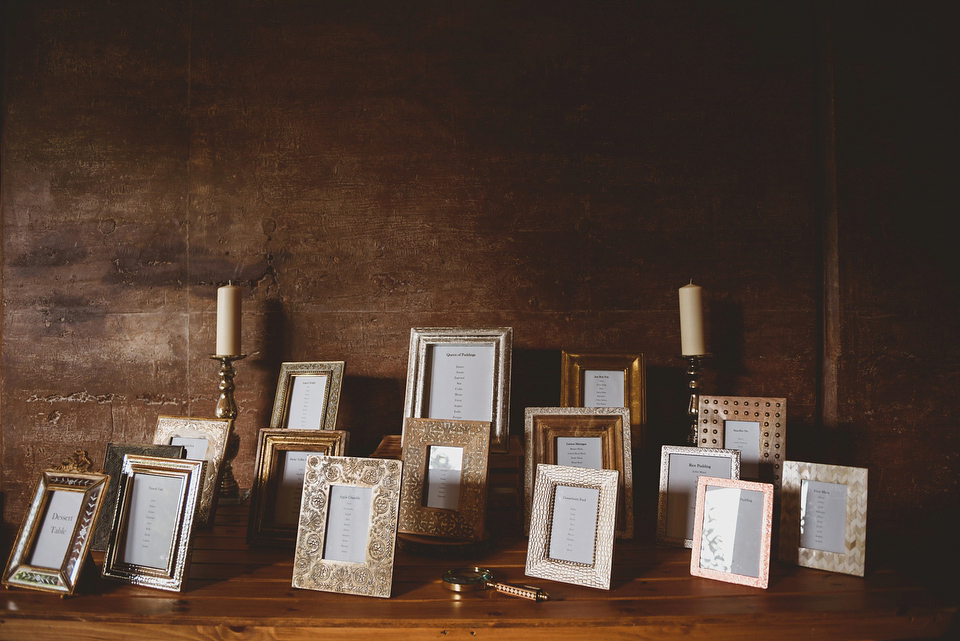 James looked incredibly stylish in his brilliant racing-green suit and I love that he knew the shoes he would wear, even before proposing. I'll hand over to James to fill you in on his choice of attire.
"I had a bespoke racing-green suit from Graham Browne who are based in the city. This was inspired not just from a love for the colour green, but also for the desire to 'do something a bit different' and move away from the atypical blue wedding suit."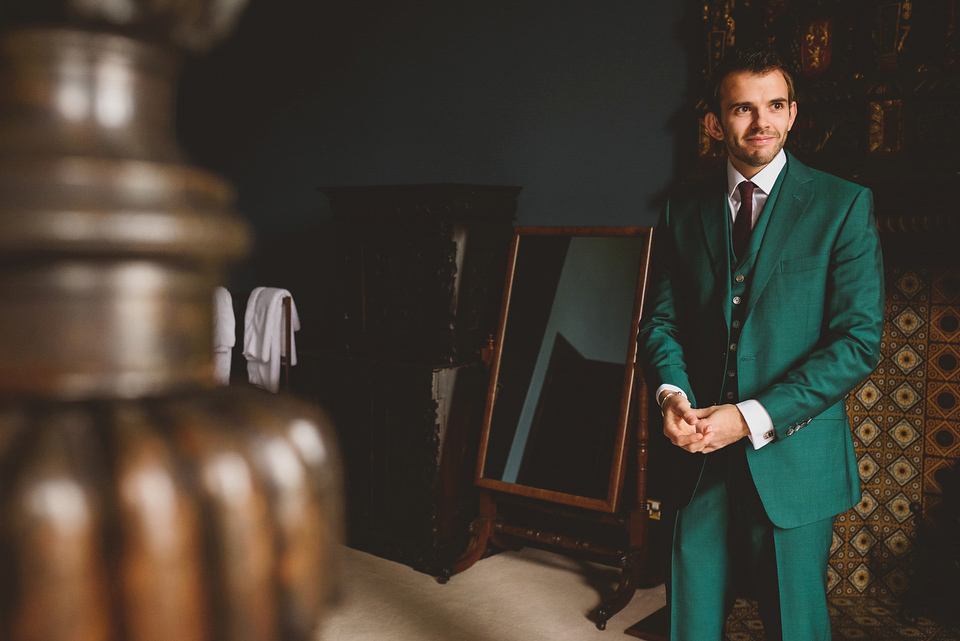 "My shoes were brown, double monk straps from Crockett and Jones which were absolutely what I had been looking for (since before I even proposed!). The tie was a slim maroon number from TM Lewin. The cufflinks were a pair of chrome plated Lego bricks, which were a gift from Aman and fitted well with my love of Lego."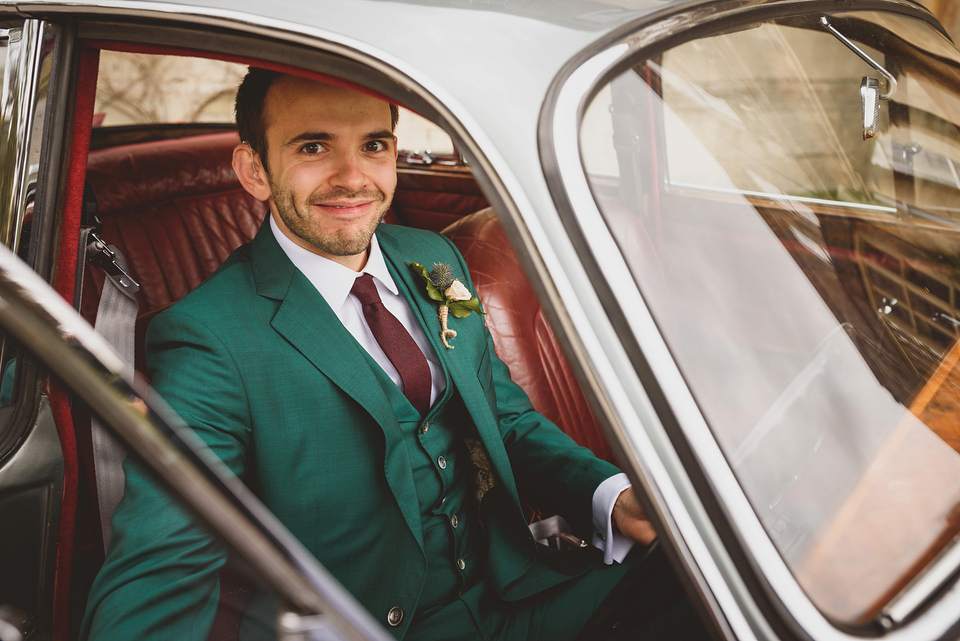 "It proved harder than expected to find a suit range that fitted all of the groomsmen and best man but I ended up plumping for a blue number from Next."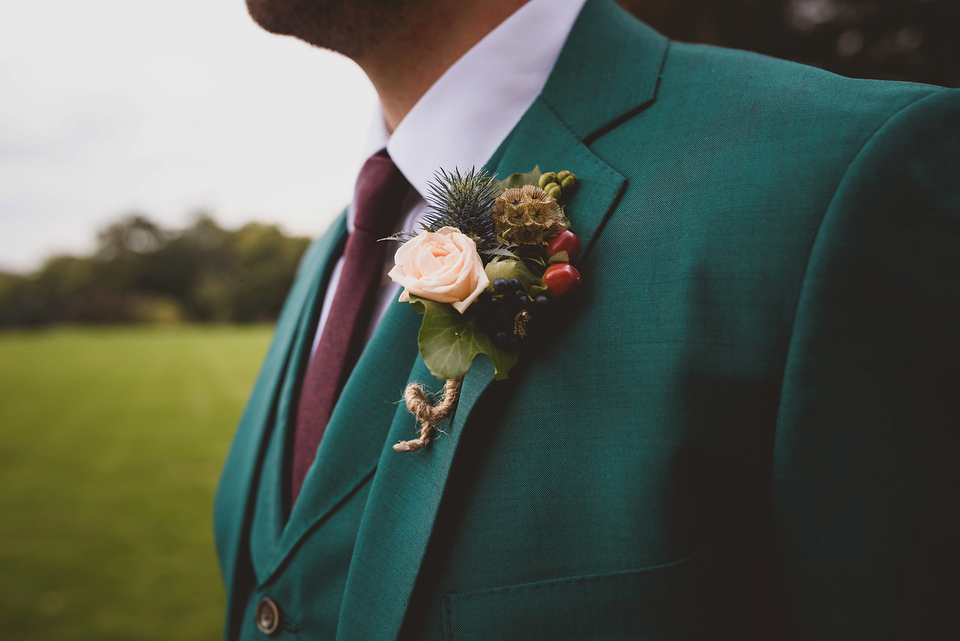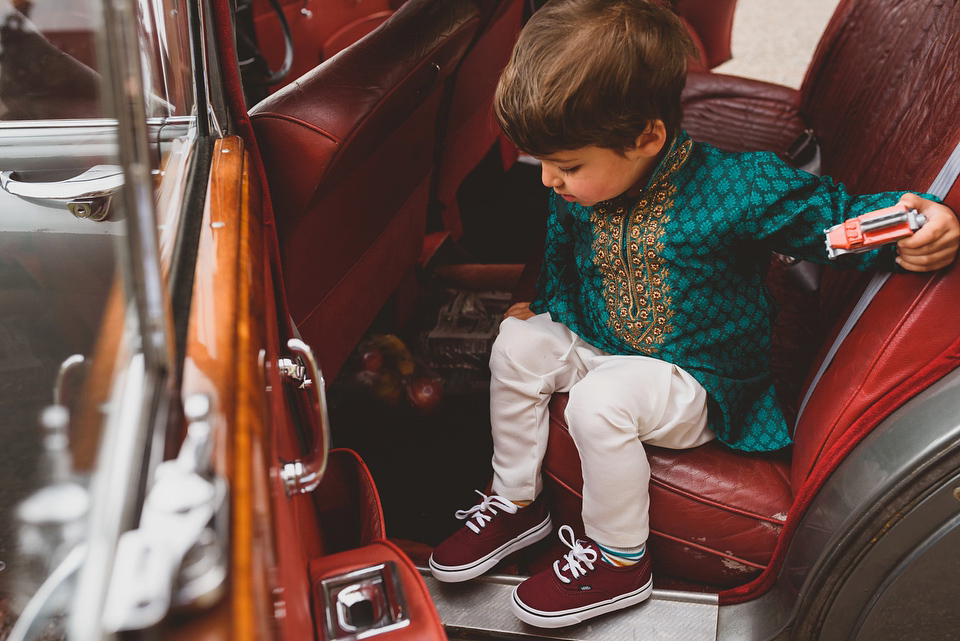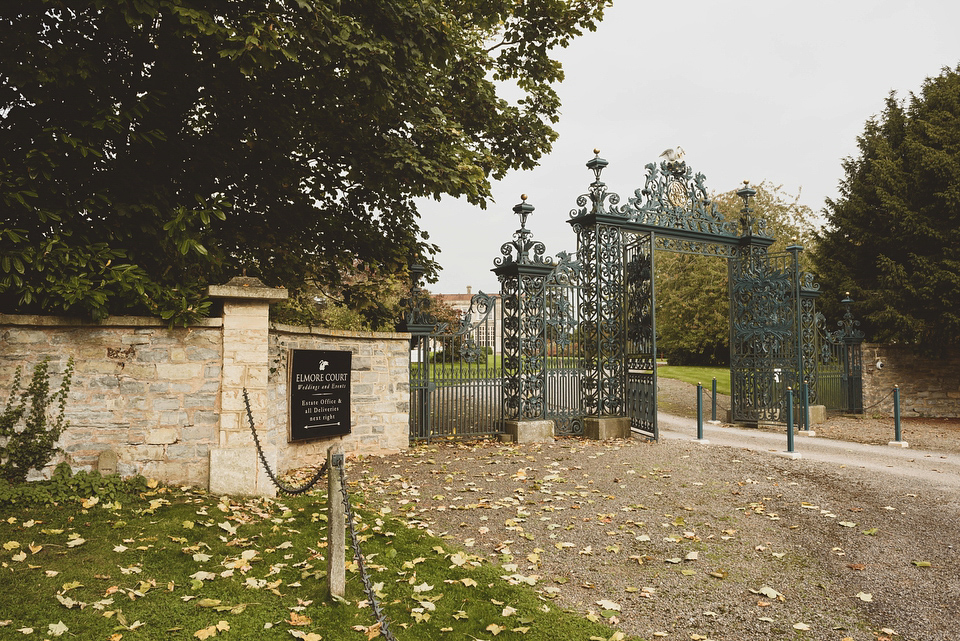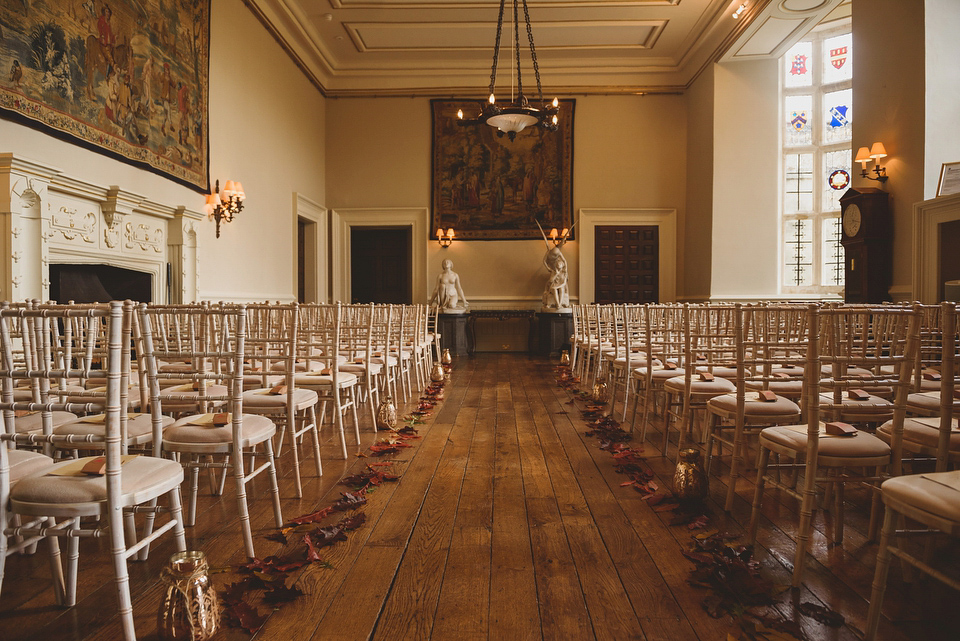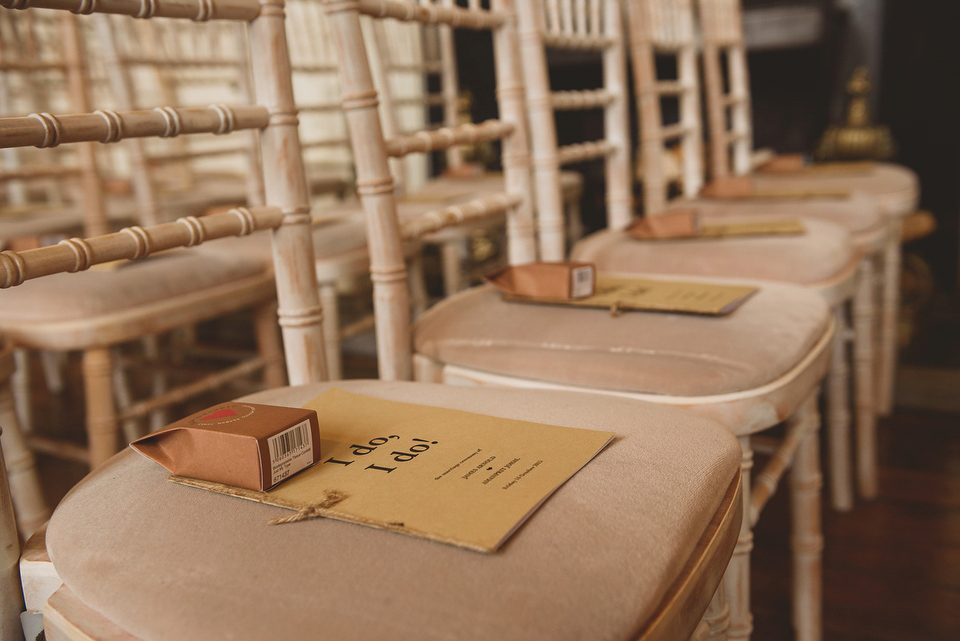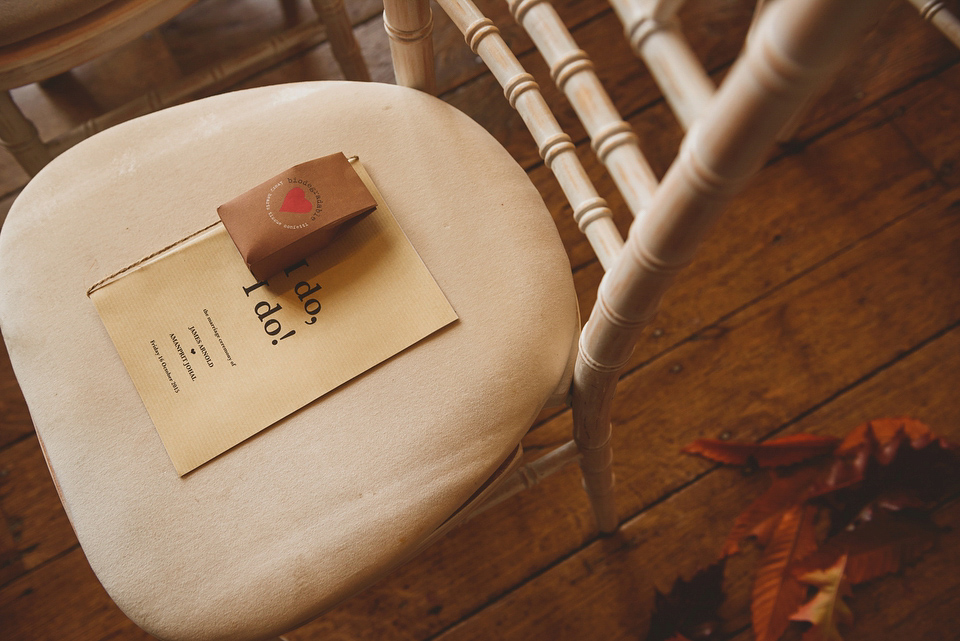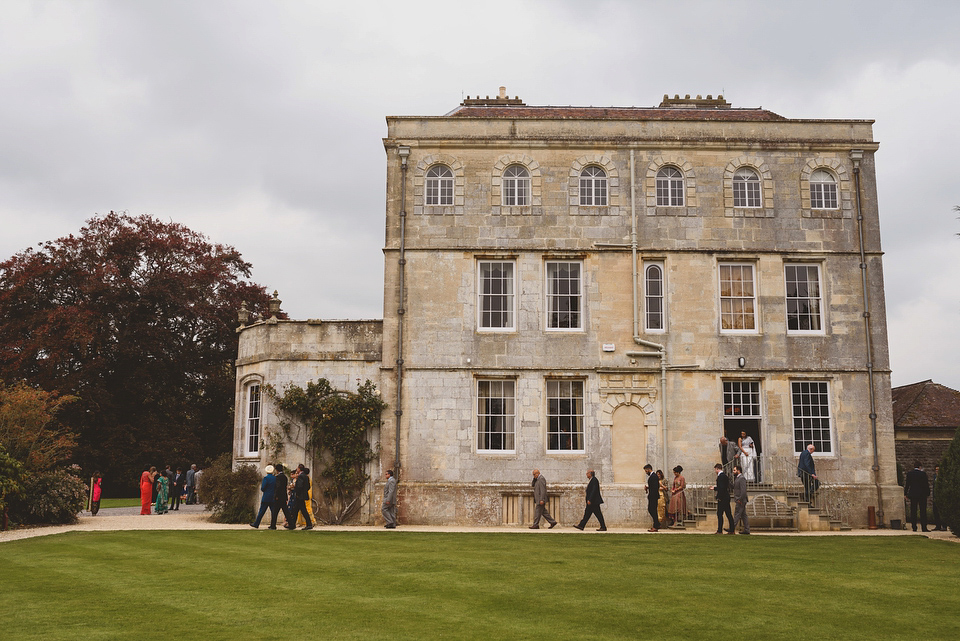 The beautiful bride was driven to the venue in a vintage grey Jaguar from Great Escape Cars. Aman was given away by her father and family and friends chose the special readings for the ceremony.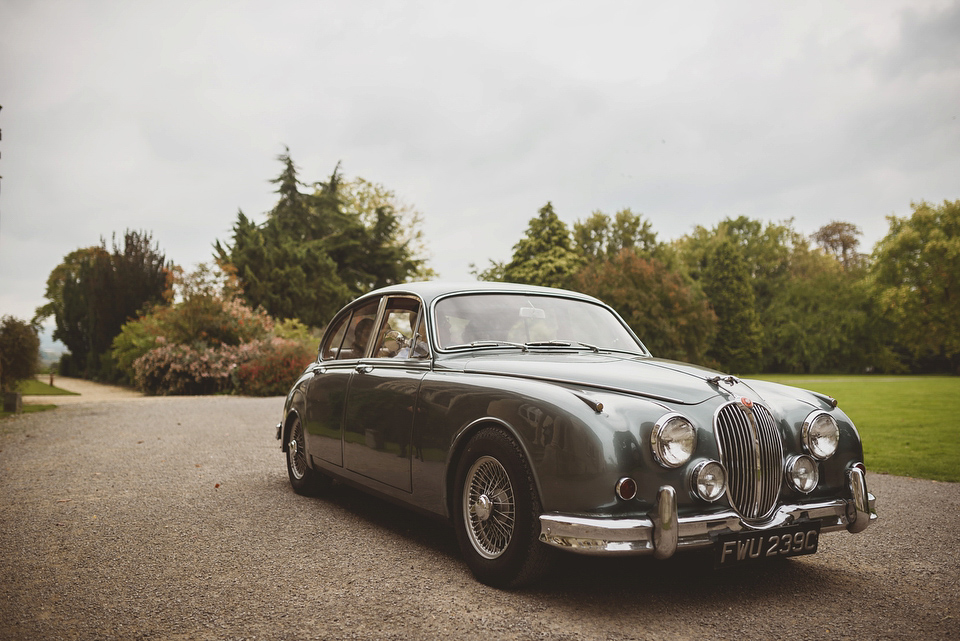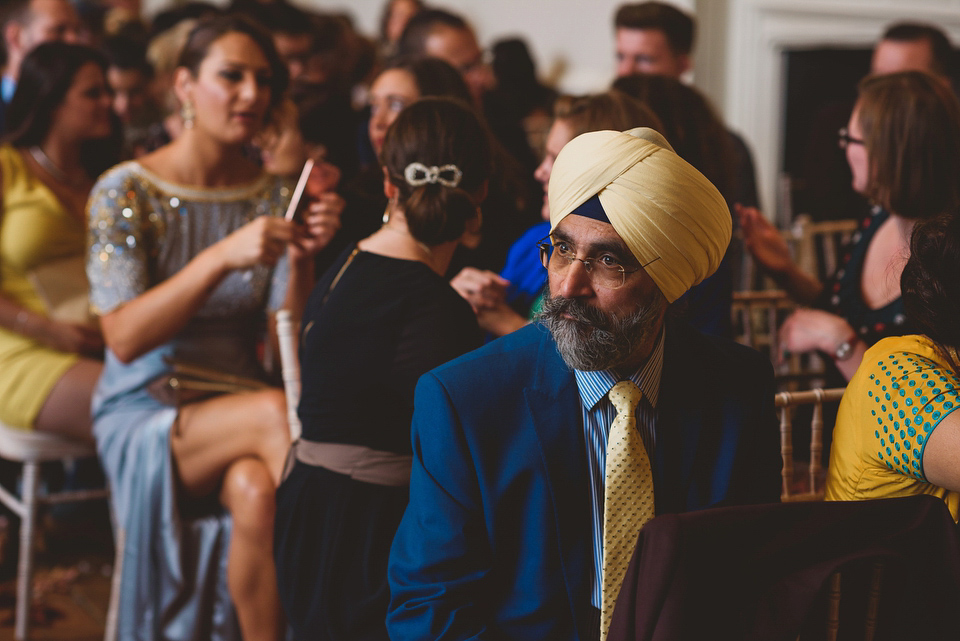 "My father gave me away. I was emotional holding back the tears because I felt slightly overwhelmed and couldn't quite believe the moment had arrived that I'm finally marrying the love of my life. I walked to an Indian song played by my brother on the guitar, a close family musician friend on the piano and sung by my talented brother-in-law."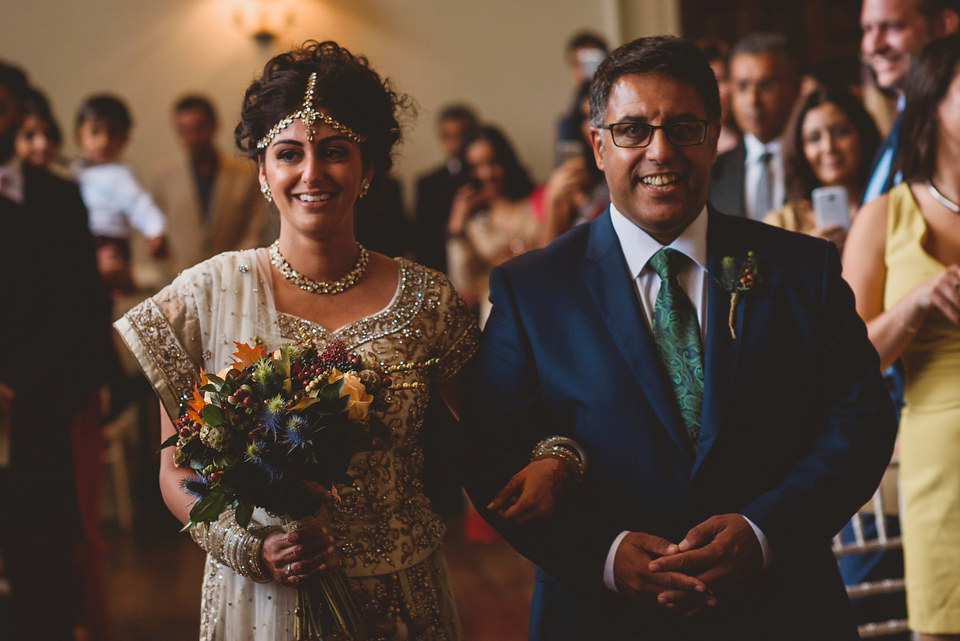 "I actually let my friends and family choose the readings that would reflect us both well, which I felt was better than us choosing them. One reading was done by brother in memory of my late Mum so she was there with us on the day. The readings were 'Recipe for Love' by Amy Oxford', 'We Remember You' by The Family' and 'He Never Leaves the Toilet Seat Up' by Pam Ayers."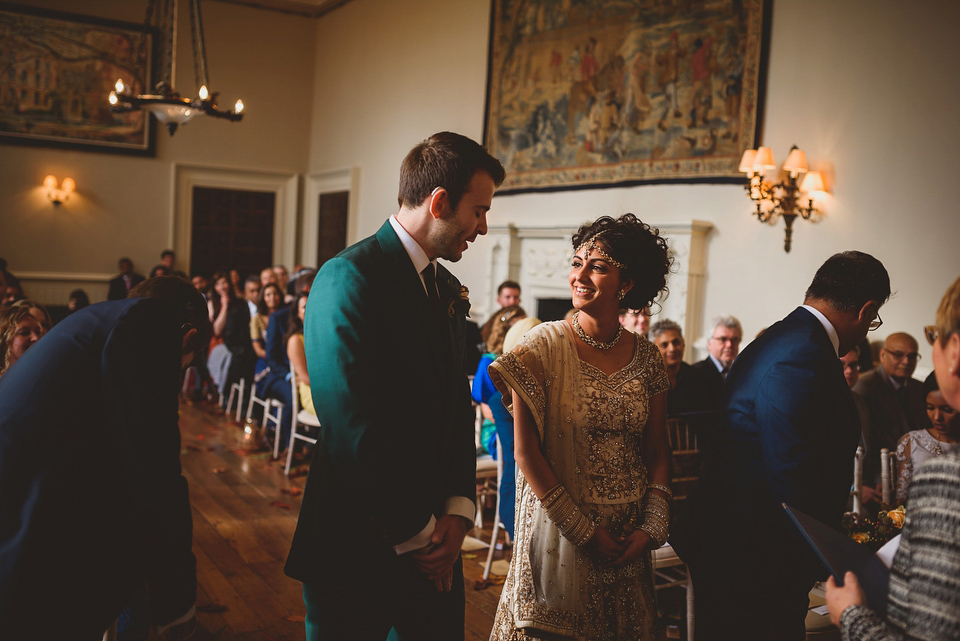 "I was inspired by an American website and had a designer through work design the invitation. We had agreed on a price and they kindly surprised us at the last minute saying it was a gift from them (helps I'm their client too!). My best friend, Semhar, is also a graphics designer so she kindly assisted with doing the order of service booklet."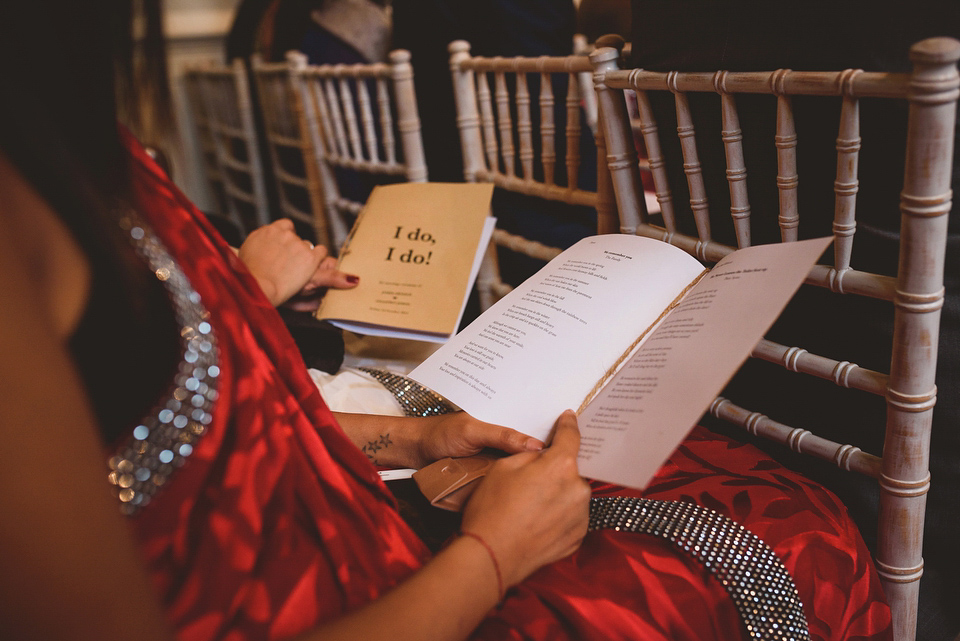 "We both got our plain platinum wedding bands from a shop in the Birmingham Jewellery Quarter."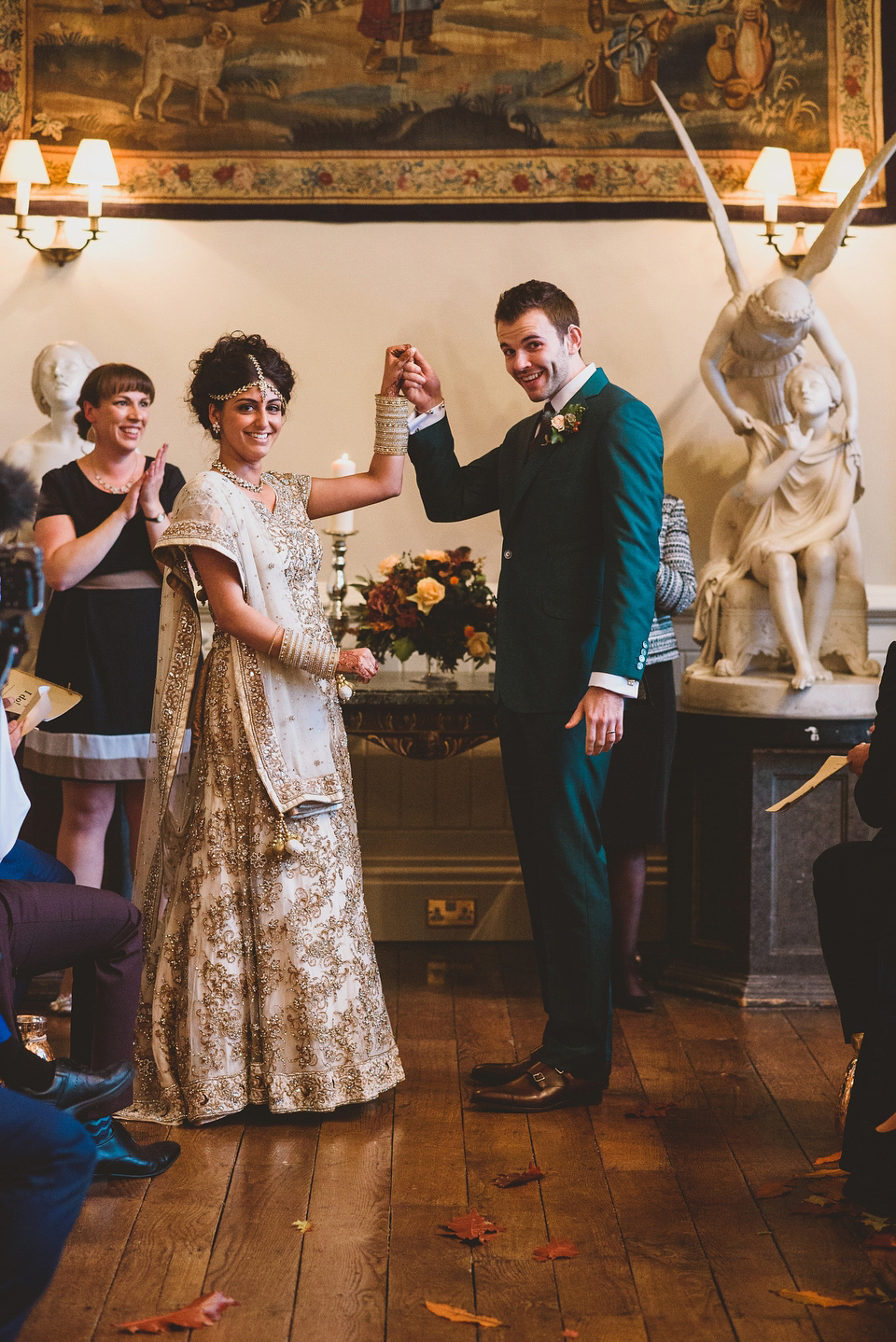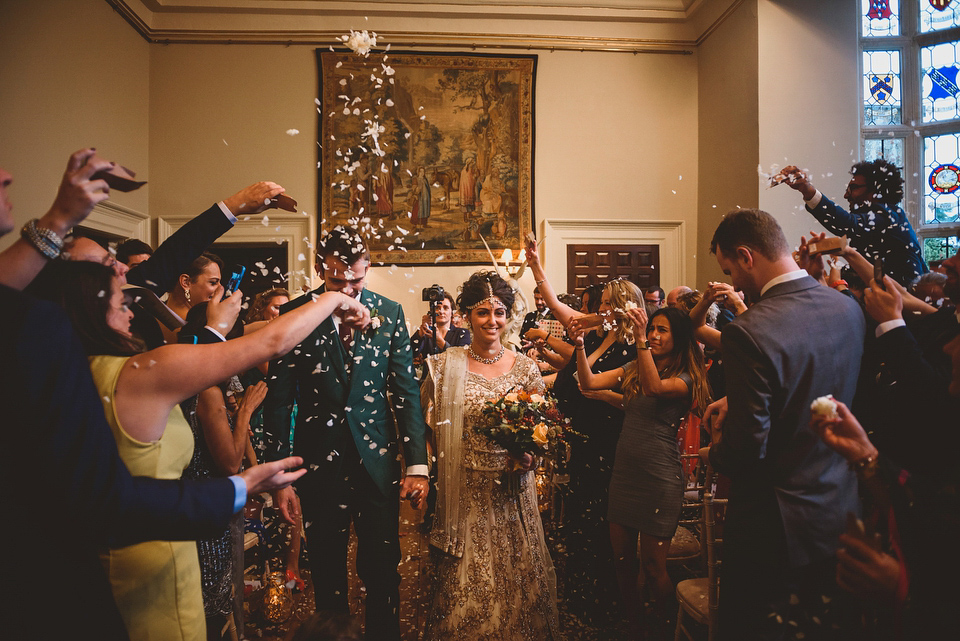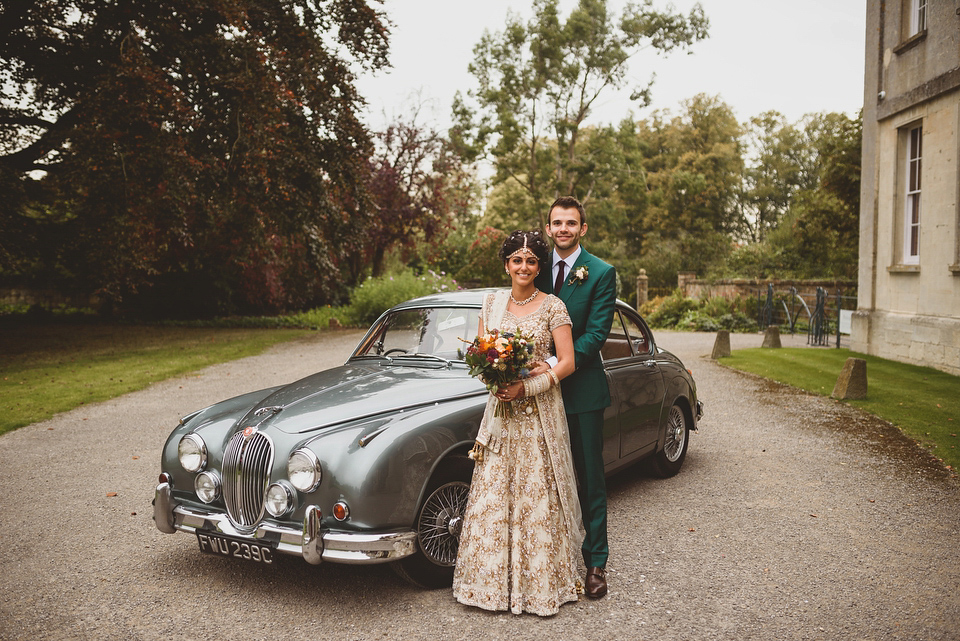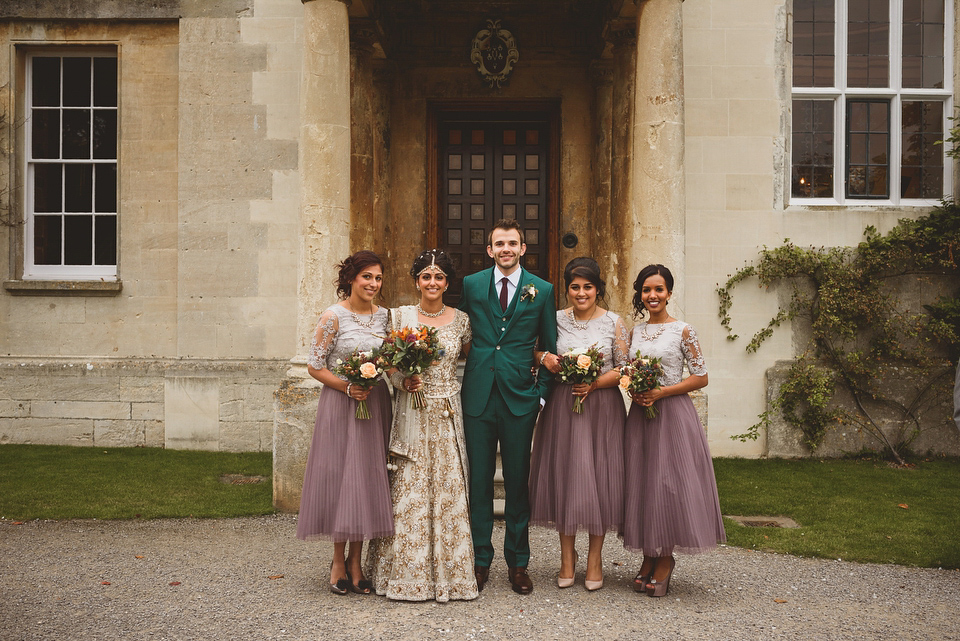 "I trusted the florist to come up with colours that complemented the wedding party and autumn season colours. I also wanted a natural wild look and the flowers exceeded my expectations on the day."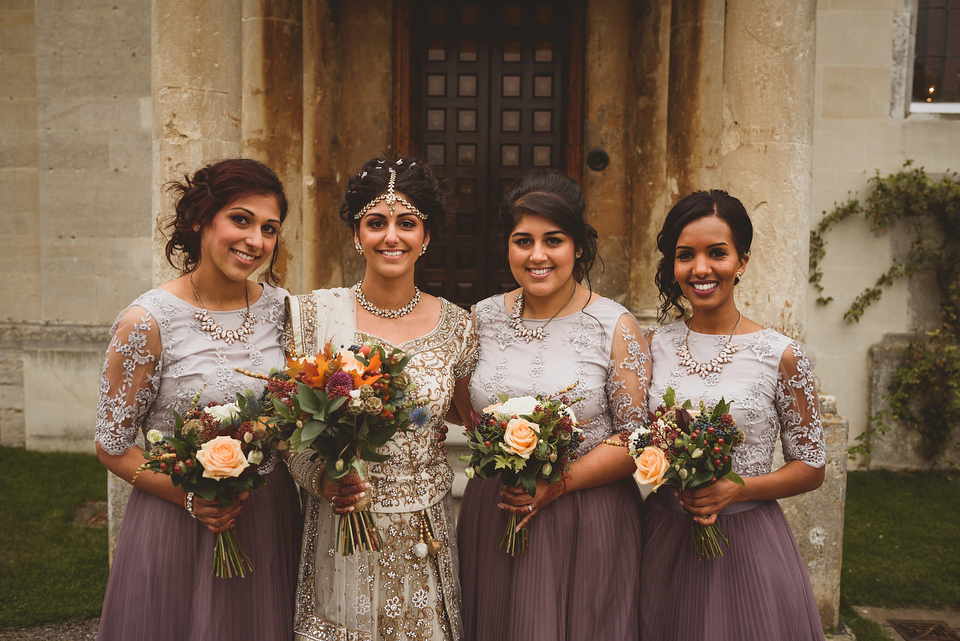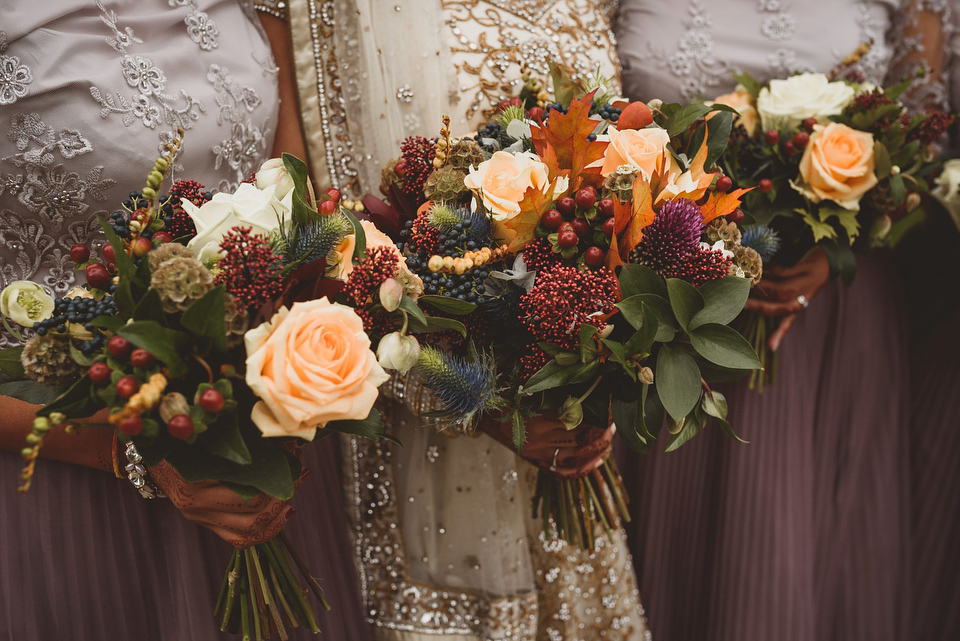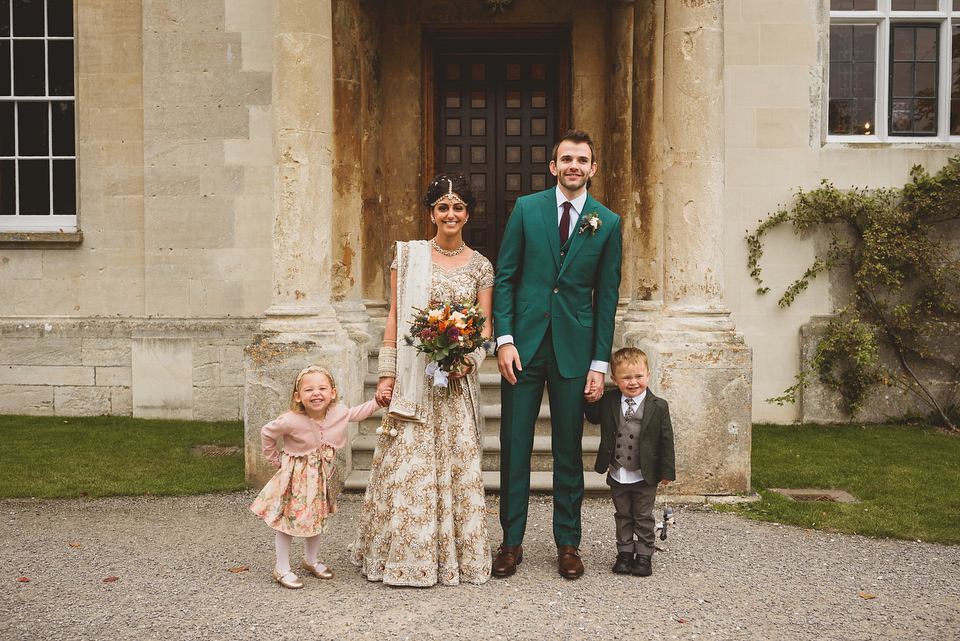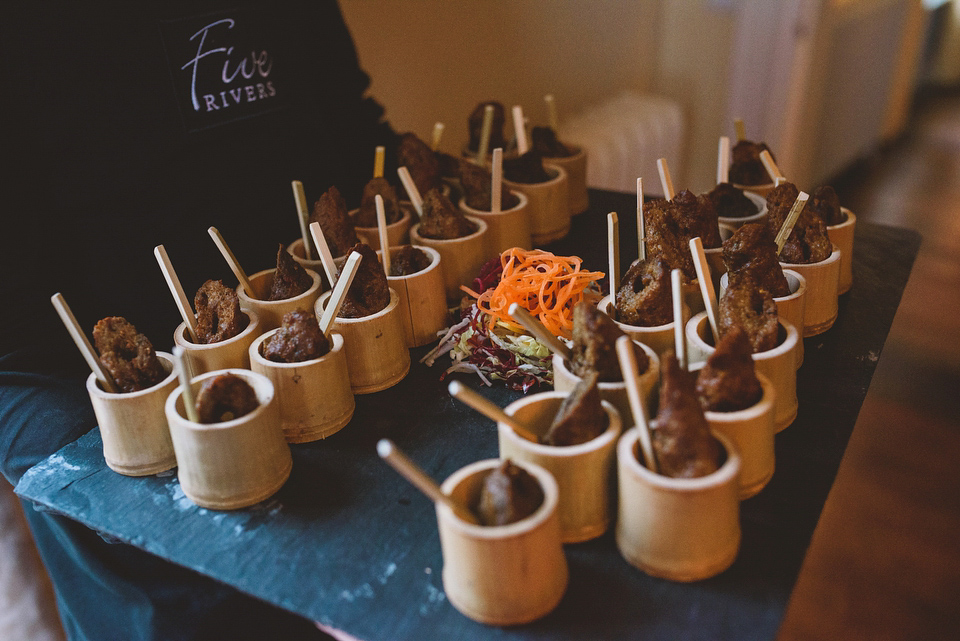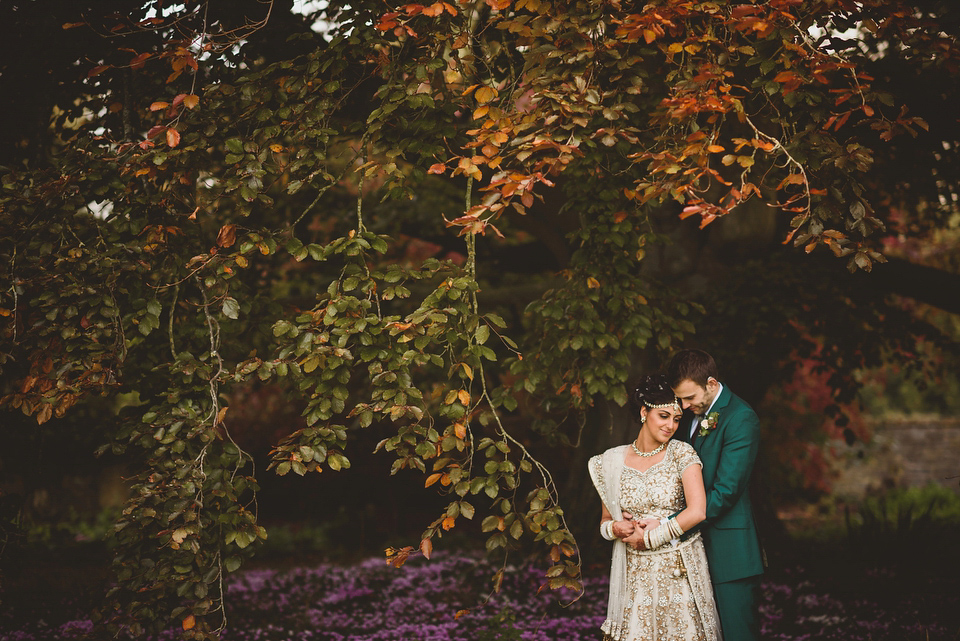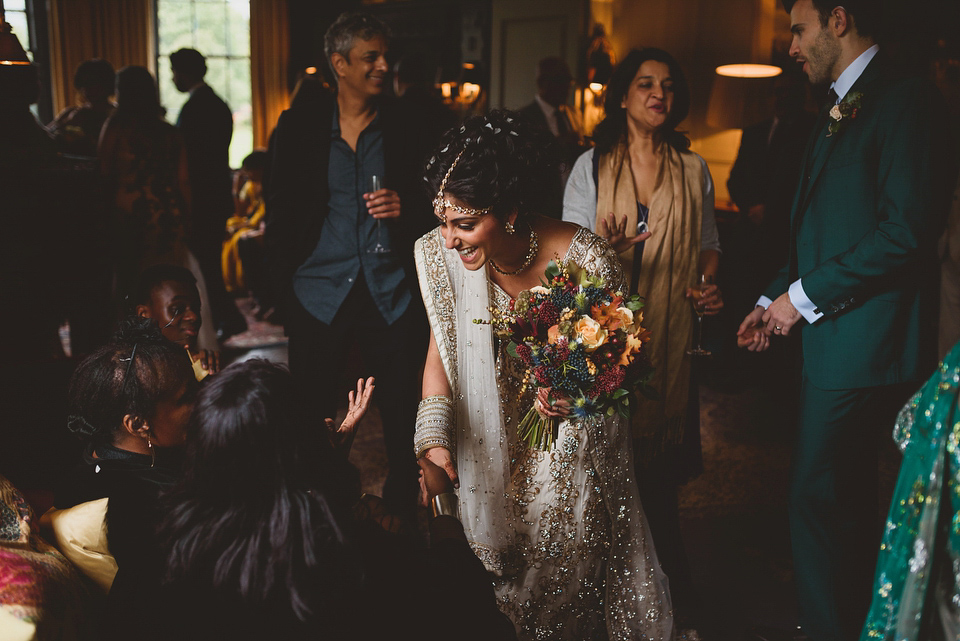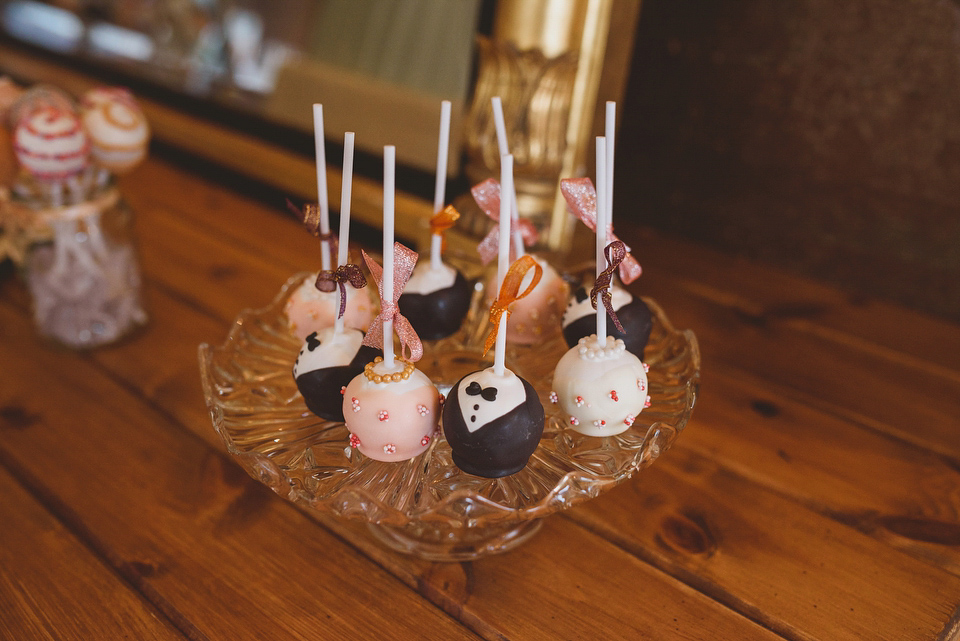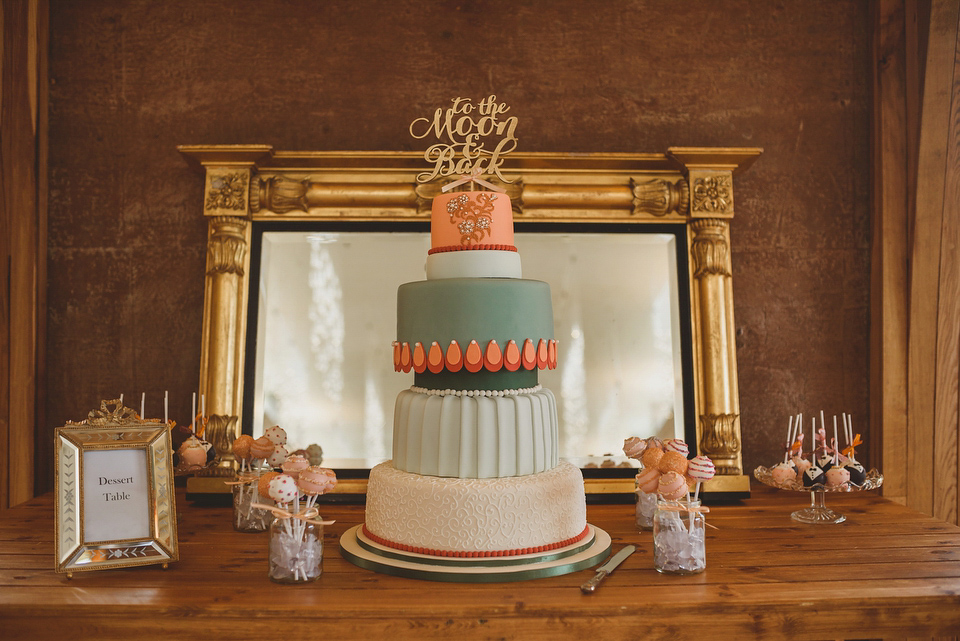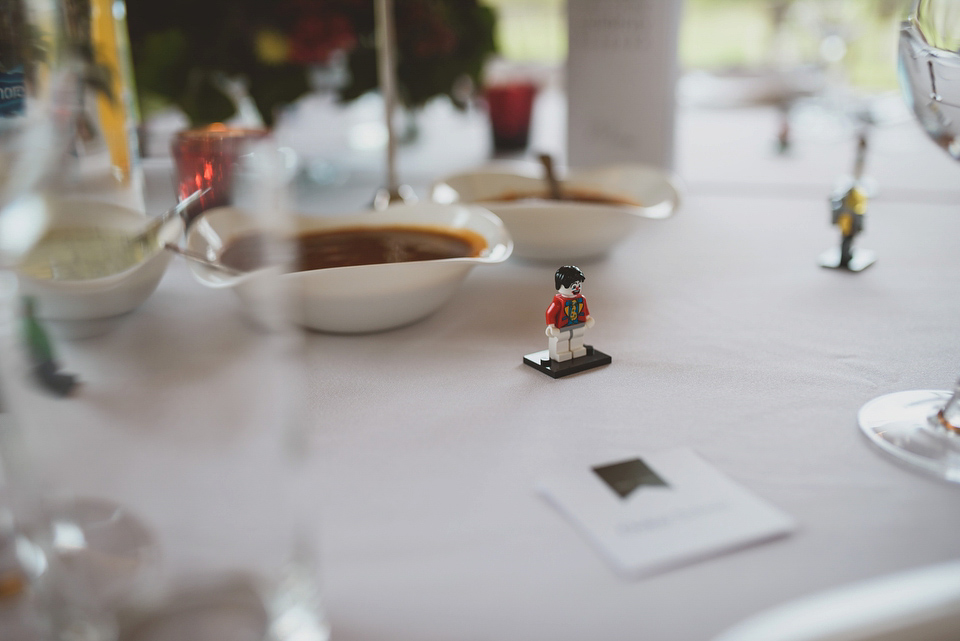 To pay homage to his love of Lego, the groom found sweet little mini Lego figures for all of their guests – what a brilliant idea!
"James is an avid Lego fan and so wanted to provide each guest with their own Lego mini figure. They were all bought from eBay and placed in front of guests on their table."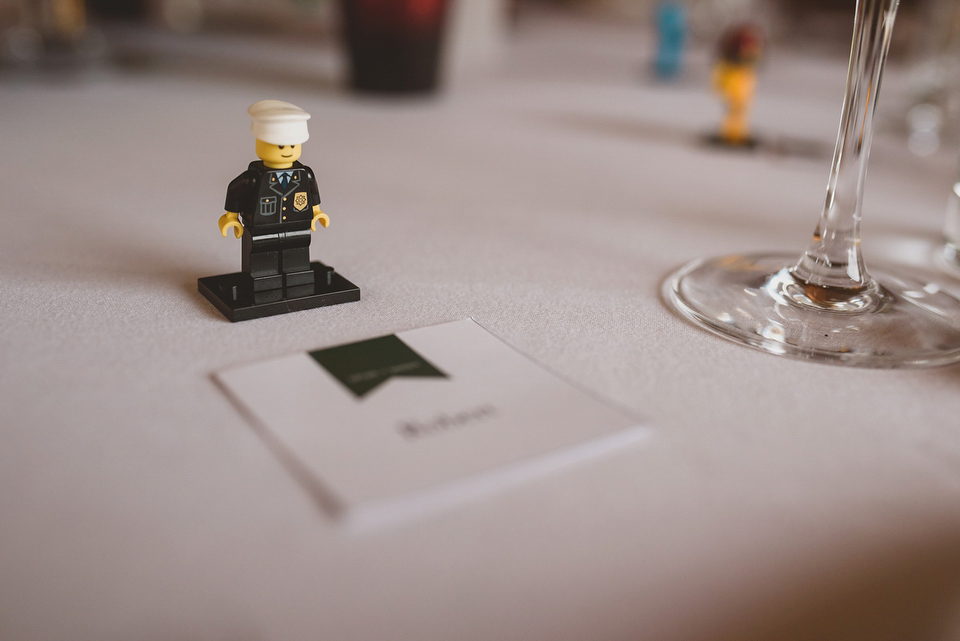 "For the table seating plan, I collected Indian-inspired frames throughout the year from Homesense."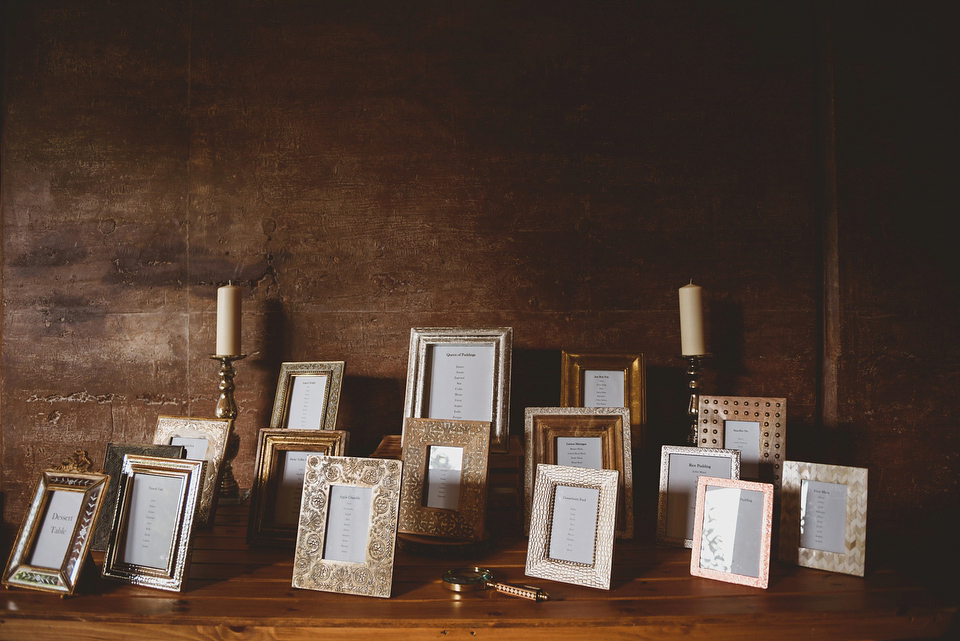 "Food is really the heart of everything whether it is in our relationship or at family gatherings which led us to Indian food from Five Rivers. The canapés were absolutely delicious and the main went down a treat."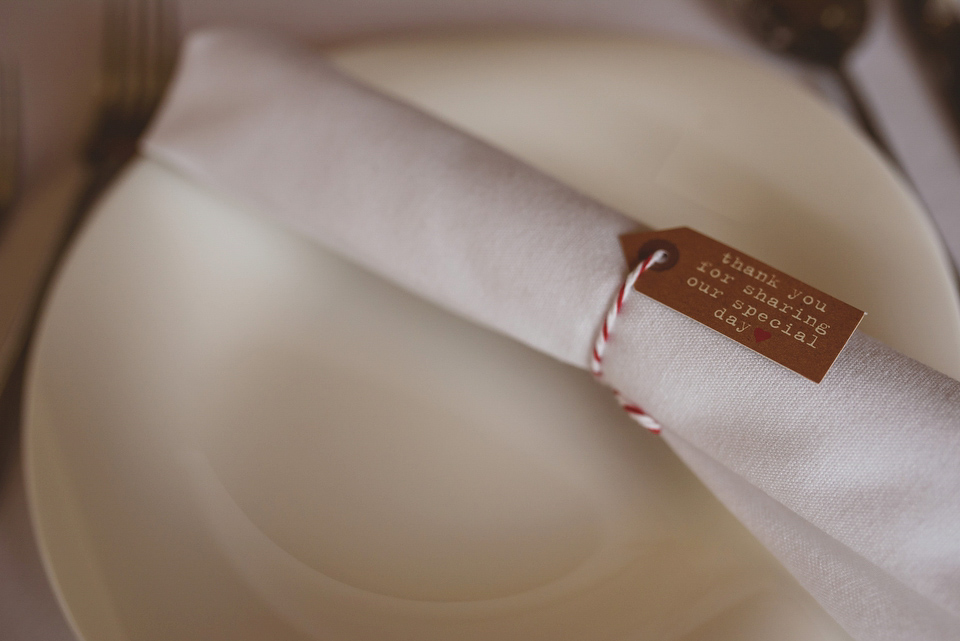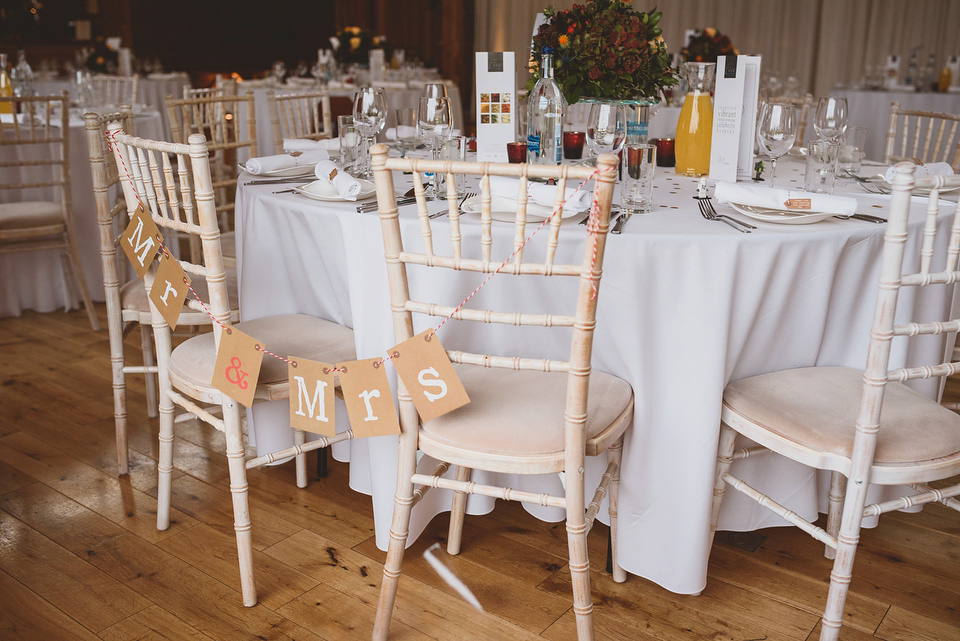 "James is well known for his bakery and cake skills so there was no question that the cake decision was left with the groom. It was by Cut Above Cake and inspired from a pinterest picture we saw and again to complement the pastel colours the bridesmaids wore. Each layer had a different flavour, salted caramel, apple and cinnamon, white chocolate and raspberry and fruit cake. My cousin also made some colourful groom and bride inspired cake pops.
To top it off, we also had an amazing dessert table by Contemporary Cake Designs with ever popular macarons (they didn't last long!) along with various other bite sized morsels including pistachio cake. We even had roasted marshmallows by the bonfire at the end of the evening outside."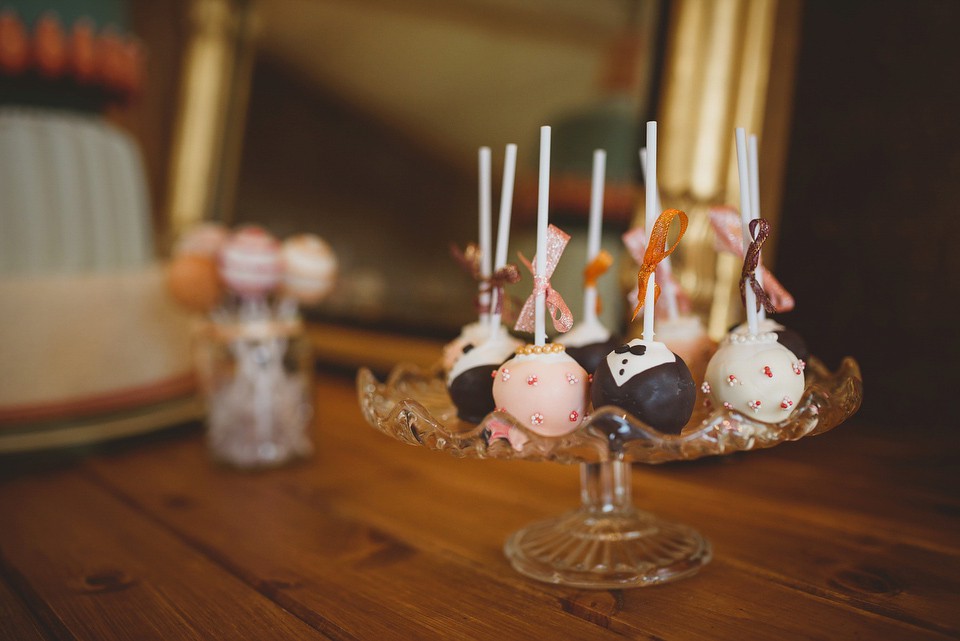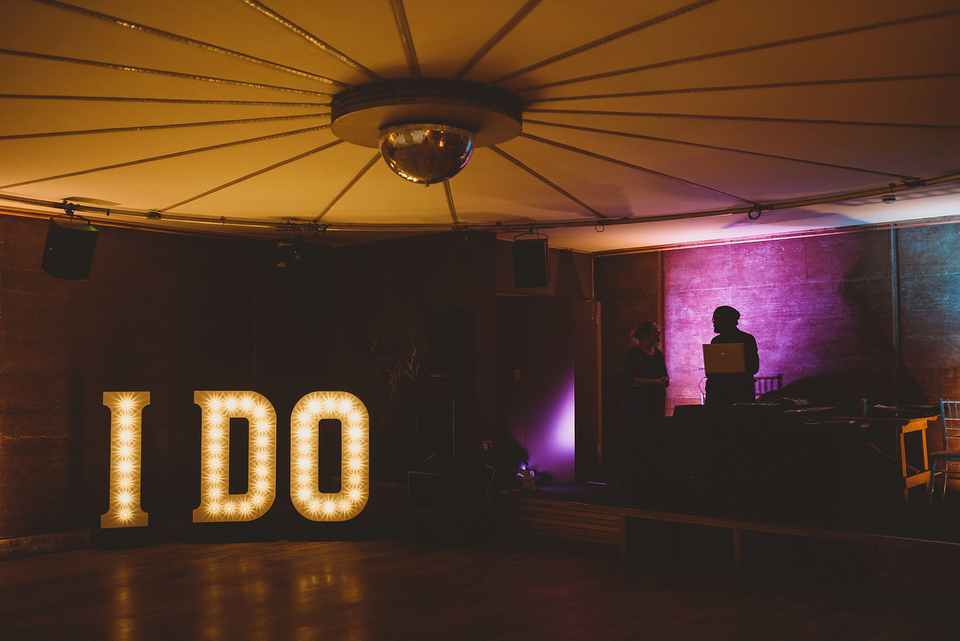 To get the guests in the mood, Aman and James had colourful bhangra group Gabhru Panjab De perform – who quickly encouraged the crowd to get involved and copy their upbeat dance moves. And for their first dance, the couple chose 'Hey Ho' by The Lumineers.
"I love how the track starts slowly and the tempo picks up later and admittedly, the song isn't that long which was enough time for guests to be watching the bride and groom dance (and not too long for them to get bored with our shuffling!)."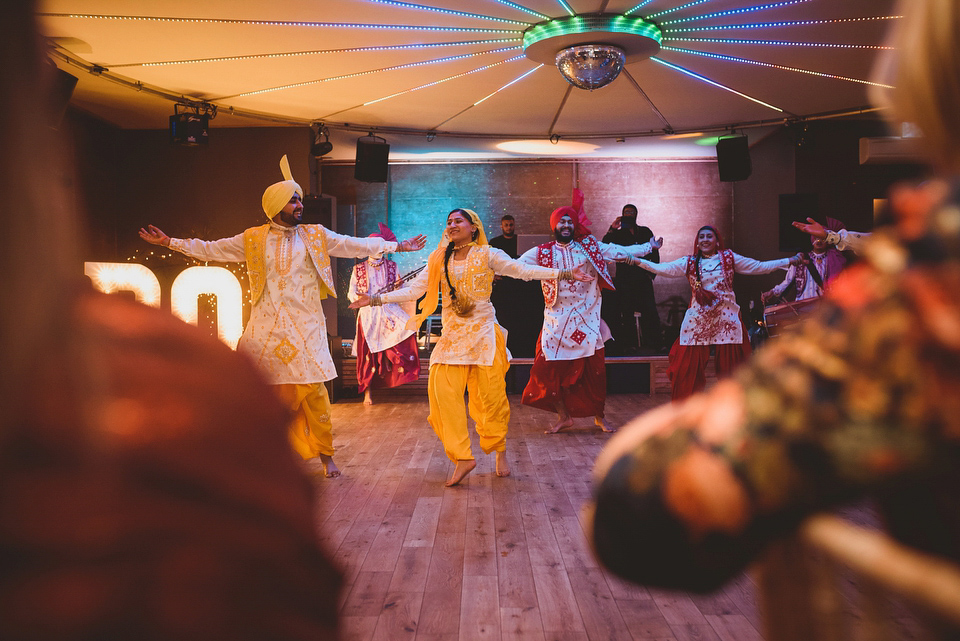 "My favourite moment of the day was marrying each other and seeing the culmination of a years' worth of planning come to fruition without a hitch.
I can honestly say that no, even on reflection, there isn't anything I would do differently. It is a cliché but it really was the most perfect day either of us could have wished for."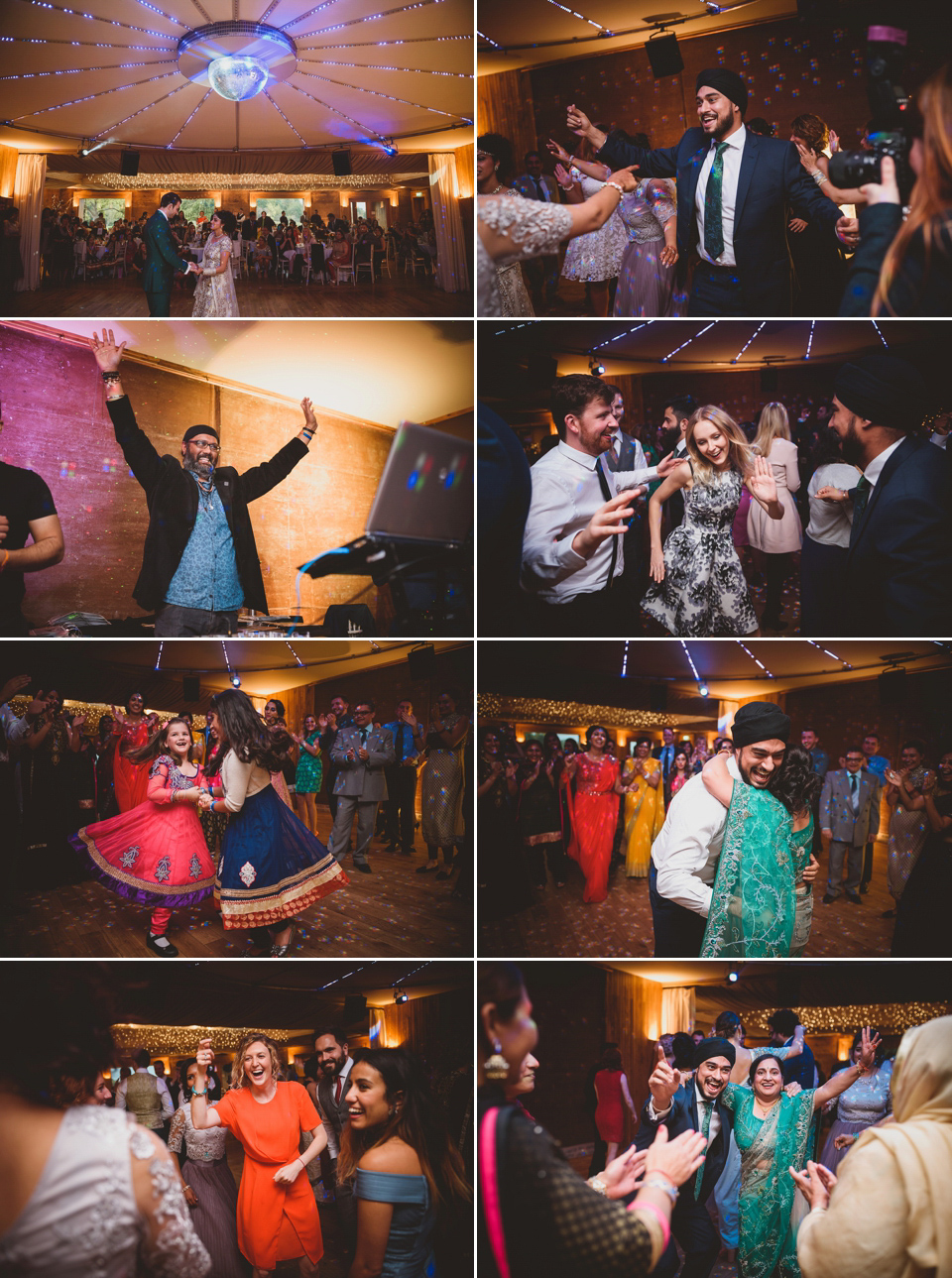 Words of Wedded Wisdom
"Whilst a wedding is about the bride and groom, do take into account what the guests would enjoy and that would be planning the order of the day. Allow just enough time for guests to mingle before and after the ceremony but not too long otherwise they would be hanging around, and in October that isn't pleasant. We didn't do it the traditional way and given that Indian food can be quite heavy, we broke it up quite a bit and had the first dance after the starters and before the main course, speeches after the main course followed by cutting the cake and dessert much later in the evening after the entertainment performance. Everything seemed to flow really well."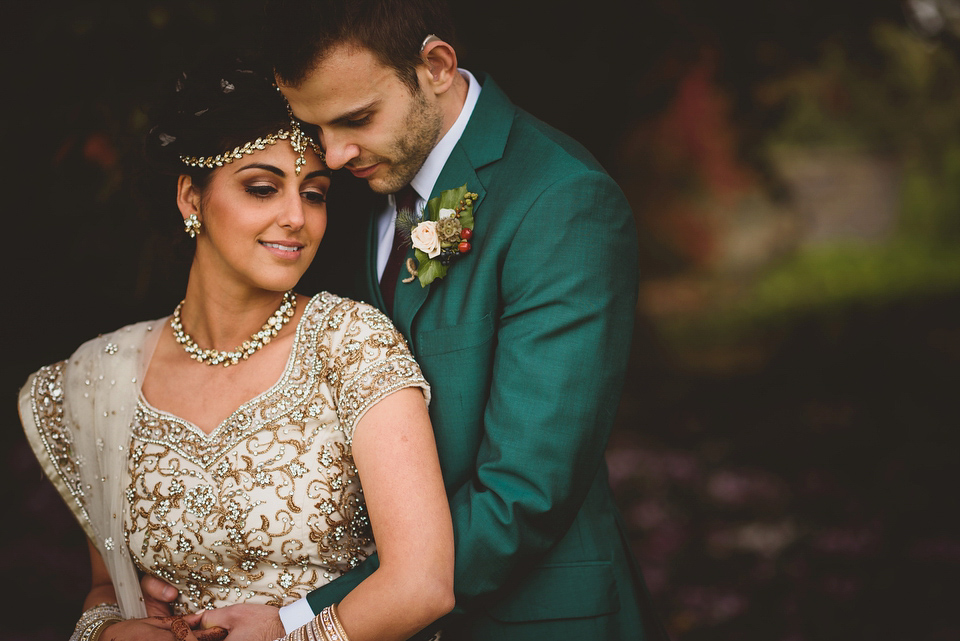 I've so loved sharing James and Aman's lovely day and all the special moments were captured beautifully by photographer Michael. If you're currently planning a fusion wedding I'm sure the couple have been a huge inspiration – and you can see more weddings of the union of two cultures here that we've previously highlighted.
Have a jolly weekend everyone.
Love Jo -x-