Today's wedding is an absolute stunner, but the Eliza Jane Howell dress really stands out for me, as it is so beautiful and unusual.
Meet Natalie and Jeremy, who married at St Mary's Church in Queniborough, Leicestershire on the 31st of July 2015, followed by a reception at The Griffin Inn.  Natalie struggled with choosing a style for her wedding day and decided in the end to just go with what she loved and it works perfectly.  Just be yourselves and it will all come together. The man behind these wonderful photographs was London wedding photographer Ash Davenport of Miki Studios, who has featured on the blog a number of times before and always delights with his ability to capture such emotion in his work.
Natalie wore the divine 'Dorothy' by our our Little Book For Brides member, Eliza Jane Howell, which she purchased from Georgina Scott Bridal in Stourbridge.
"The Dorothy gown by Eliza Jane Howell was like nothing I'd seen or tried on before and it just shimmered on the hanger.  As I am a bit of a magpie I had to try it on." 
"Once I had it on I started to move about in it and all the beads on the skirt started swaying, it made me want to dance and shimmy about and made me very happy. It was such a fun dress to wear that it didn't take long to decide that it was the one I wanted."
"In the months after getting engaged my head was a jumble of all sorts of different styles but in the end I just decided to go with what I liked and be damned with the consequences. I needn't have worried though as everything looked perfect on the day and it was lovely to see all the little details laid out looking very 'me'."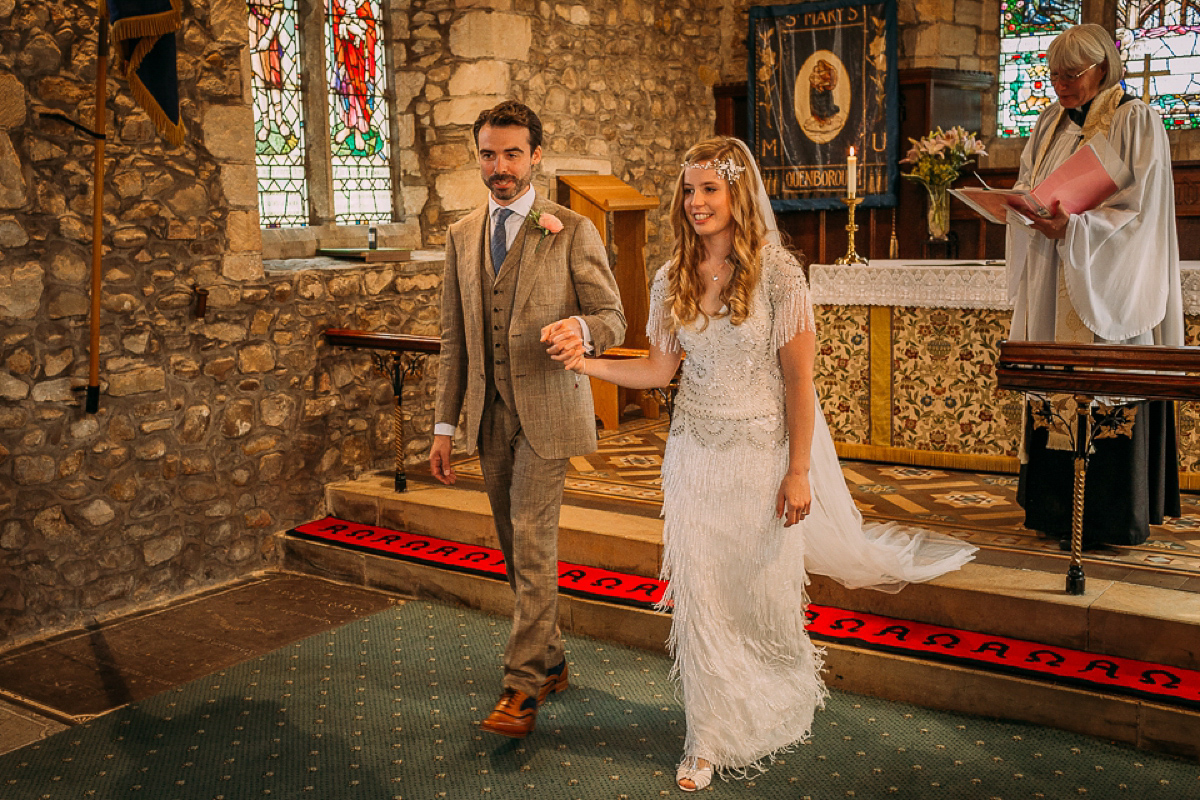 Natalie's hair and make up was the work of the talented Jessica Nurse from Make Up My Wedding Day.
"Jess did a great job of my hair and makeup; we did trials beforehand but when I changed my mind about the hairstyle on the day she didn't get flustered and did a brilliant job.  I don't wear makeup normally but Jess still managed to make me look really beautiful with minimal amounts and it lasted all day."
The little flowergirls looked extremely cute in the sweetest lace-topped dresses from Monsoon, while Jeremy looked terribly dashing in a checked suit from Suit Supply, teamed with a vintage pocket watch (a gift from his sister), a bluey grey tie, tan and navy 'Barkers' from Anand's Shoes in Market Harborough,a shirt from TM Lewin and an enormous smile.
To add to the ethereal effect, Natalie chose a floor length, very light weight, single tier veil with tiny crystals in a cascade effect from a range available at Georgina Scott Bridal.  Just wow.  On her feet she boasted a pair of peep toe Rachel Simpson shoes and in her hair she wore a necklace from Debenhams that she modified into a brow band.  Her other accessories were all personal items- a heart locket necklace that had belonged to her late grandmother, a red heart bracelet charm from her and Jeremy's first holiday together and a pair of diamond stud earrings that Jeremy bought for her as a wedding gift from a local jeweller – Barry Bott.
The bridesmaids created a brilliant contrast to Natalie's ethereal sparkle in bright coral pink maxi dresses from ASOS, worn with peep toe flats in a floral fabric from Debenhams and brow bands made from diamanté necklaces from Claire's Accessories.  All the ladies wore their own earrings and Natalie bought each of them a silver or rose gold bangle as a thank you gift, also from Barry Bott Jewellers.
The florist responsible for the bouquets and button holes was Rachel Petheram of Catkin Flowers and aren't they beautiful?
"Rachel grows all of the flowers she uses in the grounds of Doddington Hall; they're grown with love and attention throughout the year and enjoyed by the Hall's visitors up until cutting.  Rachel has a great imagination when it comes to picking the right flowers and the fact that they are all grown locally in the UK was the icing on the cake."
Natalie walked down the aisle with her Dad to the Bridal Chorus by Wagner and she and Jeremy said the traditional Christian vows. I absolutely love the photos of the two of them during the ceremony- there is just so much love there, its gorgeous.
"We made things more personal by having two family members and a close friend do readings, two of which they chose personally.  It was very emotional hearing them for the first time on the day."
The couple chose their rings from The Design Centre in Birmingham Jewellery Quarter.
"For the evening entertainment we booked Gavin Sweeney and his band Swagger. They were a fantastic live band and really ramped up the atmosphere in the evening."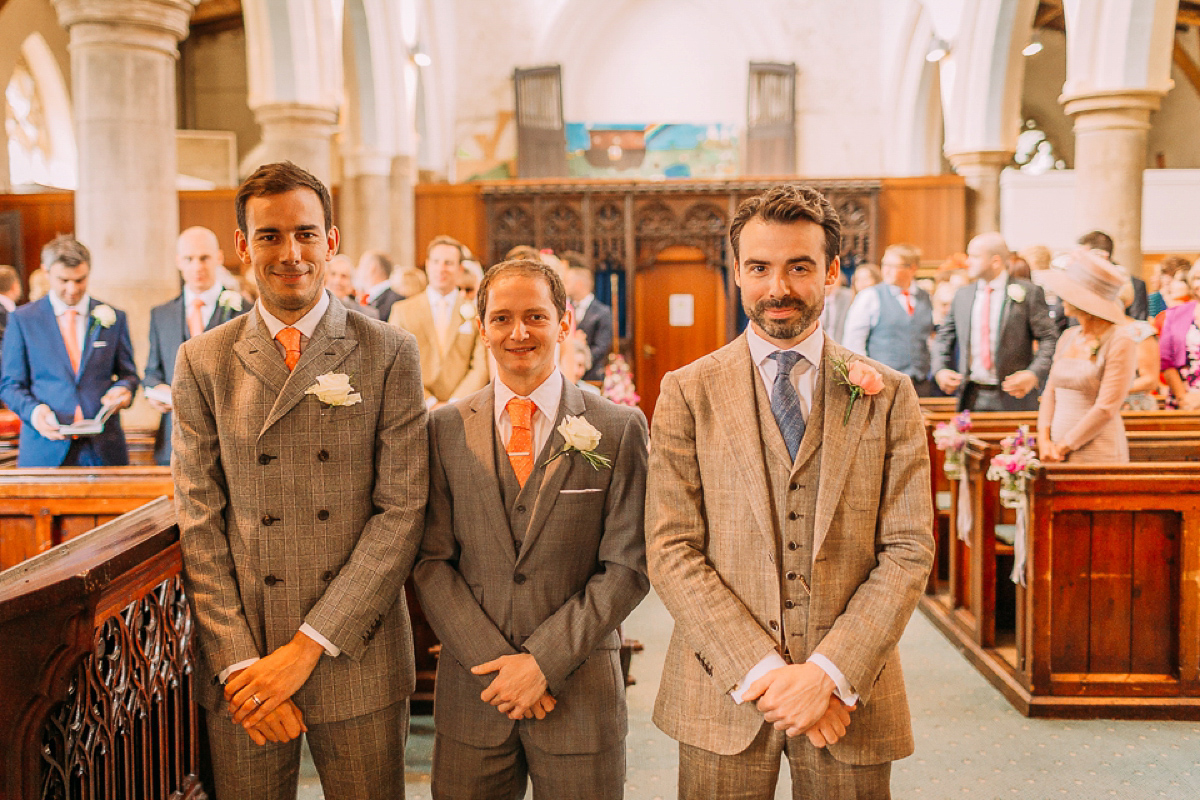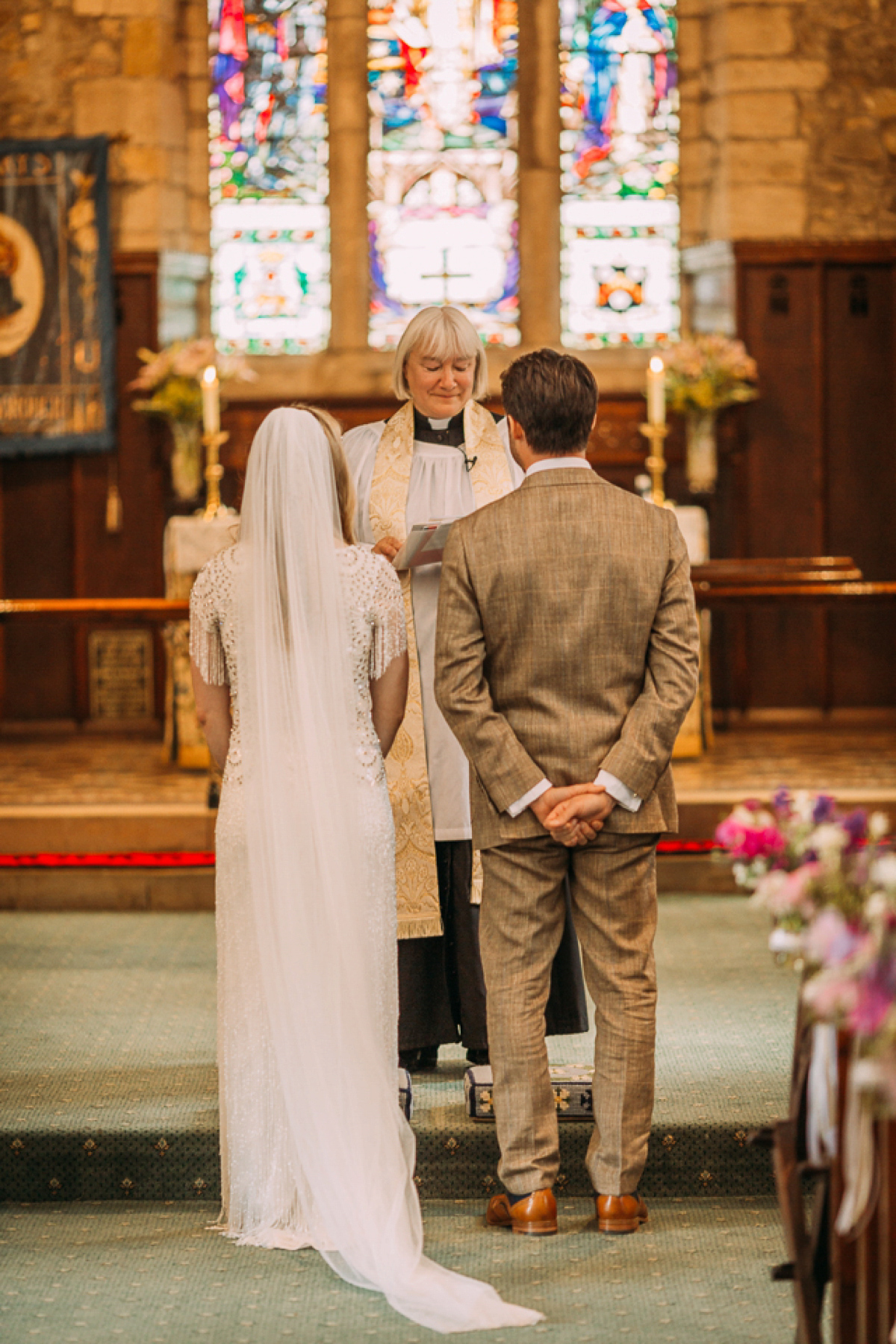 "Ash of Miki Studios was a great photographer, he spent literally all day with us and documented our day so well that when we looked back at the pictures it was like re-living the day."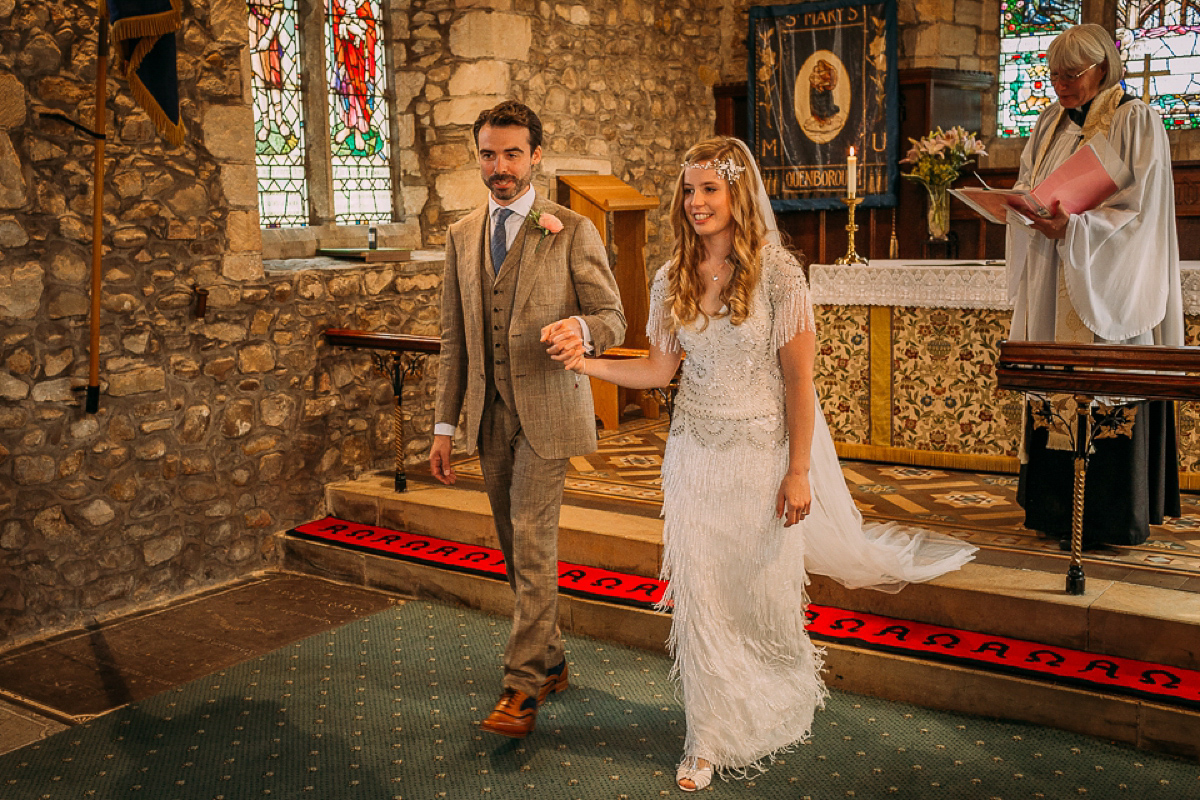 "My mum became a florist for the year, growing all her own flowers in the garden to decorate the reception venue and the aisle in the church.  The result was stunning. We put bunches of flowers in a selection of jars and bottles on each table, at the ends of fences, on window sills, you name it, we decorated it!"
"The Griffin felt relaxed and not too 'weddingy' and was a nice size with rustic decor.  It also had a lovely outside area and the owners allowed us to be creative with our food and drink ideas."
"We decided that rather than have a big cake we'd ask our guests to get involved in the day by bringing their own home made cakes.  We ended up with around thirty and they looked absolutely magical all laid out on trestle tables. Our guests loved it and all got involved in voting for their favourites- it was a bit like the Great British Bake Off."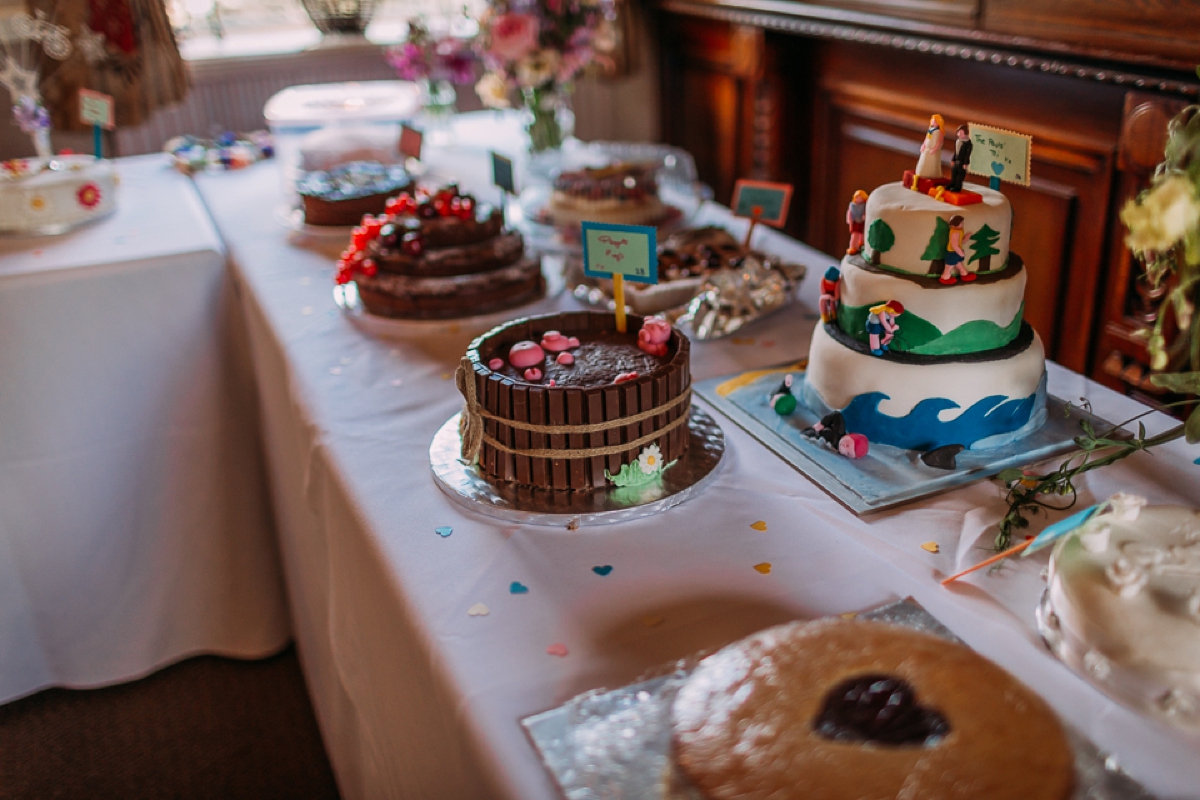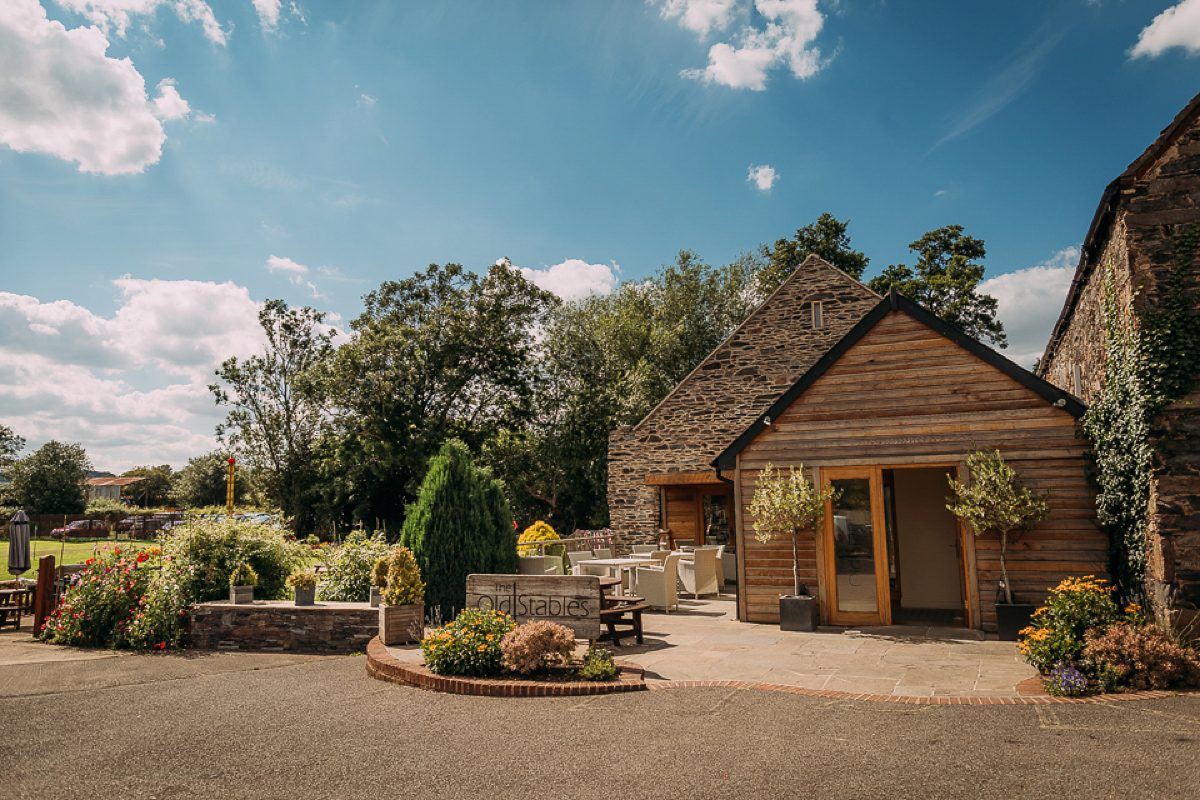 Natalie's favourite part of the day was walking down the aisle and seeing Jeremy and all their friends and families' happy faces. Jeremy's favourite was when he and Natalie had some time alone to have their pictures taken;
"The sun was shining across the golden field and my bride looked perfect in her stunning dress making me the happiest man alive."
So lovely, and what a beautiful day- thank you so much to Natalie and Jeremy for sharing.  Many thanks also to Miki Studios for allowing us to use these beautiful photographs.  Is anyone else planning to wear Eliza Jane Howell for their big day?  If so, you might like to check out these weddings as inspiration.
Much love,
Shona x