Hello lovely brides, today the sun is shining and like me, you're probably dreaming of warmer climates, well let me whisk you away to Tuscany for a short while. You really are in for a treat today – this is a charming and elegant wedding the kind we adore here at Love My Dress – an all-white bouquet, delicate lace and gentleman in black tie. A rustic Tuscan venue provides the most stunning of backdrops for the wedding of Amy and Keith who tied the knot in May last year at the quite beautiful Borgo Santo Pietro.
The couple chose the very talented Jules Bower to capture this wedding, who we are delighted to say is a member of our Little Book For Brides.  Gatto Tigre were also there on the day to capture the nuptials on film in stunning footage…
"We had vacationed at Borgo and wanted to share the experience with our family and friends. We love the region – the food, the wine, the atmosphere.  And what a great place to make a memory. We always wanted a romantic, intimate wedding. It's easy to be inspired by the rolling hills, the olive trees, the warm and inviting culture of Tuscany."
Our bride custom designed her stunning strapless Ines di Santo dress with the designer herself, Ines, at Bergdorf Goodman in Manhattan. By having her dress custom made, Amy was able to combine all of the things she wanted in her dress.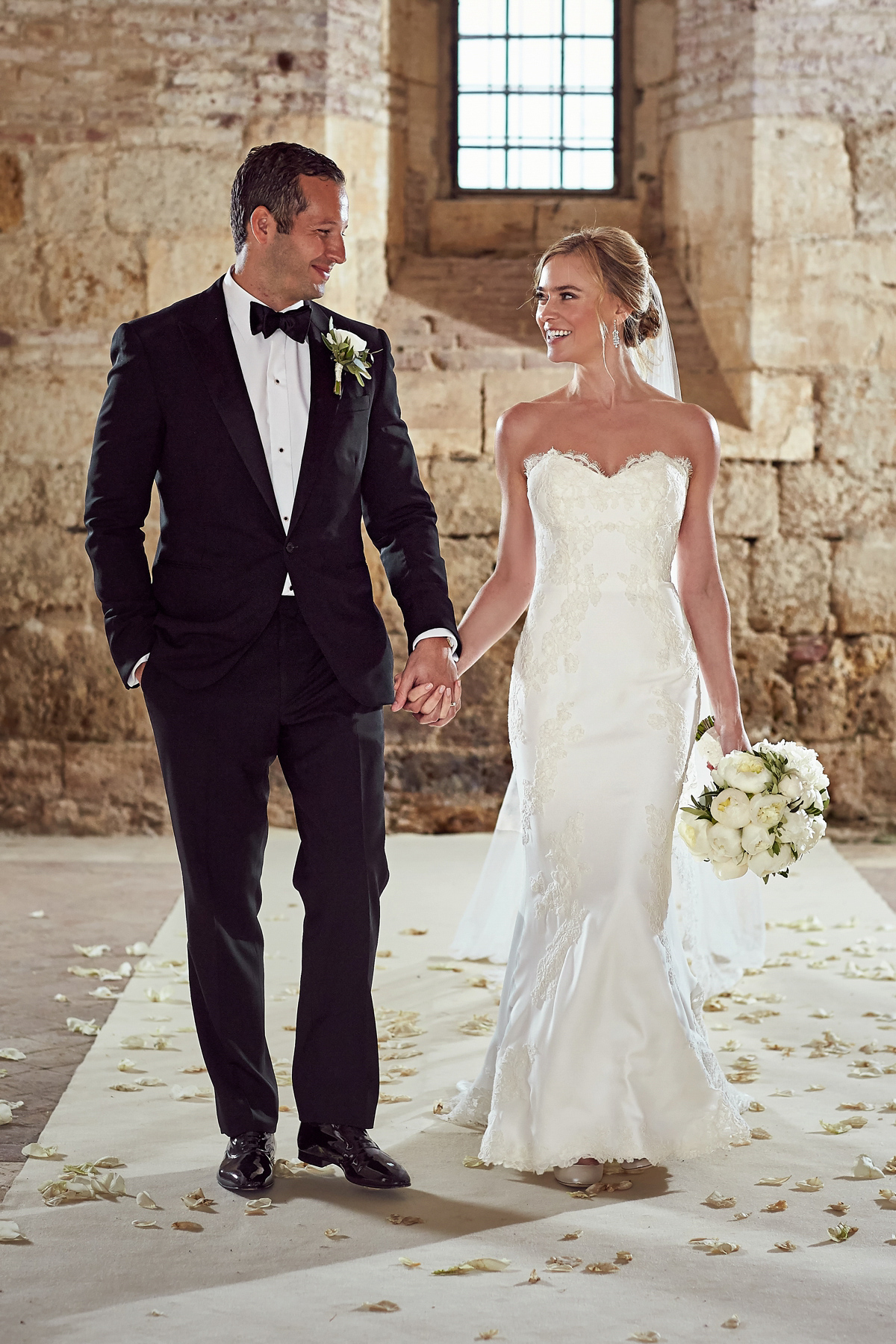 The bridal party wore dresses in shades of blush with the maid of honor in lace Dolce & Gabbana and bridesmaids in Jenny Yoo.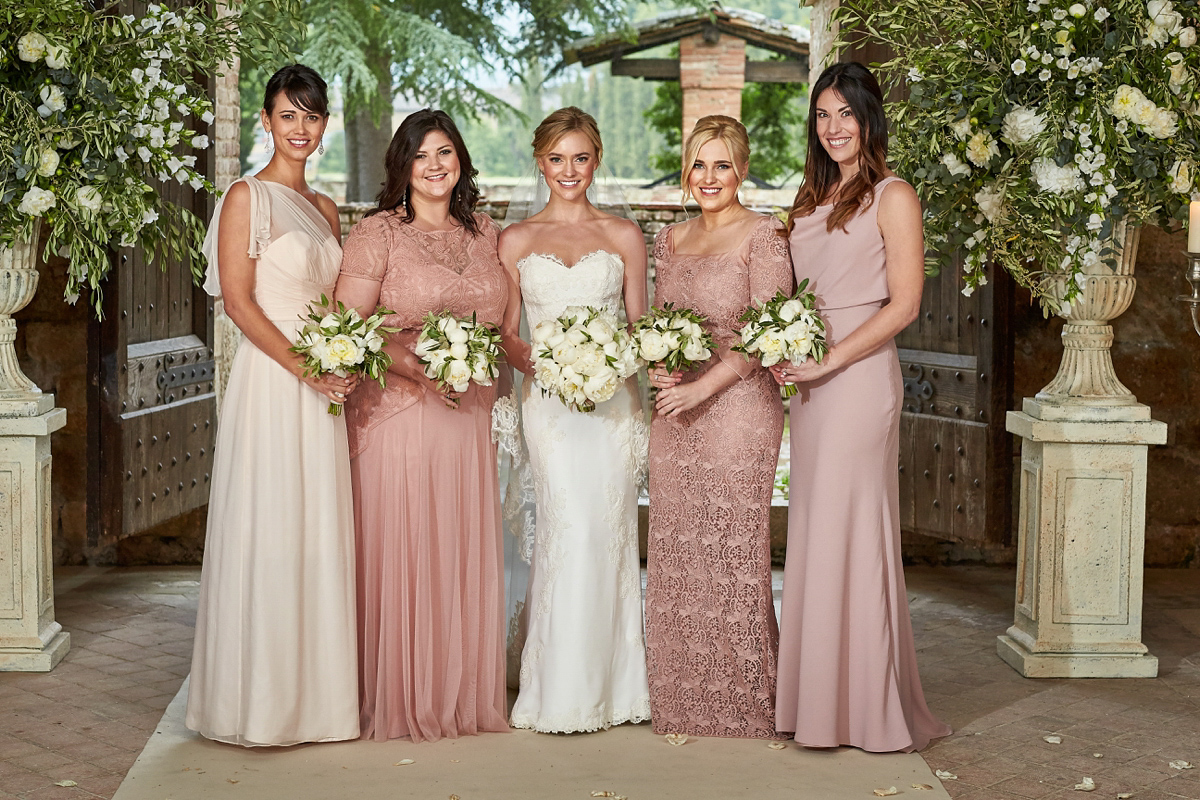 Amy finished off her gown with a delicate array of white flowers in her hair, a beautiful lace edged veil also by Ines di Santo, drop earrings gifted by her groom and a classic pair of ivory satin Jimmy Choo pumps. Very worthy of a mention is the engagement ring Amy also wore, belonging to her grandmother, Betty was also celebrating 60 years of marriage, what a lovely way to commemorate this.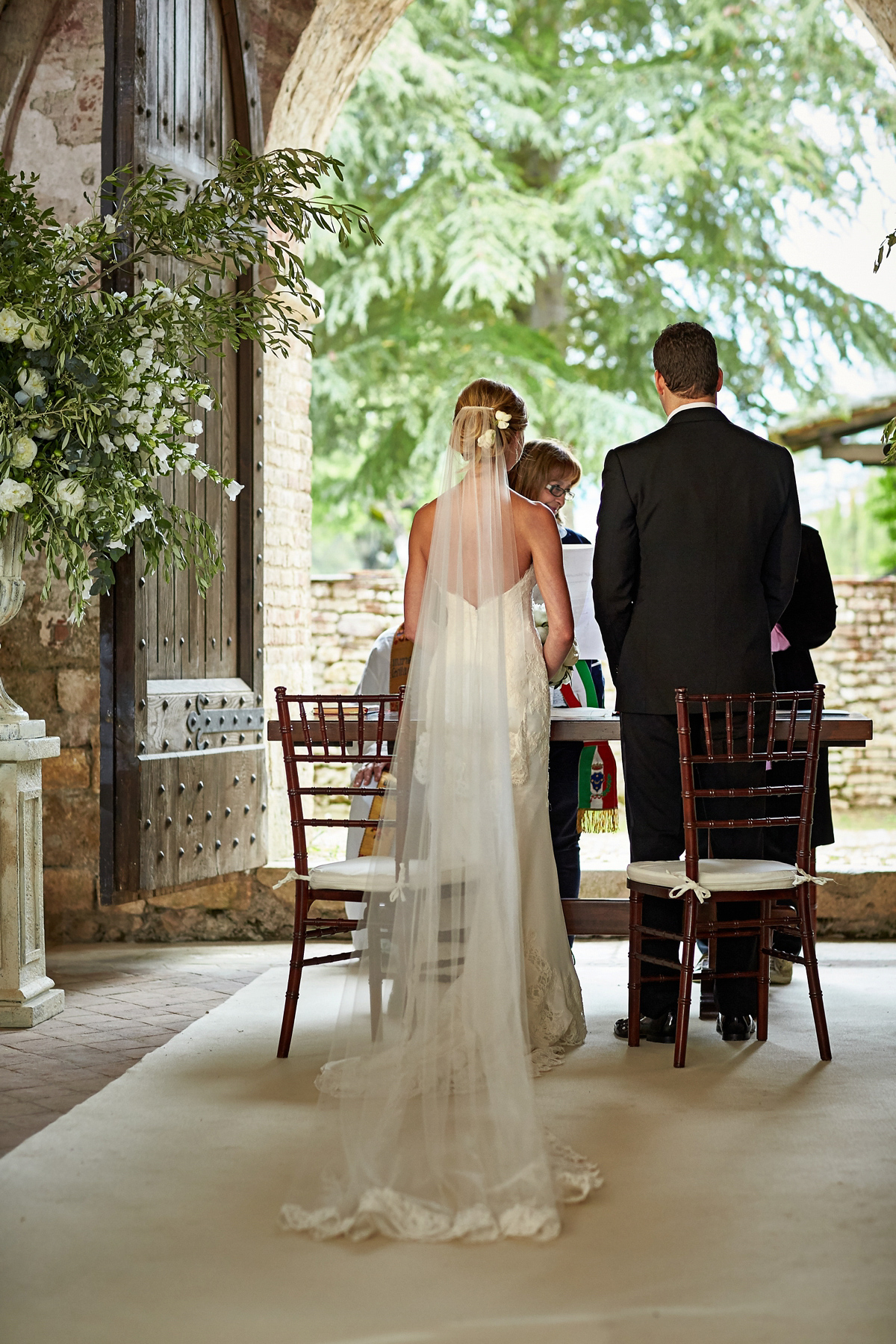 The lovely invitations were carefully crafted by stationery experts East Six Design.
"Invitations were embossed on rounded-edge ivory double-ply, brown gilded edge paper in a romantic brown script. The ceremony invitation, farm-to-table welcome dinner invitation and farewell brunch invitation each included a sketch.  Invitations were bundled neatly with a  ribbon and spring of lavender. Inner and outer envelopes were calligraphied in brown ink, with the outer envelope sealed with a wax stamp."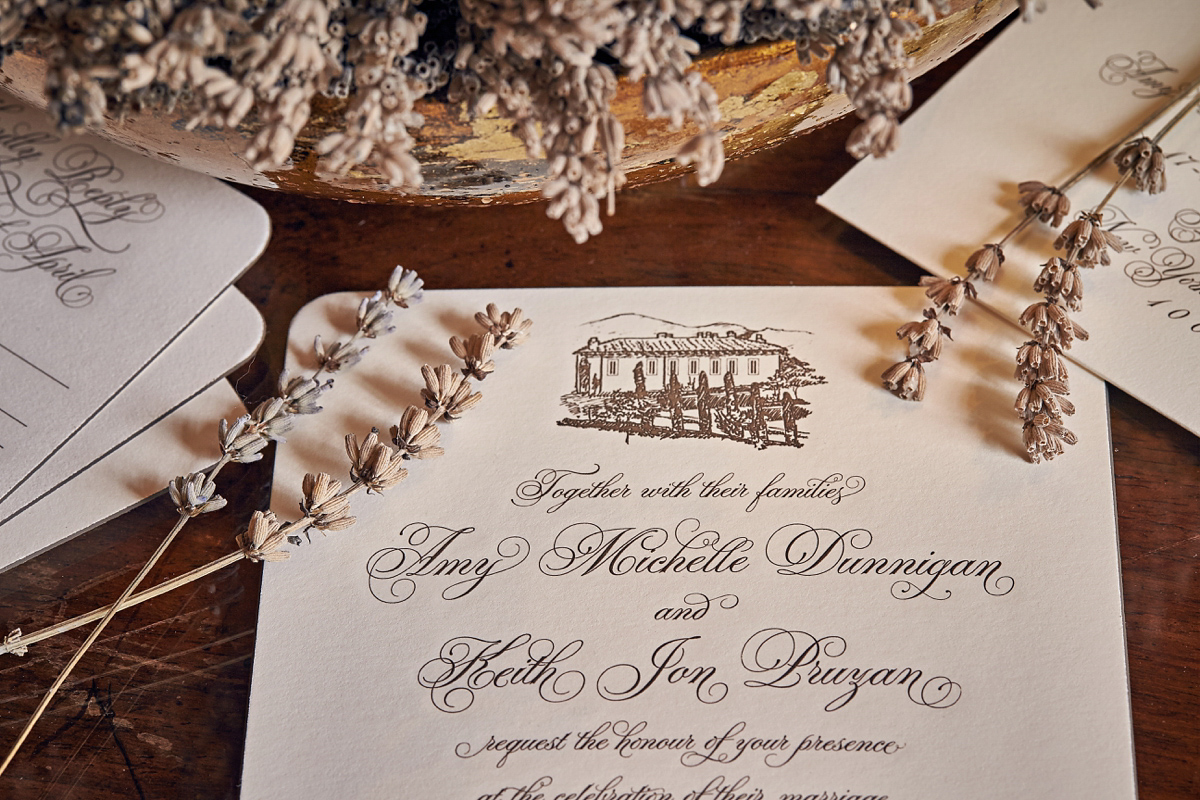 The sweethearts met in the Hamptons and Keith romantically proposed to Amy underneath the Christmas tree, planning their perfect day to be 18 months after the engagement.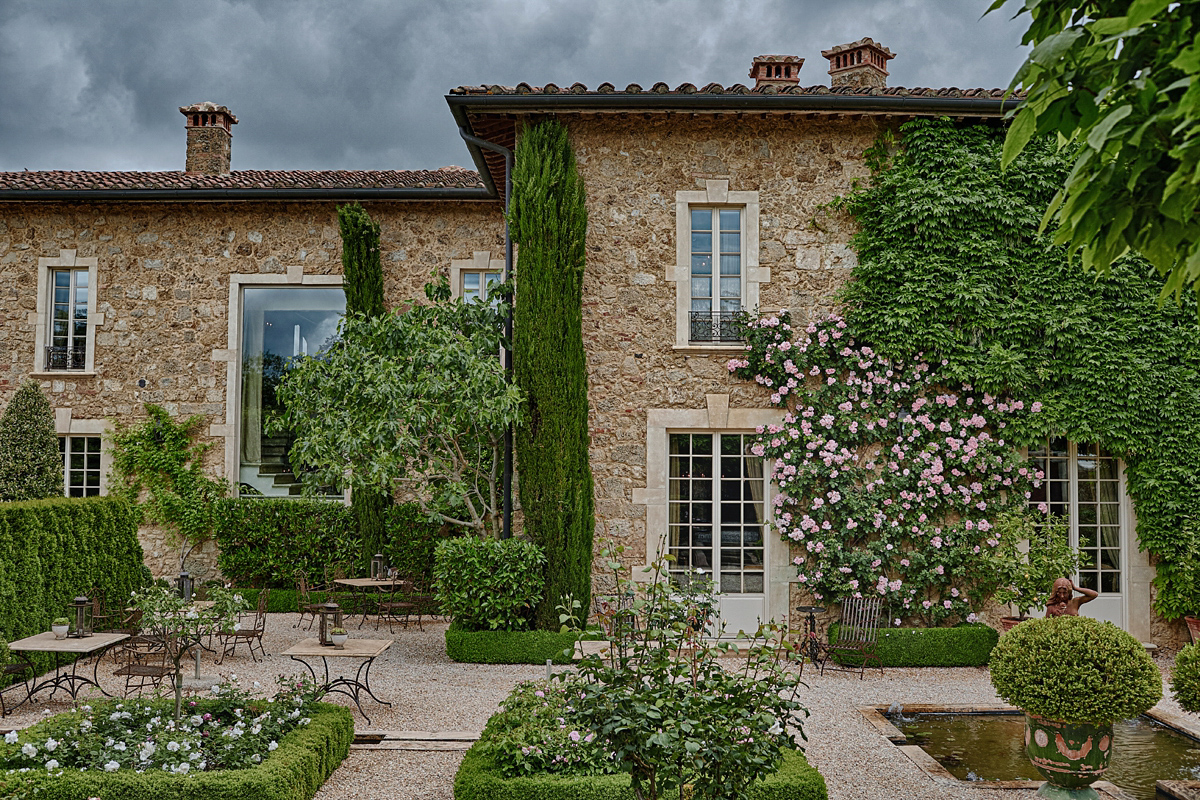 A wedding planner is essential to anyone planning their big day abroad, not only do they find you the best suppliers in an unfamiliar country but they have the eye for detail and will think of everything that may never even cross your mind. Amy and Keith used Becky Mathews to plan their day and judging by these images, it was planned to utter perfection.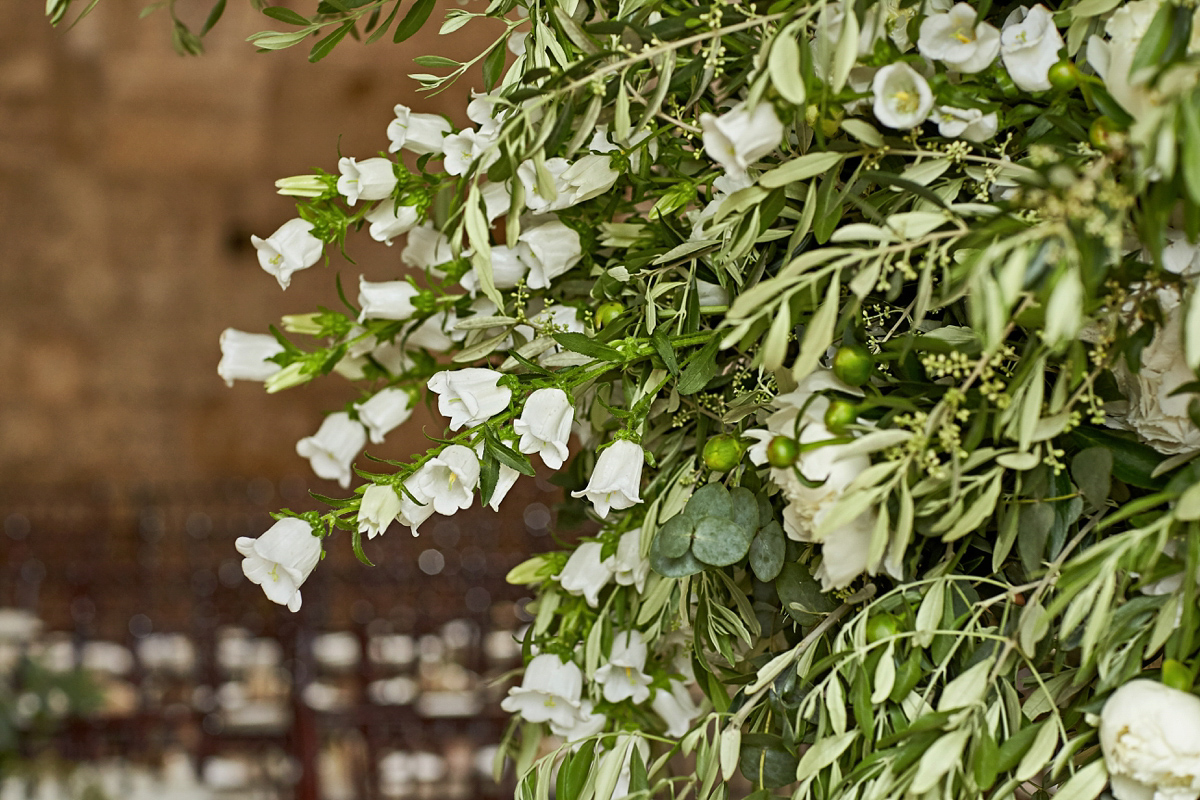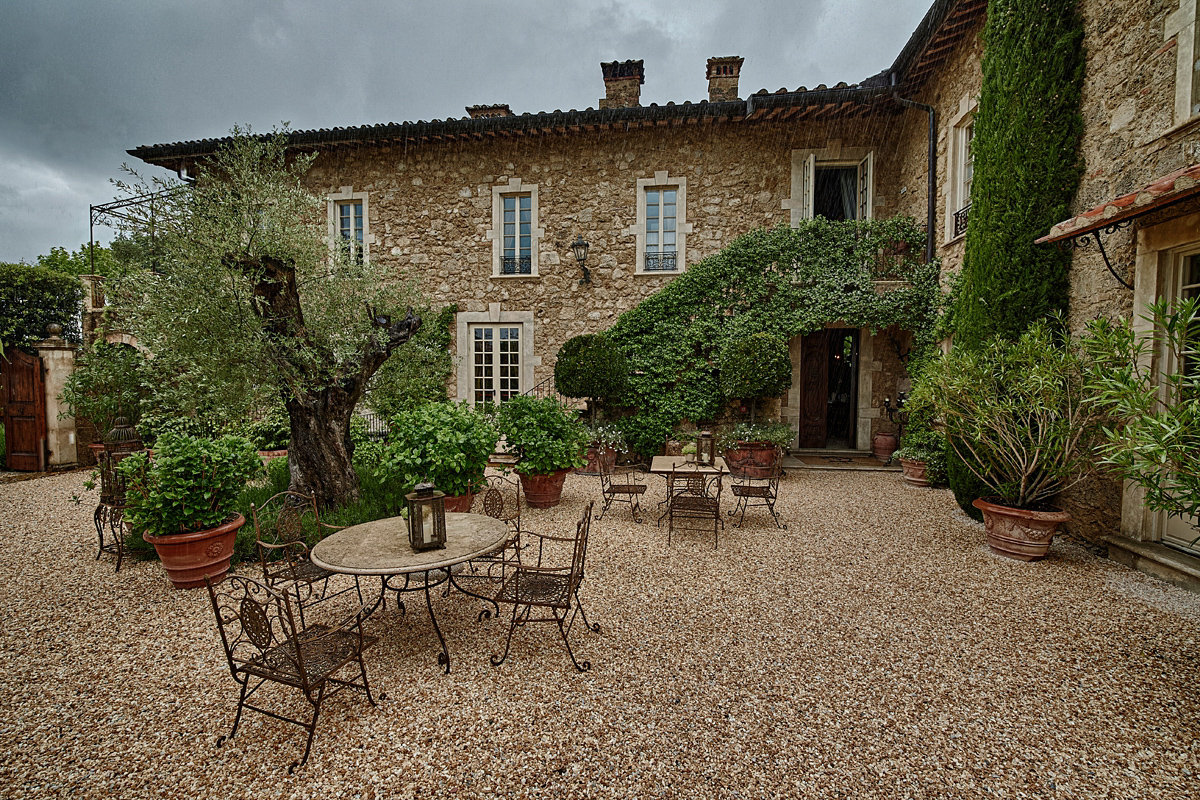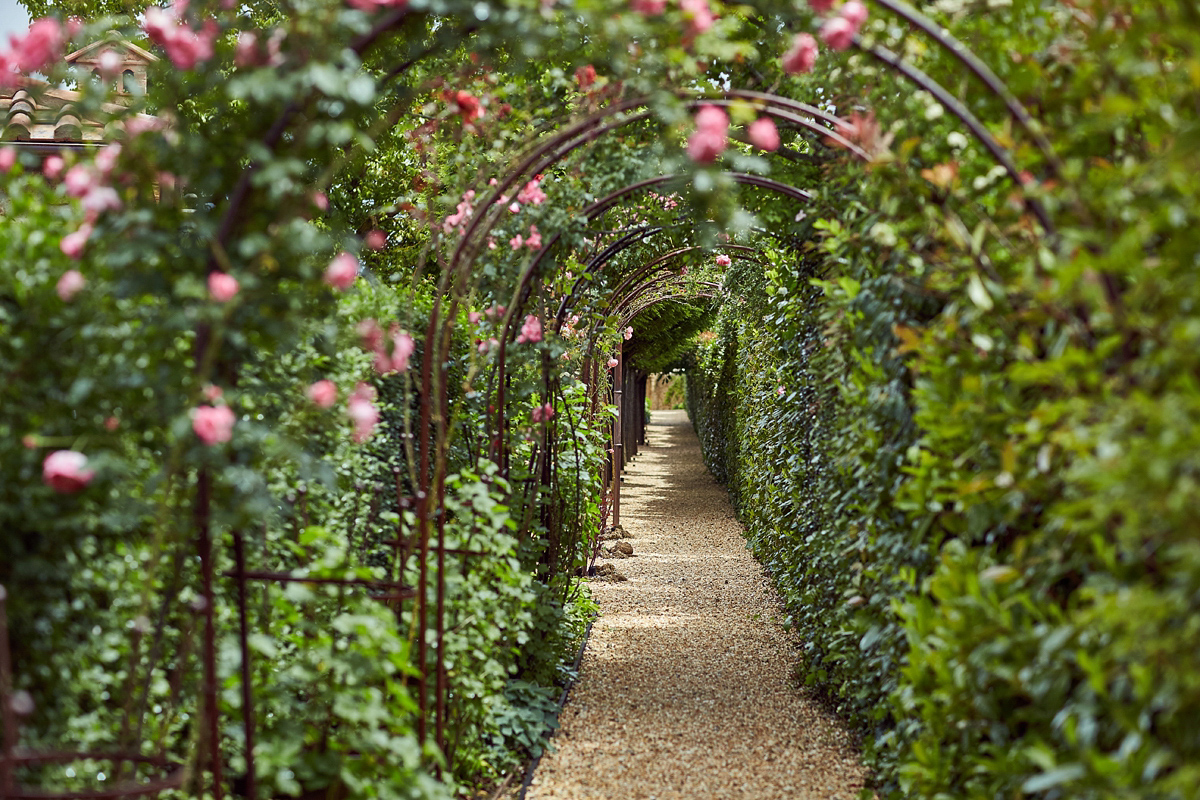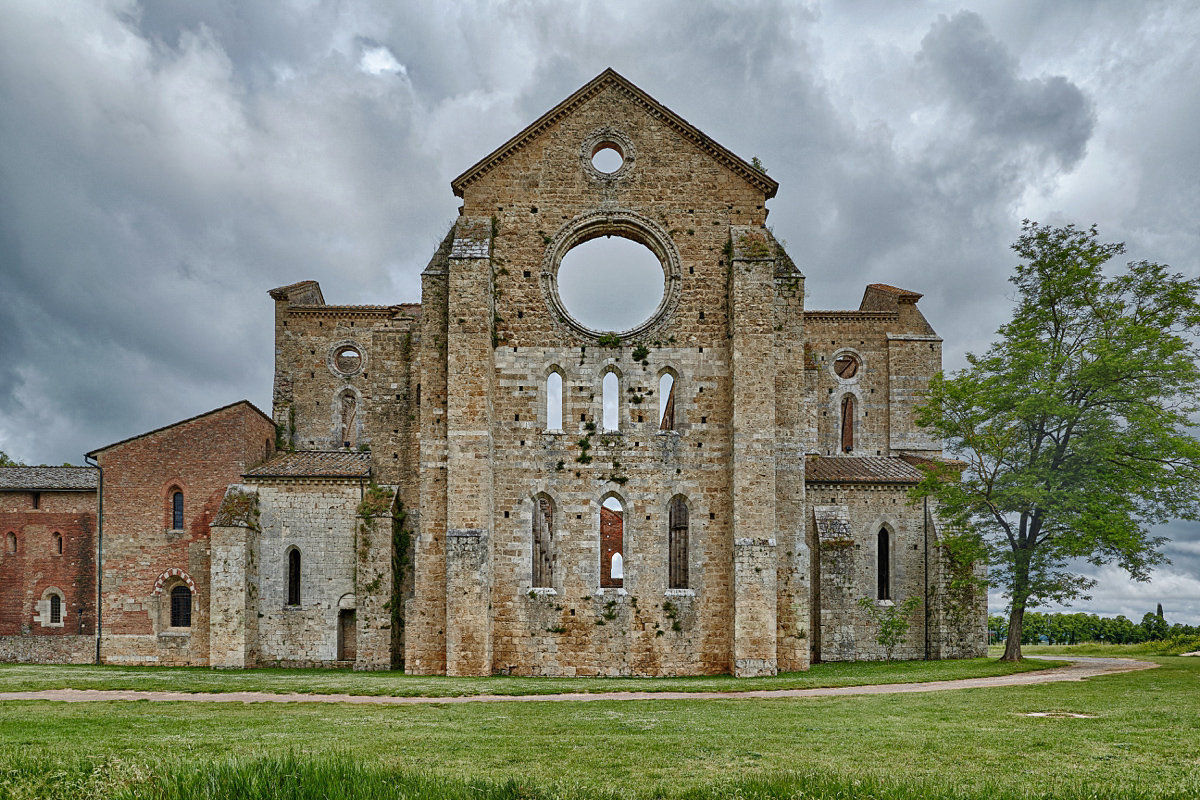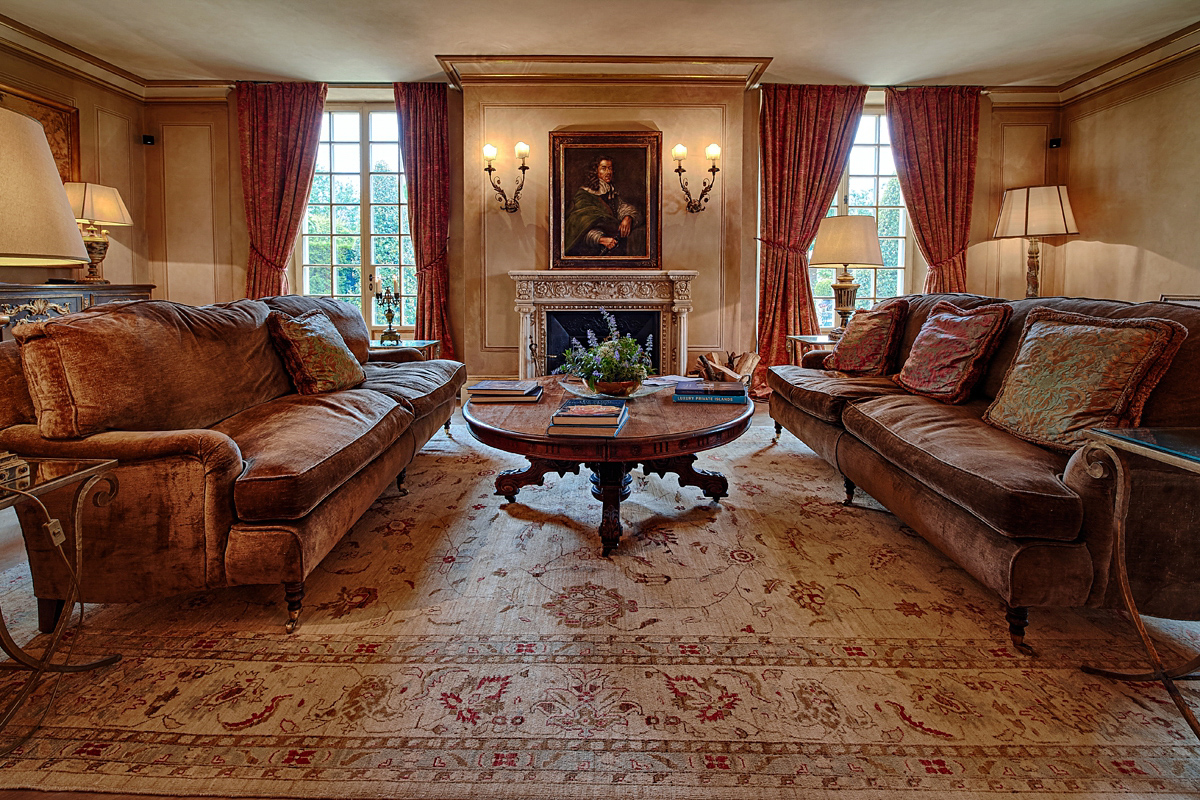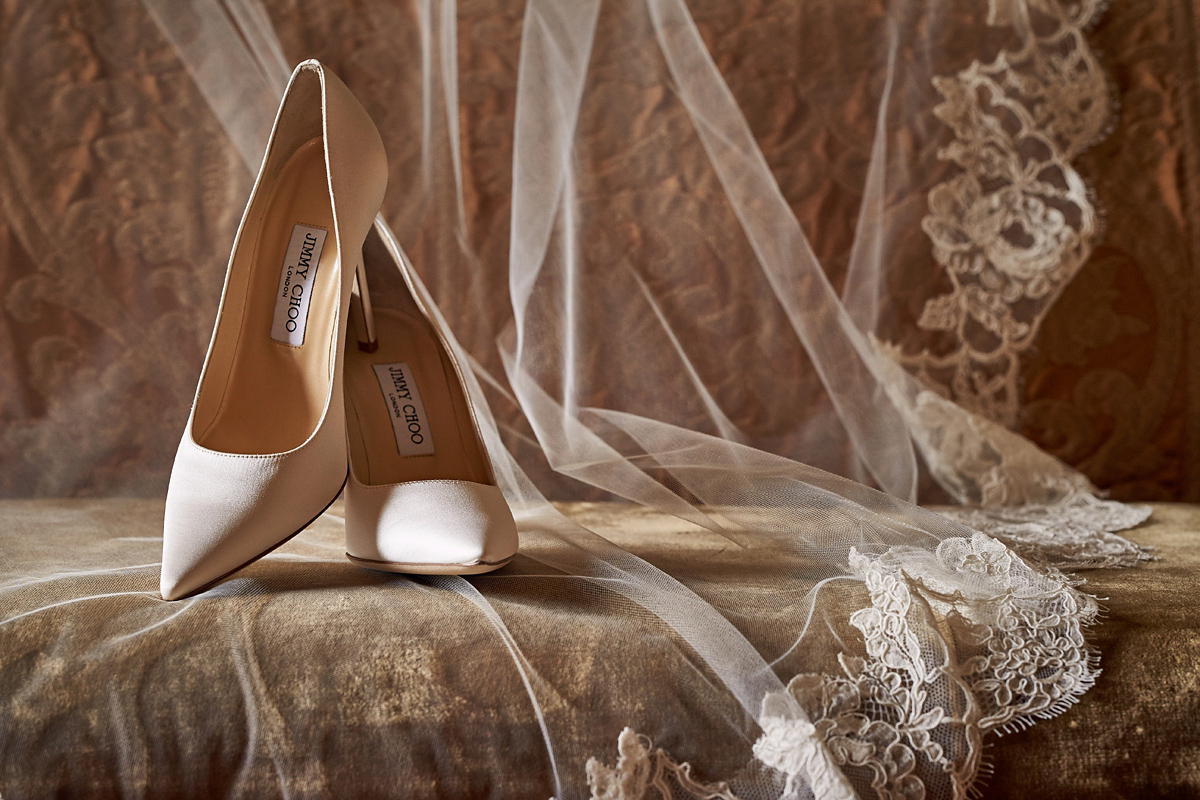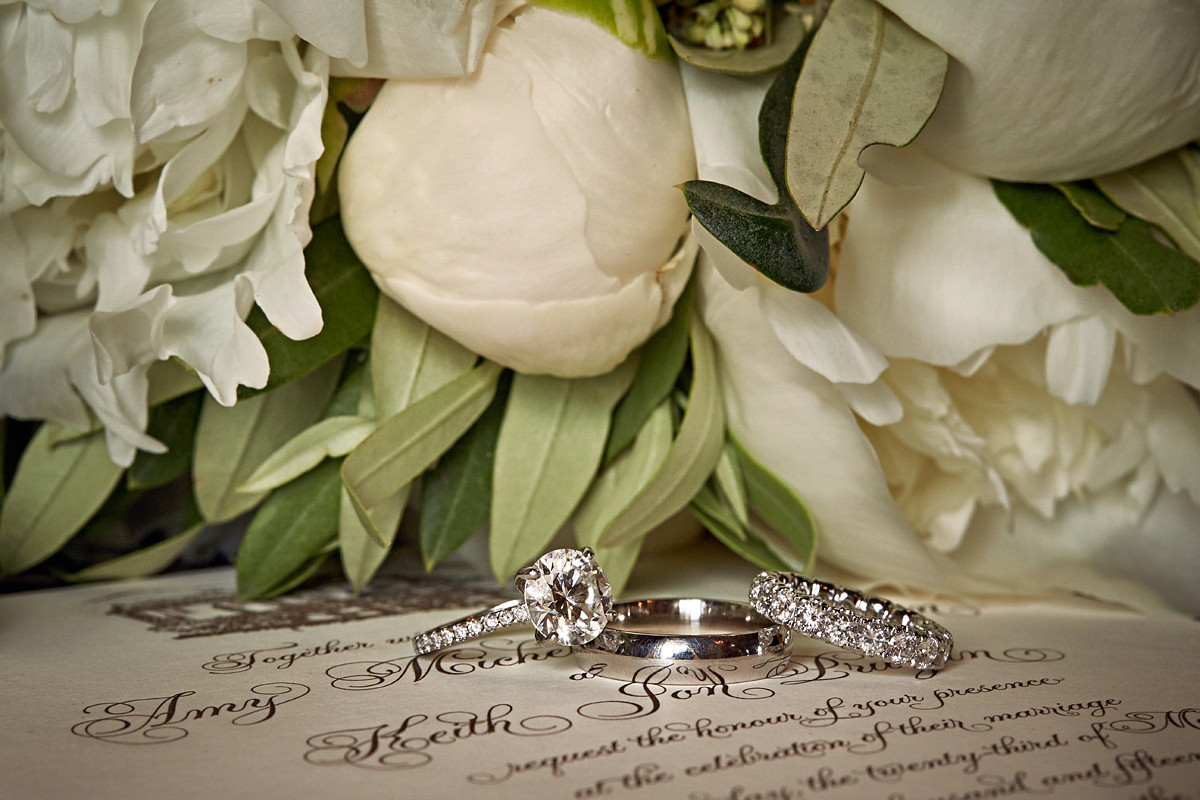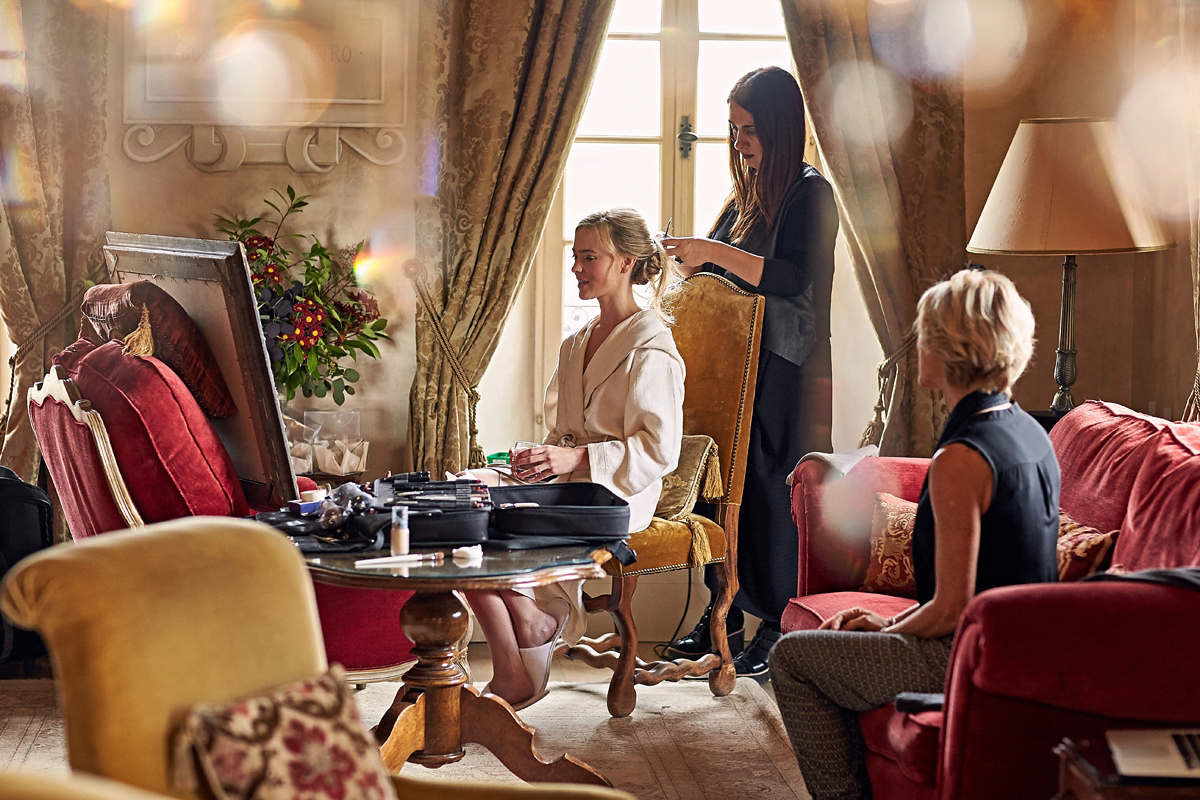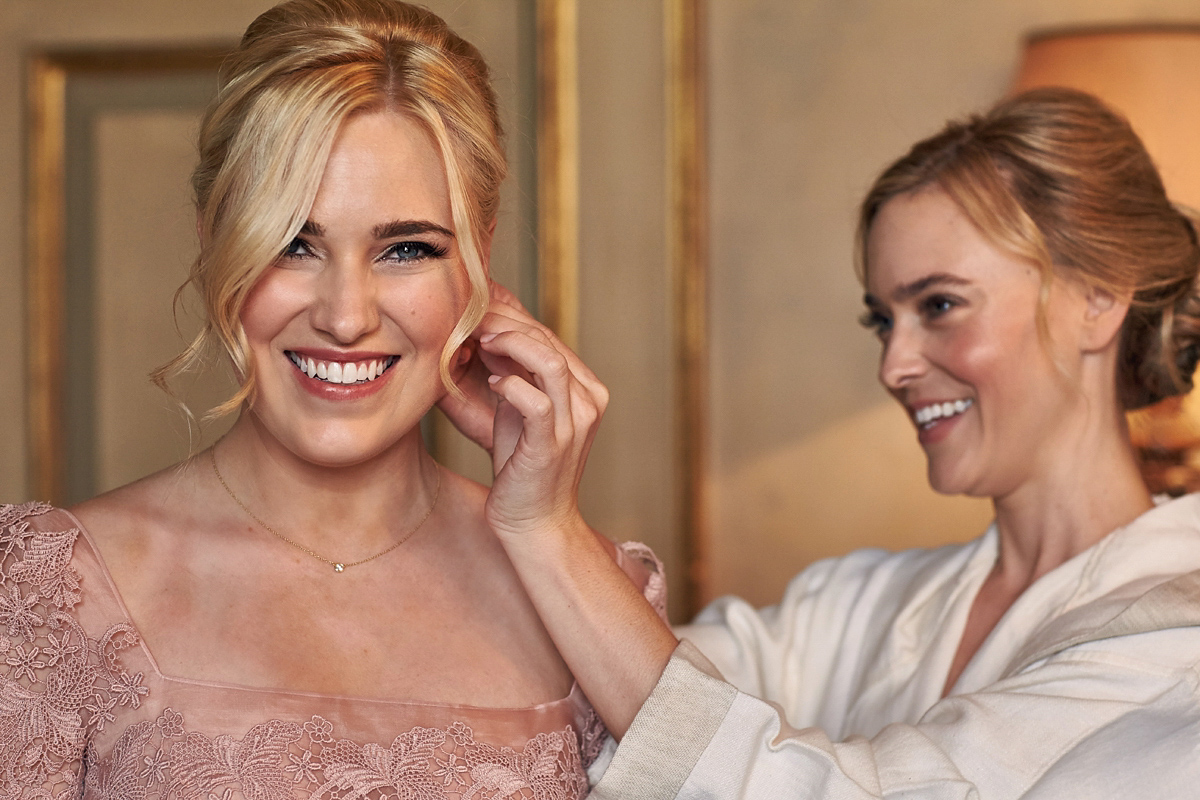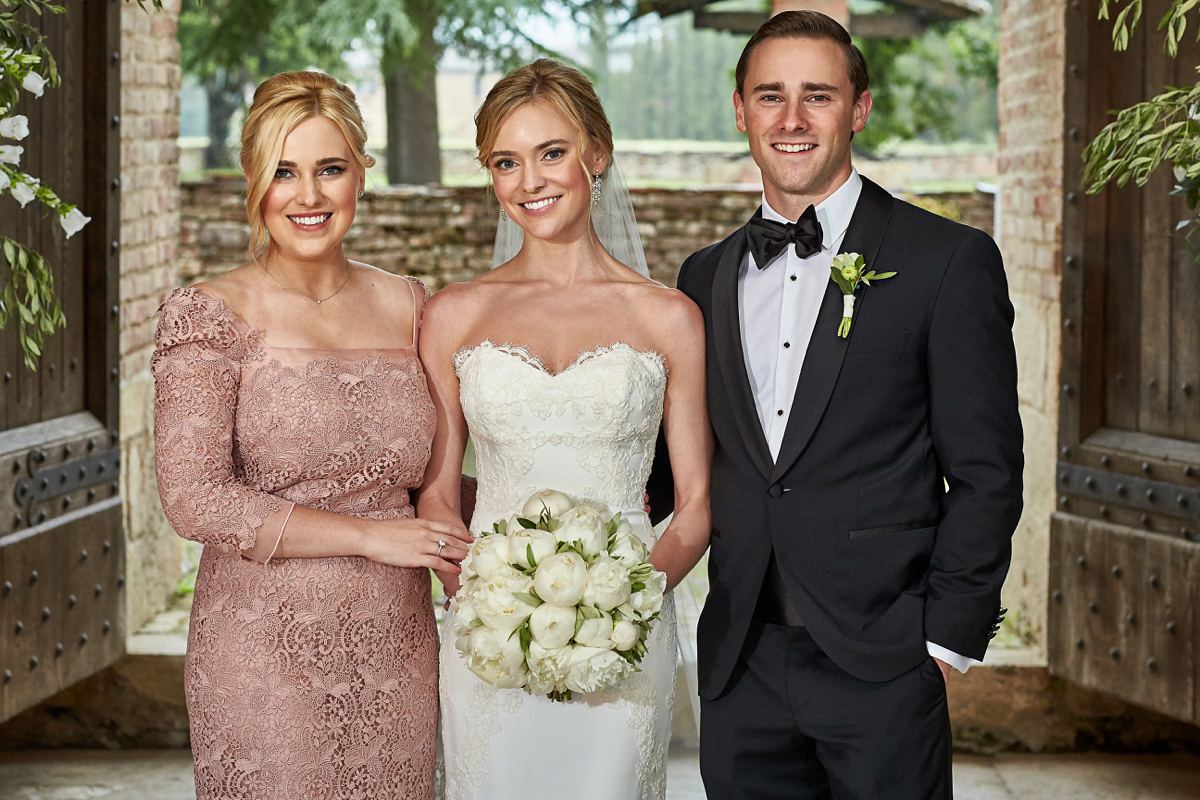 I believe a special mention must also go to the lovely mother of the bride, she looks fantastic in her dress and is a leading example of how a modern mum can dress, for her daughter or son's wedding day.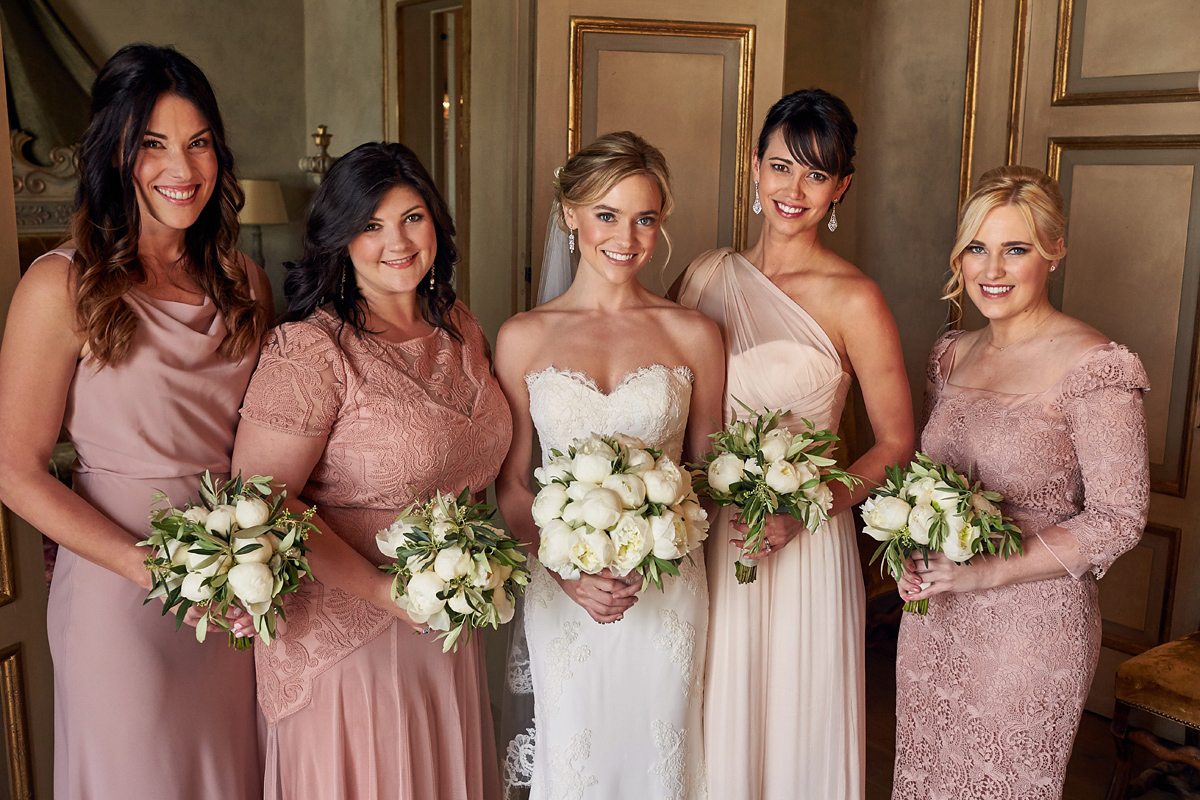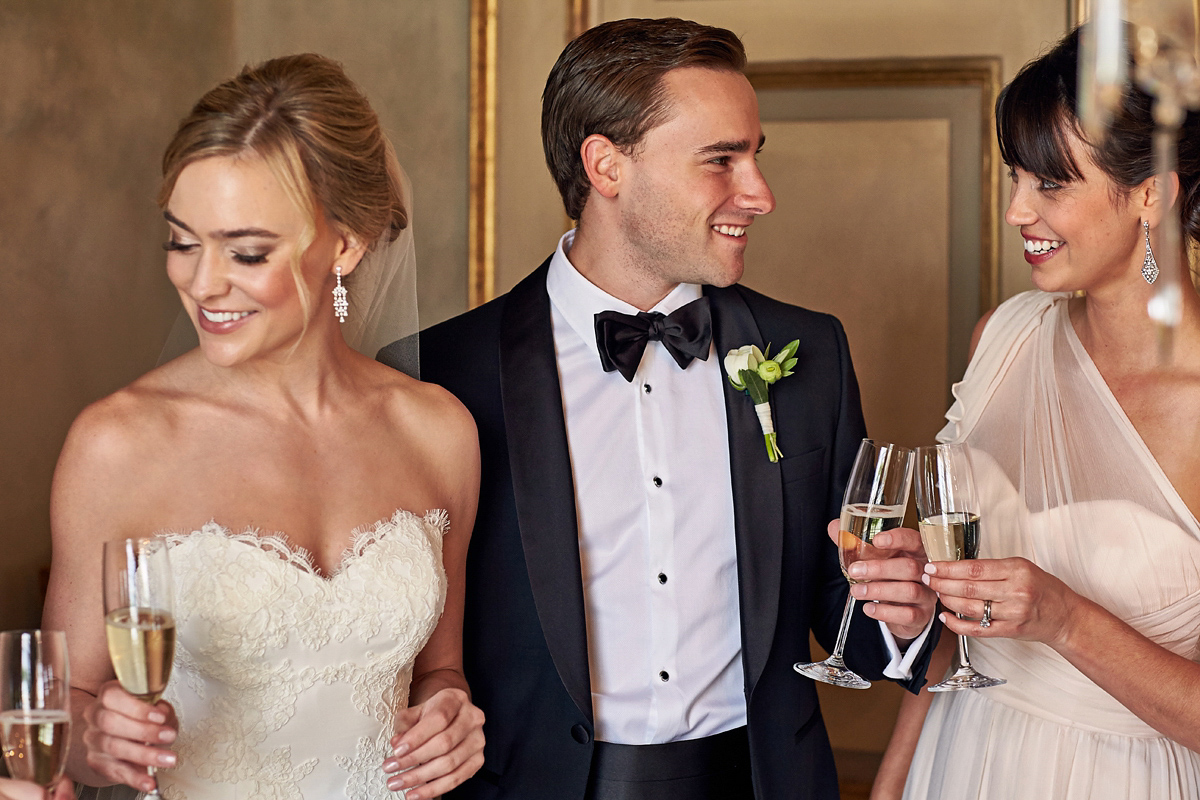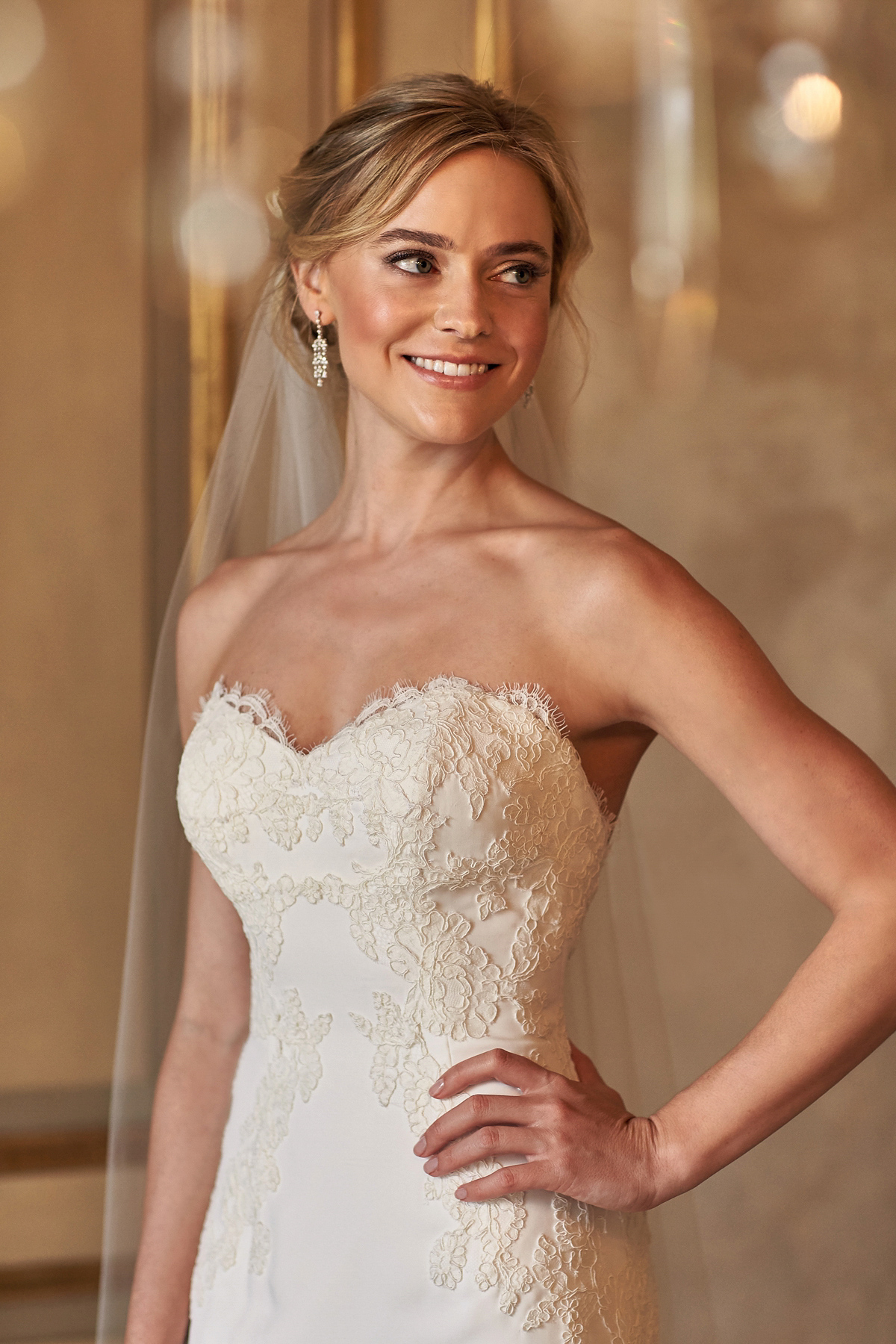 The groom, Keith, wore an elegant black tuxedo from Ralph Lauren's Black Label and had lace trimmings from Amy's dress sewn inside the pocket of his suit jacket, I think this is such a lovely sentimental touch.
The bridesmen looked equally dapper also in black tuxedos from Zegna and Hugo Boss.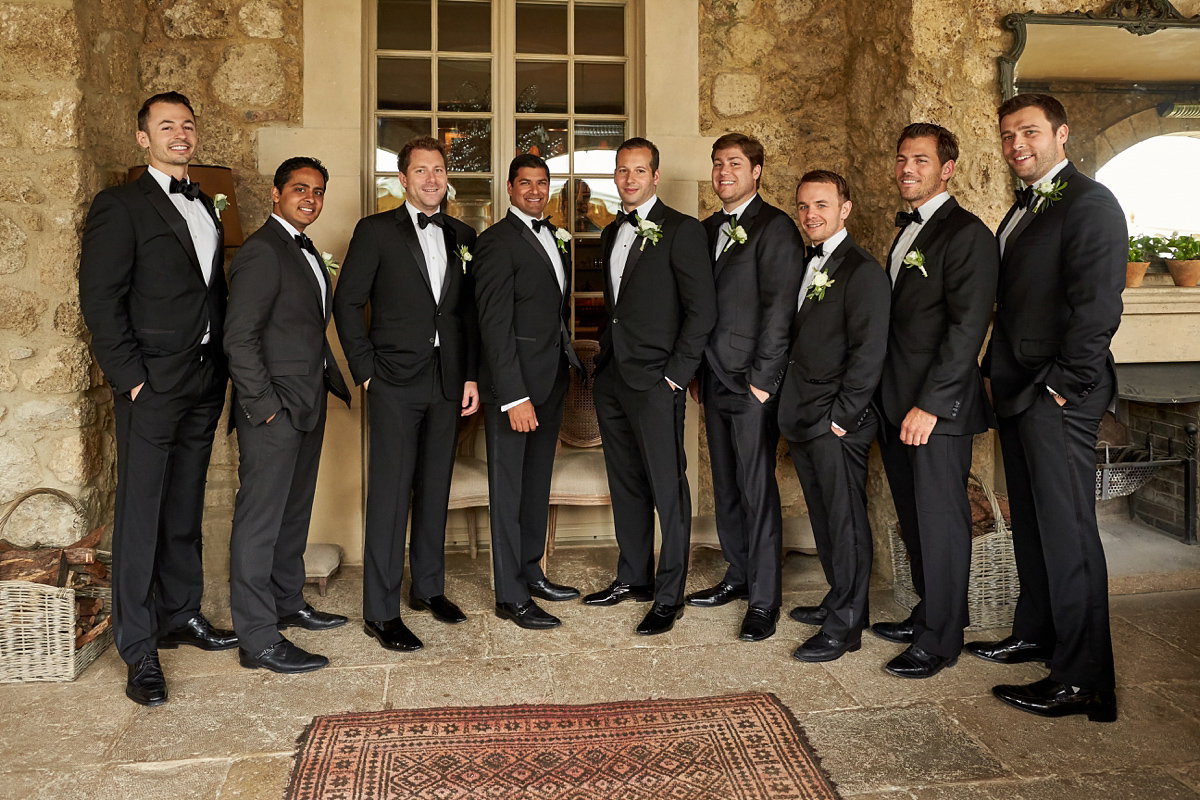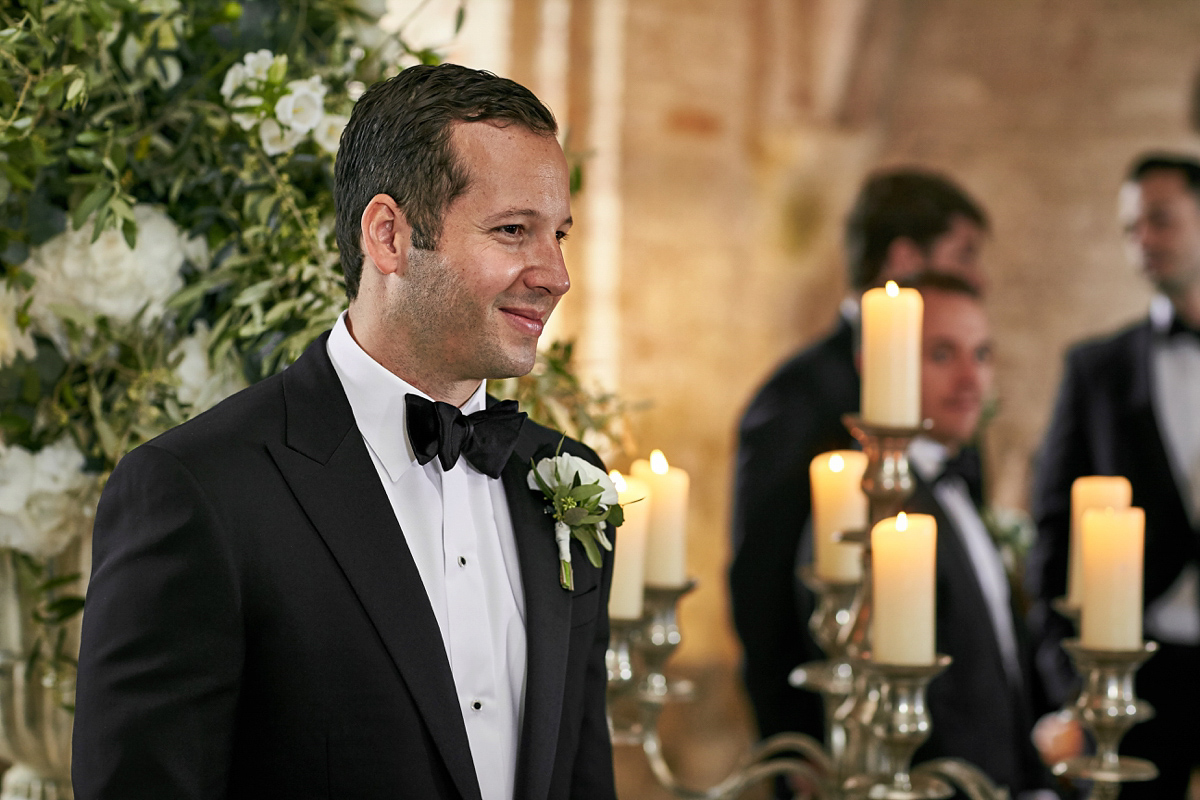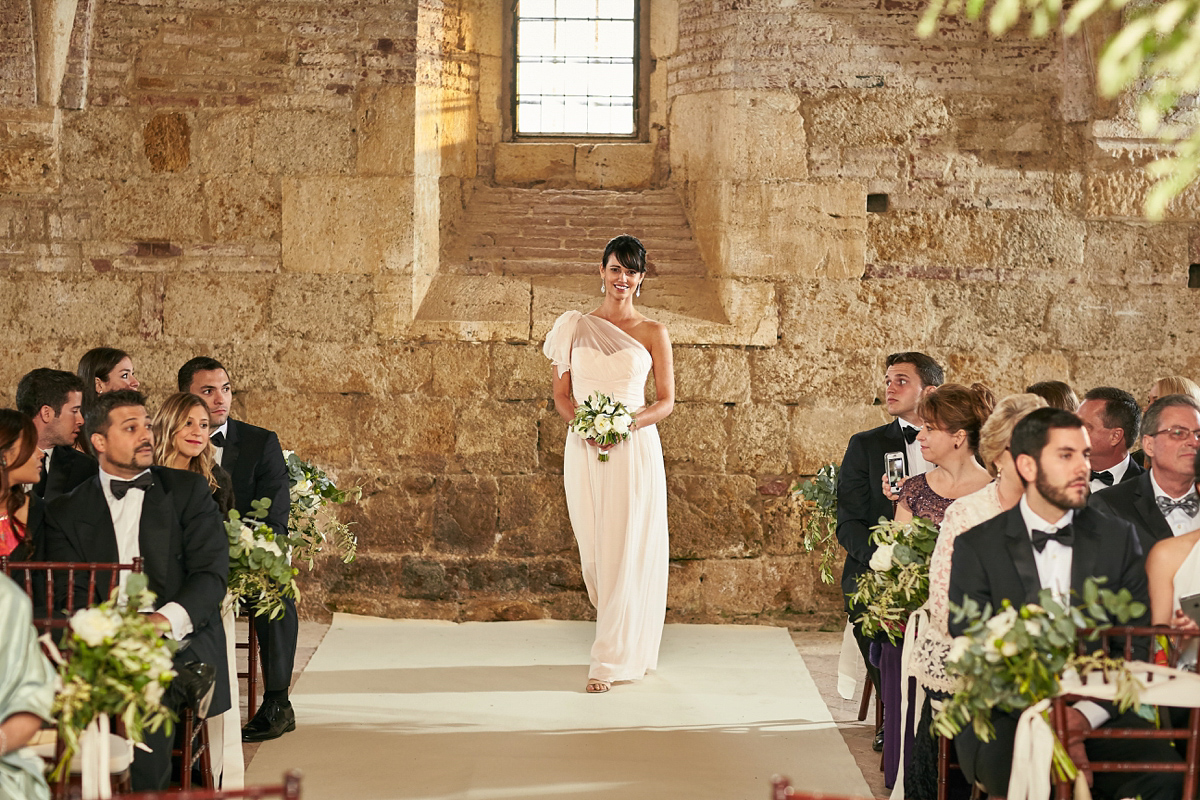 Amy  walked down the aisle in true American style with both her mother and father, to a string quartet playing 'Here comes the Bride'.
It is not something that has never crossed my mind before but what an incredibly lovely way to include our mums on the most special day of our lives, by having her give us away too, perhaps this is a tradition we Brits could adopt too.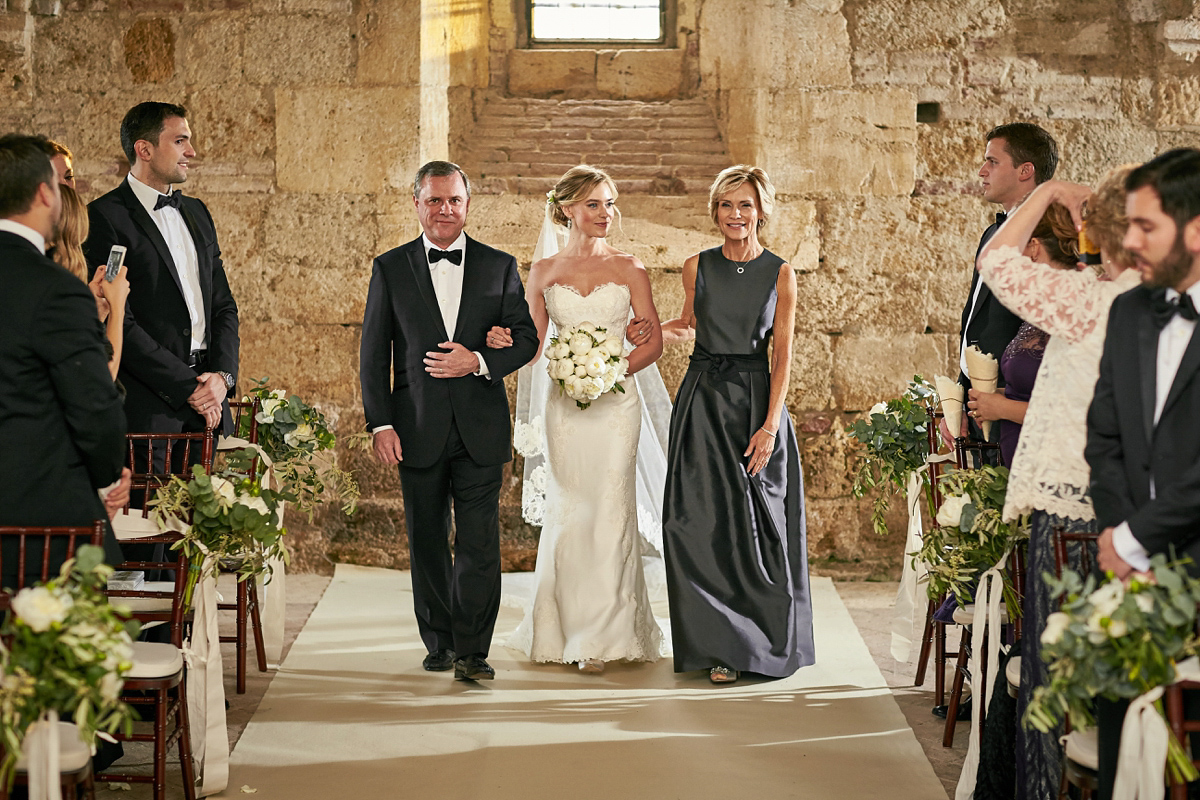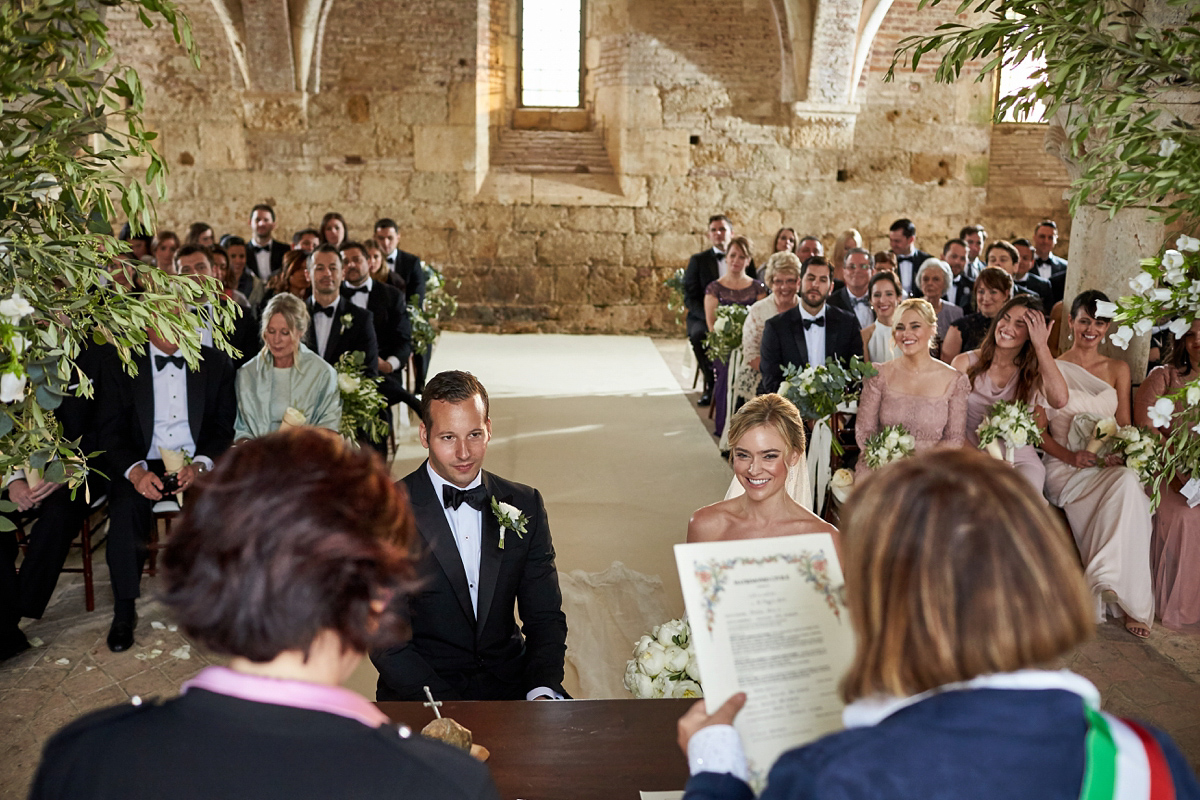 Opting for a civil ceremony with a Catholic blessing, the couple had the beautiful and touching reading 'Blessing of the Hands' by an unknown author, read out to them and their guests, which they chose due to the symbolism.
These are the hands of your best friend, young and strong and full of love for you, that are holding yours on your wedding day, as you promise to love each other today, tomorrow, and forever.
These are the hands that will work alongside yours, as together you build your future.
These are the hands that will passionately love you and cherish you through the years, and with the slightest touch, will comfort you like no other.
These are the hands that will hold you when fear or grief fills your mind.
These are the hands that will countless times wipe the tears from your eyes; tears of sorrow, and tears of joy.
These are the hands that will tenderly hold your children.
These are the hands that will help you to hold your family as one.
These are the hands that will give you strength when you need it.
And lastly, these are the hands that even when wrinkled and aged, will still be reaching for yours, still giving you the same unspoken tenderness with just a touch.
The bride and groom exchanged rings, for Amy, an eternity band of round diamonds to complement her engagement ring, a solitaire diamond on a pavee band, whilst Keith opted for a classic platinum band.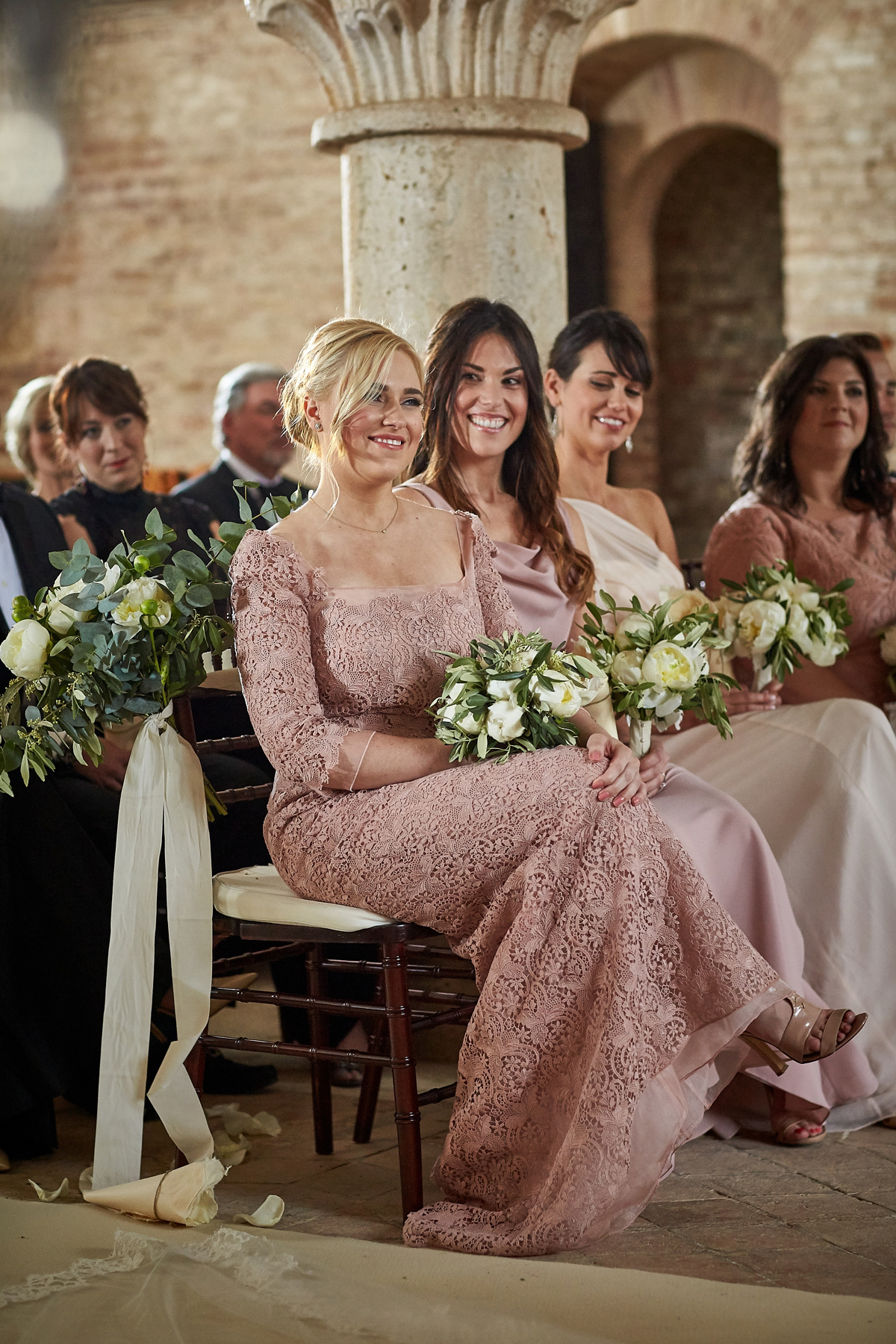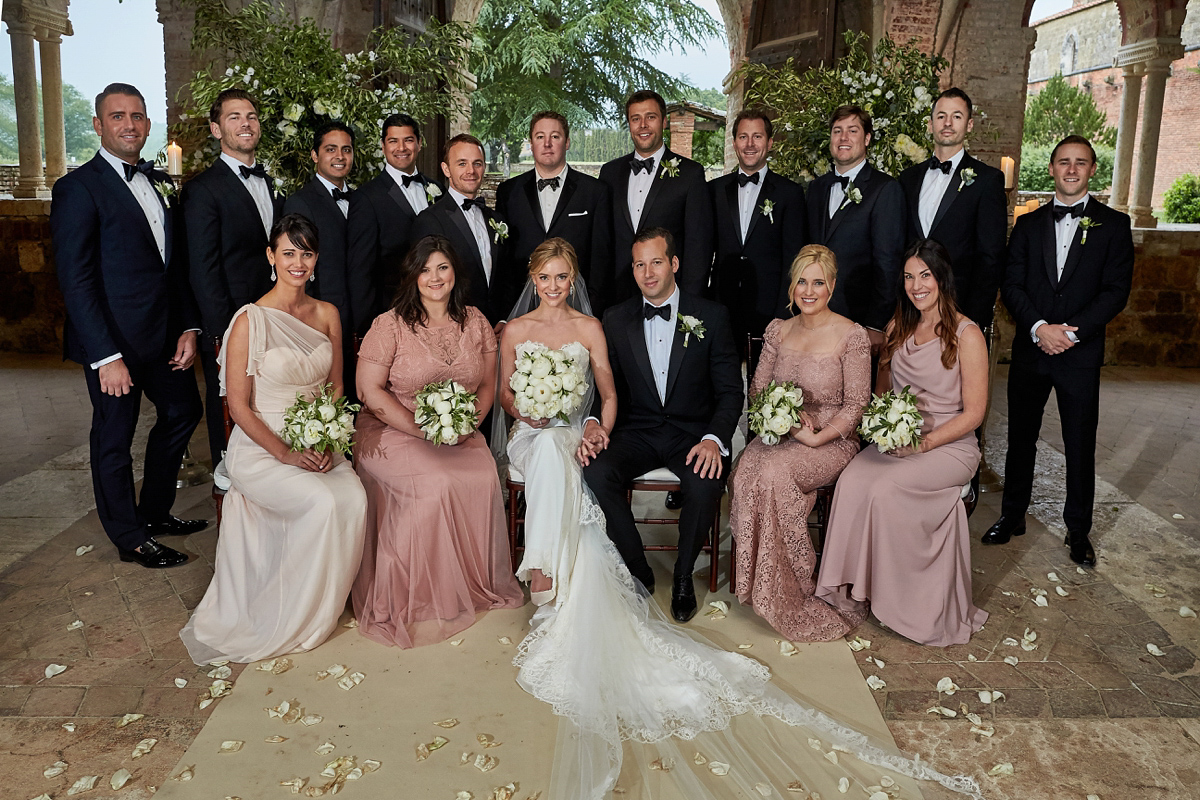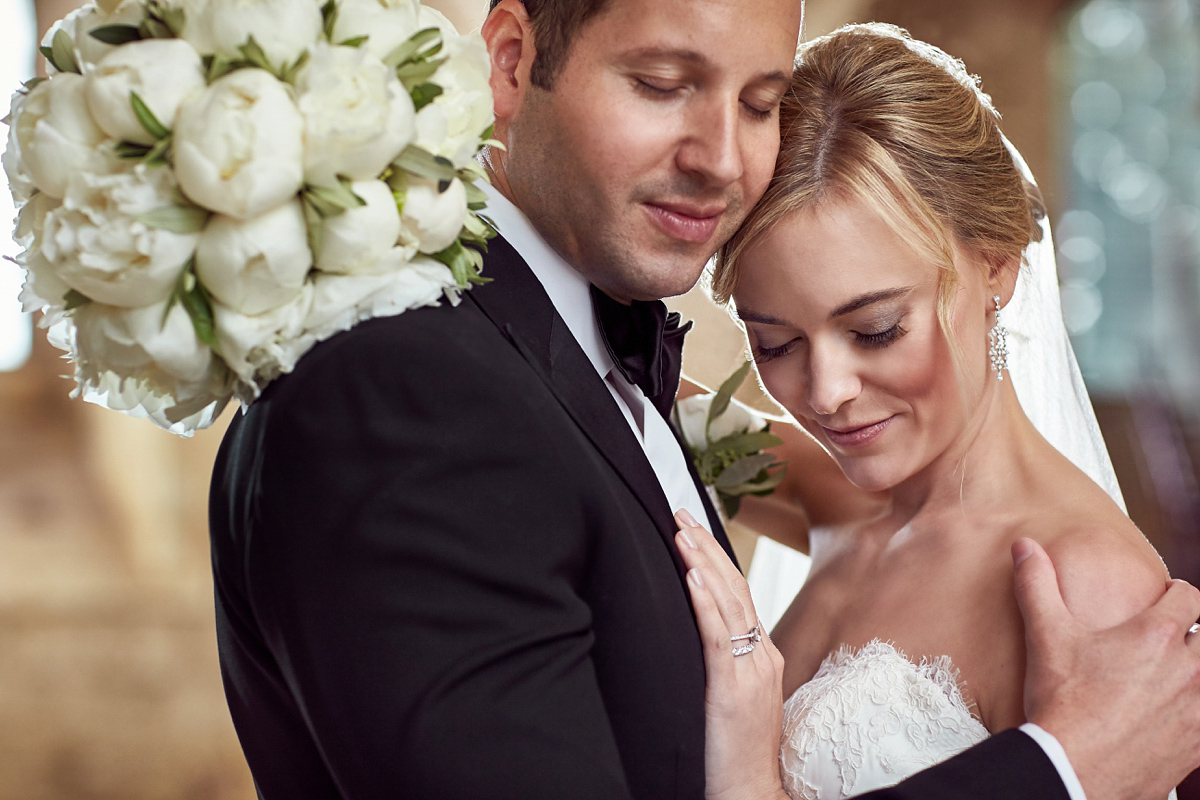 The Purzan's had their venue decorated with the most spectacular blooms provided and styled by Tuscany Flowers. Amy chose a bouquet of white peonies and olive branches.
'Simple yet romantic. For the reception, a long garland of peonies and olive branches as well.  On each lady's place setting, atop the menu, was a peony or a garden rose; atop each of the men's place setting was an olive branch.'
The tables look stunning with those peonies and olive branches mixed in with a plethora of candles, and those lemon trees in their huge terracotta pots look spectacular. As far as I'm concerned, you can't beat the natural beauty of olive trees and lemon trees.
"Borgo Santo Pietro handled all catering.  Amy and Chef Andrea Mattei carefully crafted the menu together, which included a Tuscan charcuterie board, heirloom tomatoes with arugula, fresh herbs and strawberries, truffled ricotta with lavender honey and assorted artisan rolls for starters; handmade ravioli with sage and ricotta or with duck ragu; zucchini soufflé with pecorino and aubergine compote, buffala mozzarella and tomatoes, john dory with sweet datterini tomatoes, olives capers and lemons or wagyu beef filet with cocoa reduction and roasted fig puree; and a trio of lavender-infused panna cotta, traditional sienese tiramisu and amedei chocolate torte laced with bitter orange for dessert."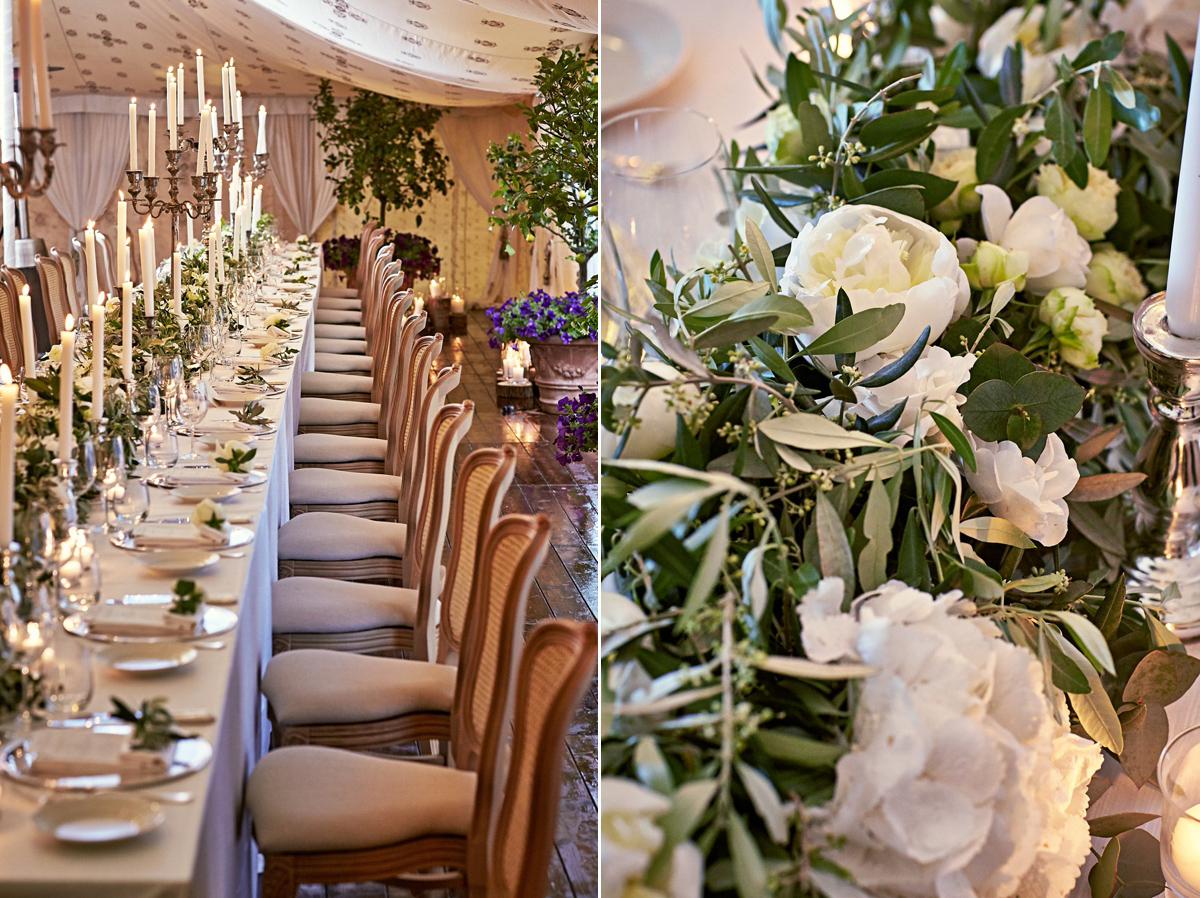 Throughout the day the newlyweds had a series of musicians performing including String Quartet Effe for the ceremony and aperitif.
'They played Louis Armstrong's What a Wonderful World as the couple exited the ceremony.
The amazingly talented Romina Capitani during reception and for Keith and Amy's first dance to Can't Help Falling in Love by Peretti, Creatore & Weiss. The Last Minute Dirty Band (yes… really!) who played "Thinking Out Loud" by Ed Sheeran, "My Wish" by Rascall Flats, and various others by CCR, Bob Dylan and George Strait."
Tuscany Wedding Cakes supplied a very Tuscan looking  style of cake in what sounds like the most amazing lemon cake ever. I don't suppose you would be willing to share the recipe?
"Olive oil lemon cake with basil and lemon mousse and rustic lemon butter cream icing.  It was absolutely divine. The cake was created based on regional ingredients that were in season."
Words of Wedded Wisdom
"Take your time. We are not anxious and nervous people and we had a very clear idea on what, how and who we wanted and were not too focused on all the little details. Despite all of this, there are a huge amount of things to think about and if you have time, you can choose everything without stress.  Also if you plan to have your wedding outside, don't focus yourself too much on a beautiful sunny day… at the end of the day, you can be as rich as you want but the blue sky still remain a thing you cannot buy!
I think that it may be pretty easy to go from the most beautiful day of your life to something you will remember for the stress, the tiredness and the anxiety… So take your time and take it easy!"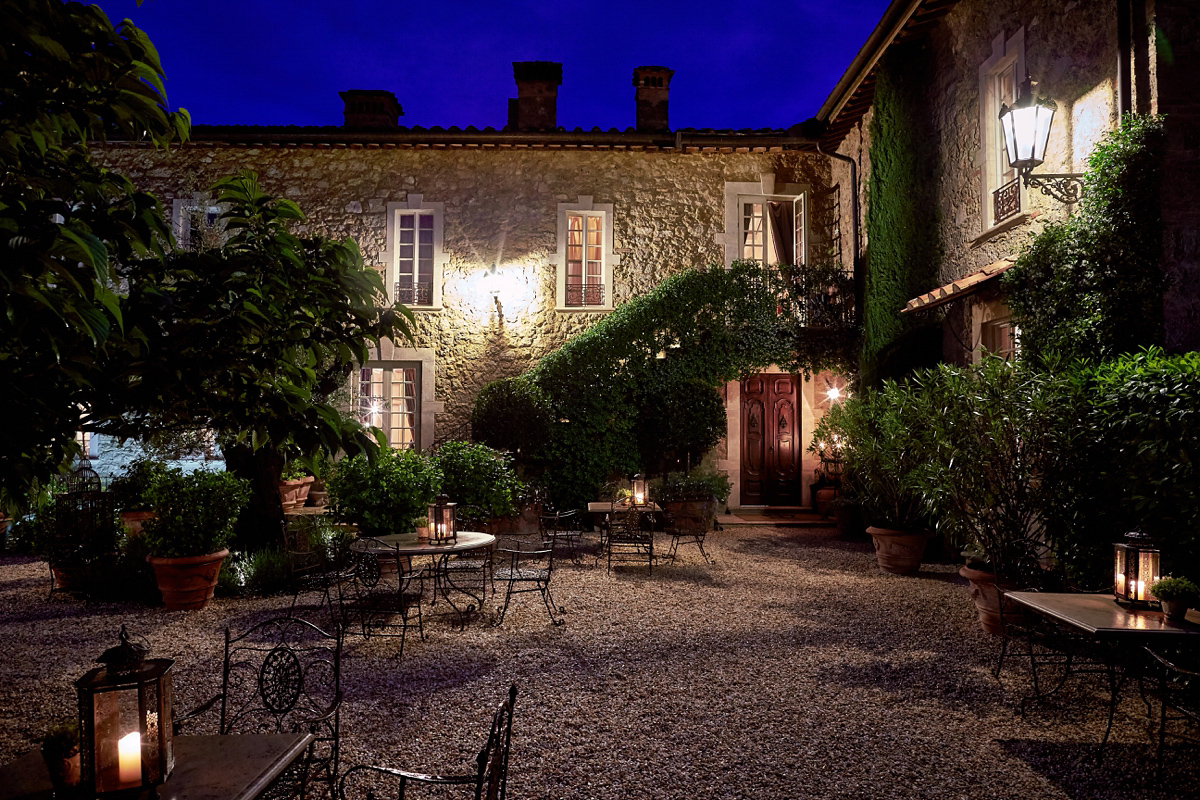 If this wedding has you dreaming of saying 'I do' in Tuscany, then just follow the link here for even more inspiration. I really hope you've enjoyed looking through these photographs as much as I have. You'll find me resting beneath the olive grove, by the pool, under the Tuscan sun. In my dreams….
Love Bianca x