I love intimate weddings, especially Italian ones and especially when the bride and groom are so stylish. When Cinzia Bruschini is the photographer then it really is the whole package, I love this lady's work, I could honestly spend days looking at her images (I kind of did). Today's couple are Haylie and Cole from the US, they met in high school but now she's a pretty talented photographer herself and he's a web developer and their gorgeous wedding was held at a 15th century villa in Tuscany on the 28th of October 2015. Their 15 guests travelled from all over the world to be with them and in keeping with their small wedding, the couple had no wedding party, wrote their own vows and walked up the aisle together. They also had the most adorable first look and I hope you love this wedding as much as I do.
Two weeks after returning home the newlyweds had a small reception in Haylie's mother's backyard for all of their friends and family who could not join them abroad. Haylie photographed details of the reception and you can see them here.
"We rented Villa Il Cortile, Capolona in Arezzo, Italy and invited 15 of our closest friends and family members to vacation and celebrate our wedding. We completely fell in love with the grounds of the beautiful villa which was built before the 1400's. We made day trips to Florence, Cortona, and Arezzo, then married on the Wednesday. We headed to Rome for one last romantic night in Italy before heading home."
Photography by Cinzia Bruschini
Haylie knew that she would never be a traditional bride, so set about finding a more unique dress. She styled her gorgeous soft grey Jenny Yoo Dress from Nordstoms with an elegant lace top from Tadashi Shoji, purchased from BHLDN.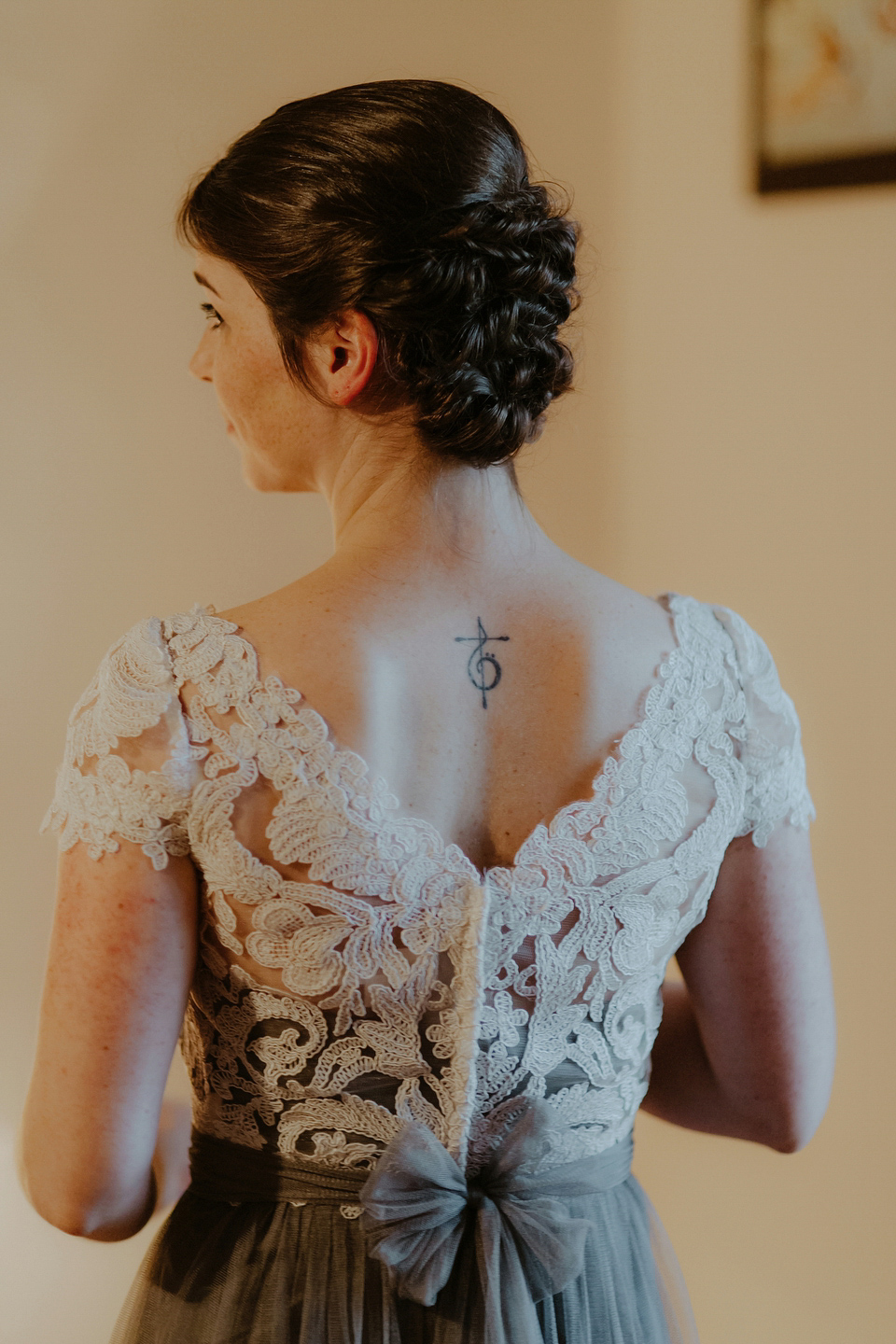 Managing to look individual whilst being a perfect fit for the beautiful Italian surroundings in no mean feat and accessorising with some fabulous dark grey peep toes from ModCloth, bracelets borrowed from a friend and earrings from Francesca's pulls the look together beautifully.
Haylie and Cole went to high school together and dated for 8 years before they got engaged.
"We went to browse in an antique jewellers when I found a 1920's ring with which, I quickly fell in love, but ultimately talked myself out of buying. After work the next day I came home to a surprise. Cole had purchased the ring and had it waiting to pop the question."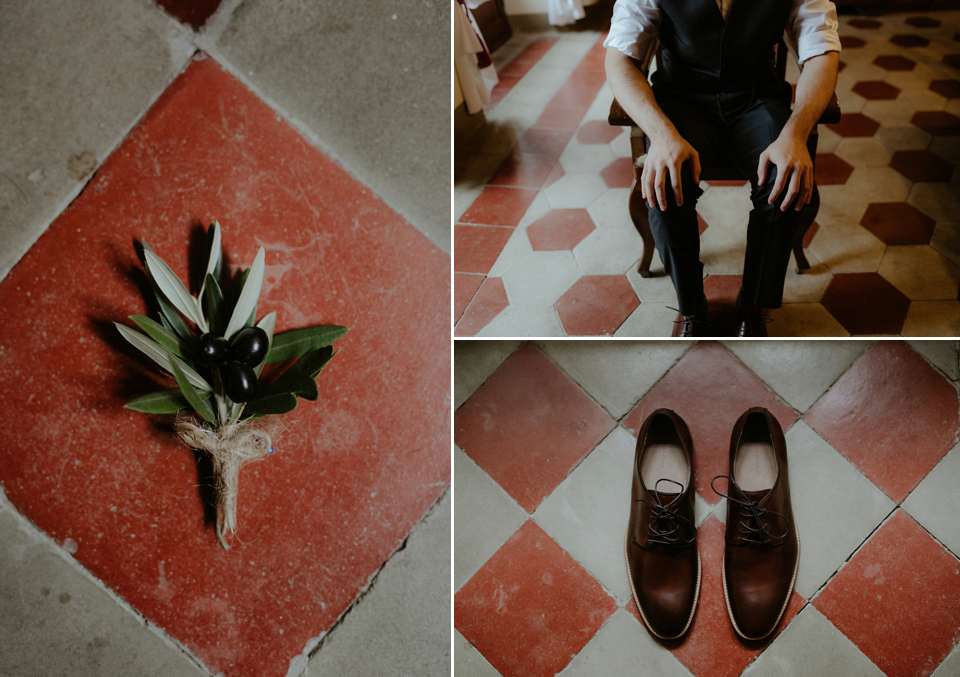 The couple didn't hire a florist as their beautiful rustic villa didn't need any extra decoration, instead Haylie and her girlfriends picked herbs from the garden on the morning of the wedding and created her bouquet and Cole's buttonhole.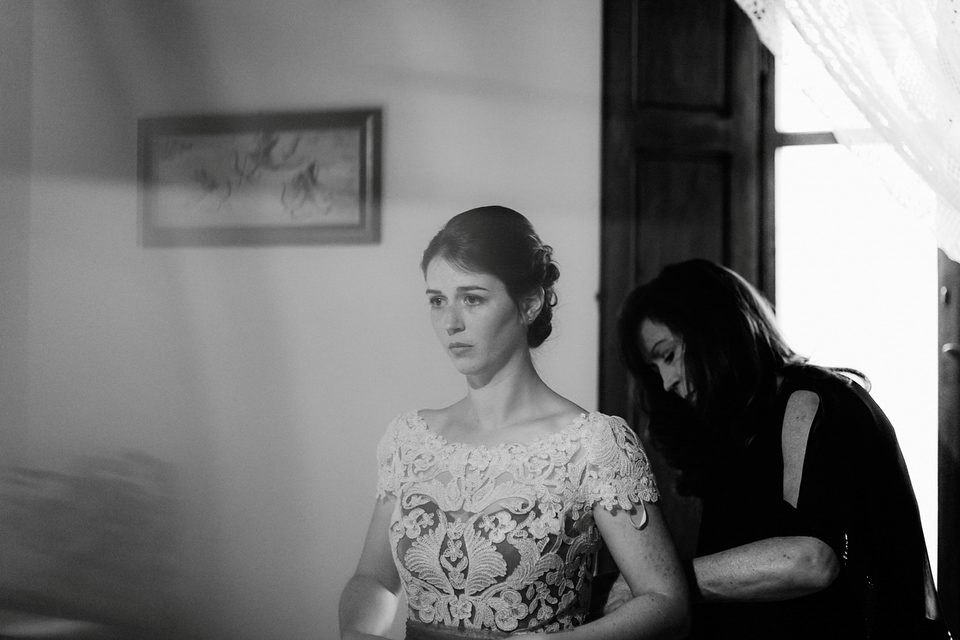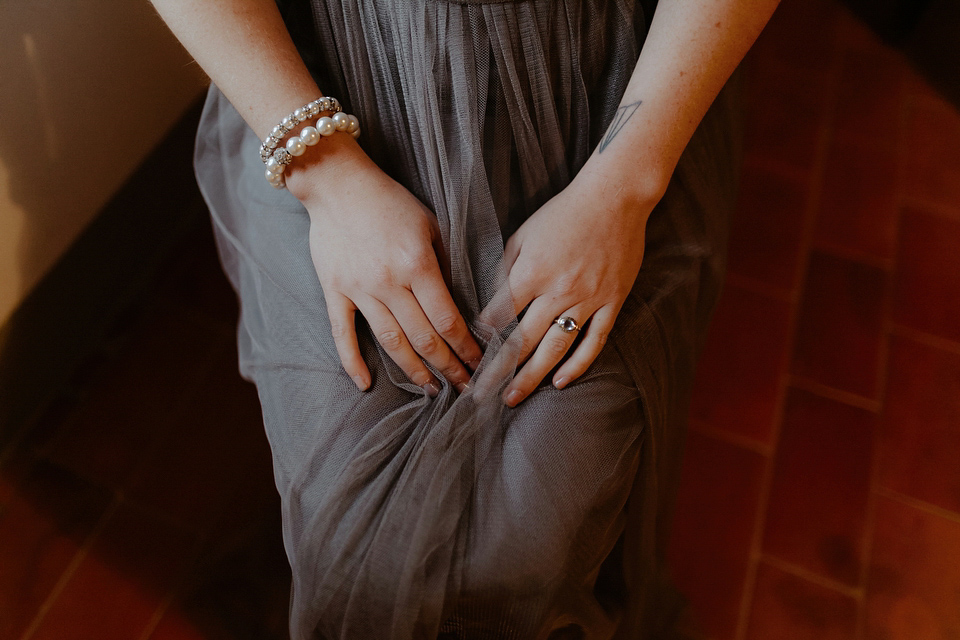 The Groom looks very handsome in his J Crew waistcoat suit, paired with accessories from Banana Republic.
"Our first look was the best moment. That first time seeing each other all done up, Cole hadn't seen me in my dress and I hadn't seen him in his suit. Getting a second alone together in the midst of the day was so special and intimate."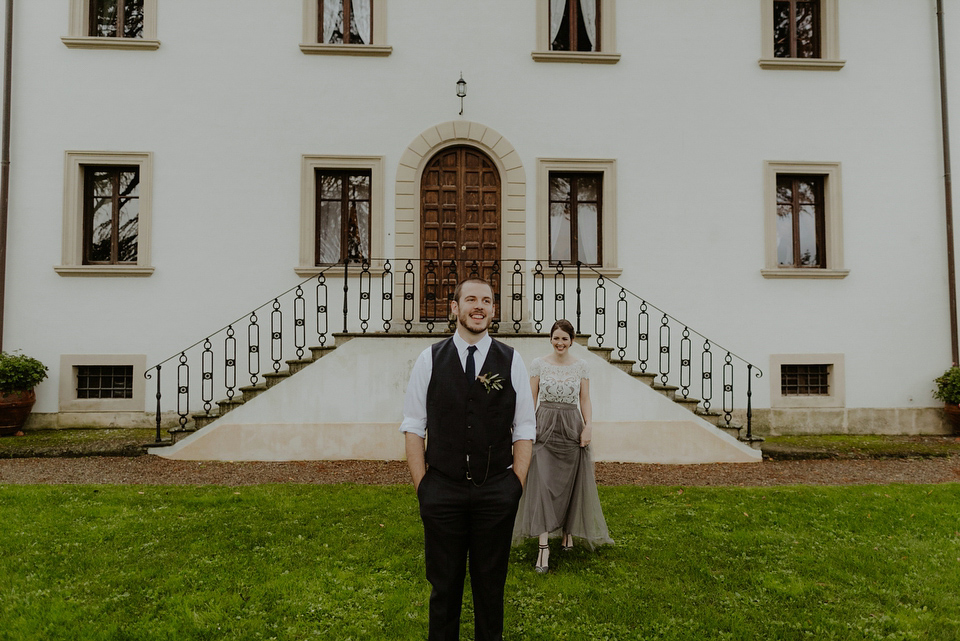 Being a photographer herself, Haylie knew exactly what she was looking for in her wedding photographs. Cinzia Bruschini was the only woman for the job and the couple couldn't be more thrilled with their final images. How can you not fall in love with Cinzia's beautiful photography style? She really pulls you into that moment with portraits that are genuine and unique, with a wonderful softness to them.
"Cinzia Bruschini and her second shooter Matteo were a dream to work with. They have such talent and captured our wedding flawlessly. As a photographer myself I loved that Cinzia still used film to shoot weddings. As a team, Cinzia and Matteo were able to document our wedding for exactly what it was, intimate, authentic and elegant."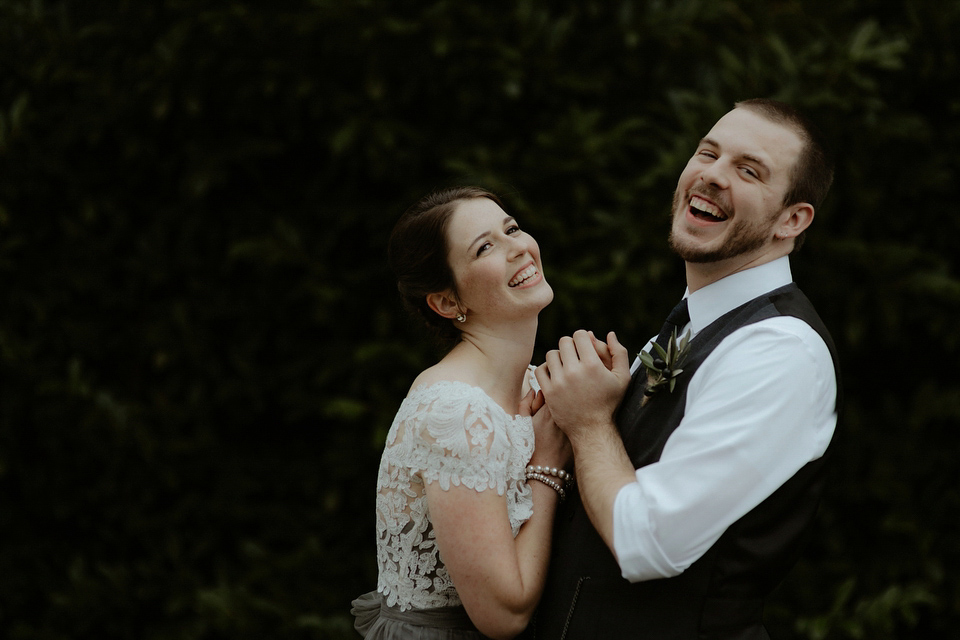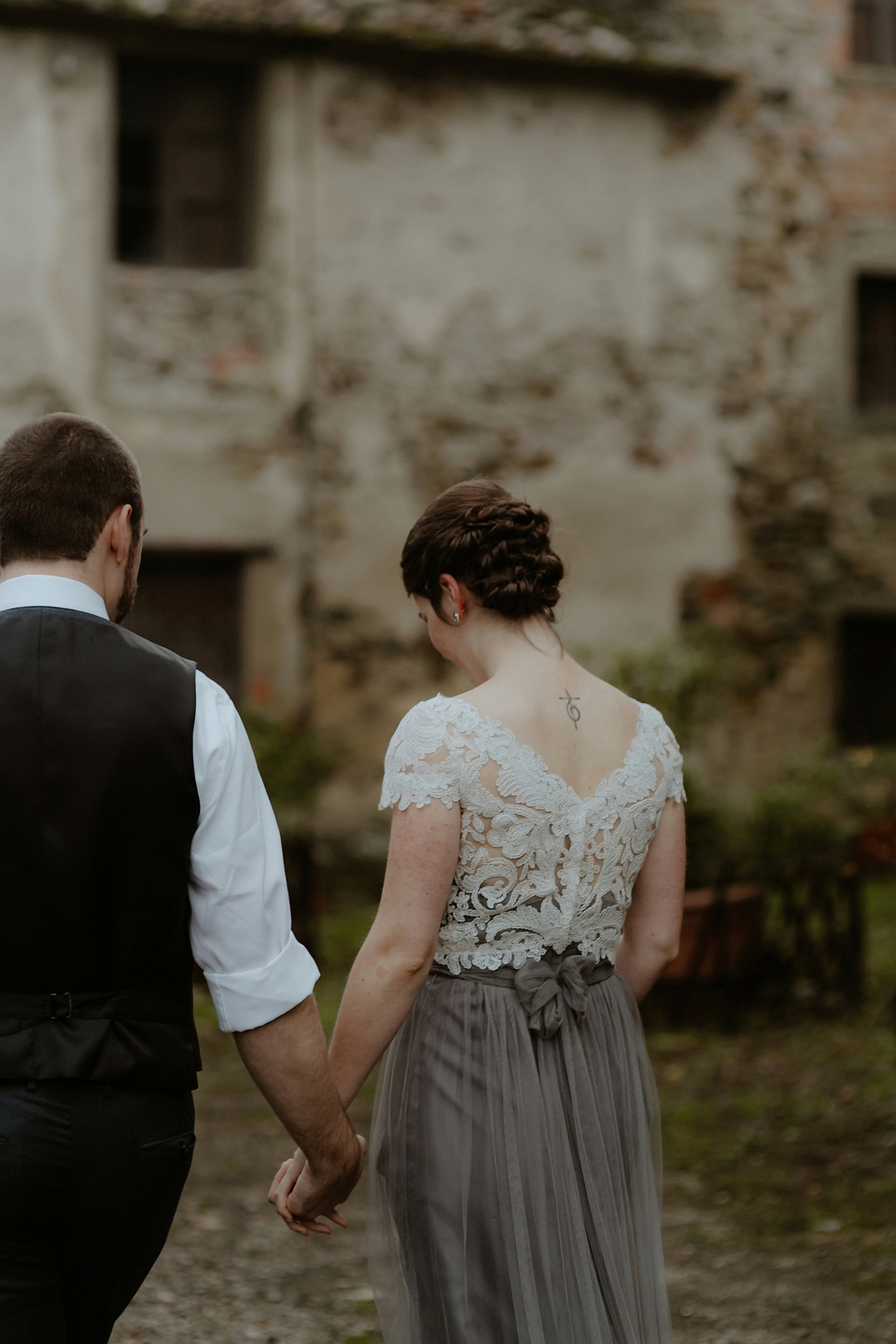 The couple walked down the aisle together to the strains of 'Merry Go Round of Life' by Joe Hisaishi, to say their vows.
"We chose 'Blessings for a Marriage' by James Dillet Freeman as a reading. We loved how it portrays marriage as a partnership and not a dependency. We also wrote our own vows, including a lot of anecdotal references to our long history together."
Haylie's stunning vintage ring was from Perry's Antique and Estate Jewelers and Cole's ring was purchased from Point No Point Studio, found on Etsy.
"I loved that it was unique and an atypical engagement ring. The history behind the ring was the proverbial icing on the cake."
The newlyweds danced for the first time as husband and wife to 'If I Needed You' by Andrew Bird.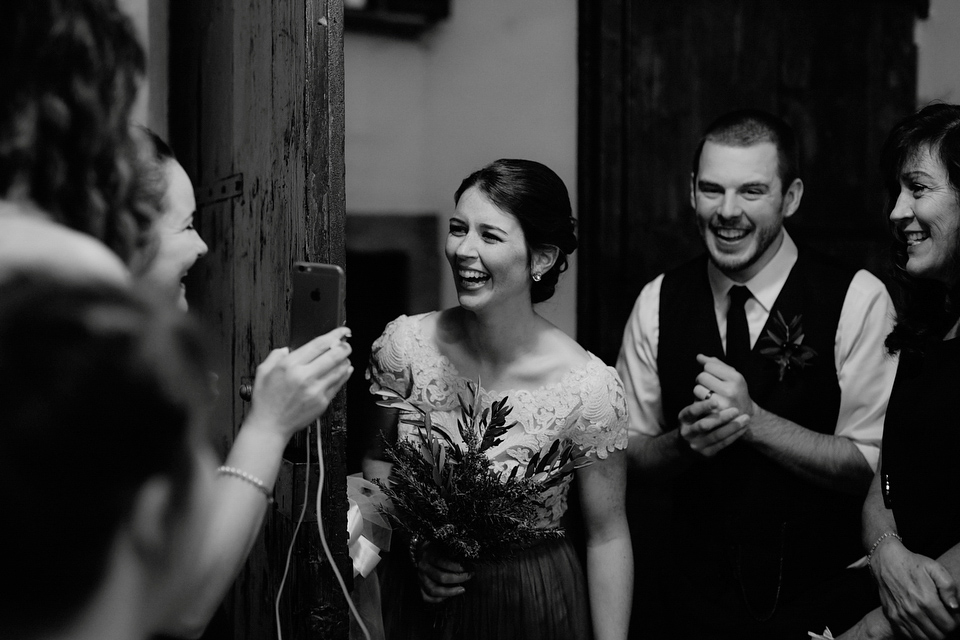 Words of Wedded Wisdom
"Invest in an awesome photographer. All of the other details of your day don't matter nearly as much as your memories and the love you have for each other on that day. We left details to a minimum and it was the best thing that we could have done. It made the focus of our day more about the true meaning of the day and less about pretty decor, of course a beautiful venue never hurts either."
Thank you so very much to Haylie and Cole, it has been a pleasure to pore through these stunning images and thank you to Cinzia Bruschini for the breathtaking images. I know lots of you are planning weddings in Italy, we have lots of inspiration here.
Love Caoimhe xx
Photographer – Cinzia Bruschini
Venue – Villa Il Cortile, Capolona, Arezzo, Italy
Wedding Dress – Jenny Yoo Dress from Nordstoms + Tadashi Shoji, purchased from BHLDN
Shoes – Seychelles from ModCloth
Accessories – Earrings by Francesca's
Bride's Scent/perfume – Happy by Clinique
Groom – J Crew Suit + Banana Republic Accessories
Florist – By the Bride and her Girlfriends
Rings – Perry's Antique and Estate Jewelers + Point No Point Studio
Stationery – Designed and Assembled by the Bride