Following a weekend very well spent in London, receiving this ode to the sights and sounds of city life in my inbox was a treat. In the interest of prolonging the joy that finally meeting the glorious Emily D brought into my life on Friday, I'd like you all to take a trip across the pond with me for a relaxed and stylish bite of the Big Apple.
Helen, Designer/Maker at livinglovingly.com and Philip, a Screenwriter, live in London but decided to celebrate their marriage in another city they love: New York. Nearest and dearest accompanied them to the city that never sleeps and looked on as they became husband and wife at the Office of the City Clerk Marriage Bureau on 6th May 2015. In possibly my favourite wedding breakfast to feature on these hallowed pages, burgers and milkshakes were the obvious post ceremony snack. Oh I do heart NY.
"We met on the set of the film 'How to Lose Friends and Alienate People' in 2007 – I was an extra and Philip was a runner. We got chatting while standing in for the actors so the crew could fix the lighting before shooting started. Philip proposed while we were on holiday in New York in 2014, we were walking through Central Park at the time. When it came to planning our wedding, we wanted something relaxed but also exciting – a trip to New York with our closest friends and family was perfect for us."
Photography by Nabeel Khan
Incredibly, our super creative Bride made her own wedding dress, giving her complete control to bring to life her perfect gown. I love the idea of choosing fabric and the hours spent crafting the most important dress you'll ever wear.
"I made my own dress. I used the Emery pattern from Christine Haynes and customised it slightly to suit my vision. I found the white cotton dot fabric in one of my favourite fabric shops: MacCulloch and Wallis in London."
"I've always loved the idea of wearing a homemade wedding dress and was set on something very simple and timeless. Once I set the challenge for myself, I was determined to see it through and I love that I'll be able to wear it again in the future; I hope to save it for special anniversaries."
Saving precious suitcase space, Philip rented his suit whilst in New York and added a favourite pair of Converse. The happy couple also picked up their rings upon arrival in the US from one of my instagram favourites: Catbird in Williamsburg.
"I love the minimalist, antique feel of their designs and the idea of having something very unique. My wedding band has a mix of matte and blackened gold as well as a tiny diamond. Philip has a very simple matte gold band to co-ordinate."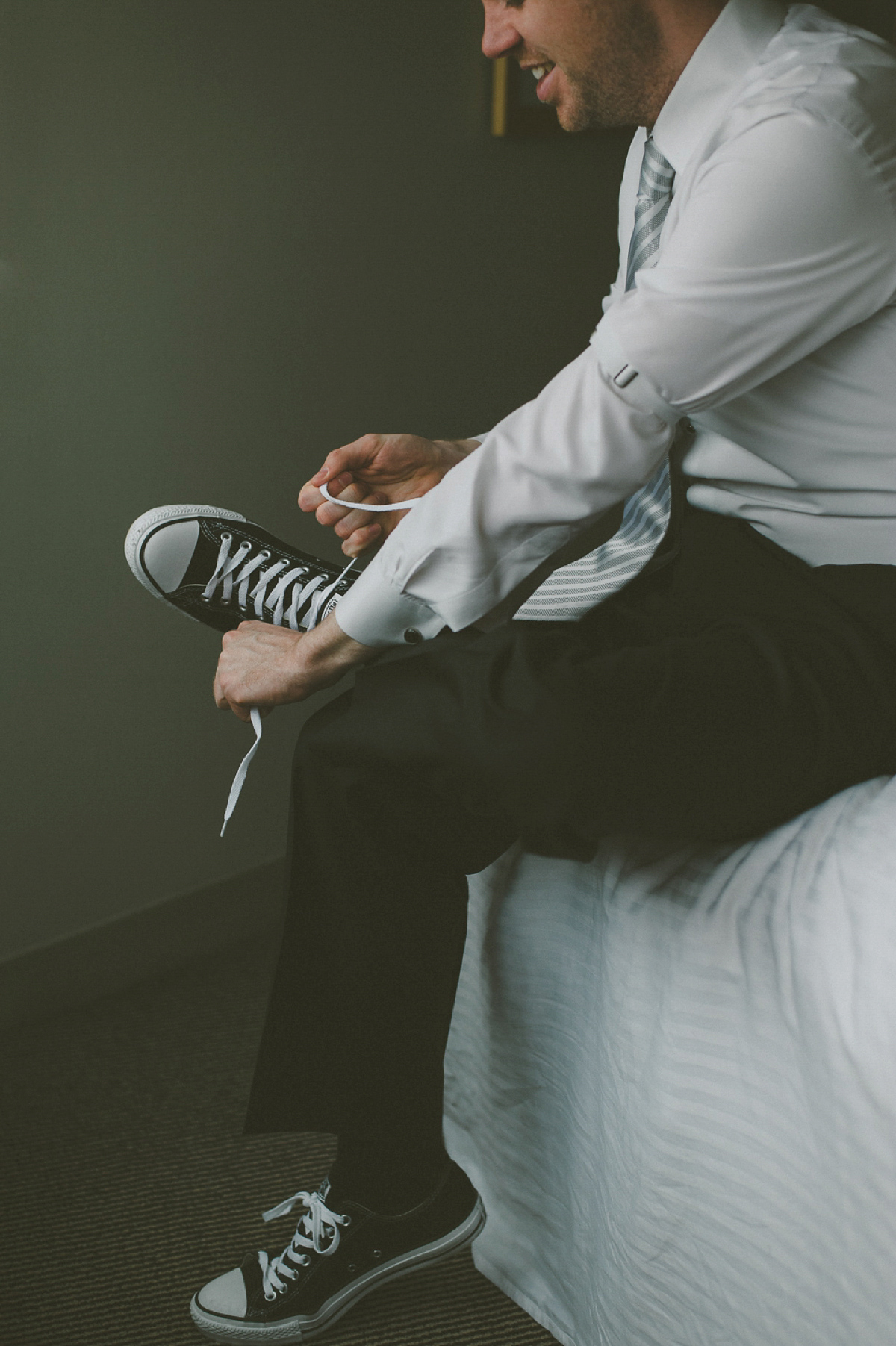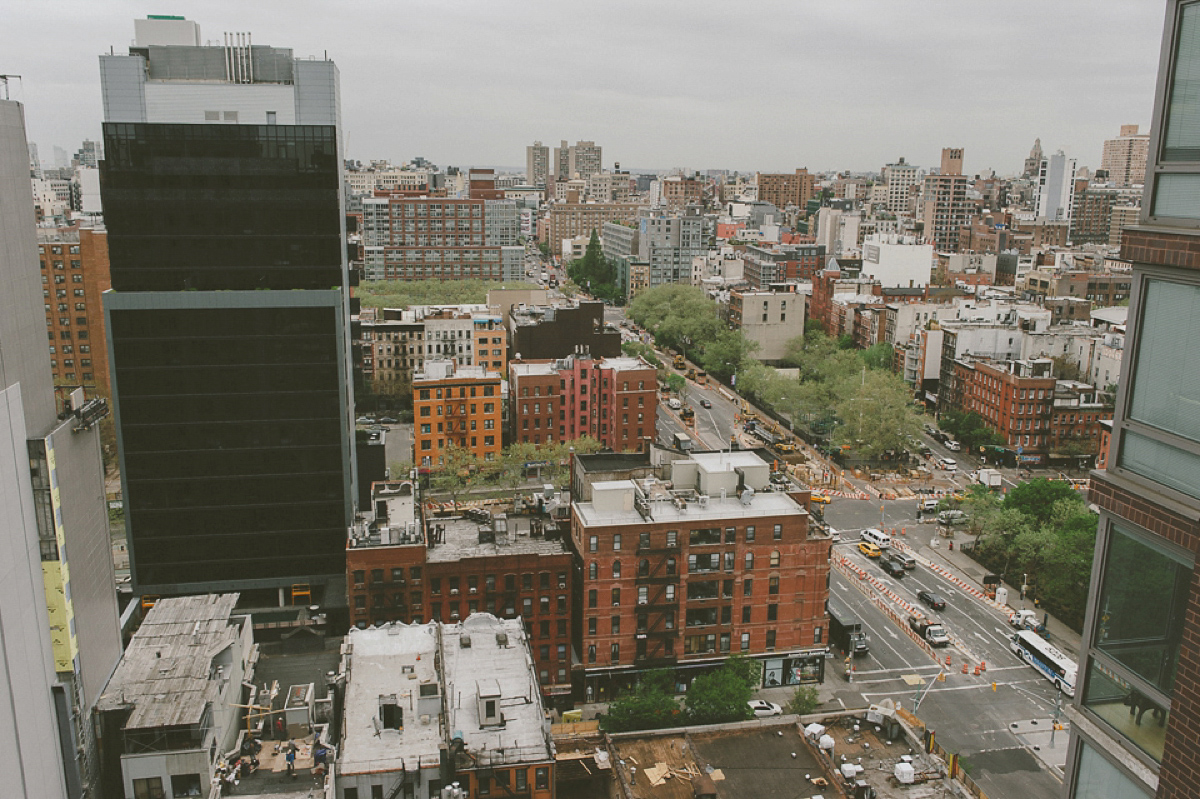 After watching countless YouTube videos, Helen did her own hair and make up. I would like to know exactly which videos were used for guidance as those glossy, bouncy waves are all of my hair goals.
A spritz of Jo Malone's 'Wood Sage & Sea Salt' and some Carvela flats (I do love a bride who wears flats, especially glittery ones!) completed Helen's look as the Bride and Groom hailed a New York Cab to City Hall.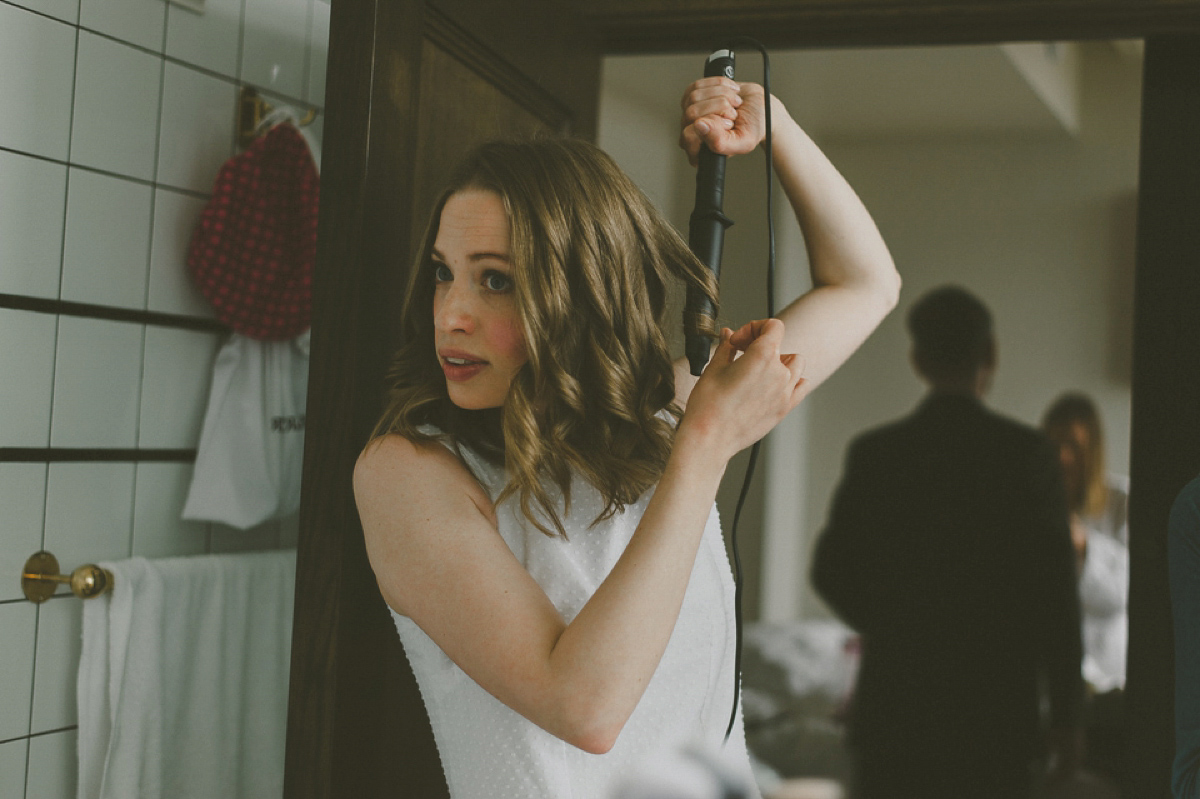 These atmospheric shots showcase the combination of urban grandeur and deep emotion that made for an individual celebration. The air feels heavy with expectation, excitement and that unique New York buzz. Groom Philip's long-time friend Nabeel Khan was responsible for capturing these reportage style images of the day, whisking those who could not join in the celebration straight back to spring time New York.
"Nabeel is a long-time friend of Philip's and as soon as he started shooting weddings I knew I'd eventually want him to shoot ours. By the time we got married Nabeel was living in Australia but we persuaded him to join us in New York for our big day. I'm so glad he did, the photos were absolutely perfect and he captured so many great moments.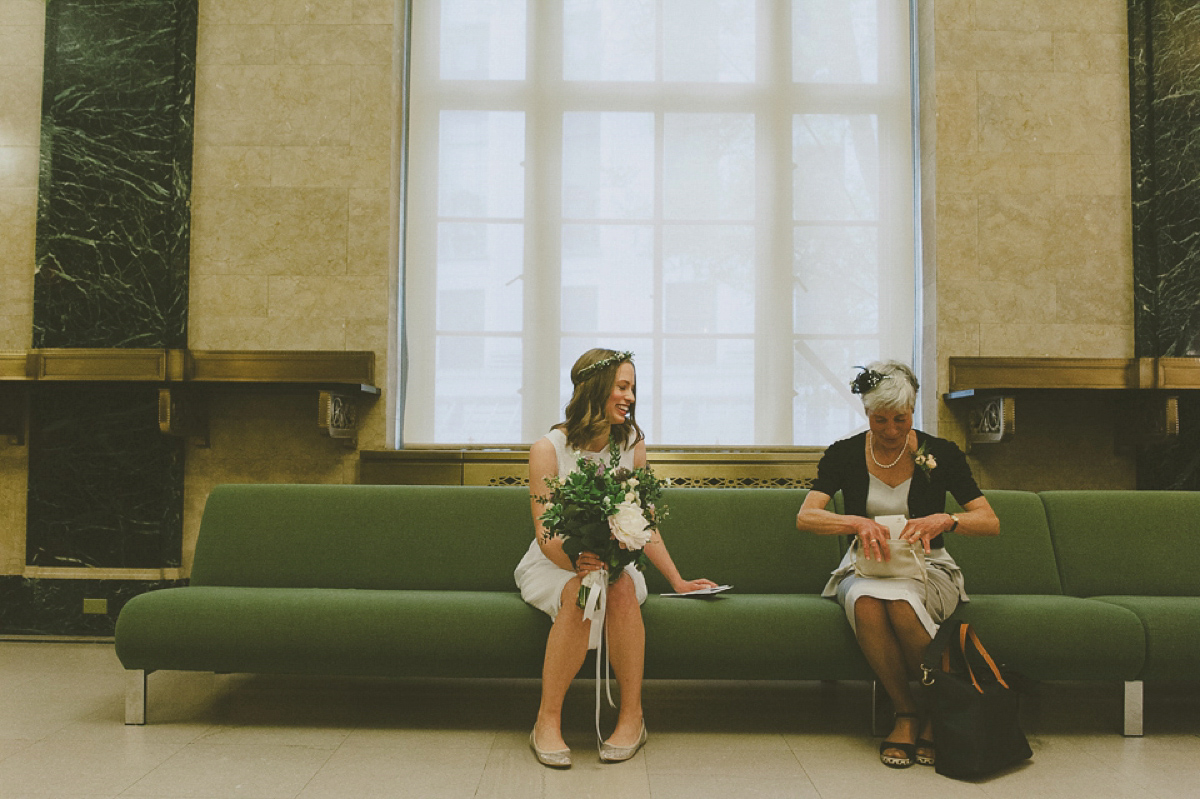 "A lot of our friends and family have said they are the best wedding photos they have ever seen, and those who weren't with us appreciated the 'documentary-style' feel of the album, as looking at the photos is almost like watching a video of the day."
Matching the simple lines of her dress, Helen kept her jewellery classic and unique with a gold bar necklace from Minetta Jewellery and Hook & Matter earrings.
"I picked up my earrings from Aimee from Hook & Matter's brownstone. I discovered her shop through Etsy and visited her in person to collect the earrings a few days before the wedding. She was lovely and it was really important to me to be able to include designs from independent makers in my accessories."
Gathering in the marble halls of the Office of the City Clerk Marriage Bureau, the love is palpable. Other couples wait in line, trading stories and excitement before being called into one of the two wedding chapels. This is a building whose sole purpose is bringing people together and making dreams come true.
"As it was a city hall wedding, there wasn't exactly an aisle, but we walked into the chapel with our family and friends at our side. I loved the experience of getting married there, the ceremony was so happy and relaxed and although short, the officiant set the perfect tone."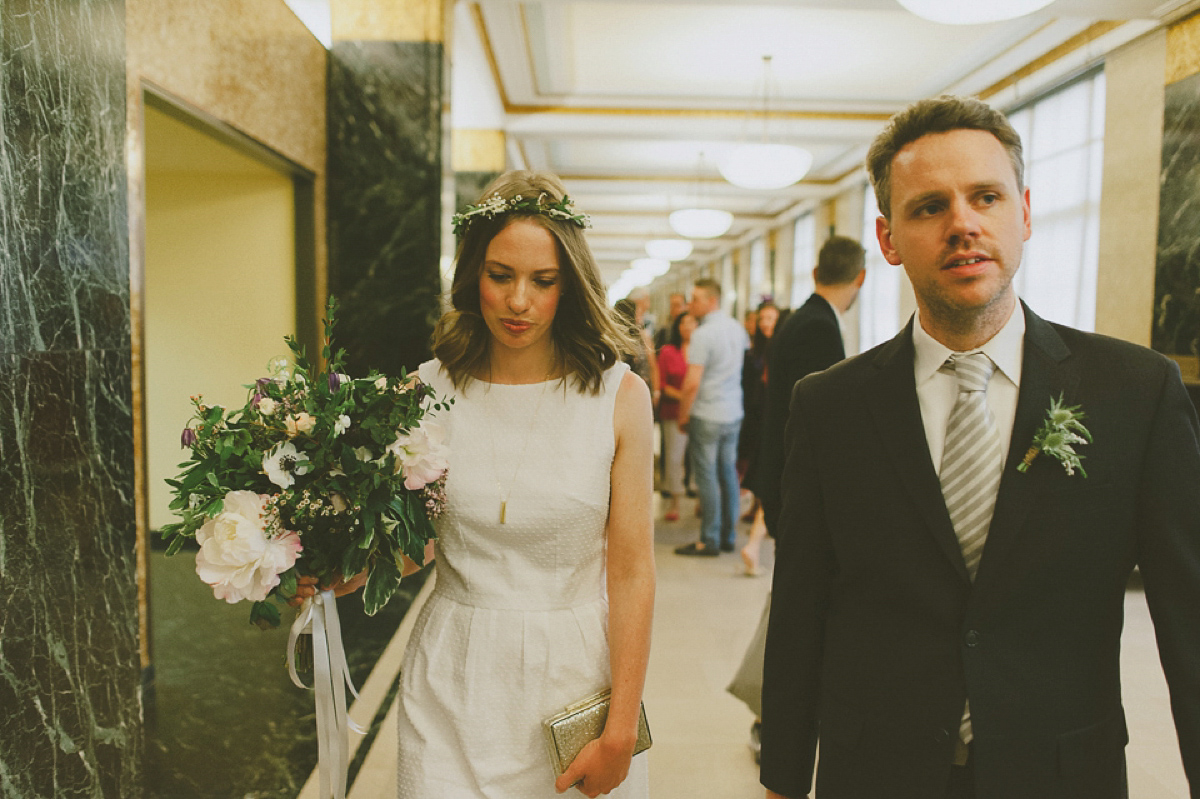 "It was also a lot of fun to walk around New York as Bride and Groom with passers-by offering their congratulations or asking if they could take our picture. Carrying a bouquet of flowers around is really fun and a great accessory, it was surprisingly enjoyable and something I wish I could do more often without looking odd!"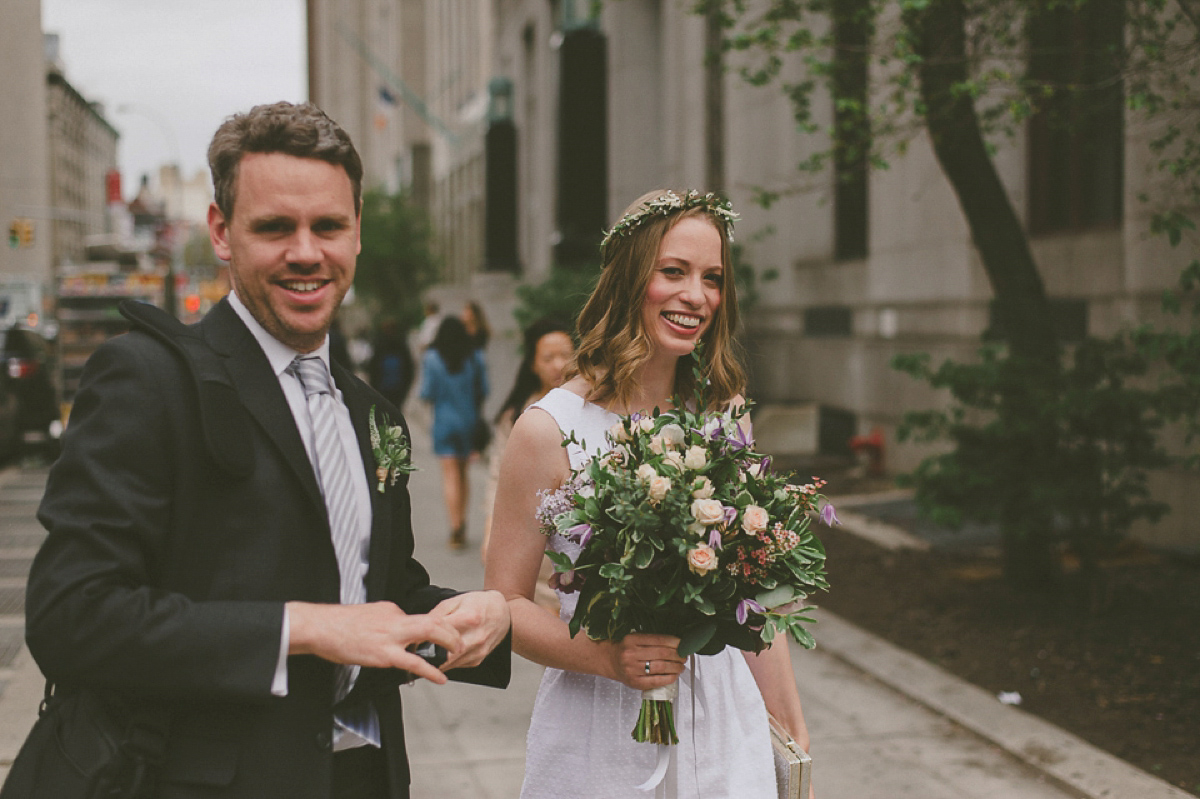 Adding an explosion of foliage and delicate flowers to the grand, cityscape backdrop was florist Flower Girl NYC, who also created Helen's beautiful floral crown. Finding suppliers through instagram has become one of my favourite inspiration sources whilst planning my own wedding (I highly recommend Little Book for Brides as the perfect starting point).
"I found this beautiful Lower East Side neighbourhood florist on Instagram. I emailed them moodboards full of rustic, bohemian bouquets, corsages and flower crowns to give them an idea of what I wanted. The shop was two blocks from The Ludlow, our beautiful hotel, and my mum picked up the flowers on the morning of the wedding. They were perfect!"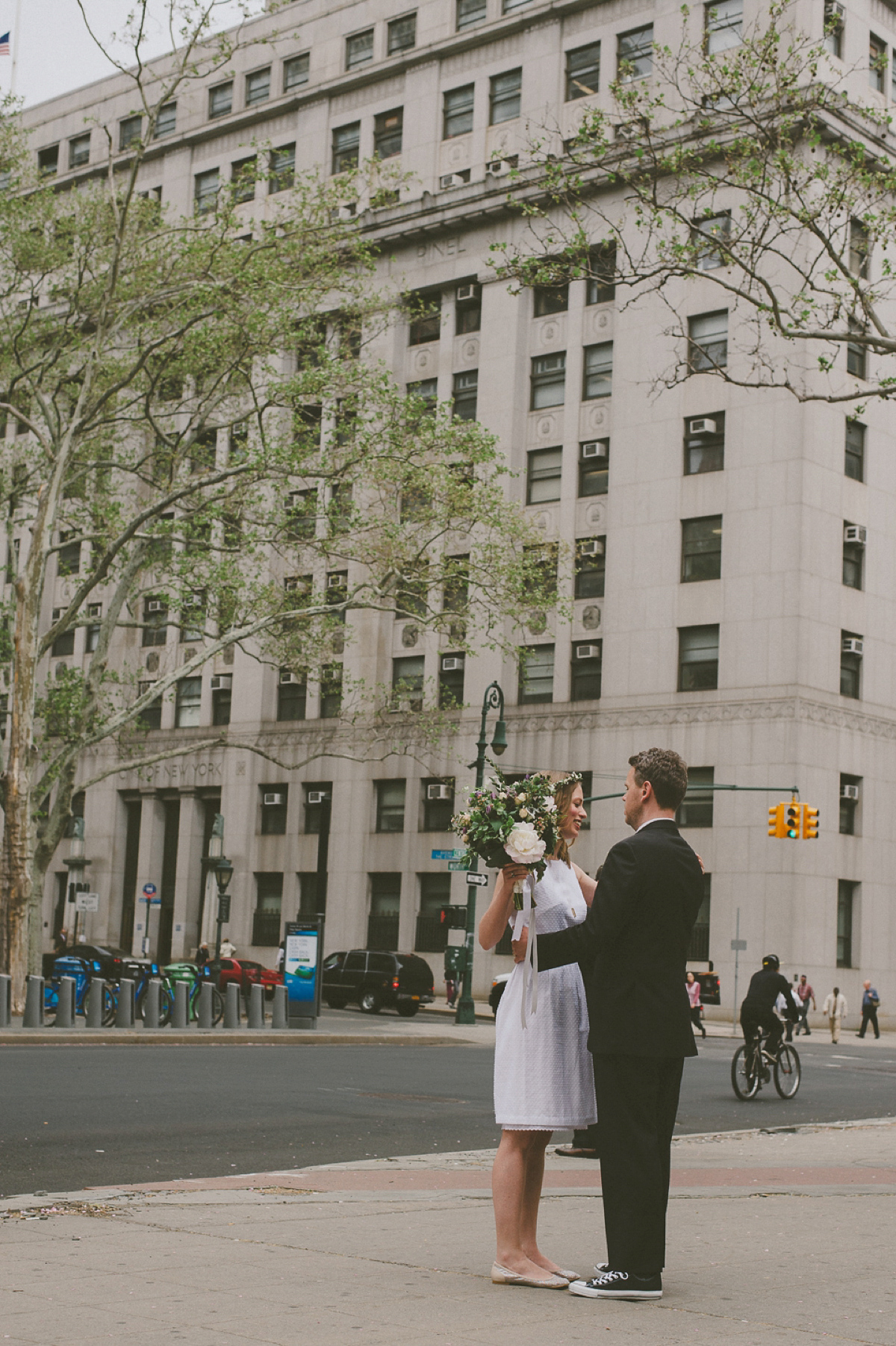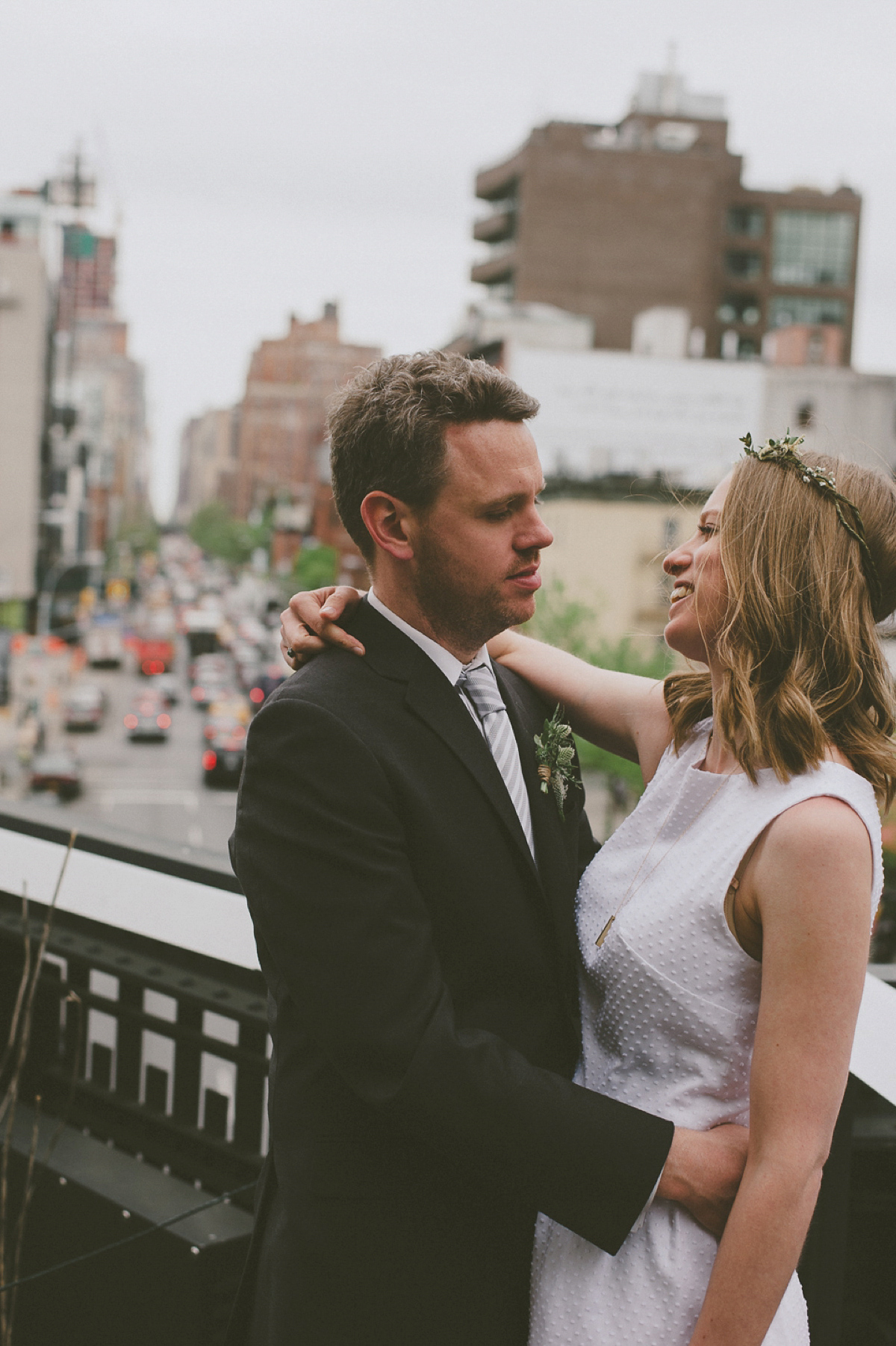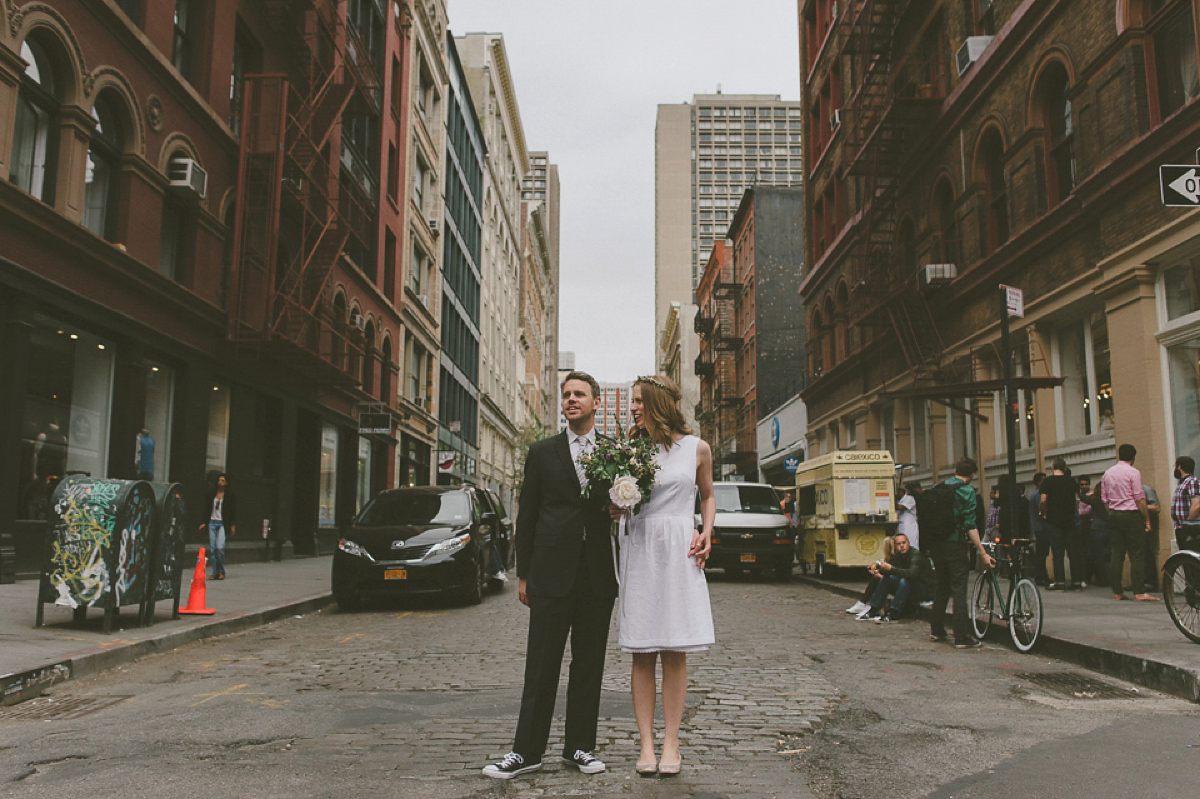 With the official bit done, it was time to celebrate being husband and wife in New York: hello burgers, milkshakes and huge smiles! Brooklyn Bridge and the High Line made for some spectacular photo opportunities before a quick outfit change for an evening of incredible food and night-time New York excitement.
"We took our wedding party to 5 Napkin Burger at Union Square and then onto Momofuku Milk Bar for something sweet. We had cereal milk ice cream and got some of their famous Crack Pie to take back to the hotel, that's our kind of wedding cake."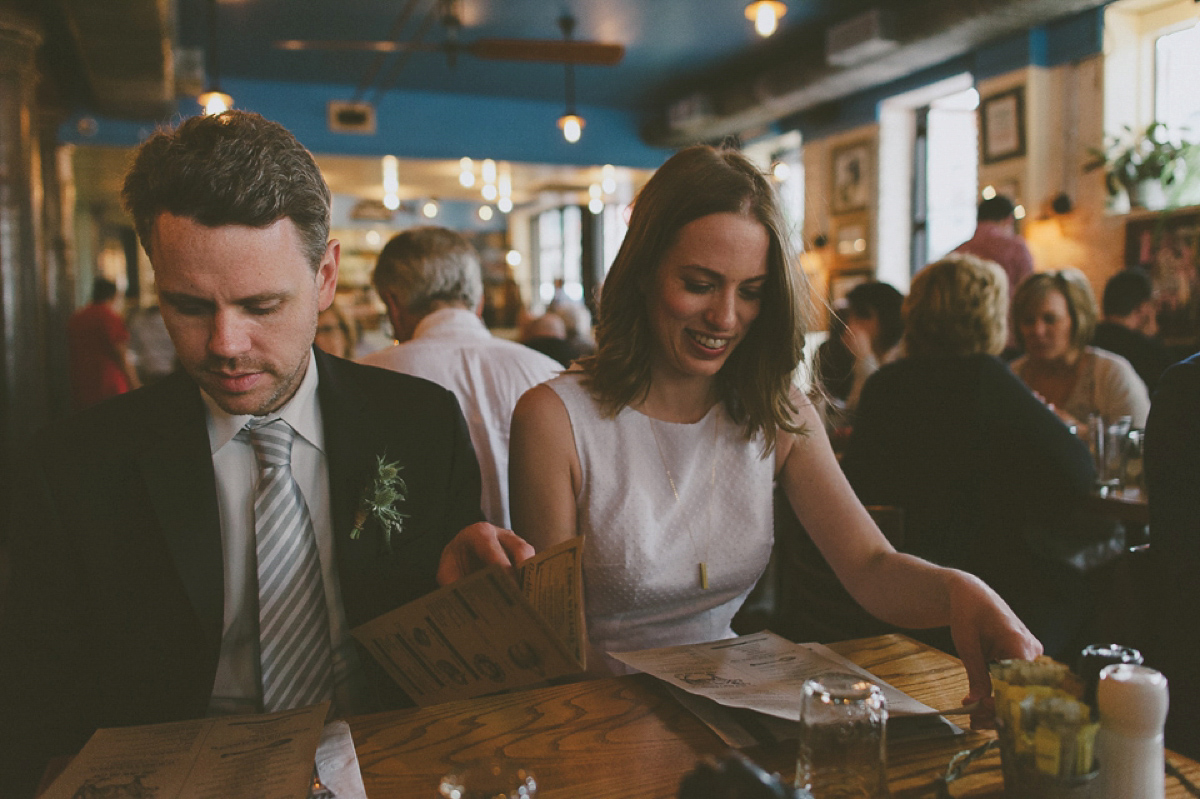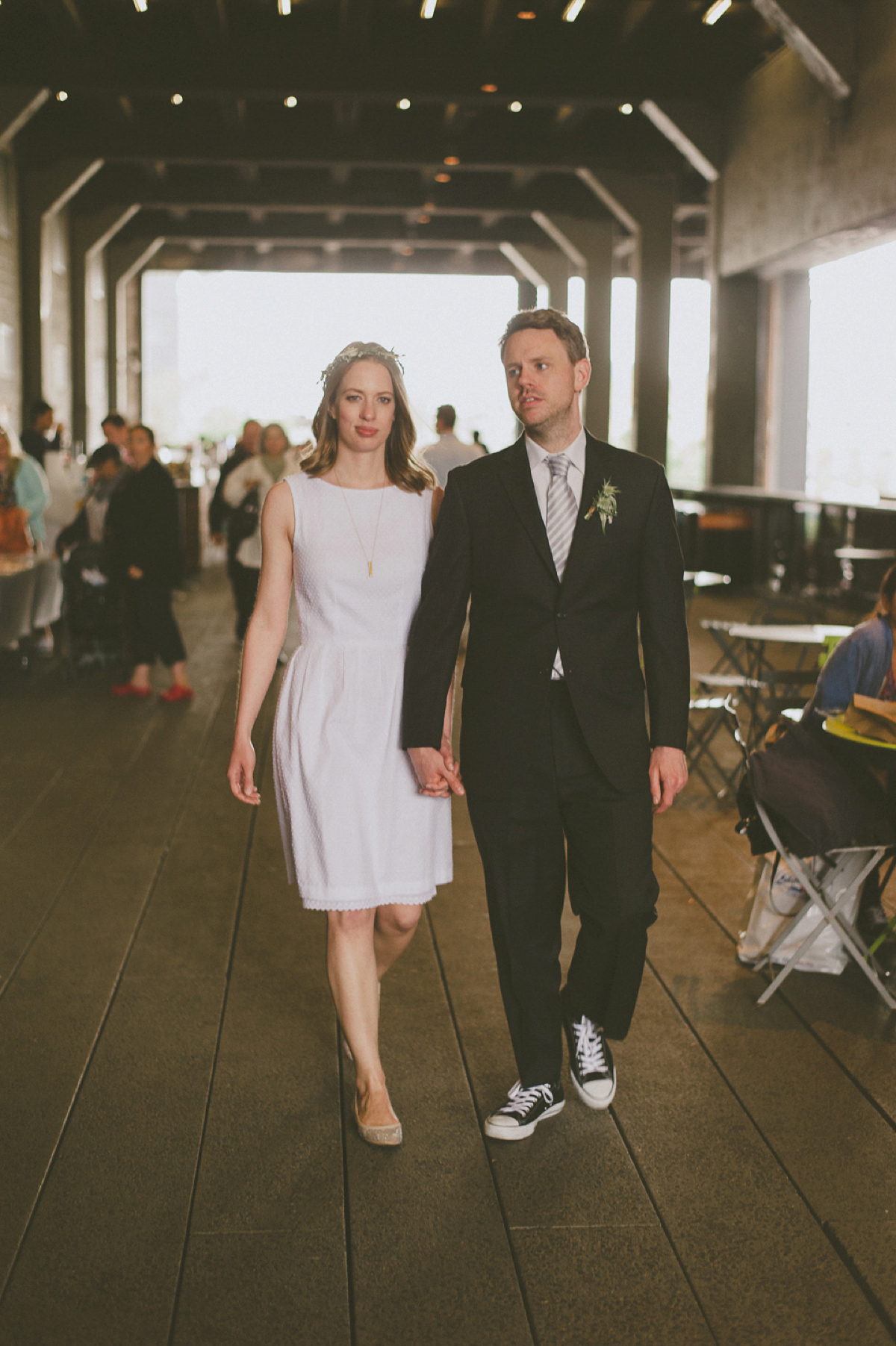 Words of Wedded Wisdom
"Enjoy the day! It's such a cliché but its such a once in a lifetime experience and it all goes by way too fast, so make the most of it! Also, do your research and choose a photographer you really admire, it's so important."
Thank you so much to Helen and Philip for letting us share in your movie worthy nuptials, showing us all that your wedding can be whatever you want it to be (and New York is always a good idea). Of course, a huge thank you to Nabeel Khan for these moody, perfectly timed shots of such a unique celebration.
I hope you lovely lot have enjoyed our little vacation, you may want to have a peek at some more New York nuptials here. Enjoy the rest of your week, I'm counting down to a whole wedmin weekend; 11 weeks to go!
Love Emily B xxx
Photographer – Nabeel Khan
Venue – Office of the City Clerk Marriage Bureau
Wedding Dress – Made by Bride
Flowers + Floral Crown – Flower Girl NYC
Shoes- Carvela
Accessories – necklace from Minetta Jewellery ,  Hook & Matter earrings.
Perfume- Jo Malone's 'Wood Sage & Sea Salt'
Rings – Catbird in Williamsburg