Dearest readers, those of you who have followed our beloved blog for a while will know that despite having lived in sunny Yorkshire for over ten years, I'm a Northumbrian girl at heart and so weddings based in our most northerly English county always fill me with delight.  Meet Jill and Neil, who married at Ellingham Hall in Northumberland on the 24th of October 2015.  Jill was a big Love My Dress fan during her wedding planning and so it's a genuine pleasure to feature her wedding today.
"We originally thought we'd have a Gatsby-inspired wedding but, on visiting the venue again, decided to go for a colour scheme of navy, grey and gold with plenty of foliage to fit with the surroundings and Autumn date. We couldn't name a specific theme but we definitely gravitated towards 'A Midsummer Night's Dream' and 'The Secret Garden' related images.  Most important of all however, was bringing everyone together for a good time, drinks and some good food."
Photography by Helen Russell Photography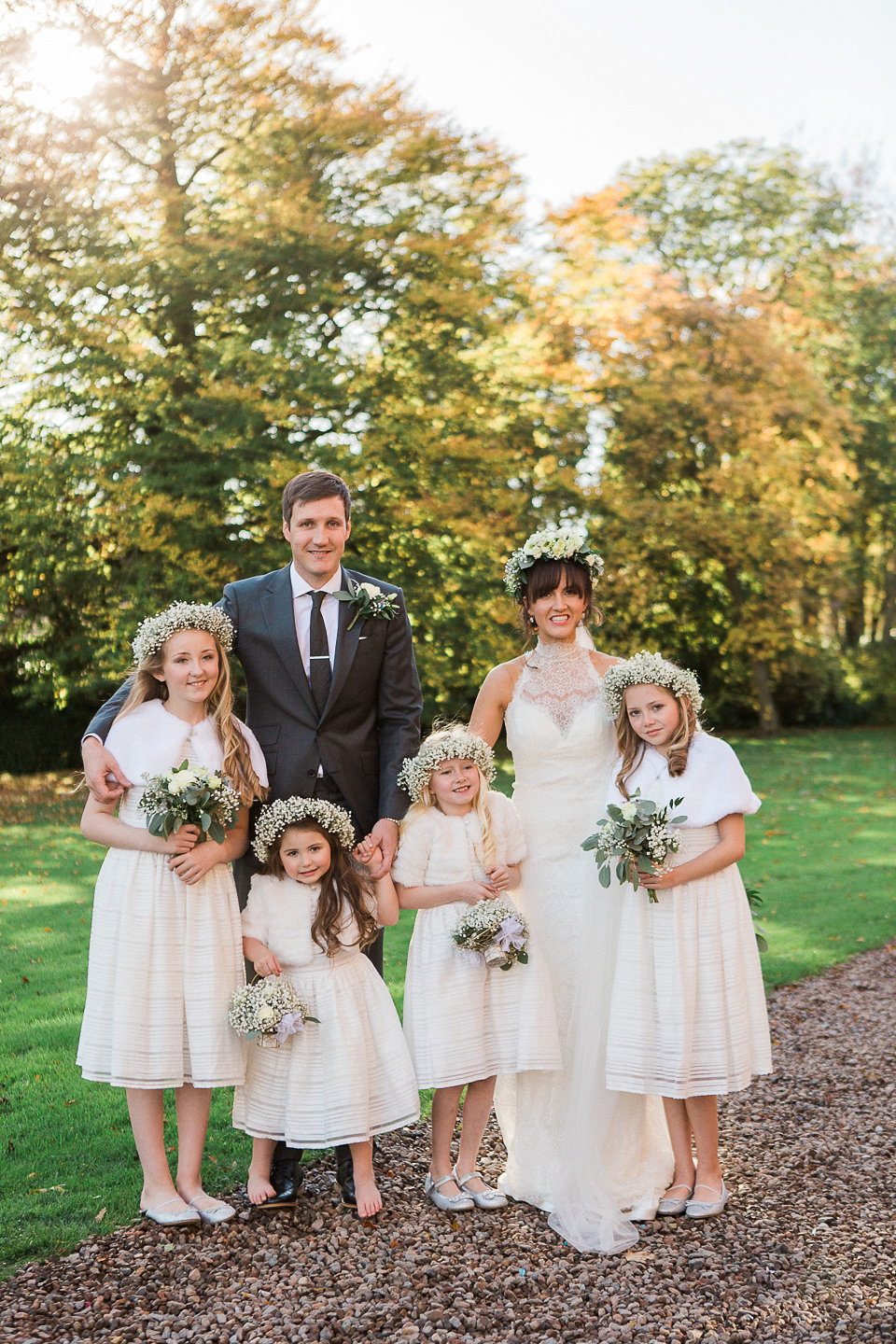 Jill chose a exquisite Essense of Australia gown, which she purchased from Accent Bridal, Newcastle and had altered to make it her her dream gown.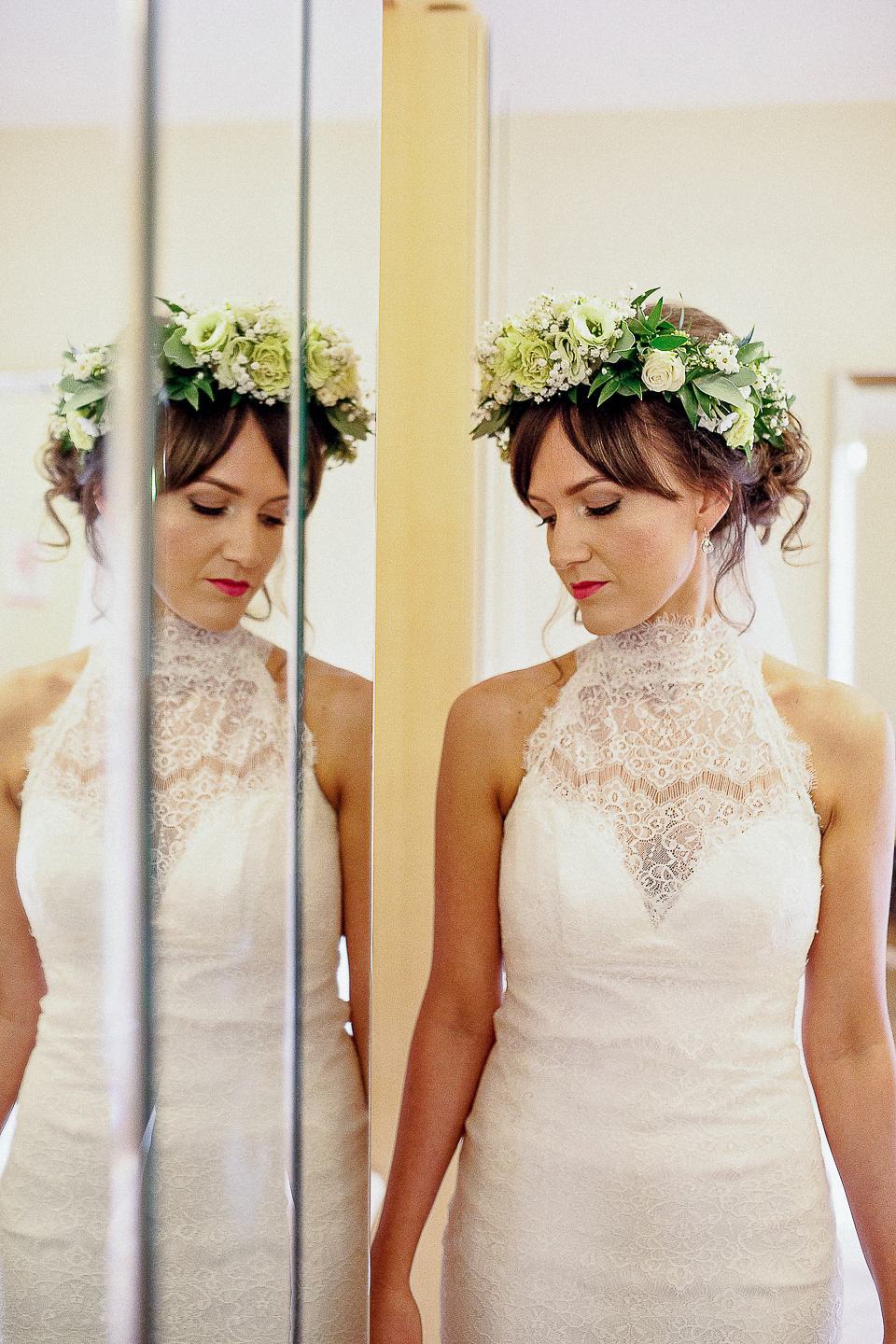 "I found it hugely difficult to find a wedding dress. I think part of this was about not wanting to be the centre of attention and also because I'm quite small and normally not one to dress up so felt swamped and uncomfortable in a lot of gowns."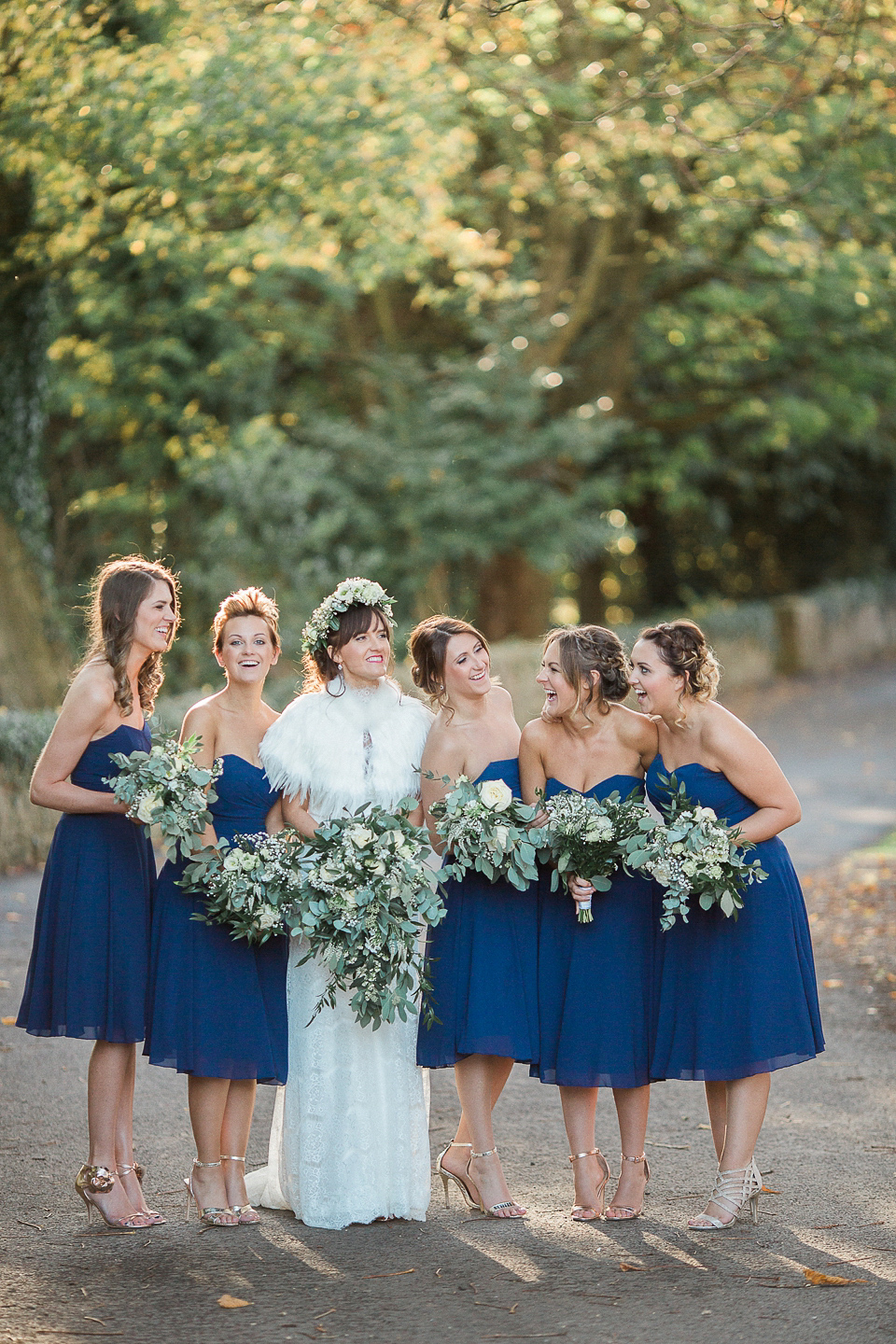 Bridesmaids gowns from ASOS
For scent she chose Jo Malone Blackberry and Bay body lotion worn with Velvet Rose and Oud cologne.  Hair was the work of Hair and Beauty By Ashley, Sunderland and make up by Donna Middleton MUA.
"We had purchased 'proper' flower girl dresses before spotting these on our weekly shop.  The girls were so beautiful that they could've worn paper bags and still stole the show though. We also found some fur boleros in Debenhams and H&M to try to keep them warm."
Jill chose a pair of rose gold heeled sandals from Topshop for her feet and further accessorised with a flower crown created by the florist, a veil purchased from Accent Bridal alongside her dress and a fabulous feathery bolero by Jenny Packham at Debenhams.
The gorgeous flowergirls wore dresses from TU at Sainsbury's (which just goes to show that you can find the most beautiful of items in the most unexpected places) while the adult bridesmaids looked beautiful in dark blue strapless dresses from ASOS.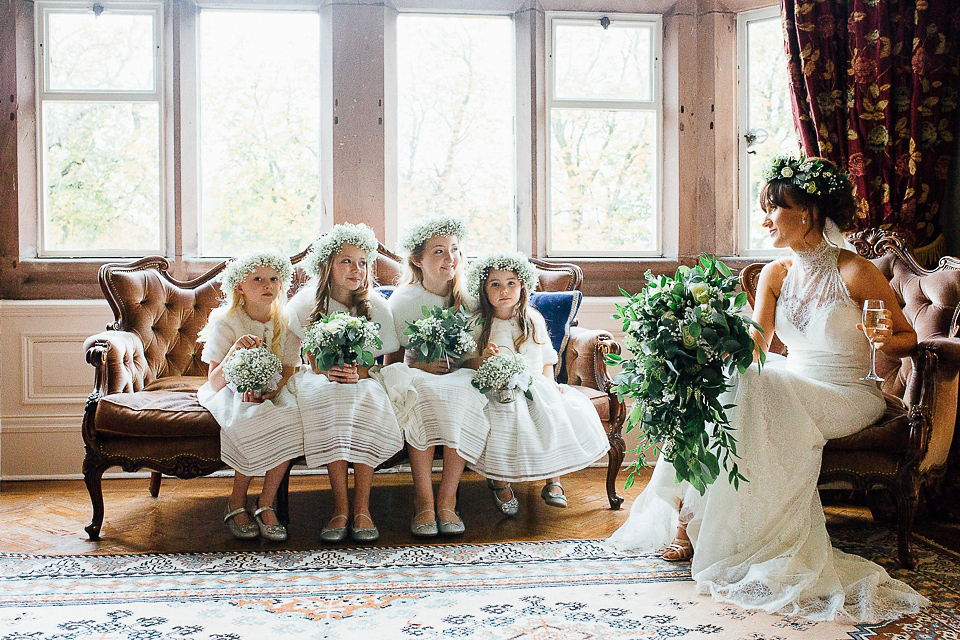 The magnificent floral arrangements were the work of , Sunderland.
"Ryhope Florists were local to us and had done a fantastic job at a wedding we had attended in 2014. I love flowers without knowing the names of any of them so provided some photos and a budget and Sheila worked her magic to create flowers for the wedding party, tables and venue at a really reasonable price.  Choosing the flowers was one of my favourite parts of wedding planning."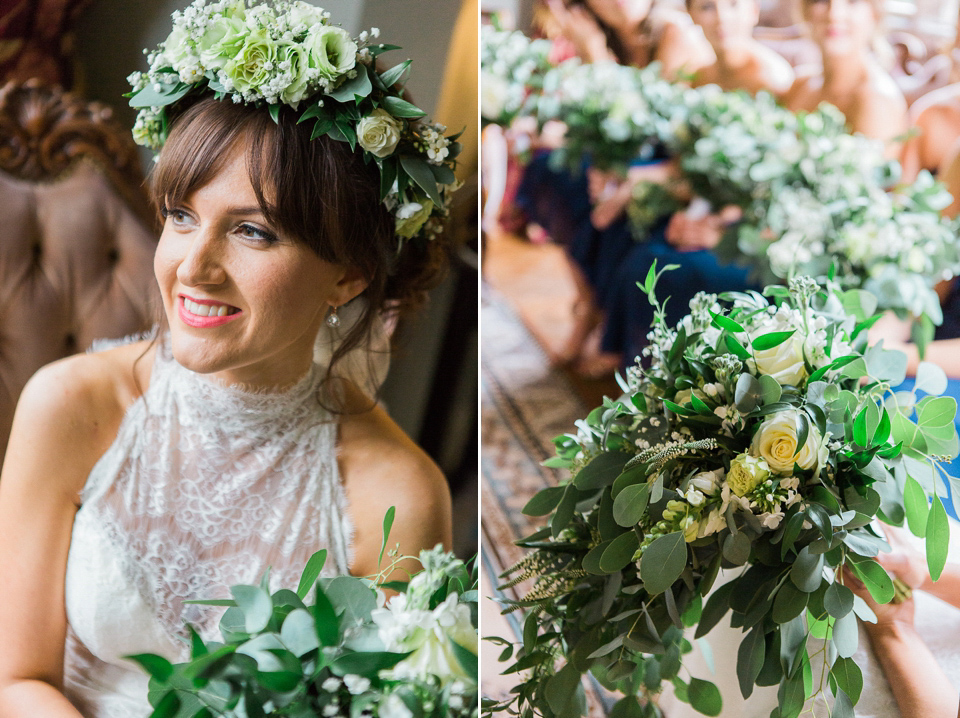 "Six months before the wedding I had visited what felt like every bridal shop in the North of England with my very patient mum and sister and had decided that I would probably buy something from somewhere on the high street.  In a last ditch attempt, I went alone to Accent Bridal in the hope that there might be a dress for me in amongst the new stock.
Lisa was great at listening to my woes and showed me a dress  which had completely the wrong neckline but ticked every other box, explaining I could buy extra lace from the designer that would allow Accent's owner/seamstress and general super hero Gayle to transform the dress."
"My Dad, who is known to be an emotional man, walked me down the aisle. Neil and I talked about possibly walking down the aisle together but I think asking my Dad was the right choice for us in the end."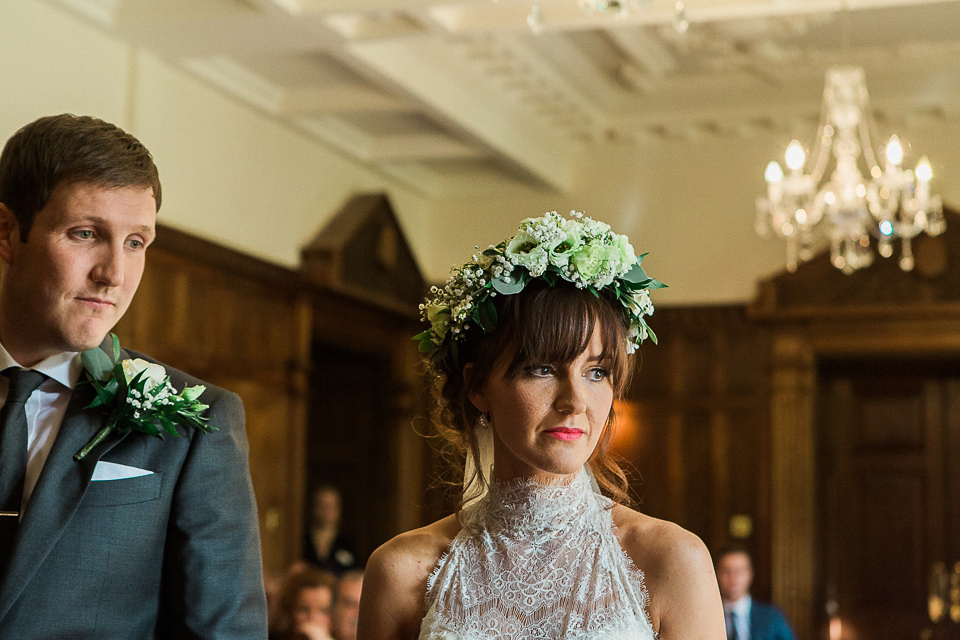 "We thought about tailoring our vows but then realised we should try to prevent tears where possible by going for options from the standard set provided. We did ask the registrar to read 'A blessing of the hands' right at the end of the ceremony as this seemed to cover a lot of what we would've wanted to convey in personalised vows had we been brave enough"
These are the hands of your best friend, young and strong and full of love for you, that are holding yours on your wedding day, as you promise to love each other today, tomorrow, and forever.
These are the hands that will work alongside yours, as together you build your future.
These are the hands that will passionately love you and cherish you through the years, and with the slightest touch, will comfort you like no other."
"Neil's cousin, Louise, read 'A Lovely Love Story' by Edward Monkton as it has some personal significance for us and we tailored it to reference my love of cricket and Neil's fondness of Guinness.  Louise was pregnant at the time so we've recently given her beautiful baby Ella a copy of the book and look forward to explaining the significance when she's old enough."
"It surprised us both that the ceremony itself was the best part of the day for us.  It's clichéd but true that when you see your future husband/wife at the alter, the nerves melt and you're reminded that all the planning and hard work is worth it.  The love from family and friends was palpable during the ceremony and we both felt truly blessed."
The couple chose Helen Russell Photography to capture all the important moments of their big day.  I adore the colours in the outdoor shots and all the attention to detail- beautiful.
"After setting a date, Helen was the first supplier we booked. Right from our initial conversation and throughout the meetings we felt in safe hands and she somehow even managed to make our dreaded pre-wedding shoot fun!  On the day, Helen's style was unobtrusive but the end result is something we'll treasure forever."
Neil looked sharp in a bespoke suit by Tony Carmody at William Young Tailors, paired with a Tiffany tie pin, an Omega watch, Hugo Boss tie and socks and Bertie shoes.
"In stark contrast to my dress hunt, Neil had a stress-free experience working with Tony to create the perfect suit, even including personalised embroidery (our wedding date on the inside breast pocket). He really enjoyed the experience."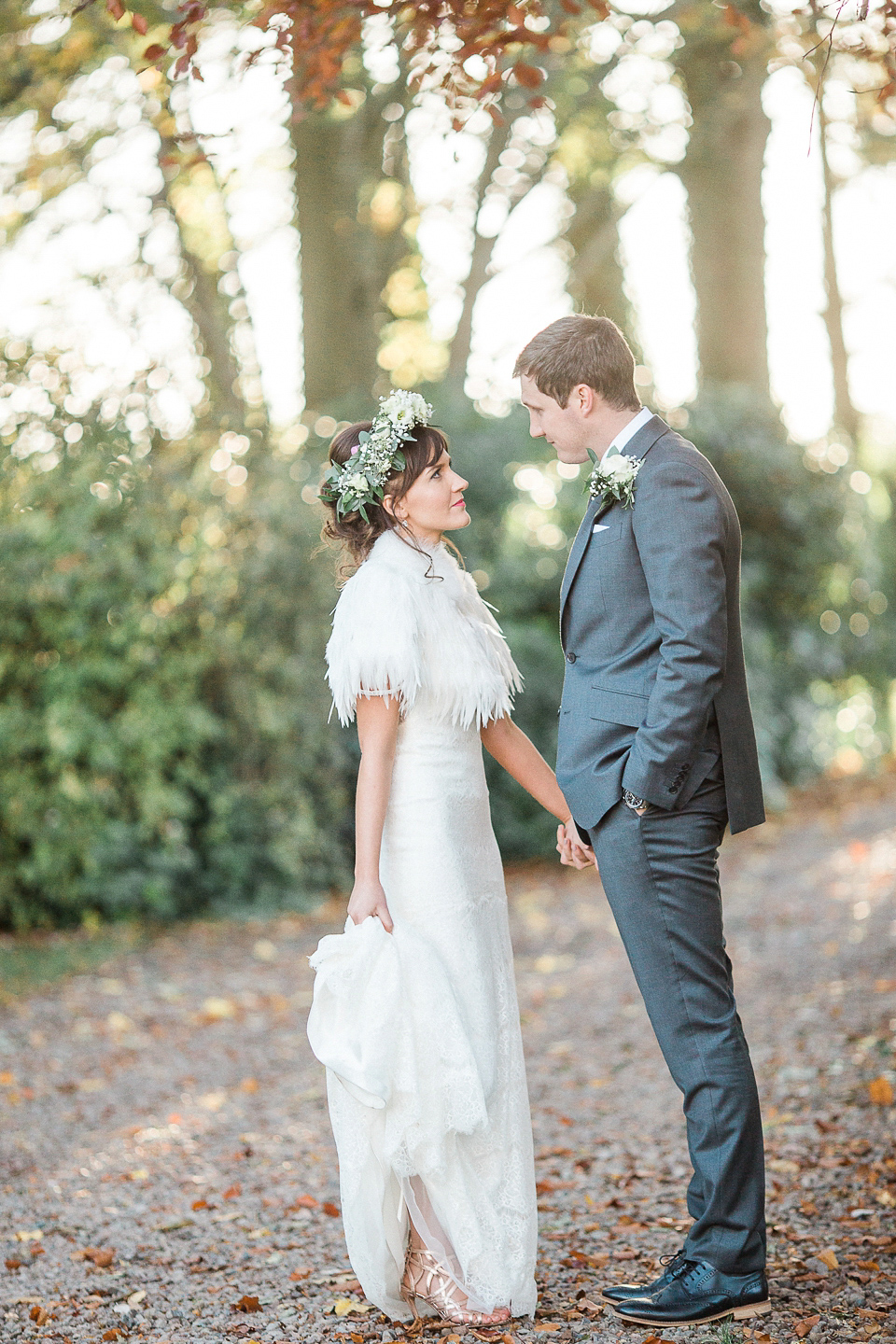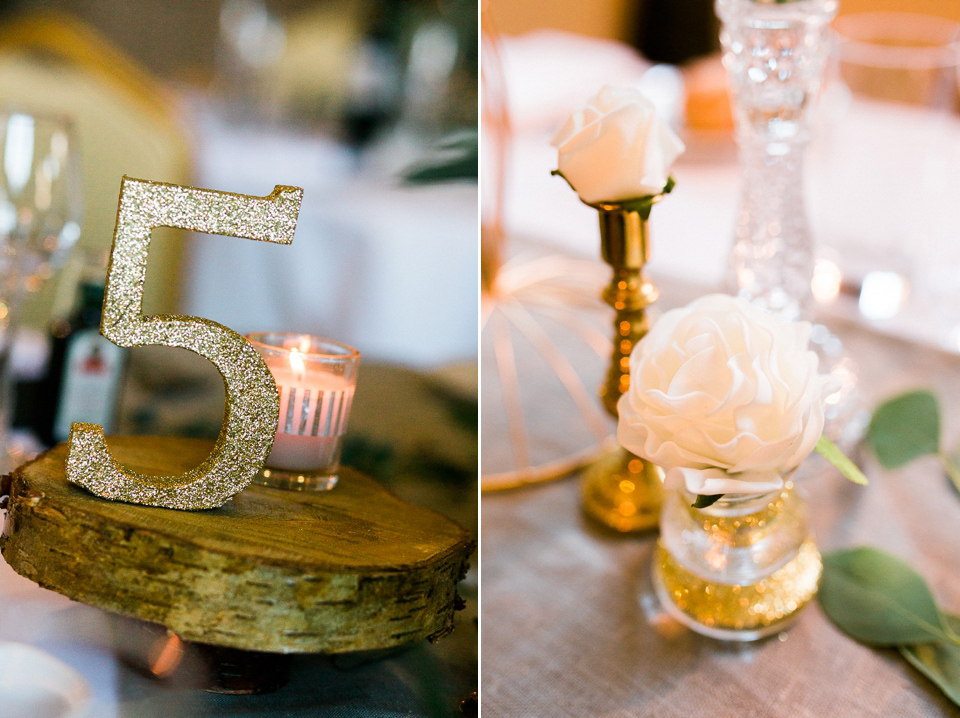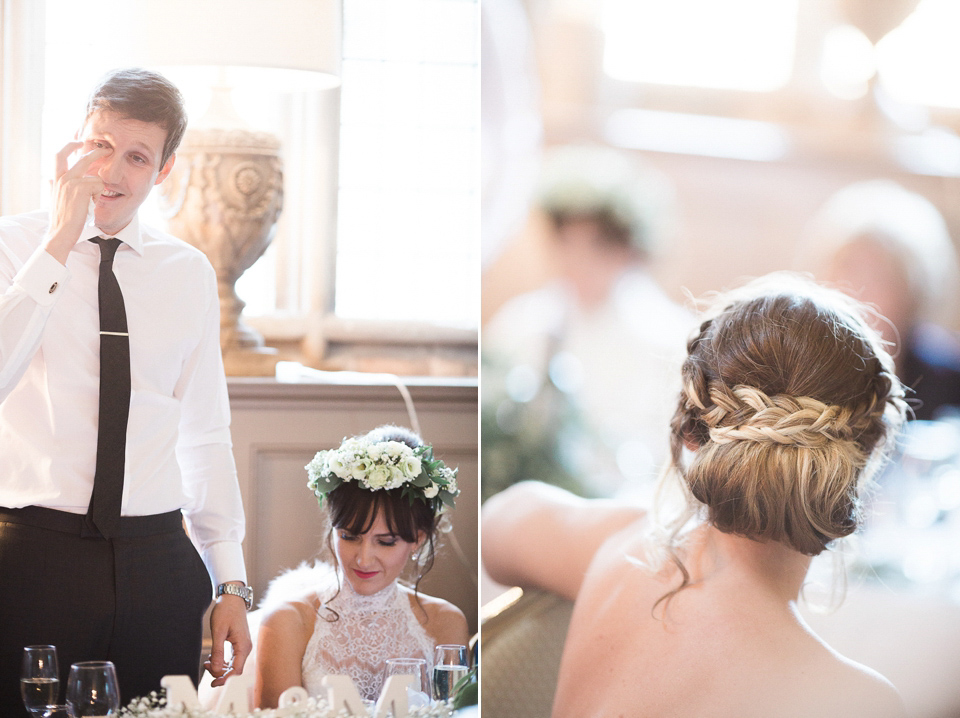 Words of Wedded Wisdom
"All of the classics are true in our experience: decide upfront on your priorities and use them as a filter for your decisions; be organised and start as early as possible with any DIY projects; and don't sweat the small stuff."
So many thanks to Jill and Neil for sharing their wedding day with us and of course to Helen Russell Photography for allowing us to feature her lovely work.  All of a sudden I'm dying to wrap up warm and walk in the woods kicking leaves, it must be those beautiful autumnal colours.  Are you an Autumn bride?  Have a look at these weddings for inspiration if so.
Much love,
Shona x