We're off to take a trip over to Abu Dhabi this afternoon, to meet beautiful bride Barbaranne and Thom, who married just days before Christmas last year. Barbaranne is a fashion designer with her own bridal wear business House of Moirai based in Dubai –  Thom is a Senior Delivery Manager for a retail fit out company. Their wedding took place at Saadiyat Beach Golf Club. Using her own bridal gown design skills, Barbaranna chose to design and create her own gown with the help of her Mum.
"Mum had her own dress making business when I was little so it meant a lot to have her be a part of the making of it. I knew in my head the kind of look I wanted for the dress, our handwriting is very soft and ethereal with an emphasis on the detail so it was always going to be a reflection of that. I fell in love with a very intricately beaded piece of lace when I was visiting one of my suppliers one day."
Photography by  Maria Sundin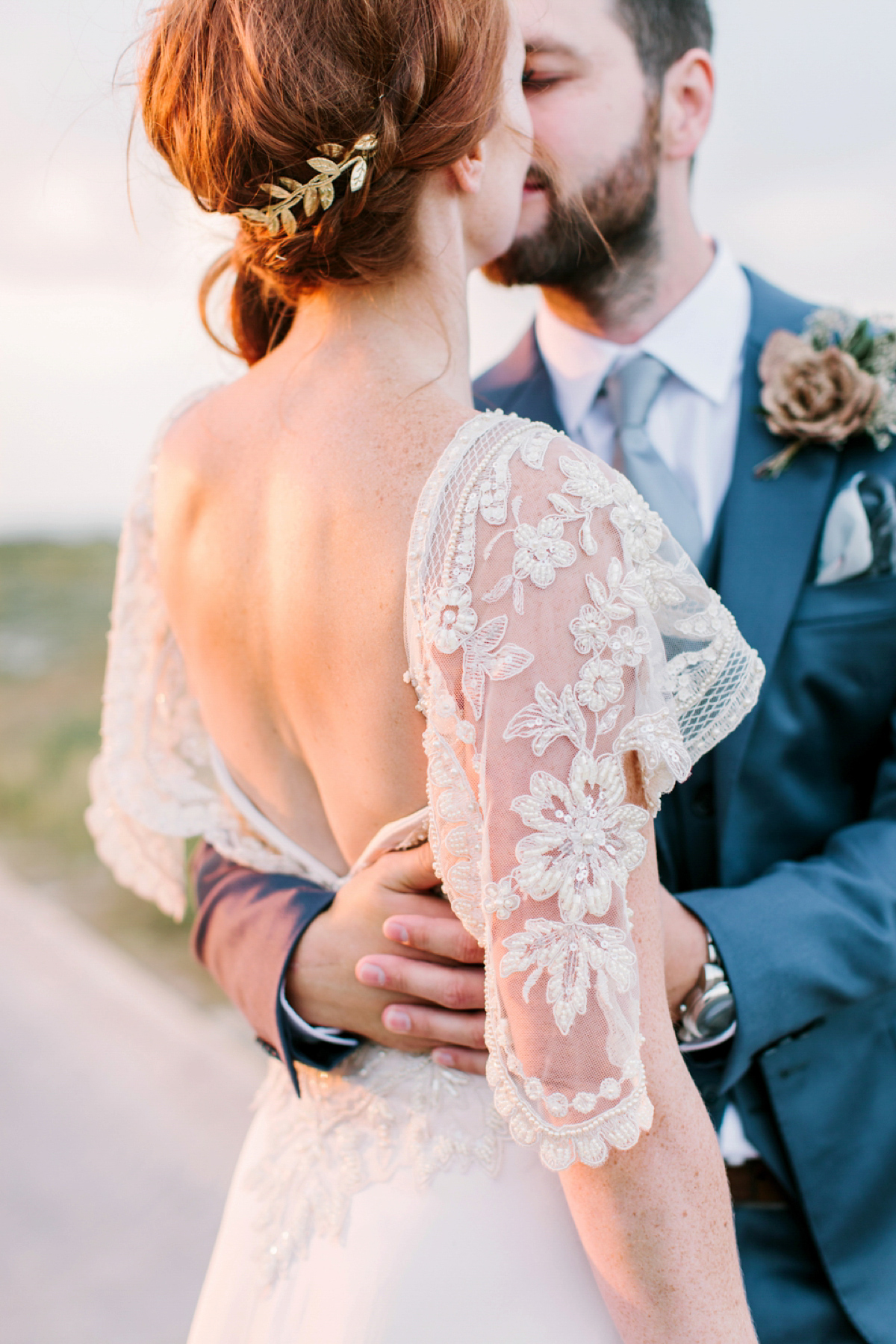 "It was the perfect vintage champagne colour (I definitely didn't want a white dress) and I fell in complete love with it. I just didn't know what I was going to do with it!I loved how the dress felt on the day.I kept the front quite simple but I wanted the fall of the skirt to be the main focus. I wanted to it to have movement when I walked so I used layers of silk and chiffon. The lace I loved ended up on the back of the dress as that's what my designs tend to focus on, I wanted to create a kind of cape style drape on my shoulder but we just let the lace fall how it wanted to."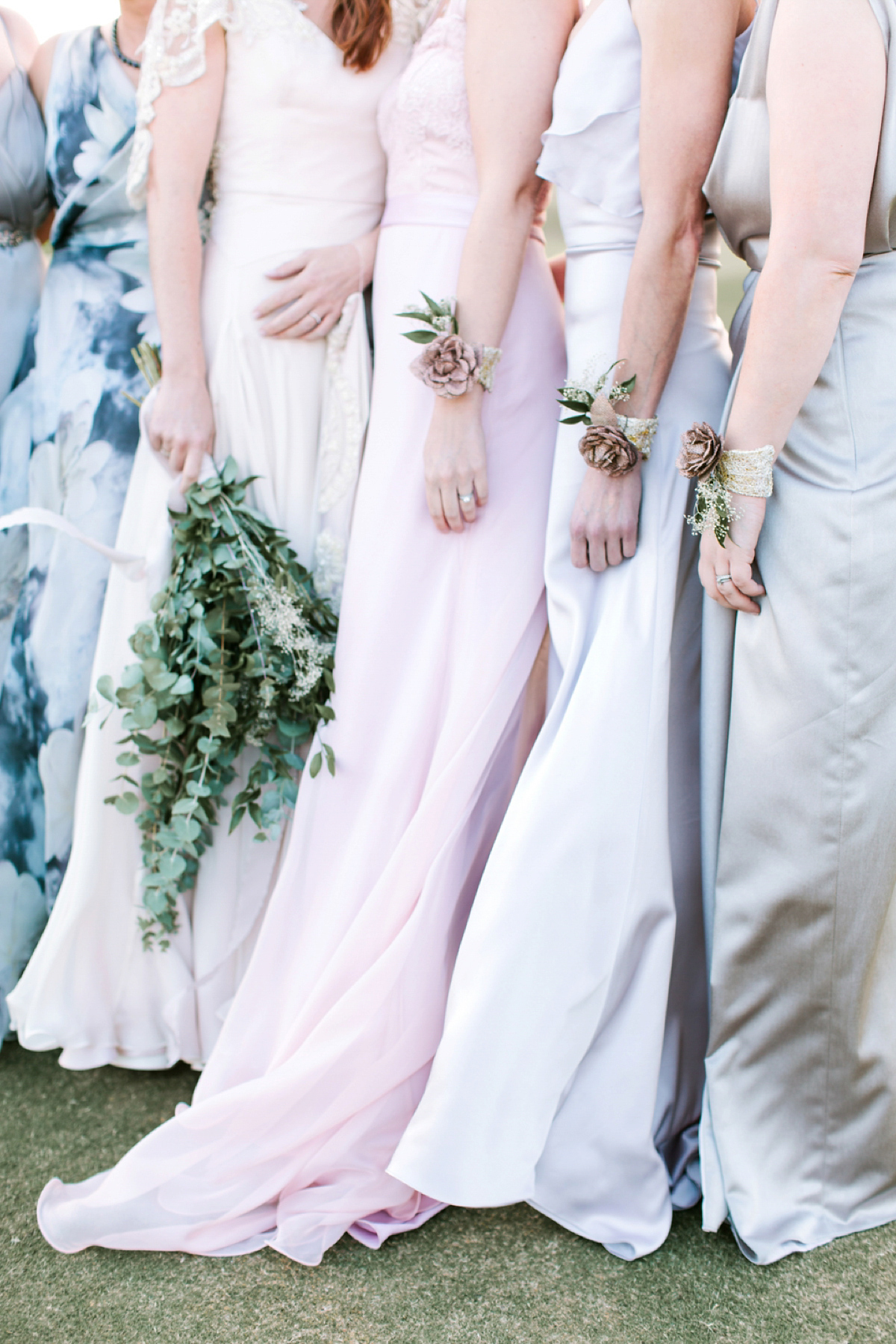 "I was aiming for a subtle mix of boho with a slightly vintage cut. If i'm 100% honest, I spent hours,  days and nights contemplating, working on and perfecting my dress,  but on the day of the wedding I don't even think I looked in the mirror before I left the hotel – it was all such a blur!"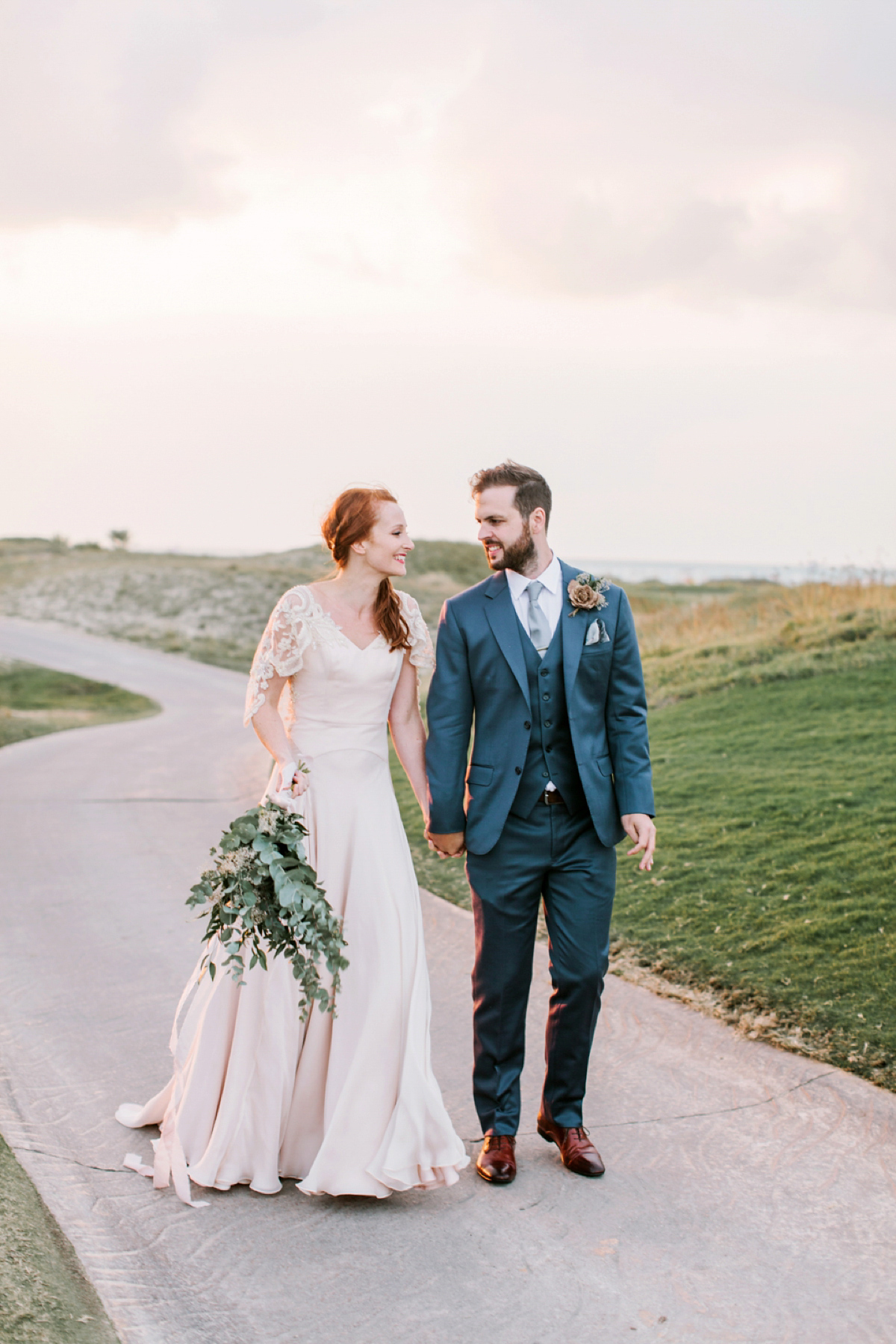 "Thom proposed in Thailand in October 2014 whilst we were on holiday with his family. We'd trekked up a mountain to get to a cave, I'd not even bothered showering that day let alone put make up on. My 'rock radar' was totally off whack too, I think after 7 years it had all but shut down. We ended up on the beach after and started walking. We're both quite keen supporters of our local football teams. Thom is Sheffield Wednesday and I'm, for my sins, Blackpool. He'd changed in to his Wednesday shirt, I didn't think too much of it, until he pulled out a plastic bag and said 'I have a present for you.' Weird. I opened up the bag and it was a Blackpool shirt. When I turned it over it said on the back 'Barbaranne, will you marry me?'.
Apparently I opened it up too fast because when I pulled down the shirt to look at him he was ferreting around in his back pack looking for his camera. I couldn't stop laughing, he hadn't even made it down on one knee! It was perfect."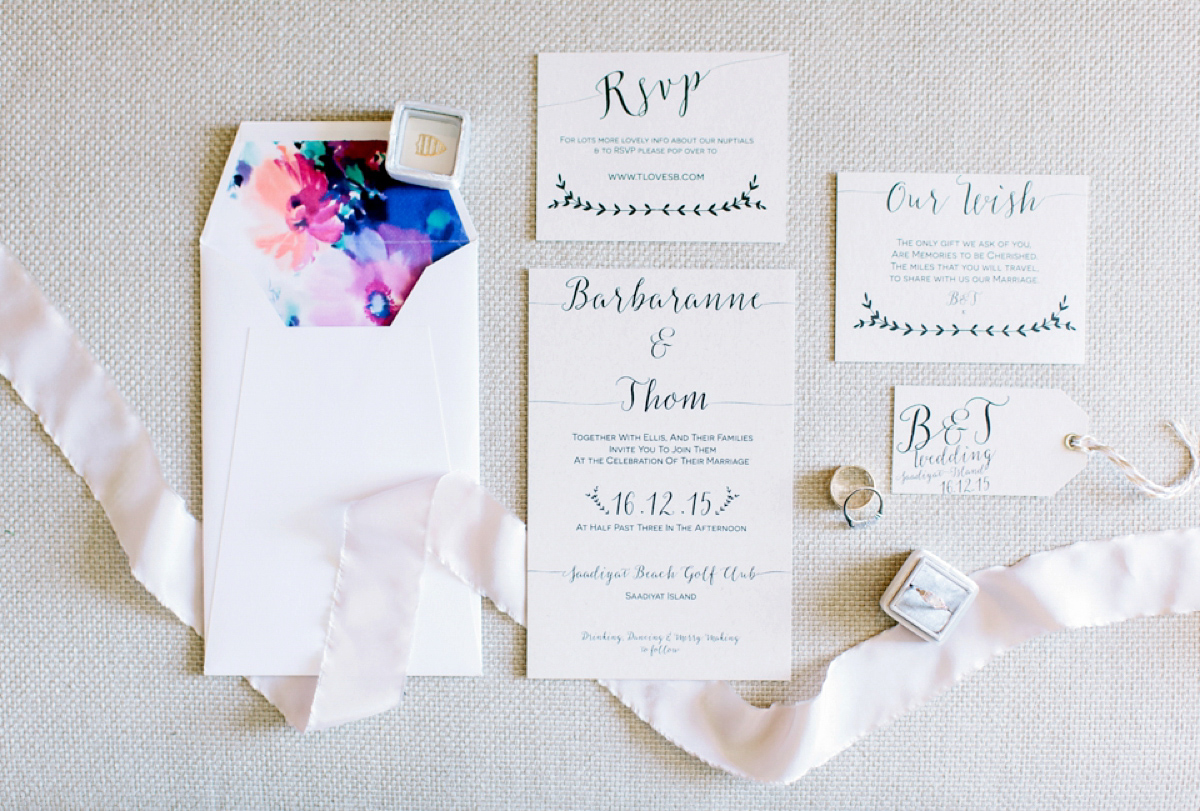 "We wanted the day to be a celebration of us, the family we had become and the journey we had taken to get there. We've lived in 3 different countries together and have met some amazing people along the way, but we've both remained very proud and attached to our northern roots. I'm from Blackpool and Thom's from 'over the border' in Sheffield. Rather than go down a particular theme route we decided we wanted to keep it all very relaxed but inject our personalities and our journey into the day through subtle little nods.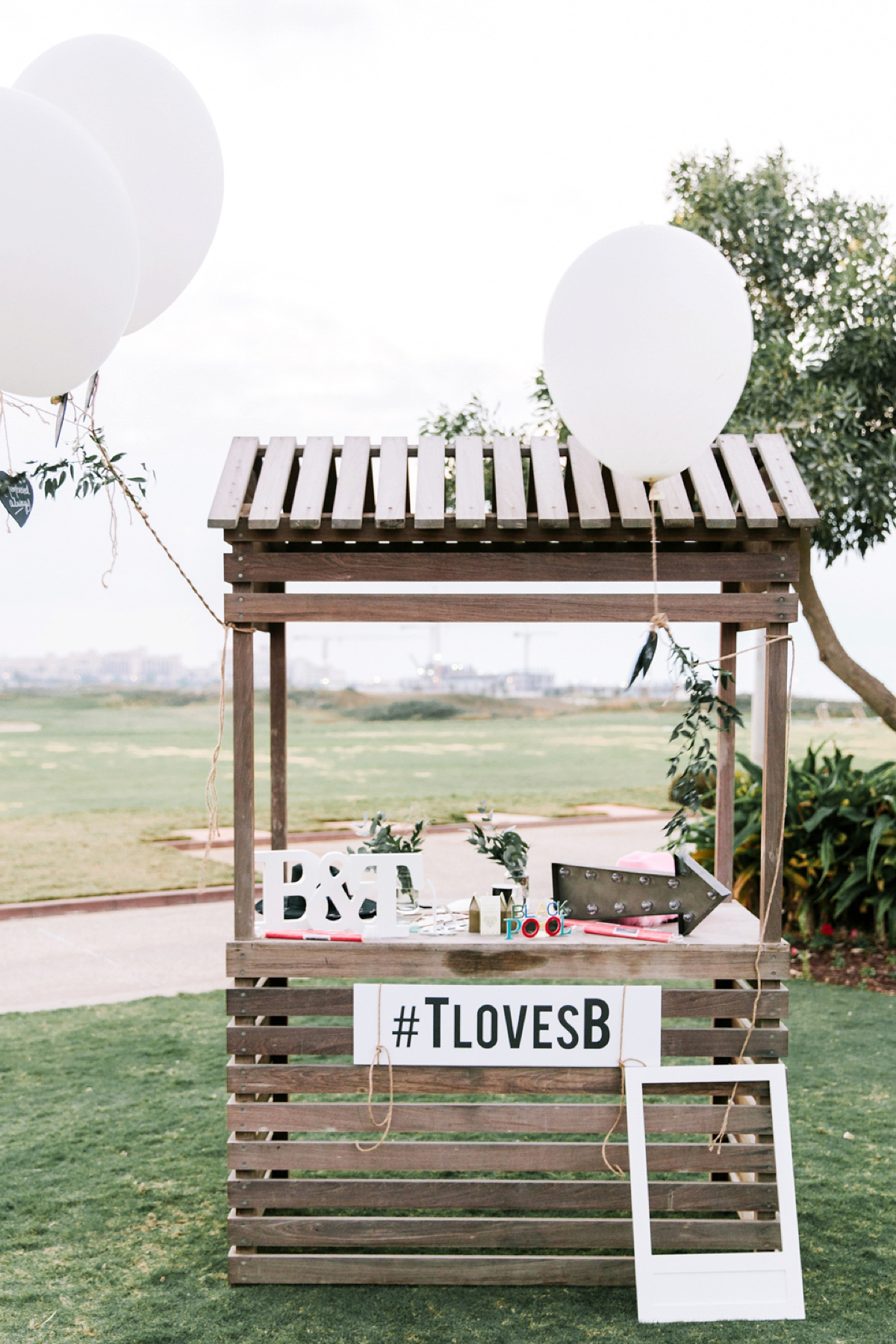 "We had elements from my hometown of Blackpool and elements from Thom's Yorkshire roots. The menu included mini fish chips, Lancashire hot pot, as well as traditional Arabic meze starters.
Colour wise we kept things quite neutral and earthy but with metallic highlights. I love Rose gold so injected that with a bit of gold sparkle as a nod to Christmas."
"We originally visited the golf club to look around due to a good friend of ours working there. Martin is head teaching pro at the club and suggested we head over one day to have a look around, after a fruitless search in Dubai for a place that fitted in with the relaxed atmosphere we wanted and our limited budget. We were sold from the minute we pulled into the car park. We were greeted by a group of wild gazelles that live on the golf course!"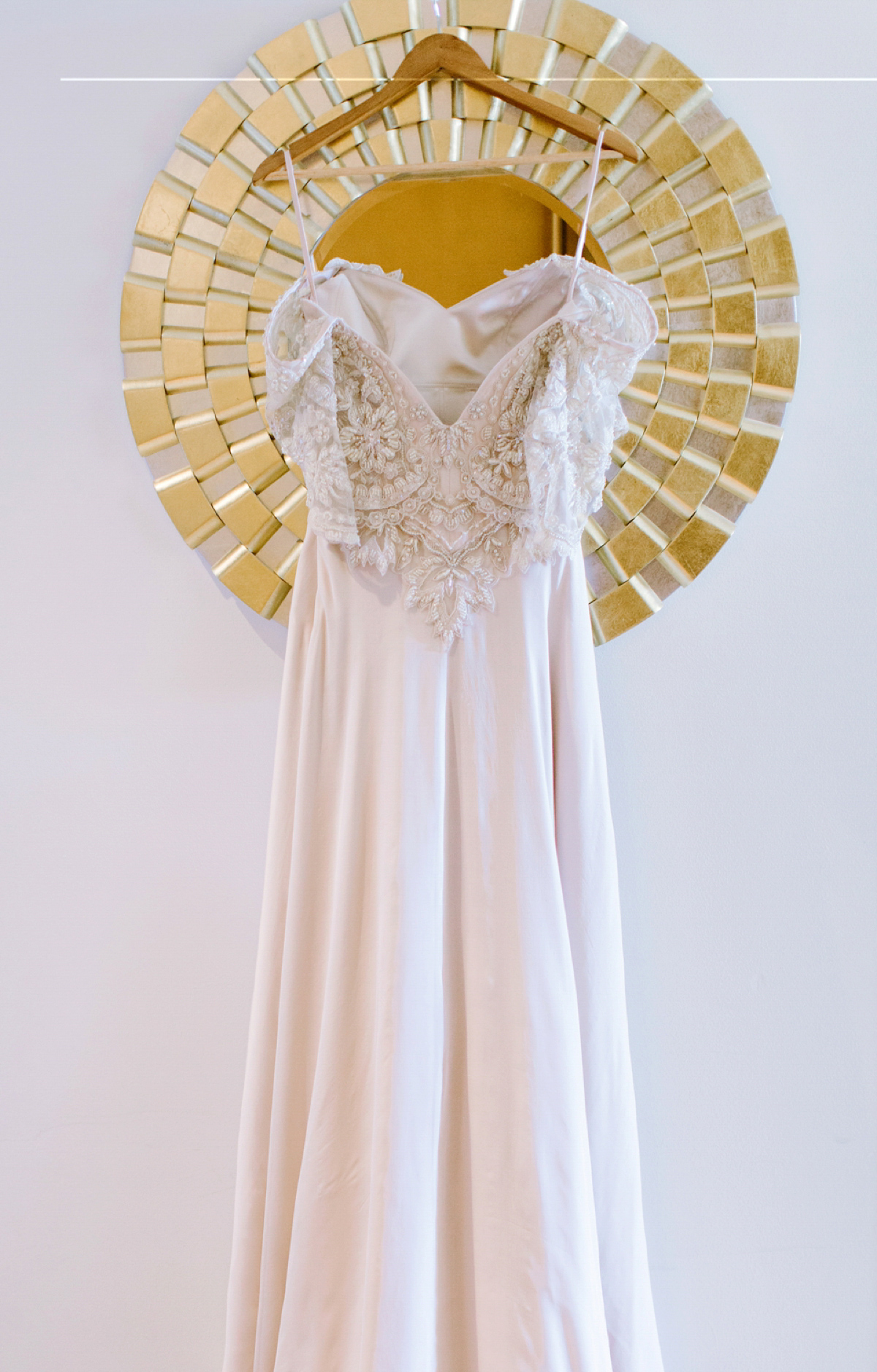 "We met on the 16th December 2007 on a night out in Leeds. I was living in China at the time and had just flown back for Christmas the day before. Thom had been there for a few years, and the company I worked for also had their offices there. We were in a bar, and I was just coming back up the stairs from the toilet when my heel got stuck. Thom was coming down the stairs and basically rescued me! (I may have been just the slightest bit drunk!) I had to go back to China after Christmas but we managed to squeeze in a few dates over the festive period."
"As it turned out I'd finished my contract in China and was due to move back to the Leeds office in the April of that year and we found ourselves to be officially dating! As fate would have it, 2 months after I moved home Thom received a phone call from a company in Bahrain offering him a job. I had experienced the whole long distance thing in China and it had ended badly but Thom had got to me from the minute I met him, I couldn't shake him and wasn't going to give up on him. I told him to go for it, and that I'd wait for him. It was a make or break situation for us as a couple and it turns out to be the best thing that could've happened.
Six months later on Boxing day 2008, I'd quit my job, packed up my belongings and found myself on a plane to Bahrain. This'll be our 8th year in the Middle East and we've never looked back. 3 countries, 7 homes, 2 cats, amazing friends and a little boy later."
The bridesmaid dresses were again designed and created by the bride and her team.
"They were designed with each girl in mind and we wanted them all to have their own look."
"I bought the Estella dresses from Monsoon for our two nieces; one in gold and one in blush pink. They're such pretty little dresses. My step mum made them wands instead of bouquets and they wore flower crowns. Ellis and our nephew Nate wore matching outfits, we made them tailored shorts in the same linen fabric as the groomsmen's waistcoats and paired them with a white shirt from Zara, braces and a pair of Converse. To finish off the outfit we made sparkly, rose gold bow ties."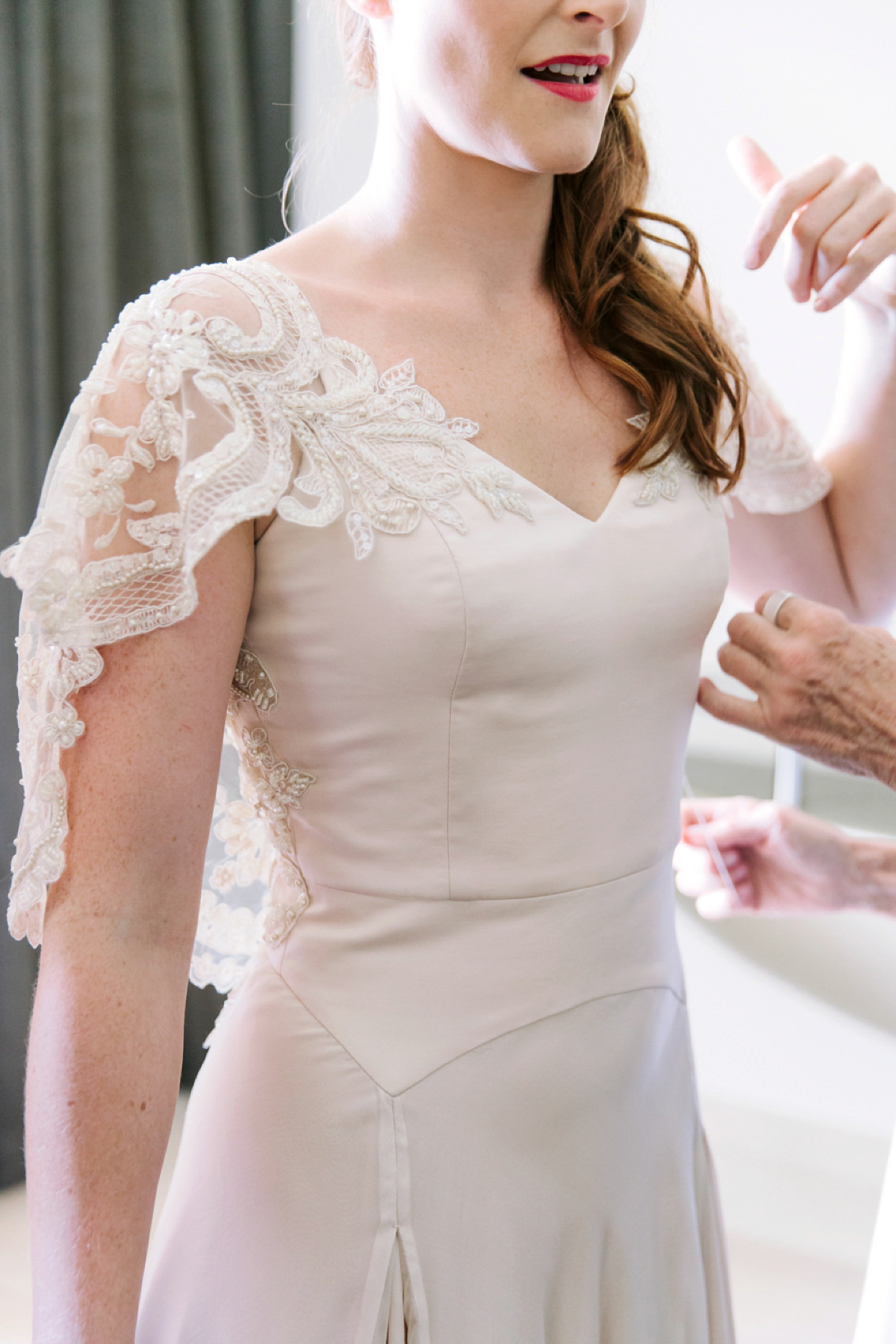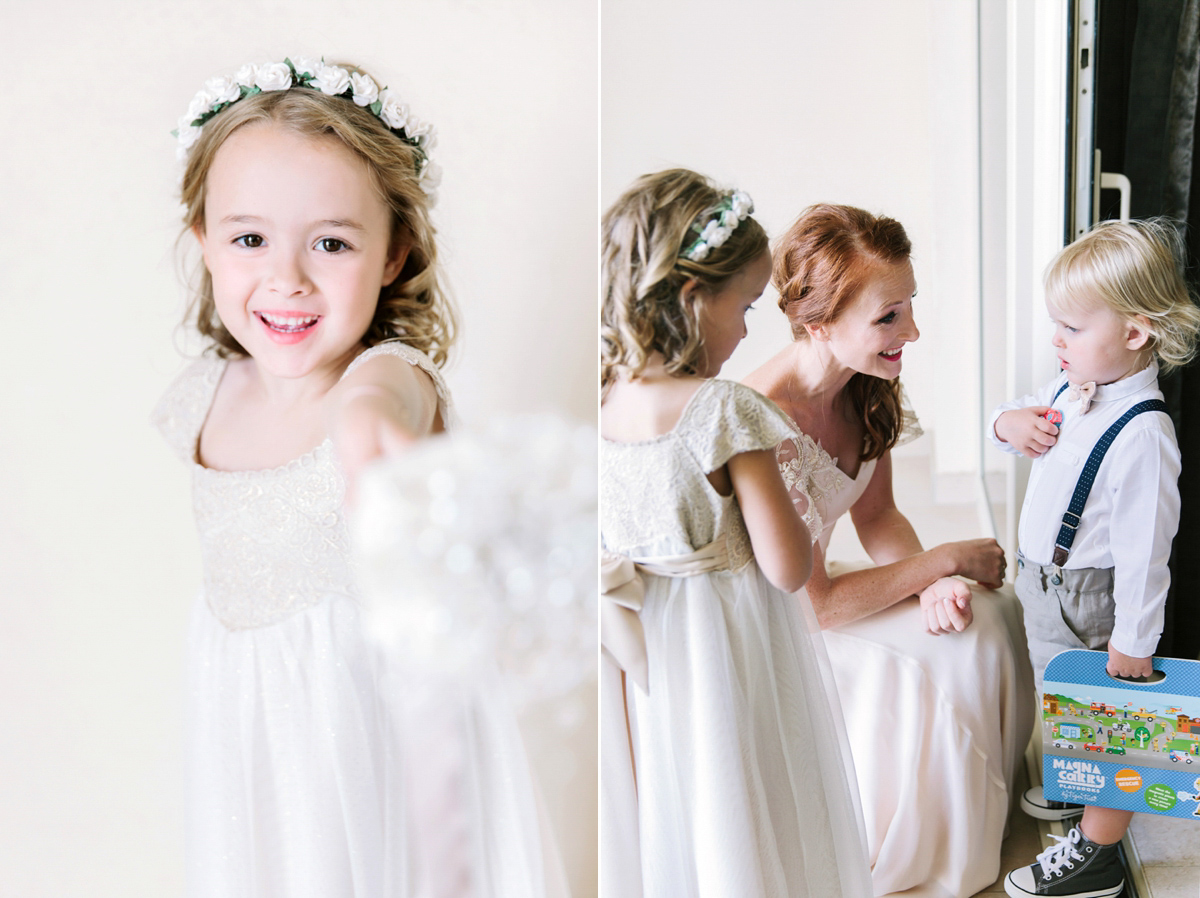 A girl after my own heart, all Barbaranna wanted was foliage, cue a beautiful eucalyptus bouquet, simple and stunning.
"I decided against having flowers at the wedding. (GASP!) I love the look of lush greens, so my bouquet was made up of Eucalyptus, a few other greens and finished off with a touch of sparkle in the form of a gold glitter dried baby breath. (It looked nicer than it sounds I promise!) I'd given Joelle free reign on my bouquet and I loved it. I ordered hand dyed silk ribbon from FrouFrou Chic to finish it off."
"The buttonholes and Bridesmaids wrist corsages were made from burlap corsage flowers from Hobbycraft and I sprayed them rose gold. Joelle and the florist added some greens and the gold baby breath to pretty them up."
To complete the look Barbaranne had a gold leaf head piece made by Anaqa in Dubai and the shoes were her something borrowed from a friend, a gold sparkly Zara pair.
"On the day I kept things simple and I just wore an old ring of my Nanna's that my Grandad had left for me when he died. He'd asked that I wear it on my wedding day so it was very special."
"We both gave each other a gift to open on the morning of the wedding. Thom sent his over to me via his groomsmen. I laughed when I received the exact looking package I'd earlier sent to his room. Same wrapping, same shop, different scent! He bought me Cara Mia by Aigner, and I bought him L'Homme by YSL."
"Thom's bespoke suit was made by Whistle and Flute, a wonderful Dubai based tailors. The fabric we ordered from Huddersfield Cloth in the UK, they make beautiful wool suiting. Thom's tie and pocket square we made, and they matched the rest of the Bridal party. We wanted a relaxed but smart feel for the groomsmen, we tailor made the waistcoats from a beautiful taupe grey linen and matched them to a pair of dark charcoal trousers from Next."
"We went down the traditional vow route, however our celebrant did tailor the ceremony to be about our story as a couple and it was really lovely to be able to include our journey and the people in our lives. We both had to separately fill in a questionnaire for her and we didn't know what either had answered until the ceremony. Thom described the first time he knew he loved me and there were a lot of tears."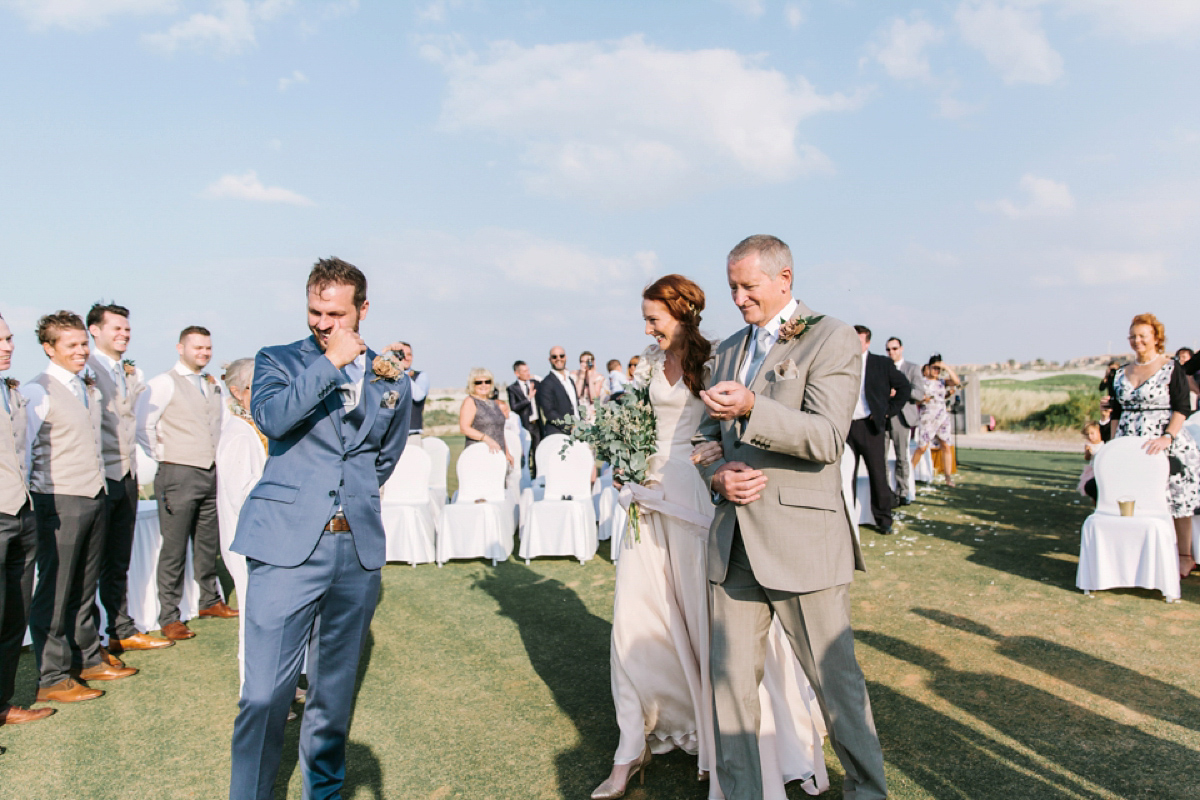 Oh my, this is just too romantic, any of you brides to be must see if you can do this also!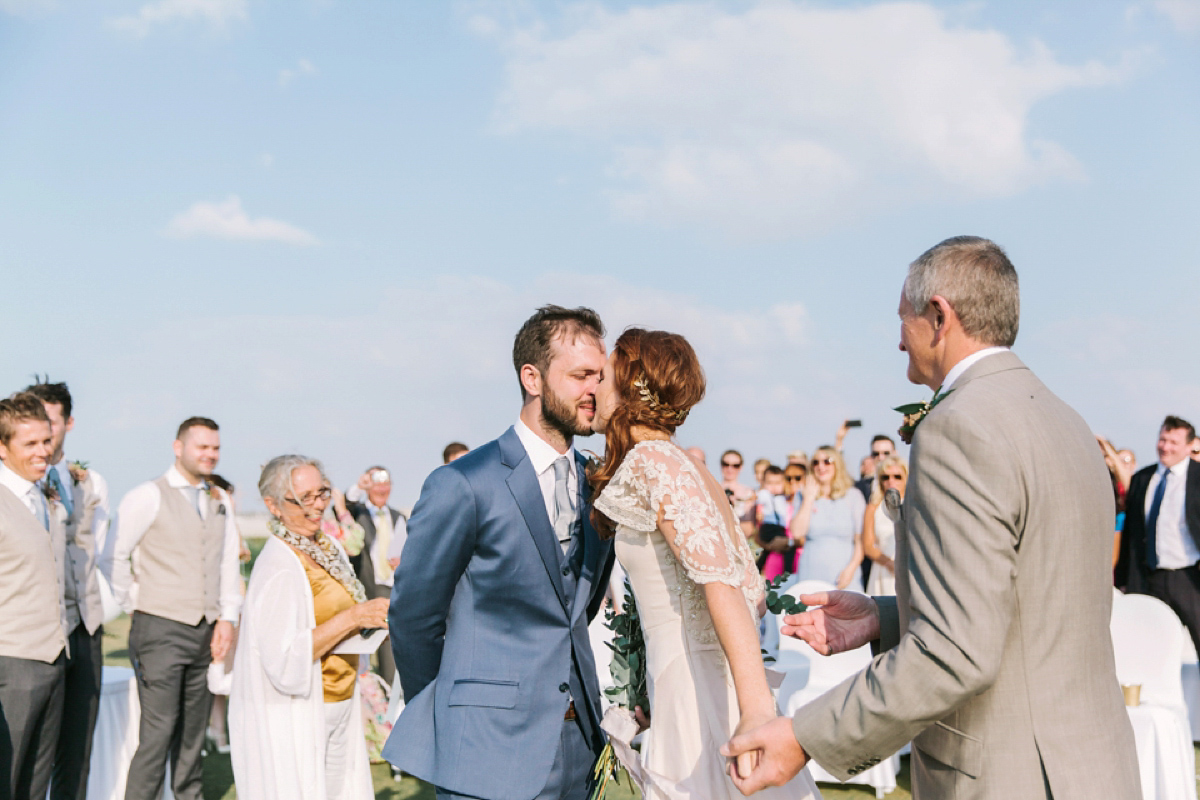 "Thom chose the song 'I wanna be yours' by John Cooper Clarke. He's not the most romantic of men so I was pleasantly surprised when he showed it me. He originally wanted to use it for his vows!"
'I wanna be your vacuum cleaner
breathing in your dust
I wanna be your Ford Cortina
I will never rust
If you like your coffee hot
let me be your coffee pot
You call the shots
I wanna be yours
I wanna be your raincoat
for those frequent rainy days
I wanna be your dreamboat
when you want to sail away
Let me be your teddy bear
take me with you anywhere
I don't care
I wanna be yours
I wanna be your electric meter
I will not run out
I wanna be the electric heater
you'll get cold without
I wanna be your setting lotion
hold your hair in deep devotion
Deep as the deep Atlantic ocean
that's how deep is my devotion'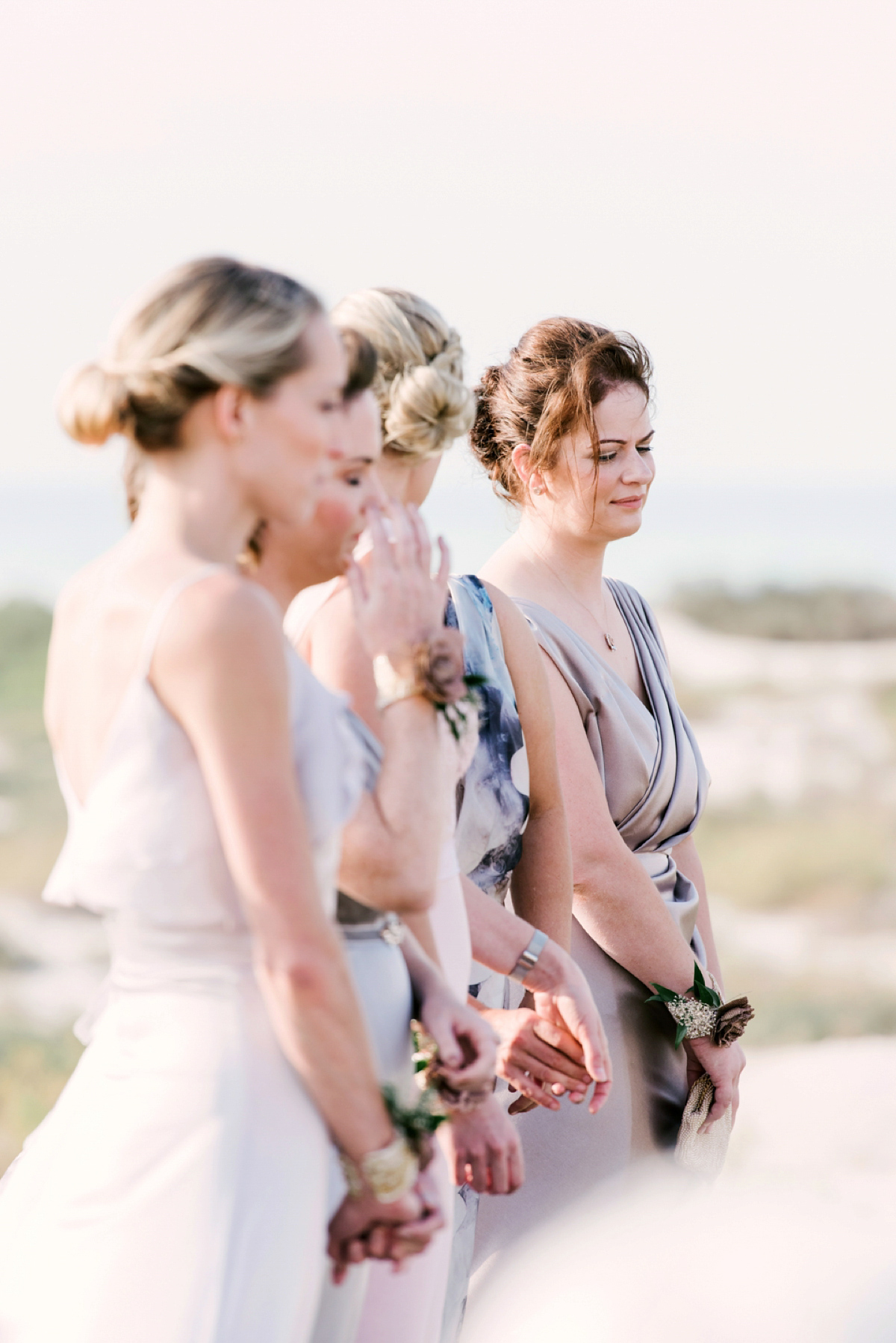 "Thom inherited in his Granddad's wedding ring, and decided he wanted to use it for his own. He just had to have it resized but I love how it looks on him. It's become a family heirloom, which will eventually be passed on to our little boy Ellis."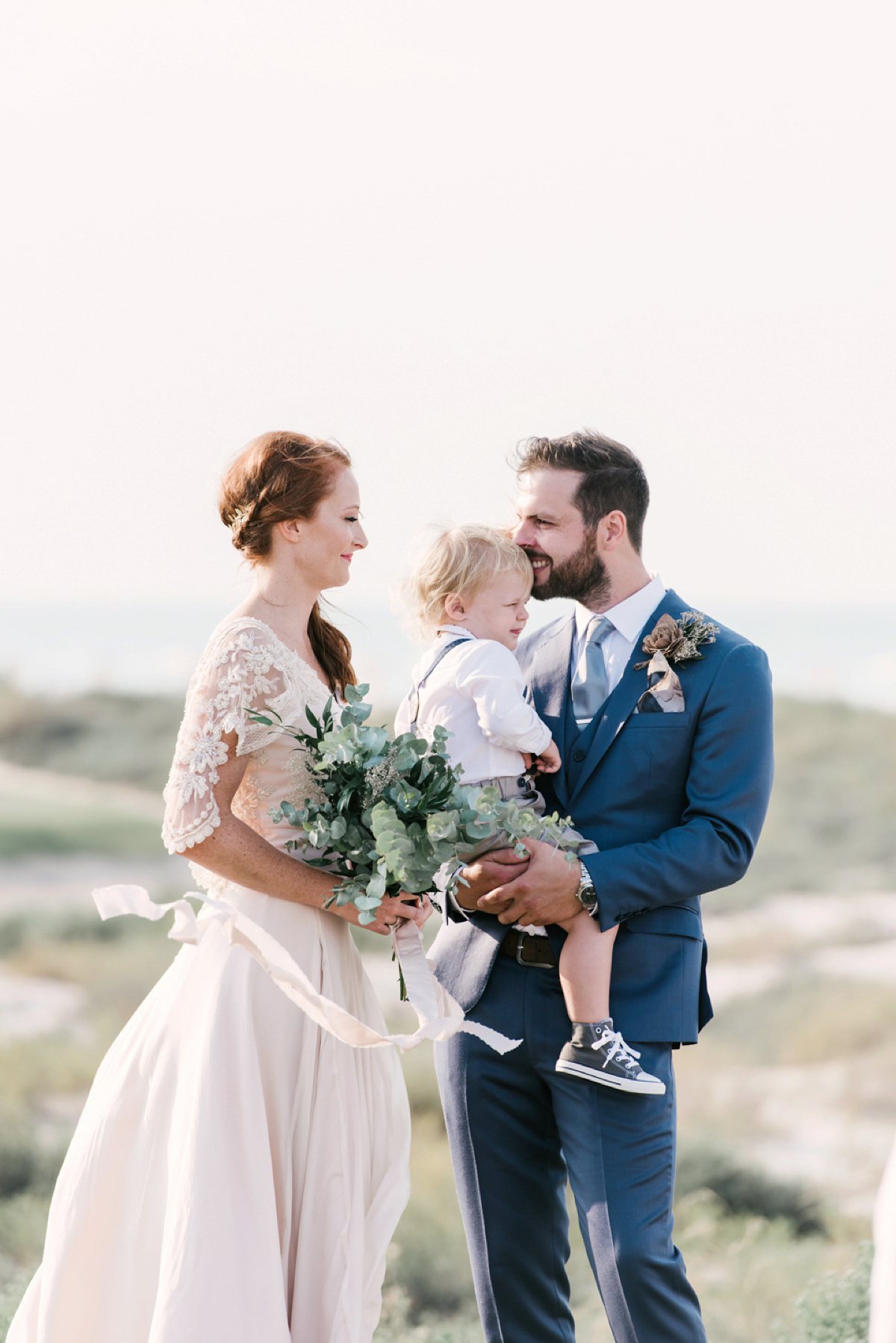 "My engagement and wedding ring were designed by my friend Jane Hewitt. She's a New Zealand based jewellery designer. Thom had her design my engagement ring, so it was important that she also designed my wedding ring. I was left my Grandmas wedding ring when she died and it contained 5 small diamonds, so we used them in my ring. It's got a real art deco feel to the ring but with a modern finish."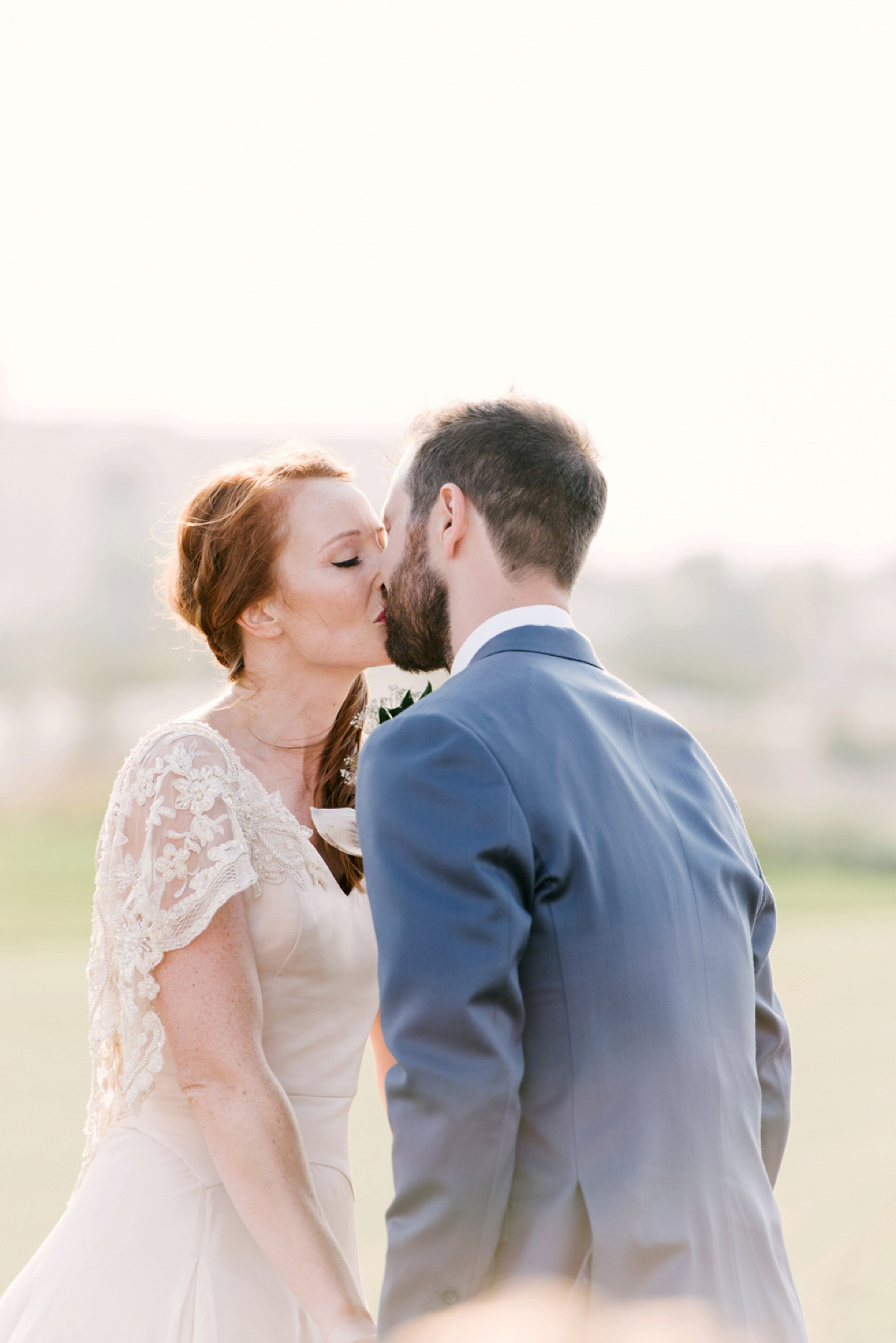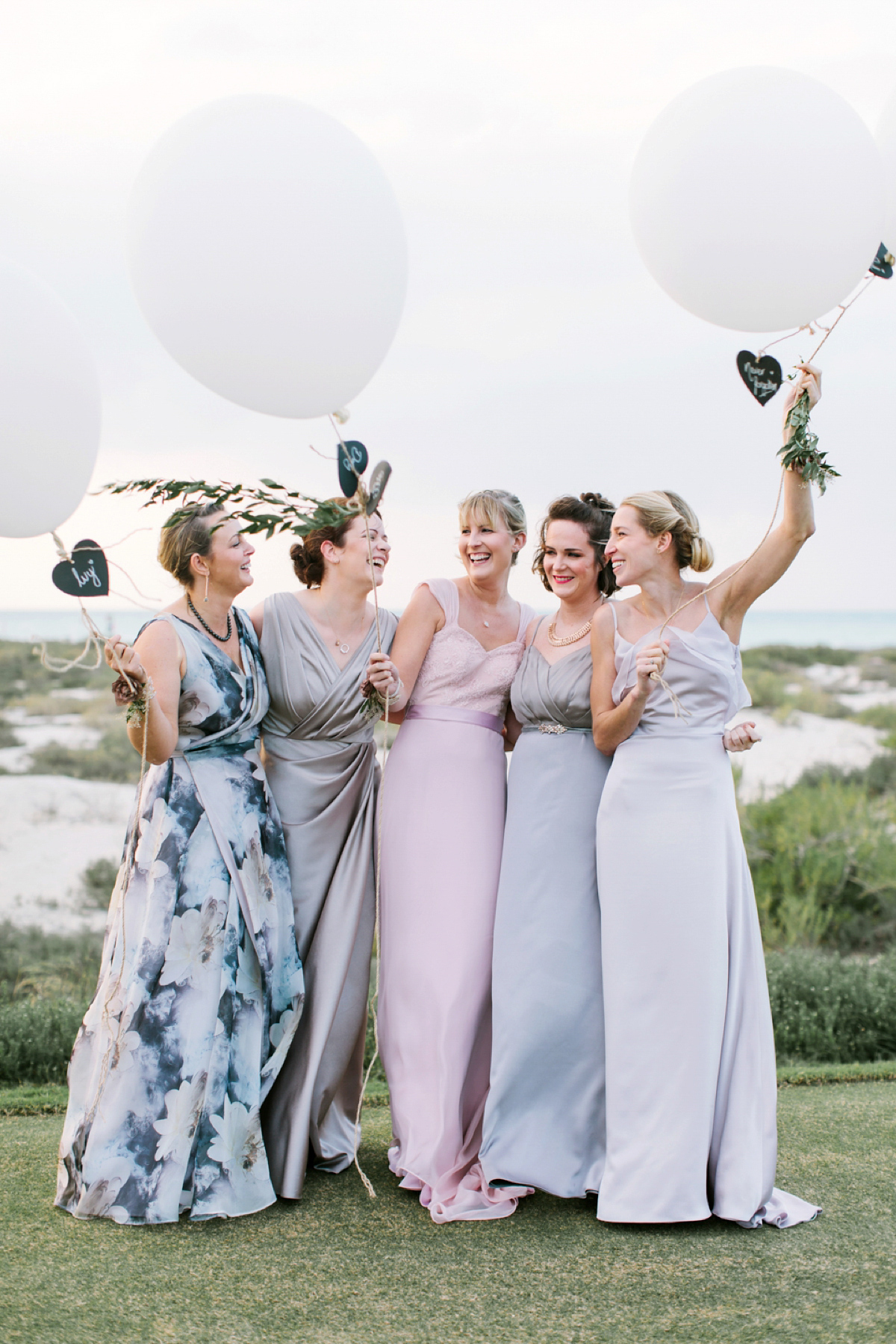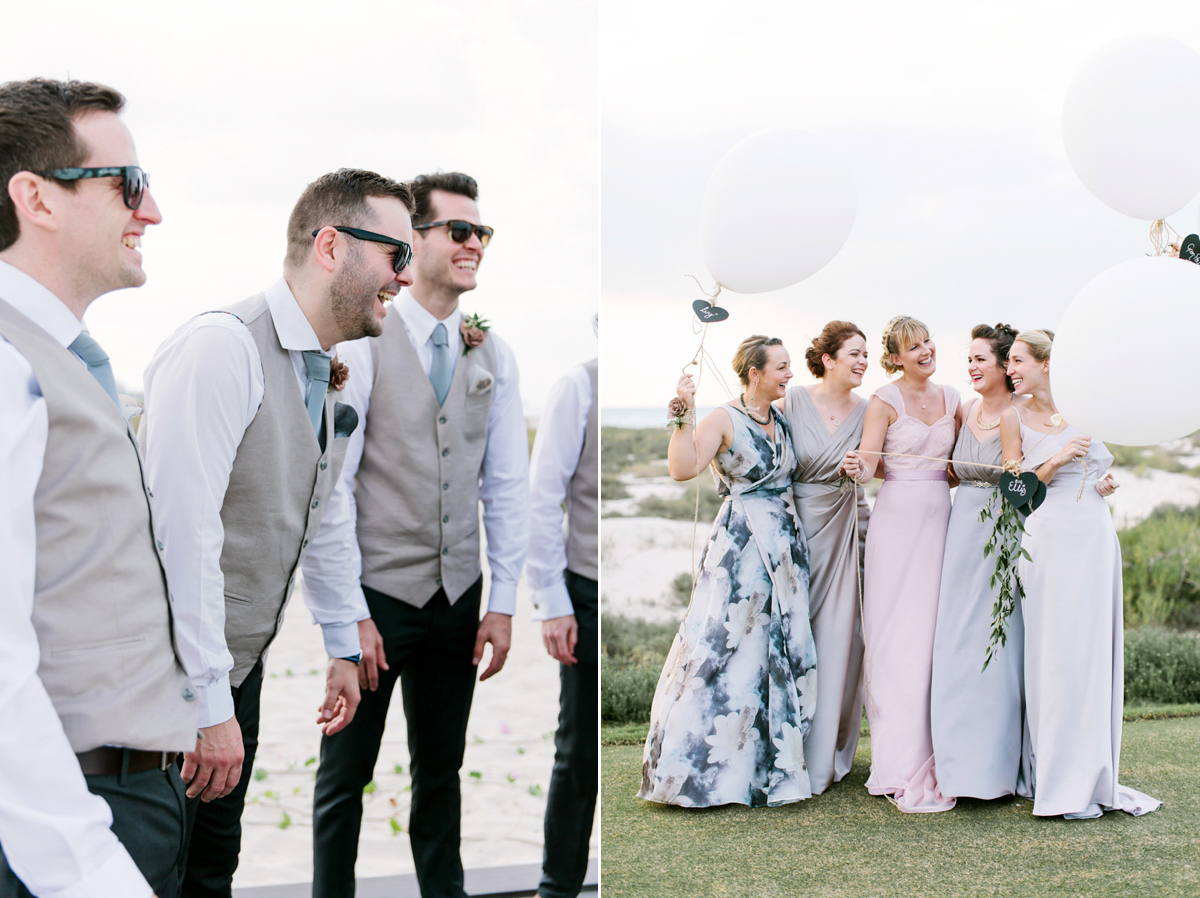 The couple had their photographer friend Maria Sundin capture their day and I am so obsessed with these images and that soft pink light.
"I first met Maria when I started my business nearly 3 years ago. We'd both just set up and seemed to click creatively. We've collaborated on a lot of shoots together and there was no one else I wanted to capture our day. We've become good friends over the last couple of years and she's my go to person when I'm feeling creatively stumped. She has the most incredible eye for detail and her photography just takes my breath away. The girl's a genius! She didn't put her camera down for over 12 hours on our wedding day, and she was supposed to be a wedding guest!"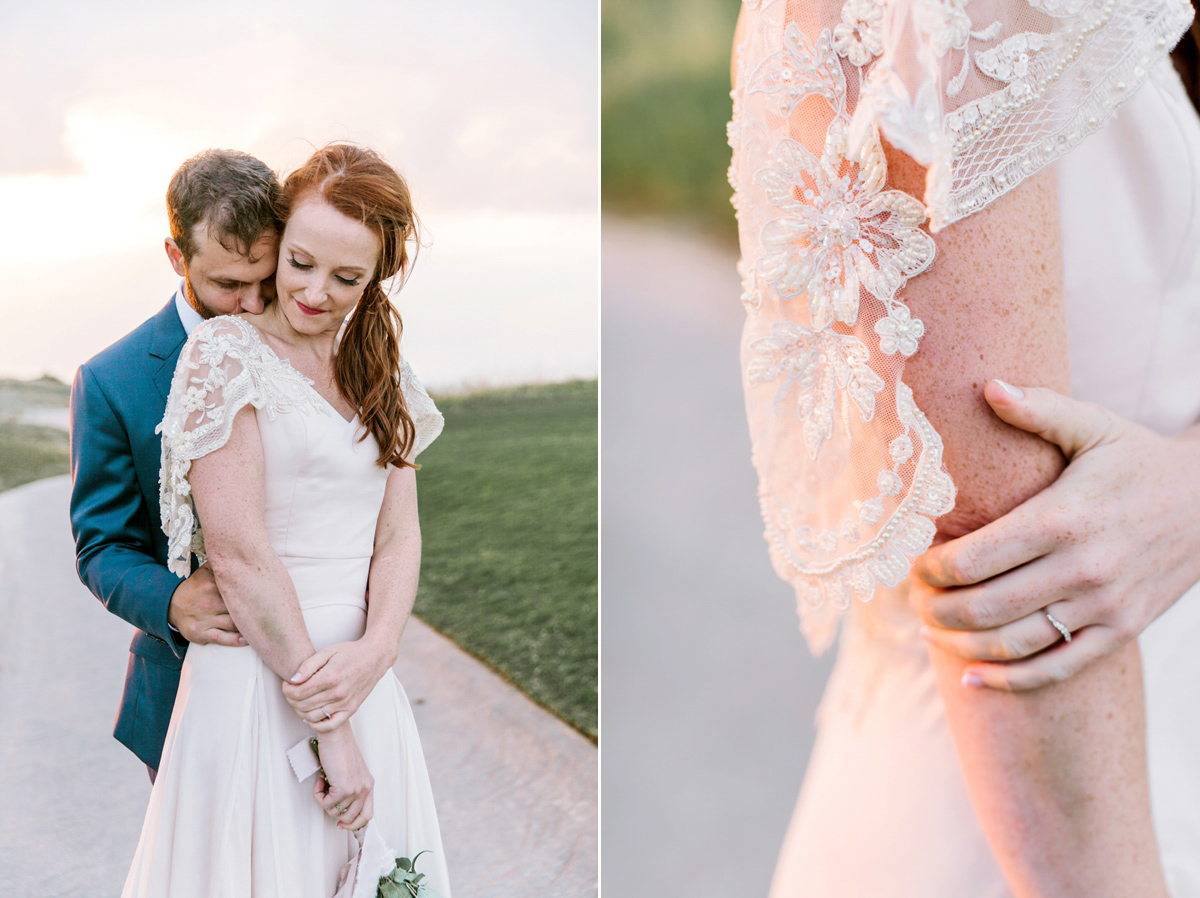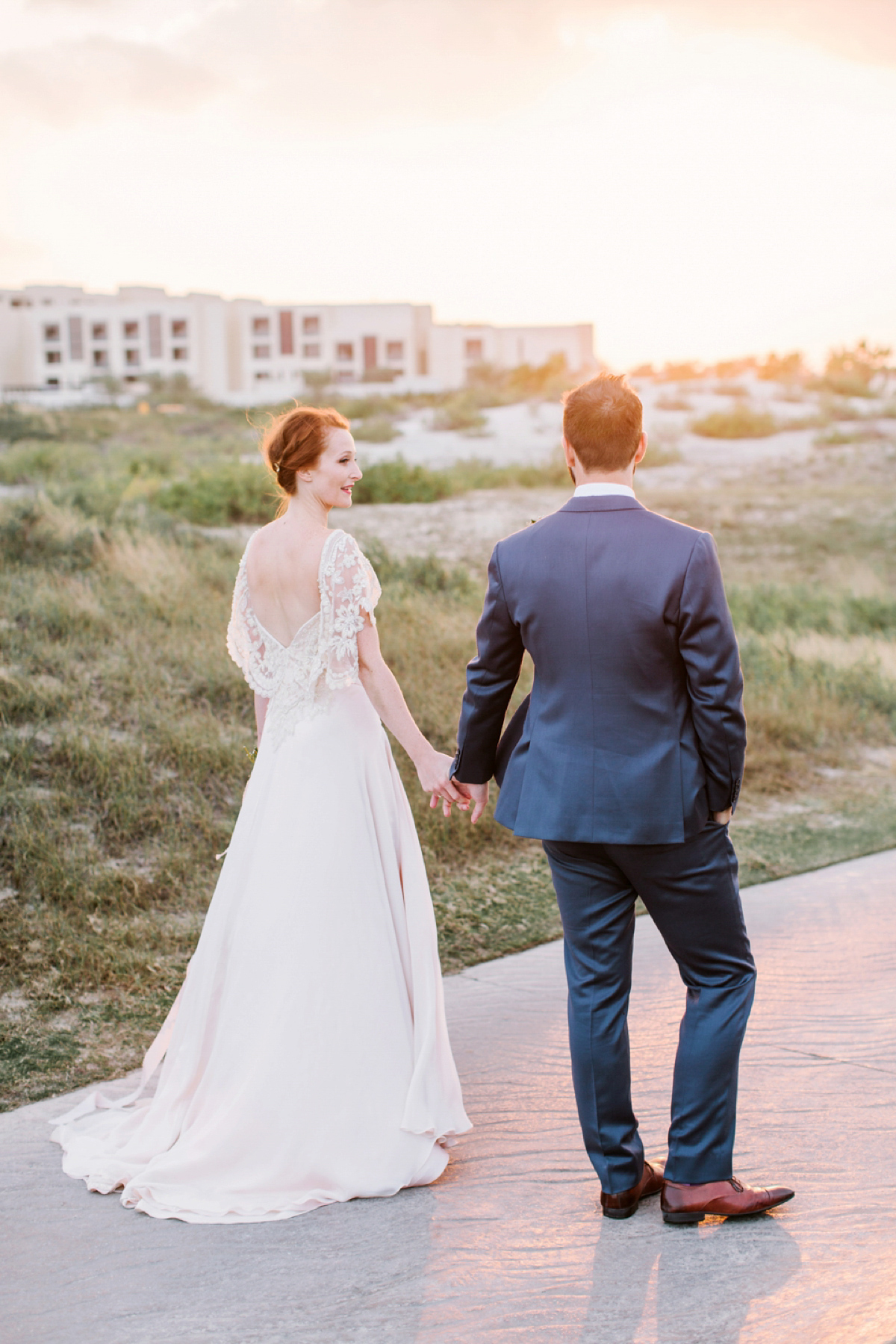 "It was so green, which is quite unusual when you live in the desert. The ceremony was held on the 17th tee and it was such a beautiful view out on to the blue sea. They don't do many weddings but that was exactly what we were looking for. The venue was hands down one of the best aspects of our wedding. The F&B director, John, was fantastic throughout, and on the day stayed to make sure every element went off without a hitch. When we arrived to the reception area after having our photos taken he came up to me, handed me a champagne glass, filled it with Veuve, and wished me a happy wedding day. It's the little things."
"The venue staff were fantastic at organising the actual logistics of the day but I roped in my friend Joelle Clute, to make it all look pretty and do the set up on the day. She has a styling company called Lovely Styling, and has a great eye for detail. Joelle is very experienced at styling weddings out here and works very closely with the florist we used, Firenze Flora. They did a great job. Joelle originally hails from the UK herself so got the whole vibe we were going for. I was really lucky, working in the industry, that I was able to bring on board vendors I knew and trusted."
"People made such an effort to come over to Dubai for the wedding. Out of the 77 guests, 50 of them had traveled from overseas, (UK, Australia, Bahrain, New Zealand) and the majority of those guests were visiting Dubai for the first time. It's hard to describe how it felt having all the people we love and miss all together for that week. It was surreal."
"Our cake has to be one of the best things about our wedding! Originally we weren't even going to have one but our very lovely friends Matt and Amanda Perry decided to take on the task and it was better than we could ever imagined! After a few too many drinks the 'cheese-cheesecake' idea was born! It was a stacked cheesecake / cheese cake. Layers of different flavoured baked cheesecake and different types of wheels of cheese. The taste testing was the most fun part of it all, and it tasted amazing. They even made the wooden slice it was presented on and gifted it us for Christmas with our names and wedding date engraved on it."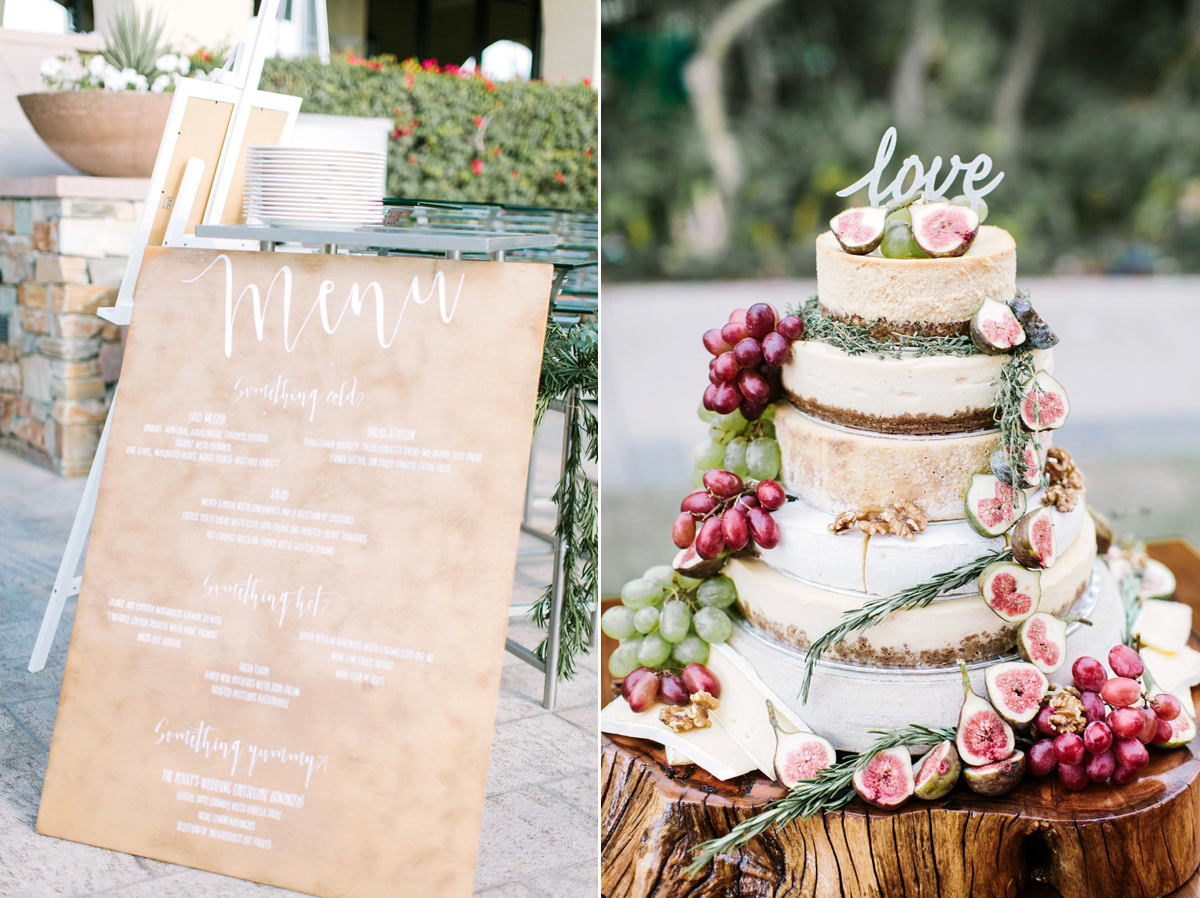 "Our wedding favours were miniature bottles of Henderson's Relish that had been customised to have our names and wedding details on them. Thom is from Sheffield and Henderson's practically runs through their blood, so you can imagine his excitement when he found out they did personalised editions for weddings! We also had Mr and Mrs pieces of rock from Blackpool, of course!"
"My dad made the centre pieces for the tables which each depicted a place we'd lived and grown up. We had Blackpool tower, Burj Al Arab, the Sheffield cooling towers, a bucket and spade, Bahrain Pearl monument, sticks of rock, white rose/red rose cricket bats….we also used them as the table names. Each table was a cocktail name that was inspired by the centre piece. In the centre we had all the ingredients and recipes so guests had to recreate the cocktail, as a bit of an icebreaker really."
Words of Wedded Wisdom
"Looking back, there's a lot of things we would've done differently, logistics wise, but you can only say that after you've been through it, and I didn't care the day after. I was on cloud nine!
Just enjoy it. Enjoy every single millisecond of it all from the planning to the day, and try and take all of it in. Don't worry about stuff not getting done. Believe me, two days before the wedding if the hand tied confetti cones aren't done you won't give a crap! People will only forget to throw it!"
Thank you so much to Barbaranne and Thom for sharing their wonderful day with us and to Maria Sundin for sharing these divine images, such a beautiful setting, I'm not jealous at all.
Bianca x
Photographer – Maria Sundin
Stylist – Lovely Styling
Venue – Saadiyat Beach Golf Club
Wedding Dress – House of Moirai
Shoes – Zara
Accessories – Anaqa
Perfume – Cara Mia by Aigner
Groom – Whistle and Flute
Bridesmaids – House of Moirai
Flowergirls – Monsoon
Page Boys – Bespoke
Florist – Firenze Flora
Cake – Friends
Entertainment – Francoise Crosbie
Rings – Jane Hewitt
Stationery – Toil and Tinker 
Hair Stylist – Ginene Thama