One of my favourite things when preparing features for this very beautiful blog is discovering that the bride and groom are from different countries. If you're currently single, I'd strongly suggest taking a trip over to a European city, or heading to the other side of the world, as you never know who you might meet when you're there (I totally recommend it – I was lucky enough to meet my soulmate by taking the plunge and heading over the seas). Bride Kate hails from England, and groom Olof is Swedish and I just love their meeting story and the start of the weaving together of two cultures.
Olof works for his own company, whilst Kate works in intellectual property, and their nuptials took place on the 4th of July 2015 on a sunny Summer's day at St Mary's Church in Filey, followed by a relaxed reception by the beach at Kate's mum's home in Primrose Valley, North Yorkshire.
"We wanted a very relaxed day where everyone felt at home and like they could let their hair down. We didn't have a theme in mind and just let things flow naturally. I think that way our personalities came through more on the day. We were just true to ourselves and that way things came together just as we'd hoped. Olof is from a small island close to Sweden called Aland and I am English. He was living in Stockholm at the time. I lived and worked in Madrid and Olof was visiting for the weekend with colleagues. Olof then came back to Madrid to visit and the rest is history. We got engaged in Stockholm (where we now live) in May 2014. It was a beautiful day and after spending the morning in the sunshine we took a walk along the water and Olof surprised me by pulling a ring out of his pocket."
Photography by Photography34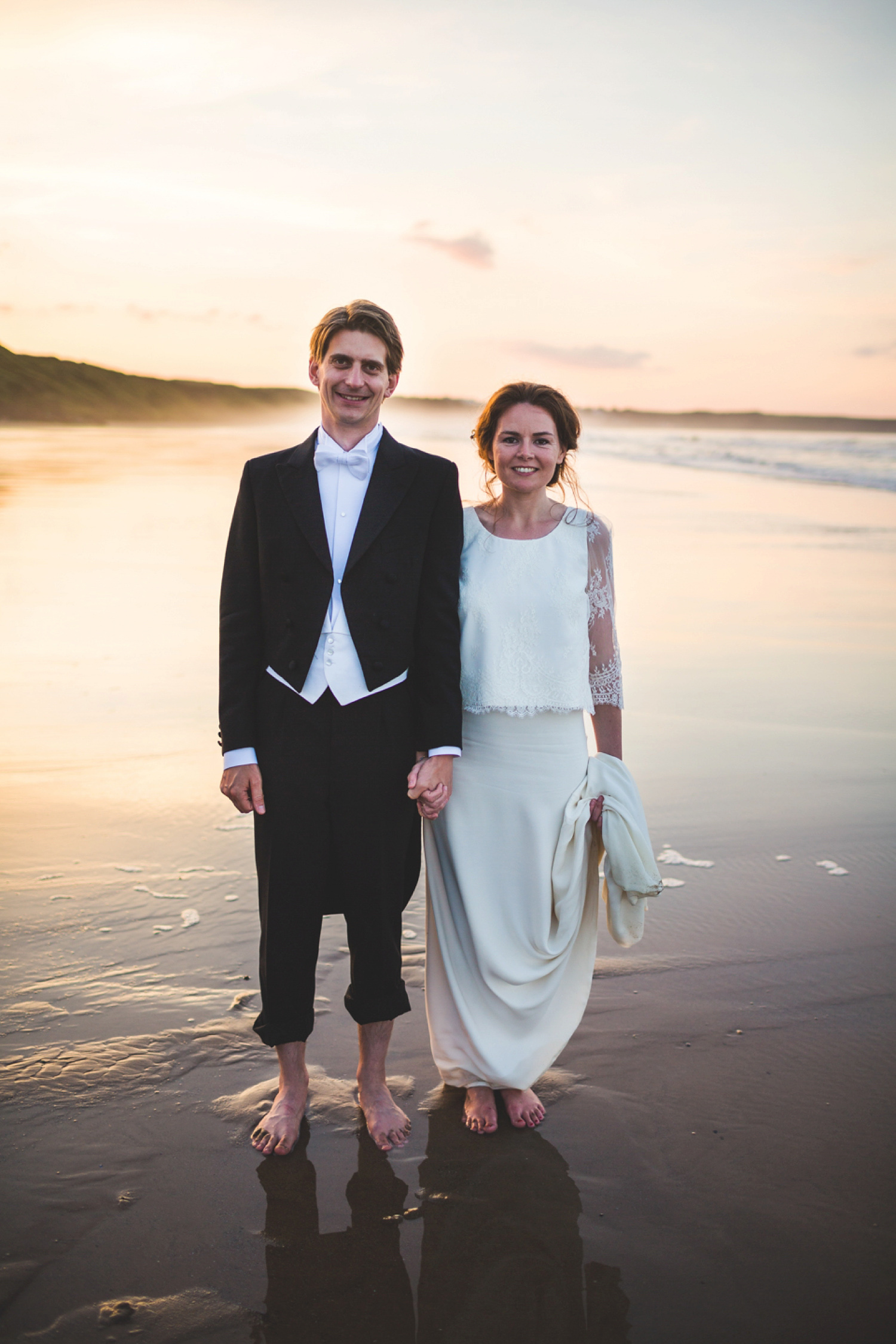 Kate chose to wear bridal separates of a skirt and top from two different French designers as her outfit and looks absolutely stunning. Separates really are a lovely alternative if you're not keen on wearing a dress and you can completely customise your look with the choice of top and bottom.
"The skirt was from Elise Hameau and the top from Laure de Sagazan. Both pieces came from The Mews Notting Hill."
"I wanted something soft and comfortable and to still feel myself on the day. I hadn't thought of wearing separates originally, but once I tried the pieces on it just felt right. I was also able to take the top on our honeymoon and wear it then, which was very special."
I simply adore the natural photos by Kate and Olof's photographer, Tony from Photography34, particularly the images taken on the beach – it looks like the couple and their wedding party had such fun.
"We were absolutely over the moon we chose Tony as our photographer. He was lovely to have around on the day and everyone commented how comfortable he made them feel. Needless to say we were delighted with our photos and they were exactly as we had hoped – very natural and relaxed. He really captured the feel of the day and we can't recommend Photography34 enough."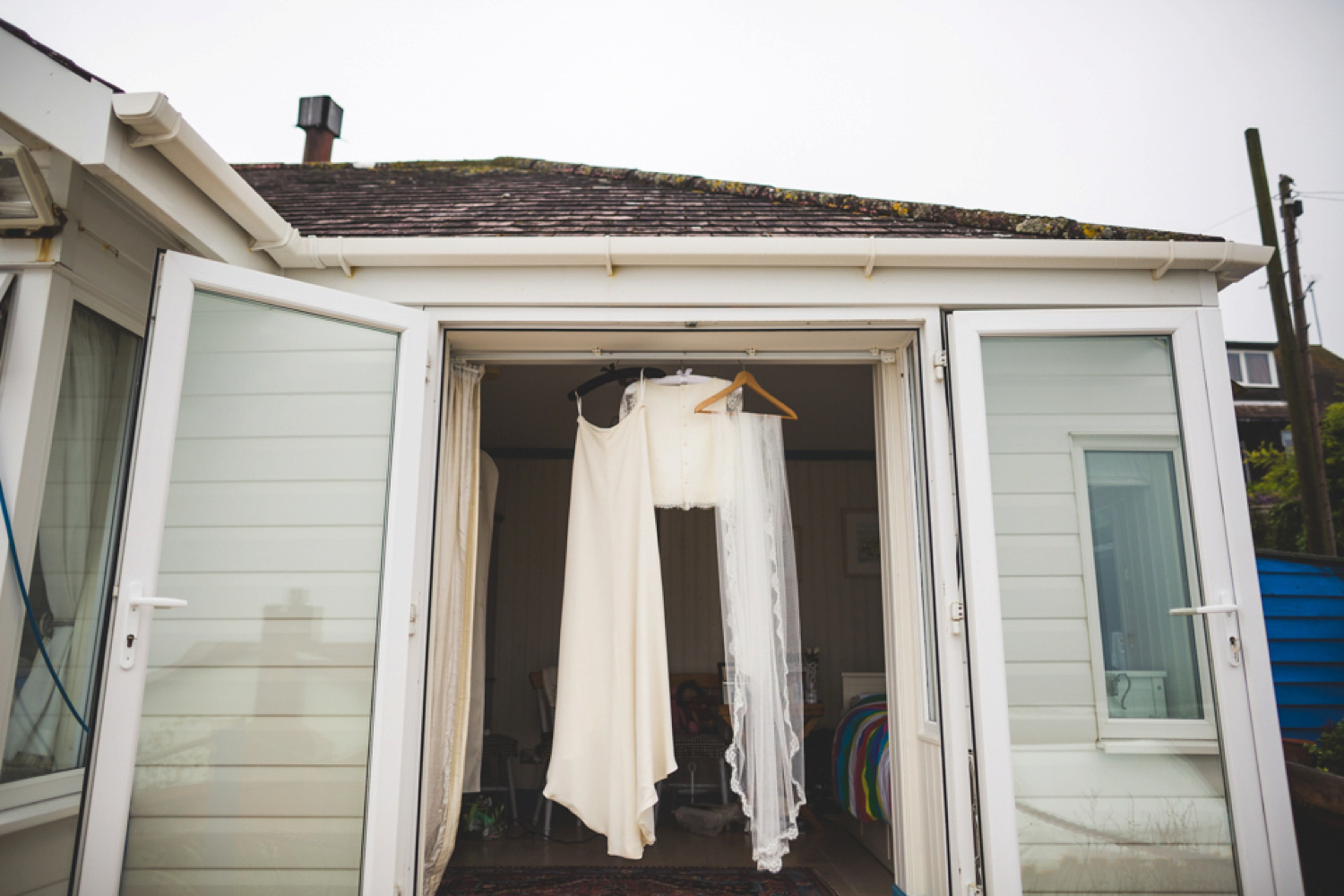 In a pair of nude Chloe 'Lauren' scalloped flats from Matches, flowers from the garden in her hair, and a spray of L'Eau de Chloe perfume, Kate looked utterly lovely – and added just a few delicate jewellery pieces to complete her relaxed look.
"I kept it very simple with accessories and wore a fine beaded bracelet my Mum bought me in London and a Monica Vinader bracelet as my something borrowed from one of my bridesmaids, Emily."
Kate and her crafty maids put together the bouquets on the Friday afternoon before the wedding, using pretty flowers from the garden of her mum's neighbour.
"My mum's neighbour very kindly let us go into her wonderful garden and pick as many flowers as we wanted. We had no set idea as to which flowers we would have, it just depended on what was available. We were incredibly lucky as she had beautiful peonies which became the central part of the bouquets. We then filled them out with other wild flowers. My bridesmaids and I are all quite creative people so that certainly helped. It was such a special thing to do together and meant we took a small time out from all the other preparations going on at the house."
Kate was keen to have her three bridesmaids wear gowns they felt very comfortable in, with their own jewellery and shoes.
"The bridesmaids chose their own dresses in different styles from Ghost and I'm so glad they did. They all looked so beautiful and themselves. I wanted them to feel comfortable and the best they could for the big day. Also, they will be able to wear the dresses again.
The bridesmaids just wore their normal jewellery they wear all the time; it meant they kept their own style and character. I didn't want three of my best friends stood next to me that I didn't recognise!"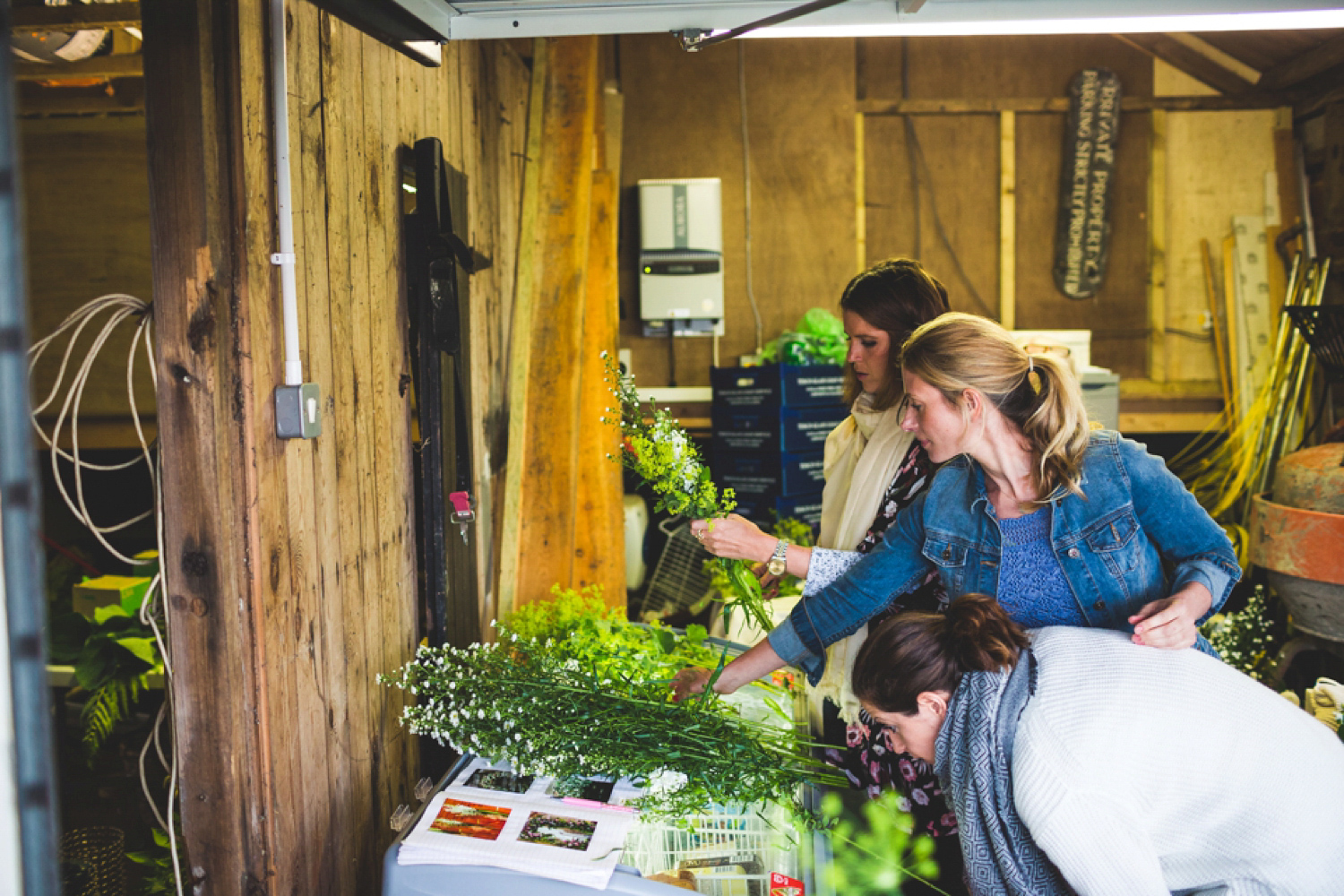 The flowers at the church and venue were by Kate's cousin's wife, Philomena. The bunches at the end of each pew in the church, tied with a piece of lace, look so pretty in the beautiful little church.
"Phil owns a small shop, 'Wren' in Ripon, selling all kinds of lovely things and is incredibly creative. She made everything look absolutely beautiful. We spoke about different ideas and then she did what she felt best fitted the place. The colours were white and green with lots of fresh eucalyptus and herbs mixed in. We were overwhelmed with how beautiful everything looked on the day and are so grateful for all of her hard work."
I love it when wedding photos highlight special moments, so upon first sight of Olof and his male friends enjoying fish and chips from the local chippy, I grinned from ear to ear. What a great idea to have a relaxing lunch with the lads before tying the knot.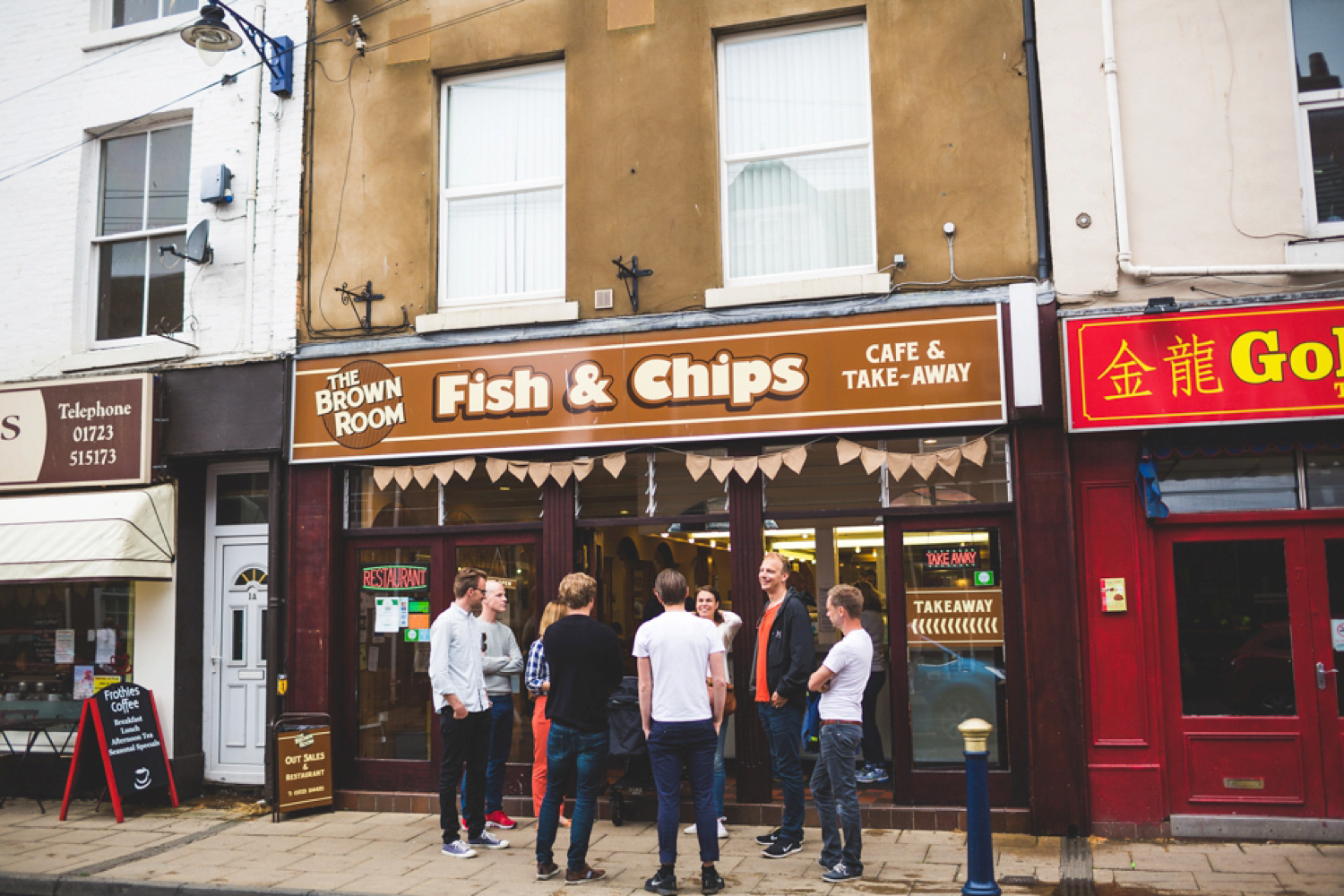 "Olof wore a tuxedo for the ceremony and changed into tails in the evening. The tails were passed down to him from his godfather, so it was very special for him."
Beautiful Kate walked down the aisle on her own. A choir sang during her aisle walk and, with Swedish friends and family a major part of their celebrations, the couple organised for one of the readings to be in Olof's native tongue.
"I chose to walk down the aisle on my own. It was a very special experience, I just wished I'd walked a little slower! In Sweden it's tradition for the groom to meet the bride half way, and whilst Olof didn't go half way he didn't stand like a solider at the alter either. He came a few pews down to meet me which felt lovely."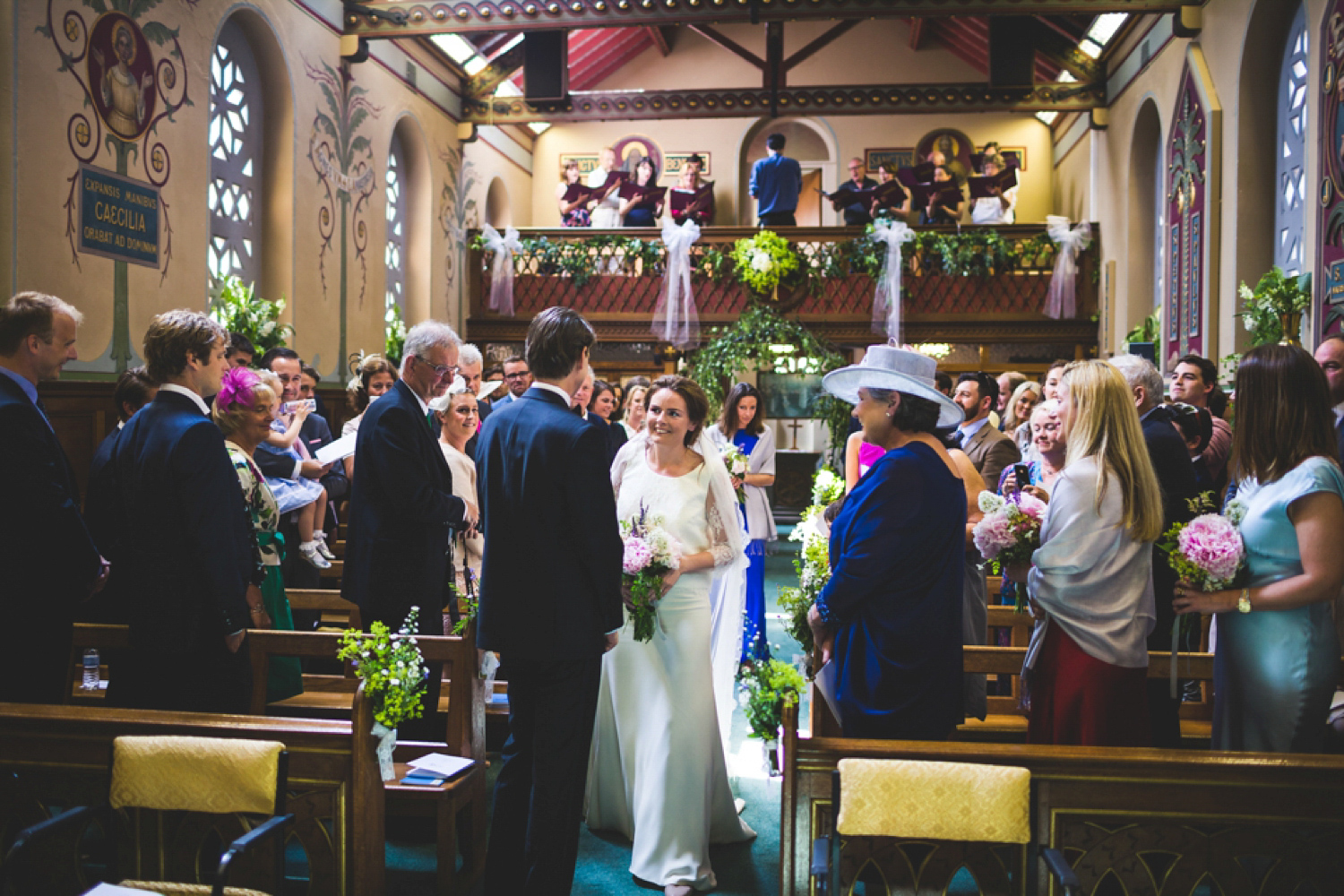 "We had a choir for the ceremony and they sang as I walked down the aisle. We found The York Wedding Singers via Warble Entertainment. They were excellent and it was very special to have a choir. They also helped make sure there was plenty of singing during the hymns since half the congregation were Swedish and weren't able to join in.
We chose our readings for the ceremony which were read by different family members. With one of the readings we chose to have half of it in Swedish as it was important to make our Swedish guests and family feel as welcome as possible."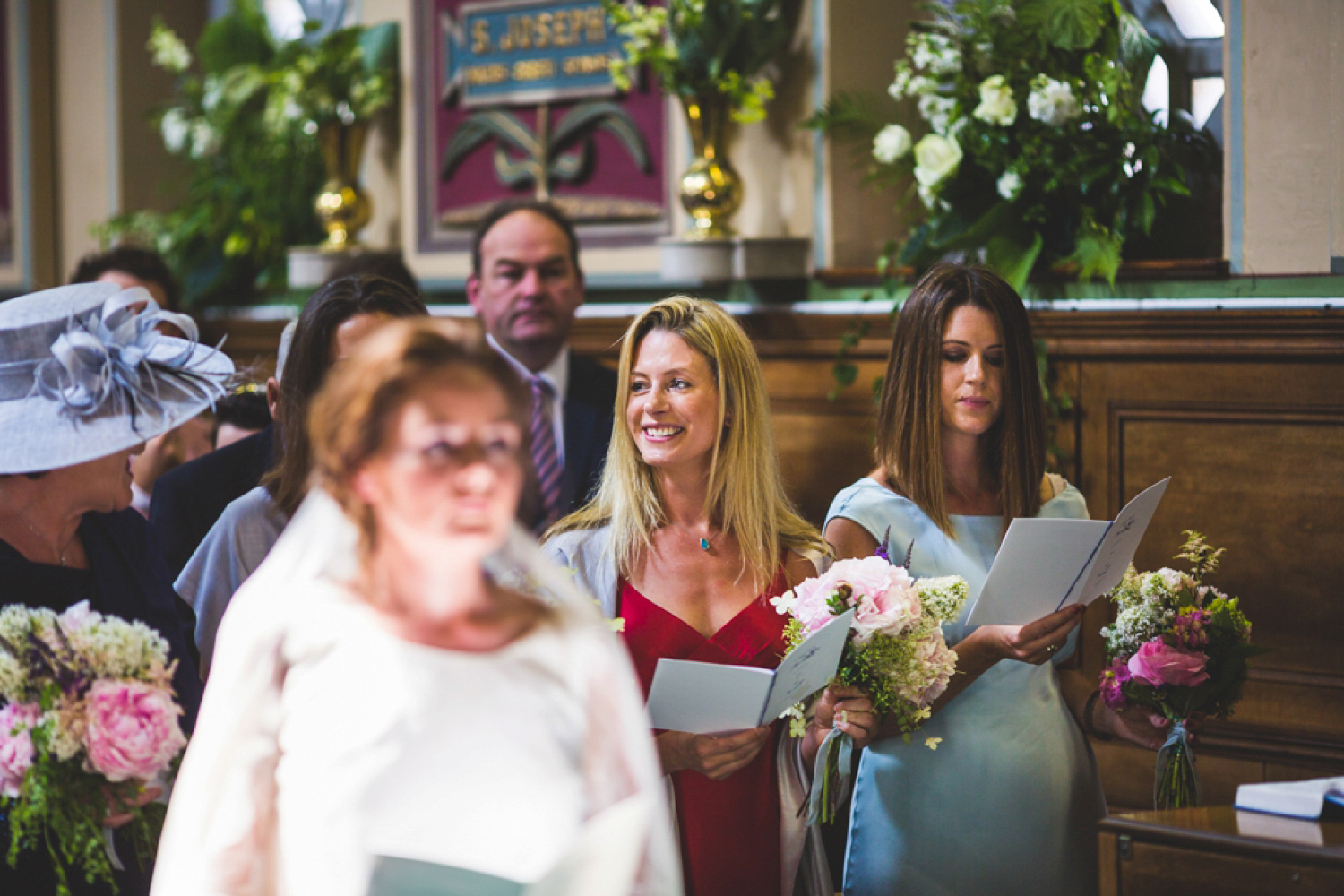 "Olof chose my engagement ring from O'Dwyers in Stockholm. The jeweller is actually Irish and makes beautiful, simple pieces. For the wedding bands, Olof chose a simple gold band also from O'Dwyers and I chose a very fine gold band from Swedish jeweller Evfa Attling."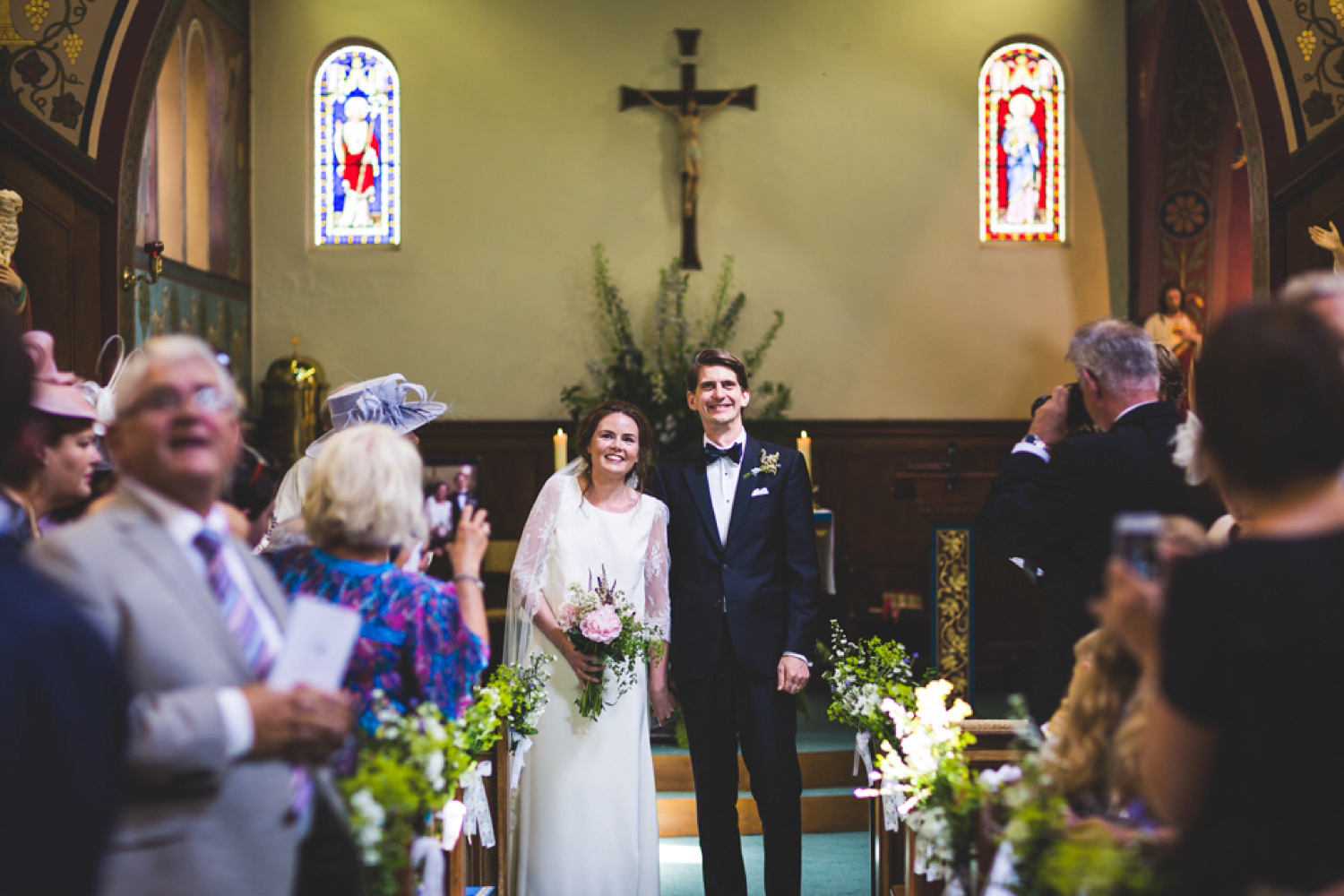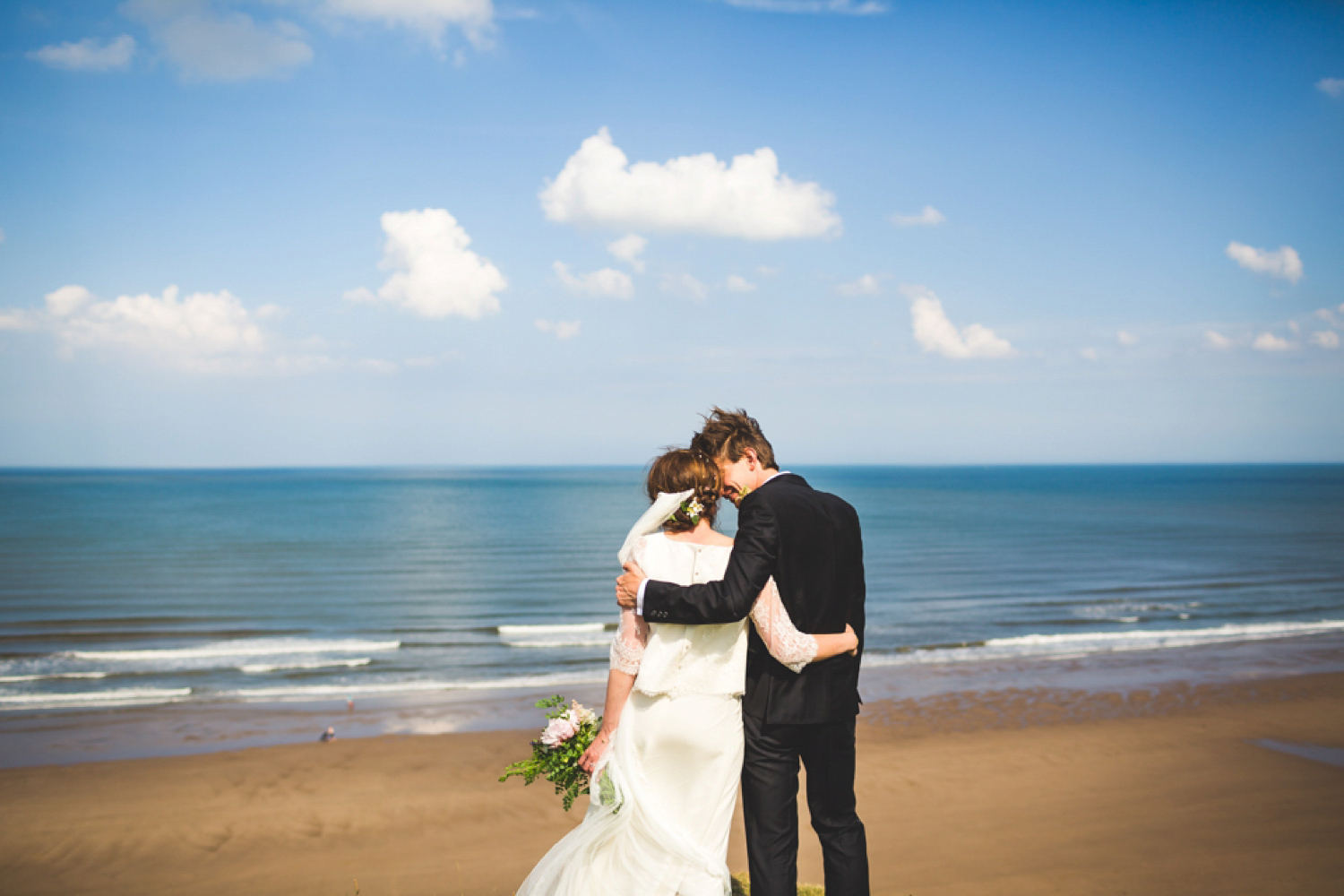 Music played a big part in Kate and Olof's nuptials. After arranging a choir for the ceremony, the couple chose two bands for the reception and evening party.
"We both had a very clear idea that we wanted live music for the wedding, as it can really get the atmosphere going. In the end we had two bands, one for the champagne reception and one for the evening party. The first one was perfect for setting the tone and they were local which was great – The Jelly Roll Jazz Band."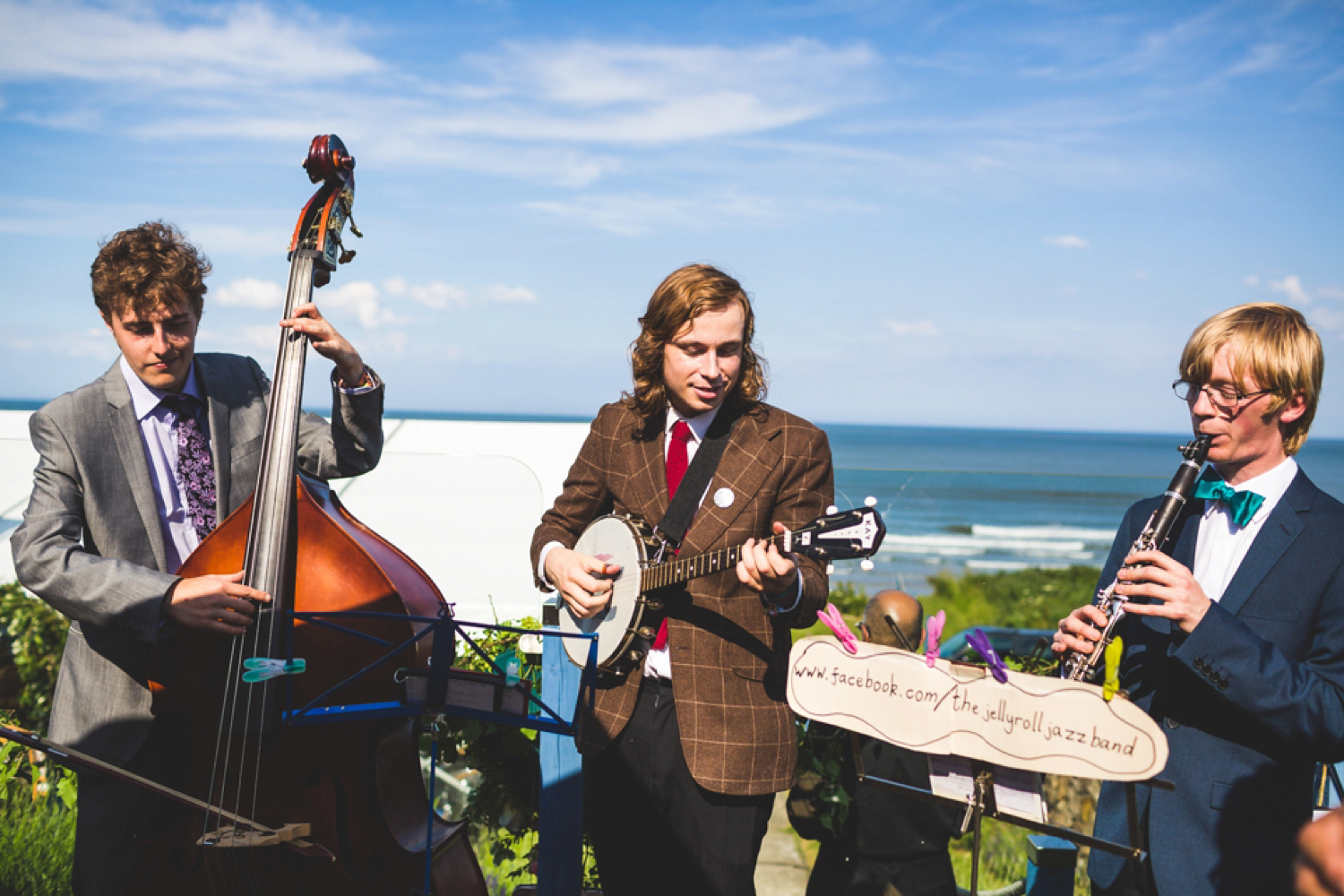 The reception was held at Kate's mum's home by the beach, with marquees set up by Florida Marquees.
"We didn't have any props to style the marquee, just lots of fresh flowers and candles which created a lovely effect in the evening."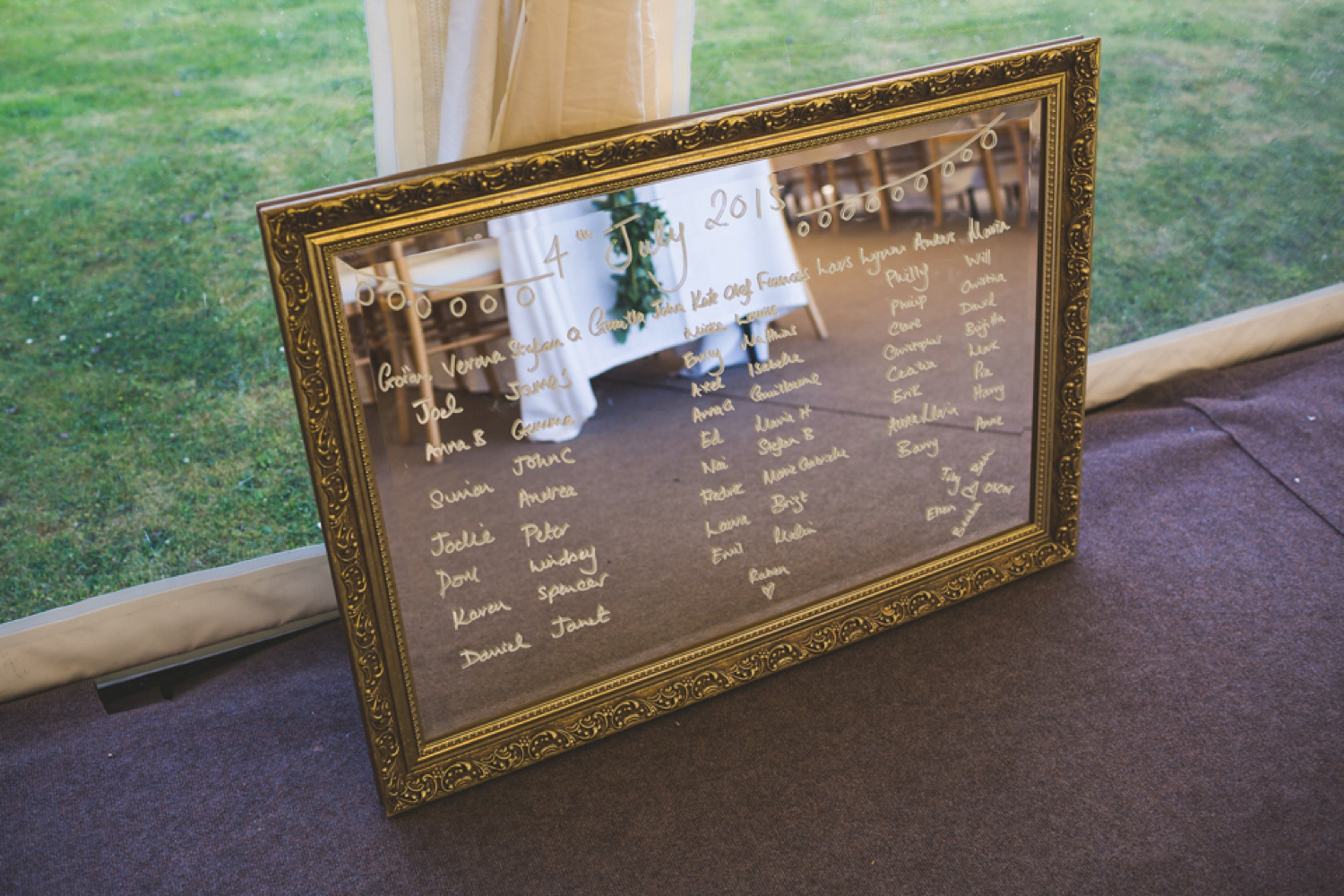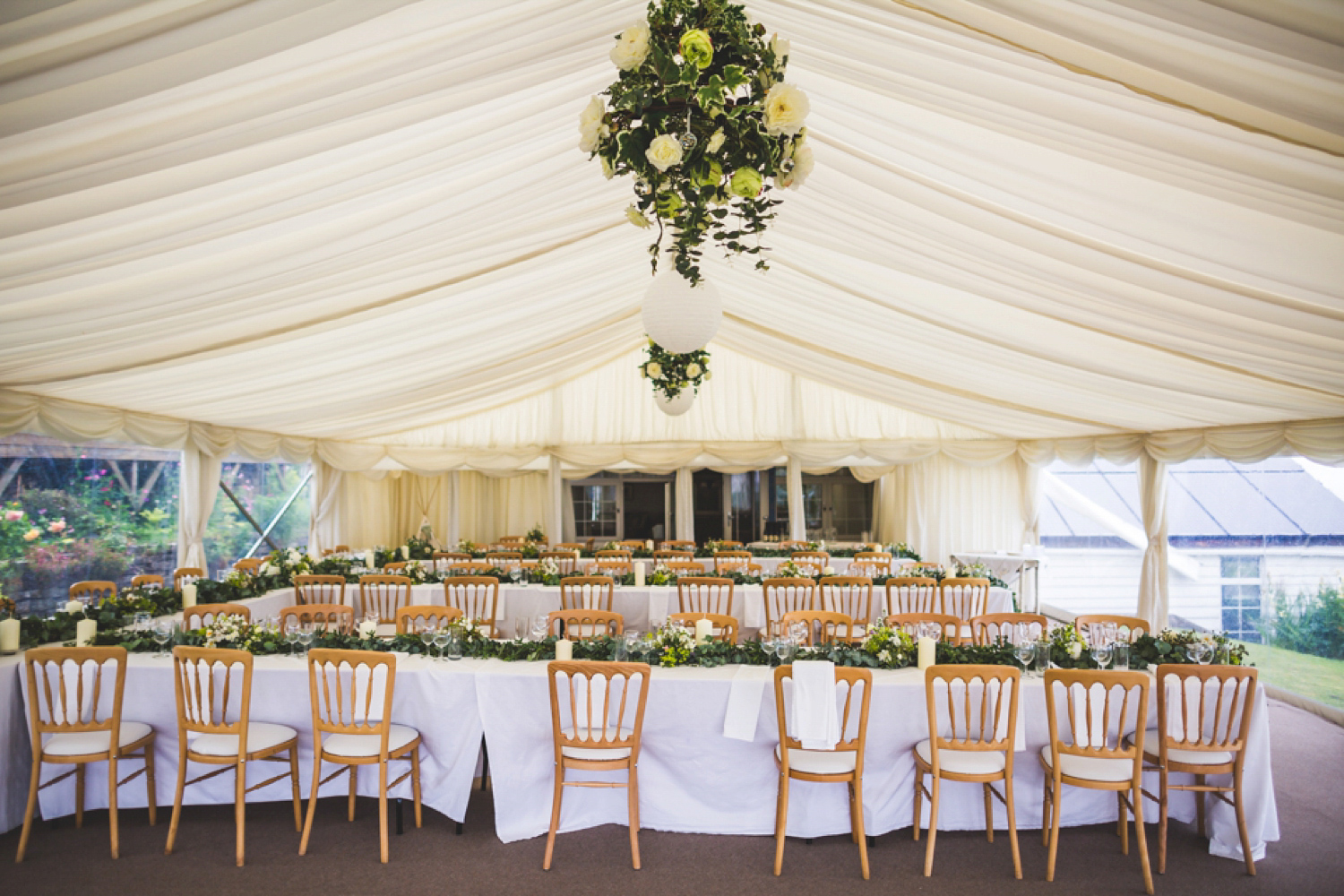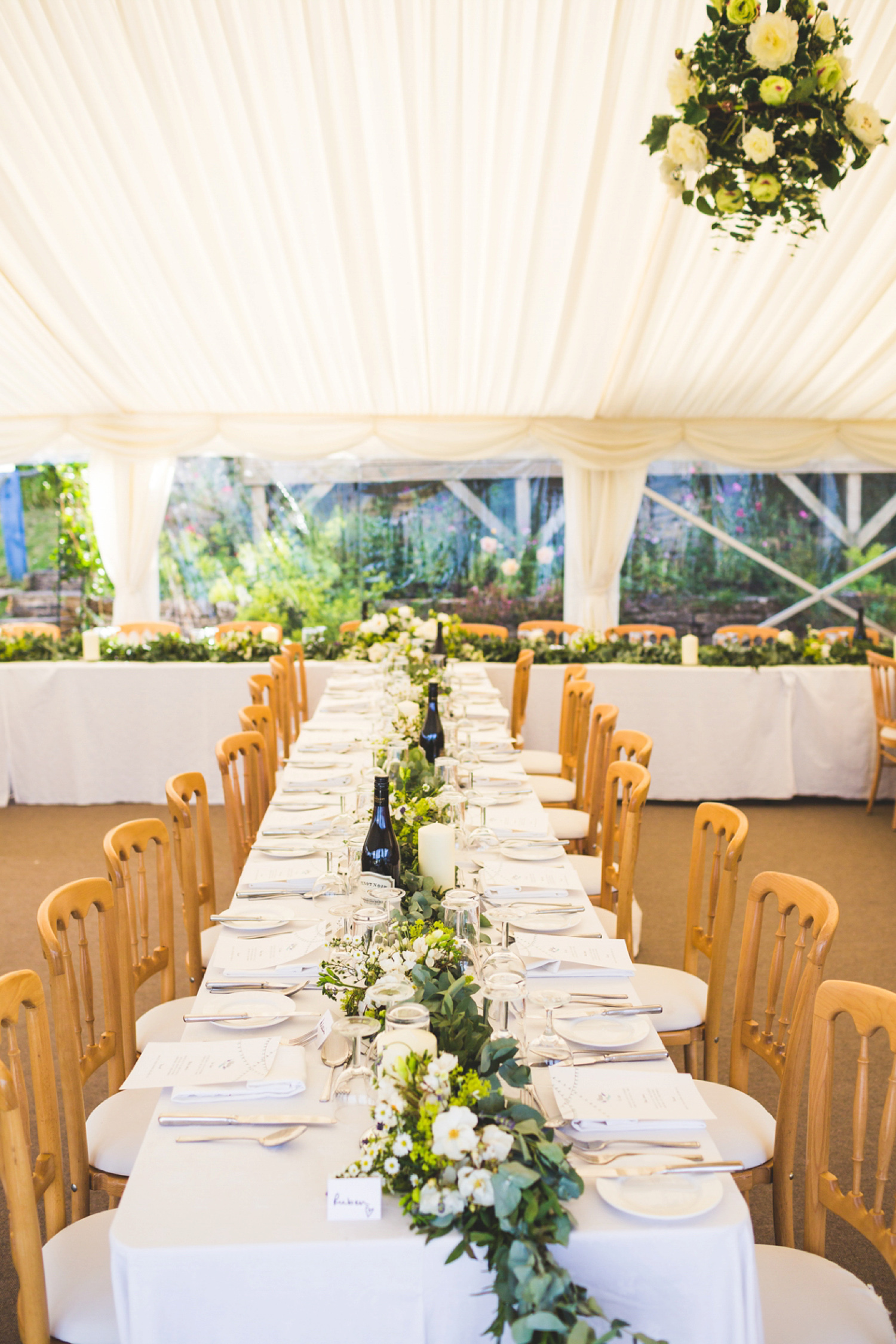 "We were recommended Eric's Restaurant by a friend and we certainly weren't disappointed. Eric and his team were incredibly professional and the food was excellent. Good food was a very important factor for us and he lived up to our expectations."
"Olof's mum made the cake which was a traditional Swedish sponge with fresh raspberry and elderflower mousse filling. It was very light and felt perfect for such a warm day. It was also special to have a 'homemade' cake even though it was very professional."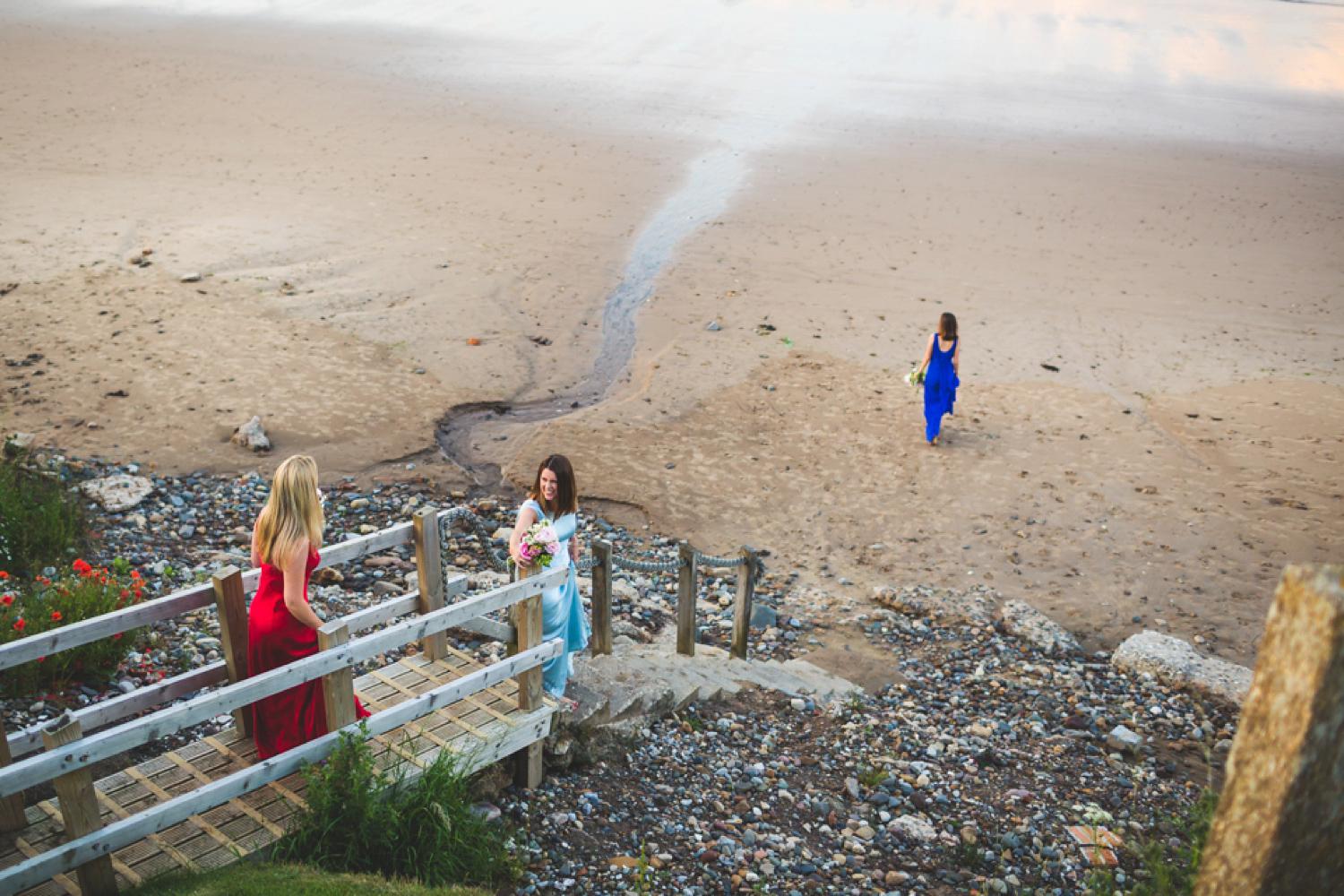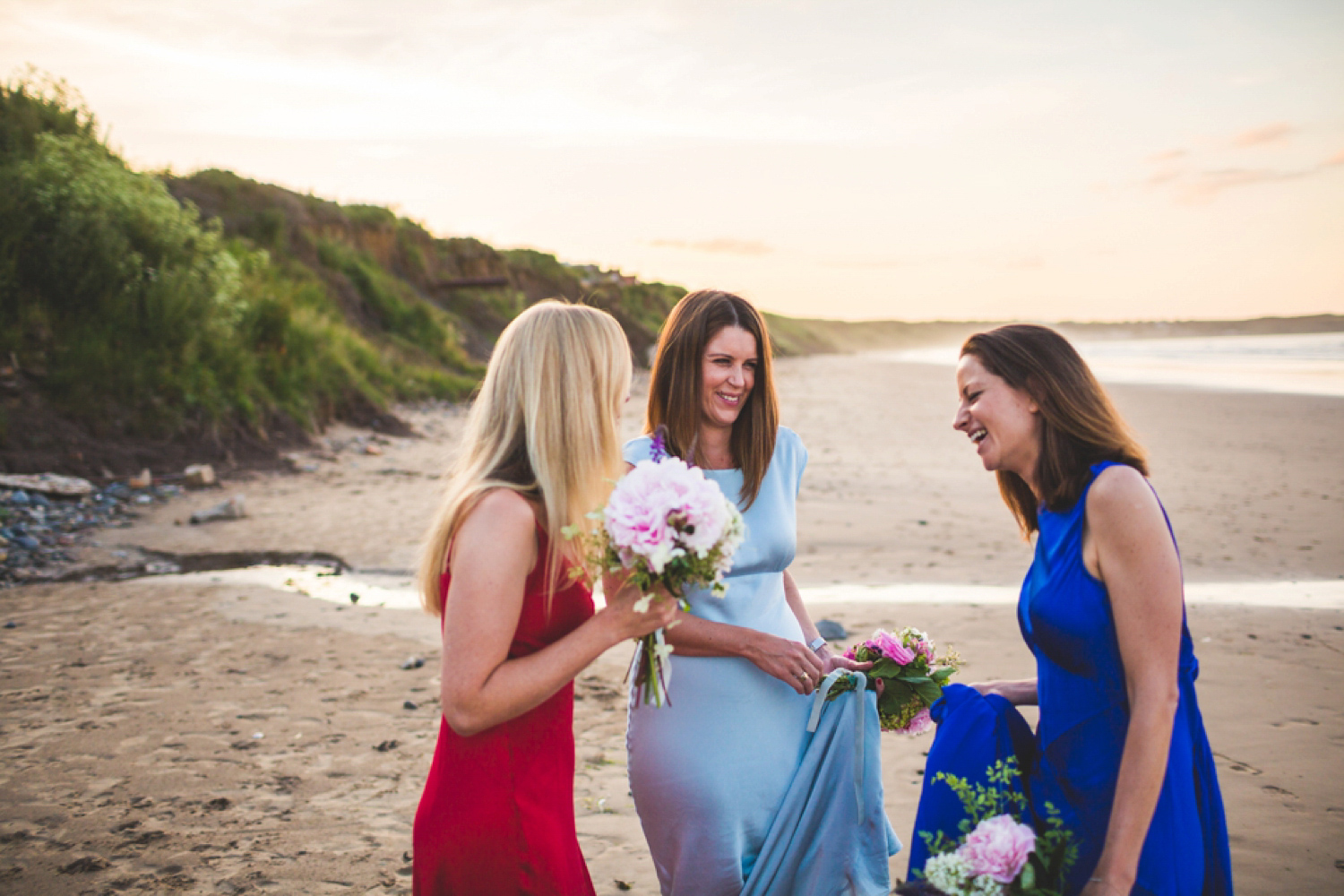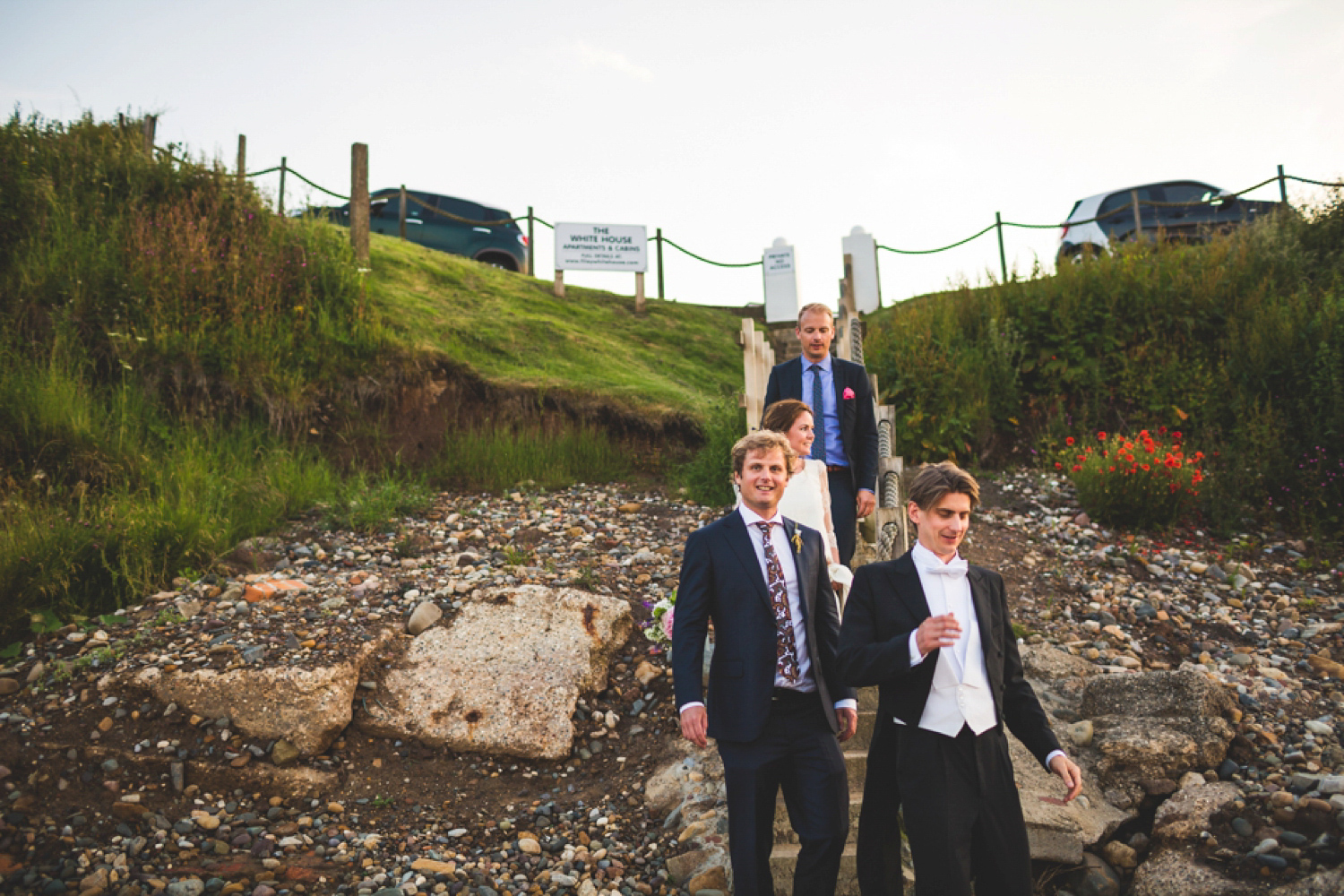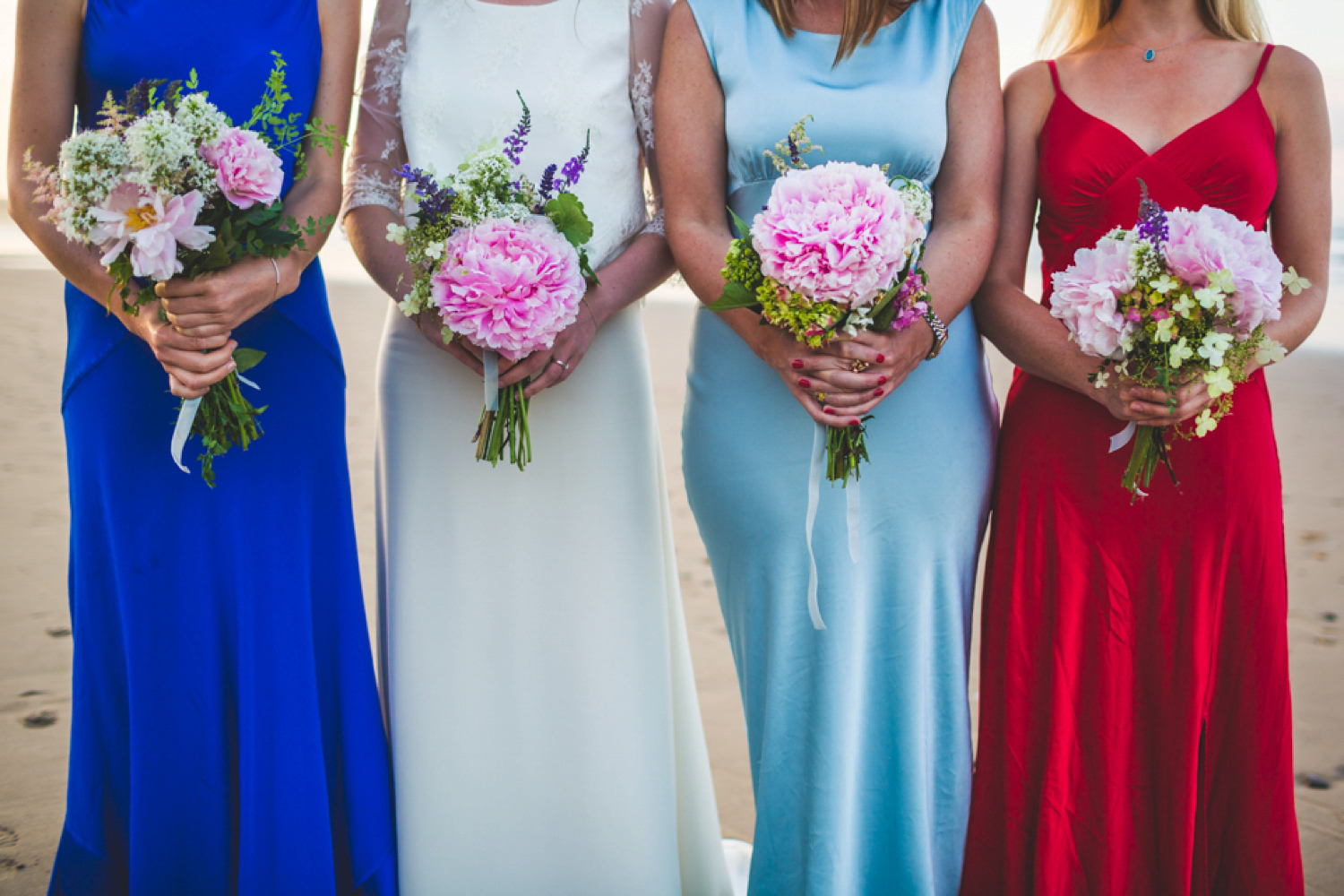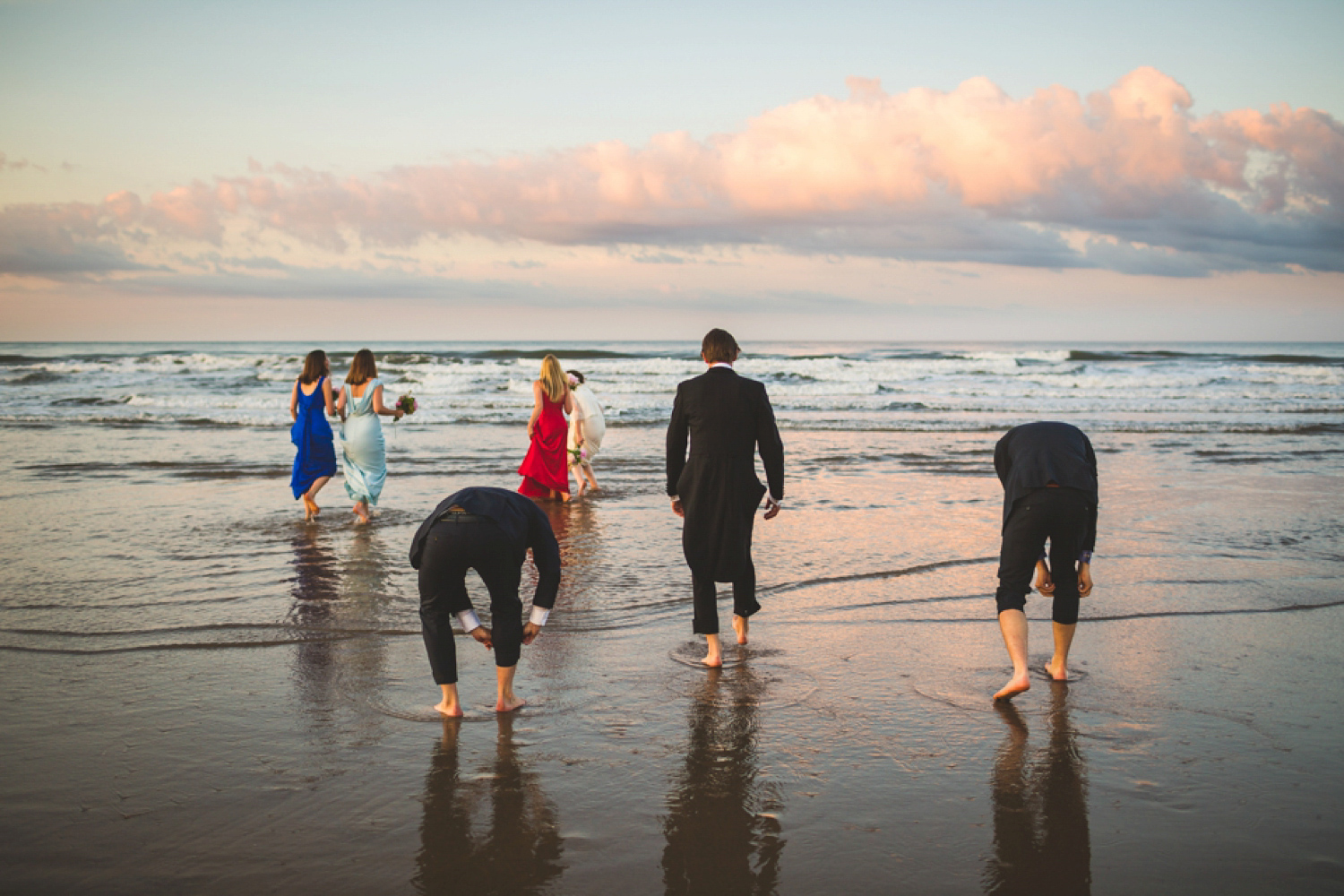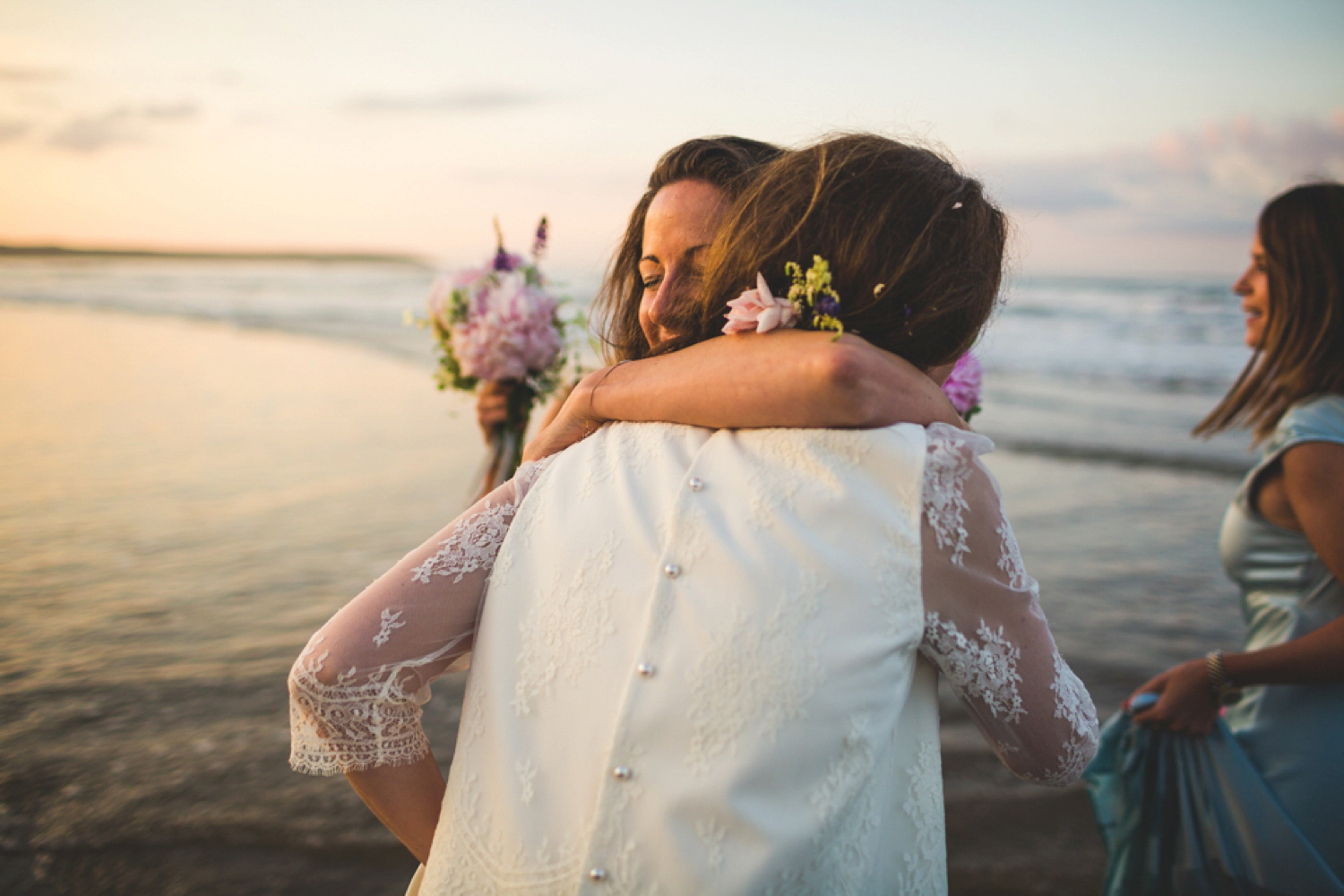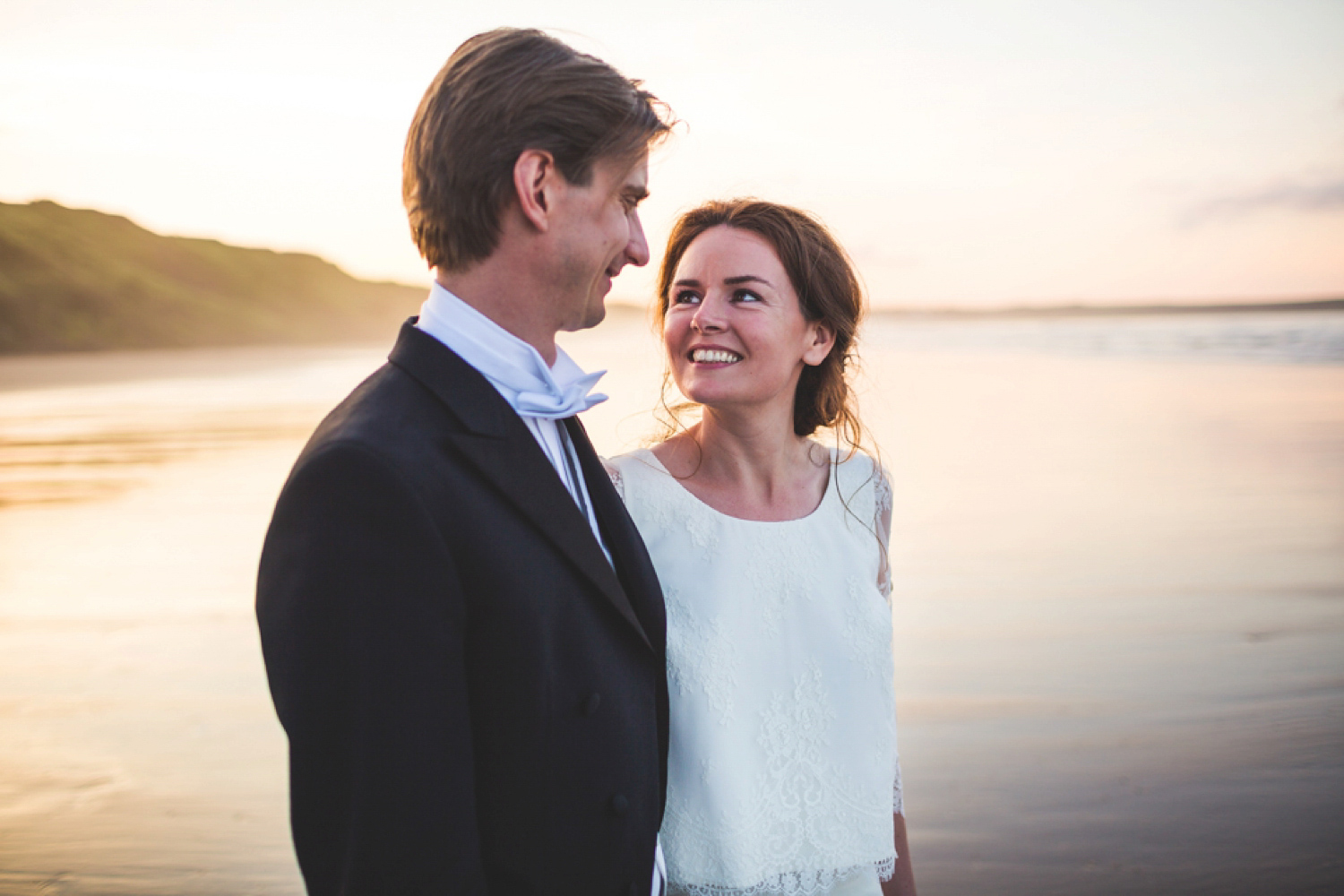 "We found our second band, El Dinero, through Warble Entertainment. Everyone was dancing, they played everything we asked for and they were great fun.
Our first dance was to 'Friday I'm in Love' by The Cure played by the band. It's one of our favourites and we wanted something upbeat as opposed to slow."
In naming their favourite moment of the day, Kate and Olof found this a tricky task.
"There are so many it would be impossible to whittle it down to one! Having all of our loved ones in the same place was just such a special feeling, everyone was so happy and it felt amazing to be able to share the day with them. We partied late into the night and that is exactly how we had imagined it to be; we wanted everyone to be able to let their hair down and have fun. One thing Olof and I dreamt about doing (weather permitting) was walking back to the hotel in Filey along the beach at the end of the night and the perfect weather meant we could. It was the perfect ending."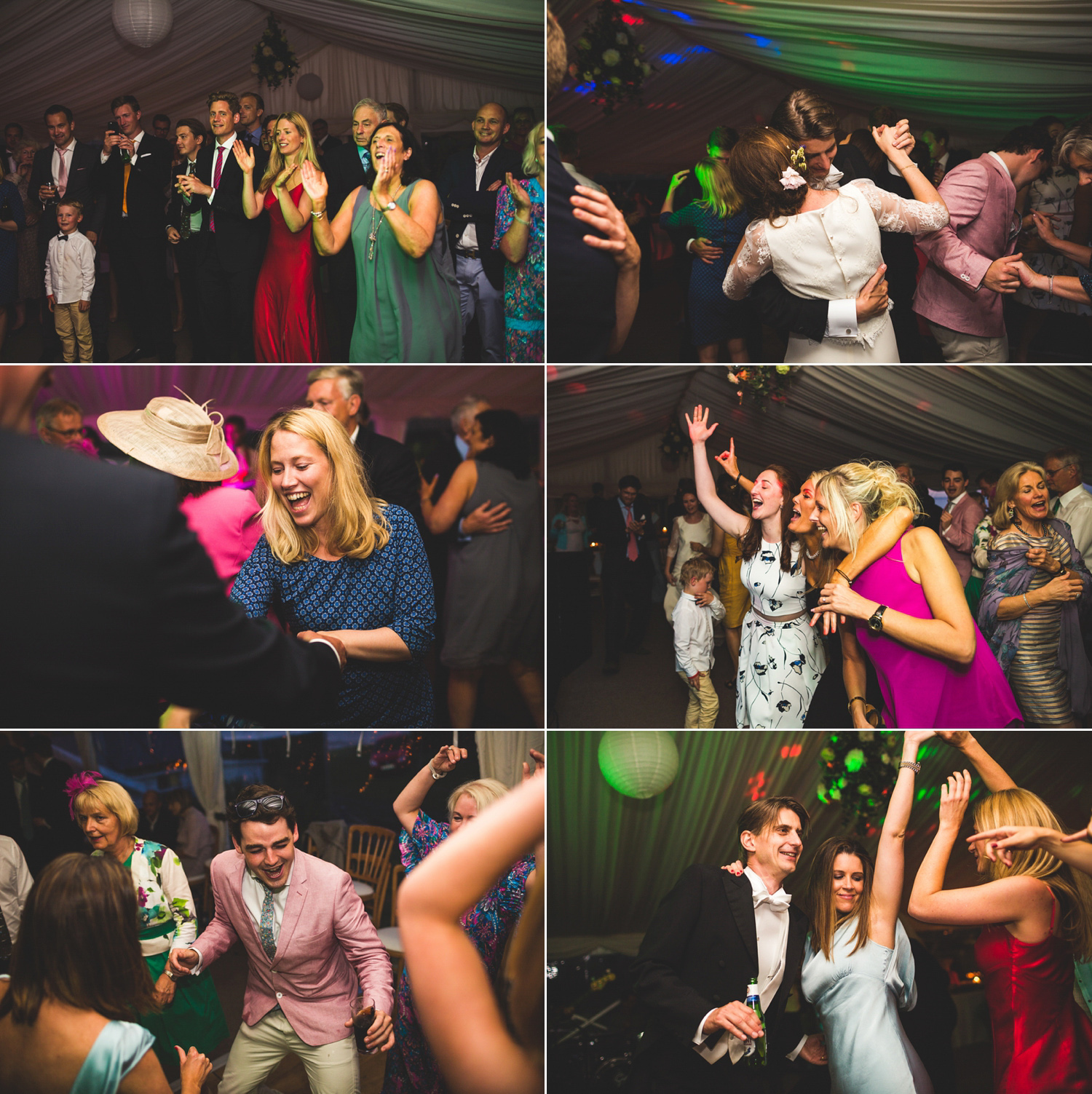 Words of Wedded Wisdom
"This is your day and the memories will be with you forever, so do what you want to do. You don't have to follow any 'wedding rules' or set ideas if you don't want to; just make it your own day. Everyone is there to celebrate you as a couple so just enjoy it, as the day will be over before you can even blink!
We also had a get together on the Friday evening before the wedding. As a lot of guests were travelling from Sweden and various other places in Europe (my brother lives in Italy for example), we wanted to make a weekend of it. We are so glad we did! It was just a casual barbeque on Friday where people dropped in as and when they could, meaning everyone got to meet before the big day and it sort of broke the ice a little, ready for the party on Saturday. We were able to welcome everyone properly and speak to people we hadn't seen for some time.
We also did an informal brunch on Sunday morning. Again, this was a lovely way to round off the celebrations. We were all tired (and some a little worse for wear) but it was great to be able to say goodbye to everyone properly and thank them for coming."
I've truly loved sharing your magic day Kate and Olof and thank you for allowing us a peek into the celebrations. I love the traditional Swedish touches and I can see why you're so happy with the images captured beautifully by Tony; they're so natural and perfectly sum up your big day. Lovely readers, be sure to view more of Tony's gorgeous work here.
And if you've fallen for Kate's pretty top, you can see more delightful Laure de Sagazan prettiness here.
Wishing everyone a wonderful rest of week.
Love Jo -x-
Photographer – Photography34
Ceremony – St Mary's Church, Filey, North Yorkshire
Venue – Home of the bride's mum, Primrose Valley, North Yorkshire
Bridal Separates – Skirt from Elise Hameau + top from Laure de Sagazan via The Mews Notting Hill
Shoes – Chloe flats via Matches
Hair Accessory – Fresh flowers
Jewellery – Bracelet (present from bride's mum) + Monica Vinader bracelet (borrowed from bridesmaid)
Perfume – L'Eau de Chloe
Bridesmaid's Dresses – Ghost
Groom – Tuxedo for the ceremony + grandfather's tails in the evening
Flowers – By the bride's cousin's wife Philomena + garden flowers from a neighbour of the bride's mum
Rings – O'Dwyers + Evfa Attling
Catering – Eric's Restaurant
Cake – By the groom's mum
Transport – Shoreline Sun Cruisers
Entertainment – The York Wedding Singers and El Dinero via Warble Entertainment + The Jelly Roll Jazz Band
Hair + Makeup – Nyla Russell of Trish McEvoy
Marquees – Florida Marquees