Almost July dear readers… Can you believe it?  I certainly can't, although I have been bare legged at least twice this year so far (which is an extremely rare occurrence, I can tell you) so perhaps we really are in the midst of the UK summer at last.  As such, it seems wonderfully appropriate to whisk you back to July 2015 when this lovely romantic Welsh wedding took place.
Meet Tom, a financial accountant and Lucy, a trained teacher who has just left the profession to join the family business, who married at Monmouth School Chapel and The Pavilion, Monmouth School on Saturday 11th July 2015.  Let's begin with their wedding film, by Aurora Wedding Films.
"We didn't think a video was particularly necessary and this was our little bit of a luxury spend for the wedding, however, we are so pleased it is something we decided to do.  Watching the wedding video is like reliving the day.  We were nervous about being filmed but Richard was amazing and we forgot that the camera was rolling as he is so discreet."
https://vimeo.com/140426167
Monmouth School has a strong family connection, as both of Lucy's brothers attended the school and Lucy taught there, so it was the perfect place at which to cement the union of her and Tom.
"A key feature of our day was for it to be relaxed with a soft, romantic feel. Elements of the day were traditional, such as having a religious wedding ceremony, but we broke tradition in other ways by having no top table, no set photographs and we did the speeches standing on the balcony before the meal.
Photography by Loveseen Photography
"I knew from the beginning that the colour palette would be soft blush/peach as my mum's bridesmaid's dresses were peach at her own wedding and there is something about blush roses that are incredibly romantic and feminine."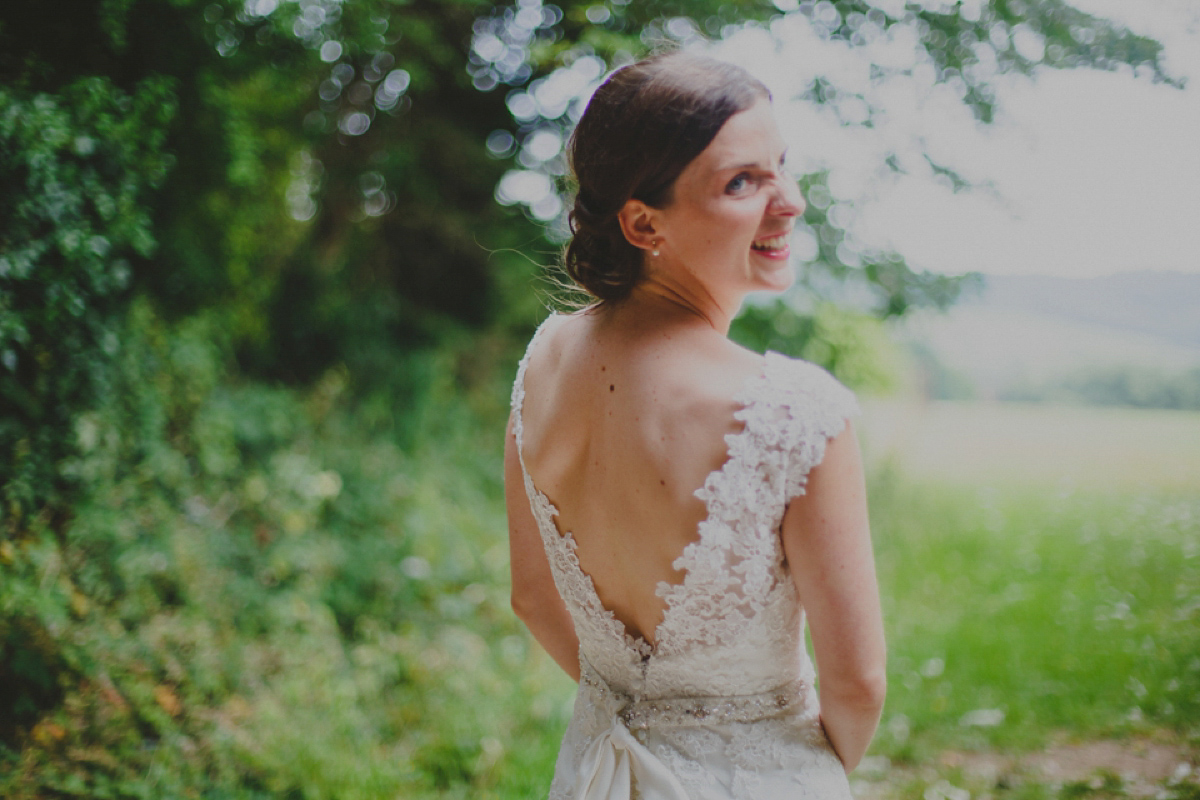 Hair and make up were done by Nicole and Yvonne at 'Just Gorgeous' Wedding Hair & Makeup and Lucy finished her style with a pearl hairclip from Claire's Accessories.
The adult bridesmaids looked pretty in pale pink dresses from Kaliko, worn with pearl clips in their hair, blush pearl earrings from F. Hinds and Accessorize bracelets, while the little flowergirls wore the most gorgeous white cotton seersucker dresses from TU Clothing at Sainsbury's.
Lucy wore a beautiful lace gown by Mori Lee, which she purchased from All About Eve in Newport.  I especially love the low scooped back and the gorgeous beaded belt.
"I knew from the outset the style I was looking for and as soon as I tried on the Mori Lee dress I loved it!  The lace, boat neck and low back were exactly what I had imagined.  There wasn't a single part of it that made me think, "It would be great if this bit was slightly different."  Then they added the belt.  I hadn't thought that I would have gone for a wedding dress with a belt but as soon as it was in place, the dress was complete."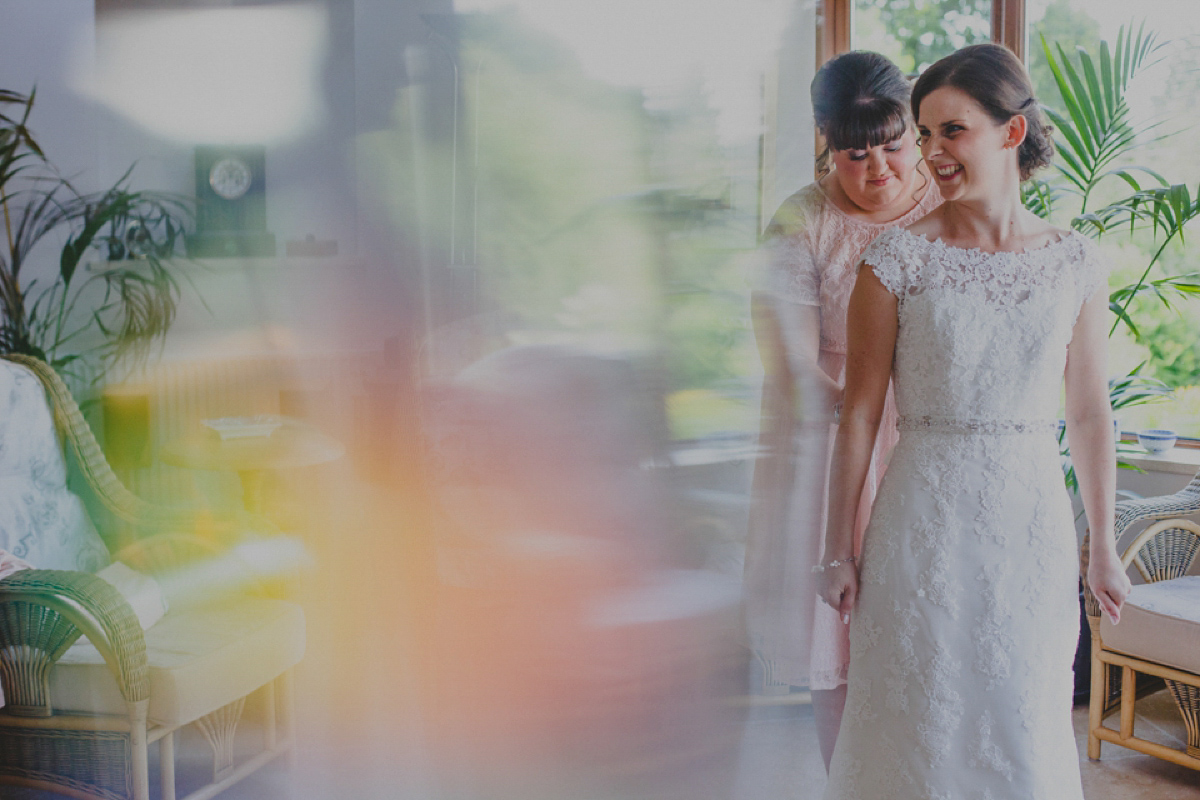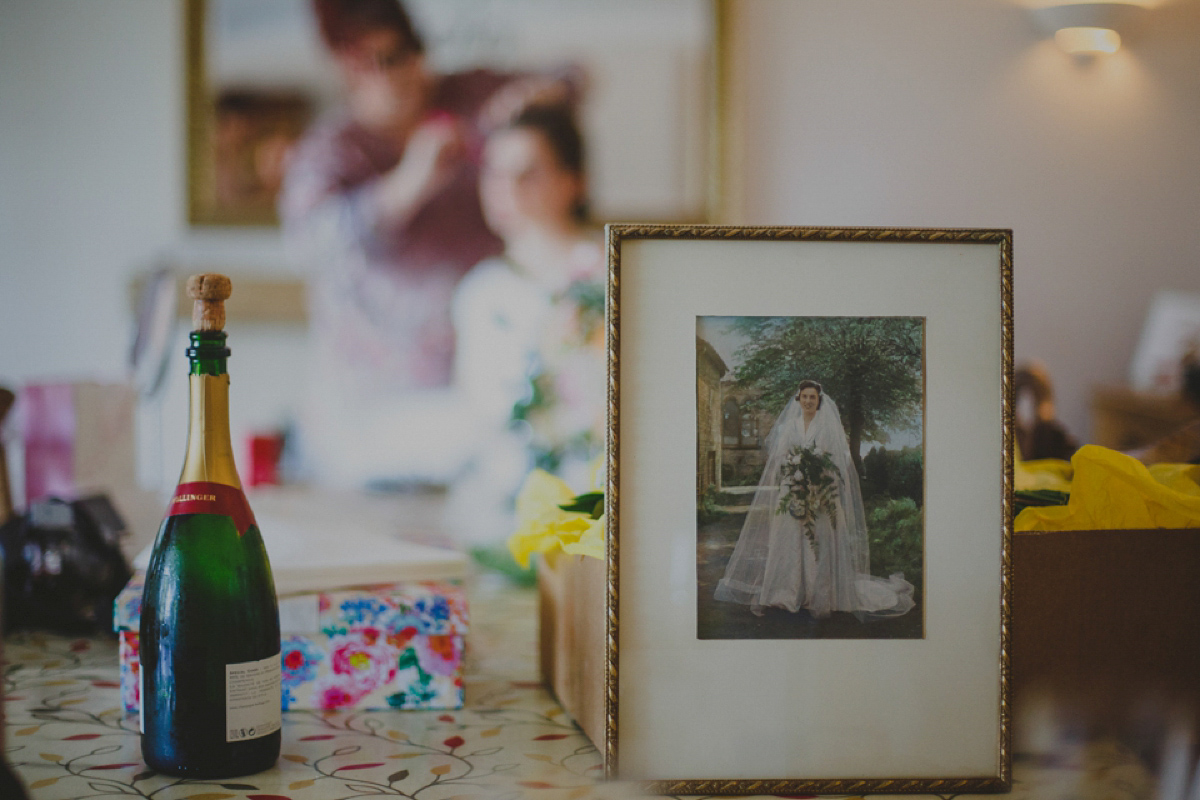 Lucy's veil acted as her 'something borrowed', while her shoes were purchased from Shades Shoes.
"I didn't wear a necklace as I felt it would get in the way of the neckline of my dress.  My earrings were pearl drops from CL Jeffries and were a gift from Tom. My bracelet was a gift from a friend and my Mum was wearing the matching necklace."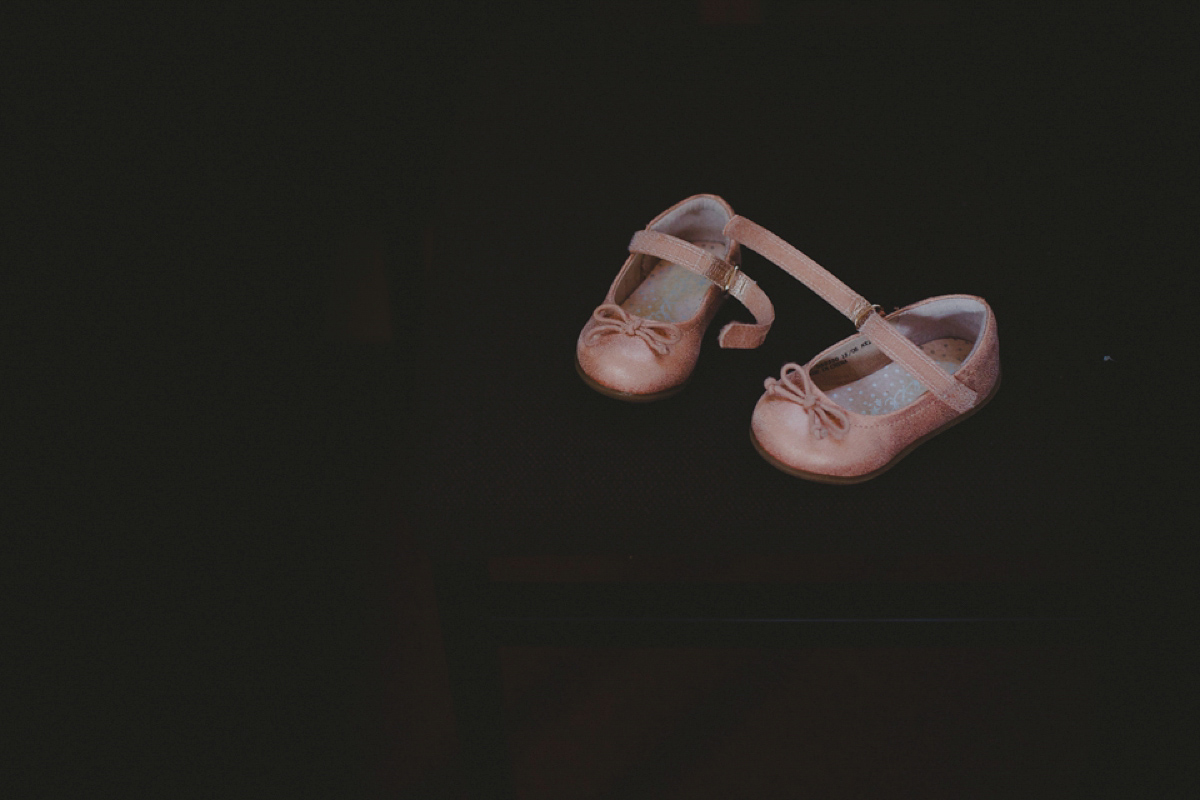 Tom, his groomsmen and the little pageboy looked extremely smart in silver grey suits from Dyfed Menswear and Tom accessorized with a Jean Pierre Half Hunter Rose Gold Pocket Watch from F. Hinds, socks from Happy Socks and a pair of black braces from Next.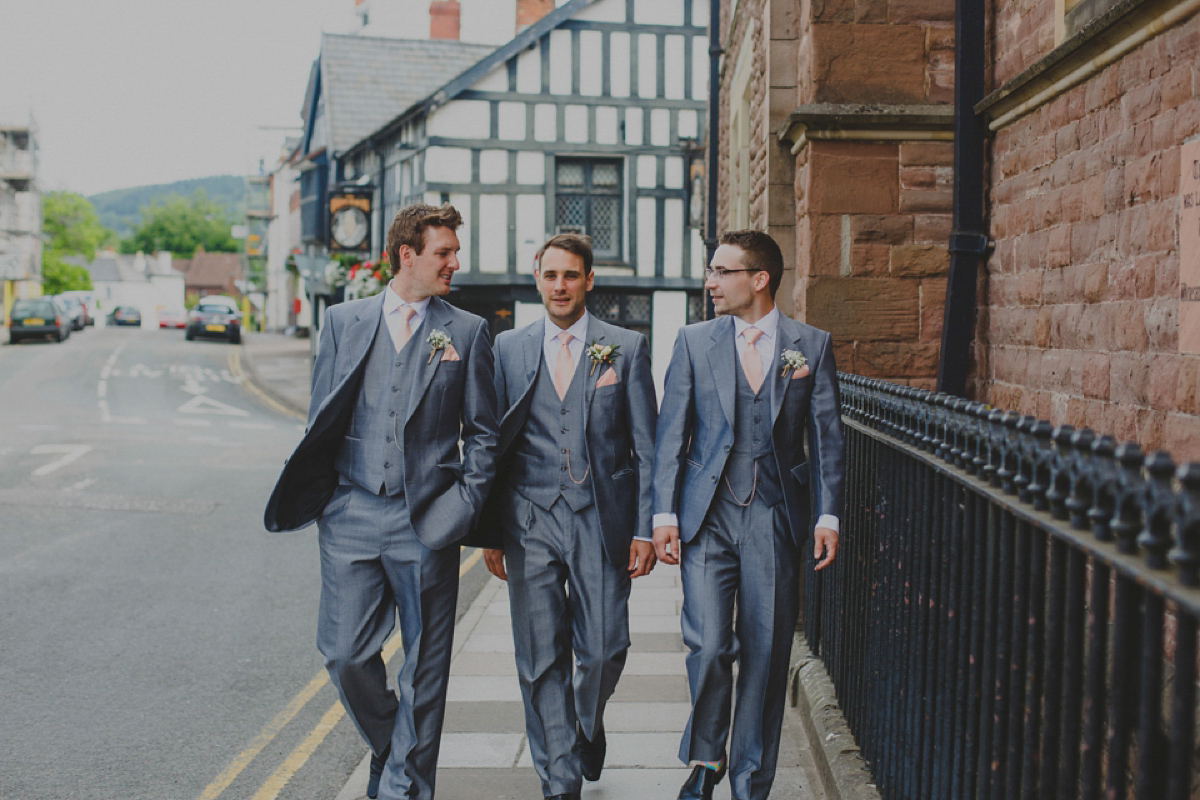 "We met in 2005 through friends on a night out. We have been together ever since and got engaged in December 2013 in Portmeirion- the perfect place for a romantic weekend away just before Christmas.  Having been together for eight years and no sign of wedding bells it was a complete surprise when Tom got down on one knee and popped the question."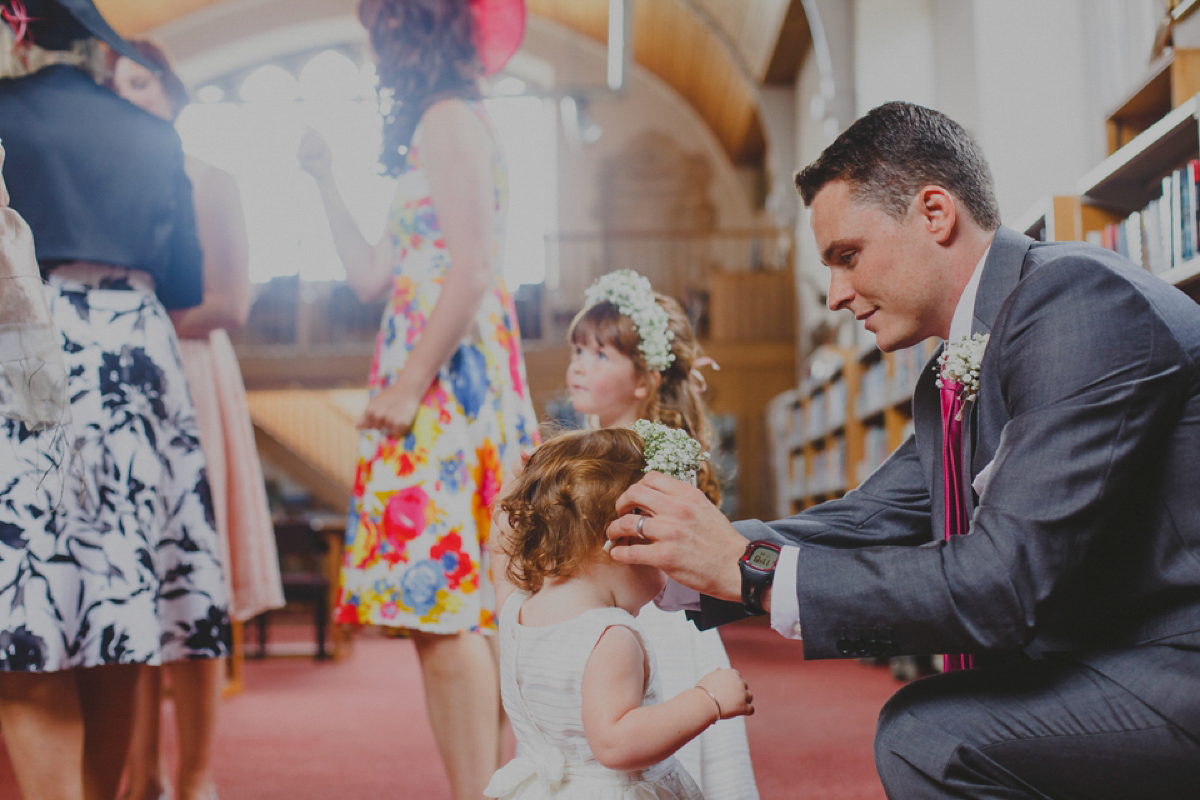 Lucy was walked down the aisle by her dad to the classic bridal music of Pachelbel's Cannon in D.
"I thought long and hard and wanted to go for something a bit different but I just love it."
"As well as Corinthians 1:13, we included the words from the song 'Perhaps Love' by John Denver into the ceremony which was read as a poem.  The tune was then played by the musicians as we signed the register.  This was a special choice because it was a song that my (Lucy) grandparents loved.  It is also a great poem in its own right about love."
Perhaps love is like a resting place
A shelter from the storm
It exists to give you comfort
It is there to keep you warm
And in those times of trouble
When you are most alone
The memory of love will bring you home
Tom's ring was made from three old rose gold signet rings belonging to members of Lucy's family, while Lucy's engagement ring was her grandmother's and her wedding ring was made from the gold of her mum's wedding ring.  The two wedding bands were made and engagement ring re-conditioned by Jordan Jewellery Design.
"Jordan Jewellery Design were excellent. The service we received was outstanding and they offer great aftercare for the rings they create."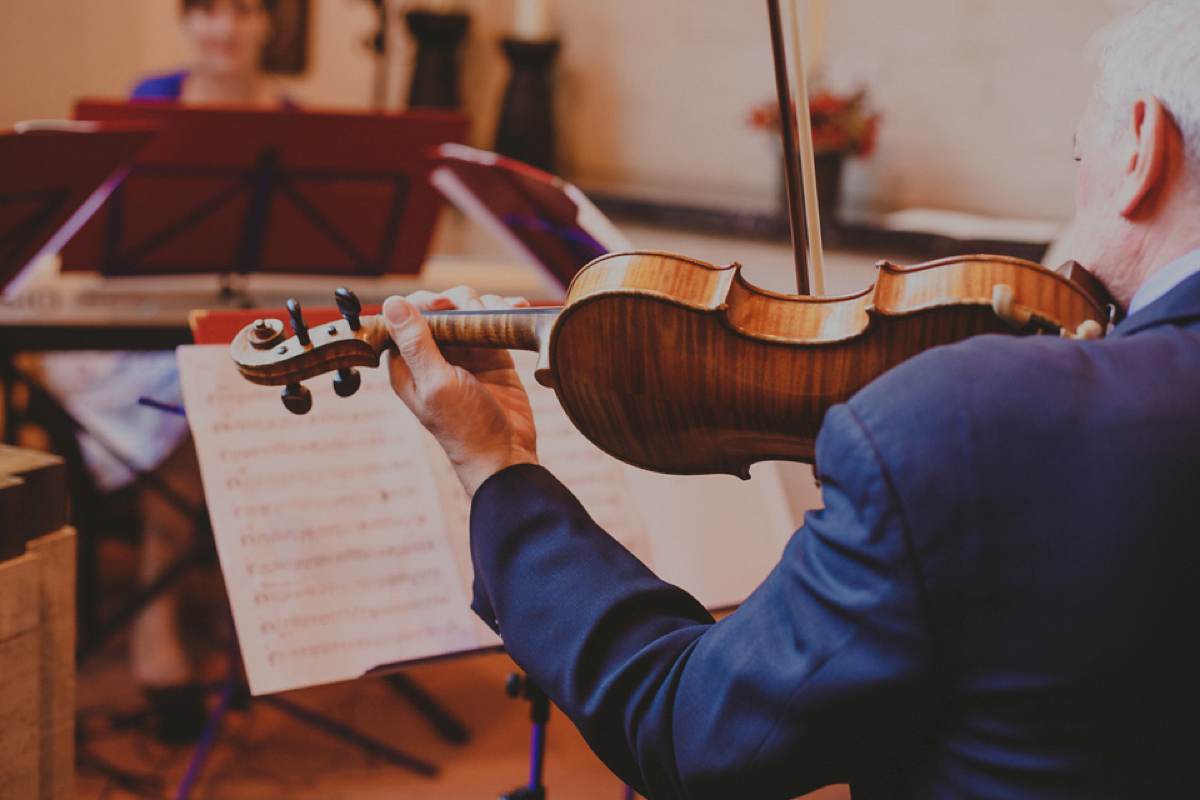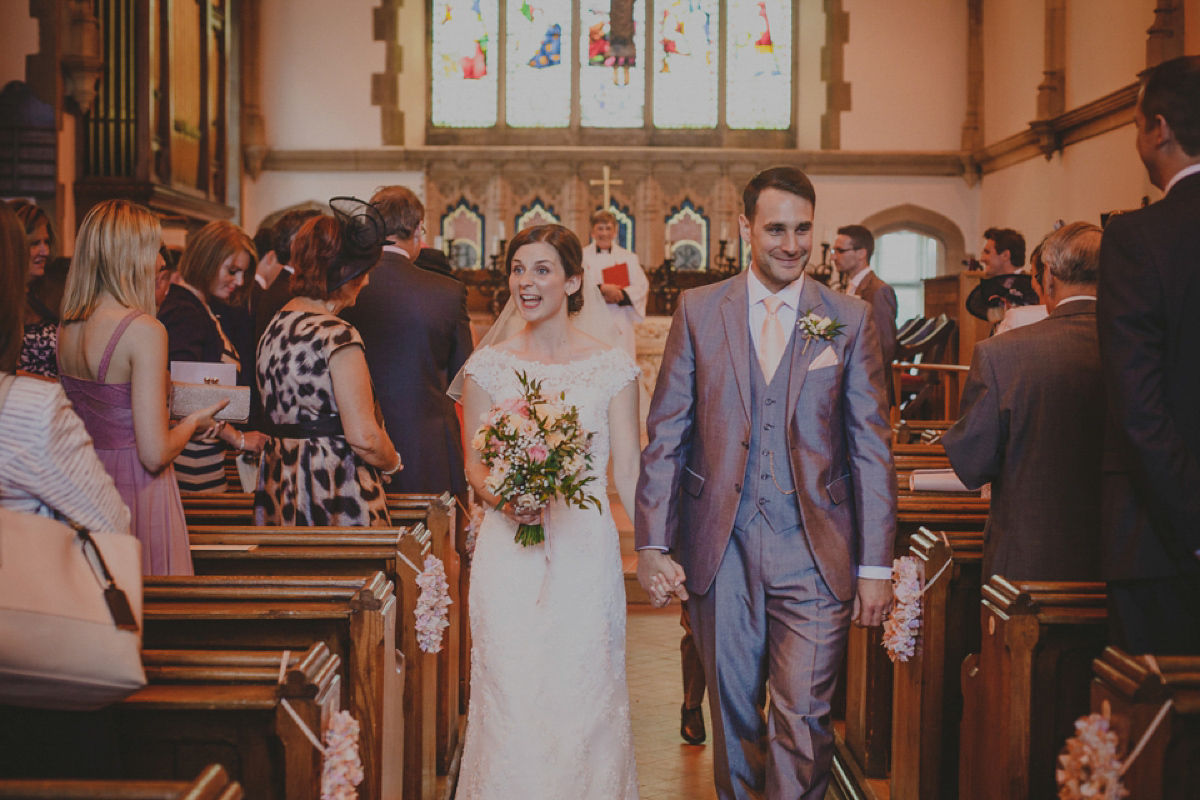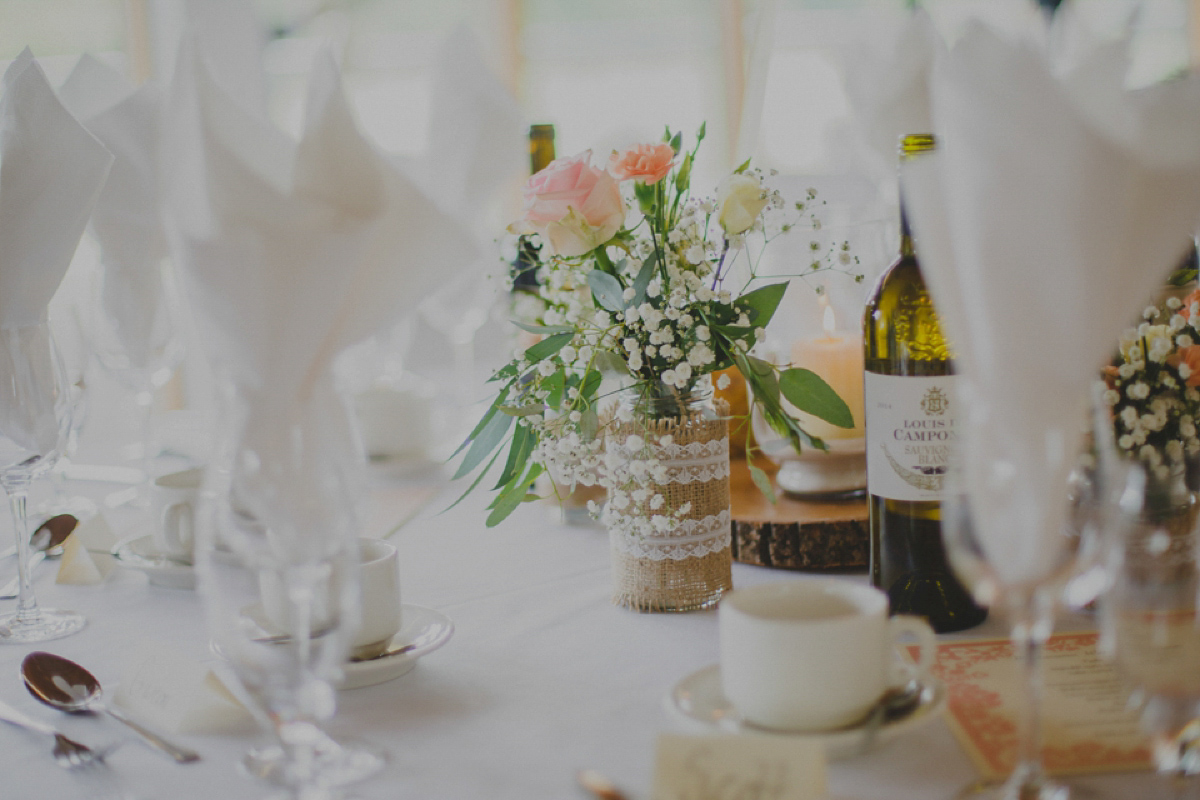 The beautiful cake was the work of Tom's talented mum.
For favours the couple chose to give forget-me-not pin badges from the Alzheimer's Society to each guest.  This is something close to my own heart as I did the same at my wedding in memory of grandparents and its a lovely way to give a gift and also give to charity at the same time.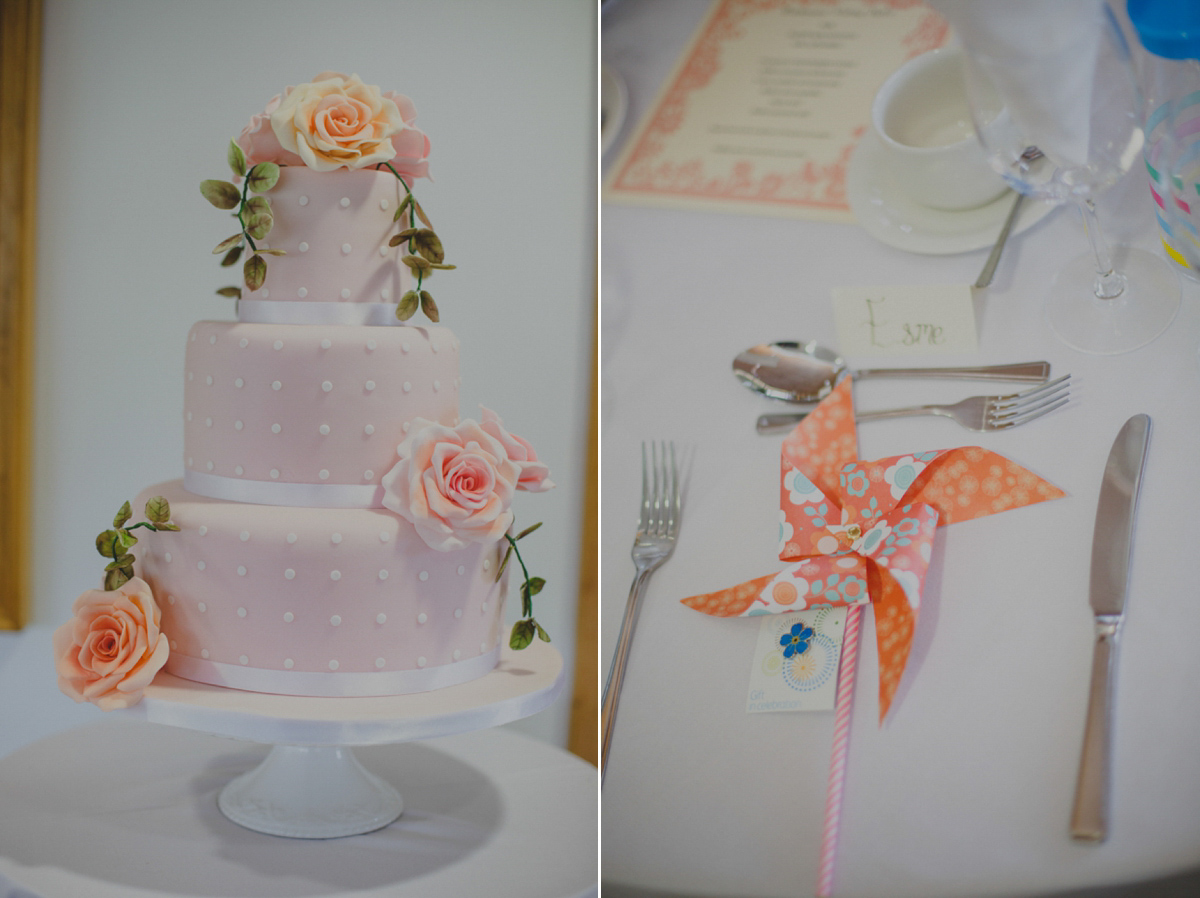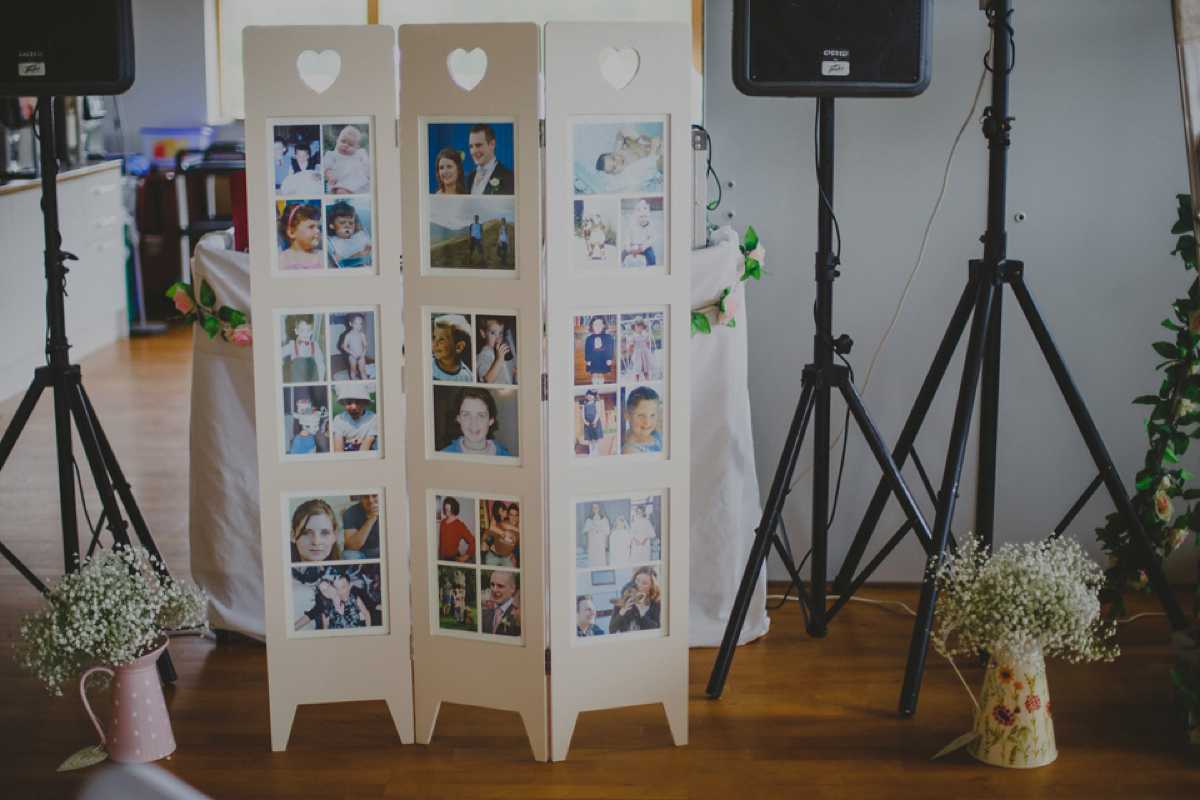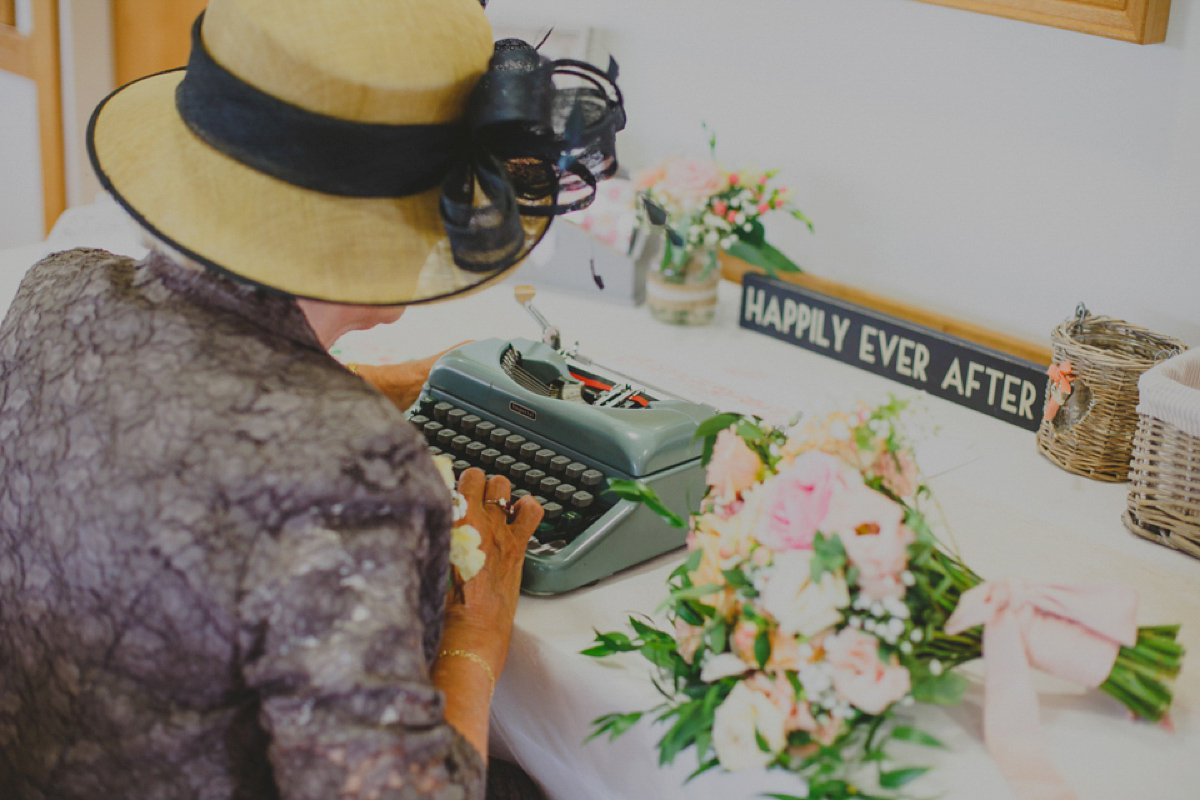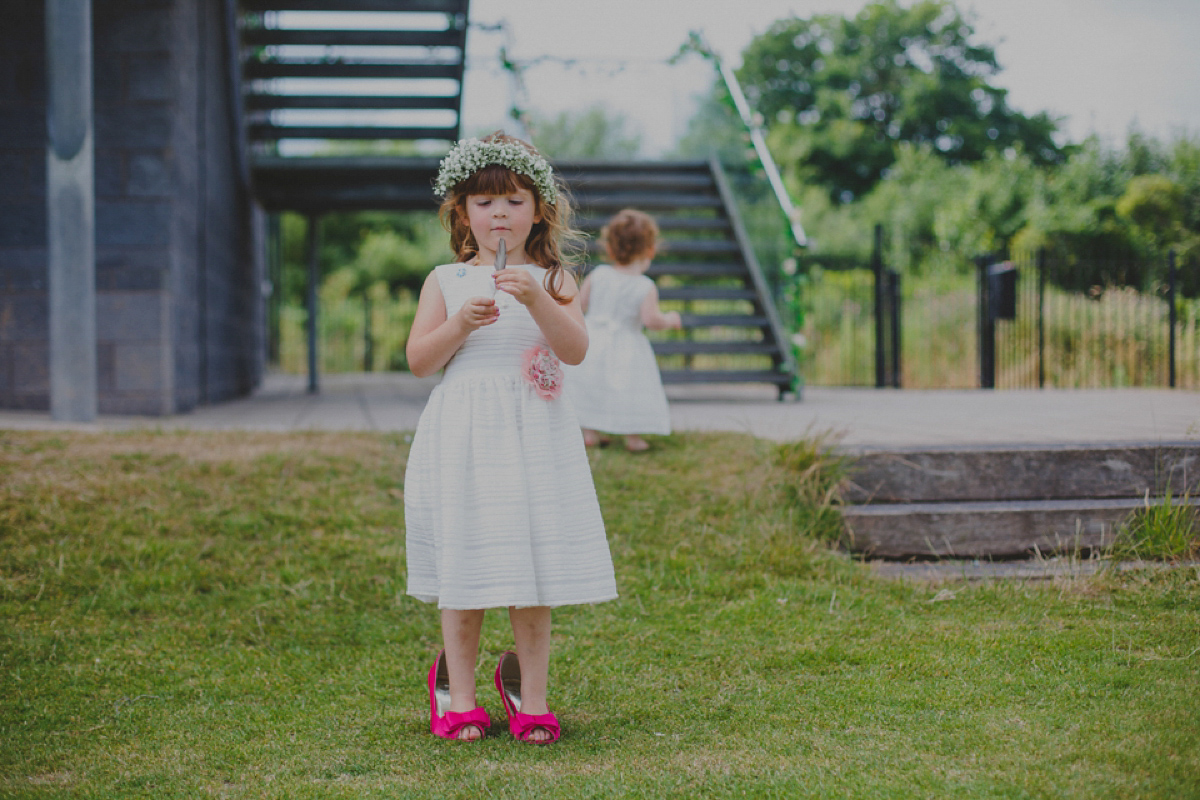 The day was captured forever in pictorial form by Clare Adams of Loveseen Photography.
"Clare's photographs are simply stunning and we are absolutely delighted with our photos, they are everything we had hoped for and more.  
We wanted our photos to be a true reflection of the day. Clare did a marvellous job and the photographs really do capture the day in ways that we couldn't have imagined.  We couldn't recommend Clare highly enough – it was a real pleasure to have her around on the day."
After the meal, guests were delighted to be met by Icicle Tricycle Wales, serving the most delicious ice cream.
"This was our alternative to pudding.  We didn't want anything too formal and this was the perfect way for people to relax and to fill part of the gap between the meal and the evening quests arriving.  The ice cream served was the Welsh "Hapus" ice cream and absolutely delicious.   Dave Roberts is a great character.  He took a photograph of every guest with an ice cream and even matched his waistcoat to our colour scheme."
Words of Wedded Wisdom
"You don't need to spend a fortune to have a wonderful day. We kept reminding ourselves that we would have a great day in a room with a bit of food and drink and all the people we love.  All the other stuff, the décor and details, are just a bonus and don't make or break the day."
Sensible words indeed Lucy, thank you.
So many thanks to Lucy and Tom for sharing their day with us and to Claire at Loveseen Photography for sharing her photography.  Do we have any other welsh brides? Have a look here for weddings in the hills and valleys of beautiful Wales.
Much love,
Shona x