Hello gorgeous Saturday wedding blog readers! Fair warning right now, if anyone is suffering from wanderlust at the moment, this tantalising Italian wedding is going to give you seriously itchy feet. Florence has to be one of my very favourite cities and as a fellow Tuscan bride, these gorgeous nuptials have made me very very excited.
Georgette, editor and writer for Italy Magazine and blogger behind Girl in Florence (she has the loveliest of Instagram accounts by the way), wed Nico, a biomedical engineer, on 28th November 2015 at the stunning Villa Montalto near their adopted home of Florence. Their romantic and multicultural wedding honoured Georgette's Texan roots and Nico's French heritage by combining their backgrounds in a celebration of the one place which has always felt most like home – la bella Firenze.
"As neither of us are from Florence yet chose to live there, it was important for us to get married in a place that both of us had a strong connection to. We wanted to bring everyone together and give them a little peek into why we love this city. Because it was winter I wanted everything to be softly lit with plenty of candles, olive branches, rosemary stems, soft colours of magenta (to match my bouquet) and ivory."
Photography – Francesco Spighi
As bridesmaids aren't an Italian wedding tradition (and Nico opted for a groomswoman rather than a best man), Georgette chose not to have matching dresses and simply asked her girls to pick green frocks; doesn't the colour look beautiful against the rich red of Georgette's berry bouquet?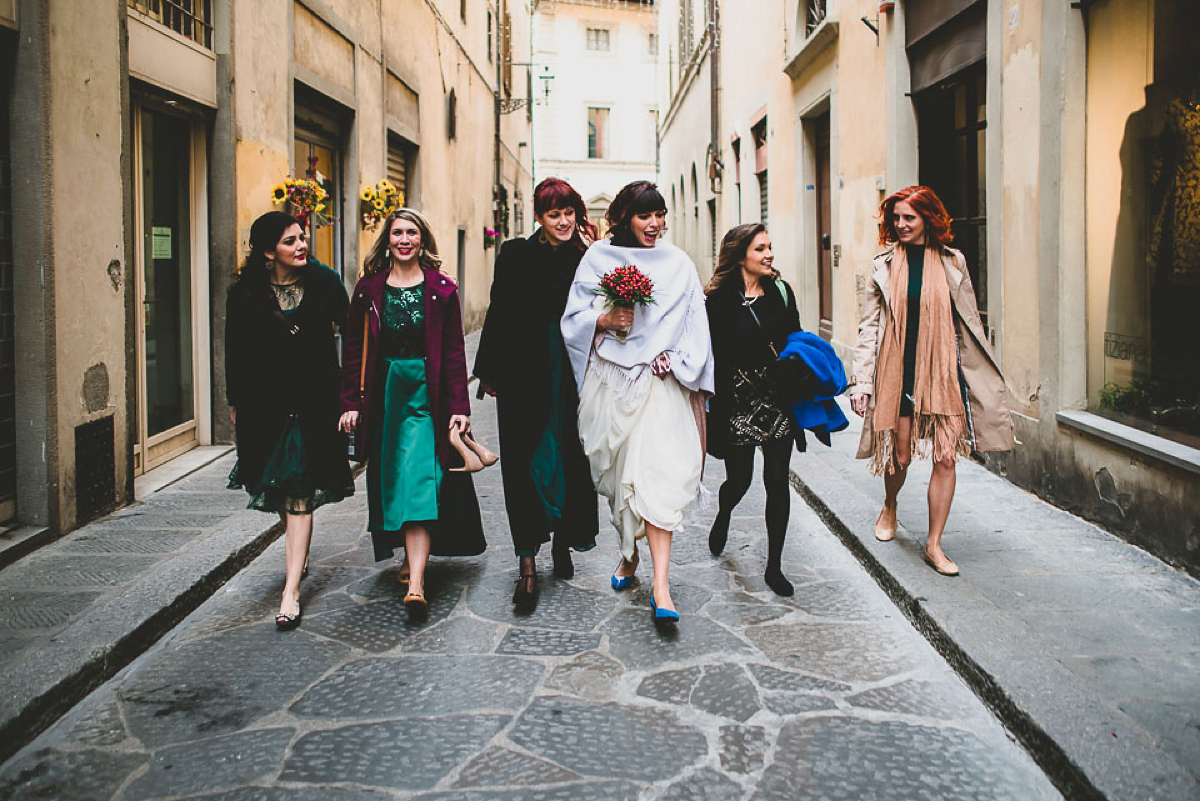 Such a beautiful series of locations called for a seriously gorgeous dress. Georgette turned to Sicilian born dressmaker Anna Fuca to create her romantic lace and silk gown, which she paired with artisan-crafted blue wedges bought from Viajiyu in Florence.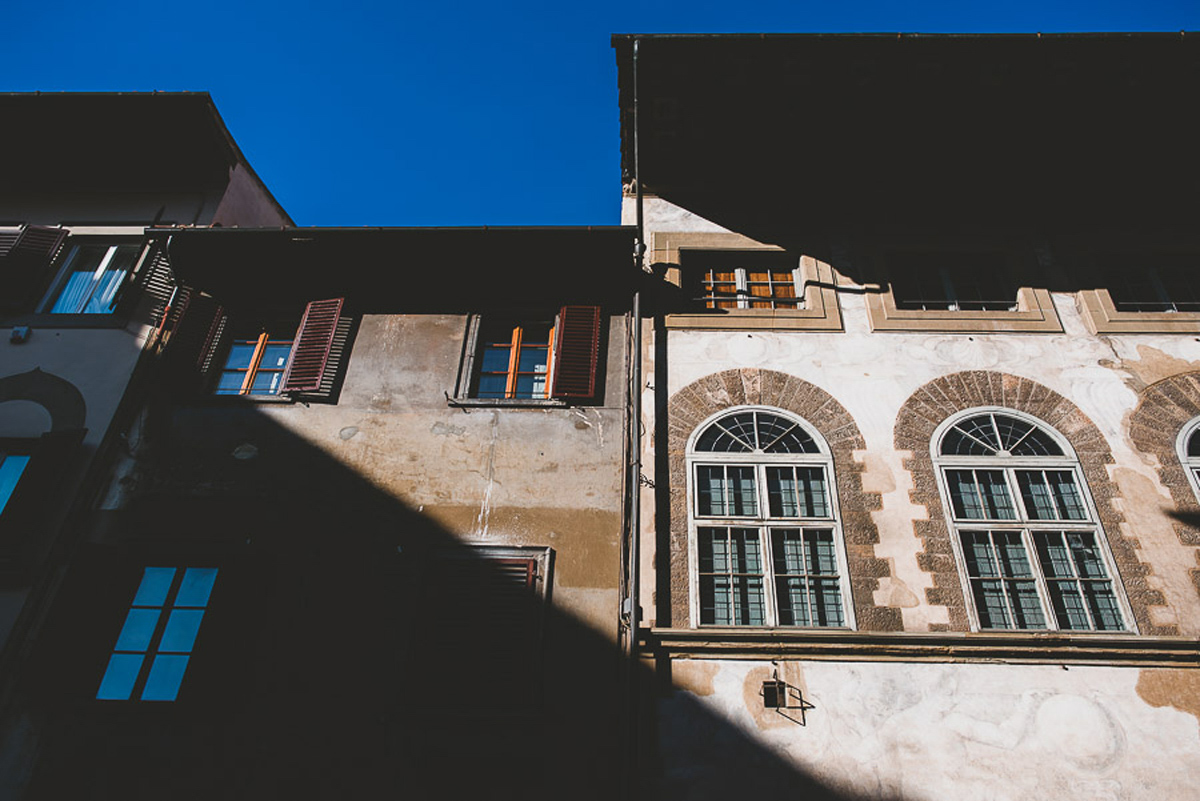 'The dress was completely handmade by Anna using fabrics that we both together. After a rather awkward experience looking for a dress in Florence, I actually came to Anna regarding a story I wanted to write on her for my blog. We ended up talking for hours and I knew I needed to enlist her to make my dress. I loved the beautiful lace bodice that we picked together and light silk skirt that made the dress anything but heavy. This was my first experience getting something made completely for my body and I loved every single step of the process."
Georgette added a vintage-inspired flower headband and earrings, both gifts from friends, and a borrowed vintage necklace to compete her bridal ensemble. Her lusciously dark locks were teased into soft curls by Maurizia of Adrienne Aerobe and her glamorous winter-inspired make-up was the handiwork of her friend Ellyn McLain. The delicious Versace Versense enveloped the beautiful bride in a cloud of bergamot, green mandarin, cardamom and sandalwood throughout the day.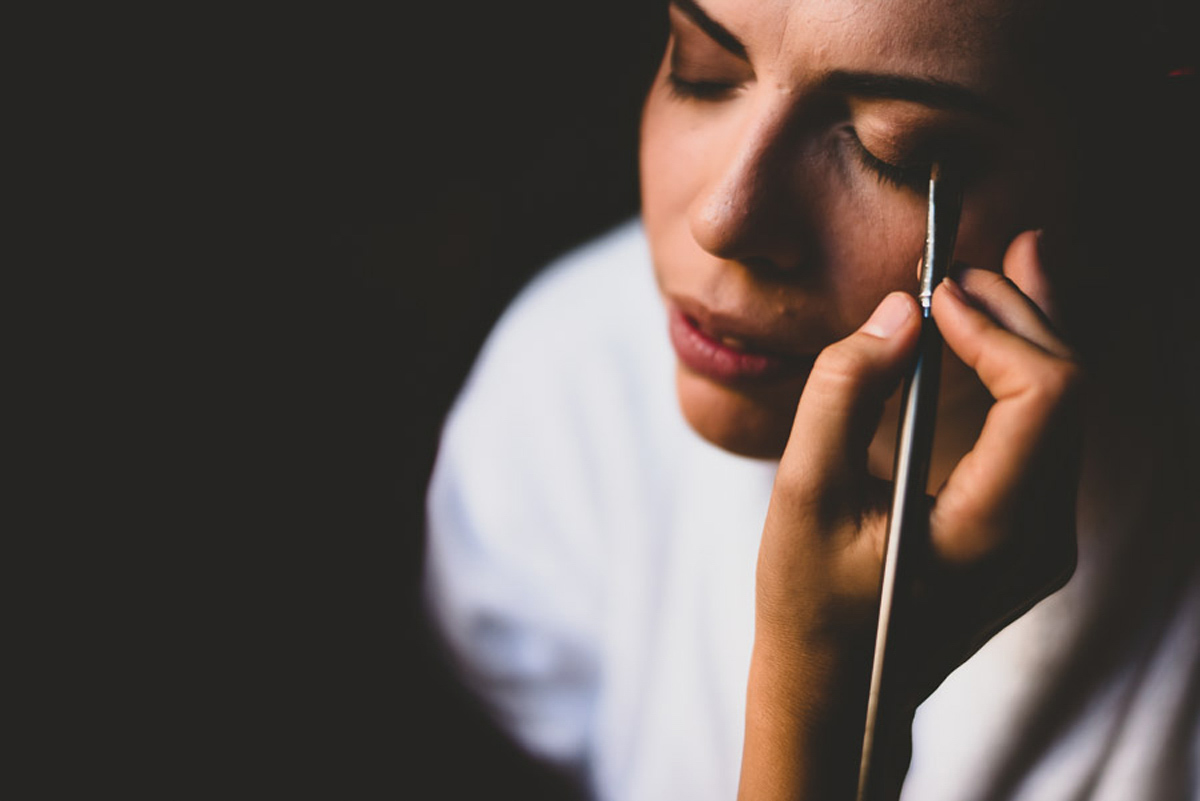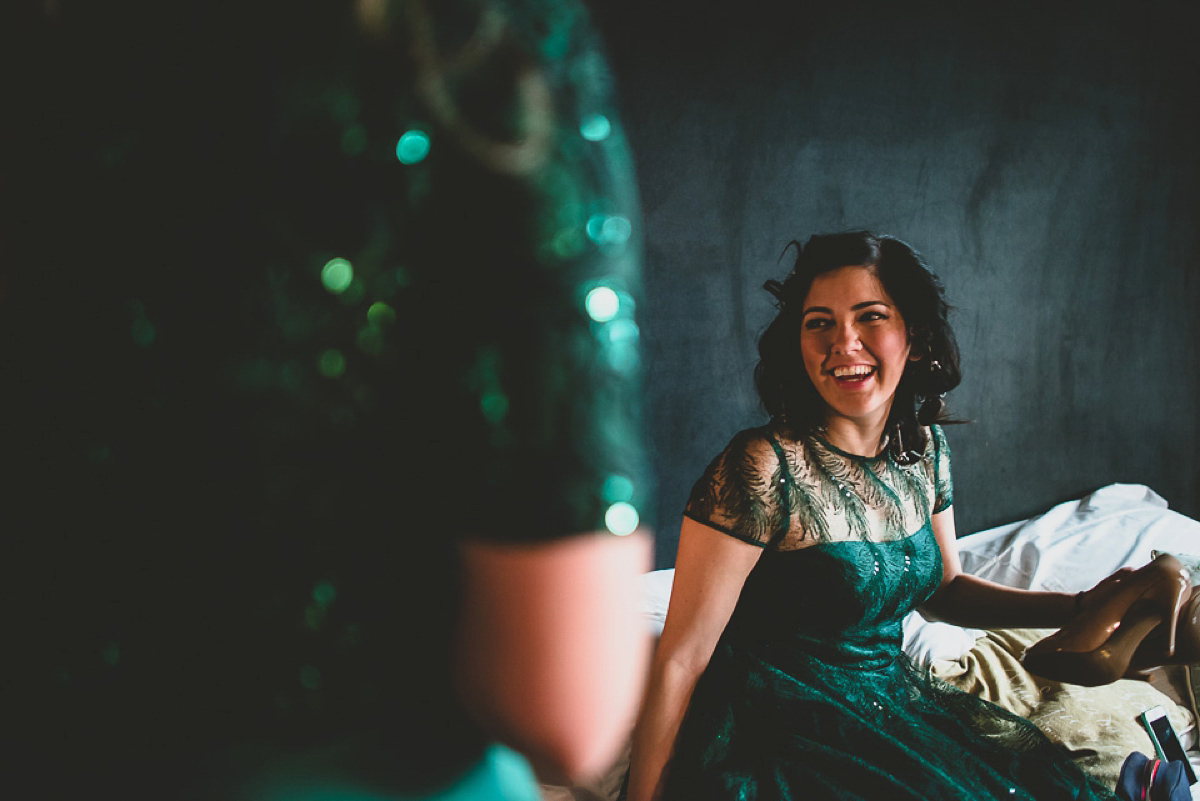 Georgette and Nico enjoyed two ceremonies; one short and sweet Italian wedding in the sala rossa at the town hall of Florence; 'Palazzo Vecchio,' and a second, personalised ceremony in both French and English led by Cinzia of Tuscan Pledges.
"We skyped with Cinzia before the ceremony and felt an instant connection, she just got us and we felt very comfortable having her with us on our special day. We wanted our guests to make the wedding a little vacation; a fun weekend in one of Italy's prettiest cities."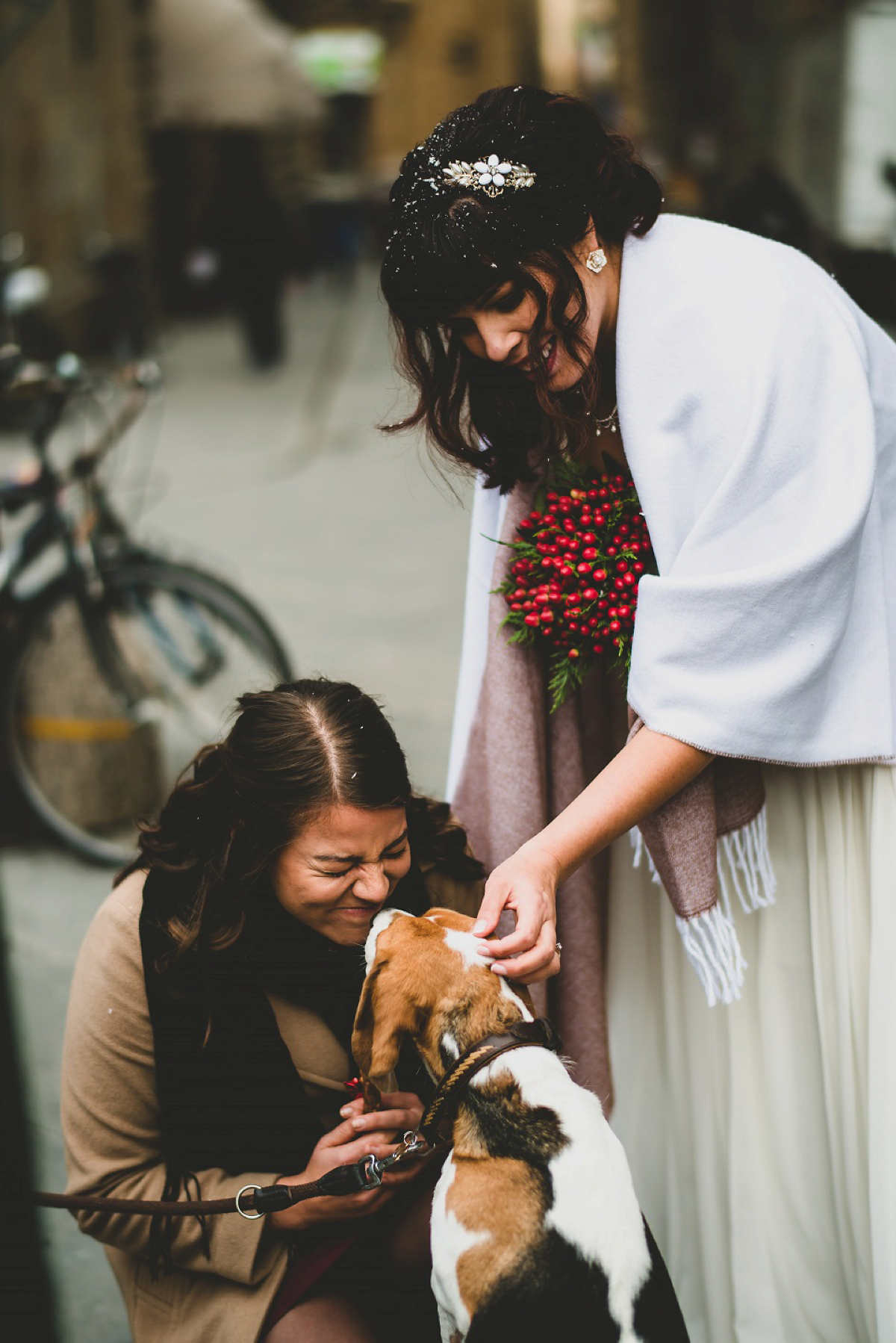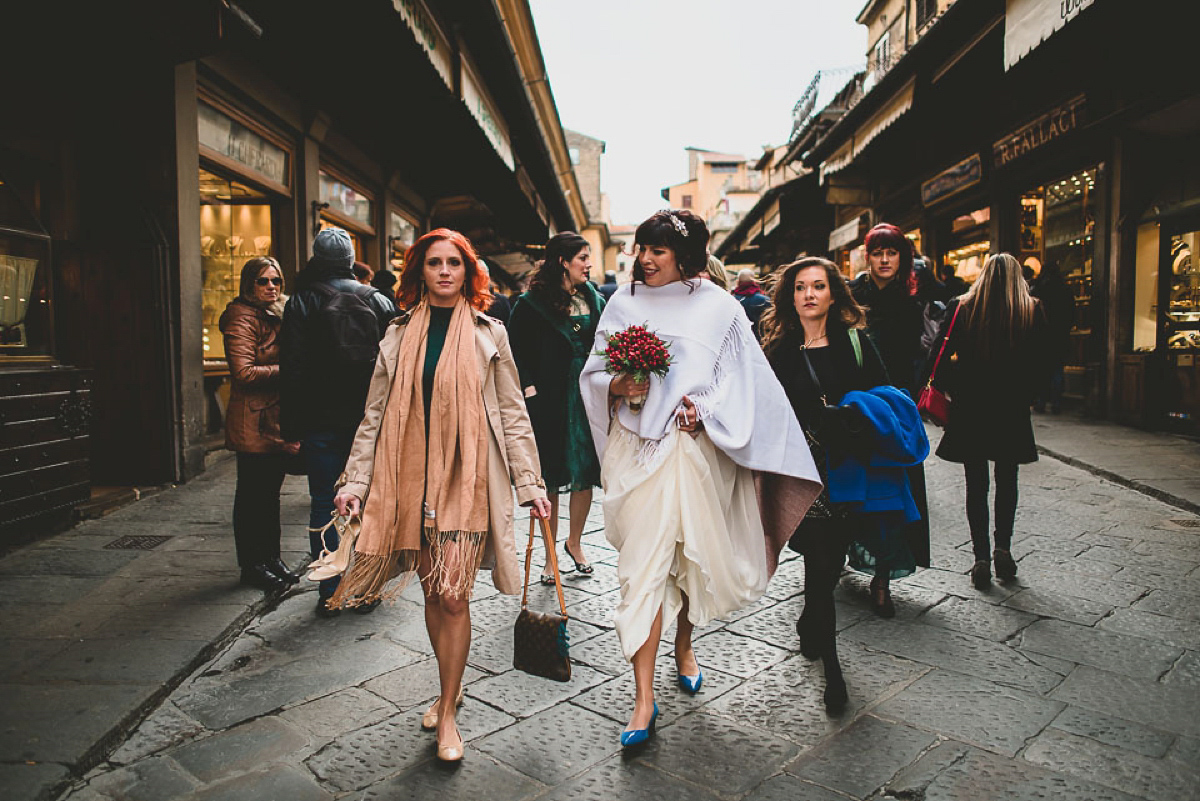 Nico chose a Sartoria Rossi suit and switched between a light blue tie for the civil ceremony and a bow tie at the symbolic ceremony, and his nephew was an adorable mini-me in his own suit.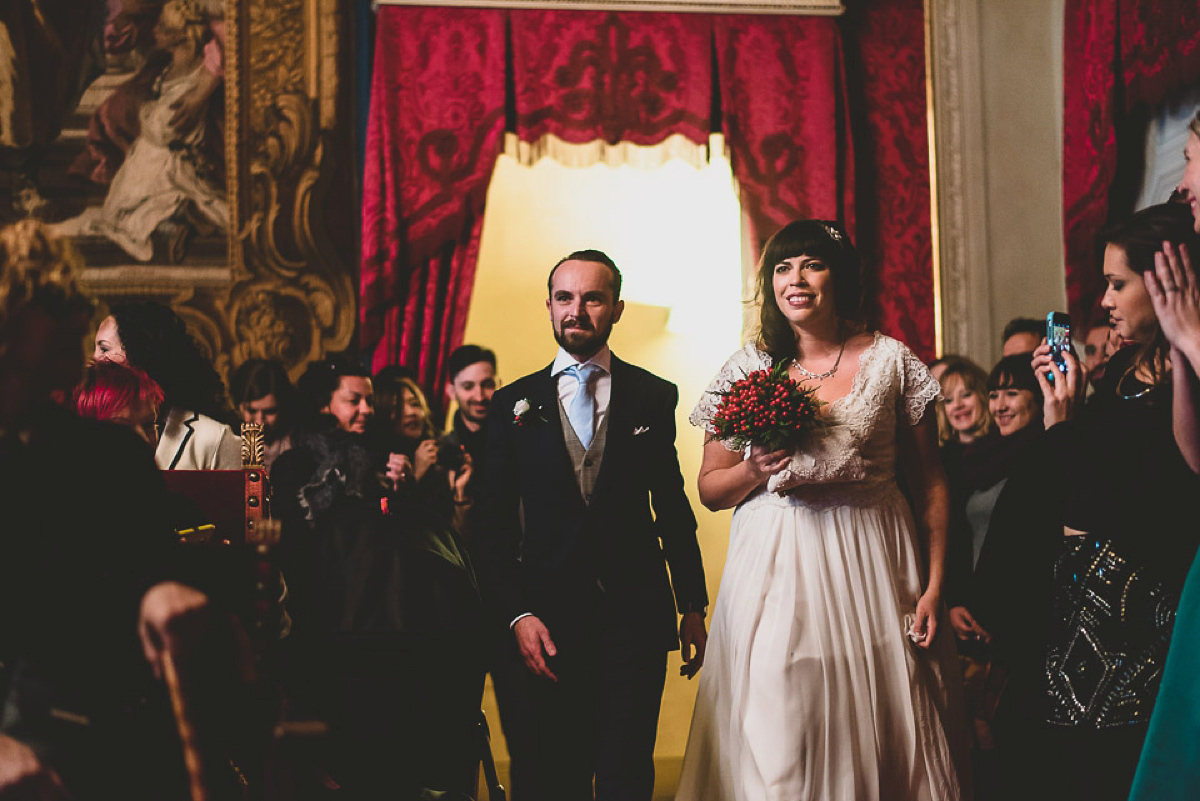 "Our flowers were from Sbocciando in Pontassieve. We wanted to go local as much as possible so we chose a small florist from outside of Florence recommended by a friend. I didn't allocate a lot of our budget to flowers but I wanted the ones we had to be great. We opted for a seasonal look with organic Tuscan touches like my bouquet with red berries and fresh rosemary and thyme."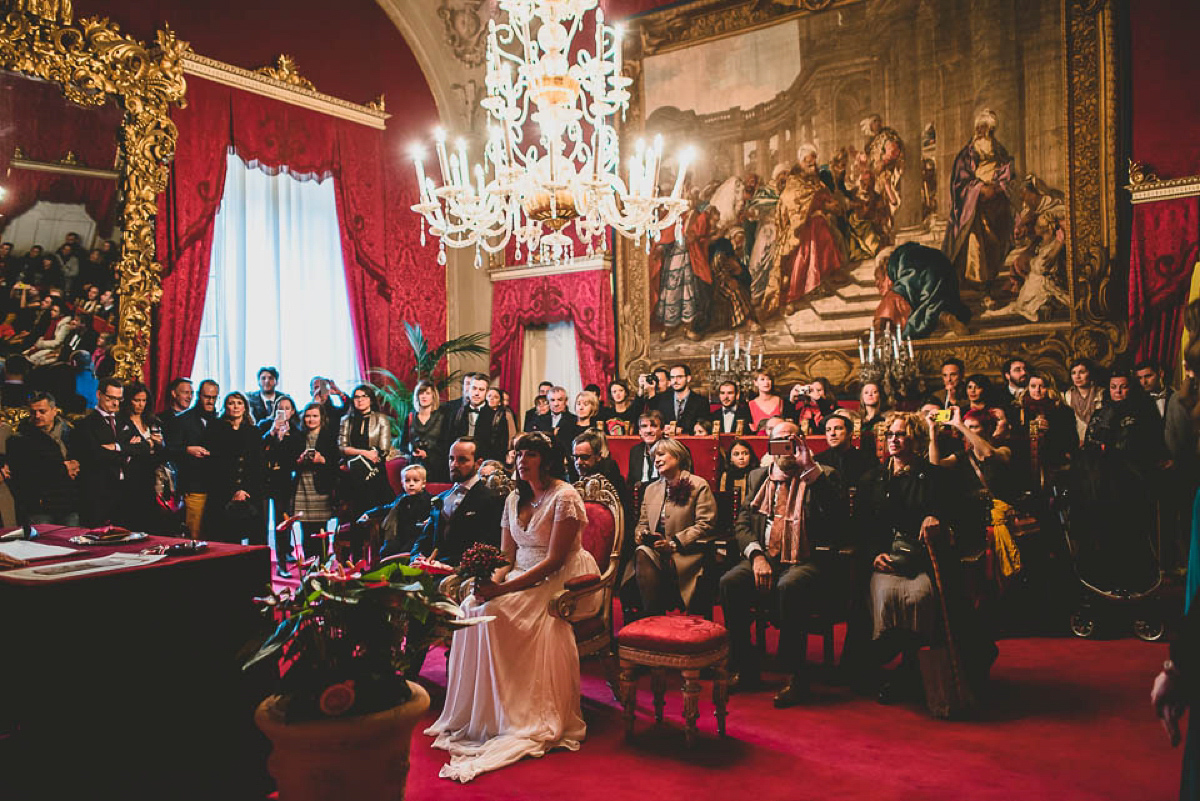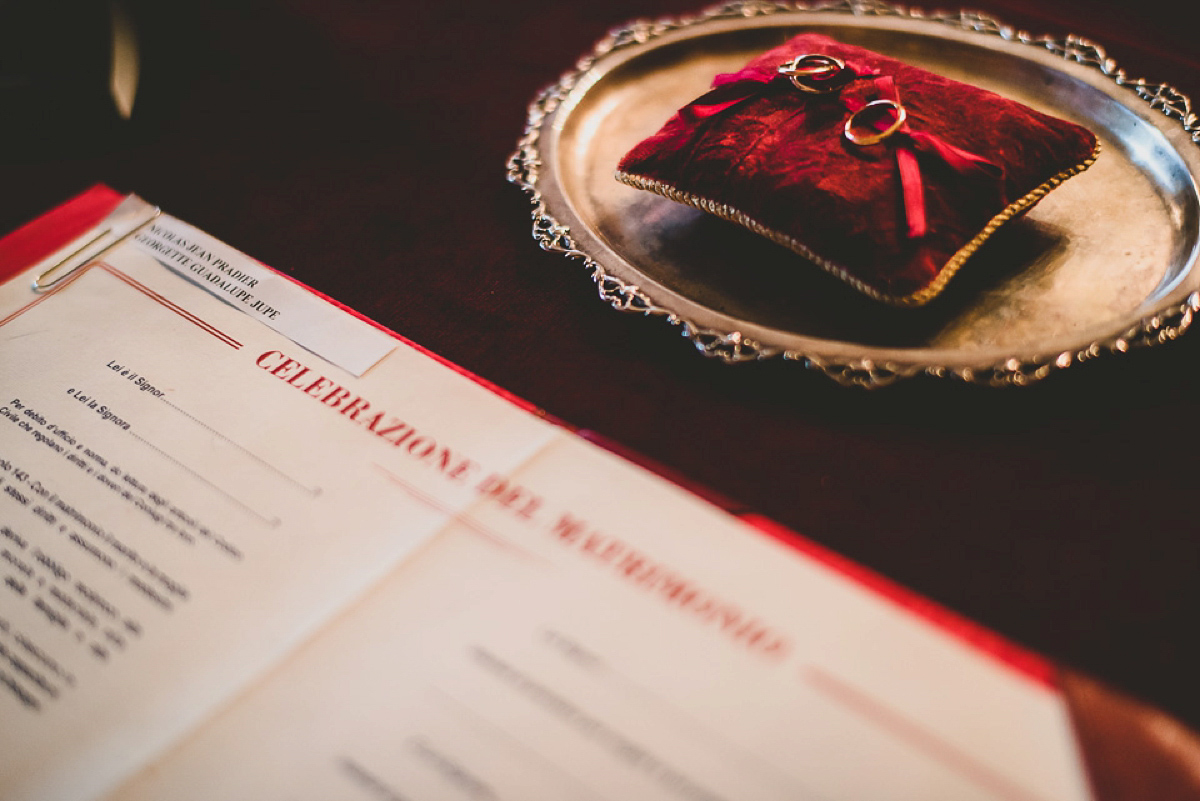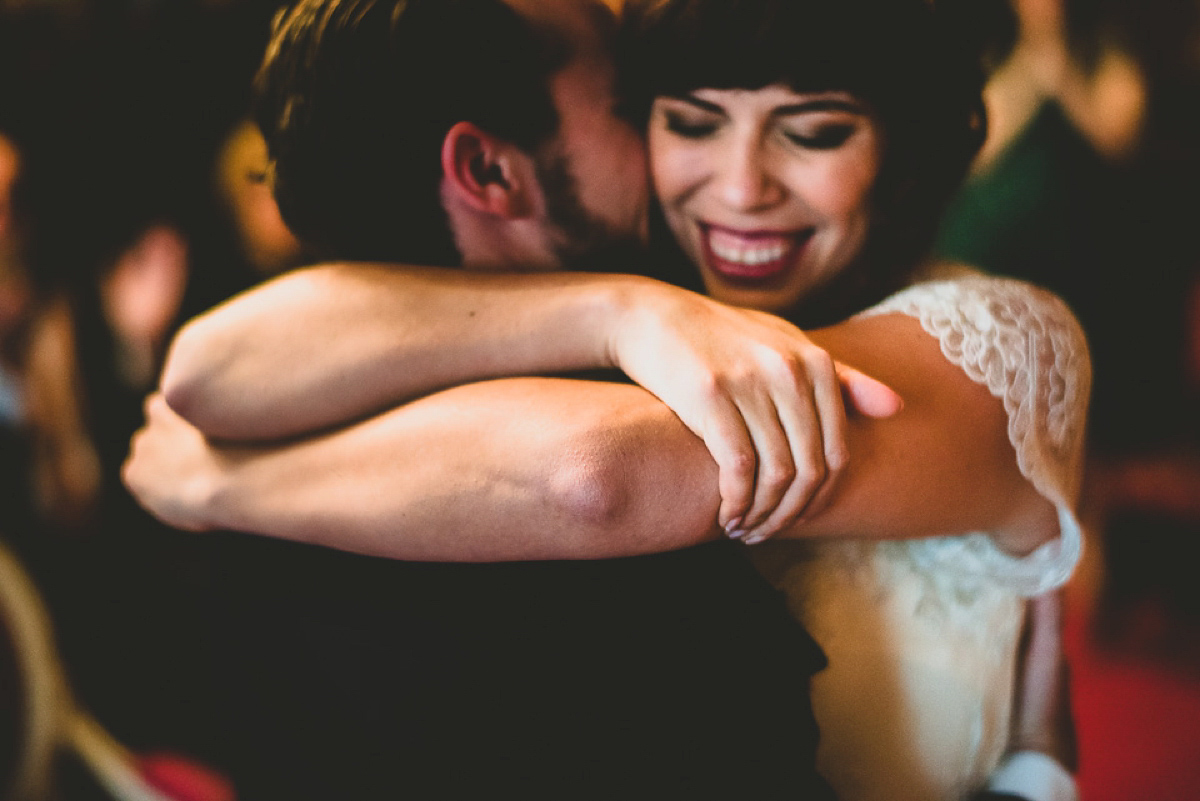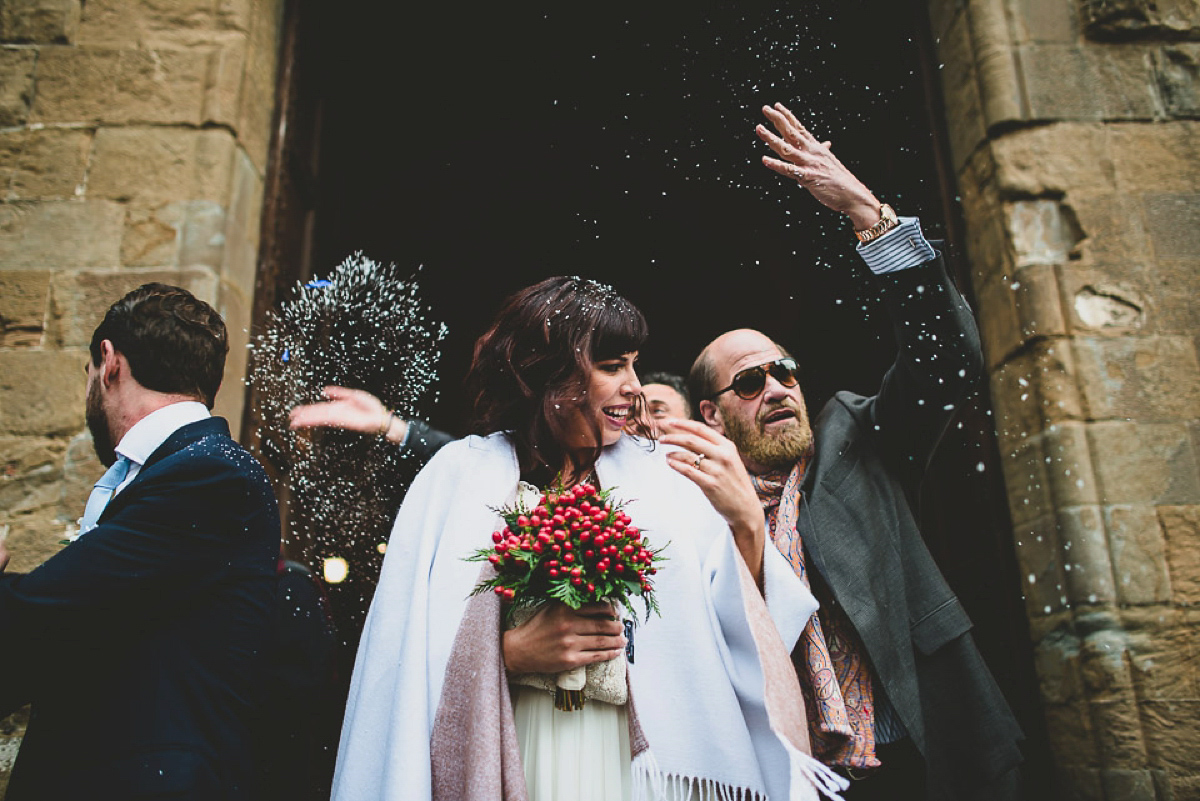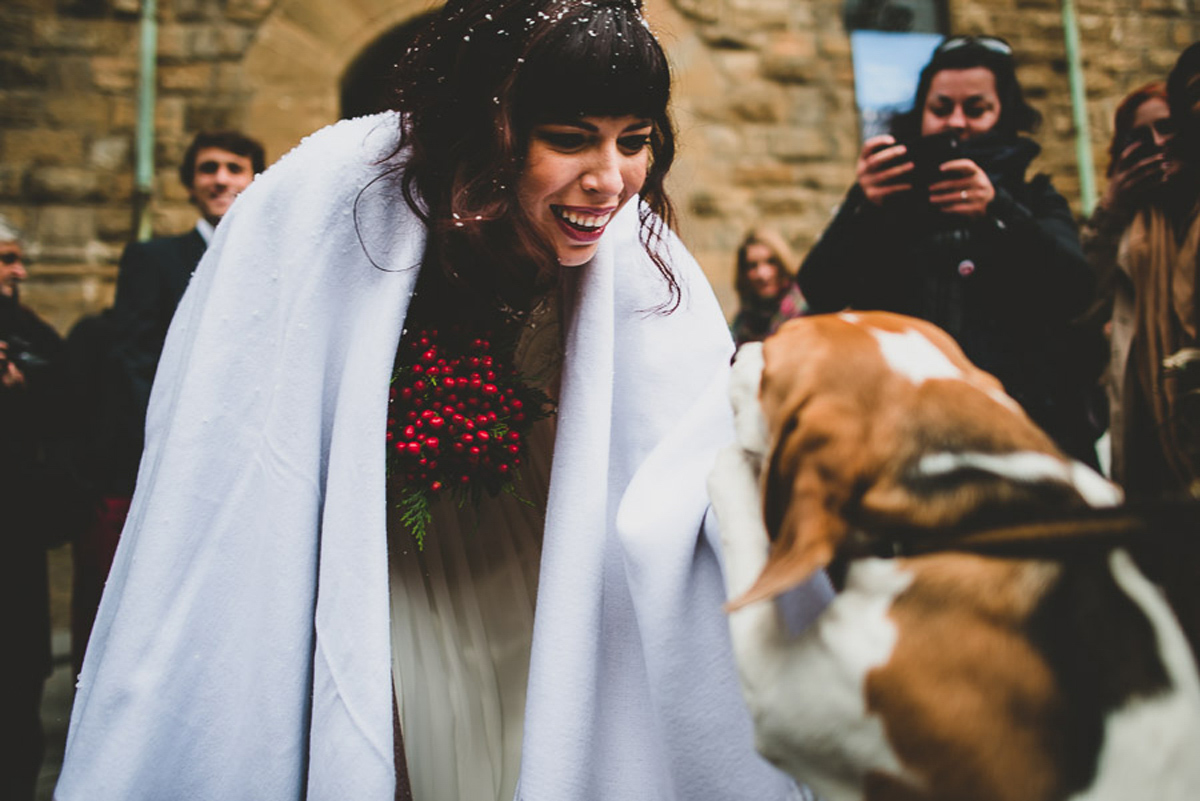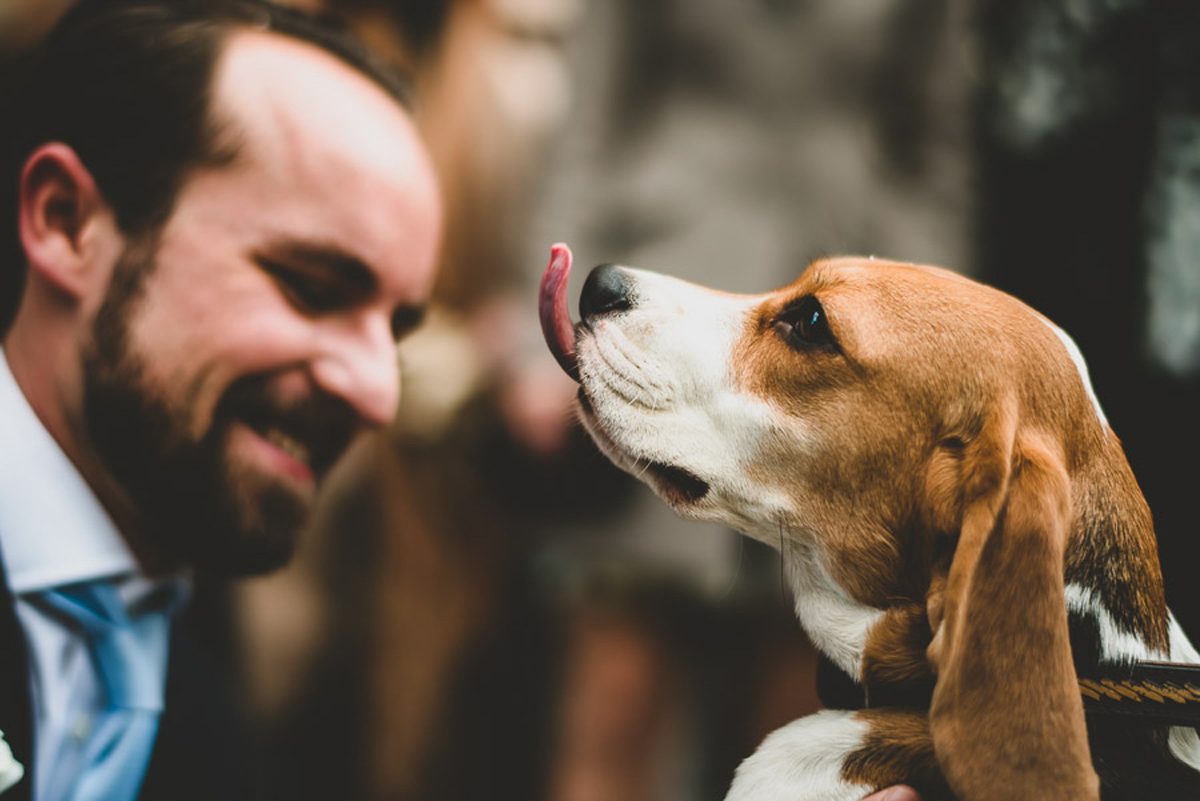 "After the first ceremony we arranged for a walking tour in both French and English for our guests and we snuck away for pictures and a cheeky new husband and wife glass of champagne at a friend's wine bar near Palazzo Pitti, Enoteca Pitti Gola. It was so nice to savour half an hour alone with my new husband in this tiny wine bar; I'm sure we gave passers-by a shock as they spotted two very overly dressed people hidden in a corner of the bar."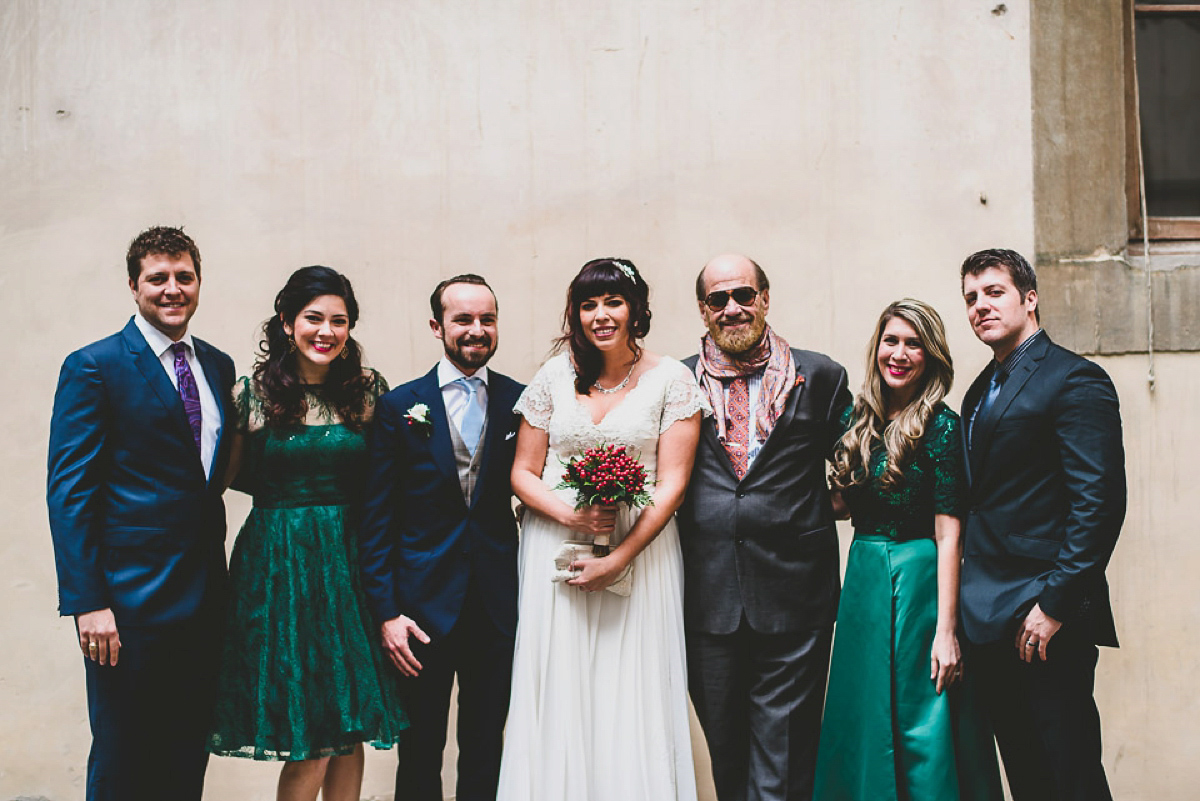 Georgette and Nico's love story started in the very best way; with delicious Italian food. After six years of friendship, the couple shared a pizza and a kiss and the rest is history.
"He popped the question on one knee in front of the magnificent Duomo cathedral, which was coincidentally where we met as friends so many years before. I thought we were just going out on a date night but he had it all planned. It was beautiful, romantic, and very Nico. It was a windy day so there weren't any tourists around, we just revelled in the moment before calling our parents and having dinner nearby. We were together about two years before getting engaged in March and our engagement lasted around nine months.
We did most of the planning on our own but enlisted the help of Carolina of Tuscan Dream who did our day-of coordination and helped bring everything together. I couldn't imagine not having her help the day of, she was a godsend!"
Georgette and Nico chose Francesco Spighi to document the beauty of their Italian nuptials. I love the laughter and intimacy Francesco has captured and he beautifully uses the soft lighting Georgette was so keen to include throughout their day.
"Francesco was such an important part of our wedding day. Photos are forever and I really wanted someone who would capture the moment and the emotions, which he did perfectly. What I loved about him was his attention to detail and how well we all got along; I felt like he truly sought to get the most range and went above and beyond our expectations. He completely captured the vibe and spirit of our wedding day and Nico and I will forever cherish these memories through his photos."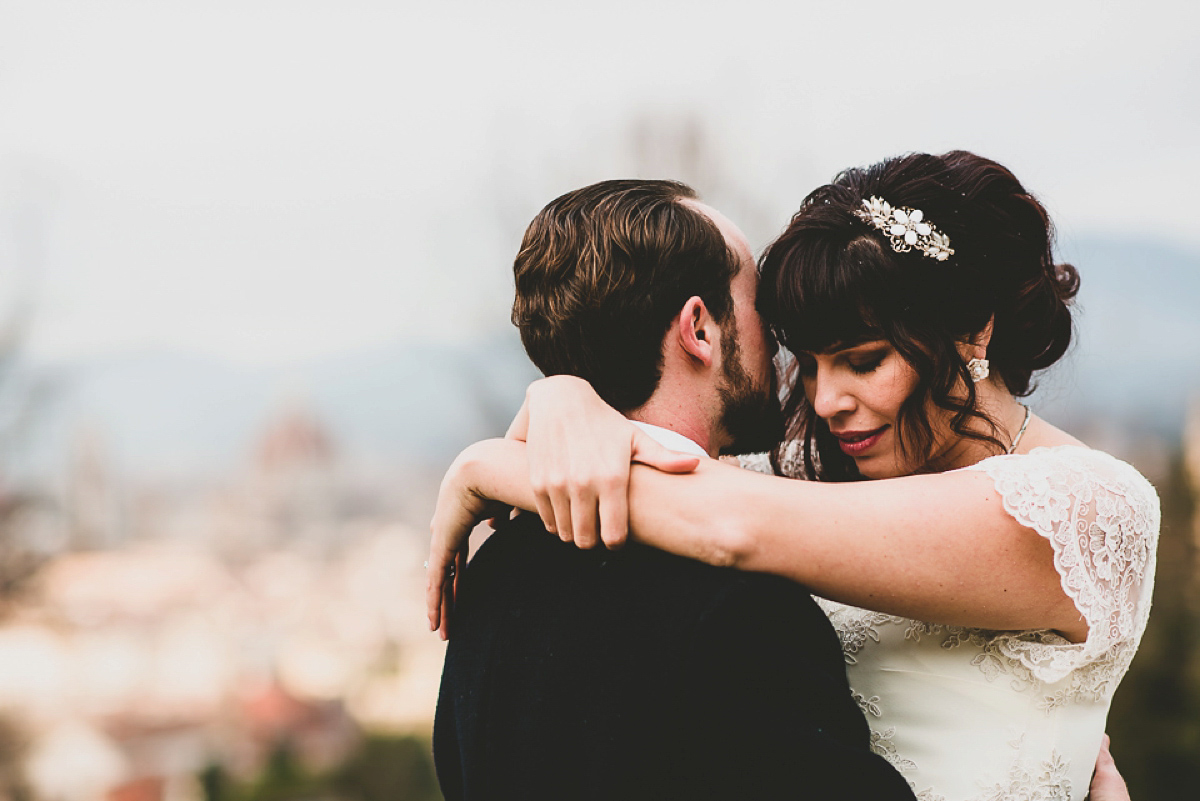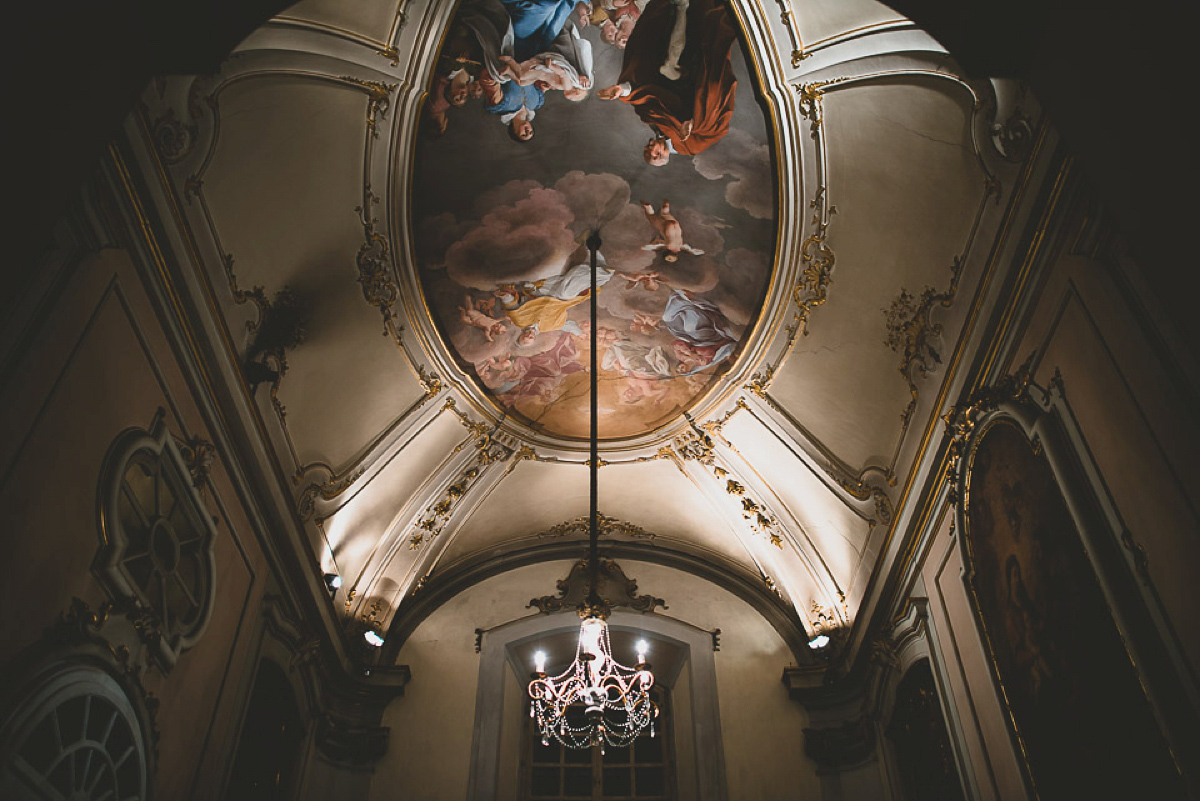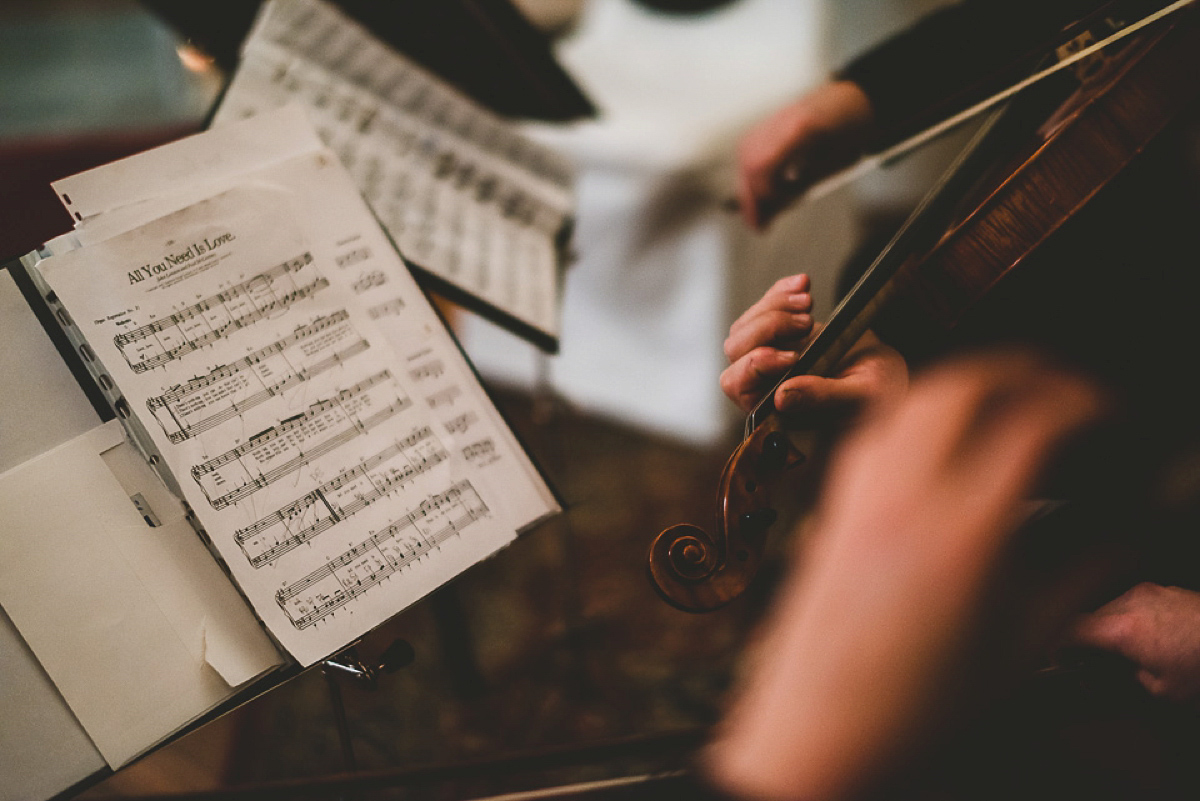 Georgette's father walked her down the aisle at the symbolic ceremony, accompanied by Pachelbel's Canon in D played by three violinists. These shots are full to bursting with love and emotion.
"We had two readings and one was done by my friend Elly; a Pablo Neruda sonnet. Our rings were made for us by an artisan jeweller located next to Ponte Vecchio in Florence. We decided not to have the same rings as Nico wanted a simple white gold ring while I opted for two intertwined rings, of white and pink gold. My engagement ring was also made there and over the process we became friends with the man and his son who own the shop."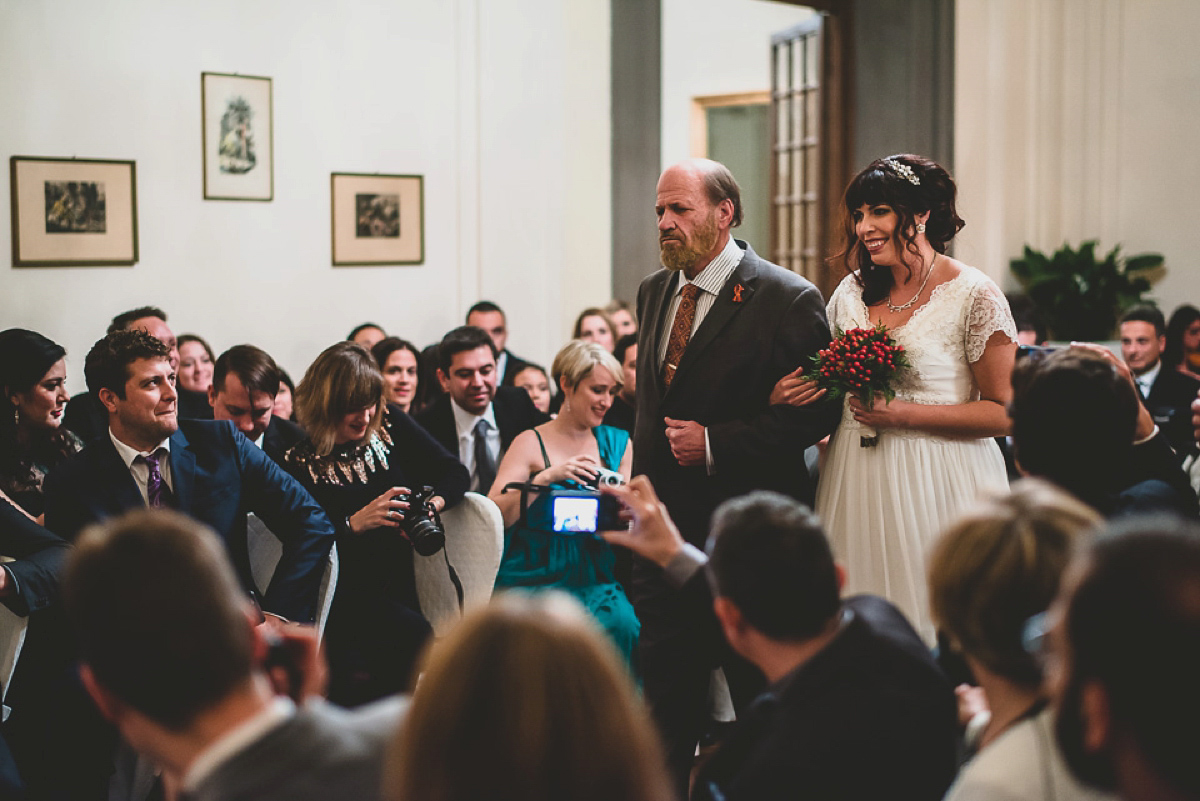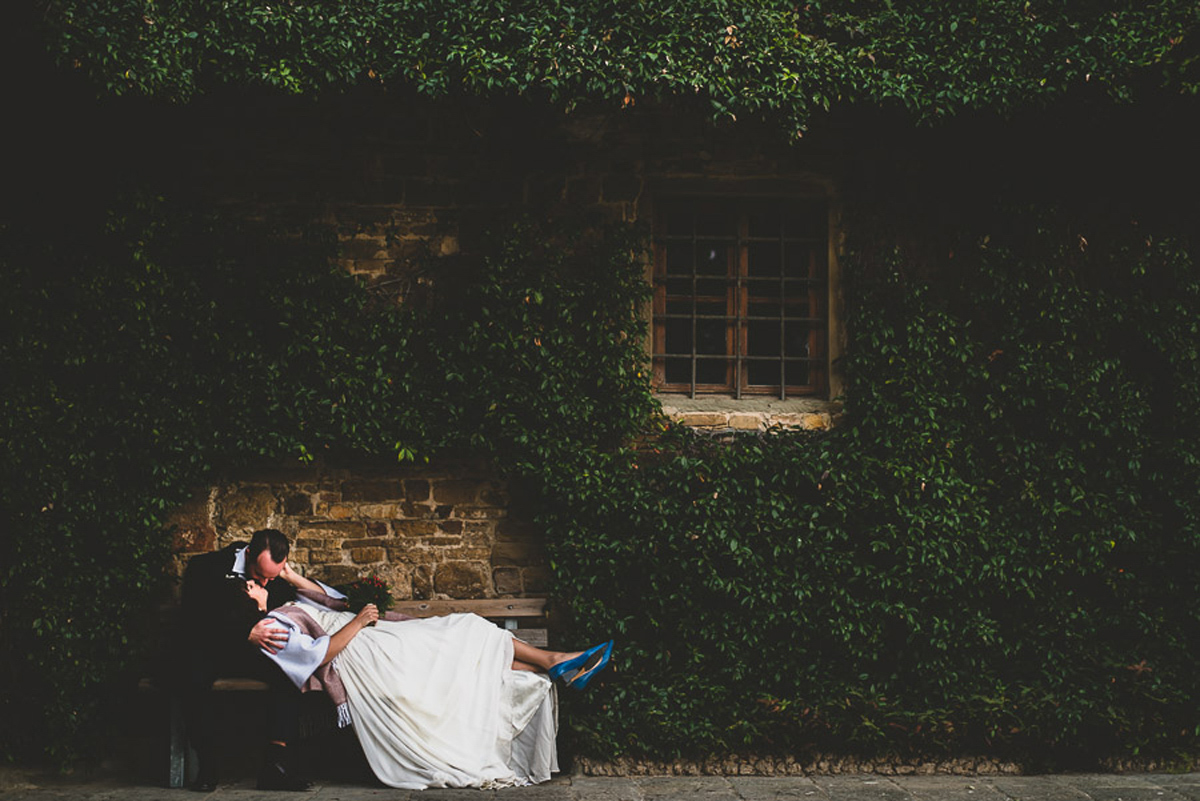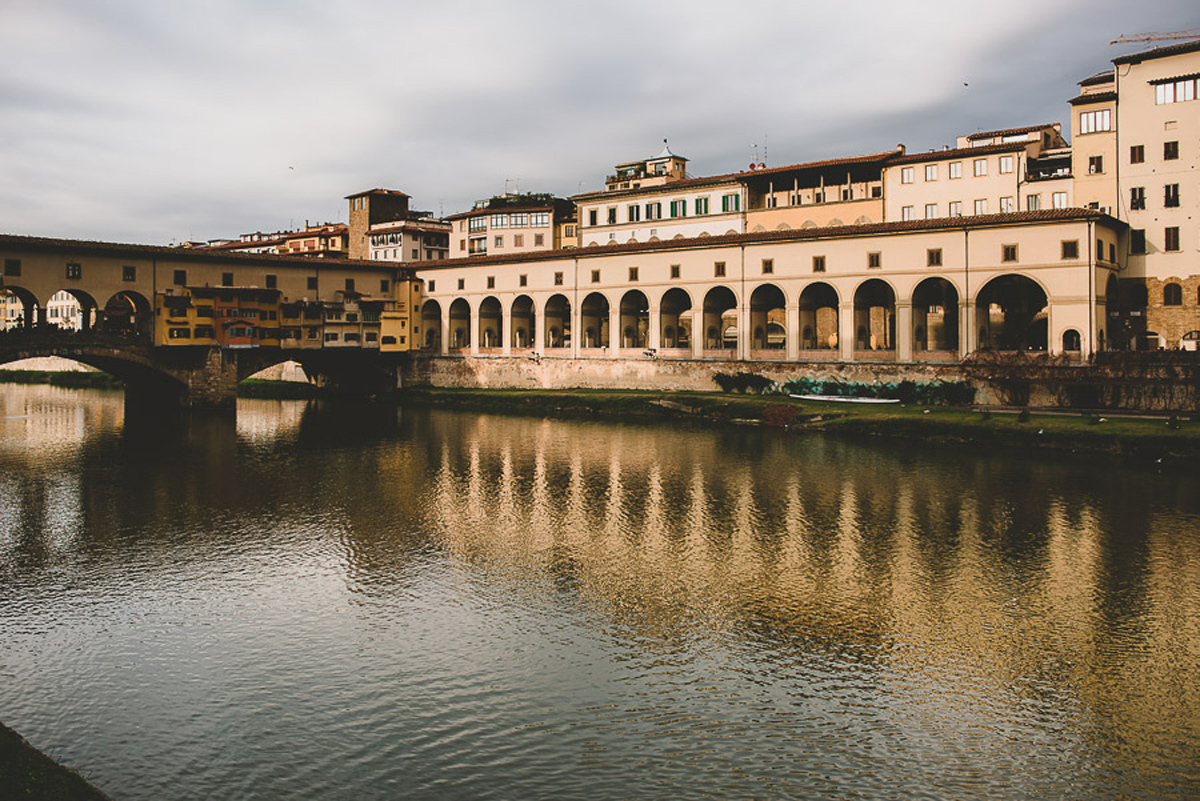 Working with smaller independent business is such a lovely way of personalising the wedding planning process. Georgette and Nico sourced so many of their suppliers in Florence and when it came to the venue they were spoiled for choice; though there wasn't ever really a question of which one they'd chose after falling hard for the scenic Villa Montalto on their first viewing.
"There are plenty of incredible venues in and around Tuscany but we chose Villa Montalto for its proximity to Florence and for the lovely, romantic interior. It was love at first site. The villa has a stately interior and there were a number of different rooms available to us including a wood-panelled library which we used for our makeshift photo booth and spirits bar, and a dining hall which had a special 'winter veranda' for those who needed a little fresh air. With a party of 100 people we wanted to make sure the space was comfortable and not too big."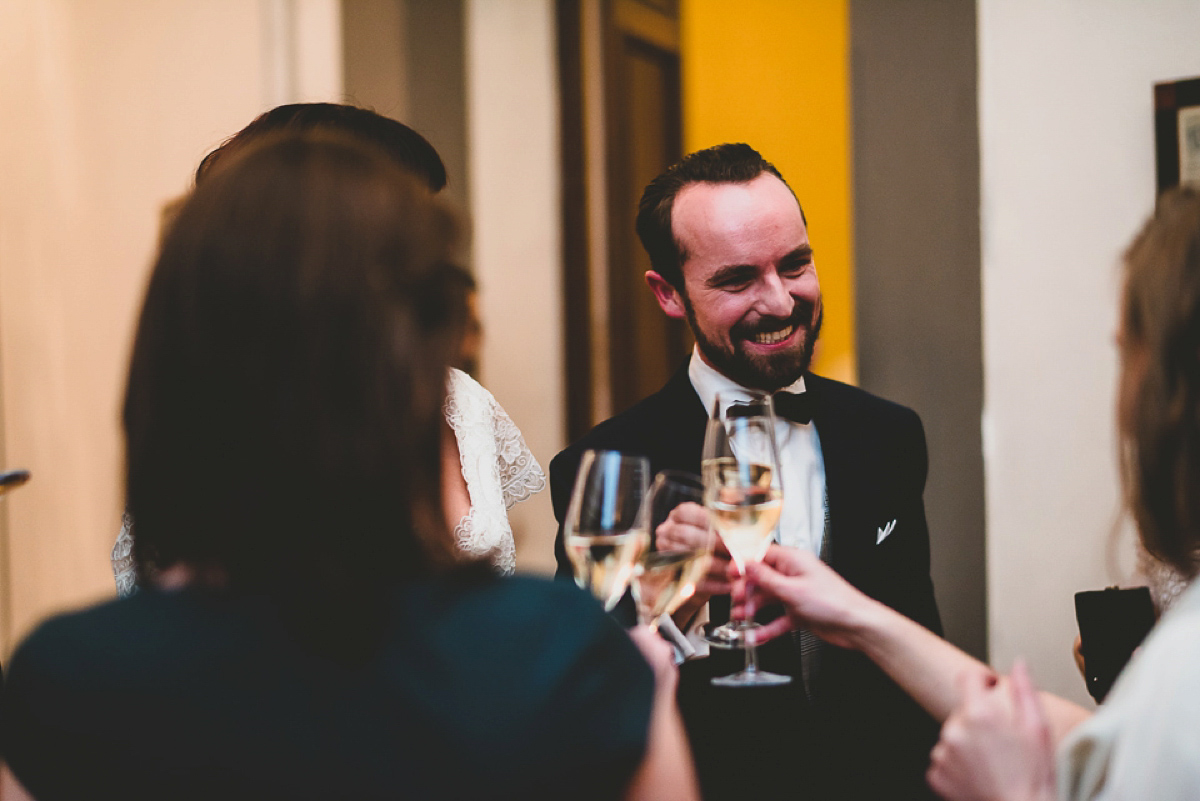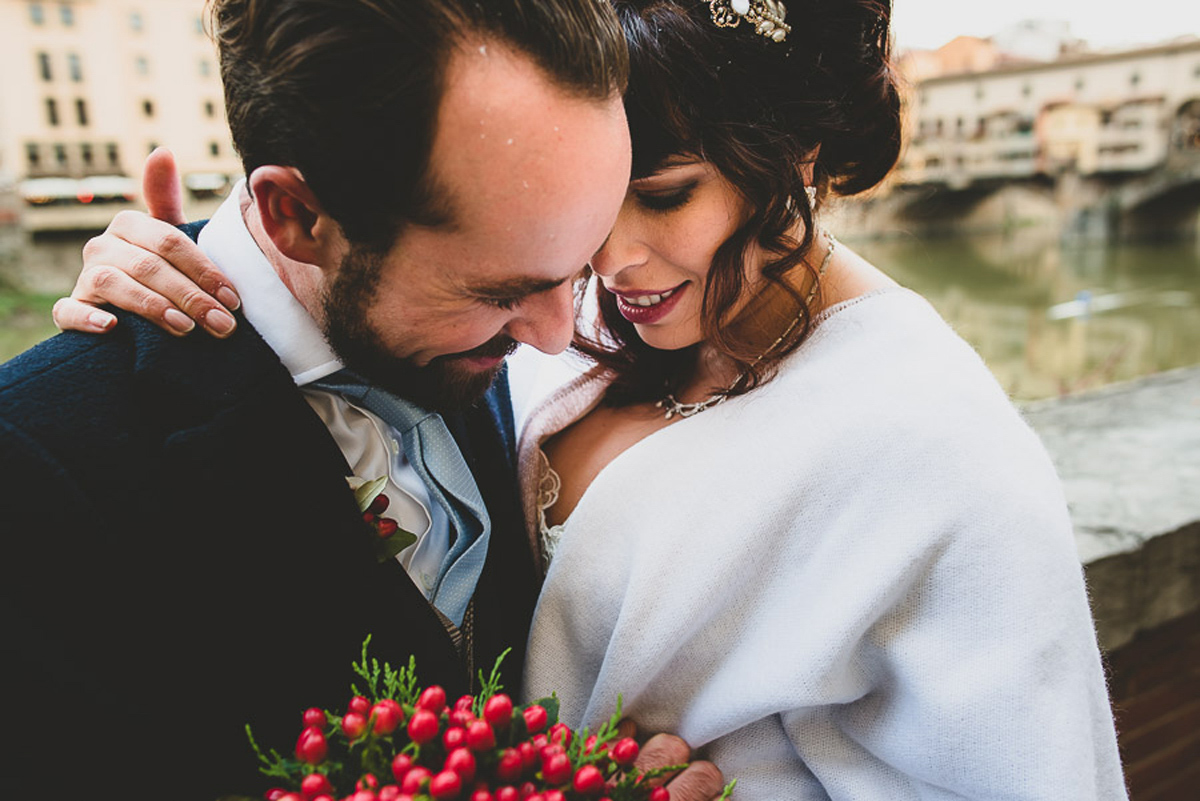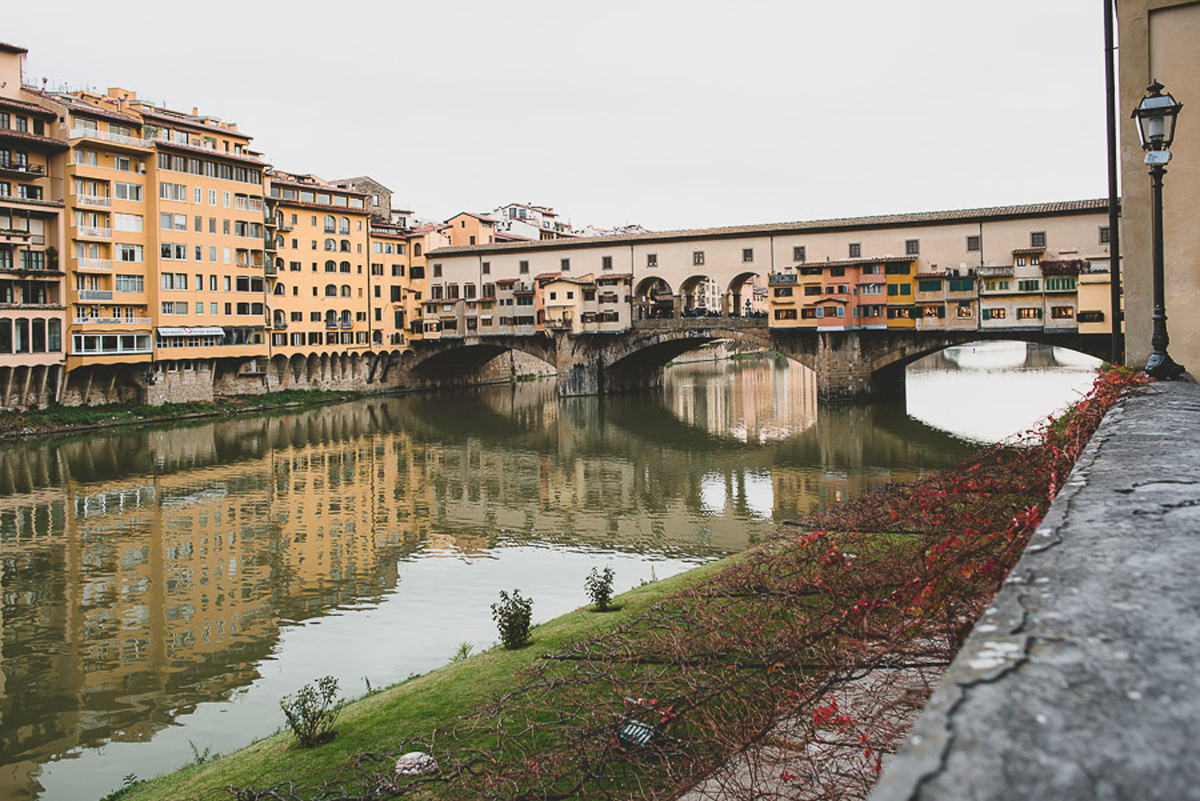 Florists Sbocciando took care of the seasonal floral arrangements for the reception, beautifully complimented by the soft dancing light from an abundance of candles. One of the very best things about planning our Tuscan wedding has been choosing the delicious food; honouring Italian traditions and as much as possible selecting regional specialties and local produce. In the same vein, Georgette and Nico's catering was provided by Bachini e Bellini, who are exclusive to Villa Montalto.
"We knew they had a good reputation; favouring seasonal ingredients and menus. Our emphasis was on really fantastic food and wine and we chose everything together with the caterers. Everything on our menu was seasonal and the wines included a white vermentino from the Maremma area of Tuscany and 'Campo al mare' Bolgheri red. Nico's father brought champagne and cheese from France so we could have that touch as well.
We also gifted our guests with mini-bottles of extra-virgin olive oil from fabulous local producer Pruneti, which had just been pressed the month before. I wanted everyone to have a taste of Tuscany and we also had the traditional 'bomboniere' Italian favors of chocolate-covered almonds at our dessert buffet."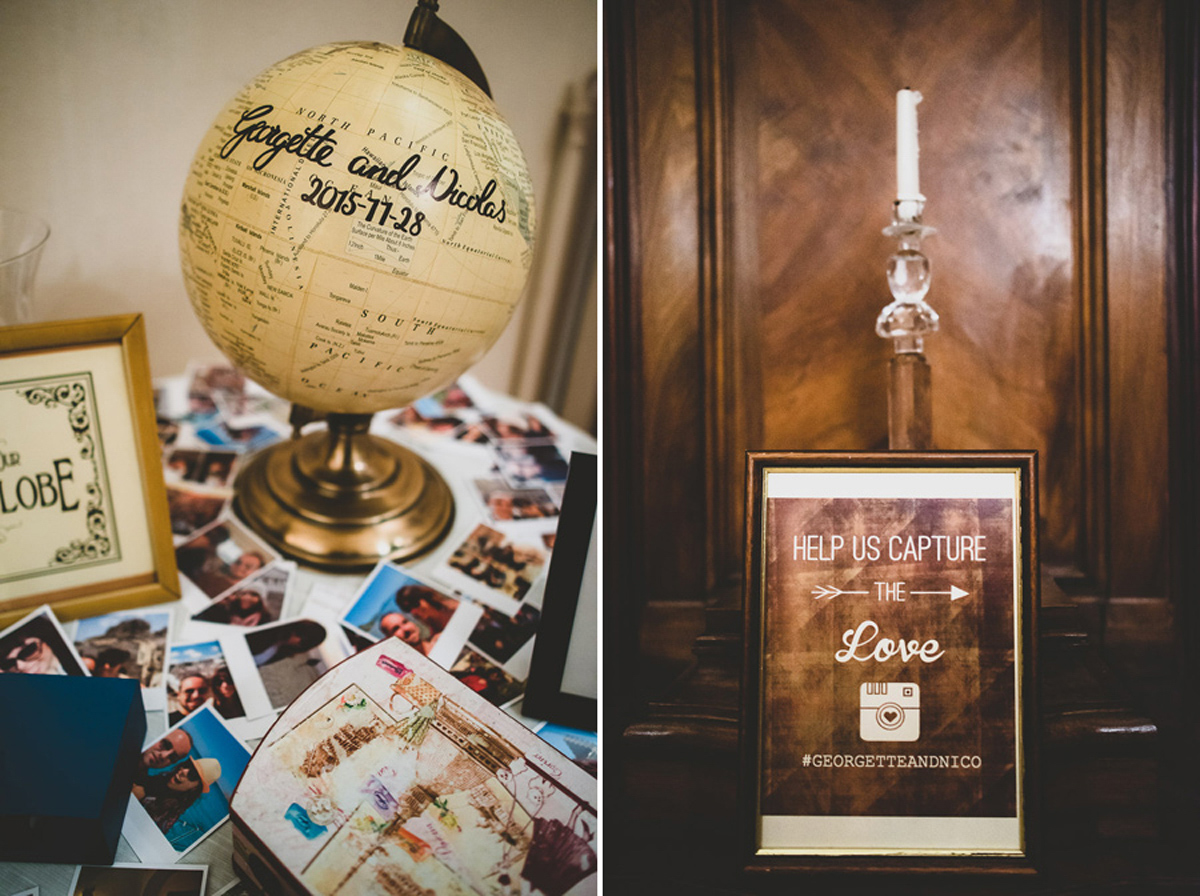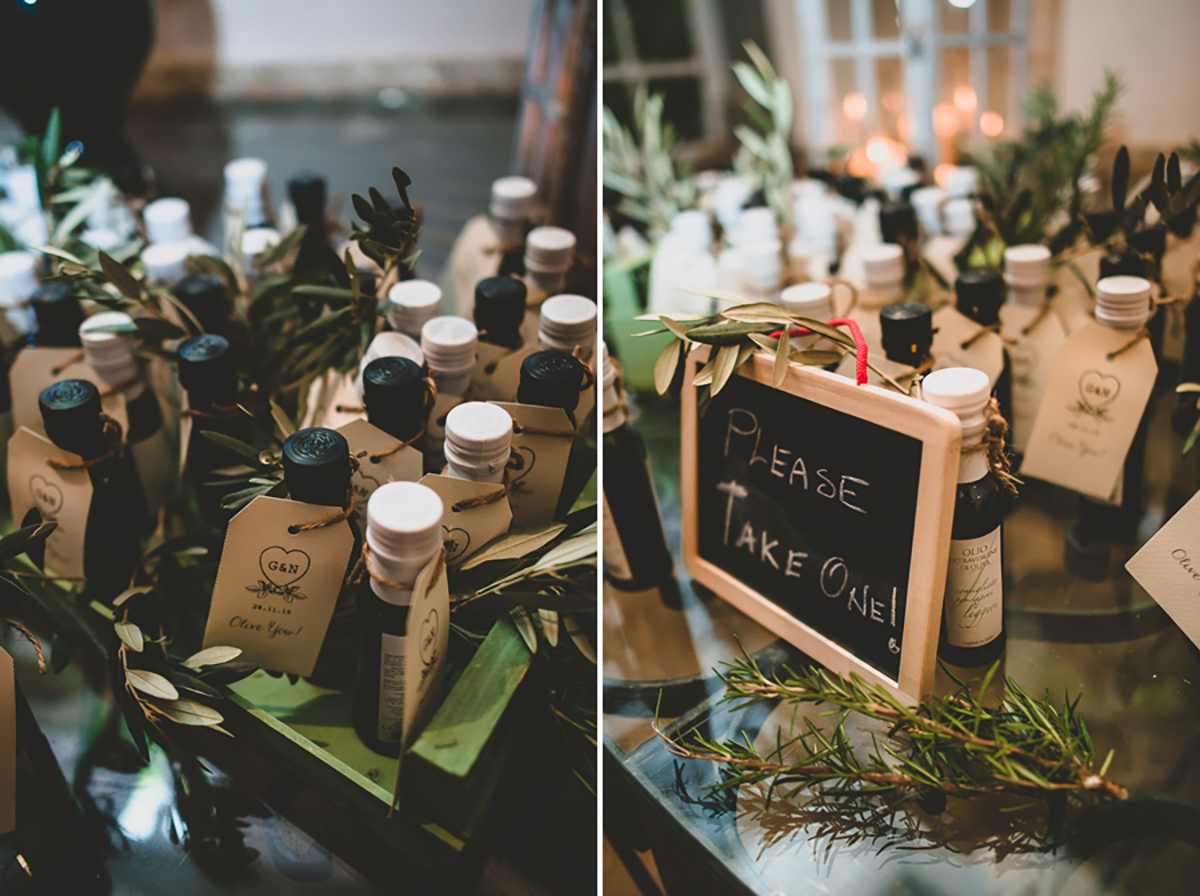 My sweet tooth is absolutely lusting after that magnificent croquembouche and it makes a rather gorgeous centrepiece too. It's such a lovely nod to Nico's French roots. The couple share a love for travel so the theme for the day was an obvious choice. Instead of a guest book Georgette and Nico provided a 'guest globe' for their loved ones to sign and their seating plan was based on travel destinations meaningful to them.
"My German friend Coco made a very sweet and beautiful video of us detailing how we met and our journey to our wedding day. As soon as I saw the opening sequence of awkward baby photos, through to a more recent 'us' with our dog Ginger, we were all laughing and crying. I still watch that video at least once a month.
Nico's sister Sophie planned a surprise game asking us questions about our life together and 'who does what' using three different flags which we had to hold up to answer the question, An American one, a French one and an Italian one. Questions included 'who does the cleaning around the house?' and 'where do you think you will live forever?' In answer to that query we threw all of the flags in the air; us two vagabonds could live anywhere, who knows what the future will hold. I was so completely humbled that people would go to so much effort for our wedding day."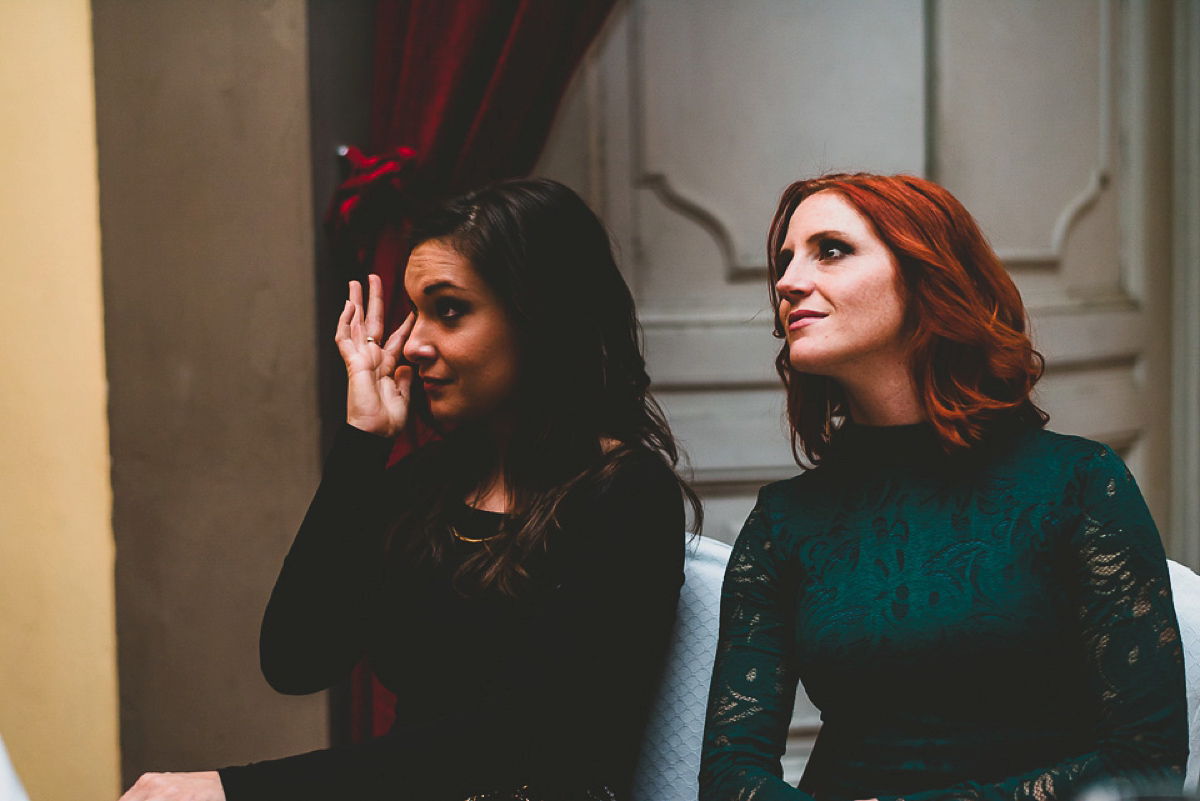 Georgette and Nico booked local DJ Alex Tamburini who created a brilliant atmosphere and had all the guests dancing. The couple chose 'She' by Elvis Costello, which Georgette always believed would be the perfect song for a wedding dance. I love the excitable sweetness with which Georgette describes their favourite moment of the day.
Words of Wedded Wisdom
"Make sure you have fun. Plan everything (food, decoration, organisation of the day) as you like and don't listen to criticisms. You can be as untraditional as you like, it's 2016 and I definitely enjoyed the fact that we had total say over the day.
I would definitely encourage couples who have a large number of guests coming from abroad to consider that when they choose a venue. We knew that most people would be staying in the centre of Florence so we made sure to choose a place which was easy to get a taxi from for our out-of-towners.
Create a wedding website for all of the necessary information: details of the wedding day, brunch after, a list of recommended hotels, activities in the area, how to give gifts. I also let guests know on the website to bring comfortable shoes."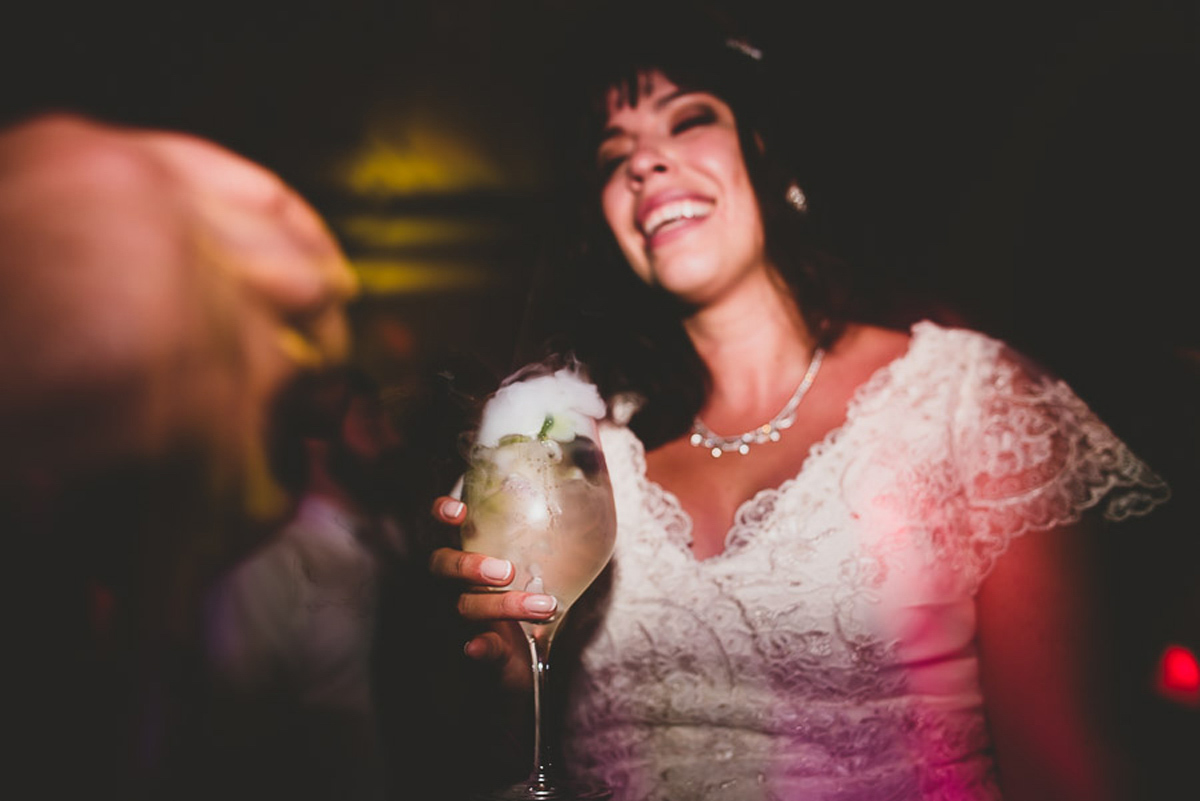 "Regarding budget – we didn't spend so much over our budget because we really chose what was important to us and didn't spend too much on extras.
Stay as organised as possible so you stress out less leading up to the wedding day. We had an excel sheet with everything including guest's names, numbers, budget, and also a word document with an additional detailed timeline of the wedding day with all of the numbers of the vendors included. This was great to print out and give to our day-of coordinators – that way they knew exactly when everything was meant to happen.
Love My Dress is a perfect resource for brides looking to see what the current trends in the wedding world are. It was really helpful to see how unique everyone's weddings are nowadays, which inspired us to make sure our wedding represented us."
Georgette, I'm certain your gorgeous Tuscan celebrations will be a reference for so many of our destination brides – our biggest thanks to you and Nico for sharing your day with us. Thank you also to Francesco Spighi for the love-filled photographs, these images really made me smile.
You can find Georgette on both Twitter and Instagram; I've spent more time than I care to admit sighing over her pretty snaps of Florence and mentally planning my next city break. If you've been inspired by this fabulous overseas wedding, follow this link for more Tuscan loveliness.
Love, Em x
Photographer – Francesco Spighi
Venue – Villa Montalto
Wedding Dress – Atelier Anna Fuca
Shoes – Viajiyu
Groom – Sartoria Rossi suit + Sartoria Vanni shirt
Florist – Sbocciando
Cake & Catering – Bachini e Bellini
Stationery – Etsy
Entertainment – Alex Tamburini
Make-up Artist – Ellyn McLain Artistry
Hair Stylist – Maurizia via Adrienne Aerobe
Planner – Carolina via Tuscan Dream