Just when I think I've discovered my favourite wedding ever, along comes another beautiful offering. What a treat I have in store for you lovelies, as we begin a fresh new week. Meet bride Julia, who works as a stop motion animator for children's TV and groom Darren, a freelance motion graphics designer. The creative couple tied the knot on Sunday 4th October 2015 for their Scottish wedding under the redwood trees at the Royal Botanical Garden Edinburgh.
"The gardens were our main inspiration for styling. We chose to get married in the Autumn, as this is our favourite time of year with all the beautiful rich colours and decided upon this venue because we wanted an outdoor wedding. We love nature and going out for lovely scenic walks so the idea of being married amongst the beautiful redwood trees of the gardens was really appealing to us. Also, we live very close to the gardens and have lots of lovely memories of our time with family and friends."
Photography by Jen Owens Images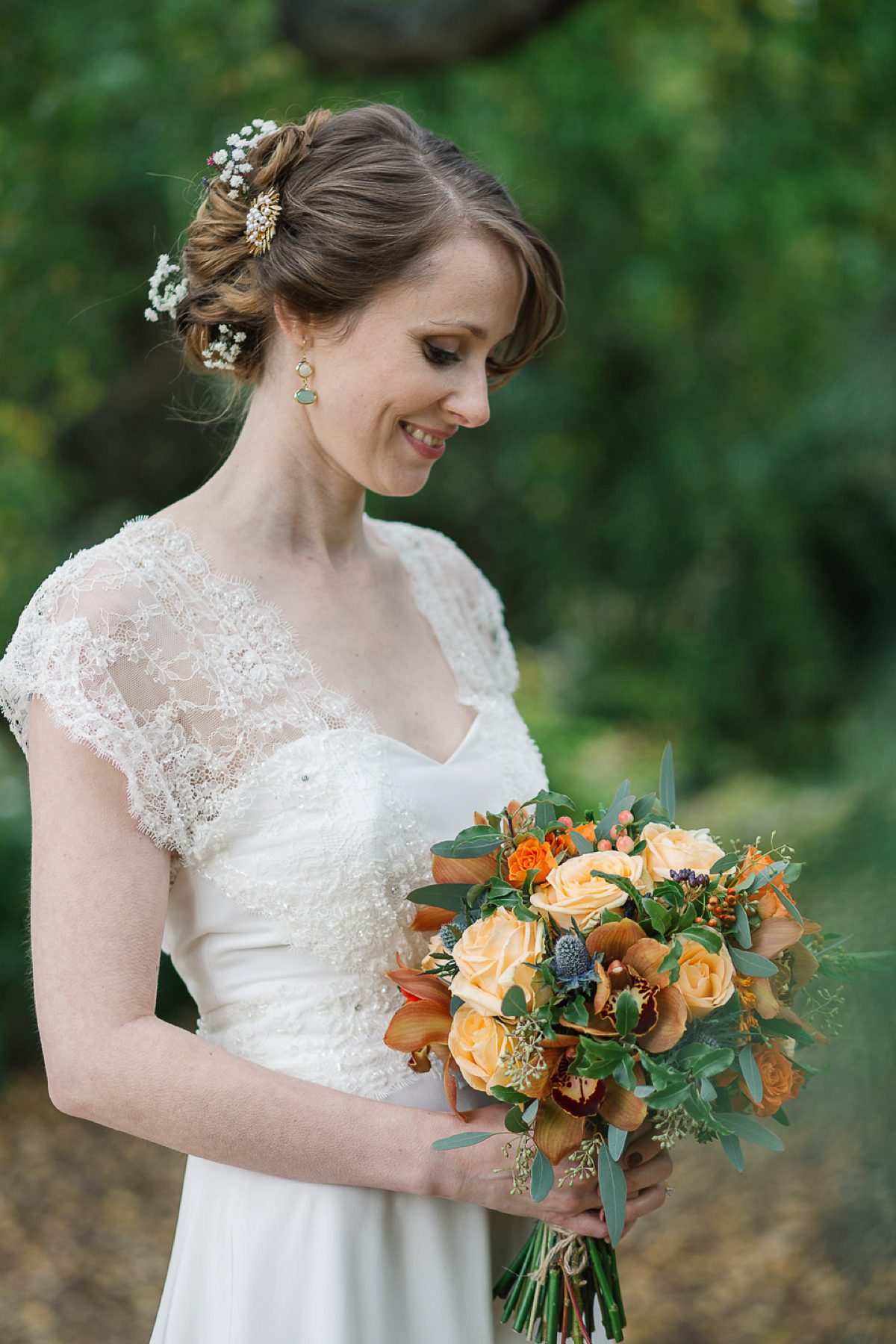 Julia's old friend Rowan – yes, *the* one and the same of Rowanjoy wedding dress fame – created her incredible gown (see more amazing dresses by Rowan we've previously featured here).
"Rowan is an old friend of mine. We've known each other since our days at Edinburgh College of Art and have also lived together whilst studying, so it felt like a natural decision to have her make my dress. I decided on a bespoke dress and I initially went round some of the bridal shops to get an idea of what I did and did not like. My dress was a combination of a few dresses I'd tried on. I wanted a full length floaty skirt but with a lace vintage feel to the top. I'm a big fan of Downton Abbey so was definitely inspired by the early 1900s."

Julia's stunning bouquet was a loose and rustic mix of pale orange flowers with blue thistle.
"We chose the The Stockbridge Flower Company to create our bouquet flowers and buttonholes for the wedding. We also met Kate at the Edinburgh vintage wedding fair, her flowers were beautiful. I chose some images from Pinterest and sent them through to her. I don't have a clue when it comes to flowers but Kate was really good at sending through examples of what they would look like. The buttonholes were also quite rustic using berries, acorns and thistles.
I nearly cried when the flowers were delivered on the wedding day, they were so beautiful. They were beyond expectation and Kate got a big hug on delivery!"
"My shoes were from Chelsea Crew in a mint green. Their shoes are vintage inspired and fitted in with my dress and our autumnal surroundings, as well as being super comfy. I wanted something a bit different and not in the traditional cream which I knew I would never wear again."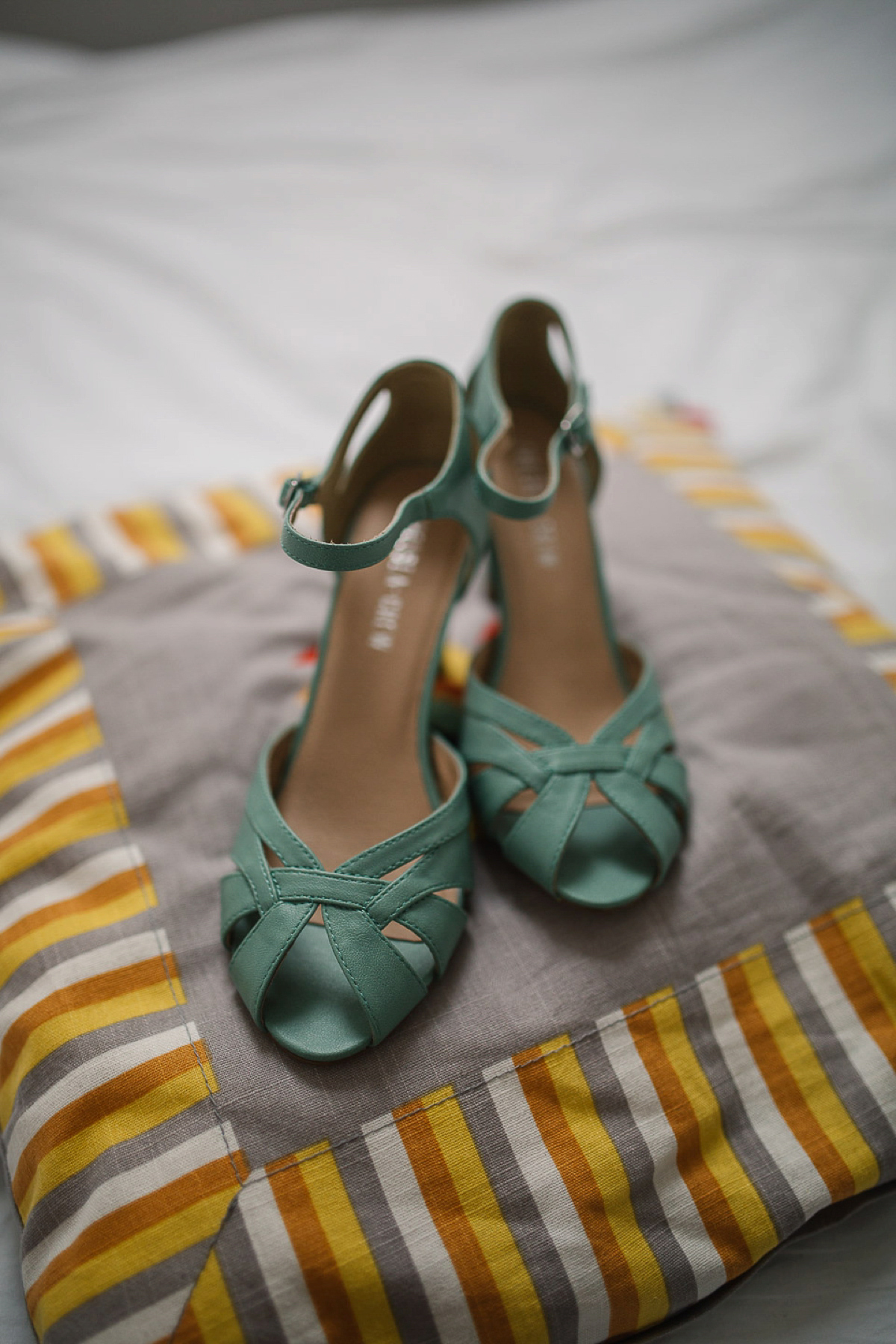 "I wanted a vintage inspired up-do that incorporated a plait and twisted curls. The plait is an Irish tradition for luck and as Darren's from Northern Ireland it felt good to incorporate a little bit of tradition. I chose to have a selection of small flowers in my hair which worked well. I also wore my nan's brooch in my hair. My nan is in her mid nineties and lives in London and was unable to attend the wedding, so it felt very special to have a little bit of her with me on the day.      
I wore 'White Musk' from The Body Shop. Its my favourite, I've been wearing it for years. I just wanted to be me on the day.     
I don't wear much jewellery normally but chose a pair of gold mint gem earrings from Oliver Bonas. The colour and style complimented my vintage feel dress and shoes and added that little bit of glamour I wanted. They were also called 'gold julia facet' earrings so I took that as a good sign!"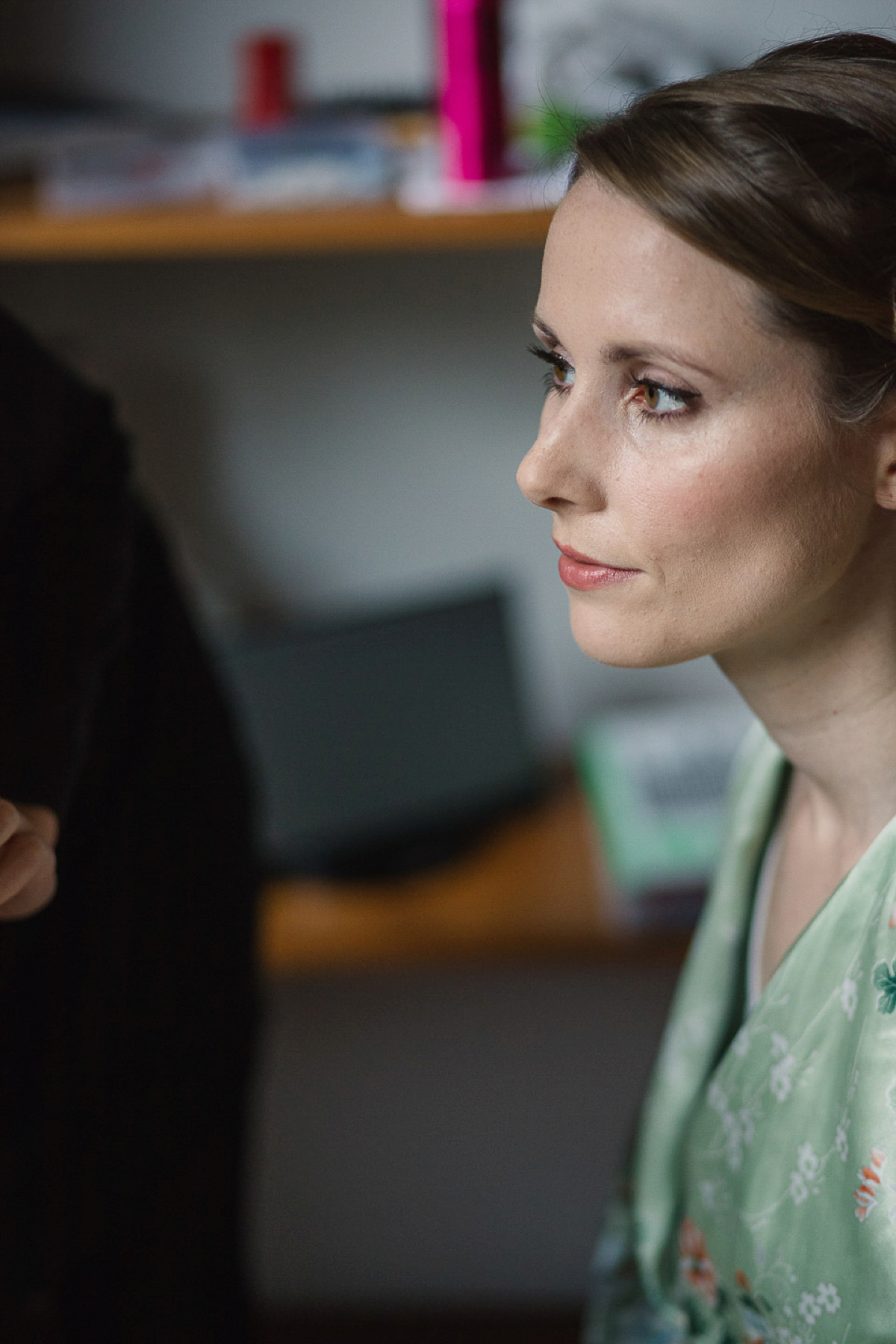 "My dad hired a vintage car from Lothian Classic Wedding Cars for the wedding day. He chose the car and it was a lovely surprise to come out to it on the morning of the wedding. It felt really special driving through Edinburgh and into the gardens. Our driver Robert also stayed till after the wedding so we could get some photos with the car."
"Rowan came up with a few initial designs and after creating the mock we narrowed it down to my dress. It was both an exciting and nerve wracking experience designing your own dress, as you don't know what it's going to look like until the end. Rowan was brilliant throughout the process; she was always on hand to discuss and advise on the style, material and even what colour would best suit me (which I hadn't even considered – white is white, right!?)
The finished dress was beautiful and fitted like a glove. I'm in awe of her and her amazing talent."
The bridesmaids chose a 'Little Mistress' maxi dress with a lace beaded top and flowing skirt from House of Fraser and paired it with their own shoes. The maid's pretty plaited hairstyles were by JD Bridal Hair, with makeup by Kari Hart – Make up Artist.
"The colour of the dress was petrol – which isn't the most attractive name to call a bridesmaid dress –  but was a lovely dark green/blue colour. It fitted in with the autumnal style of the wedding beautifully. The bridesmaids had a half-up curly plaited do and we decided to finish it off with gypsophila which worked really well."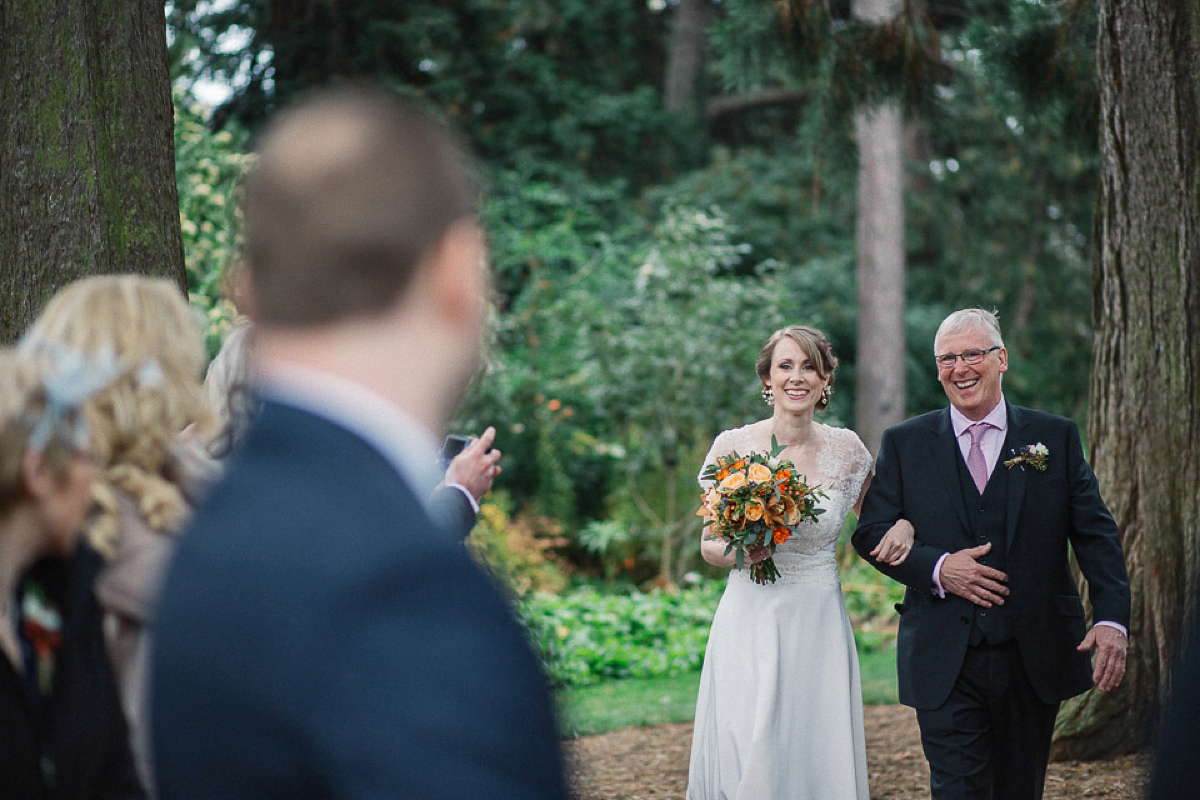 "We met in 2003 whilst studying a Masters degree at Duncan of Jordanstone College of Art and Design in Dundee. We got to know each other over the course of a year and moved in together shortly afterwards. Ten years later Darren proposed whilst on a romantic anniversary break in the Lake District. The engagement lasted just over a year before getting hitched in Edinburgh."
The couple married under the mystical redwood trees at the botanic garden. Julia walked with her dad down the aisle to a fun tune and the couple wrote their own vows and included readings from two of their favourite children's authors.
"My dad walked me down the aisle. It felt really special to travel with him to the wedding and have him by my side as I walked down the aisle. I walked to the tune of 'You make my dreams come true' by Hall & Oates. I wanted something fun and silly and that would make us smile, as anything other than that would of started the water works!"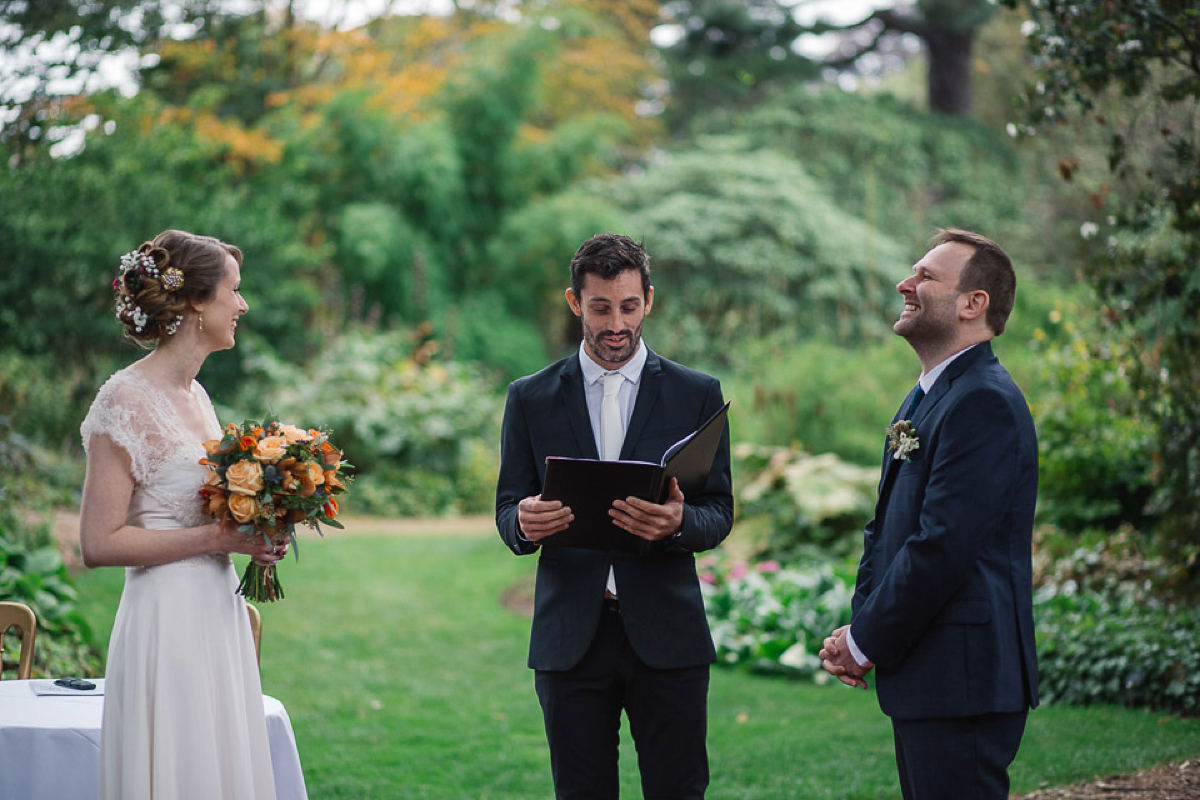 "We wrote our own vows which made the ceremony extra special. Our celebrant Marilyn gave us examples of vows and we also did a lot of research online. We wanted something that was meaningful to us, it did take us a long time to compose but it was worth it in the end.
Our good friend Emile read 'The House at Pooh Corner' by AA Milne and Darren's niece Erin read 'Oh the places they'll go' by Dr Suess. We're both book fiends so the readings suited our personality and we're big fans of the authors."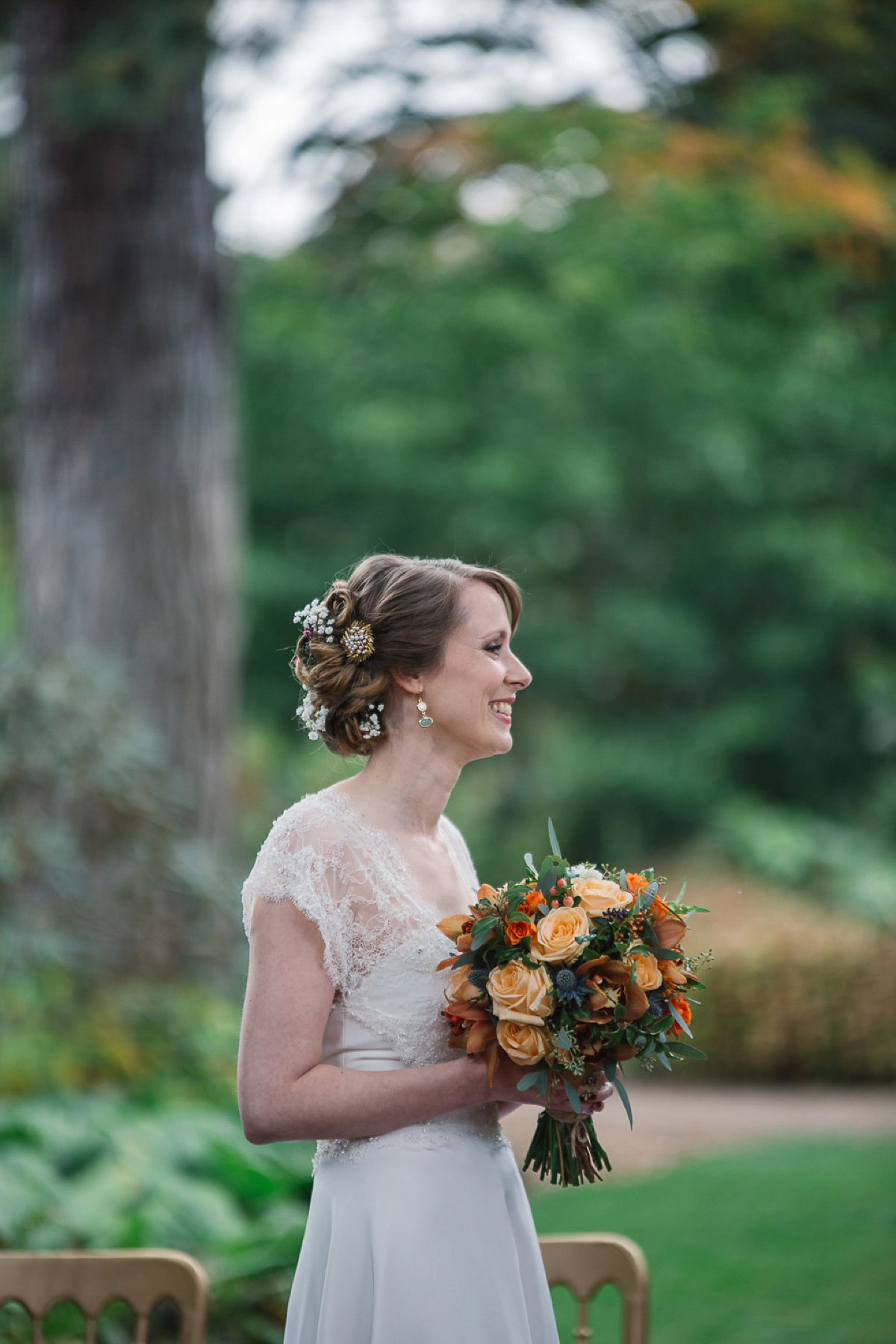 "The ceremony was really beautiful and very romantic in amongst the redwood trees and my favourite moment of the day. It was amazing to walk down the aisle with my dad and stand by Darren's side whilst we said our vows amongst our closest friends and family."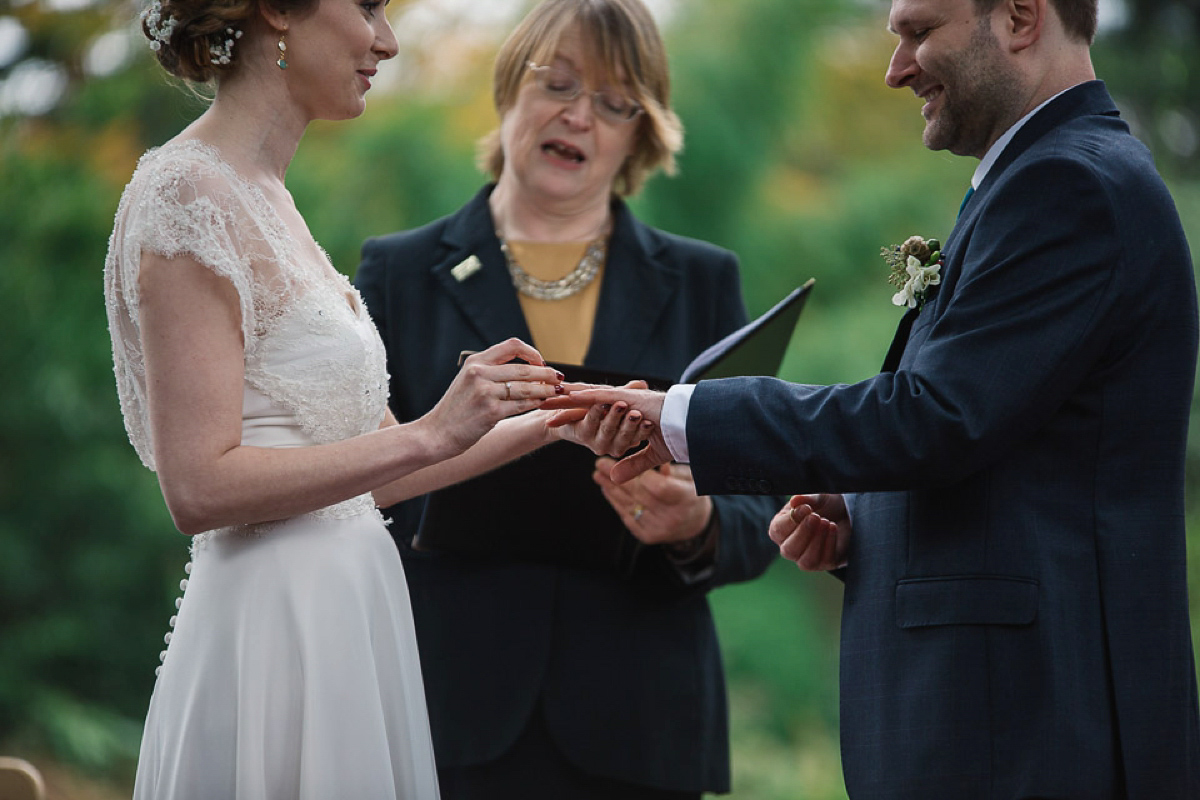 The couple's wedding rings were made for them by independent jeweller, Alison Macleod.
"I went to Edinburgh College of Art with Alison – she was in my year but hadn't seen her for years so it was lovely to catch up and see where each other was up to (there's a theme running here!).
Alison's jewellery is beautiful. I wanted a really thin band but with something that had a bit of texture or pattern on it that complimented my engagement ring. Darren wasn't sure he even wanted a ring but after meeting with Alison and trying on her samples and chatting though our options we settled on two wedding bands. She even engraved them for us with our names and date of the wedding which made it extra special."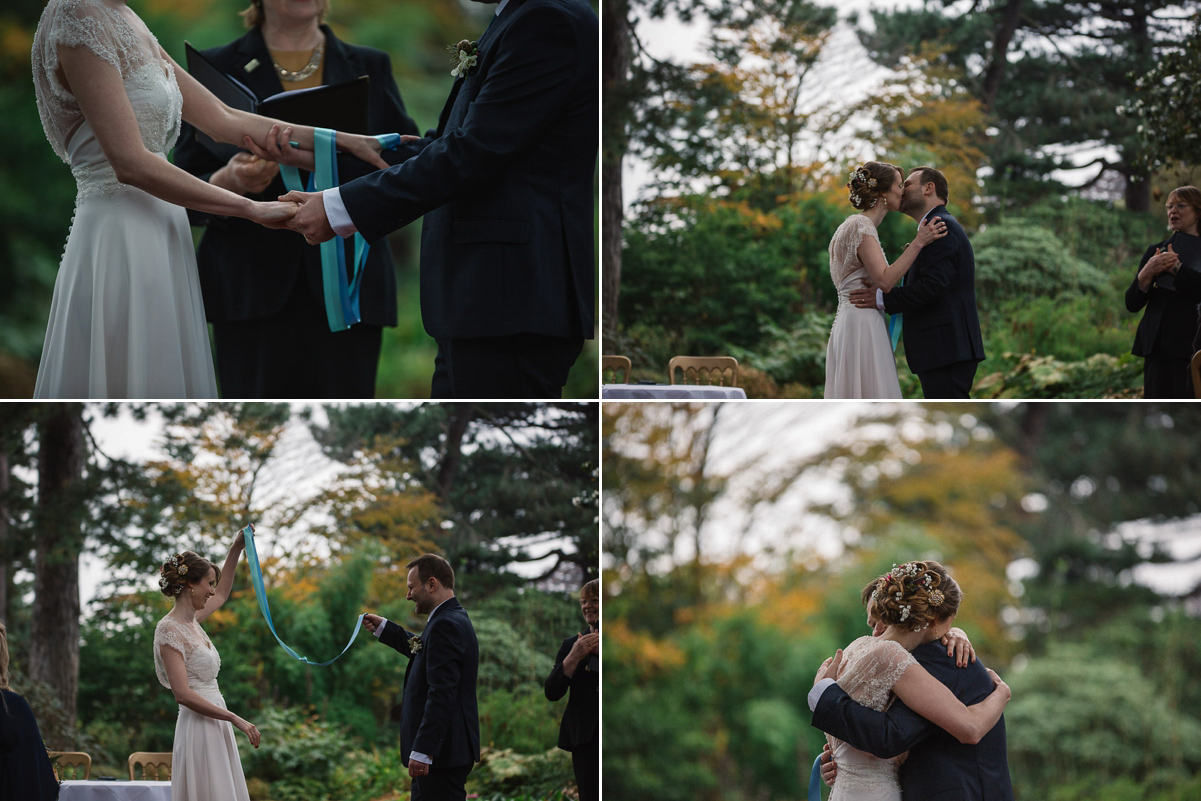 "Darren's suit was from Slaters in Edinburgh. He chose a lovely dark navy suit with a delicate check pattern – he looked very handsome on the day. We chose a dark green/blue tie and handkerchief for Darren's suit. It worked well with his white shirt and brown shoes, as well as complimenting the bridesmaids outfits and our autumnal theme.     
Darren's best men were his best friend Ciaràn and brother in law Tony. The boys were a great support for Darren on the day plus Ciaràn's speech was not only touching but had everyone laughing."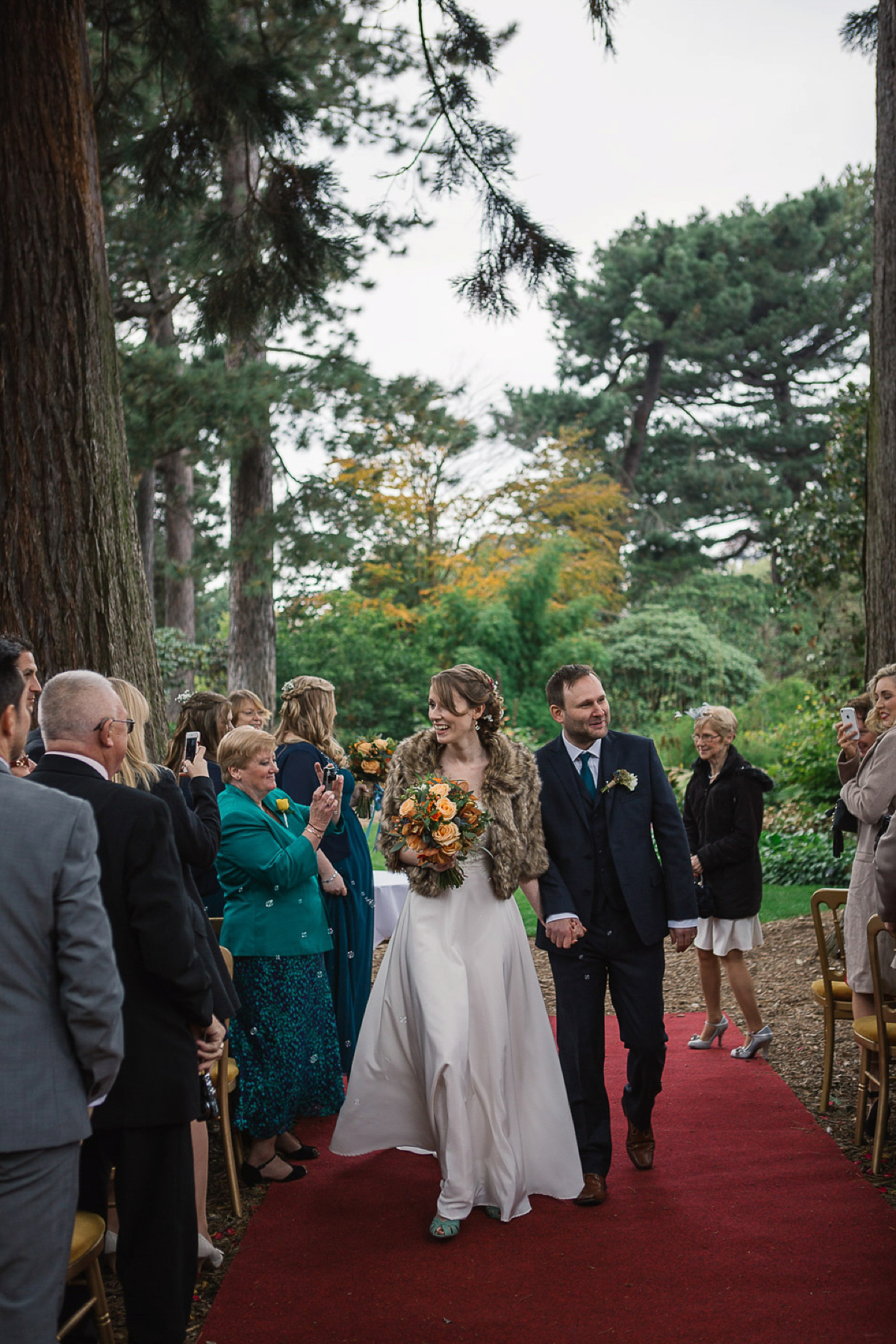 The photographer was the wonderful Jen from Jen Owens Images, who captured all of Darren and Julia's moments so beautifully.
"We first met Jen at the Edinburgh Vintage Wedding Show. She was really friendly and happily talked through her photos with us. Having a good photographer was really important to us and we had looked at quite a few before we settled on Jen. We really liked her style and were keen to have very relaxed, unposed photos on the day."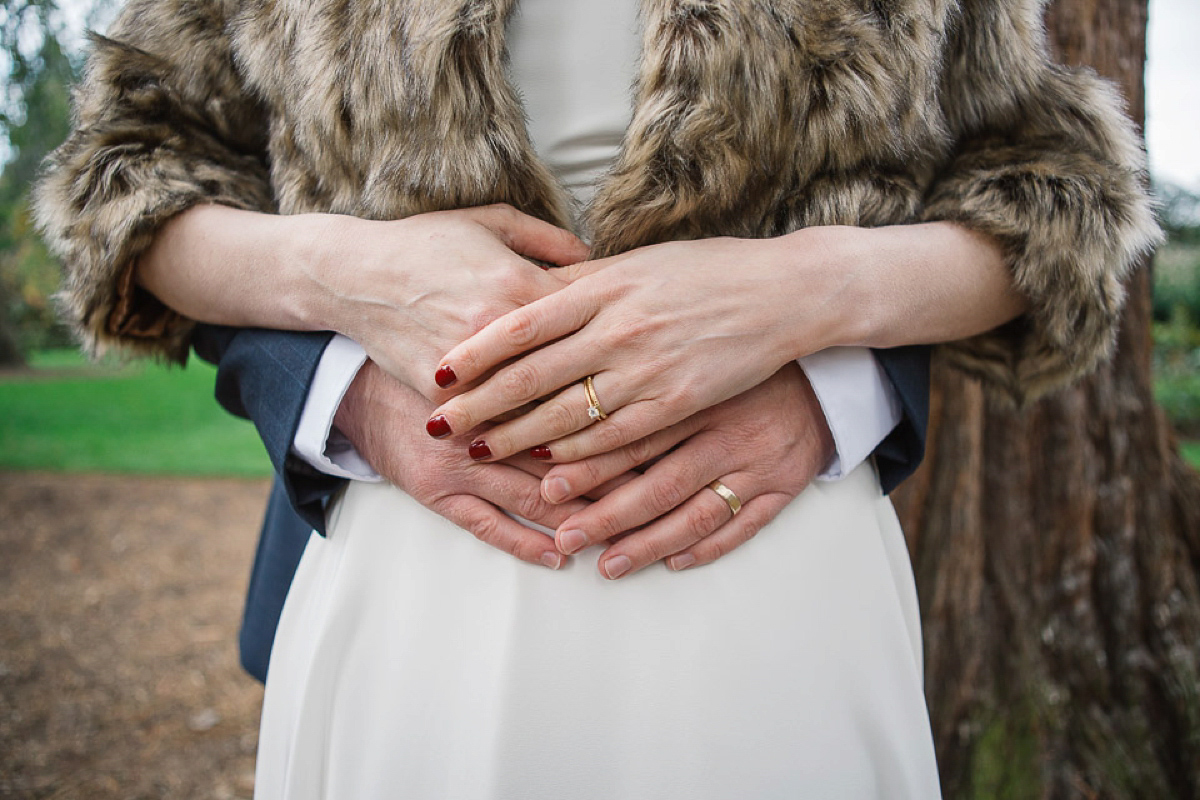 "Our package included an engagement shoot which we were a little apprehensive about to begin with but actually was really enjoyable. It gave us the chance to get to know Jen more and to know what to expect on the day. We used our engagement photos as a guest book on the day which worked really well and is a lovely keepsake. Jen was really professional, positive and had such a happy attitude. She really put us at ease and helped everything run smoothly on the day."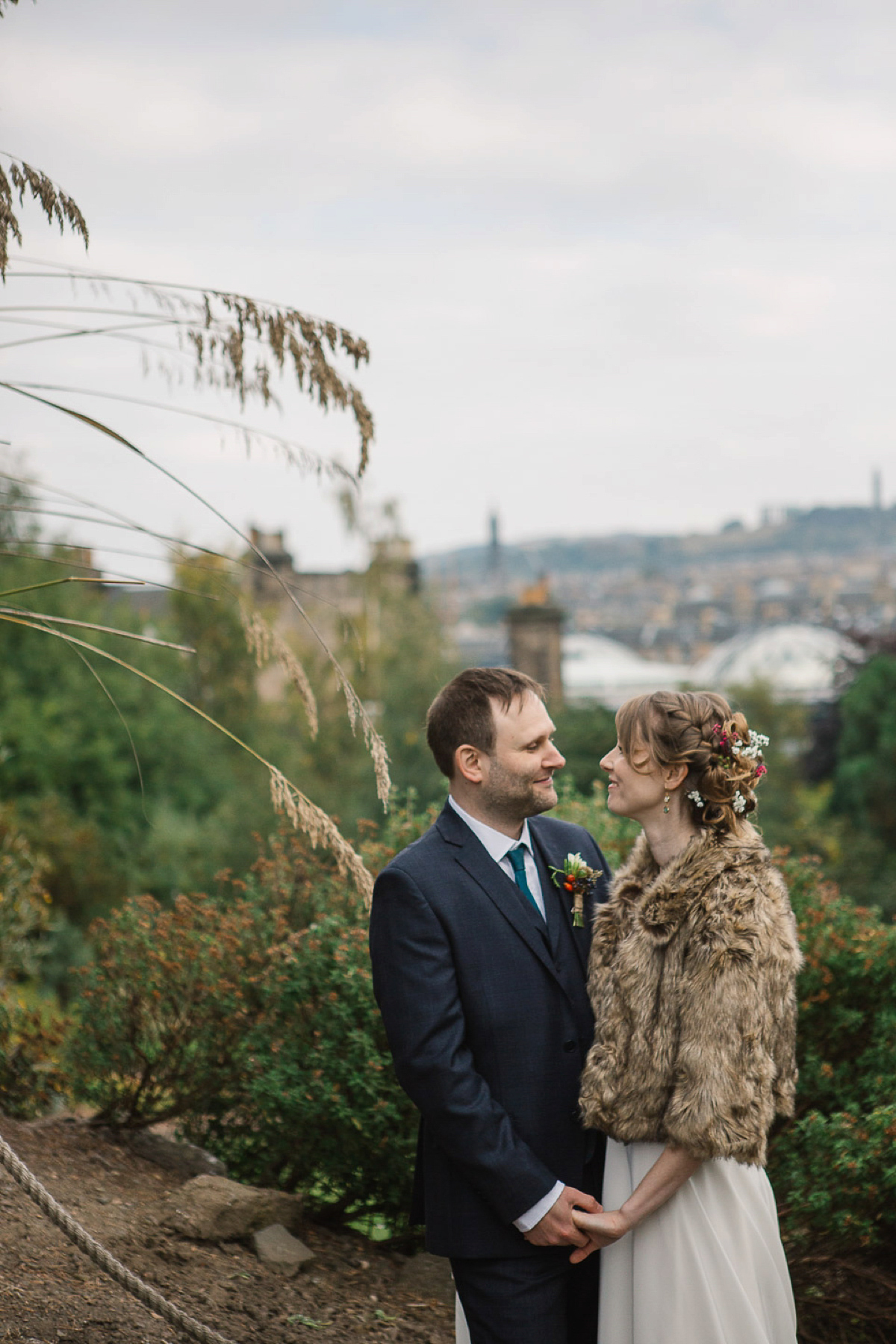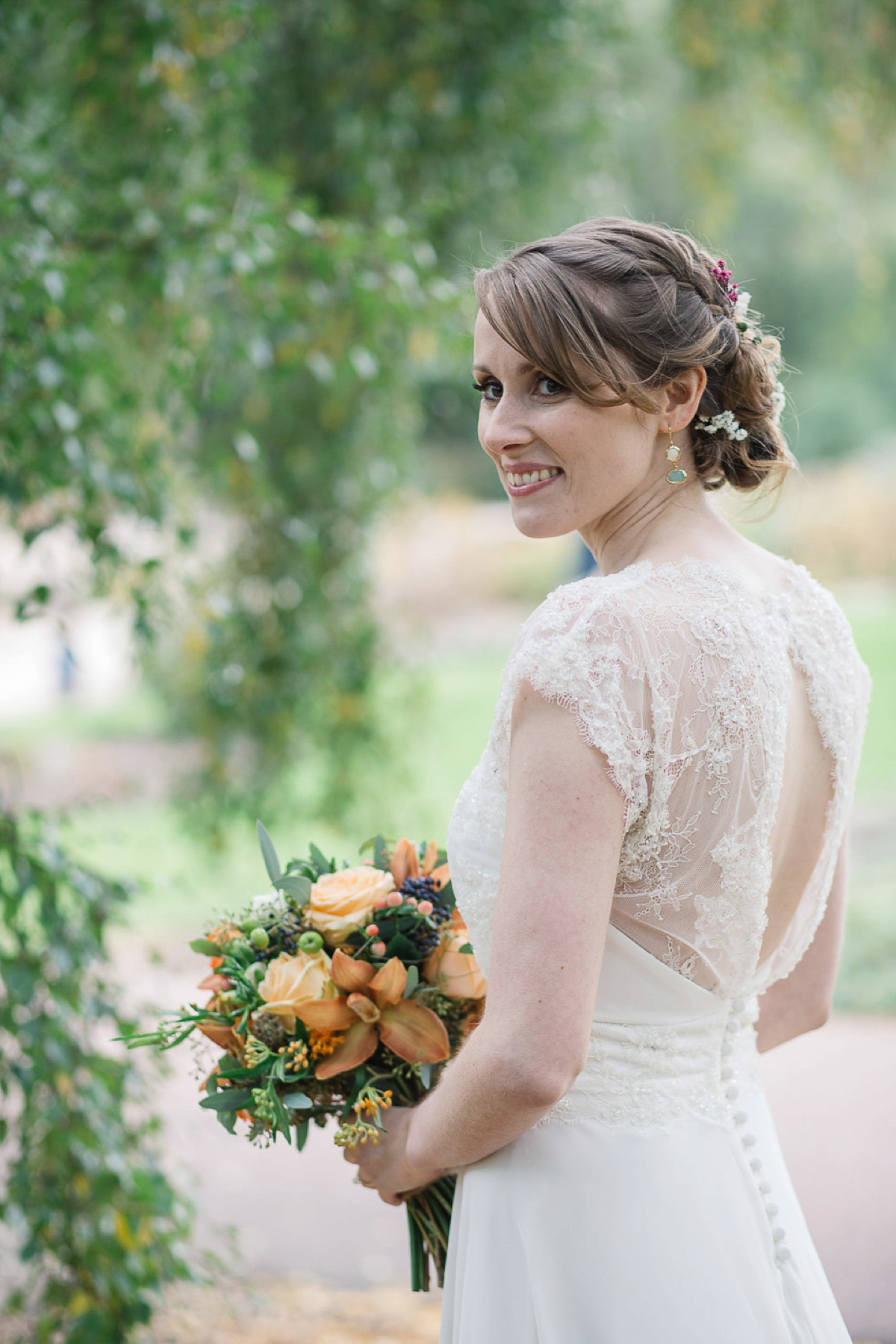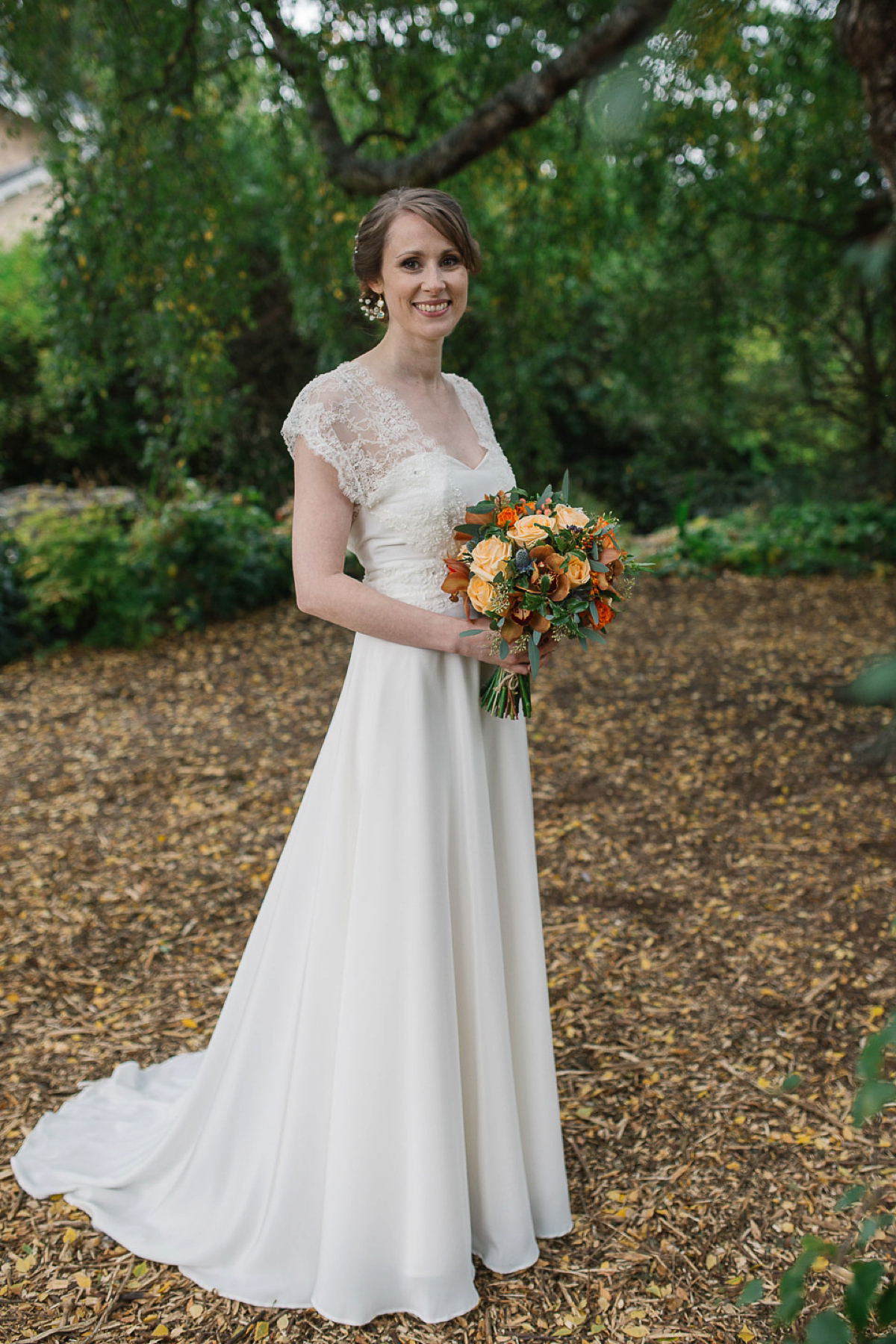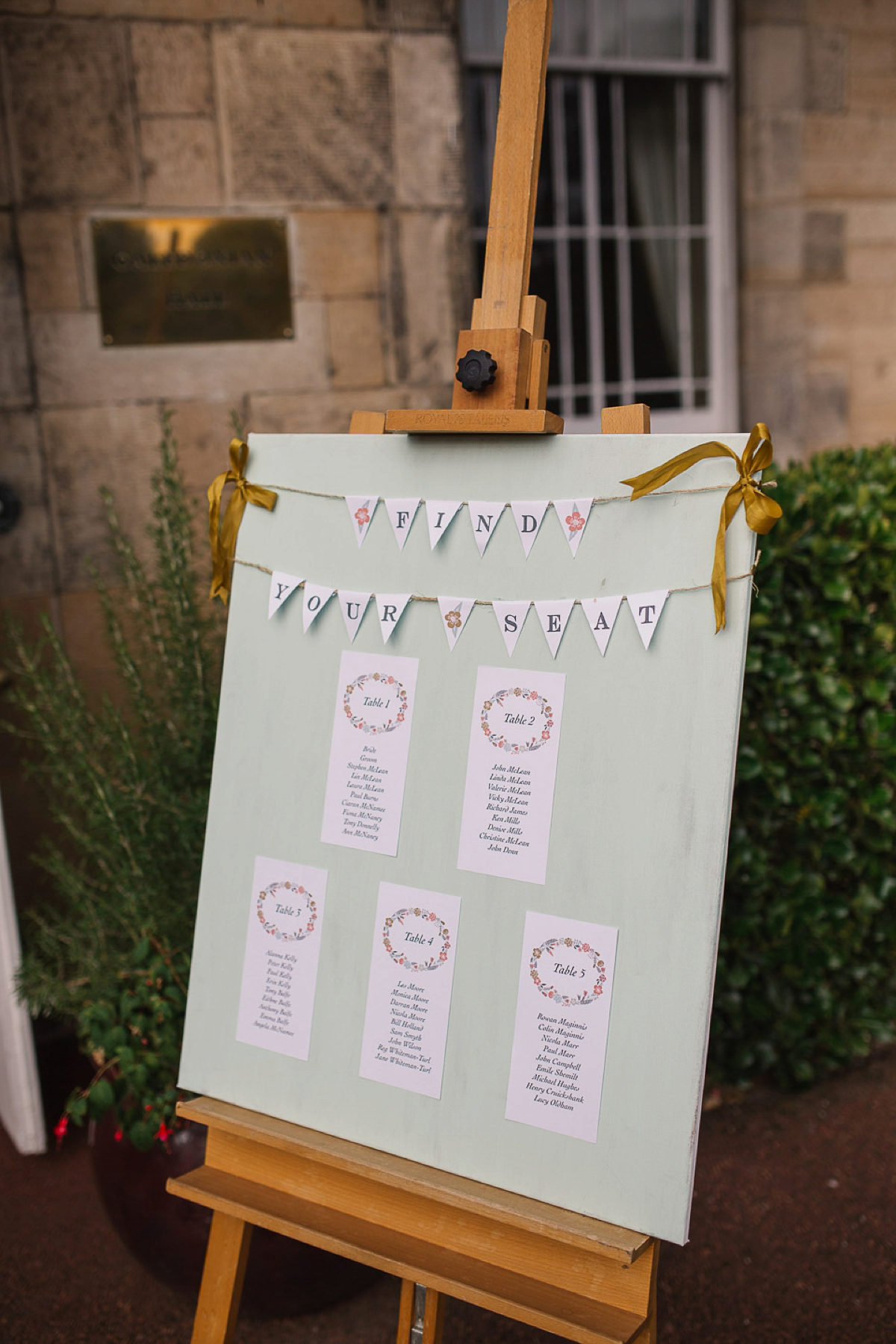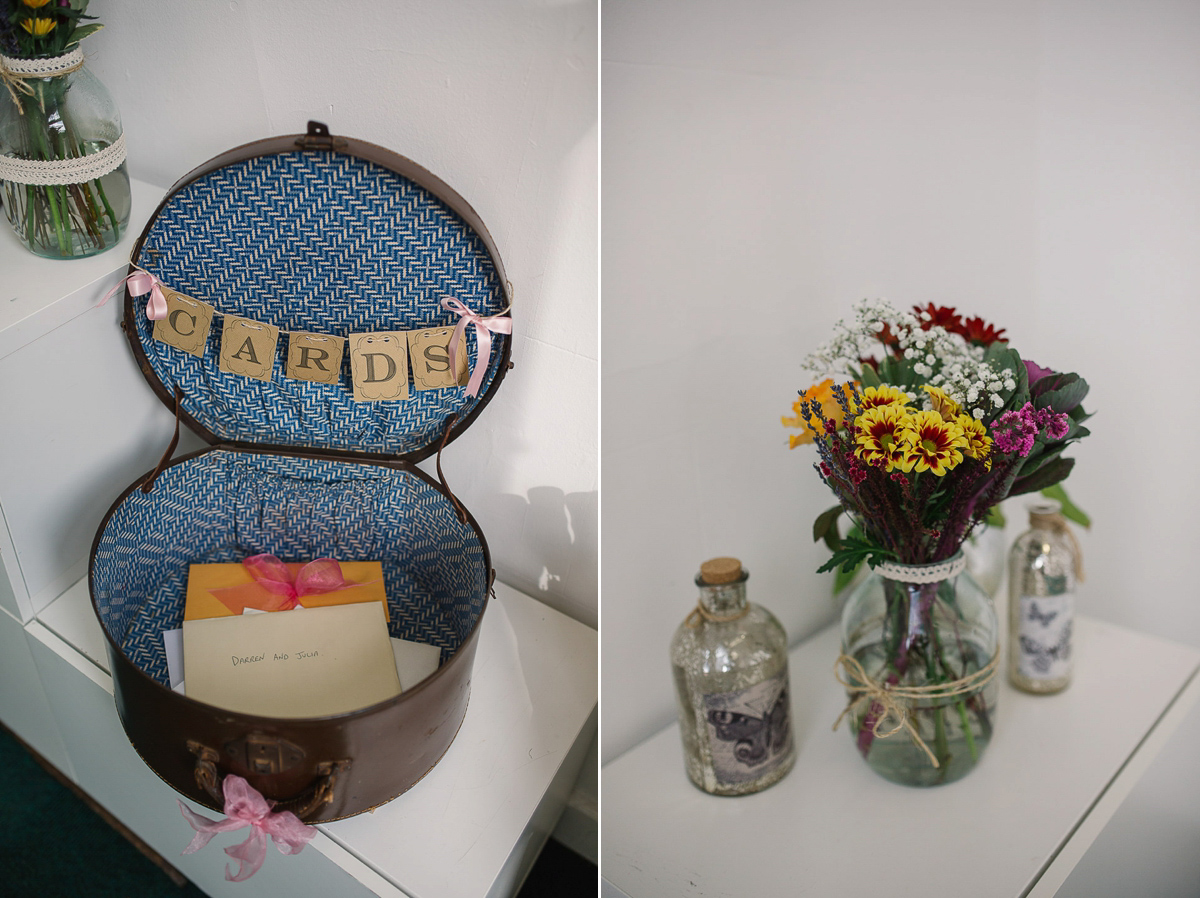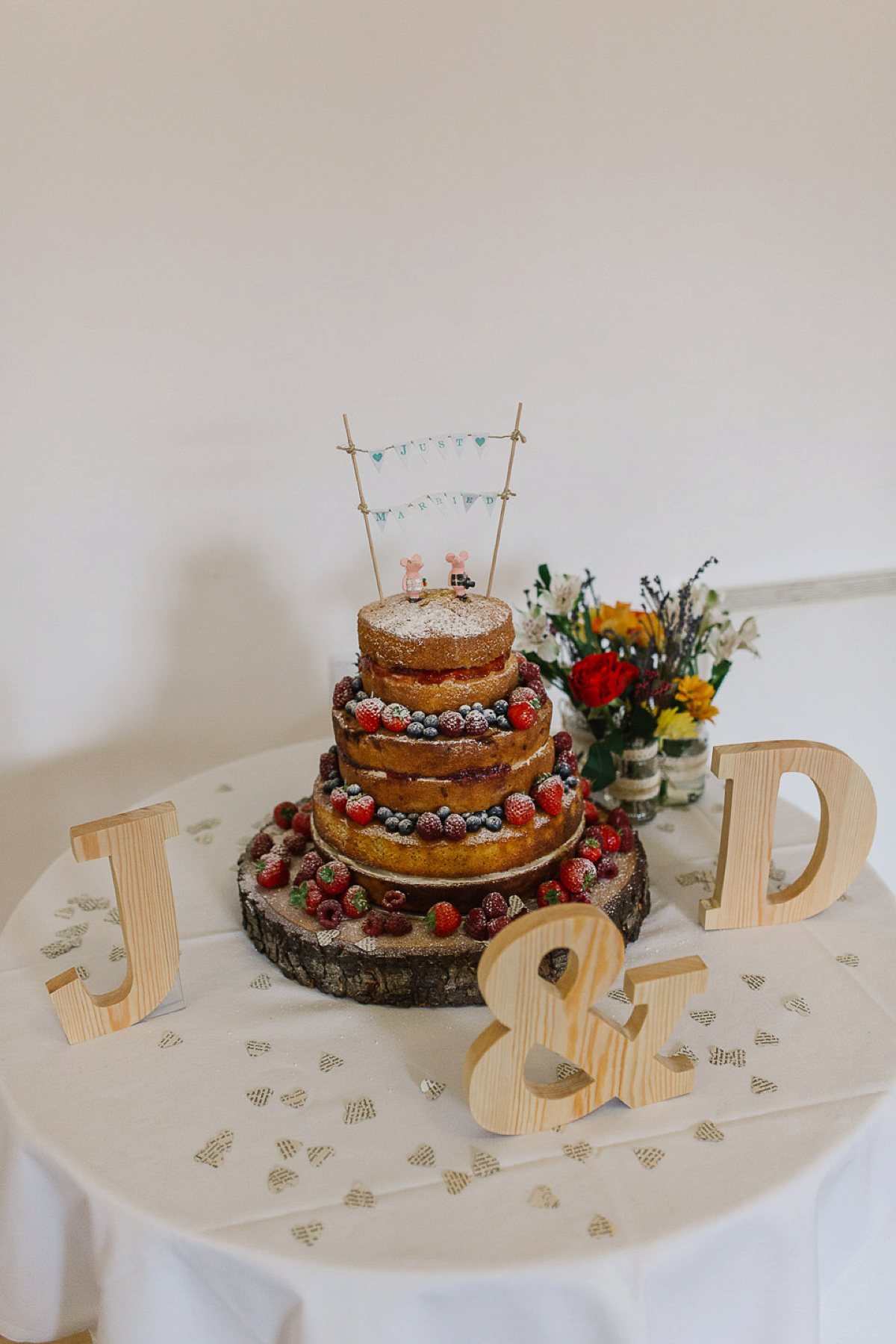 The wedding cake was created by Julia's parents – what a beautiful thing to do for their daughter – and the adorable little cake toppers were a gift from Julia's crew at work.
"My parents were our cake suppliers. We wanted a three tier sponge cake decorated with fresh fruit. Darren's not a big fan of Royal icing and I'm not keen on fruit cake or marzipan so this seemed like the good choice for us. By having a naked wedding cake it was easier to make ourselves than the traditional wedding cake. My nan had made my parents cake so it felt good to keep it in the family. We decided on each tier as a different favour. Vanilla sponge, raspberry sponge and a lemon and poppy seed sponge. It worked really well and everyone was able to have a bit of each layer.
My dad bought a lovely large log which we used as a cake stand. At the time I was working on the new Clangers series for CBeebies, so as part of our wedding gift the crew gave us miniature bride and groom clangers as cake toppers."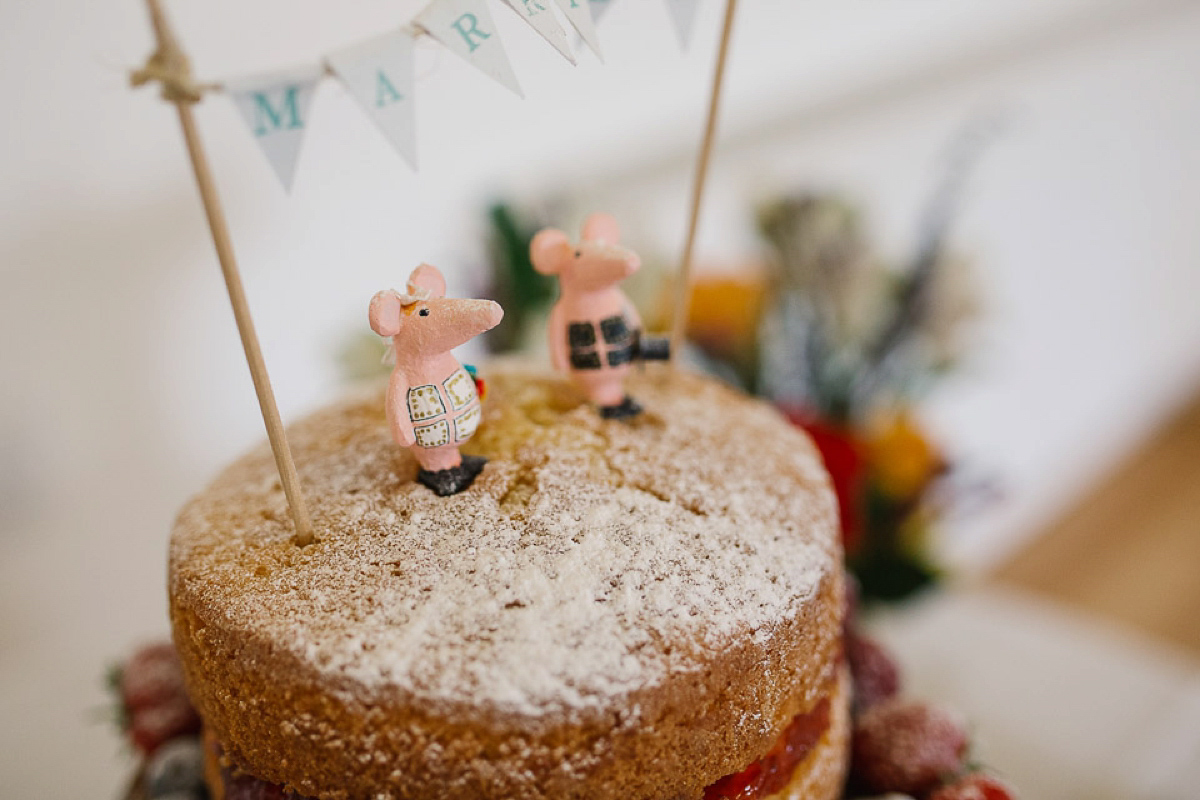 Tasty Tunnock's teacakes were the favours for guests and Darren and Julia created their botanical stationery.
The couple wanted a natural, rustic and vintage feel to the day and the decor was either handmade or sourced second-hand.
"My dad sourced log slices for our centrepieces. We also bought large glass bowls which we filled with small apples from my parents apple tree and finished this off with a pillar candle. We decorated the tables with flowers from the supermarket and dressed them into jars which I collected for months before hand. I decorated them with twine and vintage cream ribbon. I was really chuffed with the effect and they looked lovely filled with the flowers."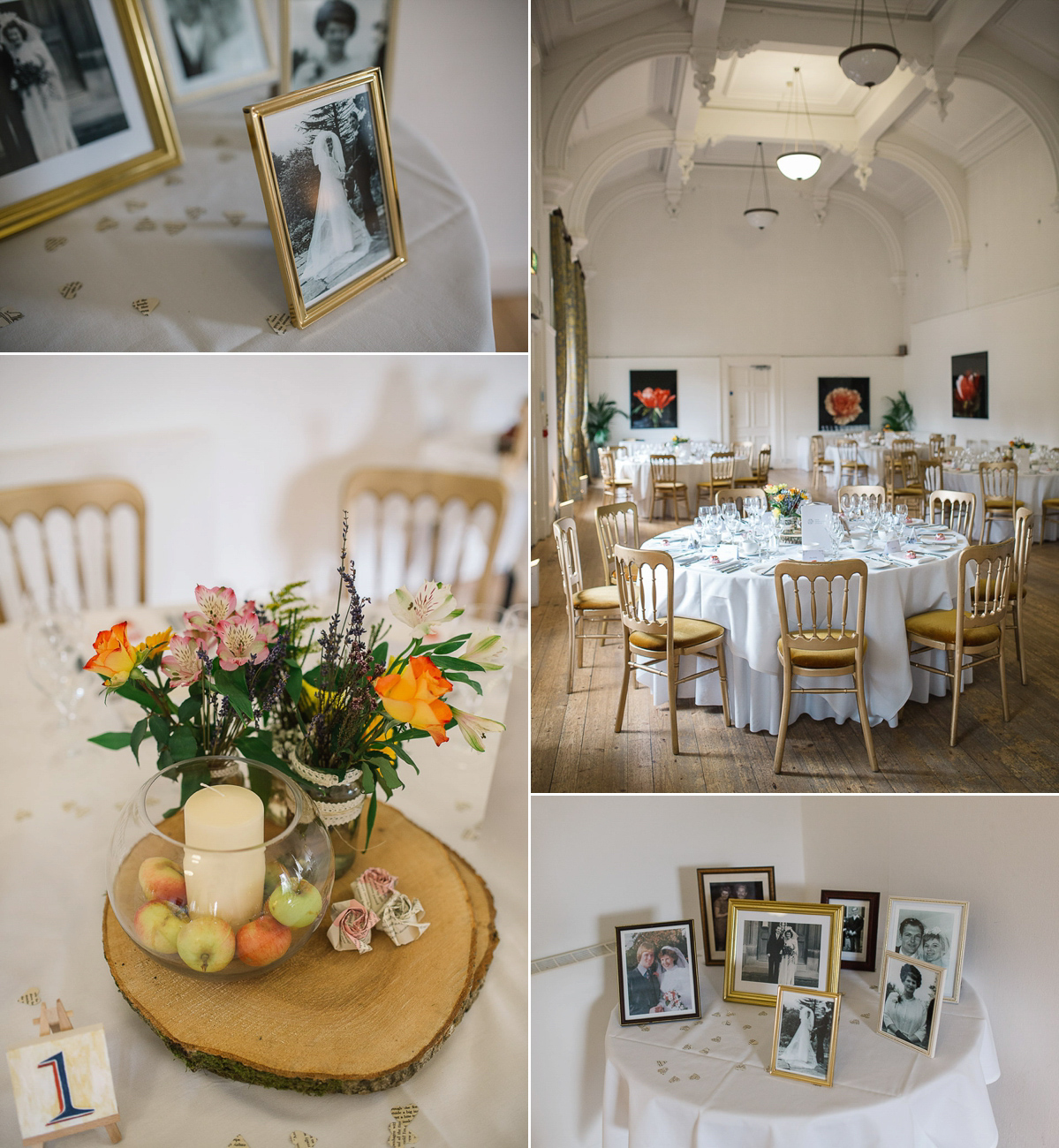 "My bridesmaid (Darren's sister) Fiona created beautiful origami roses for the tables from book paper. We only realised on the day that she'd used the pages from the Adam and the Ants biography and the content was somewhat explicit! It certainly made for an entertaining story afterwards. We also gathered some family photos of our parents and grandparents weddings and laid them out near the cake. It was a lovely way of remembering our family past and present and see them both come together for our wedding."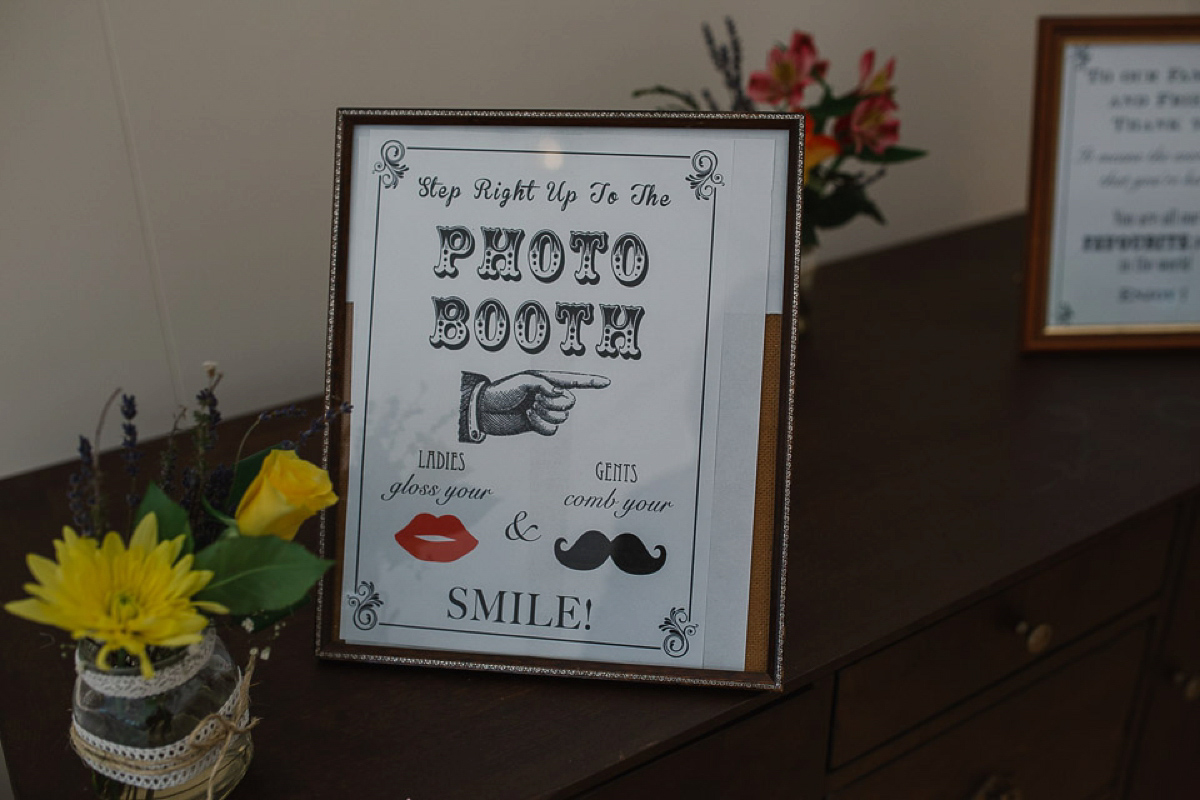 Julia and Darren hired a ceilidh band for their evening entertainment and chose a very fun first dance song.
"We hired Furory Ceilidh Band for the wedding. They were brilliant and had everyone up and dancing.
Our first dance was 'Me and Julio Down by the Schoolyard' by Paul Simon. We just chose a song that was fun and that we both enjoyed."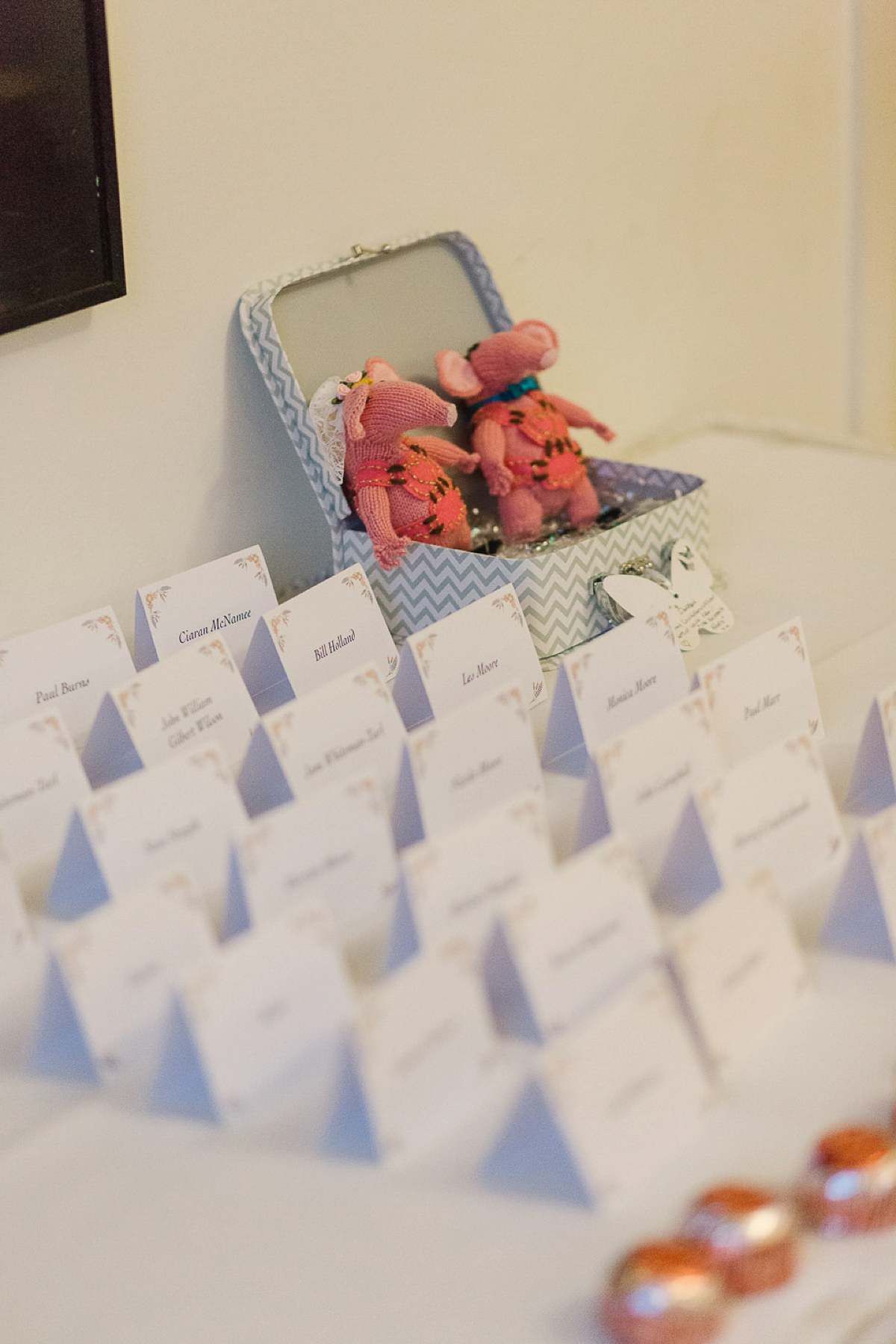 Words of Wedded Wisdom
"If you want to DIY your wedding, plan well in advance. Delegate those jobs and if people offer help – take it! The week before can be a little hectic so the more hands to help the better.     
Relax and get more sleep. It all worked out on the day and the little things that were stressed about before the day didn't really matter in the scheme of things."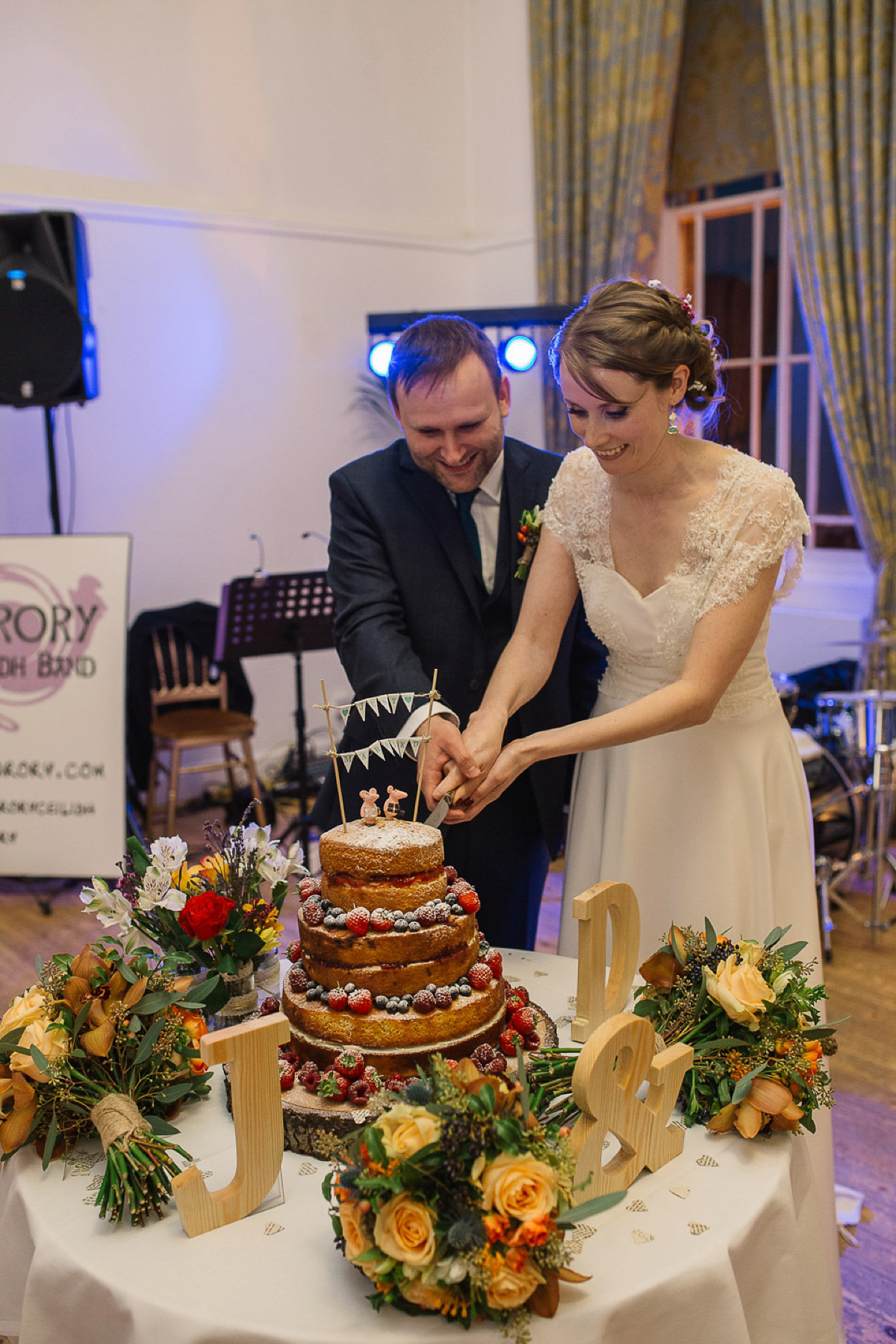 Take a big deep breathe in, and exhale. Breathe in, now exhale. Viewing these delightful images by the very creative Jen has completely relaxed me and I'm half-expecting a wood nymph to appear from amongst the trees! See more of Jen's work we've highlighted on the blog here.
What a beautiful way to start the week lovelies – and thank you so much to Julia and Darren for giving us a sneaky peek into their utterly magical day.
Love Jo -x-