Good morning lovely ones.  Today we have the most dreamy of summer weddings for you, so whether it is bright and sunny in your part of the world, or grey and dreich (a wonderful word) this collection of images will undoubtedly bring warmth into your day. Meet Cate and Craig, who married at the beautiful Nymans Gardens in West Sussex on July the 18th 2015.  Craig owns a Laptop company and Cate is a photographer, one half of Rock and Rose Photography – their wedding is full of the most incredible detail in including creative catering and serving suggestions by Kalm Kitchen and the prettiest and most memorable of styling and decor, all organised to perfection by The Wedding Stylist,
"For as long as I can remember I wanted to get married outside; I'm quite a free spirit and I wanted that to reflect on our wedding day.  It had to be summer and as a photographer, location and flora and fauna were really important to me.  We just both wanted a relaxed and warm country garden surrounded by all of the people who we love. We fell in love with Nymans one evening when the sun was setting and we both felt this huge emotional connection with the gardens – it was just meant to be."
Photography by Naomi Kenton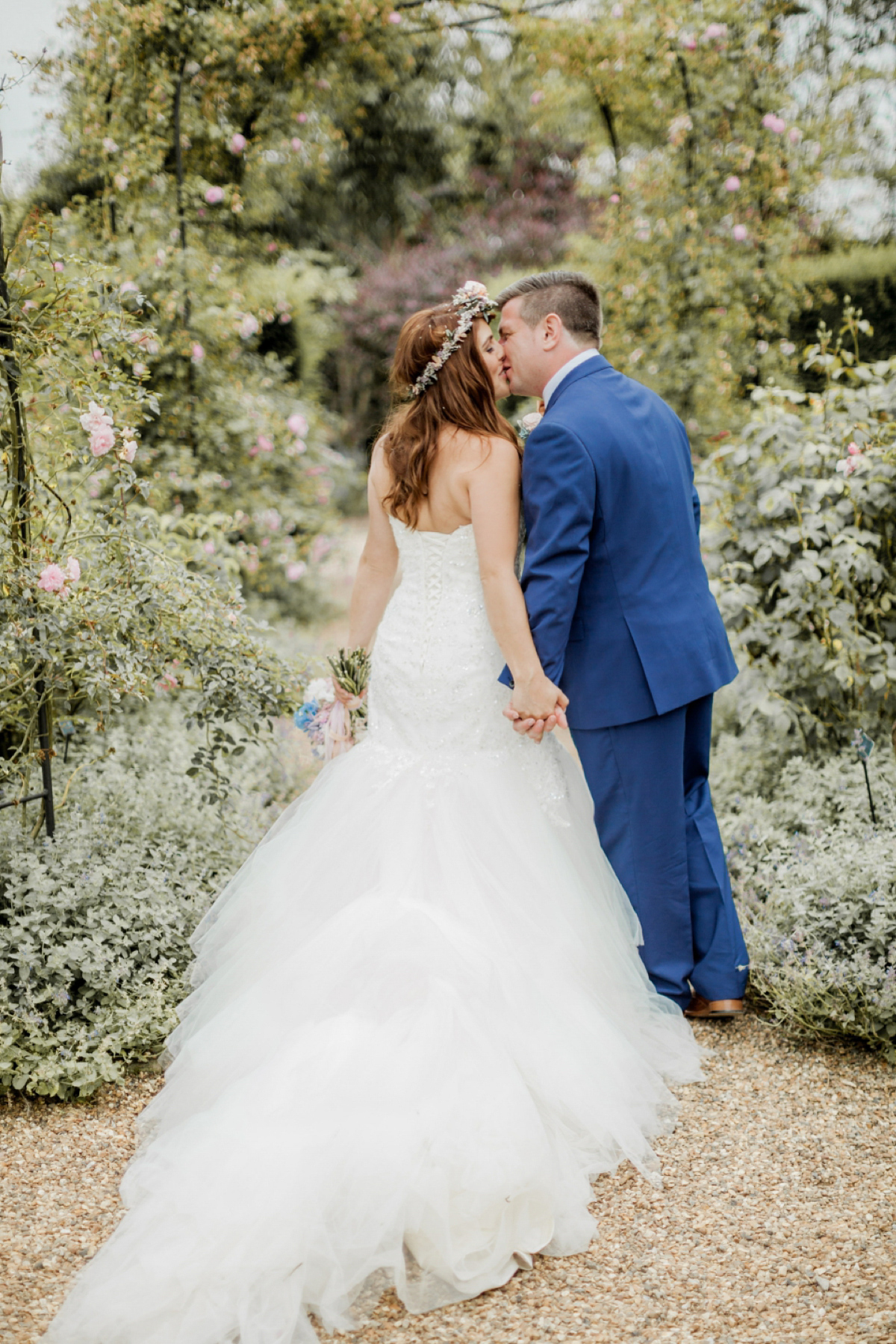 How does a photographer go about choosing one for their own wedding?  Cate and Craig decided on none other than the fabulous Naomi Kenton who did the most wonderful job of capturing this incredibly romantic day in her trademark soft style, noting the most beautiful of details and catching every emotion with her lens.  My life's ambition is now to purchase a flower crown and find an excuse to have a shoot with Naomi while wearing it….
"Naomi is the most kind, relaxed and natural photographer and she can see beauty in every little detail. We never felt uncomfortable, as she's fantastic at putting everyone at ease and her photographs are soft and dreamy, which is exactly how I remember our day."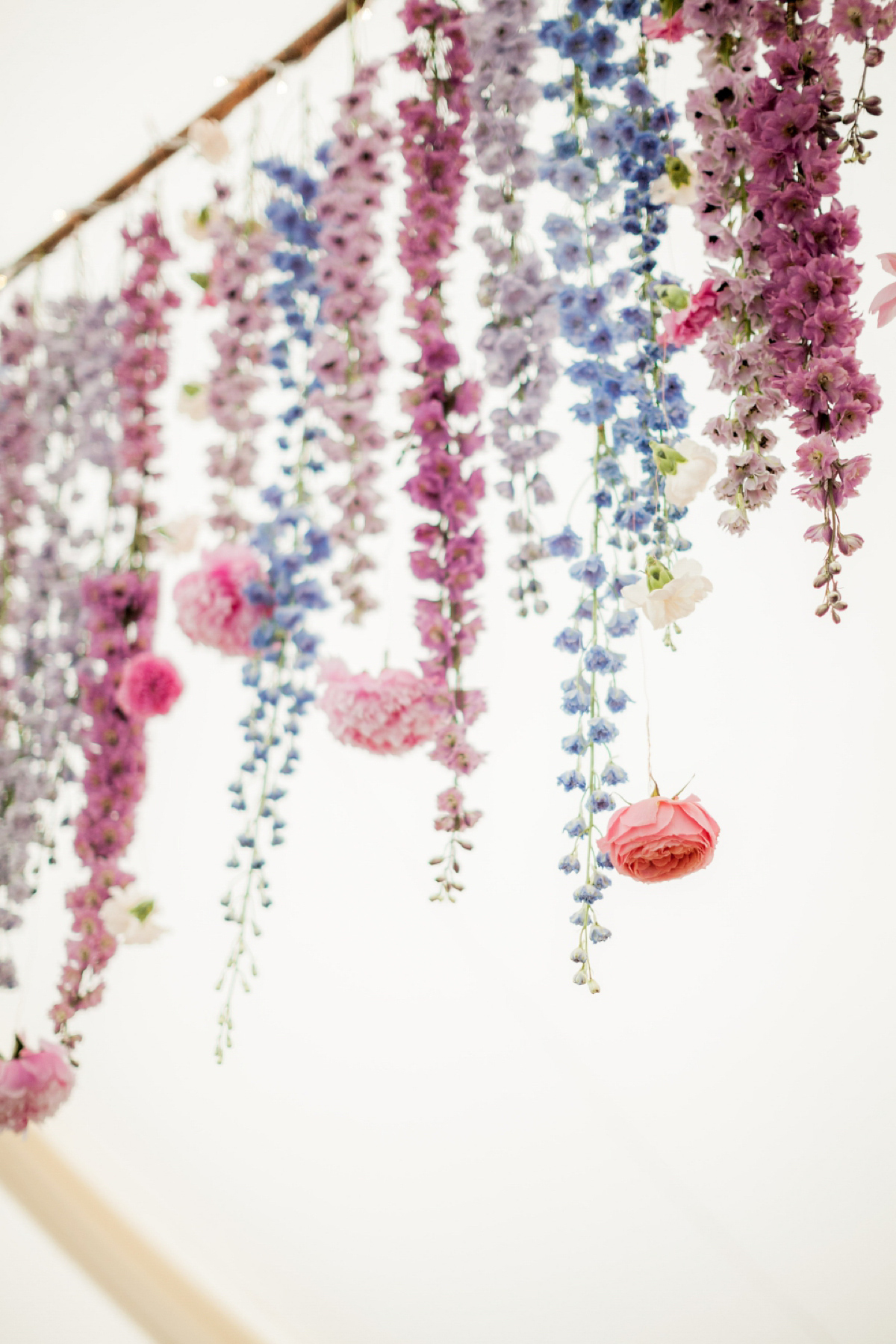 Cate wore a fabulous fishtail gown by Maggie Sottero, purchased from our Little Book For Brides member, Miss Bush Bridal, one of our favourite boutiques and long term Love My Dress supporters.  The fitted glittering bodice which explodes into the drama of the tulle fishtail is so wonderful; "I instantly felt like myself in it; it made me feel a million dollars."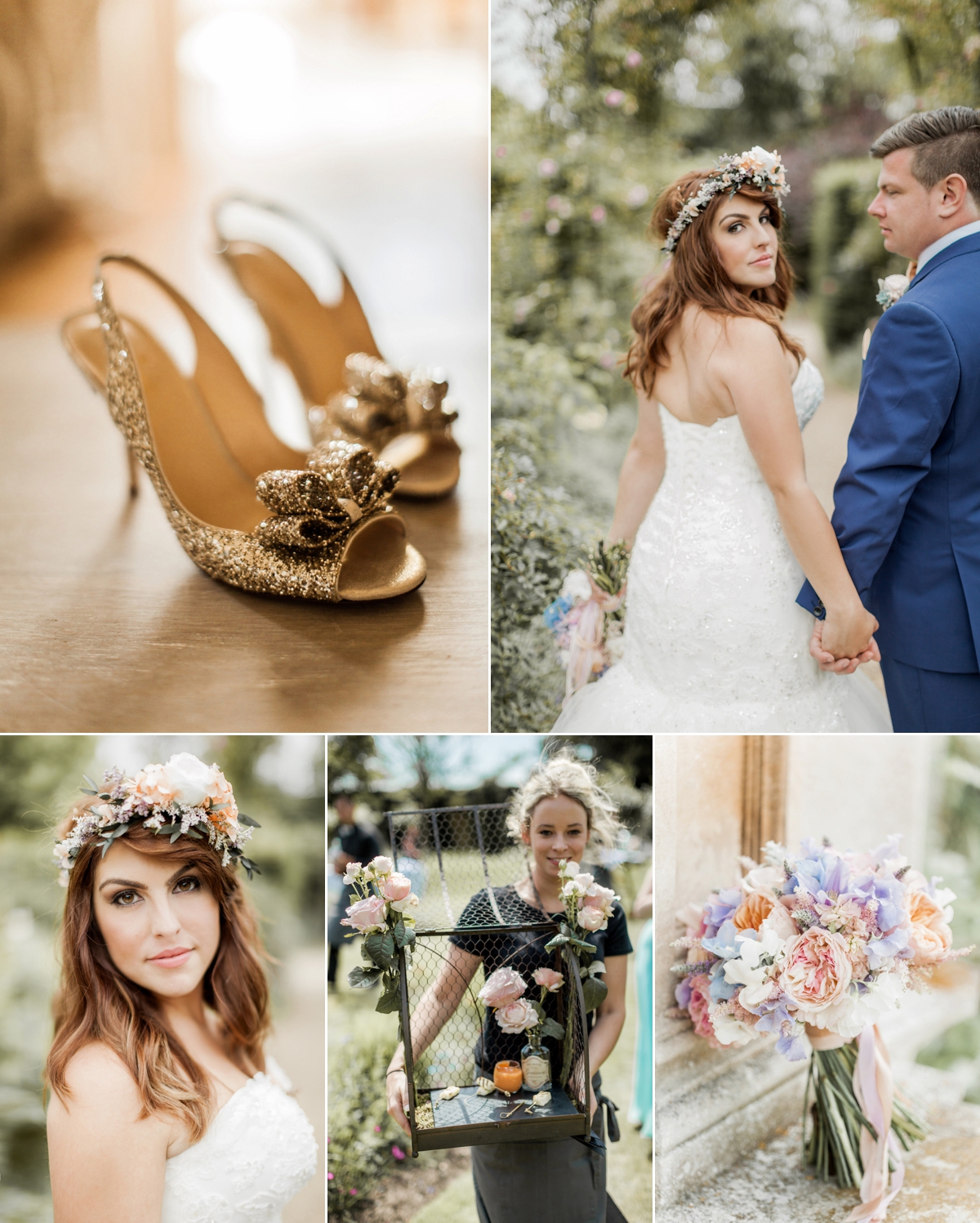 "Craig and I met at Next when we were eighteen.  We quickly became close friends and slowly fell in love and became inseparable. After seven years together we took a trip to Cornwall and at Kynance Cove Craig got down on one knee and asked me to marry him.  He had secretly hired a photographer to capture the moment he proposed so we have some beautiful photographs and he'd even hired a chef who was waiting at our cottage to cook us a beautiful meal afterwards. He pulled out all the stops and this is so typical of him.
Craig is the most loving and unselfish man I have ever met and I couldn't imagine my life without him. Our love is the greatest happiness I have ever known."
On her feet Cate sported a pair of gold, glittery Kate Spade shoes, and also chose to wear perfume by the same designer- Walk on Air.  Over her flowing locks (styled by Severin Hubert of Hepburn Collection) she wore a beautiful bespoke flower crown by Sophie and Luna and she finished with earrings by Annoushka.  Ana Ospina was her make up artist.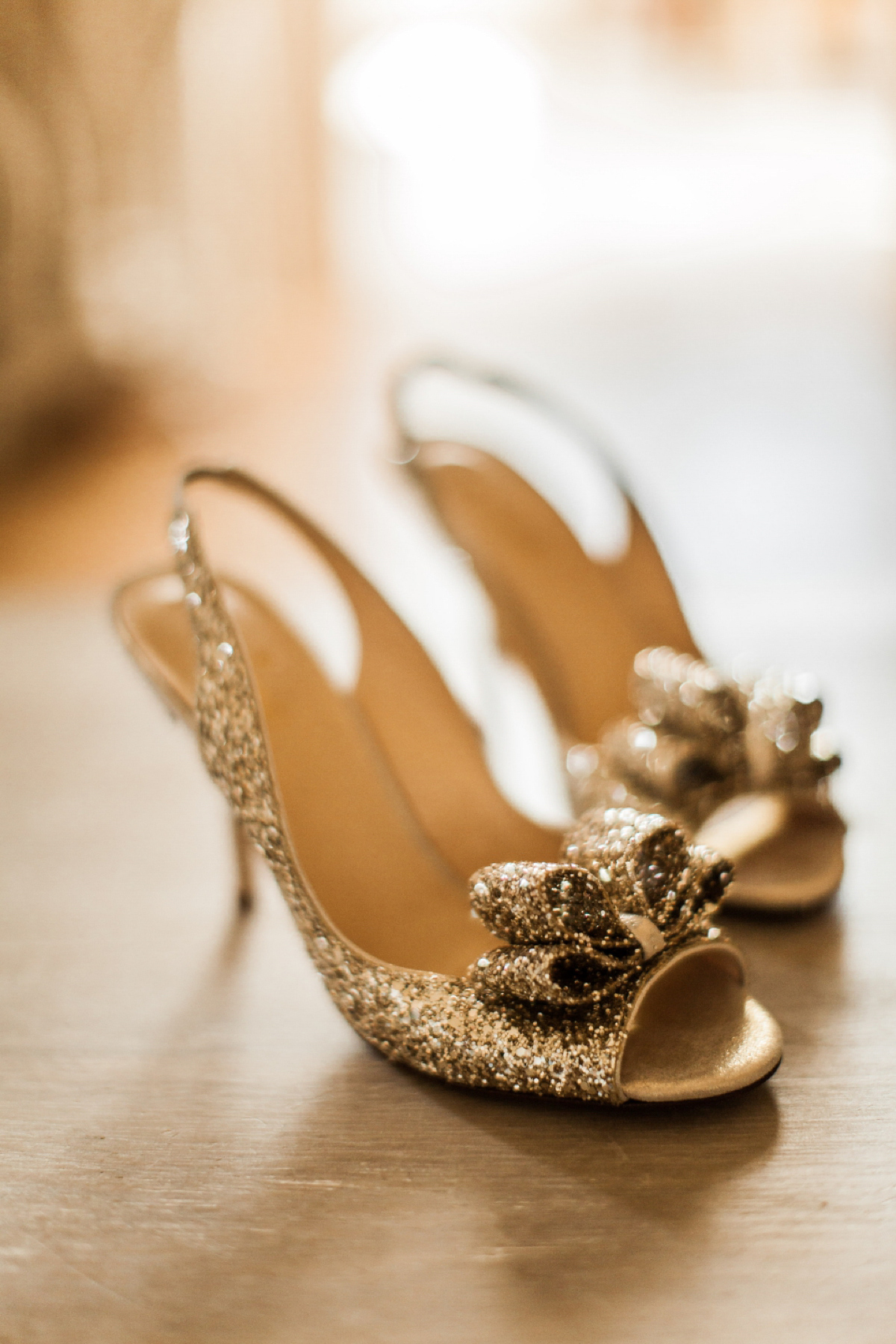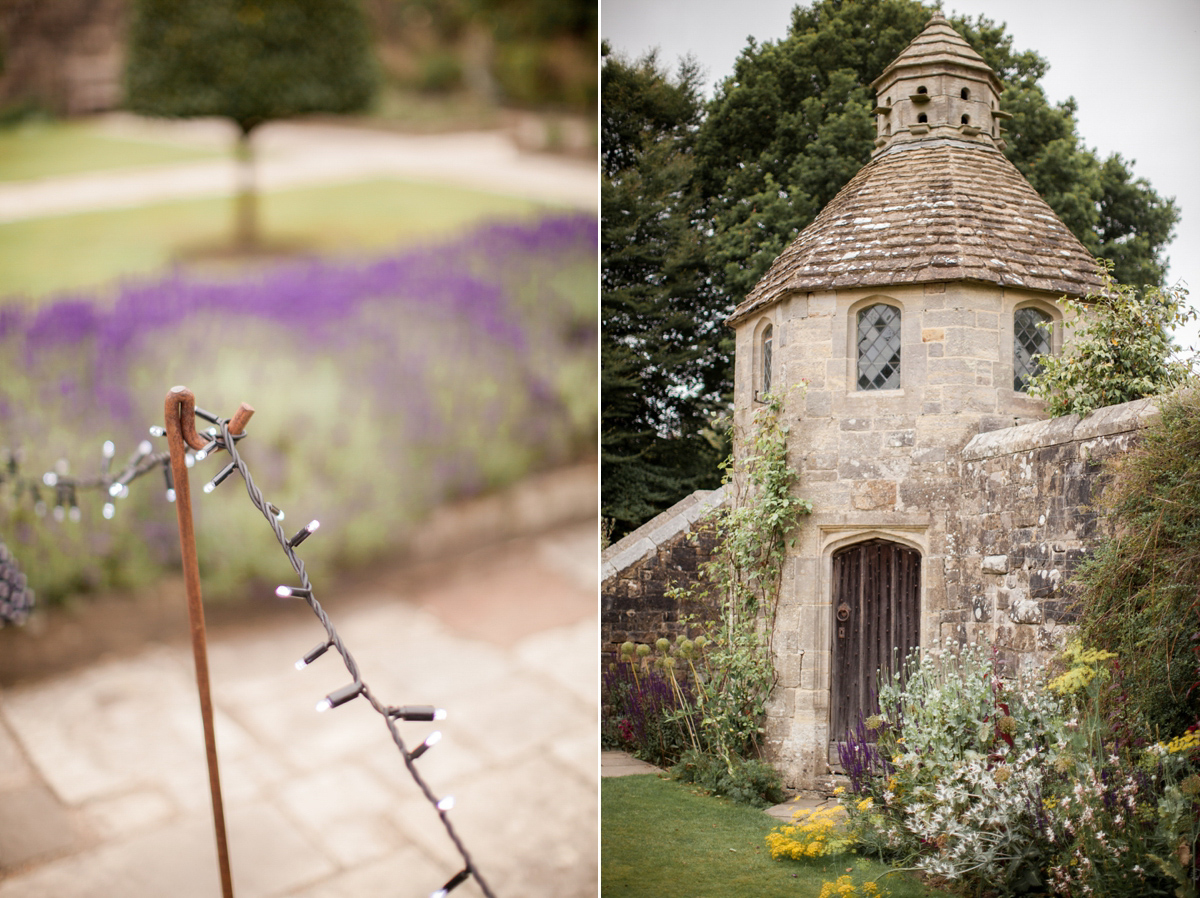 Cate's bridesmaids looked fresh and pretty in floaty Monsoon gowns, while her bridesman chose a suit from Next and accessorised with a Swagger and Swoon bow tie and a necklace by Claudia Holledge.  For his suit, groom Craig chose to go with British classic Marks and Spencer and looked smart but summery in a blue three piece, worn with a peach bow tie from Mrs Bow Tie.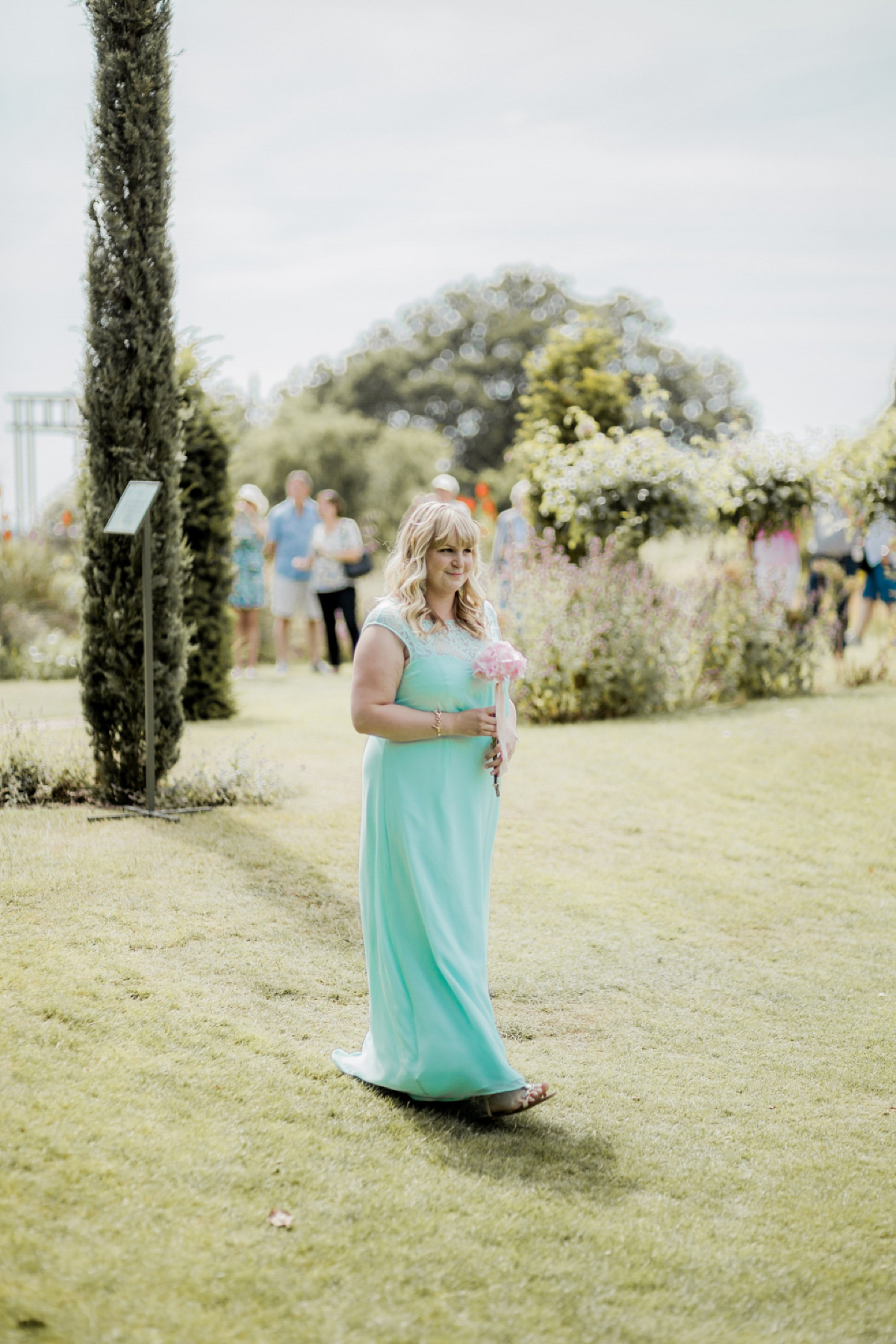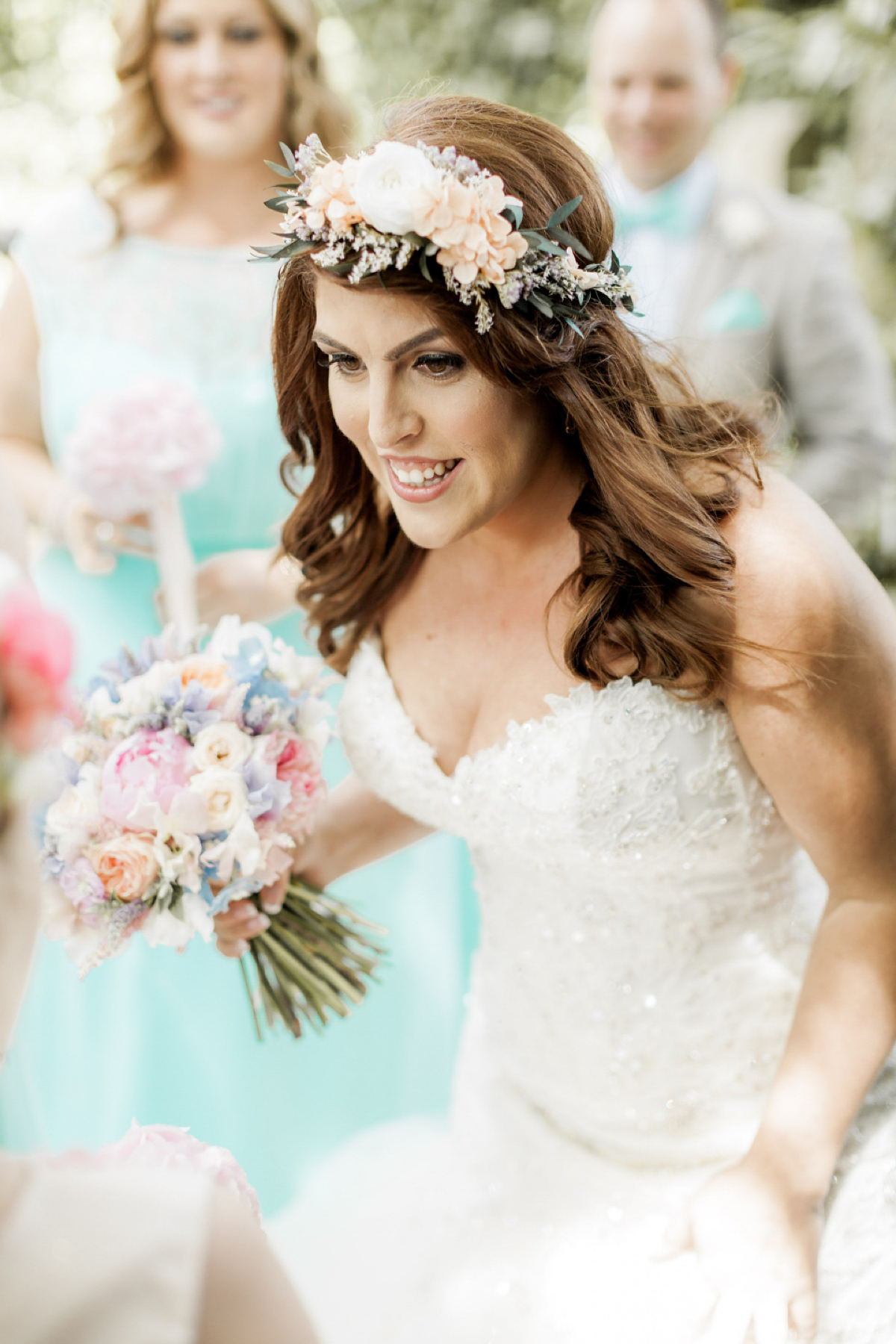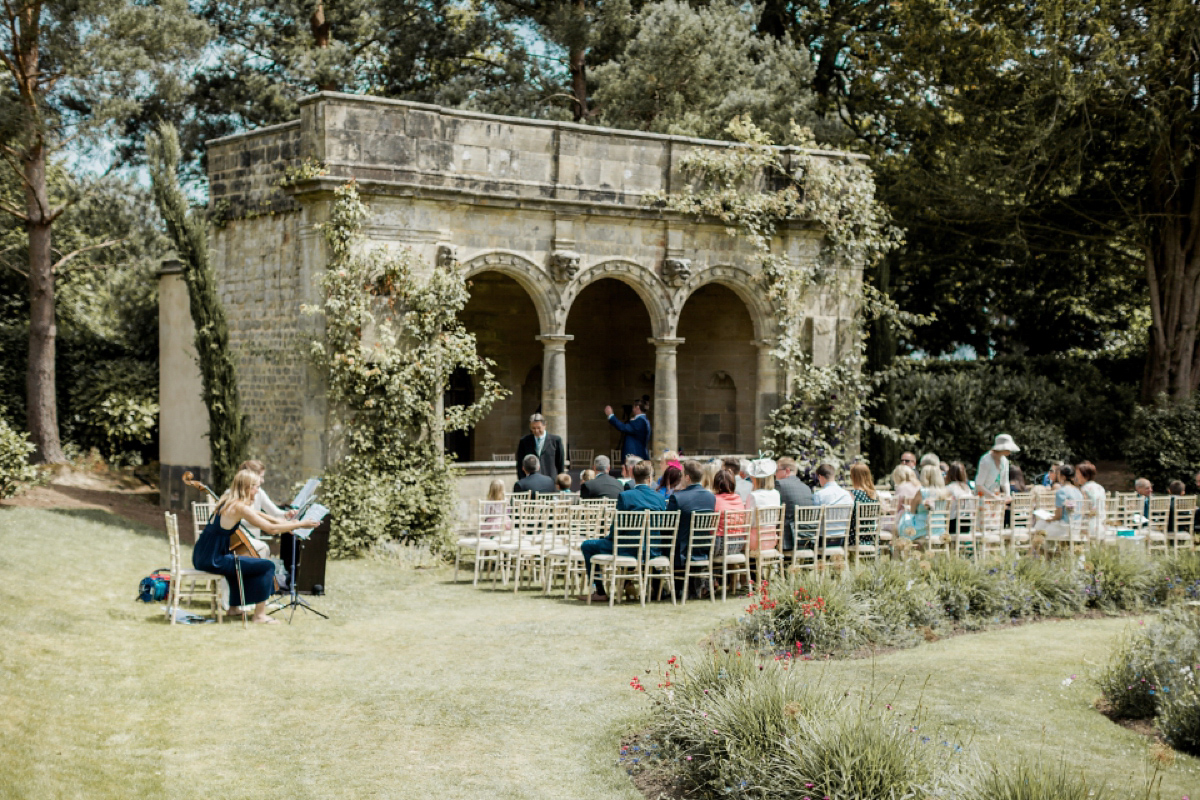 Cate walked down the garden aisle on the arm of her father to an instrumental version of 'A Thousand Years' played on cello and piano.
"We both wrote our own set of vows to each other, which we read to each other on the day along with a main verse we repeated together. 
I take you to be my best friend, my faithful partner, and my one true love.  I promise to encourage you and inspire you, and to love you truly through good times and bad.  I will forever be there to laugh with you, to lift you up when you are down and to love you unconditionally through all of our adventures in life together"
For readings, our couple chose the 'Blessing of the Hands' by Rev. Daniel L. Harris and 'A Wedding Fairytale' by Kathy R Jeffords, both beautiful and heartfelt pieces.
The couple swapped wedding bands which were designed for them by Baroque Jewellery in Brighton.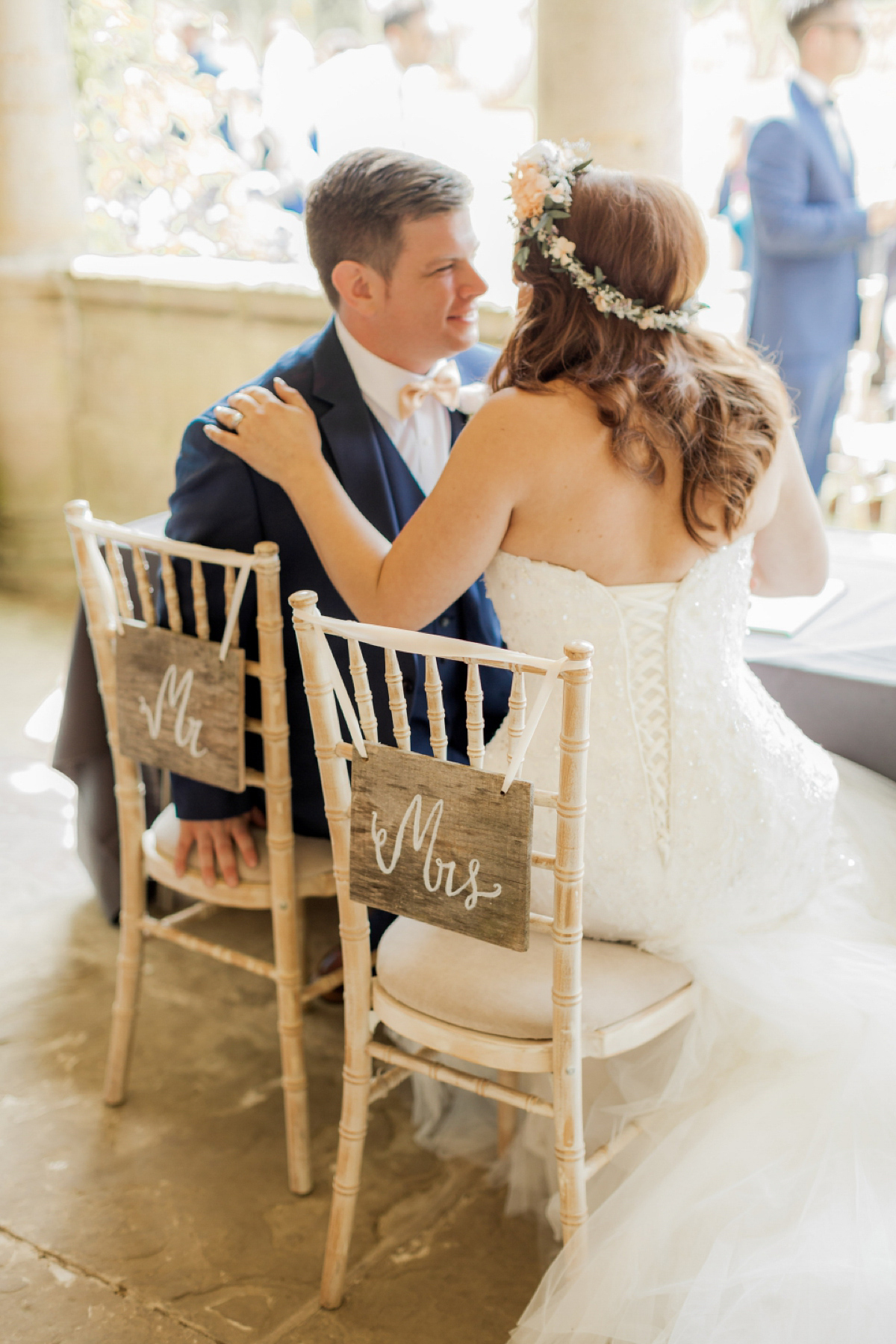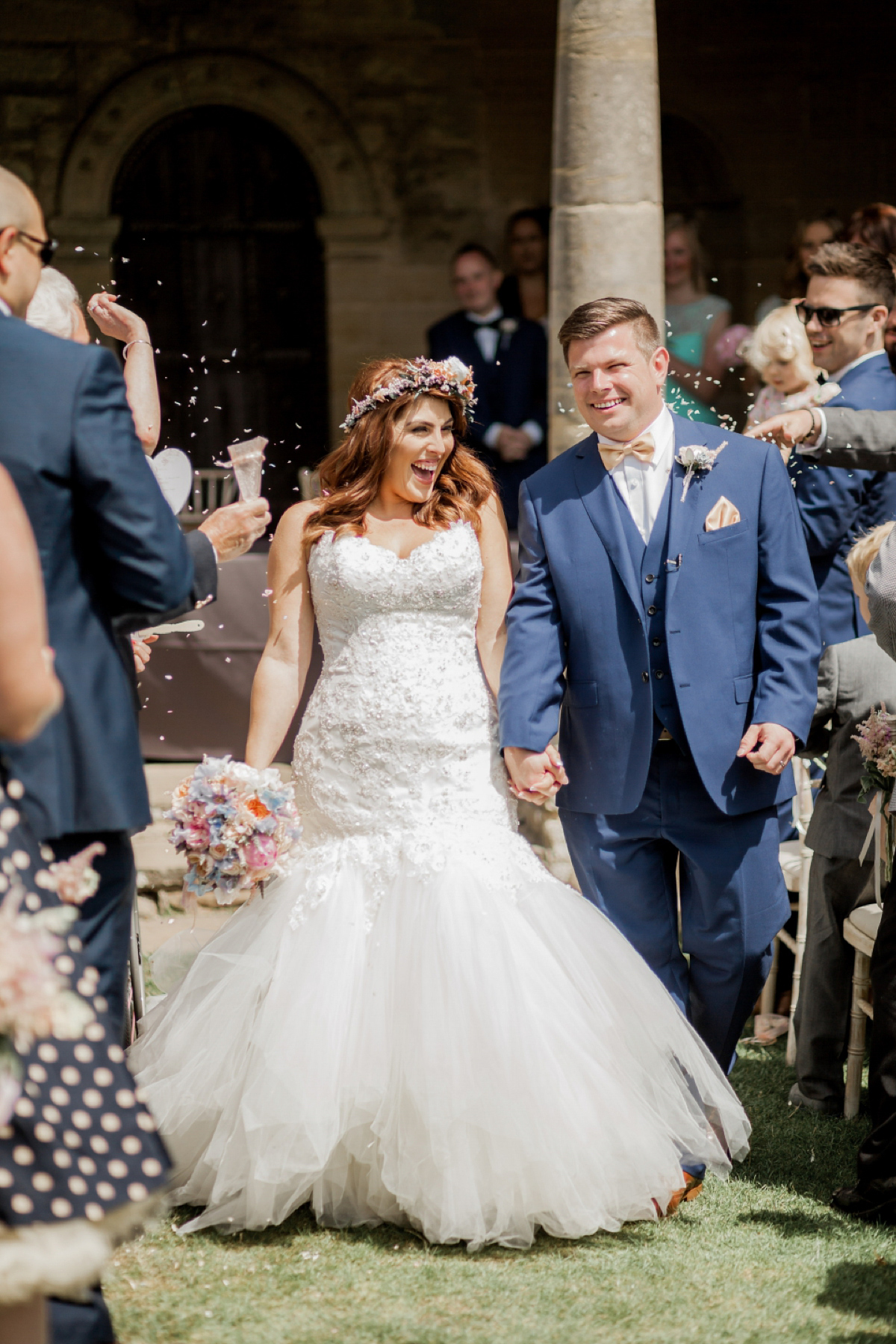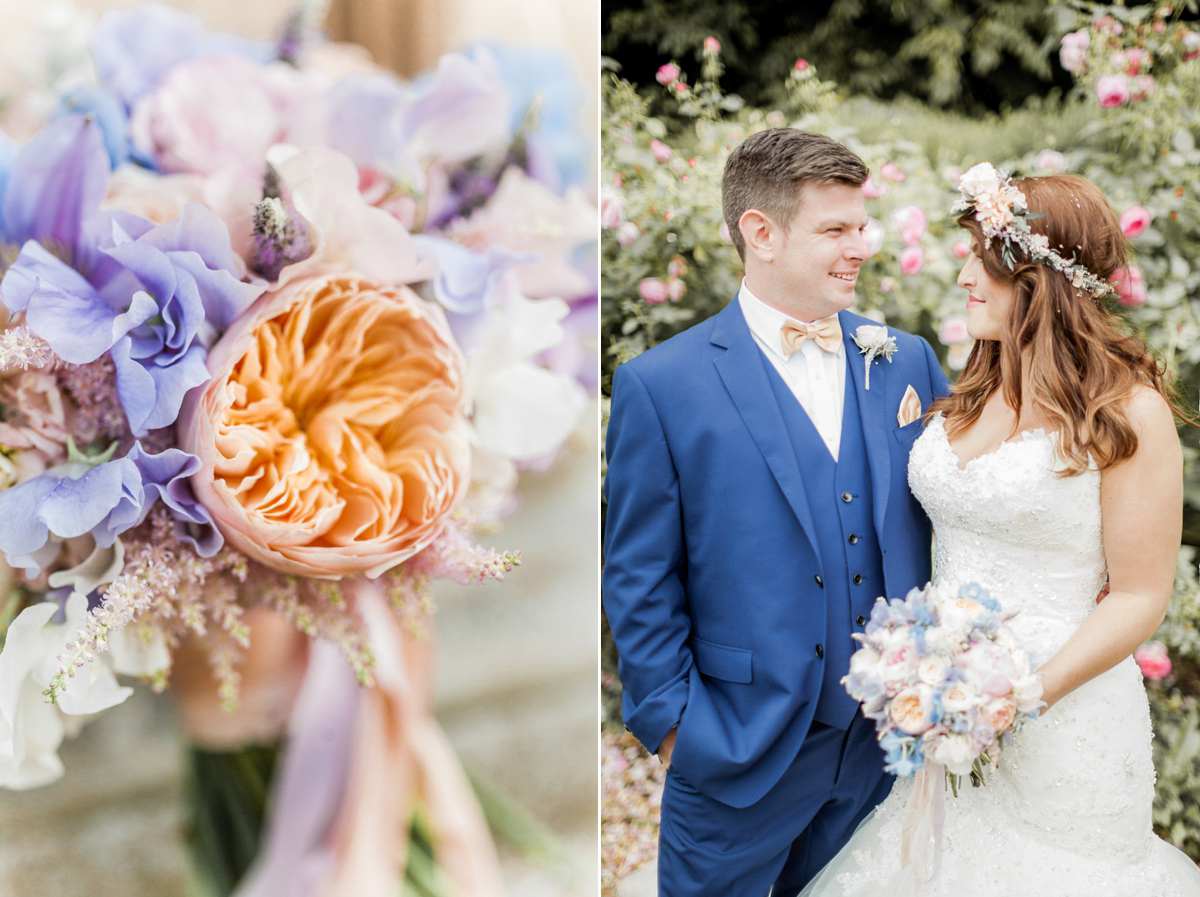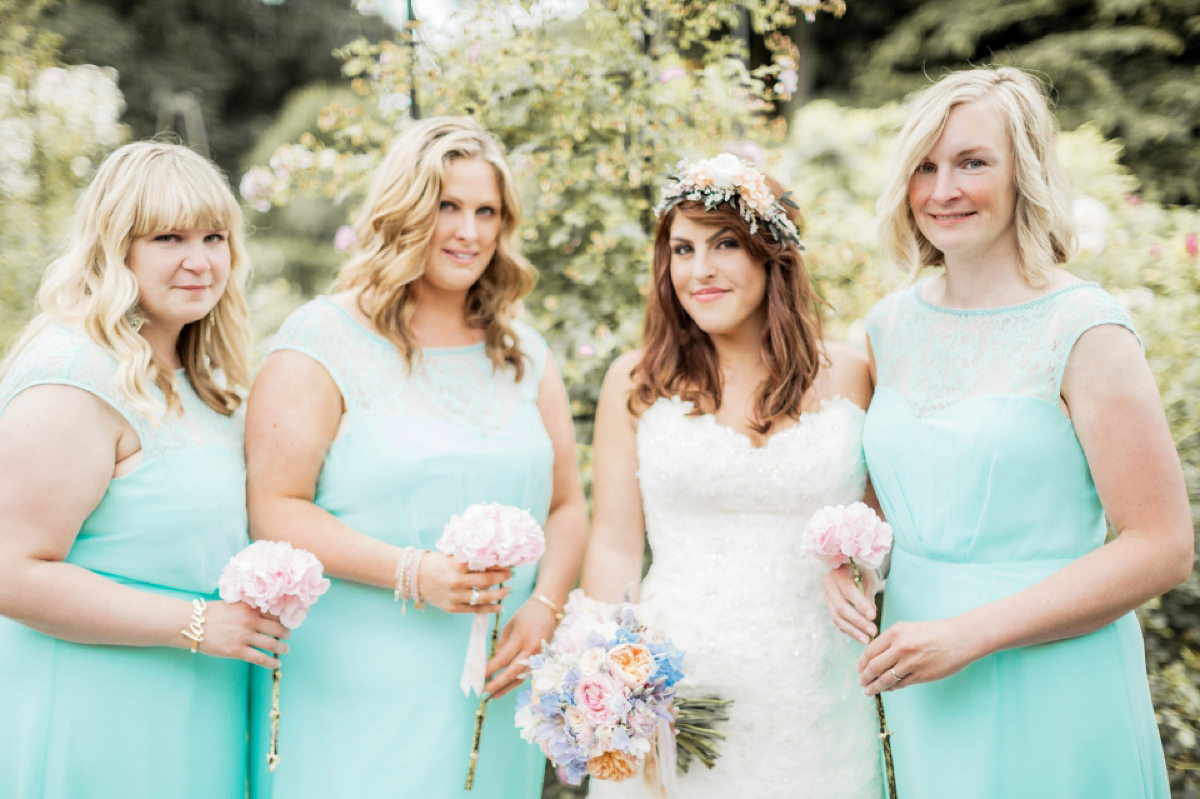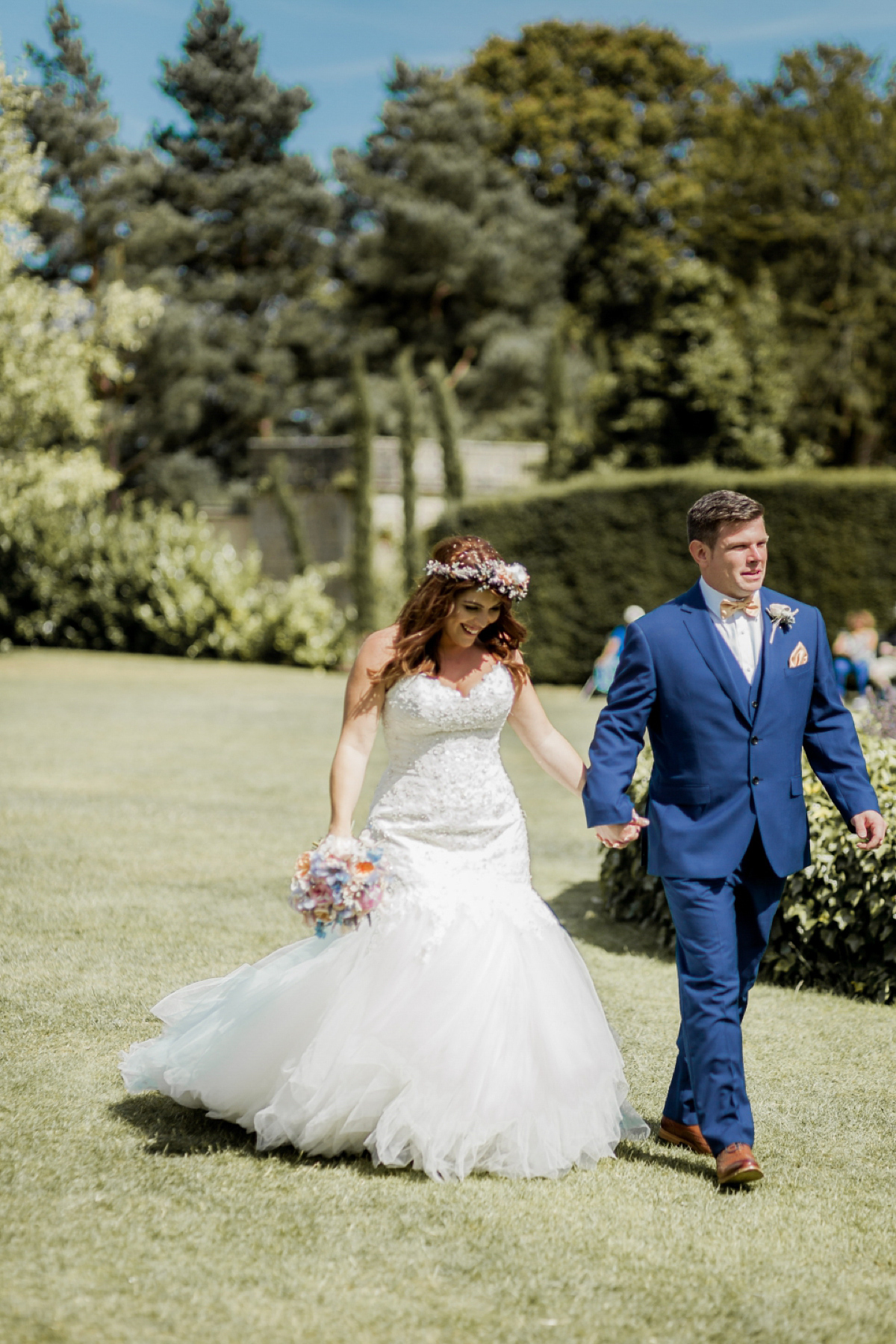 Like many brides, Cate was heavily involved in the decorative elements of the day (as well as painting signage and paintings and collecting vintage props and glassware, she also painted the watercolour florals for the paper goods, which was created by Gemma Milly Stationery) but to put it all together the couple called in the professionals, hiring Sundari, The Wedding Stylist, to style the day.
"Sundari was beyond incredible and not only did I trust her to style my vision, but I also leant on her in times of stress and worry, this really meant I could relax in the days before and on the morning of the wedding knowing everything would be done. Thanks to her everything I envisioned for our day went without a hitch and was styled to perfection. She was a lifesaver in many ways and is so passionate about what she does."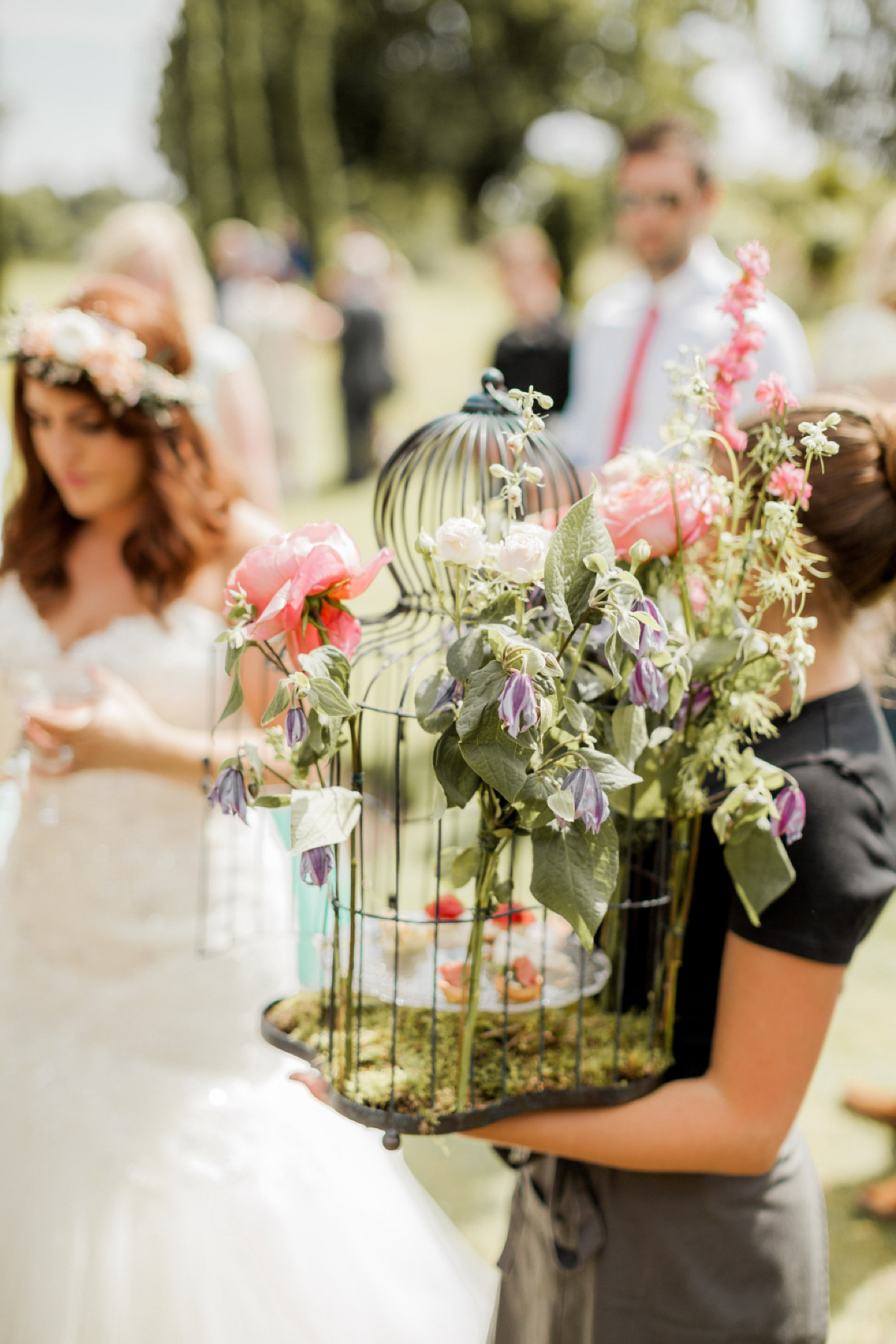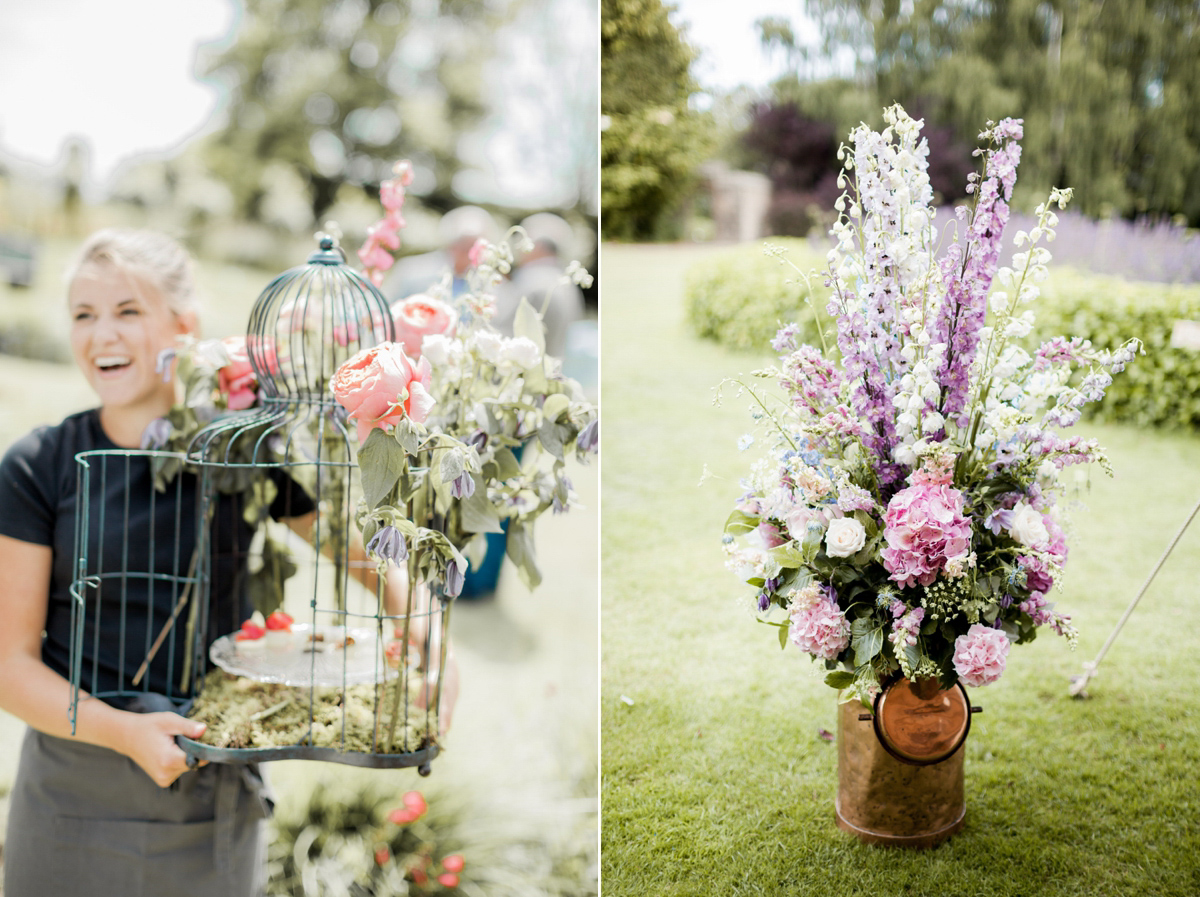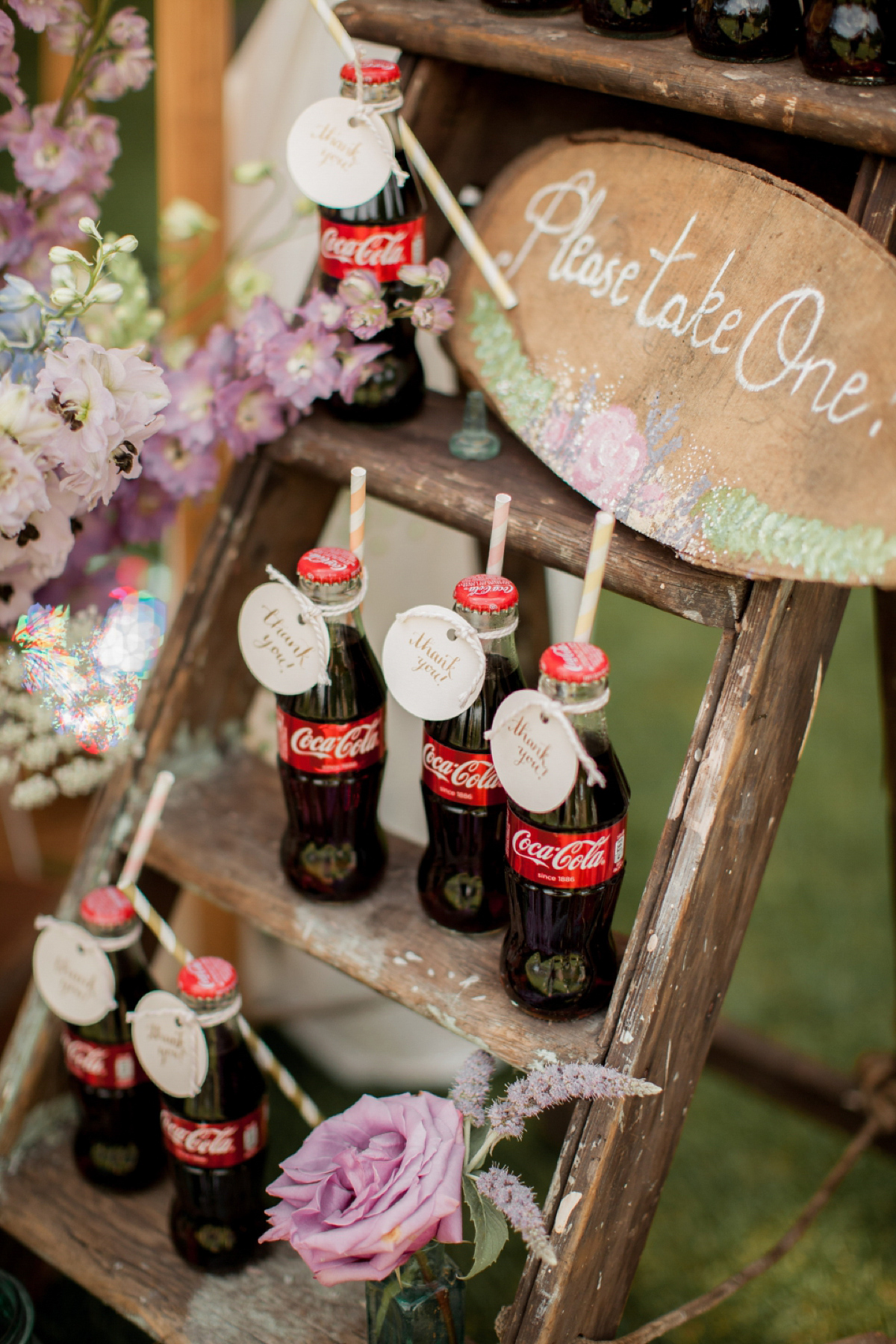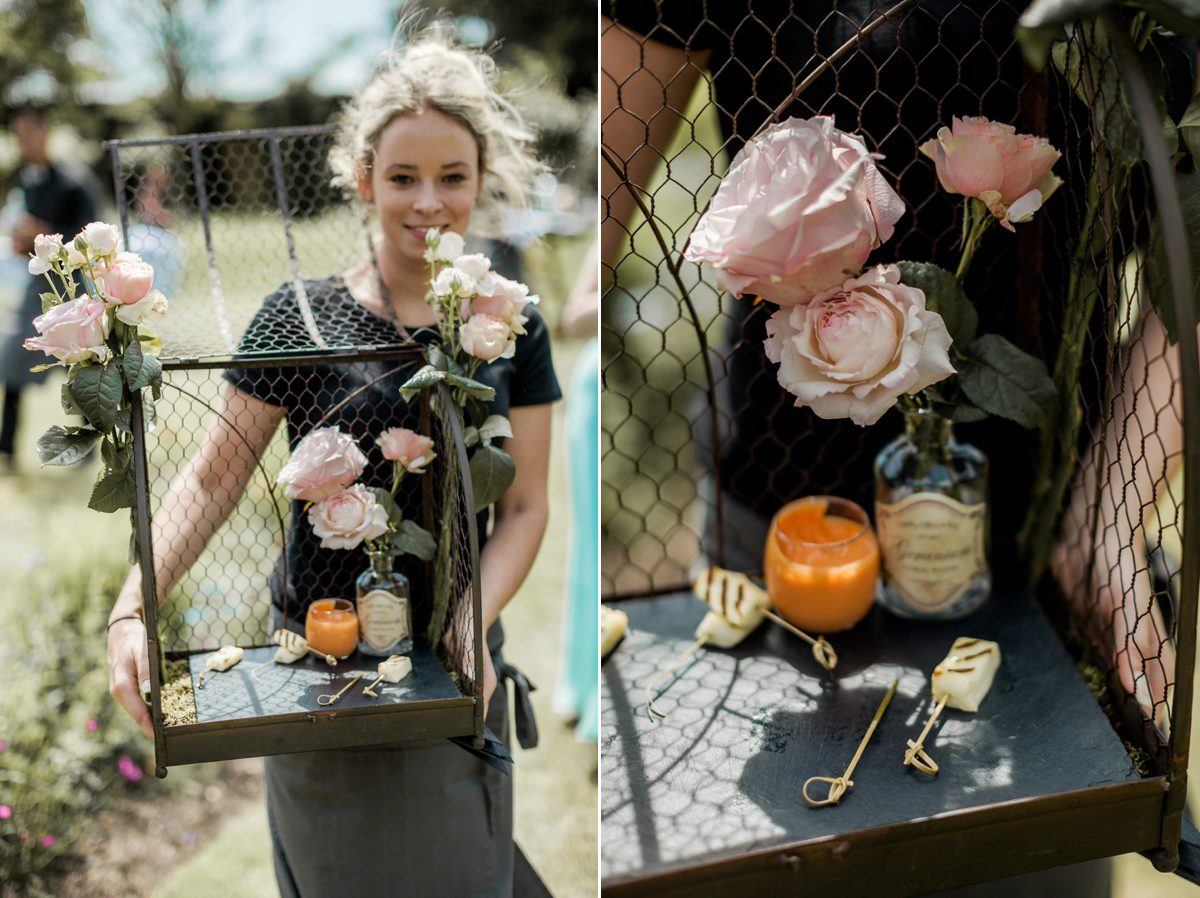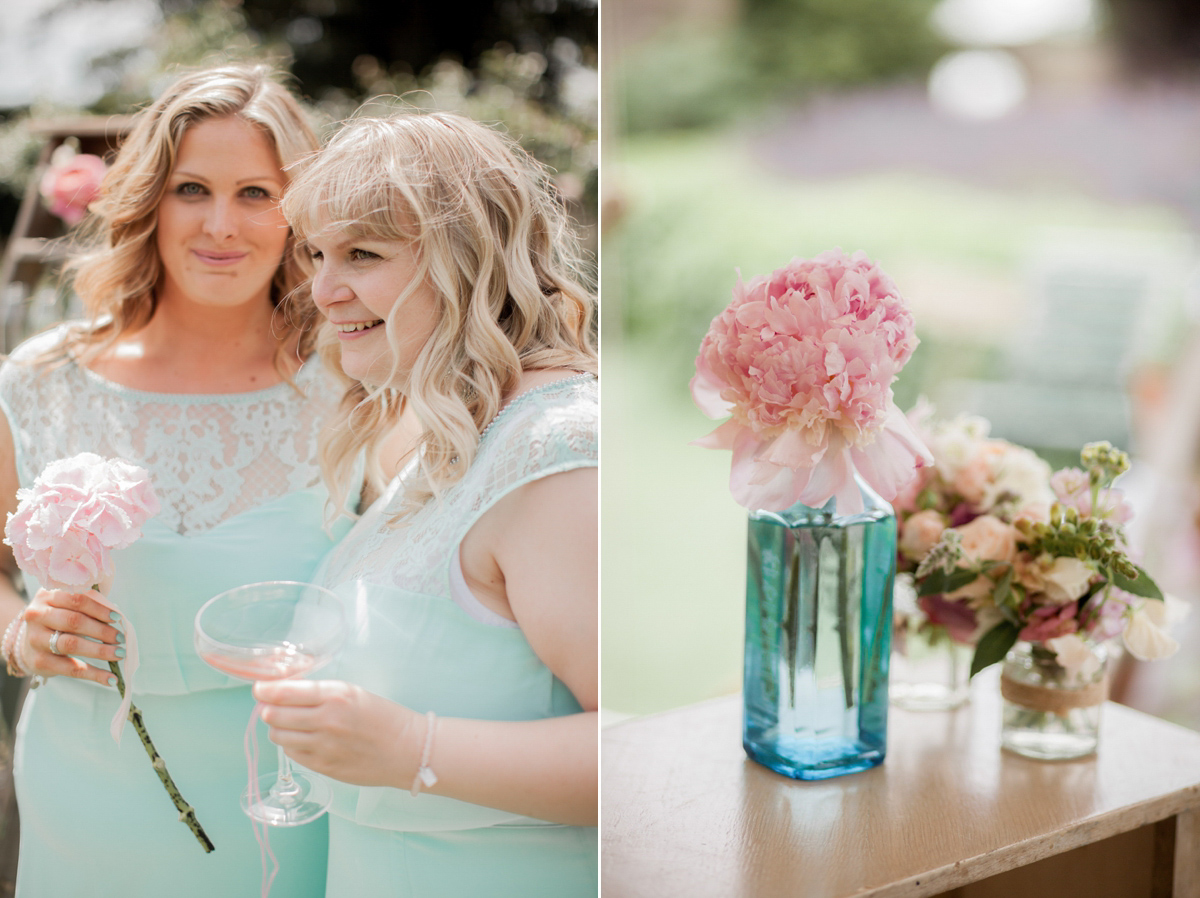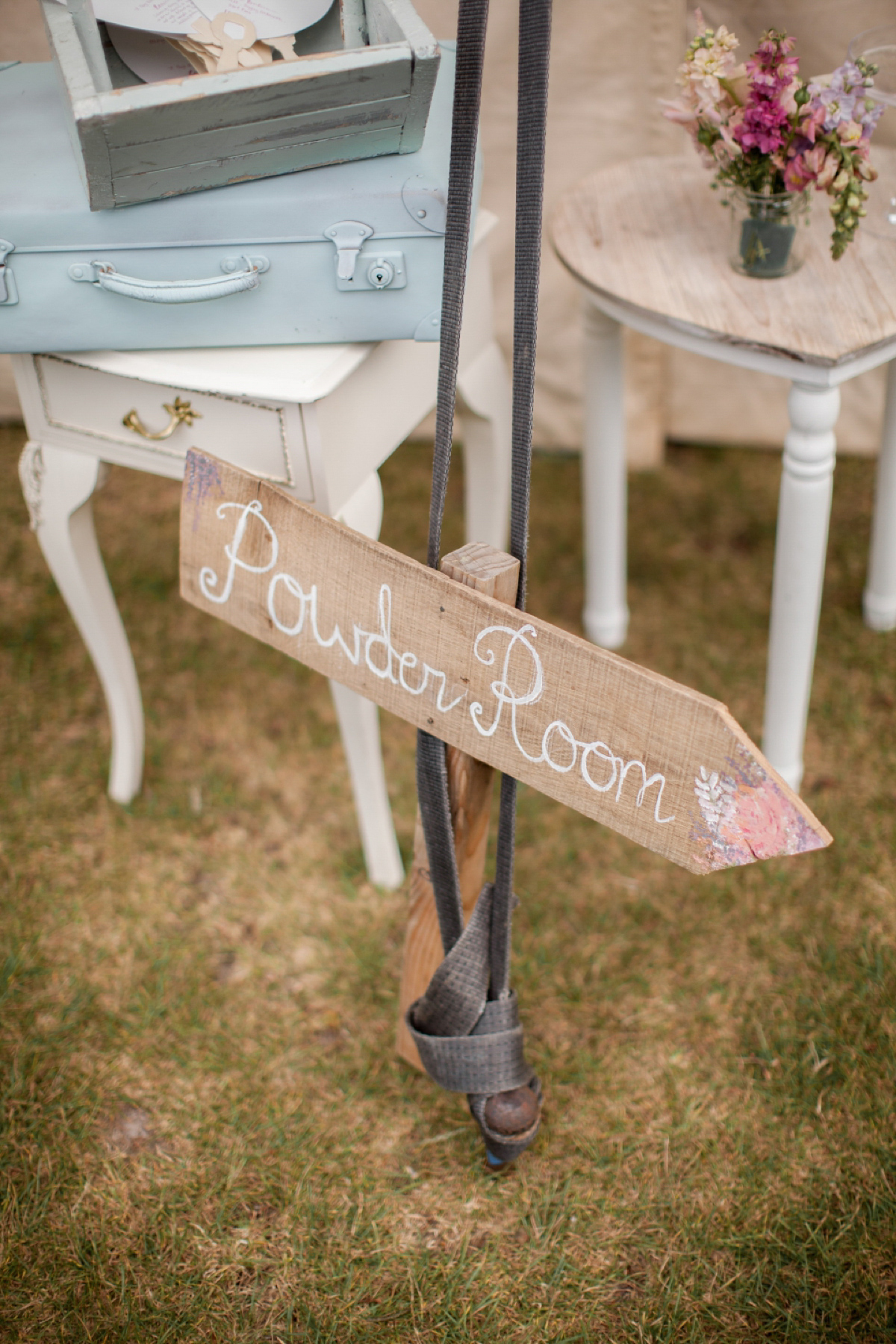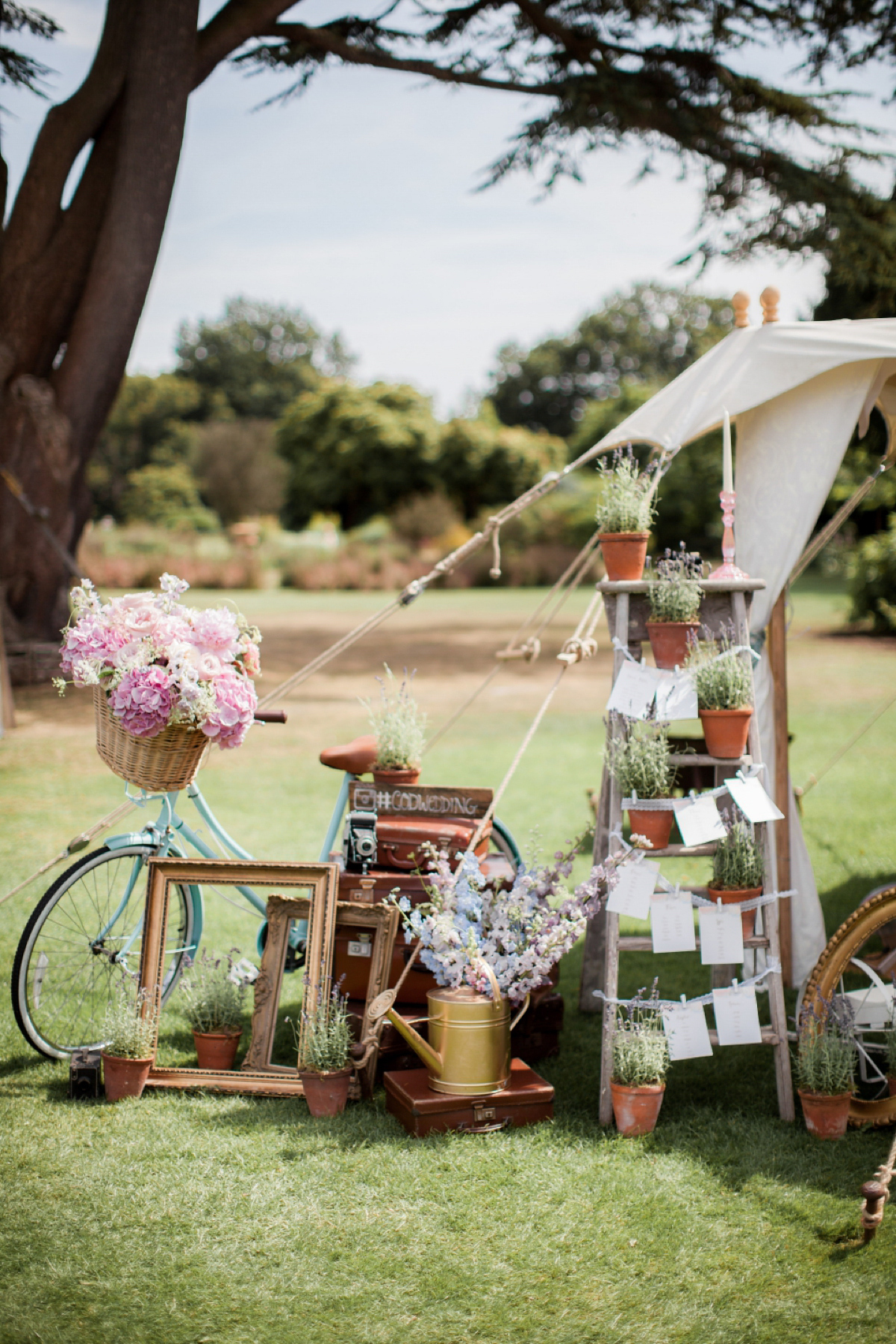 Catering was by the ever-inventive Kalm Kitchen, with cake by Abi Anna Cakes (that fabulous sequin linen cloth on the cake table was sourced from Gilded linens, for those of you wondering…)
For a wedding in a garden the flowers are a huge part of the day and Kate Avery Flowers certainly stepped up to the task. That hanging installation is just exquisite!
"Kate is an astonishing and incredible talent with a total understanding of what we wanted as well as being the loveliest and kindest woman.  She created a breathtaking hanging installation above the dance floor- I cannot describe how beautiful our flowers were."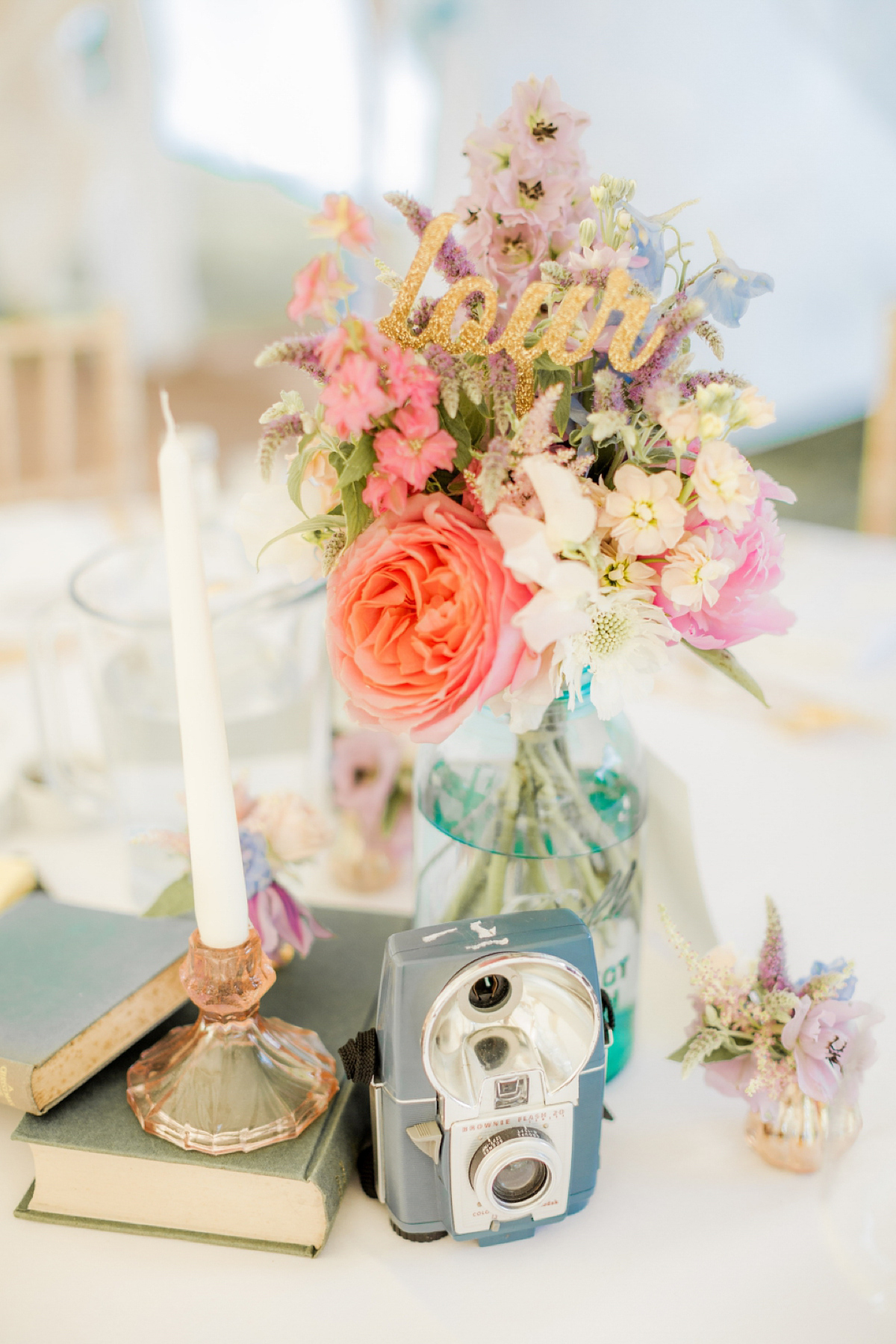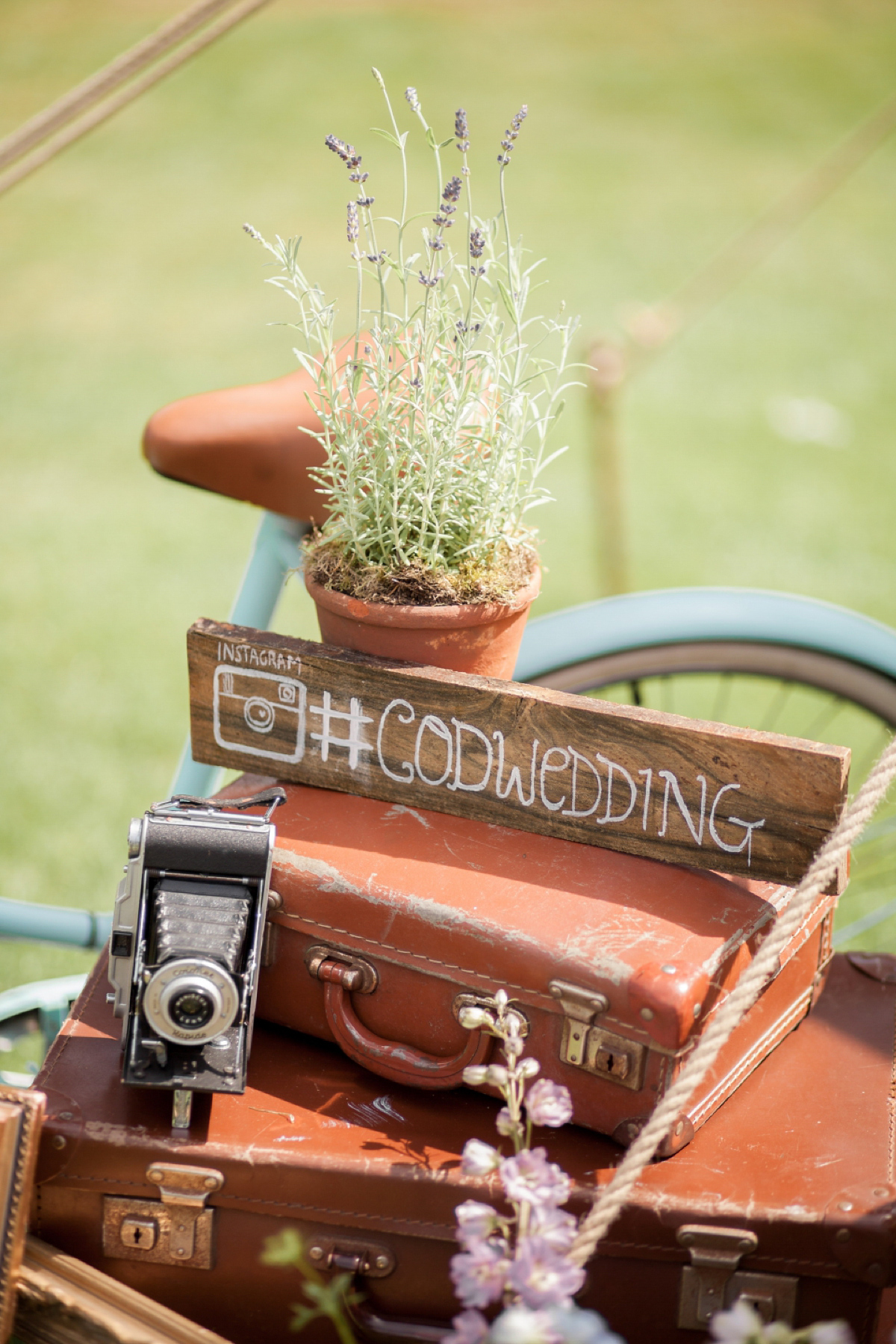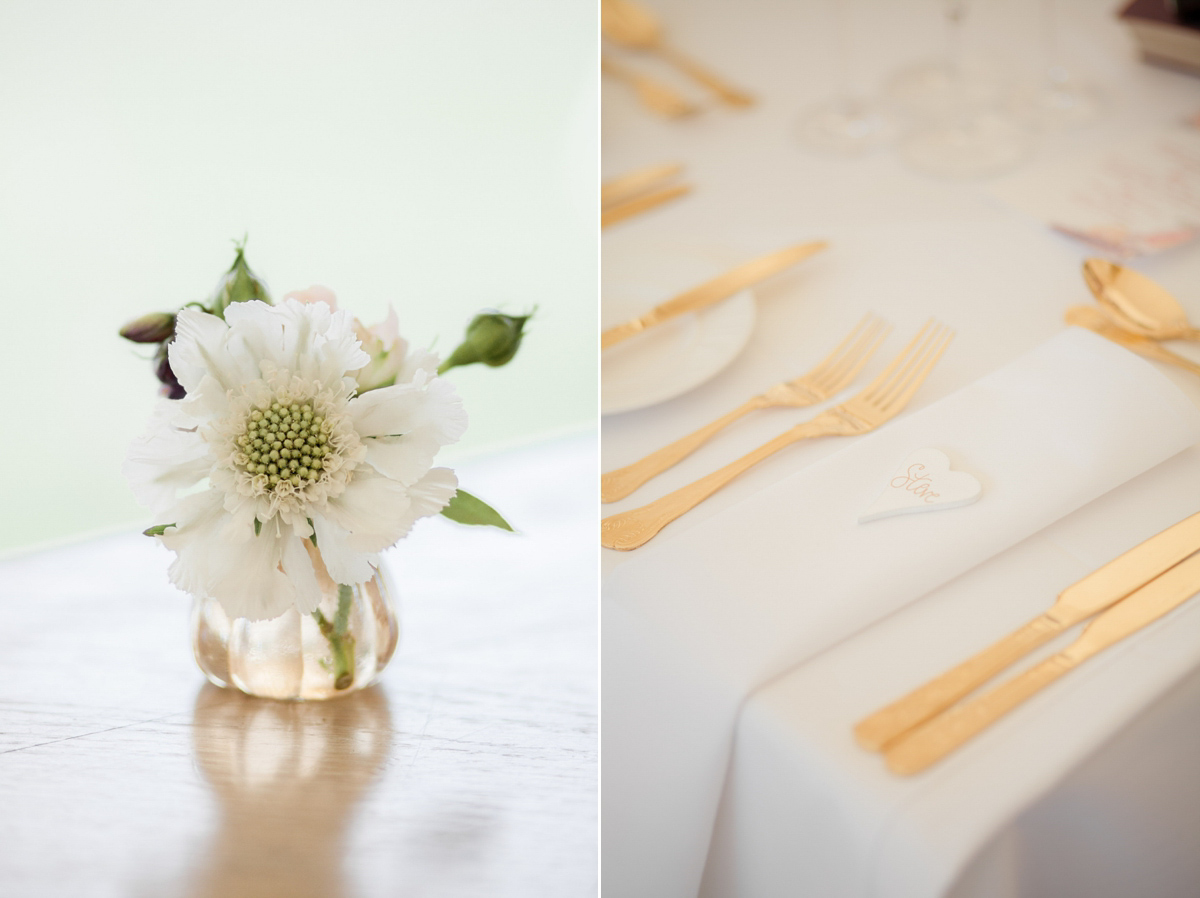 Words of wedded Wisdom
"Make sure you do not sacrifice anything that would truly make you happy- your wedding day should be a reflection of your relationship and I loved every moment. Have no regrets and surround yourself with what you adore and people you love."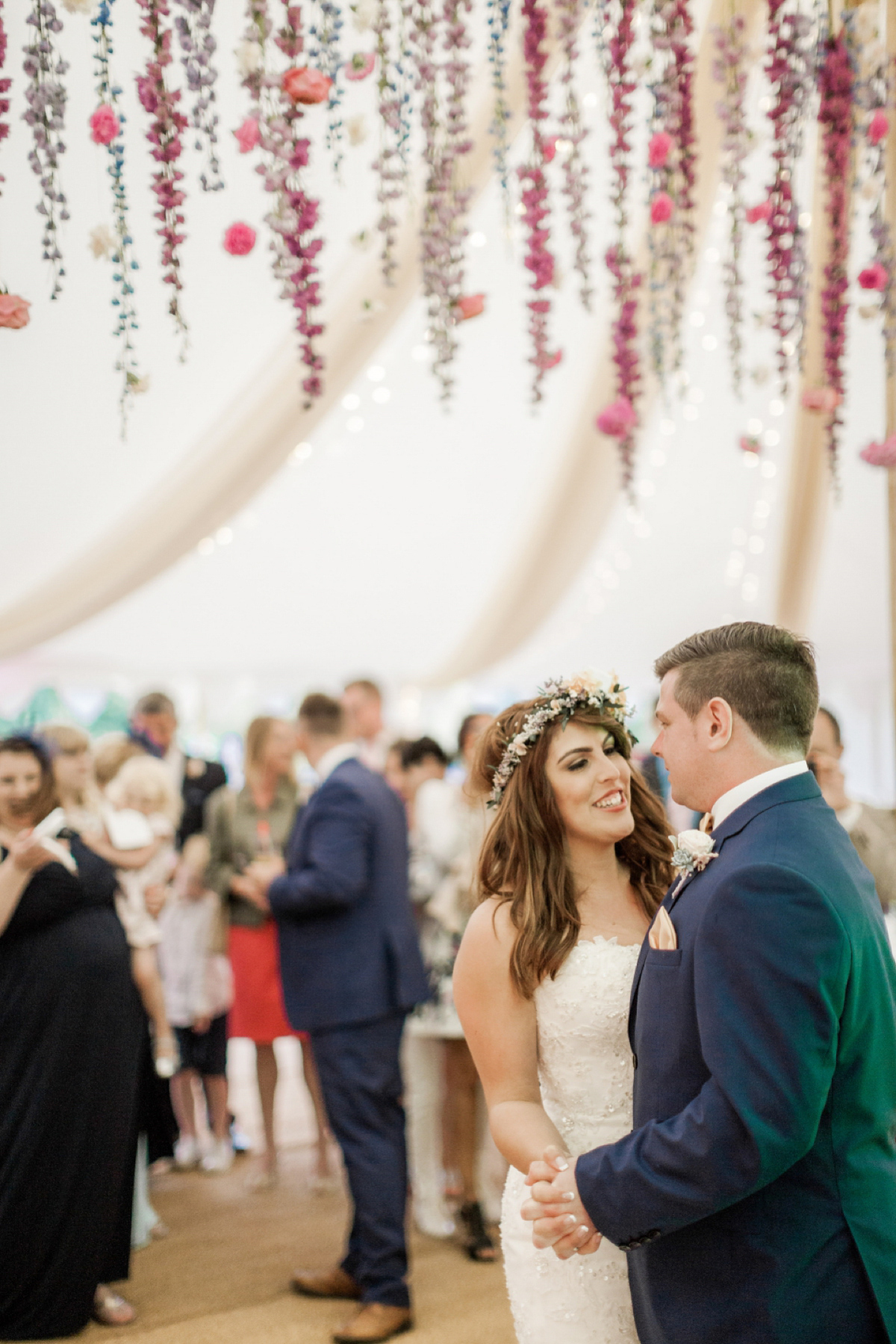 Well, what more can I say other than huge thanks to Cate and Craig for sharing their beautiful day and to Naomi for allowing us to feature her fabulous images.  For more weddings photographed by Naomi take a look here and for some more gorgeous garden inspiration, look here.
Finally, as I was researching for this feature I had a look at Cate's webpage and noticed that she has very recently signed off to have her first baby, so I wish her all the luck and love in the world from the Love My Dress team.  
Much love,
Shona x