It's the weekend lovelies! I'm dancing with joy, as it's been quite a busy week over the seas here in not-so-sunny Australia. We are currently experiencing a cold snap (yes, it does actually drop below 20 degree here!) and my good old trusty wool-lined jacket I bought from Marks and Spencer is keeping the chill at bay. Today I've got the loveliest little wedding that warmed me up and instantly made me feel better – and I hope any of you currently DIY'ing find it a huge inspiration too.
Sarah, a primary school teacher, married Alex, a flood defence project manager with the Environment Agency, on a sunny Summer's day on 22nd August 2015. The ceremony was held at Our Lady of Lourdes Catholic Church in Saltburn-by-the-Sea (the same church where Alex's parents married and Sarah's mum's local church), with the reception at the majestic Danby Castle on the edge of the North Yorkshire Moors – which is but a stones throw away from where our founder Annabel lives!
"We wanted to share a relaxed, fun-filled day with our family and friends who travelled near and far to be with us to celebrate. The gorgeous backdrop of both the seaside (Saltburn) and the countryside (Danby) inspired us to adopt geographical, rustic and woodland details along with my love of all things vintage and handmade. The natural setting and vintage style of Danby Castle charmed us completely; securing a date during the beautiful heather season on the Moors made it perfect. We could create a suitably vintage feel to the day to match the tea party we would have and fill it with happy, quirky and meaningful details, such as polka dots, birds, bees, butterflies, mushrooms and ladybirds." 
Photography by Stott & Atkinson Photography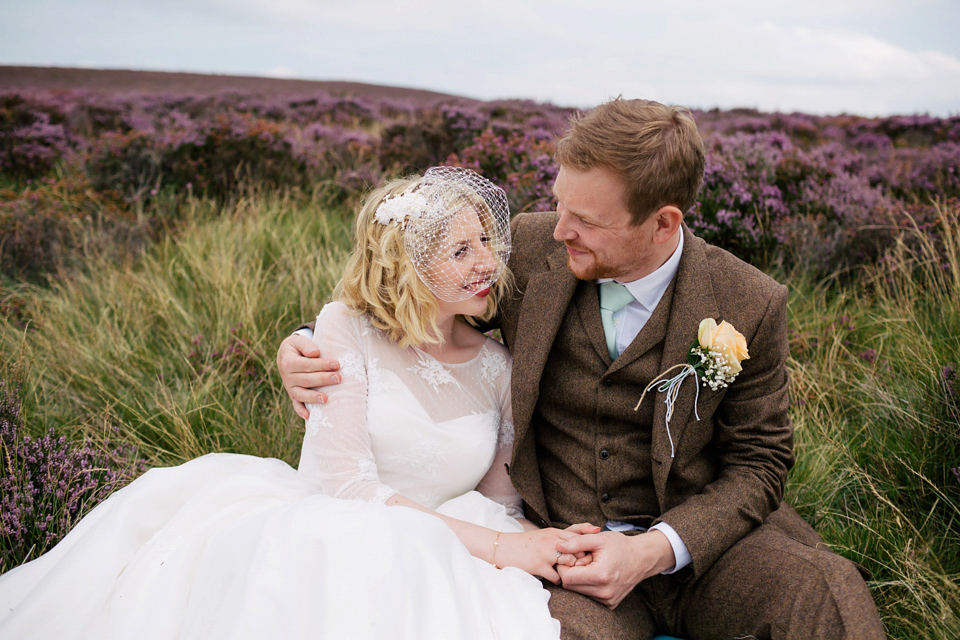 Sarah was a lucky lady in having a very talented milliner friend, Mairi from Mairi Brunning Millinery, who she commissioned to make her beautiful headpiece and 50's style birdcage veil.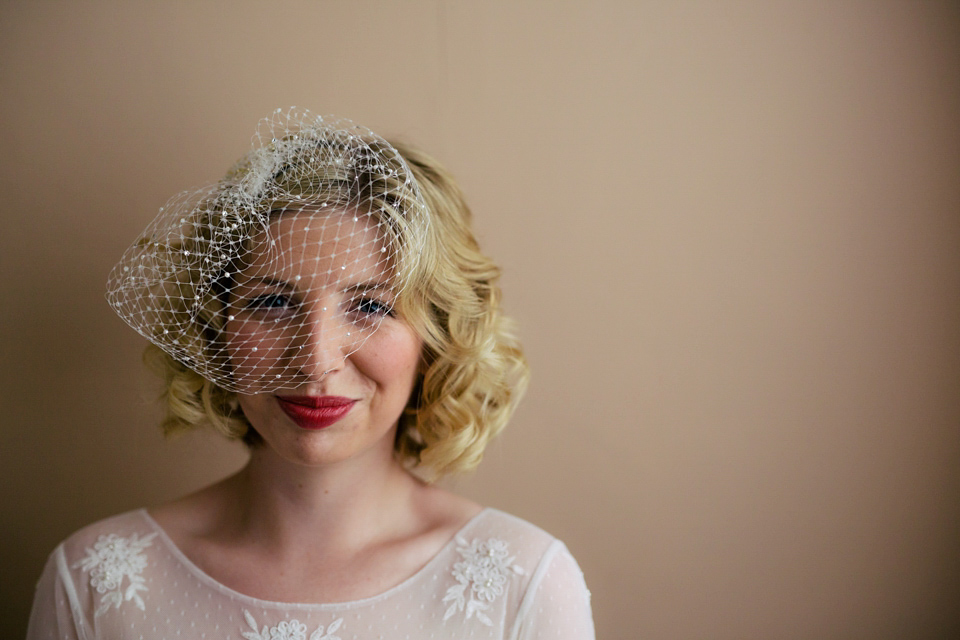 Sarah's maids wore the prettiest polka-dot chiffon tea dresses in mint by Eucalyptus Clothing via Weekend Doll.
Alex's creative mum Jenny drew illustrations of the couple as little birds, then Sarah and Alex designed and produced all of the stationery themselves. Sarah was all about the detail, with mini mint paper doily, stripy mint baker's string, wooden buttons, mint polka dots and tiny woodland illustrations that became a theme in the table and venue décor too.
"I'm not going to lie, it was hard work and took a long time! We were so proud and delighted with the finished results and extremely honoured and proud to showcase Jenny's beautiful illustrative work. We hope we really managed to bring together lots of little elements in the design and assembly to make the finished product personal and handmade, but still professional."
"My dress was made by Lou Lou Bridal and I found it at a fantastic bridal shop in Crystal Palace called Love Bridal. I went in with a LouLou style in mind (the first dress I tried on with my mum) and ended up with a different LouLou one. The delicate and super soft swiss dot lace overlay, sweetheart neckline, buttoned back, tiny pearl details on the little flower appliques, the thin satin bow belt and lovely swish made me smile so much!
I was thrilled with the final result; it was amazingly comfortable and easy to wear, not what you first think when you think of a wedding dress, but so important. I knew it would fit the (hopefully!) relaxed and happy mood of the day."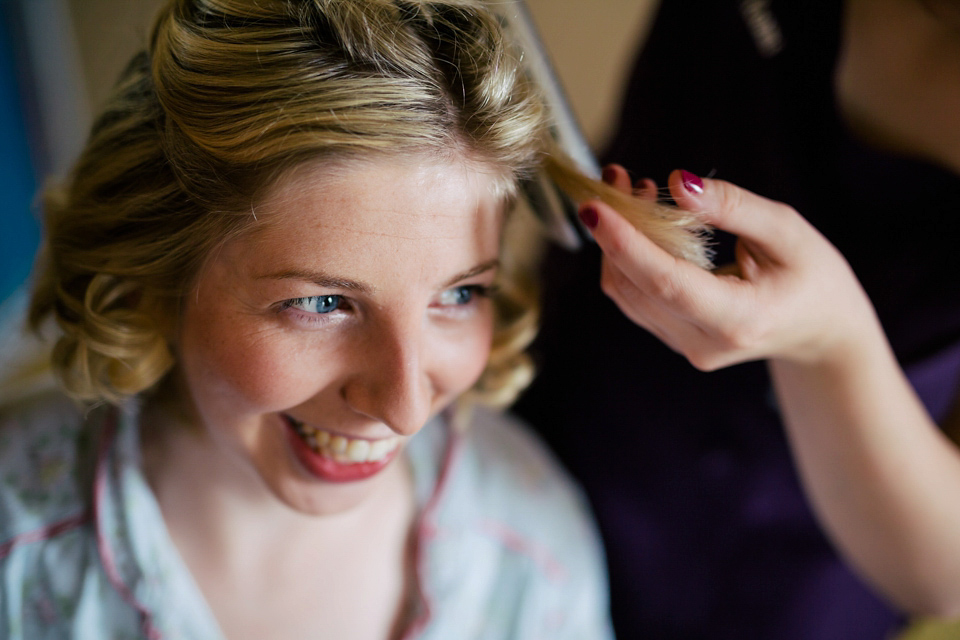 She added Irregular Choice shoes, found on ebay, which even had blue on the sole decorated with surprise little bees that were a theme of the day, a spritz of 'Nina' by Nina Ricci perfume, diamond stud earrings borrowed from her mum (which were given to her by Sarah's dad), a bracelet with pearls and a bee charm from Etsy seller Sofia of 'Midsummer Blooms' and carried a vintage seed bead handbag made in Japan from Etsy seller 'AGoddessDivine'.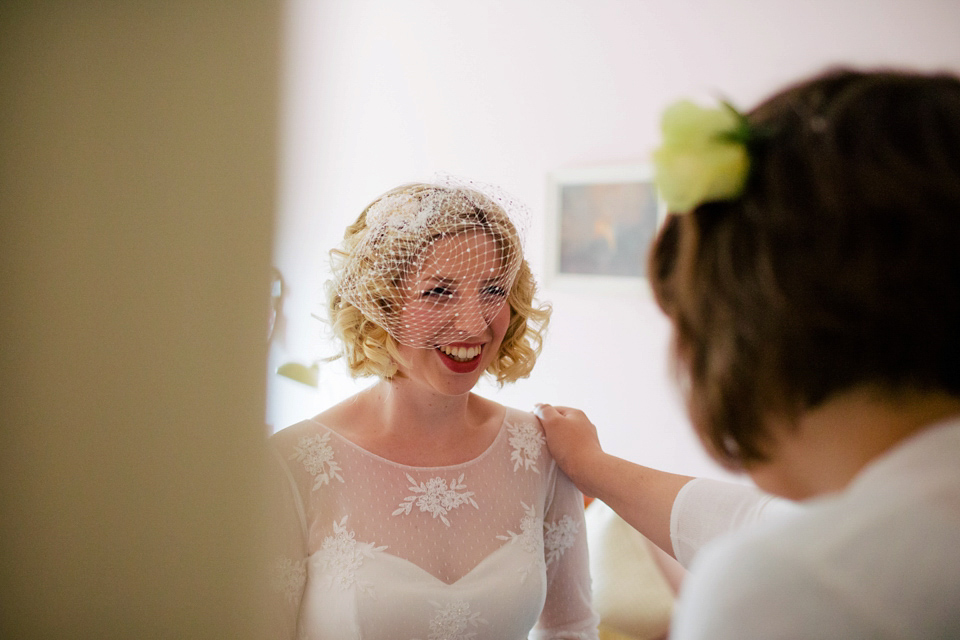 Two of the maids wore ivory low-heeled and lace-covered heels, whilst the tallest bridesmaid donned flat shoes in ivory satin, customised with extra lace appliques from Sarah's dress. They added mint sashes from an ebay seller, ivory shrugs by Monsoon and each bridesmaid wore either an ivory, peach or yellow flower in their hair for a splash of individuality and to complement the mint of their dresses, plus a stunning bird brooch and necklace that were gifted by the bride.
"I gave the girls a painted, wooden bird brooch from independent designer Layla Amber to wear on their sash that is one of my favourite brooches (I wore it on our pre-shoot). The colours on the brooch complemented the colour scheme nicely."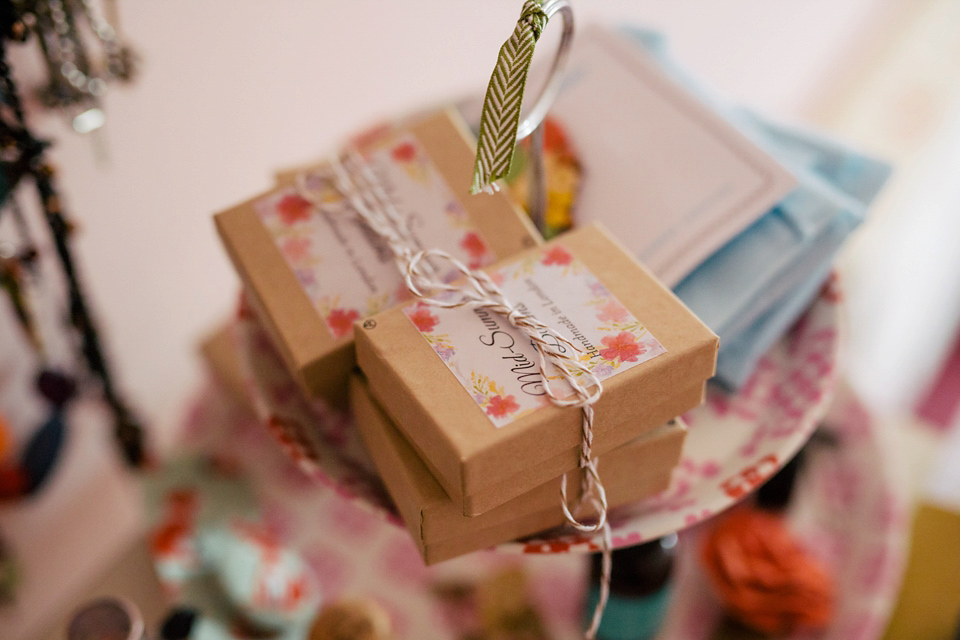 "I also gifted each a necklace, which matched my bracelet, from Etsy seller Sofia of 'Midsummer Blooms'. An initial charm was added to the clasp to personalise each necklace."
Alex donned a tailored John Lewis three-piece suit in brown tweed, paired with a silk TM Lewin tie in mint, Loake tan brogues and awesome 'Games of Thrones' cufflinks – of House Stark – that were privately sourced. All of the groomsmen wore various shades of grey three-piece suits with matching cufflinks and ties to the groom and black or brown brogues to complement the groom. The best man's grey checked three-piece suit was by Jaegar and Sarah's brother's dark grey three-piece suit was by Ted Baker.
"Alex and I met when we were sixteen, in college at Guisborough, during our Geography lessons. We were engaged after ten years when Alex finally proposed with an antique ring (in a similar style to my late great grandmother's, that I had always admired) whilst on a very special spring trip to Japan in 2013. He carried the ring in his pocket for the whole trip unbeknownst to me, waiting for the right time, which was on our last day in the peaceful gardens near the Meiji shrine.
We were engaged for over two years before we were married in the summer of 2015. This was partly because I was planning to undertake intense teacher training that September (2013) and also we wanted to find the right venue; it had taken ten years, we were in no rush!"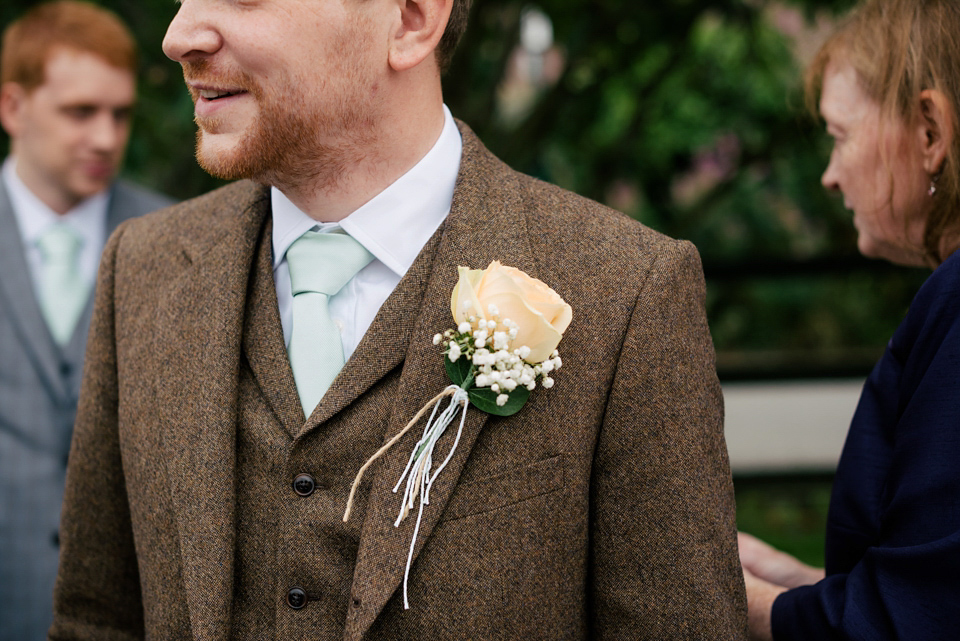 "Alex and I hired a classic VW beetle convertible in ivory, 'Belle' from All Cool Camperhire, as well as a fabulous blue vintage bus from Coastal and Country Coaches to escort our guests from the church to the venue (about 25 minutes away), as we thought the drive over the moors would be memorable in a vintage vehicle."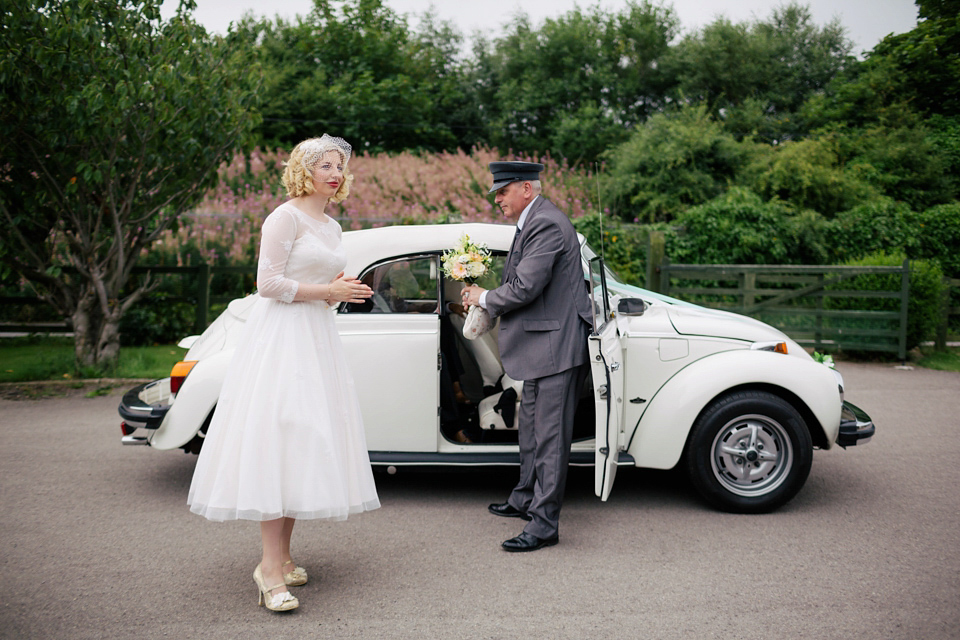 "My brother Sean walked me down the aisle, as my father passed away when I was 11. As the ceremony took place in a church, I had to walk down the aisle to a traditional/classical piece of music, so we chose Canon in D major by Pachelbel as it is so beautiful.
We followed the Catholic wedding ceremony and marriage rites, so followed the traditional vows prescribed as part of the nuptial mass. We chose our first reading from Song of Songs, our favourite line being "My beloved is mine and I am his". The reading reminded us of the works of Blake and Chaucer whom we both studied at college and connected our shared appreciation of literature. We chose the gospel reading from John 13:34-35 – the main message being love one another."
"Audrey, our florist, was recommended by the wedding venue and she was absolutely amazing; a wonderful, patient lady who seemed to understand exactly what we wanted. It was lovely to support a local seller who really knows her flowers. She uses a mixture of glass jars and jugs of varying sizes to bring an organic and rustic charm to her beautiful blooms, including mini sunflowers, gerbera daisies and stocks, and designed beautiful arrangements for the church, the venue, boutonnieres and bouquets.
She even added lace from my dress to the bouquets at the last minute. She made a colour focus bouquet for each bridesmaid to reflect their 'colour' – peach, ivory and yellow – which complemented the soft mint of their dresses and brought all of those colours together in my bouquet as a combination. I especially adored the little flower girls' baskets."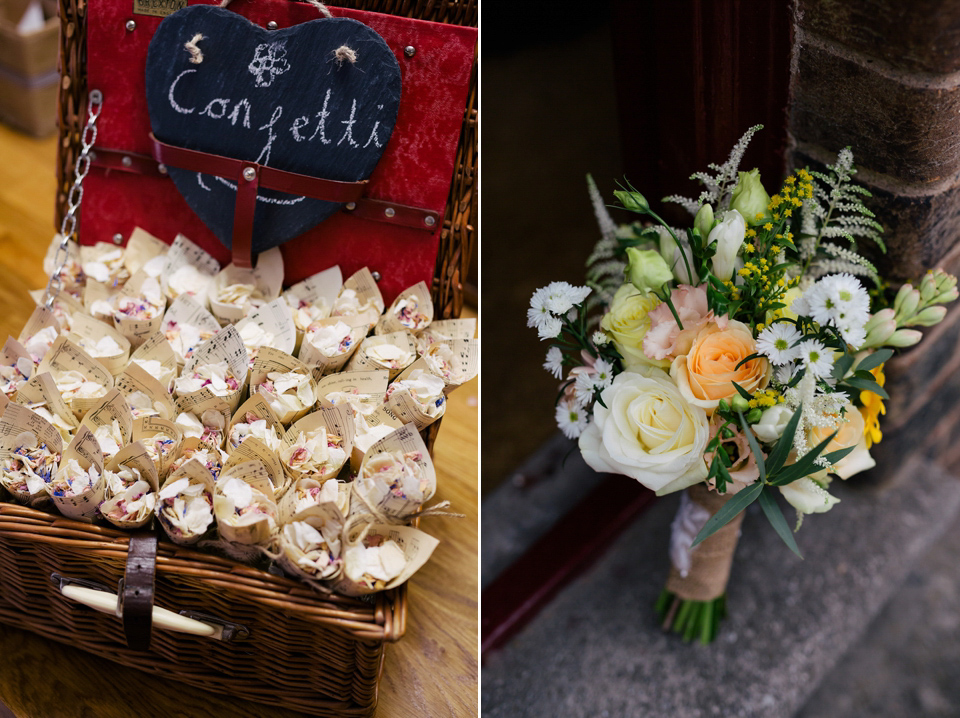 "We were so excited to work with Paul and Timothy from Stott & Atkinson Photography. Alex especially loves photography himself and so it took him some time to hunt down a fitting photographer."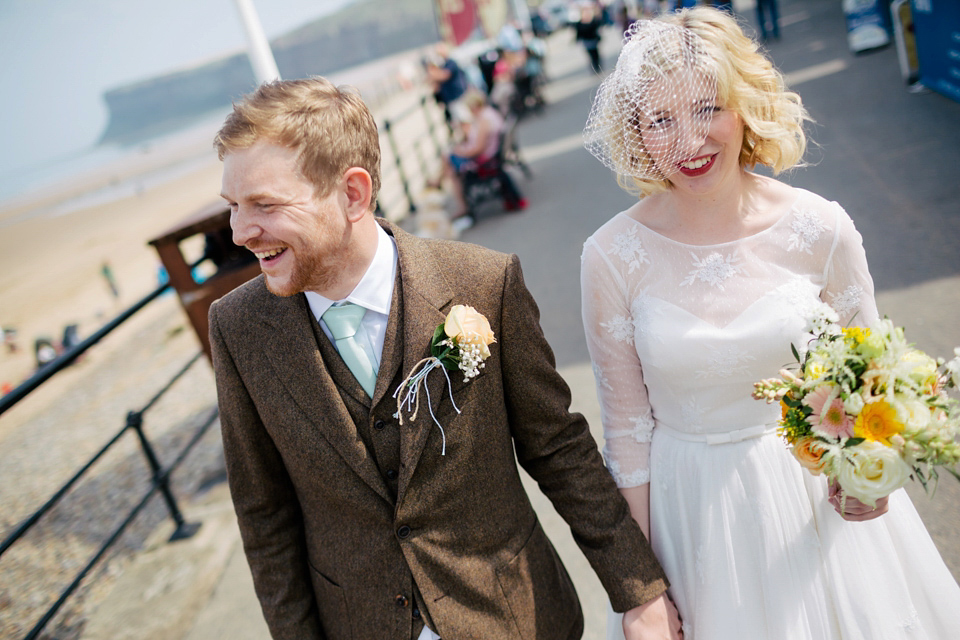 "We felt like we hit the jackpot with these guys as their style is exciting, their shots are dramatic and romantic and they capture the day in a documentary style that is natural and lively. They are so lovely, relaxed and fun – a pleasure to have around on the day. They love what they do and it really shows. Tim was especially kind putting me at ease when I was feeling surprisingly super nervous. We would wholeheartedly recommend them for their photography skills and they know their tea and cake too. Match made!"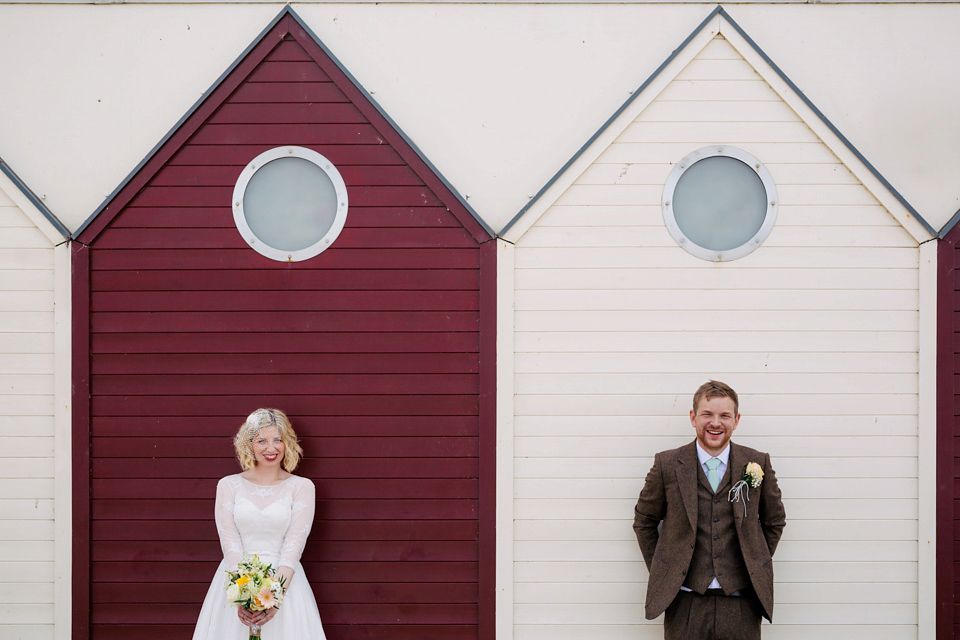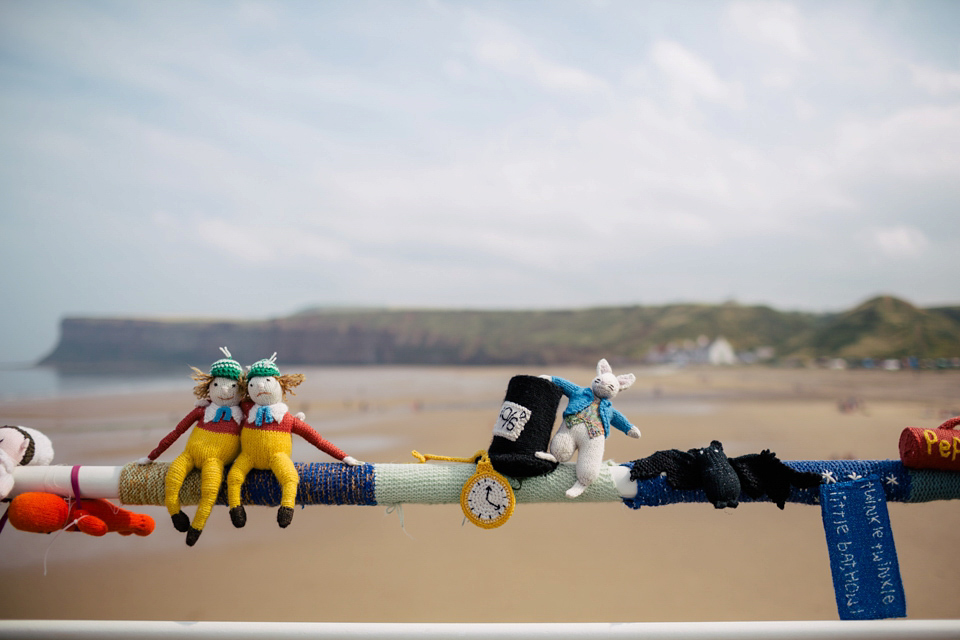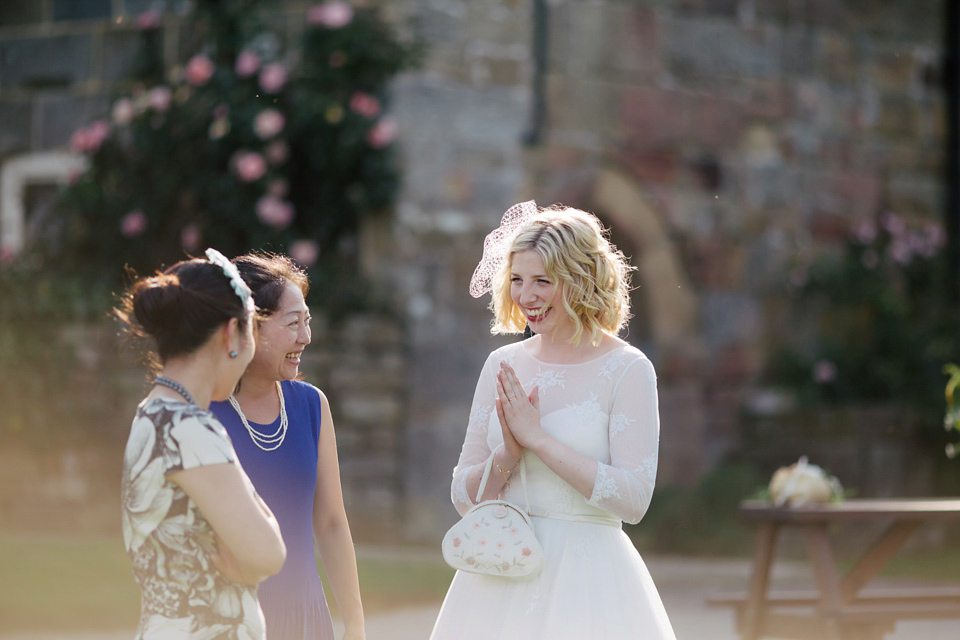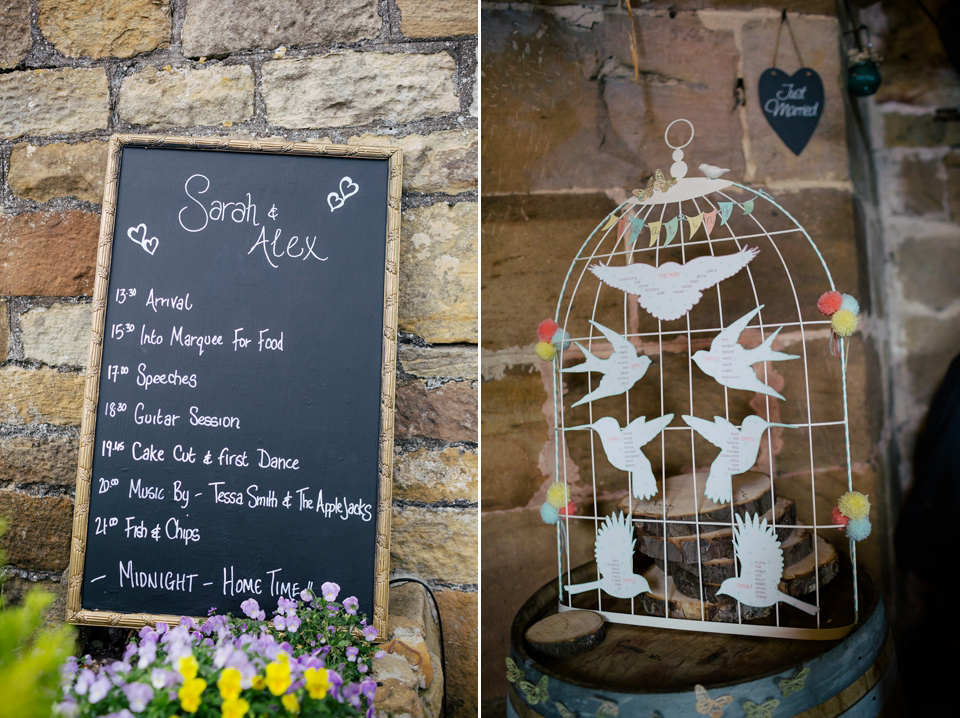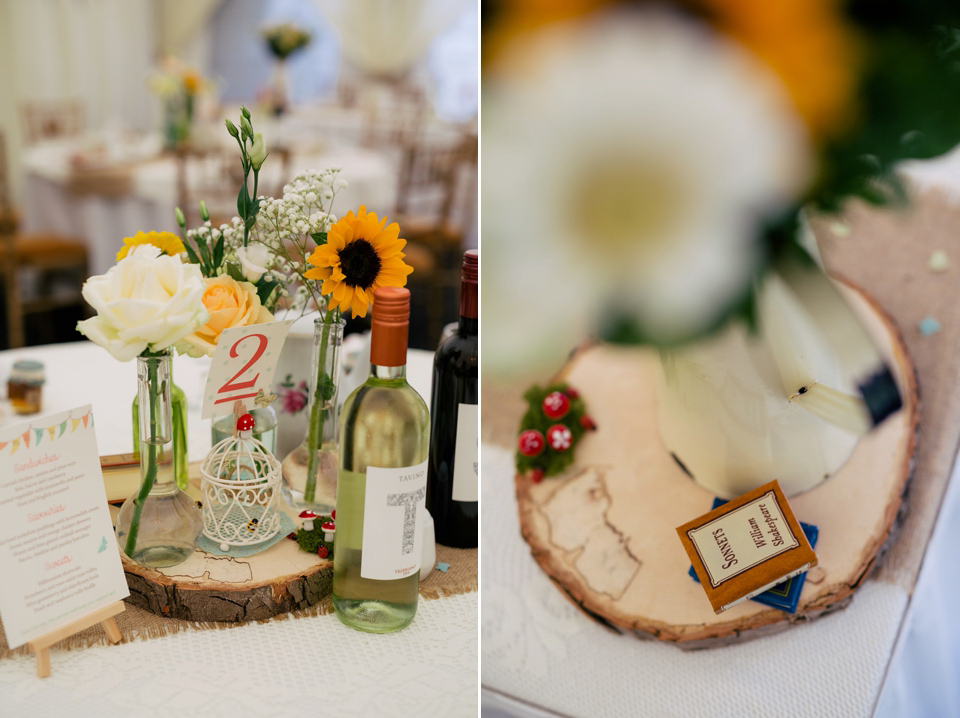 Danby Castle put on a tasty afternoon tea party spread made with local produce, and guests were treated to a sweetie stand, plus a fish and chip van for the evening. These mouth-watering cakes were made by local lady Becky from The Sitting Room, with sweet little customised bird cake-toppers.
"We decided on a two-tier white chocolate, rose and pistachio cake. It looked so pretty and delicate with rose petals strewn throughout. Because of the range of delicious cakes we found it tricky to leave out the other flavours, so decided to have a little selection of cupcakes and mini cakes to accompany the main cake."
" Becky kindly made little flags and mini bunting to top the cakes using our colour palette. We also found lovely cake toppers on Etsy from HannahAspensbridal. They were crocheted birds that we customised to match our outfits: mint with pearl details and Alex's bird wore a little brown waistcoat."
Honey as favours you say? Yes please!
"We both love honey and had been interested in beekeeping for a little while. The husband of a volunteer in my class produced incredible local honey that I'd been gifted by one of my pupils. He kindly agreed to help me source mini pots and drizzle sticks and provided delicious bramble honey for our wedding favours. He was amazingly helpful and very keen to help us preserve the honey properly. It was lovely to be able to bring a little bit of our Kent life to our Yorkshire wedding."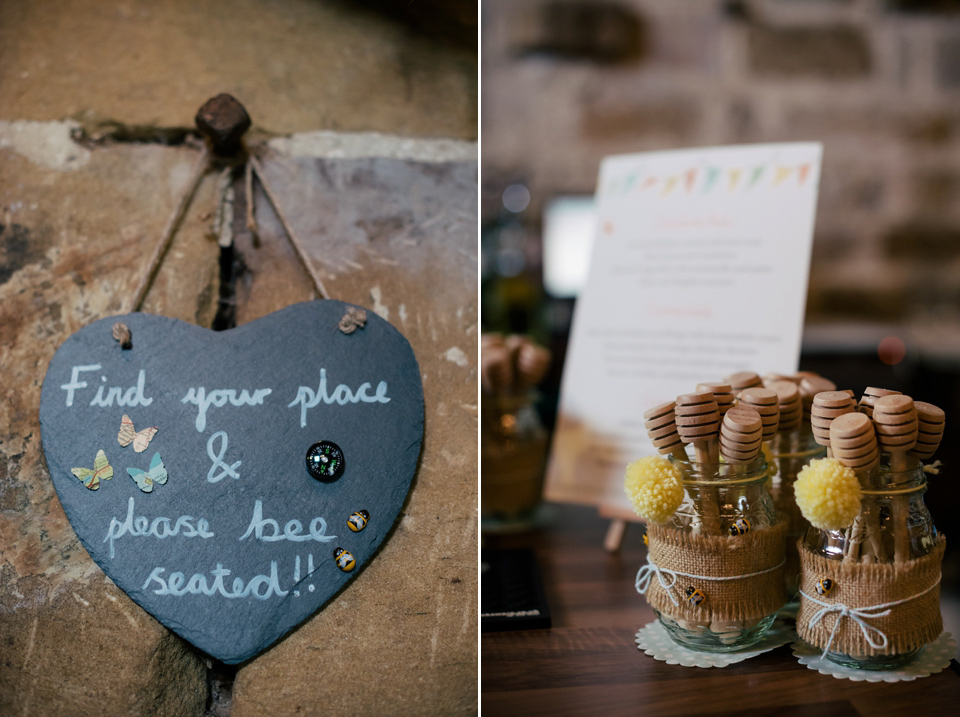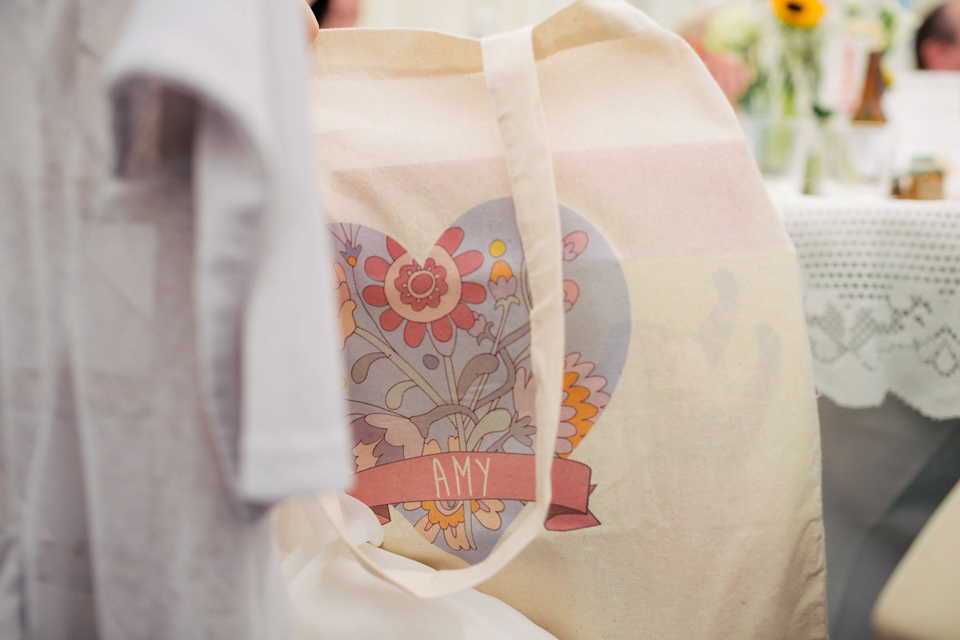 "In the early evening my brother sang and played his acoustic guitar outside on the lawn and it was so relaxed and peaceful. Later in the evening we headed inside for some sensational swing and jazz music from Tessa Smith and the Applejacks. I was so lucky to find them as we decided on having a band quite late on and they suited the venue and vintage theme so well. Alex especially loves jazz and swing and Tessa has a really beautiful voice.  
Our first dance was to the wonderful Nina Simone track 'My baby just cares for me', arranged and performed by the band. It has such a simple and honest message about love. It also has a really lovely feel-good factor and tempo to it and is fun to dance and swish around to. Despite the fact that we didn't practise, and Alex was a little nervous because he doesn't think he can dance, we just about fooled most of the guests!"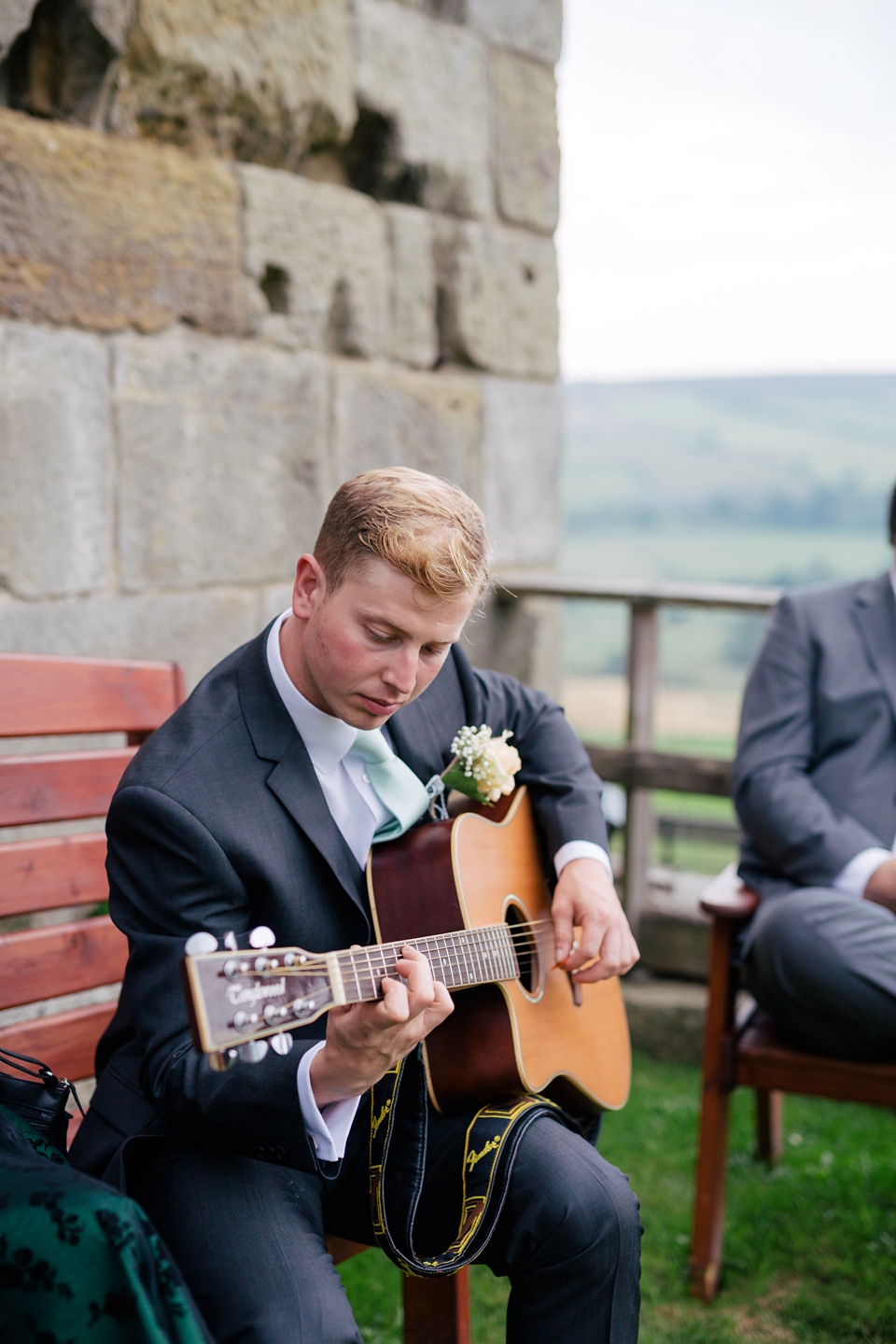 "Seeing our family and friends together and how everyone got on so brilliantly and feeling overwhelmed by all the love was truly magical. A lovely example was how fantastically my little flower girls got on together, you would have thought they had been friends a lifetime instead of just meeting for the first time that morning! Holding Alex's hand as we walked down the aisle together, officially as husband and wife and out under a flurry of confetti and with beautiful familiar smiling faces who had come together, beaming at us, was pretty special.
We enjoyed the little times together just us two as well; the drive over to the venue from the church with a glass of bubbly in tow and our photographs on the pier and on the moors allowed us to marvel at all of the beauty of the day."
Words of Wedded Wisdom
"Breathe, smile and just truly enjoy the day – you are surrounded by people who love you and only want to wish you well, which is such an honour and so precious. Remember the big picture as well as all the little details. Give yourself time to enjoy all of the elements of the planning and preparation process as much as the day itself; I feel so lucky to have so many happy memories of dress shopping and discussing all the details with my mum and mum-in-law before the wedding, that they became little occasions for tea and cake in themselves.
Alex and I did a lot ourselves, so if you are planning to DIY be prepared in time and energy for trial and error and making different versions of the same thing, but we were also given a lot of help from family members and friends to complete all the details for the day, especially in the last few weeks before the big day. Try to involve everyone who can help to do so, as it shares the joy of the event and turns it into more than just one day."
"Think about your budget in terms of what will have the most impact and where you can cut costs. For example, we thought about what stays with us the most after the day is over and realised apart from the wonderful memories, it was our photographs and wedding rings. We made sure therefore to choose amazing photographers who captured our memories of the day and decided that the experience of making our own rings was as romantic and unforgettable as the rings themselves."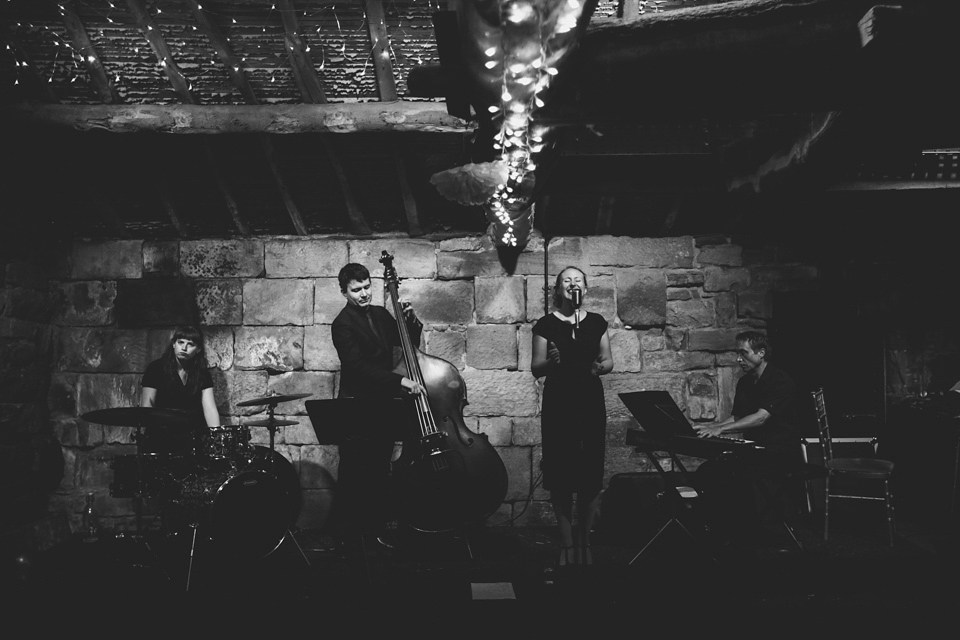 These are very wise words of advice from the crafty bride and groom. I've truly loved sharing your special day Sarah and Alex – thank you for allowing us a little peek into your delightful wedding and you've totally inspired me to get crafting again! And thank you to Paul and Timothy from Stott & Atkinson Photography for capturing such incredible shots of all the couple's happy moments.
If you're thinking of a North Yorkshire location for your nuptials, take a look here to peruse more beautiful weddings held at the spectacular Danby Castle.
Enjoy your weekend lovelies!
Love Jo -x-