We've made it to the end of the week (hurrah!) and to celebrate this moment I have the prettiest wedding for you all to enjoy. Get set to be inspired by lots of lovely little touches – one example is the beautiful bride's utterly stunning family heirloom veil.
Meet groom Mike, an accountant, and bride Sophie, who works as the programmer at Farnham Maltings, an arts centre/cultural organisation in Surrey. We're turning back the clocks a little, as the lovely couple tied the knot on 31st May 2014, at Old Alresford House in Hampshire for their relaxed nuptials.
"Without sounding too much like Goldilocks, we wanted a fairly formal day with a relaxed atmosphere – not so formal that it felt stuffy and people weren't able to relax and have fun; not so informal that it didn't feel like a once-in-a-lifetime occasion. The colour scheme was dusky pink with gold sparkles – girly, yet soft, classic and romantic. I wanted it to be very English country garden and not too put together."
Photography by Ayesha Photography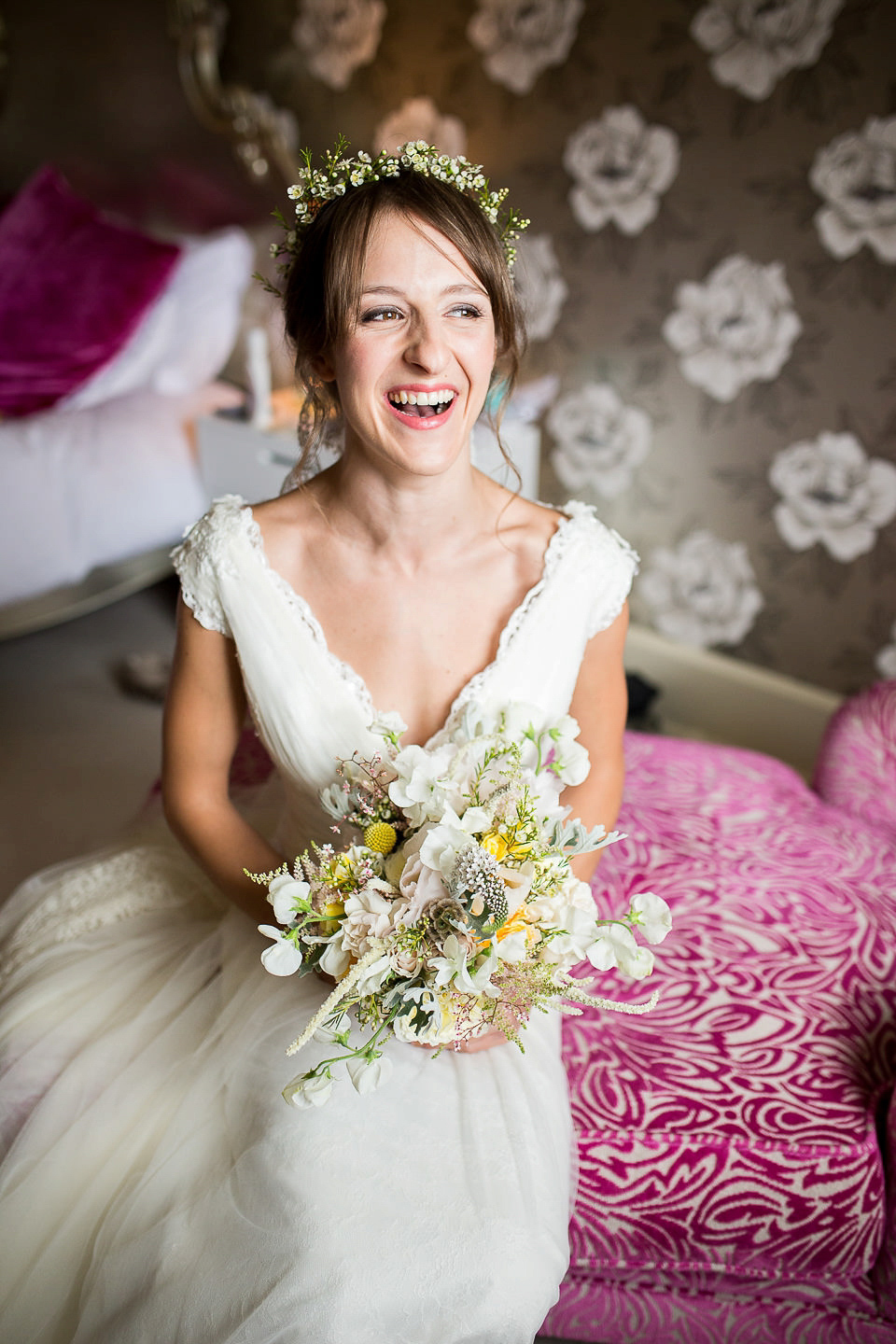 Bouquet by Jay Archer Floral Design
And speaking of vintage veils, Sophie was incredibly lucky to be able to wear a very special family heirloom veil with the most intricate lace detail – I am in love!
"I wore a family heirloom veil, first worn in 1846 by my Great Great Great Grandmother and passed down and worn by many generations in between. The last person to have worn it before me was my Grannie, who was married to my Grandad on the same day (31st May). I wore the veil with waxflowers pinned around the front in a sort of circlet."
Sophie's three maids wore gorgeous floor-length Topshop dresses in blush pink, paired with their own shoes; "We spent a day together going round department stores and shops looking at all these traditional bridesmaid's dresses that just didn't feel right. We just happened to go past Topshop, saw it on the rails, and I instantly thought, what a great colour and it was a fraction of the price."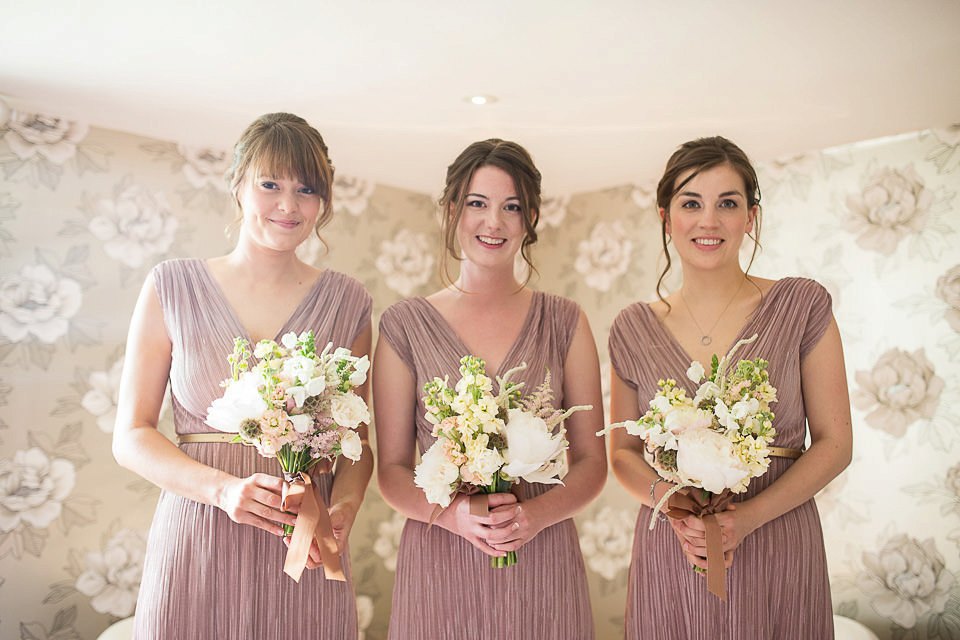 The couple met as teenagers and I just adore their sweet proposal story. Did you know, lovely readers, that we are currently looking for your proposal stories? See here for all the info.
"We officially met in a field where a mutual friend was having a party, just a few miles down the road from where we got married. It was a cold March night, there was a bonfire and lots of stars. Mike had just turned sixteen and I was fifteen."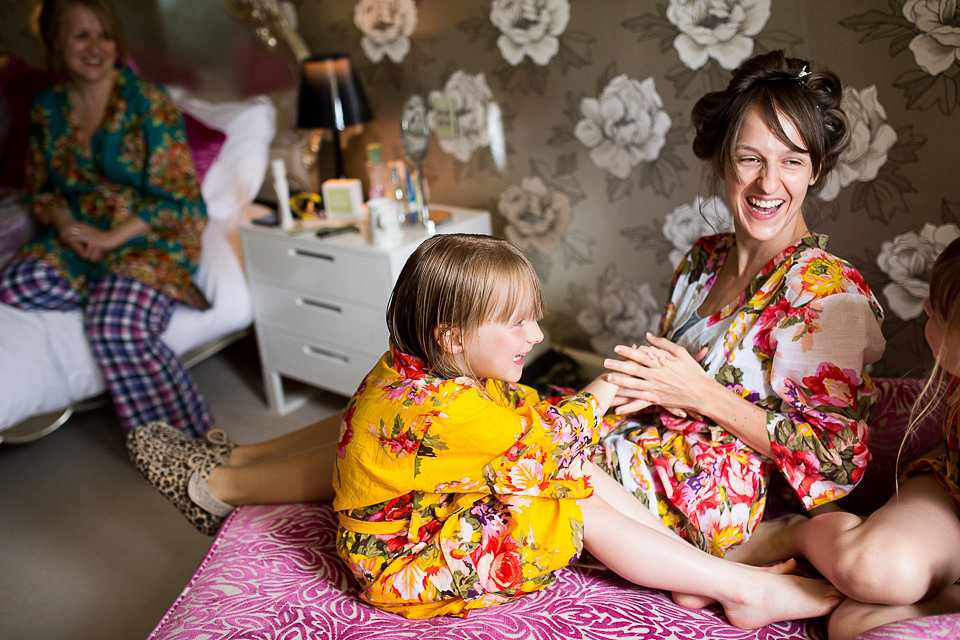 "We had met a couple of times before this at our local community centre where we both enjoyed going to gigs (I only remember being introduced to Mike once before but he assures me differently). I was recounting an evening to Mike where I was crushed in the mosh pit and a boy rescued me and pulled me out from underneath all these people. Mike turned around and said "yeah, that was me. I saw you and knew I had to help you". I still can't quite believe it was him."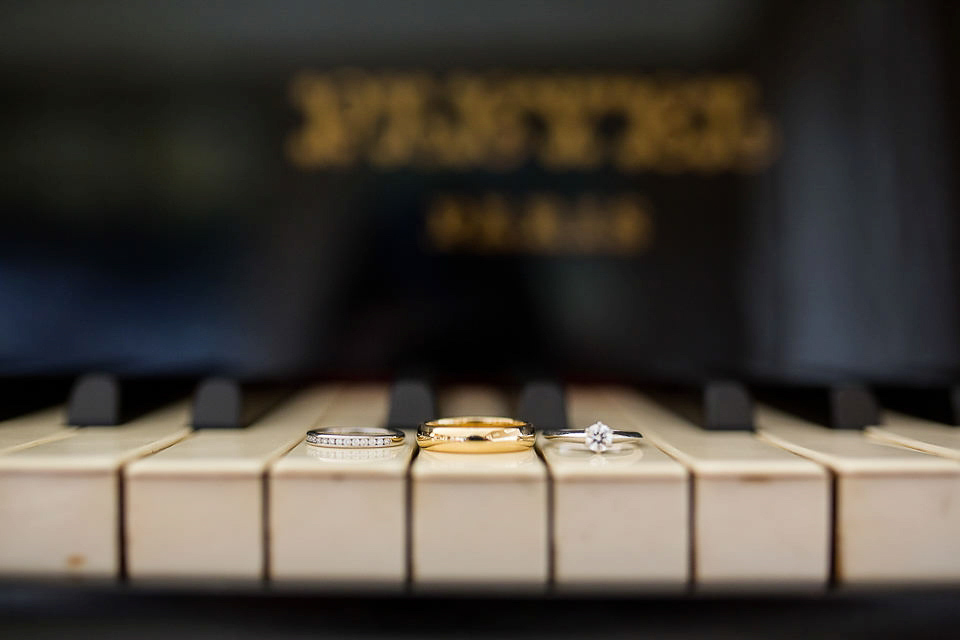 "We were in Yosemite National Park (one of the most beautiful and awe inspiring places I've ever been) and it was about 7.30 in the morning. We were walking up a track to a viewpoint, somewhere so secluded with no-one but us for miles. We love messing about and just having a laugh with the camera and in particular we love a good jumping shot. Mike set up the camera and we attempted it several times. After getting a pretty good shot Mike made the suggestion that we had to take another one.
He didn't think it was good enough. It was perfectly good enough, but I (never one to turn down a jumping picture) agreed wholeheartedly and merrily bounded back into position to jump again. And that was when he proposed. You would have thought after ten years I would have seen it coming a mile off, but he still knows how to surprise me."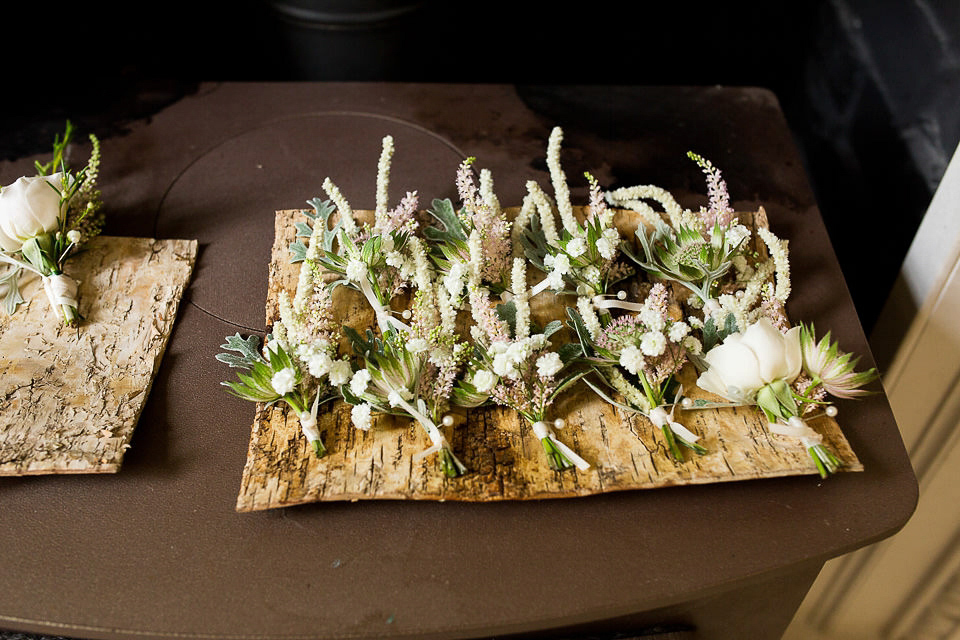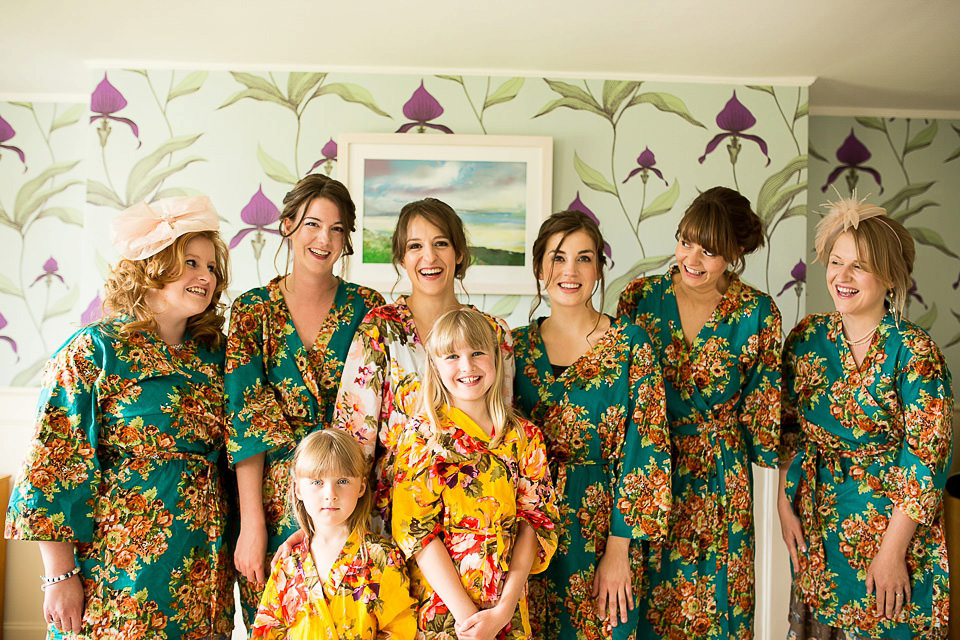 Sophie chose a stunning Lusan Mandongus number, found via The Ivory Boutique in Farnham, Surrey.
"I had been looking for ages for "the" dress, but didn't think I'd ever find it. There were styles I liked, but nothing felt right. After going to lots of shops I started my search online and started really looking in detail at the styles I liked and those I didn't based on things I had already tried on. Whilst on a lunch break from work, I went back to a shop I had already been to before, but thought I'd just take a look through. I knew they had hundreds of dresses and that I definitely didn't see everything the last time I went in. I explained what I was looking for and when they brought this one out, that was that – even at about five sizes too big, I knew.     
I loved not only the style of the dress, but the fact that it had the lace dress underneath all this beautiful soft tulle, so the pattern peaked through. It had really lovely delicate beading and was slightly off-white, so matched well with the vintage veil I had."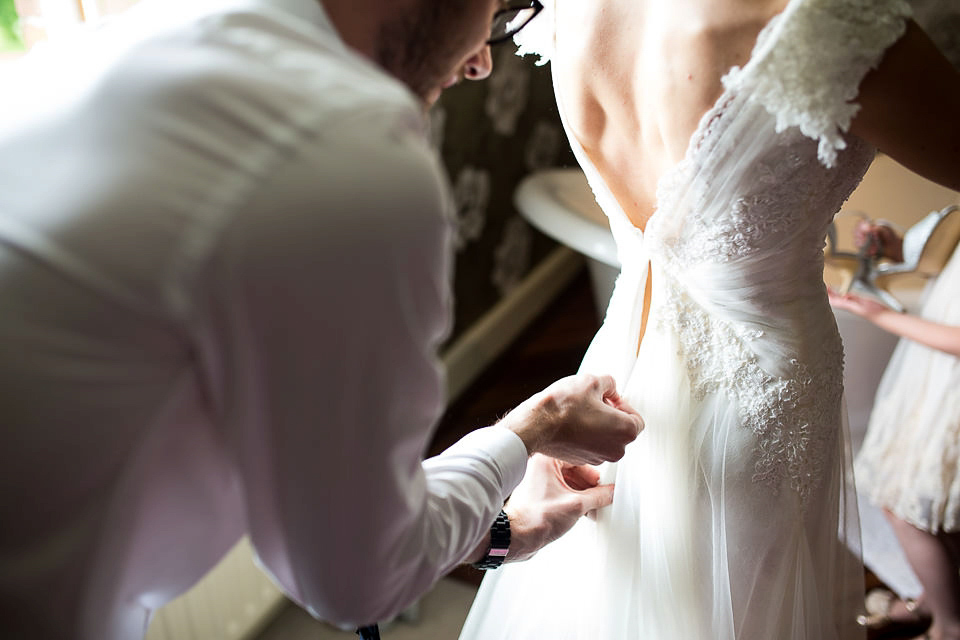 "The make-up was wonderful – Sam from Sam Pearce Makeup did a great job and she knew instantly that I didn't want anything too over the top, just subtle and natural. She really understands how make-up enhances your features and will go for looks that she knows will personally suit you and work with you to create the look you want.
My good friend James Campbell did all of our hair including the mums and my sisters – he did such a stunning job."
Sophie finished off her elegant look with a bracelet that belonged to Mike's Grandma and a new and fresh spring scent.
"I wore a bracelet that Mike's mum leant me that was Mike's Grandma's. It was so amazingly lovely to have both this and the veil that meant a lot to each family.        
My normal perfume had been the Chloe signature Eau de Parfum, but I wanted to wear something different on the wedding day – something that I then associated with the day in the future, rather than just wearing my normal scent. I went for the 'L'Eau De Chloe' as it was a new range and smelt gorgeous. It's lighter and more spring-like and now whenever I smell it I'm transported back."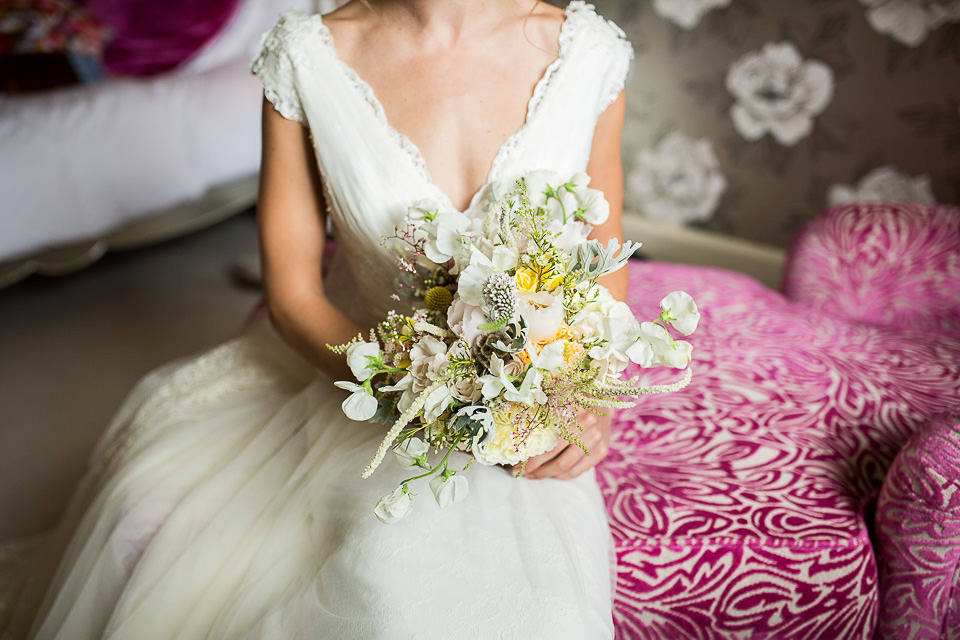 Jay from Jay Archer Floral Design created stunning bouquets and displays for the tables that were breakthtakingly beautiful.
"We had beautiful English garden natural looking flowers. I didn't want anything that was too "put together" and they smelt heavenly! Jay is lovely and works very closely with you to get the look you are after perfectly. She works with what's in season and tries to source as much as she can locally. I think the flowers made the day feel extra magical and Jay brought lots of lovely touches to all the flowers with different vases, bottles and gorgeous ribbon."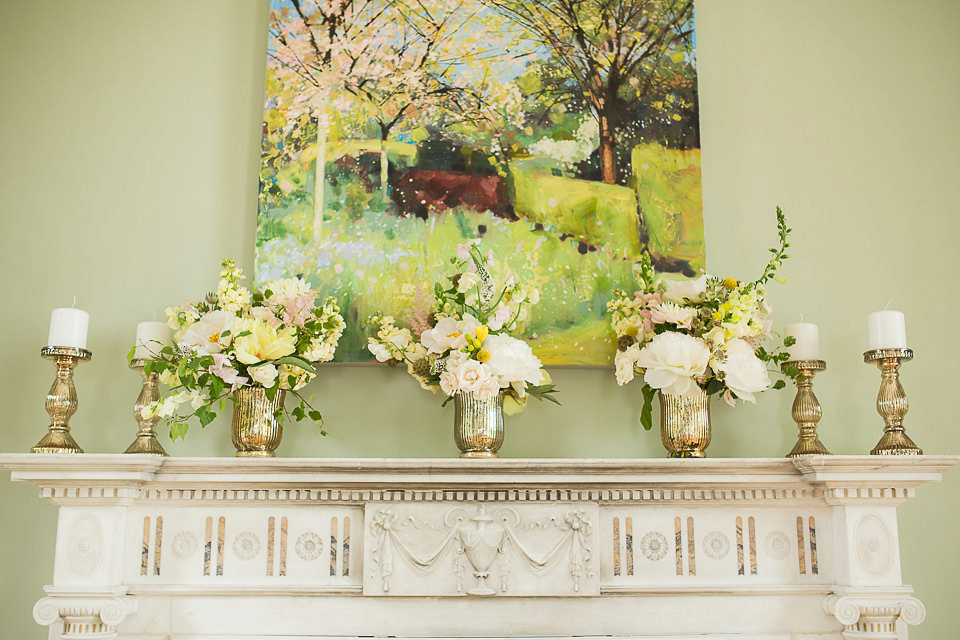 "We had a trip to the New Covent Garden Flower Market to look at flowers and see what we liked and discuss seasonal options with Jay. I found this really useful and she was great at suggesting other blooms that complimented what you were looking at – it was so helpful to have the flowers there and actually see them together and how they'd look."
How utterly adorable do the sweet flower girls look with their gyposphila crowns and pretty dresses?
"I found the dresses at Zara Kids and they were perfect – in between mine and the other bridesmaids' dresses."    
"On a whim I got them all to try the dress on and I could instantly imagine it in the setting with all the gorgeous flowers. I hadn't even found my dress at this point but I ordered them online straight away, with the thought I could always send them back if I changed my mind, and I didn't want them to sell out. It just so happened that my dress had a very similar neckline."
Sophie's dad walked her down the aisle to the theme song from Jurassic Park – what a great choice of song. They had two readings: 'On Your Wedding Day' and an extract from 'Wild Awake' by Hilary T Smith, the rings were from Tiffany & Co., and Sophie classed the ceremony as her favourite moment.
"We had bought my engagement ring in Las Vegas at Tiffany & Co. the day after Mike proposed. We then bought our wedding bands from there too, to make sure mine matched properly.  
I really loved the ceremony. Before the day I just thought of it as a formality and that afterwards was when the fun would start, but it was so much more than that. Mike and I aren't very gushy in front of other people but it felt very natural to have all those people who mean so much to us all together in one room, sharing those meaningful moments with us. The ambience of the room and the smell of the flowers all added to it."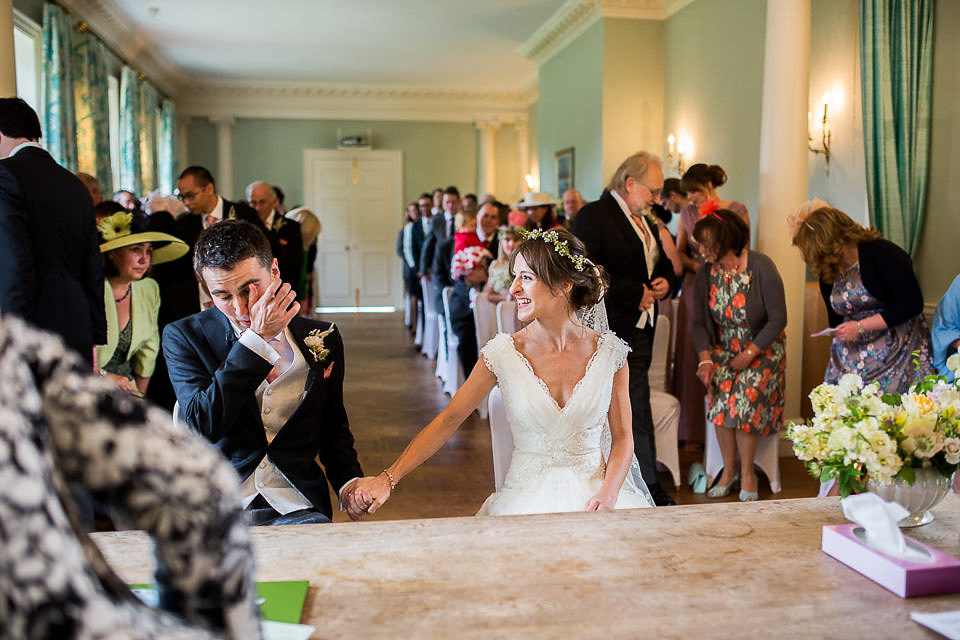 "Stephen Bishop has a selection of really great suits and the service he provides is incredible. He really helped with our choices and really listened to what we were after. Once we had found the right suit, Stephen was great at getting each of the groomsmen in for fittings. We had an issue with the sizing of a jacket the day before the wedding and Stephen was really helpful in sorting this. He arranged for someone to pick up a replacement jacket from his house (which was closer to the venue) and we even hired the shoes too."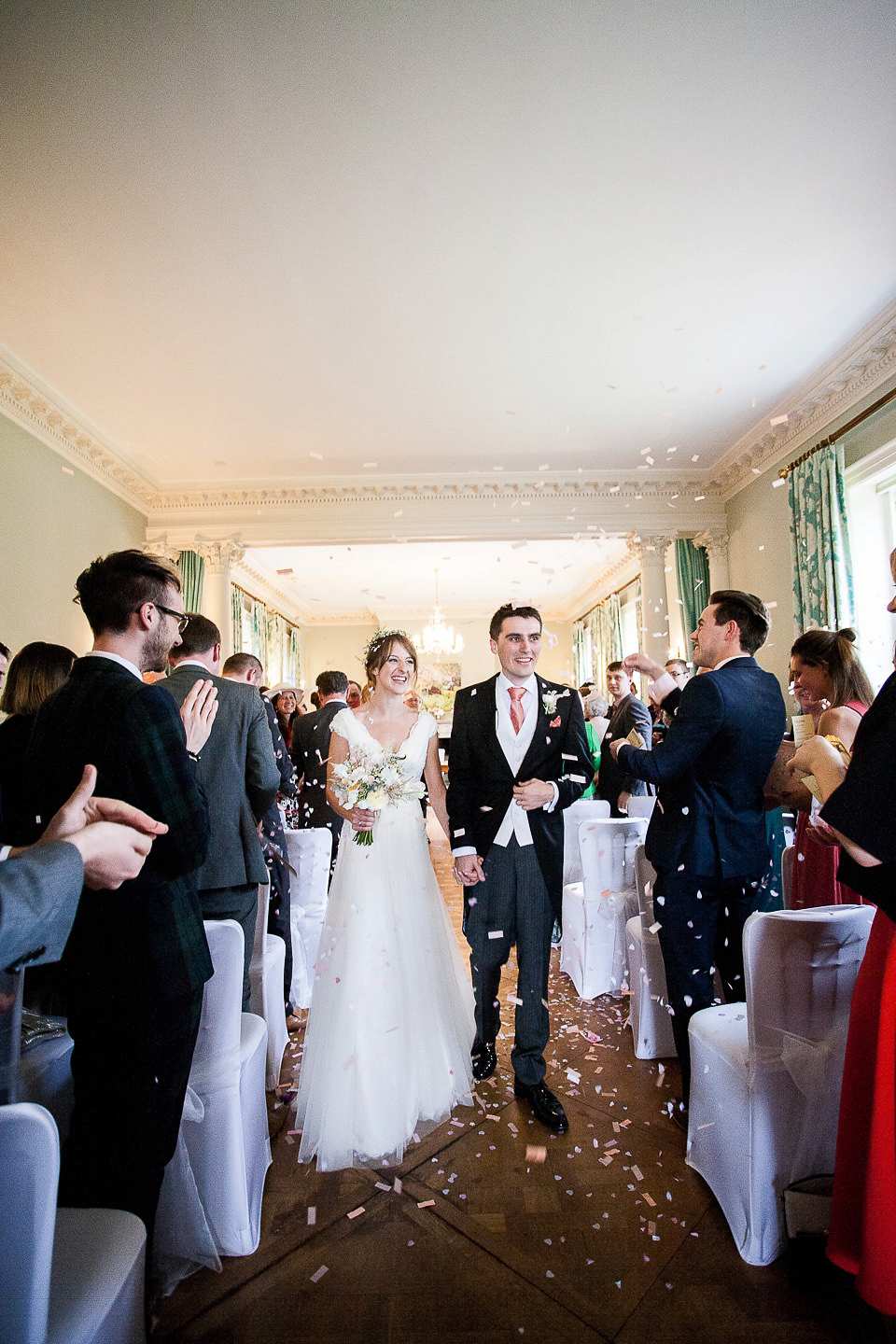 Mike and Sophie were lucky enough to win a competition to have Ayesha Photography capture their wedding – very helpful for the wedding budget!
"We first met about a year before the wedding and we went up to Manchester to talk through our day and get to know each other. Mike and I were pretty nervous as we're both fairly shy, but as soon as we met Ayesha she instantly put us at ease – she's so lovely and friendly.
About a month before the wedding, we went north of Liverpool to have our pre-wedding shoot. We were both slightly skeptical, but we were both so pleased we did it in the end. We had so much fun messing about with Ayesha on the beach and it was great to get to know how she worked. She is brilliantly enthusiastic and always aiming to get the best shot – getting stuck in the mud as the tide flows in and climbing dunes."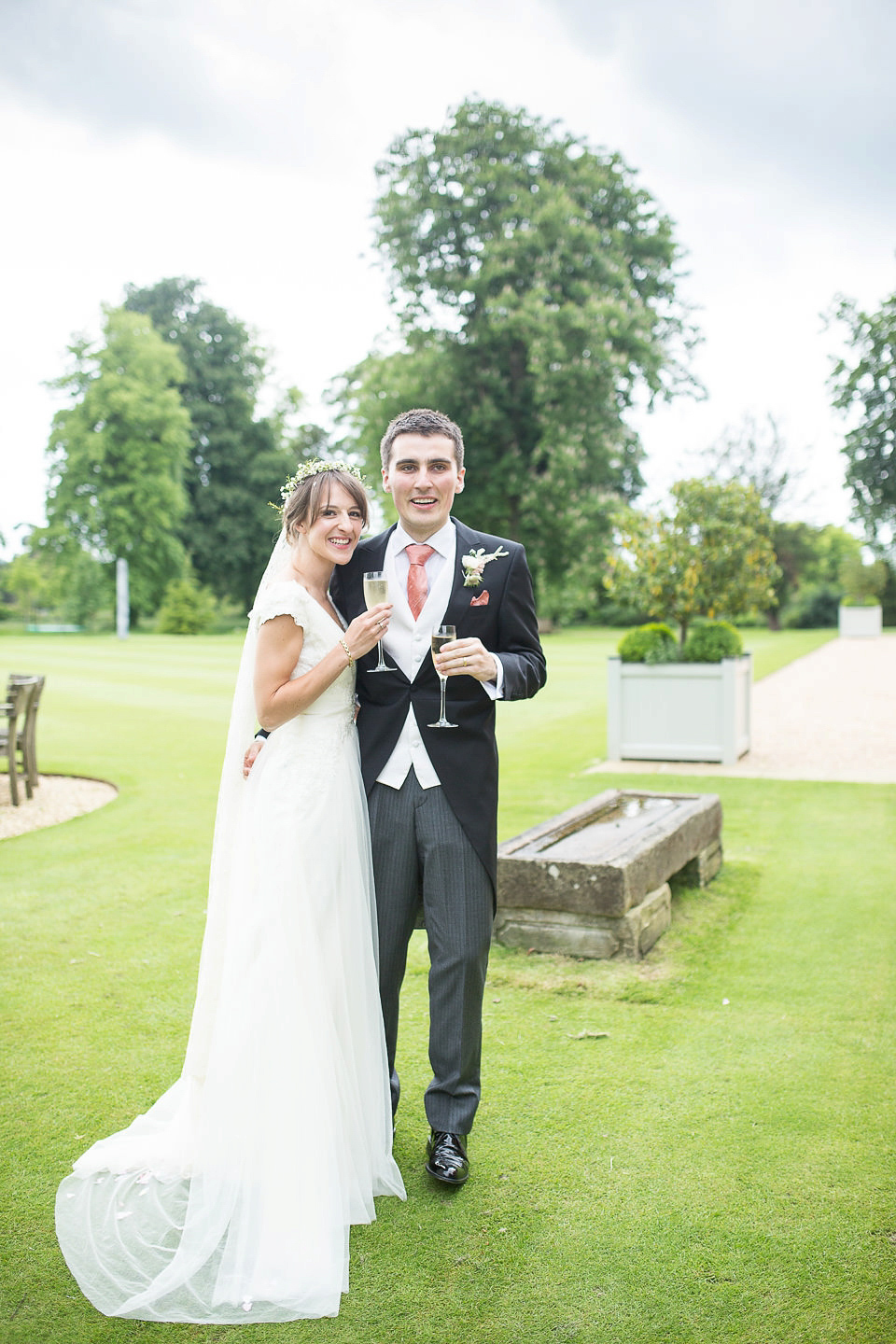 "She is not intrusive at all with her camera, but still manages to get all the great shots. She was actually mistaken for a guest at the wedding, as she blends in so well. Ayesha is one of those people you feel like you've known for ages and it was really reassuring seeing her throughout the day. She's so calm and bubbly, always making you feel great. We were worried about coming across as awkward in the photos, but they all look so natural and she really captured the un-staged look we were after beautifully.
The images are so stunning – they really captured the feeling of the day. Every time I look at them I'm instantly transported back. They have that beautiful whimsical quality full of laughter and love and I recommend her wholeheartedly."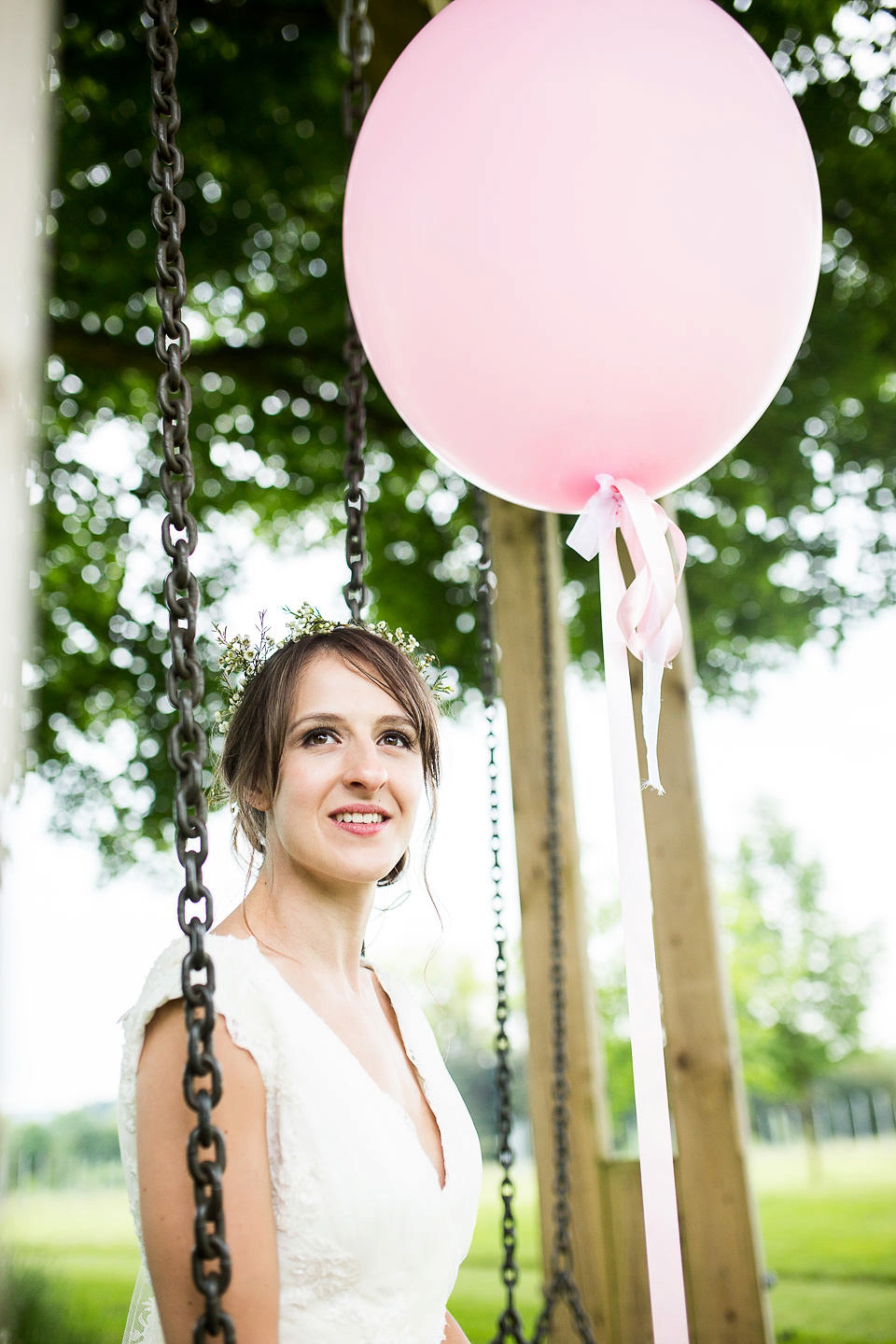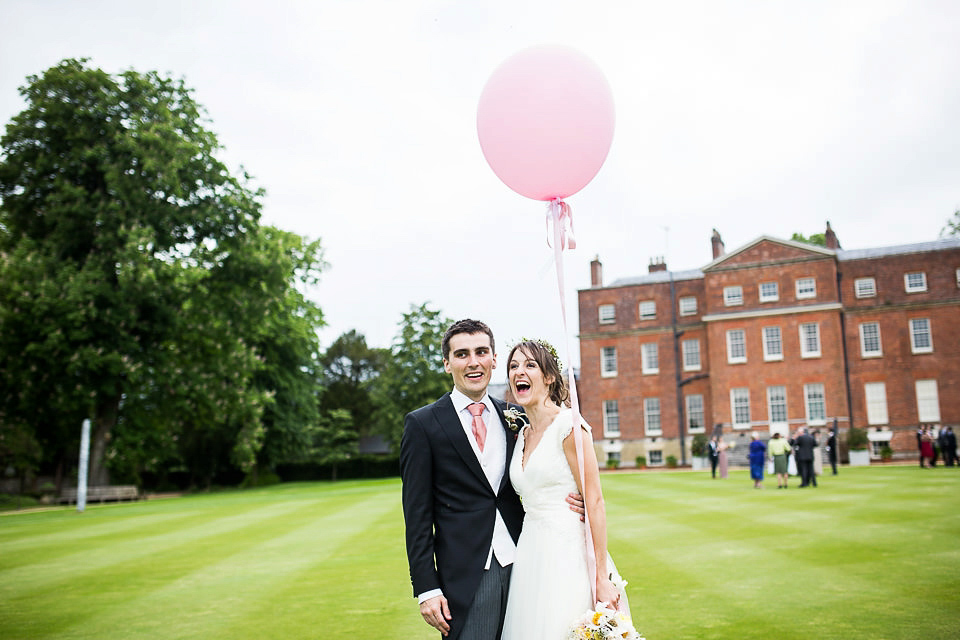 Hummingbird Bakery provided the divine cakes, which upon sight are making my mouth water. If you've never tried a cake from this little bakery, you must do, pronto.
"We weren't that fussed on having a traditional tiered white cake; for me it's all about the flavour and taste. Hummingbird Bakery is one of my favourites and their red velvet is to die for. They do a wedding cake service, but to save money we ordered their standard cakes via their website. They were baked on the morning of the wedding and we had some very trusted friends pick them up from Richmond on their way to the wedding."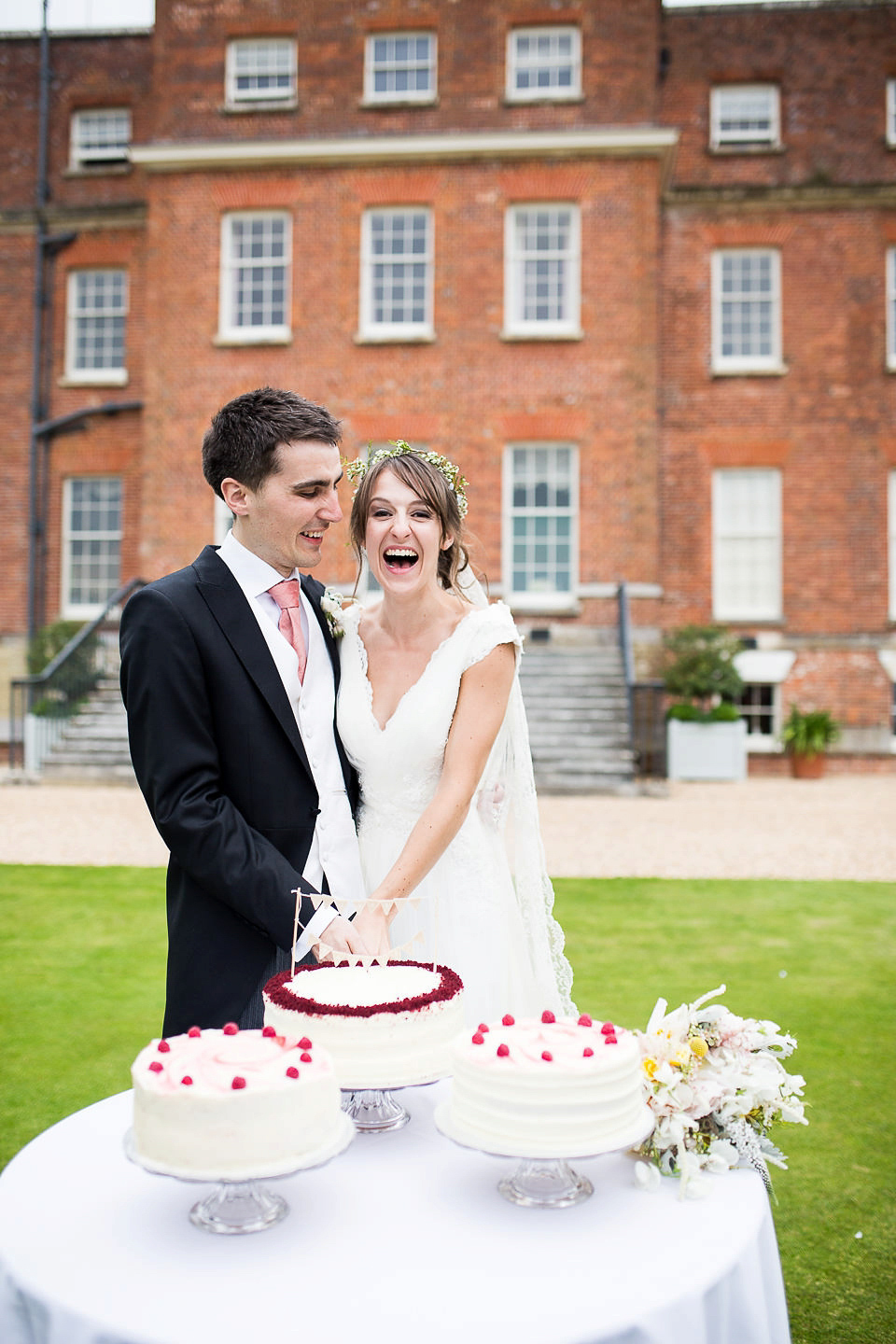 "We spent a long time designing and making all the invitations and ceremony cards ourselves. We also made our own sparkly table numbers and photo seating plan. The flowers were our main decoration and Jay made some stunning arrangements and brought along two olive trees for the ceremony. Mike and I also spent a long time making metres and metres of paper bunting that went outside to decorate the marquees. We also had garden games for people to play during the reception, including a wooden skittle alley."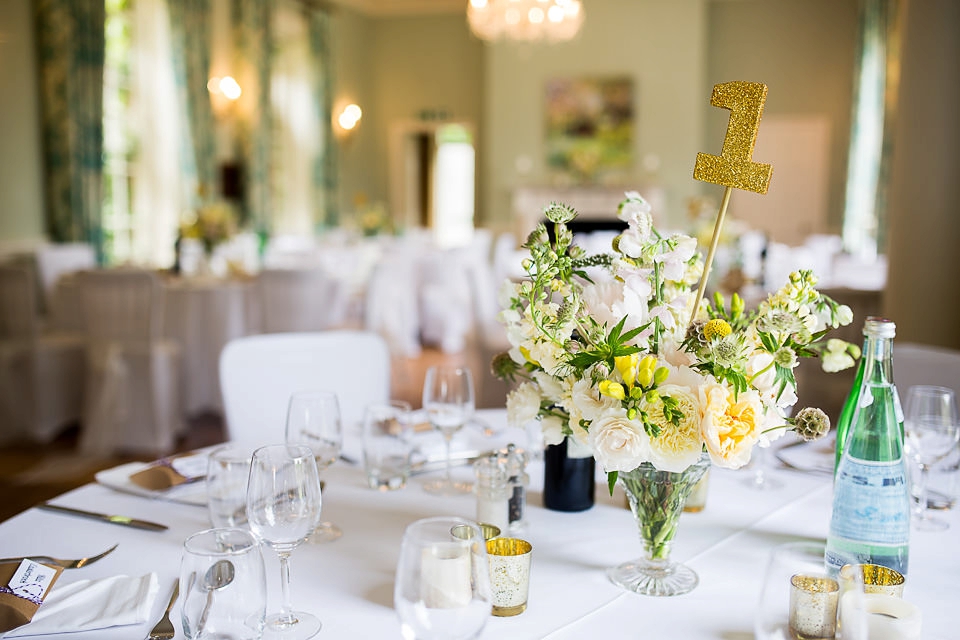 "Sally and the team at Vanilla Catering & Events were fantastic – they really were the overseers of the event and made sure everything was running to time and smoothly. Their staff are lovely and charming and made the event feel even more relaxed and under control at all times.
We also had an open bar. Not only because it was easier for us, because of the venue and acquiring a bar license, but again it was a way to make the formal occasion feel more relaxed and homely, as people could help themselves to whatever they wanted. We had loads and loads of all our favourite drinks. As Mike and I don't drink alcohol, we probably had the biggest variety of soft drinks anyone's ever had at a wedding!"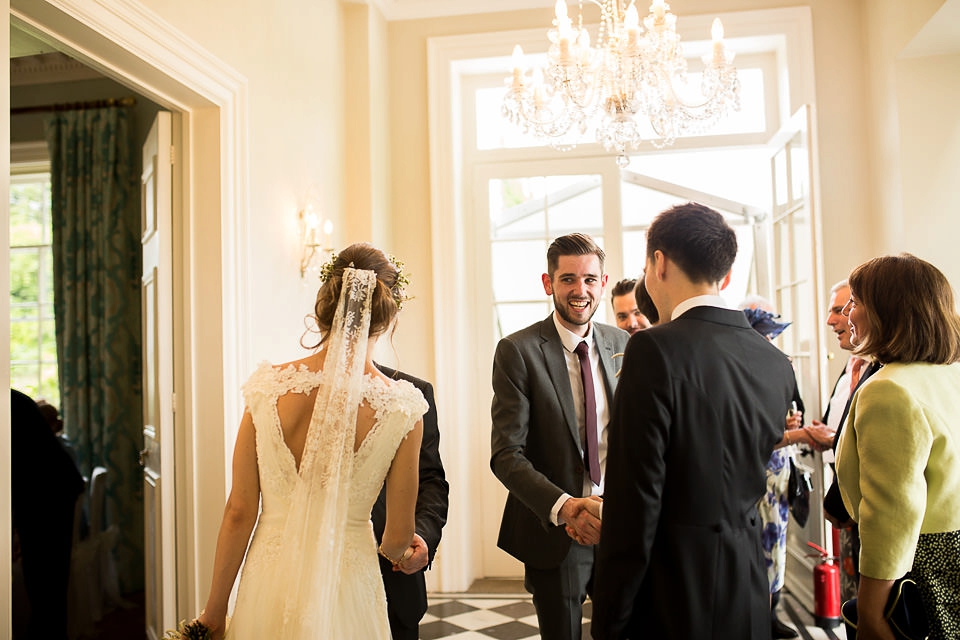 Words of Wedded Wisdom
"Enjoy it. Take moments throughout the day to stop and really take everything in, it will go so fast!
Do all your planning before the day. We planned meticulously how it would run, with contingency built in, which meant on the day we could just enjoy it. We didn't have to worry if X or Y was happening in the background. Everything ran like clockwork, even though I didn't check the time once after meeting the registrar before the ceremony.
We thought a lot about how the day would flow and what the guests would be doing. Mike hates waiting around so we were always planning for the guests to make sure that they were always entertained with the least amount of hanging around as possible."
Jon Saunders was the music king throughout the day and the newlyweds danced to Fleetwood Mac's 'Everywhere' for their first dance.
"Jon was great, running the music all day from ceremony, reception, dinner and dancing. We met with him a couple of times and talked through the sorts of music we like and what we wanted from each section of the day. We left dinner and disco completely up him, as he knows what goes down well and he did a fantastic job."
I'd like to send a huge thanks to Ayesha for sharing such delightful pictures of the very happy couple. Sophie's beaming smile is so infectious, don't you think? I'll finish up with the loveliest video by The Wedding Video Guys, which may just have you reaching for a tissue, just like the groom does; "Ross was great fun and produces a really fab video. We only wanted something fairly snappy that captured the essence of the day and took you back and he delivered that spot on. We watch the video on a regular basis and it really captures the day and has me in tears every time!"
And I urge you to bookmark this link to see more gorgeous gowns by Lusan Mandongus that we've previously highlighted on this beautiful blog.
Wishing you all a wonderful weekend.
Love Jo -x-