Happy Thursday! In the immortal words of The Cure, 'Monday you can fall apart, Tuesday, Wednesday break my heart, Thursday doesn't even start, it's Friday I'm in love.' This little refrain was going round and round in my head writing this feature and it goes with saying that I'm more than a little bit in love with today's joy-filled wedding. I absolutely adore weddings where the bride and groom don't take things too seriously and are determined to inject their celebrations with as much fun and personality as possible. Add a backless wedding dress into the mix and I'm sold.
Without further ado, it's my very great pleasure to introduce you to the gorgeous Mr and Mrs Bazeley. Thomas is a sales agent for Under Armour and Abigail is a purchasing assistant for Warwick Medical School. The couple married on 27th August last year at the beautiful Shustoke Barn in Coleshill and filled their day to bursting with personal touches, happy faces and most importantly (only joking) an epic doughnut bar.
"For me, our wedding was a perfect opportunity to display who me and Tom are and to celebrate the beginning of our life together. We were sure to incorporate this into our theme which included pineapples as vases, the brightest and most unusual flowers my florist could find (hats off to Emily Robbins), comedy mugshots of our guests as place settings, Mexican themed photo booth props and the biggest doughnut bar we could muster.
Photography by Ria Beth Photography
Mrs Bazeley bought her stunning backless Pronovias dress and pretty veil from Rachel Ash Bridalwear; a luxury boutique boasting exciting collections from the very best in British and International bridal couture, and one of our much-loved Little Book for Brides suppliers.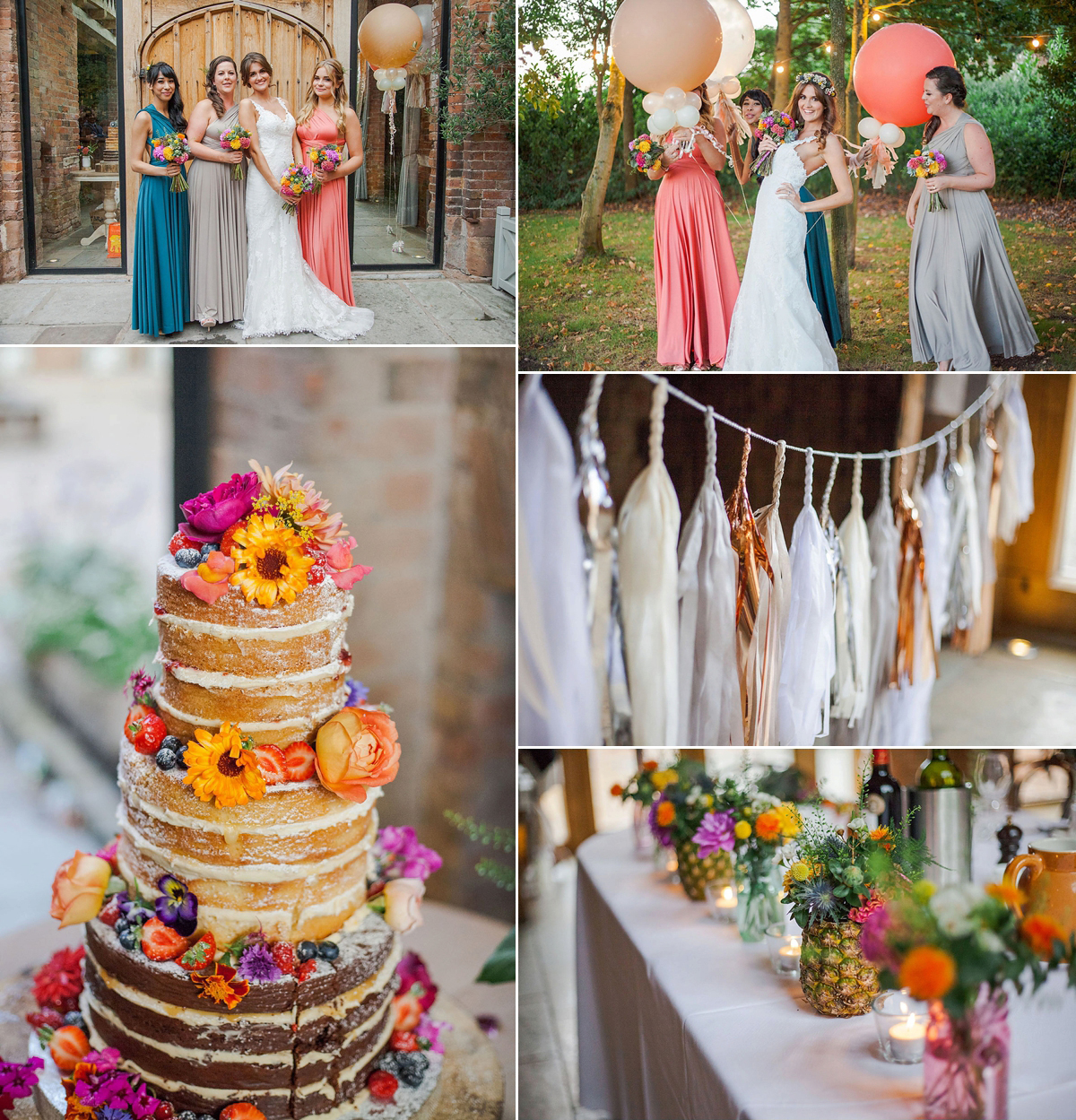 Finding a florist to accentuate the beauty of the venue and the bride's personality was key; the resulting colours and textures are vivid, happy and playful; "I wanted the flowers to reflect my personality – bright, bold and unusual."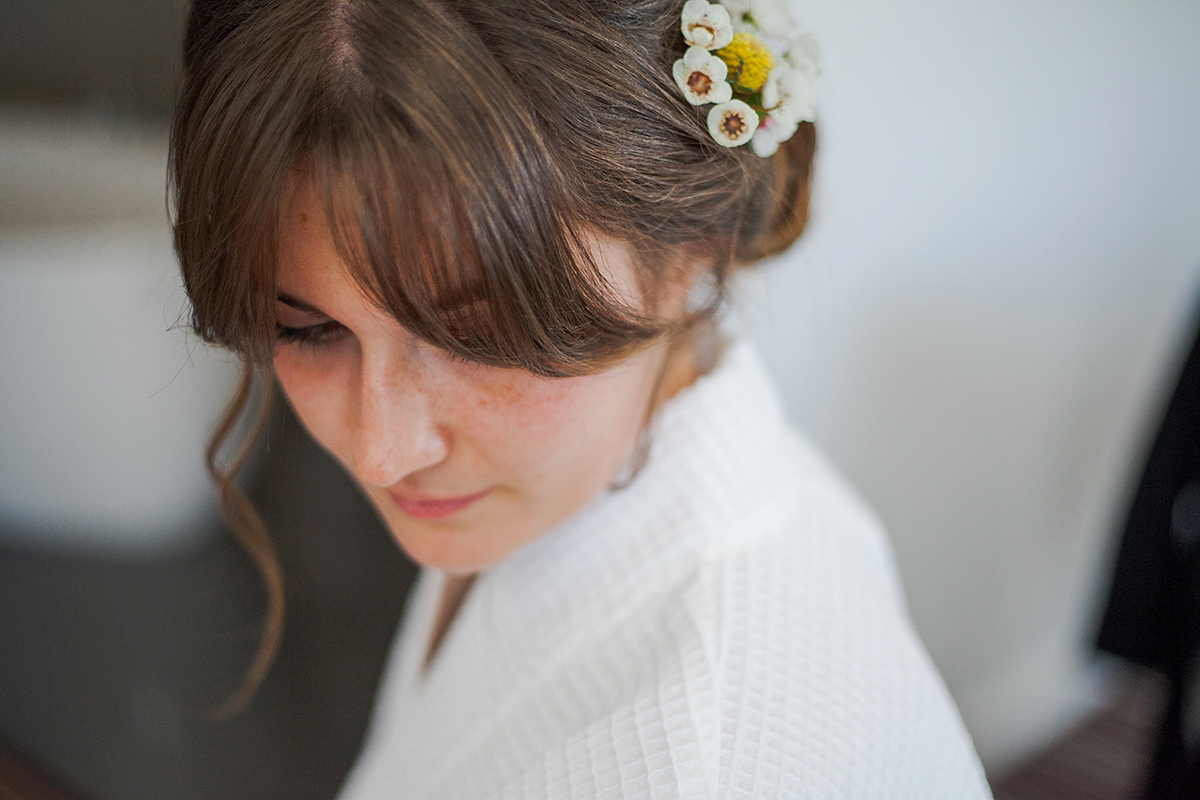 "Nobody tells you how daunting wedding dress shopping can be. If you have no idea what you'd like, my advice is to try on every single style; A-line, princess, mermaid, ballgown…trust me, I did and I had so much fun. In keeping with my themes of vibrant colour and 'outdoor meets indoor' decorations, I just couldn't find anything suited to me and our wedding until I came across my wedding dress; Marte by Pronovias."
"The deep V back, the mermaid bottom with gemstone embroidery appliqué, not too much bling but just enough – a dress that made me look and feel absolutely incredible."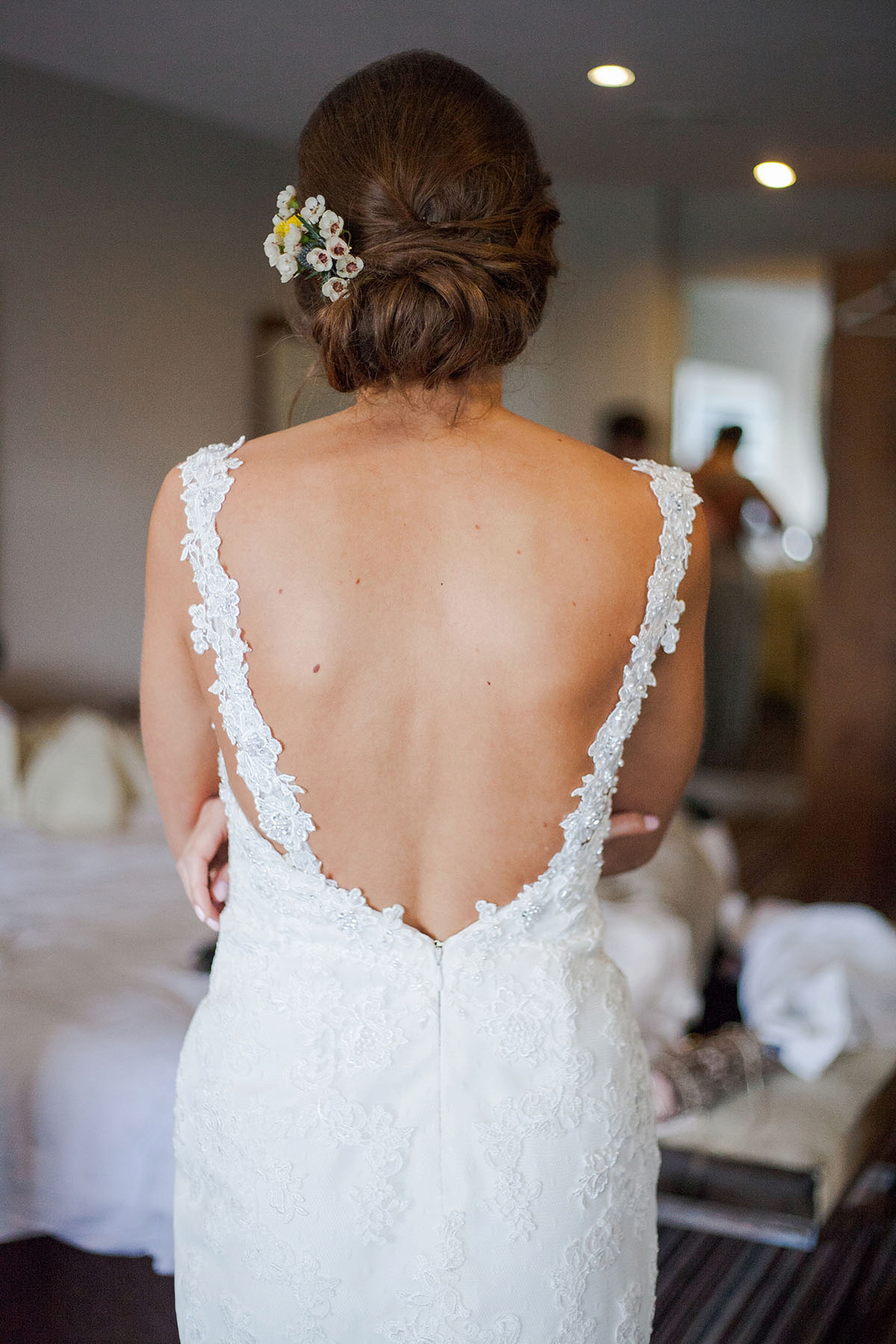 "I felt it was a dress I could wear for my wedding day and every day for the rest of my life (if I could). When you know, you know. It was love at first sight, a similar feeling to seeing Tom for the first time."
Oh, the romance of falling in love with your wedding dress! I'll never forget the first time I tried mine on; how the fabric felt as it flowed over my trembling fingers, the look on my mum's face as I turned to face her, the bride in the mirror who was at once a stranger but also me. Mrs Bazeley complemented her gorgeous gown with ASOS shoes, natural make-up by Rebecca Frances and Alien by Thierry Mugler perfume, which she was wearing when she first met her husband. Fresh flowers were selected by florist Emily Robbins and incorporated into her soft up-do by Amanda Eccles and the bride chose to wear one beautifully sentimental piece of jewellery.
"I'm definitely not a 'bling' kind of girl and wanted to be as natural on my wedding day as I would be in my day to day life. The only piece of jewellery I wore was a bracelet my dad bought me when he was on his last ever holiday with my mum, as unfortunately a few days later he passed away suddenly. It was my way of taking him with me on a day that he would have loved to be a part of."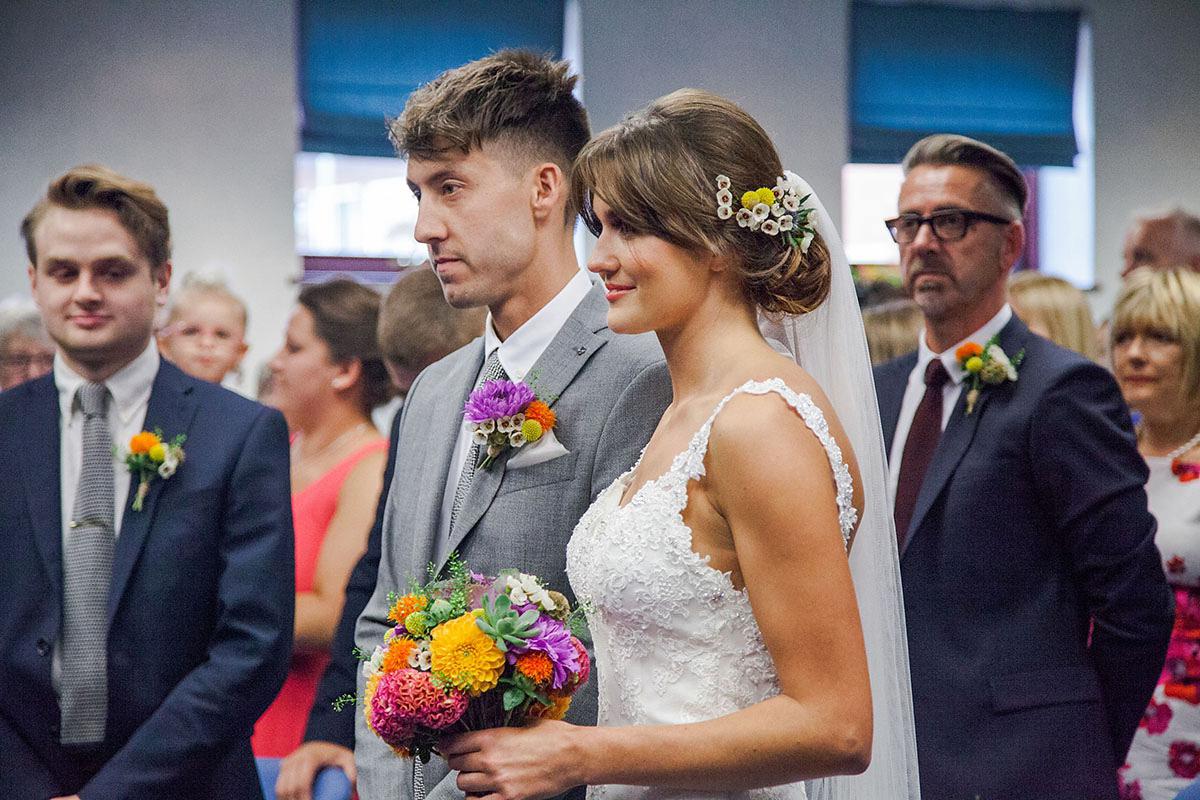 The bride's uncle gave her away and a religious classical track played as they walked down the aisle towards the dapper Mr Bazeley in his pale grey Zara suit and Reiss tie. The couple exchanged rings bought from Goldcraft Jewellers in Birmingham's Jewellery Quarter and spoke the age old words their parents vowed before them.
"Our transport was a Bentley Continental; a very kind wedding gift from my manager. As we are Jehovah's Witnesses, the vows are the same for all couples. So the same words we said to each other on our wedding day are the same words my parents and his parents said on theirs. The words focus on respecting one another and loving one another as we love and respect our own bodies and ultimately spending the rest of our lives as best friends."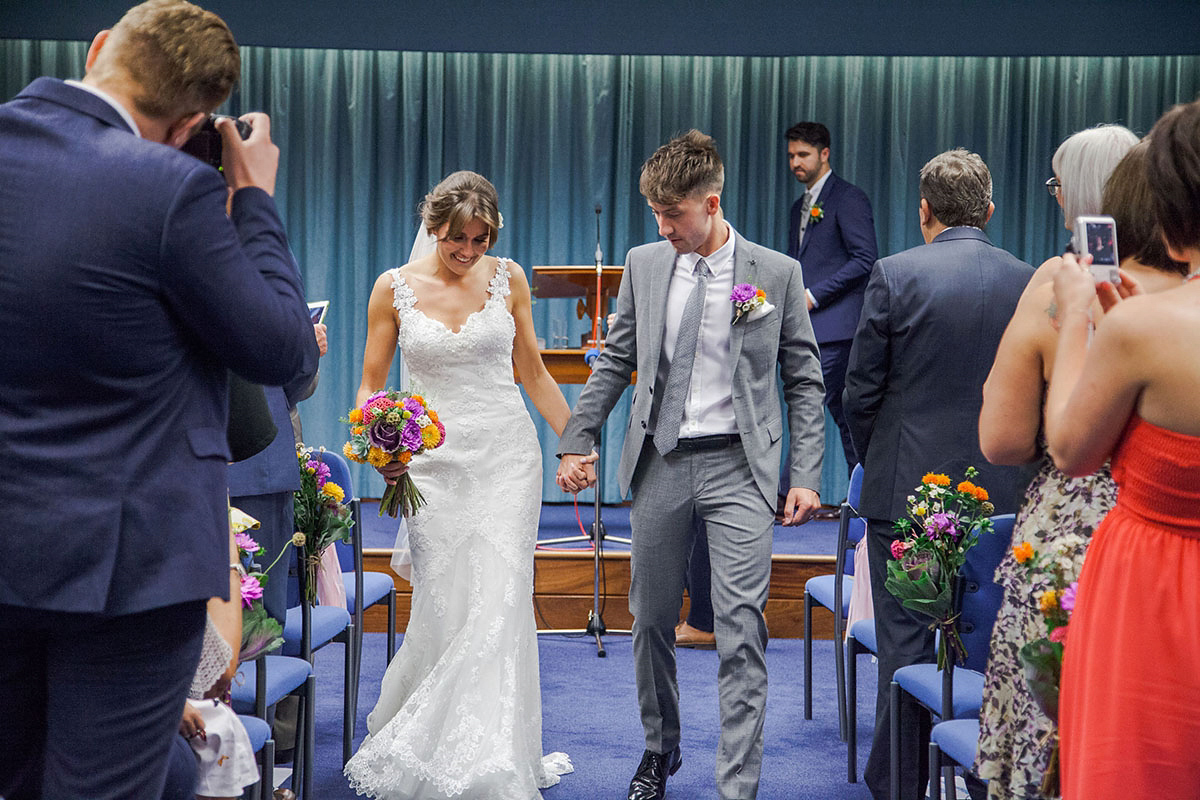 "Tom and I had a handful of mutual friends and prior to meeting each other had been invited to numerous events where our paths could have crossed but never did. He was living in Leicestershire and I was in Devon and in September 2012 he decided to come to Devon with a few friends for a night out; it turned out myself and my friends had the same idea. He walked in to the same bar as us and we were instantly attracted to each other; let's just say that the rest is history. We started dating, covering 250 miles to see each other each weekend (serious dedication) and in July 2014, in the middle of a thunderstorm, he proposed in a pub in London where he'd first told me he loved me."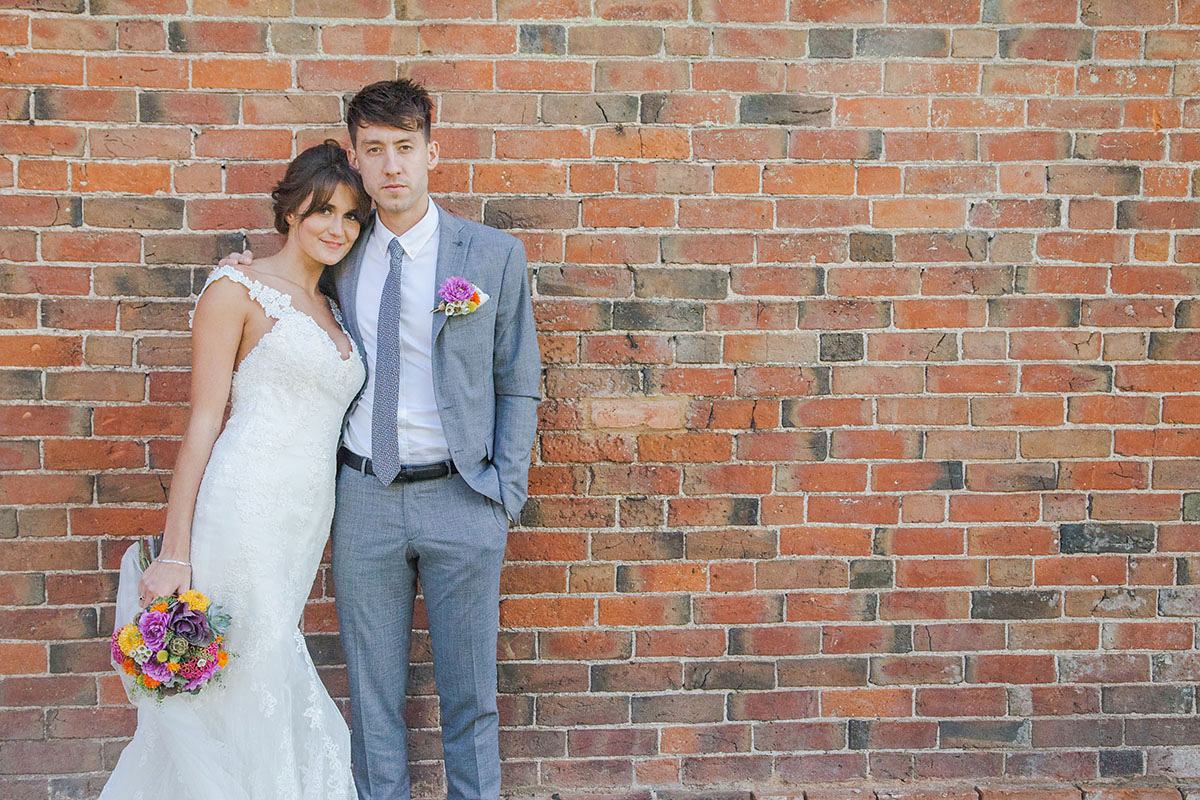 "Within our first consultation, our florist Emily was able to distinguish what I didn't want in my bouquet…the hard part was finding out what I did want. Emily's knowledge and passion for flowers is outstanding and quite honestly blew me away. She is a keen listener and had the ability, in my case, to turn my dreams into reality – I don't know many florists who would offer to de-core pineapples.
We had excellent communication throughout the process, she even helped me with my centrepieces which didn't have anything to do with flowers. Nothing could phase her and she has become a very good friend."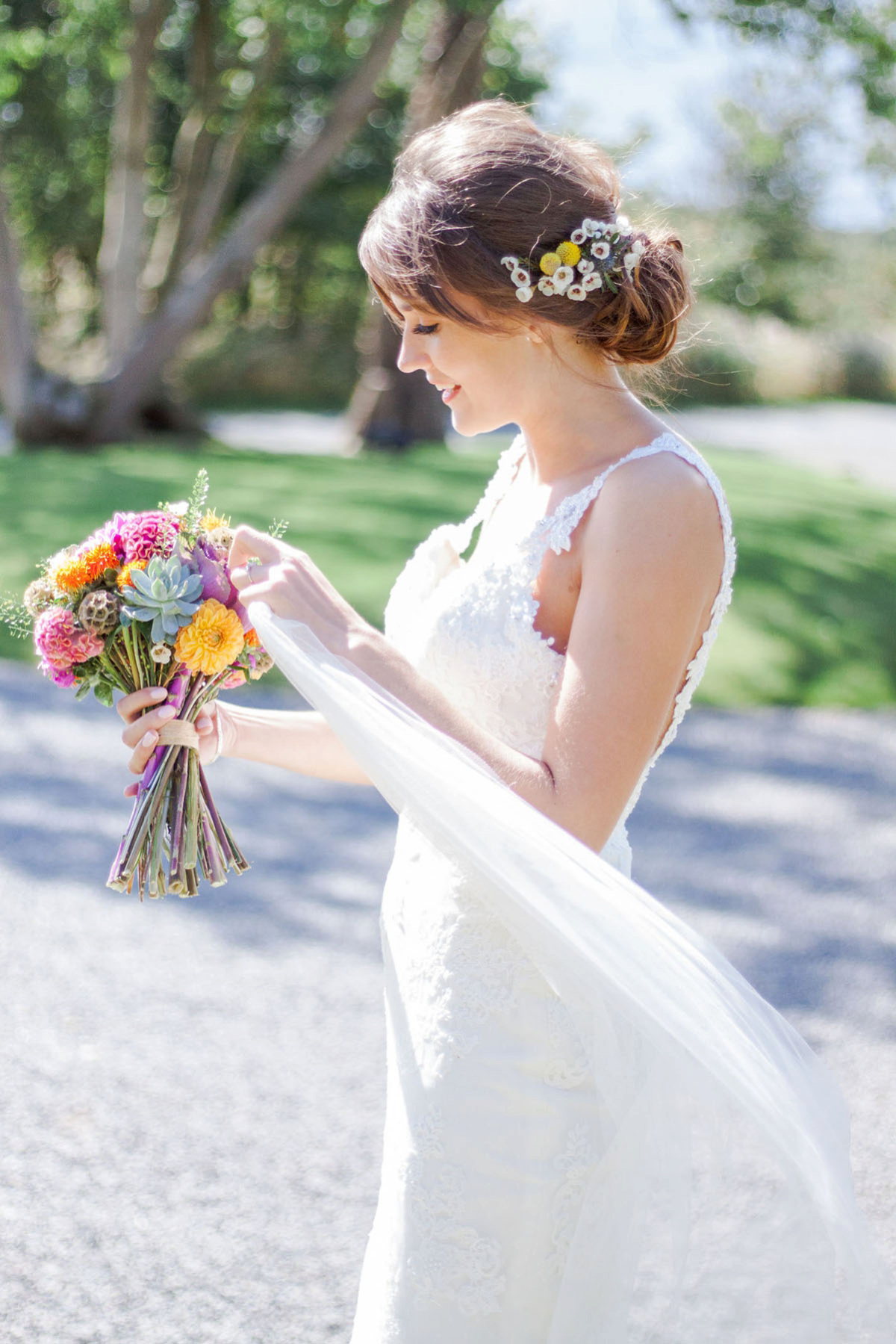 I couldn't agree more; the very talented photographer Ria Beth had some gorgeous subjects to work with and the getting ready shots of the girls having their make-up done are some of my favourites. Ria has captured some stunning portraits of the newlyweds as well as the vibrant colour and intense joy of the day.
"What a woman. What a website. What a photographer. Ria is a close friend of ours which was very important to us; we felt she was the only photographer we would consider to share such an important day with us. Plus she's probably the only photographer who could encourage Tom to smile, and she did! Ria doesn't just take photos, she captures moments. From the word go, she blended in as a member of our family, having fun with me, my bridesmaids and the mums while we got ready, to running around with us in the garden outside making the most of us having fun in the evening sun."
"When we received our photos we were overjoyed with how natural and happy everyone looked, joining us, in what was the best day of our lives. No photo ever felt too staged or forced; Ria has a natural ability to make everyone feel at ease in her presence. As we had some family in America who could not attend the wedding due to poor health, it was important that a variety of photos were taken so that they could imagine the day through Ria's eyes. Due to Ria's insane photography skills, upon receiving the photos they were over the moon and felt like they were there with us."
Accentuating the couple's bright colour scheme, the lovely bridesmaids wore an eye-catching array of my all time favourite dresses from Twobirds Bridesmaid, bought at Sam Cox Bridalwear. In fact Mrs Bazeley clad her entire bridal party in designs by some of our Little Book for Brides favourites; her adorable flower girl looked sugar sweet in a Monsoon frock, which looks beyond cute with her pink glasses.
"As the dresses were so beautiful and spoke for themselves, the girls felt that they didn't need to wear much jewellery at all. Plus they're all natural beauties anyway."
"On our first visit to Shustoke, we were blown away by the pure beauty of the barn and surrounding greenery. The barn itself is light and airy with some modern features which complement the original character of its high beams and flagstone floors. As soon as we arrived and were welcomed by their wonderful team, we knew it was the venue for us."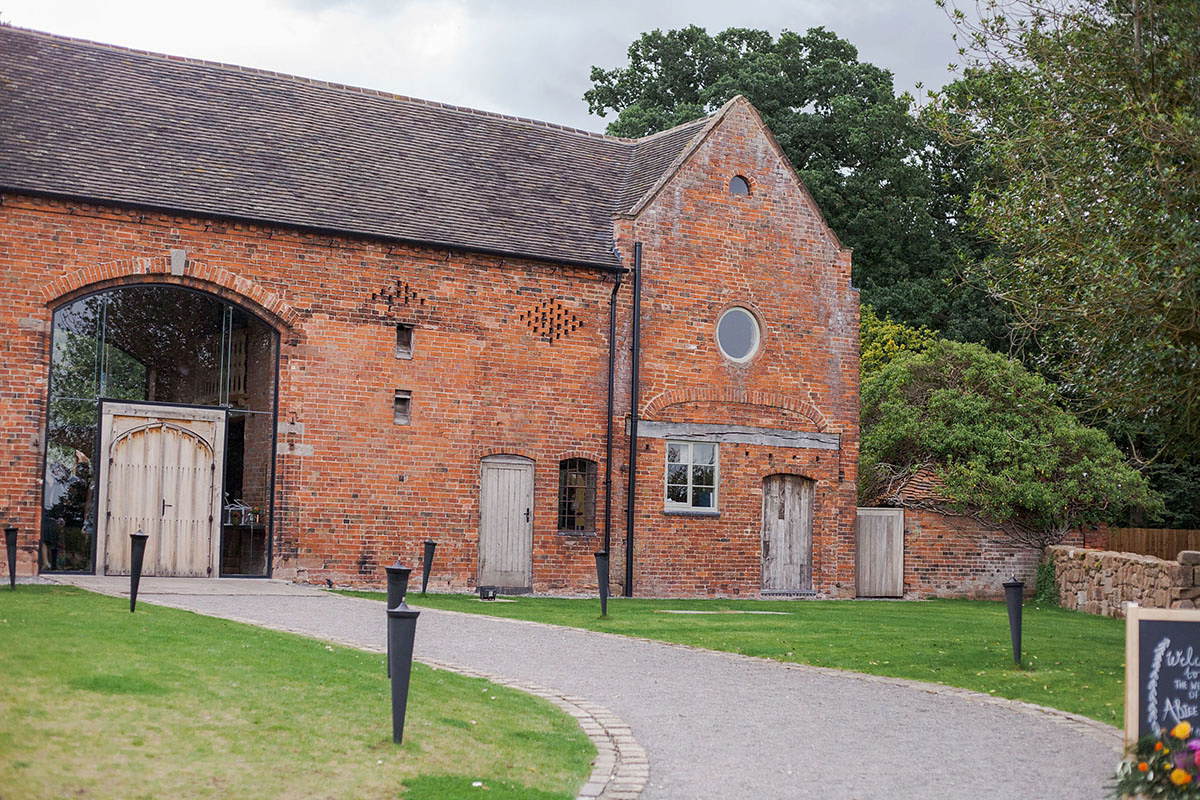 "We loved Shustoke's big open doors which led out into a courtyard filled with olive trees where guests could mingle in the afternoon sun. This influenced our decision to compliment the barn with vibrant colour, pastel tasselled balloons and tassel garlands; almost as if you could have closed your eyes and been in LA – well you can always try!"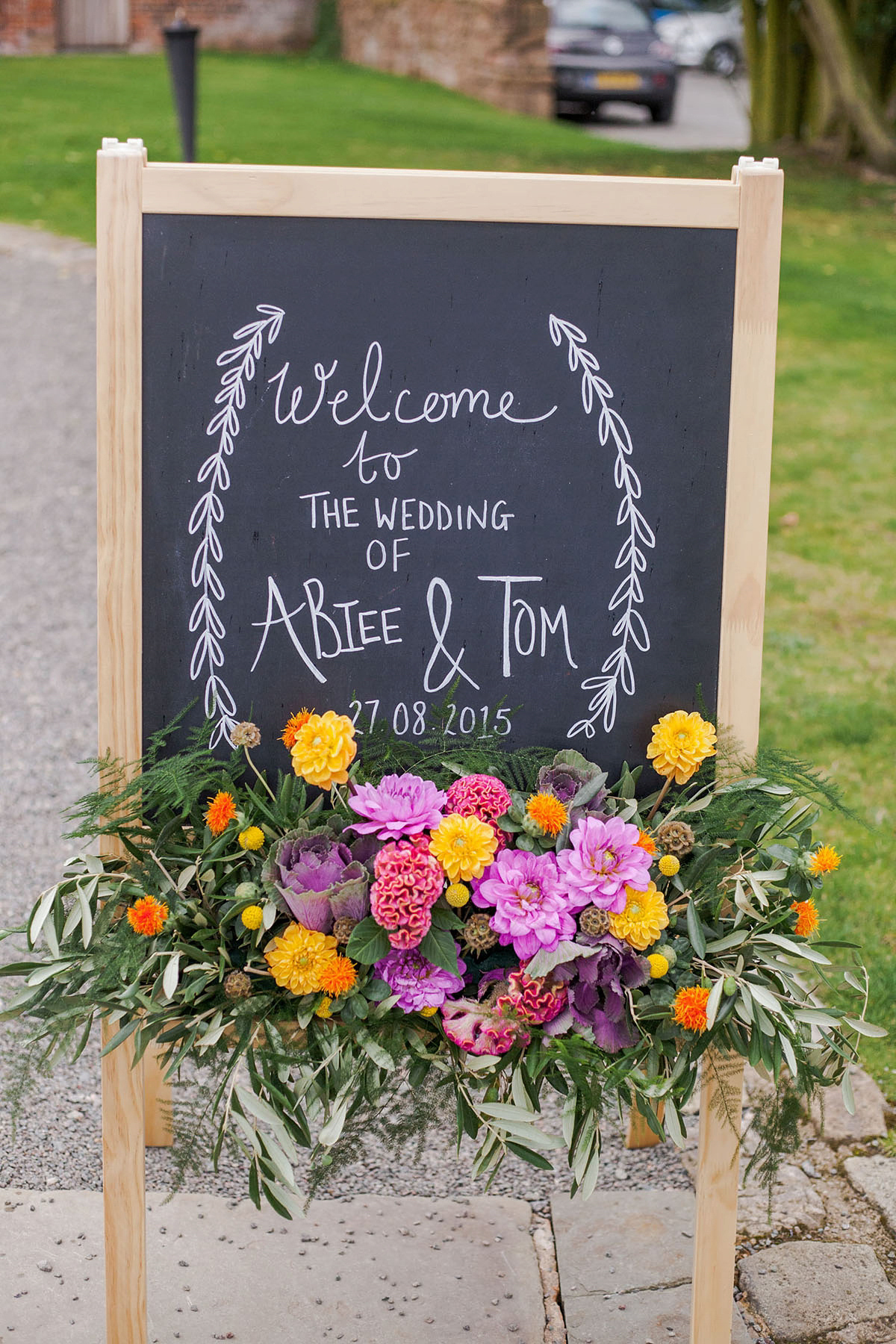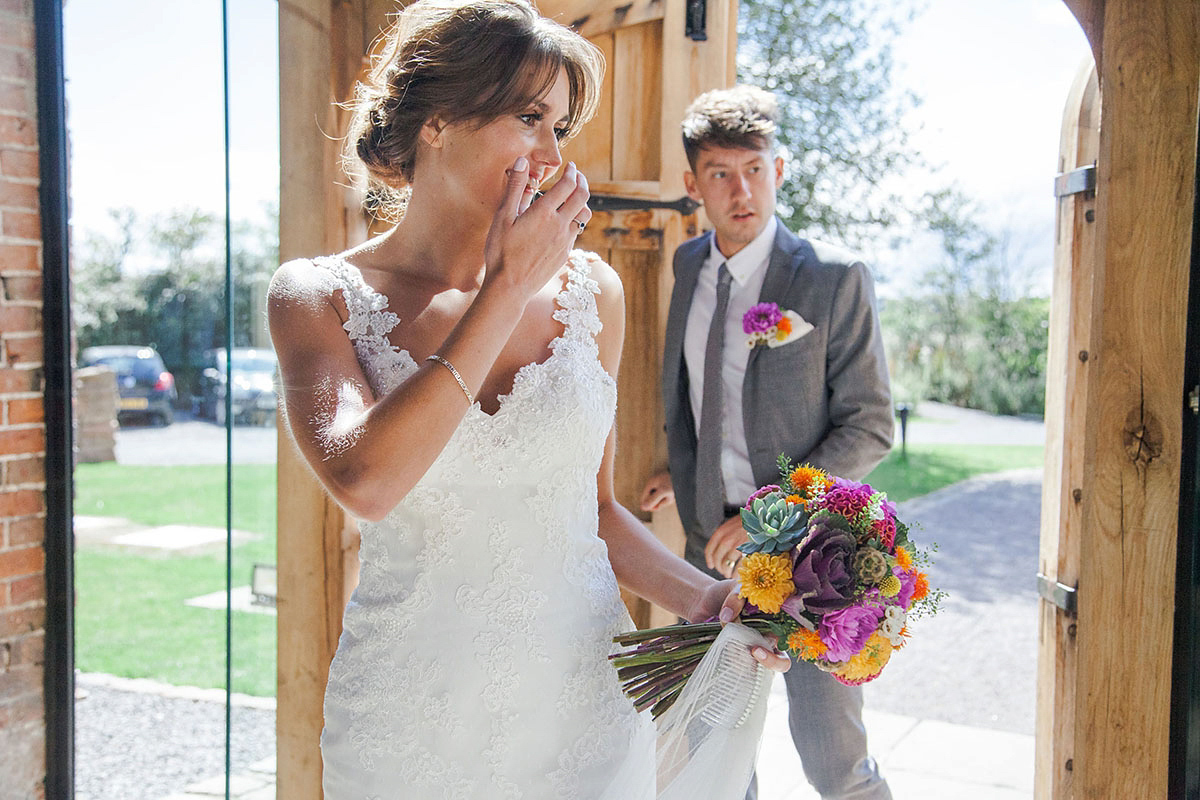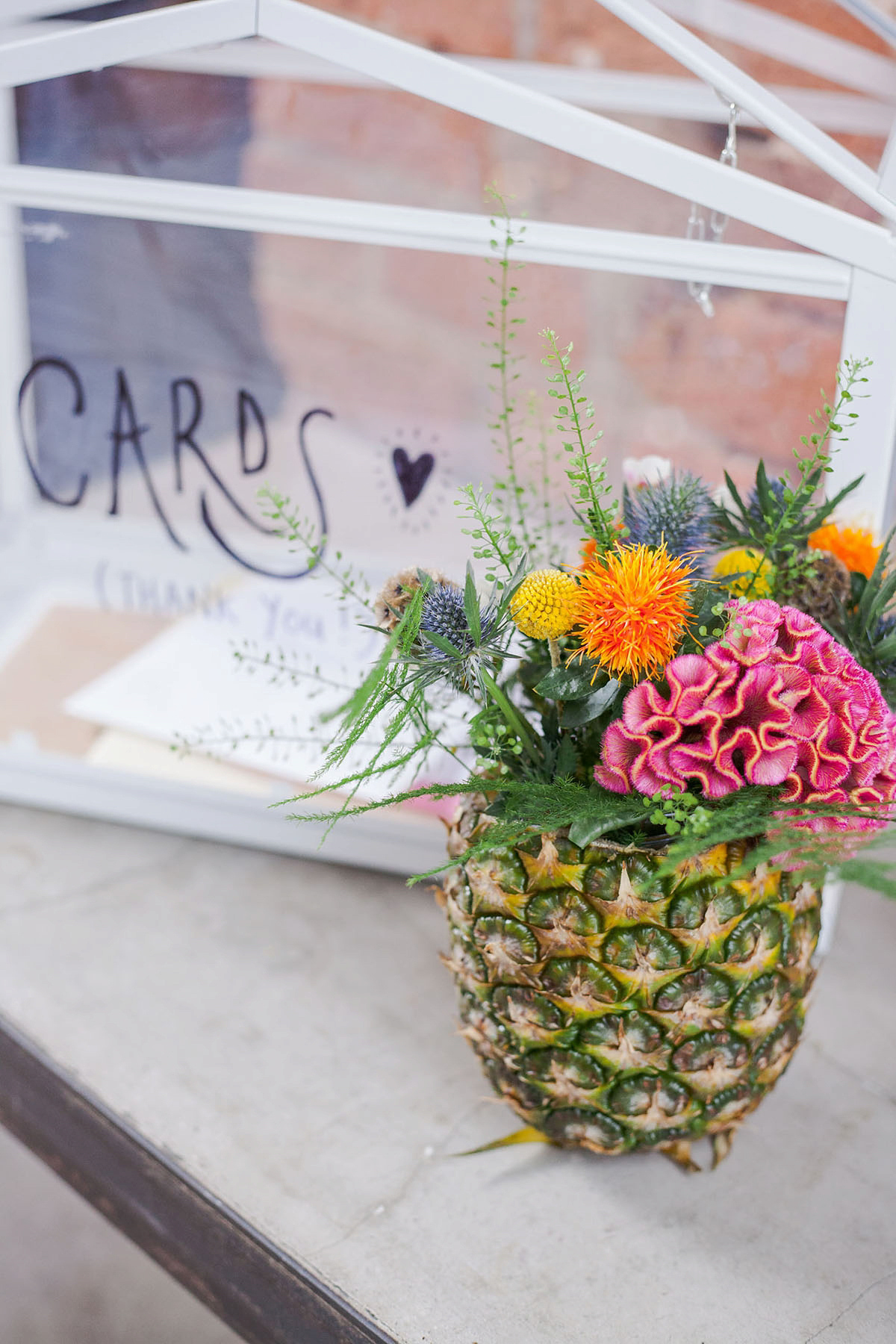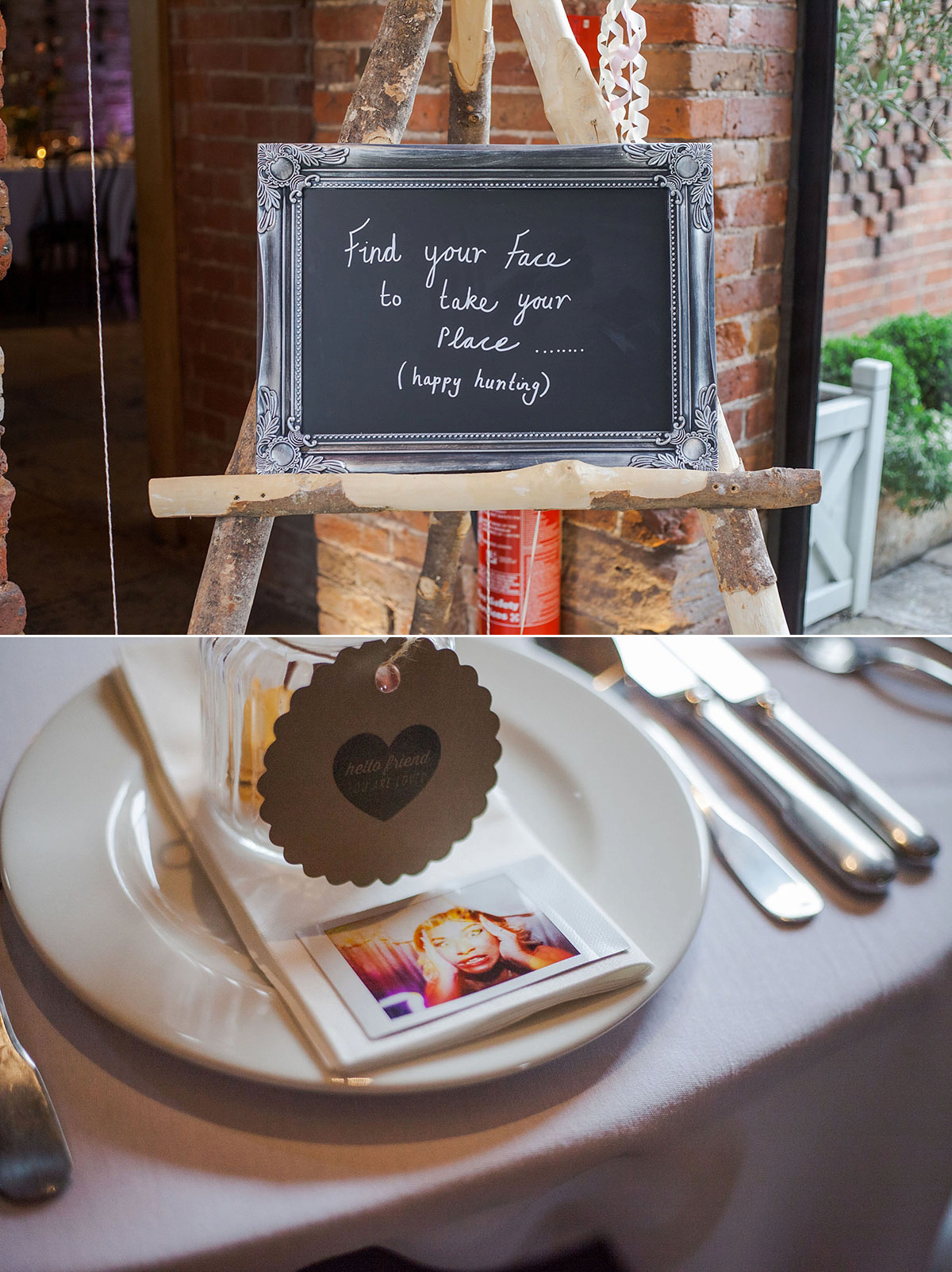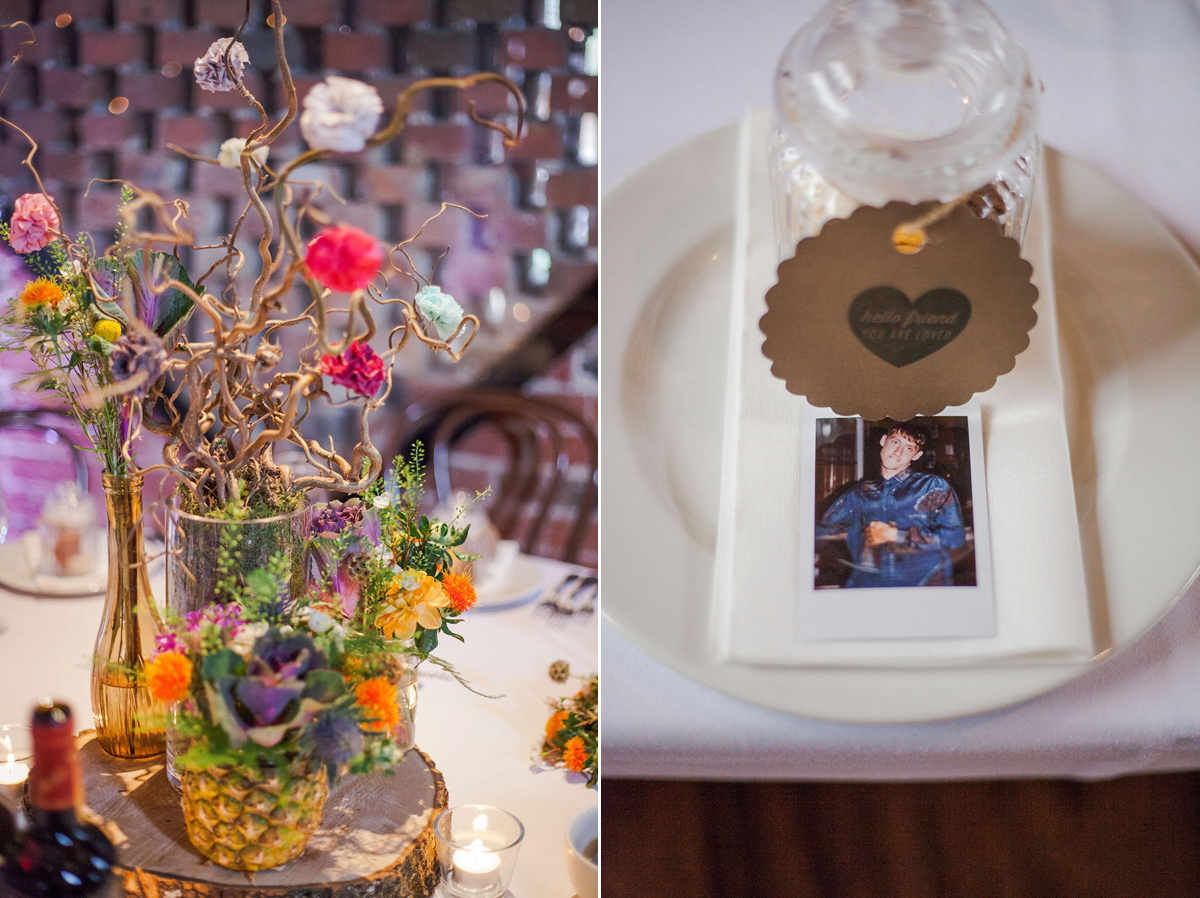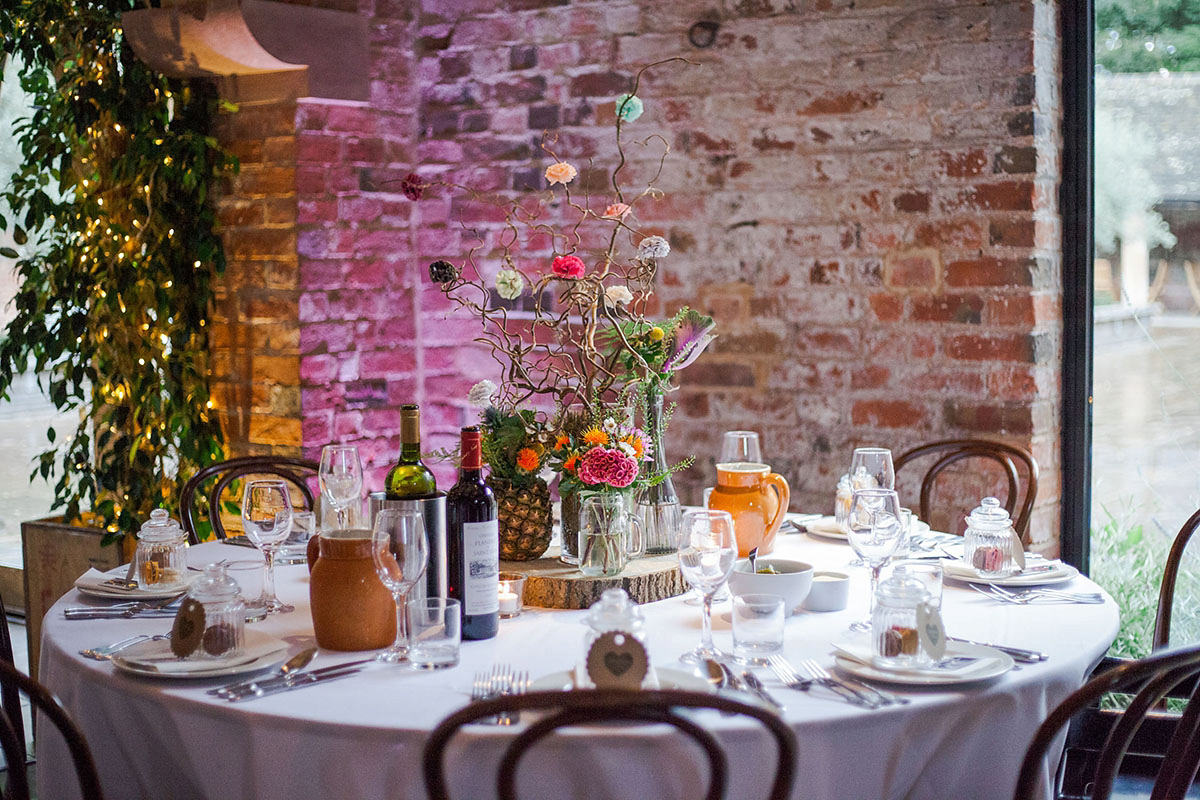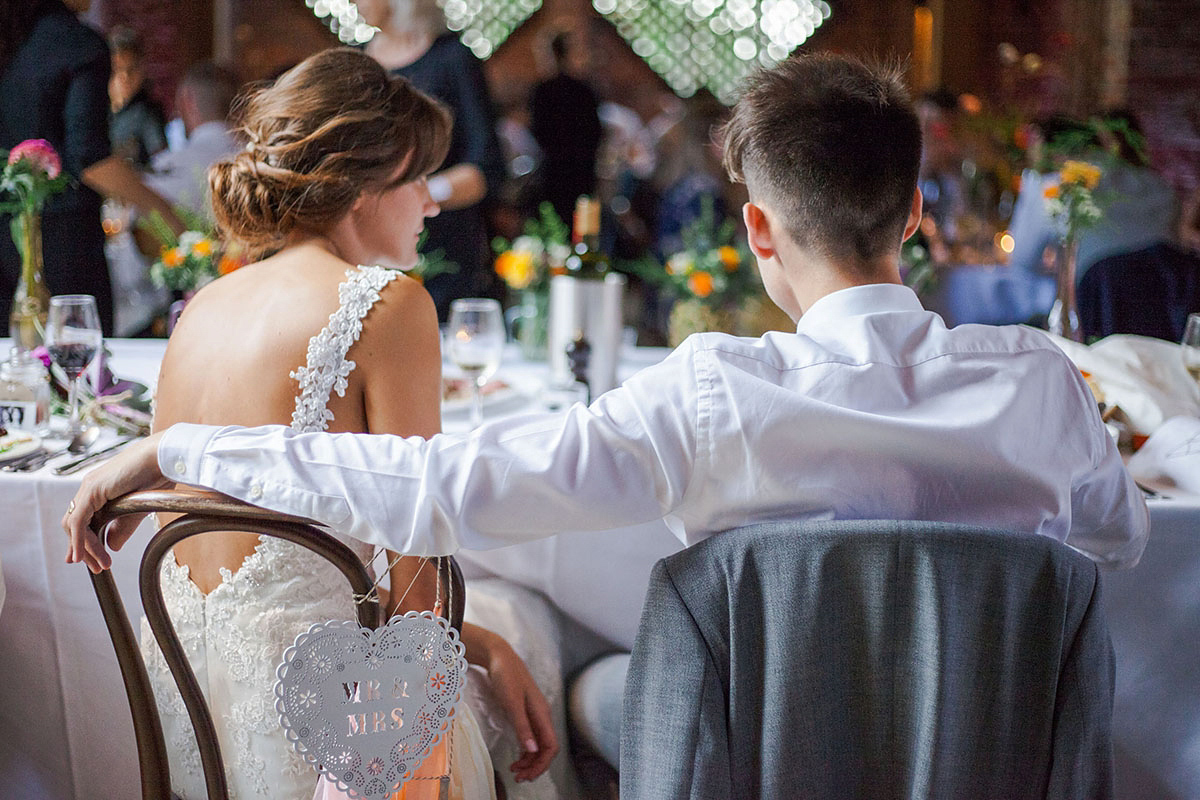 Mr and Mrs Bazeley have created some epic décor in the way of tassel garlands, painted kilner jars, pom poms and giant tasseled balloons worthy of the film 'Up' and my gorgeous fellow writer Emily B's upcoming nuptials. The couple sourced their invites from Not on the High Street and gave mini macaroons as favours inside jars from Wedding Mall.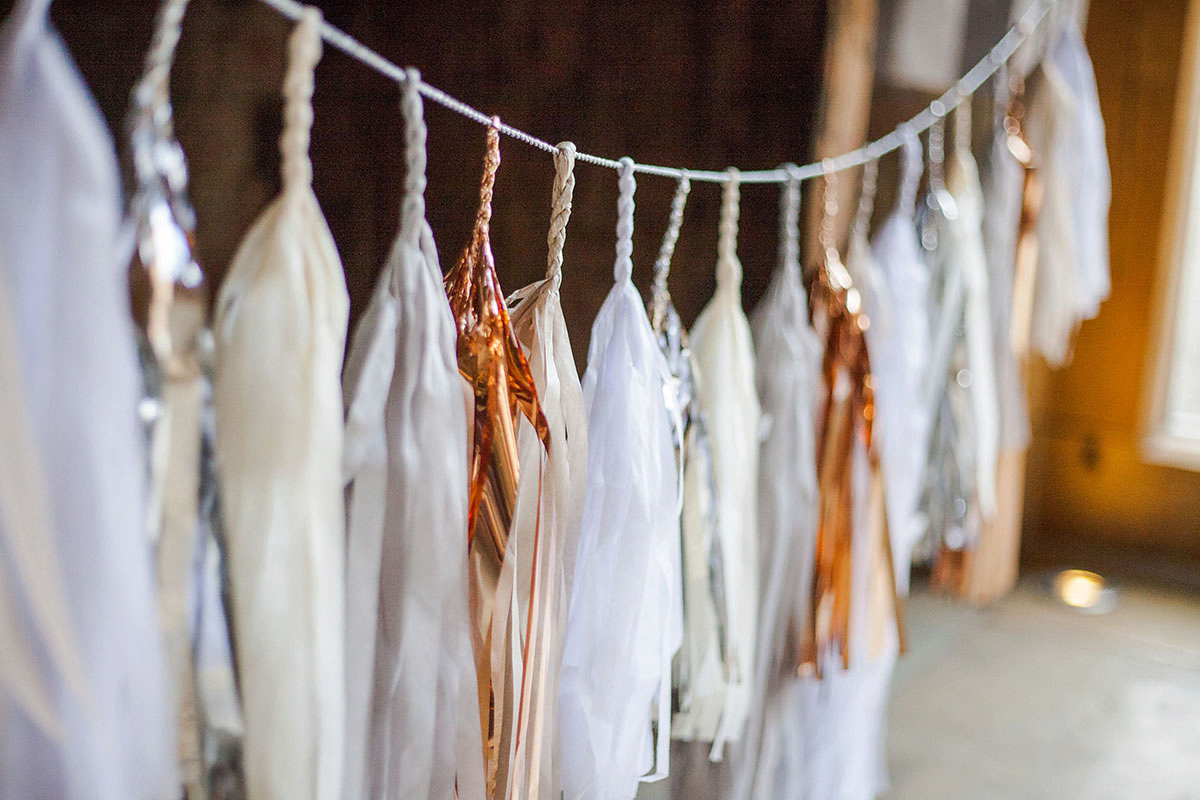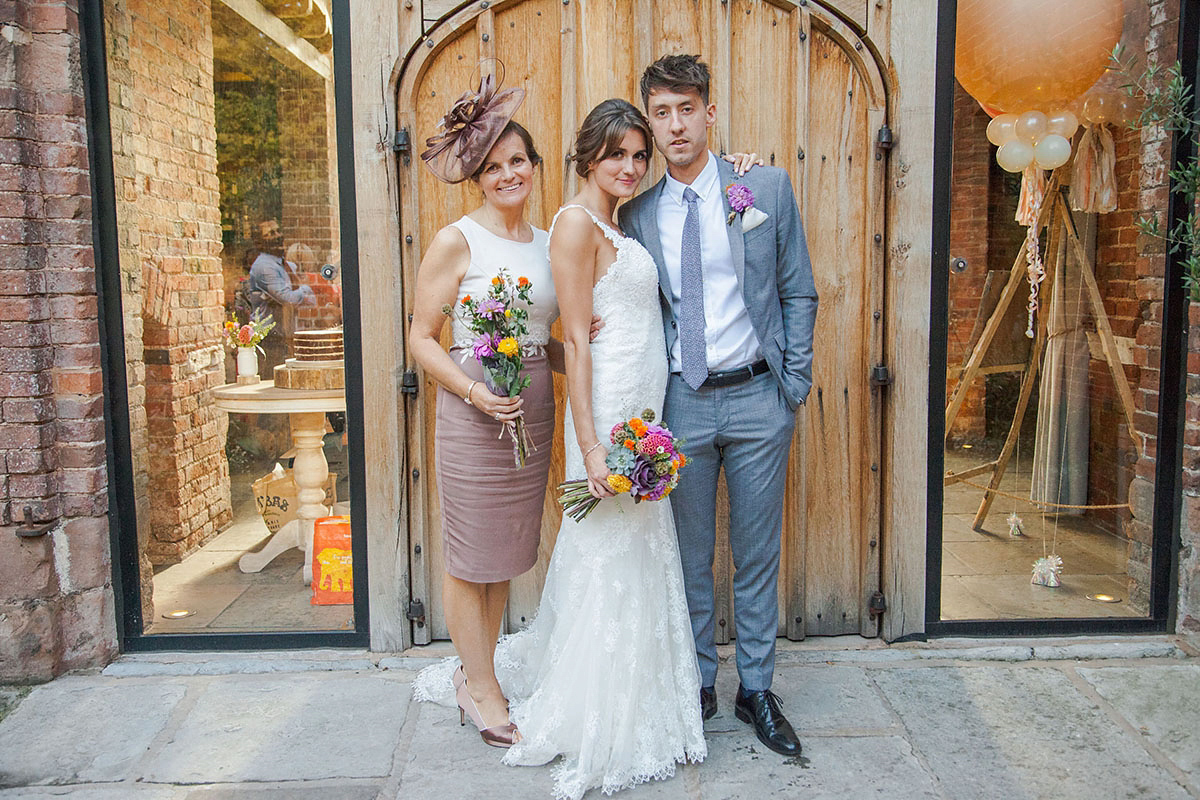 Shustoke Barn took care of the catering while Celeste of The Organic Wedding Cake Company whipped up the most delicious looking naked cake, topped with berries and brightest blooms.
"As soon as we found Celeste's website we knew she was the one. Celeste uses organic ingredients to keep her cakes as simple as possible and her naked cakes are out of this world. We emailed a lot, not just about our cake either. Any other wedding related questions, she answered, no problem and she's a vat of wedding knowledge. Celeste is kind, caring, thoughtful, interested in your wedding ideas and how the wedding plans are going. On the day we didn't even realise she was there until the cake was set up and we were being asked by everyone to cut it! Celeste is so efficient and we were over the moon with our cake, covered in berries and topped with edible flowers – does it get any better than that?"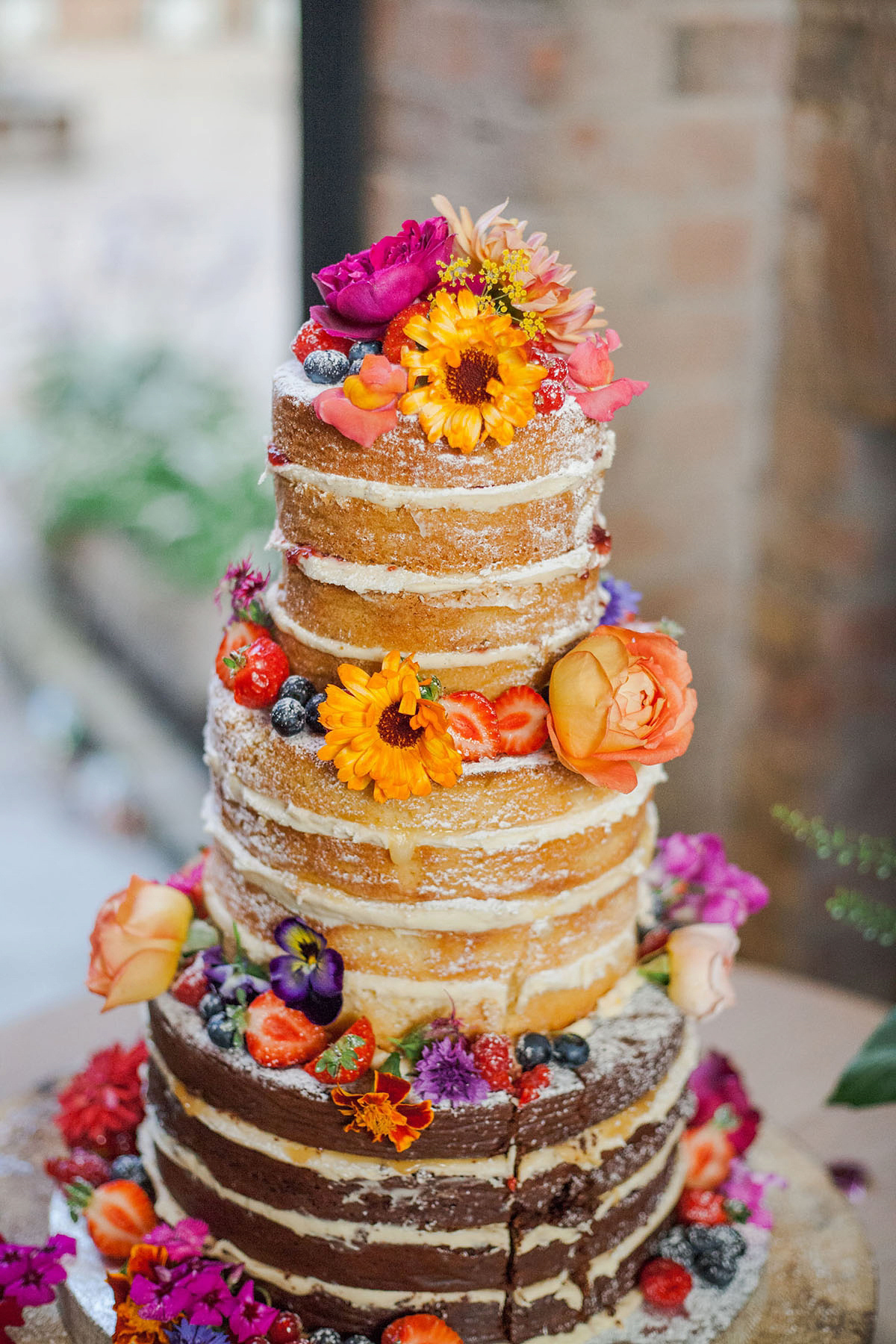 "I remember sitting at the top table during dinner watching all of our loved ones eating, laughing, chatting, taking photos, appreciating everything we'd organised (and slogged over for months); to see it all come together and for everyone to have a smile on their face brought a huge lump to my throat. It couldn't have been a happier moment and I won't ever forget it."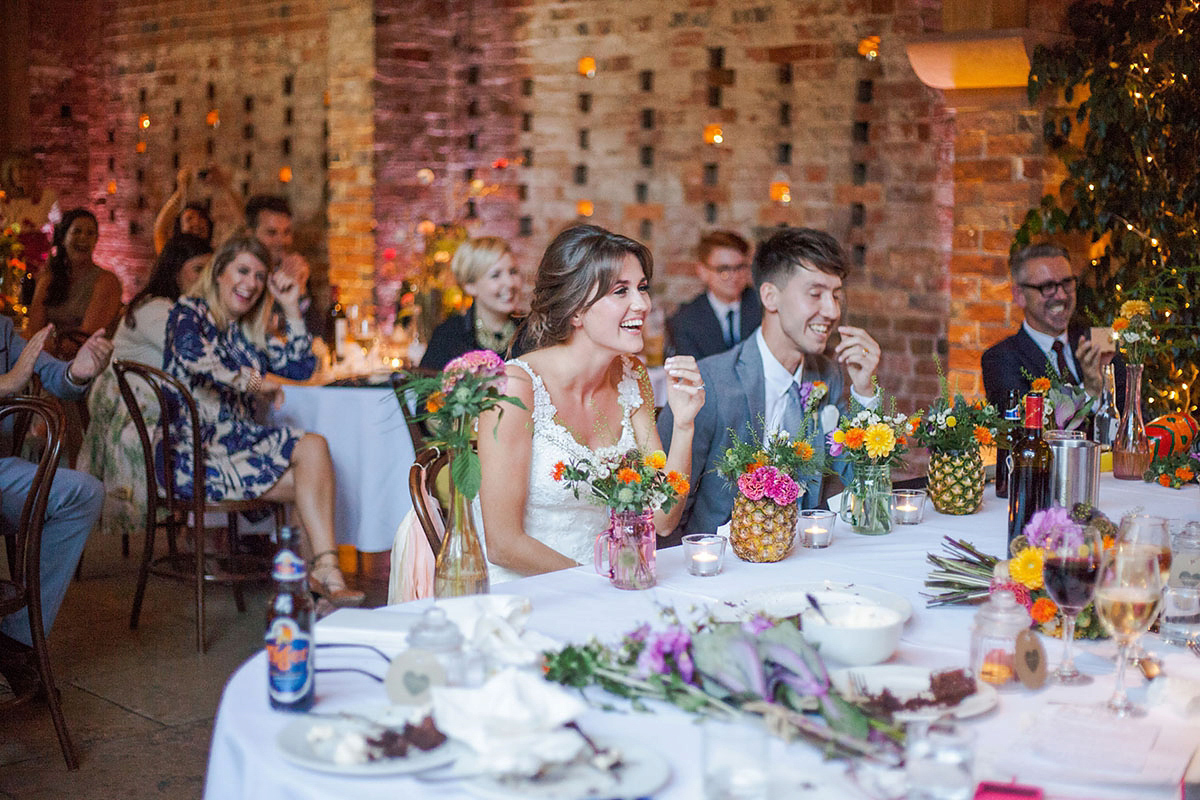 Words of Wedded Wisdom
"Though I would advise a bride-to-be during the planning stages to not stress over the little things; you'll be the only one who notices. Enjoy searching high and low for the wedding invitations that you want to look just right, enjoy trying on a gazillion dresses to find 'the one' and enjoy spending time with your partner planning a day celebrating your love for each other.
During your wedding day, take five minutes out with your husband or wife and watch your guests mingle and chat; it's so lovely to see all the people who have travelled long distances or those who you haven't seen in a while come together to celebrate your wedding day. There's nothing quite like it."
What a lovely reminder from Mrs Bazeley to really enjoy planning your wedding – it's so easy to get dragged down with tiny details and forget to step back and take a look at the bigger picture. Thank you so much to the happy couple for sharing their summer celebrations with us and our very grateful thanks to Ria Beth Photography for these fun-filled images; I hope they've started your weekend in the best way dear readers. For more gorgeous summer weddings, simply follow this link and have a lovely lovely weekend.
Em x