Wherever you are in the world, I hope you've felt the warming rays of sunshine on your face in recent days. I truly believe in taking pleasure in the simple things, and this is one of my favourites. If clouds have been the only thing above your head (literally or figuratively), or you've been holed up with a mountain of wedmin, you're in luck; I have a ray of wedding sunshine to share with you this morning.
Alex, founder of barbeque restaurant Walter and Monty wed Jess, who works in PR, and threw the most incredible Spanish fiesta at Casa La Siesta in Vejer de la Frontera, Spain on 27th June 2015. After deciding that sunshine, music and a serious party vibe were key components to their Big Day, the happy couple spent 18 months finding the perfect location and atmosphere. Championing bespoke options, Alex and Jess ensured they planned a day that felt completely right and unique to them, and boy does it look fun.  For those of you planning a destination wedding, this might be the opportune time to get a pen and paper handy: you might want to take notes for this one. Also, this happens to be the second wedding celebration for this particular couple – we featured their first London based Jewish wedding celebration, for which Alex wore the most beautiful 70's Ossie Clarke gown, right here.
"We had always wanted to get married abroad. It's a totally different vibe to getting married at home. Everyone is so relaxed and happy to be away and the weather is usually guaranteed – it was really important to us both that it was sunny on our wedding day! We have always had the best times at weddings abroad and so it was number one on our agenda. We did look at other places in Italy too; but we know and love Spain really well so it felt like a natural choice."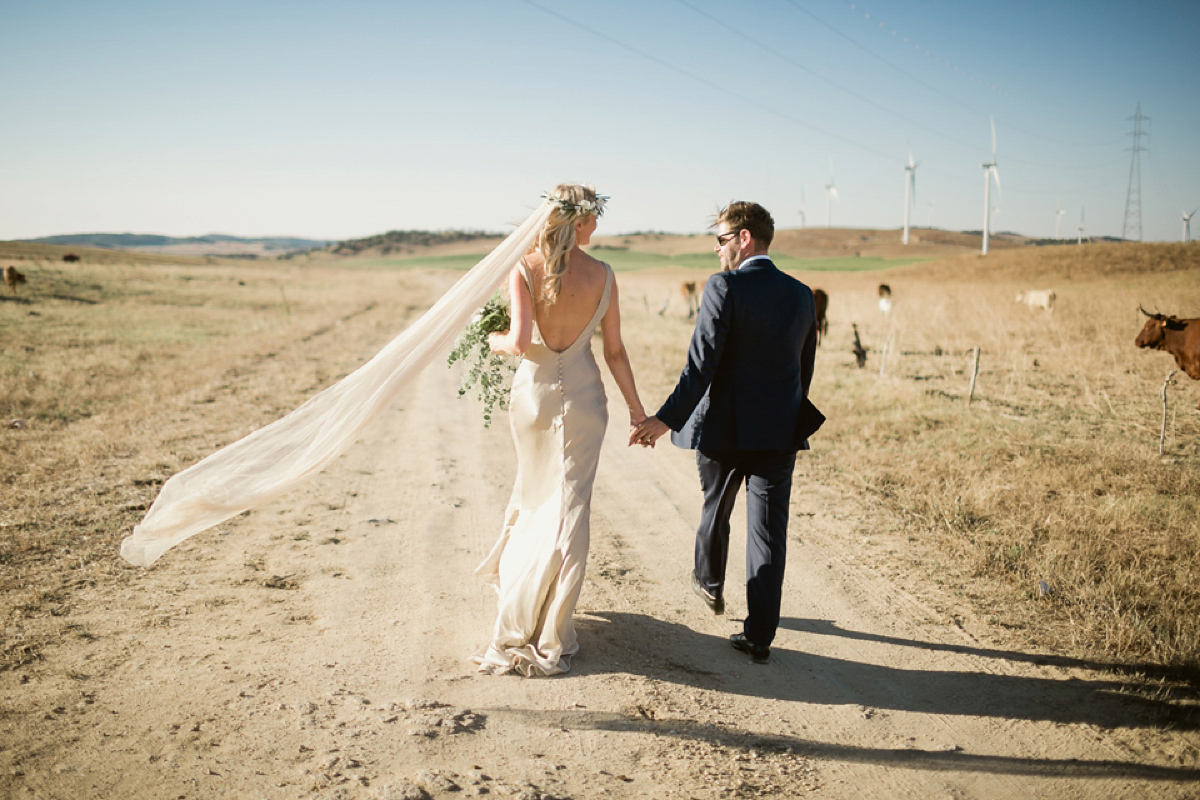 Allowing us all to share in this white-washed warmth and citrusy haze is photographer Tom Ravenshear. Now, I know Love My Dress has a habit of making us all wish we could time travel and become wedding crashers, but I think this joyous celebration tops my wish list. Thankfully, Tom's crisp and atmospheric shots captured enough light for everyone. We've been lucky enough to share plenty of Tom's talent on Love My Dress and you can immerse yourself in more shots from our revered Little Book for Brides member here.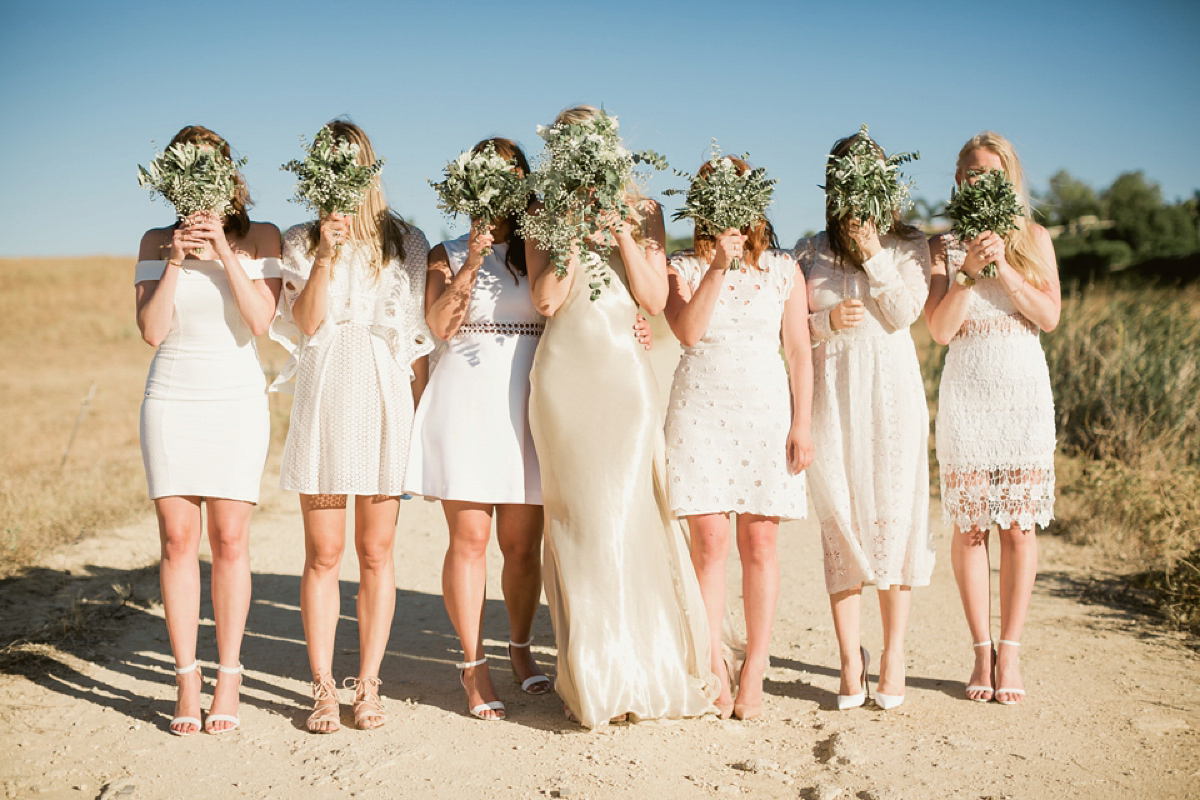 "Tom Ravenshear, our photographer, was absolutely brilliant. I'd really recommend working with him. It was quite frenetic at the beginning when we were getting ready and trying to get everyone sorted, and he adapted so well, we didn't even realise he was there (in a good way!). He was so accommodating, generous with his time and just a pleasure to have at the wedding. We were really happy with our photos, they were brilliant, and totally captured the happy vibe of the wedding and party afterwards."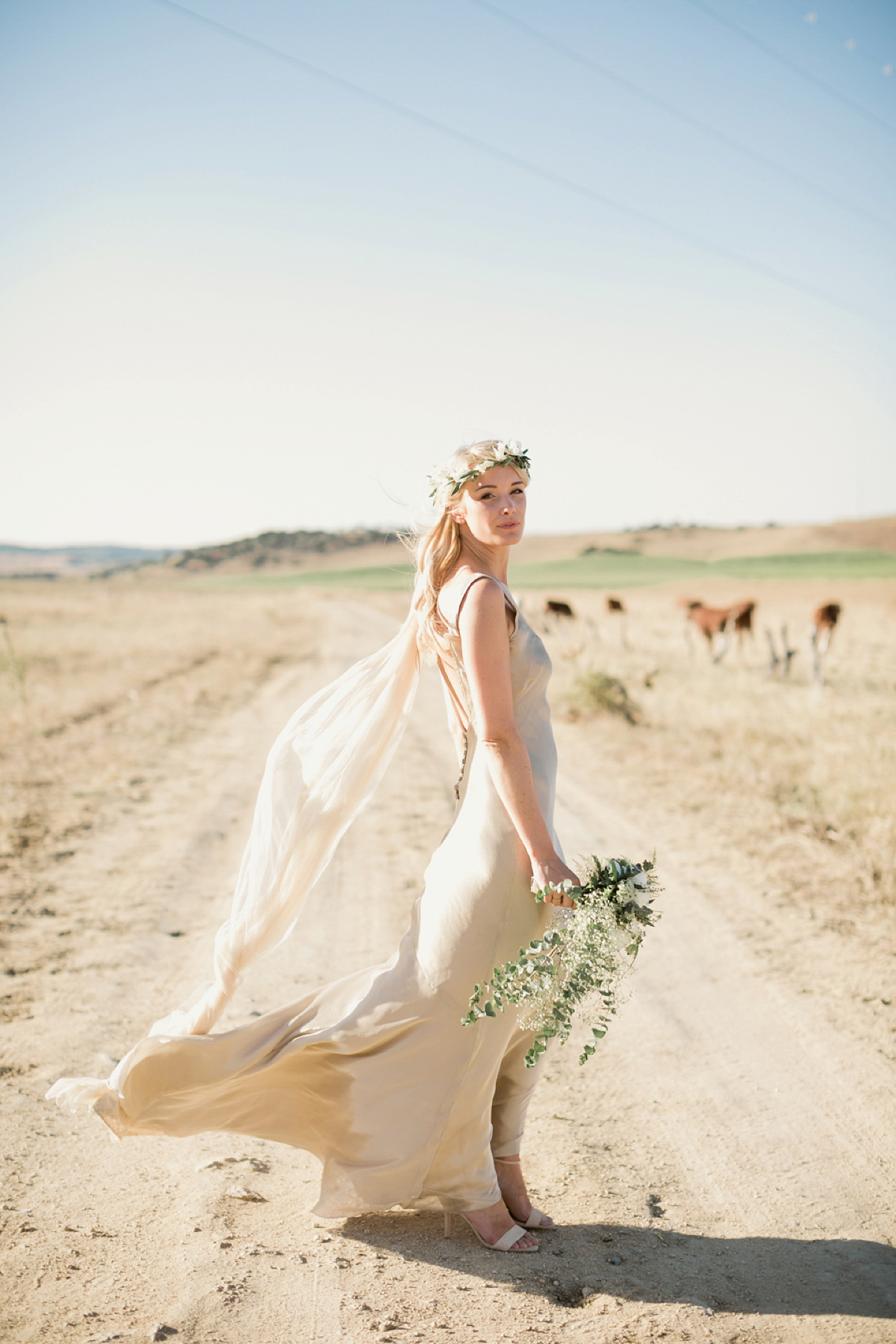 An 'Andalusian Paradise' was discovered in Casa La Siesta. This boutique hotel embodies what many would dream of for a wedding outside of our drizzly climate; character, space, seemingly endless sunshine and some serious wow factor.
"We love Spain and between us have been there on holiday many times. We were looking for ages and couldn't find the right venue – they were all quite rustic and not very luxurious. As soon as we stumbled upon Casa La Siesta we knew it was perfect. It's got all the luxuries of a modern hotel but the rustic charm of an old finca. It really is the most beautiful setting and the décor is very tasteful."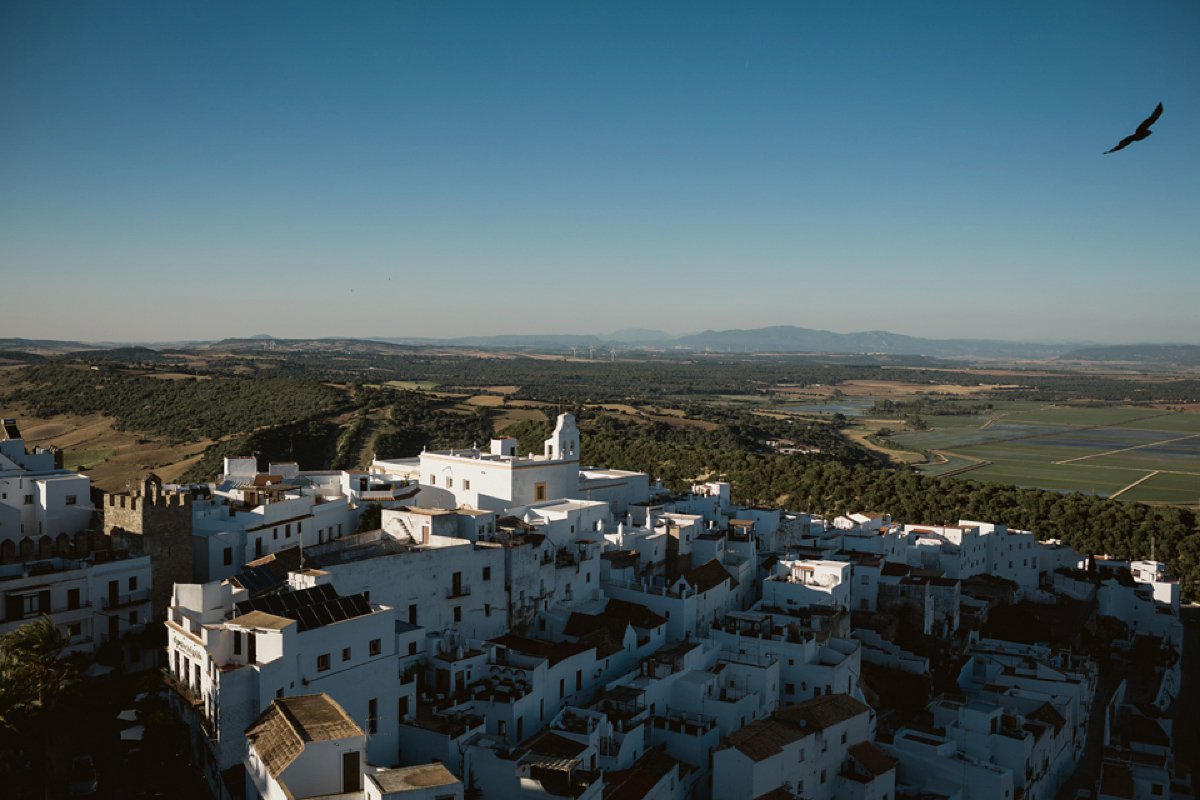 "They were also very relaxed about timings which meant we could have the party we wanted – most places cut off at 11.30 / midnight! The food and wine is very important to both of us and we love the food in the region. They had a fabulous chef on site that was very accommodating and cooked the most delicious meal. The area of Vejer and Andalucia is also really lovely – white washed cobbled streets that are still totally untouched and retain their old Moorish charm. We fell in love with it."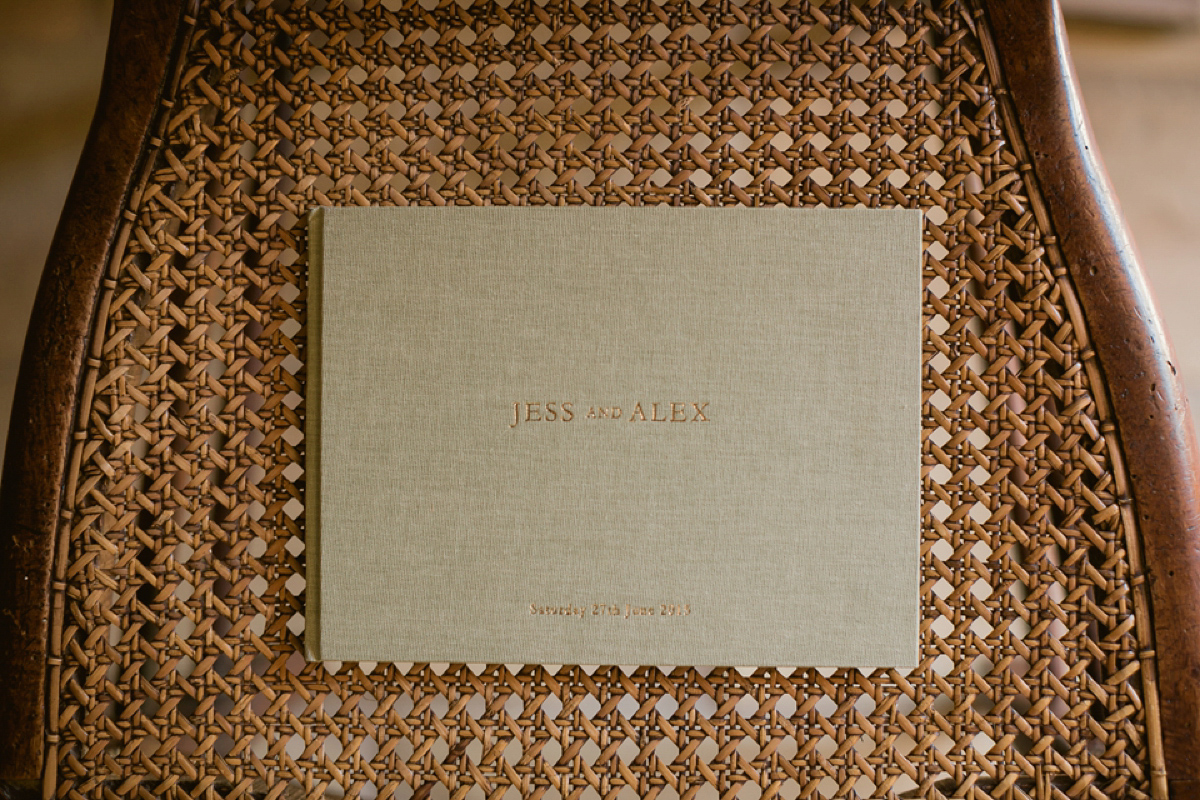 Jess wore a bespoke golden gown that looked exquisite against the traditional, Andalusian backdrop. The low back and simple cut ensured the dress was lightweight and comfortable for a day in the Spanish sun; "I wanted something different and unique to me, and so designed my own dress. I'm not keen on the 'traditional white bridal' look and wanted to change it up a bit. I decided to put my bridesmaids in white, with me in gold. I really wanted a backless dress, particularly for Spain, where you can get away with a more glamorous style."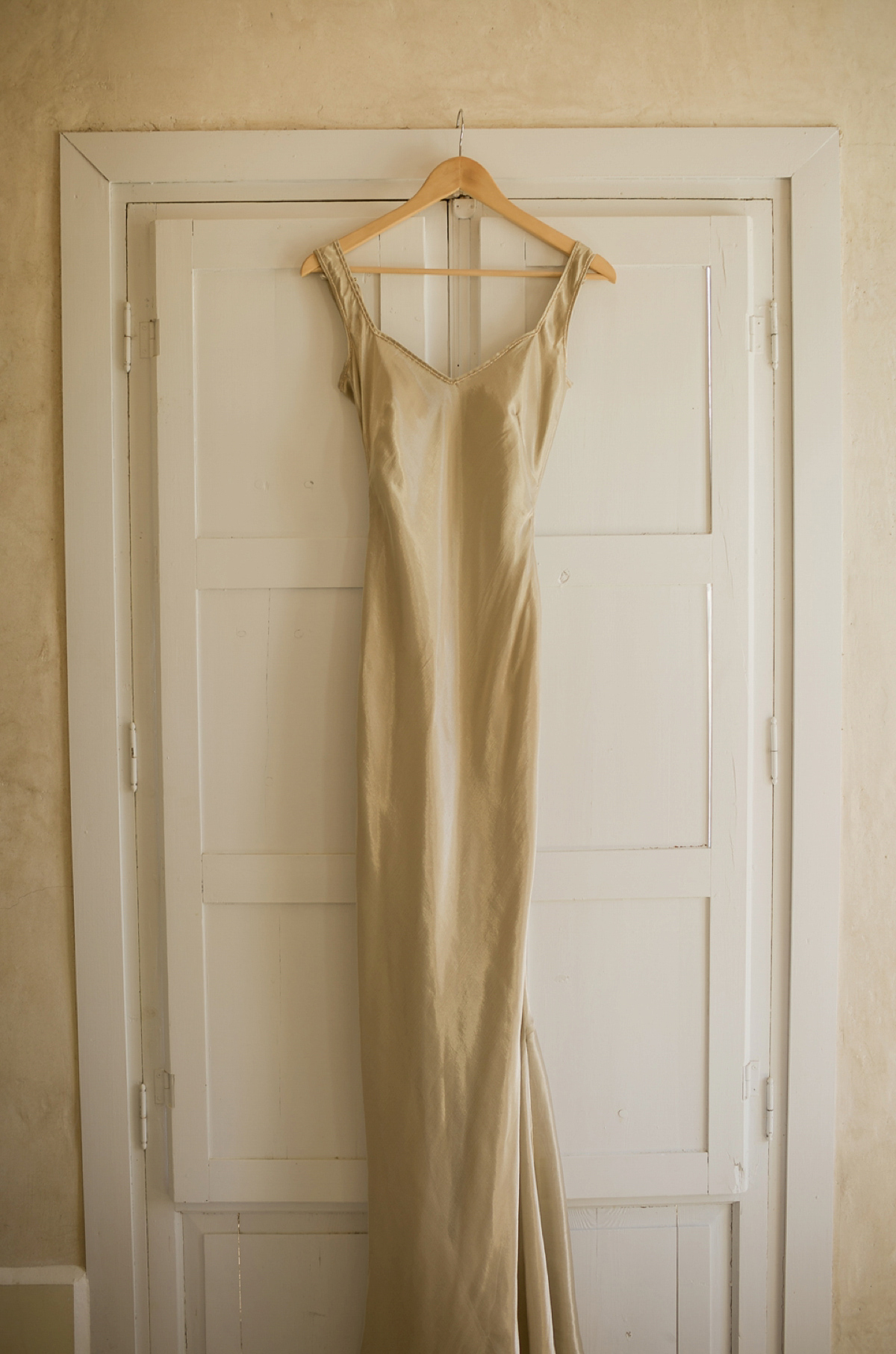 "Everything felt very obvious and 'same-y.' I also designed my dress myself! The dress was cut on the bias and made from silk gold lame with a silk satin underlay. I had about 30 covered buttons rising up the back and a soft fishtail."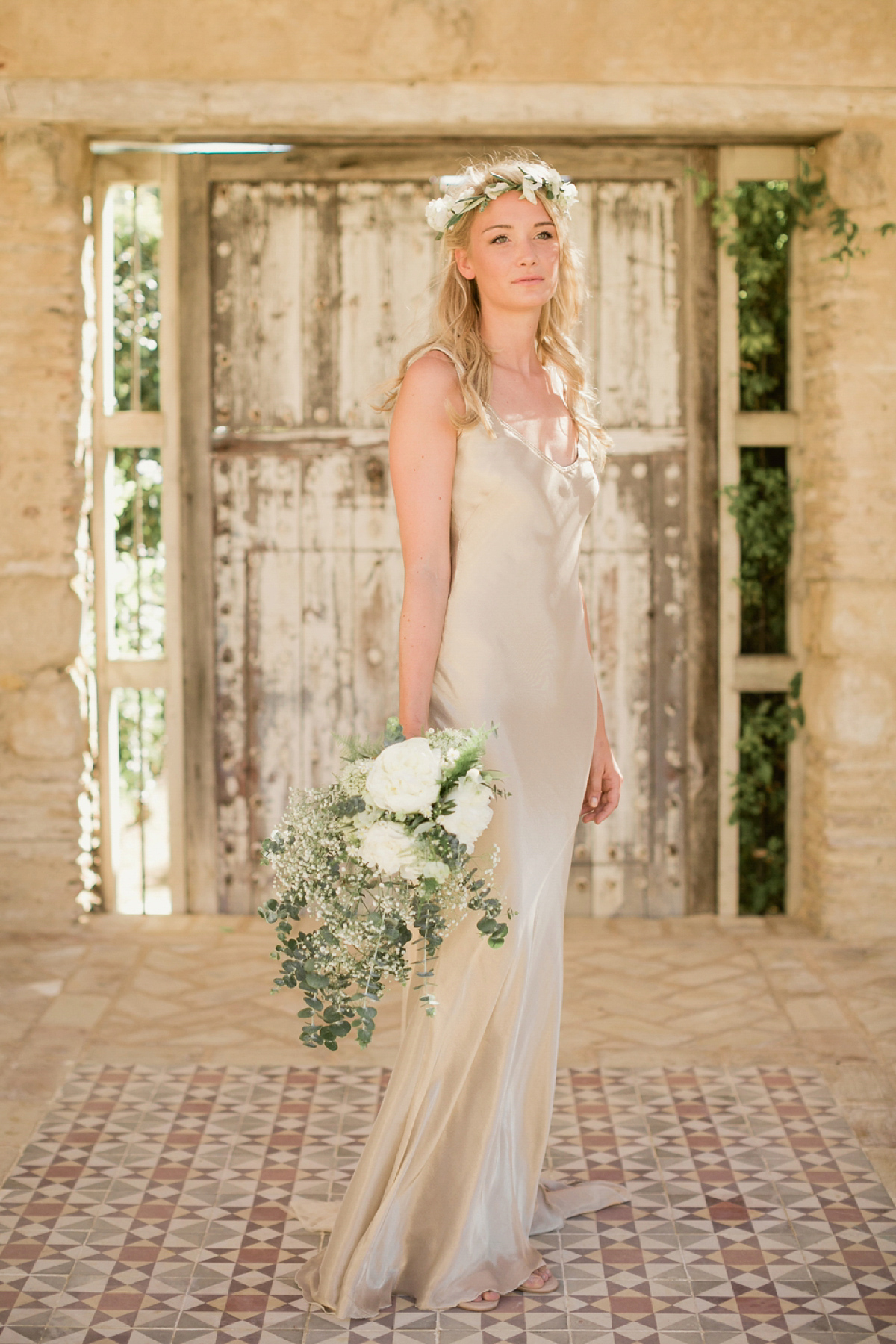 A bespoke, gold silk tulle veil was made to match Jess's gown and regional Bougainvillea flowers and Olive leaf were combined and worn as a floral crown.
I'll admit, I love bridesmaids in white. There's something incredibly fresh  in the eschewing of tradition, especially with  a Bride in glorious gold.  Being asked to choose their own dresses in a unifying colour allowed each bridesmaid to contribute a dose of their own unique style and personality into the day.
"My six bridesmaids all have very different tastes and more than anything I wanted them all to feel comfortable on the day. None of them would have been happy with a typical bridesmaid outfit and it's not really my style either! We decided to keep the colour scheme (white) as the common theme and they all wore a dress of their choosing. I loved all the different textures in the photographs and I thought they all looked stunning. We were lucky the theme was white – had it been another colour it would have been much harder to match!"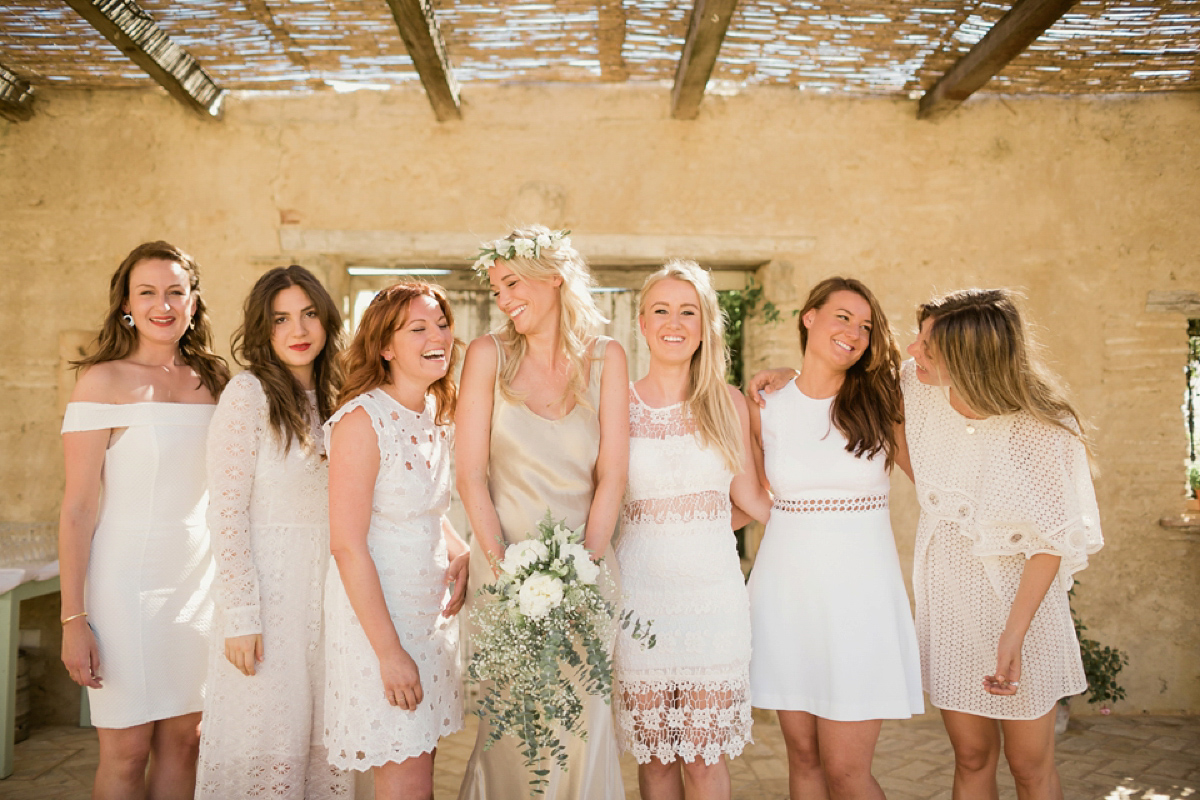 Music was a hugely important to Alex and Jess and they kicked off their varied, live playlist with an atmospheric performance by a very talented friend.
"We were grateful to our good friend Sophie Rose, of band Paradisa, who came and sung me down the aisle. She did the most beautiful rendition of one of our favourite songs, Wild Horses by the Rolling Stones. Her voice is absolutely incredible; it gives me chills every time I hear it!"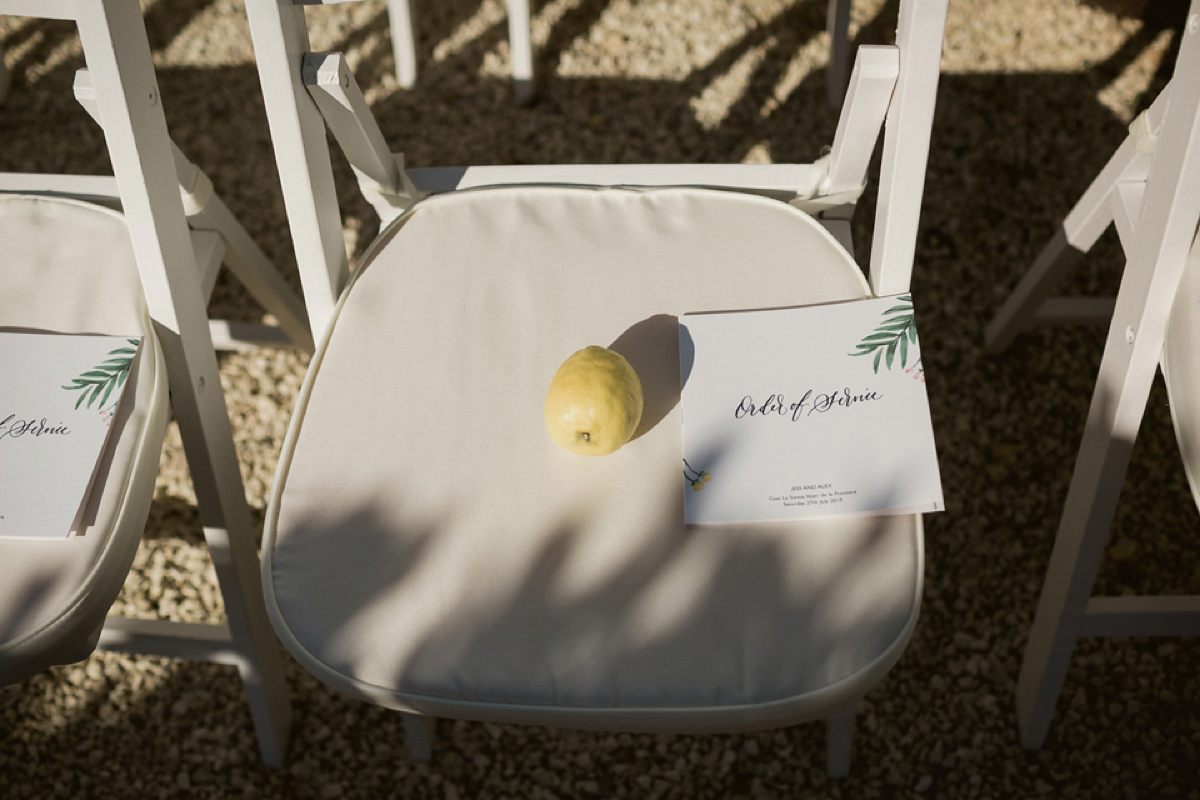 Information is key when planning a destination wedding (as my dear friend and fellow Love My Dress writer, Emily D will testify) and so Alex and Jess ensured guests were thoroughly prepped (and hugely impressed) when enlisting the help of Ruth Kaye Design for all of their stationery needs.
"Ruth Kaye Design created all of our stationery, bespoke. We had the most incredible Save the Date hard back green linen books created, with lots of information on local accommodation, how to get there, what to do whilst you're there, and a hand illustrated map inside. They were sent out inside cream linen envelopes. They were truly beautiful and such an incredible memento to keep. So many people commented on them. As the Save The Date's were so elaborate we kept the invitation very simple, creating a thick postcard sized invite, with green edging, and tied in a silk ribbon. They were stunning. We have framed our invitations as they are such a lovely memory to have on display!"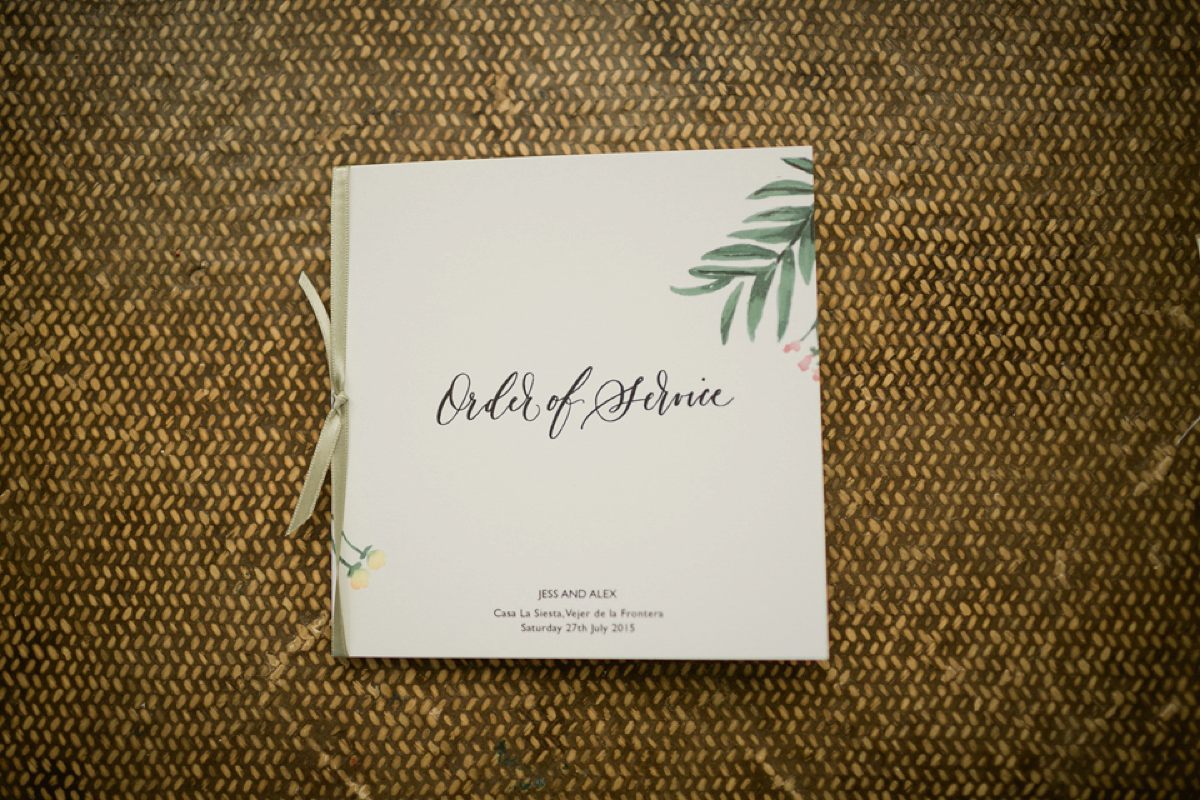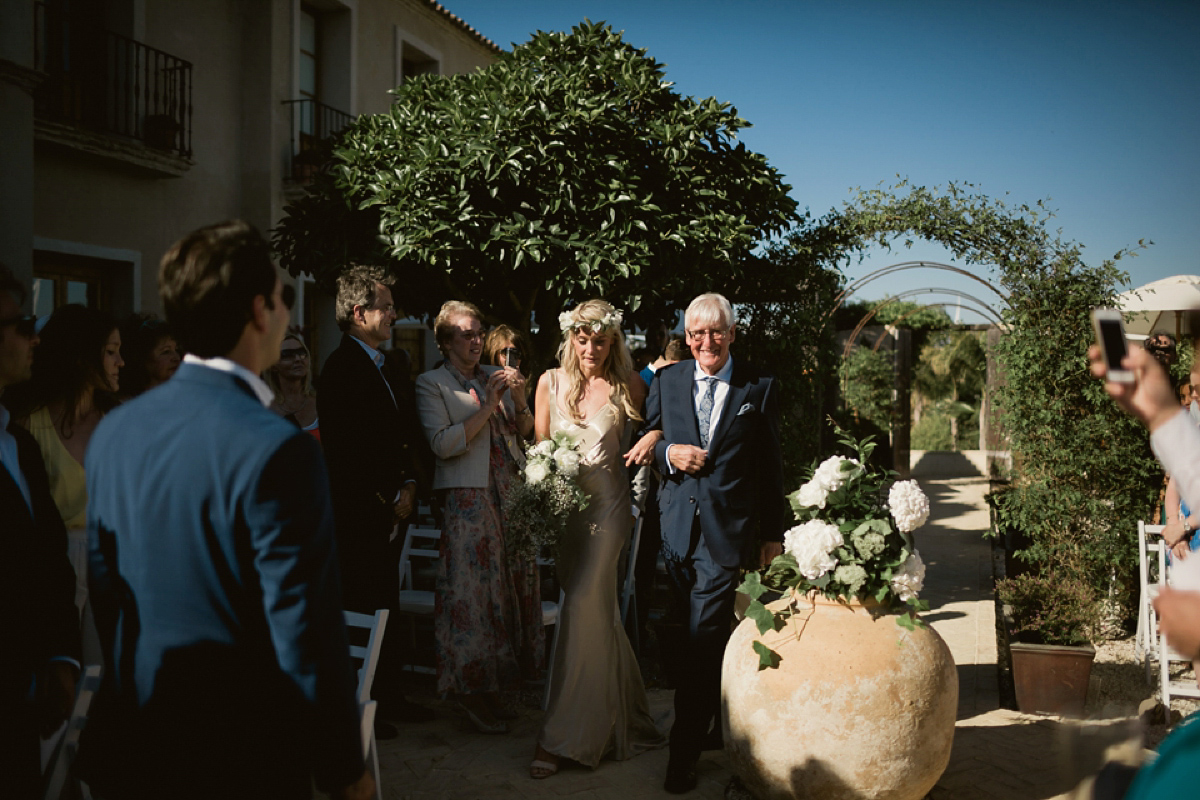 "Alex is Jewish and I'm Catholic so we got married officially in London before the Spanish ceremony, and had Alex's brother in law Adam officiate the ceremony in Spain. Although he's not ordained, he did an amazing job and it felt very intimate and personal having such a close family member officiate."
"We had three readings. As we were in Spain, my best friend Joe (who thankfully is fluent in Spanish) read a Spanish sonnet, and my Godmother Dee read the English translation. They both read beautifully and it was really special to have a Spanish poem. My Uncle Pete read Bob Marley's 'He's Not Perfect and You Aren't Either' which was brilliant as it really sums up me and Alex."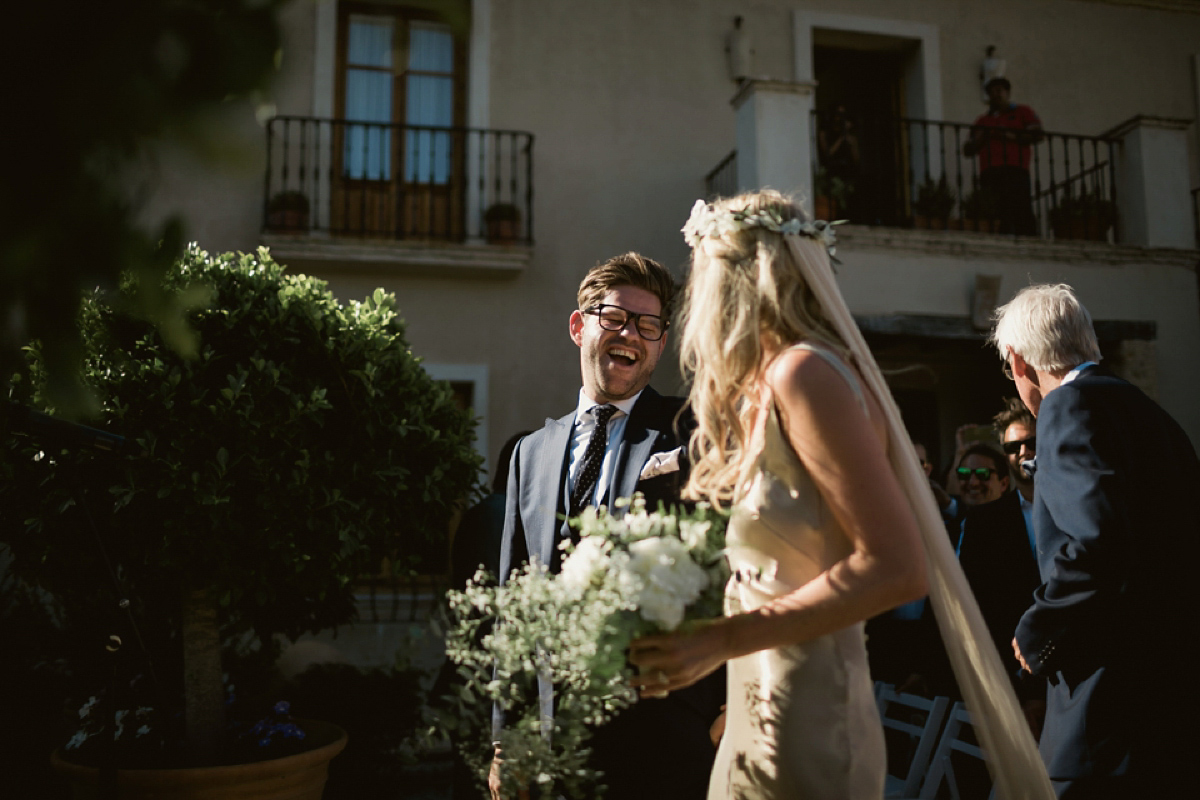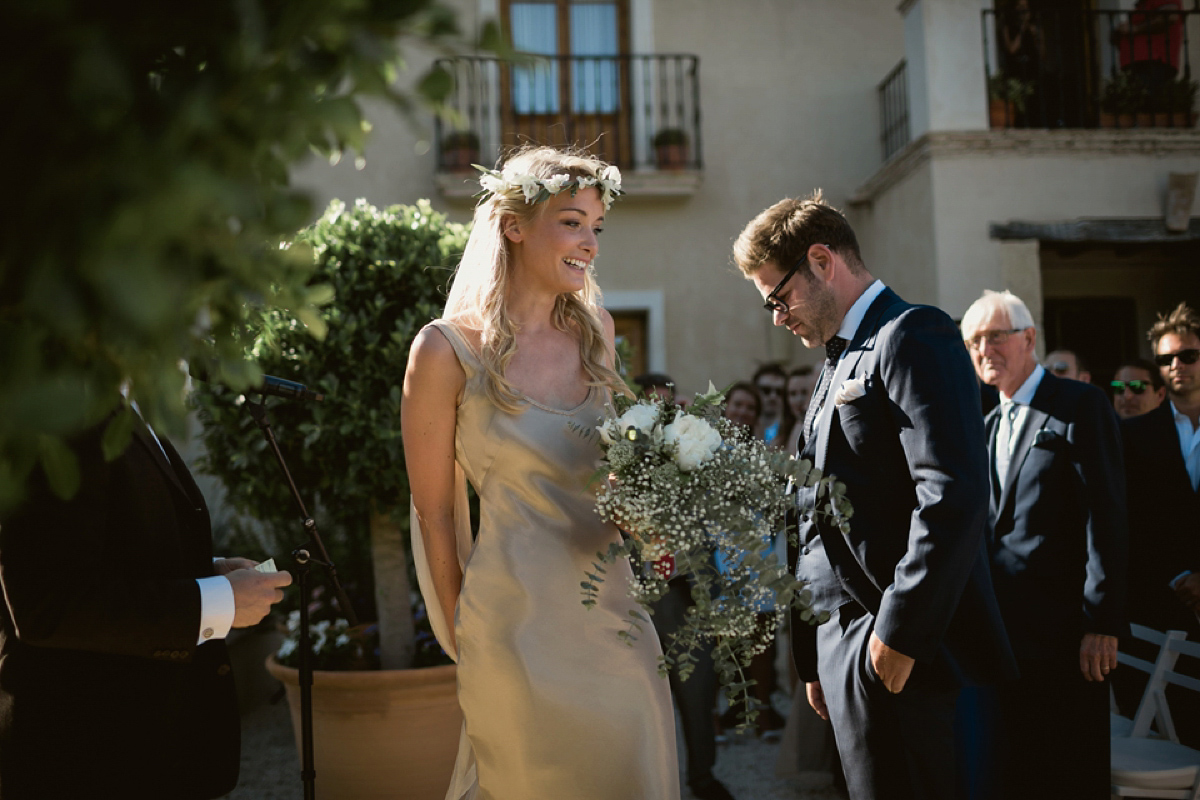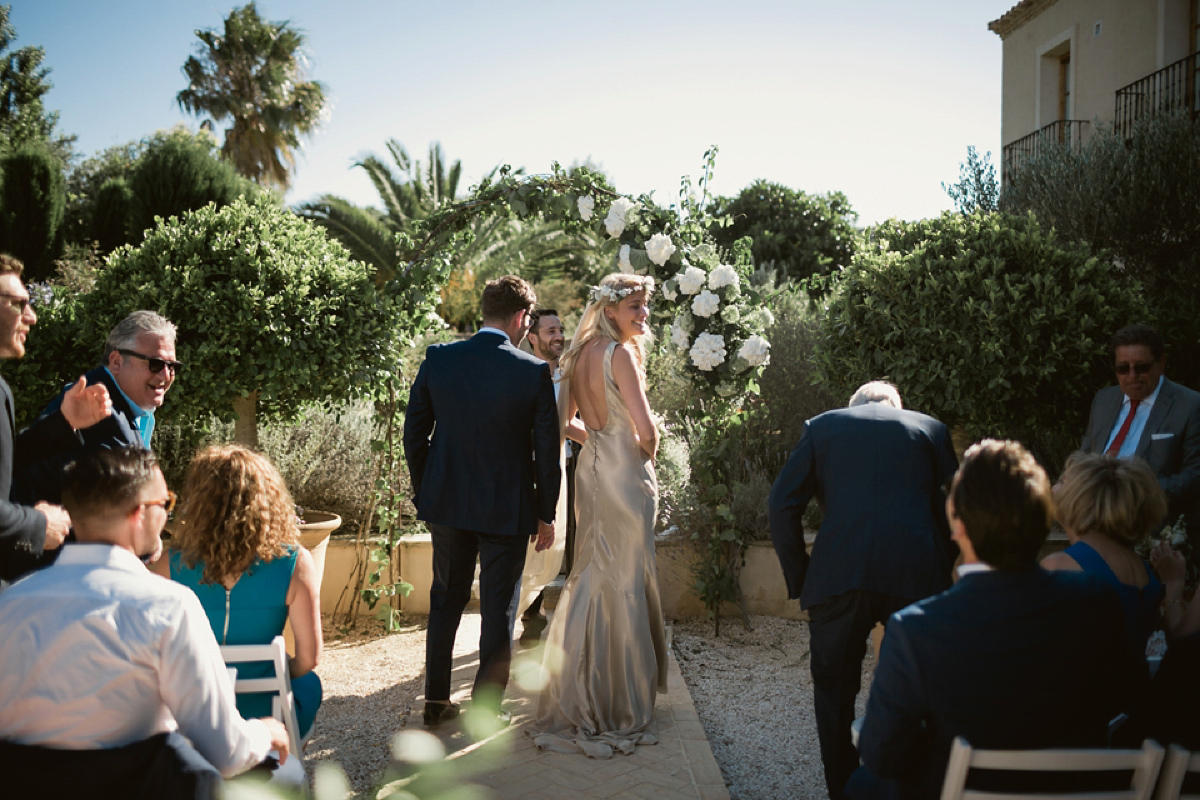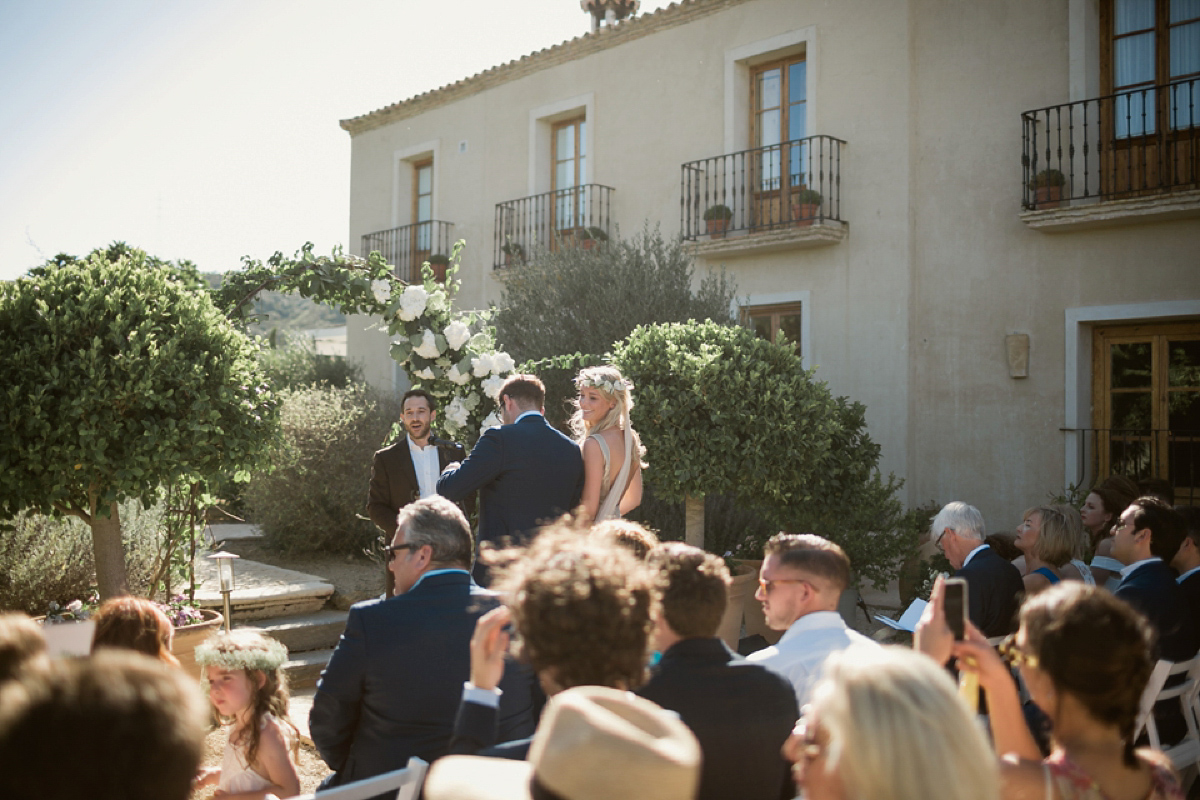 Local florists added a dash of provincial charm with beautiful regional flowers; the soft eucalyptus works perfectly with the dusty tracks and bright citrus fruits.
"We used a local florist in the town – they didn't speak a word of English which was a little challenging, as we don't speak Spanish (we picked up quite a bit by the end and Google Translate helped in between!) Casa La Siesta is such a beautiful venue that you really don't need much extra in terms of flowers, but we were pleased with them on the day. I loved the bridesmaid bouquets in particular. We had simple white flowers and lots of foliage – lots of bougainvillea, hydrangeas, olive leaf and eucalyptus."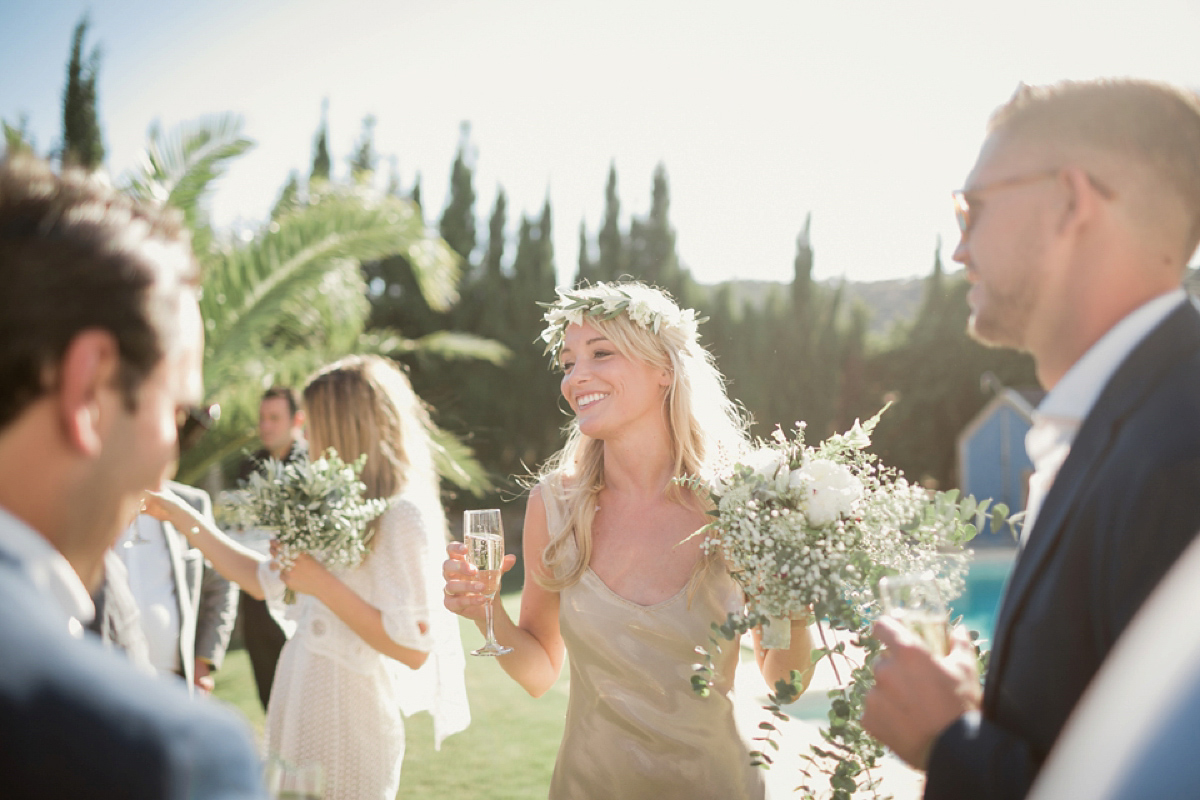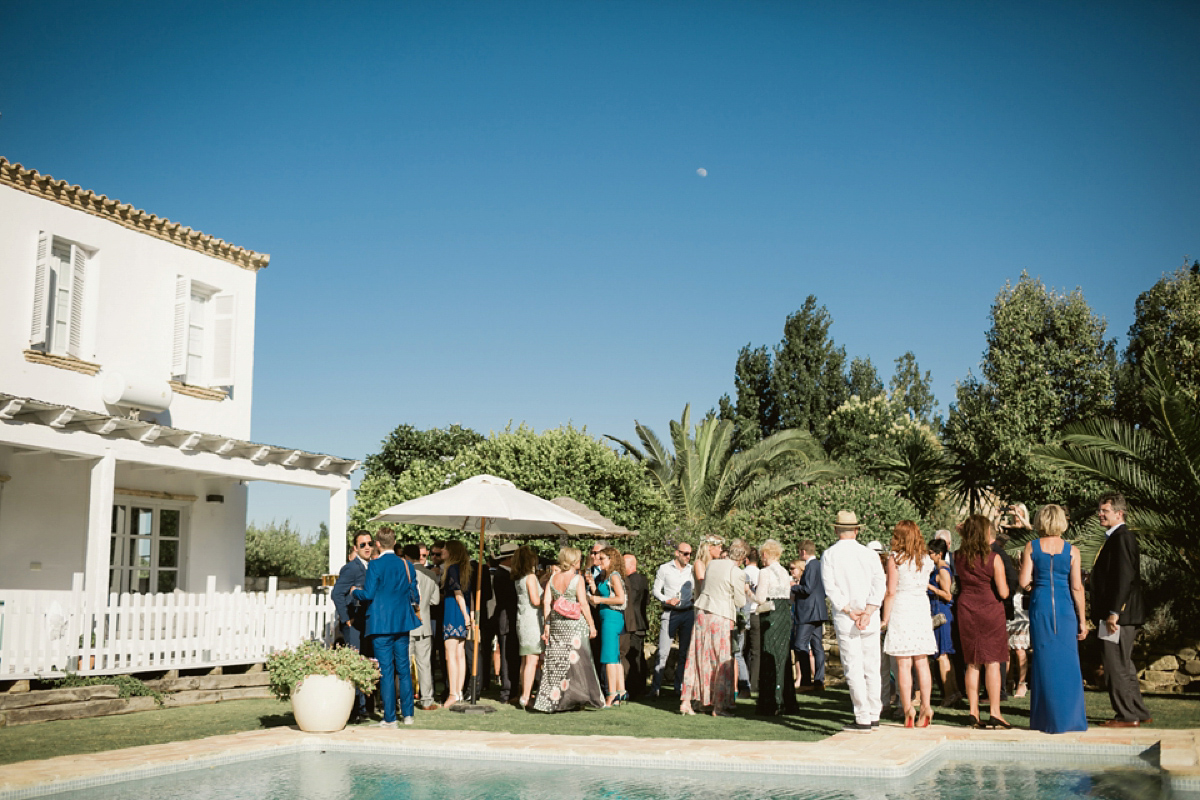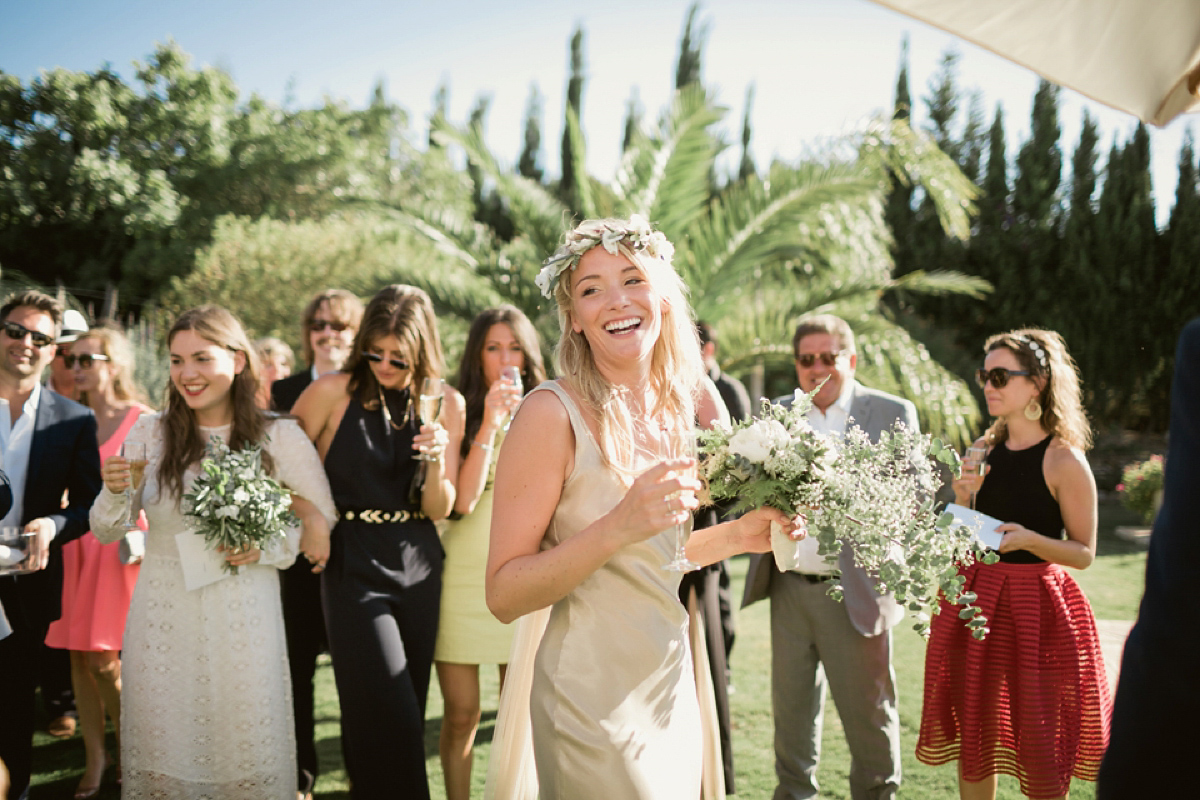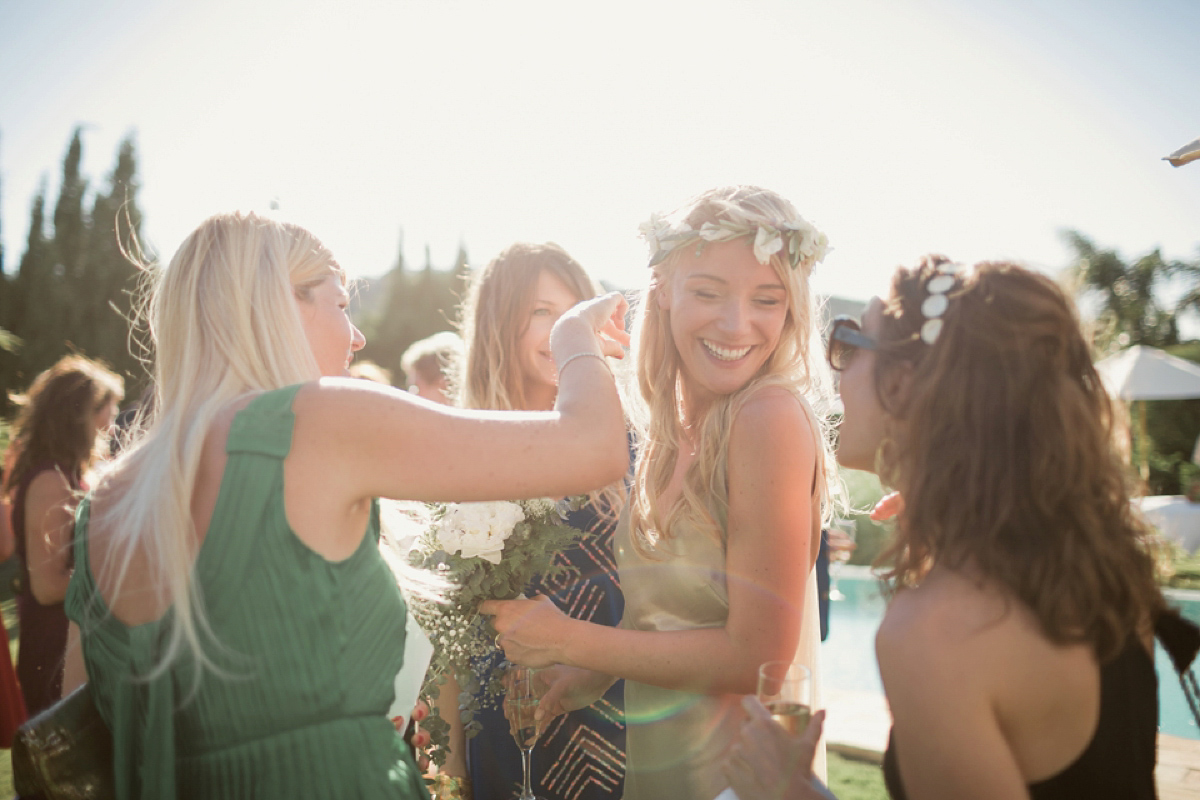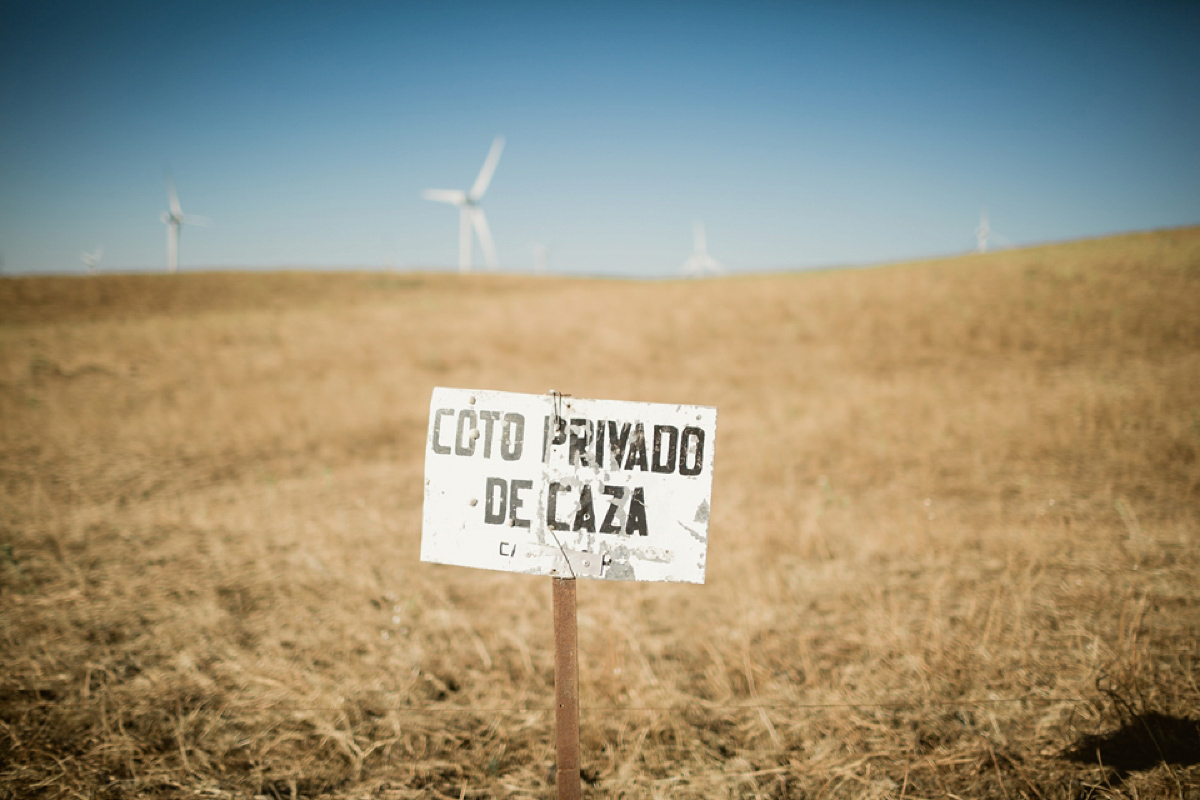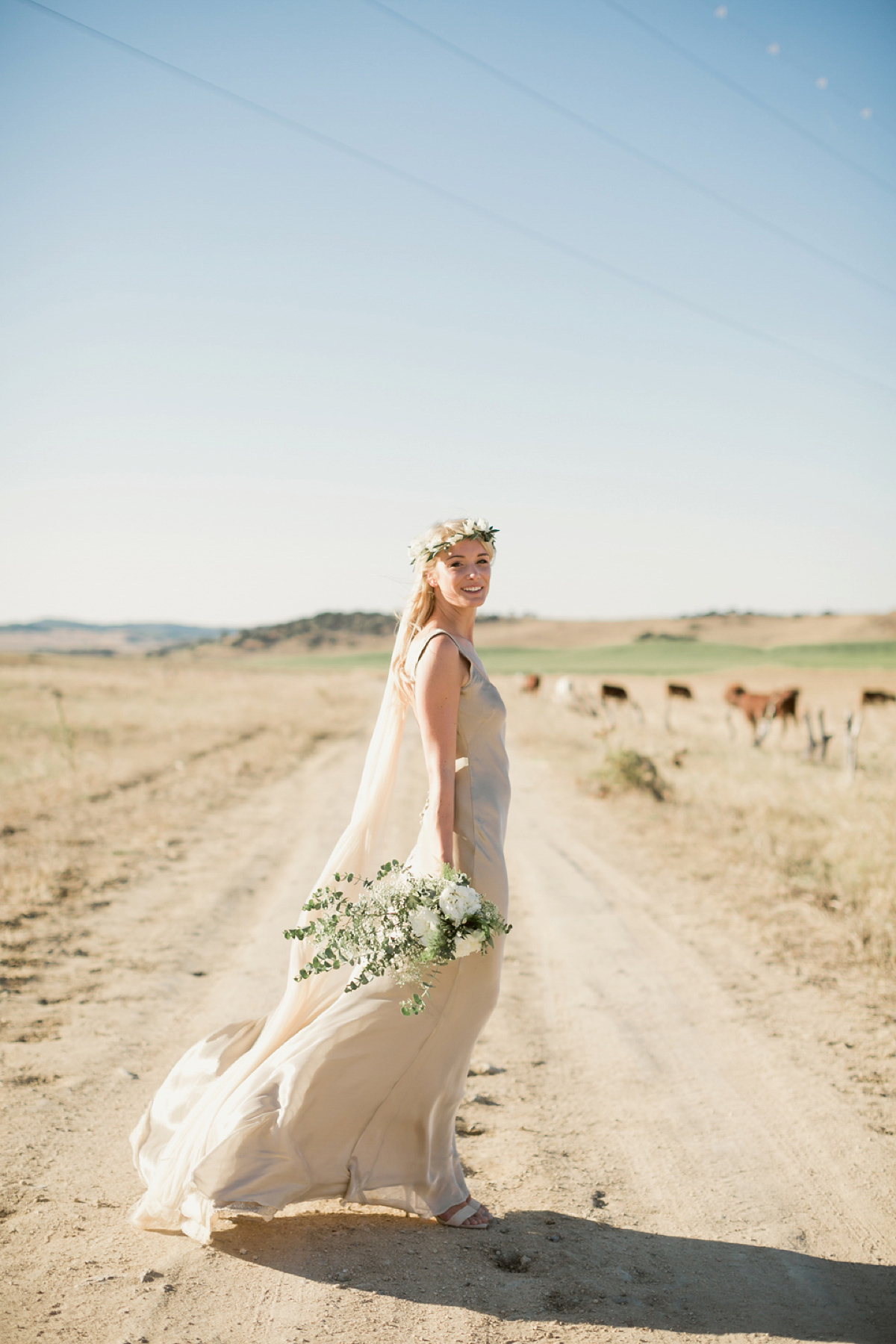 "We wanted something unique and impactful for our table plan, and it also had to be something we could easily replicate abroad – we couldn't really lug a huge chalk board to Spain! We set up a table of 100 oranges, and each guest had an orange with their name printed on the front and table number on the back. The amazing calligrapher Lamplighter London created the name cards that we pinned into each orange. We were really pleased with how it turned out – a really impactful and unusual table plan."
Proving they know how to throw a *serious* party, the Bride and Groom went for a unique combination of saxophone and DJ to get guests on their feet in-between dinner courses and into the wee hours. What a glorious setting to be making memories with your most favourite people.
"The music and vibe of the party was really important to us, we spent a lot of time and effort getting this right. We flew out Alex Session, a DJ from London, to play at the wedding. We'd heard him play at a club in Soho and decided we had to have him – he just played brilliant music that we knew would get everyone dancing. We also arranged for a saxophonist, Dax on Sax, to come out from Manchester and play alongside the DJ. It sounds like a bit of a random mix but it worked so well. Dax was absolutely brilliant; between him and Alex the DJ they created the most amazing atmosphere and had everyone dancing until the early hours. We loved the idea of the sax because it was a bit different, and something that we hadn't really seen done before."
"We wanted some form of live music but didn't want the traditional wedding band. Both the DJ and sax played throughout the meal as we had dancing in between each course. This is something that most Jewish weddings do, and it really helps to keep the momentum and party atmosphere going. We both hate long dinners at weddings and so it was the perfect antidote."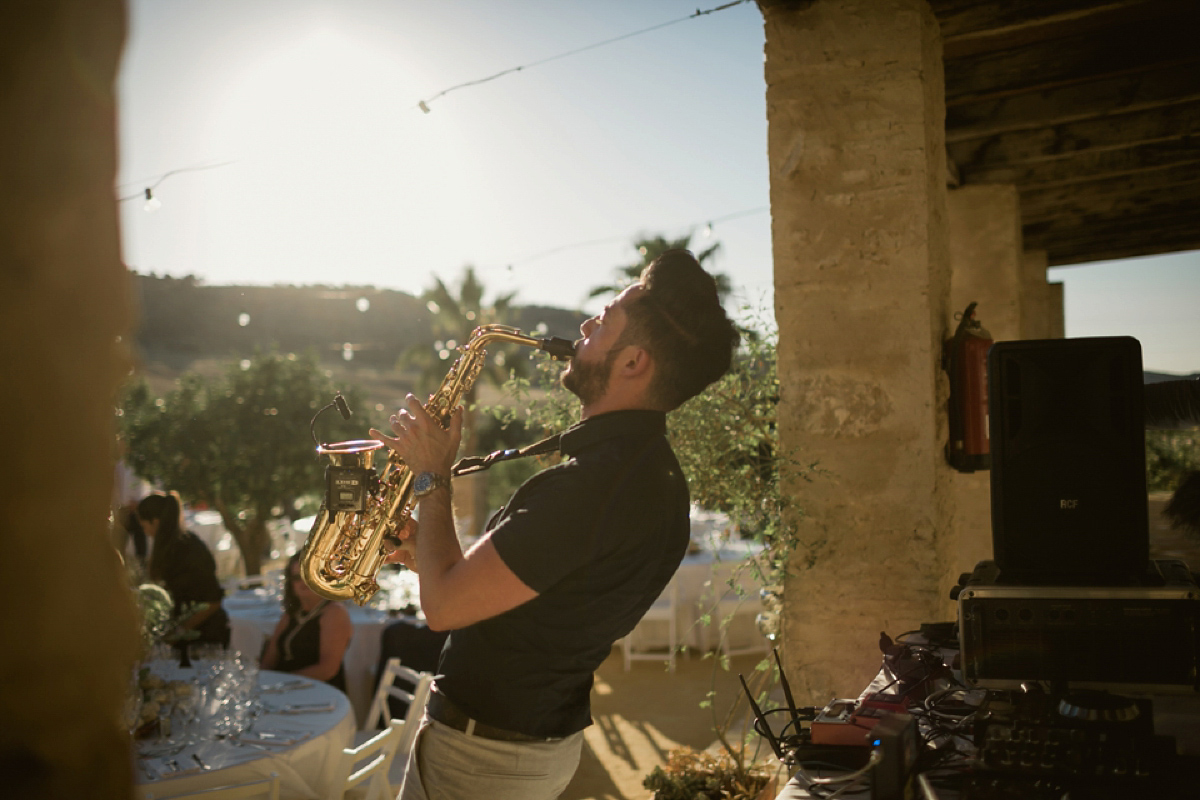 Hangover kits were given as favours, which, by the looks of these photographs, were super welcome in the morning!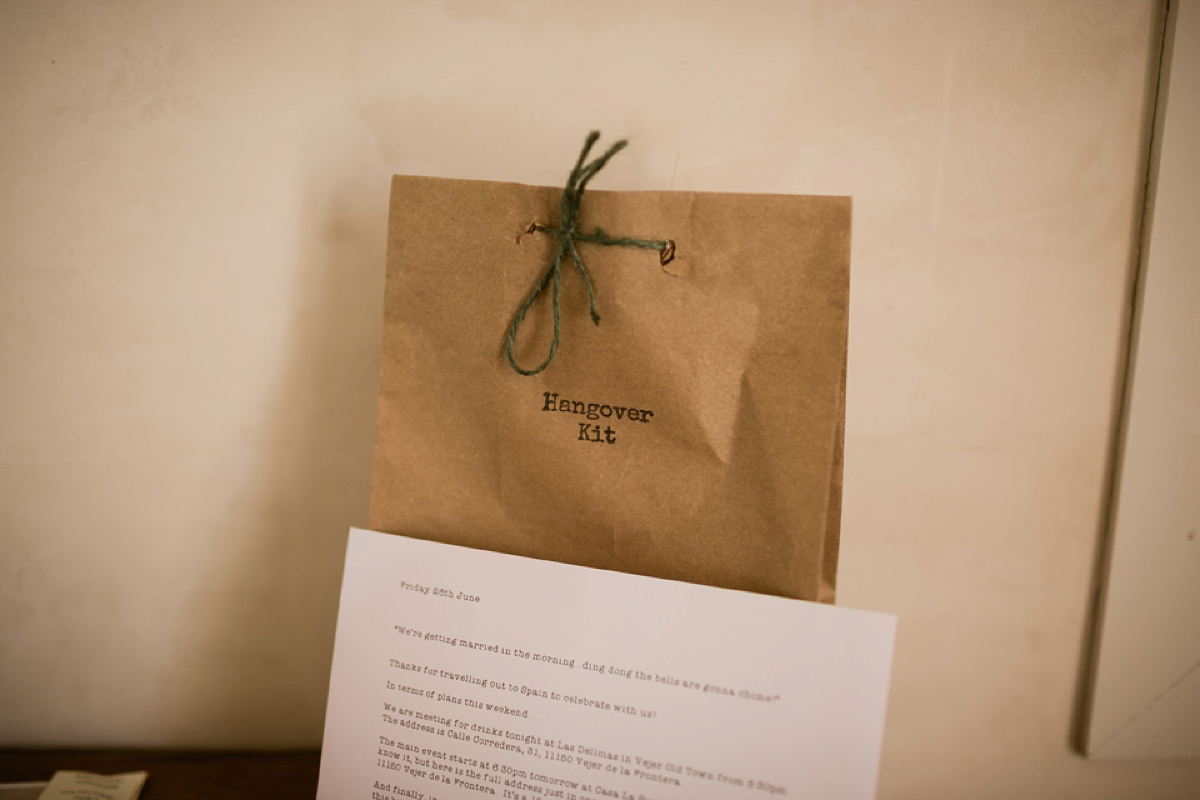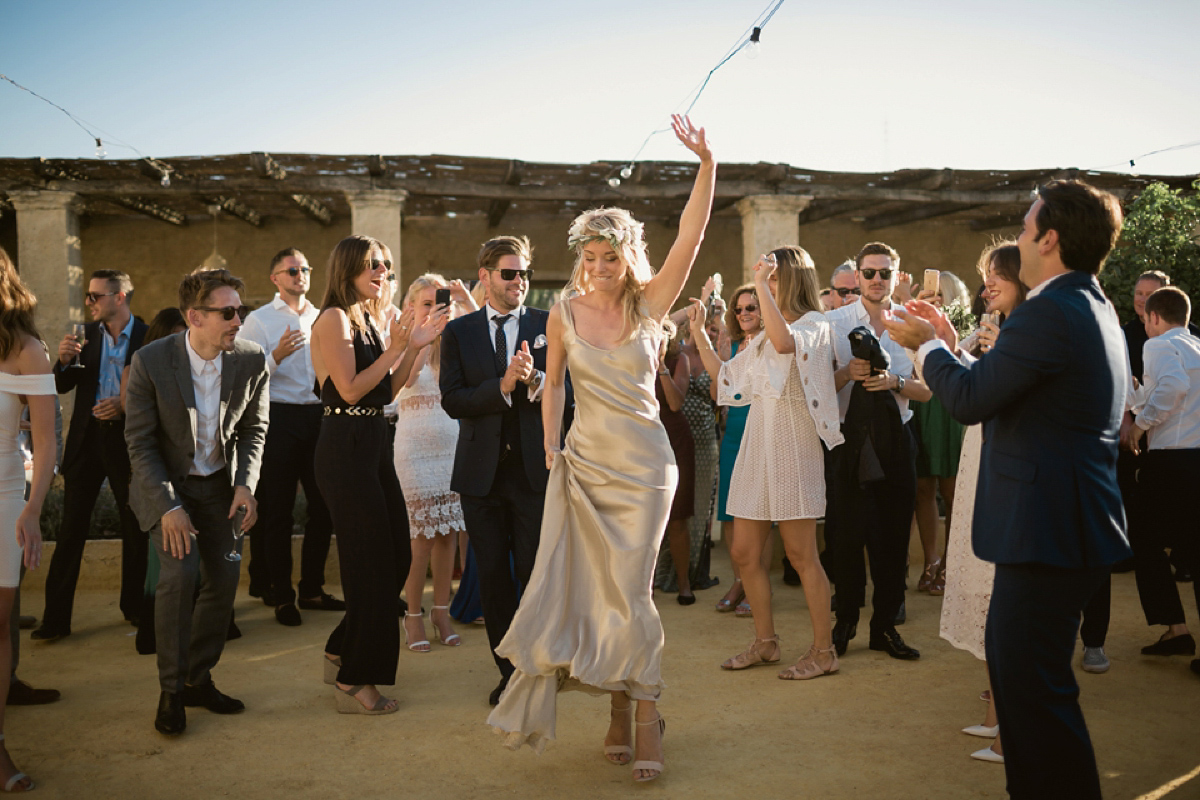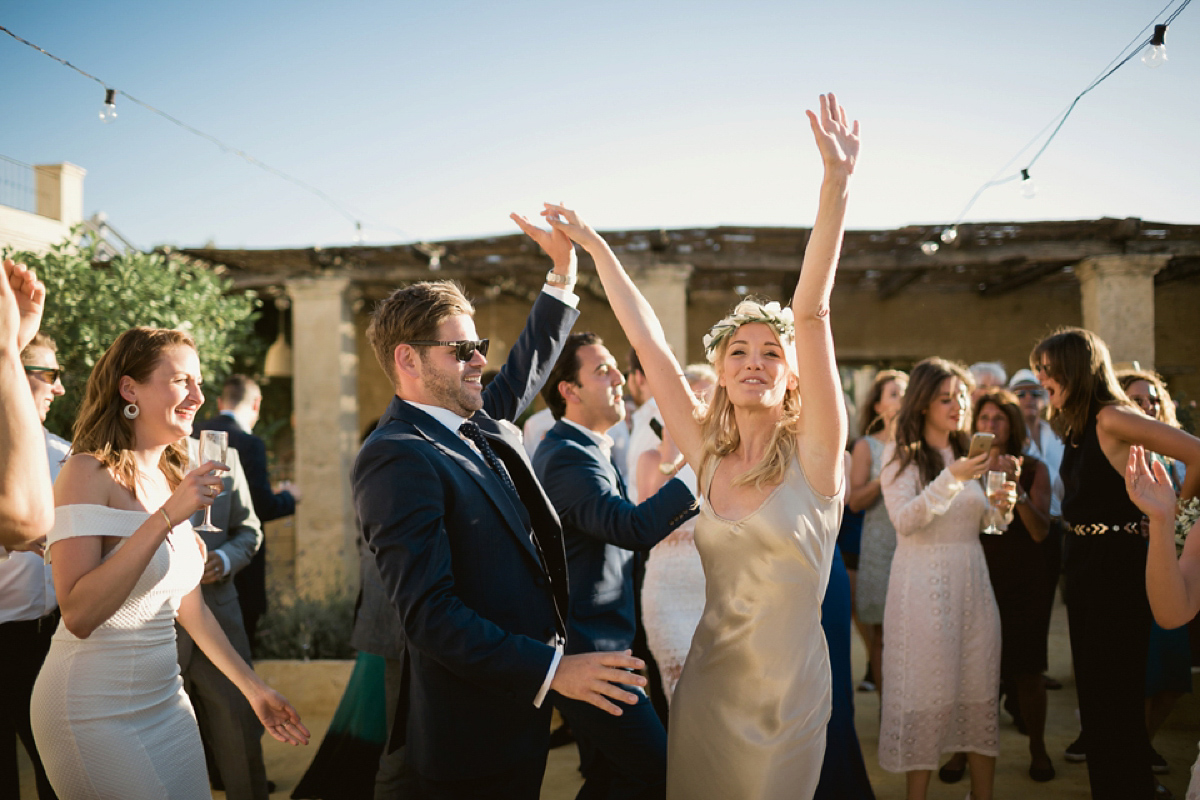 Groom Alex wore a bespoke Norton and Townsend suit whilst being thrown into the air on a sheet and paraded above guests on a chair, as is in keeping with Jewish tradition. These pictures really made me smile, such total joy and happiness on the faces of each and every person in attendance.
"The traditional Jewish dancing was brilliant – one of our favourite bits of the evening. We found a recording of traditional music which the DJ played right at the beginning. The men threw Alex up in the air and on sheets, and we were both held up on chairs – it was very theatrical. It set the tone for the party and people didn't stop dancing after that!"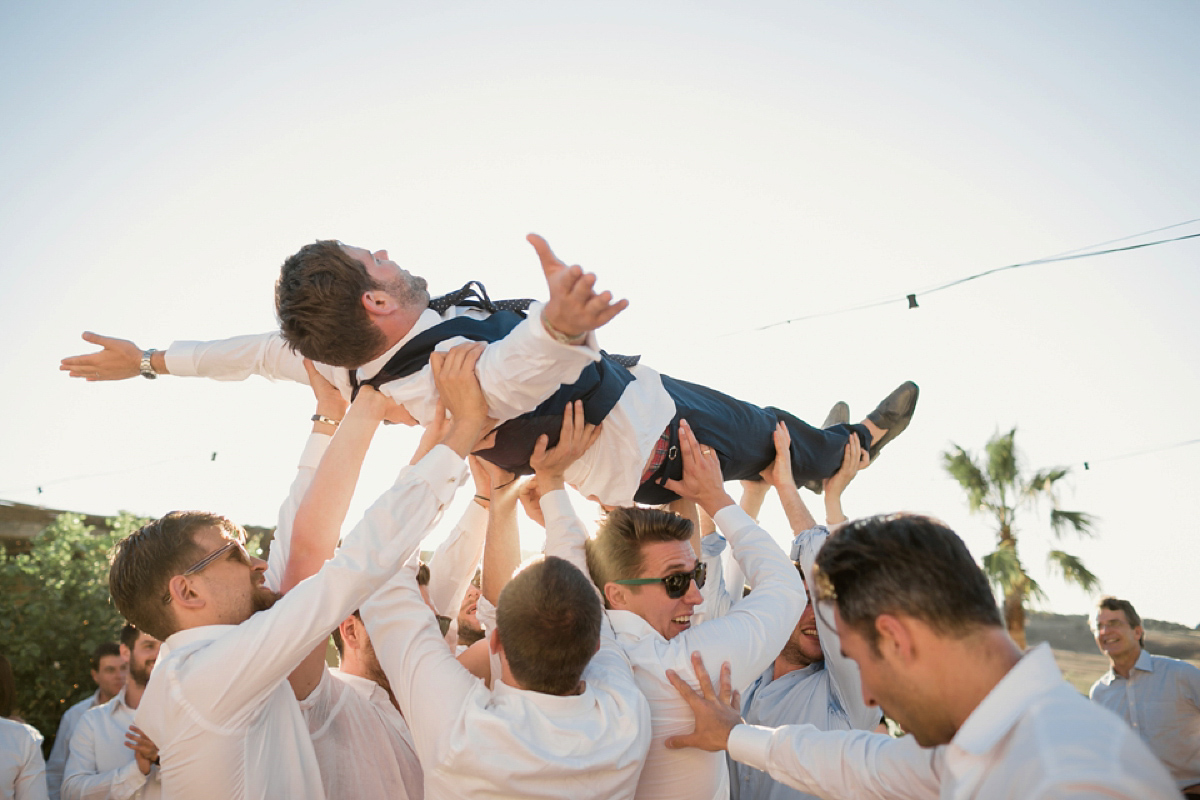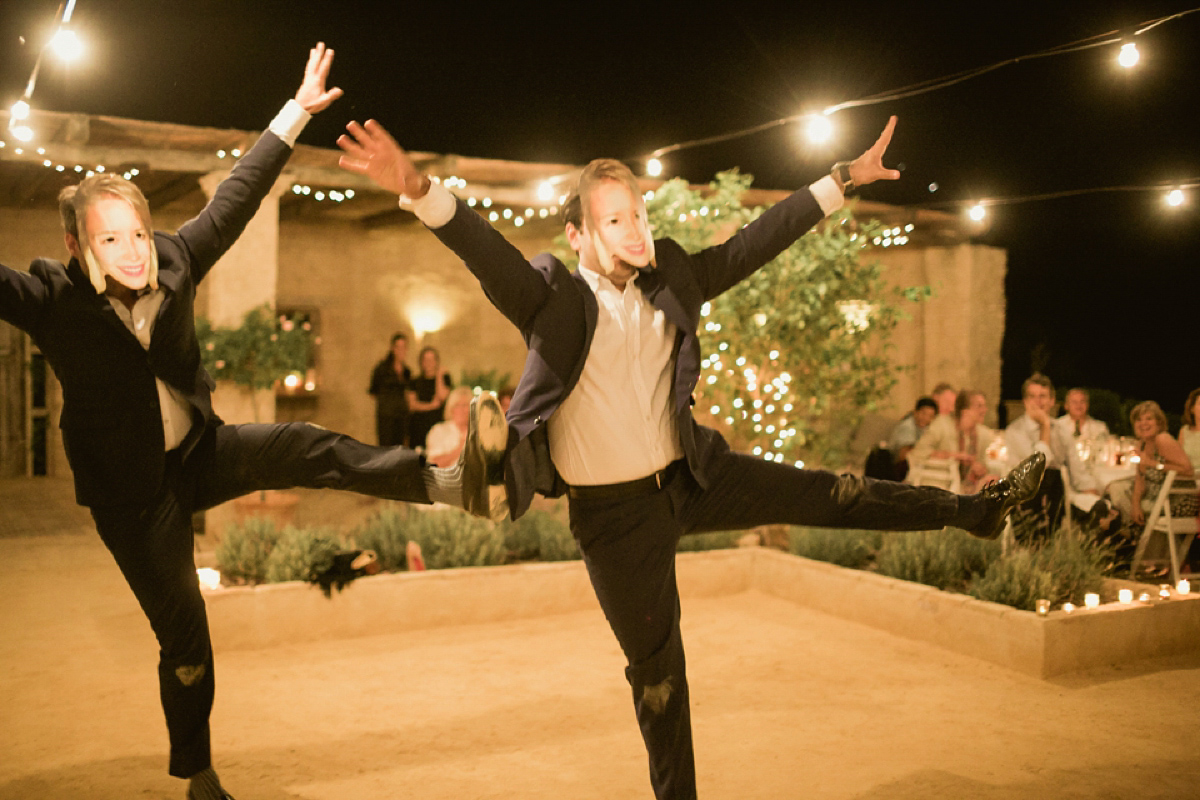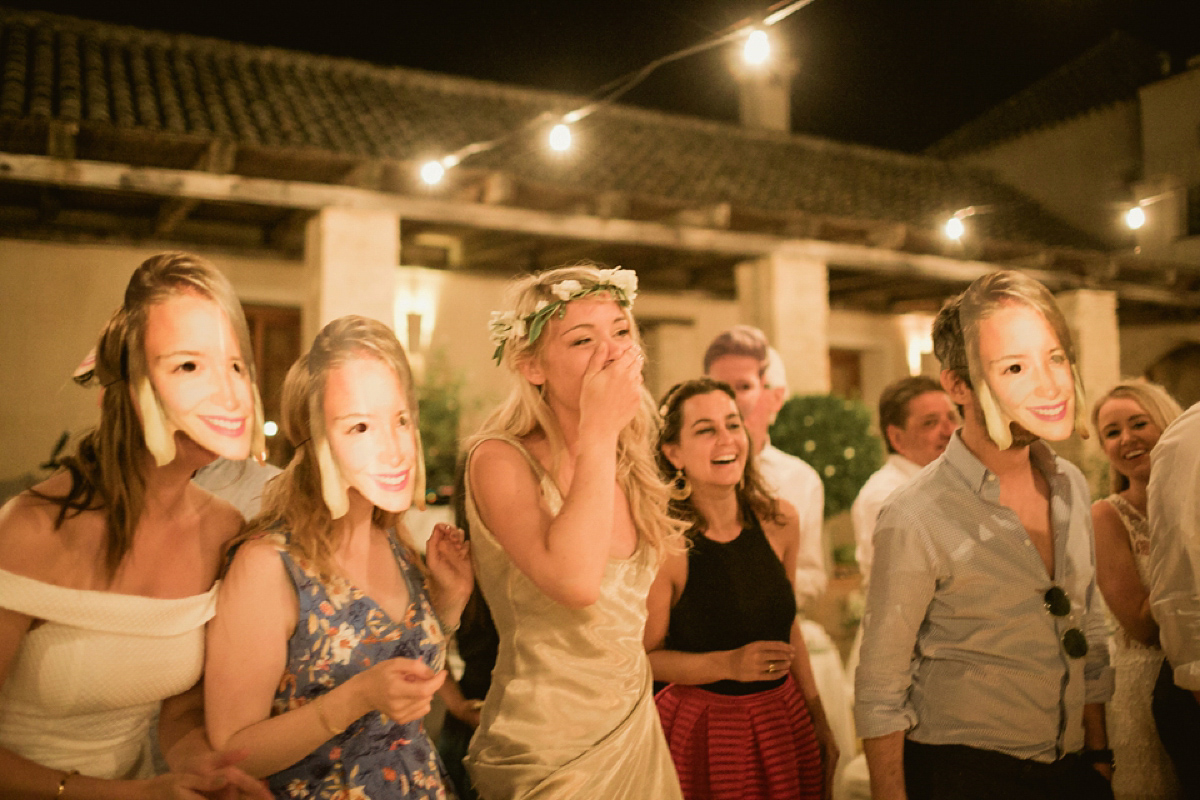 Words of Wedded Wisdom
"Take a minute to sit back with your new bride or groom, and to savour the memory. It helps slow the day down. It's going so fast, that before you know it, it's over – it's important to take a step back to enjoy it and go at your own pace. We used local videographers Boda Films and I'd really recommend getting a video shot, we were initially in two minds but its a lovely memory to have."
Does anybody else have a very strong urge to book a summer holiday right away? I'm going to blame photographer extraordinaire Tom Ravenshear and his radiant images for giving us all serious wanderlust. Alex and Jess, I'm sure I speak for the whole Love My Dress community when I say I would like to attend a party organised by you guys. What an incredible, sun drenched celebration; thank you for sharing it with us.
Enjoy the rest of the little things that come your way this week ladies, it's (second) hen do time for me!
Emily B xx