Good afternoon lovely blog followers – I recently featured a most beautifully curated and photographed fine art inspiration shoot, the photographer for whom was Rebecca Goddard. I adore Beccy's work, it has such a naturally glamorous and elegant quality about it – undoubtedly part of the reason why it feels so at home and in keeping with Love My Dress.
Jess, who works in PR, married restaurateur Alex on 27th July 2015 at Home House, London.  For me, this beautiful wedding epitomises effortless elegance, and that dress of Jess's stole my heart from the moment I saw it.
"I wore a 1970's Ossie Clarke dress bought in a vintage shop in Notting Hill. Ossie Clarke is one of my favourite designers and I had always wanted a dress by him. The shop we found it in was a veritable treasure trove of vintage clothes and definitely not your average bridal experience – I loved it!"
Photography by Rebecca Goddard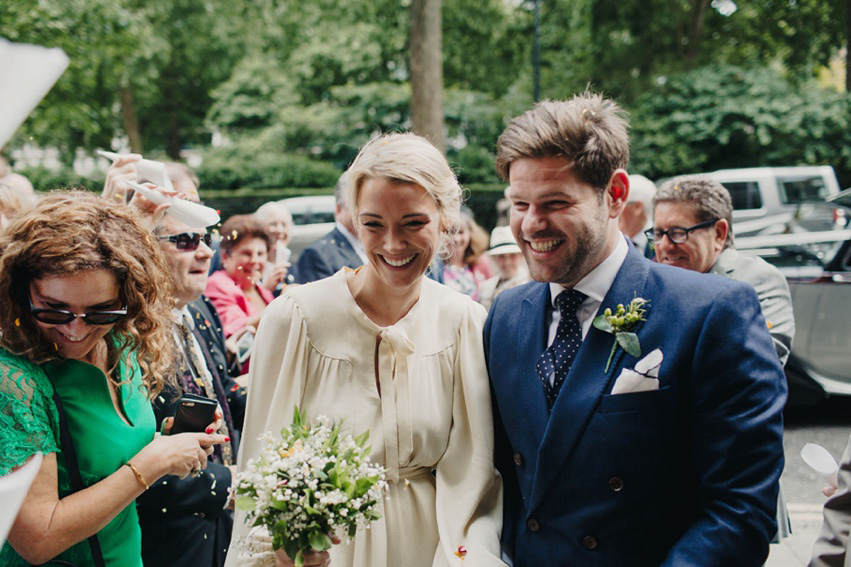 "We'd been together for seven years and had been engaged for 18 months by the time we got married. We knew we wanted a classically beautiful afternoon; silver service, simple flowers, jazz music and afternoon tea. The beauty with Home House is that it's a stunning venue in it's own right- you don't need much to bring it to life."
Shoes by Bionda Castana via Harvey Nichols
"Our amazing stationer Ruth Kaye initially suggested an Alice in Wonderland theme for our wedding invitation, which we loved. The stationery set the style and theme for the wedding – lots of cream, green and golden colours and tones."
1970's vintage dress by Ossie Clarke
"We worked with the amazing Rob Van Helden on our flowers. What can I say about Rob and team apart from the fact that they are incredible! The flowers honestly took my breath away (sounds cringe but so true) they were spectacular. Our stationer had a really lovely idea for the table plan – filling 8 to 10 vases of varying sizes with wonderful cream and white flowers and putting the table cards in each vase."
"We always wanted to get married abroad but were aware that a lot of family wouldn't be able to make it over there. So we were very lucky and had two events instead! One in London for family only, and a big party in Spain for friends and close family. We knew Spain would be a big party so in London, we wanted to do something completely the opposite – elegant, traditional and classically 'London.
After visiting a number of venues we finally settled on the idea of having an afternoon tea. Home House was just perfect –a beautiful venue steeped in history, right in the heart of the West End, and the tea was beautifully presented. It had more charm and character than many of the other venues we visited, and the event planner on site, Alice, was so helpful. We immediately fell in love with it."
"I didn't have any bridesmaids in London – I wanted to save it all for Spain!"
"Stationer Ruth Kaye Design did everything for us – giving us styling tips as well as designing the stationery. They offer a completely bespoke, personalised service that makes you feel very special. It was such a pleasure to work with the team there."
"For the Alice in Wonderland invitation they designed an A4 sized thick card, with gold embossed calligraphy by the wonderful Paul Antonio. The edges were gold bevelled– truly stunning and unique. The envelope was closed with a red wax seal with a stamped bunny. They also did wonderful menu cards, Order of Service and table cards."
]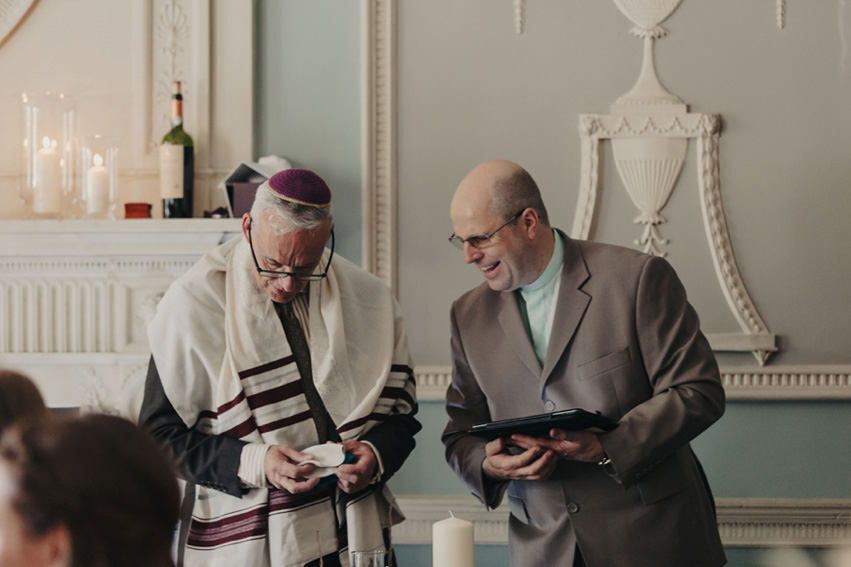 "My family surprised me with a wonderful vintage Rolls Royce called Mabel – it was such a lovely touch and a fantastic experience to travel in a car with so much history and character."
"Alex is Jewish and I'm Catholic, so finding someone to bless the wedding was hugely challenging and after a while, it looked like it wasn't going to happen. We both wanted a religious blessing, particularly for our Grandparents, who are religious. My family minister Rev. Tony Miles kindly agreed to lead the Christian side – but it remained difficult finding a Jewish lead. In the end after many months of phone calls to charities and synagogues, Alex stumbled upon Laurence Smith, a Hebrew teacher who kindly agreed to do it."
"We're both so glad that we made such an effort to make our ceremony happen as it was one of the highlights of the wedding. We joked that it was a Jew-'ish' wedding and it was – Tony and Laurence merged the best bits of Judaism and Christianity to make a truly personal and intimate ceremony.
We embraced Jewish traditions such as the Chuppah, the breaking of the glass and circling, as well as Christian prayers and readings."
"My Dad, Patrick, walked me down the aisle to the sound of 'La Vie en Rose' (the Louis Armstrong version – gets me every time!).  He did so well in holding it together!"
"No one (including Tony and Laurence) really knew what to expect but it just worked brilliantly. It was truly special and we're so grateful to both Tony and Laurence for all the effort they put into it. So many of our guests came to me afterwards to say that it had been one of the most personal and loveliest ceremonies they'd been to."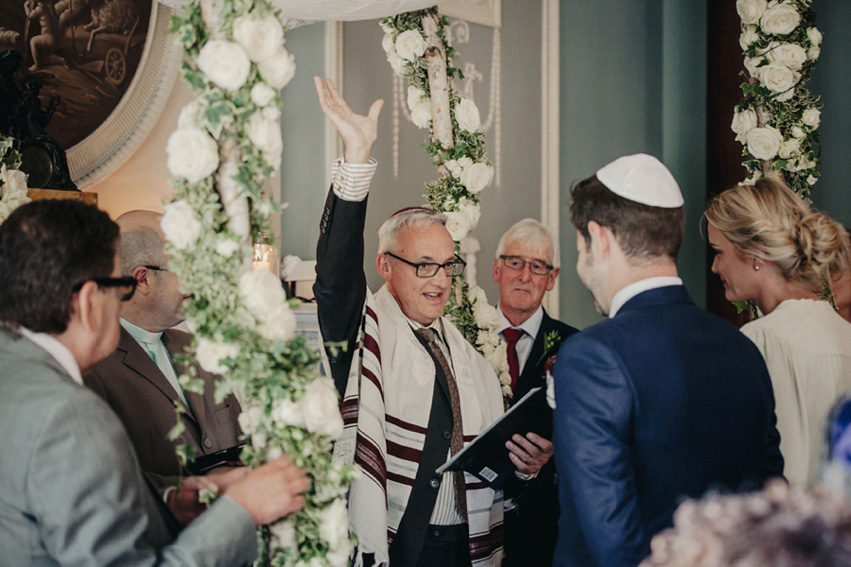 "My Uncle read Shakespeare's Sonnet 116 and Alex's cousin Rachelle did a beautiful personalised reading of Proverbs 31."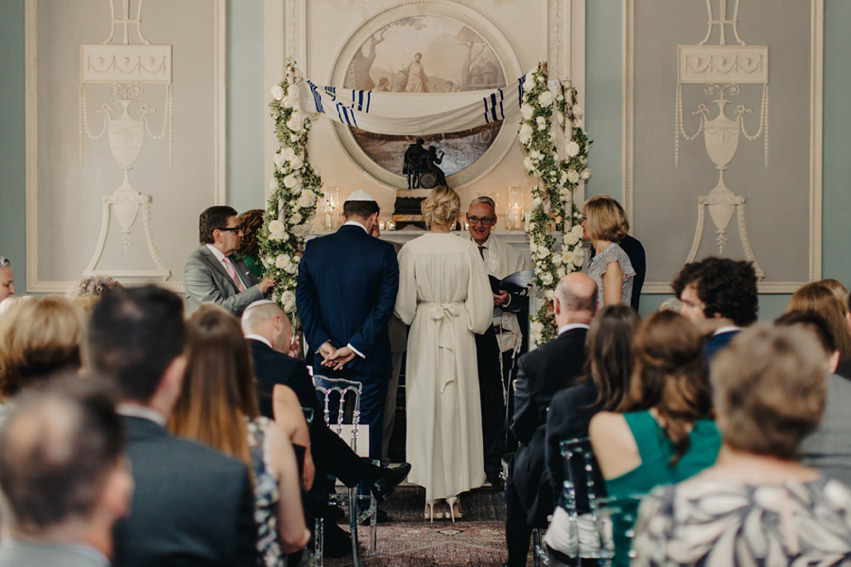 "My favourite jeweller is a New Zealand design trio Zoe and Morgan so I knew exactly where I wanted to go when choosing my rings. My engagement ring was bespoke – Ruth (one of the three siblings) did the most amazing job on the design. I chose an art deco style with a rose cut diamond in the middle – it is a traditional Victorian cut as it shines best in candlelight – with brilliant diamonds around the edge. It is totally unique to me and I absolutely love it.
I'd really recommend working with Ruth and her team at Zoe and Morgan – their designs are so cool but very classic, and totally unique."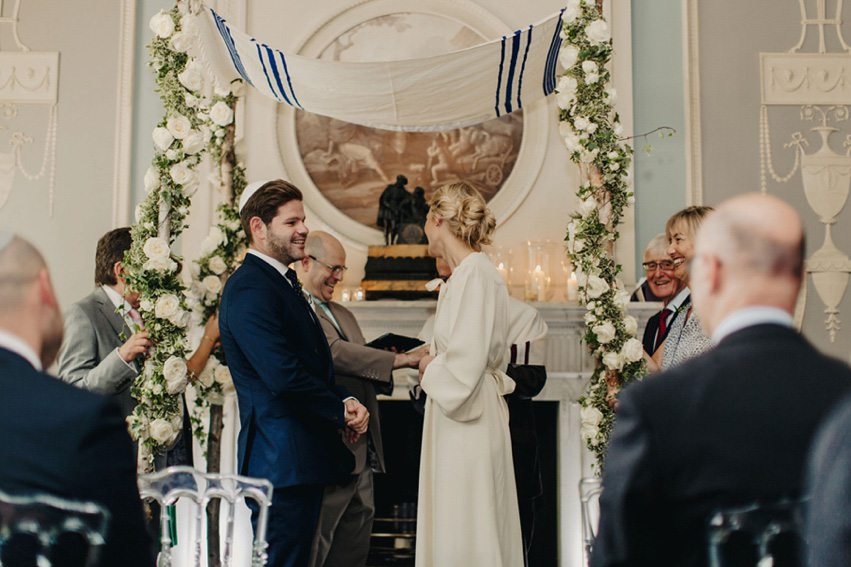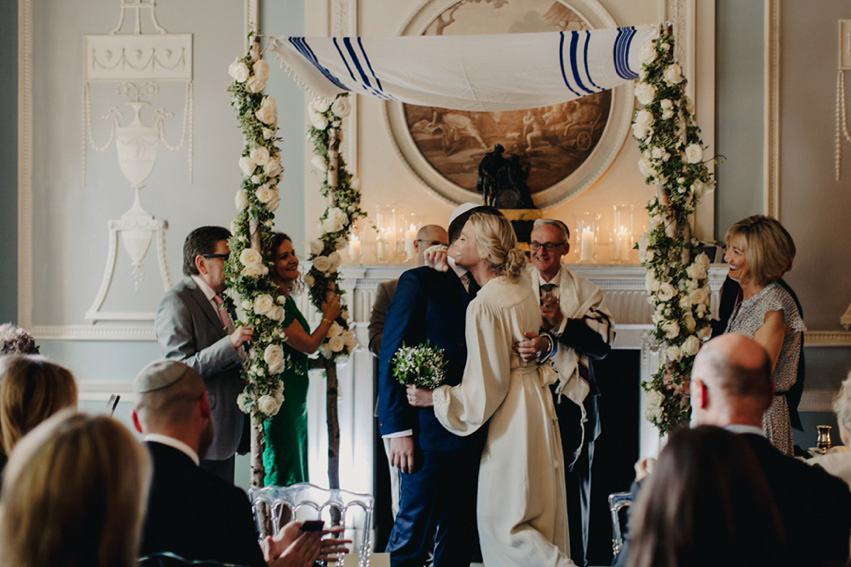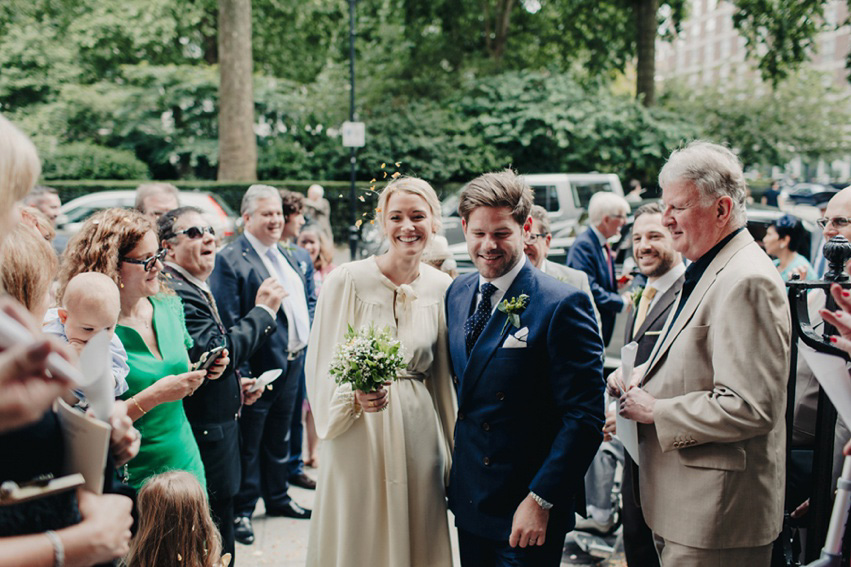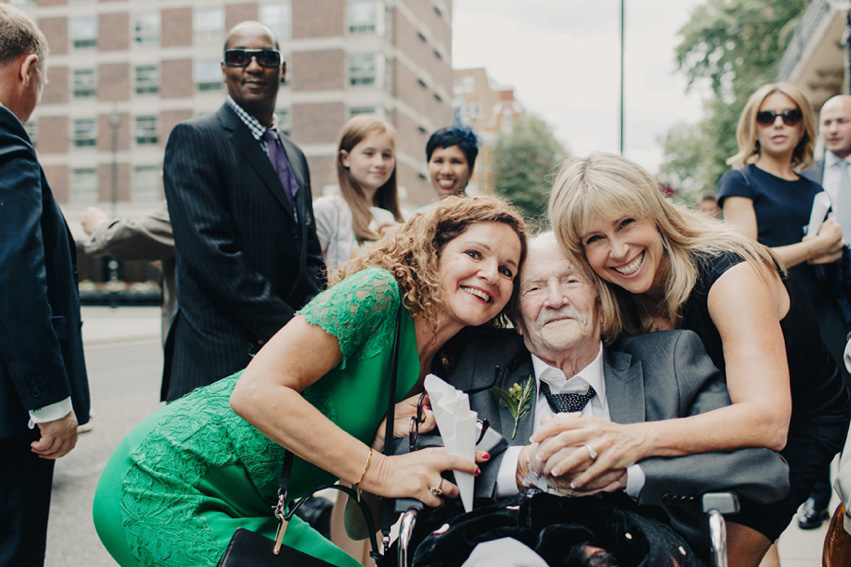 "Our photographer Beccy Goddard was brilliant and so easy to work with. We loved her style of photography – beautiful, soft and romantic. She captured some lovely, personal moments (without ever intruding) and everything she did had such a personal touch – it was so nice to receive a beautifully branded wooden box with the USB's and select pictures after the wedding. She put a lot of thought into everything. We would definitely recommend her."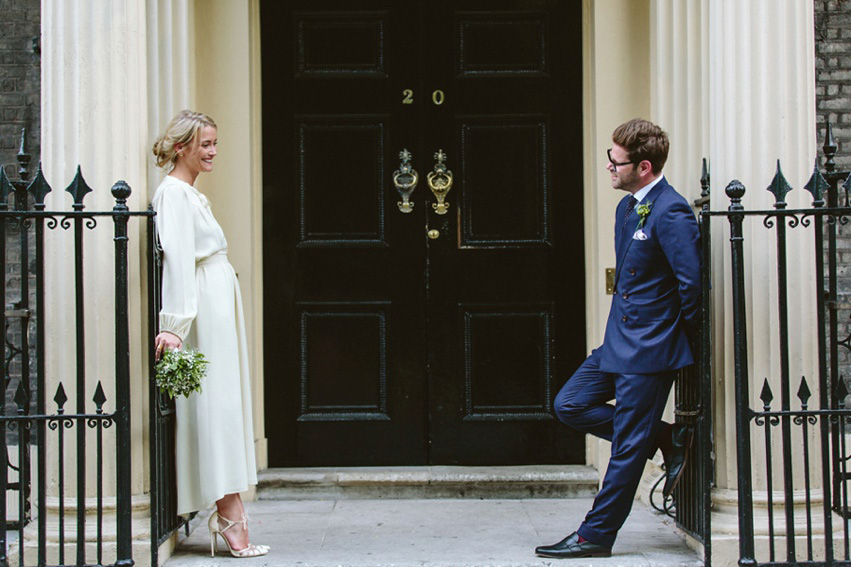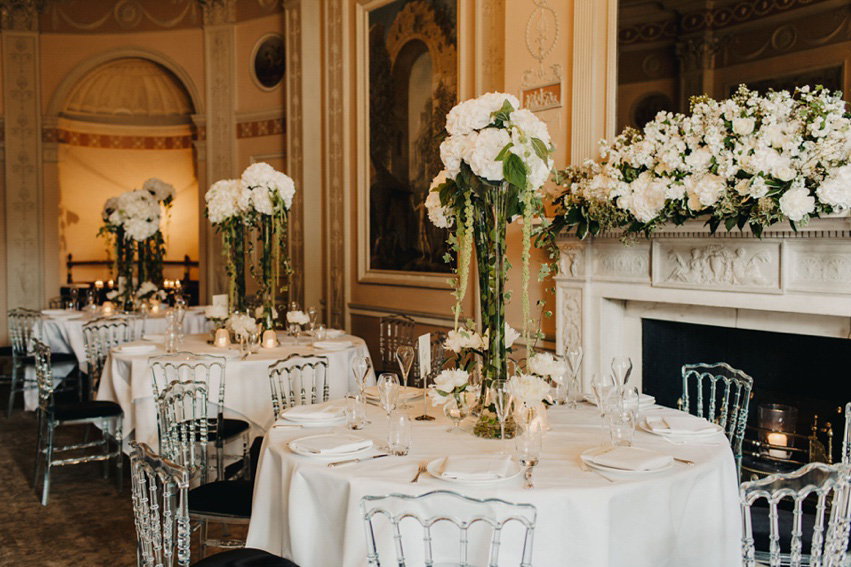 "We had everything from peonies, stocks, gladioli, roses and much else. RVH set it up on the lovely console table by the door, which filled the room with the most amazing scent. They dotted scented candles everywhere too…. They did the most fantastic job – it was the talk of the wedding."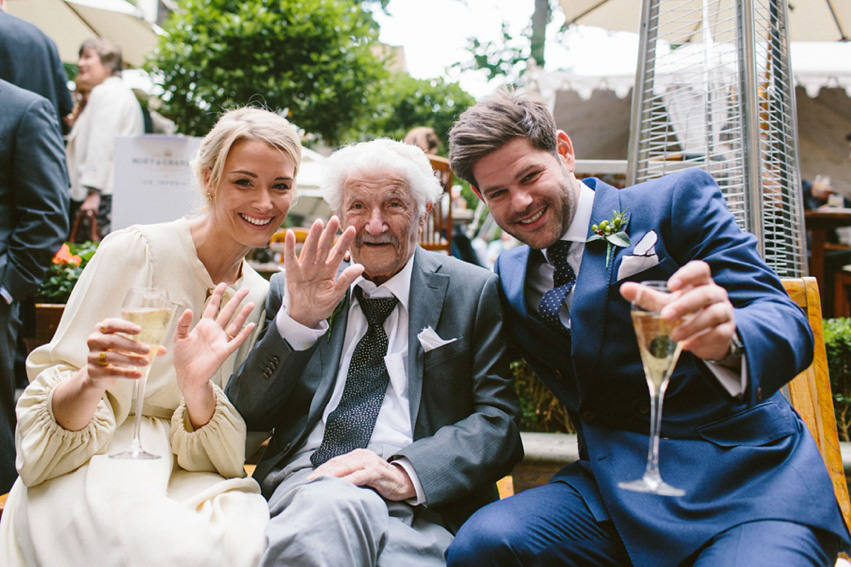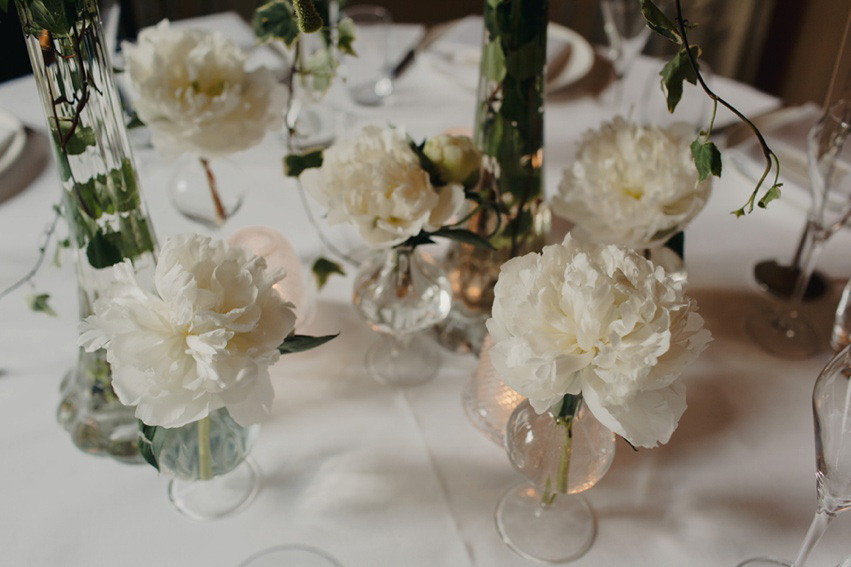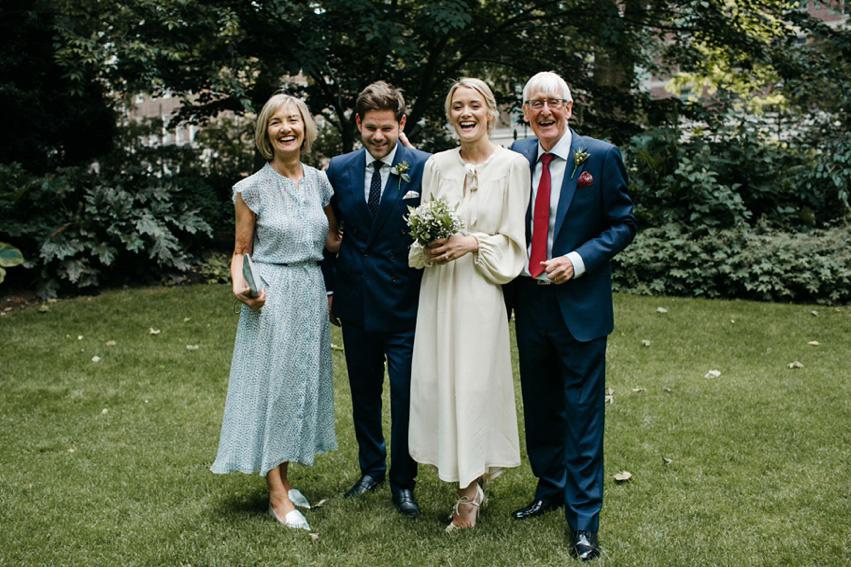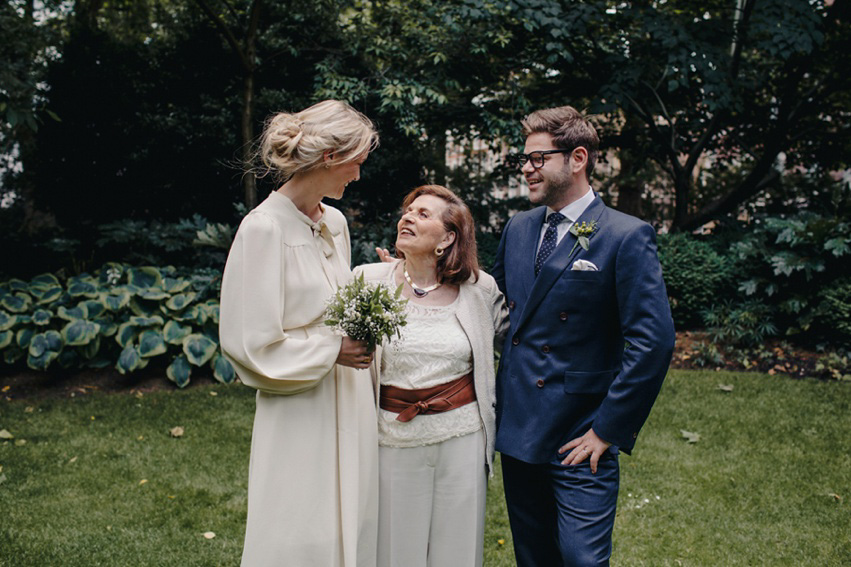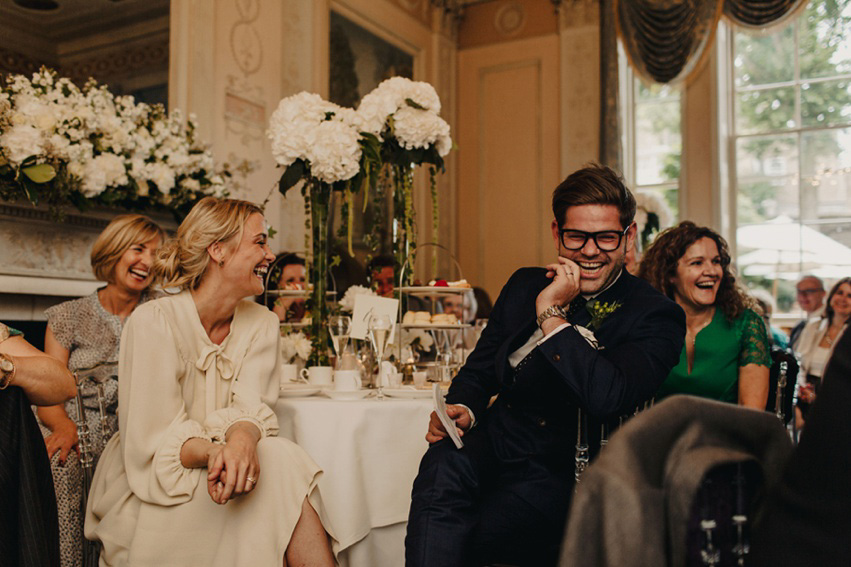 "We put together a playlist full of our jazz favourites – totally Afternoon tea appropriate!
Our first dance was to 'Buona Sera' by Louis Prima – it's one of our favourites and holds many lovely memories."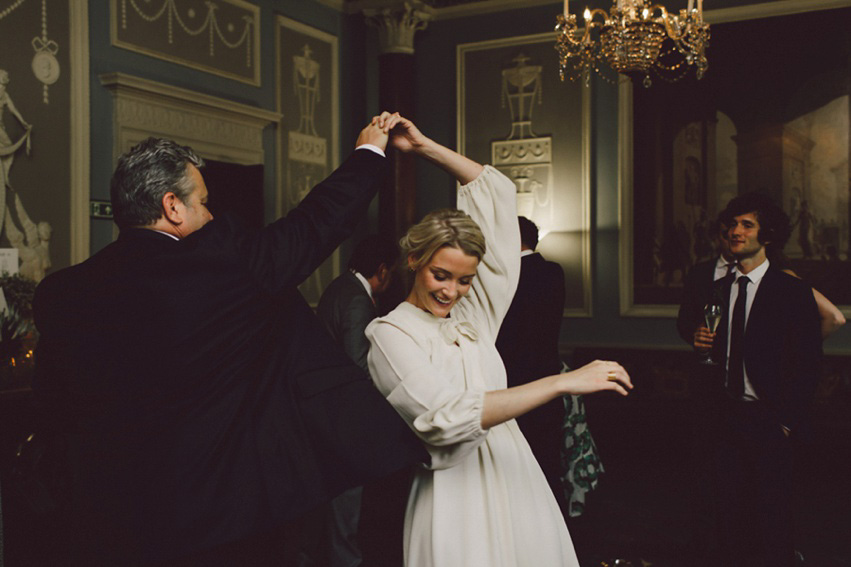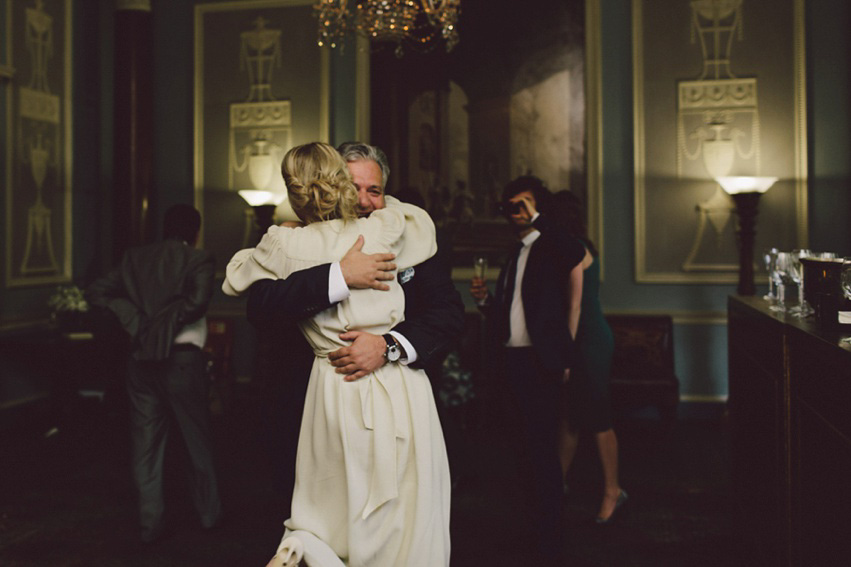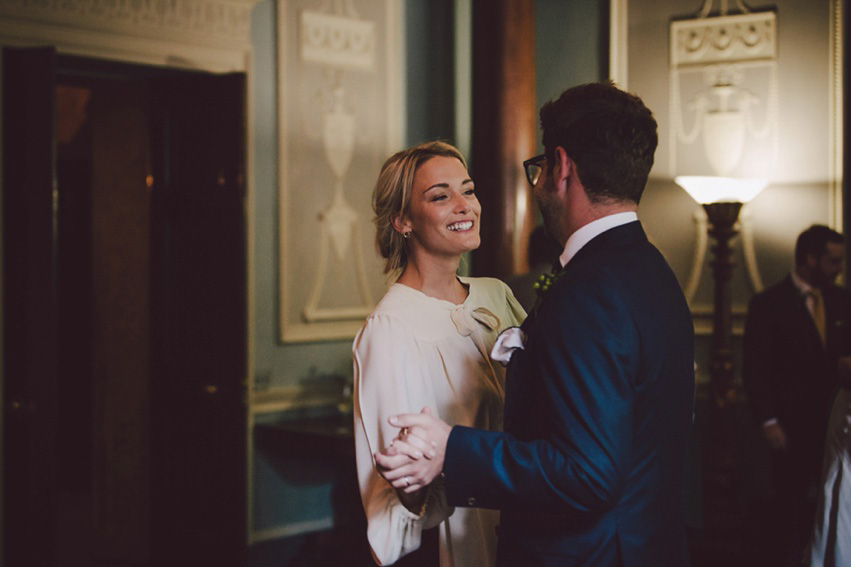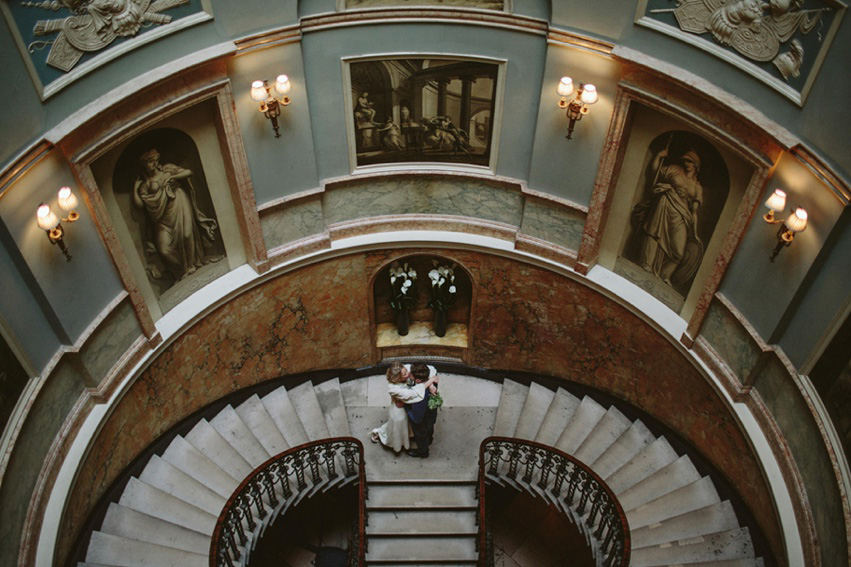 Words of Wedded Wisdom
"Enjoy every minute – don't compromise on anything and stay calm in the run up to the wedding!
There is nothing I'd do differently – we thought through everything really carefully because we didn't want to get to the end with any regrets!"
What an exceptionally beautiful wedding – no fuss, just pure elegance through and through.  Heartfelt thanks dear Jess and Alex for allowing us to share your treasured wedding photographs, it really is such a treat to be able to spoil our readers with more beautiful images from Rebecca Goddard (readers, see more from photographer Beccy here).
Love Annabel x
Photographer – Rebecca Goddard
Venue + Catering – Home House, London
Wedding Dress – 1970's Ossie Clarke original
Bride's Shoes – Bionda Castana (found at Harvey Nichols)
Grooms Suit – Norton and Townsend + pocket square via Mr Start
Florist – Rob Van Helden
Rings –  Zoe and Morgan
Stationery – Ruth Kaye Design