It's always such a pleasure to be able to share the collaborative work of a team of really very talented wedding suppliers. I don't do it all too often – Love My Dress is and always will be, primarily, a place to share real weddings and love stories. But when we do blog inspirational, styled images like these, you can be sure they're going to be really darn gorgeous.
These most elegant fine art wedding images were submitted by photographer Rebecca Goddard, who teamed up with florist Jo Flowers to create a suite of evocative images that depicted the scene of an English garden romance. From the divine floral styling to those heavenly gowns by Rue De Seine and Laure de Sagazan (lovingly supplied by The White Gallery), this shoot oozes the kind of Love My Dress effortless elegance and glamour I just adore.
Photography by Rebecca Goddard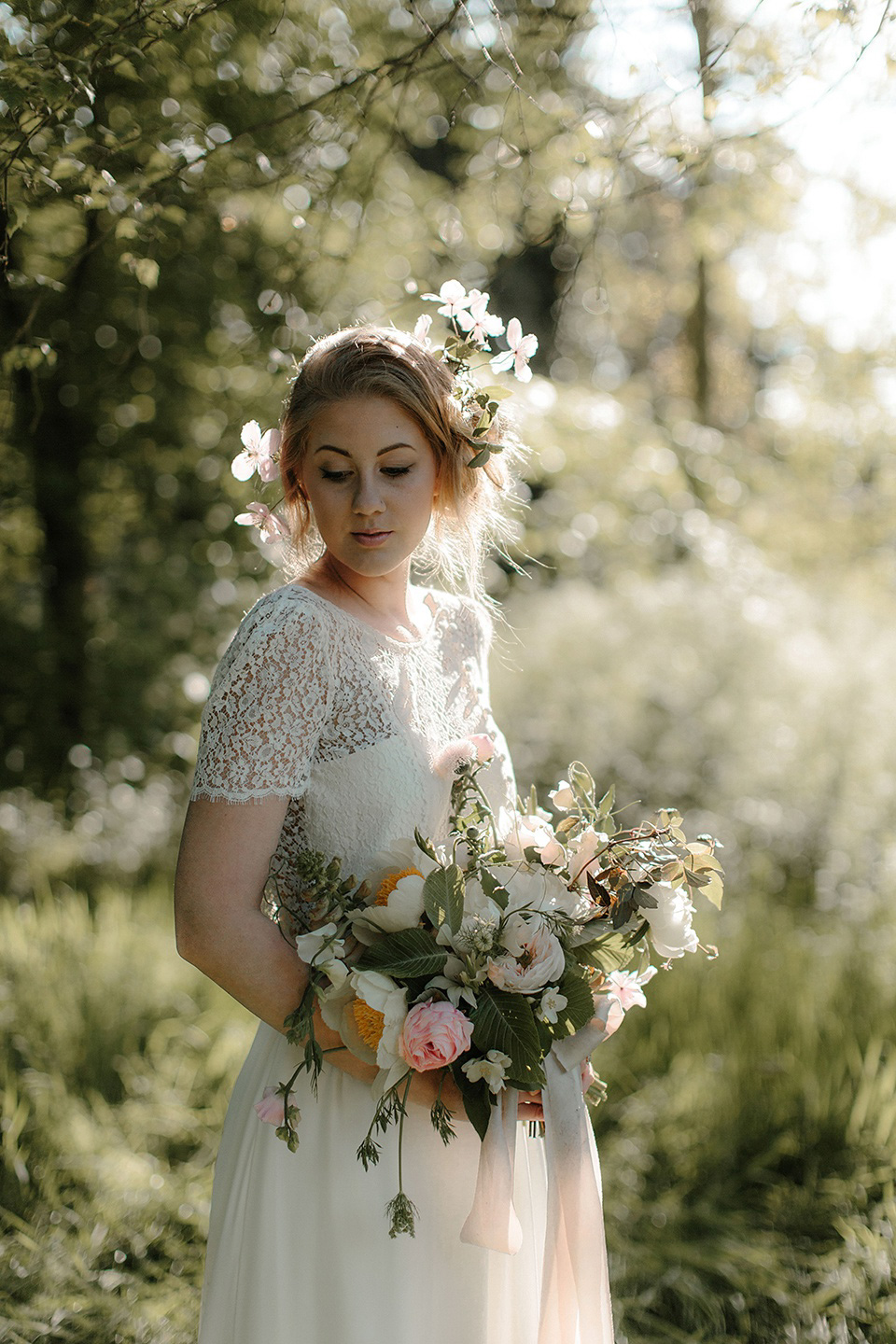 This shoot was primarily to showcase Jo Flowers' amazing floristry using the best of British blooms in flower in May. I just adore the Spring – I tied the knot on first day of Spring myself back in 2009 – a day chosen purposefully for it's symbolism of new growth, fresh starts.
I love how the simplicity of the Louis Deli cake below has been accentuated with a scattering of pretty petals and fruit.
"We wanted to create a really peachy, soft romantic bridal look teamed with the pretty lace dresses by Rue De Seine and Laure de Sagazan. The shoot took place in the beautiful grounds of The Cold Press Gallery in Norfolk, UK. Using the elegant English home as a backdrop.  We shot in the grounds under a large tree making use of the soft, dappled light."
"We were really excited when so many creative people were happy to collaborate on the shoot too. We had an awesome team, who were just lovely to work with on the day."
"We're really grateful to Rachel at The White Gallery Boutique who lent us the beautiful dresses. She has a stunning collection of contemporary bridal wear, stocking all our favourite designers, there was too much to choose from!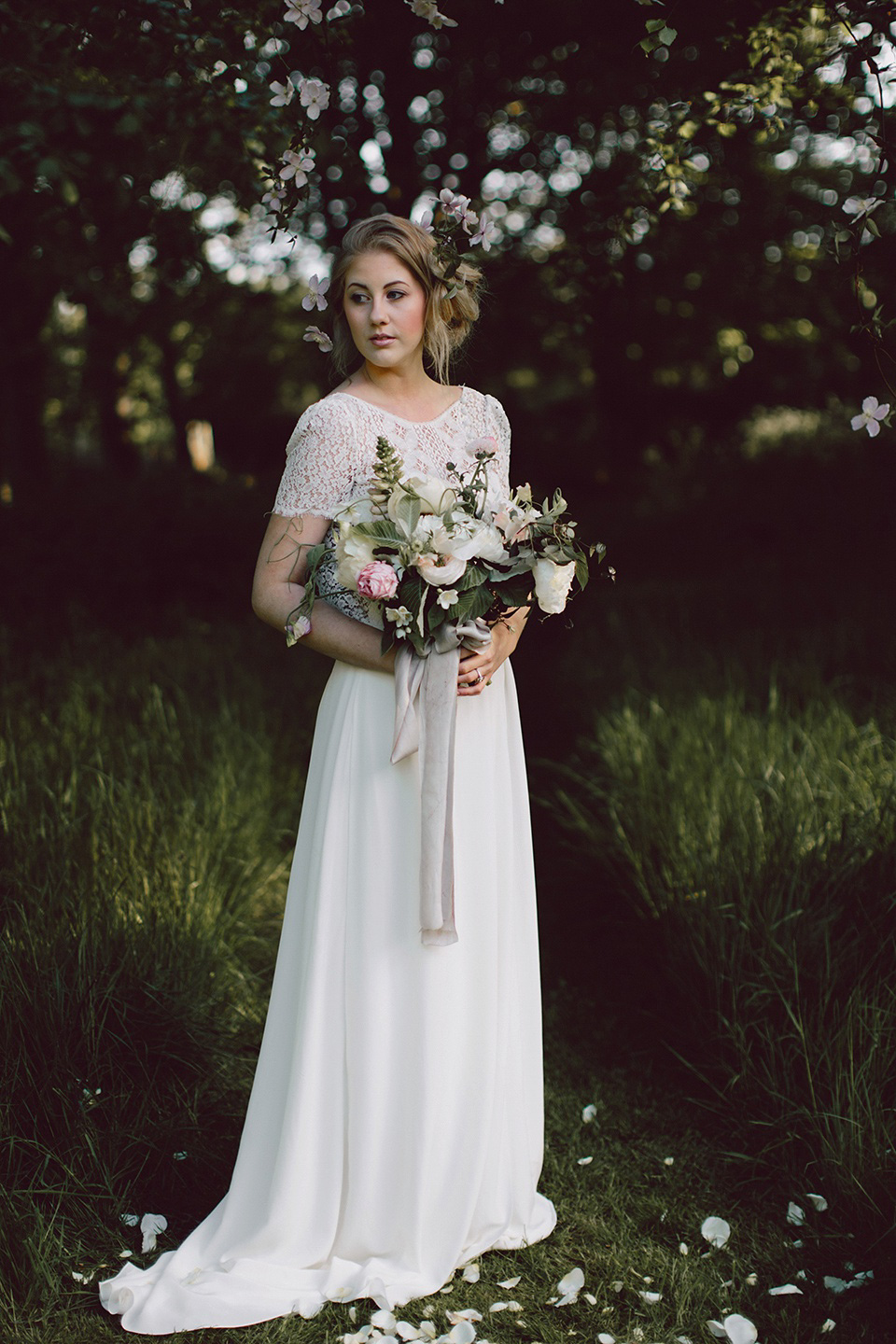 "Clematis was placed around the models hair for a simple headpiece. We shot this in the beautiful long grass with pretty cow parsley reflecting on the models."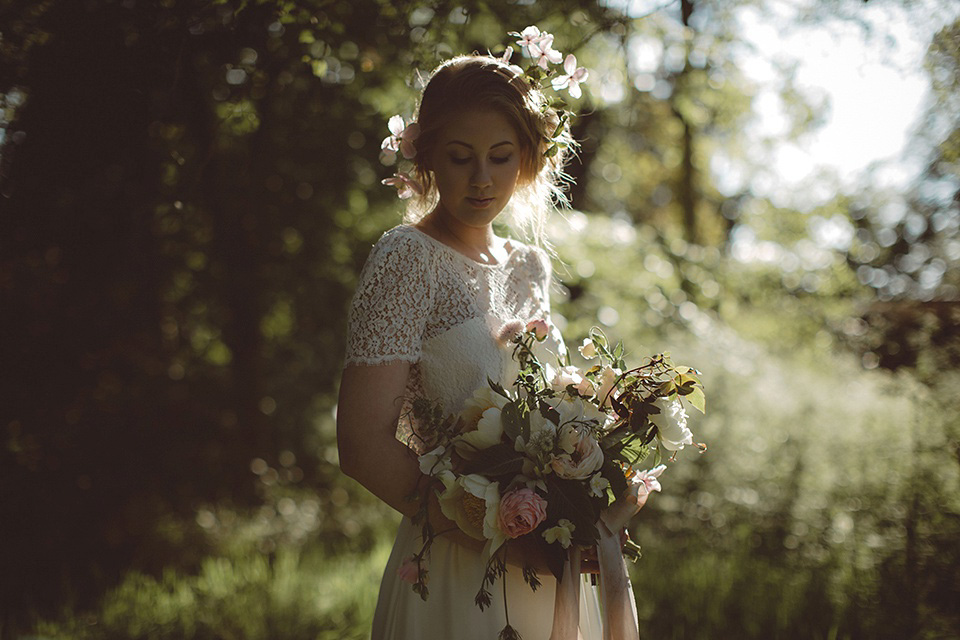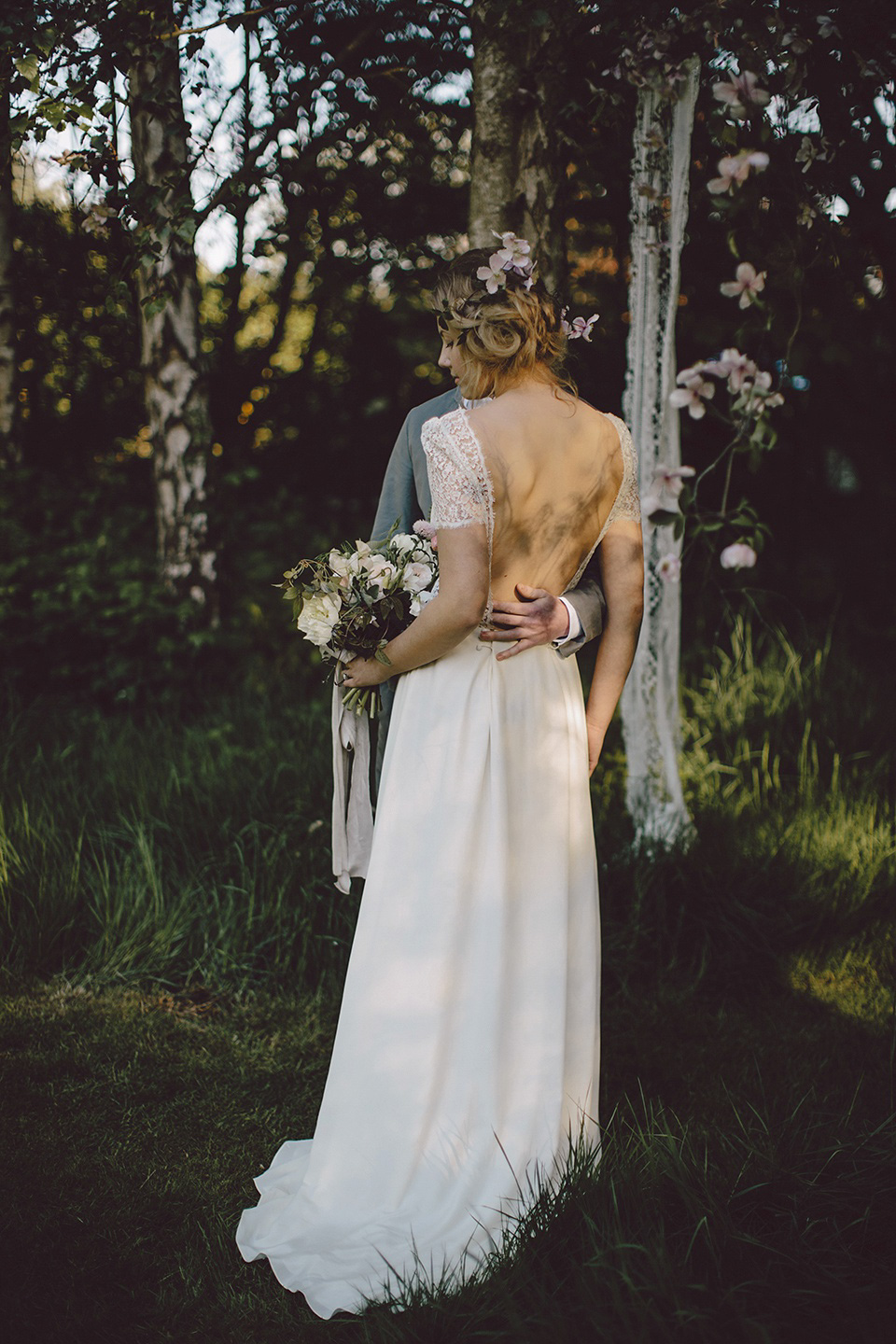 "Bear Brooksbank is an amazing jewellery based in East London, who very kindly lent us two stunning pieces for the shoot."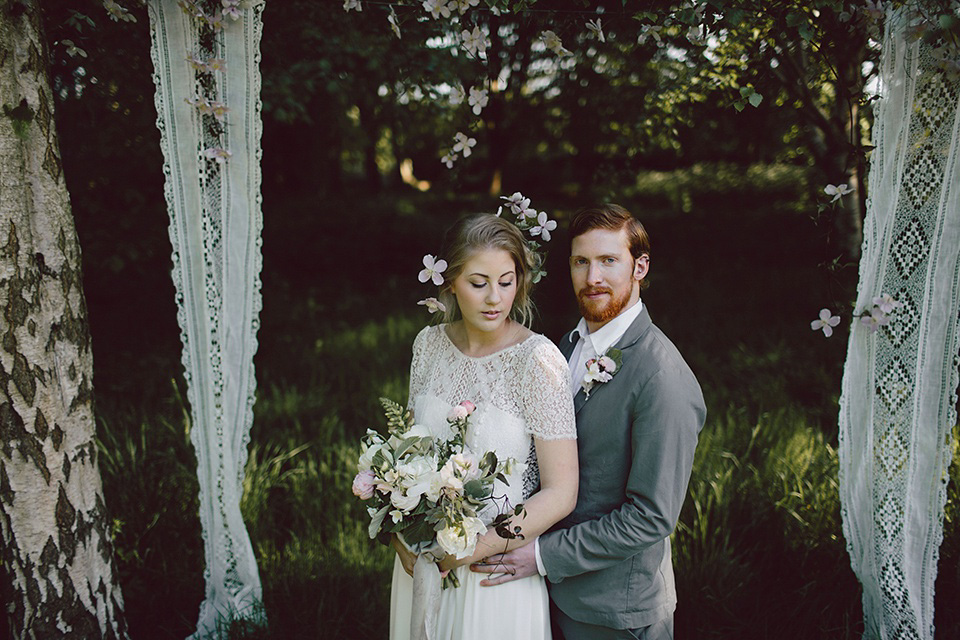 "Calligraphy Girl was working in Hong Kong and flying to LA in the lead up to the shoot, but she kindly pulled out all the stops to get her beautiful work flown to us in time."
Utterly breathtaking.
Huge thanks to the creative team who helped make these images possible, but special thanks to Rebecca Goddard Photography and Jo Flowers – such exceptionally beautiful images ladies.
Love Annabel x
Photography – Rebecca Goddard Photography
Flowers – Jo Flowers
Location – The Cold Press Gallery
Dresses – Rue De Seine + Laure de Sagazan via The White Gallery
Grooms clothing – Folk supplied by Seven Wolves
Jewellery – Bear Brooksbank
Make Up – Love Moi
Hair – Flamingo Amy
Calligraphy – Calligraphy Girl
Ribbons – Lancaster and Cornish
Cake – Louis Deli
Candles – Creative Candles
Tableware – Soenderdaard Design
Wine – Broadland Wineries