A very good morning to you our lovely Monday readers and thank you for popping by our lovely blog. I promise to try and brighten up the start of your week with this truly individual, love-filled wedding of two parts and challenge you not to grin at this flame-haired bride's gorgeous smile. Isn't happiness infectious?
The very beautiful Helena, a pharmacist with a degree in fine art, wed her equally lovely husband Nick, creative director of his own architectural visualisation company, on 28th March this year. The strikingly industrial West Mill in Derbyshire played host to their wedding celebrations and the couple then enjoyed a traditional home-coming party in the bride's native Shetland; twice the love and twice the fun. If this doesn't sound quite epic enough, Helena and Nick's stunning photography is the handiwork of the simply incredible Caro Weiss. Allow me to introduce you to the newlyweds via this sweet wedding video created by Keith Lonsdale.
"We live in Derbyshire so it seemed a good place to start looking for a venue. We wanted something with an industrial feel and when we came across The West Mill we fell in love with it from the start. The first time we viewed the venue it was very much a work in progress; literally a building site. Even in the throws of renovating a Grade I listed building we could see the potential; the gorgeous Georgian windows letting light flood through and the stunning original features like the cast iron ceiling. We then had a home-coming party, or 'Hamefarin' as we would call it, up in Shetland which was a traditional ceilidh style party in a local community hall. This meant people like my granny, who was unable to travel, could be part of the occasion and meant we got to celebrate twice."
https://vimeo.com/165878536
I'm sure you can see already just why Caro Weiss is one of our all time favourite photographers and much loved Little Book for Brides members. Her beautifully composed images have both captured the love and unbridled joy of Helena and Nick's celebrations, but also done sensitive justice to the dramatic landscape of Shetland.
Lisa of The Melbourne Cake Company was responsible for the perfectly crafted modern cake, which tasted as good as it looked; "We approached a few cake makers but felt reassured that Lisa would be able to create what we had in mind. We wanted a refined, angular finish but with a fruit cake underneath. The result, which was remarked upon by many, was testament to her skills and tasted delicious."
I adore both of the bridesmaids' navy dresses, there's something architectural and modern in both of the designs; "I wanted the girls to be comfortable and to have something they would wear again. I didn't feel there was a need for 'traditional' bridesmaid dresses and they ended up having different styles; one from Reiss and the other Jules B."
The flowers were one of Helena's favourite details of the day; her bouquet of structural pussy willow, muted coral blooms and luscious succulents is incredibly modern yet soft and ethereal.
"We were keen to use succulents as we liked the sculptural effect. When we approached Selena's Contemporary Flowers we were confident that they understood what we were after; the finished bouquets and corsages were even better than we'd imagined. They also dressed the venue beautifully. We opted to have bowls with fruit and flowers rather than more traditional table centrepieces; the florist embraced this, tying everything together with our navy, teal and coral colours."
Helena's gorgeous, off the shoulder silk dress was custom made by Silvia Hoya Mena; isn't it a thing of absolute beauty? The delicate peach panels add a modern twist to a classic shape and tie in beautifully with the couple's geometric inspired details.
"My dress was custom made. I had a clear idea of what I wanted (and didn't want). I searched in bridal boutiques and online but couldn't find what I was after so it made sense to have one made."
"The fabric was a sand-washed silk, which Silvia skilfully cut on the bias. It draped beautifully so I felt comfortable all day. I knew I wanted some colour introduced so decided to have panels in peach on the sides and train. My favourite part was the geometric pearl detailing on the back; a contemporary twist on embellishment."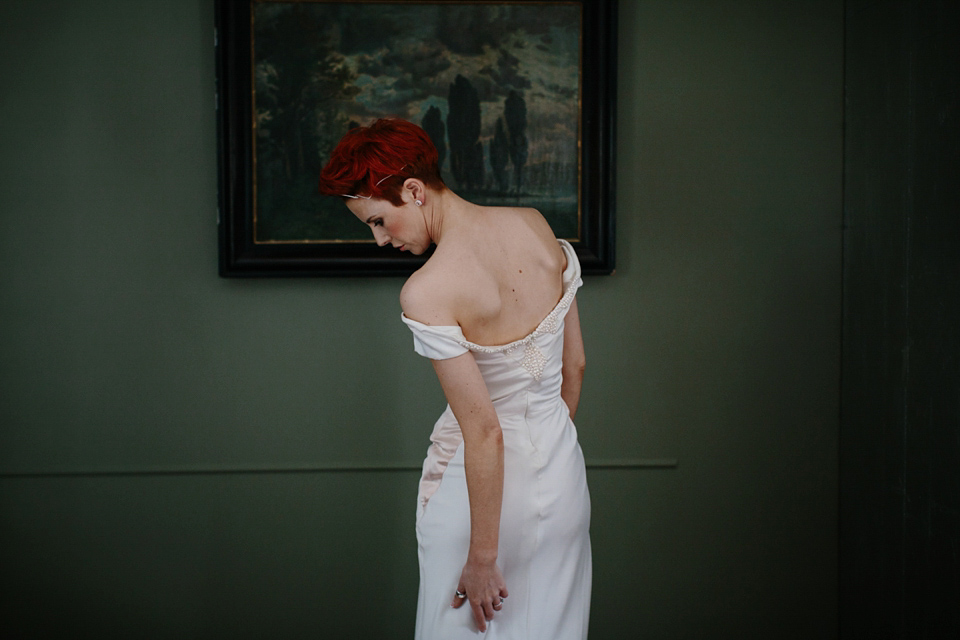 The bride's gorgeous block-heels came from Boden and she accessorised simply with her mother's pearl necklace and earrings from Etsy, allowing her statement Maggie Mowbray Millinery headpiece to do all the very cool, very modern talking.
"I loved my bridal crown, I really feel it finished off my outfit. I knew I wanted something on my head but as I have short hair I didn't want anything to dominate. Geometric shapes featured in our stationery and throughout our day so when I came across this style I knew it was just perfect."
As well as being a being our bride's native home, Shetland also hold wonderfully happy memories for Helena and Nick. I can totally see why Helena is so drawn to the rugged landscape of this beautiful corner of the world. And I squealed out loud at the cute Shetland ponies who made an appearance in the home-coming shots.
"We met on 10/10/10 in a nightclub in London. I was at art achool there but Nick was living in Manchester and just happened to be down visiting friends. This meant we had two years of long distance before we moved in together but I think it's been a great foundation for our relationship."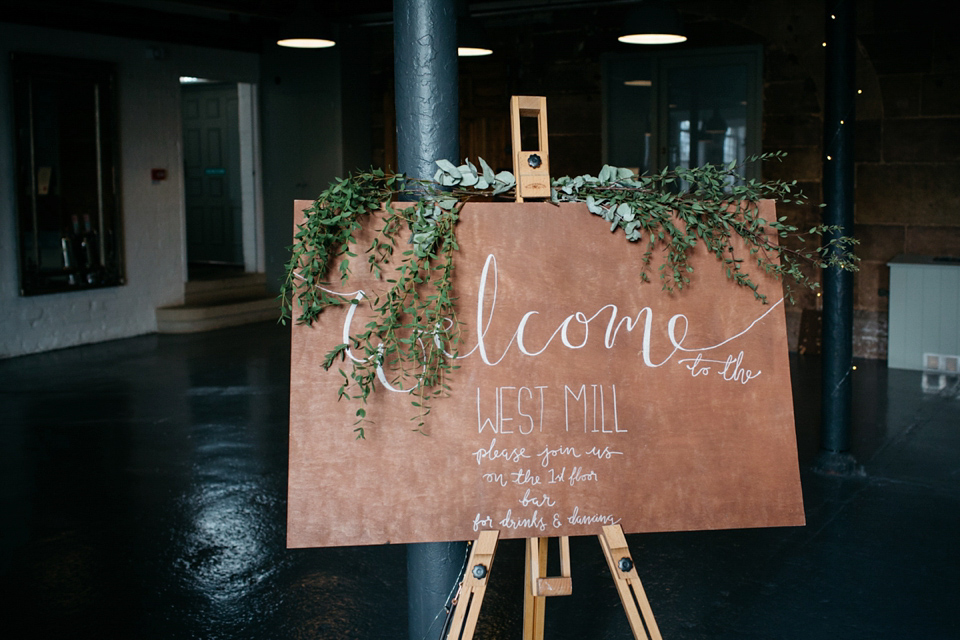 "While we were back home visiting my family, Nick proposed when we were out walking at the most northerly point of the UK; Hermaness in Shetland. I was commenting on how breathtaking the scenery was, then Nick got down on one knee in the heather. Although I was fairly certain we would marry it was quite out of the blue, which made the moment more special."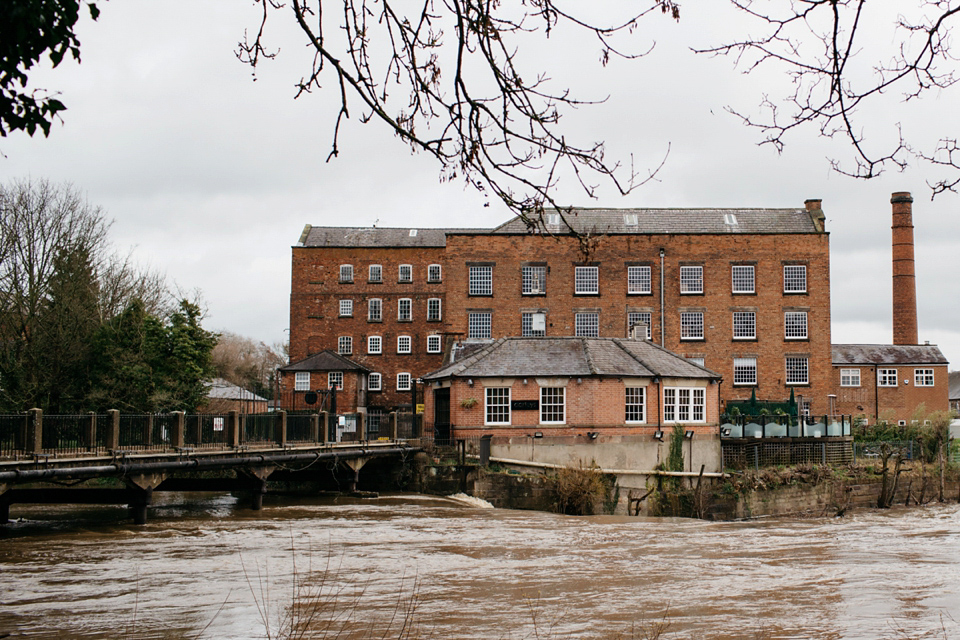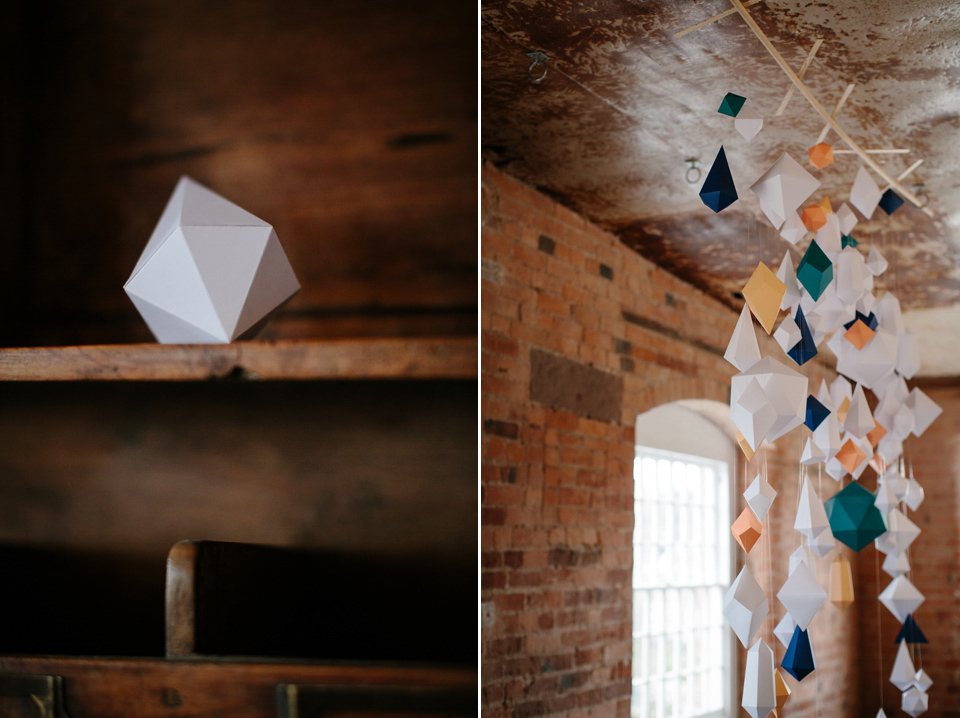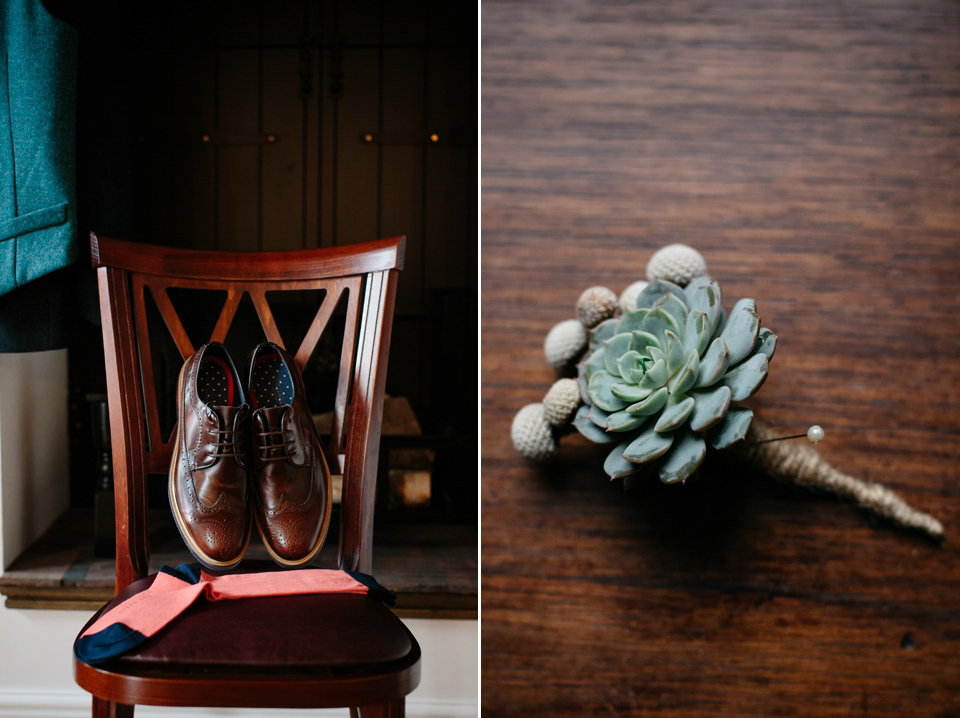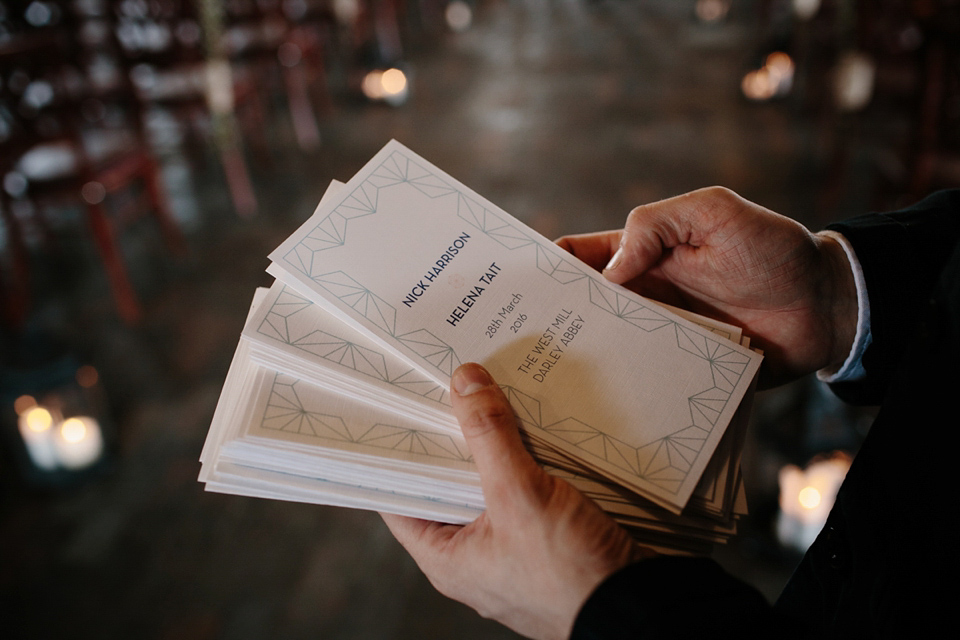 The bride, along with her maids and her dad, was expertly driven to the venue in Sybil, a beautifully maintained split screen VW Campervan.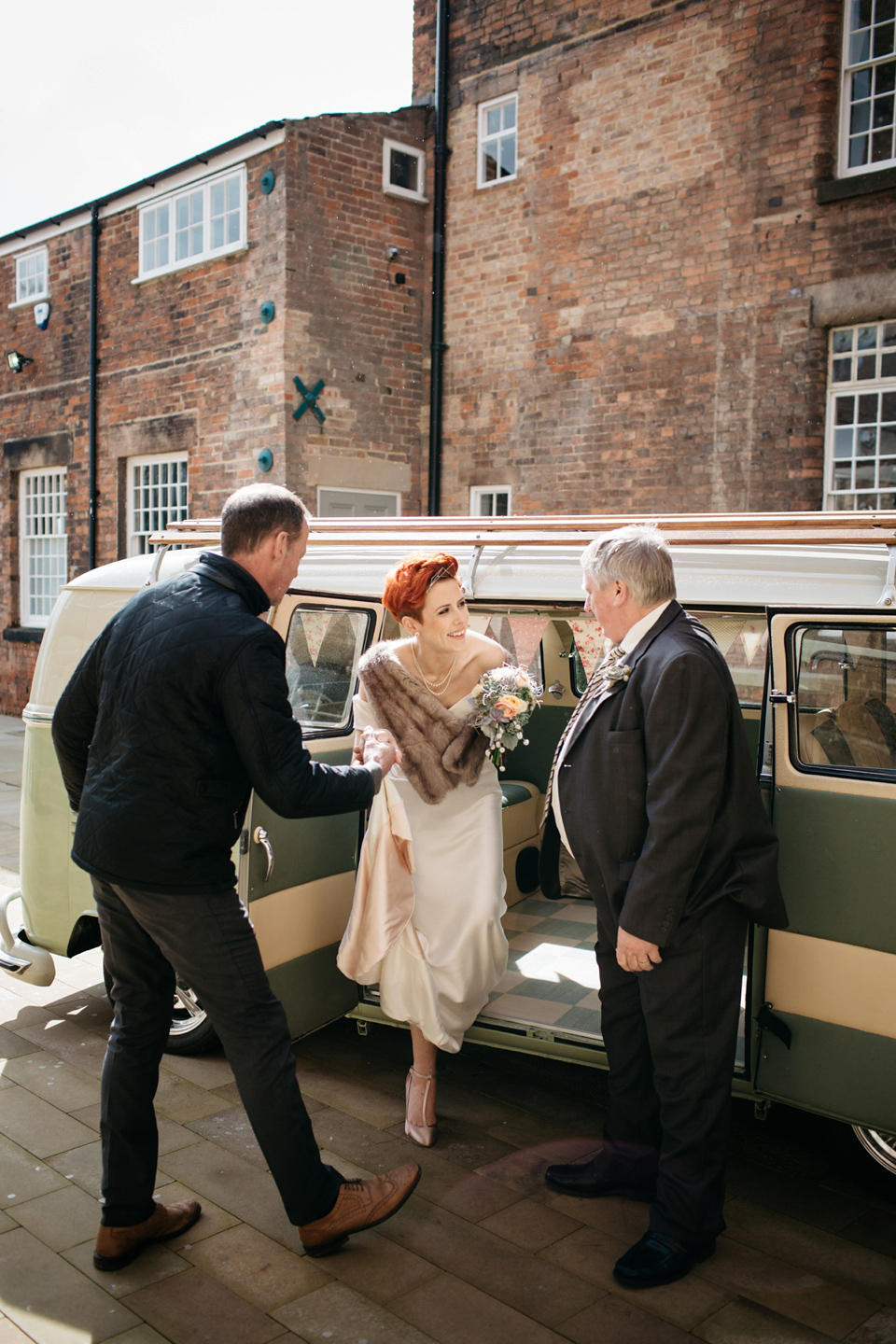 "My Dad gave me away but both my parents are remarried and I was touched when my Dad suggested that both him and my step dad do a speech. It really meant a lot to me to have them both take part. I walked down the aisle to Tender by Blur, had Sun by Caribou for signing the register and then finished the ceremony with Stand on the Word (Celestial Choir) by Larry Levan."
"We met our photographer Caro Weiss a couple years ago as she was the photographer at Nick's older brother's wedding. She has a relaxed approach and is very discreet and that instantly made us feel at ease. We loved the style of her images and felt it suited our personal taste. I had mentioned to her that I was from Shetland and she had remarked how she had always wanted to visit, so we asked if she would be up for joining us at the Haemfarin and thankfully she was.
I treasure these images now as she has managed to capture the landscape of Shetland as a backdrop to our photos."
I love the Blur track and Caribou's Sun is such an excellent party tune; what a fun track to play during a ceremony. Nick's dad also read aloud one of my favourite ever tracks by The XX.
"We had two readings; the first was by Nick's dad who read the lyrics to 'Islands' by The XX which resonated with us. The second was in the Shetland dialect by my friend Kate who read a poem called 'Love Sang' by Rhoda Bulter."
Nick and Helena's beaming smiles as they walk back down the aisle are just gorgeous; there's a real air of joy and celebration. Nick cut a fine figure in his Walker Slater suit and Ted Baker shoes. His lovely teal wool waistcoat was made by his talented mum after the couple struggled to find what they were looking for.
"We wanted to stick to natural textures; wool, linen and cotton. We went to London to look for a suit and the one he ended up wearing was literally the first one he tried on and it was perfect."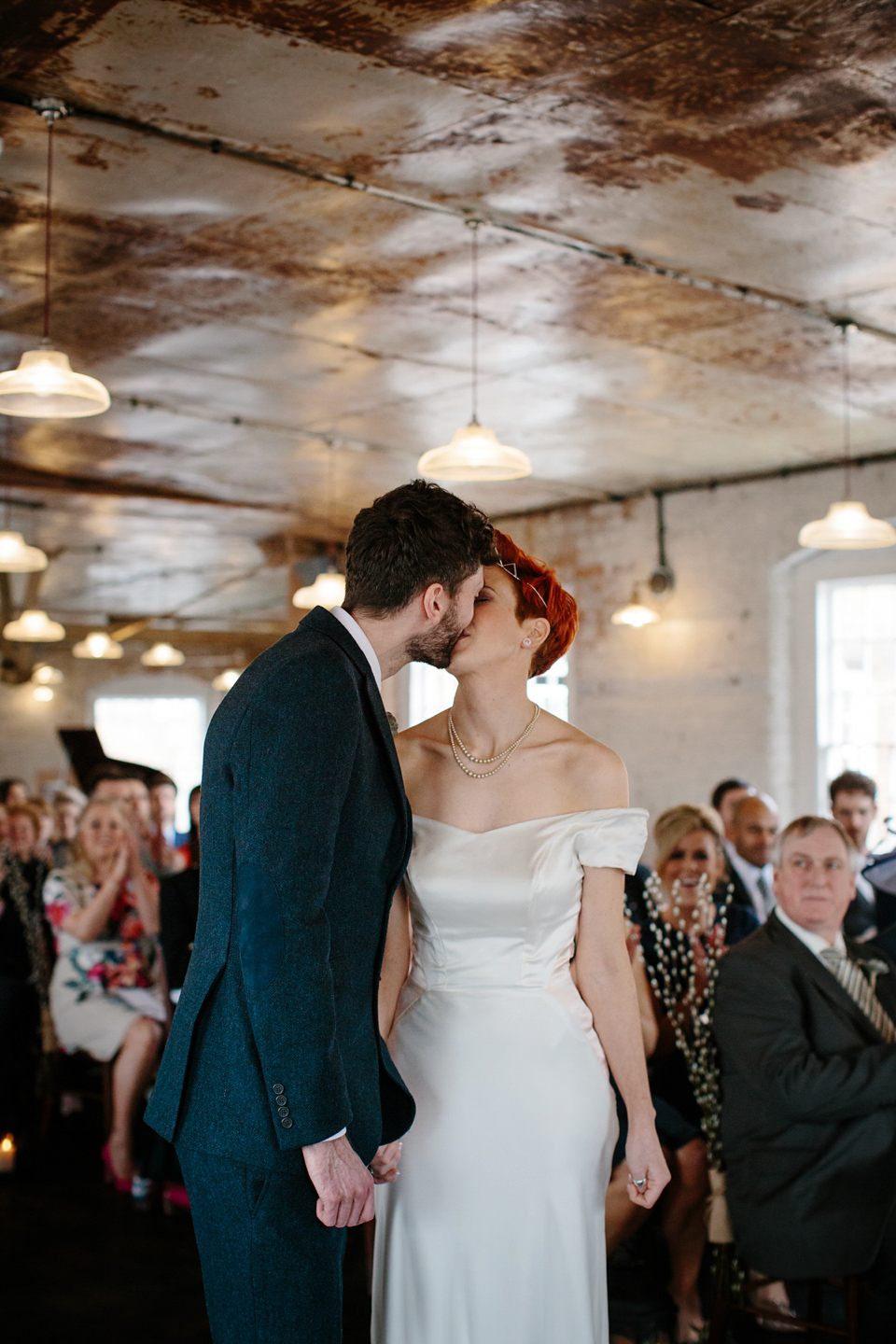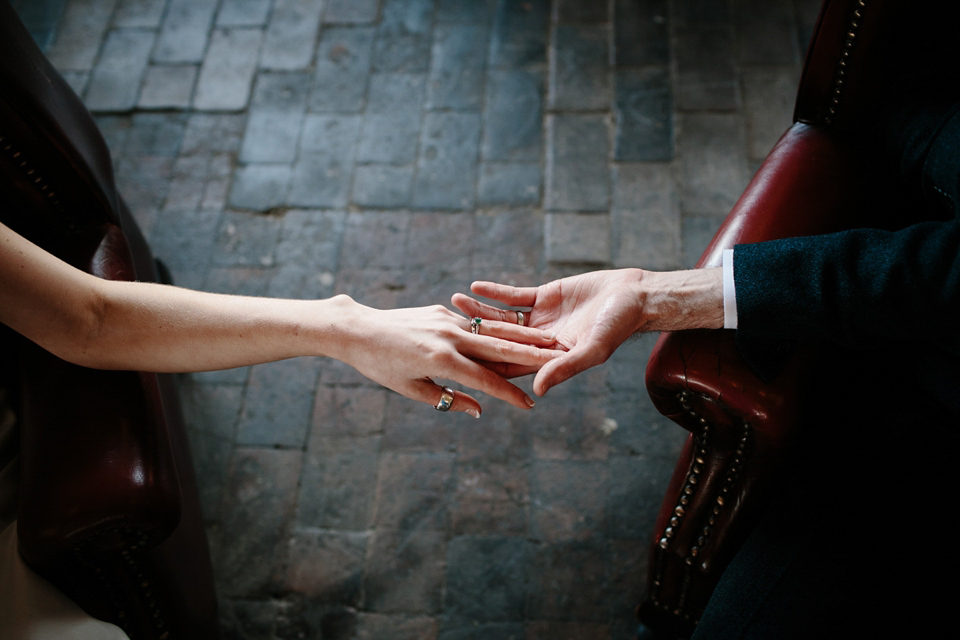 "Our table names were based on Shetland bird names relating to the nature surrounding us the day we got engaged. We married on Easter Monday so thought eggs would be relevant and we love the aesthetic of the vintage illustrations so we commissioned Swanborough Prints to draw these up. They also made the table plan as a bespoke poster, which is a keep sake we can hold on to for years to come."
The colourful hanging paper geometric shapes, which formed the backdrop to the couple's marriage ceremony are such a fun and unique alternative to flowers or lights. Nick's older brother and his wife pitched in to ease the laborious process and help the couple create their stunning design.
"We designed and printed most of our own stationery including the invites, order of service, menus and place names. We used navy, teal and coral colours and a geometric graphic print. As the venue was historically a cotton mill we thought it would be nice to reference that in the favours. So we sourced some vintage wooden bobbins and threaded them with the colours we had used. We designed a sticker in keeping with our other wedding stationery, which we attached at one end of each bobbin."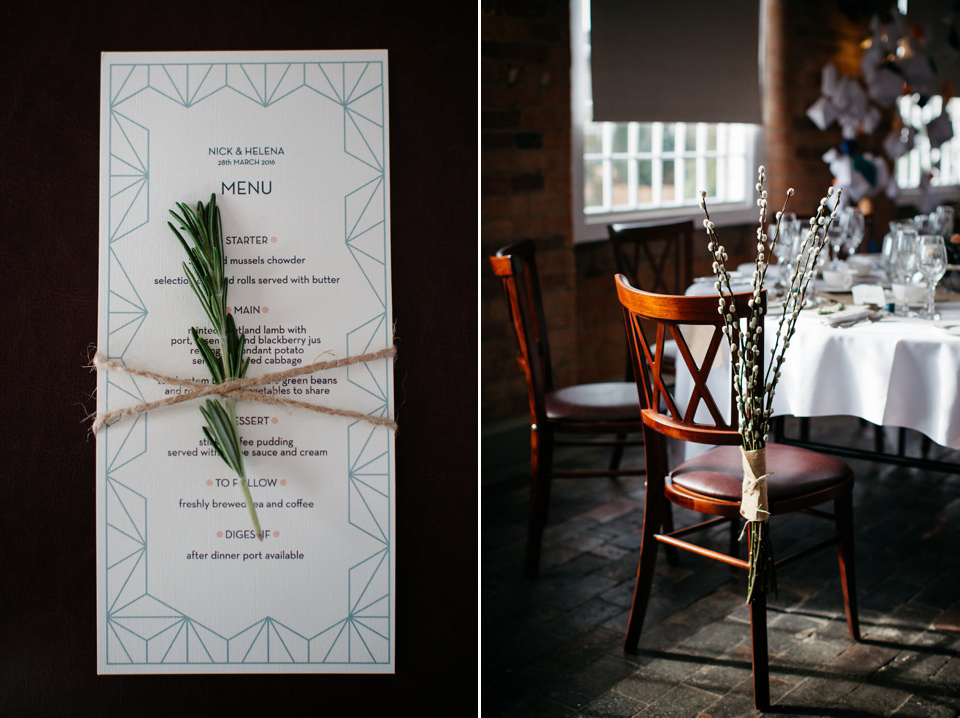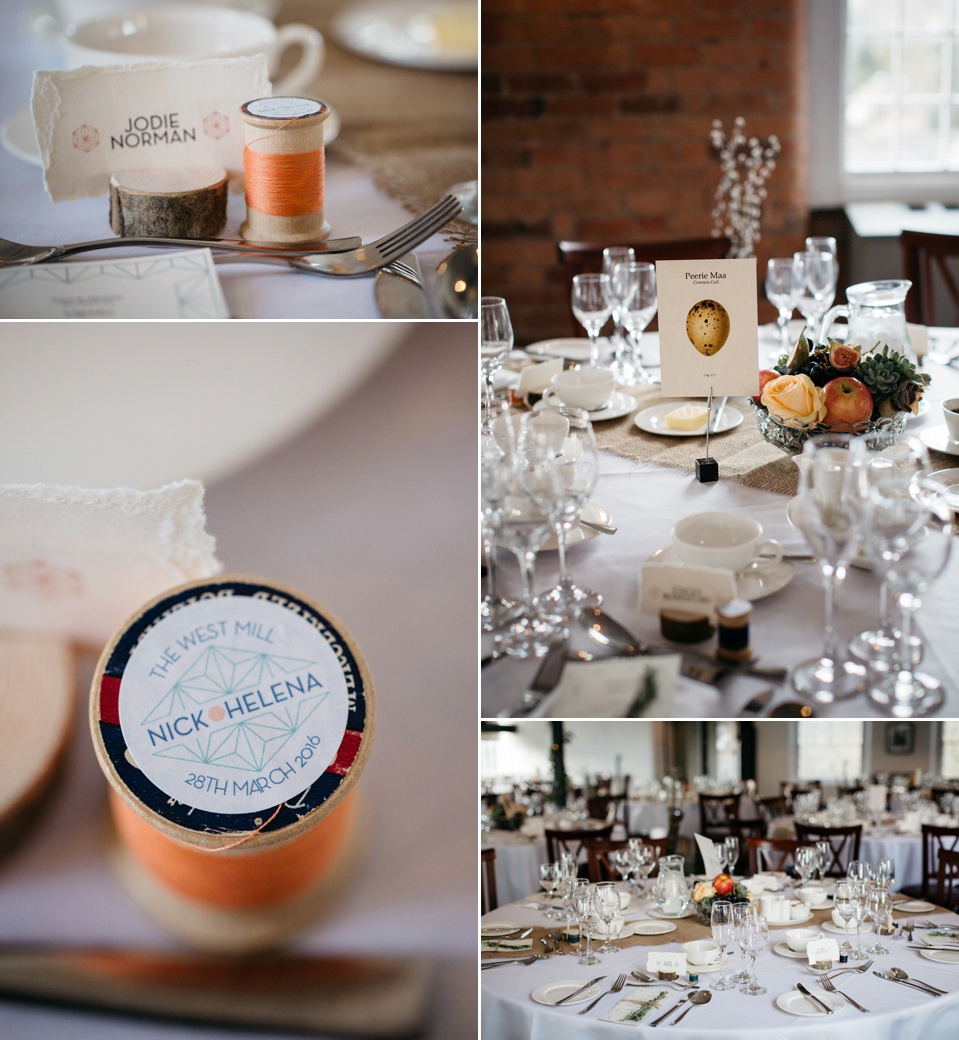 The bride's flame-red tresses were beautifully styled by Stacey Dexter and Helena finished off her ensemble with Hermès Voyage d'hermes perfume and make-up by Jules Daniels.
"I couldn't recommend Jules Daniels more highly; my make-up was flawless and lasted all day. I wanted someone local for hair and was impressed when I visited Stacey's salon. They were happy to come to the lodge where we got ready on the morning of the wedding and did a great job."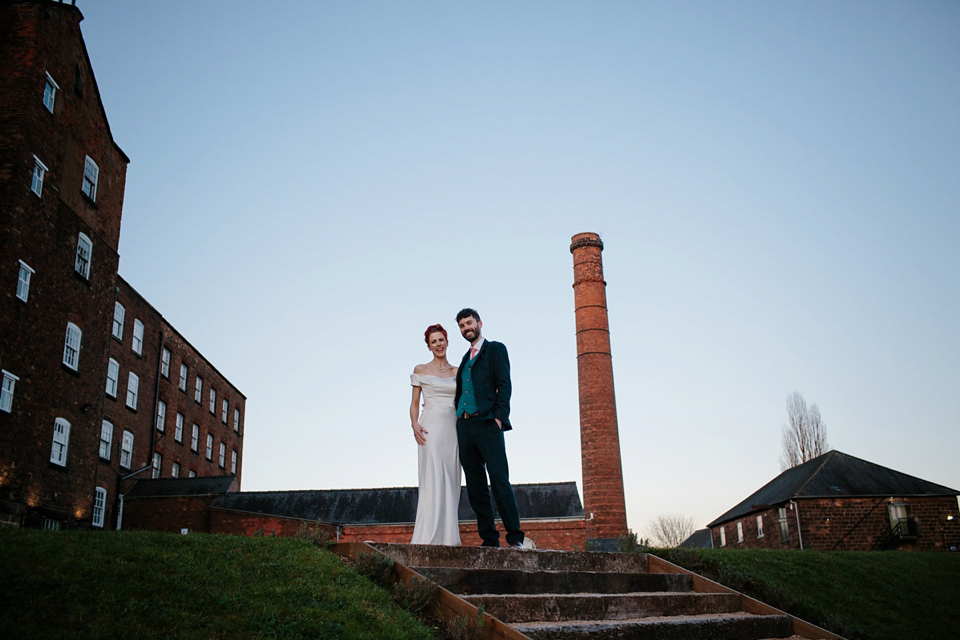 Helena and Nick both wanted to give a special mention to Hayeswood Lodge where they got ready on the morning of the wedding; I can see why, it looks gorgeous from the website alone. For both of the newlyweds the start and end of their day were incredibly special.
"The owner of Hayeswood Lodge, Dan, was so welcoming and accommodating we couldn't recommend them highly enough and we will be sure to visit again and reminisce."
"We both loved the evening do as we had relaxed into the day by that point. In hindsight I think Nick would have chosen not to have bothered with the geometric shapes but they looked great so were worth all the effort."
"A few of our friends put together a band especially for our wedding night, they had barely rehearsed before the party and this really kicked things off on the dancefloor. Then we had some other mates DJ into the early hours, I don't remember the dancefloor ever being empty. We had Candi Staton's You Got the Love as our first dance."
The couple's 'Hamefarin' in Shetland looks to have been a truly intimate family affair filled with love. I wish this was a more common tradition, I'm sure there are whole hosts of brides desperate for a reason to don their wedding dresses again and have another great big party…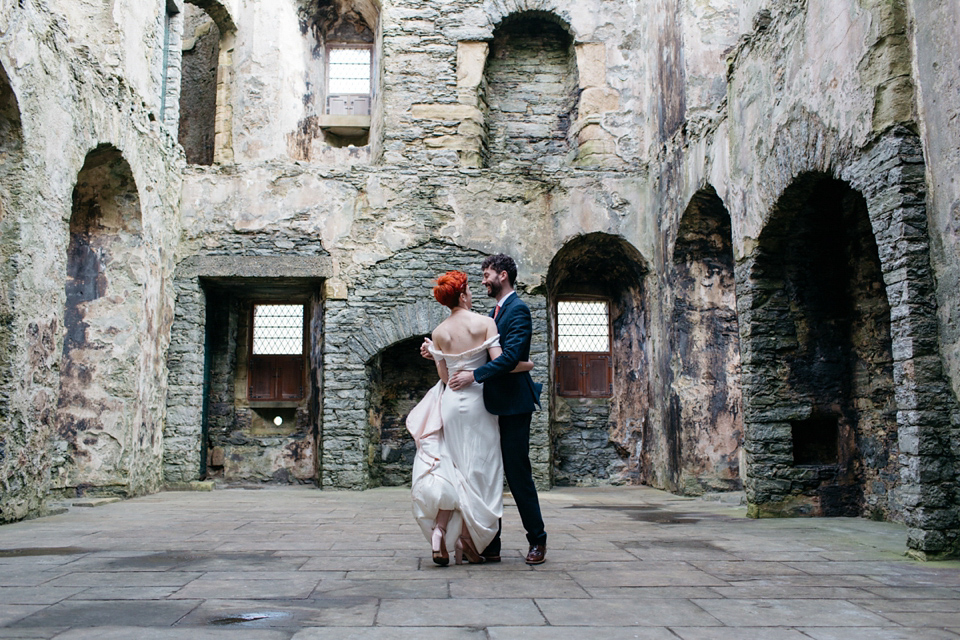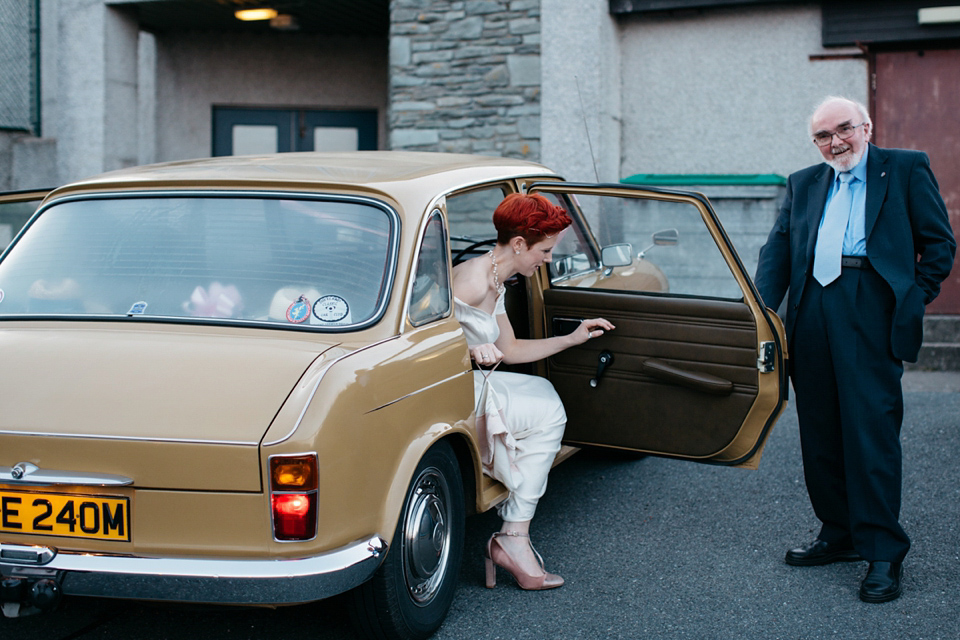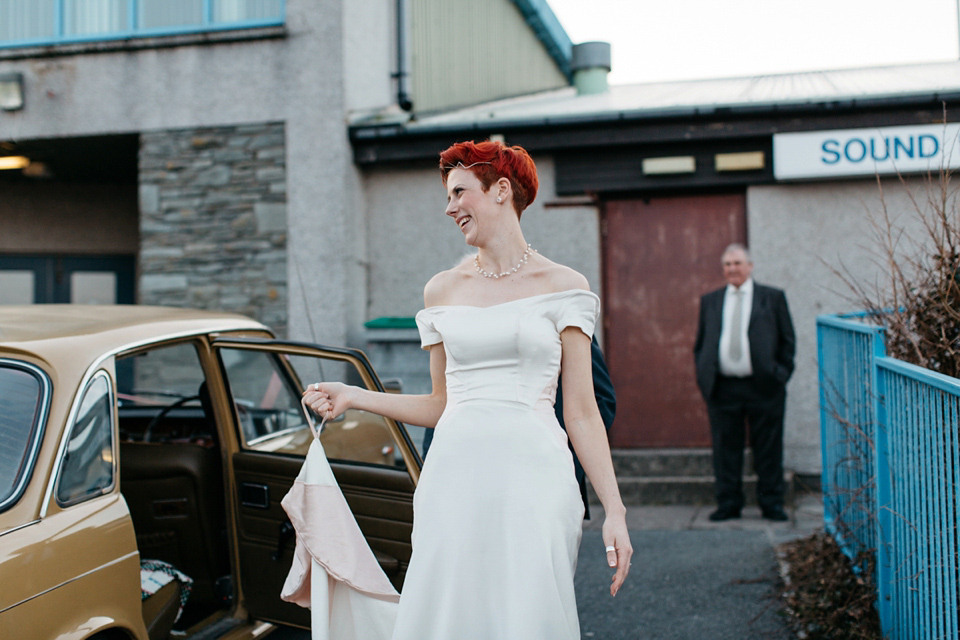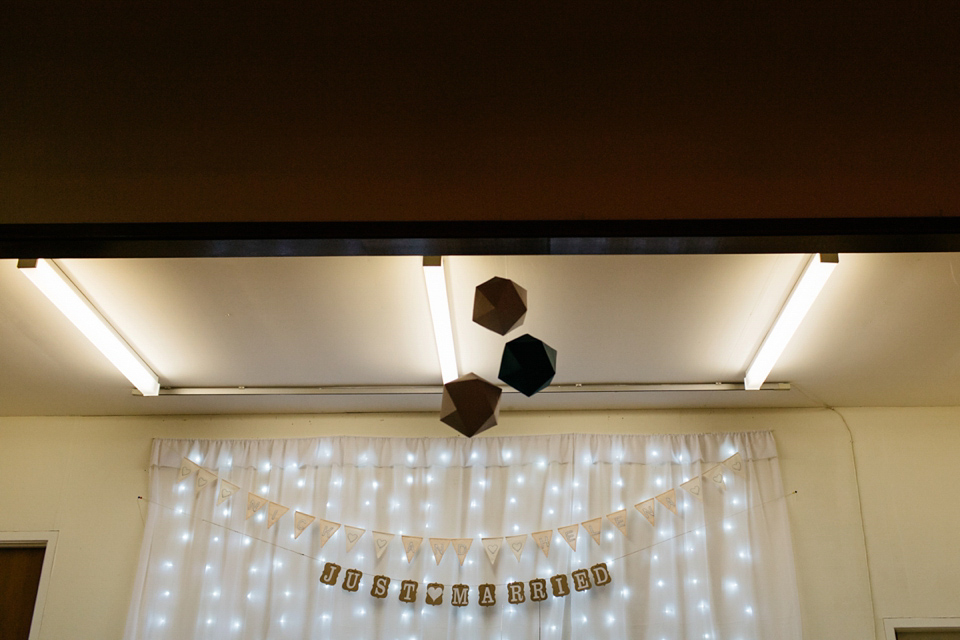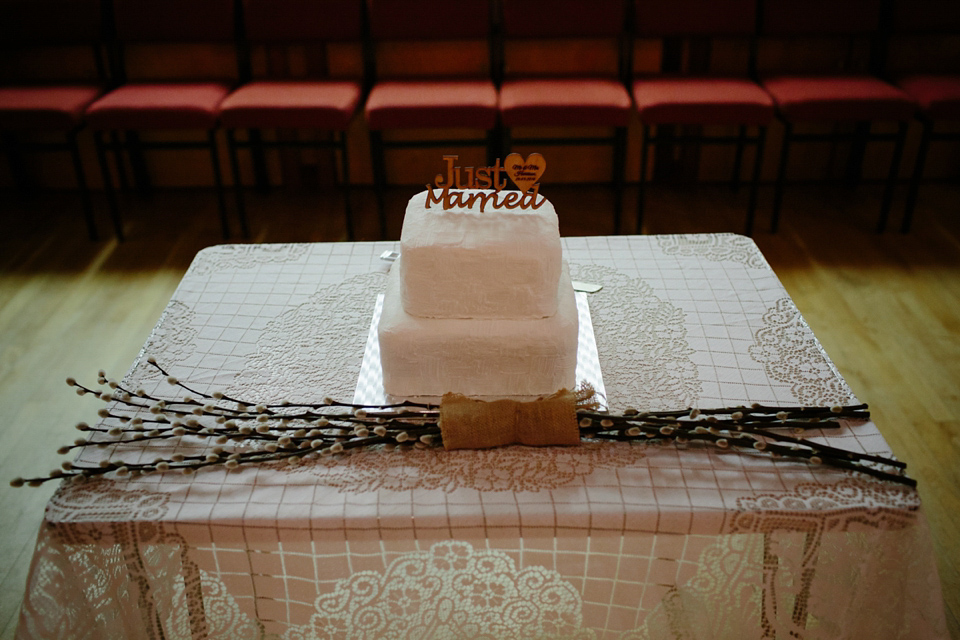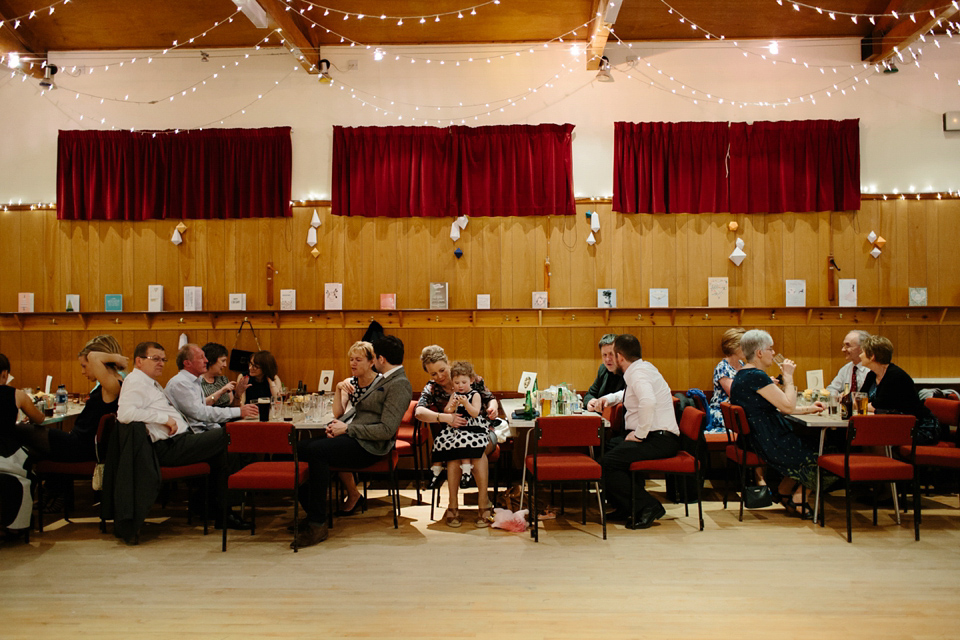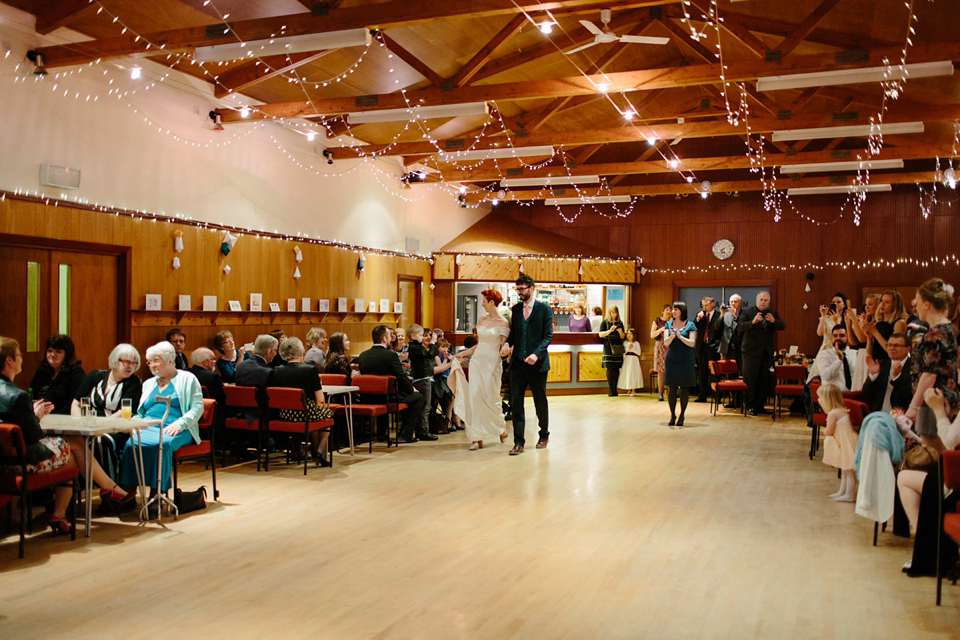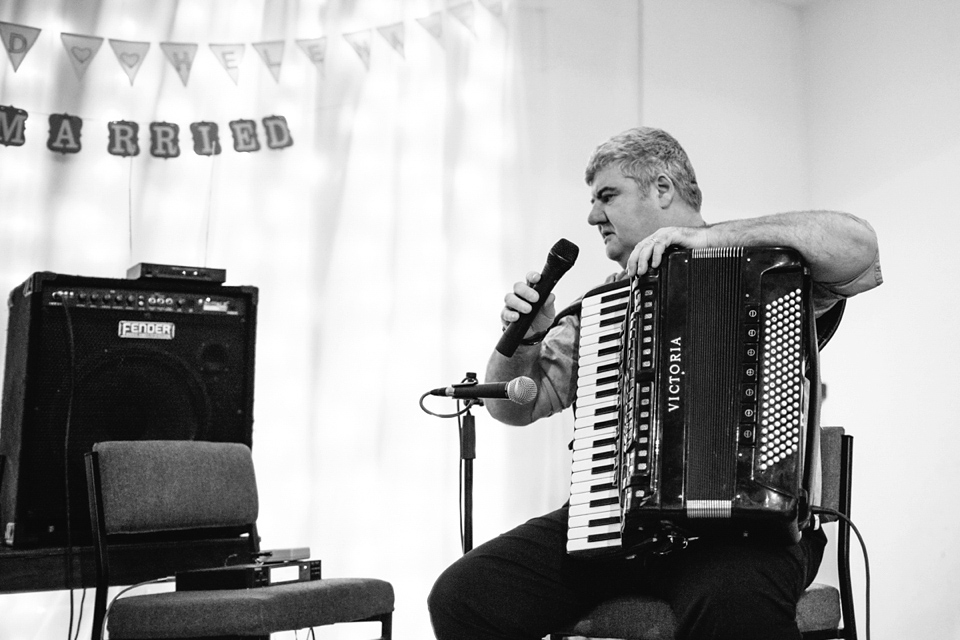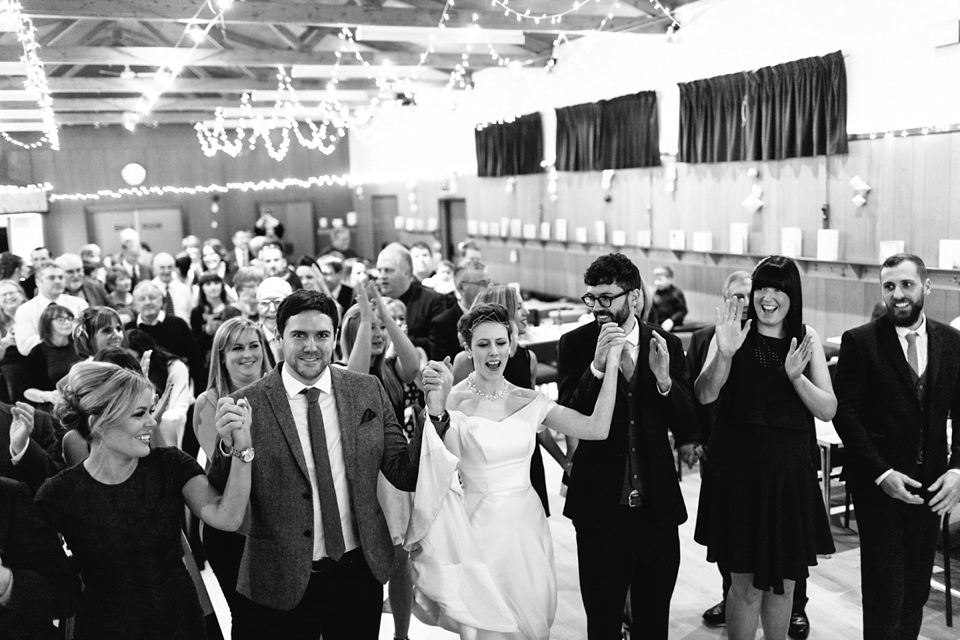 Words of Wedded Wisdom
"Ensure everything is planned in advance and everybody involved is clear on timings; this caused us some unnecessary stress on our big day and could have been avoided."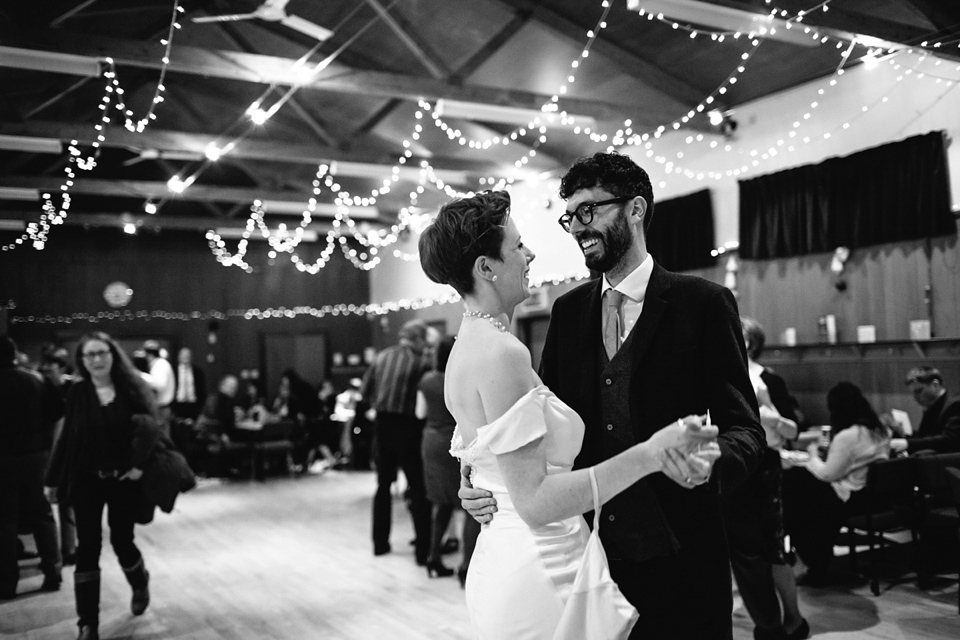 Very very wise words of advice; I don't think I've ever been as friendly with spreadsheets and Gantt charts as I am as a bride to be. My very heartfelt thanks to Helena and Nick for sharing their fun-filled celebrations with us and as always a huge huge thank you to the wonderful Caro Weiss for these sensational images.
Have a lovely week ladies,
Em x