I do apologise ladies, I'm on the annoying side of excited at the moment and you're about to see why. Firstly, my ceremony and high tea venue, the magnificent Coombe Trenchard was featured on Love My Dress last week; goosebumps all round. Then, Sunday marked two speedy months to go until I get actually married (two is a small amount of months). Already at fever pitch, I opened an email from Annabel to find it contained, wait for it, CHRISTMAS. Full blown, achingly stylish and Love My Dress ready Christmas. In July.
Does anyone else yearn for the opposite season throughout the whole year? Currently I'm missing crisp air on pink cheeks, the entirety of my scarf collection and bingeing on Love Actually. When the Coca Cola advent turns up in November I'll be yearning for bare legs, sunburn and warm rain surprising me sans coat. What can I say, I'm a nightmare. So, fellow bauble magpies, prepare to delve into the most impressive Christmas decorations I've seen since Elf got hold of a pair of scissors and enjoy a rich, fir-tree laden festive treat.
Meet Scott, a Music Publisher/ Promotions Director and his new bride Hayley, a Sponsorship Manager. These former childhood pals tied the knot on 12th December 2015 at St Marks Church, Peaslake followed by a reception at the beautiful Gildings Barn, Newdigate. Truly embodying the phrase 'the best of both worlds' this lucky pair had a blessing on the beach in Turks & Caicos two months prior to their church wedding, but decided to channel the spirit of yuletide joy and frosty forests when planning their winter celebration. Adding some serious glamour into the festive season, Hayley looking sensational in the Pearl gown by Suzanne Neville which she purchased from Miss Bush Bridal, who we are proud to say is a member of our wedding directory, Little Book For Brides.
"The fit was unbelievable. The sweetheart neckline wasn't too revealing but worked well with the straps across my arms; my arms have always been an annoyance to me and the sleeves cut right through this area. The low back and buttoning was simple and I extended the train from the basic design as I'm quite tall and wanted the train to follow me."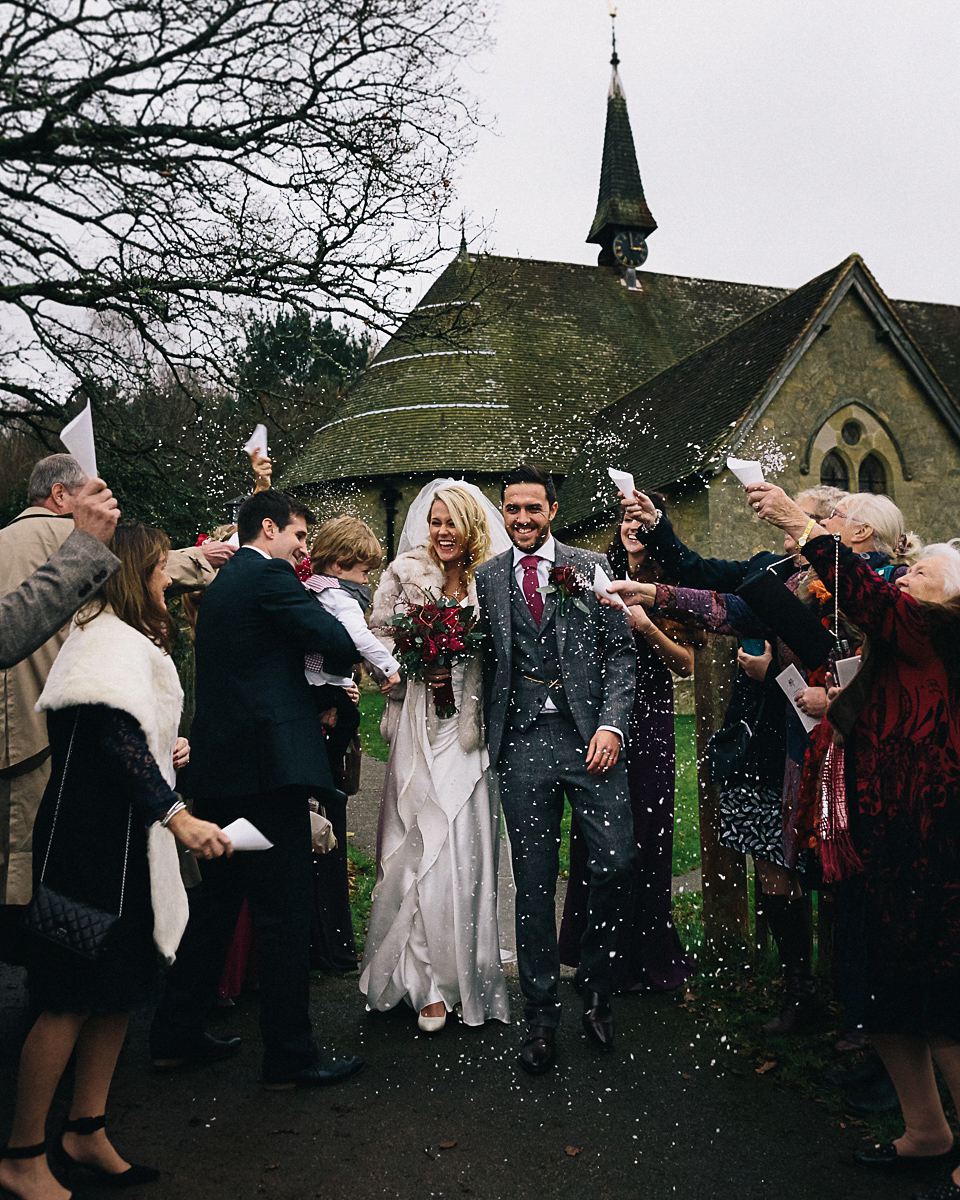 A second member of our Little Book for Brides family, Eclection Photography, took these photographs; "Heather (Eclection Photography) was the photographer I had always dreamed of. Someone who could keep everyone moving but still capture the really intimate moments. She understood my dream photography style: dark and mysterious, finding the warmth of winter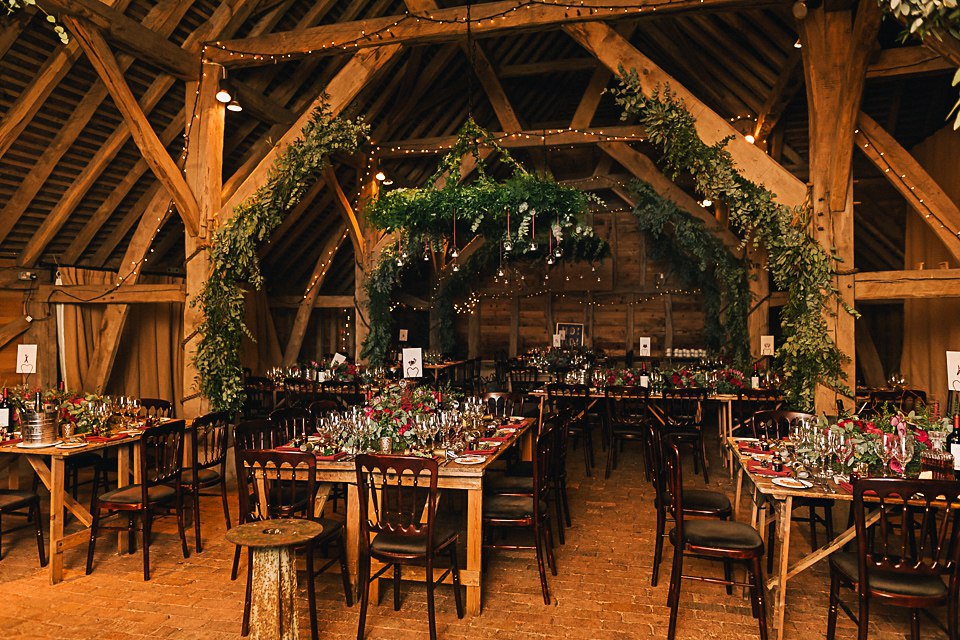 I think Hayley's tale of exceptional service shows just how important it is to select the right bridal boutique for your foray into the sacred world of wedding wear.; "Emma at Miss Bush was just incredible at selecting both my dress and the bridesmaids dresses. She knew the minute I walked through the door that the 'Pearl' was for me. It was the first dress I tried on and nothing came close to fitting my shape so perfectly."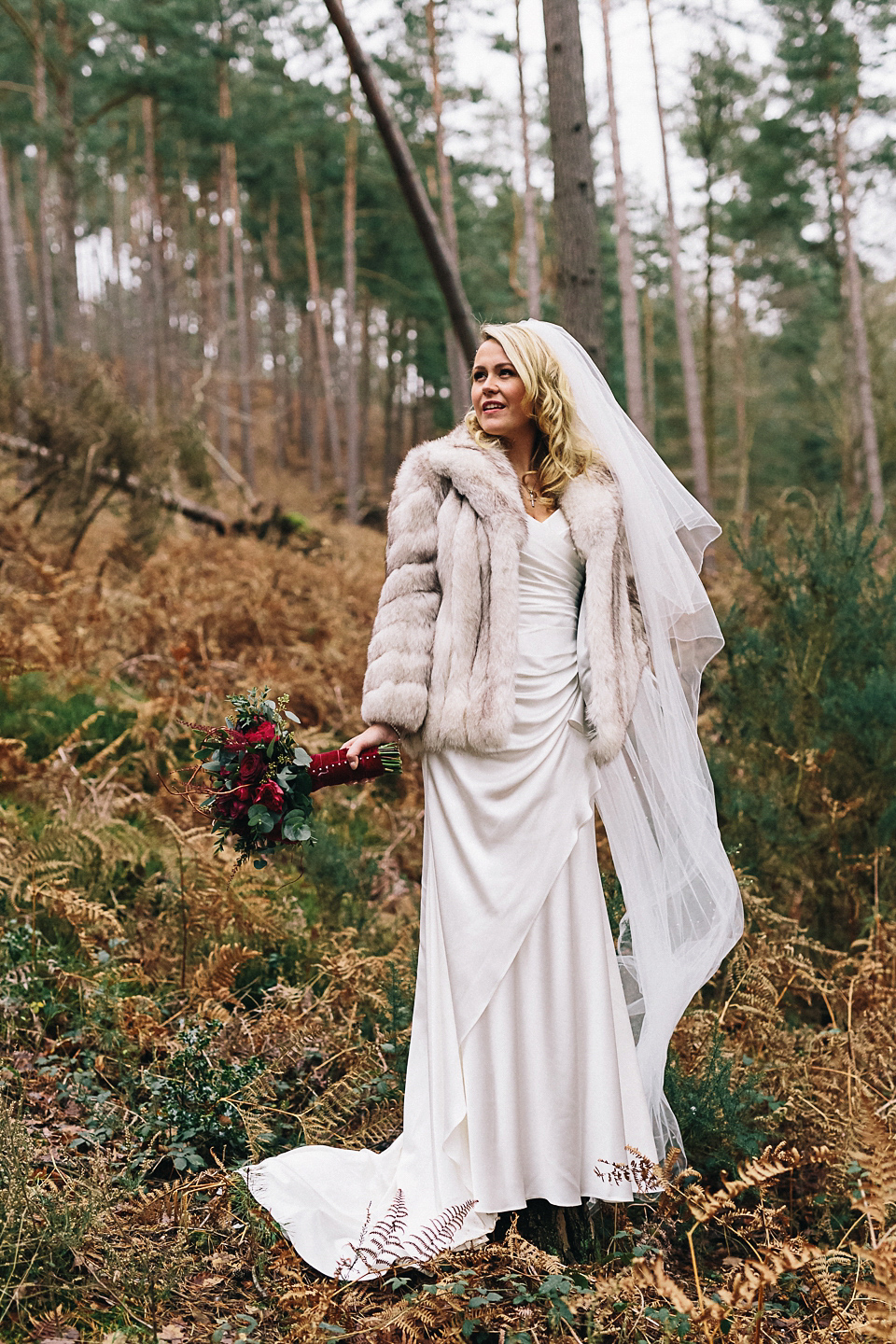 "The beautiful forests that Scott and I enjoy when we take part in country sports and walking with family were the initial basis for our theme. As we selected a December date, we looked at the stunning natural colours, smells and richness of the reds and purples that come from that time of year."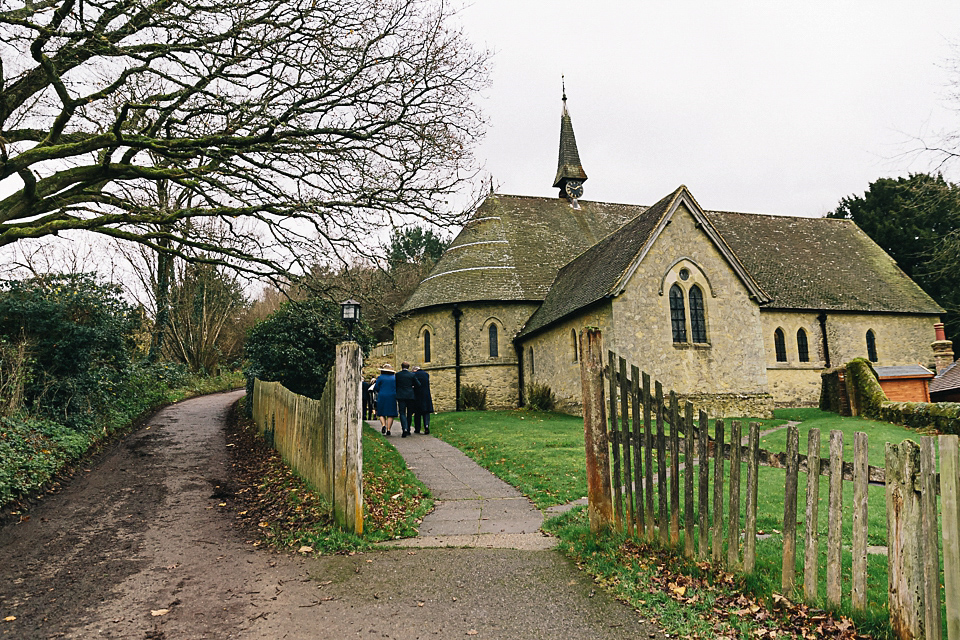 "Christmas is a big thing in our families, but we stayed away from the traditional red and white Christmas theme and focused on the 12 Days of Christmas Carol, especially as our wedding was on 12th December! Each table was named after a verse of the carol and we all stood to sing after the main course – each table standing up and singing the loudest to play their part."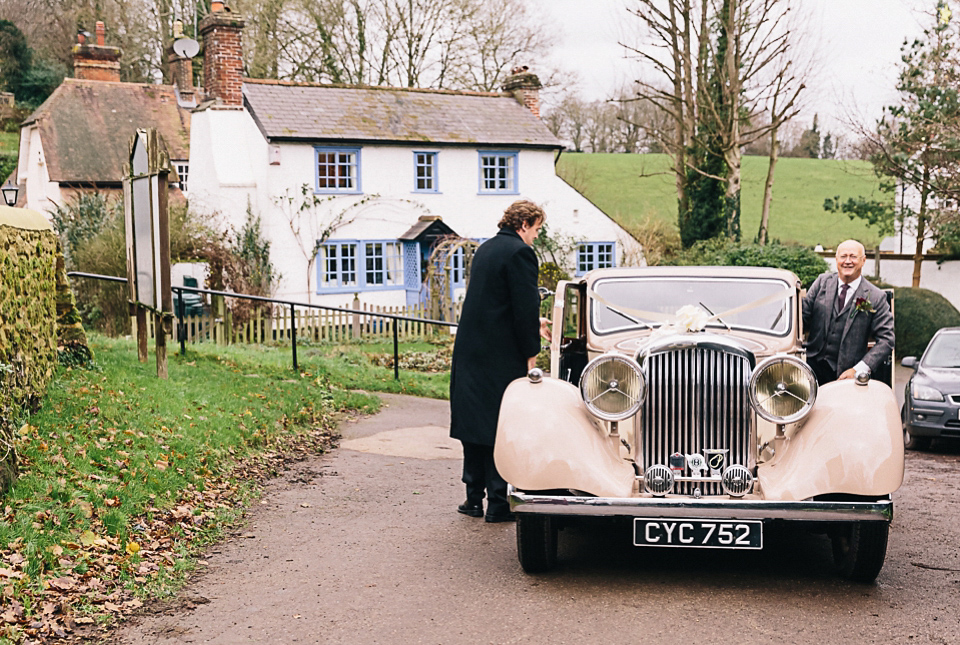 "Another influence was 1940's glamour. As avid fans of Goodwood Revival, my dress was classic and elegant. Scott wore a tweed suit that we had specially made for us in the Glenlyon Mills. The groomsmen, fathers and mothers of the bride and groom, page boy and very special man, Uncle Jack all wore elements of the tweed."
"The tweed had the wedding colours woven through and each of the bridesmaid's dresses tied into these colours. The night ended with a 20 piece Big Band playing songs from the 1940's swing era."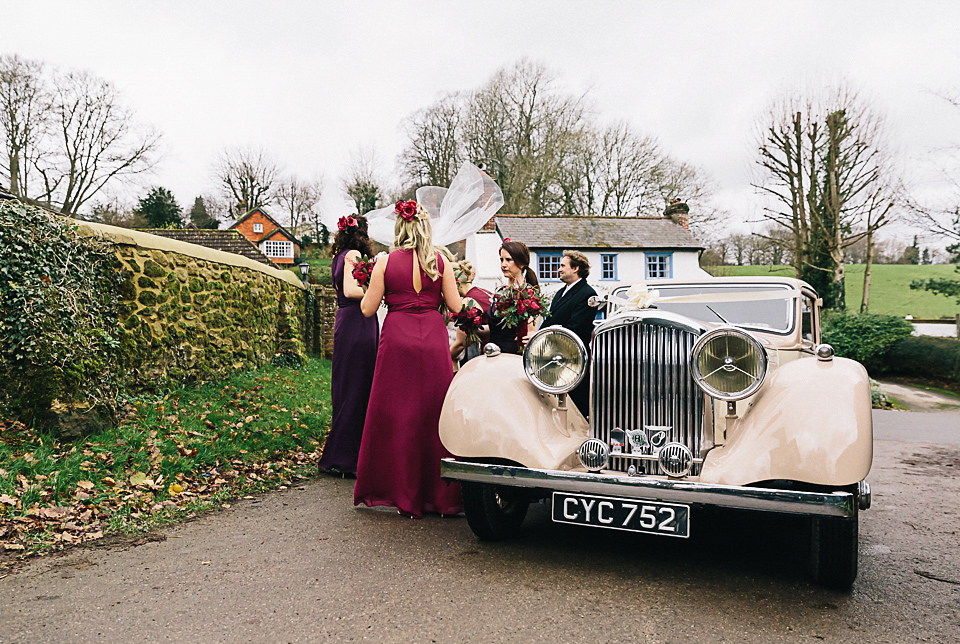 Hannah accessorised her gown with LK Bennett heels, a Richard Designs veil and a spritz of White Patchouli by Tom Ford. I truly love it when family memories weave into the fabric of a Big Day, and Hayley wore a silver fox fur that had been bought for her mother by her father in the seventies and kept safely for special celebrations. A diamond cross necklace and bracelet was also borrowed from Hayley's lovely mum for an extra bit of icy sparkle.
Make Up Artist to the stars Chloe Meddings took care of Hayley's hair and make up,  complete with envy-inducing retro waves and a berry lip.
Groom Scott looked cosy and handsome in his bespoke Glenyon tweed made by Hon Sartor.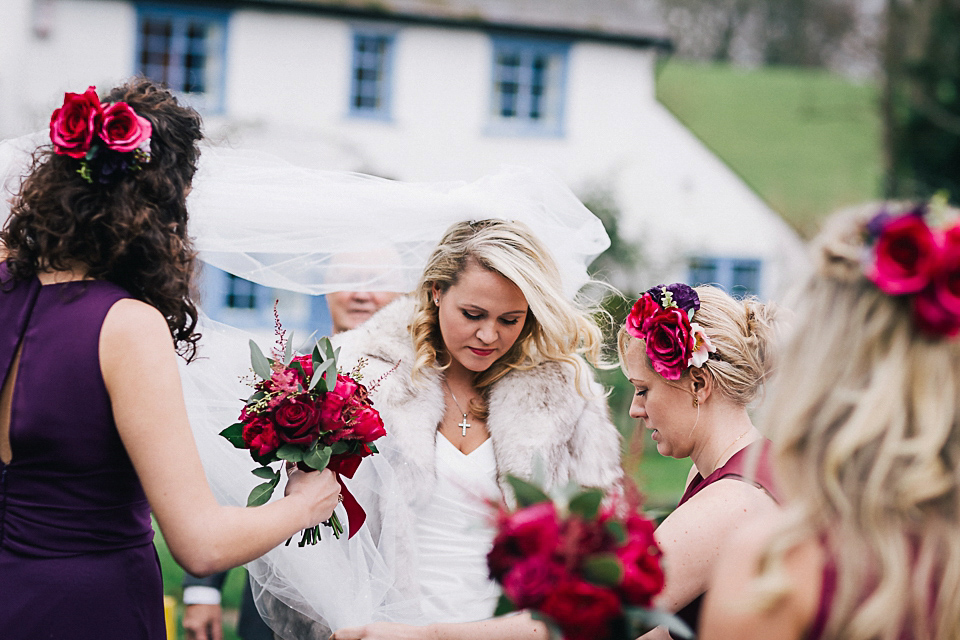 Bridesmaids were clad in berry tones, with purple gowns and Hayley's squad were kept cosy in a range of vintage furs borrowed from family and friends.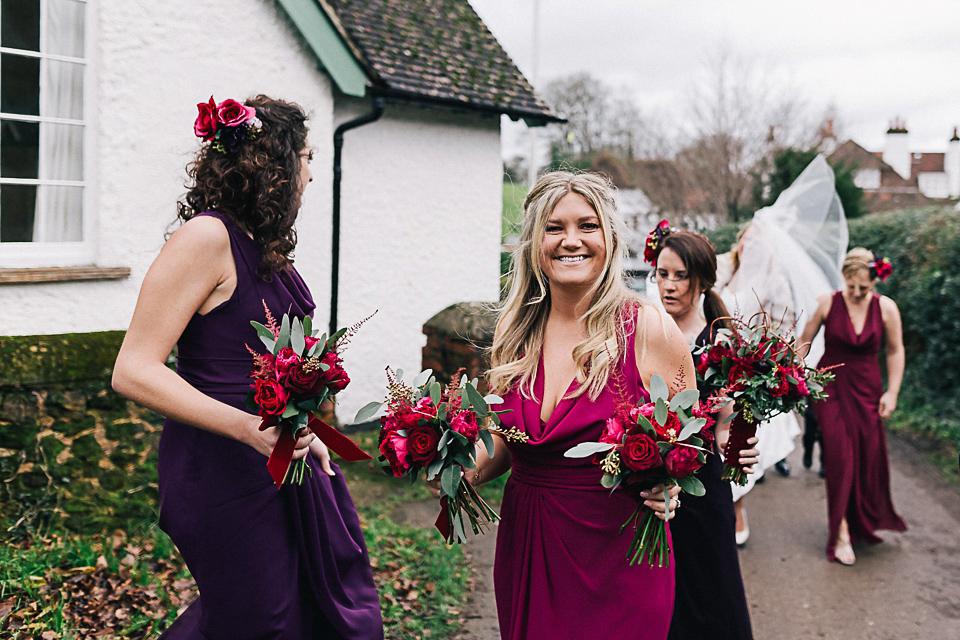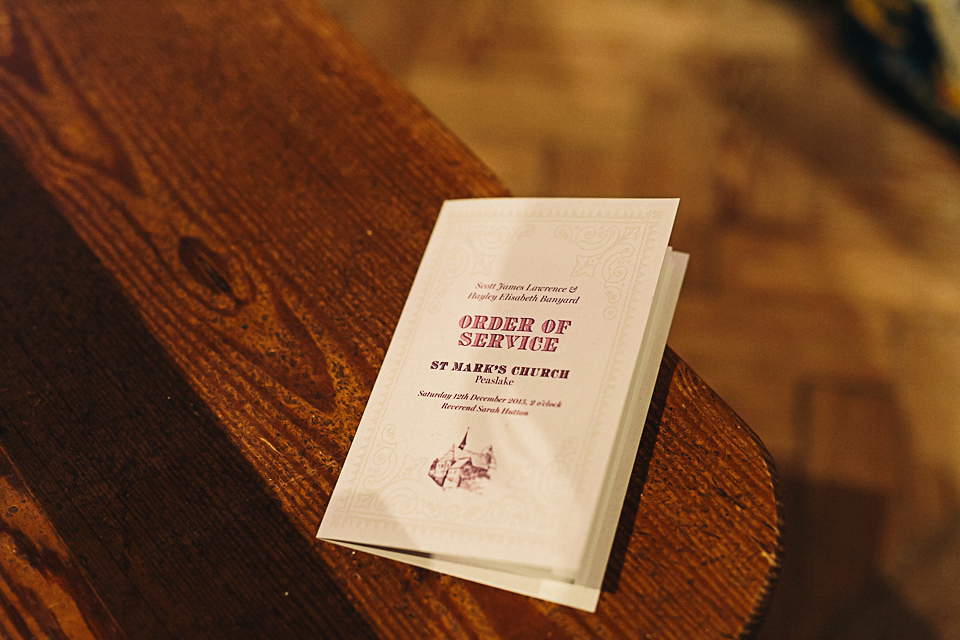 Memorable photographers capture spirit; the spirit of a moment, emotion or person, and this was particularly poignant for Hayley after the loss of a very special man.
"Heather also took several photos of my Uncle Jack who we have since lost. Those photos are simply magical and have captured such fond memories of him in his Christmas hat!"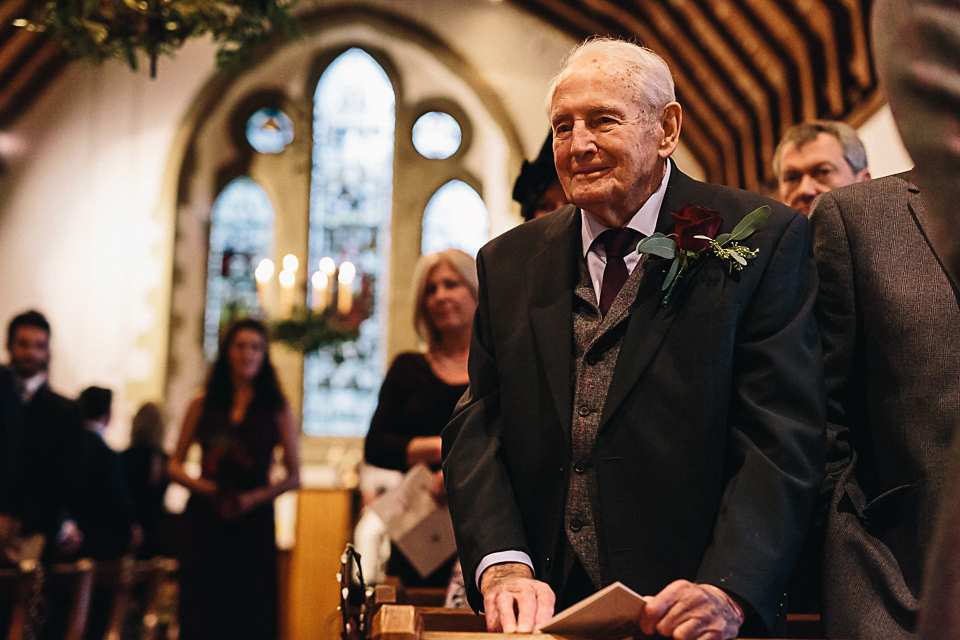 Hayley walked down the aisle with her Dad to the wooly hug of 'White Christmas' sung by Bing Crosby. How wonderful that their Reverend made her sermon so personal and engaging.
"Our Reverend was Sarah Hutton and she made the whole process so calm and easy. We stuck to the traditional Christian vows and Sarah spoke in her sermon about the tweed we had created; like the reading from Ecclesiastes we selected three cords are stronger than one – our marriage is like the tweed we made together, the cords of our family, friends and loved ones make it stronger."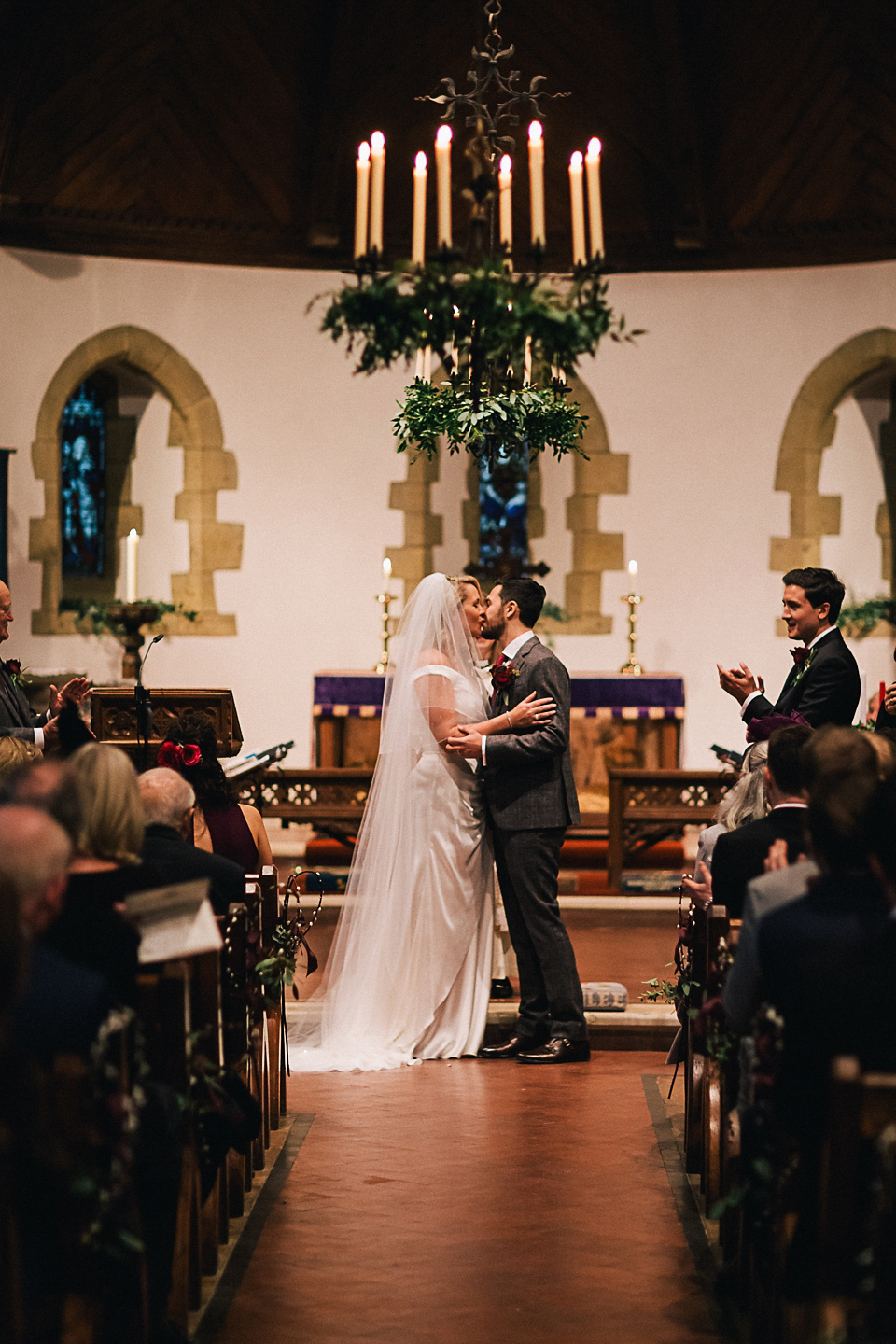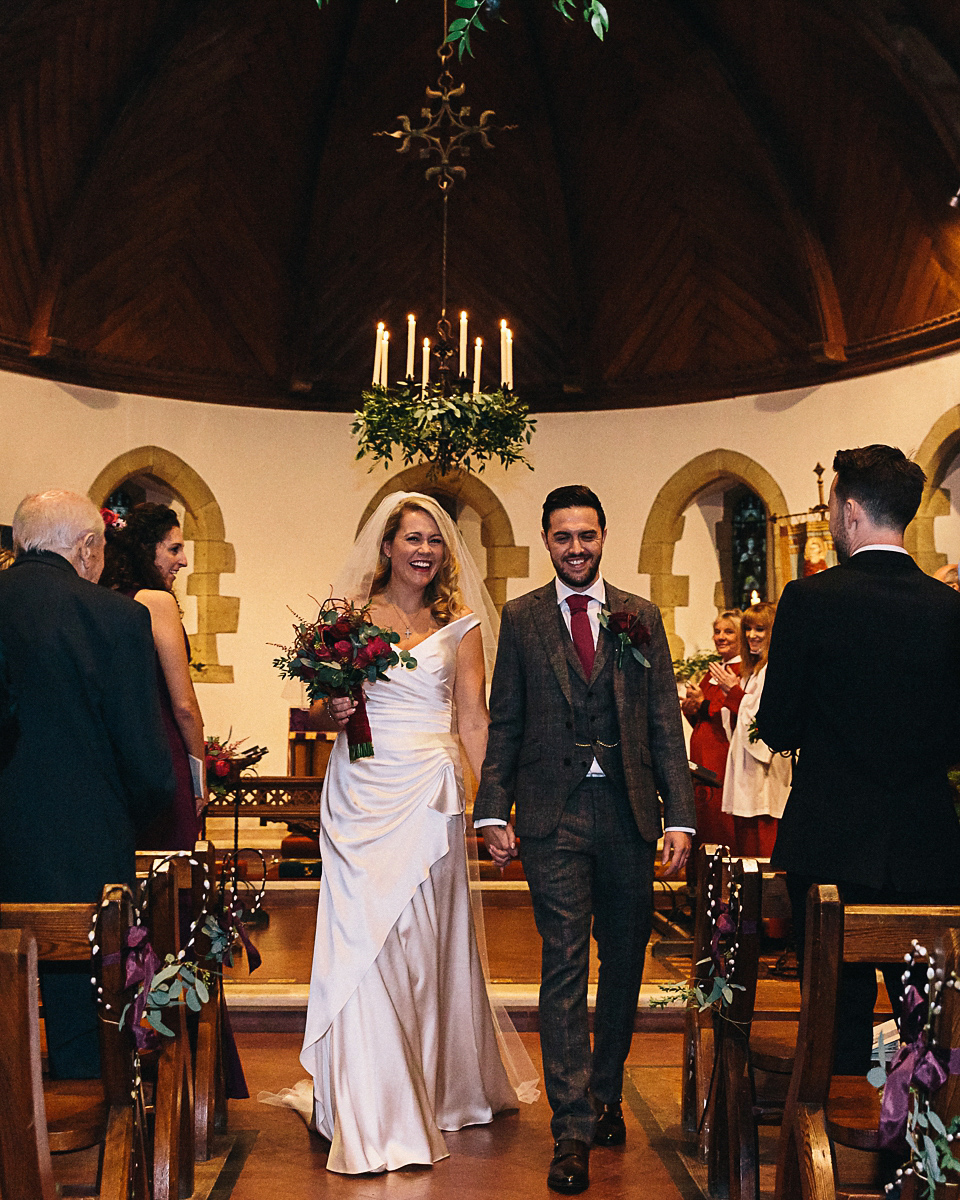 Eclection Photography, and second shooter Joanna Nicole, produced spectacular images from Hayley & Scott's day that look straight out of a Christmas film (one that I definitely want to watch, with all of the Quality Street).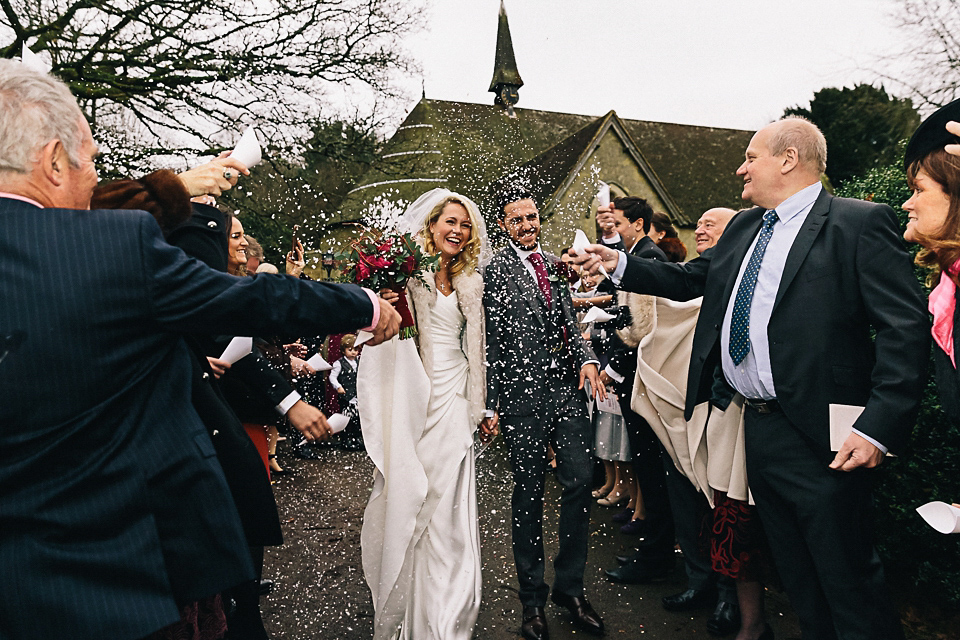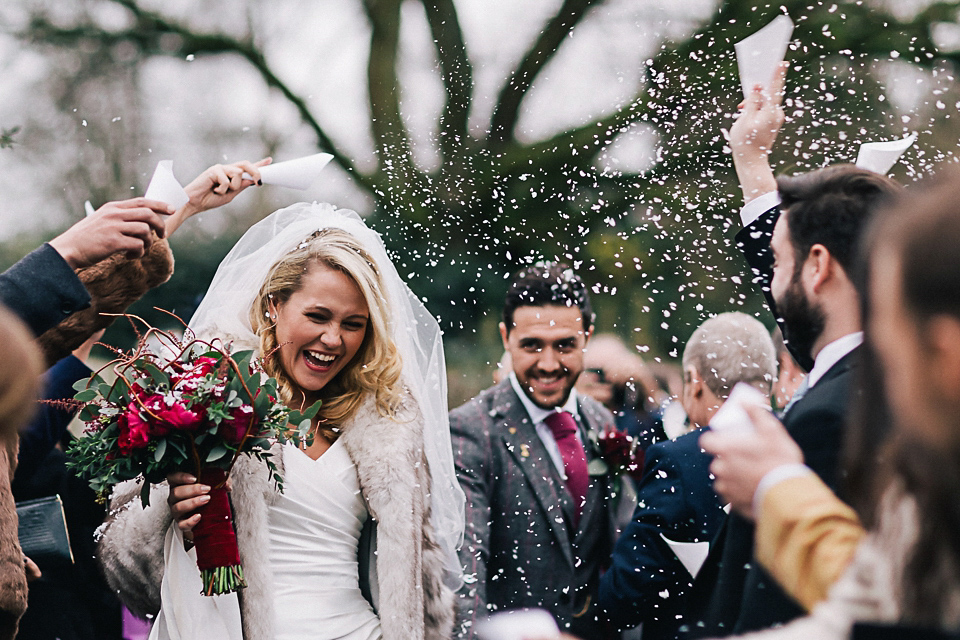 "Our Photographer was brilliant at keeping both Scott and I calm throughout the process and truly was a wonderful addition to our day, she also brought the sparkle with her eclectic gold trousers! I loved them!"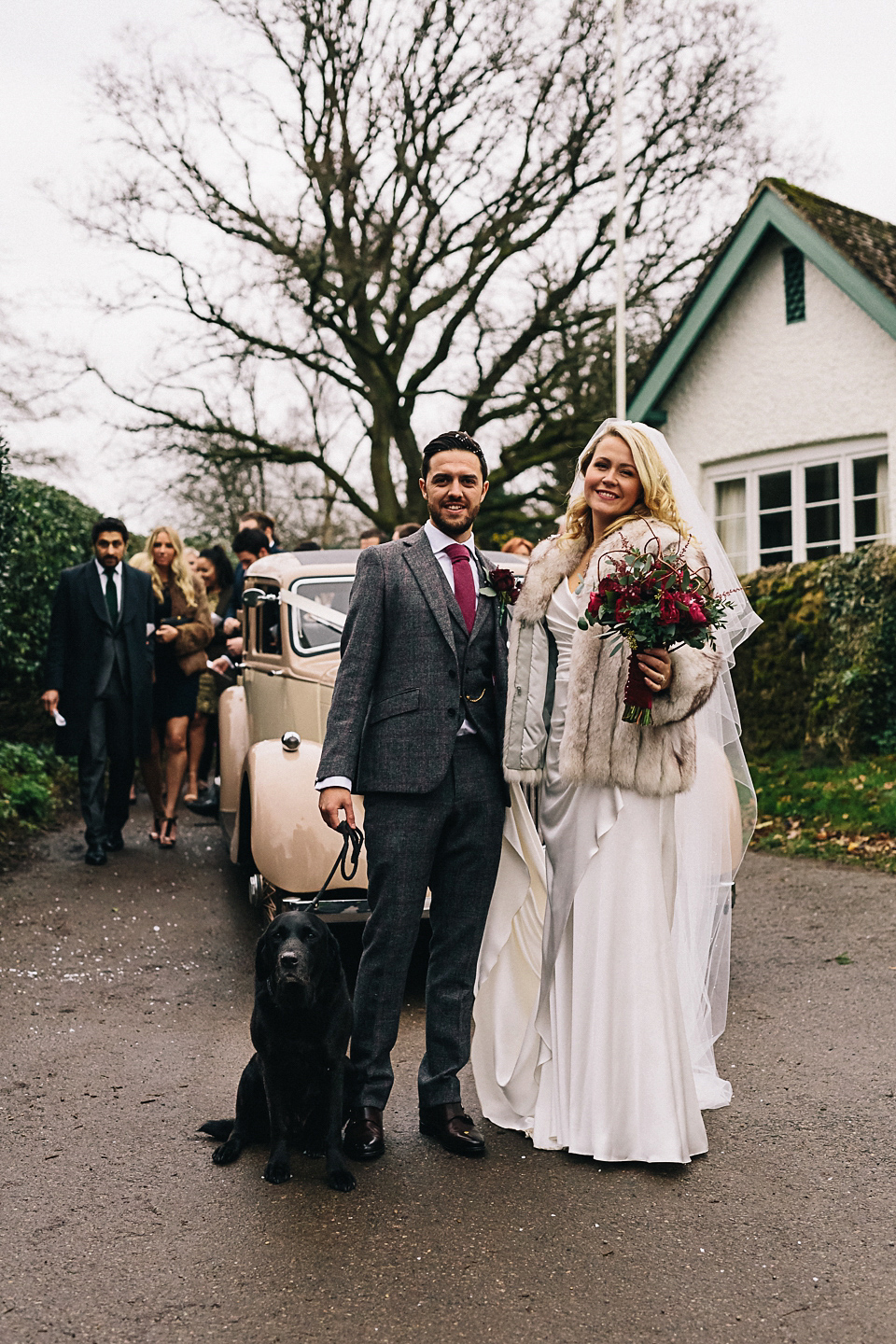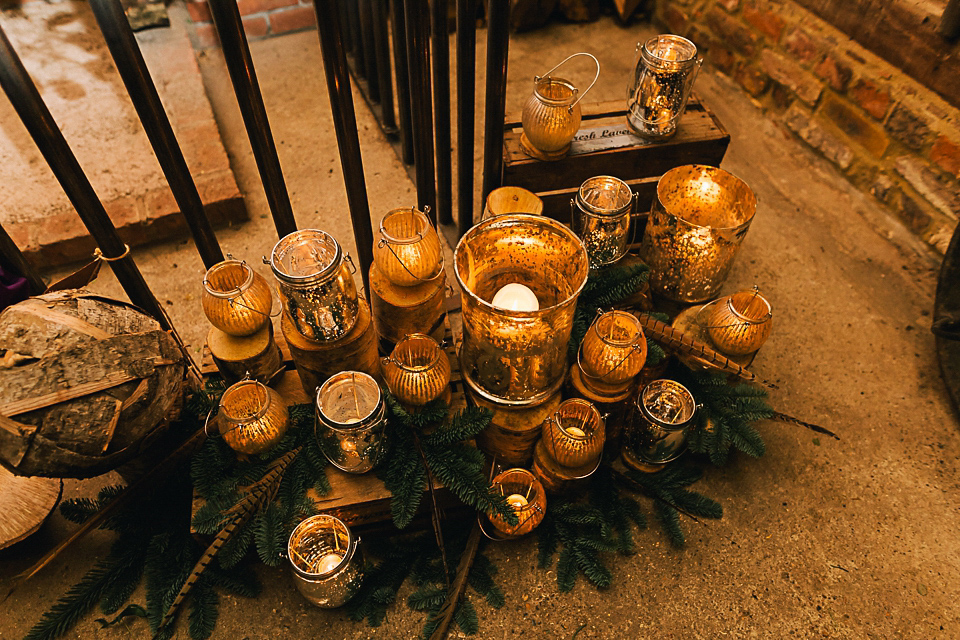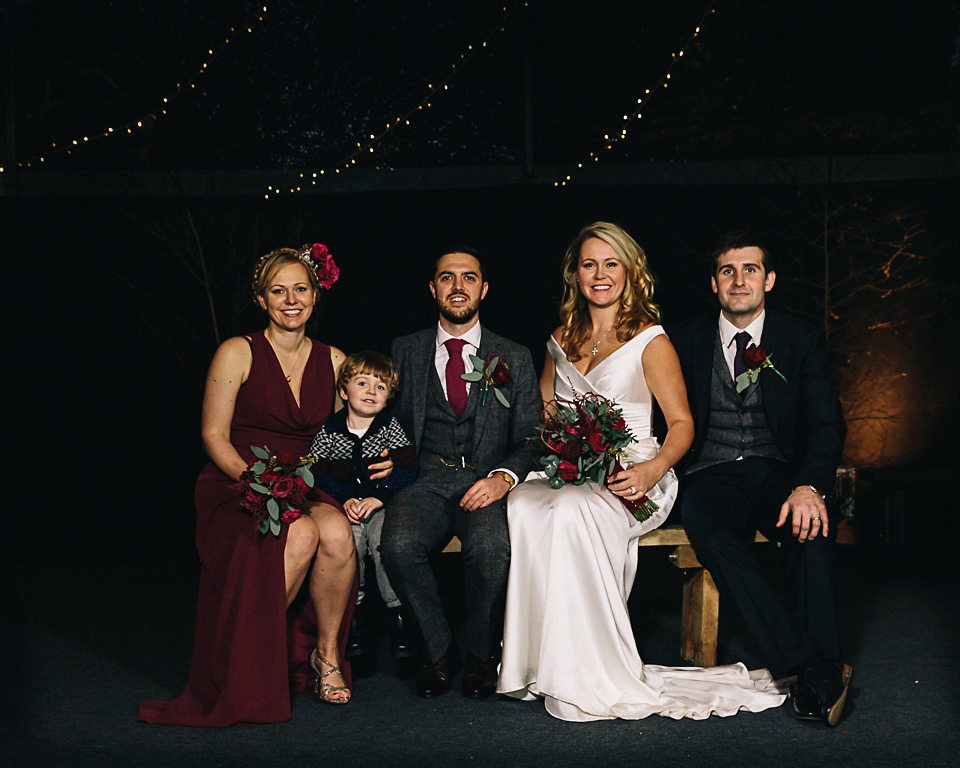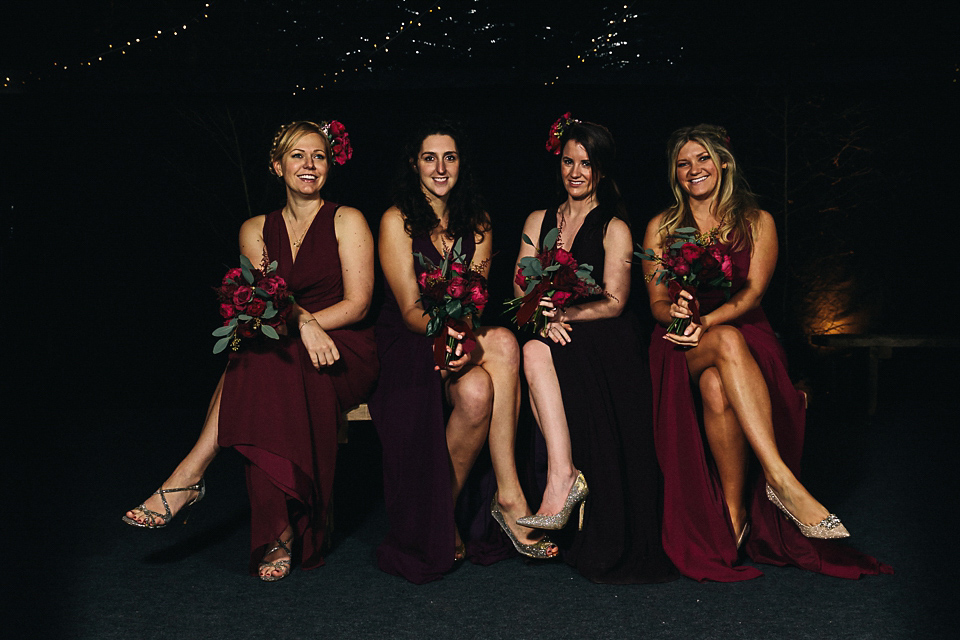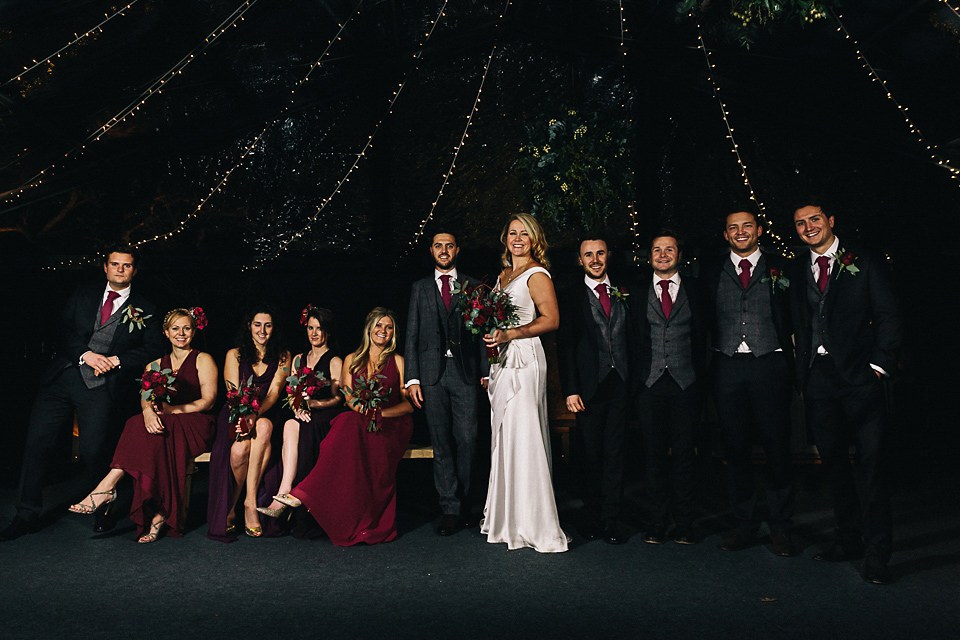 Deep velvet tones were accented with Eucalyptus within the striking bridal party bouquets. Rustic garlands were strung high and low to enhance the winter forest theme, making for an incredibly atmospheric party space. Florists  Red Lipstick Flowers and Nordic Twigs worked together to create this winter wonderland, and have since been inspired to collaborate creatively as often as possible.
"We gave guests favours of Sloe Gin, Hurtberry Jam, gingerbread snowmen and angels which were all made by my mum. Scott's mum supplied vintage decanters for each table that contained desert drinks of Brandy and Port."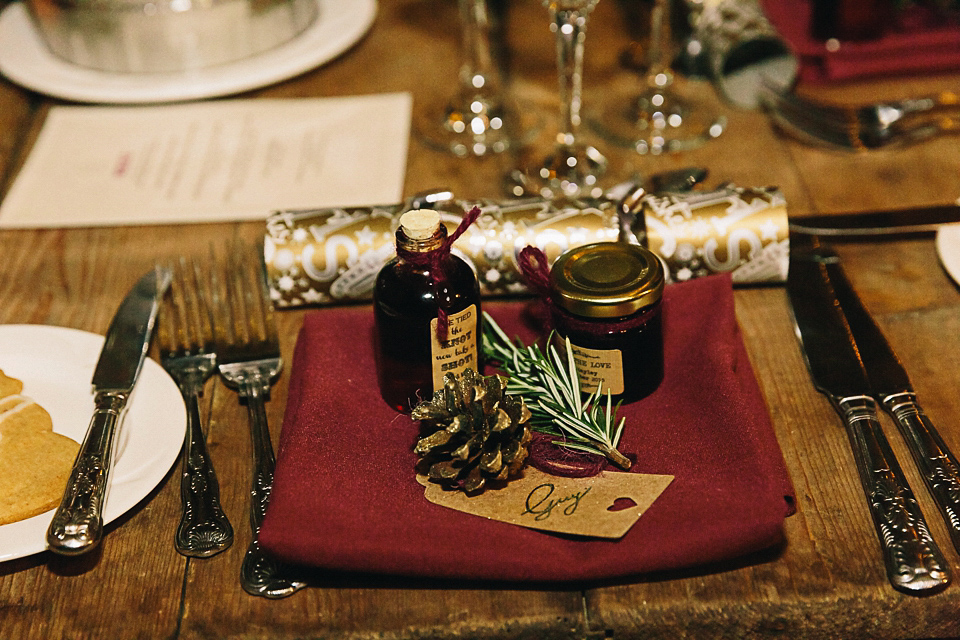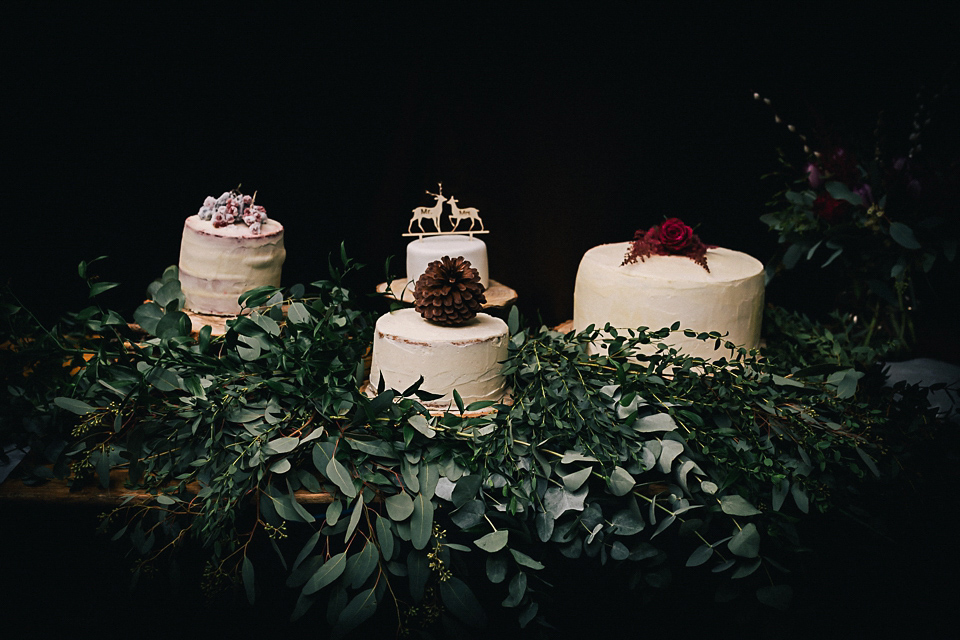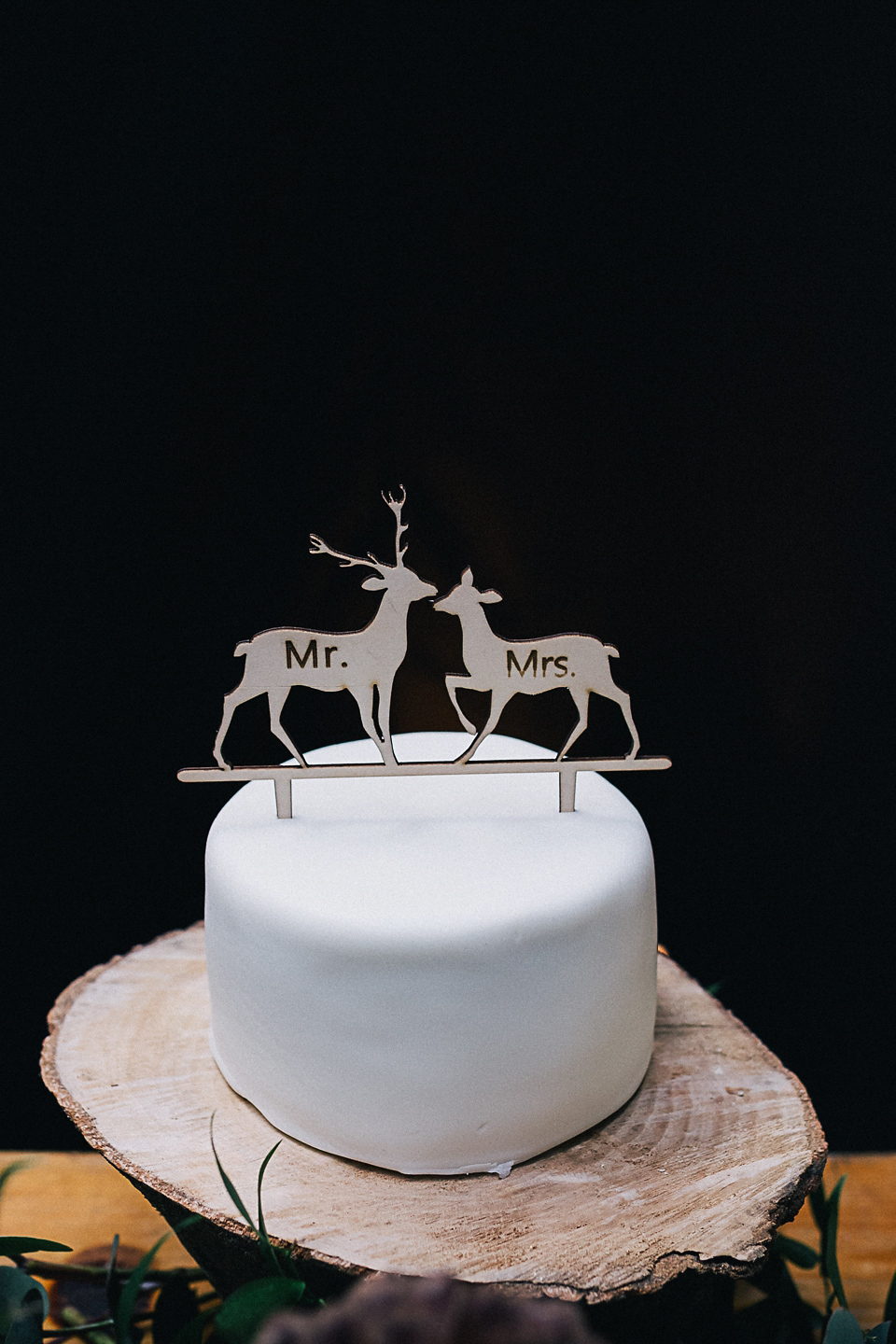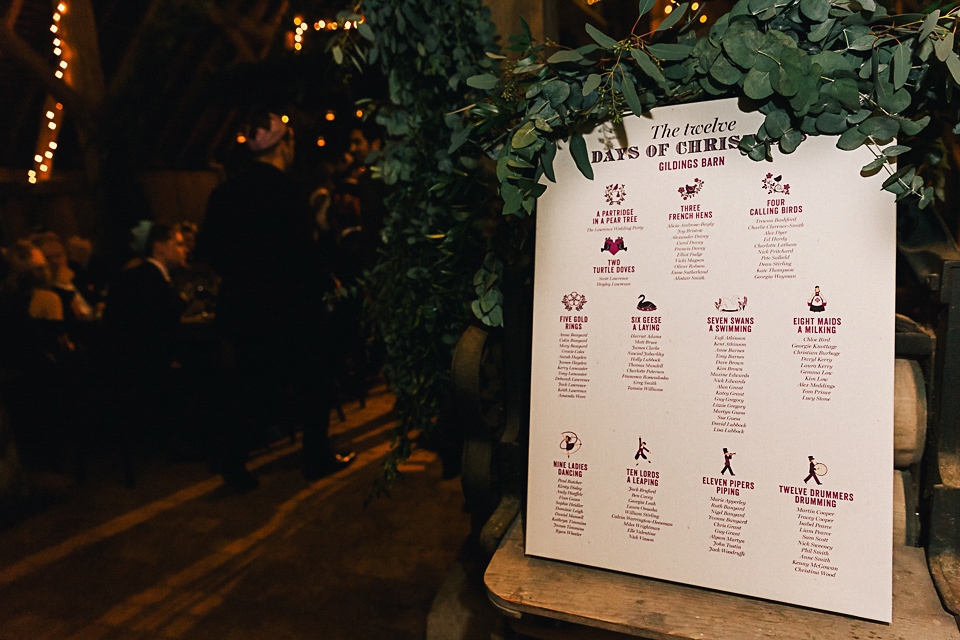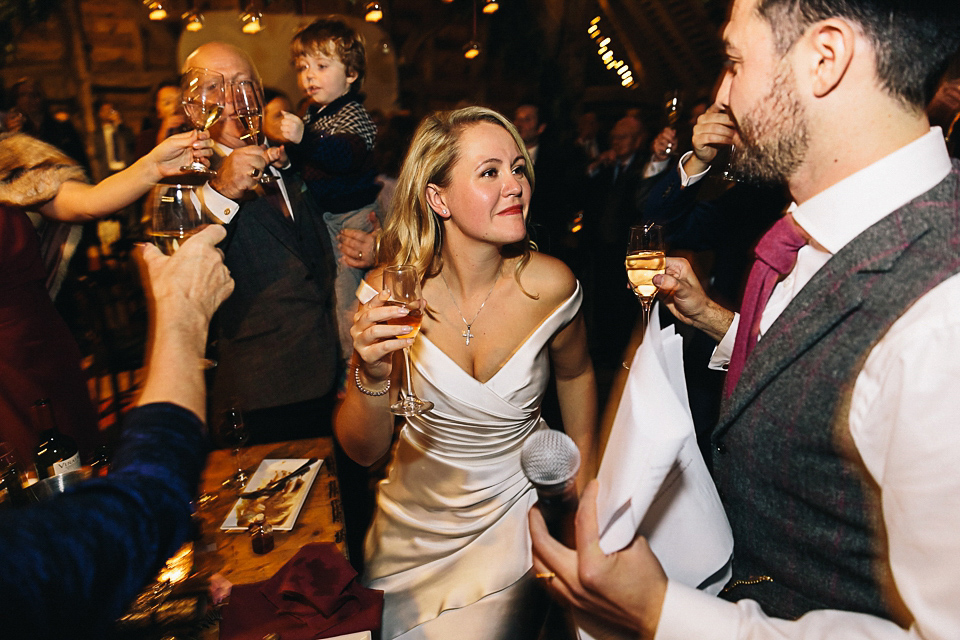 "Our first dance was 'The Way You Look Tonight' by Frank Sinatra which turned into Opus 1. Our choreographed dance was put together by Jenny Thomas, the Swing and Charleston choreographer for Strictly Come Dancing."
The Milestone Band led by Derek Roberts played swing hits from the 1940's era before guests enjoyed a silent disco, choosing between a mix by the Groom or one of the Groomsmen.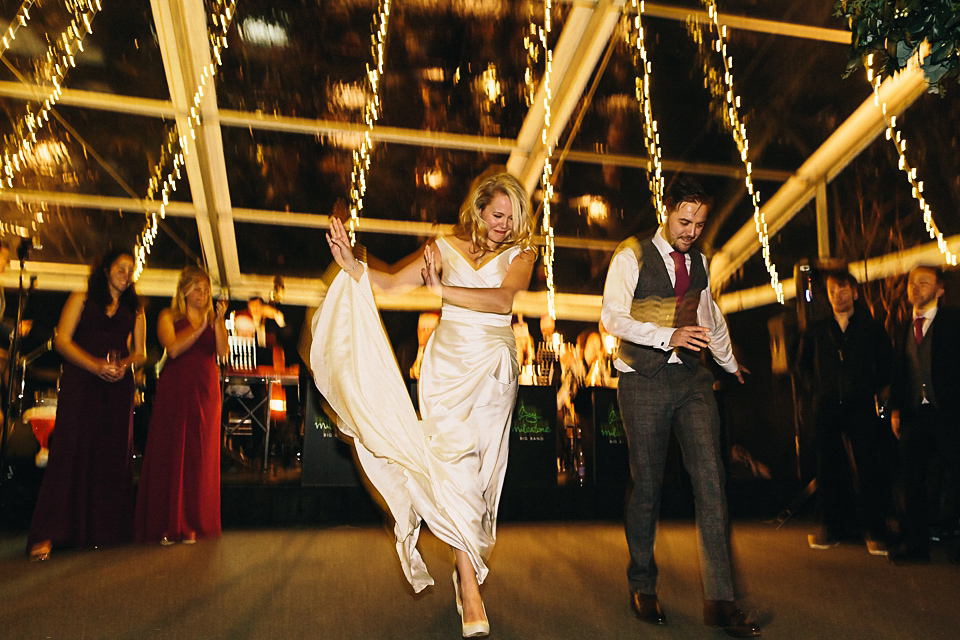 Words of Wedded Wisdom
"If you are not hiring a planner, get a good spreadsheet together! I am sure many have said that it goes quickly so enjoy the whole day. My favourite part was being in the car together en route to the reception, just the two of us having moment to reflect."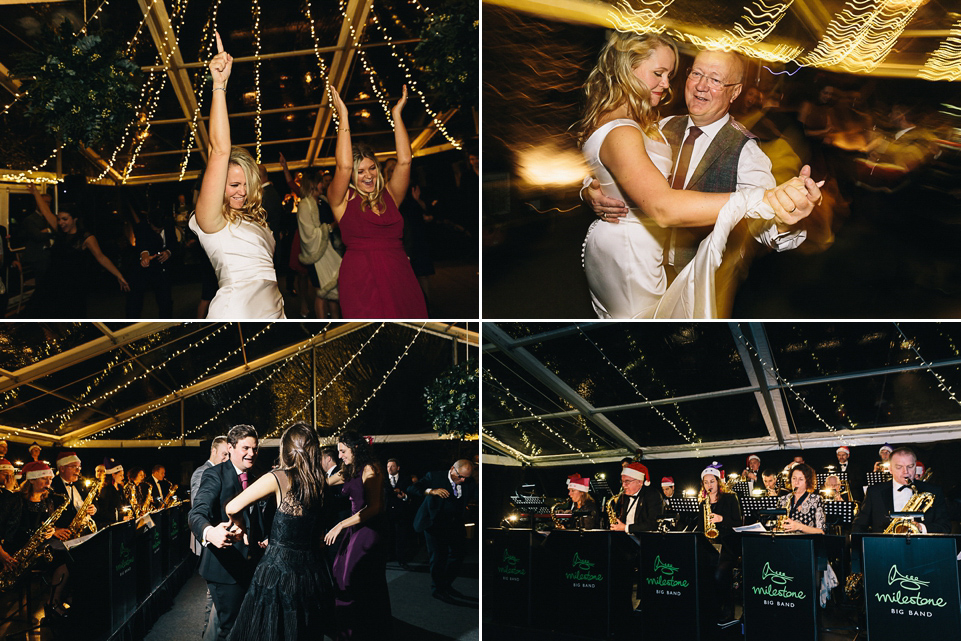 Well, I think this knockout of a Christmas wedding shows what you can do with a little help from your Little Book for Brides friends and a spreadsheet. I've been bewitched by Hayley and Scott's celebration from the moment I first started devouring these images, a huge thank you to the gorgeous Bride and Groom and of course Eclection Photography. You can see more of Heather's work by clicking here.
Fellow slightly harassed Brides, I urge you to read our latest wedding planning post, make a strong cup of tea and take a deep breath; we too shall soon join the ranks of joyously married people whose hard work and slightly obsessive nature (I know its not just me) paid off.
Until next time lovelies,
Emily B x