If you're wishing it were Bank Holiday Monday again, then now is time to take a break from your work over a hot cup of tea as you peruse this delightful couple's sweet tale and their relaxed Spring wedding. Sophie works in fundraising, whilst Simon is an intensive family support worker, and the couple married on 28th May 2016 at Hythe Town Hall, Kent, then held their reception at the chapel-like Tin Tabernacle that was only a short walk away along the canal.
We absolutely adore this wedding and it's elegant 1930's influences – from the delightful gold stars that rest on Sophie's headpiece to the sublime shape and pattern of her era inspired gown. Just beautiful – we hope you enjoy it too. We're also delighted to let you know that these photographs were taken by our Little Book For Brides member, Matilda Delves.
"When we started the planning process, our number one priority was for it to feel very personal and 'us'. Throughout our engagement people kept asking us about colour schemes or themes, but I'm glad we stayed strong and didn't pigeonhole ourselves to something too specific. It's so easy to get sucked down a Pinterest black hole though – in the end I choose a few ideas that I loved and kept trying to repeat the mantra that less in more."
"Our one cheesy indulgence on the wedding morning was to buy each other gifts. I bought Si silly love heart pants and socks and Si bought me Dolce & Gabanna 'The One', which thankfully having never smelt it before I love! I wore both the body lotion and perfume on the day.
My regular hairdresser did my hair and I did my own make up. I knew that I wanted my make up quite simple but with a bright red lip so I used the occasion to treat myself and buy fancy products."
The beautiful bride wore a Ghost gown that had such a glamorous 1930s feel to it. She chose the 'Wendy' dress in ivory from the dye-to-order range.
"I've always loved vintage and my first thought when I began to search for a dress was that I would choose something either Edwardian or from the 1970's."
"However, after trying on a few, although they were beautiful, they all felt a bit too casual. My mum encouraged me to try on an original early 1930s gown and I fell in love. If you can't go full on glamorous on your wedding day when can you?!"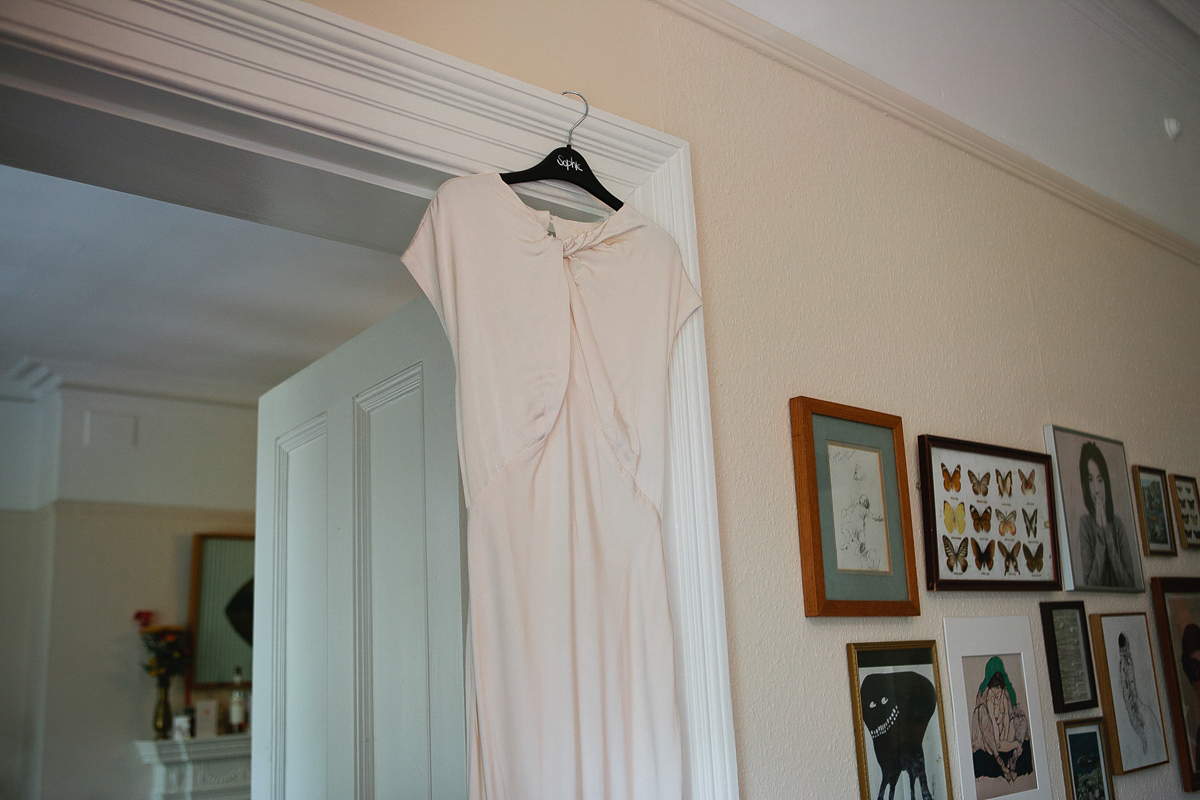 "However, my budget was super small, so after lots of searching online I came across the Ghost dye-to-order range. I went to the King's Road boutique in London and they were so lovely; letting me try on basically every dress in the store. I love how 1930s the 'Wendy' dress looks but also how comfy and light it was to wear. As I'm only 5 foot 5, I got the dress altered locally for £15 so in total the dress came in at £240."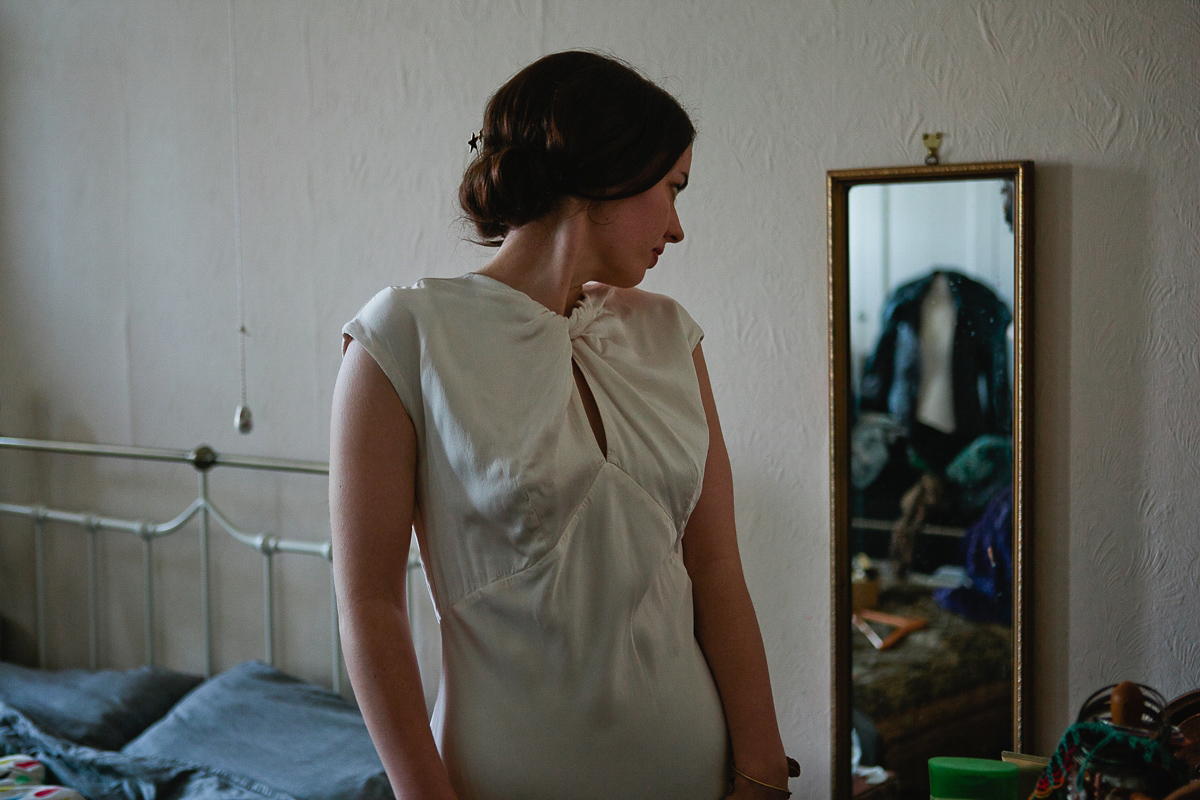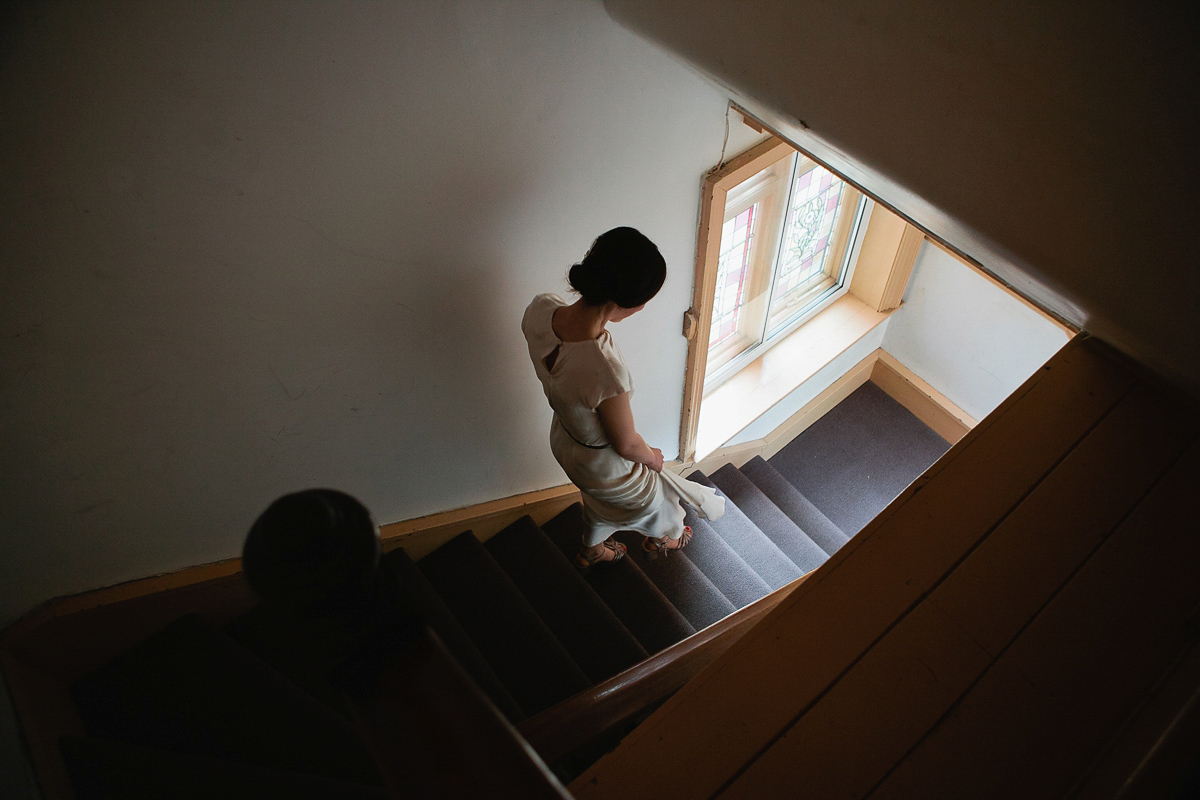 The six pretty bridesmaids wore an array of fabulous frocks in shades of mint green together with their own shoes. Two dresses were vintage and the others were via ASOS and Lindy Bop.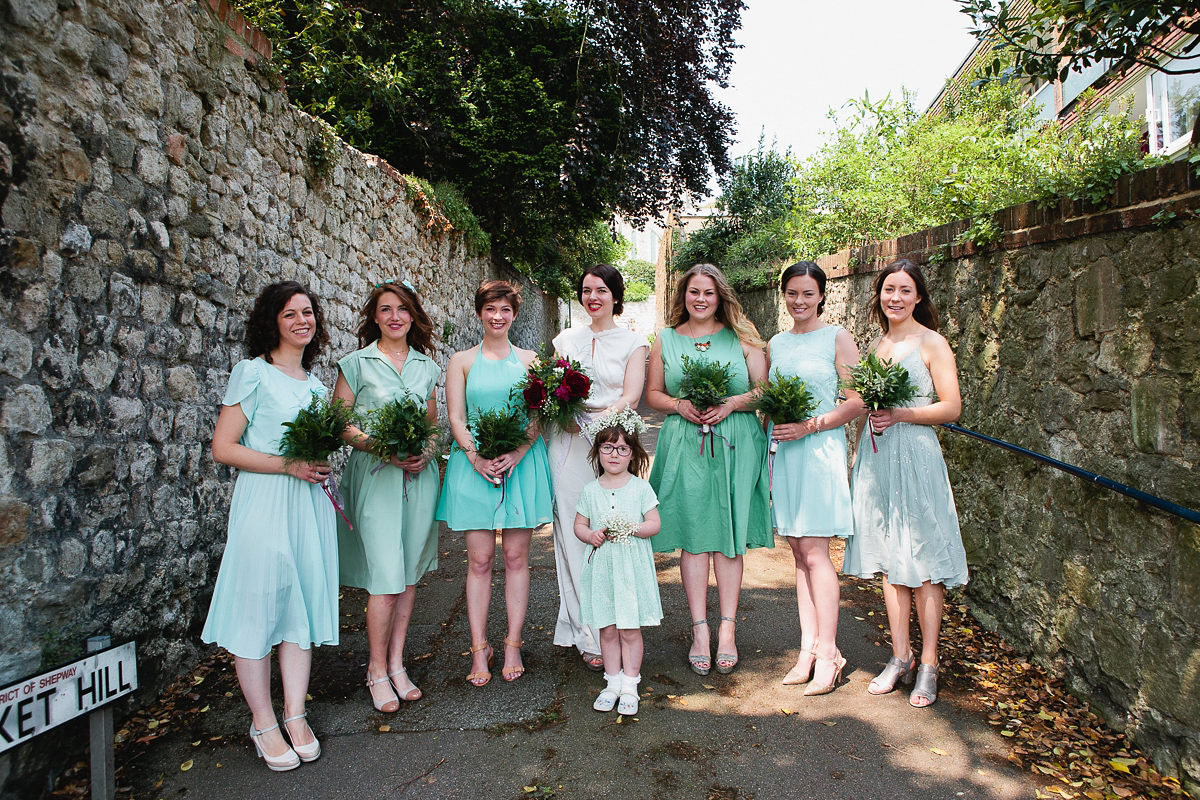 The bridesmaids made the gypsophila flower crowns for the two flower girls on the morning of the wedding as last minute editions, which looked so pretty with their sweet Debenhams dresses.
"After some initial reluctance to wear the crowns, my niece refused to take hers off on the Sunday!"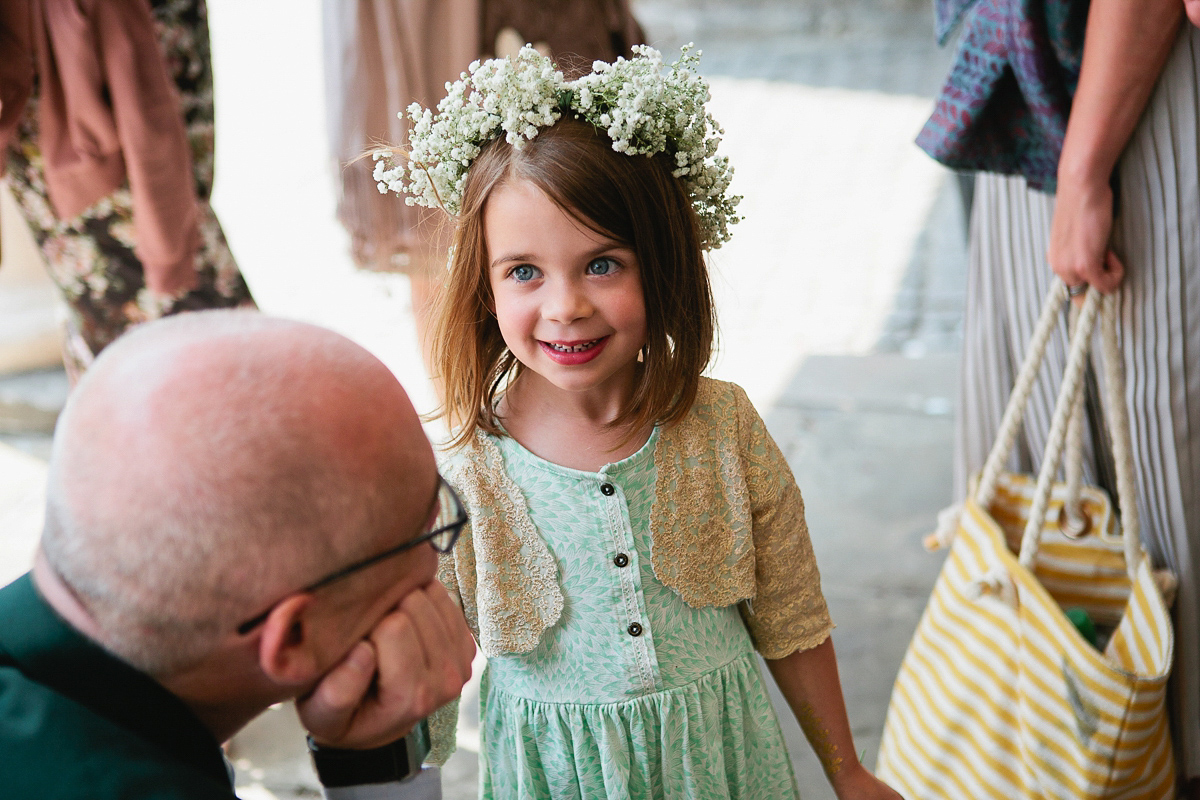 How absolutely stunning are the blooms? The deep rich hues of the peonies with the dark green leaves work so well together.
"Alex at Wild for Flowers was so amazing at maximising our budget and working with my brief, which was basically 'lots of pretty leaves!' In an act of amazing synergy the peonies that were in my bouquet were an exact match for the ones in bloom at my parent's allotment at the time (which we used to decorate the top table)."
"My aunty also helped out with cow parsley and white lilac from her garden to decorate the tables and stretch our floral budget."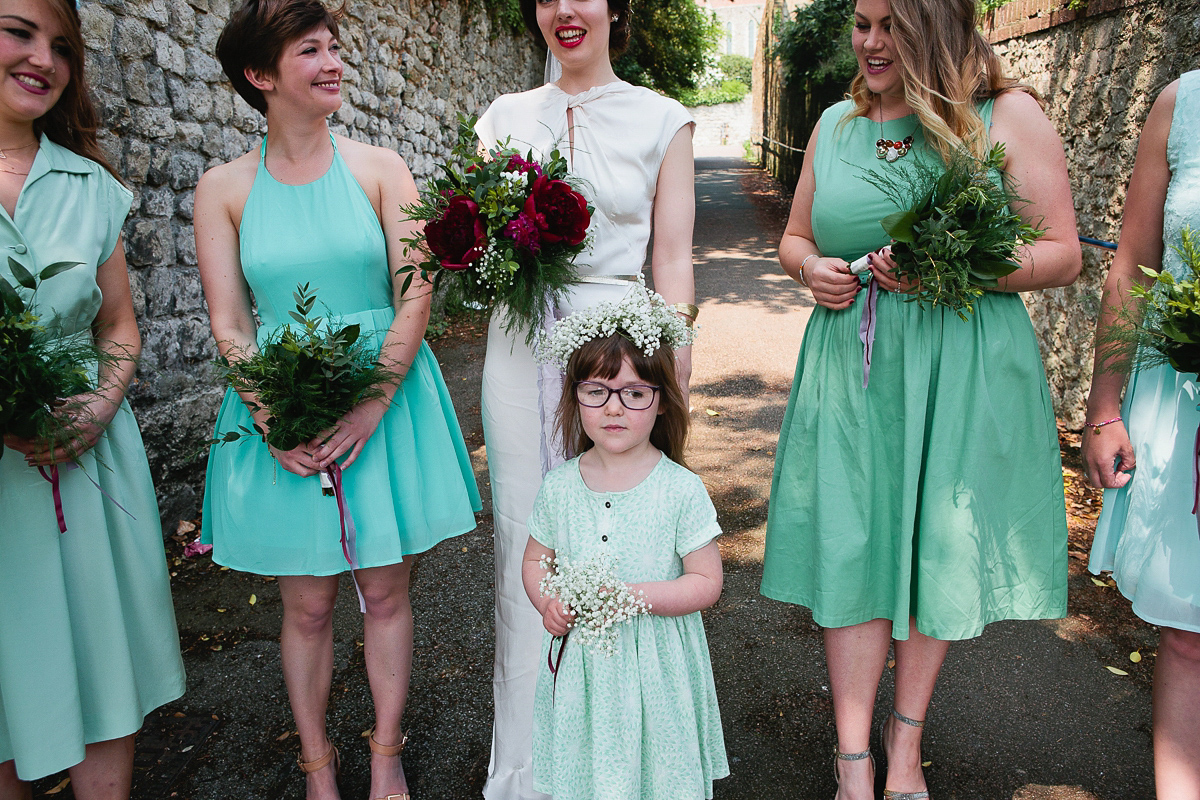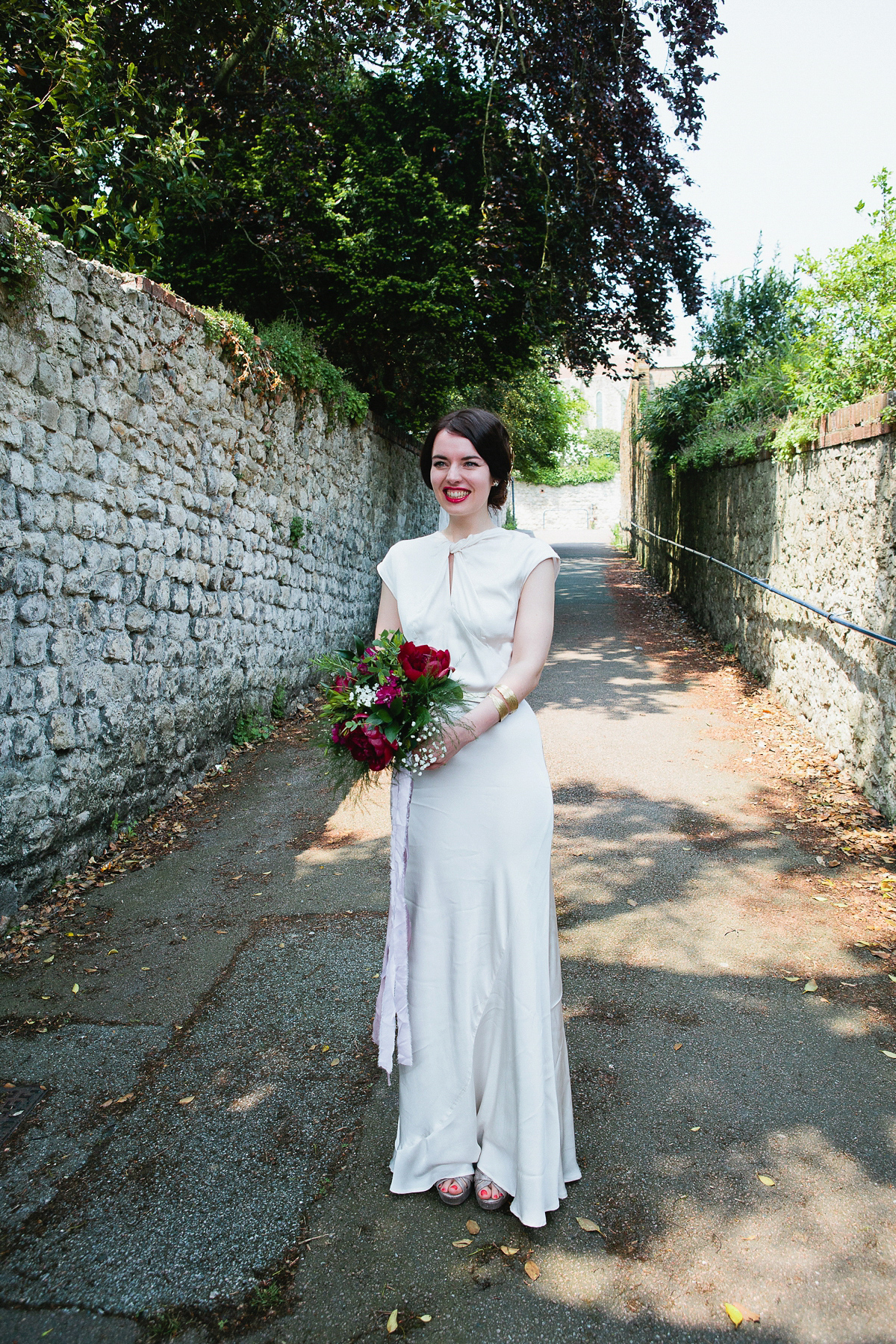 "I wasn't sure if I wanted a veil initially, but after trying a few on I had my heart set on a draped style veil with two combs. I couldn't find one I liked in budget, however after getting in touch with Sian from Blossom and Bluebird from Etsy she made me a bespoke one, which I think is part of their main range now."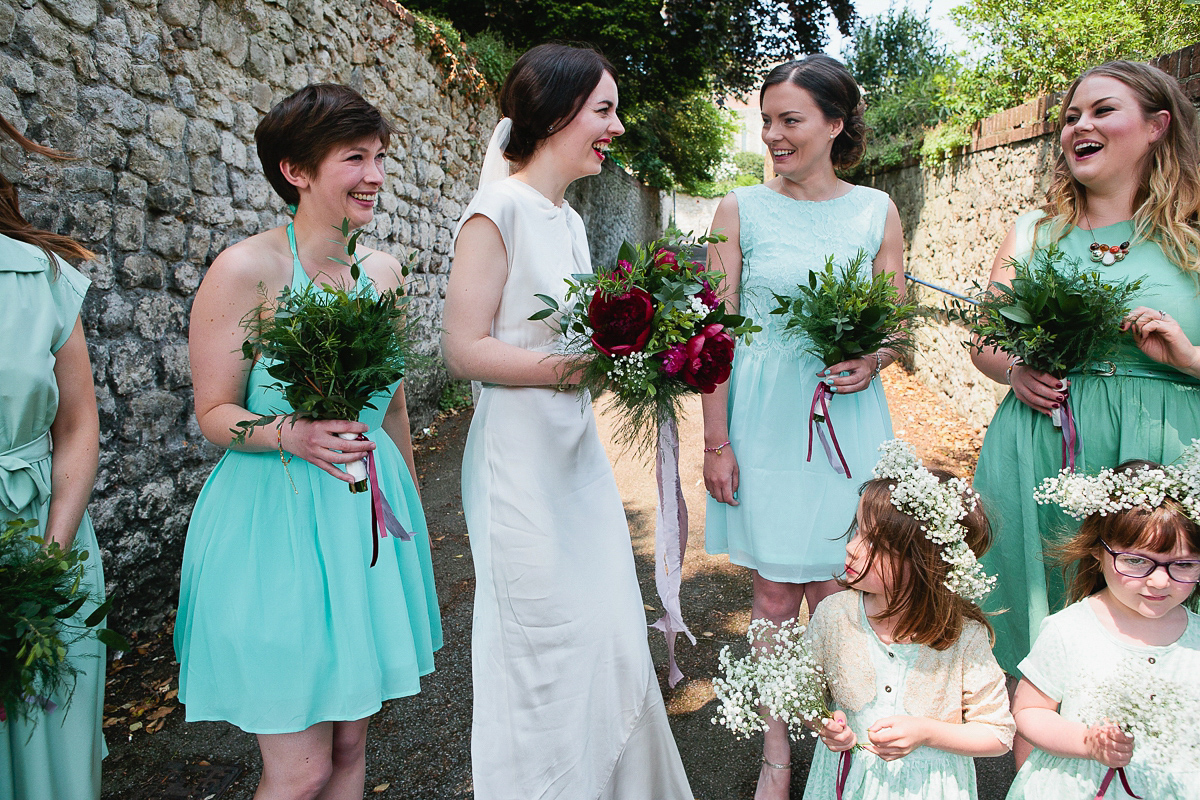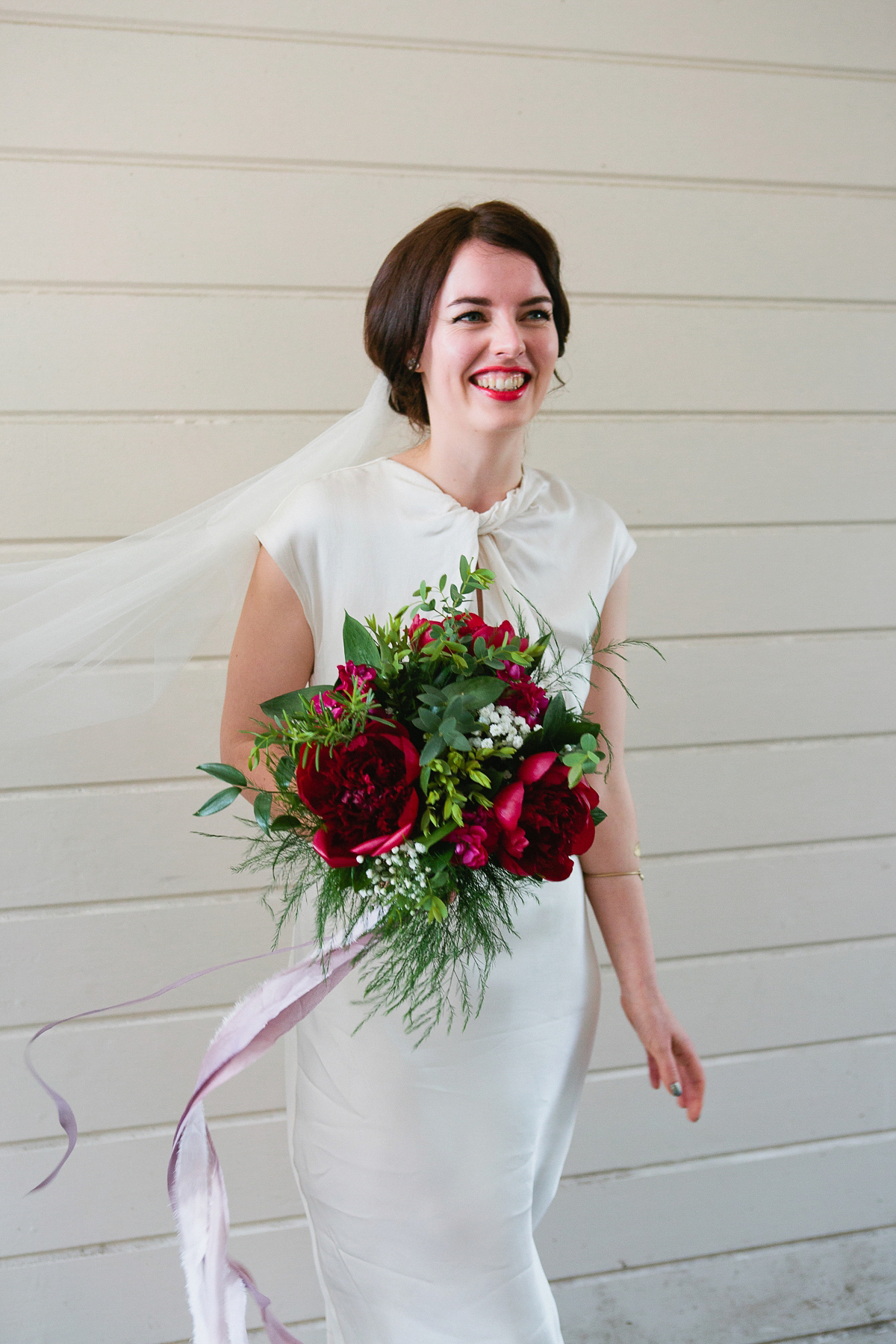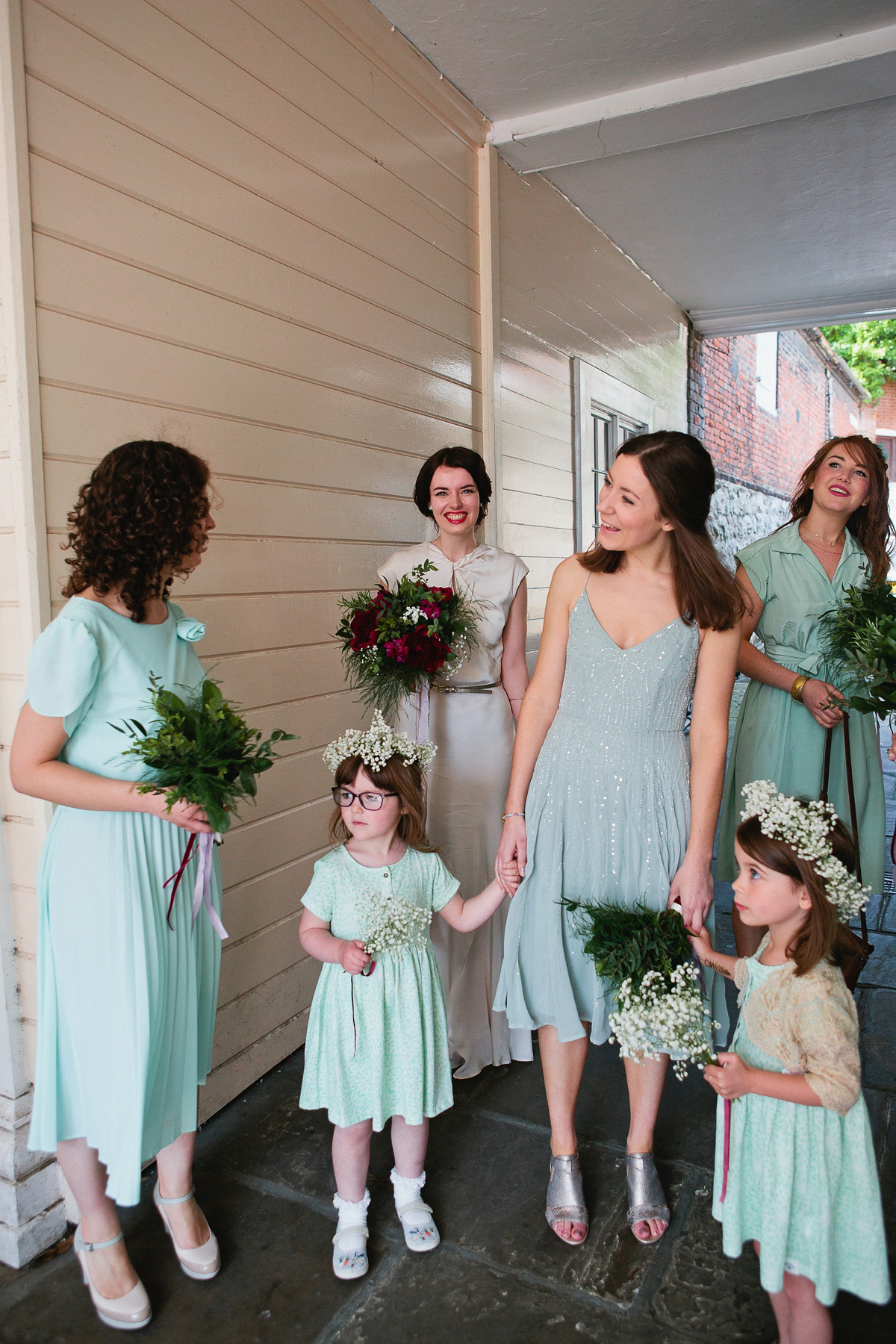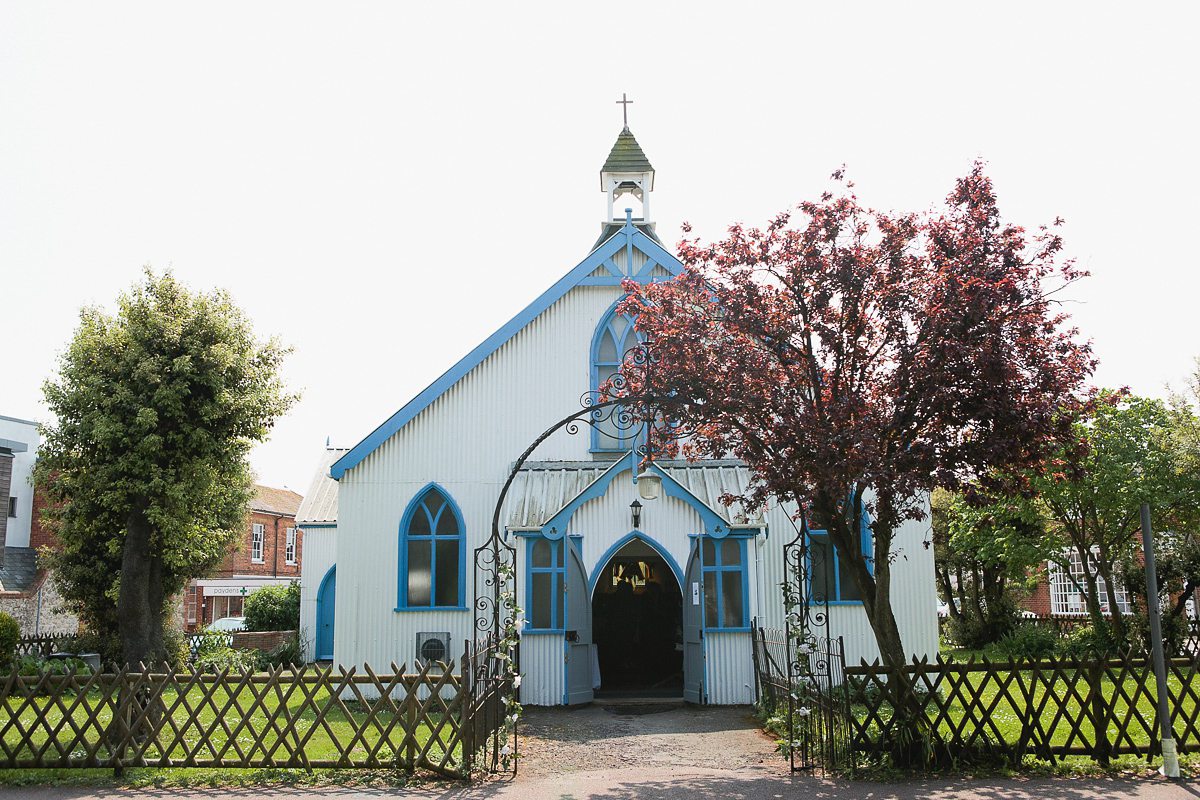 "We've been together for 10 years, so for us the wedding was both a celebration of our relationship so far, as well as a sign of our ongoing commitment (and an excuse to have a big party!). Simon proposed on our 9th anniversary and by the wedding itself we had gone a little over the 10-year mark.
One of the stories retold by the best man in his speech included the fact that Simon apparently pointed me out to his dad in the pub before we had met and stated that if he was going to marry anyone it would be me. I'm never sure if this story is creepy or sweet!"
Simon's groovy green ASOS suit was discovered in their Cyber Monday sale and he paired it with a tie from Ted Baker and shoes from Next.
"I think maybe Pinterest was responsible for the green suit choice. There is a beautiful image of a bride and groom sitting on a moon with the groom in green. This then inspired the choice of the bridesmaid dresses, as I love how mint and dark green look together."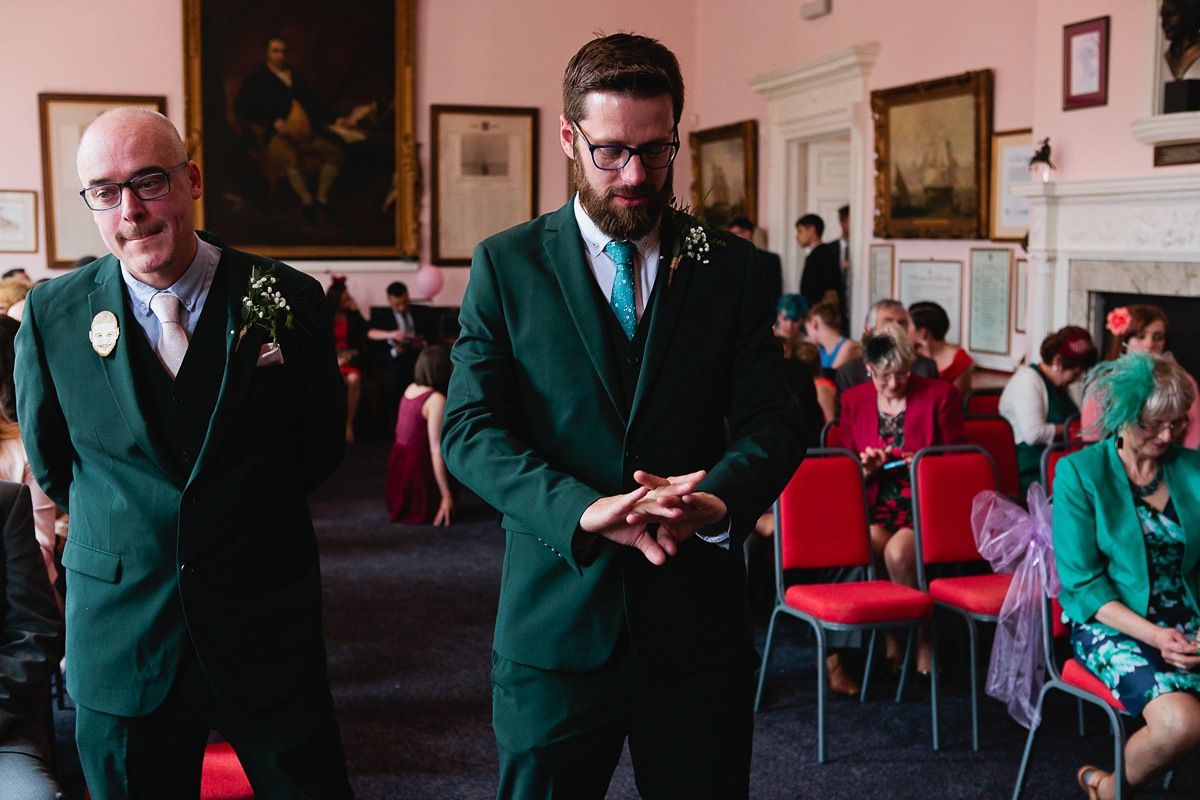 "My dad walked me down the aisles to Cat Power's 'Sea of Love'. As we got married in the Town Hall we used the standard vows and as I'm not hugely comfortable speaking in public, the shorter the vows the better.
Si's brother Thom read 'Sonnet 116' by Shakespeare. We liked the sentiment behind the words – I think it's particularly appropriate for long term couples and you can never go wrong with Shakespeare."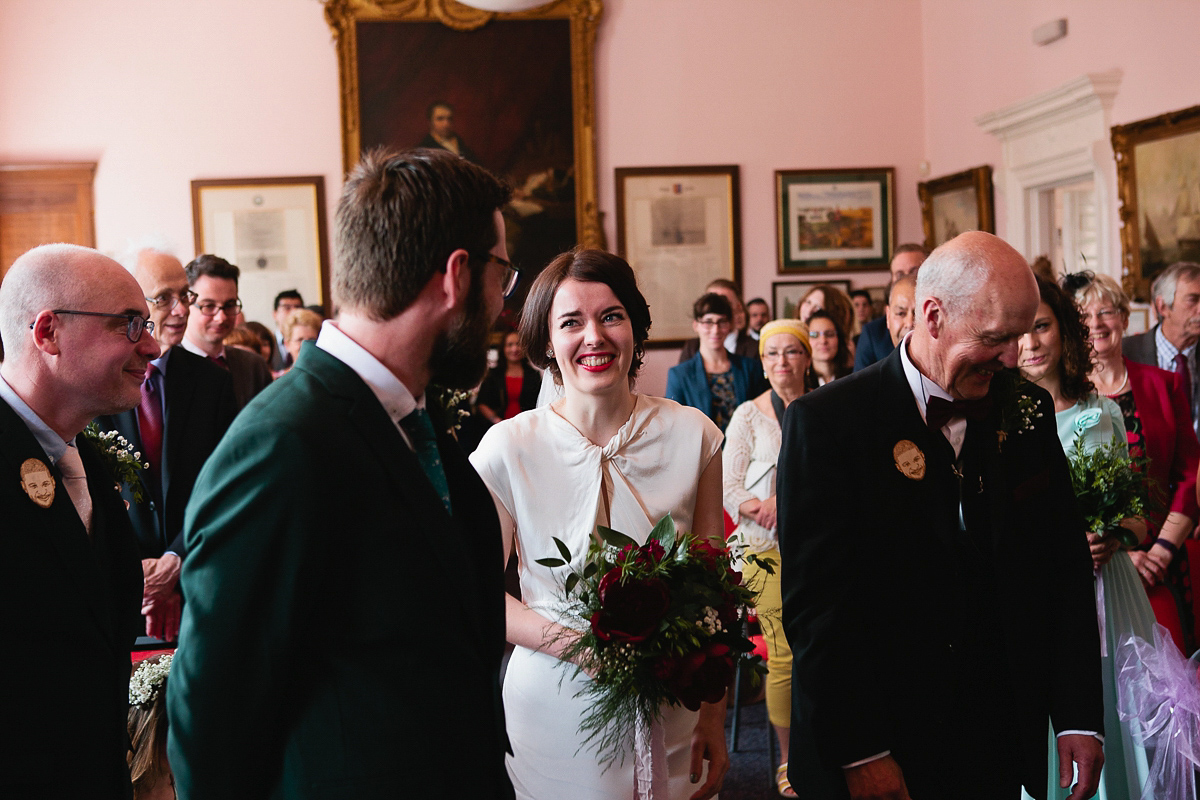 "We wanted something different and interesting for the rings and love illustrator Datter Industries designs."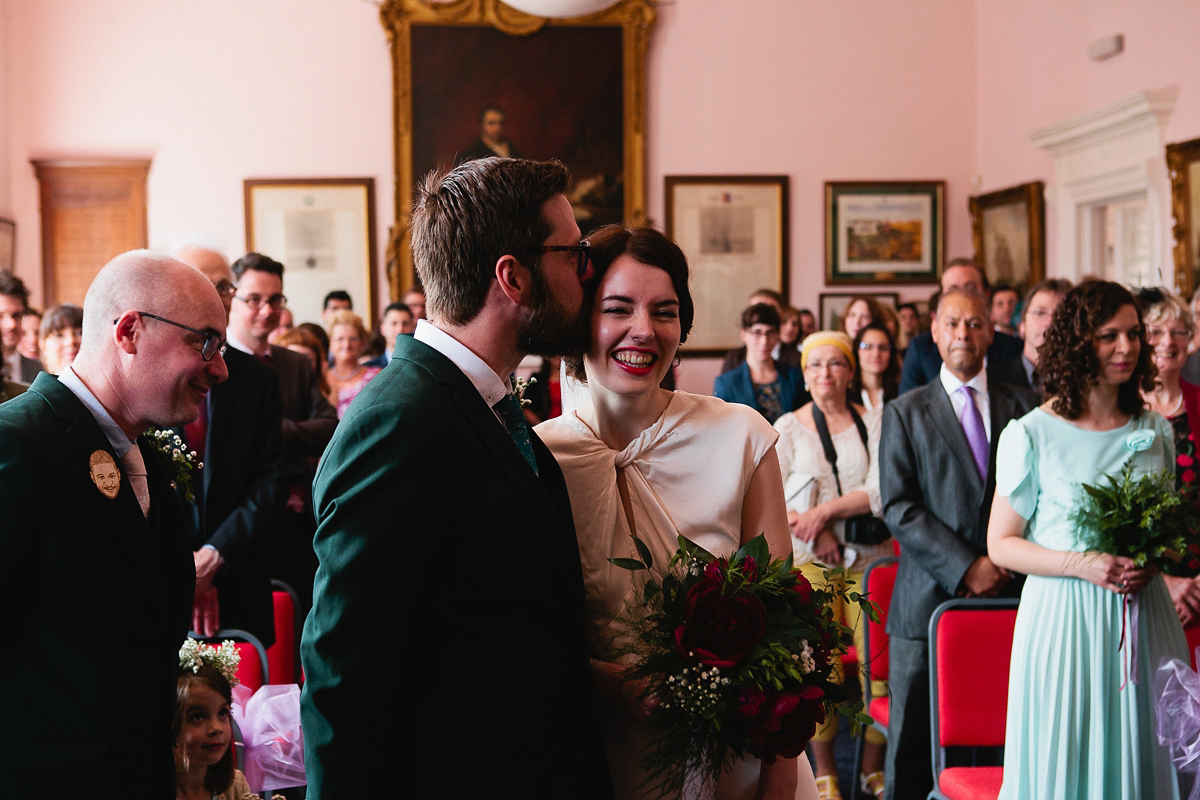 Sophie added a belt from Topshop to her dress, a gold feather cuff from H&M, very comfy New Look heels (found for a bargain at £8 in the sale!) and a stunning hair accessory that was handmade with wire, gold spray paint and gold star studs.
"I was inspired by a Rodarte star hair clip from a number of years ago. To me, stars and the 1930s go hand in hand and I suppose it was one motif that appeared throughout the wedding – we had cut-out star place names and gold stars hung around the DJ booth."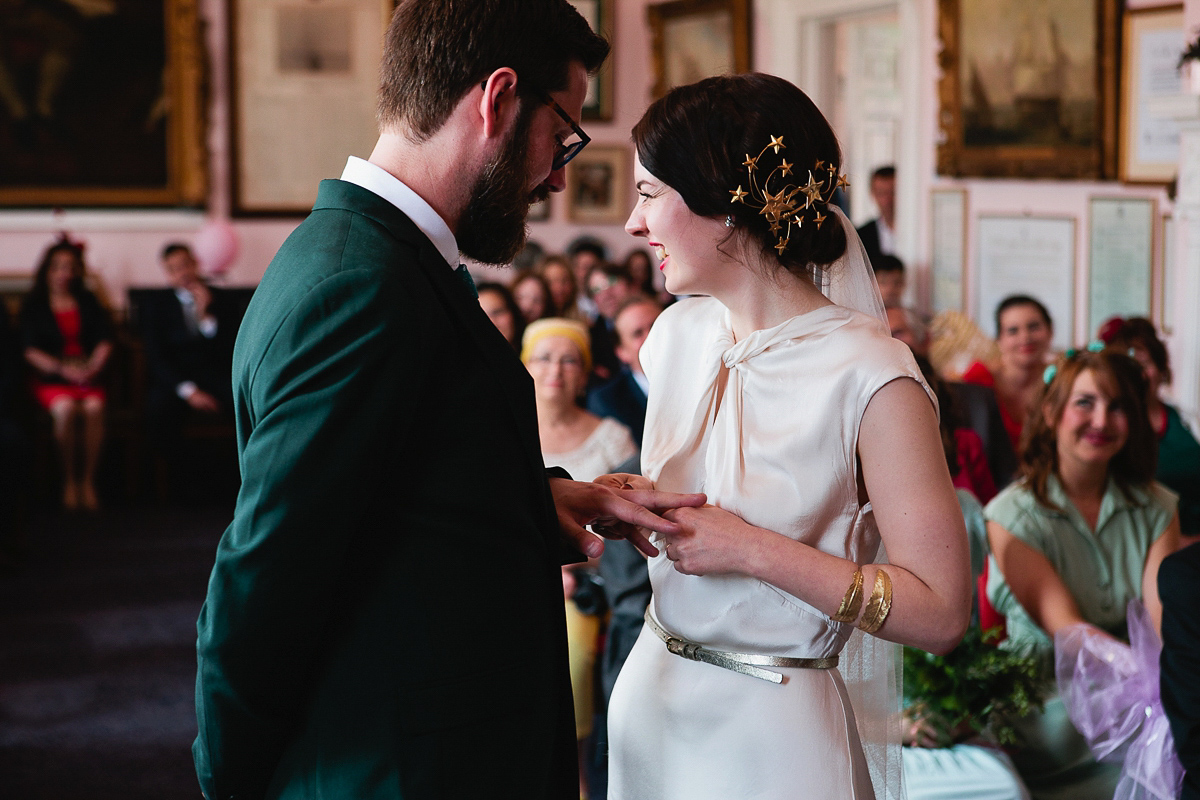 There's something so wonderful about having live music at your ceremony. I was lucky to have a beautiful harpist play my favourite tune and Sophie and Simon were blessed to have their lovely friends play for them.
"We have loads of incredible musician friends and were really keen to have some one-off live performances to help make the day special. We had two songs played by friends during the ceremony while we were signing; Natalie Evans played and sang an amazing harp version of 'Joga' by Bjork, worked out especially for us and our chums Ben Fletcher and Andy Inett did a lovely version of 'Such Great Heights' by The Postal Service."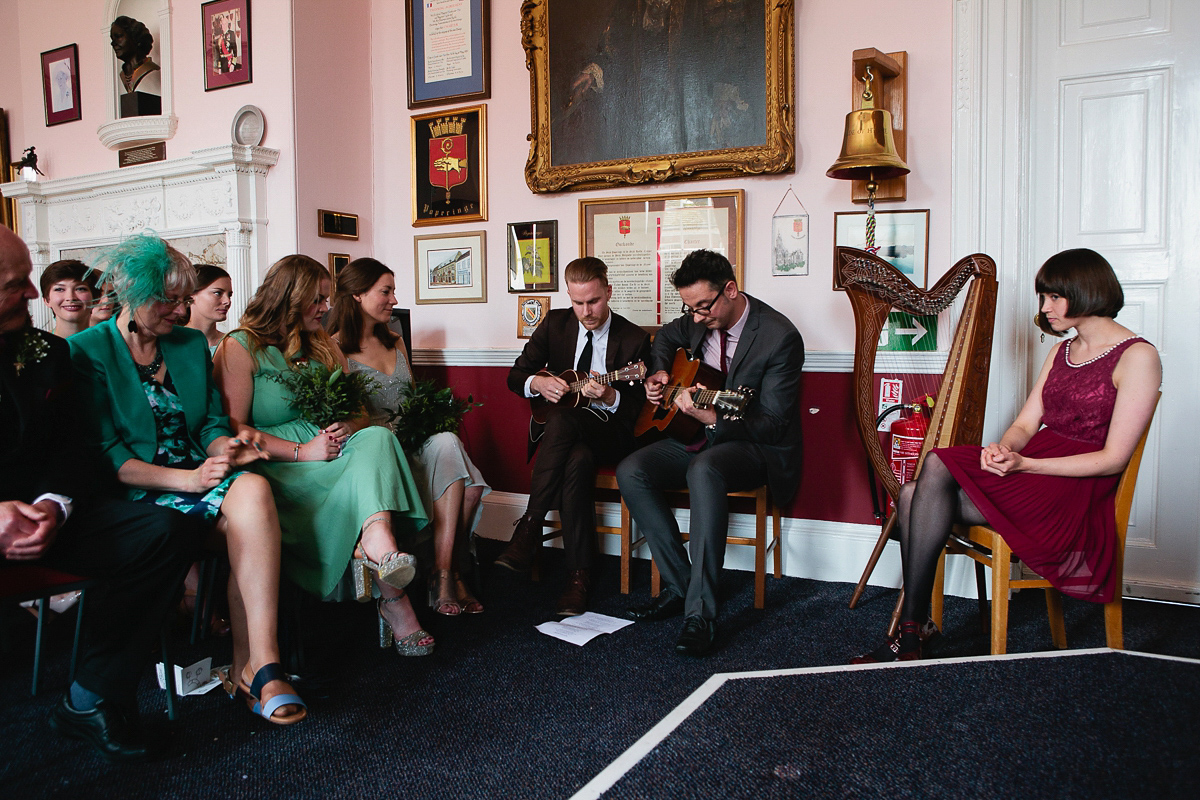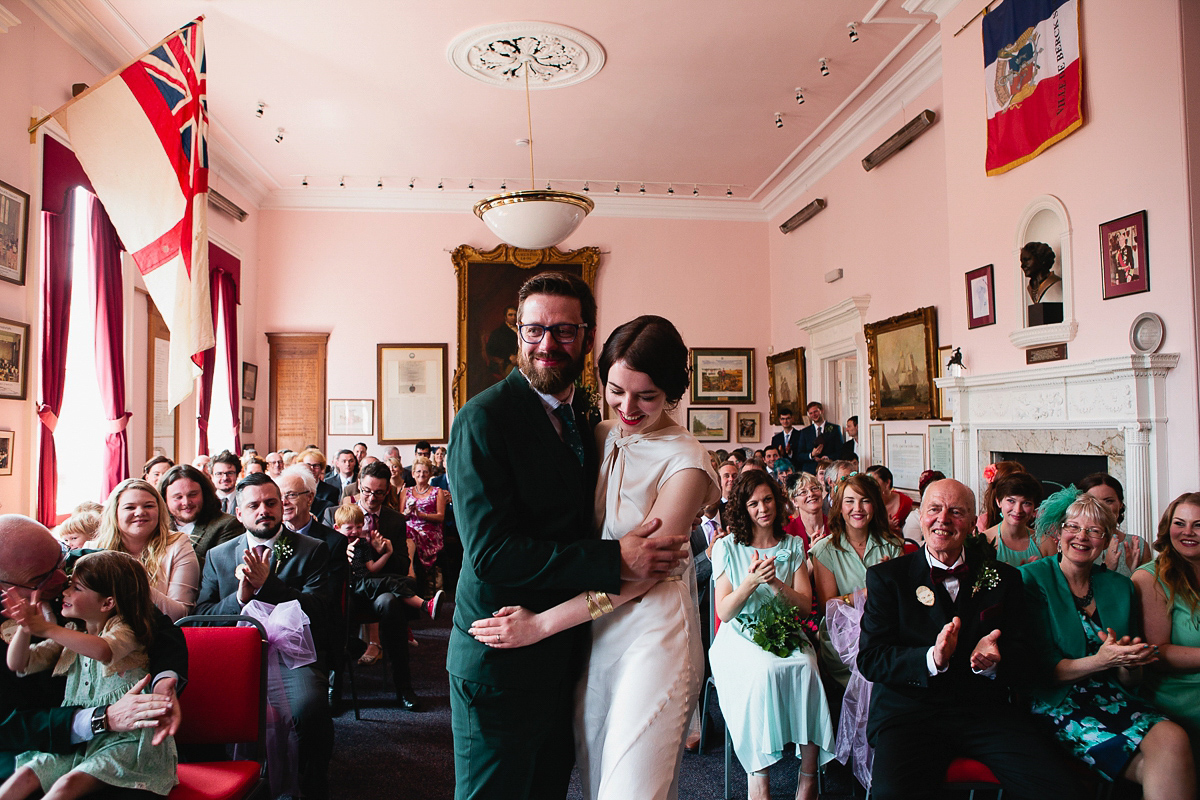 "One bit that everyone will remember for sure is the moment we walked out of the ceremony and my Dad unwittingly let off the loudest confetti cannon imaginable that he'd been handed by one of my bridesmaids. It was equal parts hilarious and terrifying as I think you can tell from our facial expressions!"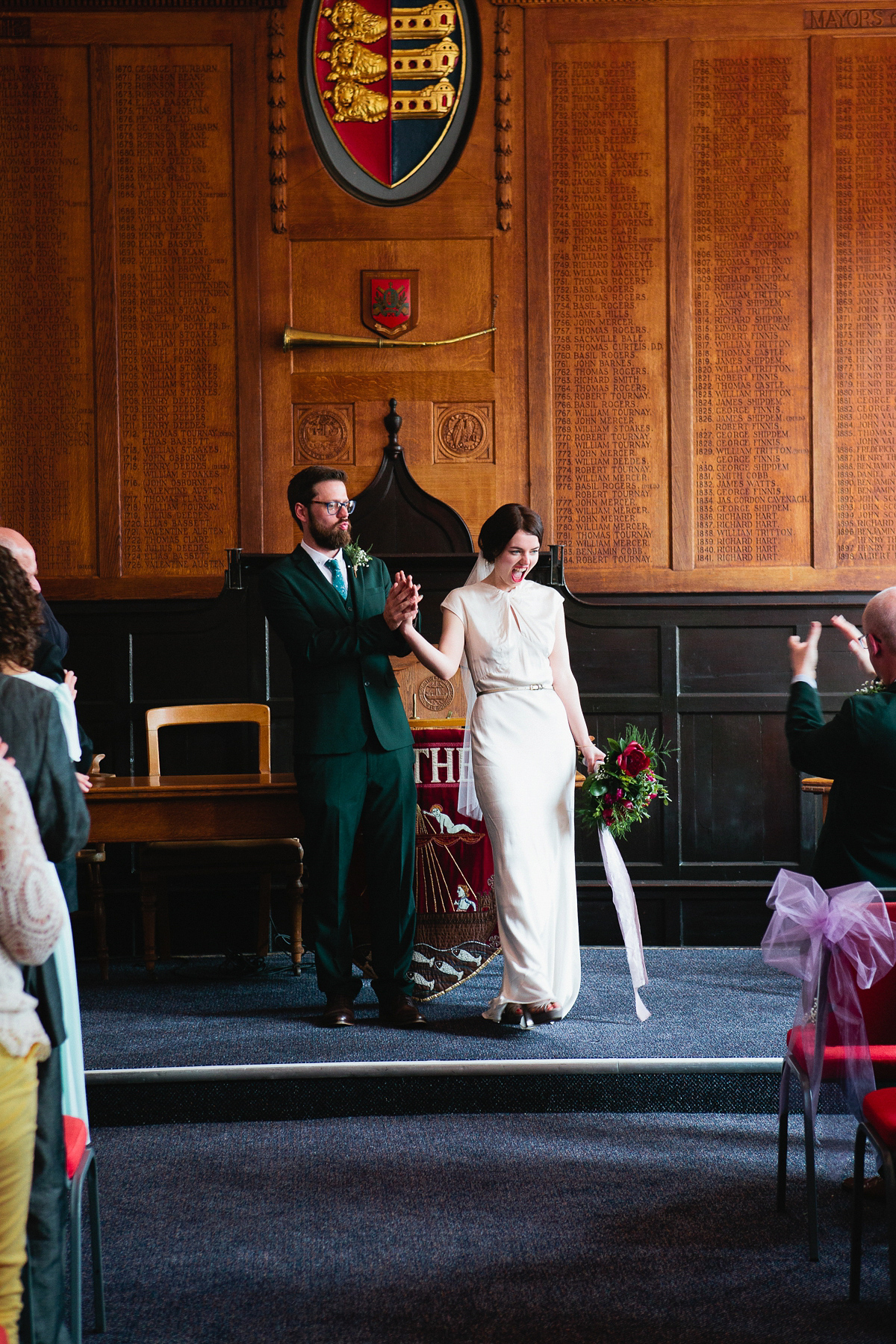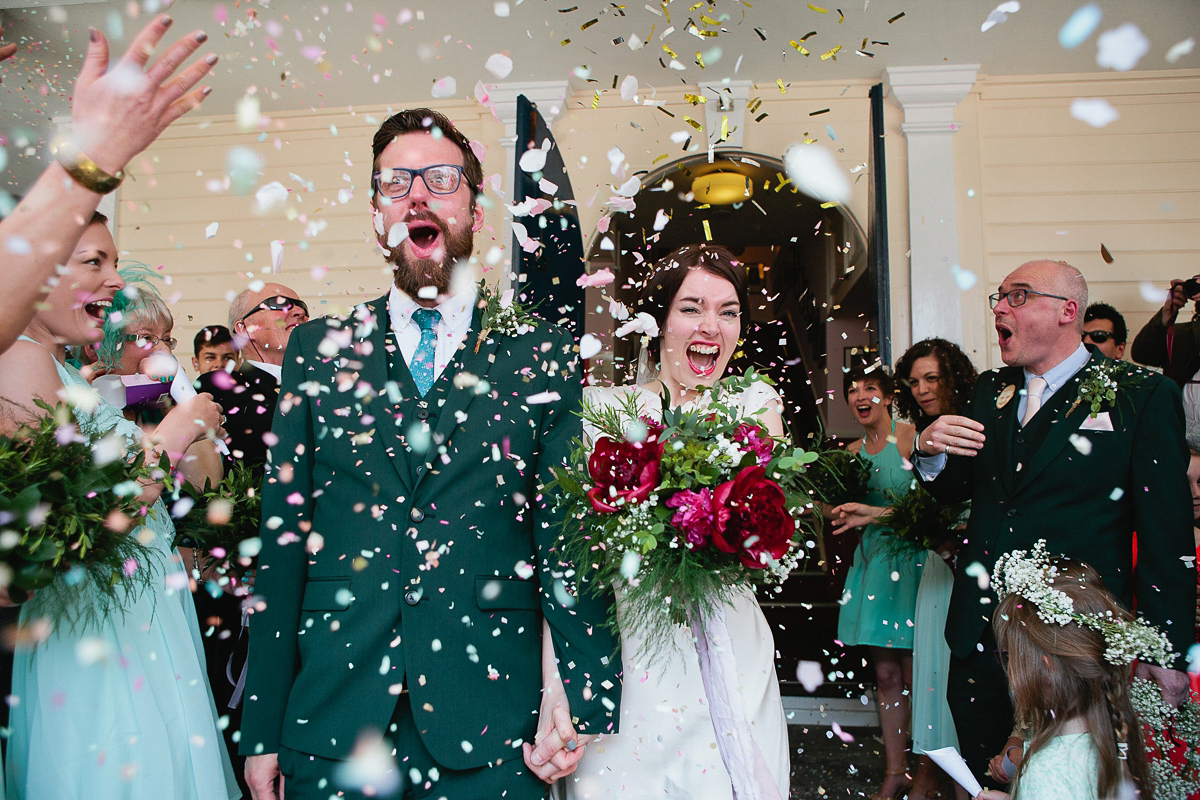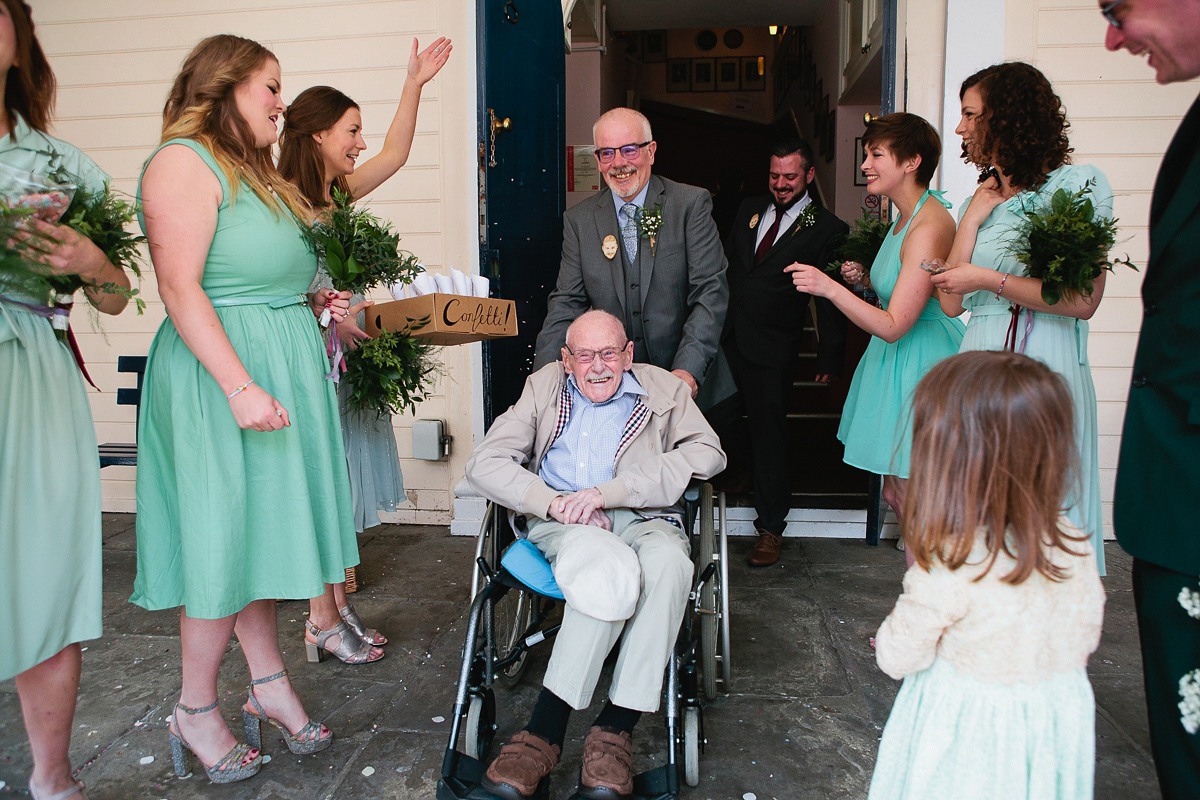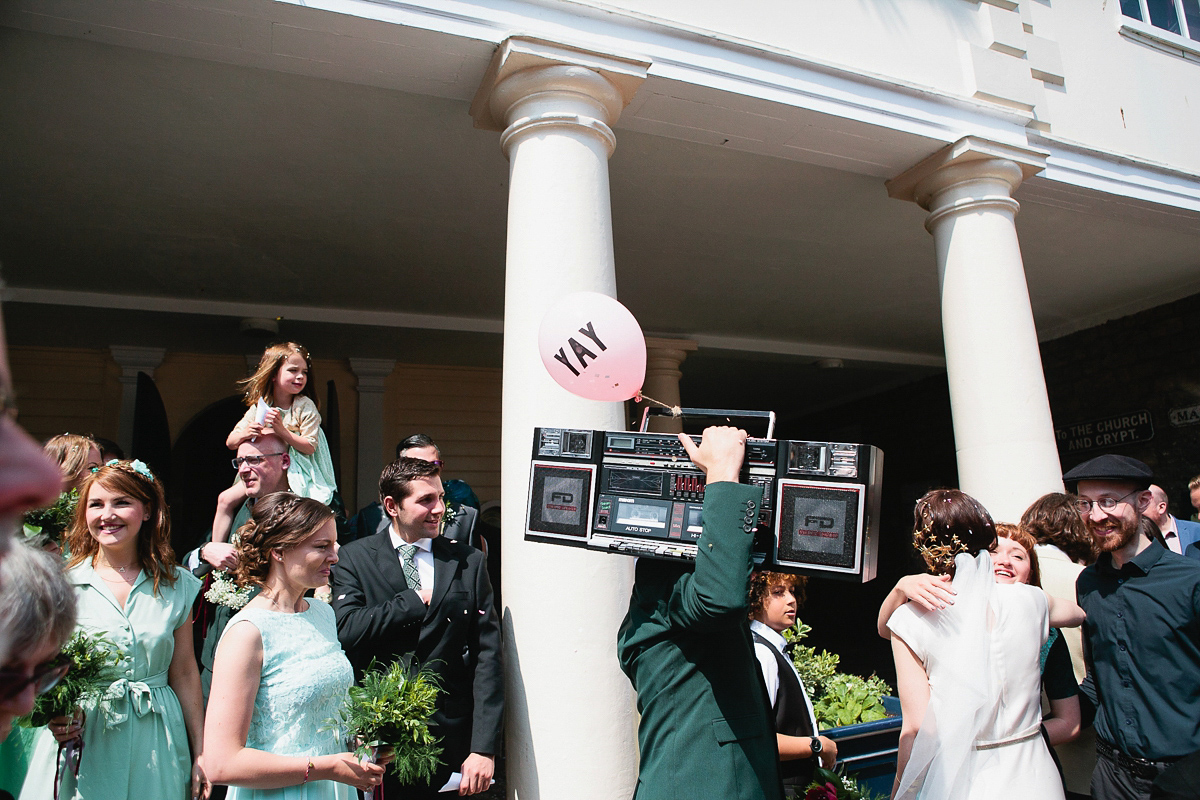 "We were recommended our photographer Matilda Delves by a friend and I'm so happy we went with her as our photographer; she made us feel so comfortable and captured the spirit and the atmosphere of the day so perfectly."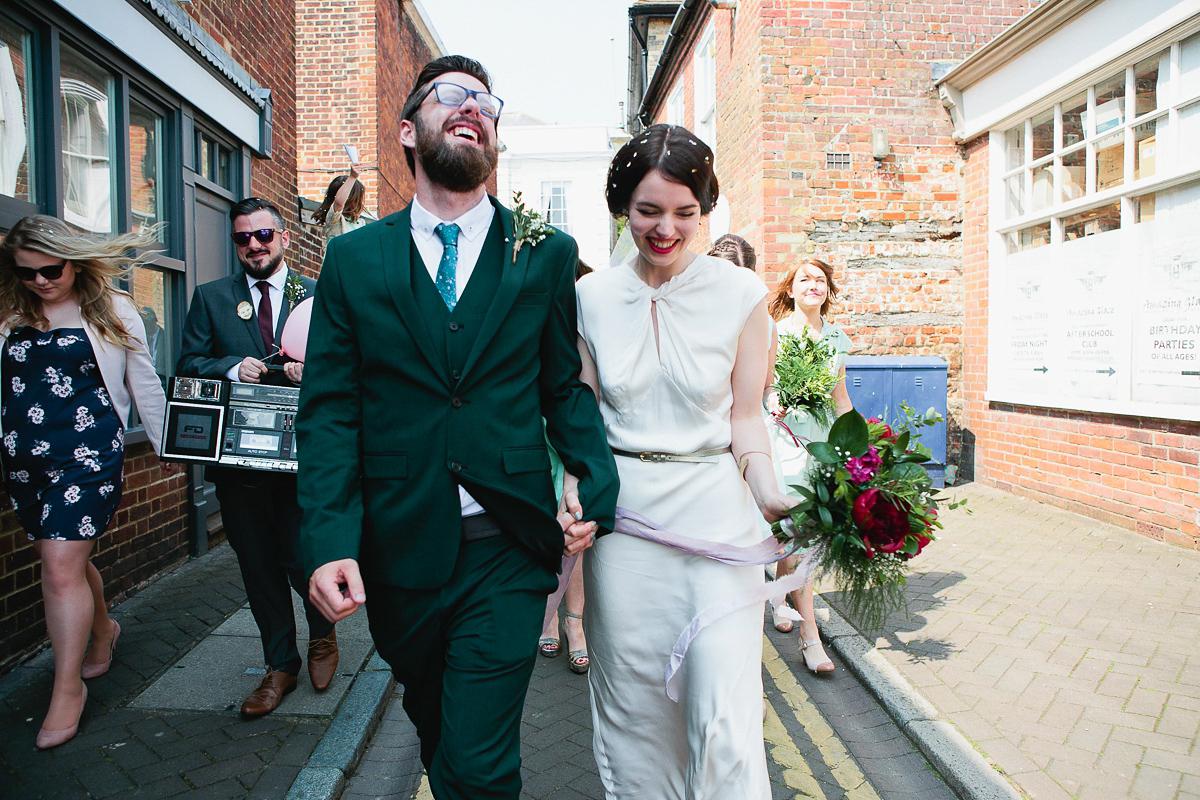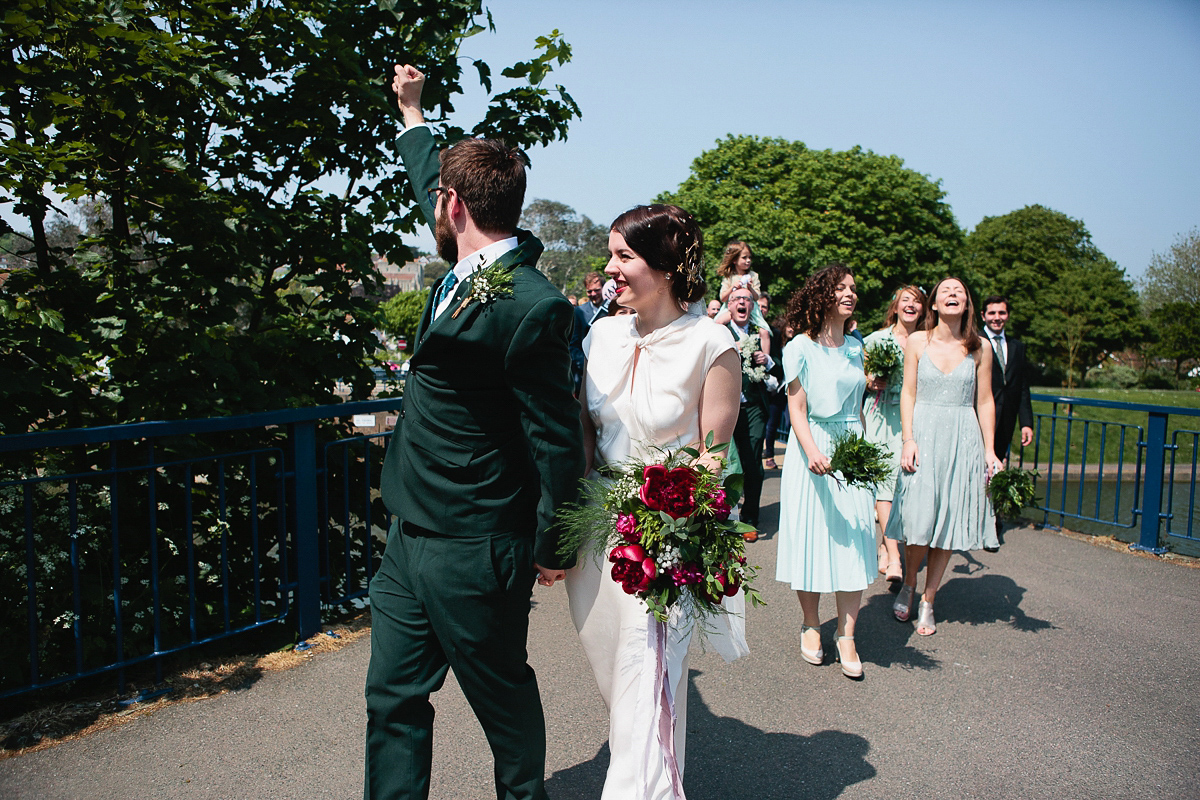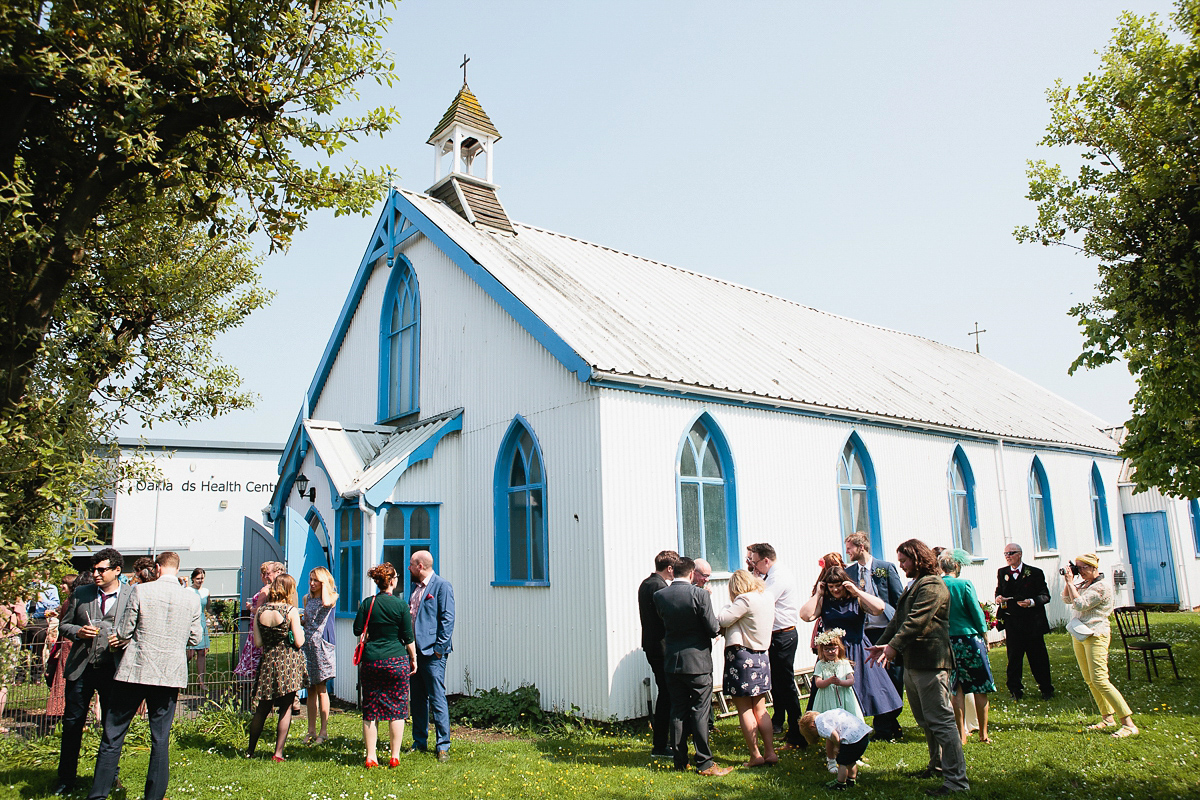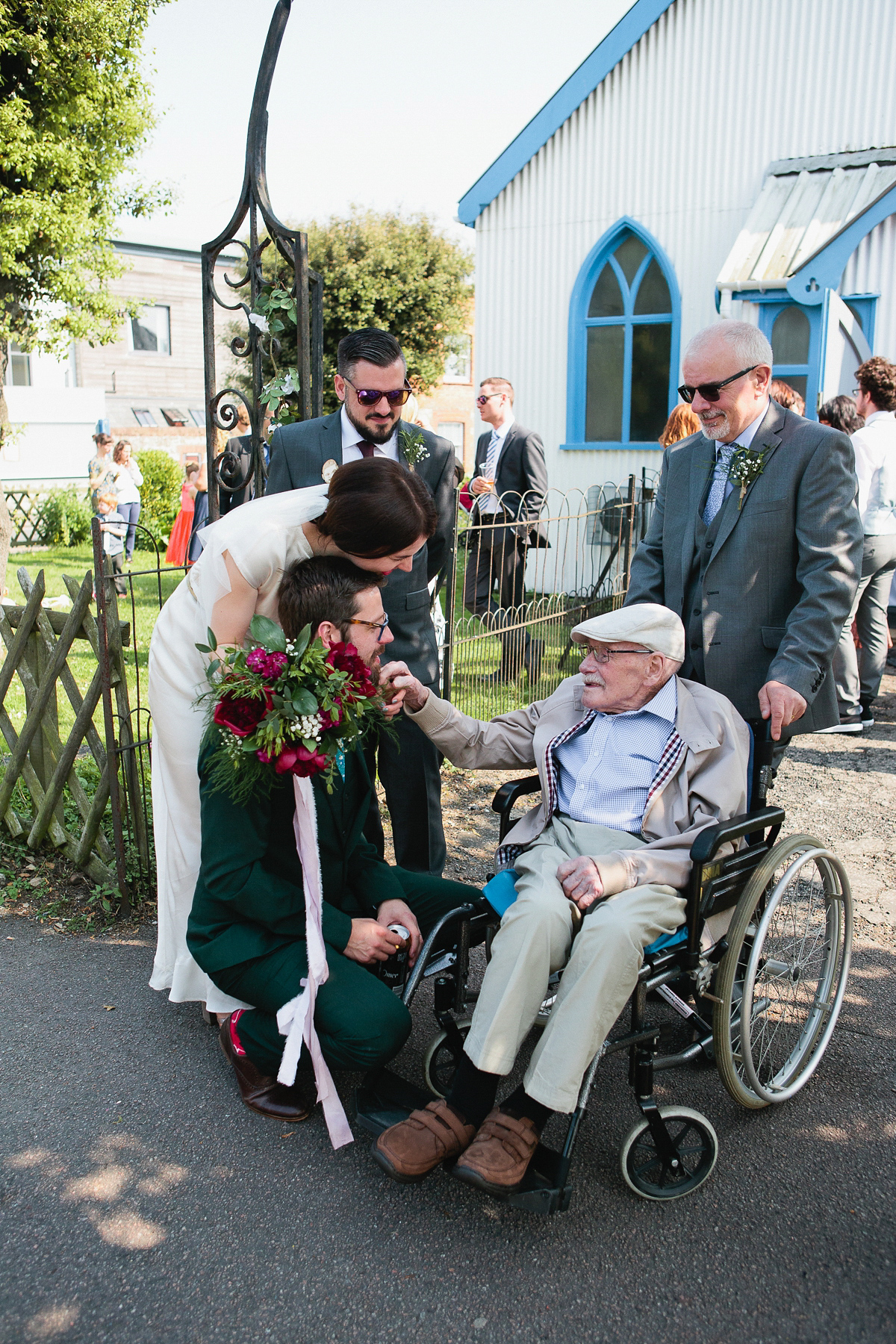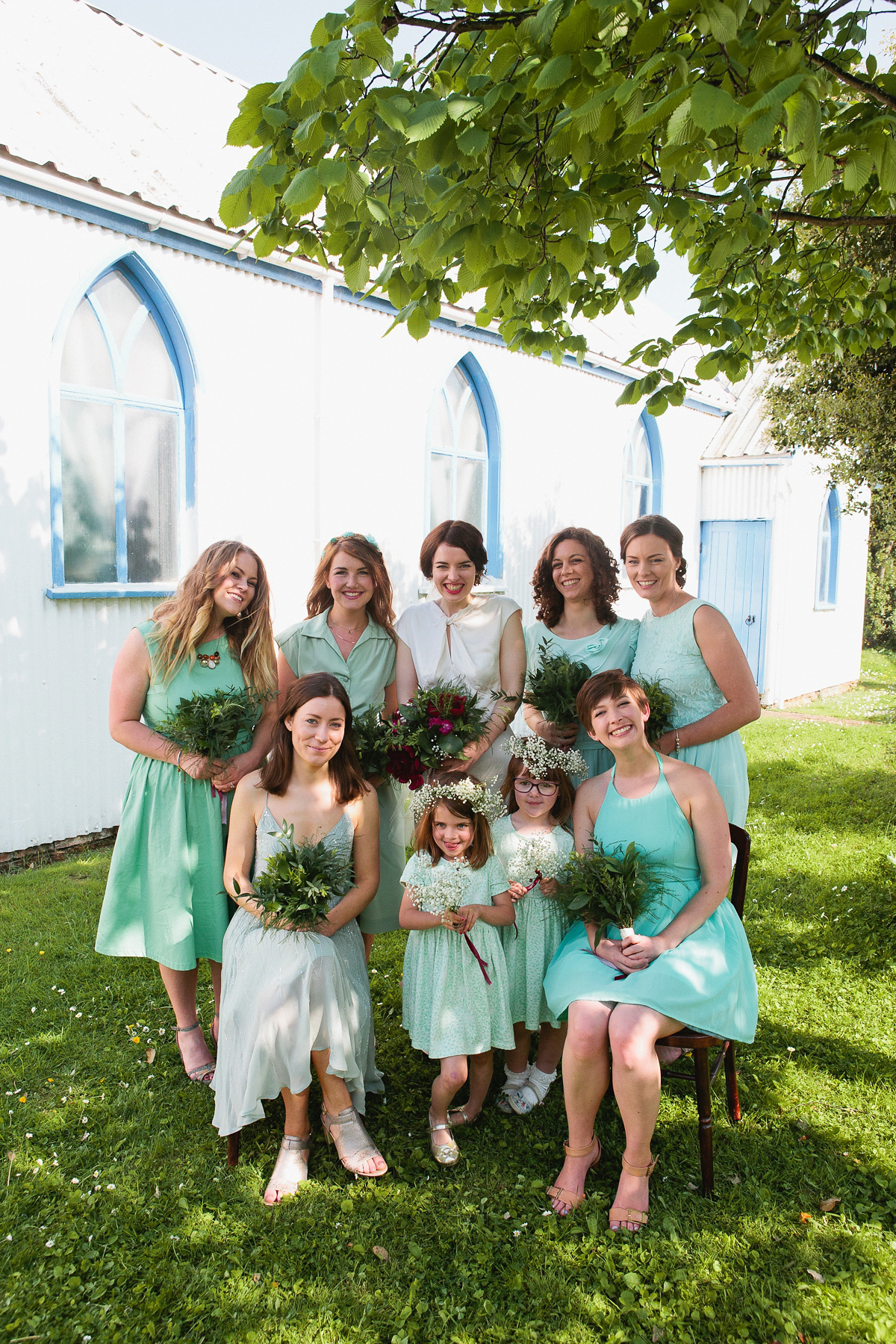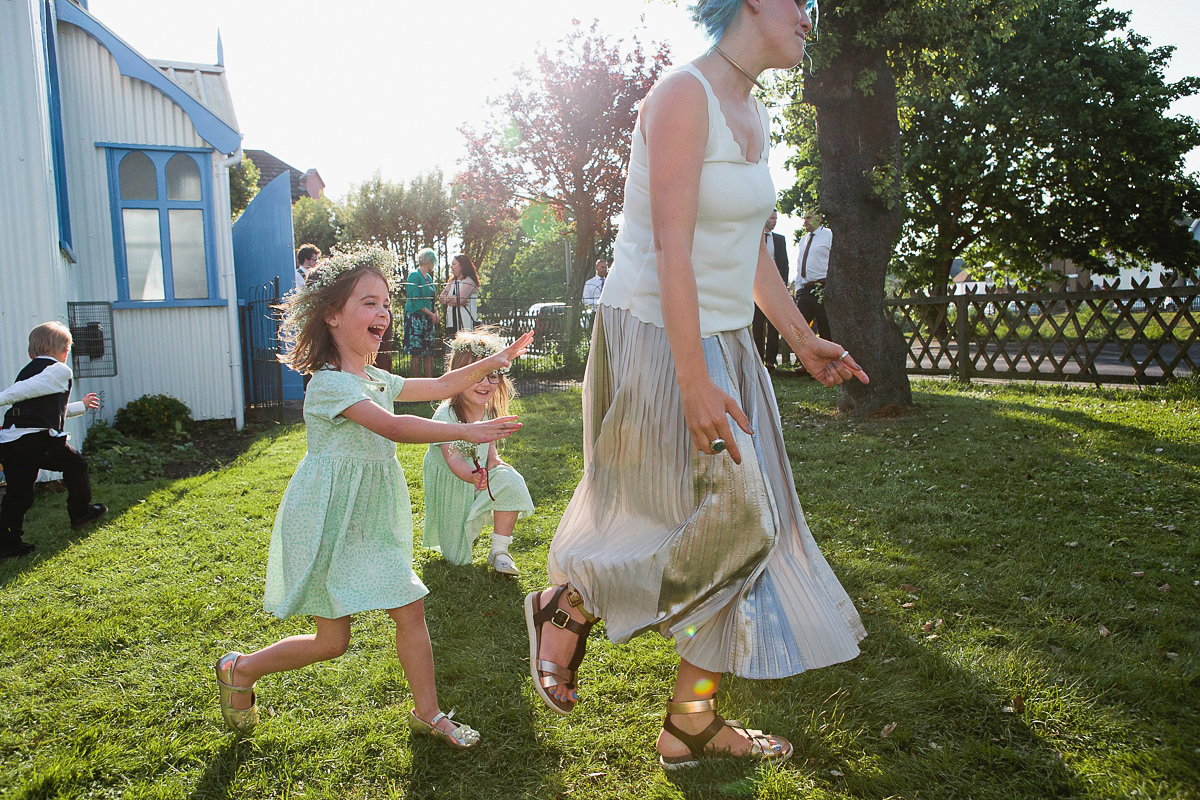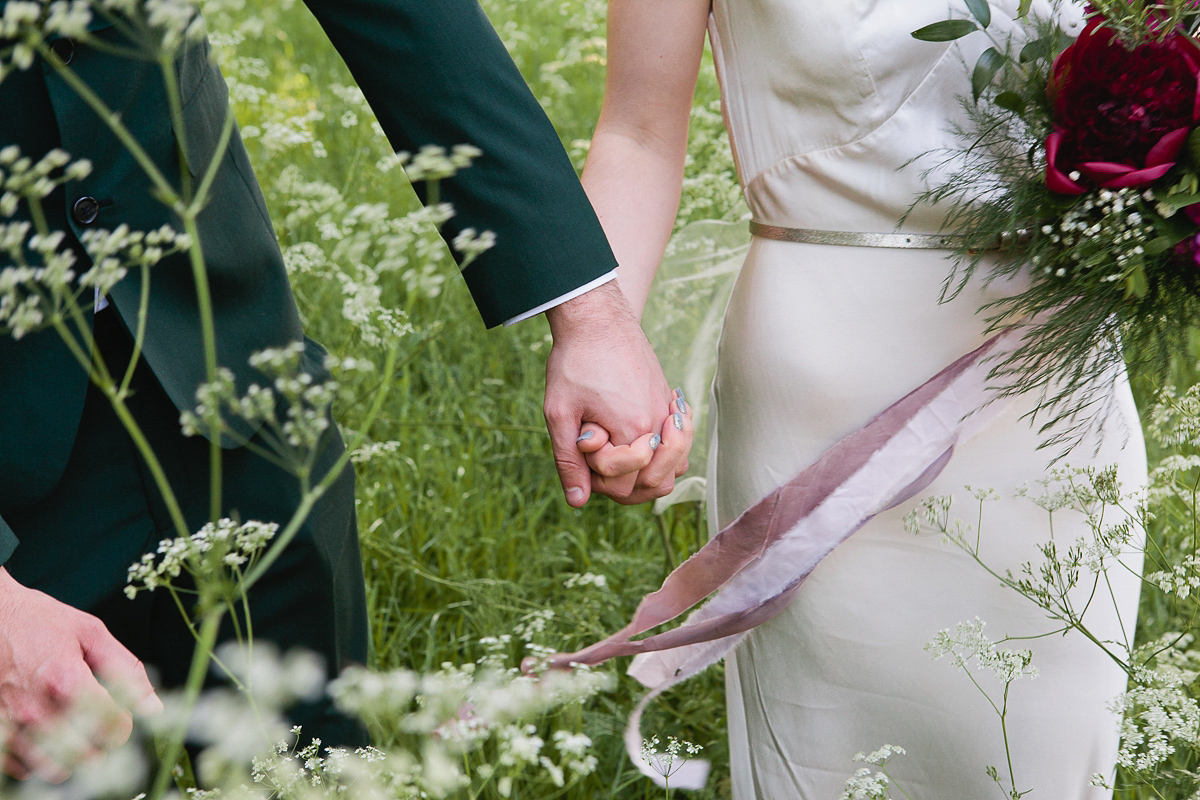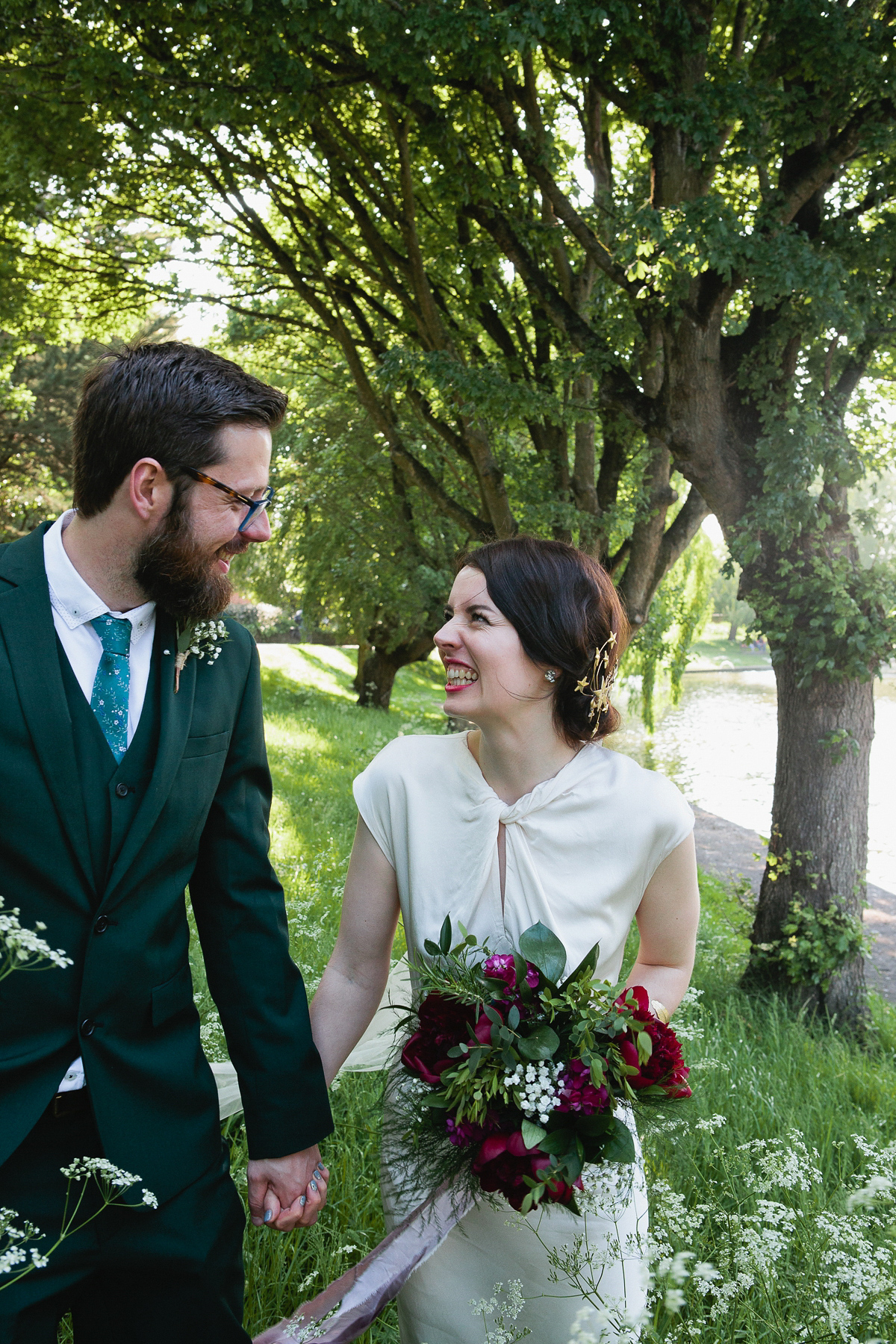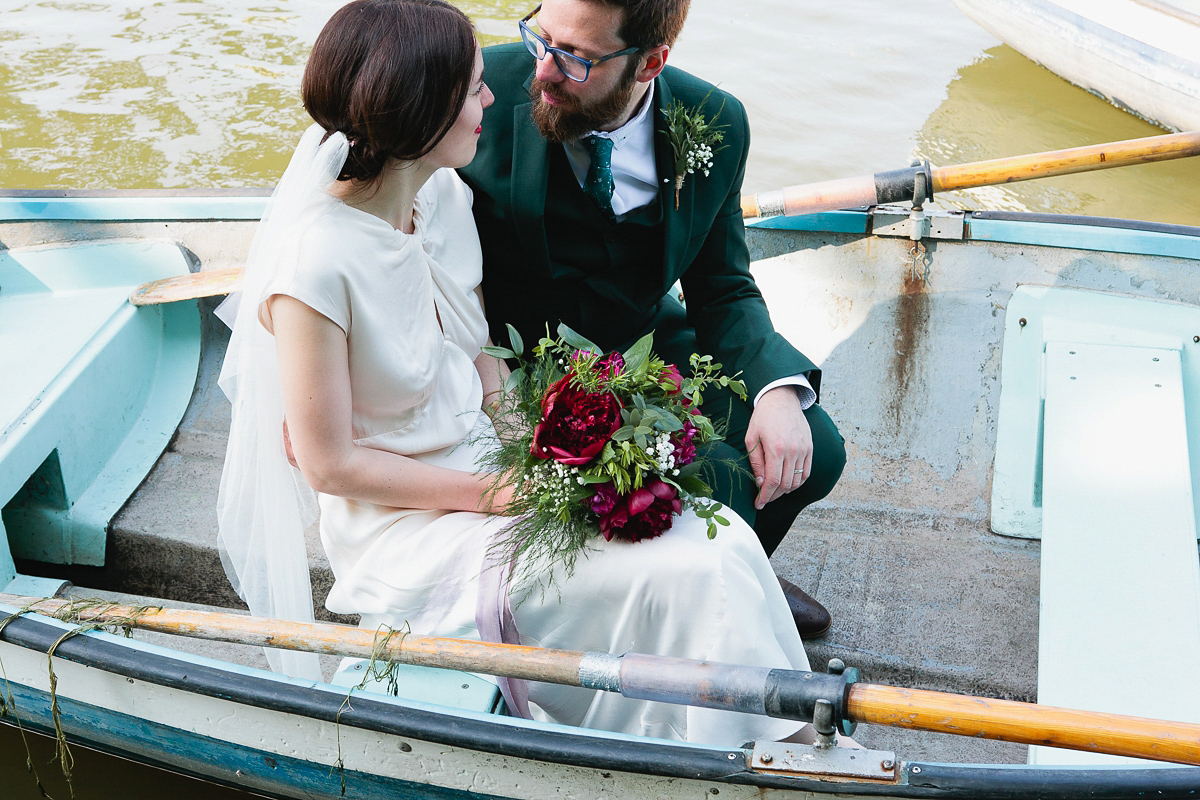 "The usher badges were made by our good friend Ben who is one half of jewellery and stationery company The Aviary."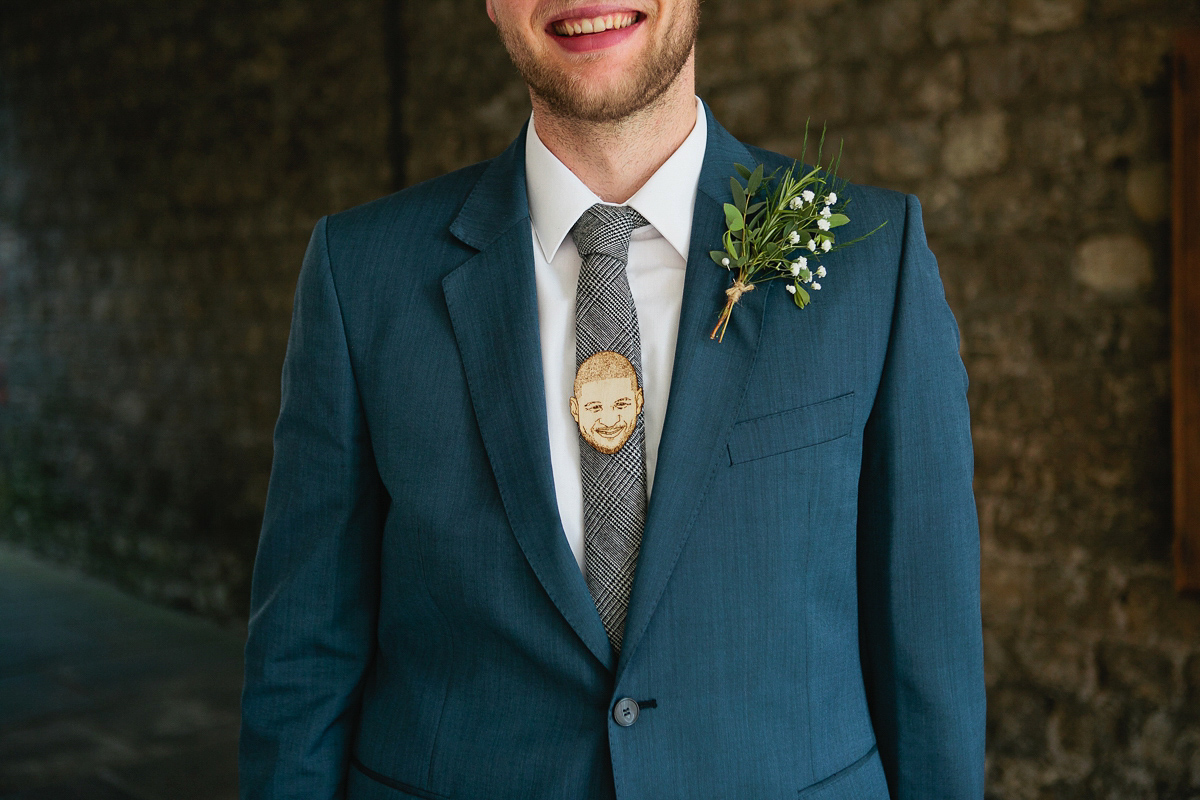 The Town Hall and Taberacle venues are connected by a short walk along the Hythe canal, so the newlywed couple and their wedding party and guests walked from the ceremony to the architecturally brilliant Tin Tabernacle led by a Ghetto blaster – what a fun way to begin their celebrations!
"As we're not religious we didn't want to get married in a church, but holding the reception at the Tabernacle with its high ceilings, cool shape and beautiful grey walls made it feel special – it reminded me of a chapel from the deep south of America! We also liked the fact that it was a completely dry venue, so we could style it as we wished (and also bring our own alcohol, food and music in). There was plenty of outdoor space, loads of room for dancing and the owners came across as flexible and willing just to let us get on with it."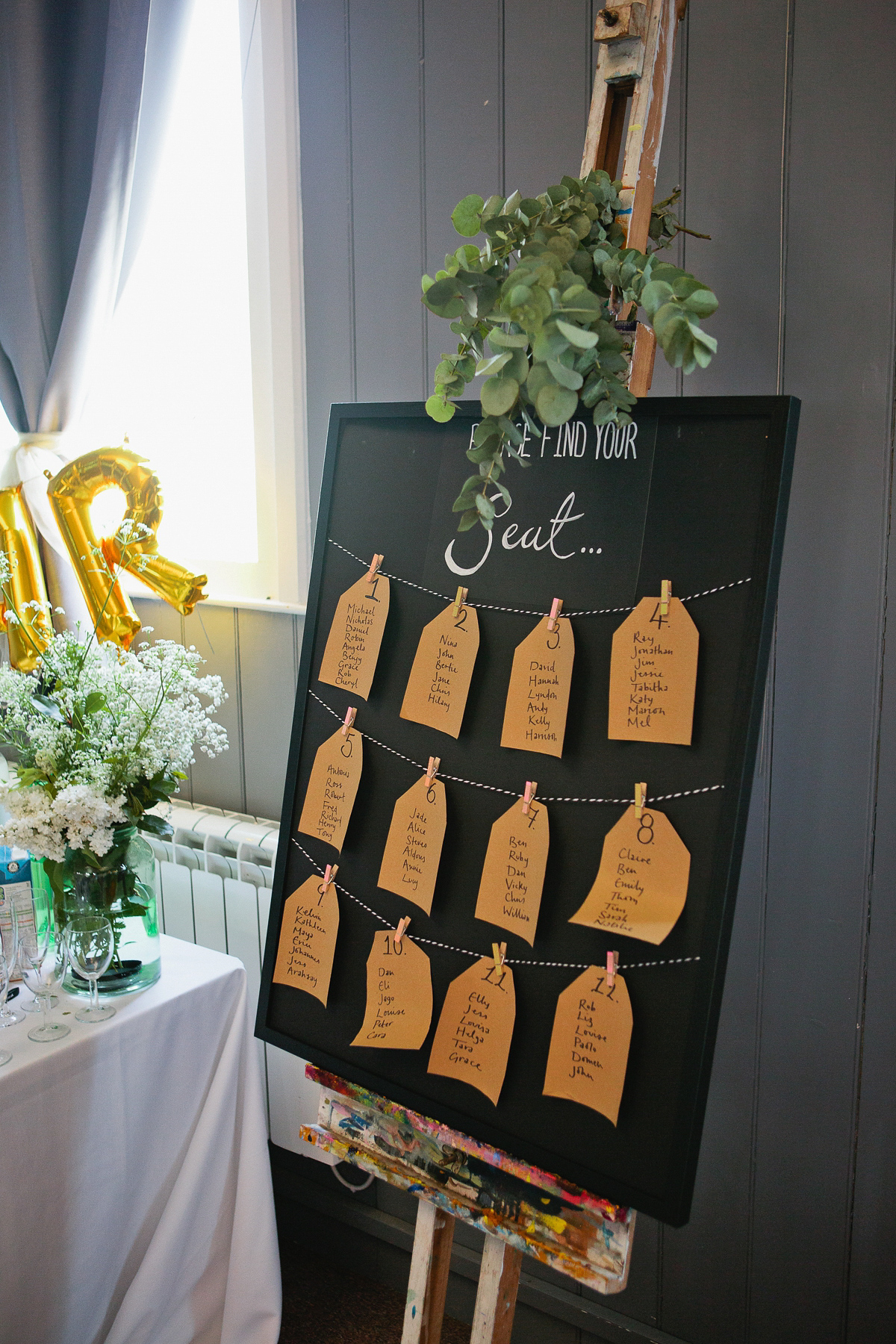 "After much deliberation, we went with local Nepalese restaurant Everest Inn Hythe. The food was amazing and they were super-relaxed and helpful on the day."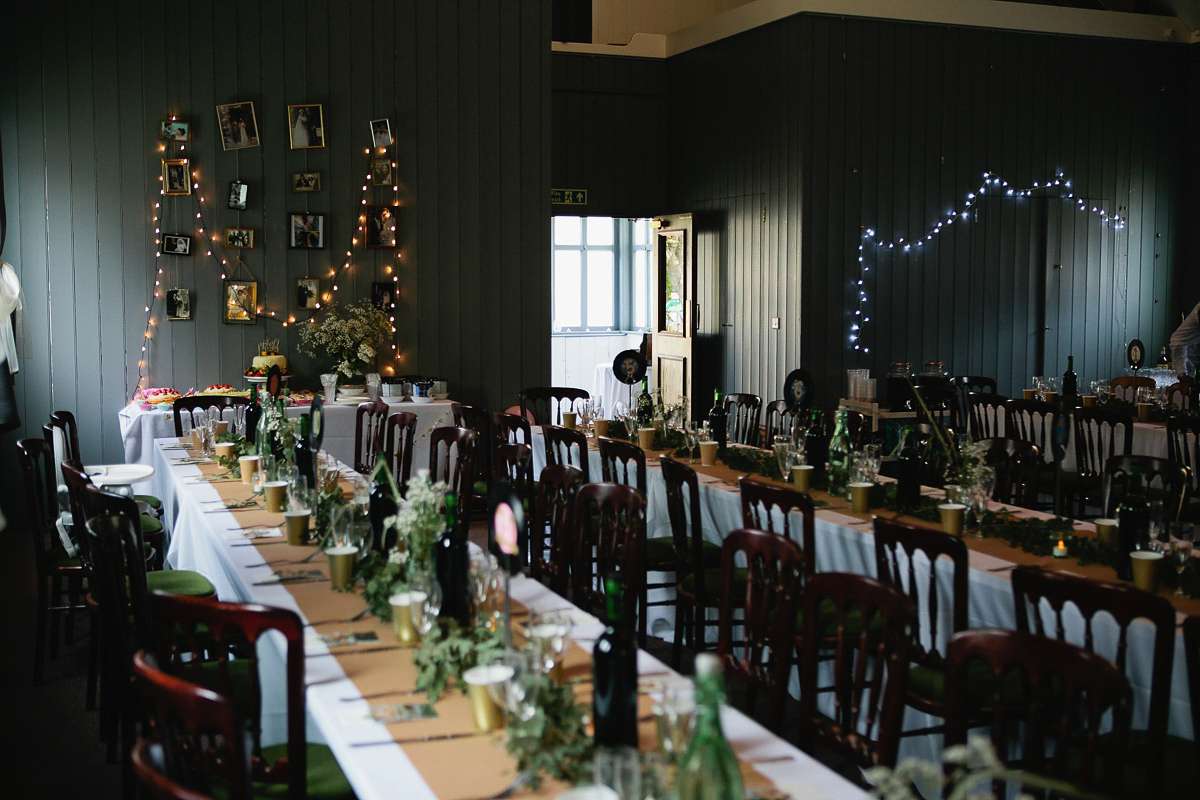 "We had delicious canapés brought round to guests initially, with a heavy emphasis on momos; it appears we made our love for these quite clear when we ate at the restaurant and started talking about the booking. For the dinner they put on a huge buffet which everyone loved."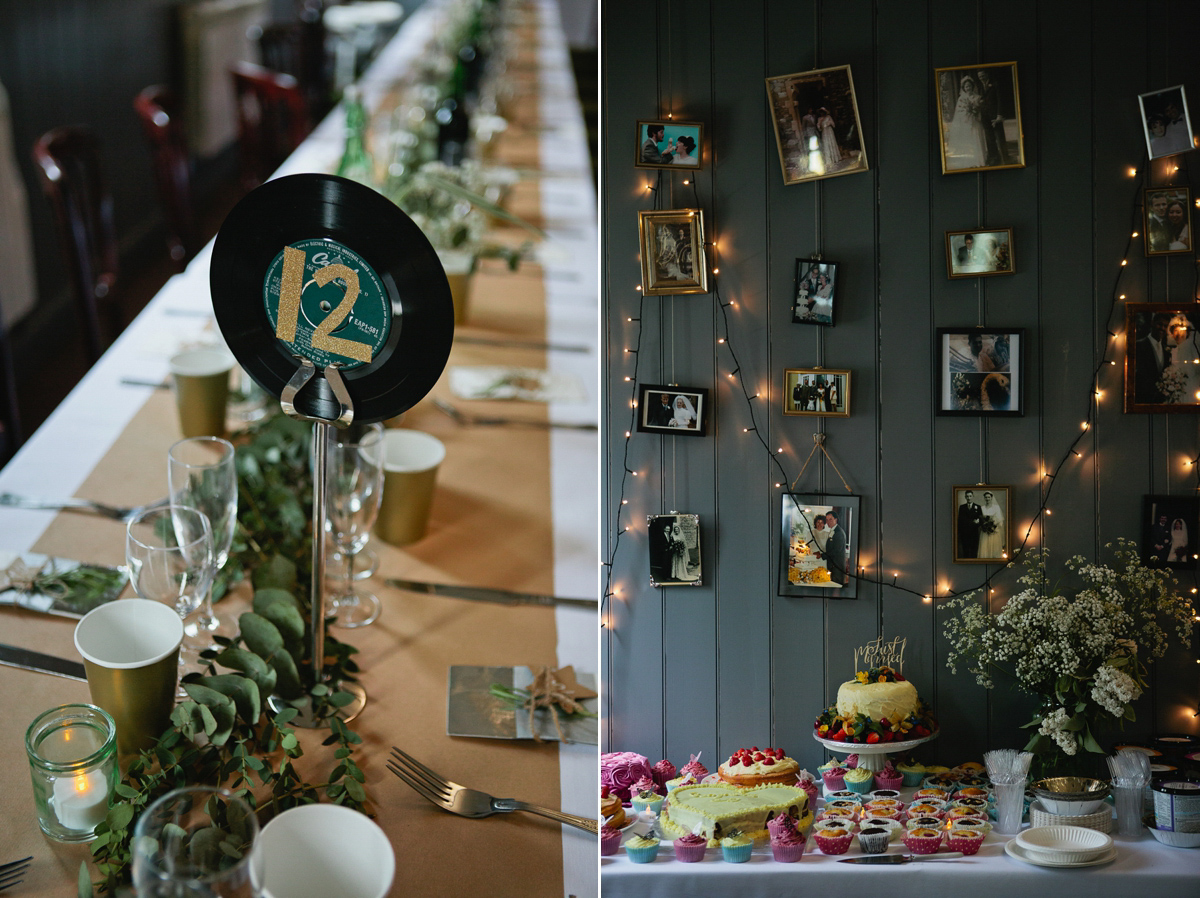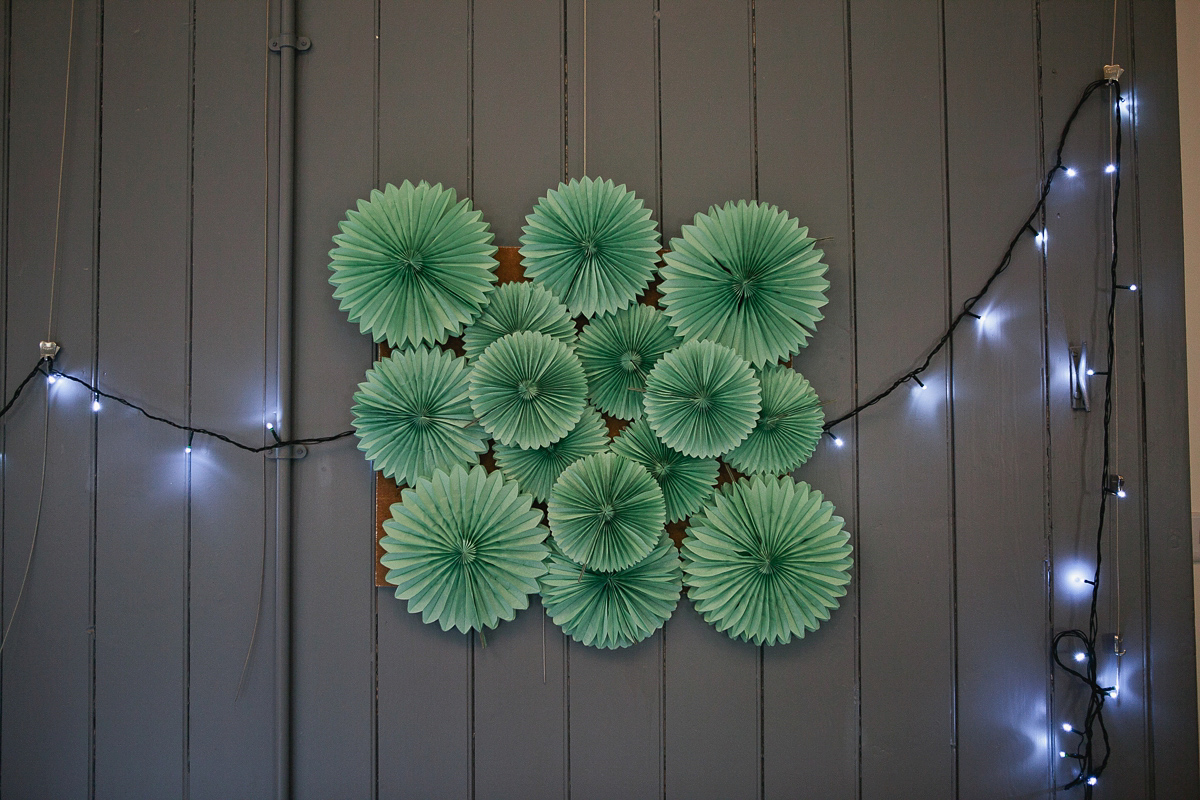 The scrumptious-looking little cakes were all made lovingly by family and friends, with the main cake created by Sophie's brother.
"I'm lucky to have an ex-pastry chef for a brother who made our main cake; we hadn't given him any brief but absolutely loved how it came out. It had the most amazing butter-cream icing that was flavoured with apricot and butterscotch."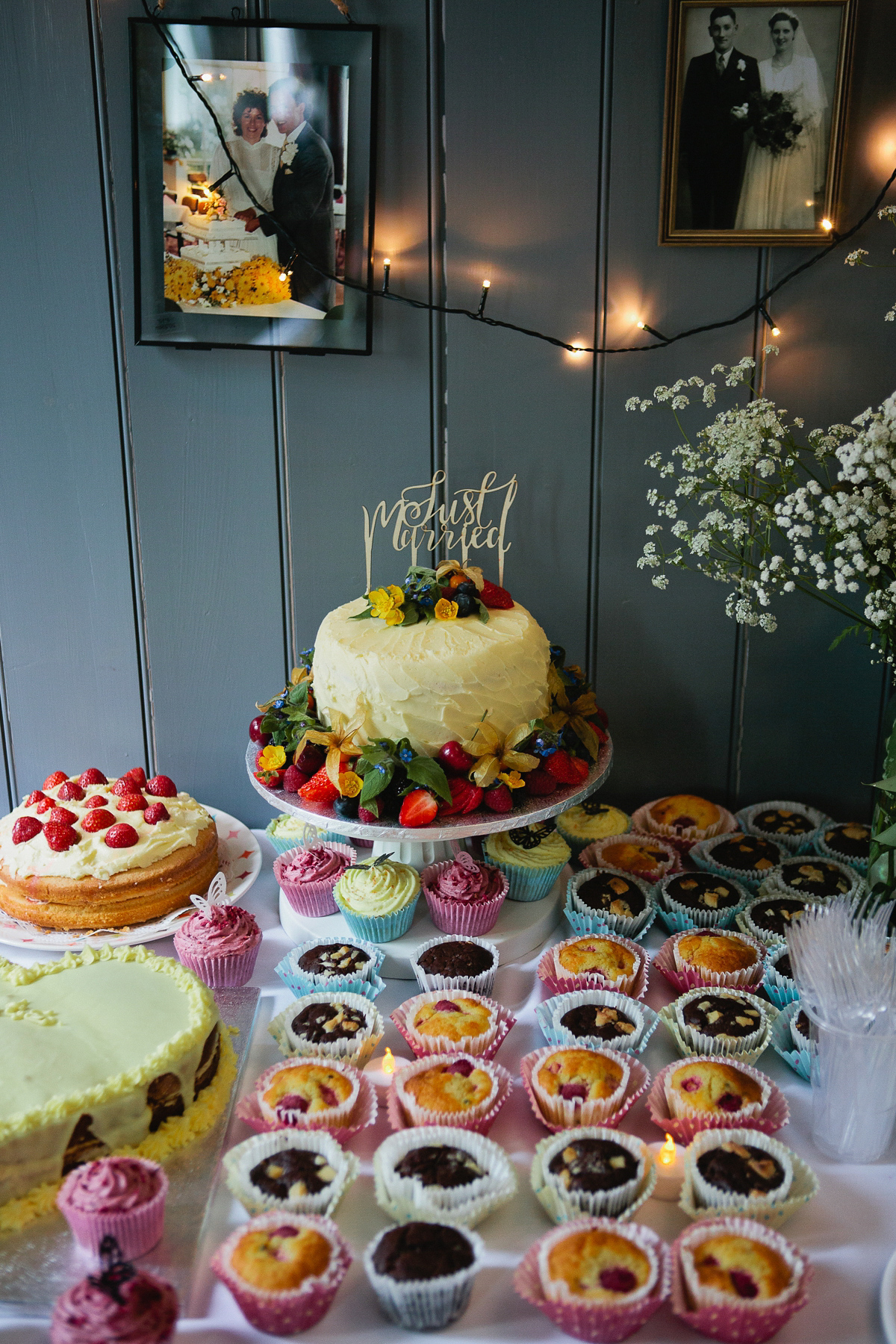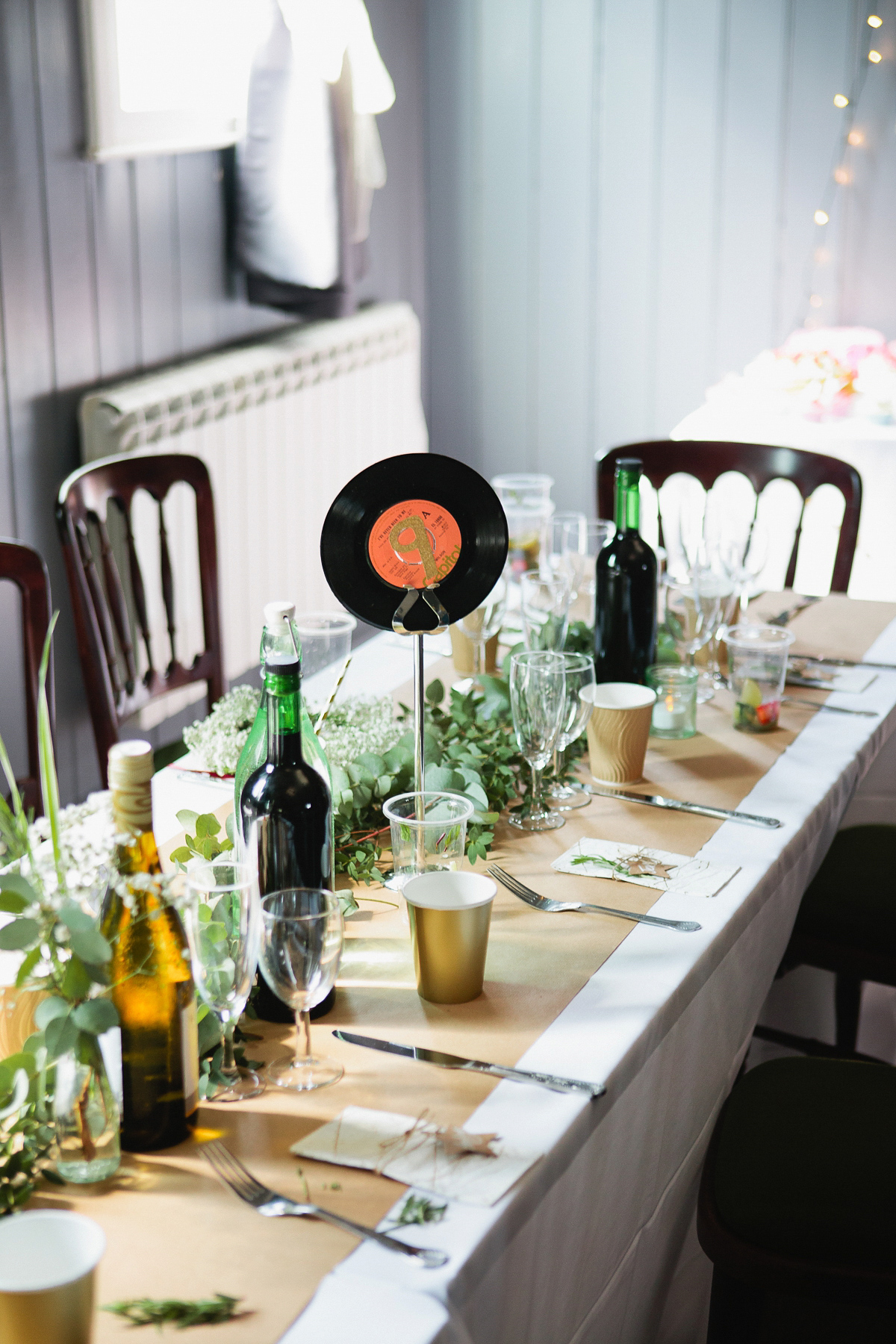 Sophie and Simon were lucky to have so many creative friends they could call upon to help stretch their small budget, by way of making the stationery, playing music and designing the awesome 'usher' badges.
"Our amazing friend Helga of Feralchild Studio made our invitations and our other amazing friend Dan made us a wedding zine instead of a wedding programme that we handed out at the Town Hall. The zine included details of the timings of the day and so forth, but also folded out to a hand drawn picture of us on possibly my second favourite day ever – walking alpaca's!"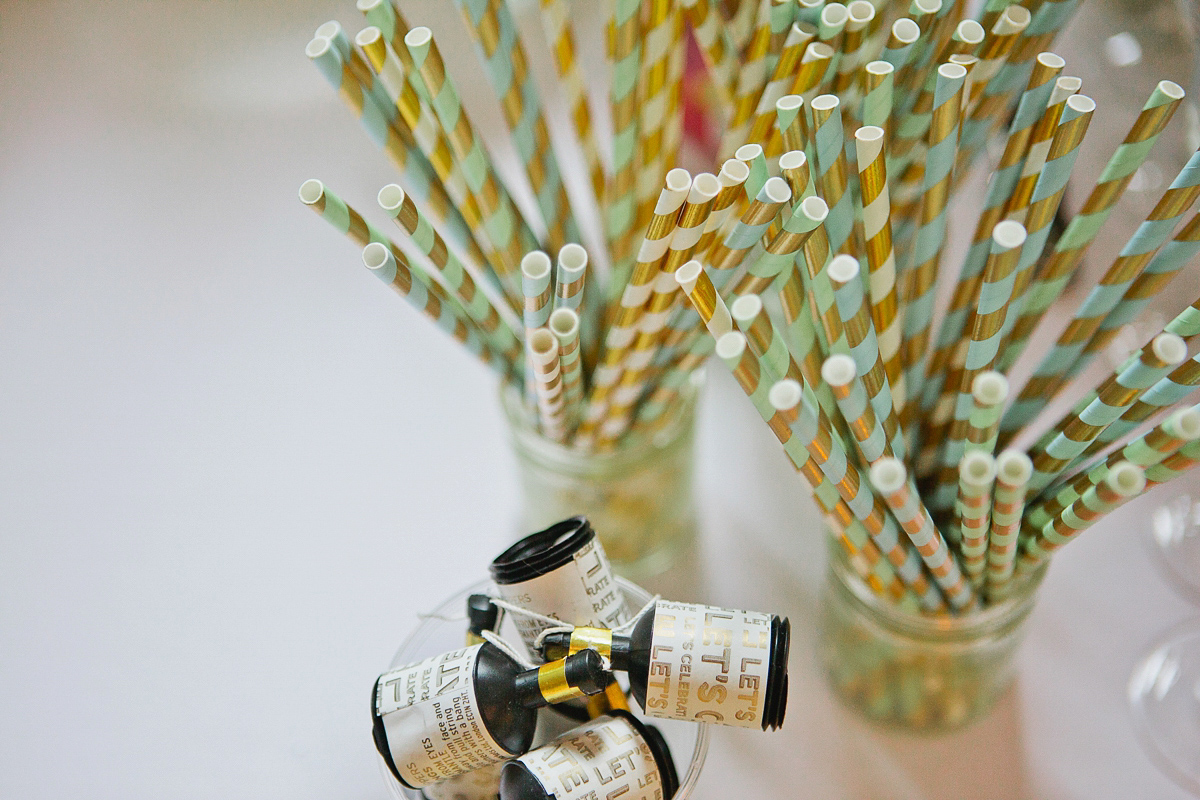 "Simon lovingly put together a DJ mix and burnt copies onto CD's for the wedding favours. It was simple but hopefully effective and appreciated; he quietly obsessed over it for a good few months."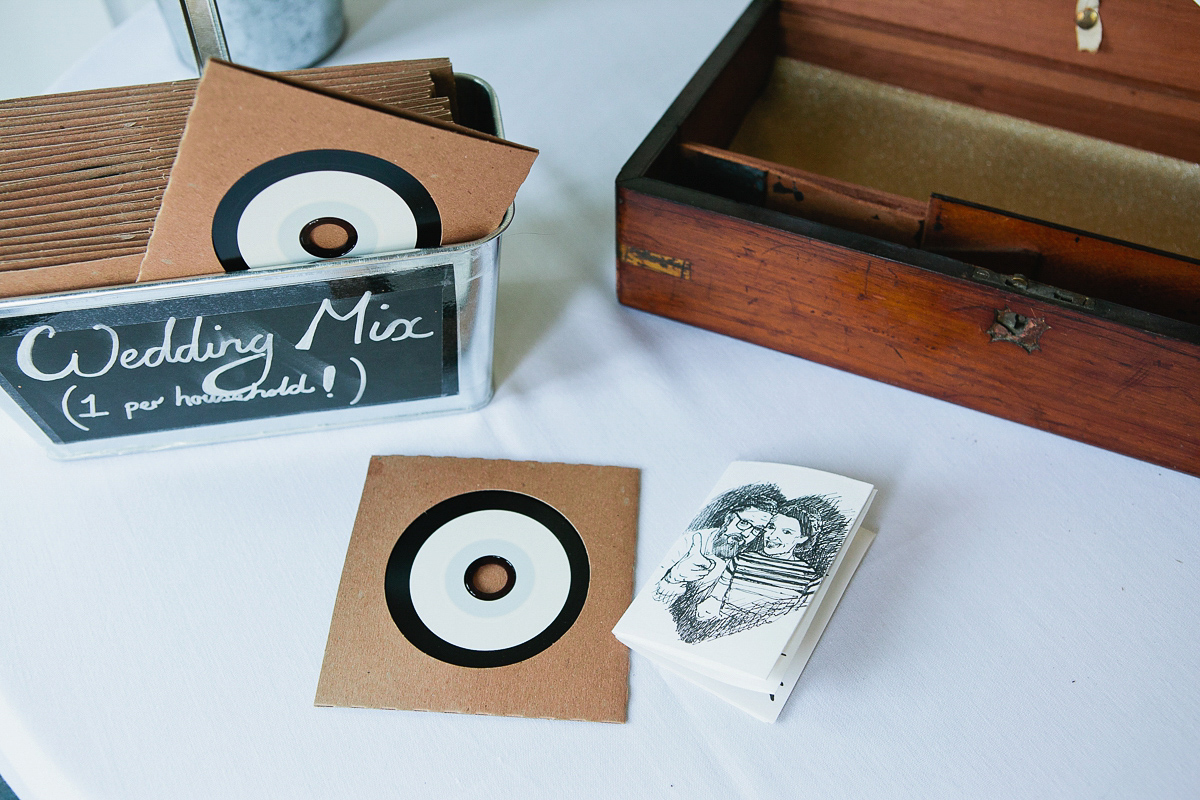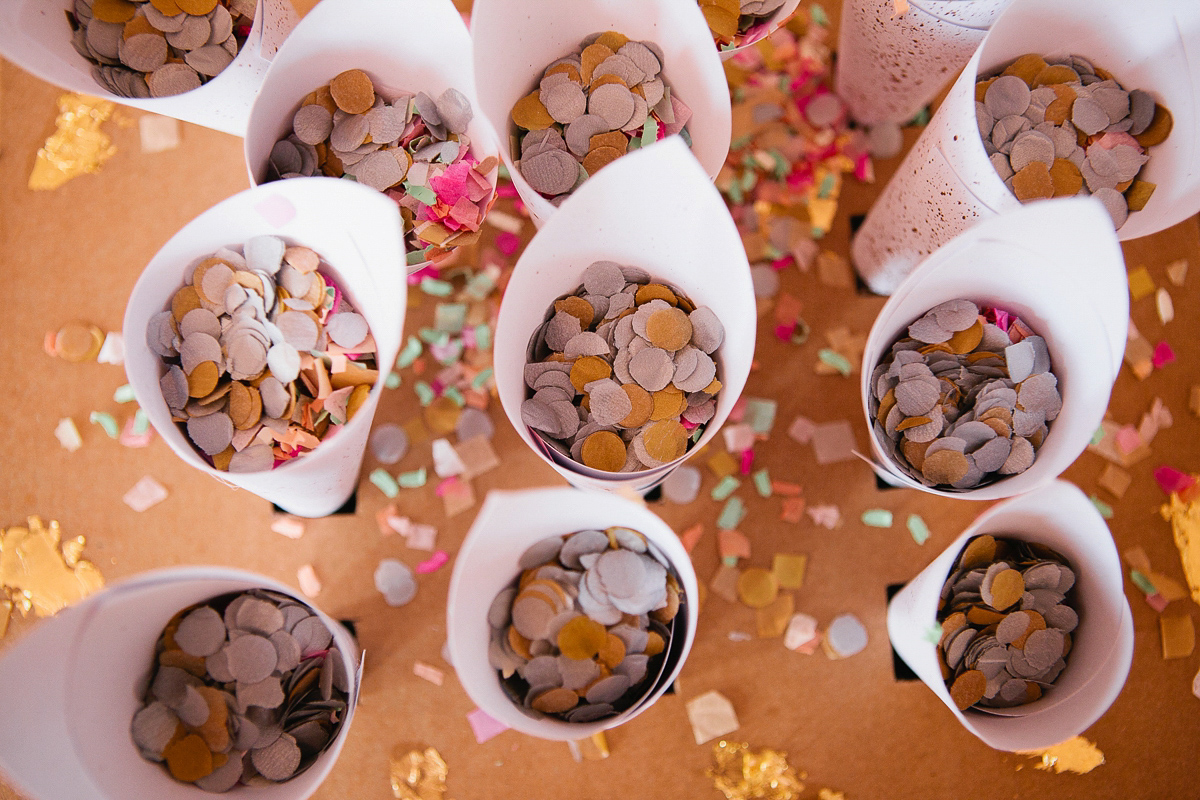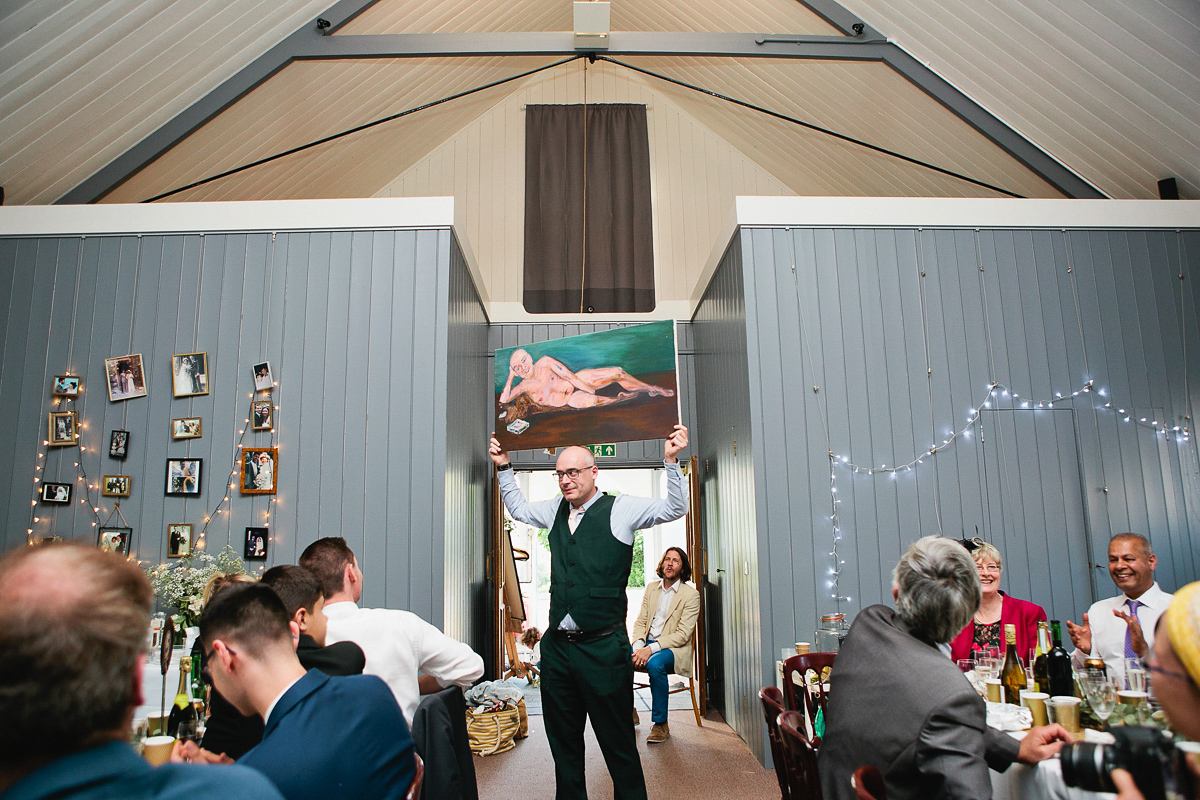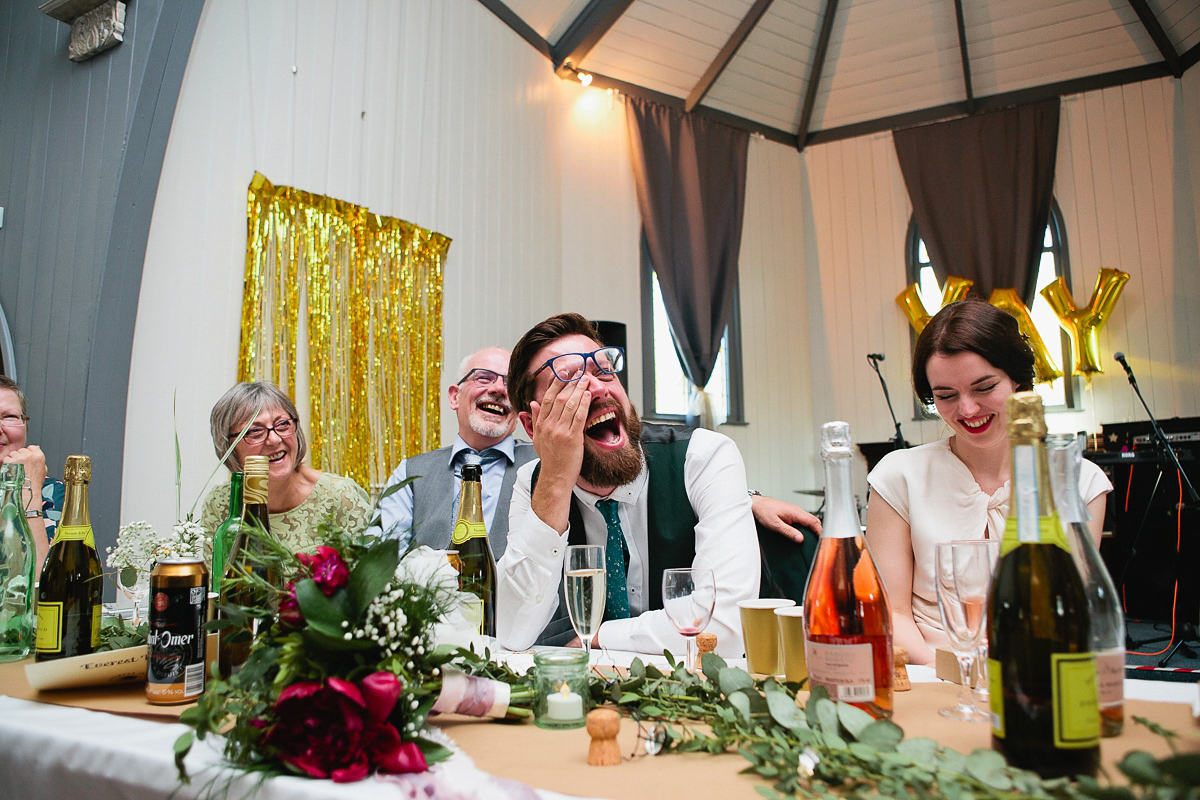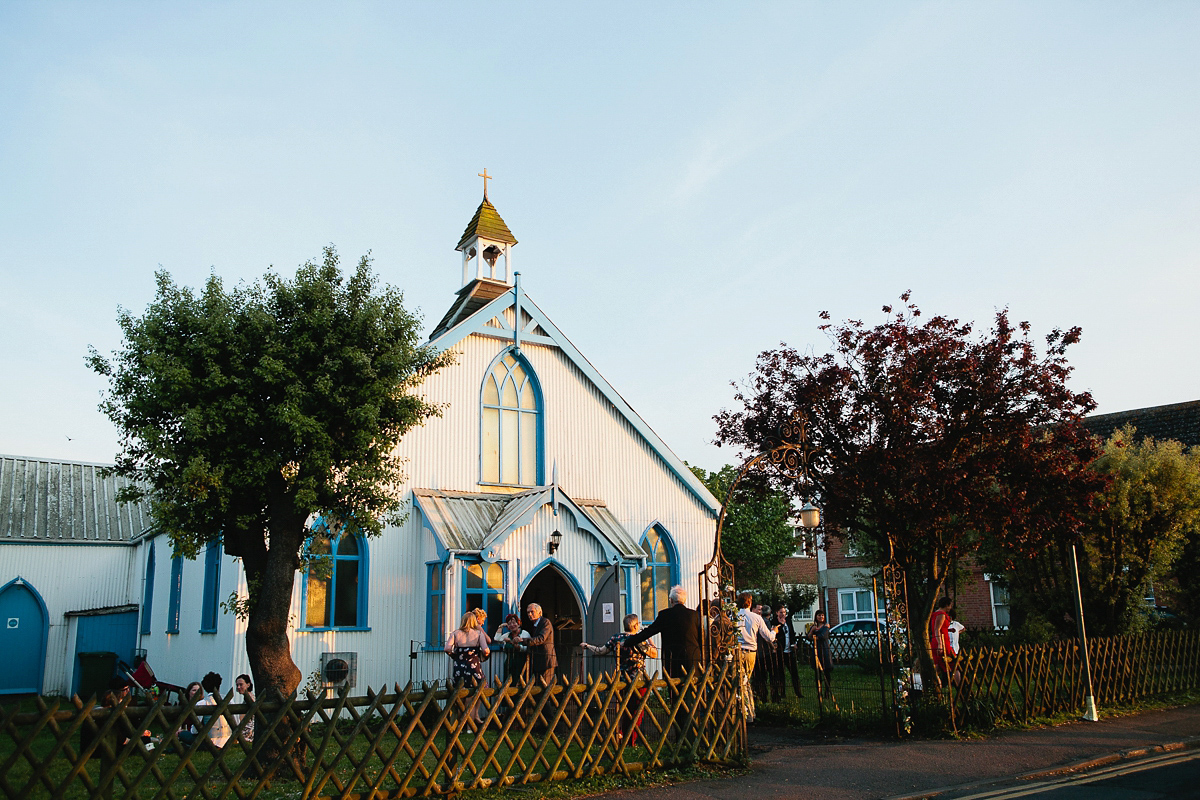 "Simon couldn't resist putting a band together and spent the months leading up to the day rehearsing a never-to-be-repeated set with a bunch of mates that had all been in bands together previously. Going under the moniker 'Wed! Wed! Wed!' in specially printed T-shirts, they played a series of medleys; taking in Marvin Gaye, Otis Redding, En Vogue, Justin Timberlake, Michael Jackson, David Bowie, Dizzee Rascal, The Cure and all sorts."
"The set list was kept a surprise and went down an absolute storm! We are also lucky enough to have excellent DJ's amongst our friends and family, so had three hours of ace tunes and a packed dance floor."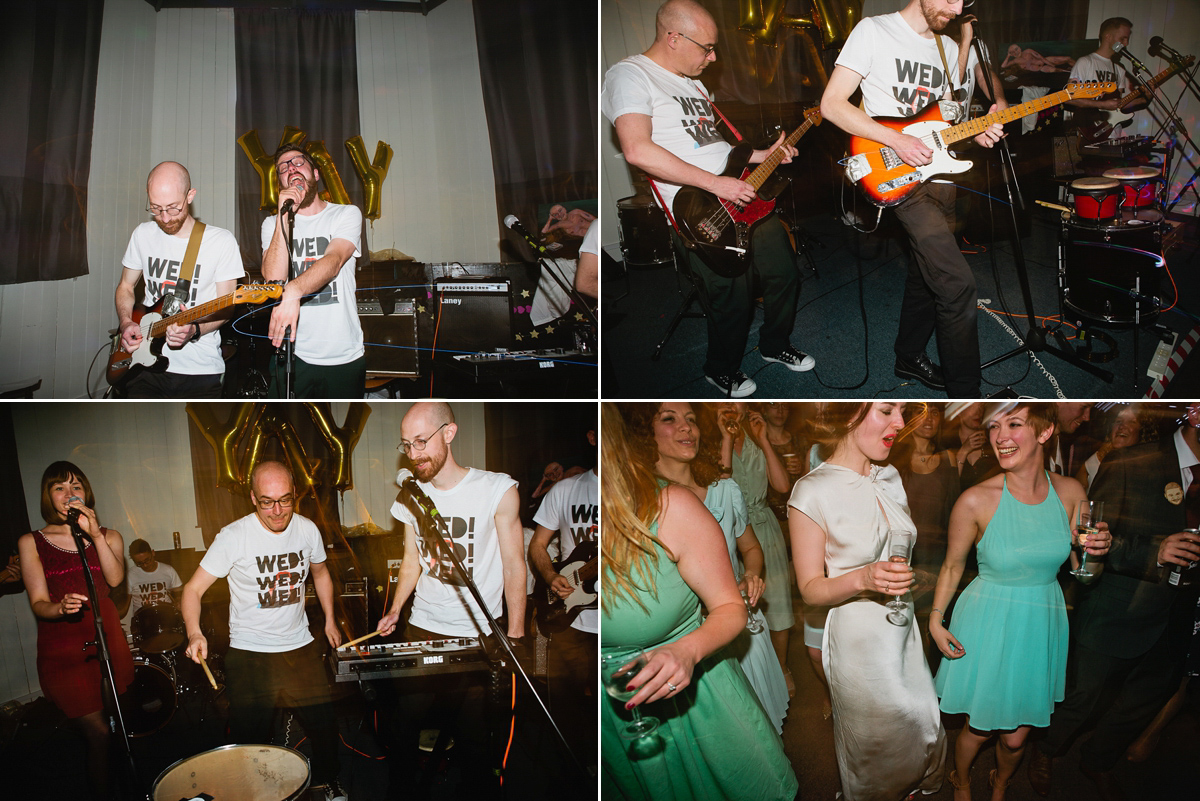 "We planned to have a last dance instead of a first dance to Lauren Hill's version of 'I Can't Take My Eyes Off of You', but we were having too much fun to realise the time and it was already past 11pm (when the music was meant to be turned off) before we realised and it was too late. Maybe this is the one thing we would have changed!"
Words of Wedded Wisdom
"Everybody has said to us that they had the best day and I think that's probably because we made sure that the day was true to us; the fact that we encouraged and celebrated input from our nearest and dearest and that we wanted it all to be relaxed, natural, informal and most importantly fun. So the only advice would be to just make it your day that reflects you."
Take note of these wise words if you're currently in the throes of a never-ending list of 'wedmin' – don't be afraid to ask your friends and family to help out if it's all getting a bit much. I love these images by Matilda Delves Photography that are filled to the brim with smiles and the relaxed feel completely comes across in every photo. Thank you to Sophie and Simon for sharing all the little details with our lovely readers – I'm off right now to find myself some pretty peonies just like your gorgeous ones!
Enjoy the rest of the week lovely ones.
Love Jo -x-