Whenever a new wedding arrives in my inbox, the first thing I do is look through the photos.  This time I only got about three pictures in before I actually gasped.  I absolutely can't wait to share this one and so I am thrilled to whisk our readers away this fine morning to the stunning North Island of New Zealand. This also makes a beautiful feature to follow on from the set of inspiration boards we shared this morning.
Let me introduce Suzy Gasson, a family and wedding photographer, and Alan, a partner at an estate agent, who married on Mahia Beach on the 27th of February 2016 surrounded by their wonderfully talented and helpful family and friends.
"We both love the beach and the sea and it was a dream for both of us to be married barefoot on the beach so decided to use the sea as inspiration. We used white fabric to drape the marquee ceiling, white tablecloths, driftwood from the beach Alan proposed at as place cards, dried lavender like the seagrass and little touches of blue."
Photography by Meredith Lord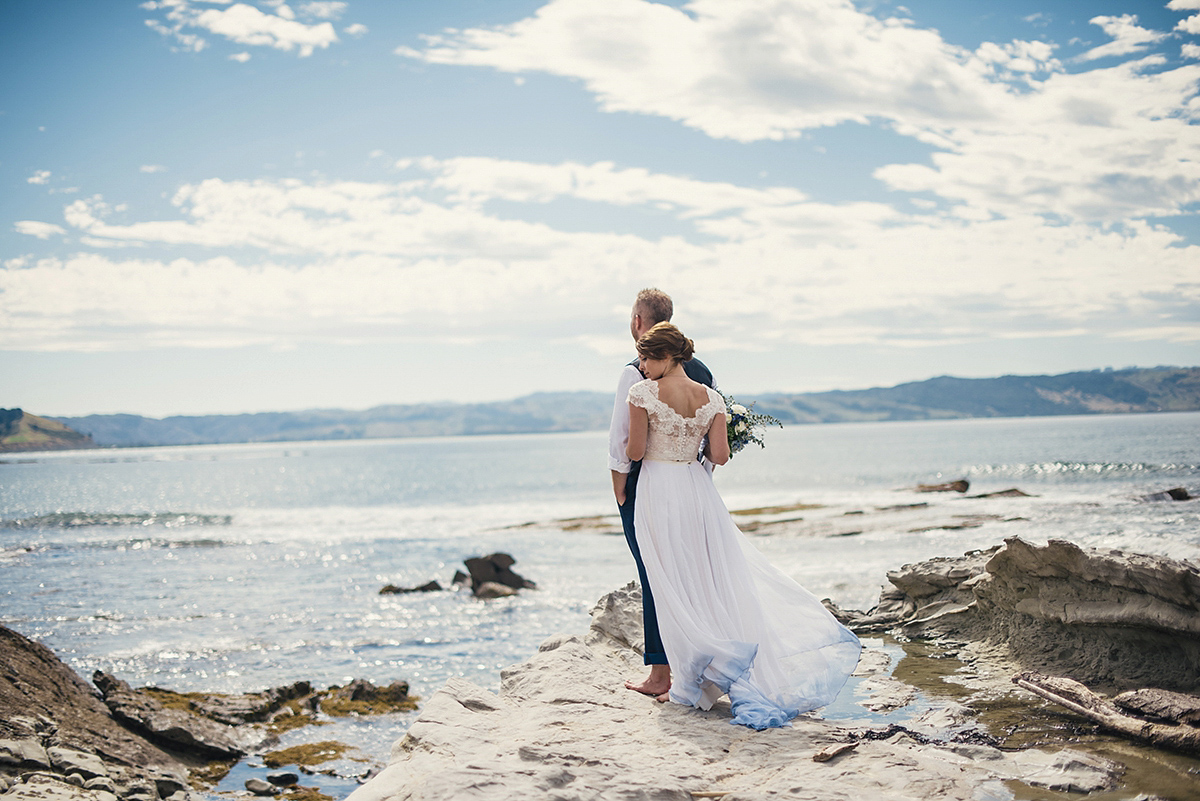 Suzy wore the gorgeous 'Marilla', which was custom-made by Phoebe Blockley Bridal at her studio in Leicester, UK.  I just adore this gown; the blue at the bottom of the skirt is so unusual and the lace on the bodice is to die for.
"Phoebe and I designed my dress together.  I didn't want any frills or anything that was too over the top, just simplicity and a chic timeless look.  We went for a three piece dress, with a white lace day top, blush bustier, silk skirt and a blue lace top for the evening.  The best feature was the blue that Phoebe hand painted at the bottom.  My Nana said it looked like a wave crashing on the beach."
For morning photos, Suzy wore her grandmother's veil but chose to go without for the rest of the day.  On her feet she boasted white heels from ASOS (which she swapped for flip flops for the beach ceremony) and in her hair she placed a single silk flower, which her mum wore on her own wedding day. For jewellery, she twinkled in a pair of diamond earrings (a gift from Alan on their first anniversary) and a diamond pendant (a present from Alan that morning) both from Ernest Jones.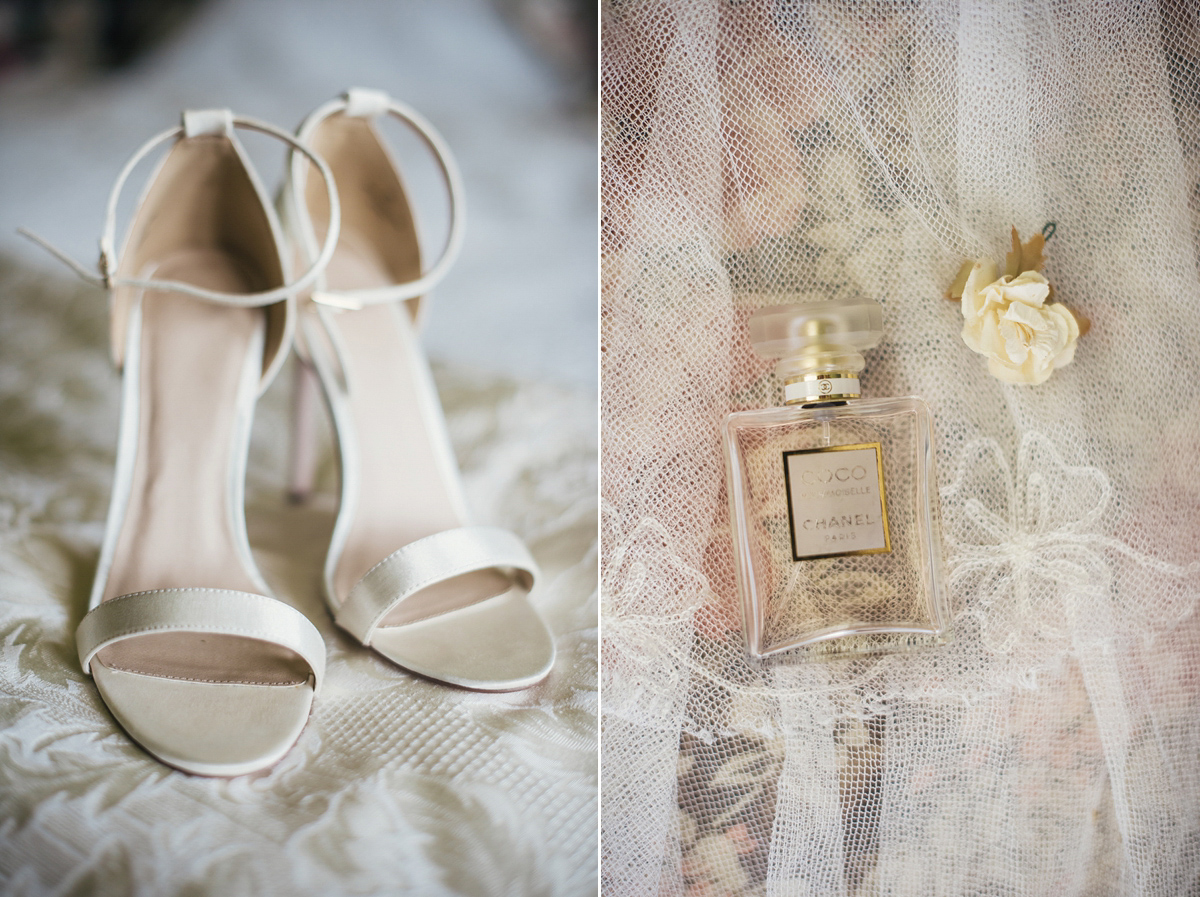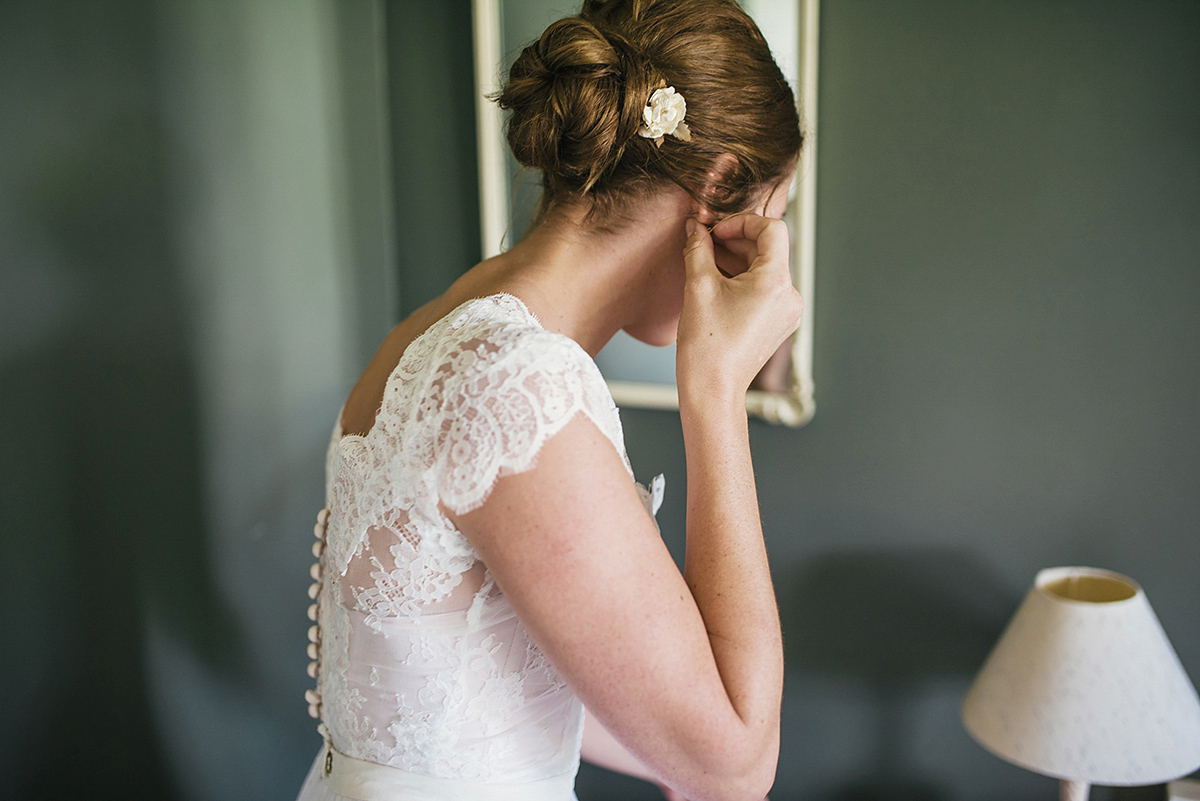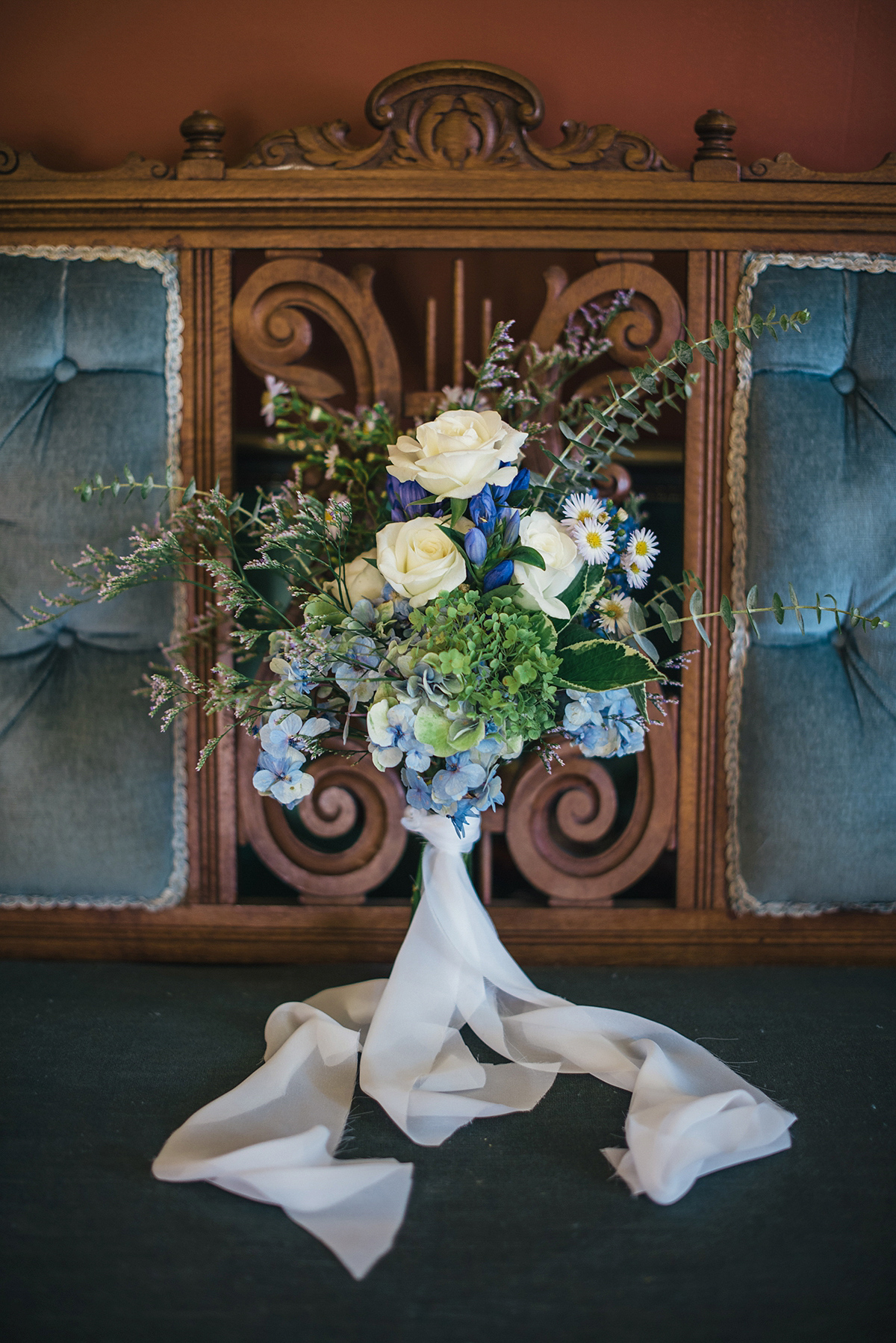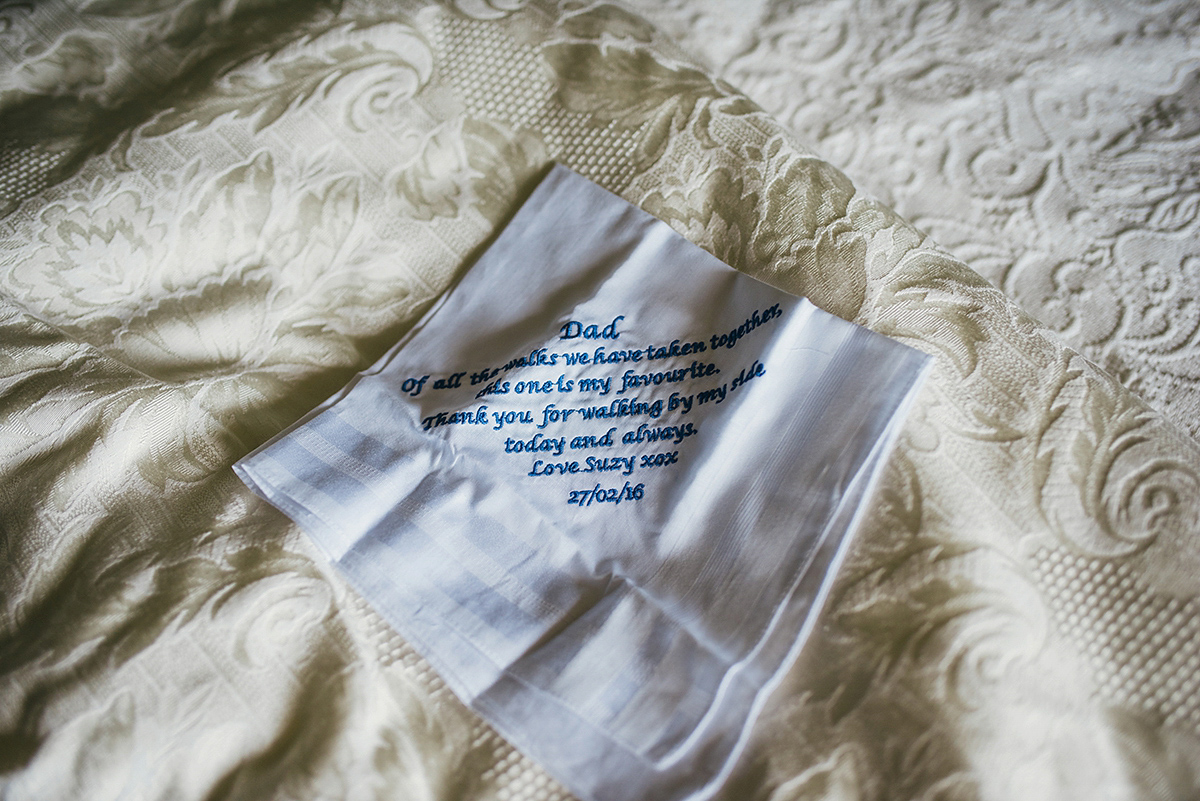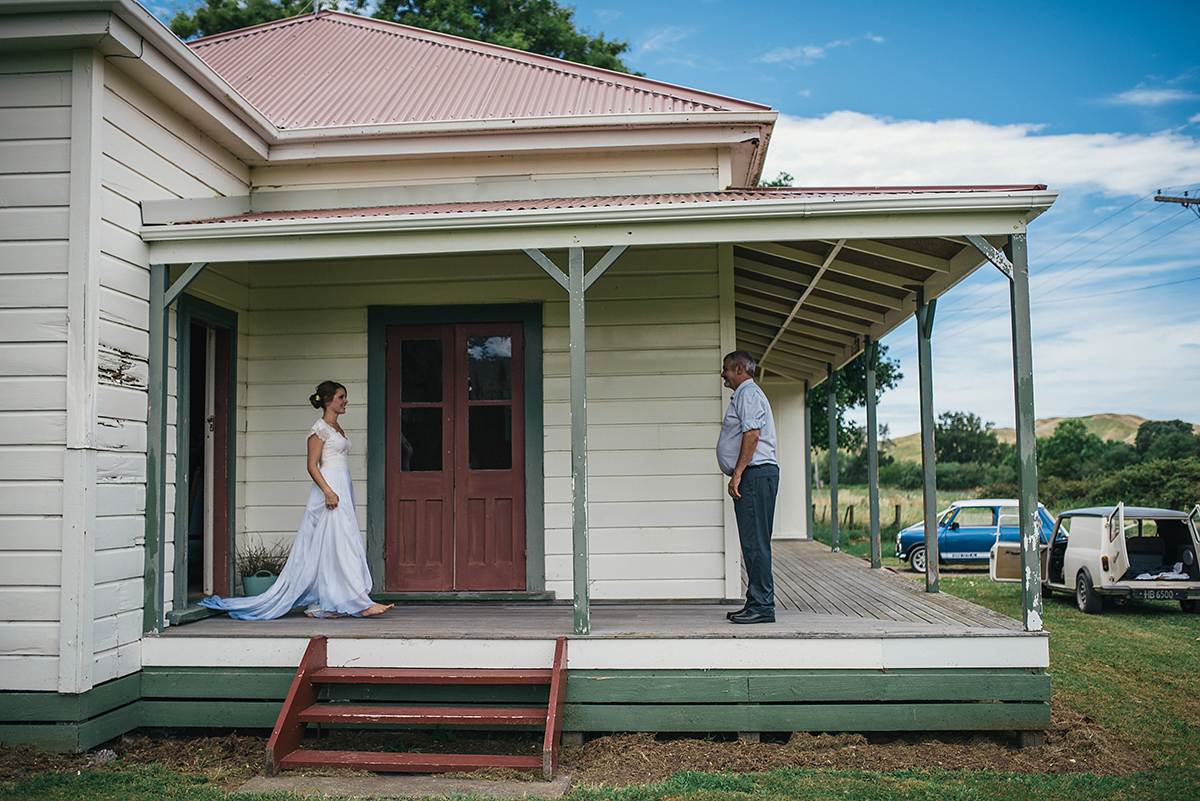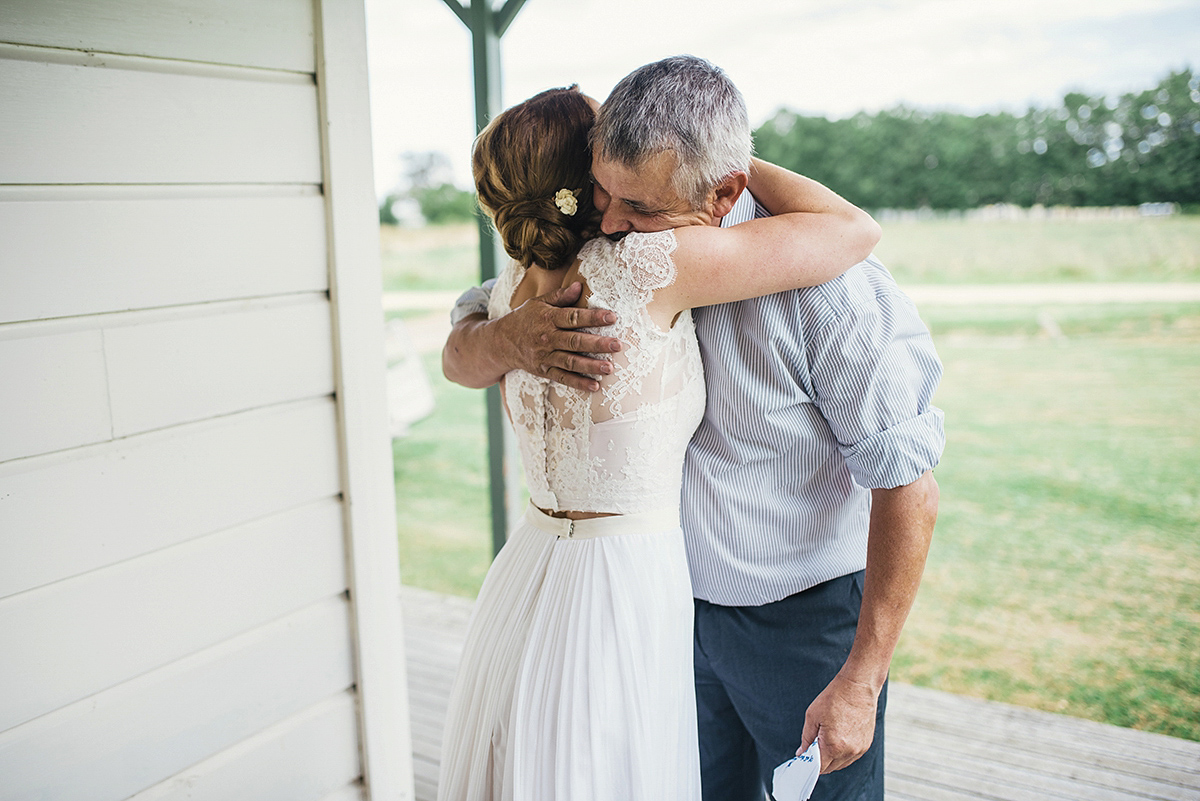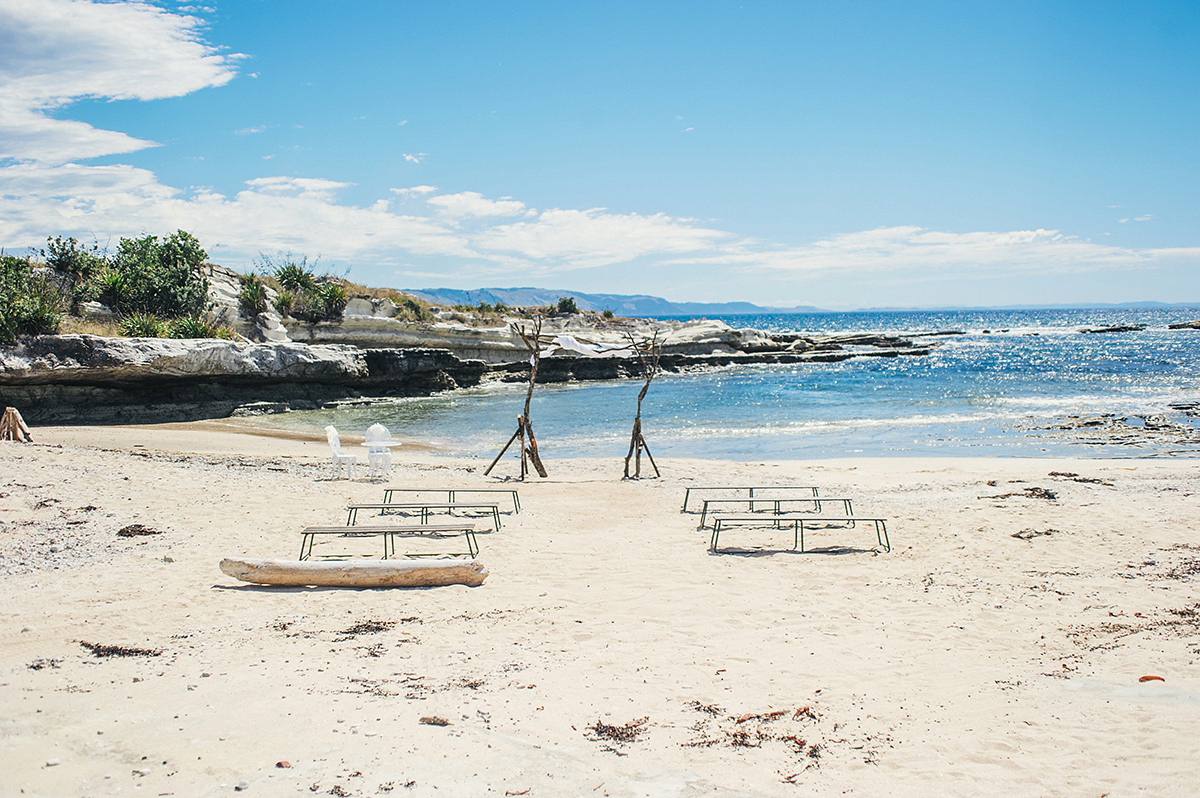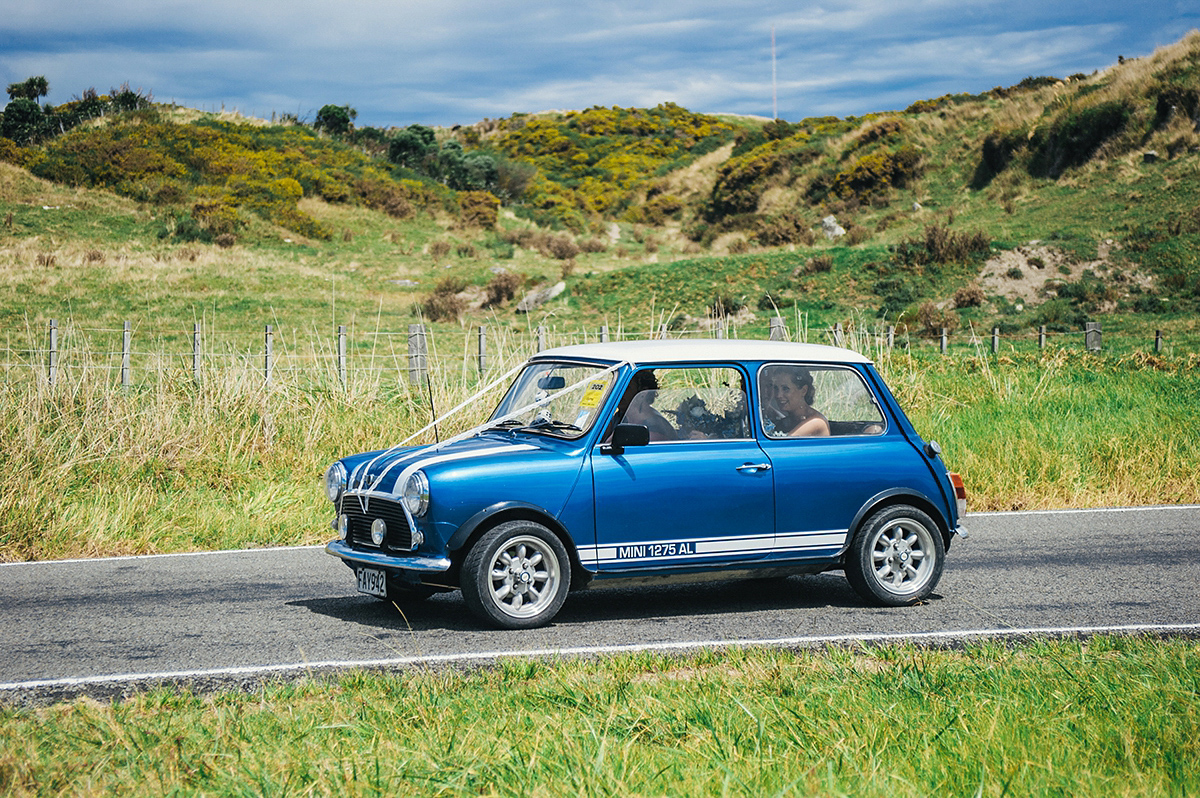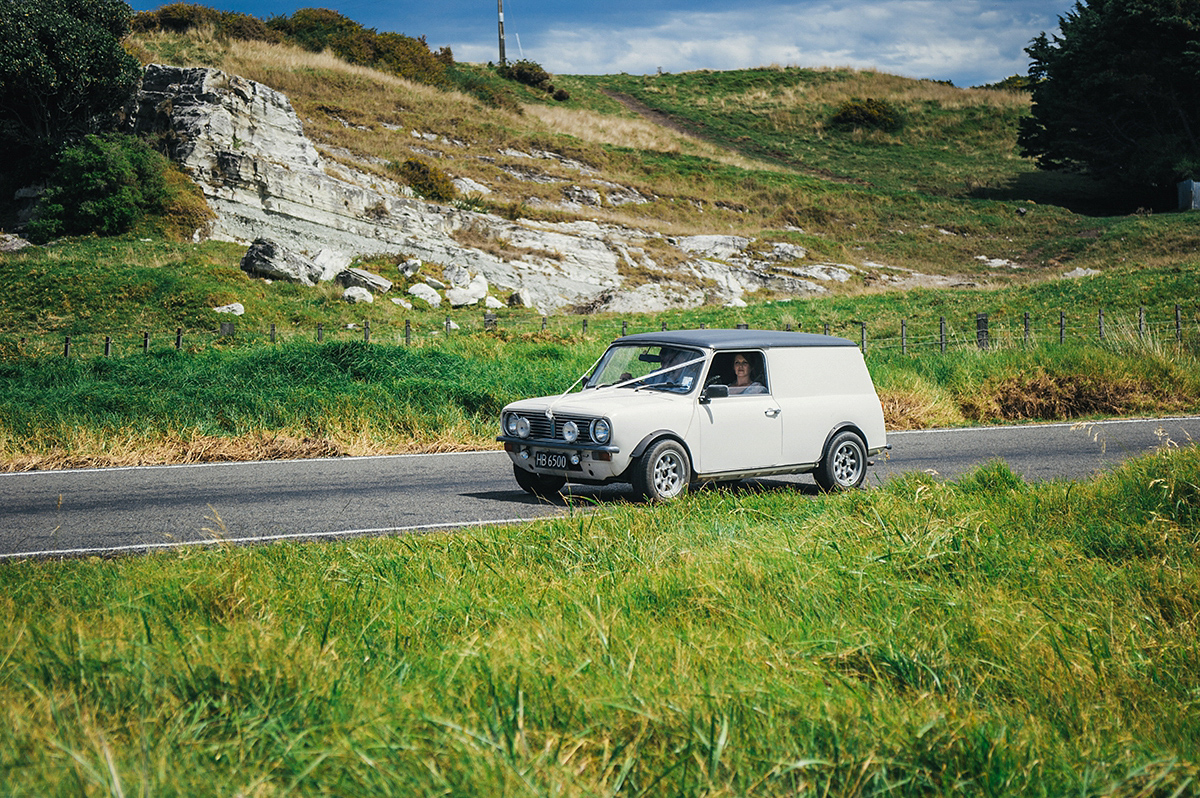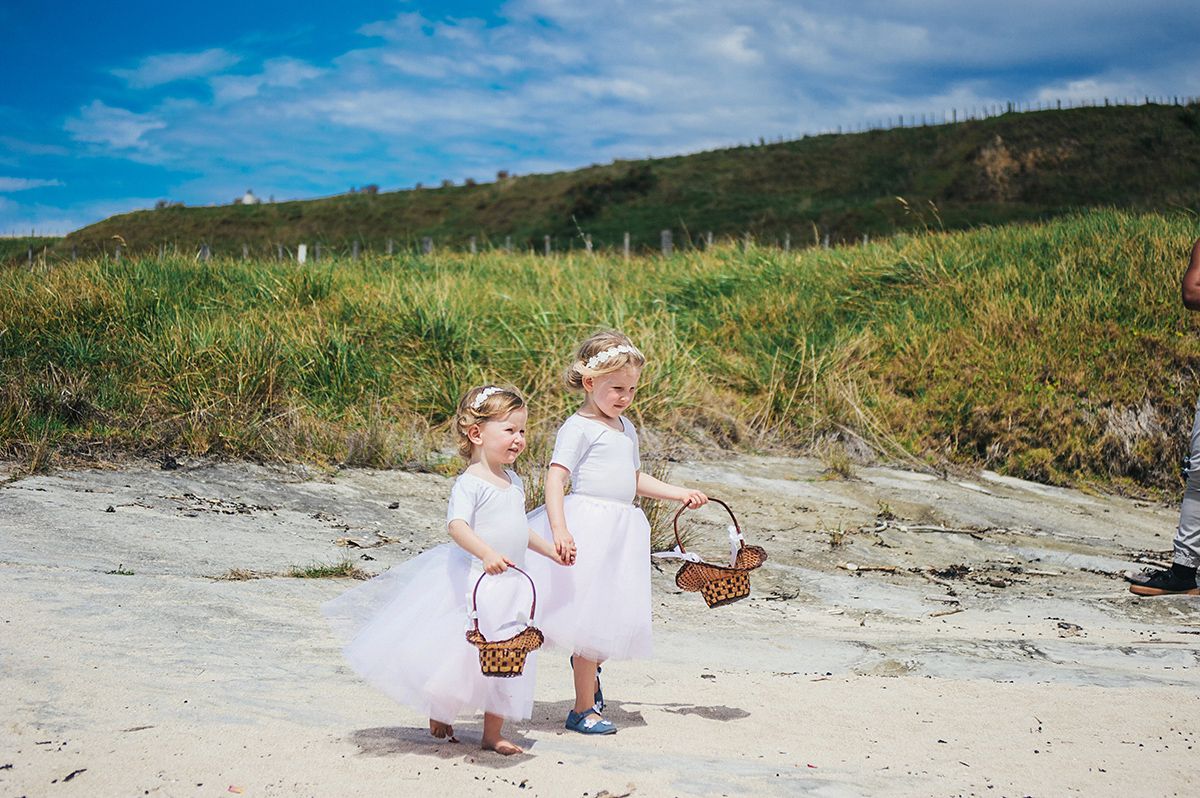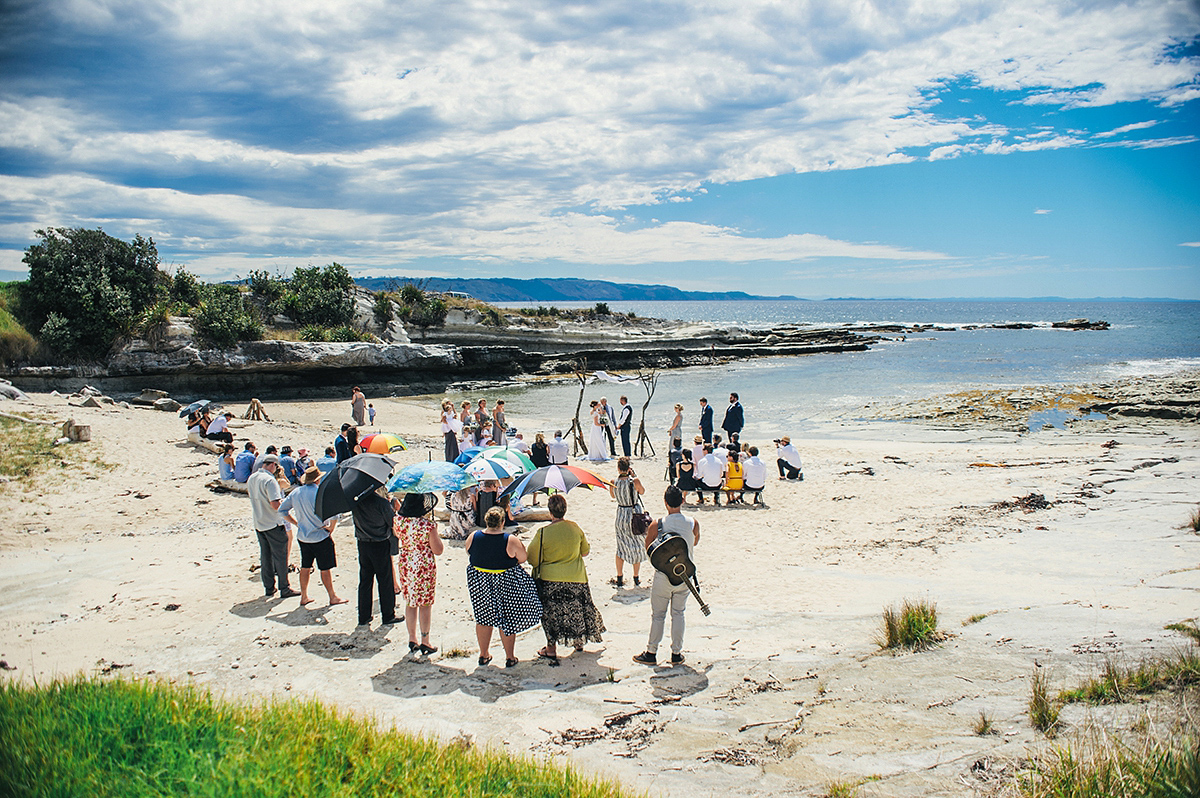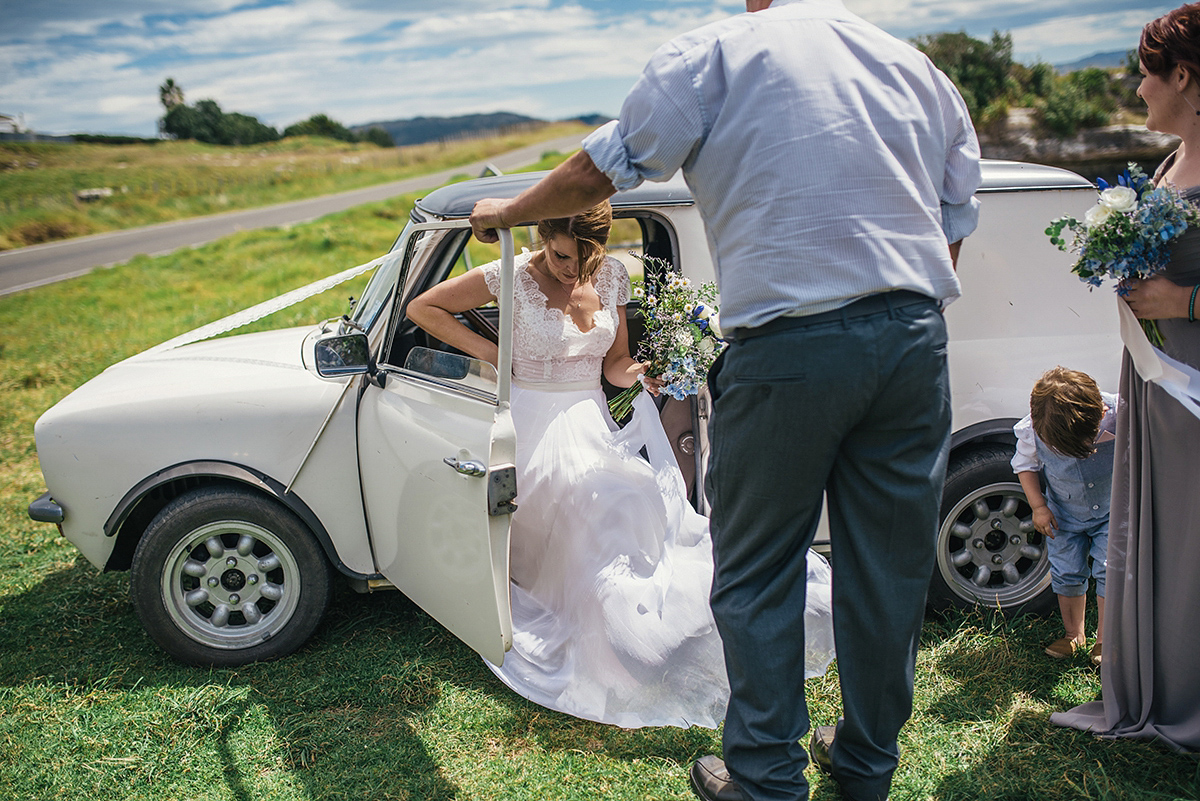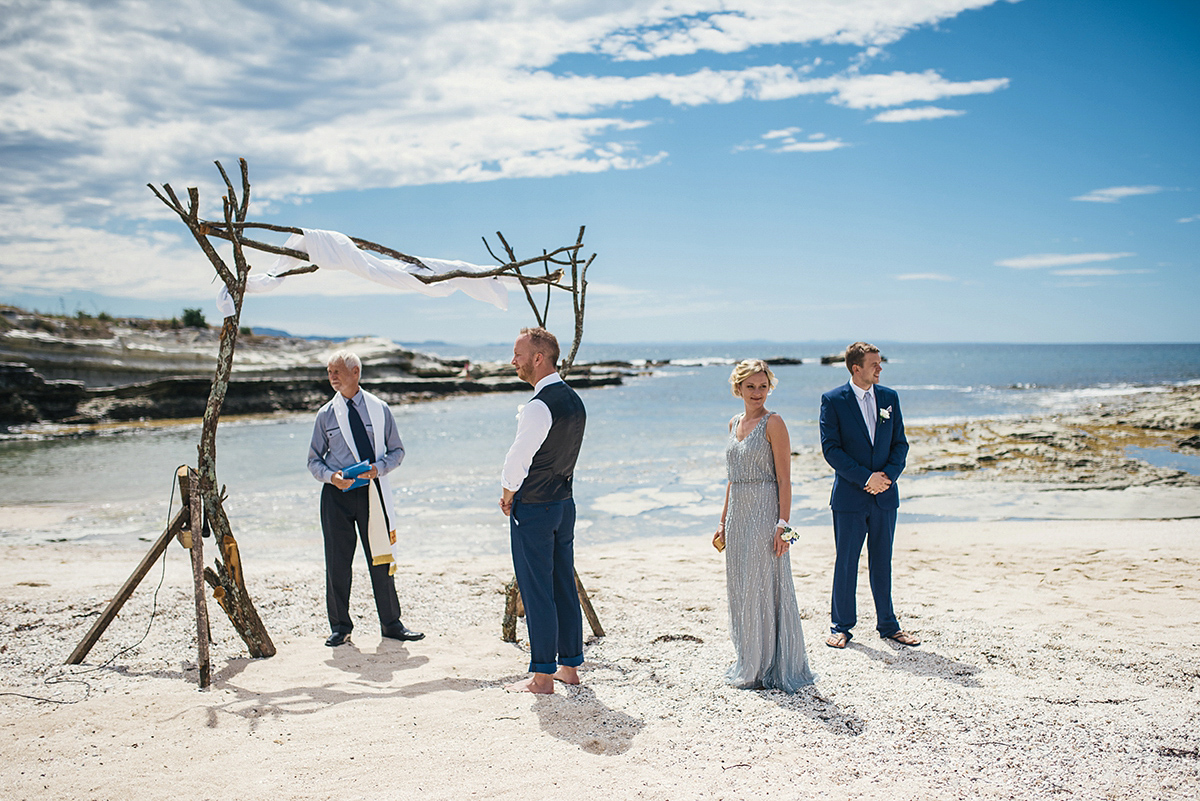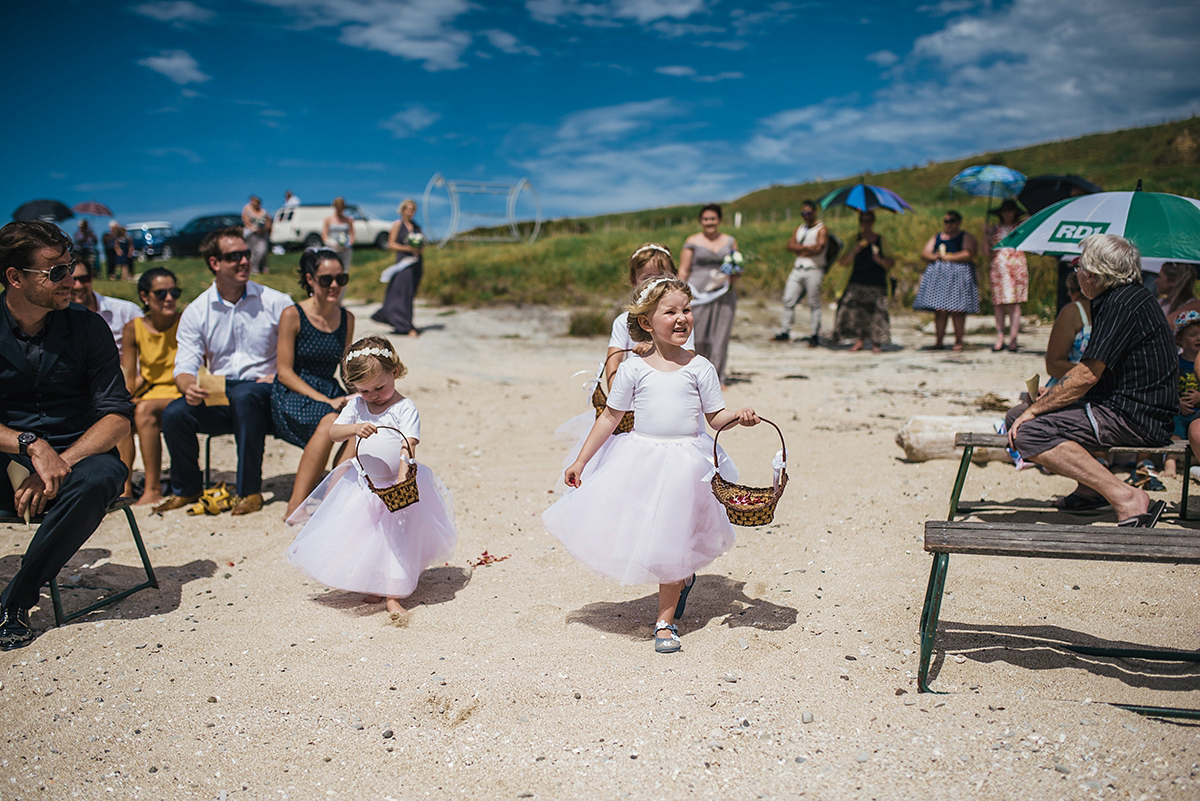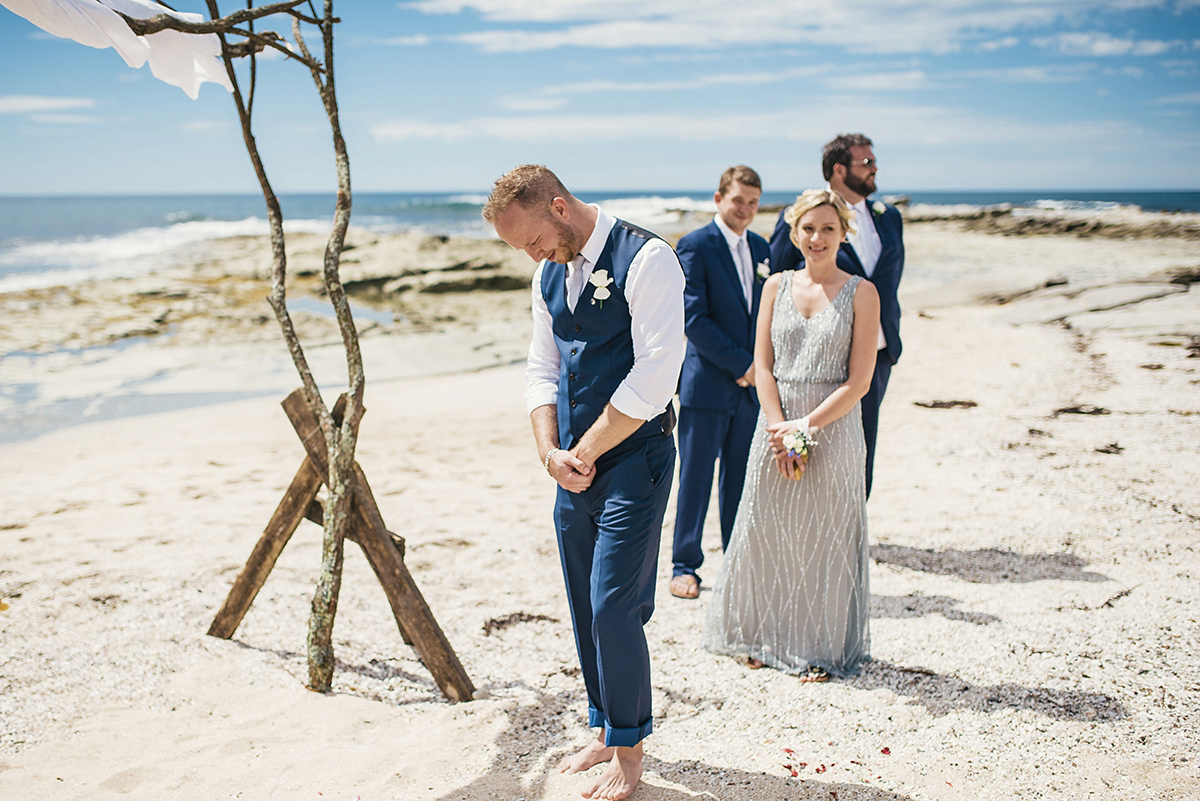 Suzy walked down her sandy aisle with her Dad to 'Give me Love' by Ed Sheeran.
"We are big Ed Sheeran fans, have seen him live twice and would send his music to each other when I lived in New Zealand.  Alan would also sing his songs to get our son to sleep when he was born."
"As Alan has a huge love for music, specifically acoustic, I arranged for Kiri Gilbert to perform as a surprise during our ceremony.  Alan's brother-in-law also played for us."
As reading, the couple chose 'I Carry Your Heart With Me' by E.E Cummings and 'Love is a Temporary Madness', from Captain Corelli's Mandolin by Louis de Bernieres.  Their reasoning for choosing them is lovely:
"I sent Alan the poem by E.E Cummings while I was living in NZ.  He then sent me a heart key chain to carry with me, so we chose that reading for its sentimental value to us.  The excerpt from Captain Corelli's Mandolin we chose as it spoke about what marriage was to us, to decide everyday that we were married.  When the being in love goes away we remember that decision to love and continue to grow together."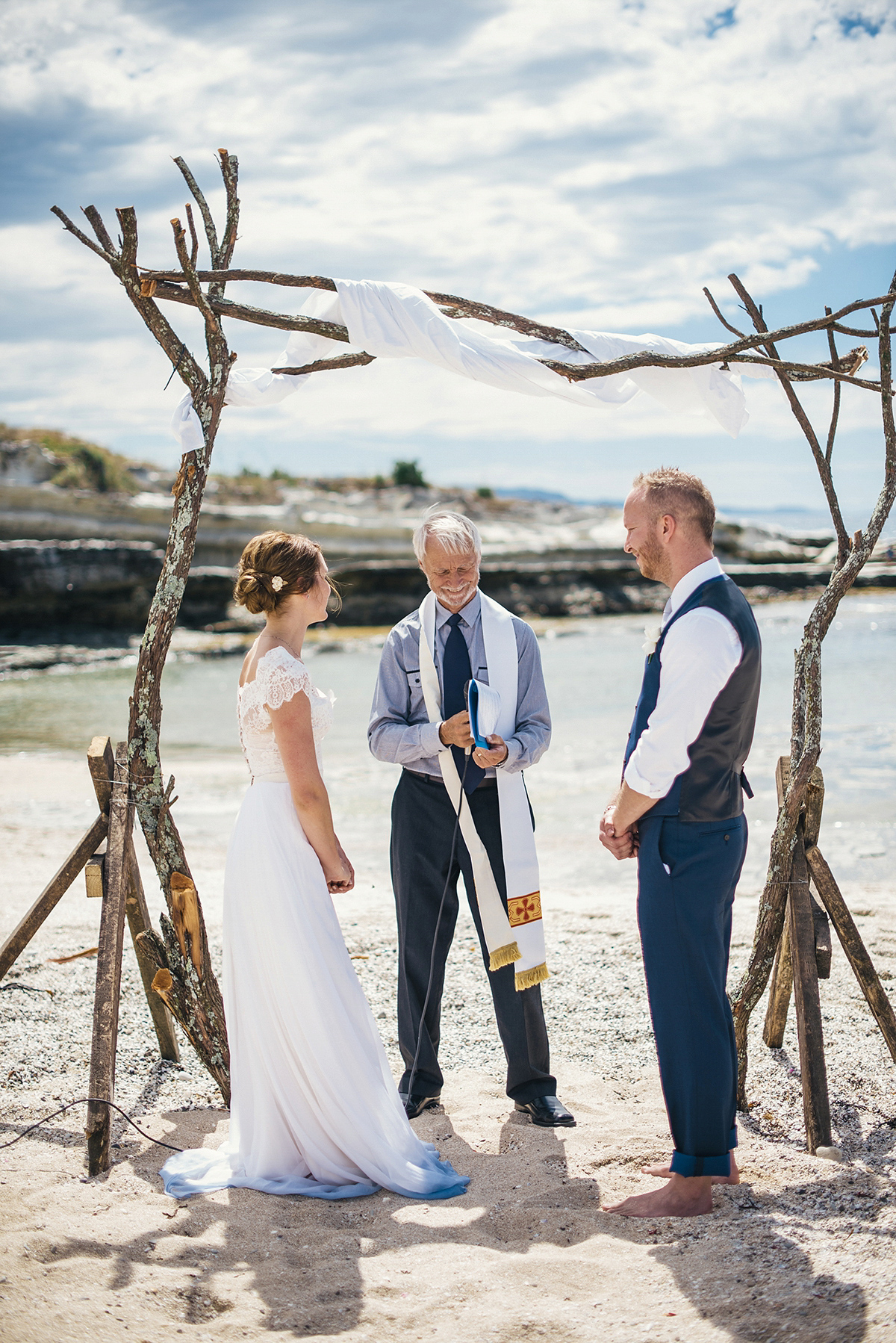 Alan looked smart yet relaxed in a blue suit from Next, accessorised with a custom made pin which held his grandparents wedding photo from Sugar Oh Honey Honey and a pocket watch, both gifts from Suzy.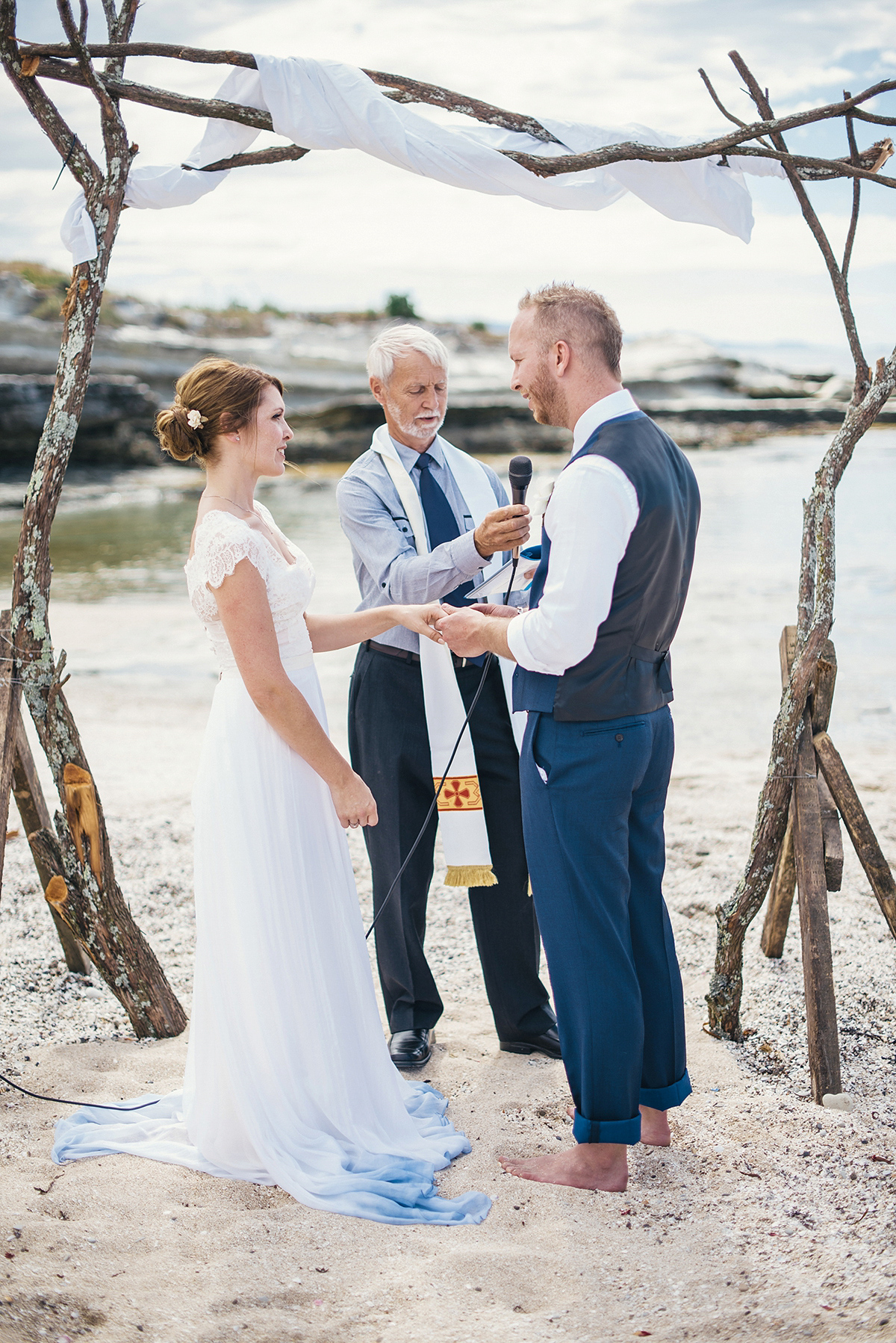 "The ceremony site we didn't do much to at all as the landscape around us was enough. We just had seating borrowed from my old primary school and an arch that my uncle made out of a tree from my parents garden."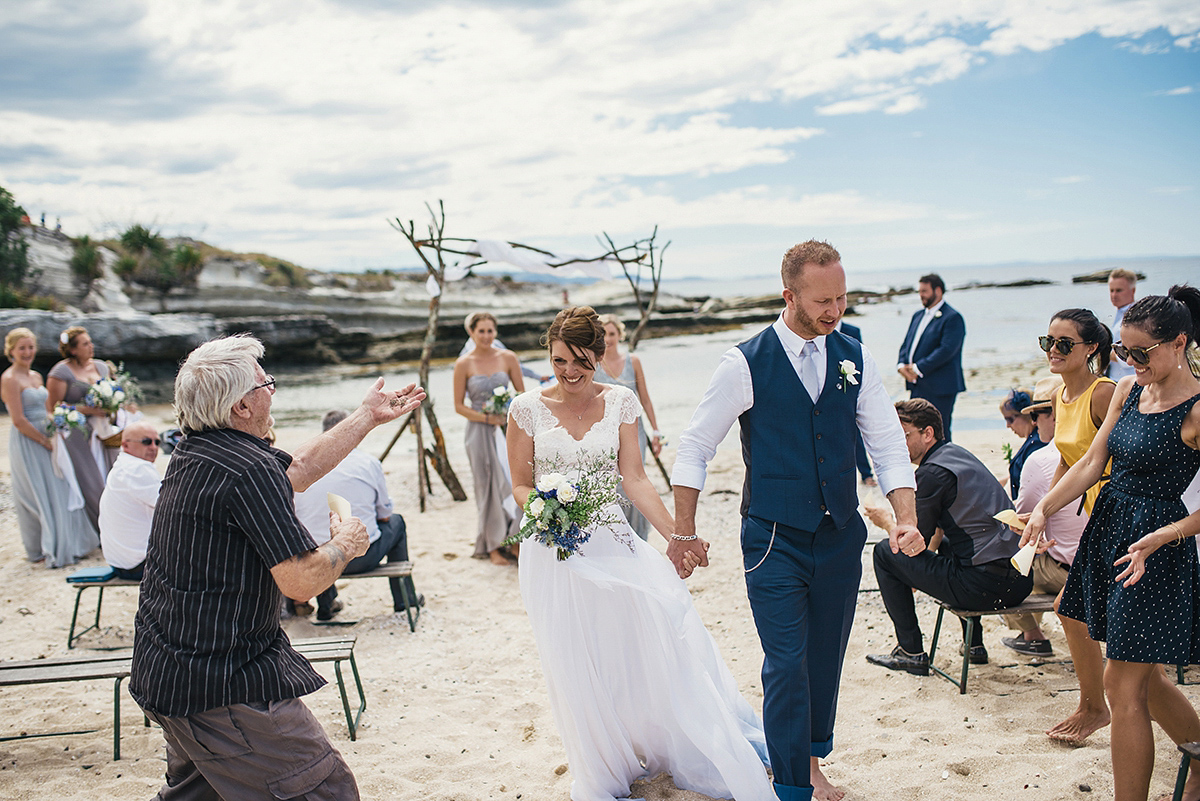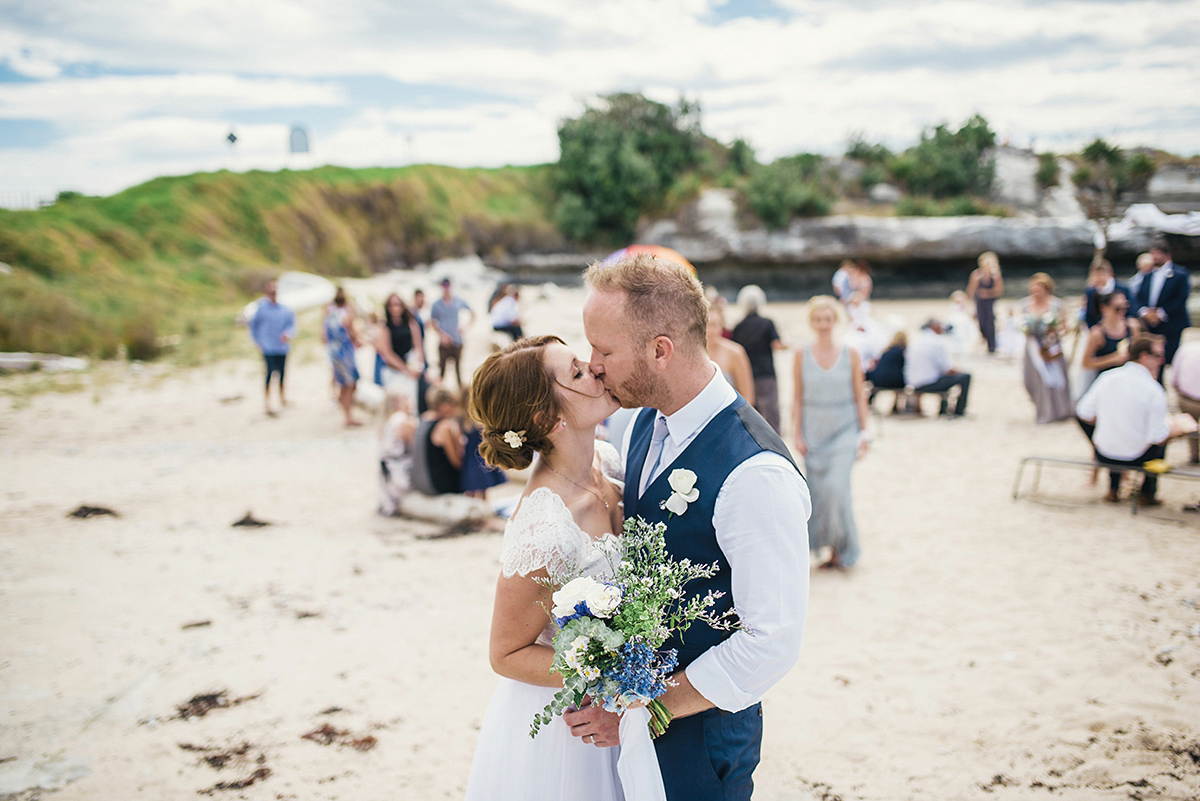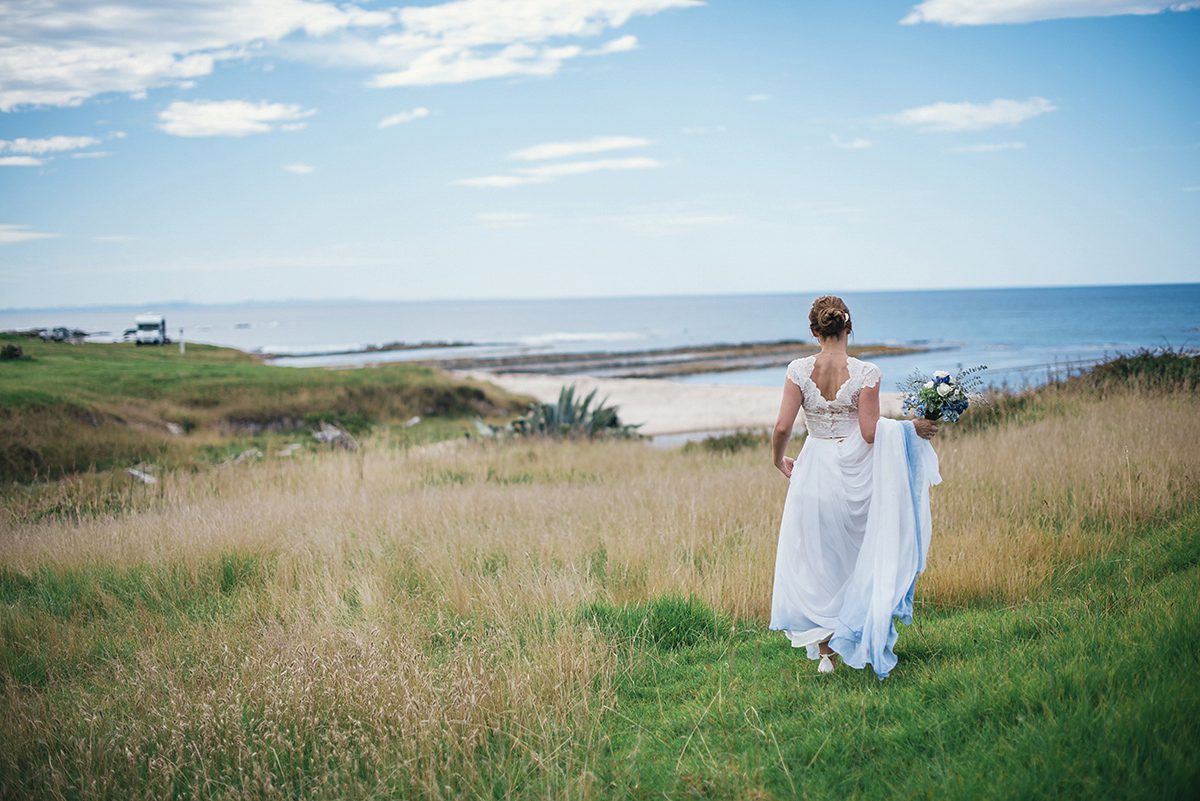 The couple chose Meredith Lord Photography to capture their big day and what an incredible job she did; those photos of the couple on the rocks are just astounding and Suzy's dress almost looks like part of the sea itself, breathtaking.
"I chose Meredith two years before the wedding, before we had even set a date or decided on a venue.  Being a photographer myself this was something I was most particular about and after looking at her website I just fell in love with her work. She was really easy to get along with and captured our day beautifully. We had so many stunning locations surrounding the area and she really went out of her way to include as much of it as possible."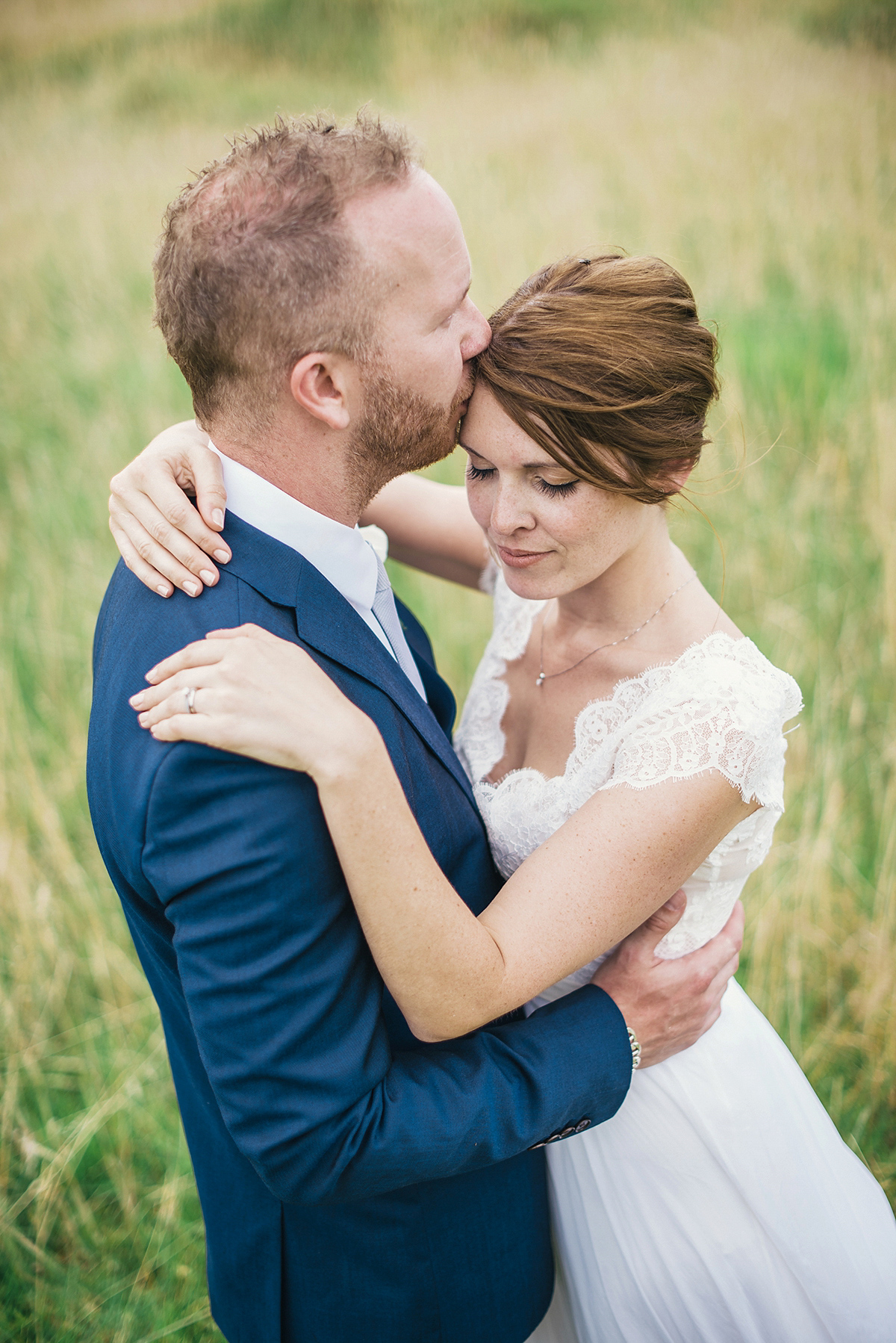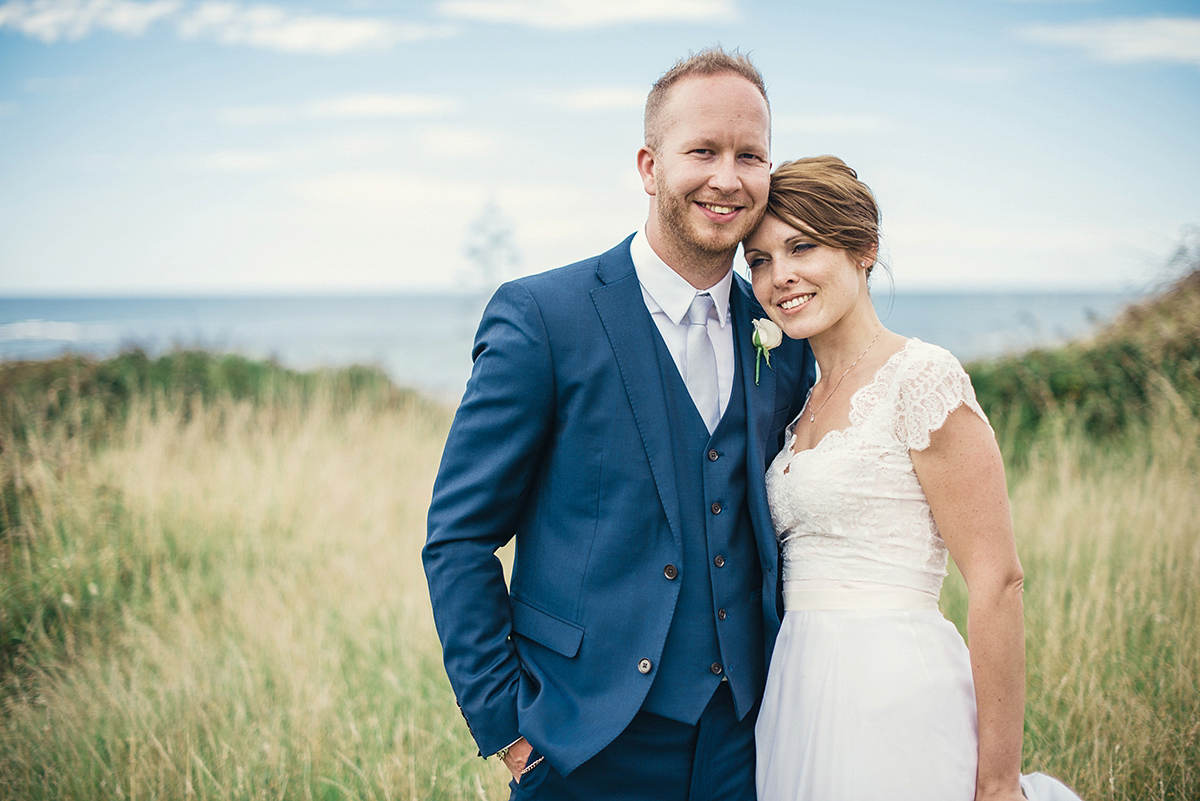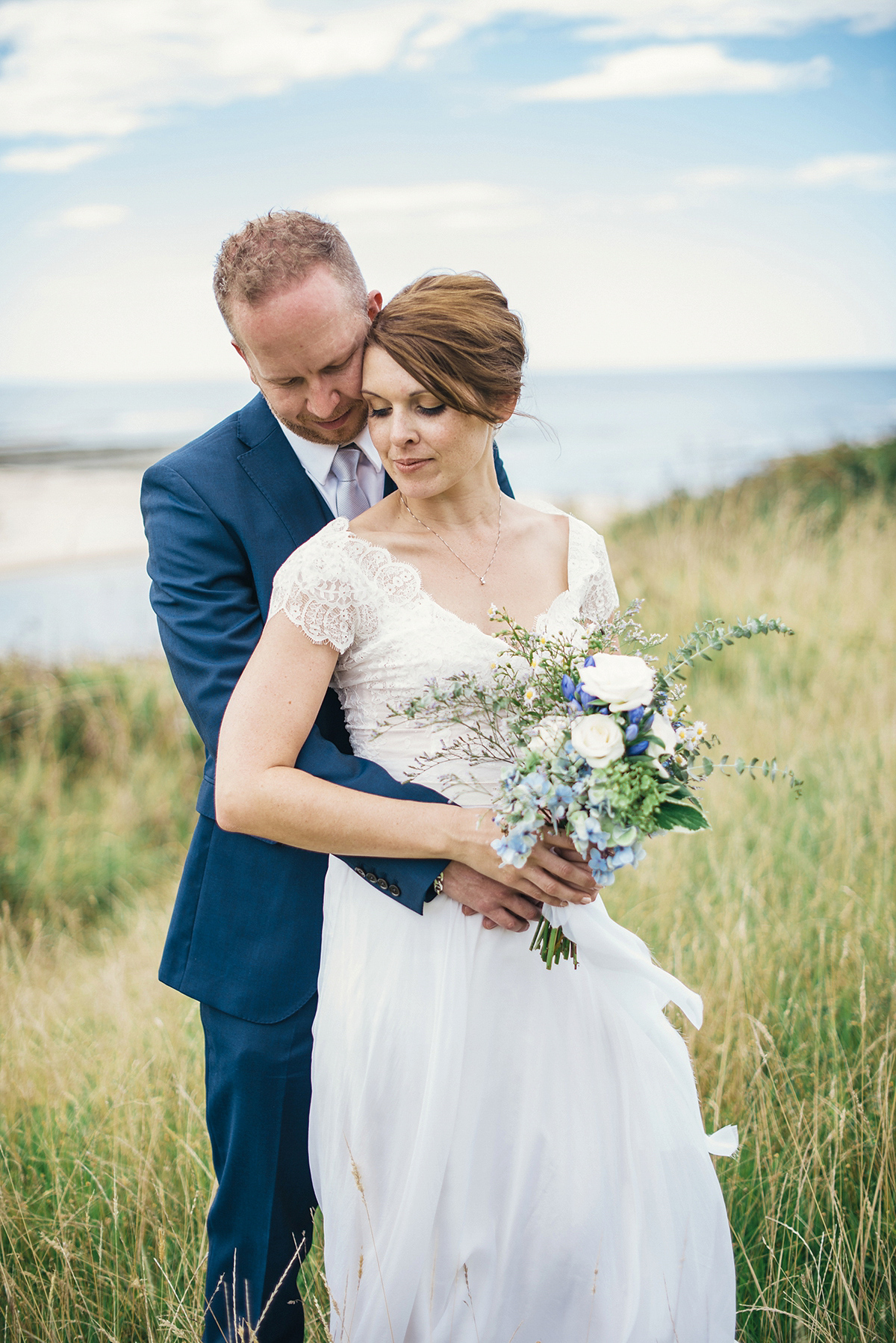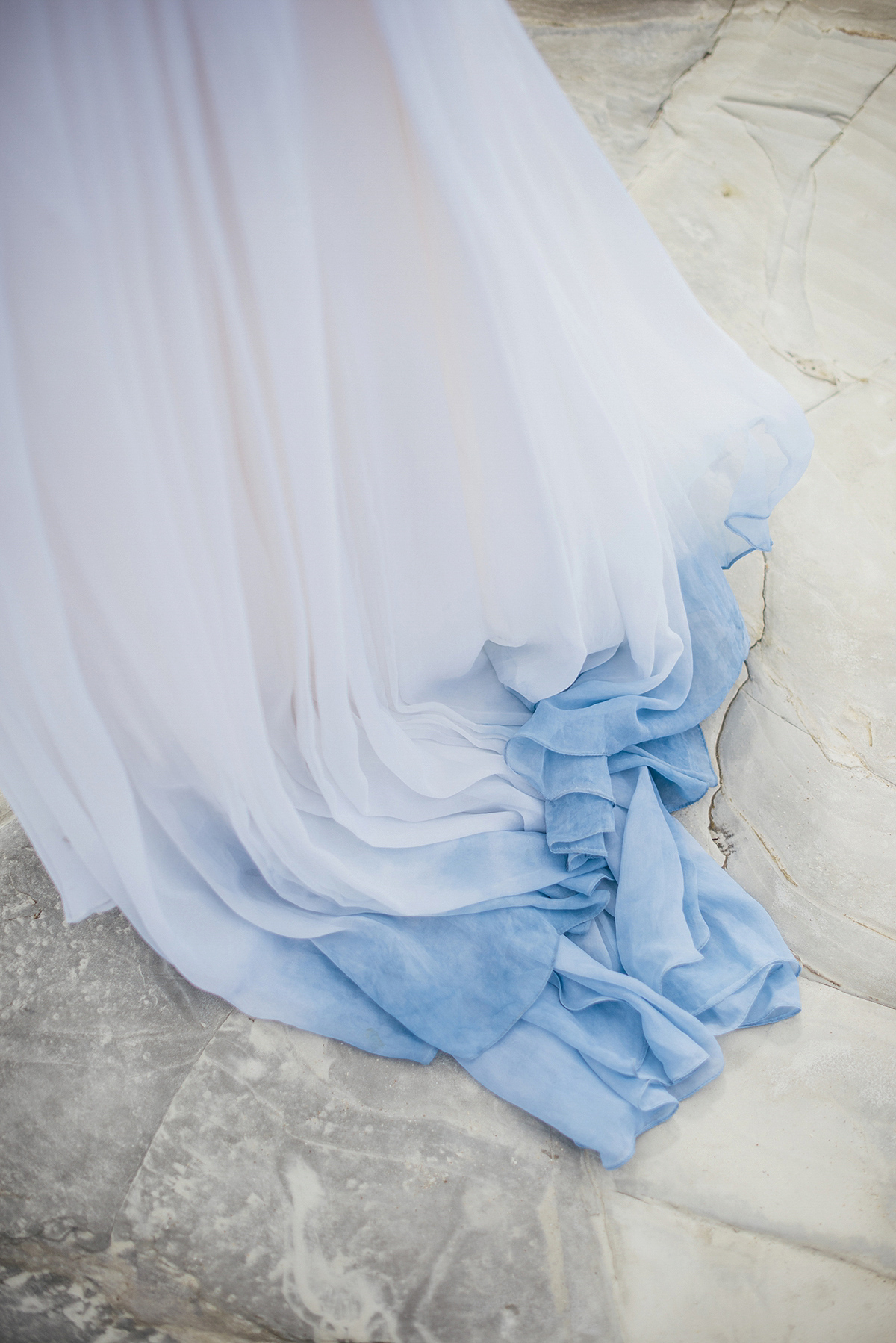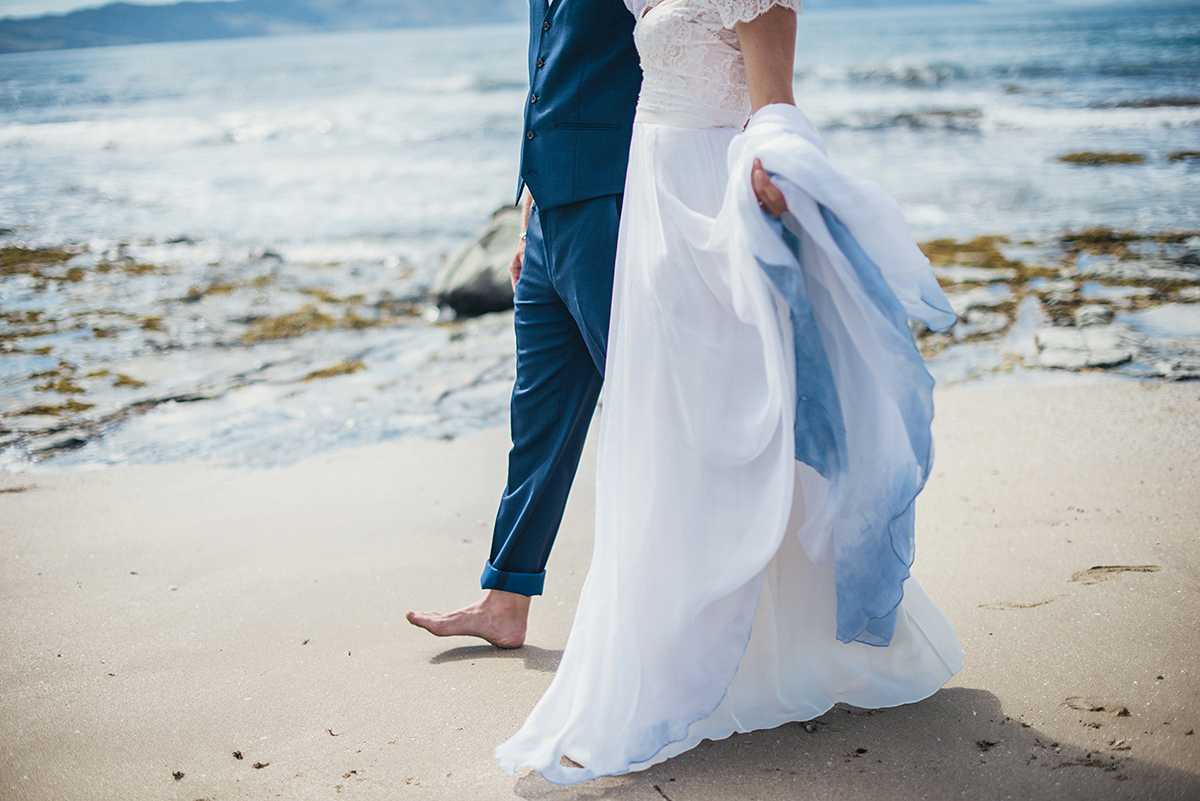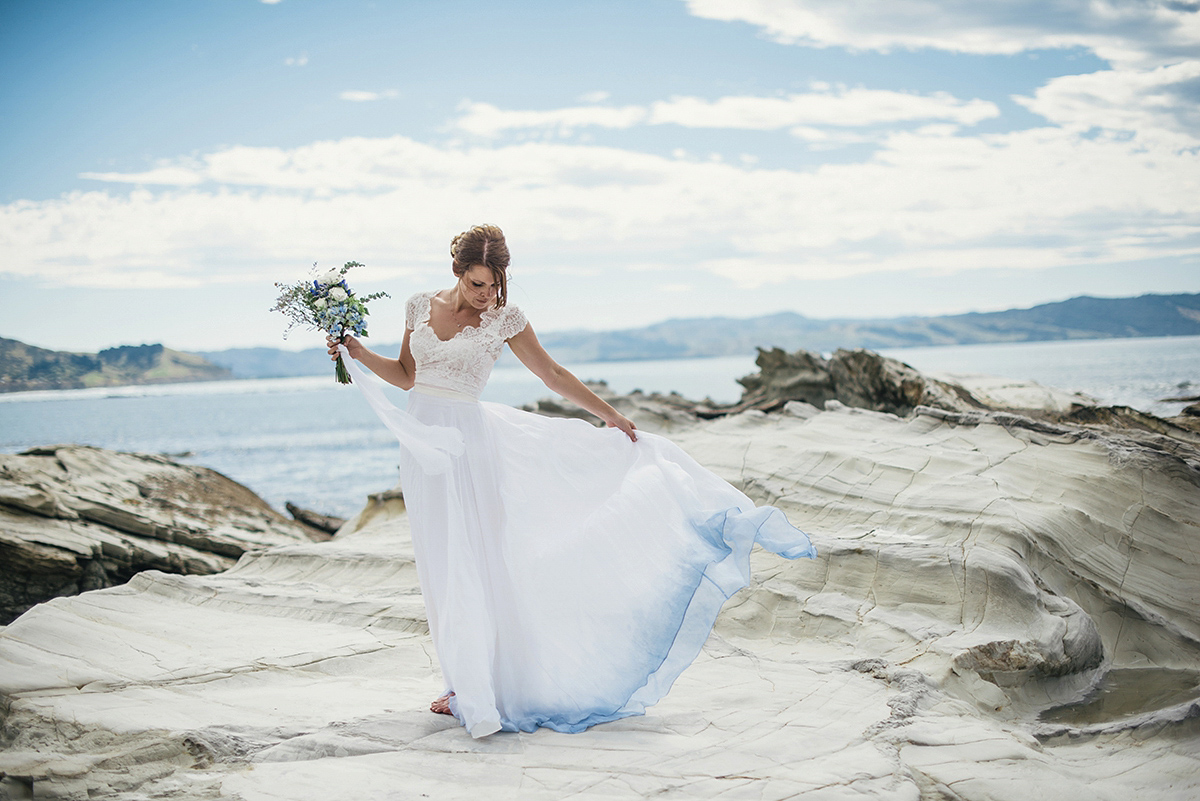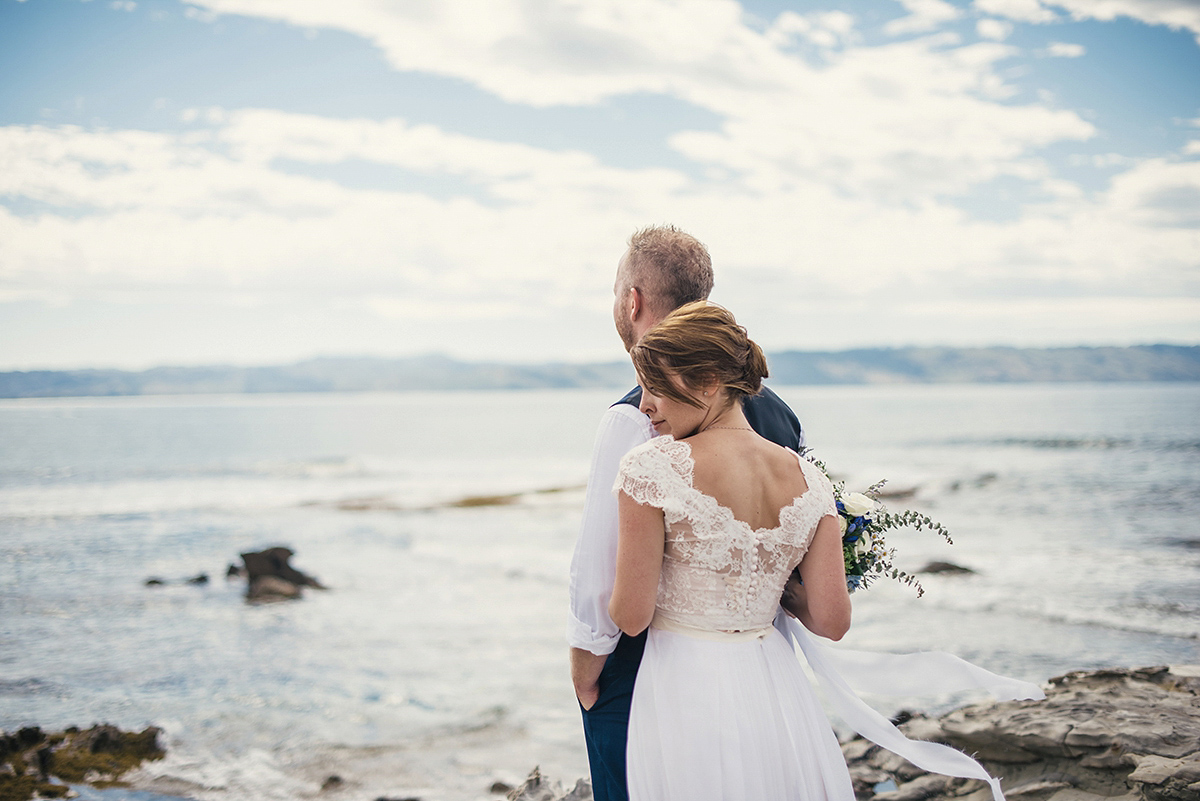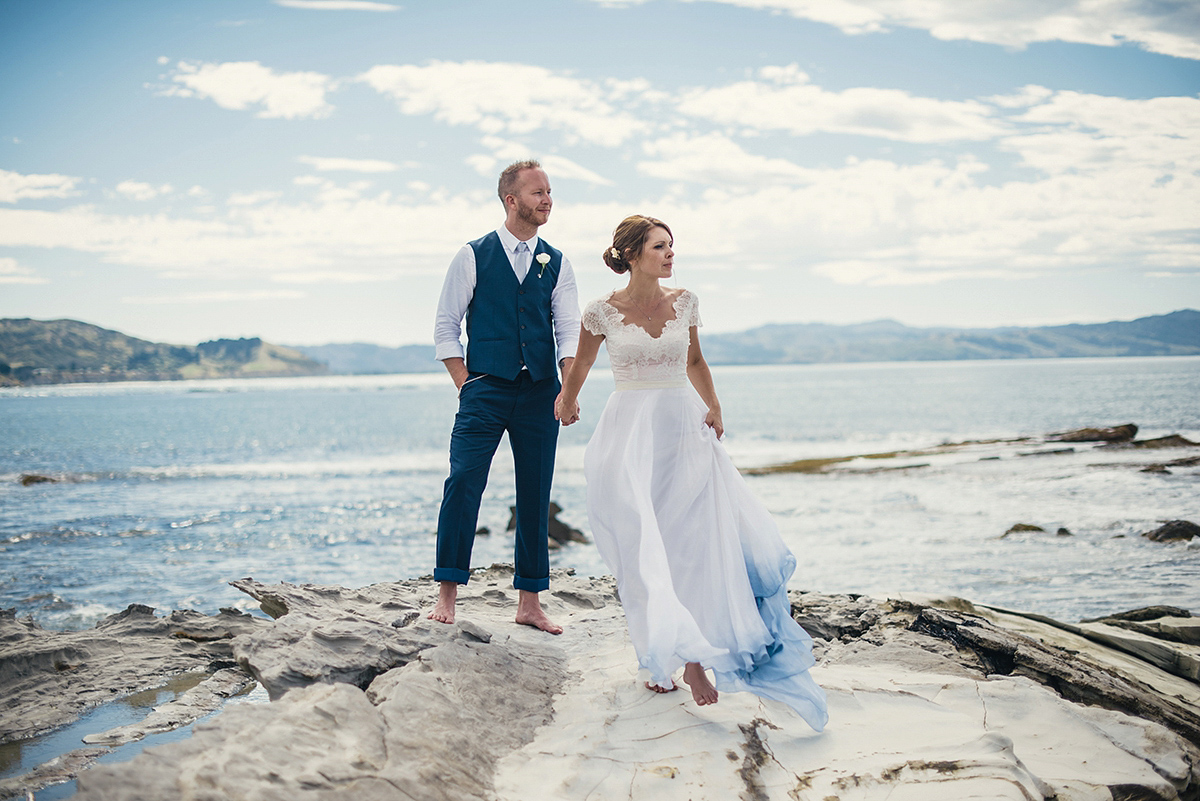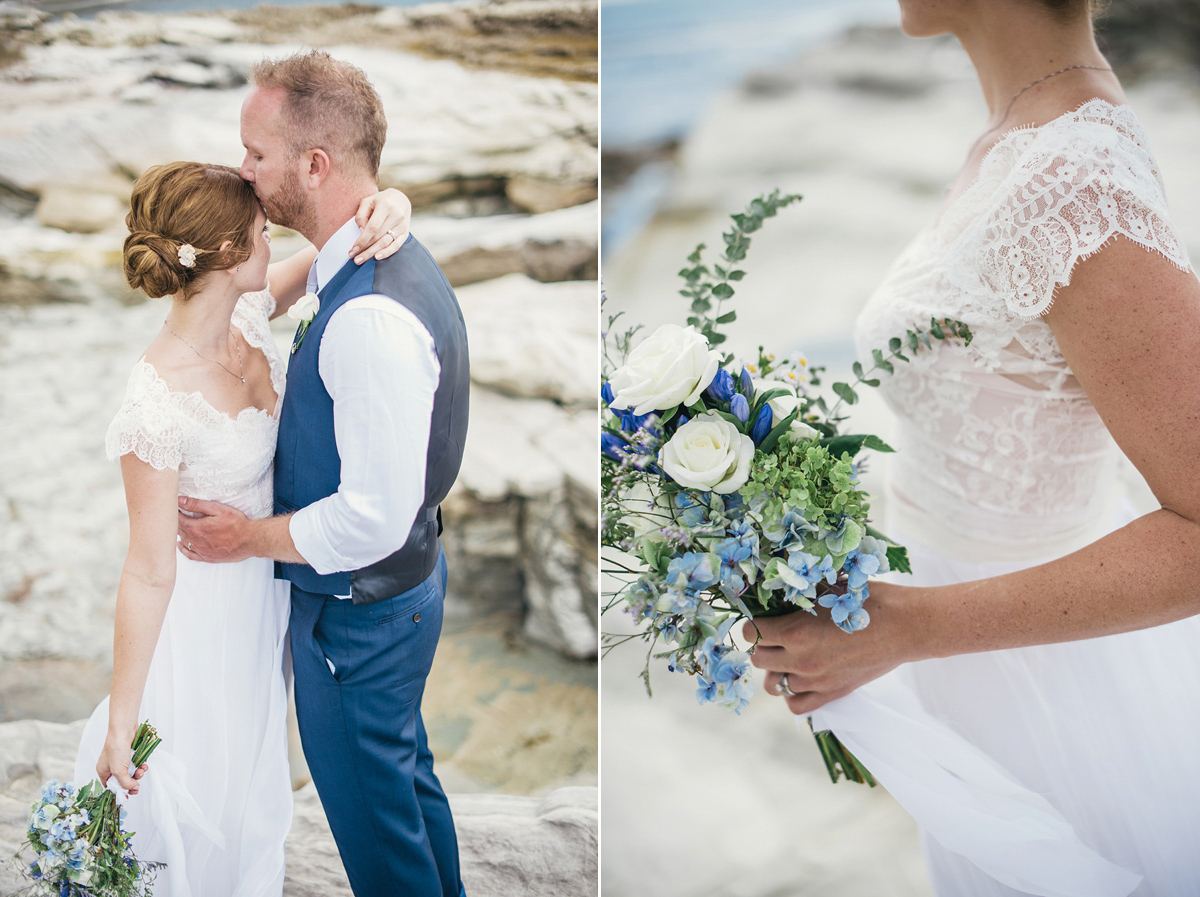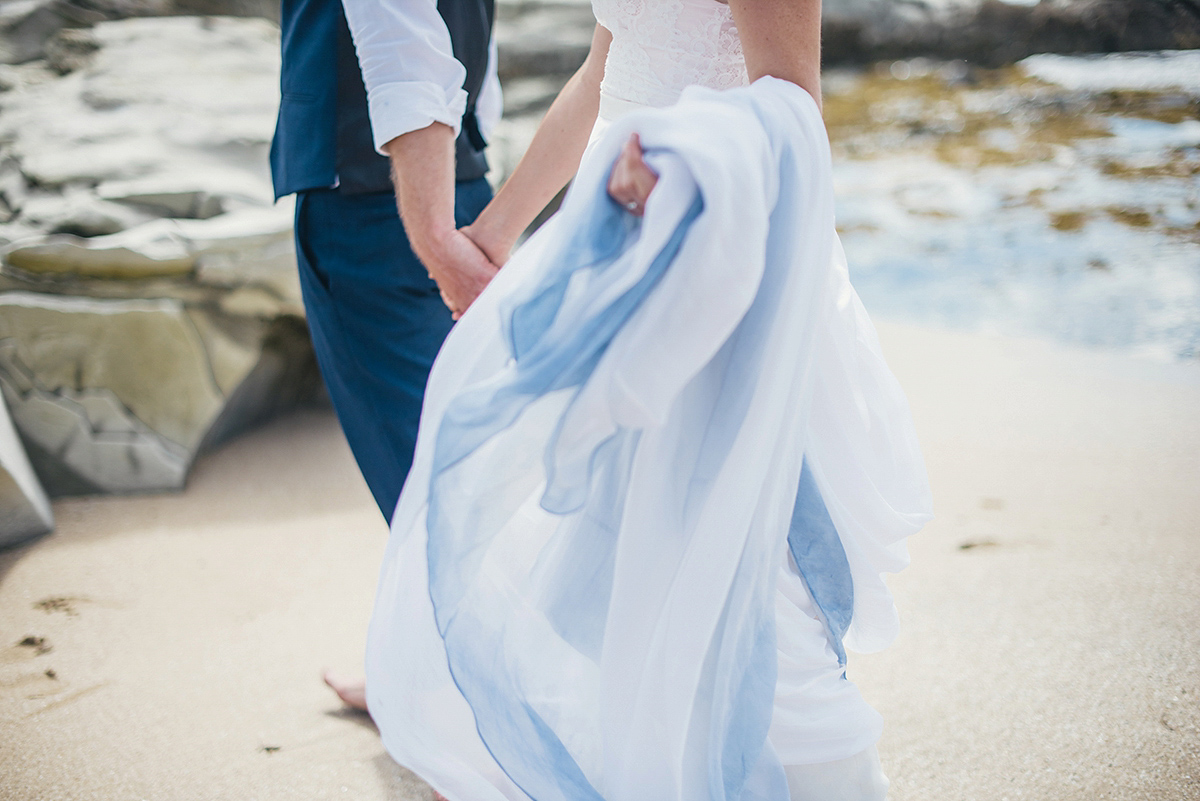 The bridesmaids wore various gowns from For Her and For Him in different shades of grey along with a piece of jewellery that Suzy gave them as a gift that morning, all from Sugar Oh Honey Honey and different for each maid.
"Our three beautiful nieces wore white ballet leotards with tutu skirts made by my Mum. Our son was pageboy in a dusty blue suit from Ladybird."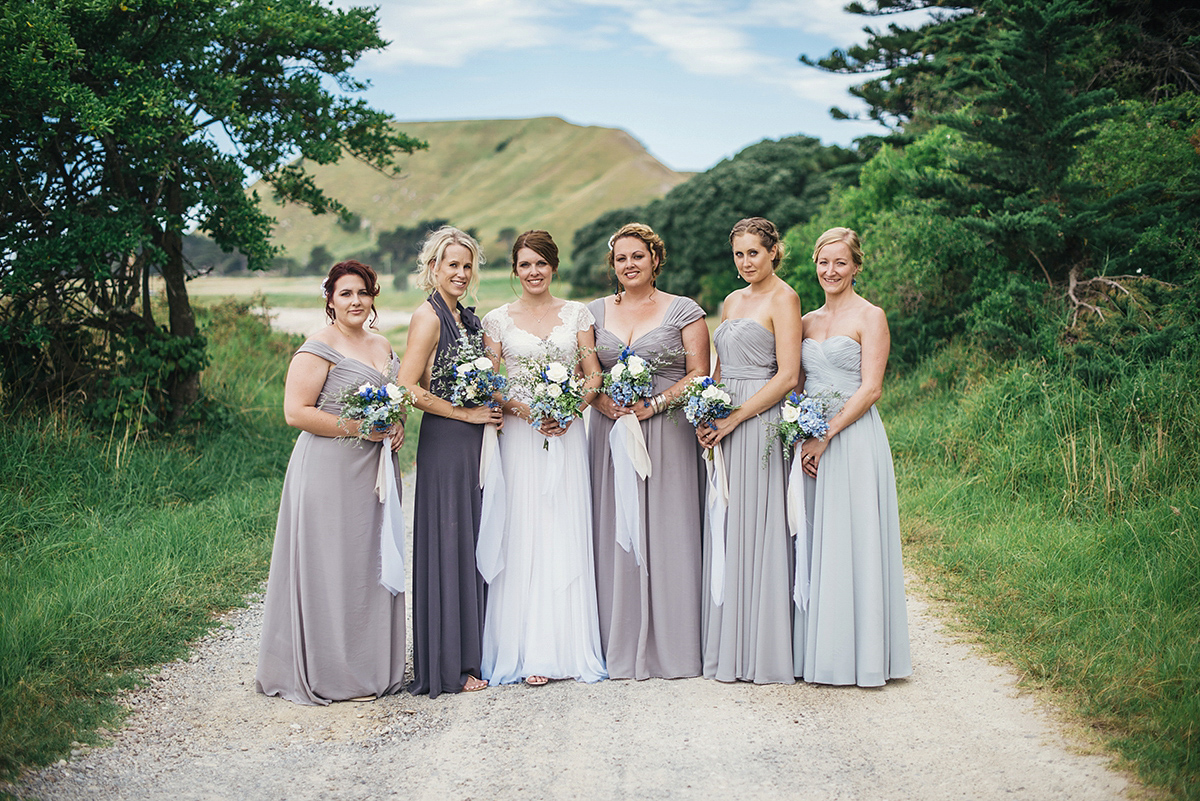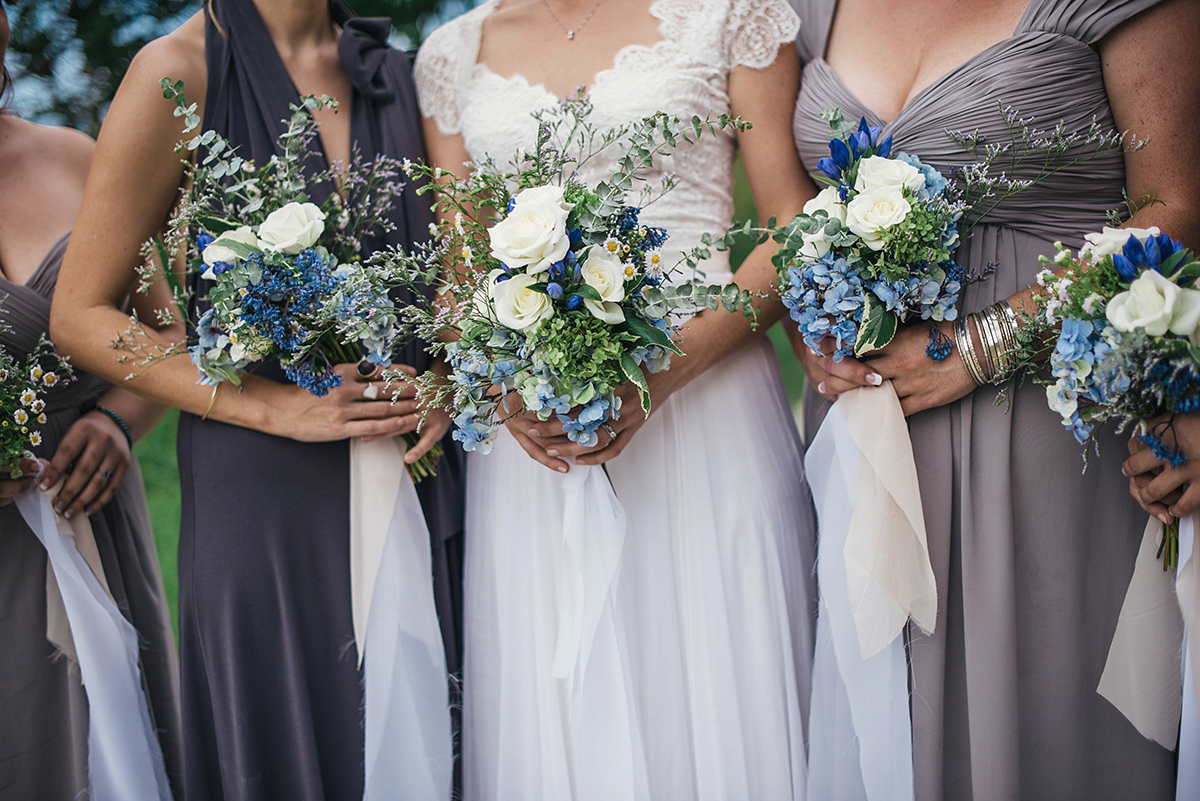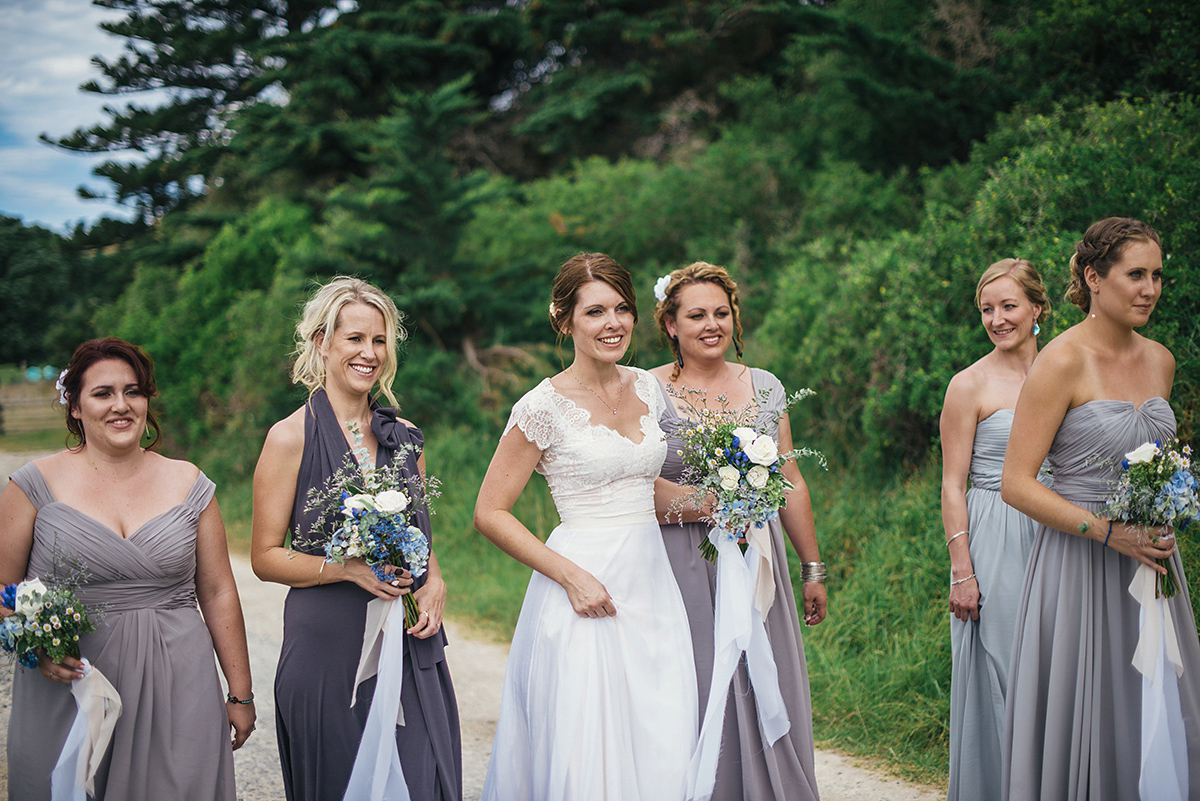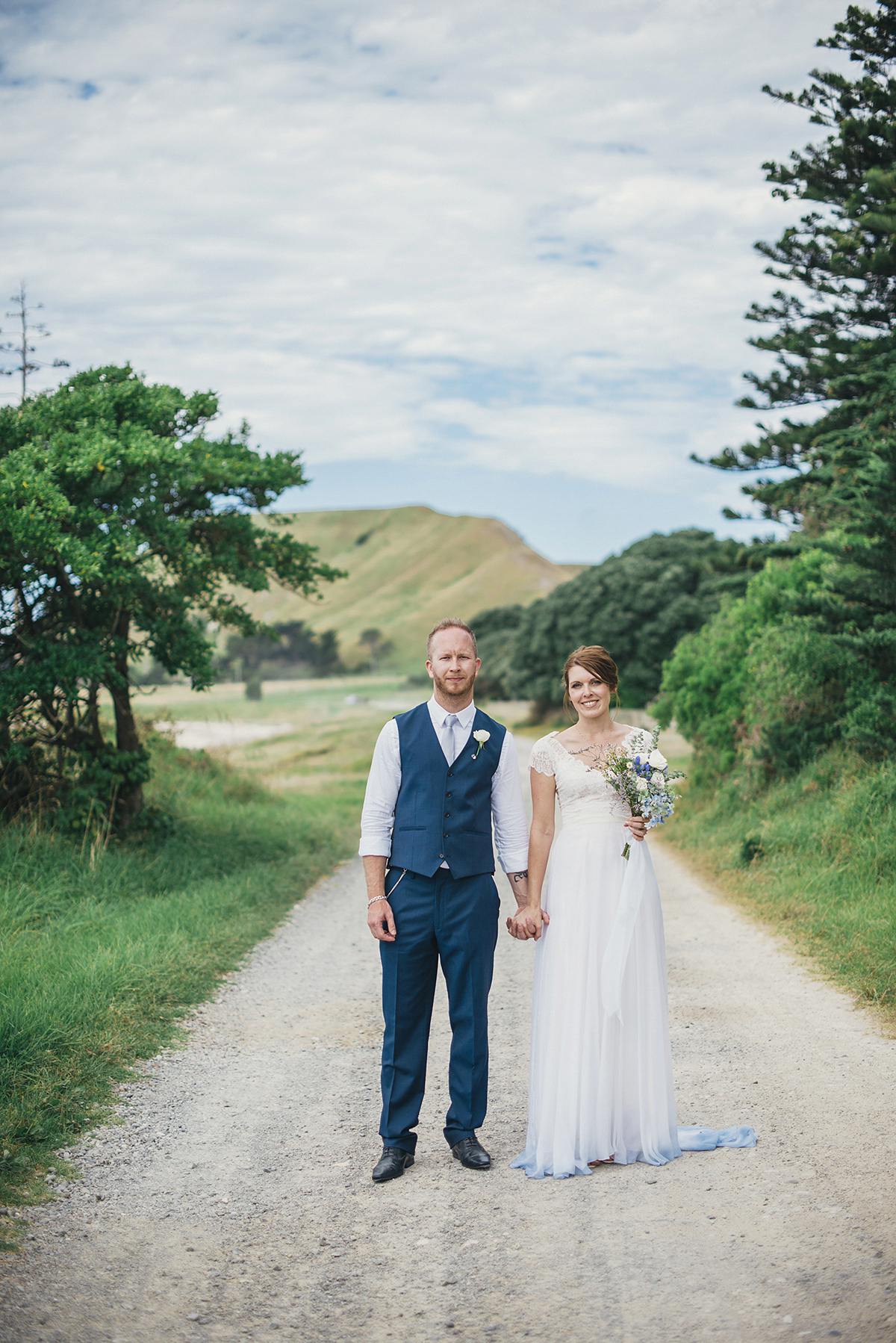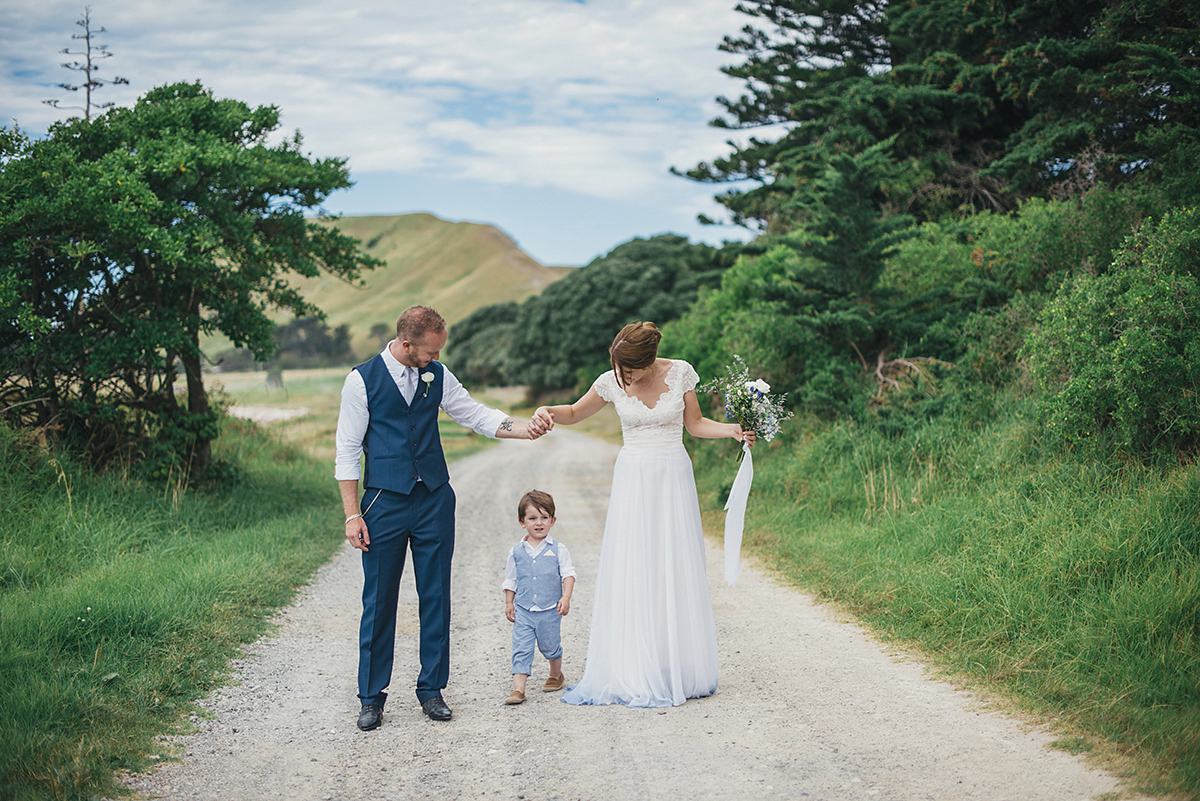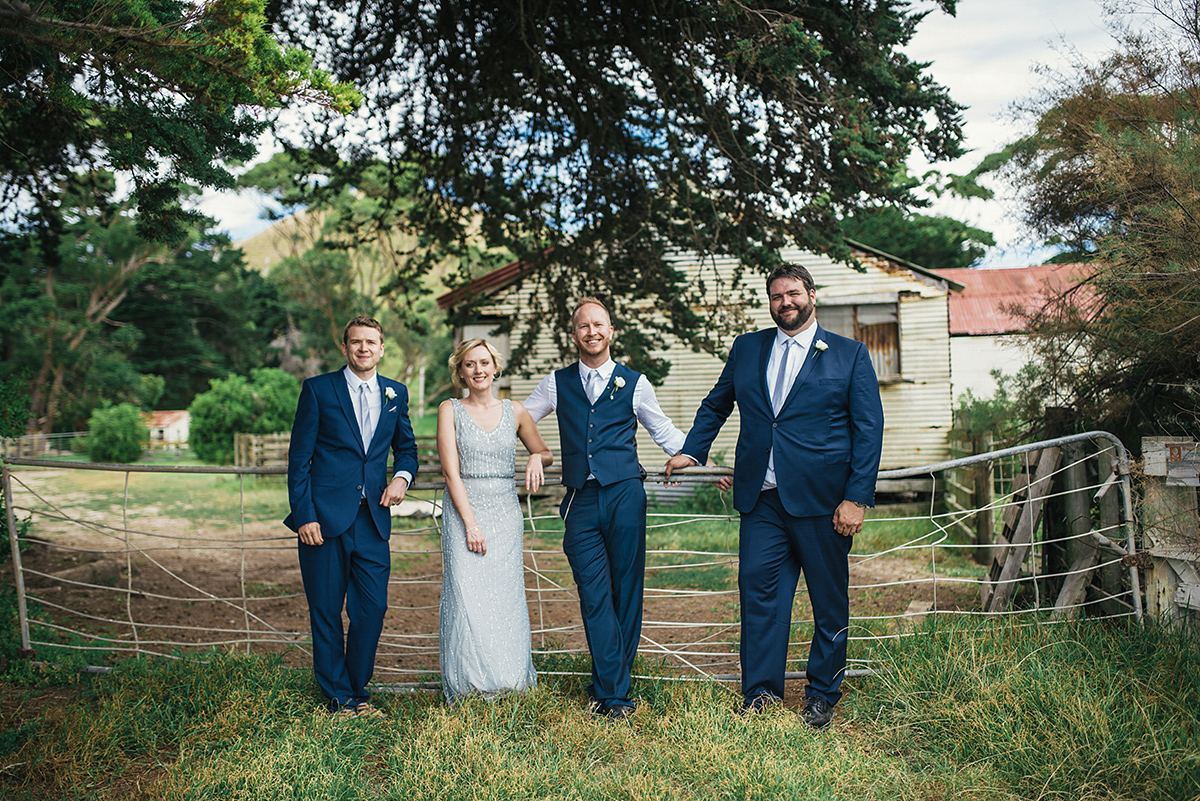 The cake and the fabulous topper, were made by Cakes by Adie, Suzy's older sister, who also made carrot, lemon, chocolate and salted caramel cupcakes for guests to enjoy.
"We met on Alan's front doorstep eleven years ago and he proposed in November 2013 on the beach two weeks before our son was born.  It was just the two of us (three if you count the baby kicking like crazy) when Alan dropped to one knee.  We were engaged for just over two years."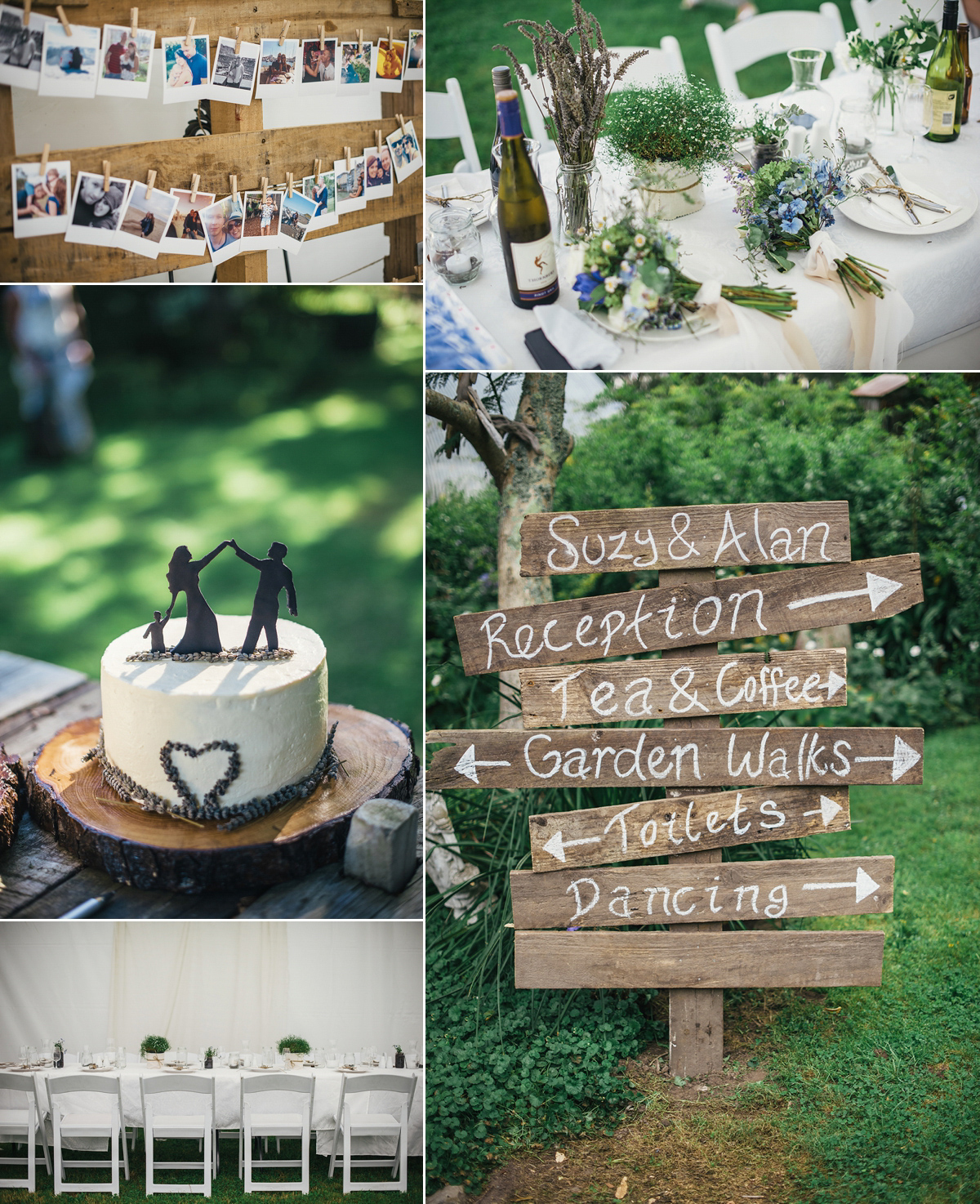 "As we love being outdoors the stunning Bremdale Gardens was perfect for an outdoor reception.  It has lots of little pathways that lead off to other secret gardens and orchards and the owners Rosemarie and Roger went above and beyond for us.  Anything we wanted to do, the place was ours."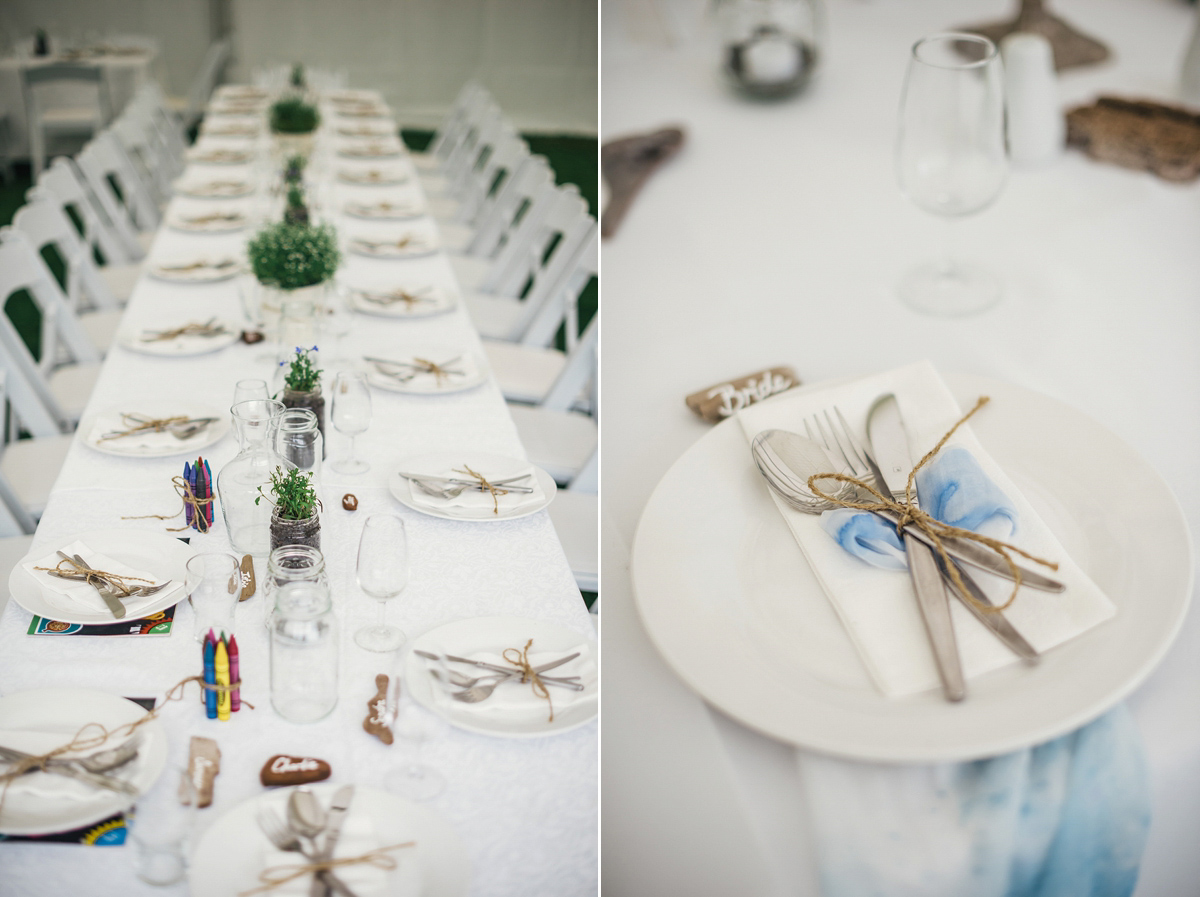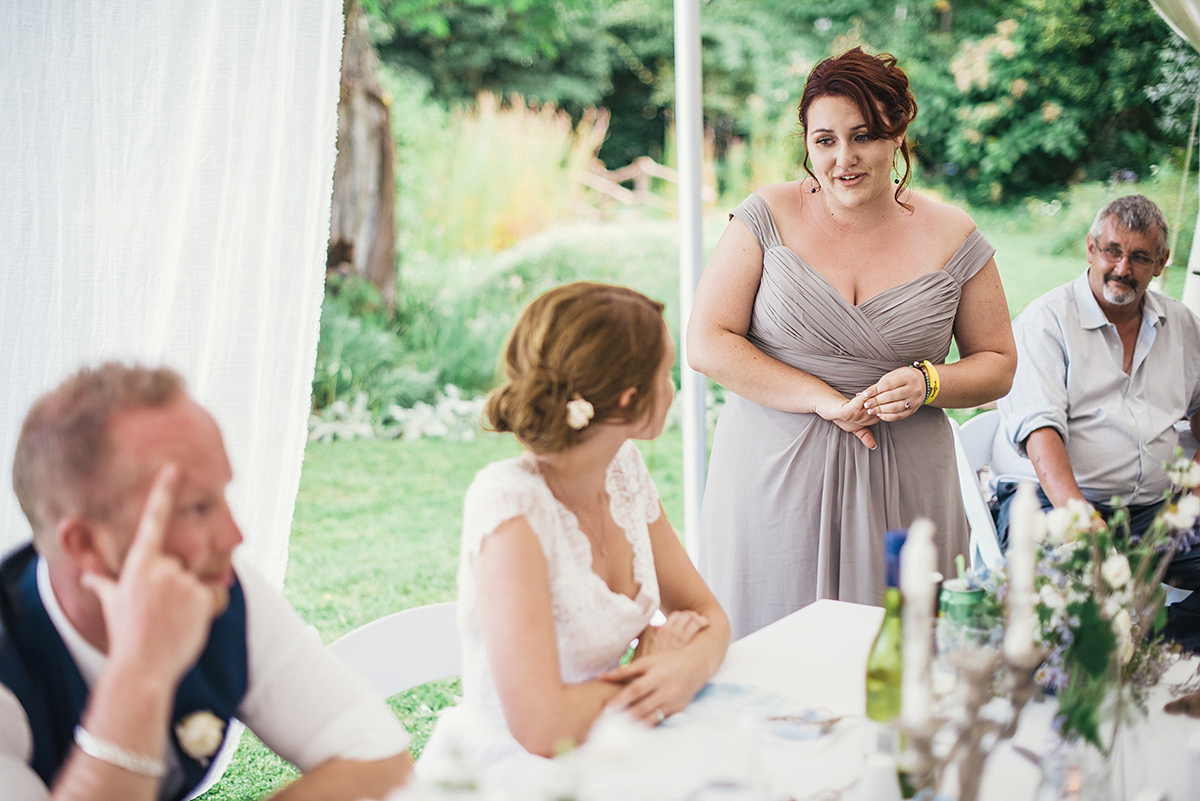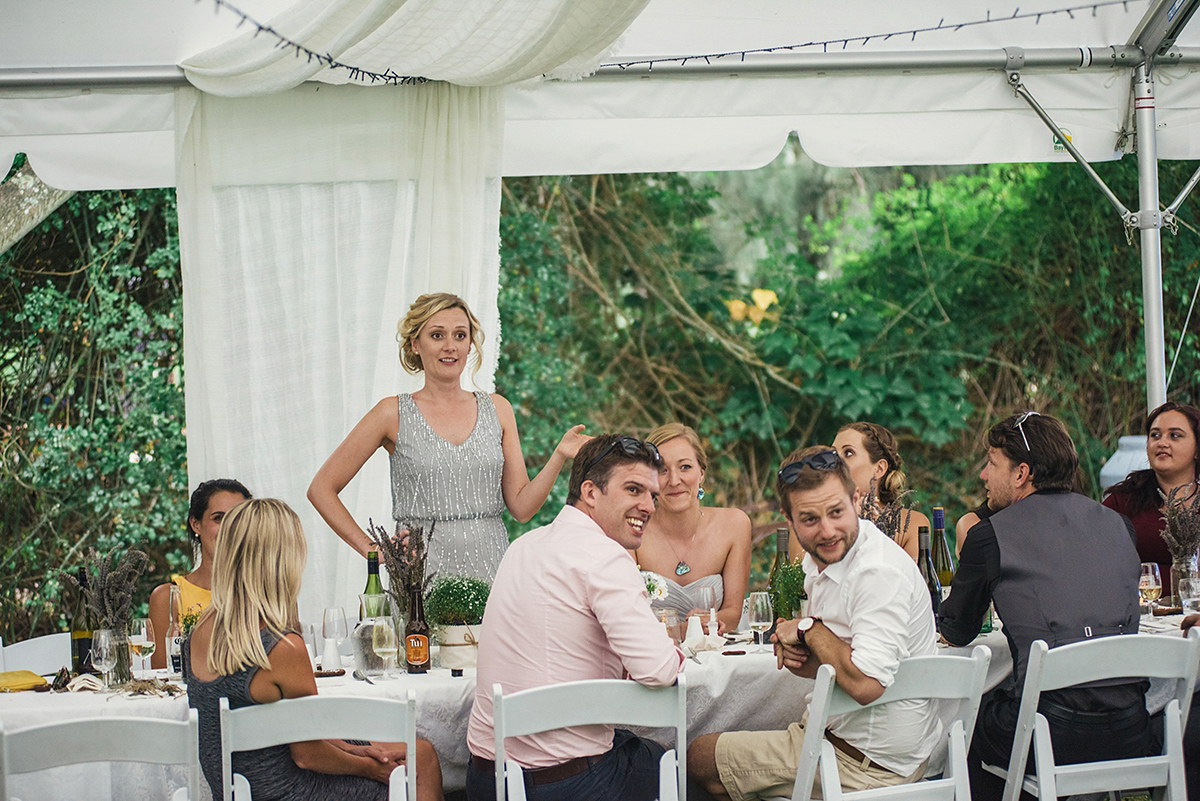 "My Mum was fantastic. She drove up and down the North Island collecting everything we needed and we had many face-time conversations planning all the details.  Our day would not have happened without her.  Our whole wedding was made with so much help and love from our family and friends and almost everything there was because of someone helping or lending us things.  We feel truly blessed to have the support that they all gave us."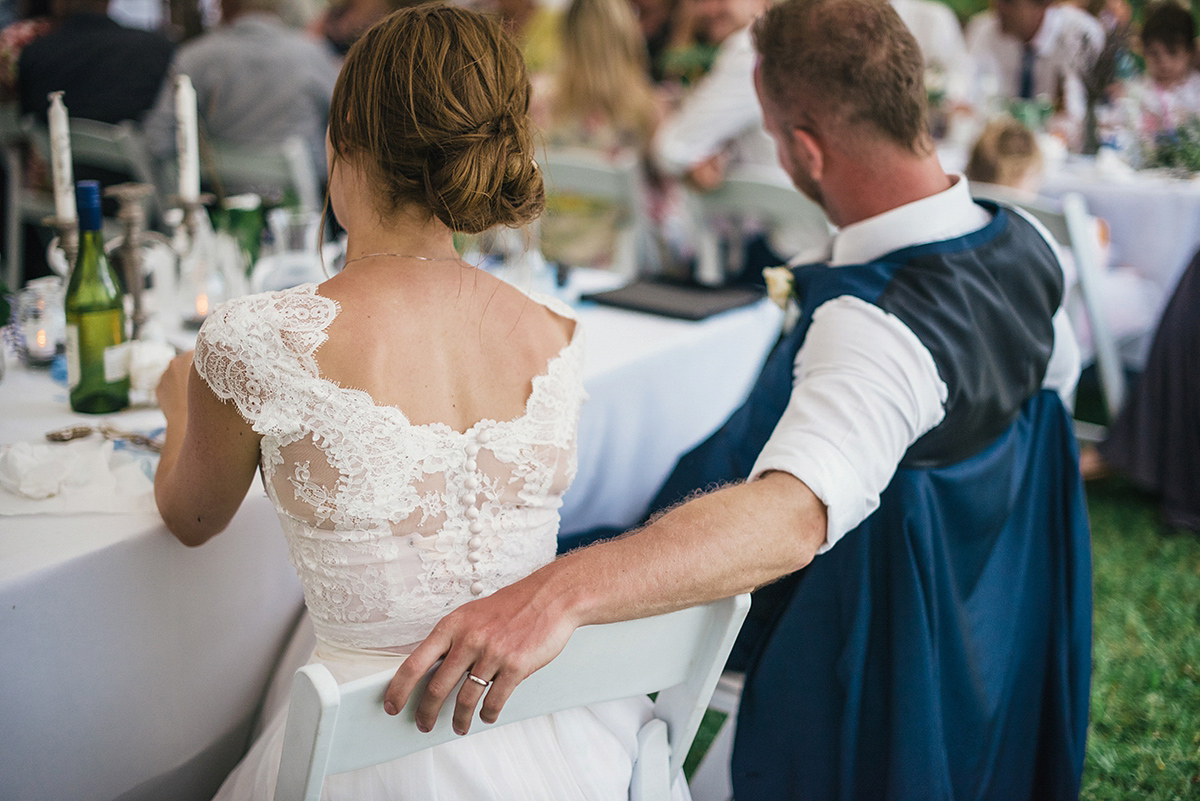 Words of Wedded Wisdom
"Things will go wrong but just carry on and enjoy the day, you will be the only one who will notice.  If you end up married to your best friend then nothing else matters.
Don't wish away all the planning and if people want to help, let them.
On the day take everything in, it all goes so fast, stop and pause.  Take some time out with your husband but also your loved ones- it's a big day for them too. We had a sweethearts table so we could spend some time together to talk.  In the morning it was just Mum putting me in my dress.  I also had a first look with my Dad and it was important to me to have those special moments alone with my parents."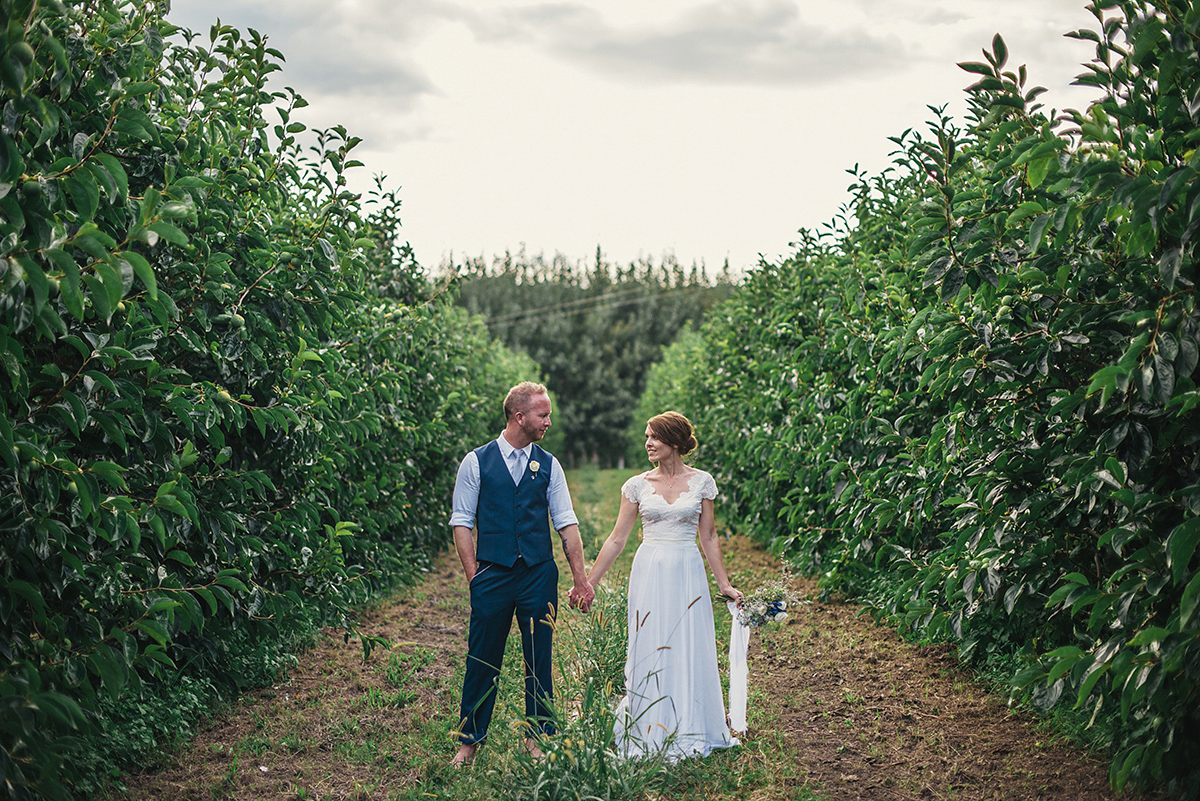 So many congratulations to our gorgeous bride and groom and big thanks to Meredith Lord Photography for these utterly beautiful images.  They have certainly made me add New Zealand to my 'must visit' list (which gets longer and longer each time I see a destination wedding on these pages, so I am blaming our readers entirely!)
Much love,
Shona x
Credits & Thanks
Photographer - Meredith Lord Photography
Reception venue - Bremdale Gardens, Nuhaka, New Zealand
Bride's Dress - Custom-made by Phoebe Blockley Bridal
Veil - Borrowed from the bride's grandmother
Jewellery - Diamond earrings and pendant, Ernest Jones
Shoes - ASOS
Bridesmaids dresses - For Her and For Him
Jewellery - Sugar Oh Honey Honey
Flowergirls - Outfits homemade
Pageboy - Suit from Ladybird
Hair and Make up -Bernita Stone and Dana Gasson (no website or social media)
Groom's suit - Next
Best woman's outfit - BHLDN
Florist - Tina Raskin, family friend (no website or social media)
Caterer - Craig Kokich (no website or social media)
Cake - Cakes by Adie
Stationery - Samantha Robertson  (friend), with map painted by Suzannah Newton (friend)
Transport - Family cars
Entertainment - Kiri Gilbert