Hello Belles. I hope you're having a lovely week, maybe finishing off some wedmin for your up and coming nuptials or reflecting on your own wonderful day. Last week I had the pleasure of wedding dress shopping with a dear friend and I'm happy to report that she found her 'one', I can't wait to see her in it next July. Today's bride Lucy, an assistant buyer at Next, married her beau Christian, director of his own web development business, in a stunning Charlie Brear dress around their 10th anniversary last October.
Their ceremony (with dog Primrose as guest of honour) was held at St. Chad's in Middlesmoor with their PapaKåta tipi reception following at The Sportsman's Arms in Wath, North Yorkshire. Their photographer James of Flawless Photography has captured the day in all its splendour and I guarantee you will want to take a trip to beautiful North Yorkshire after seeing these images. Lucy's choice of gown (it's a Charlie Brear design from one of our very favourite boutiques in the UK, Cicily Bridal).
Film by Silver Sixpence Films
"Our main inspiration was Autumn, I just love the colours, and chose bridesmaids dresses in four complementary shades. The jam jars and glass bottles holding flowers and candles were spray painted rose gold like my engagement ring and we were also inspired by the relaxed, magical feel of the tipis."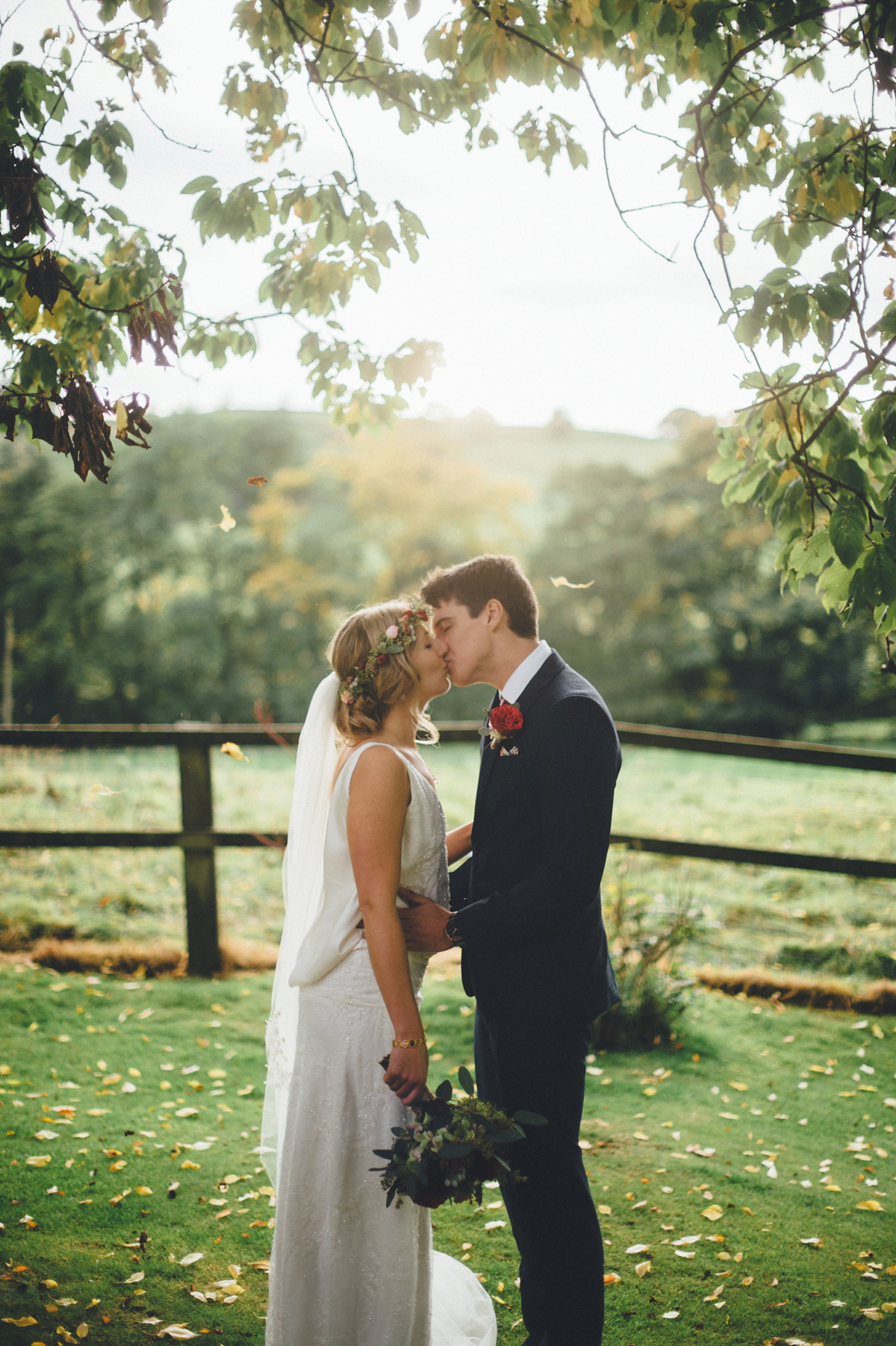 I'm always a fan of bridesmaids in mismatching dresses and I'm particularly taken with the mix of light and dark shades of Lisa's best girls. Their outfits were finished with a hair accessory by Johnny Loves Rosie and jewellery by Next and Jewels and Goodies via Etsy. The super cute page boys and flower girl also wore Next.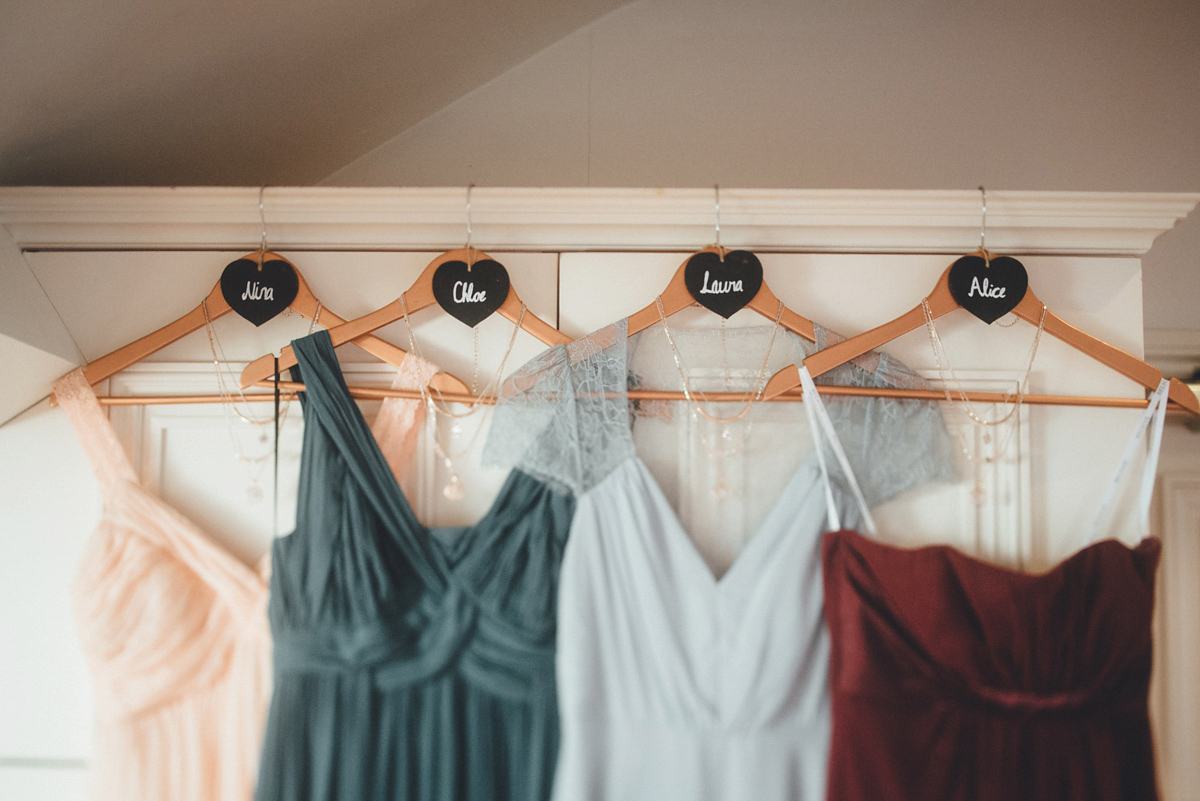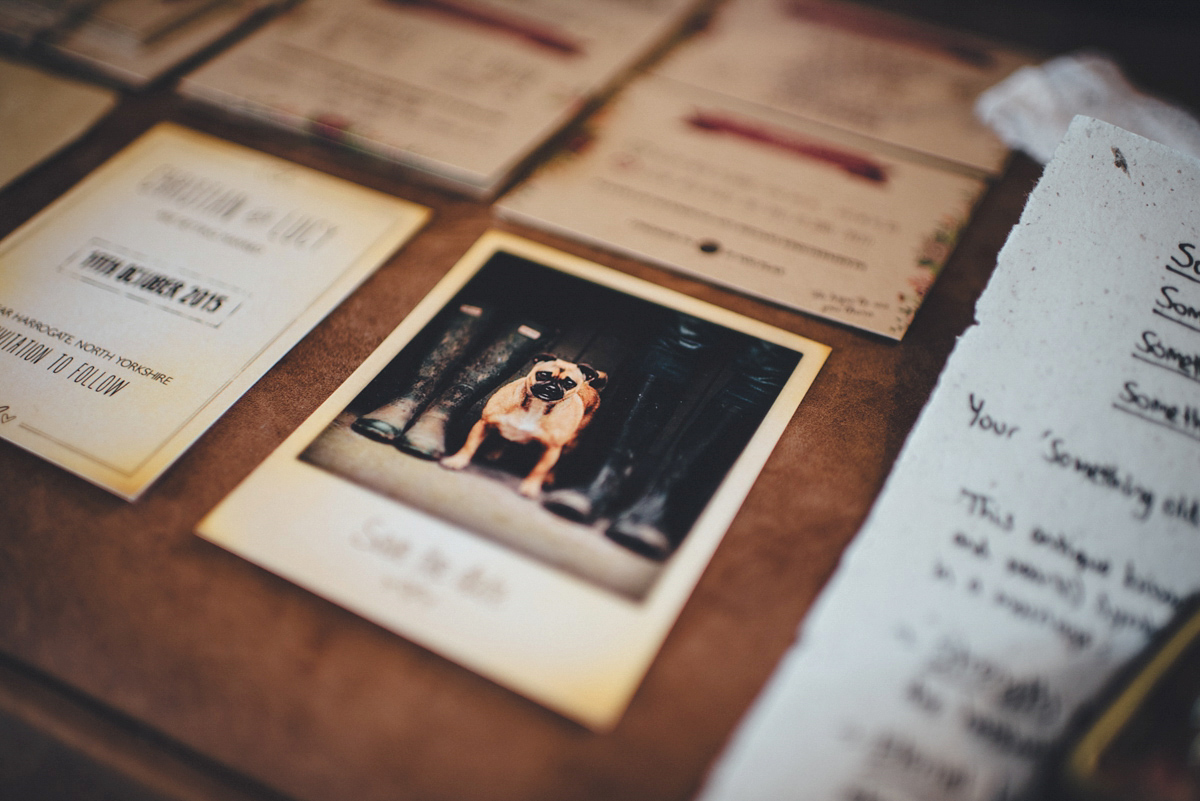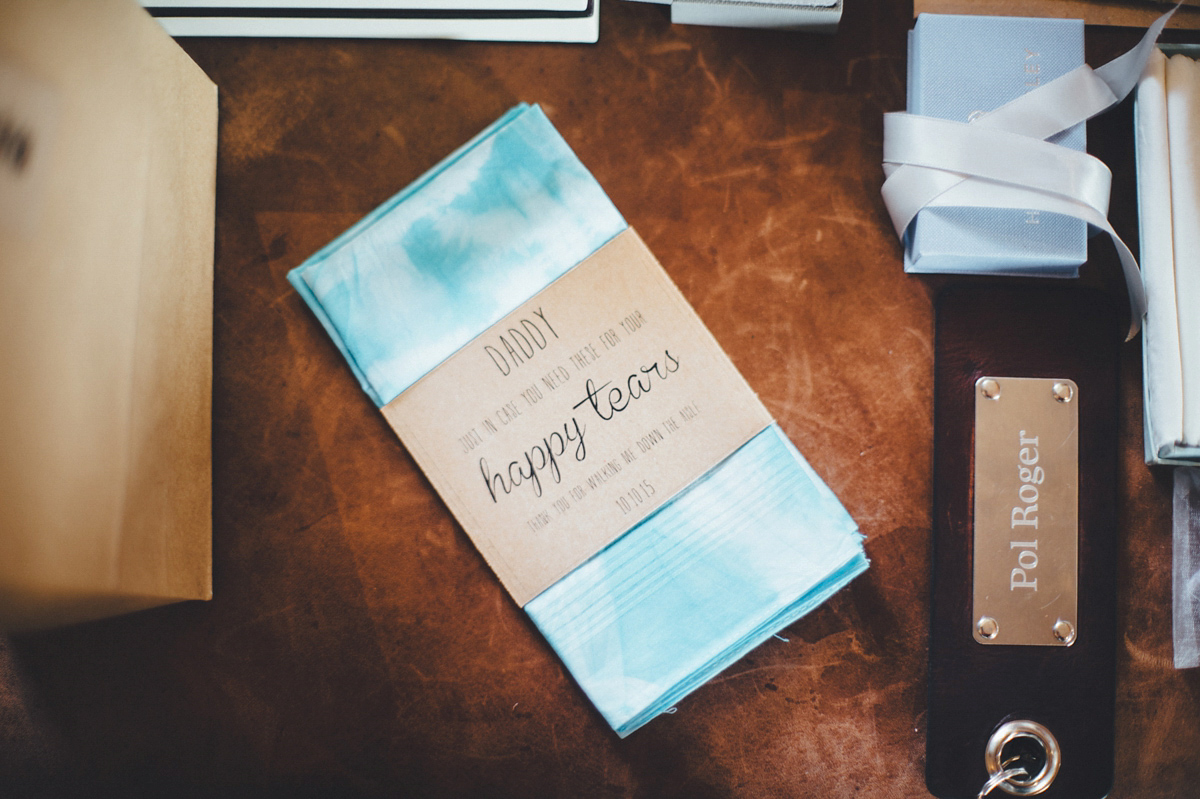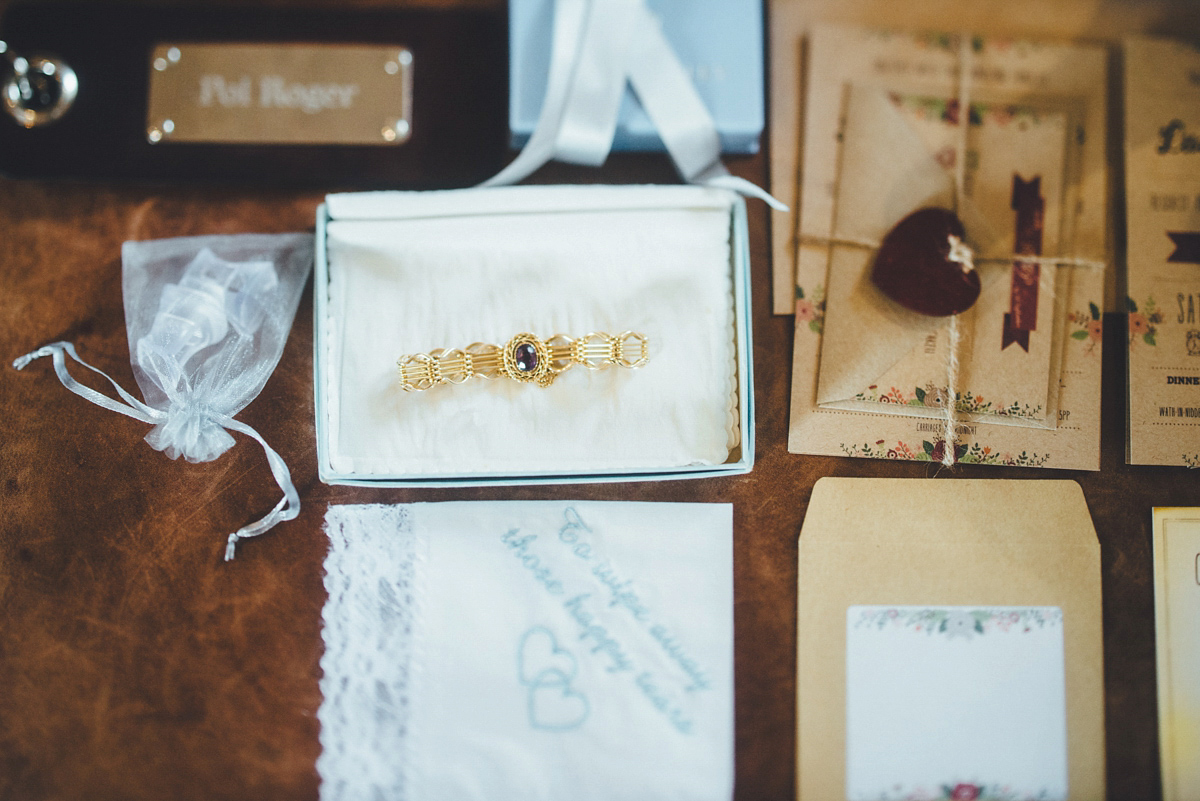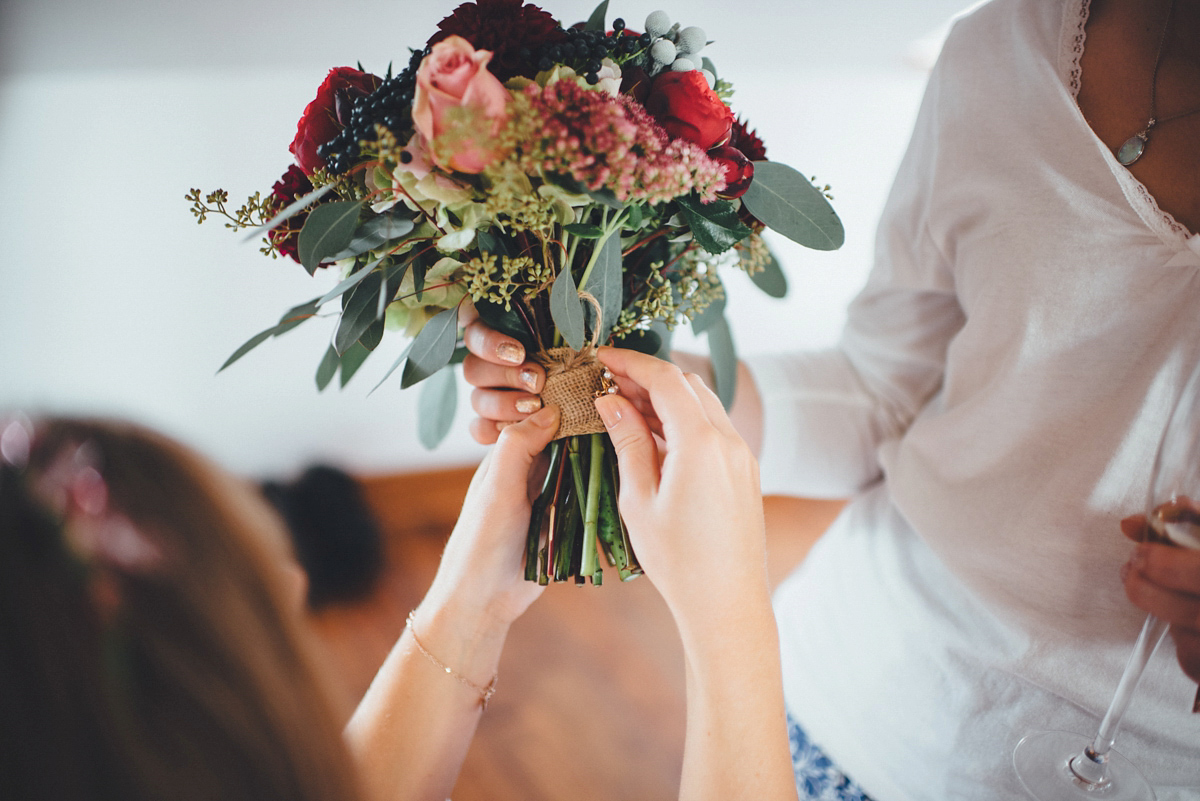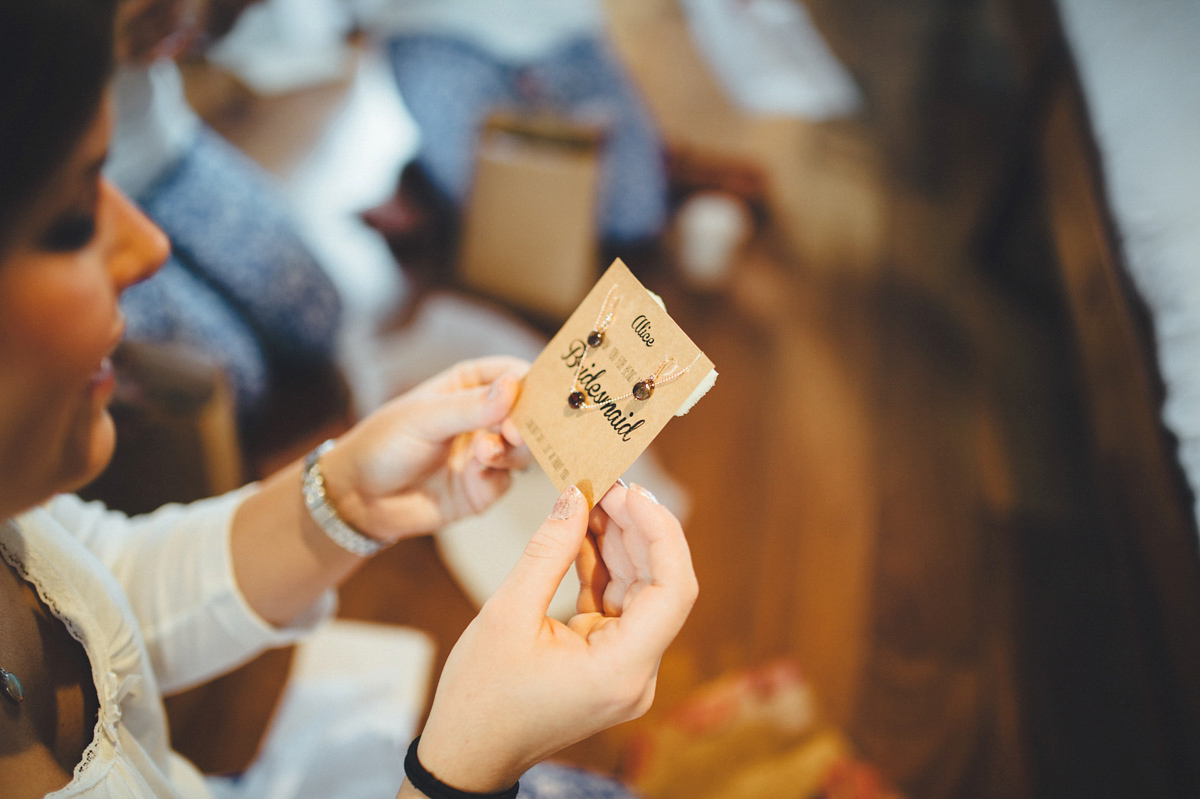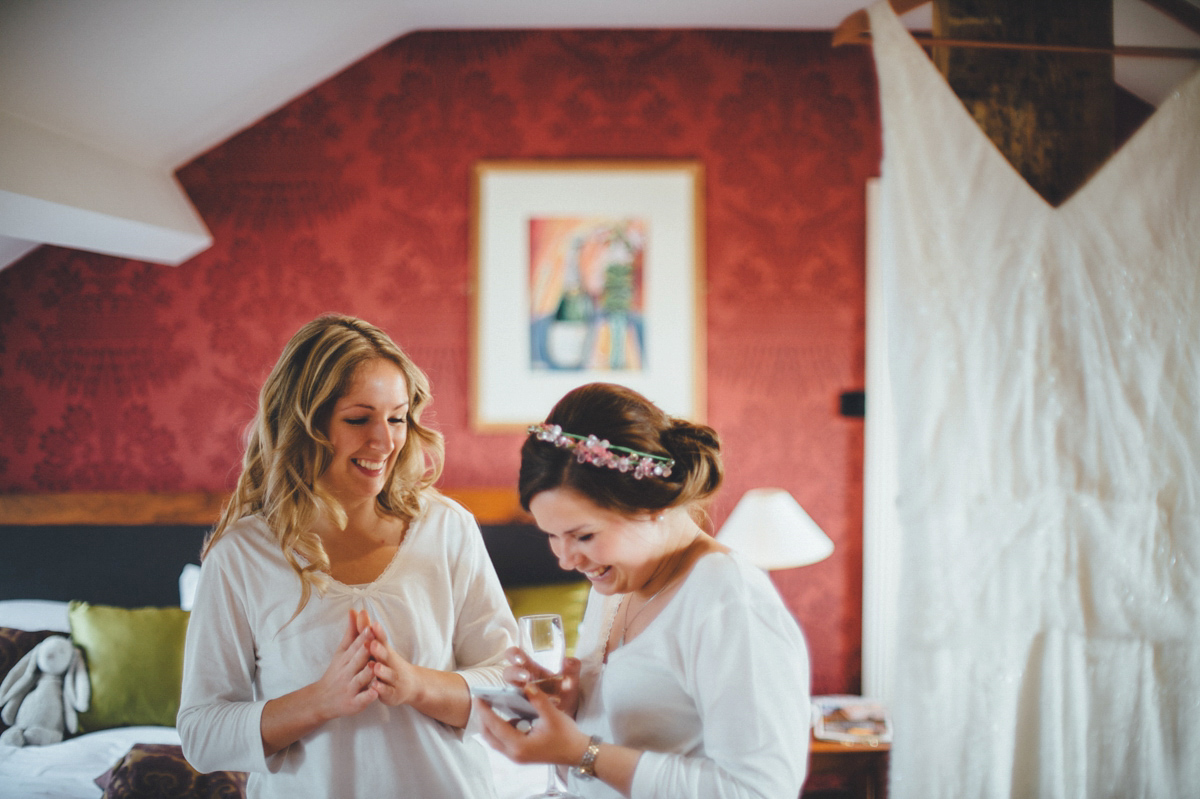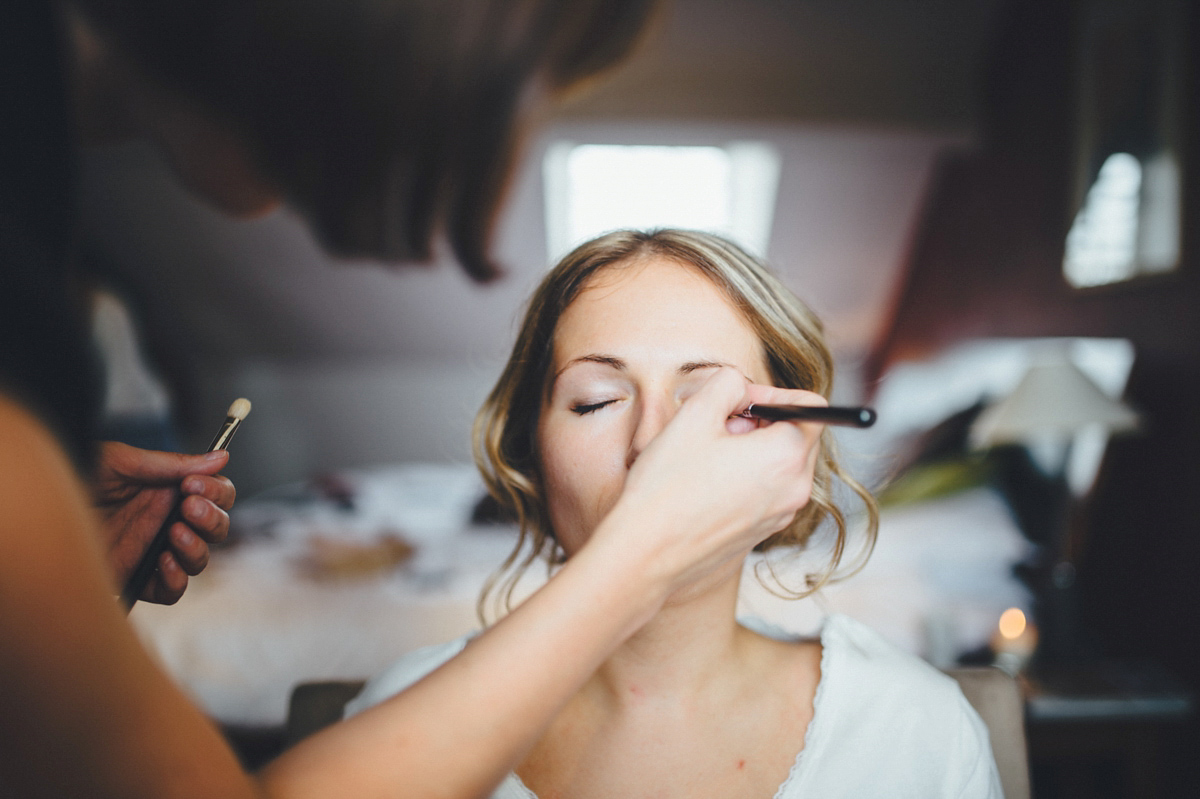 I couldn't love Lucy's wedding day look more if I tried. Her gorgeous Charlie Brear dress from our Little Book For Brides member, Cicily Bridal ticks all the boxes while the flower crown by Leafy Couture gives it that lovely autumnal feel.
"I knew I didn't want a big dress but I thought I wanted something with long sleeves. I spotted a Naomi Neoh dress online and went along to Cicily Bridal to try it on. It was beautiful but just didn't feel like 'me' so Victoria and Lisa suggested I tried some other styles."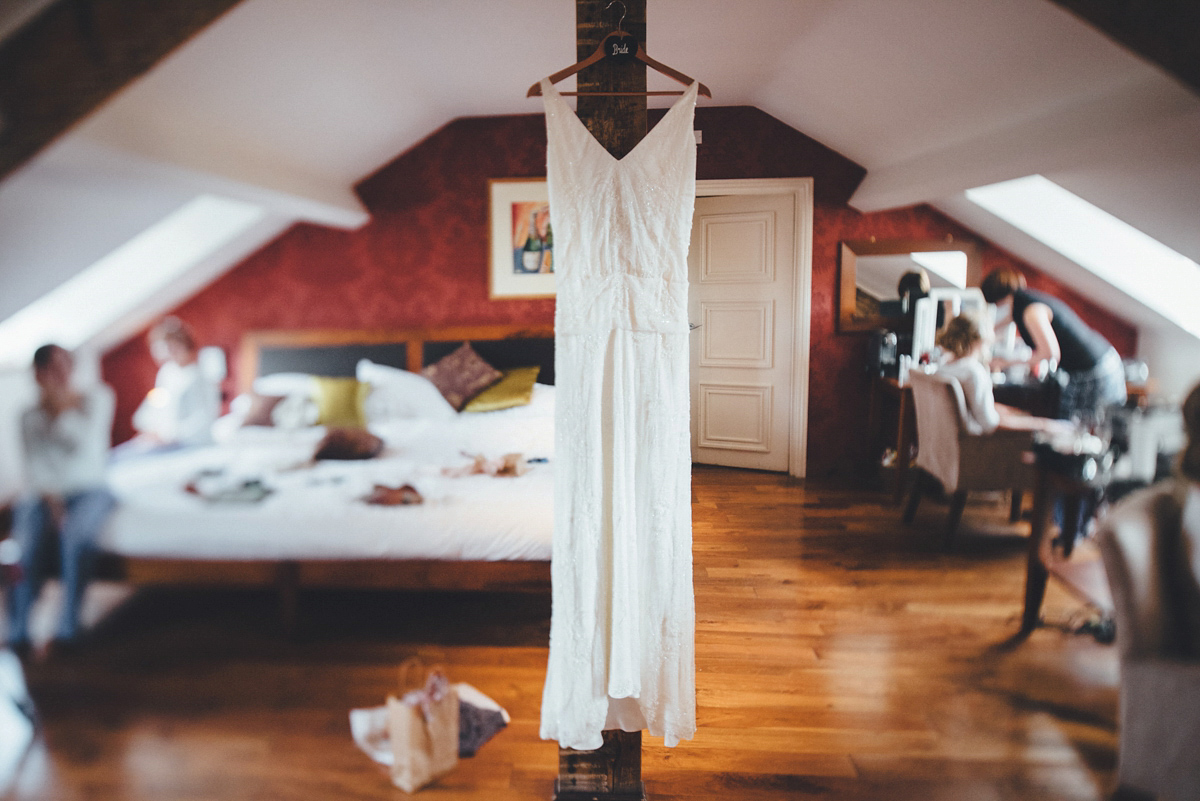 "As soon as I put the Charlie Brear dresses on they felt right and narrowed it down to two. After a couple of weeks deciding, I realised I couldn't stop thinking about 'the one'. When I went back to try it on again it felt so right. I loved the low back and intricate lace detail. I felt so special wearing it."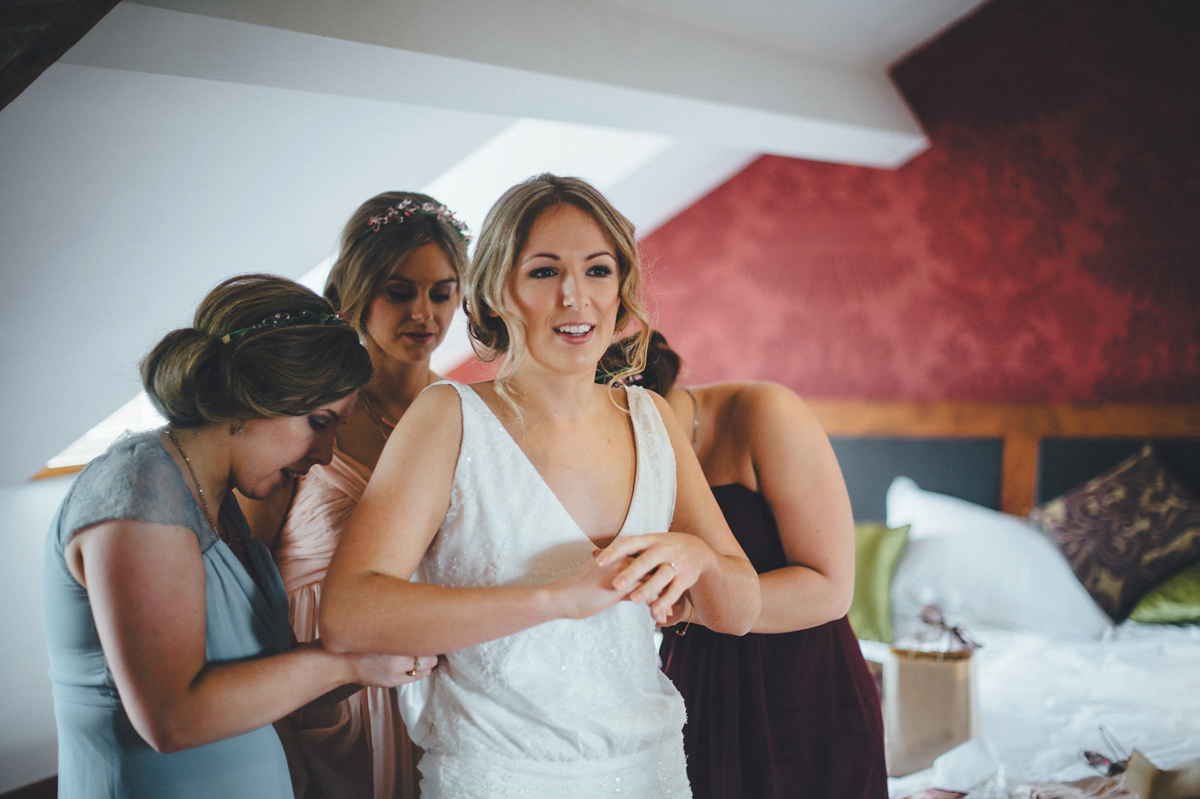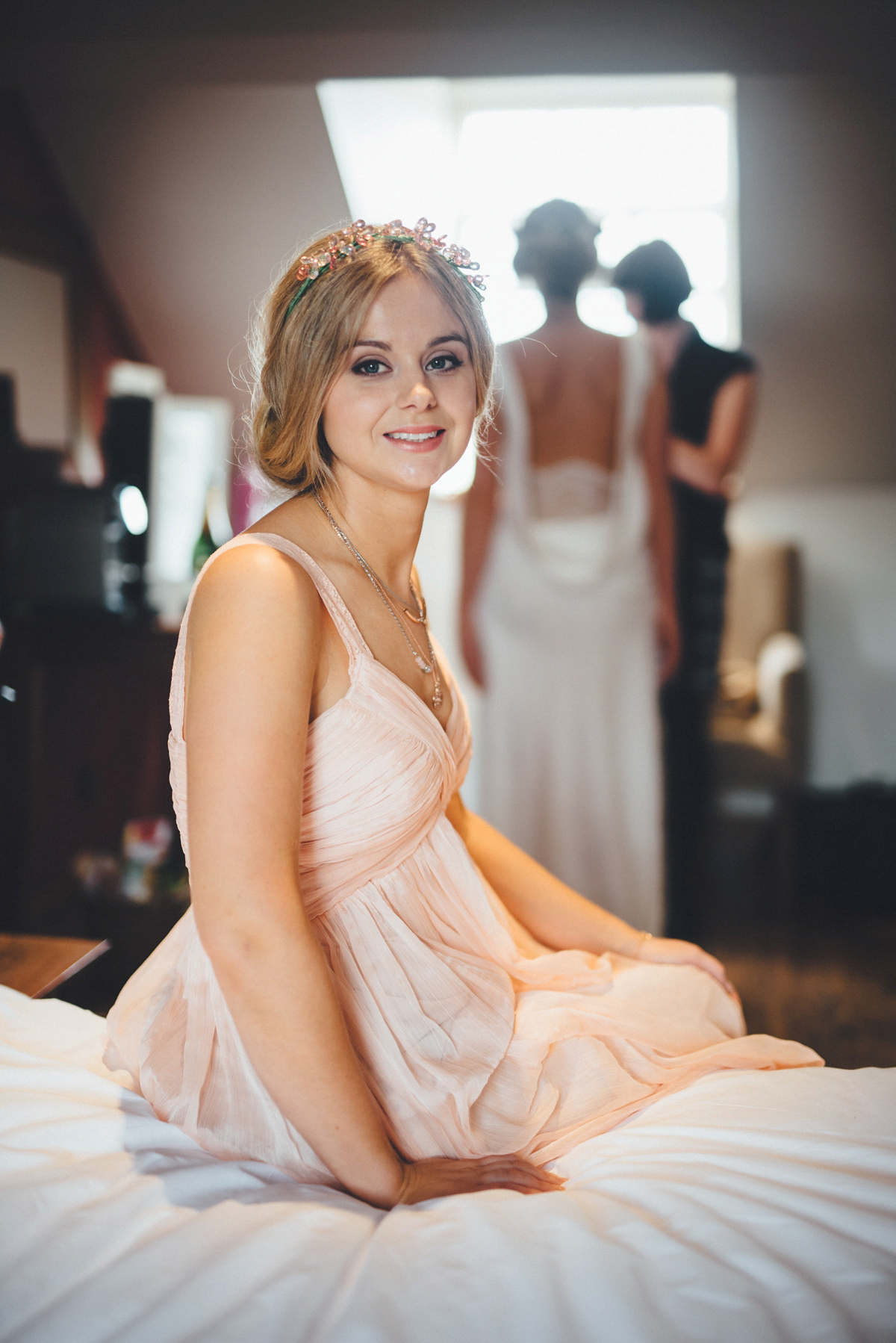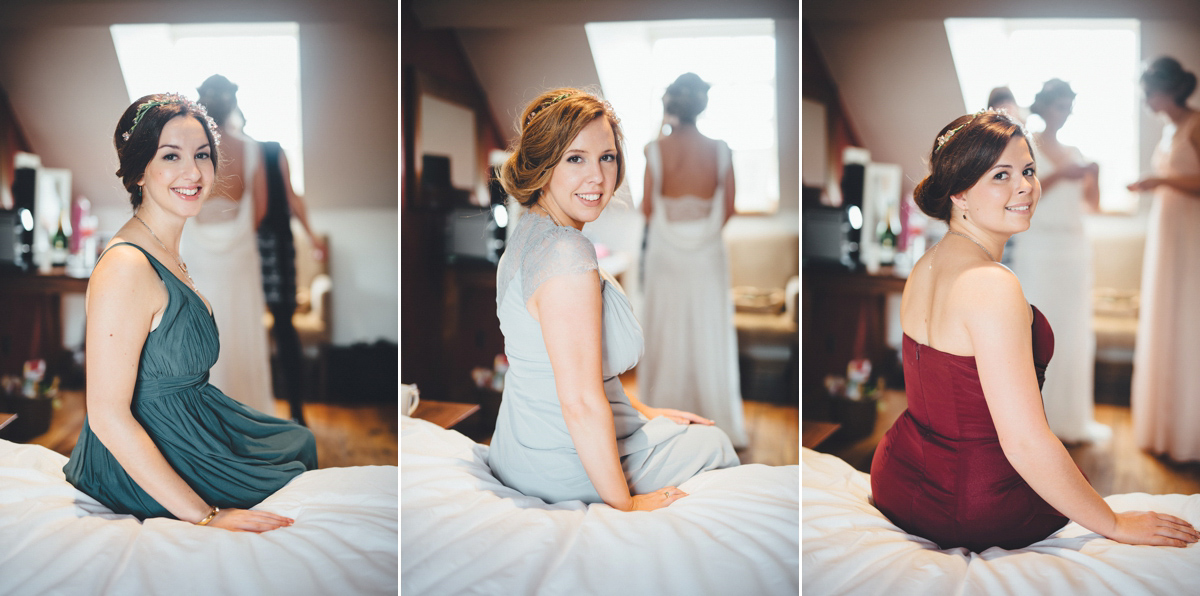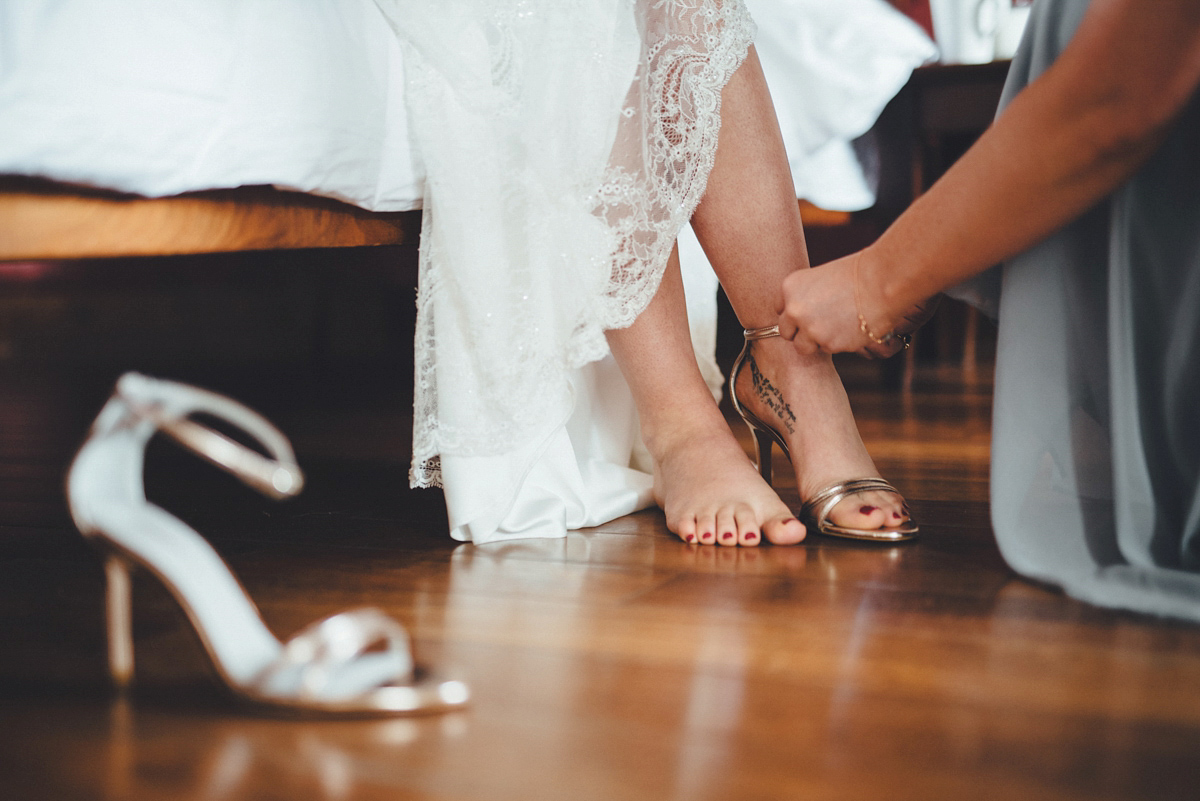 "My lovely bridesmaid Alice treated me to a bridal consultation at Jo Malone and they suggested English Pear and Freesia as it was inspired by Autumn. I love putting it on for special occasions now."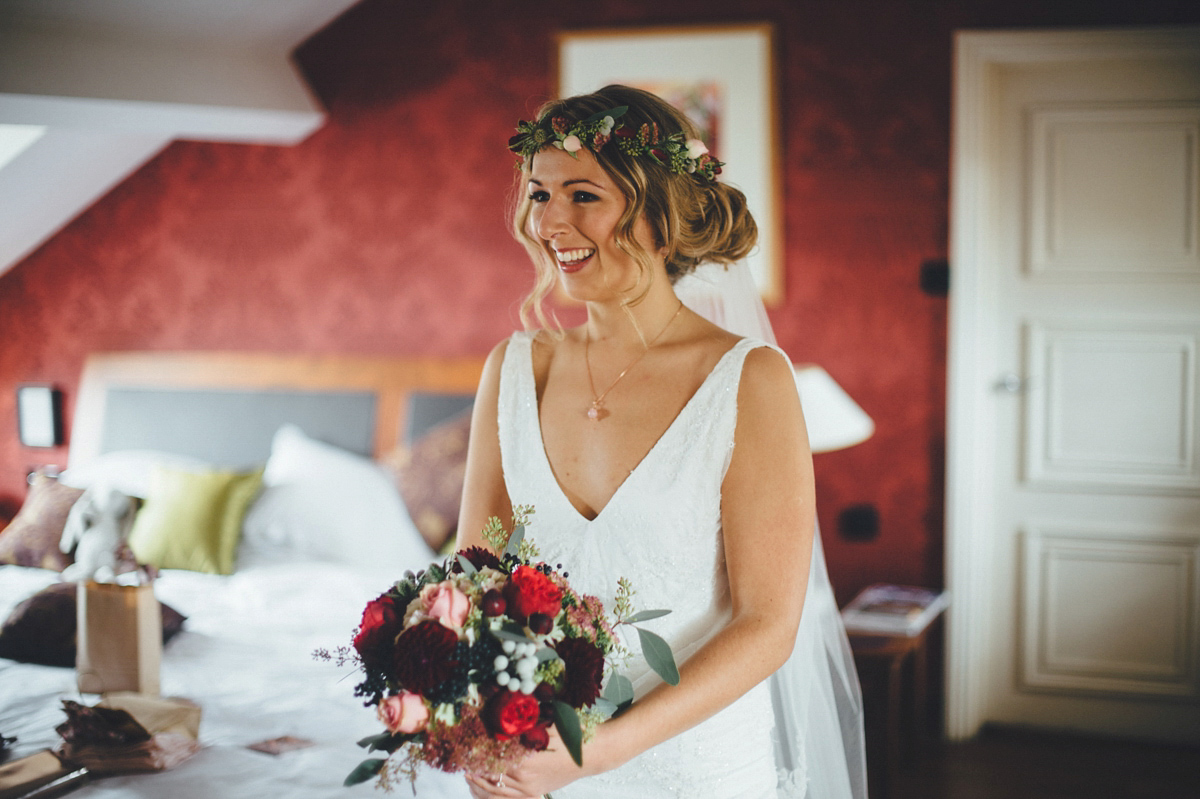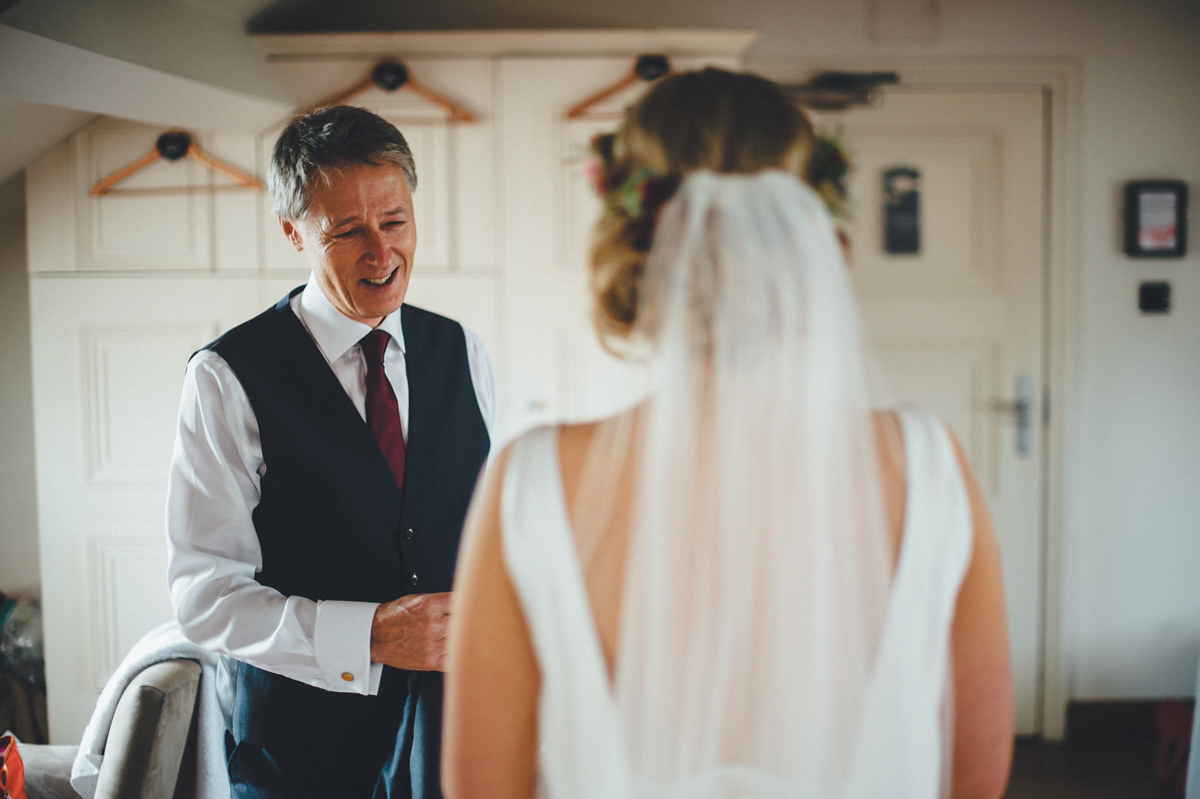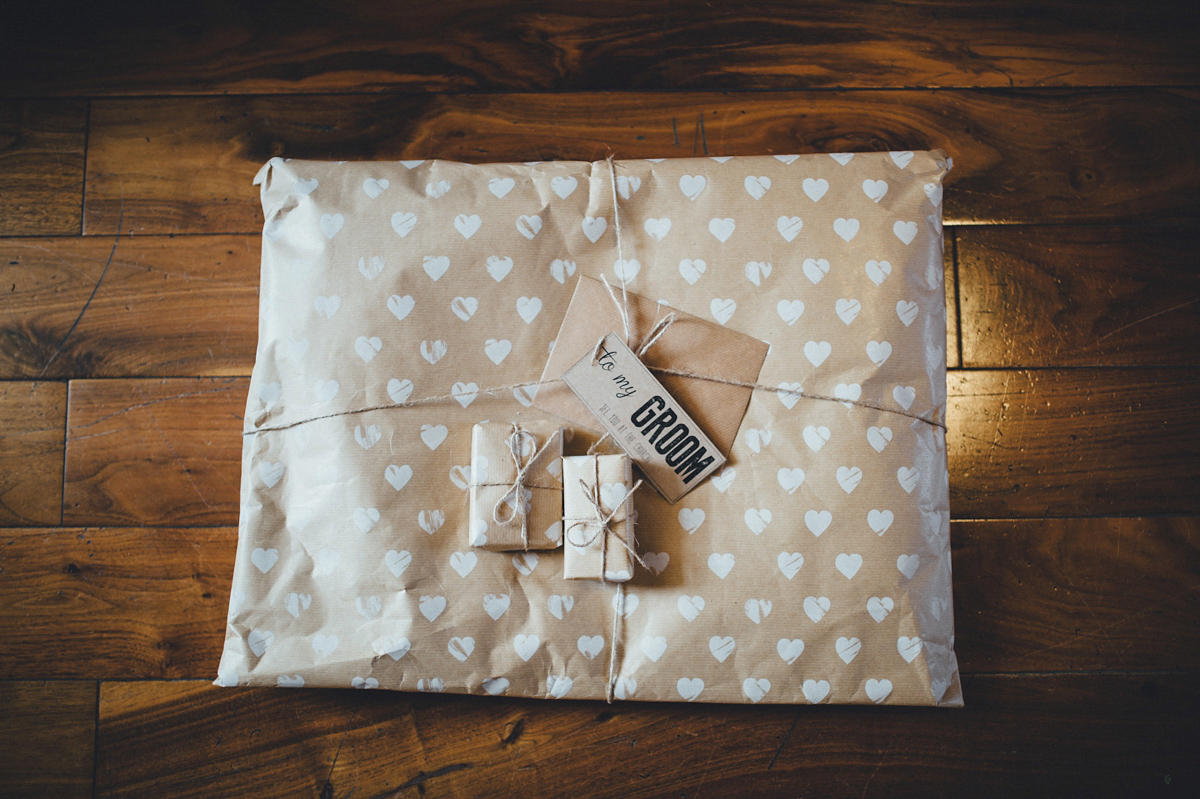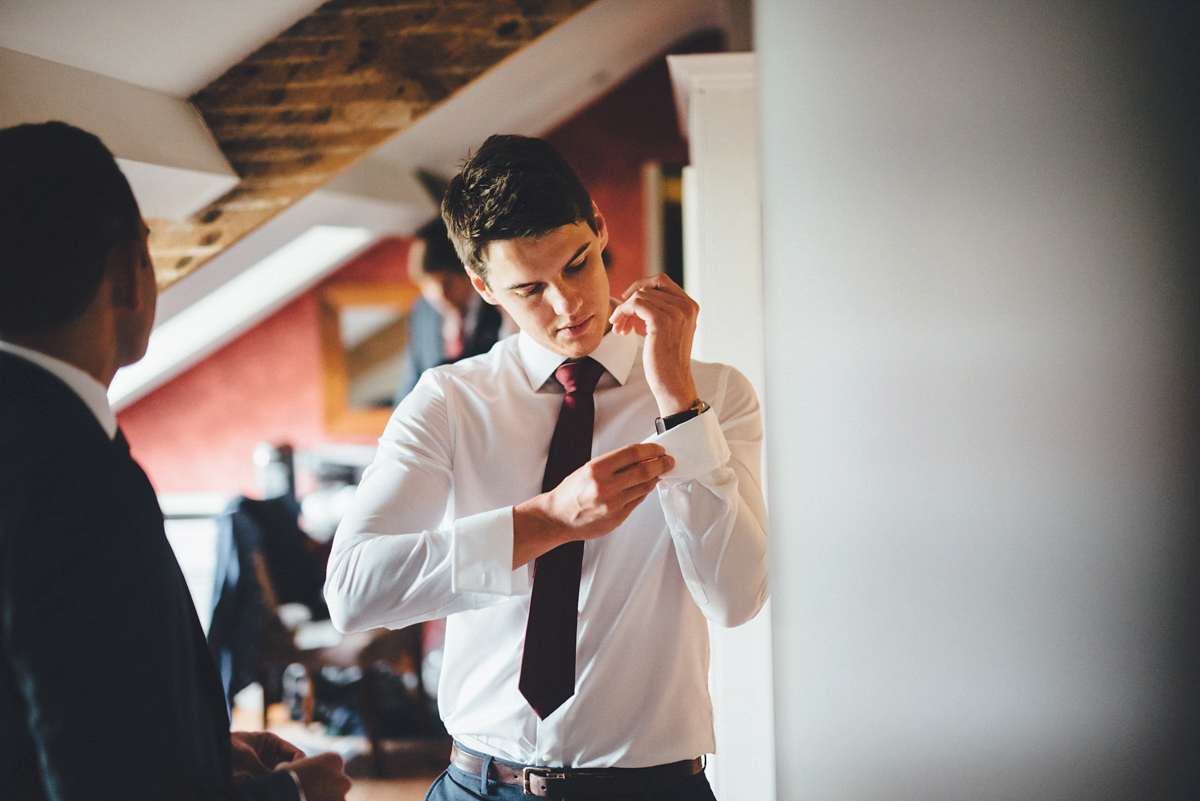 The guys, not to be outdone by the lovely ladies all wore smart navy blue suits from Next with a deep burgundy tie from ASOS. The groom added Lucy's wedding gift, a pair of cufflinks and a tie pin from Not On The High Street and a Liberty print pocket square handmade by his mother.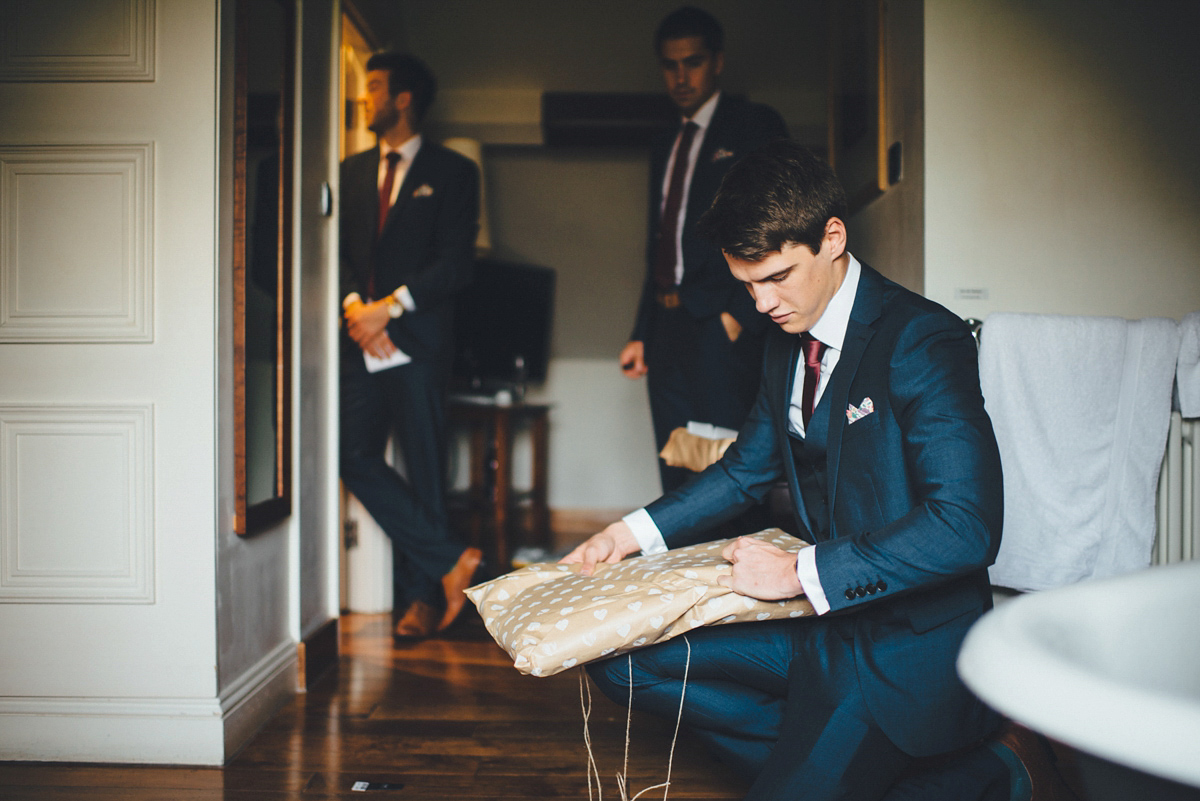 "Although we are both from Harrogate, we actually met on a night out in Leeds. A girlfriend of mine spotted his friend and wanted to go and say hello. As they were getting 'acquainted' I got chatting to Christian. We exchanged numbers and spent the following week texting. For our first date we went to the cinema and he had actually invited his friend because he was so nervous. I was not impressed!"
"However after the cinema, we ended up chatting for hours and I realised that we just clicked. We eventually moved in together five years later when we moved to Leicester for my job at Next. We bought our first home in April 2013, and 6 months later Christian whisked me away on a surprise weekend to London."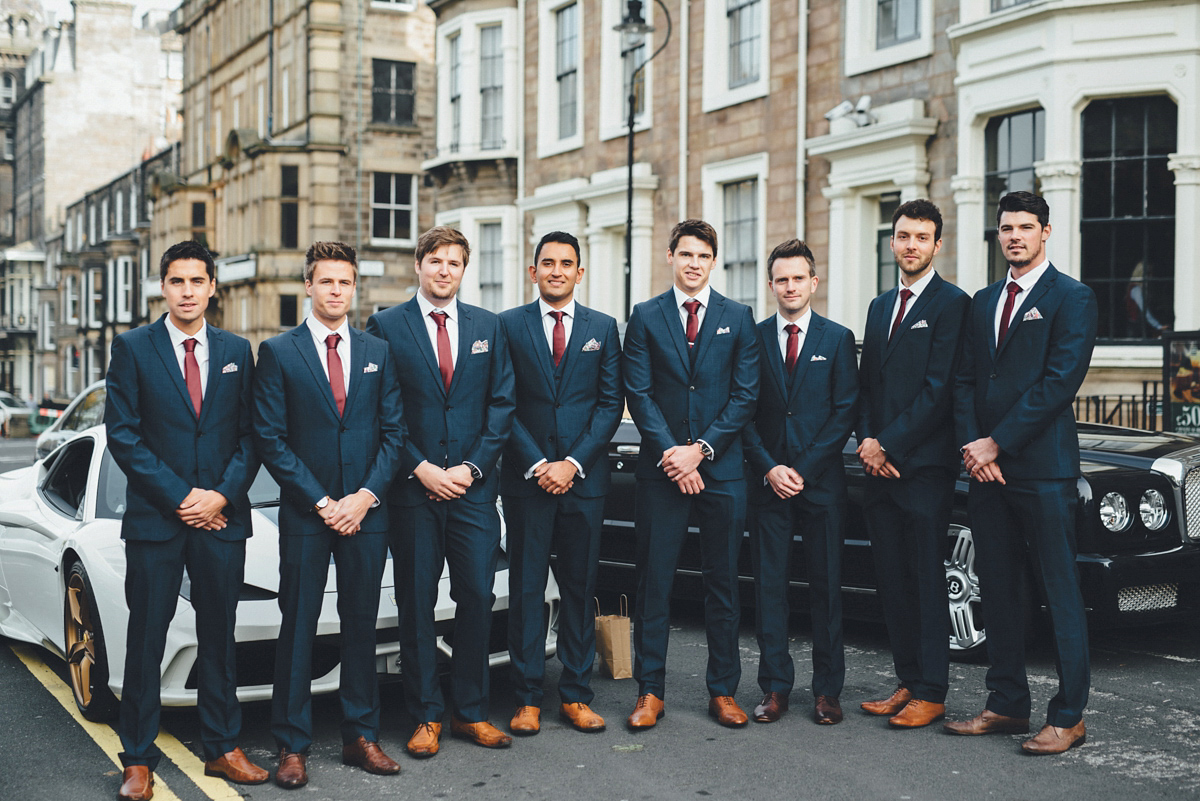 "With the help of his friend (the same friend from our first date) he had booked a table at Paramount Bar at the top of the Centre Point building. With views over London, he got down on one knee and I cried (a lot!)."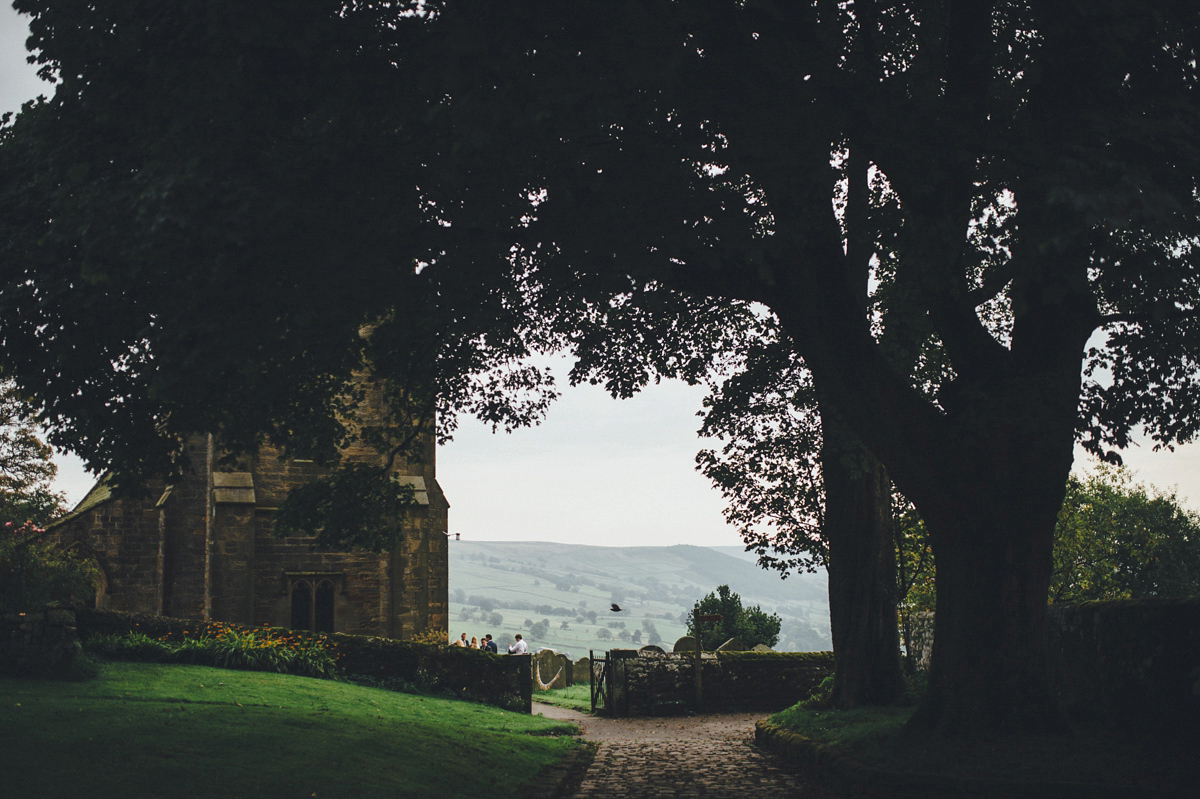 "We decided to have a two year engagement because we wanted to get married in our anniversary month of October and my best friend was getting married in September 2014 and would be going back to Australia after her wedding. It was really important to us that she could be with us on our big day and gave us more time to plan and save up."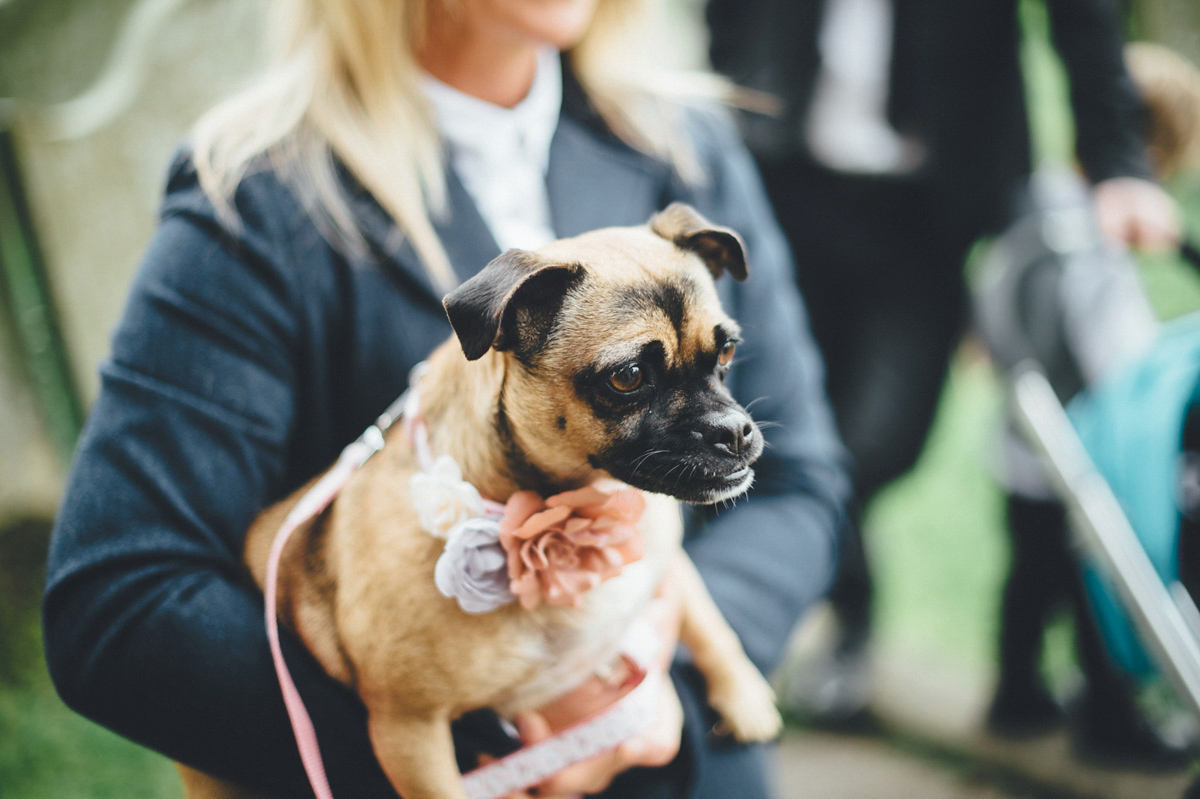 "I grew up in the next village from Middlesmoor and we are both from Yorkshire originally so it meant a lot to us to go home to get married. The views from the church are incredible and we wanted our guests to see Yorkshire at its best. I already thought I might like a PapaKåta tipi before we got engaged and The Sportsman's Arms, a traditional Yorkshire pub with great views was the perfect backdrop for them."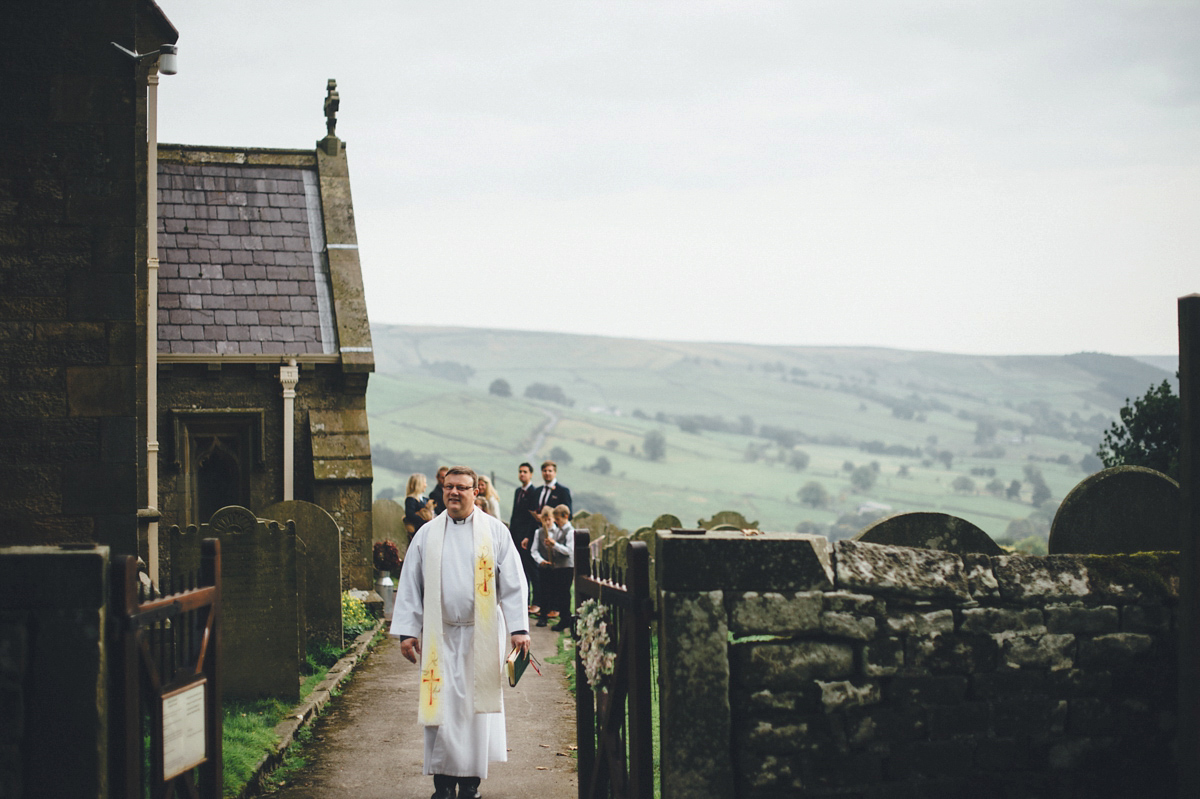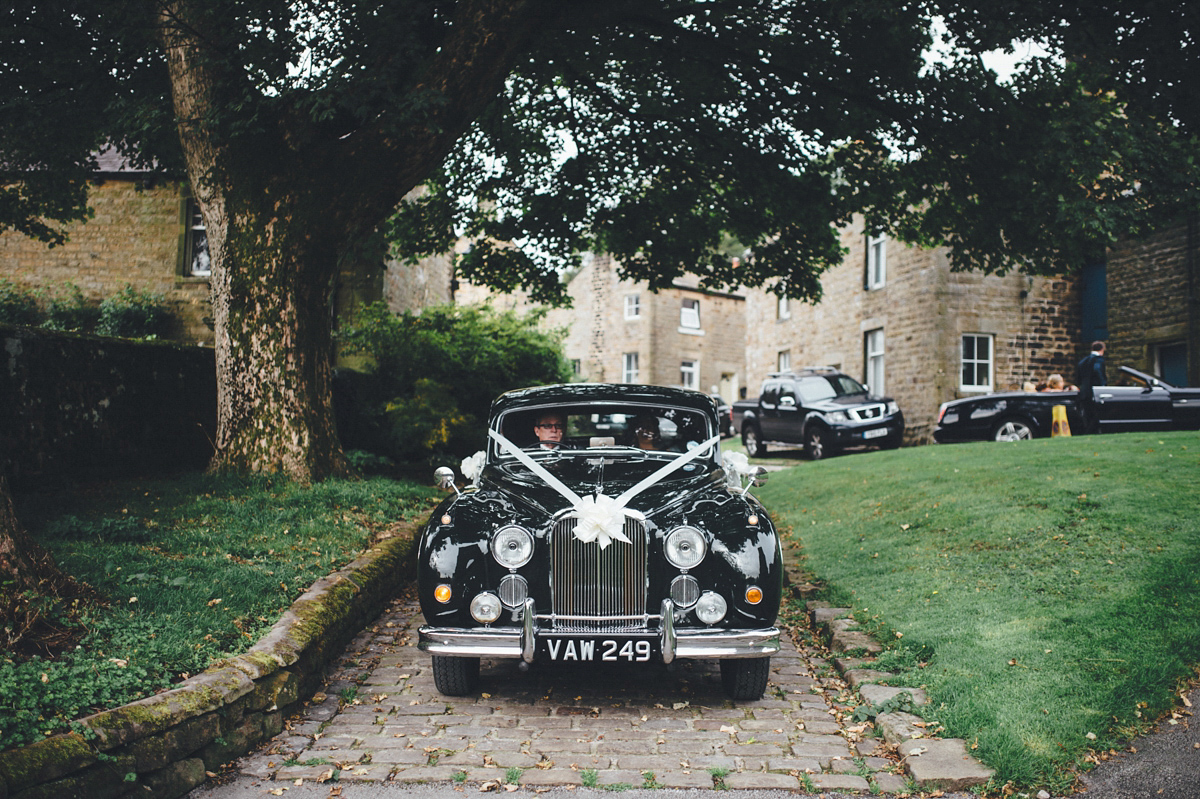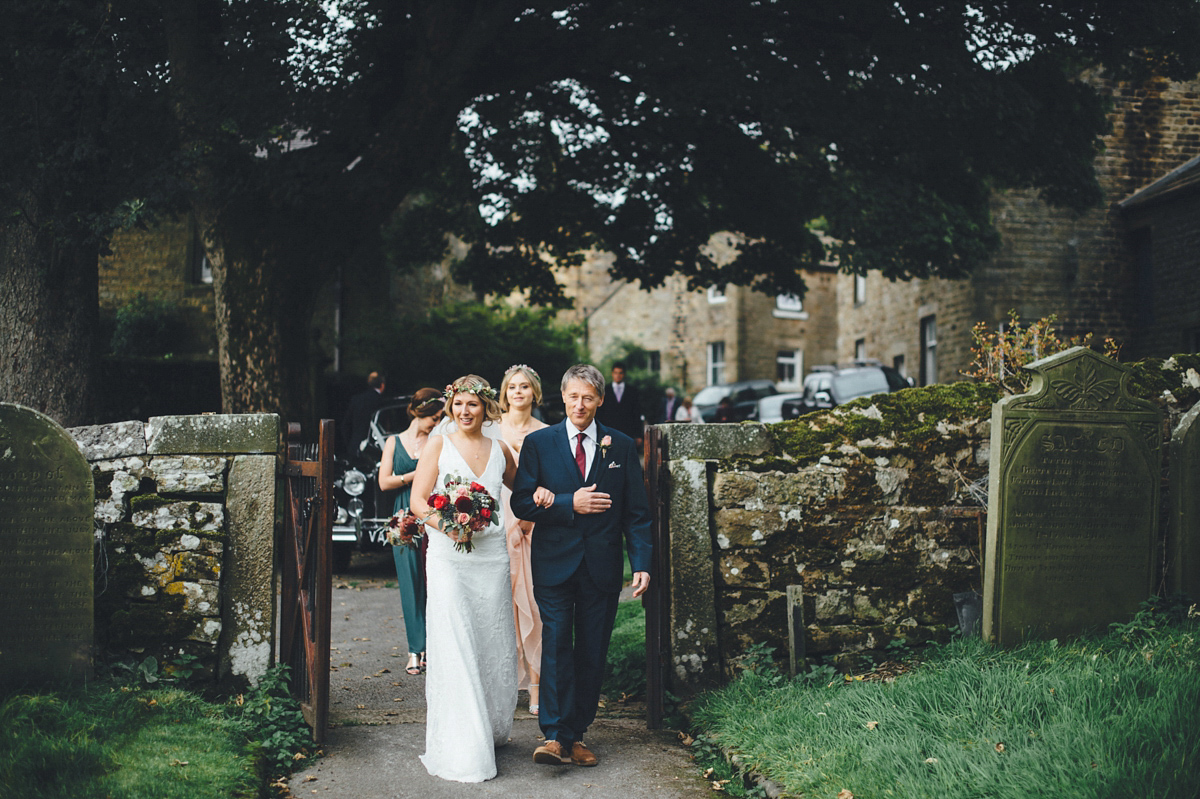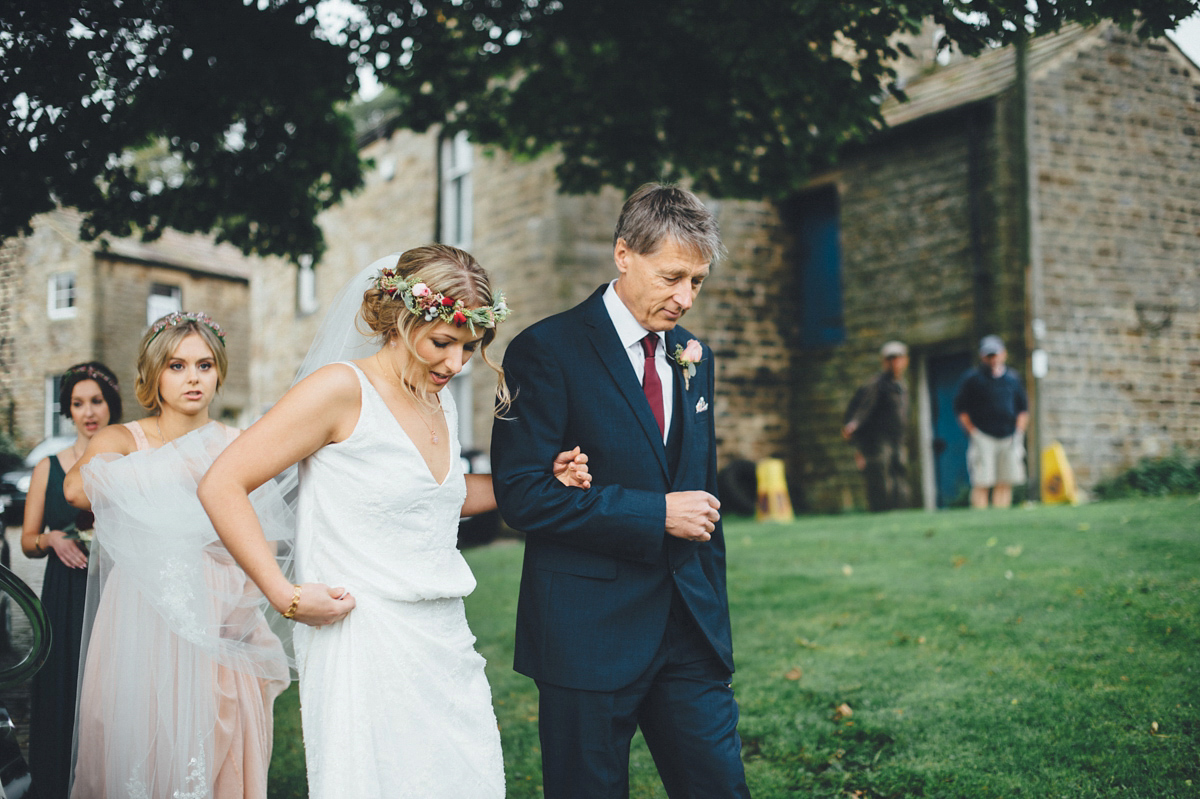 "I have a very talented family. My brother designed all of our stationery and my other brother works with cars so very kindly arranged the cars for the day, including a Ferrari 458 Speciale for Christian."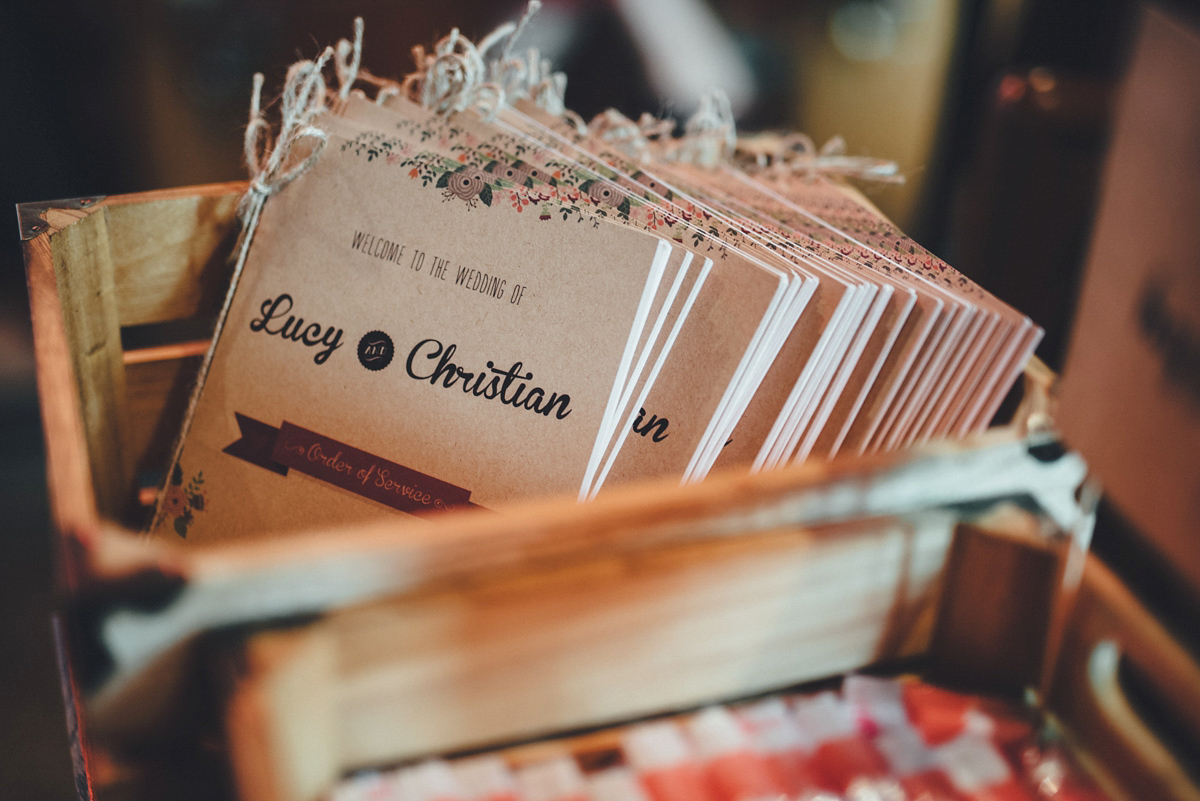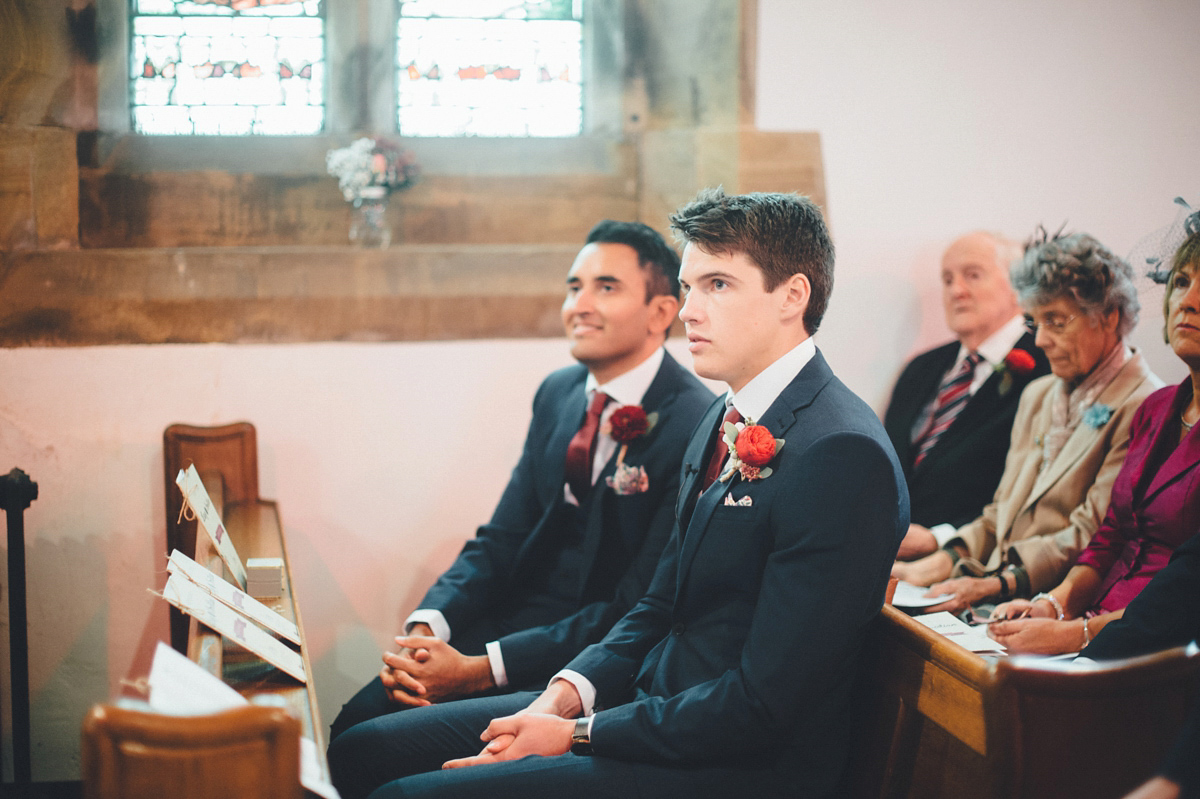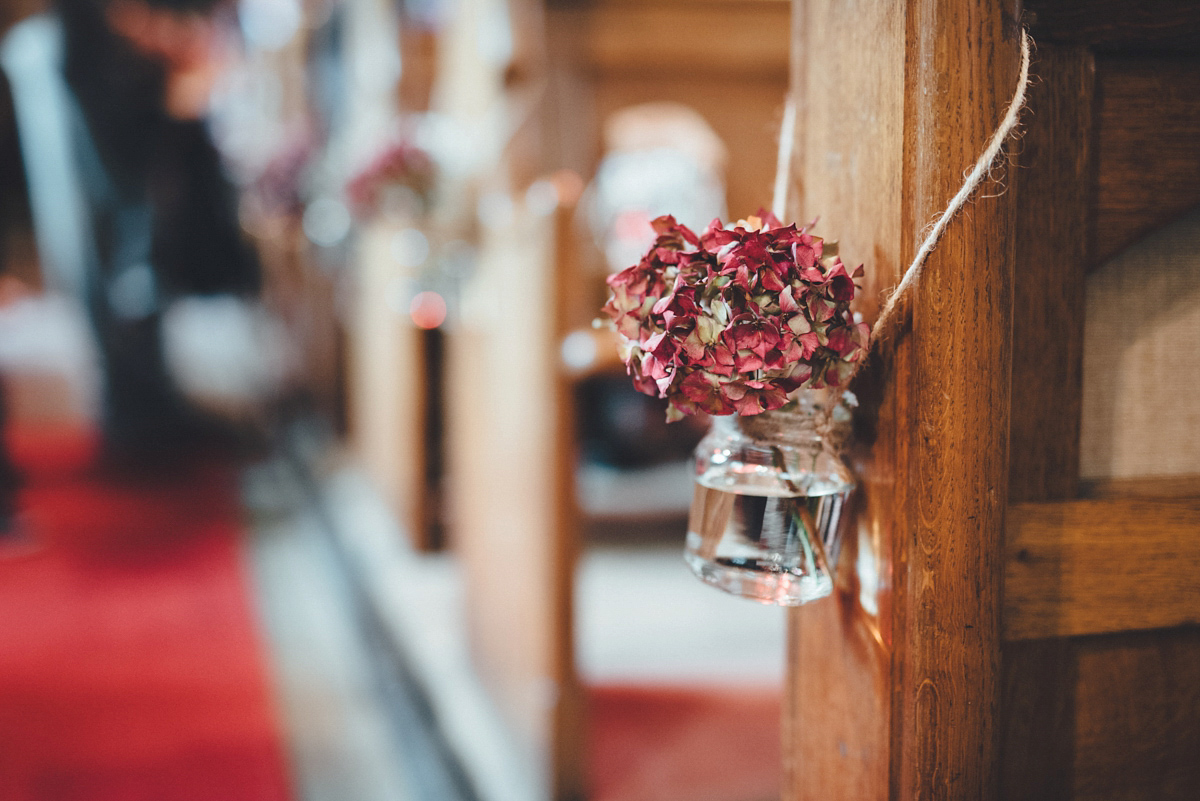 "As I arrived at the church with my dad I saw our dog Primrose waiting outside with the page boys in a floral corsage and it set me off. It meant a lot to us that the vicar allowed her to be in the church. She loved all the fuss and attention she got."
"When our organist had asked us if we had any special requests for the music played during the signing of the register I asked for 'All You Need Is Love' by The Beatles but was told that it wasn't possible, however as we sat down to sign the register, the music started and they had surprised me and learnt the song. This just set me off again and is one of my favourite memories of the day."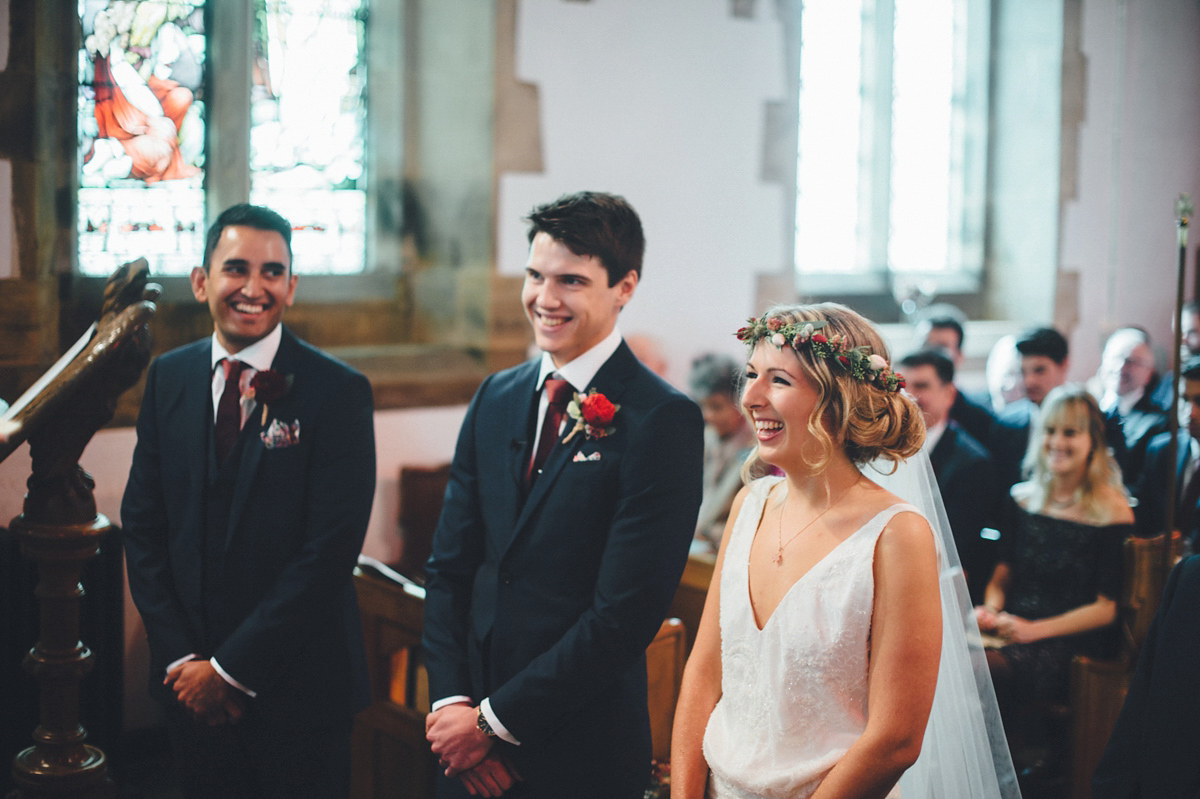 "We had three readings. My mum read 'Ecclesiastes 4 9-12', Christian's sister-in-law read 'He Never Leaves the Seat Up' and my lovely Nani read 'Remember' by James Dean. I love this reading, I even have part of it tattooed on my foot.
Remember: Life is short, break the rules (they were made to be broken),
Forgive quickly, kiss slowly. Love truly, laugh uncontrollably. And never regret anything that makes you smile.
The clouds are lined with silver and the glass is half full (though the answers won't be found at the bottom),
Don't sweat the small stuff, You are who you are meant to be, Dance as if no one's watching,
Love as if it's all you know, Dream as if you'll live forever, Live as if you'll die today.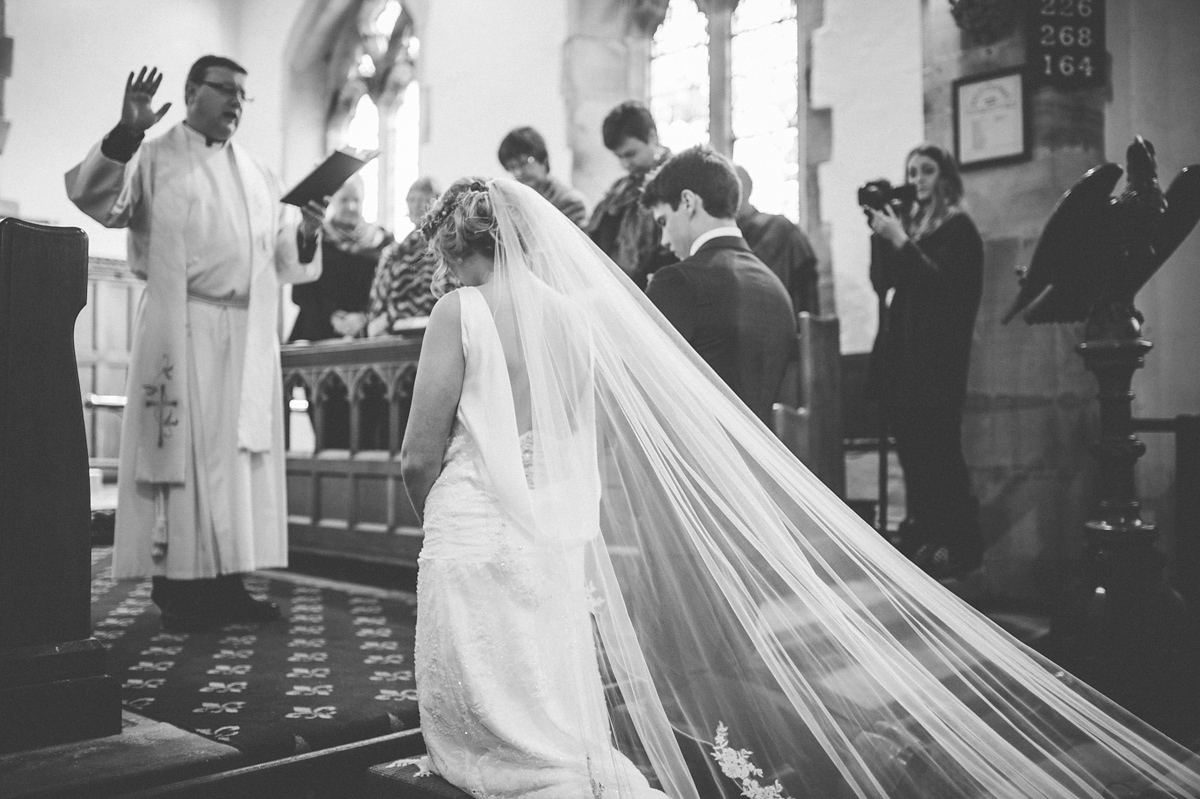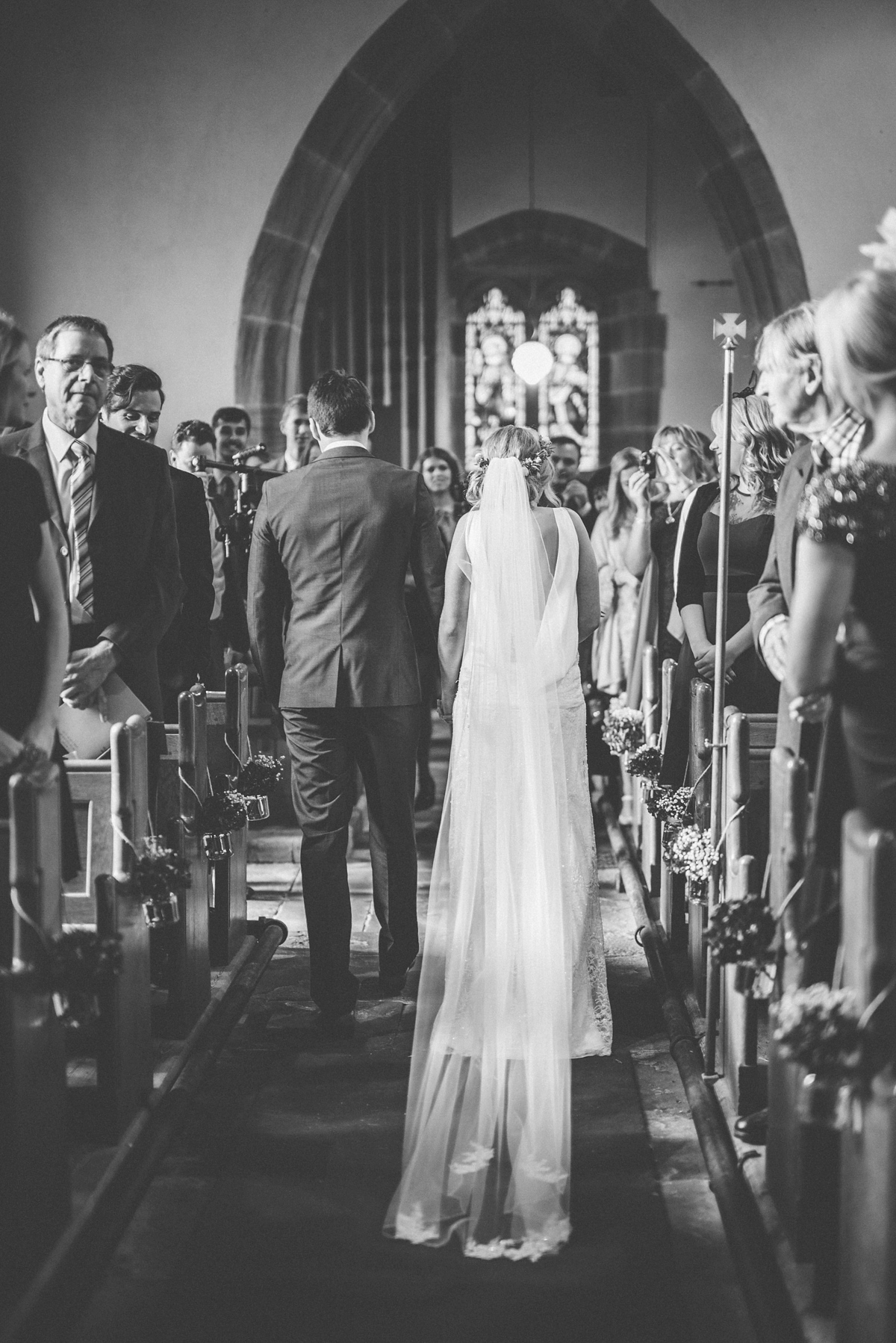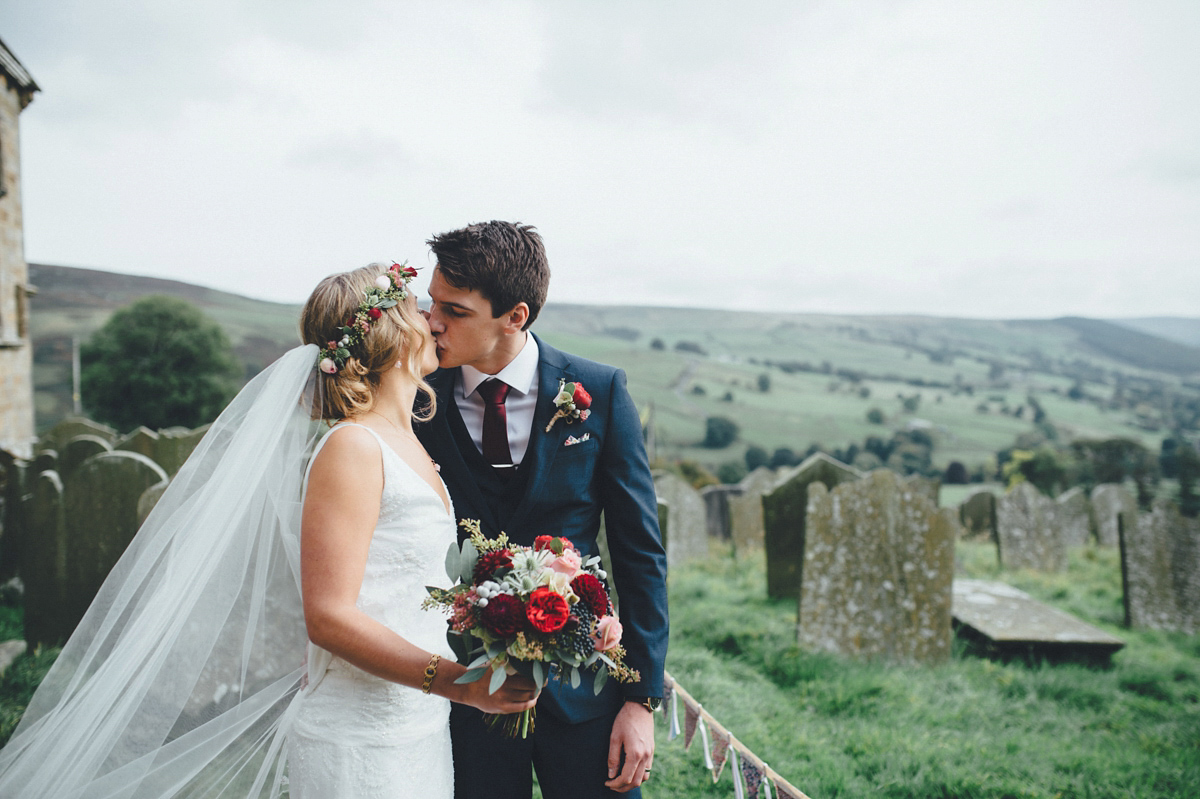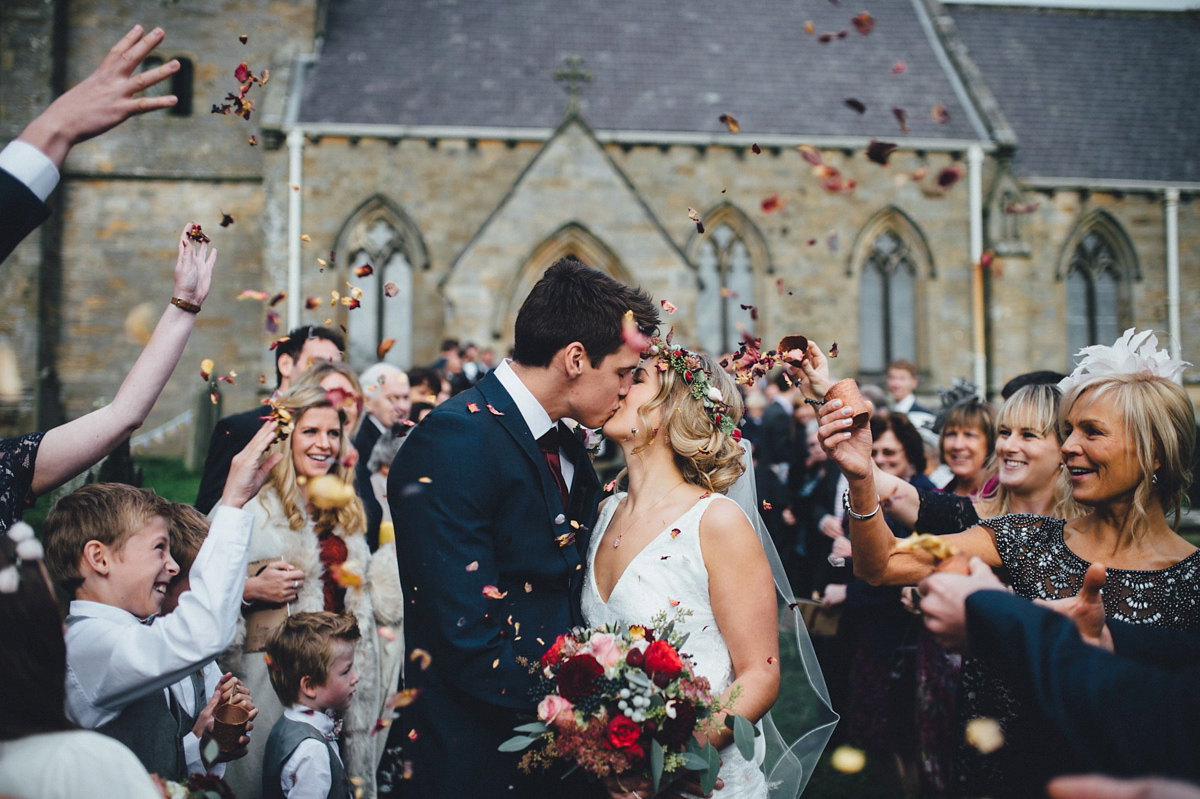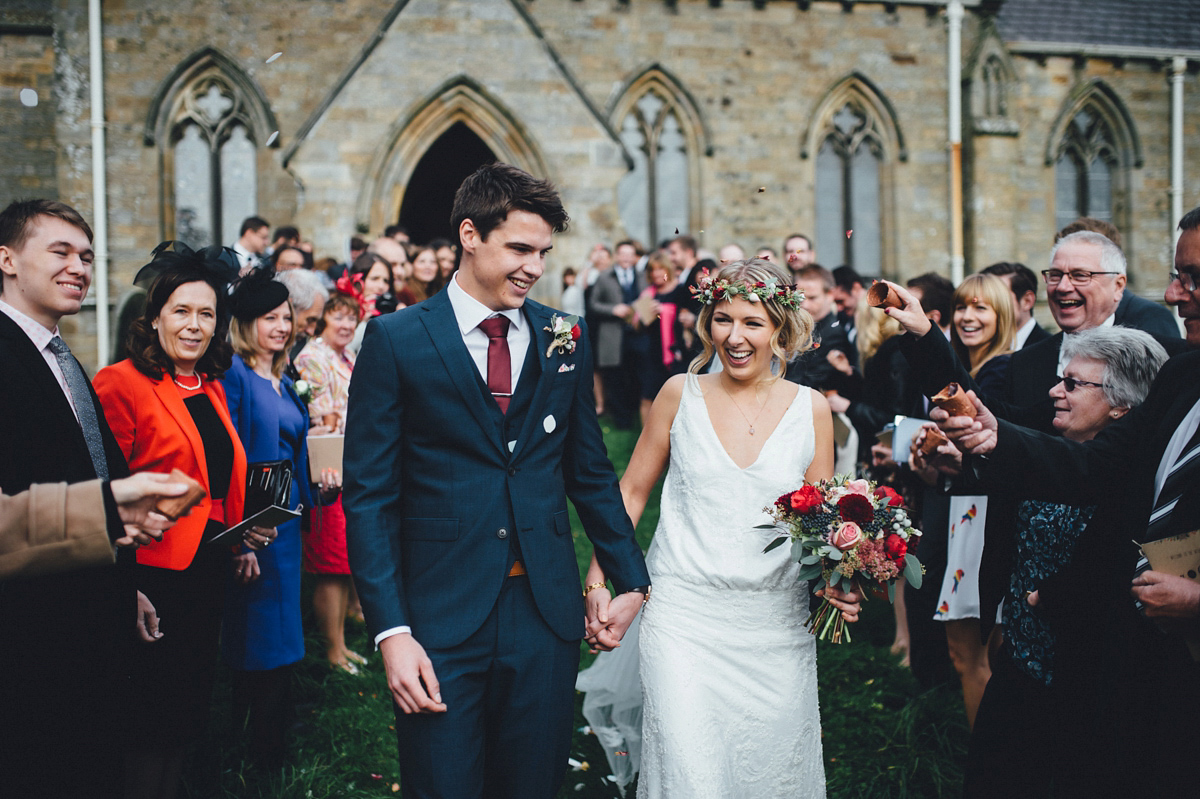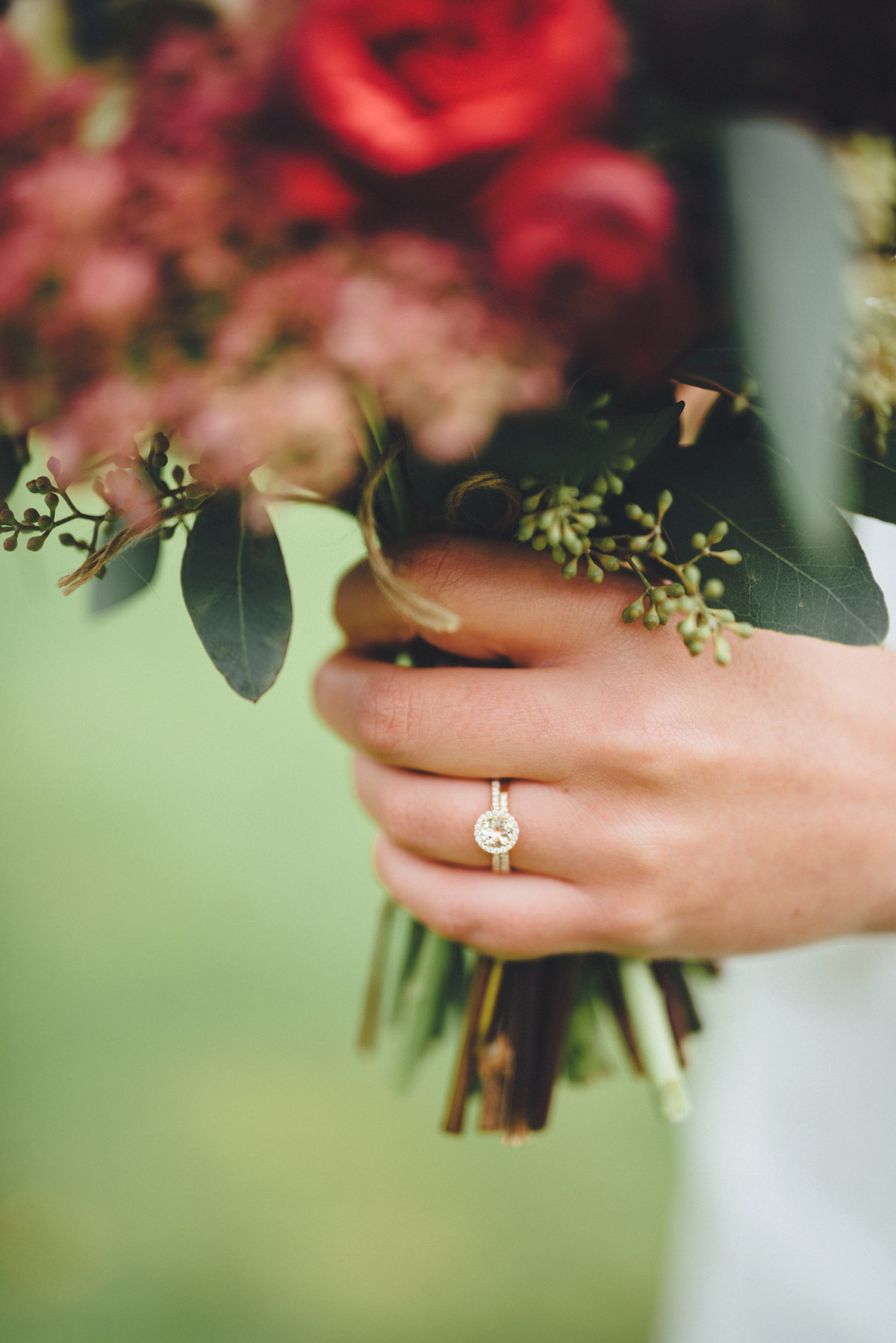 I am so love with the gorgeous autumnal shades of the flowers which Lucy chose to compliment the bridesmaids dresses. Leafy Couture made the bouquets, buttonholes and flower crown and then provided buckets of flowers including hydrangea, Lucy's favourite flower, to be arranged in the 400 jam jars and bottles dotted around the church and tipi. The result is an elegant rustic feel which works so well in the country surroundings.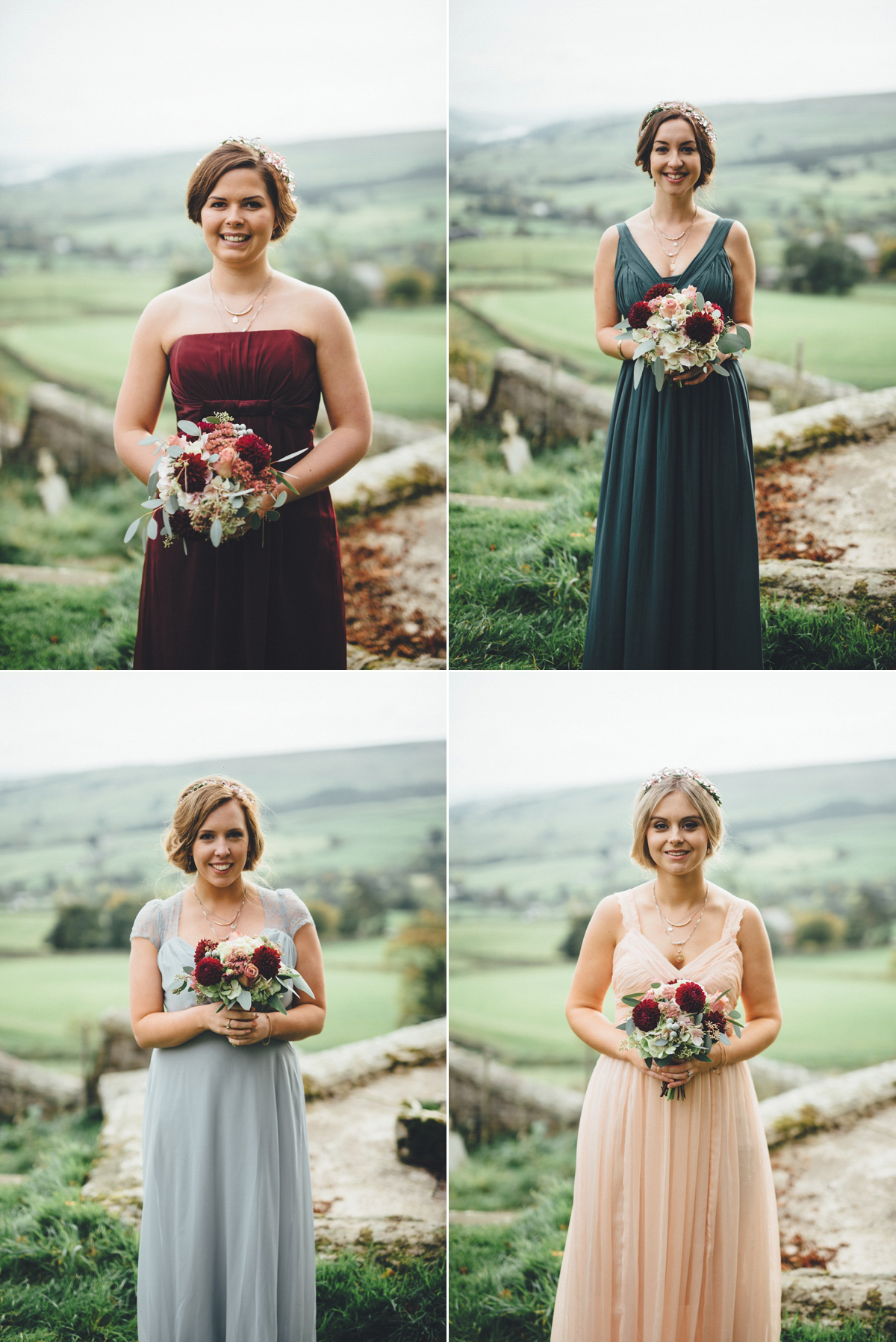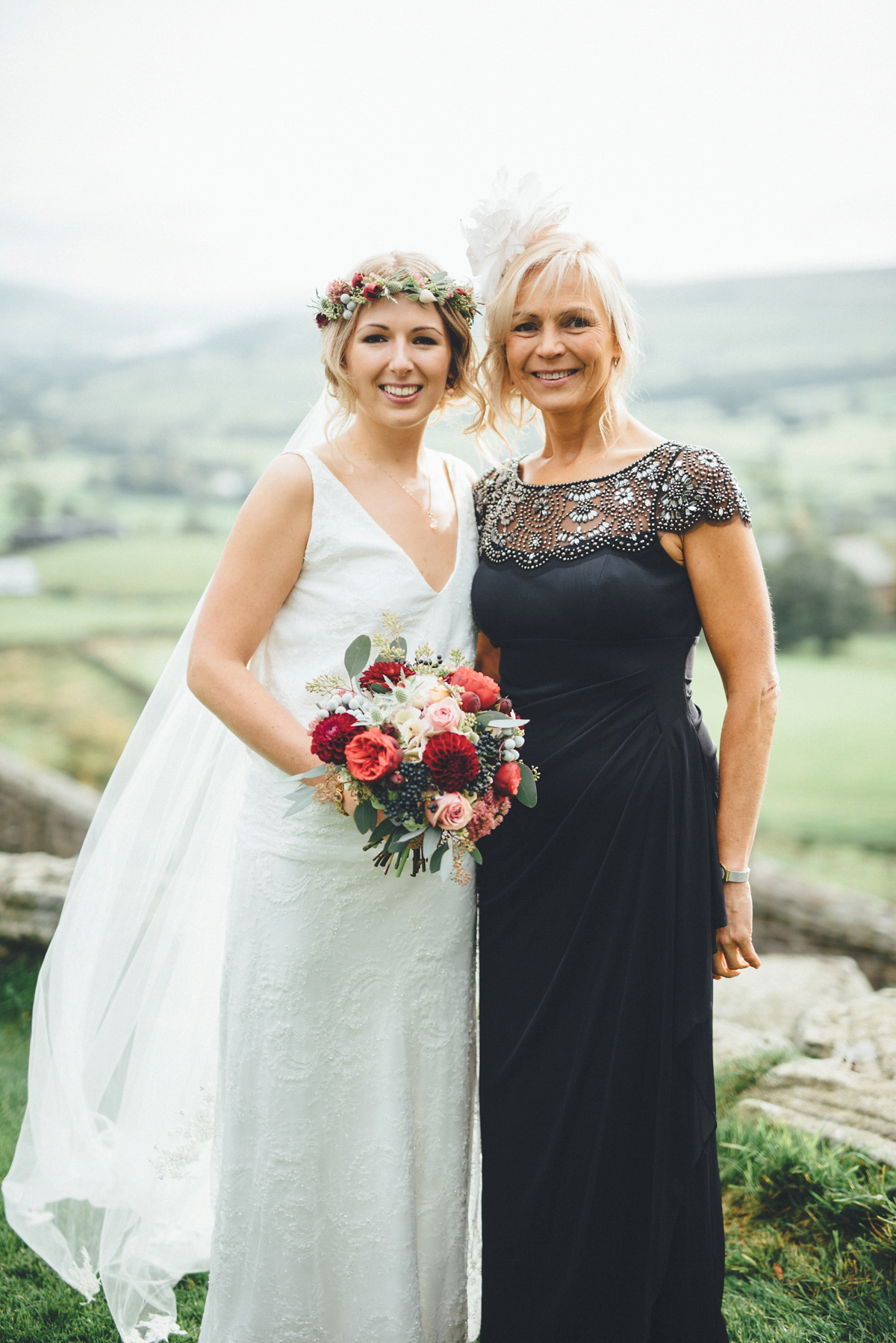 This very lucky couple actually won their gorgeous photography in a competition with James Revitt of Flawless Photography.
"We were absolutely chuffed to bits with James and our pictures. He captured the atmosphere perfectly and on the day, he made us feel really comfortable and we quickly relaxed into having our pictures taken."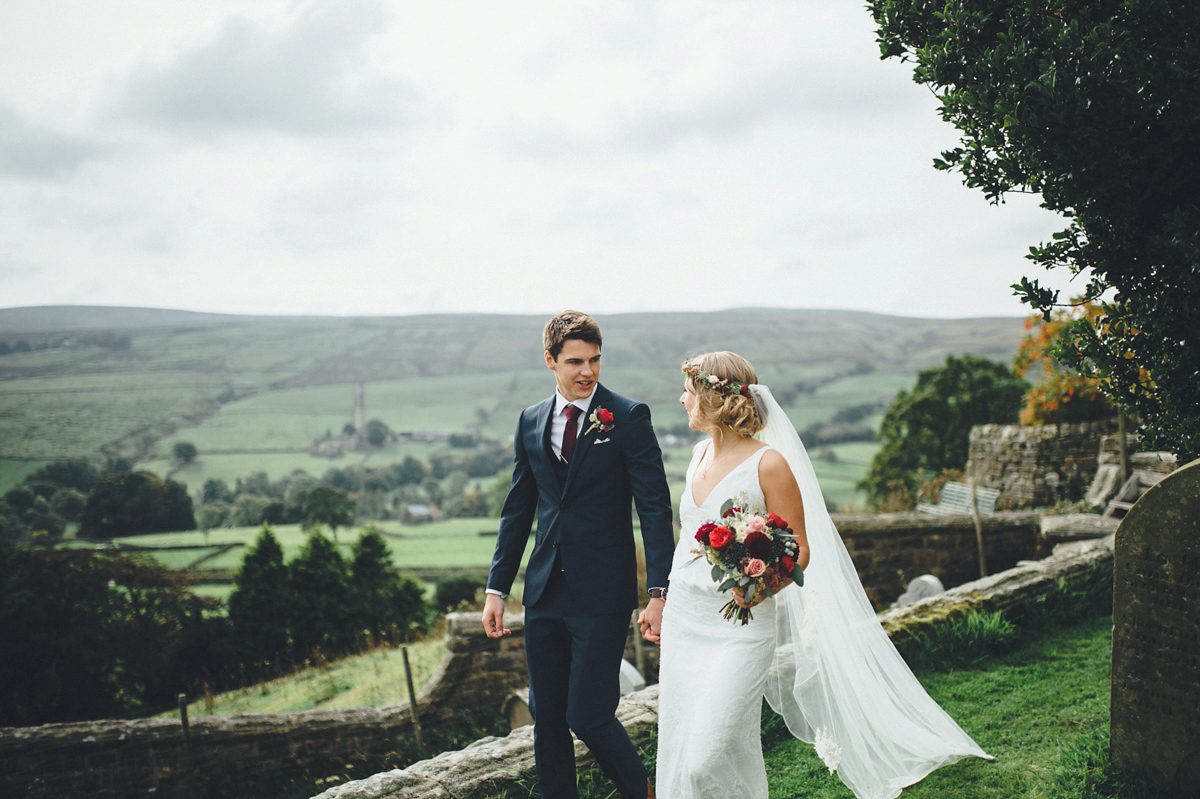 "Because we were lucky enough to win our photography with James, we were able to use our photography budget for a videographer and I am so pleased we did. Penny and Ed from Silver Sixpence Films were fabulous. They captured all of the magical moments of our special day. I love watching the wedding film, it makes me cry and laugh every time."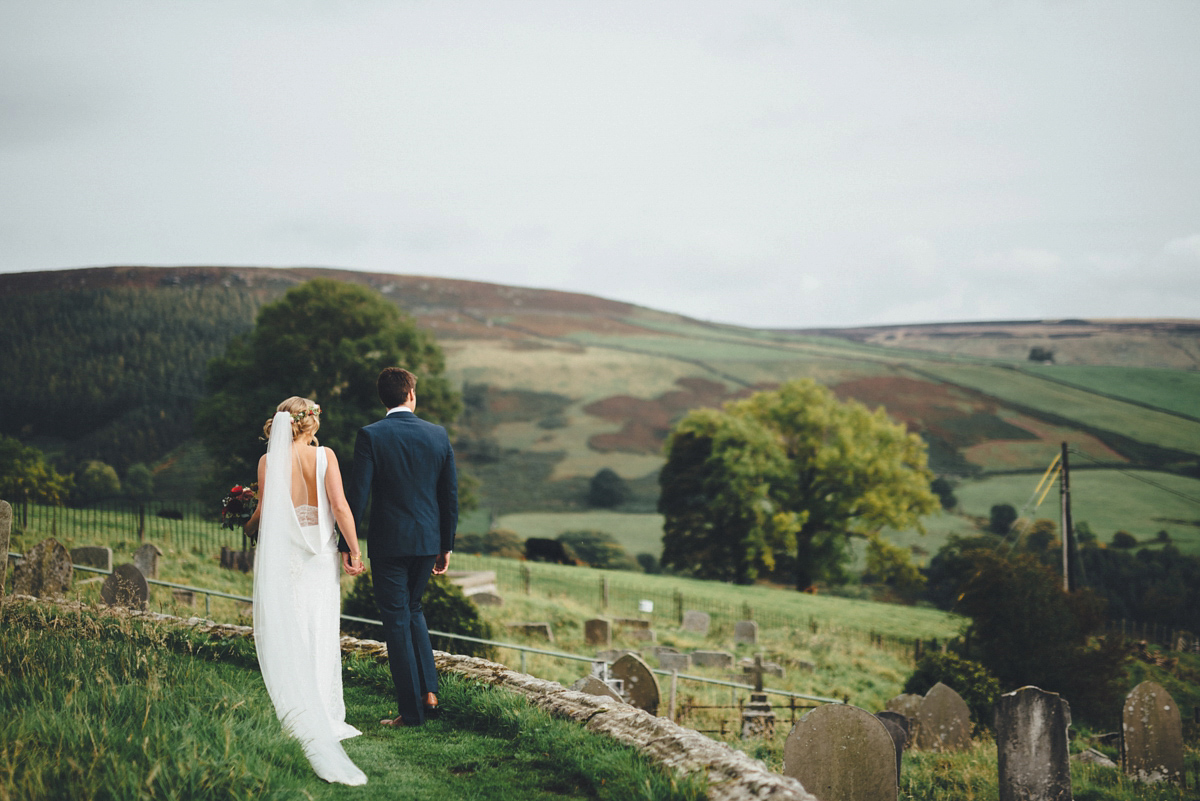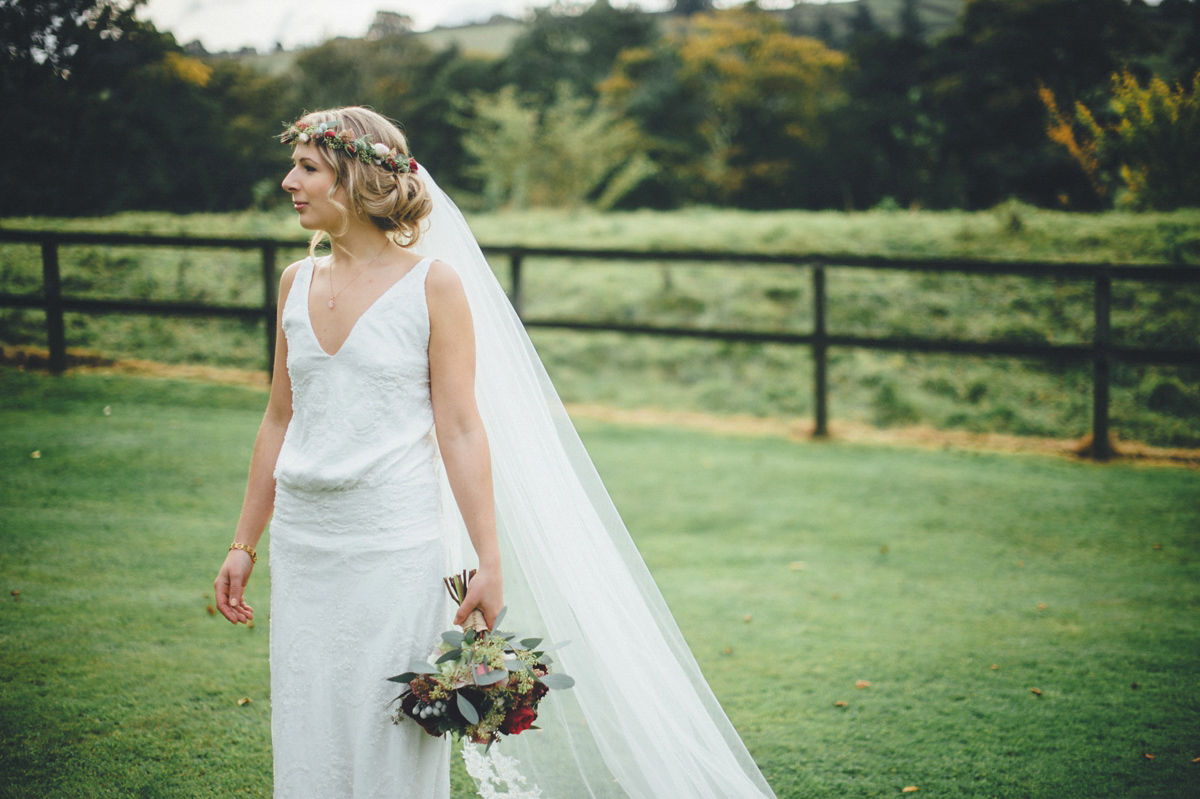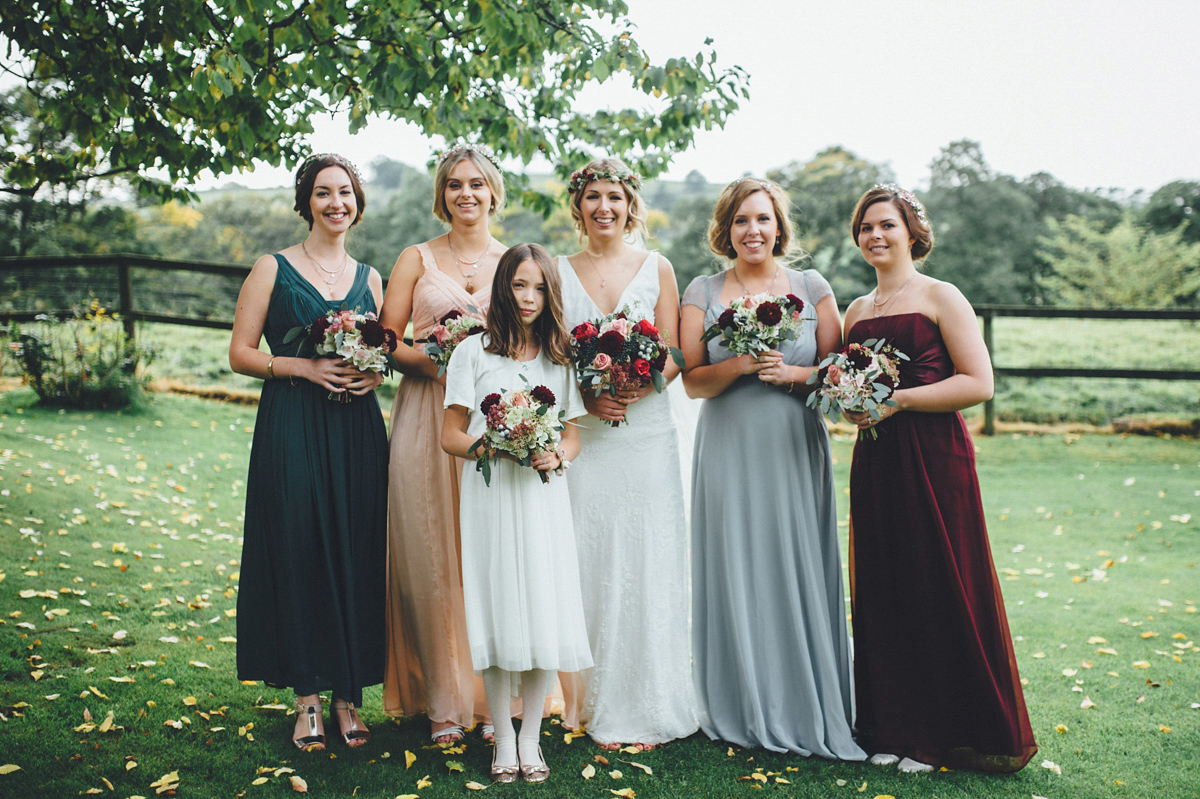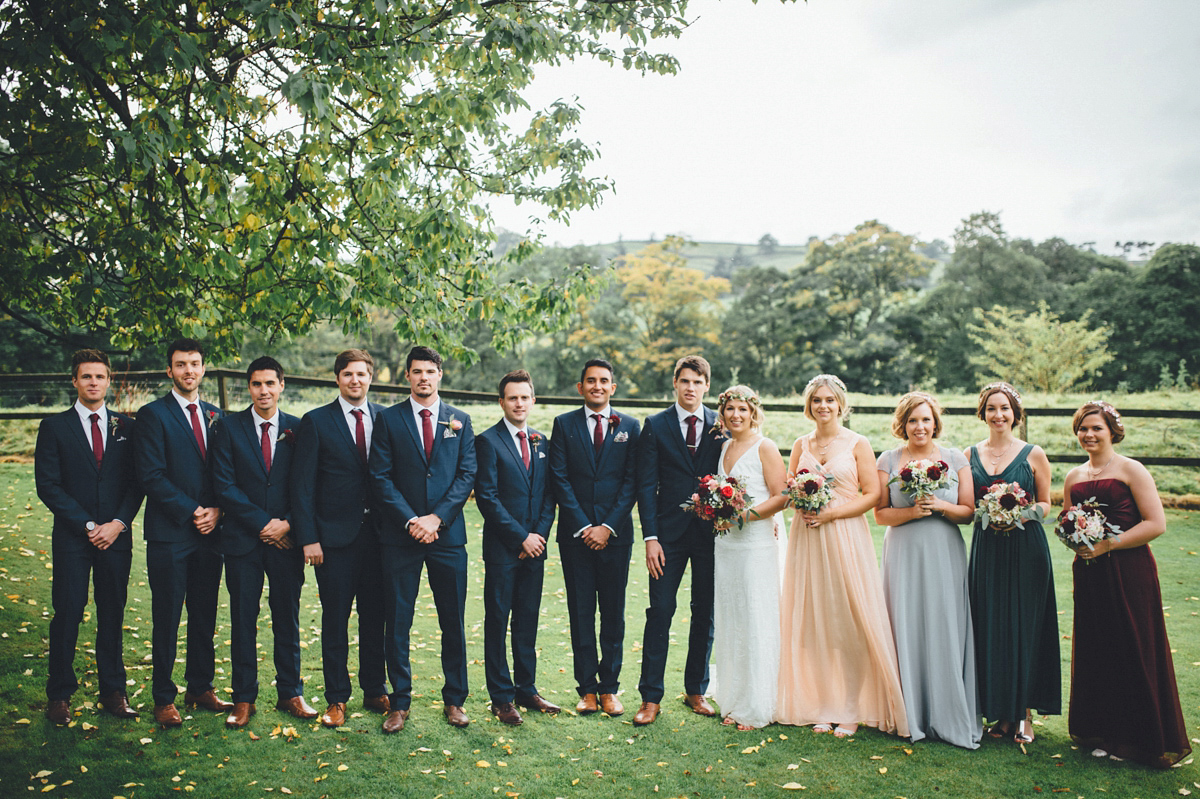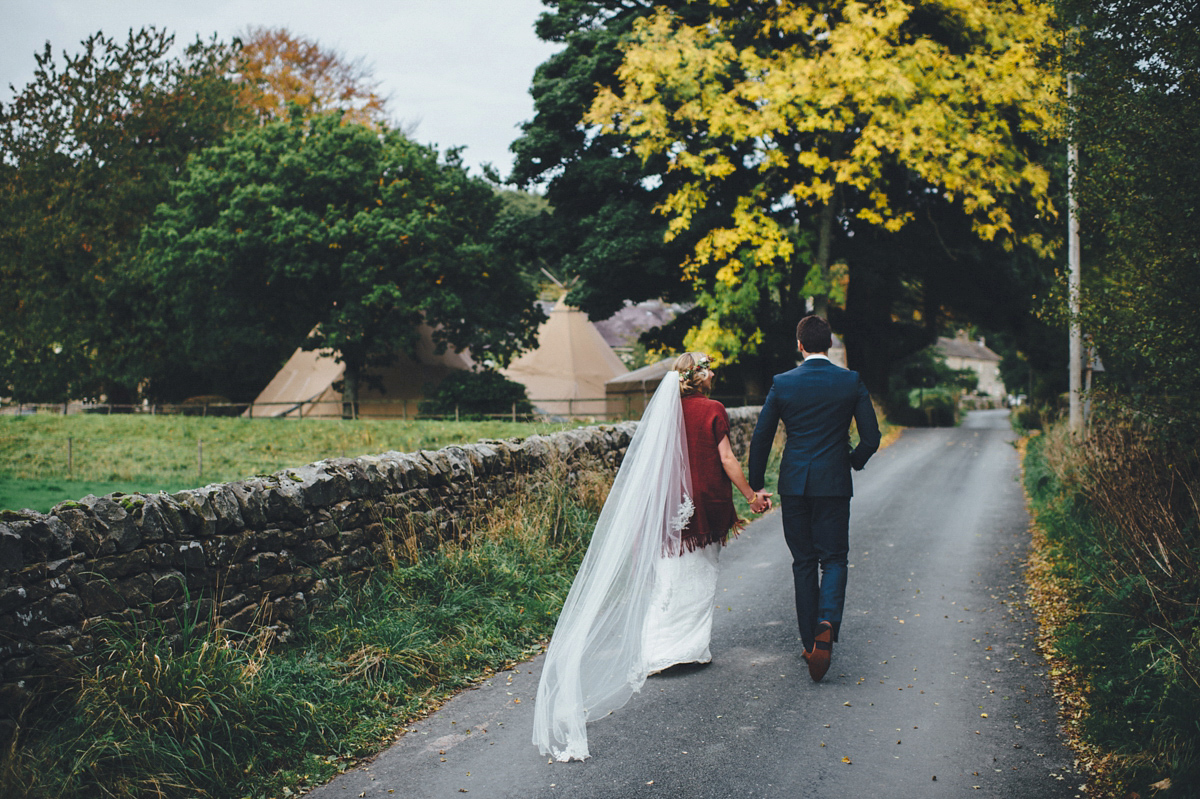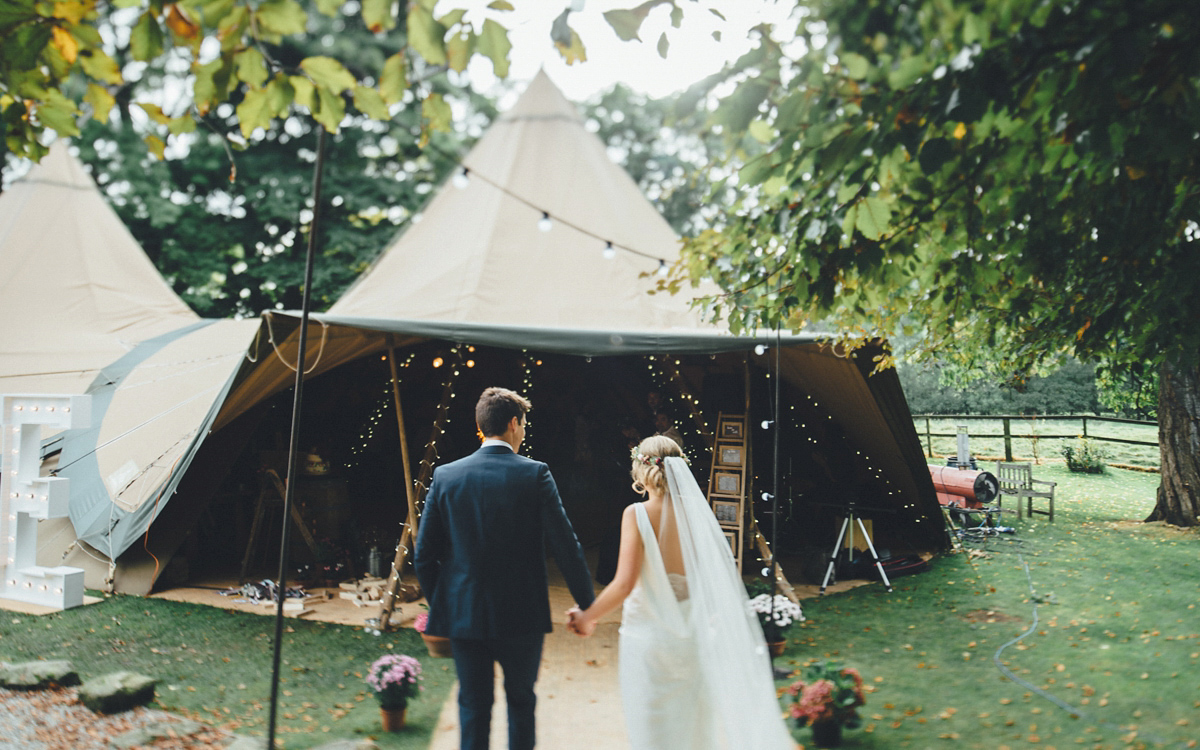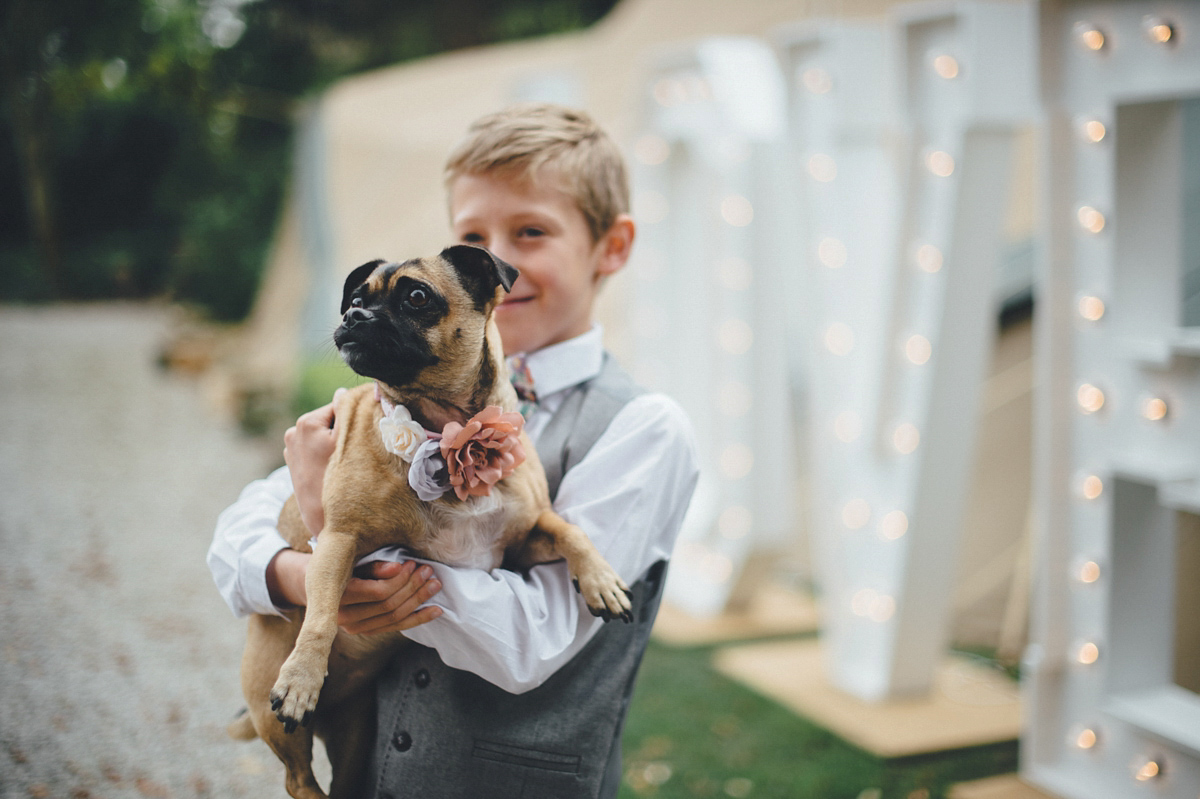 The wedding was the perfect excuse for Lucy to flex her creative muscles and along with her family, created the most magical feeling inside the tipis.
"I made tissue pom poms to hang from the beams and my mum and maid of honour made bunting to decorate the top table and the path to the church. We had ten guest tables, each named for a year we have been together, each with a photo, which we also used for the table plan."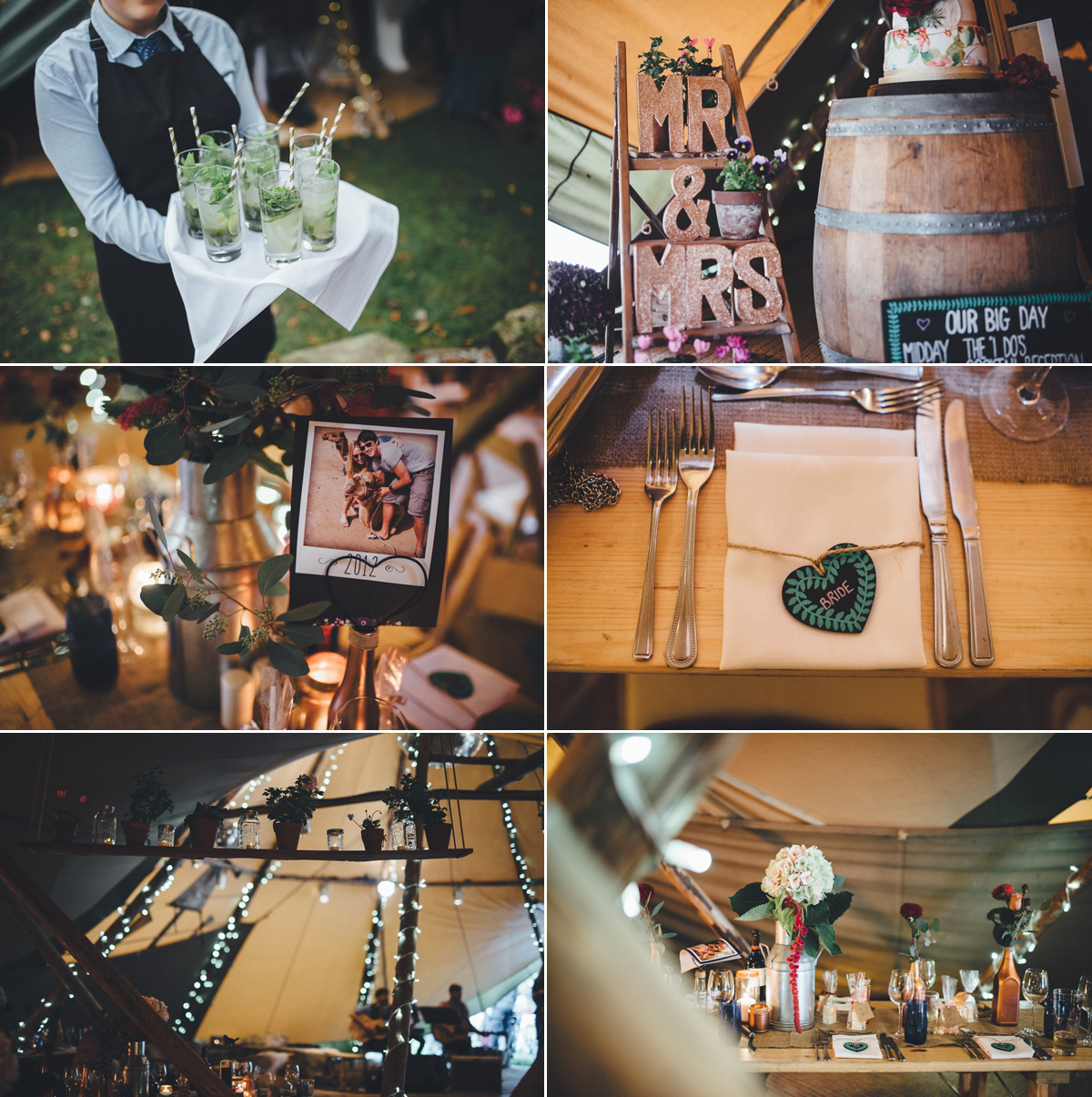 We decided not to have a traditional guest book, but instead bought a piece of wall art from Not on the High Street, and our guests signed the hearts. We've got this on the wall at home now and it's a lovely reminder of our special day. I also made a polaroid style photobooth and collected a range of fancy dress accessories, including the very popular horse and pig heads. I also bought selfie sticks for each table. This kept our guests entertained and meant there were lots of very funny photos."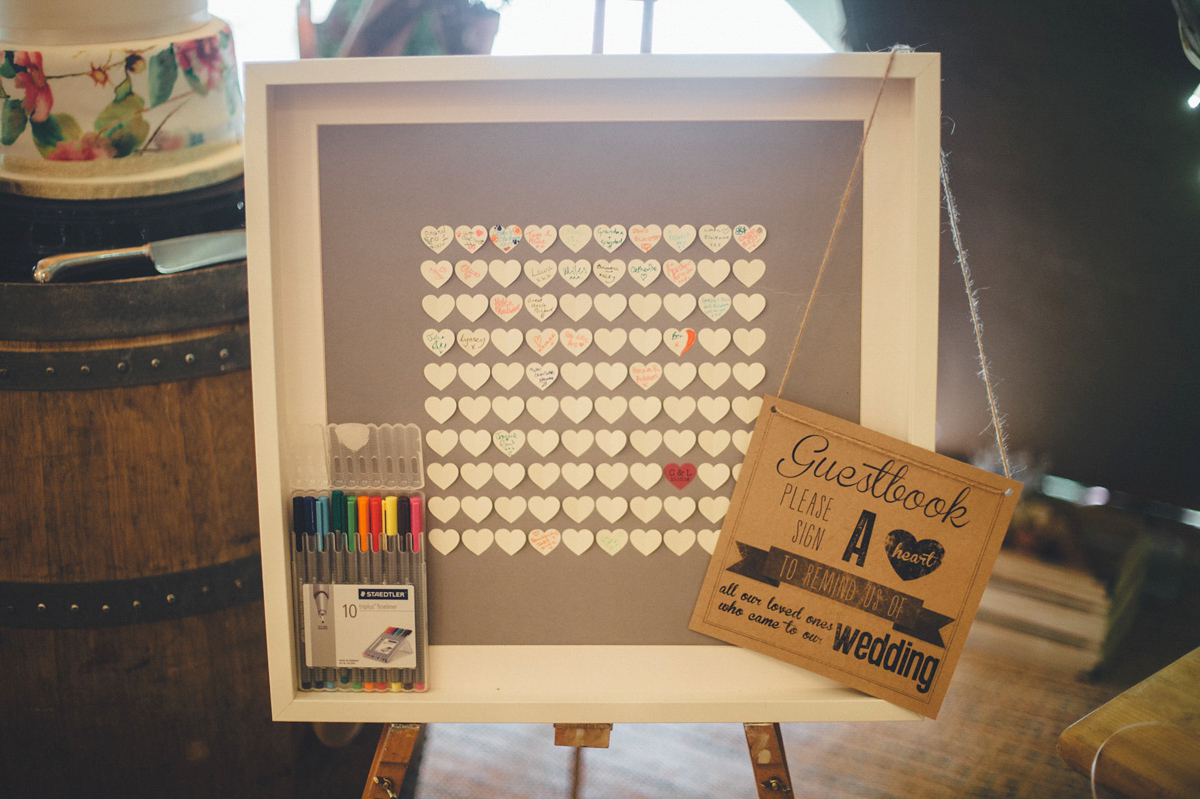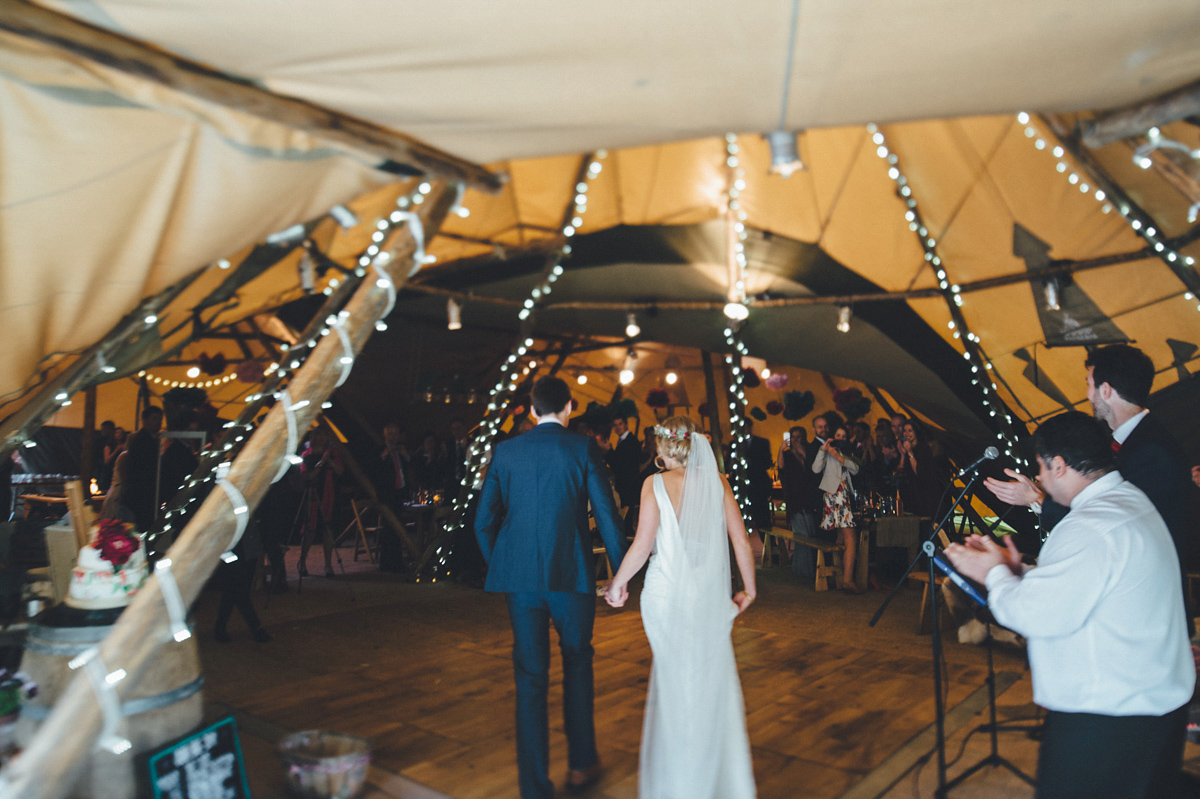 Mama Doreen's created Lucy and Christian's glamorous showstopper of a cake, complete with hand painted floral tier, and sitting on a step ladder with lots of stunning plants. With lemon, chocolate and sticky toffee pudding tiers I can only imagine how delicious it was too.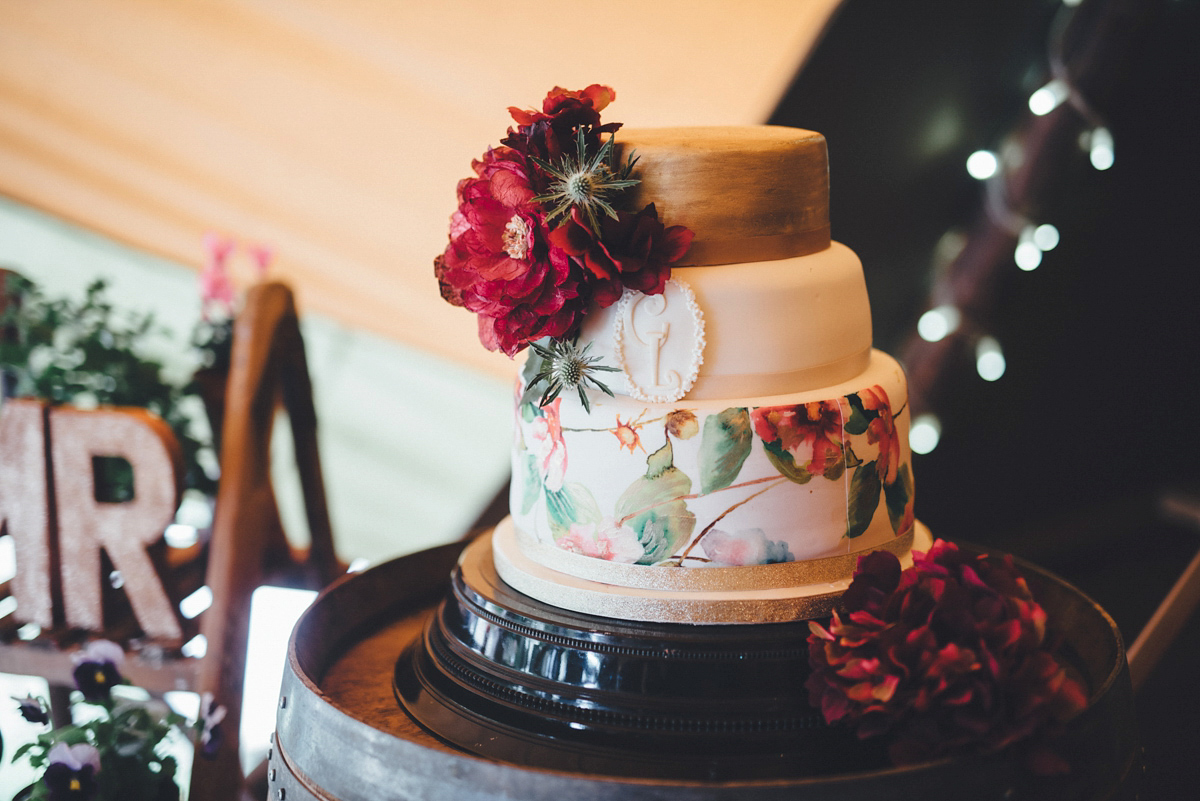 "We gave everyone a marshmallow pop from Art of Mallow to toast over the firepit in the tipi. They went down very well."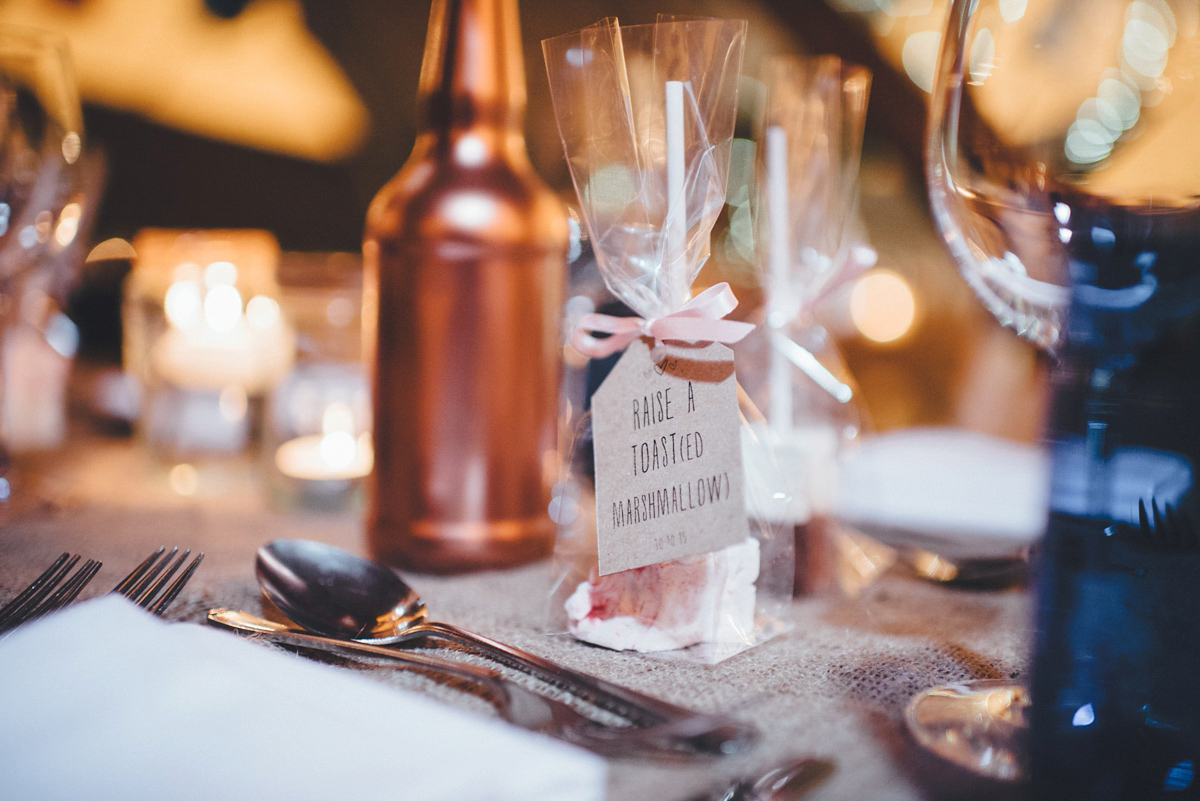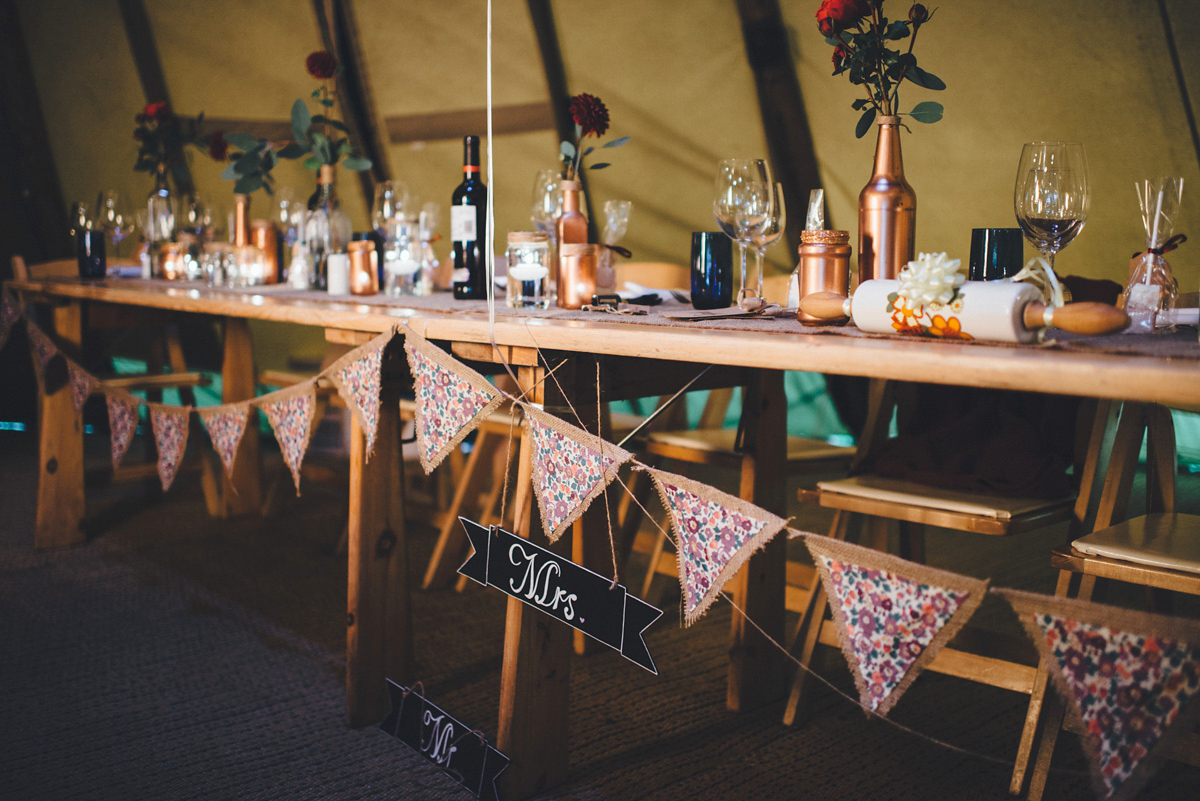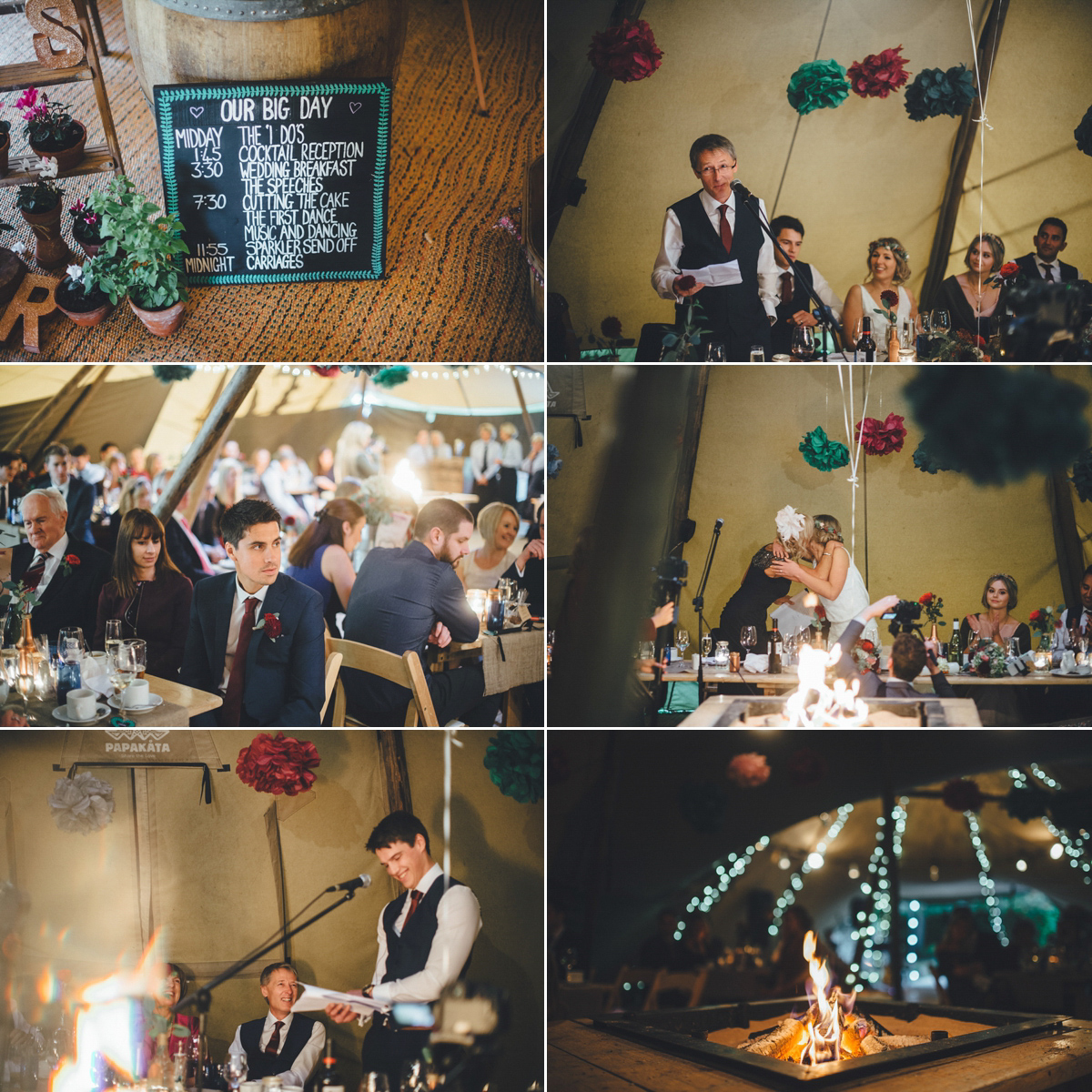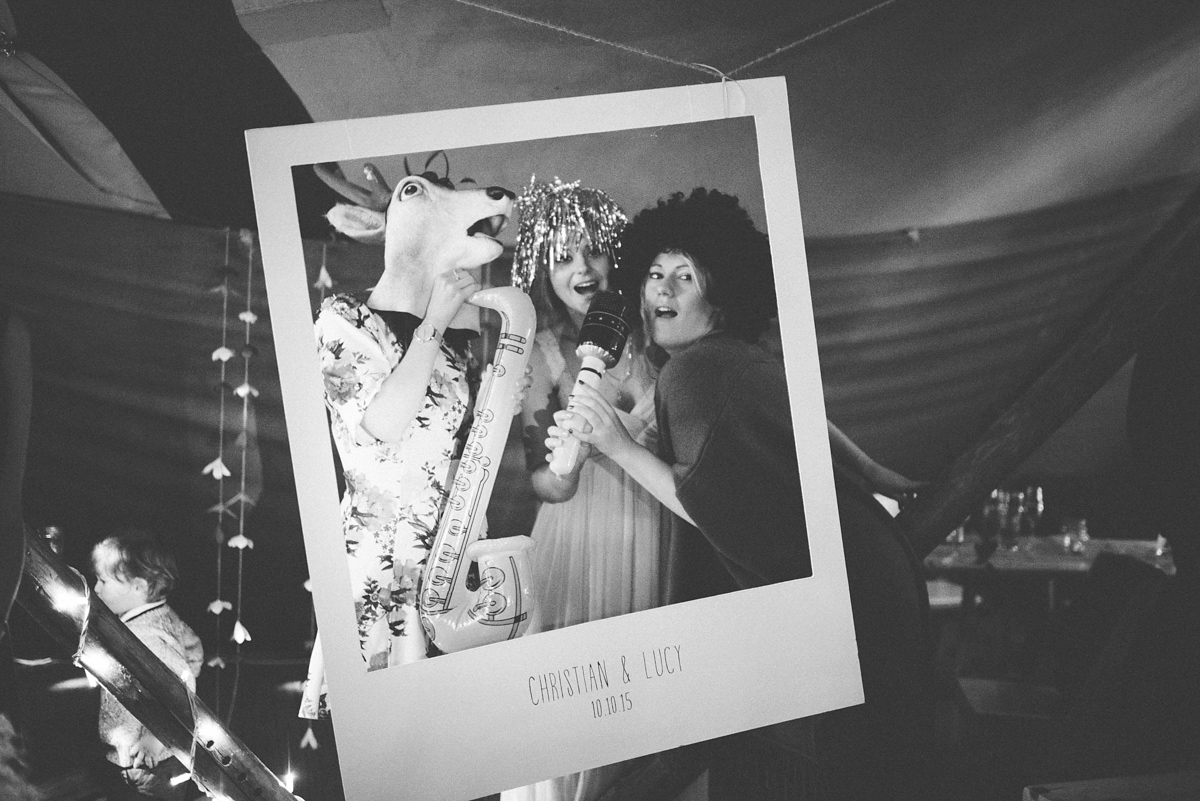 Lucy and Christian opted for dance lessons to prepare for their first dance to 'You Make My Dreams Come True' by Hall and Oates which is on the soundtrack to the film '500 Days of Summer'.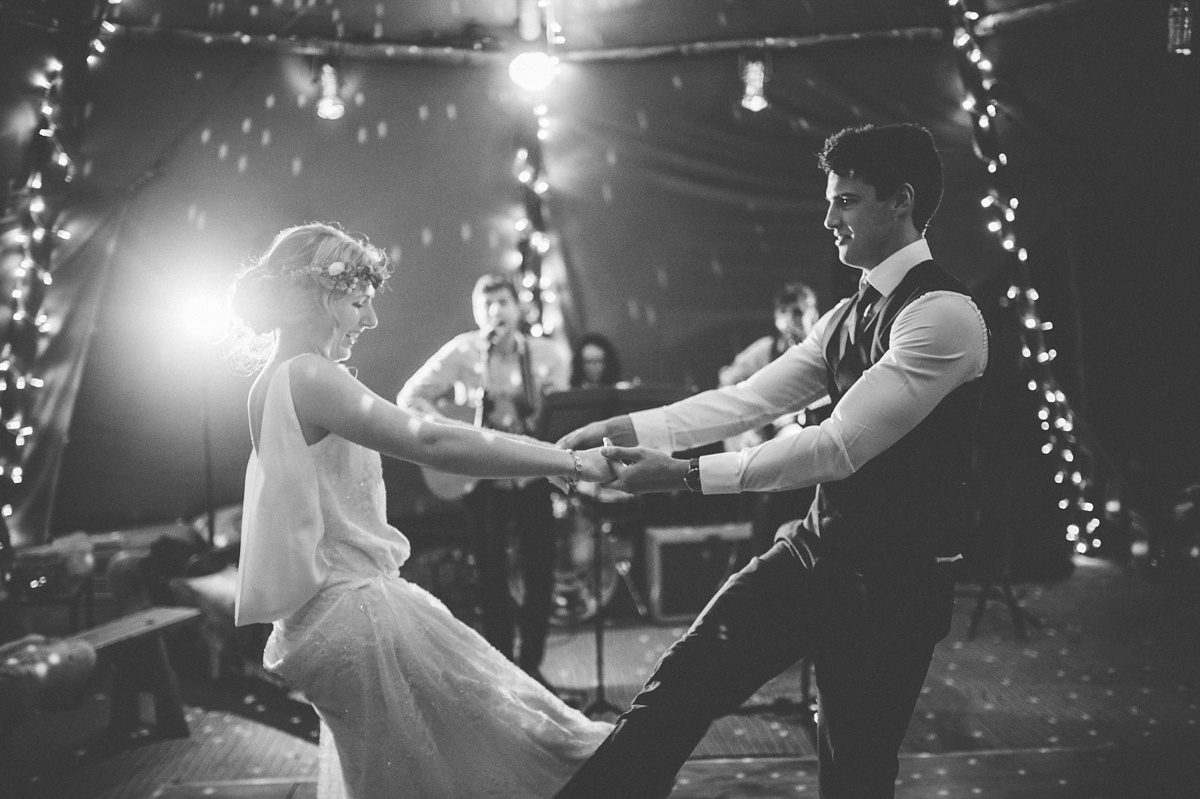 "Choosing the right band was a really important decision for us. We chose The Hope Street Busking Band after seeing their videos on YouTube. They were absolutely spot on and really got the party started."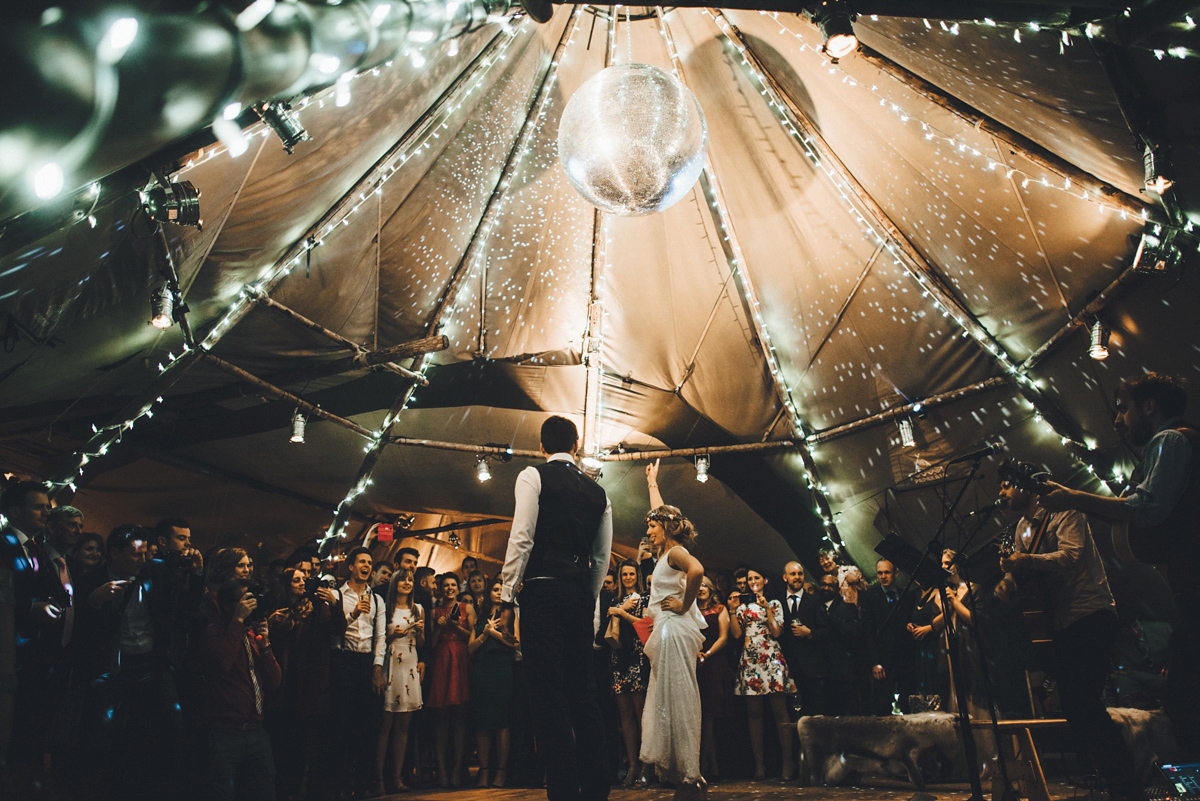 "There are so many special moments and it's hard to pick one but spending the morning getting ready with my bridesmaids and my mum was such fun. The drive to the church with my dad, both feeling nervous and excited was also very special. I loved seeing Christian when I walked in and as soon as we saw each other we started to relax.
The wave of happiness when we were announced as husband and wife was overwhelming. Later on, the speeches were all amazing, especially the best men, they had us all in stitches. Dancing the night away was also brilliant, we just had so much fun, surrounded by all our favourite people."
Words of Wedded Wisdom
"Soak it all up. It is the most amazing day, and you feel like you are floating on a cloud. We made sure we spent some time just the two of us, to just stop and be together and take it all in. After the wedding, I wrote a diary of the day. I wanted to remember every minute and every feeling. I love being able to read this back. 
The week leading up to the wedding was incredibly stressful. My Grandad passed away five days before our wedding, which was so sad but it really put things in perspective. We had terrible weather which caused a two day delay in the tipis going up and my military style itinerary went completely out the window."
"In normal circumstances, I would have had a meltdown, but at that point, I managed to let go a bit, and realise that all that really mattered was that me and Christian would be married. We loved every moment of our day, and of course there were things that didn't go to plan, but it just didn't matter.
Delegate! I am a bit of a control freak, and had planned on doing everything myself. But in the end, due to the weather and circumstances, I had to accept help from anyone who was offering. And it all worked out just perfectly.
The only regret I have is that we didn't get more group family pictures with our extended families. I would definitely recommend allowing enough time for these pictures, your families will really appreciate it."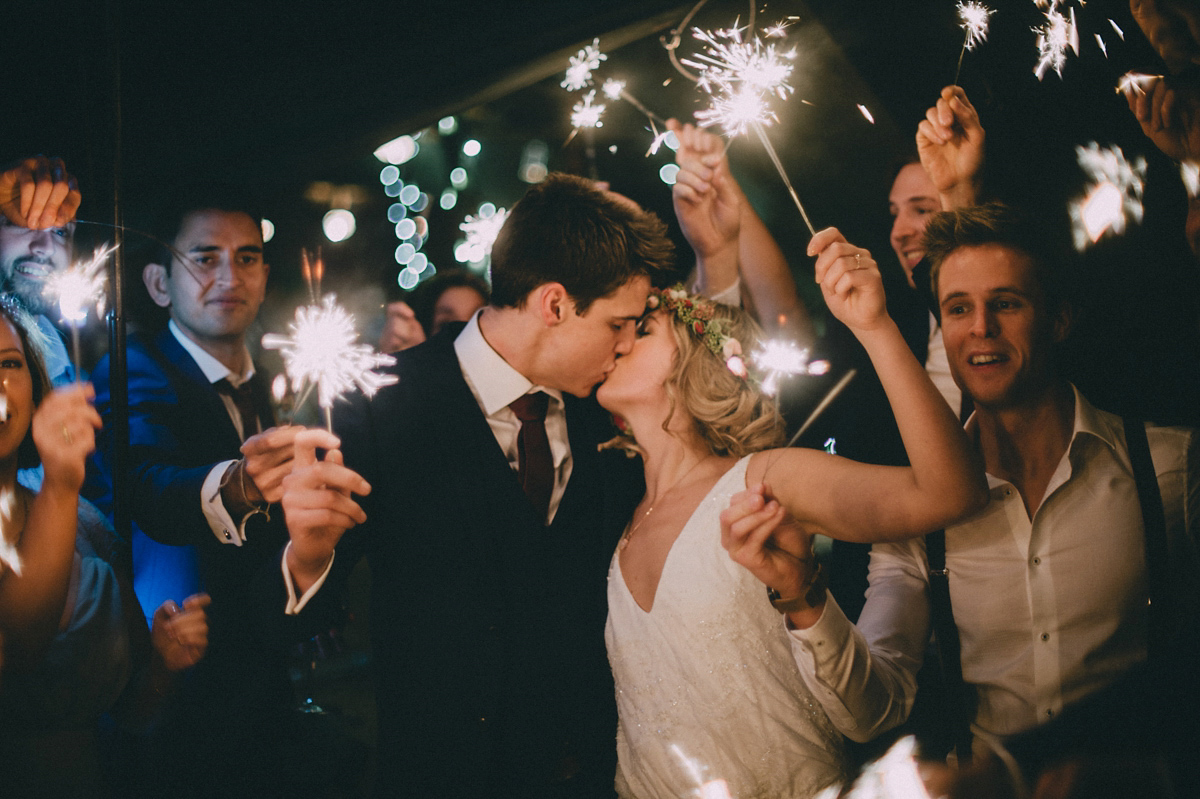 On that last piece of advice, you *must* read this message from our founder Annabel about the wedding photographs that really matter – it's such an important reminder about taking time on your wedding day to capture those photographs that will become incredibly important to you over time, like this one.
Huge thanks to Lucy and Christian, doesn't their wedding just look like everyone is having the time of their lives? James of Flawless Photography has captured the day beautifully. I hope you also got a chance to check out the beautiful film by Little Book for Brides member Silver Sixpence Films at the top of the page.
Love Caoimhe xx