I'm so thrilled this morning to be able to share these images with you, they are the designs from the absolutely sublime new collection from one of my very favourite British bridal fashion designers, Kate Halfpenny of Halfpenny London. Now, if you know anything at all about me and Love My Dress, you'll know I'm a super fan of this beautiful brand of bridal fashion.
Kate is quite an exceptional individual, an incredibly talented stylist, a personality larger than life and a natural born talent for creating the most made-you-look style gowns that are pouring with modern bridal elegance. I simply adore Halfpenny London and could rave about Kate and her talents all day long. Today though, I'm going to let you pour through these images from Kate's new 'Wild Love' collection at your own leisure.
The collection features incredible new graphic shapes as well as Kate's signature intricate attention to detail of fine embroidery and beading. But I'm most excited about the addition of capes this season – wool, lace, embroidered, this collection has them all, and they are exquisite. So please, Pinterest away to your hearts content ladies…
Wool cape from the Wild Love Collection by Halfpenny London
Halfpenny London's Spring/Summer '17 collection titled 'Wild Love', tells the story of wild romance and the summer of love. Weaving Brit cool with luxe sensibility, Kate has created a breathtaking collection of stunning dresses and interchangeable separates in her signature style that we just utterly love.
This whole collection is Kate's strongest yet – it makes a bold, beautiful new style statement whilst remaining true to her signature of modern, bridal elegance.
The Esme dress and cape, above
There are no photos with those IDs or post 681558 does not have any attached images!
The Wild Love collection is composed of specially designed beading and embroidery, teamed with exquisite French lace, liquid silks, crepe and sumptuous flocked laces.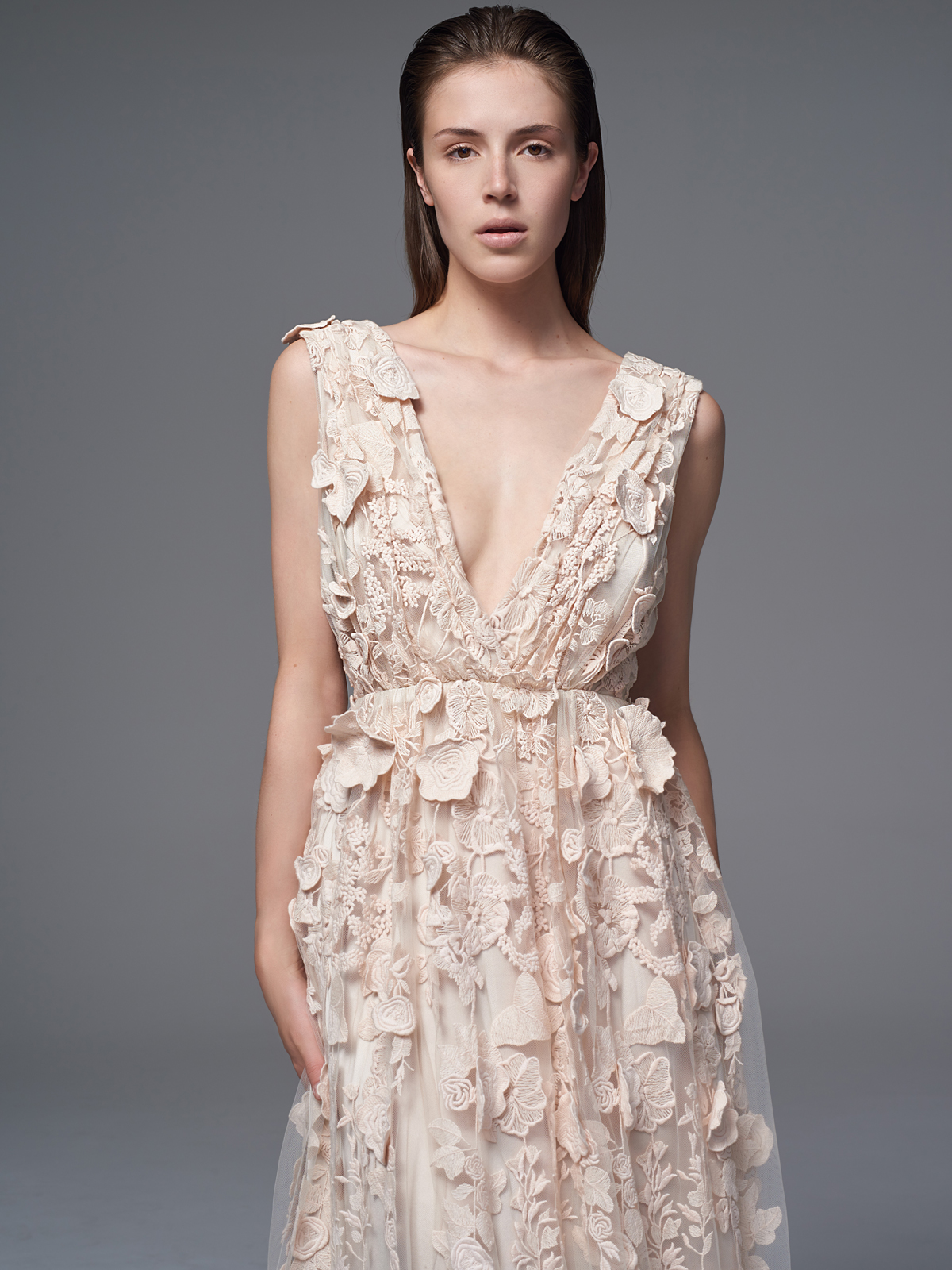 There are no photos with those IDs or post 681558 does not have any attached images!
The new pieces draw inspiration from a wild English rose garden in the intricate detail of the flowers, and the layers of delicate fragrant petals that evoke memories of summer; the contradiction lies in the graphic shapes of oblongs and circles for the expertly tailored pieces.
There are no photos with those IDs or post 681558 does not have any attached images!
Kate's strong attention to detail is showcased within her new collection of stunning beading and hand embroidery, magical florals that come to life through three-dimensional textures. As always, Kate's obsession with fabrics shines through, a graduate of London's Central St. Martins textiles Masters it is hardly surprising she designs luxury fabrics for each new season.
There are no photos with those IDs or post 681558 does not have any attached images!
Key statement pieces elevate the classic Halfpenny London collection. The voluminous 'Bow Jacket' blurs the boundaries between bridal and fashion, while the 'Cheryl' dress features a slinky bias cut with ties to wrap across the back, chic and simple.
This season also features new editions to Halfpenny London classics, the 'Esme' dress now made in a graphic Mikado and Kate's signature 'Iris' dress in a fine French lever lace with triple floral borders and a flocked spot bodice.
Kate's creativity and intuition when it comes to understanding the modern bride truly shines in this collection with luxe fashion-driven pieces you will want to wear again.
Have you spotted a fave?
The new Wild Love gowns are now available in the Halfpenny London flagship store and Halfpenny London stockists. You'll find al the details you need to enquire about one of these gowns on the Halfpenny London website.
Be sure to also follow @halfpennylondon on Instagram.
Have a gorgeous Saturday morning all – we'll be back in the afternoon with a wedding for you to enjoy.
Love Annabel x