Welcome to Saturday evening lovely ones! I am completely thrilled and honoured to be sharing this gorgeous bride and groom's very special day. David, an accounts executive, married Rebecca, a director, on 20th February 2016 in Milton, NSW, Australia – a beautiful little town on the South Coast that just so happens to be a place I used to visit on family holidays many moons ago. It really is such a small world! Their Summer celebration was captured by Sydney-based Mr Edwards Photography.
Rebecca and David held their ceremony and reception at The Old Church at Milton – a spectacularly beautiful heritage-listed property, which just happens to be owned by Rebecca's parents! They planned their secret wedding in just four short weeks and were keen for a relaxed vibe.
"We wanted a fun, romantic and relaxed day. David and I planned our entire wedding in four weeks and kept it a secret – we decided to surprise all of our friends and extended family after the event."
Photography by Mr Edwards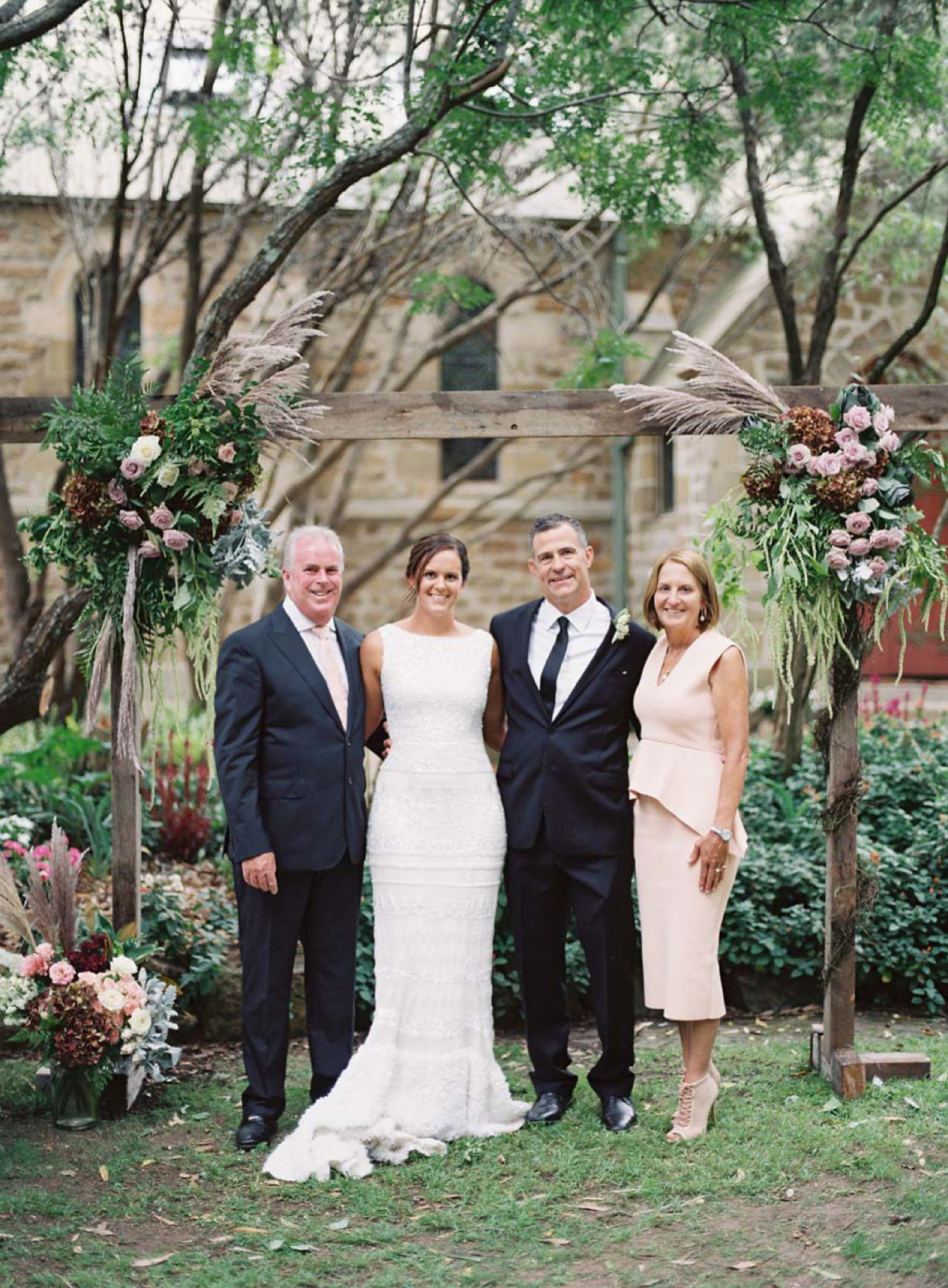 Rebecca had only one day (cue stress!) to find her gown and the utterly lovely ladies at the Karen Willis Holmes store in Paddington, Sydney helped Rebecca source a real beauty.
"I had only allowed myself one day for wedding dress shopping and made the rookie mistake of not making any appointments. By chance, I walked into Karen Willis Holmes in Paddington and when we explained that I had made the rookie mistake of not making any appointments and only had four weeks until the big day, they were so beautiful and accommodating."
"The 'Josie' dress was the last dress I tried on and straight away I knew it was 'the one'. I loved absolutely everything about it – the way it hugged my body in the right places, the way it fell to the floor, the back, the lace, the sequins."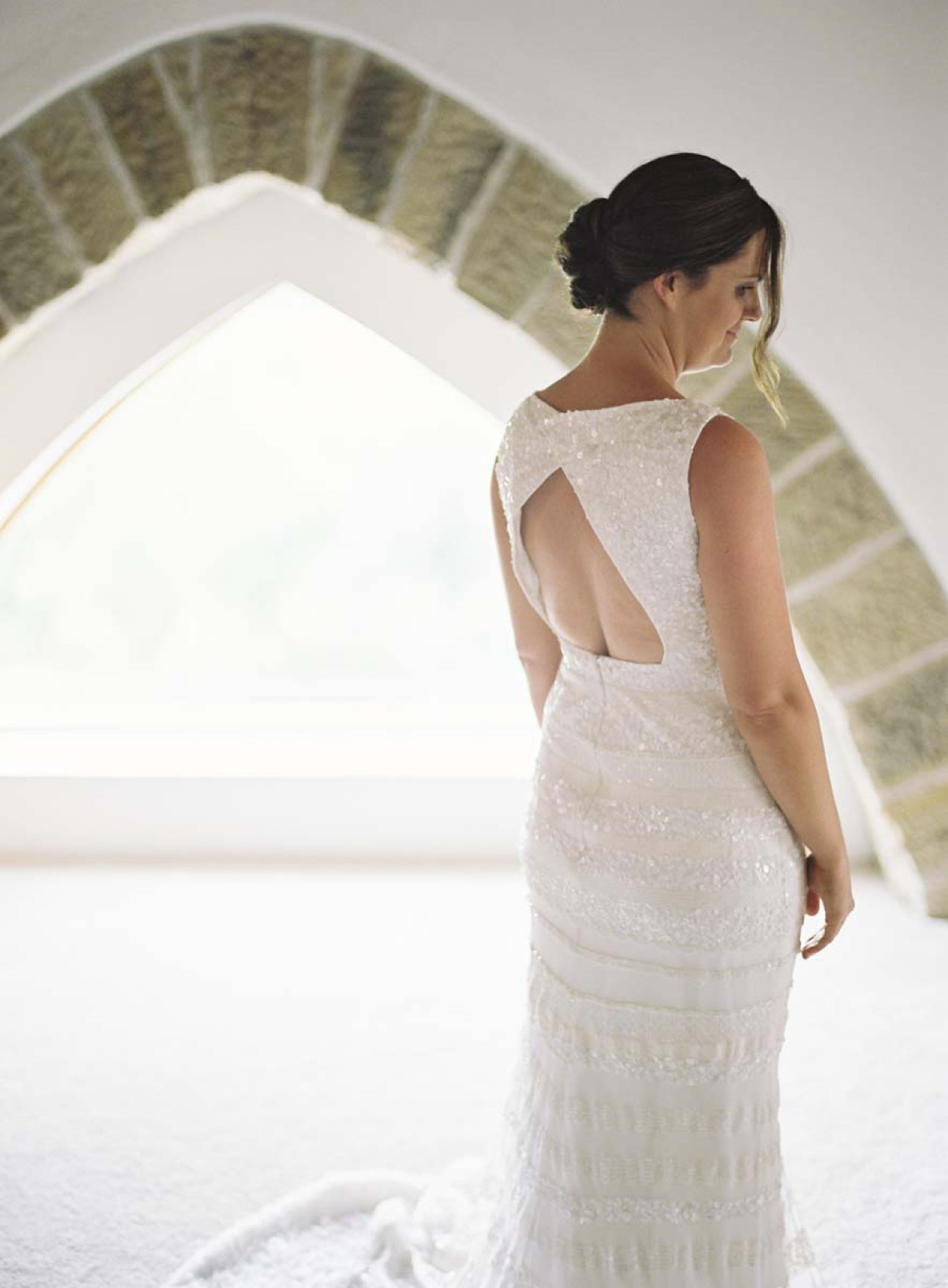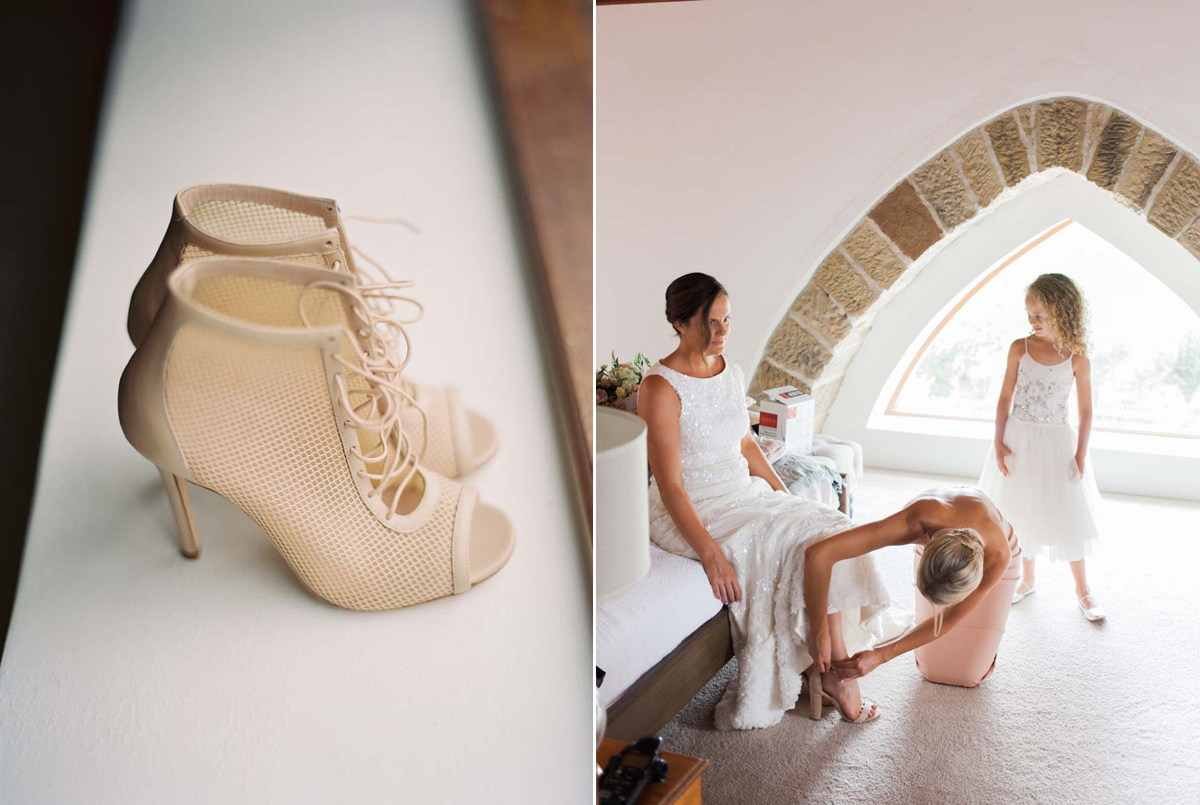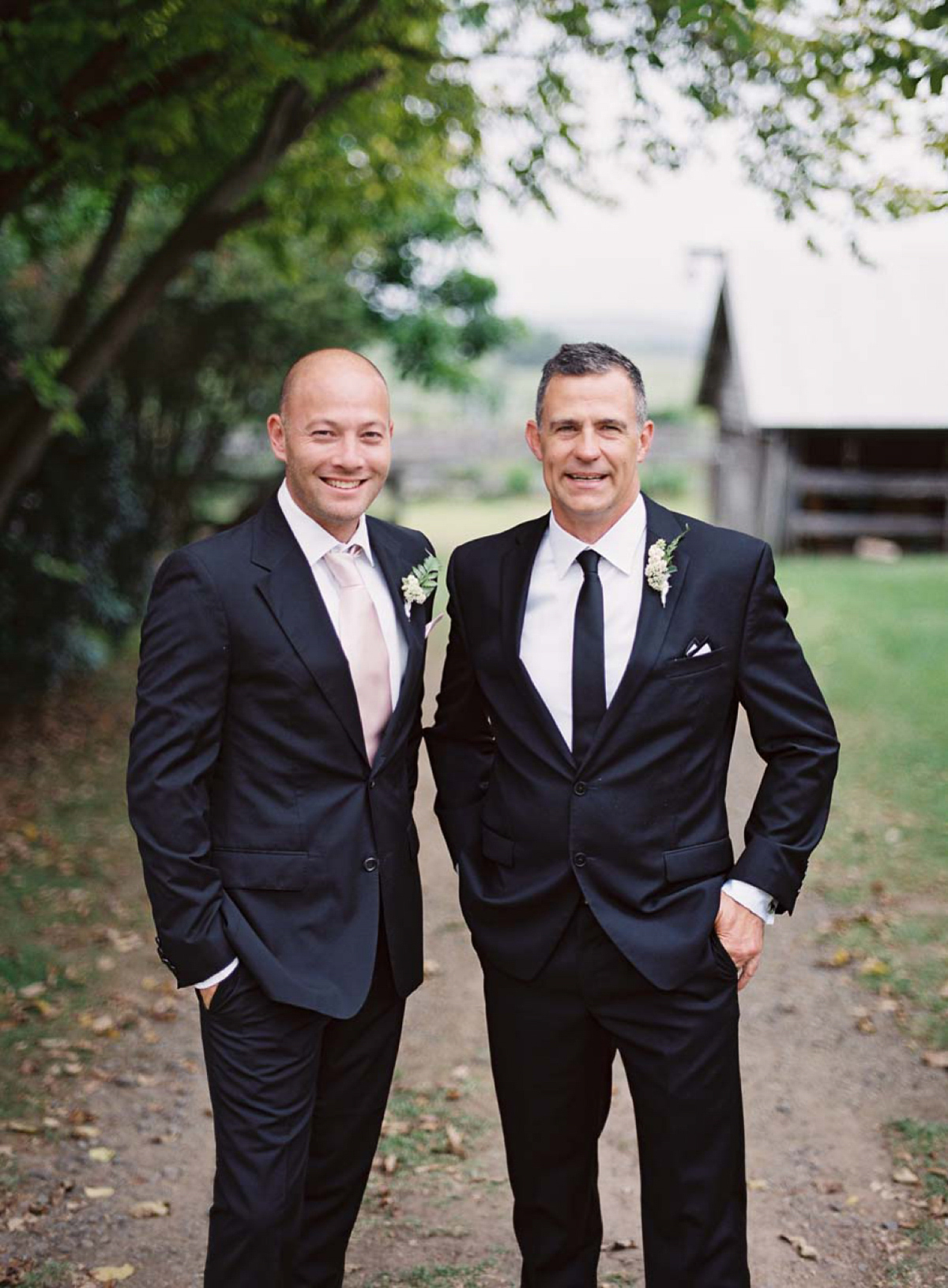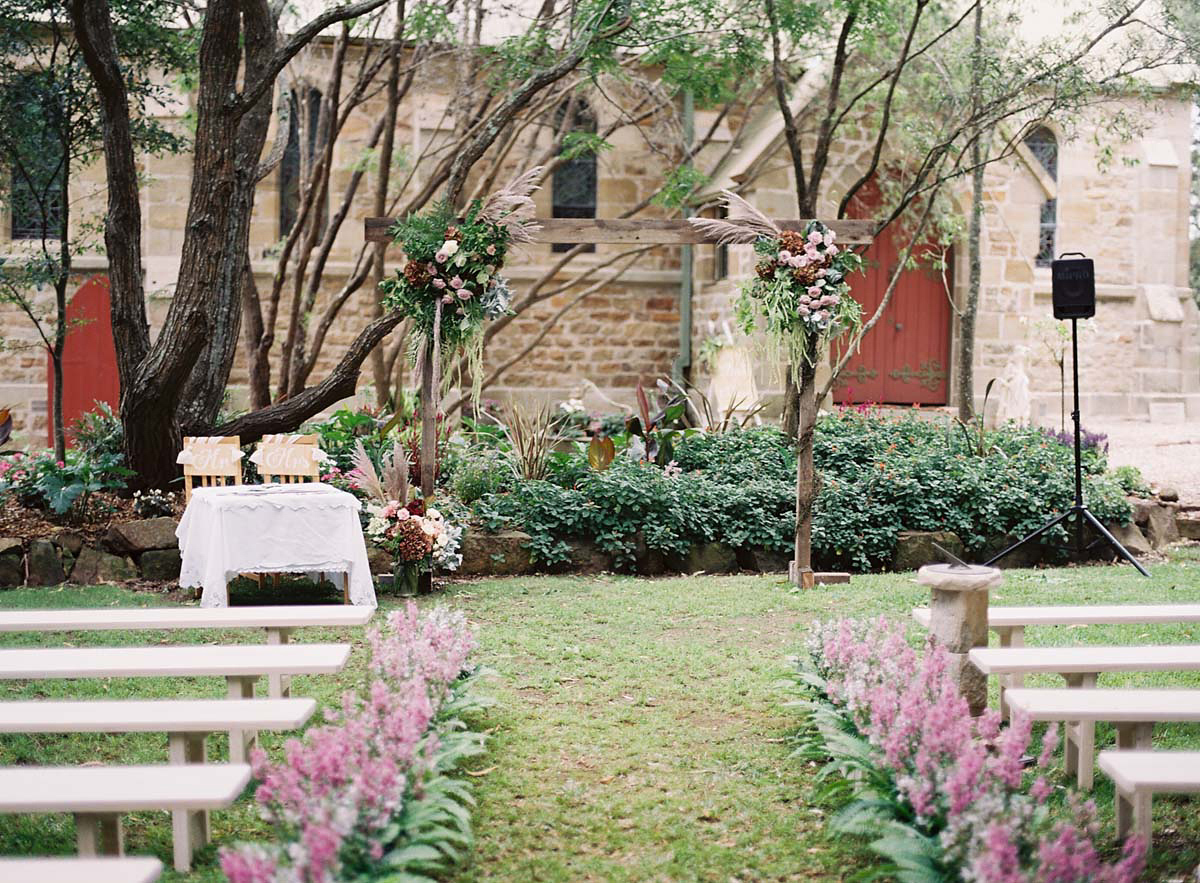 Hair and makeup was by The Beachcomber in Ulladulla (I can confirm this place name is correct – we do have quite funny names for many towns here in Oz!) and Rebecca donned a pair of Tony Bianco heels, 'Si' by Giorgio Armani as her perfume of choice, and a sparkly pair of diamond earrings.
"My Dad brought me a beautiful pair of diamond earrings which he gave me on the day as my wedding present."
The adorable little helpers wore sequinned pretty frocks from Tutu Du Monde and donned flower crowns by florist Willow & Fleur in Mollymook. Don't they look just like fairies emerging from the woodland? The florist also created the bouquets for all the ladies, the buttonholes for the men, and all of the flowers dotted around the venue – just breathtaking.
Australian designer, Scanlan & Theodore, created the beautiful bridesmaid's blush-coloured dresses in a halterneck style.
The two maids wore a gorgeous pair of booties, also from Scanlan & Theodore, and their earrings were via Mimco; a jewellery, bag and accessory company that I have been banned from by my husband (I'm a sucker for sparkly things and bags).
"We met when we both worked at Moore Park (an entertainment precinct in Sydney). I was studying Journalism and David had just come back from living overseas. We all went out for farewell drinks for one of my colleagues and the rest is history. After fourteen years together, Dave proposed over dinner one night."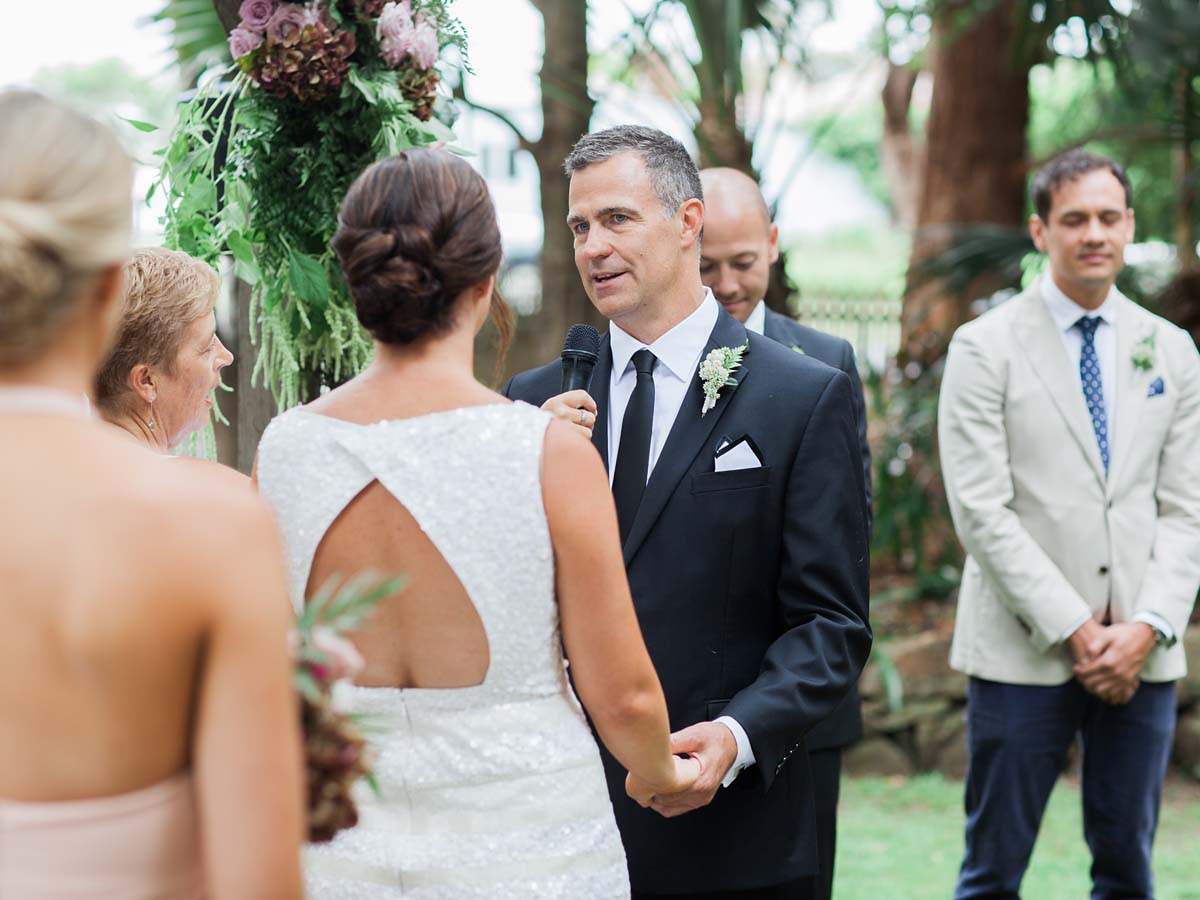 Nicholas Haywood provided the couple's rings and the beaming bride was walked down the aisle for her outdoor ceremony by her dad to the upbeat 'Here Comes the Sun' by The Beatles. I am in awe of the wooden arch decorated with bunches of blooms and the incredible attention to detail of all the elements of their outdoor ceremony.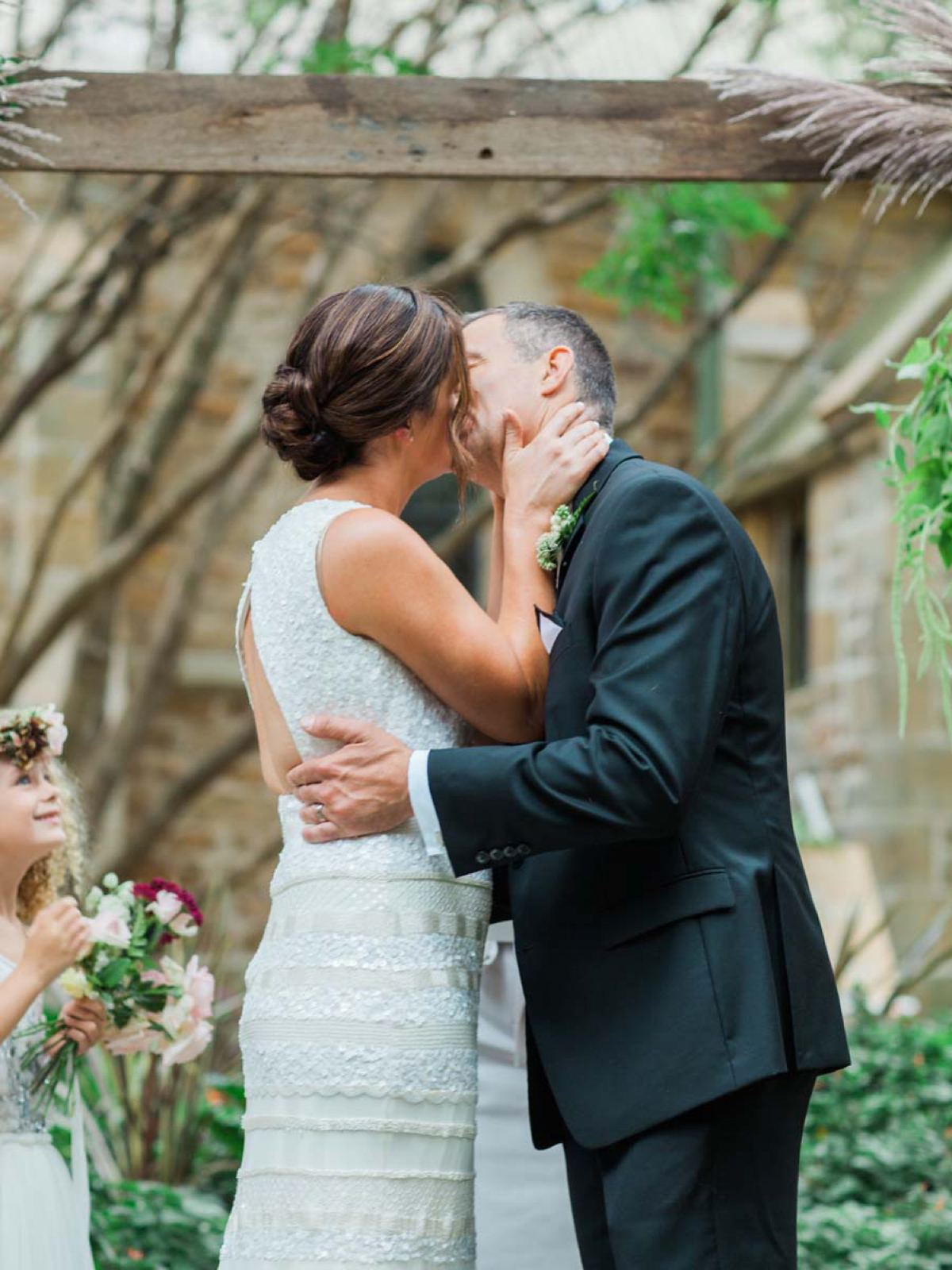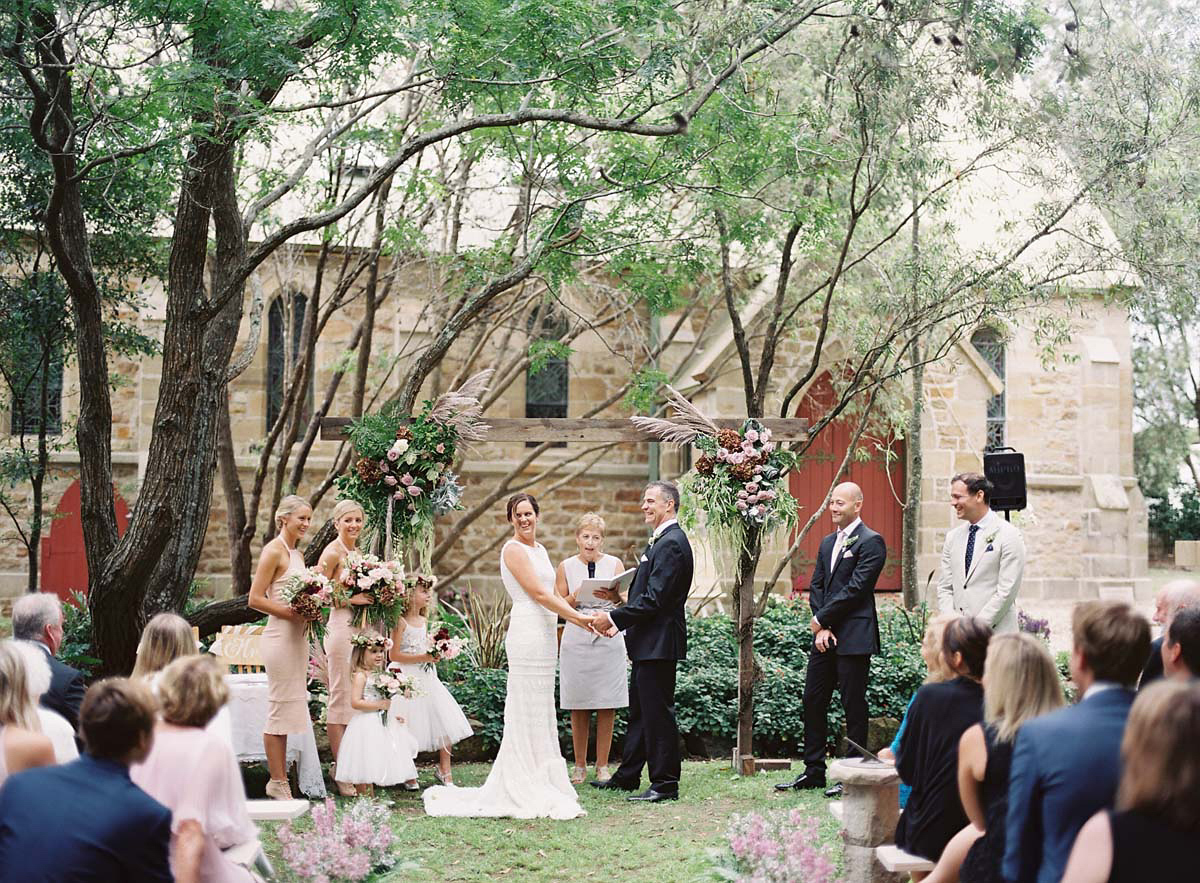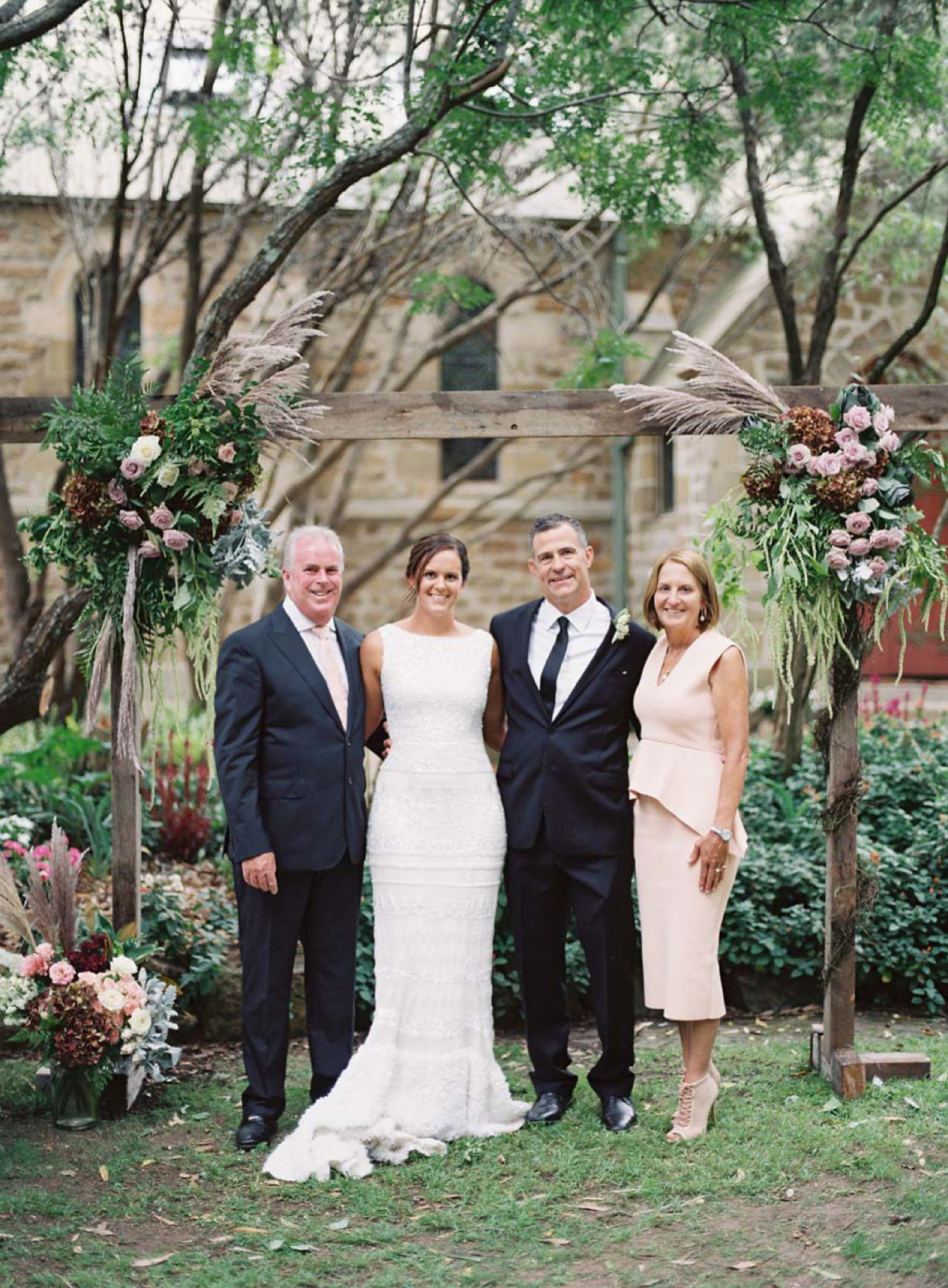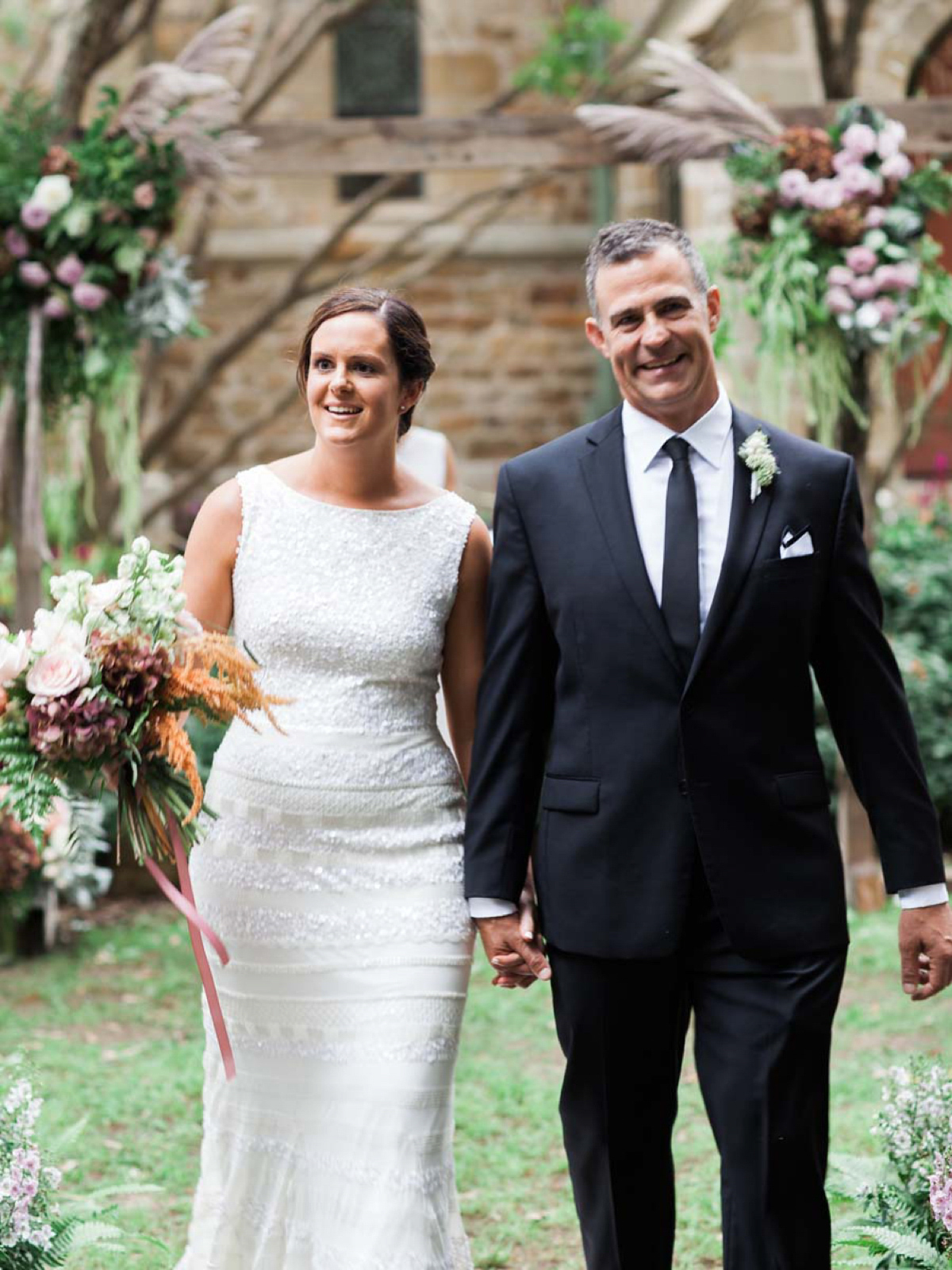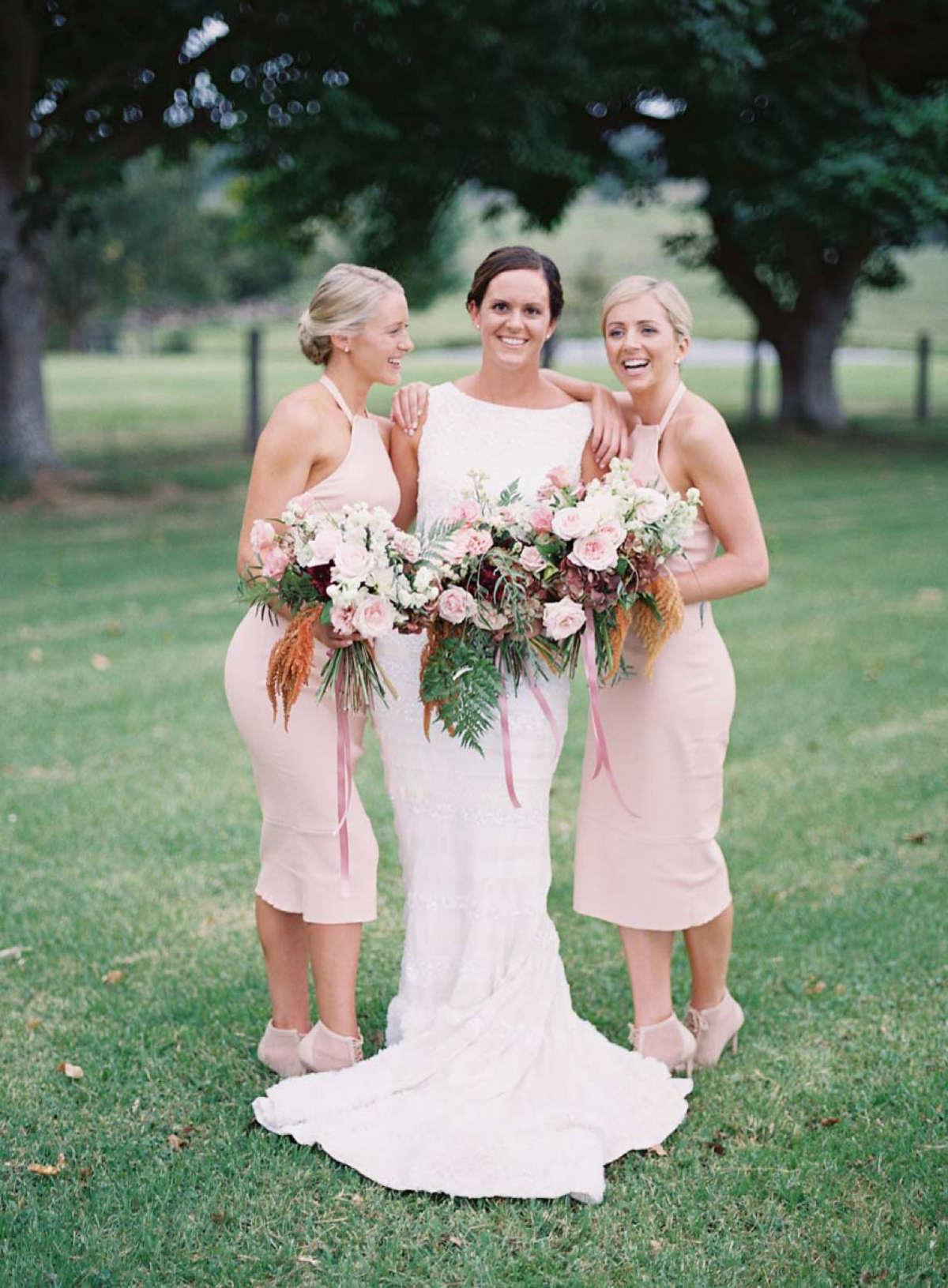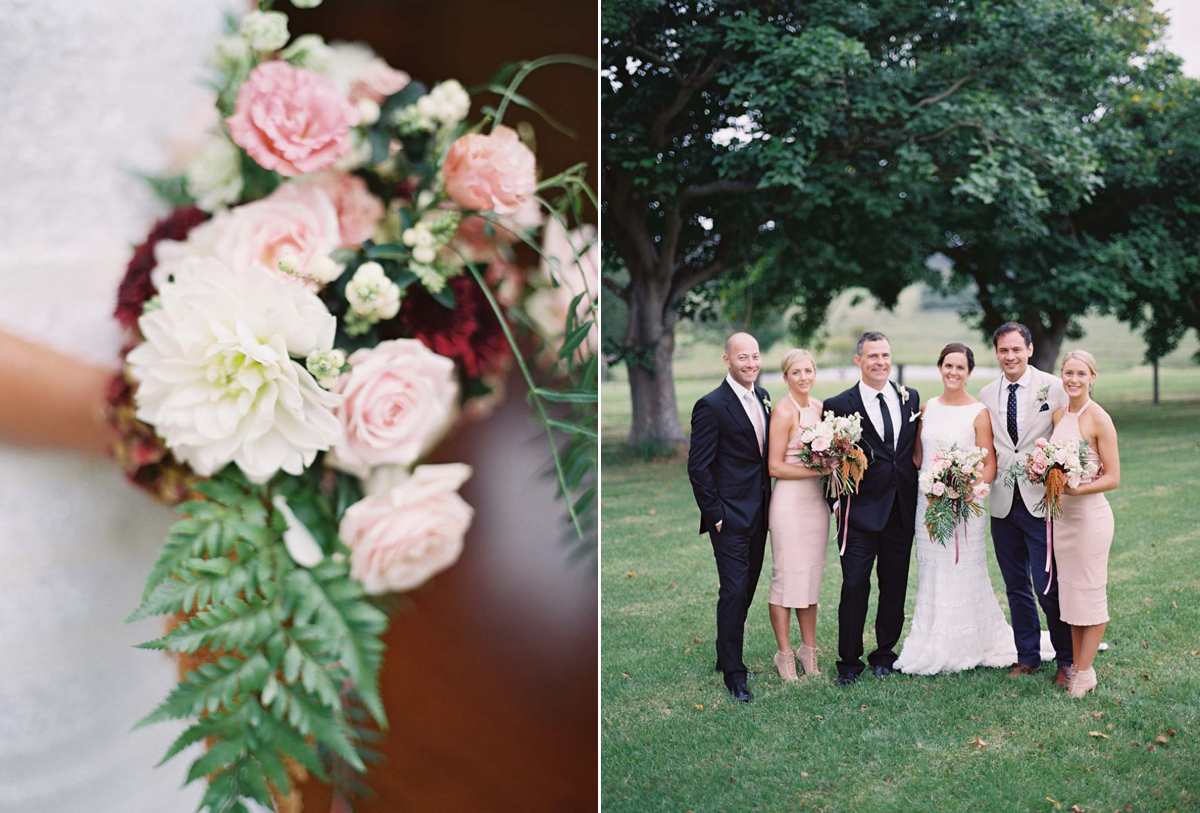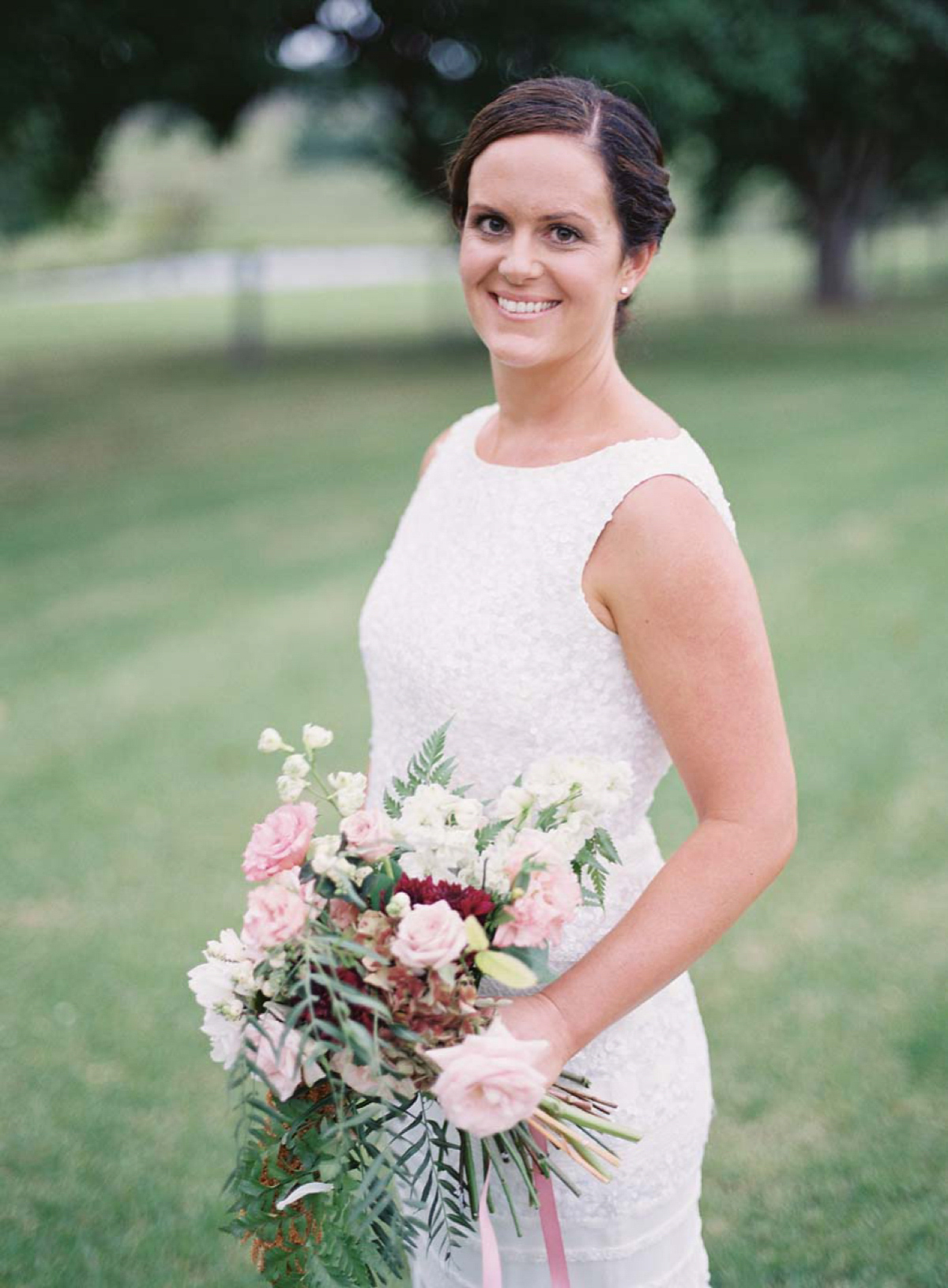 With such a short time to plan their nuptials, Rebecca and David enlisted the expert help of stylist Kim-Ashlee Winter.
"We didn't have any invitations, as we told family via text to keep the day free. Menus and beautiful personalised signs were made by Kim-Ashlee; the signage was placed around the property, as well as cushions, loads of flowers, and candles."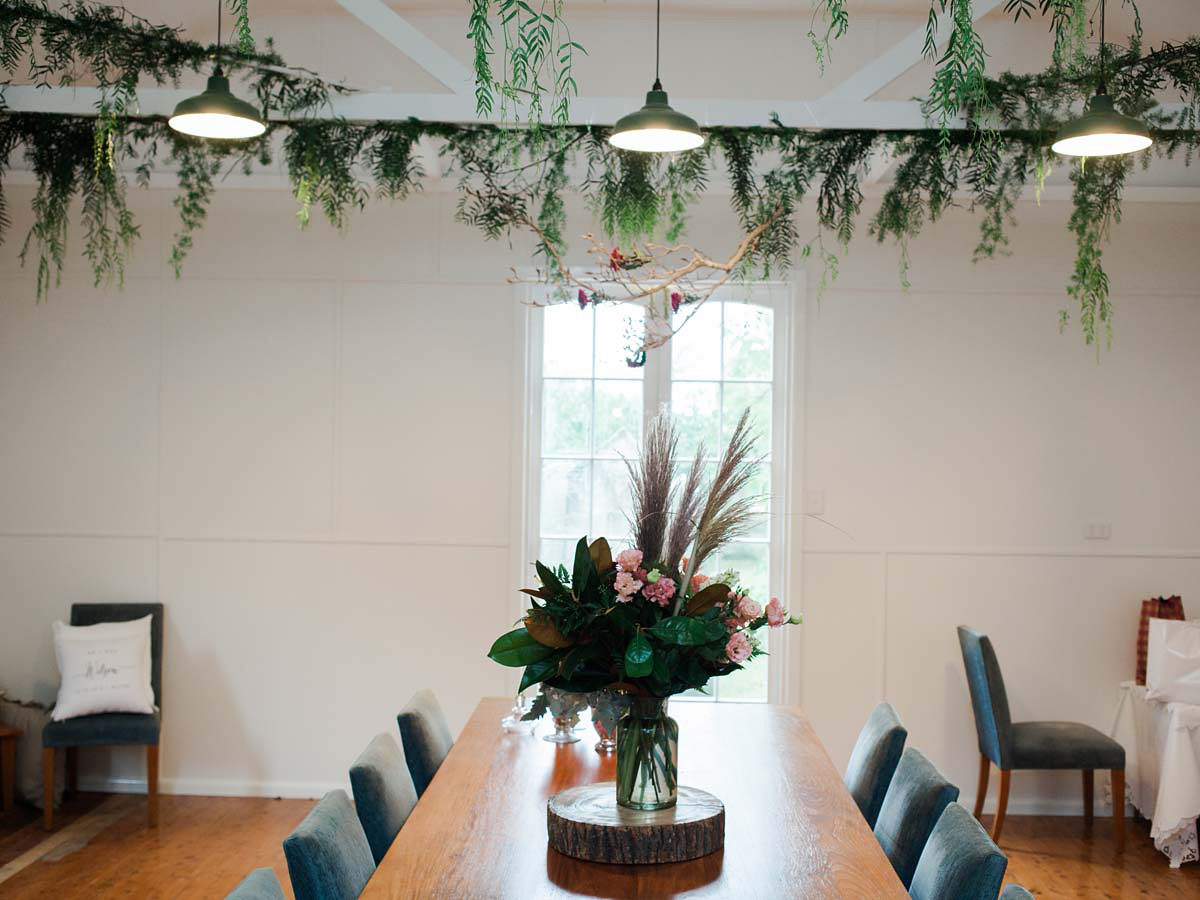 Another little random fact is that I've been lucky enough to sample the couple's delicious catering first hand; this incredible wholefoods cafe is a must-see!
"For the cuisine, we had shared platters of beautiful dishes from the girls at the Milk Haus in Milton, who were able to use fresh produce from my parents' farm – and a three-tier cheese wheel from Ocello Cheeses.
All of our guests came back the following morning for brunch made with produce from the farm and it was our way to say thank you to everyone for celebrating with us."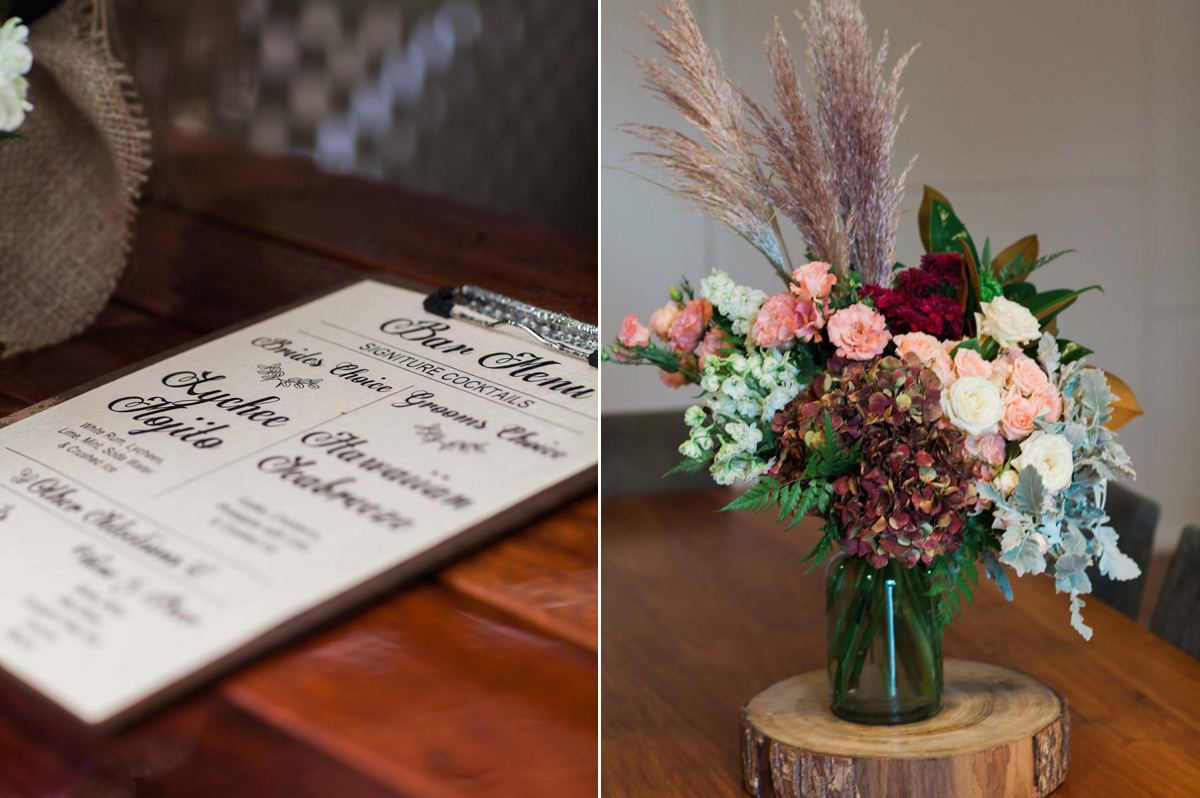 Are you thinking of an outdoor element to your day? As seen in these images, the weather is not always perfect Down Under, as I do spy a few umbrellas during speech time, but I'm sure the rain didn't dampen the couple's spirits one little bit.
[ADS -TOP-THREE]
Adding a marquee helps with any wet weather that may occur – and I love the set-up inside of the long tables adorned with table runners and flowers and the addition of lots of festoon lighting to the marquee, which always looks so effective.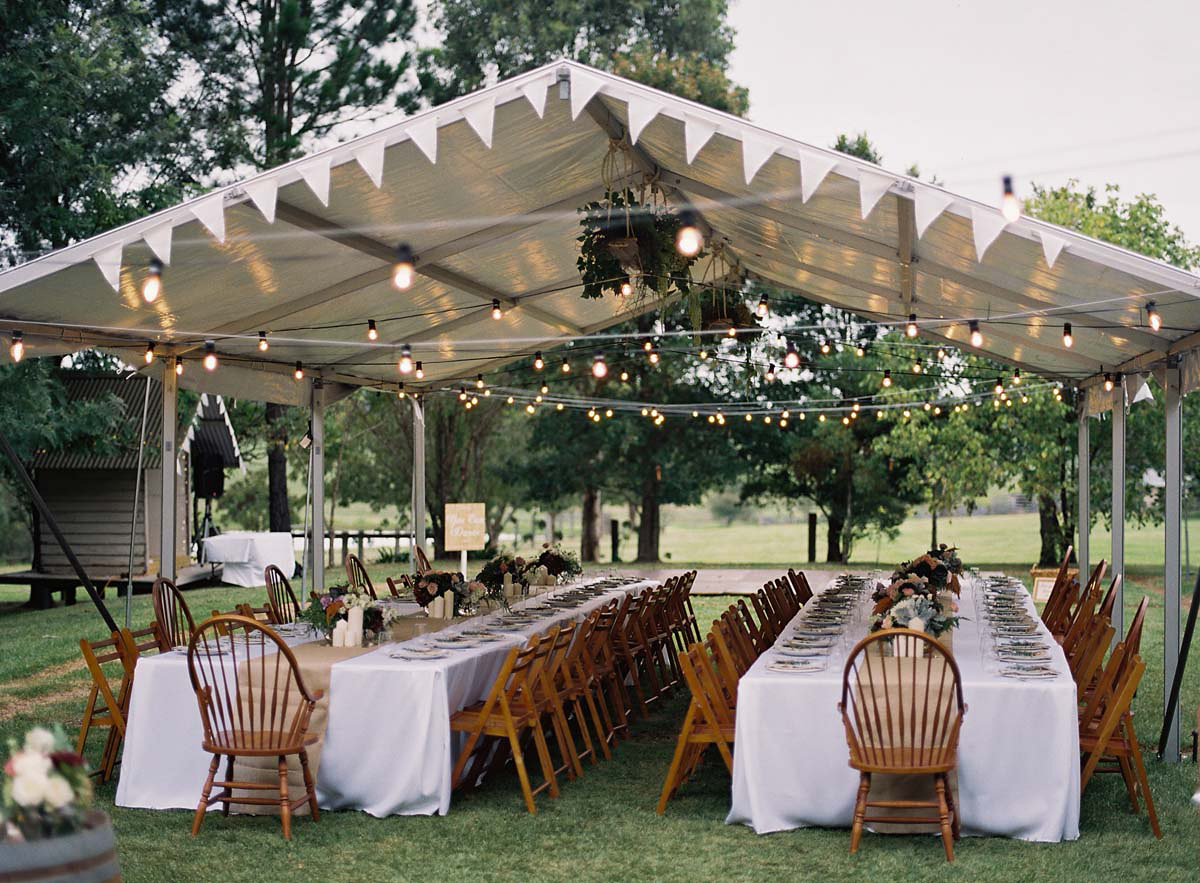 Words of Wedded Wisdom
"Enjoy the process, have fun and remember it's about the two of you."
Rebecca and David – thank you so very much for allowing us a little peek into your utterly delightful day and I feel very blessed (and an incredibly proud Aussie!) to have been the lucky one to share your day with our lovely readers. Thank you also to Mr Edwards Photography for these heartfelt images and capturing the fun and relaxed vibe so beautifully.
If you haven't already discovered divine Karen Willis Holmes designs, now is the time to bookmark this link to view more beautiful gowns we have previously showcased. Happy browsing!
Love Jo -x-