Good afternoon lovely ones – hopefully by now you'll have had time to enjoy this morning's proposal story, and bookmark our latest competition for entering when you have time! Today's real wedding feature oozes the kind of Love My Dress warmth and glamour that I love so much. Bride Natalie and her beau Leon tied the knot on 30th April this year with a ceremony at St Bartholomew's Church in Kirby Muxloe followed by a reception at Kelmarsh Hall, Northamptonshire. Their wedding was a mix of English tradition, colour and country charm. The couple commissioned photographer Mark Tattersall to document their day in images and Natalie wore the most delicious of Naomi Neoh gowns. I hope you love these photographs as much as I do.
"We wanted the day to reflect us as a couple. We chose things that we liked and didn't include anything just for the sake of having it or stick too closely to tradition. Our mutual love of rowing created a subtle theme. If I had to describe the style of the day, I suppose it would be rustic retro elegance. We didn't have a specific colour scheme in mind, but it evolved to peaches, pastel pinks, blues and mauves."
Photography by Mark Tattersall
"Our family friend Becca was so patient with my self-confessed stationery OCD. She created a full suite of stationery including cute luggage tag save the dates, invitations, order of service booklets and thank you cards. All of the graphics are hand drawn and so pretty!"
"I don't tend to wear lots of makeup and wanted a more polished version of myself for the day, rather than being caked. Helena Bailey created exactly what I'd hoped for with smoky eyes and peachy lips. I felt lovely! My maids looked the loveliest I have ever seen them and my beautiful mum looked radiant. Helena is super talented and such a nice person too!"
"Bella aka, Arabella-Mae Kind, created romantic waves and plaits for my girls and I and a smooth and sleek style for my mum. She was so calm and lovely during the (slight!) chaos of getting ready. Bella is a real up and coming hair stylist and has won awards for her work."
"From the moment I met our florist Emily Wisher, I knew that she just 'got it'. I wasn't really specific about the exact flowers I wanted, asking her to create a 'swept from a spring garden' look. The bouquets and arrangements at the venue we exquisite. Emily is a real artist. I had originally asked for peaches, light pinks, lilacs and light blues but at our final meeting, we decided to go more down the peachy route."
" A few days before the wedding Emily rang to say that there were lots of lovely forget me nots and bluebells that looked great and would I like to go back to the original idea. I was happy for her to pick whatever looked the best at the time. There were fluffy tulips, gorgeous squashy peonies, daffodils, ranunculi. We had so many compliments about the flowers!"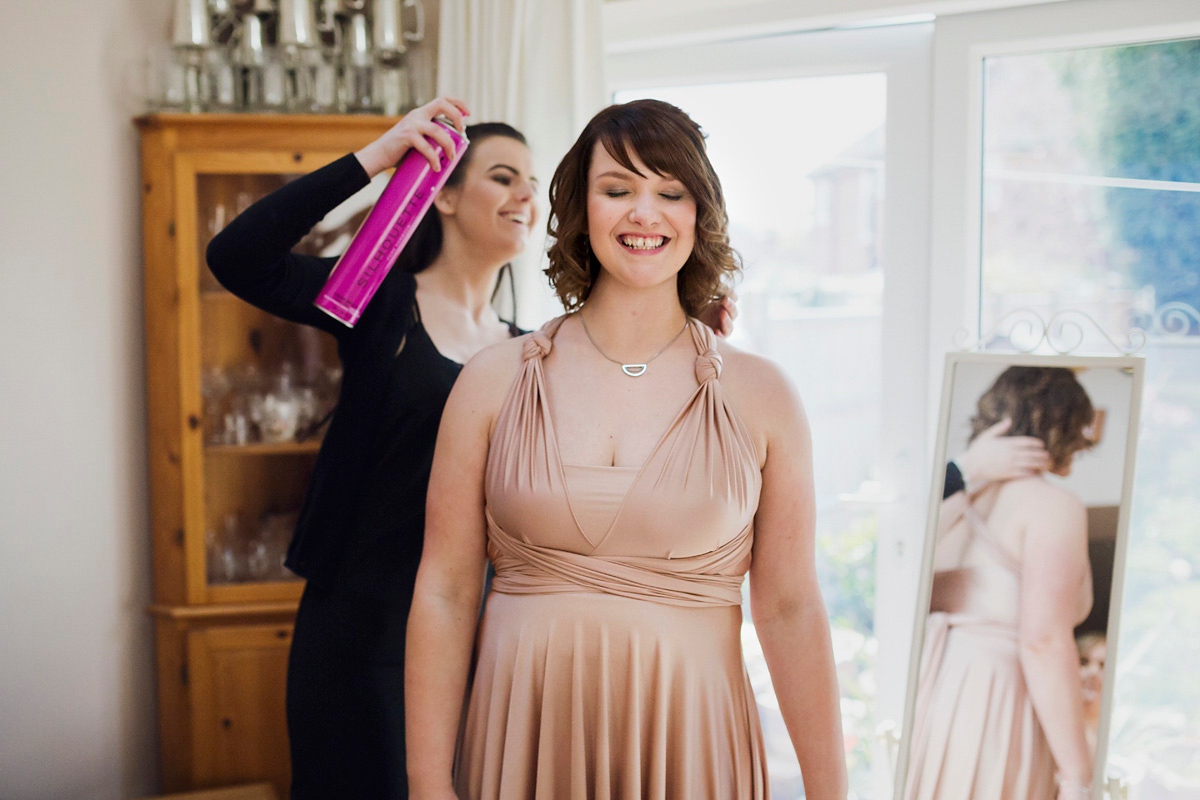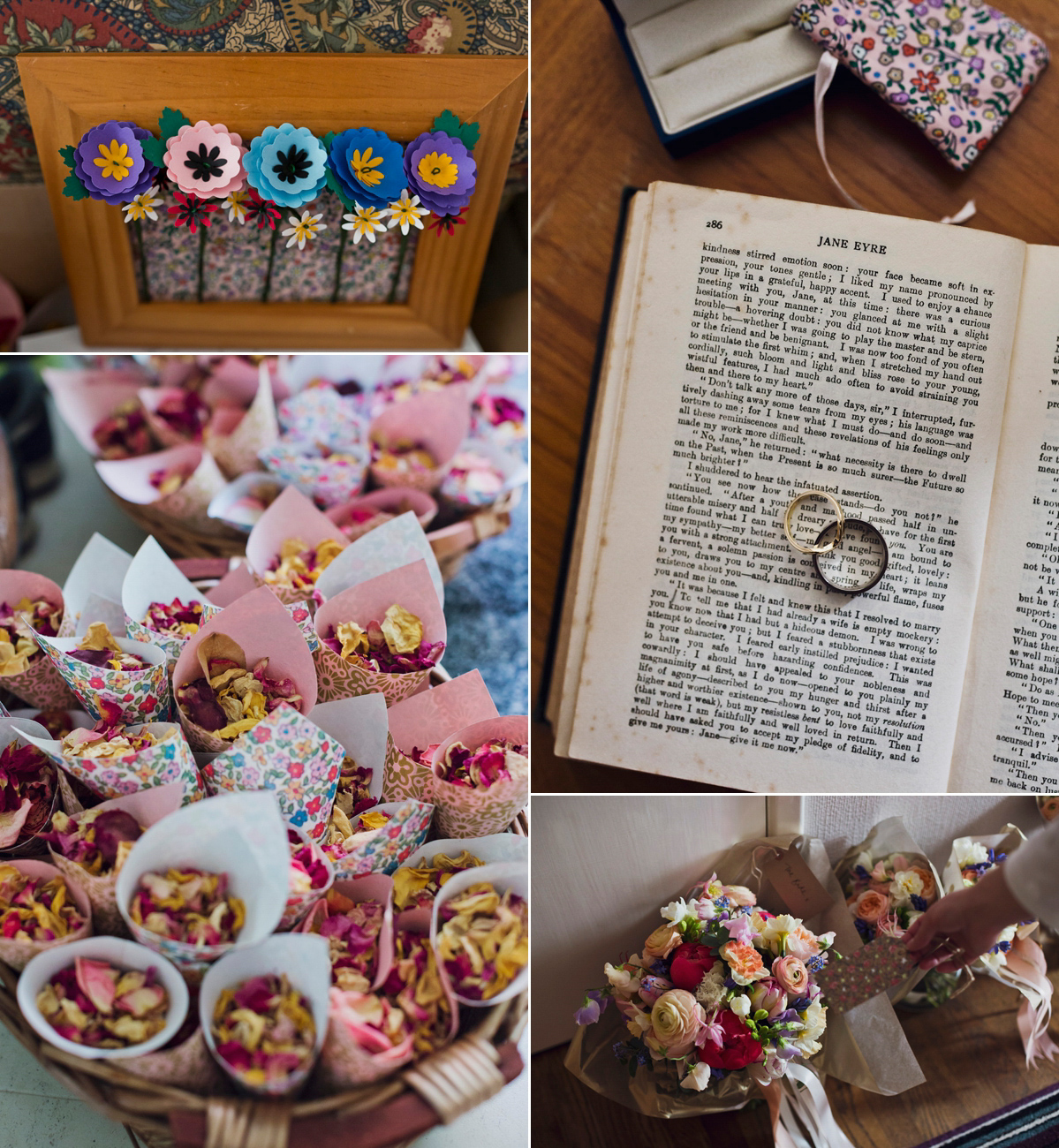 I simply adore Natalie's gown, all that beautiful, soft, romantic silk and lace…
"I am almost 6ft tall and I was a little apprehensive about finding my dress as I was worried that the proportions would be all wrong. Frieda by Naomi Neoh was the first dress I saw when I walked into the shop and I made a beeline towards it!"
"The beautiful understated lace of the long length bodice and swooshy silk of the skirt with cathedral length train was everything I had hoped for and more and the subtle blush pink seemed to complement my skin tone more than harsher white or ivory. I ordered a made to measure size and after a few adjustments after a serious 'shed for the wed' it fitted like a dream."
Natalie completed her ensemble with a light and floaty cathedral length veil that sported a lace scallop edging, by Helen Martin of HM Veils.
"I wore a pair of pearl earrings which were a 21st birthday gift from my godmother. I also wore a pearl necklace that belonged to my grandmother and my diamond and blue topaz engagement ring.  My something borrowed was a pearl ring that belonged to Leon's grandmother. My something new was a blue topaz bracelet that Leon got for me as a wedding gift to match my engagement ring – so pretty!"
Natalie's bridesmaids looked utterly fabulous in their dusky pink twobirds Bridesmaids gowns…
"My bridesmaids wore their own jewellery to reflect their own style. I bought them Links of London bracelets as a thank you gift."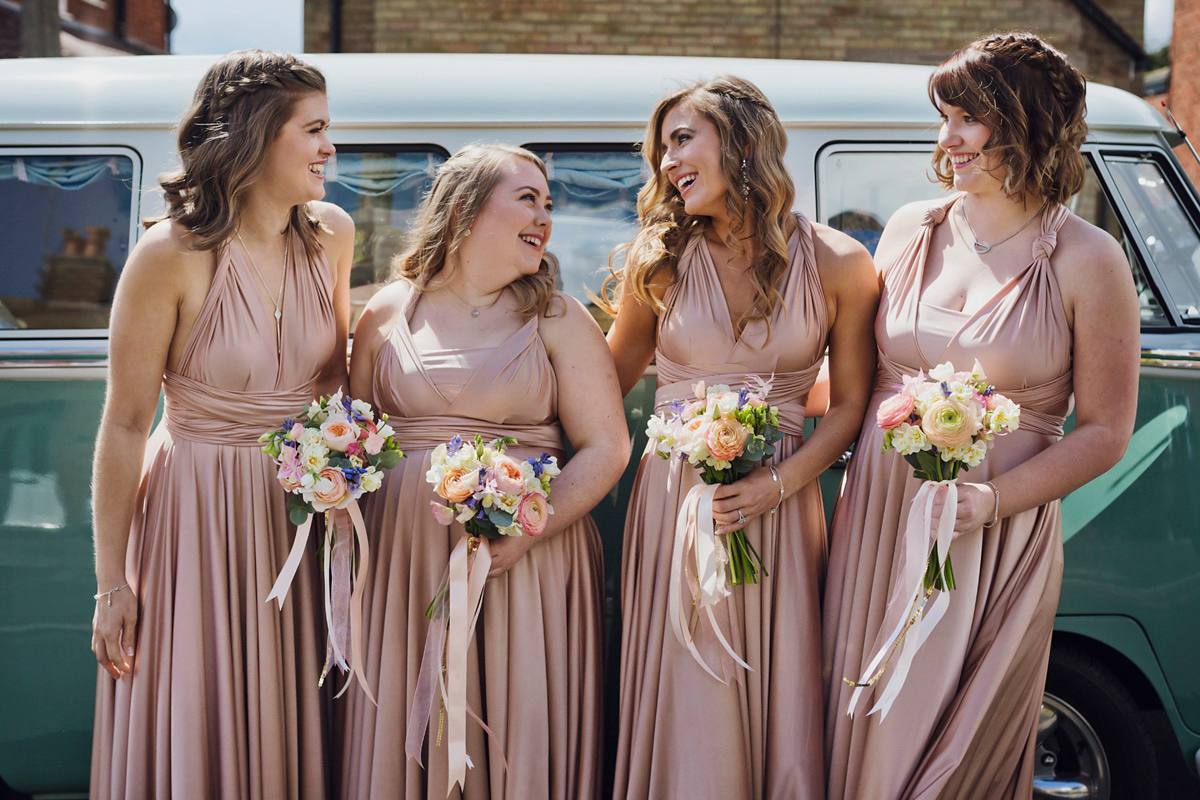 "My perfumem should have been Balenciaga Florabotanica but in my last minute getting ready whirlwind, I forgot to put it on! It was only when I had driven round the corner with my dad in the wedding VW camper that I realised!"
"Leon's three piece tweed suit was by Holland Esquire and purchased from Brocks in Cirencester. We stumbled across it on a day out after looking in several places around the midlands – having only really found more traditional tweeds that were a bit shapeless up until that point. The team at Brocks were fantastic and the suit was perfect. Beautifully made with quirky details like red elbow patches and stitching.
His fabulous tan brogues were from Herring Shoes."
"A family friend and my mum arranged the flowers in church – they did such an amazing job, collecting pretty pressed glass from friends and charity shops."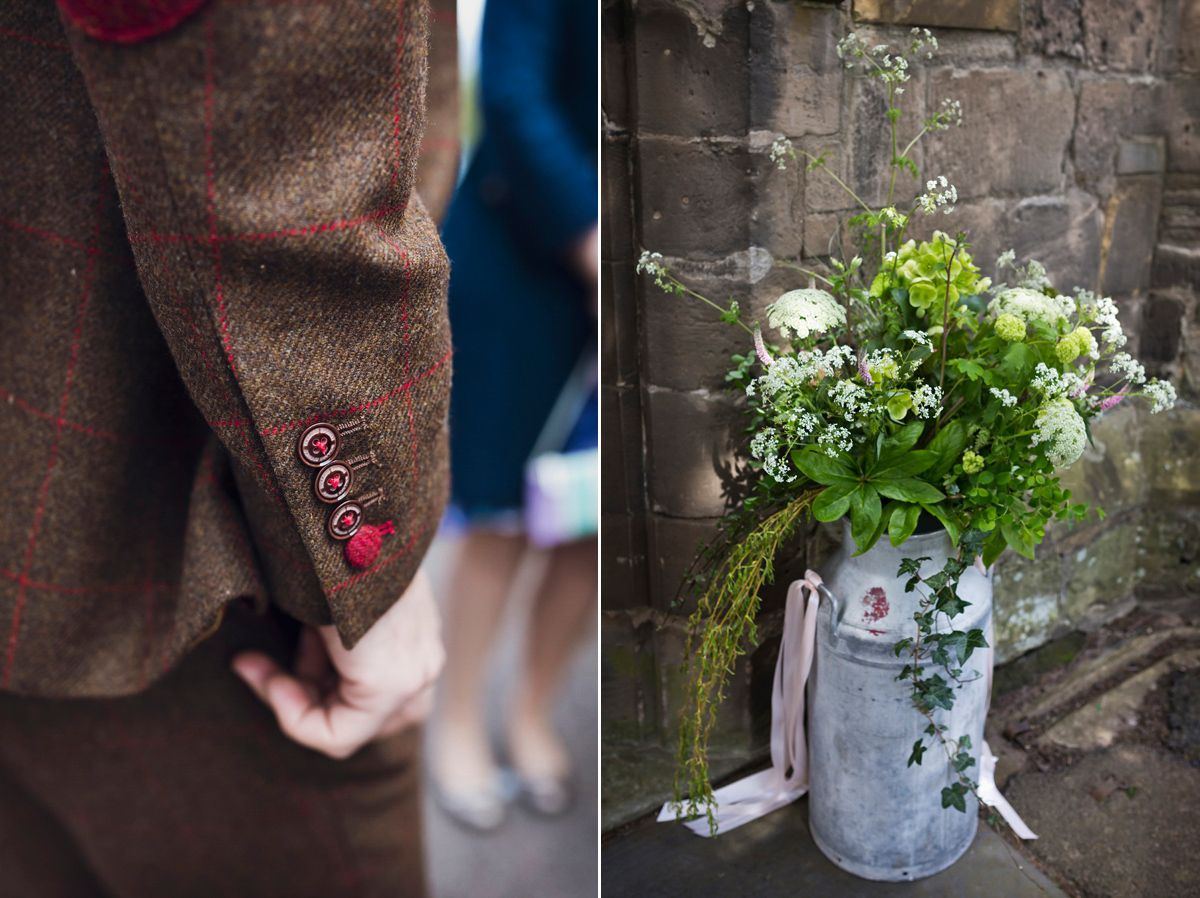 "St Bartholomew's Church is the church that I grew up going to. So many people that have been a part of my Christian life came to share the service which made it so very special."
Leon's groomsmen wore tweed blazers from Slaters and navy chinos from John Lewis. The dads had waistcoats to make them stand out.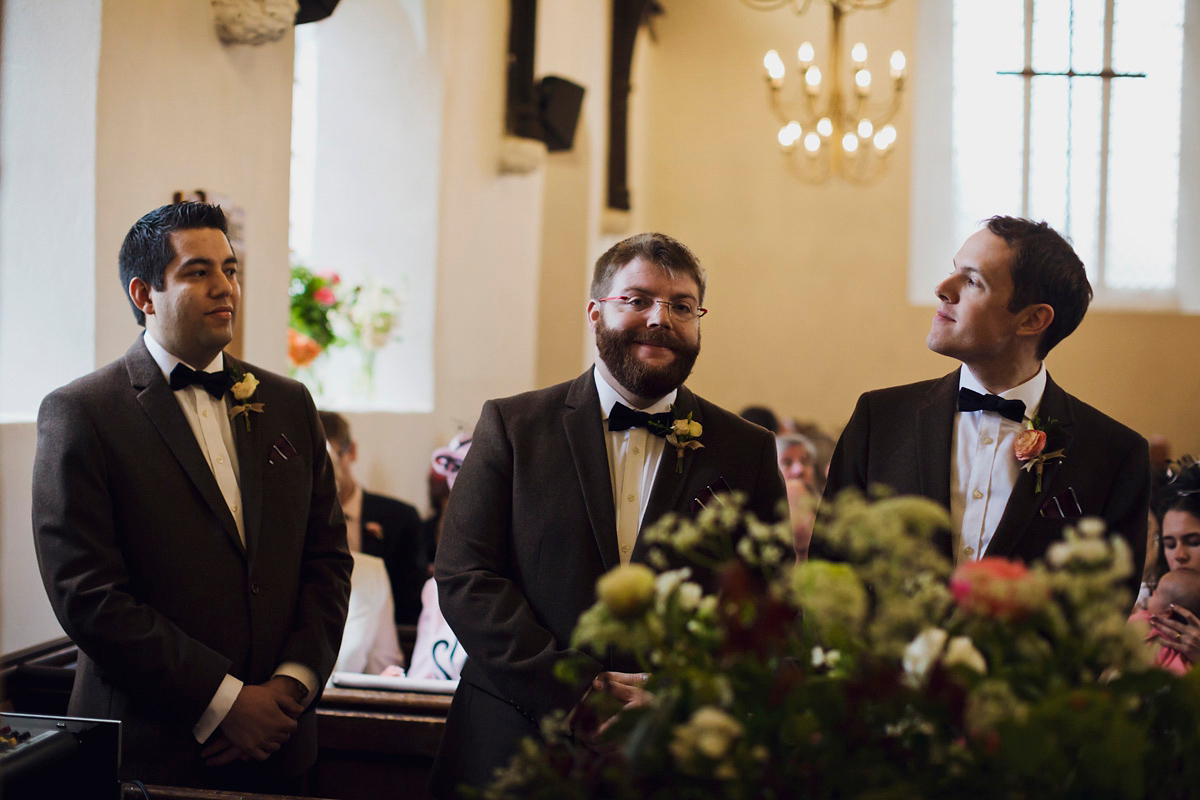 Natalie's father accompanied her down the aisle to the sound of Eva Cassidy's rendition of 'Over the Rainbow'.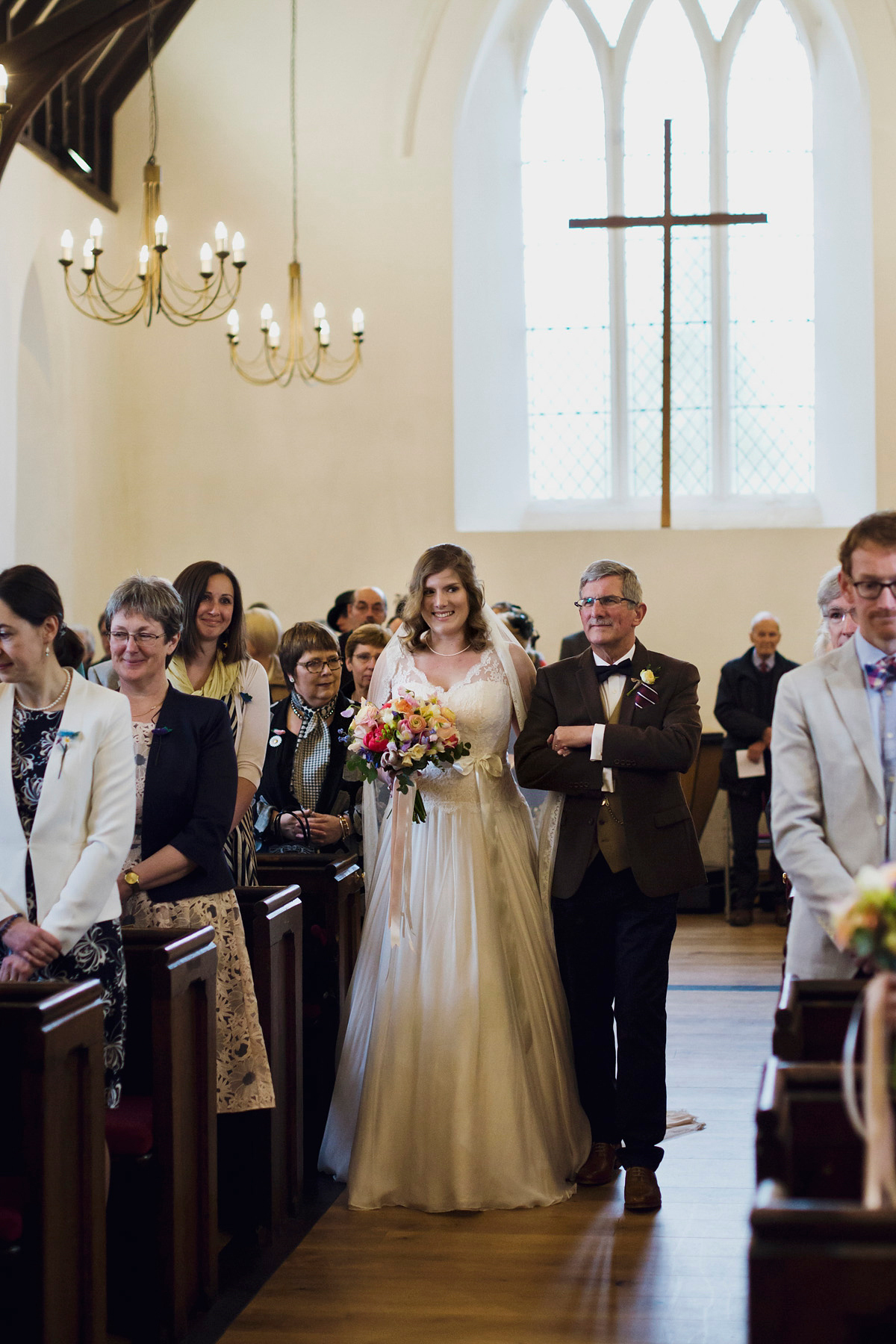 "I didn't think I was nervous until I walked into a packed to bursting church and saw everyone watching me walk down the aisle. It seemed to take ages for Leon to turn around and I kept thinking "turn around, turn around!" When he did, and smiled, the nerves melted away. Saying our vows was the best bit – it was like we were in our own little world!"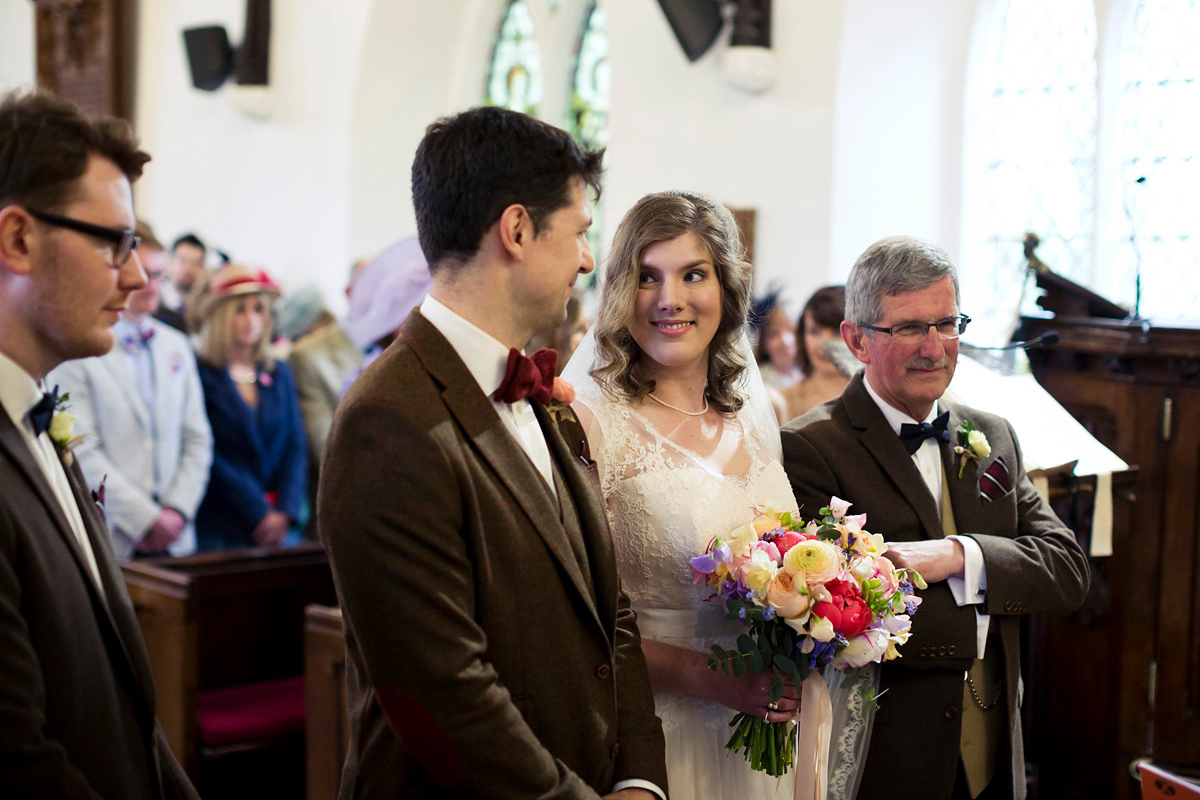 "We had a traditional Church of England marriage service and vows – Leon's three sisters each read a passage during the ceremony. They included 1 Corinthians, Chapter 13 and an extra from Jane Eyre by Charlotte Bronte…"
 Love is patient, love is kind. It does not envy, it does not boast, it is not proud. 5 It does not dishonour others, it is not self-seeking, it is not easily angered, it keeps no record of wrongs. 6 Love does not delight in evil but rejoices with the truth. 7 It always protects, always trusts, always hopes, always perseveres. (Extract from 1 Corinthians, Chapter 13)
I have for the first time found what I can truly love–I have found you. You are my sympathy — my better self — my good angel — I am bound to you with a strong attachment. I think you good, gifted, lovely: a fervent, a solemn passion is conceived in my heart; it leans to you, draws you to my centre and spring of life, wrap my existence about you — and, kindling in pure, powerful flame, fuses you and me in one. (Extract from Jane Eyre by Charlotte Bronte)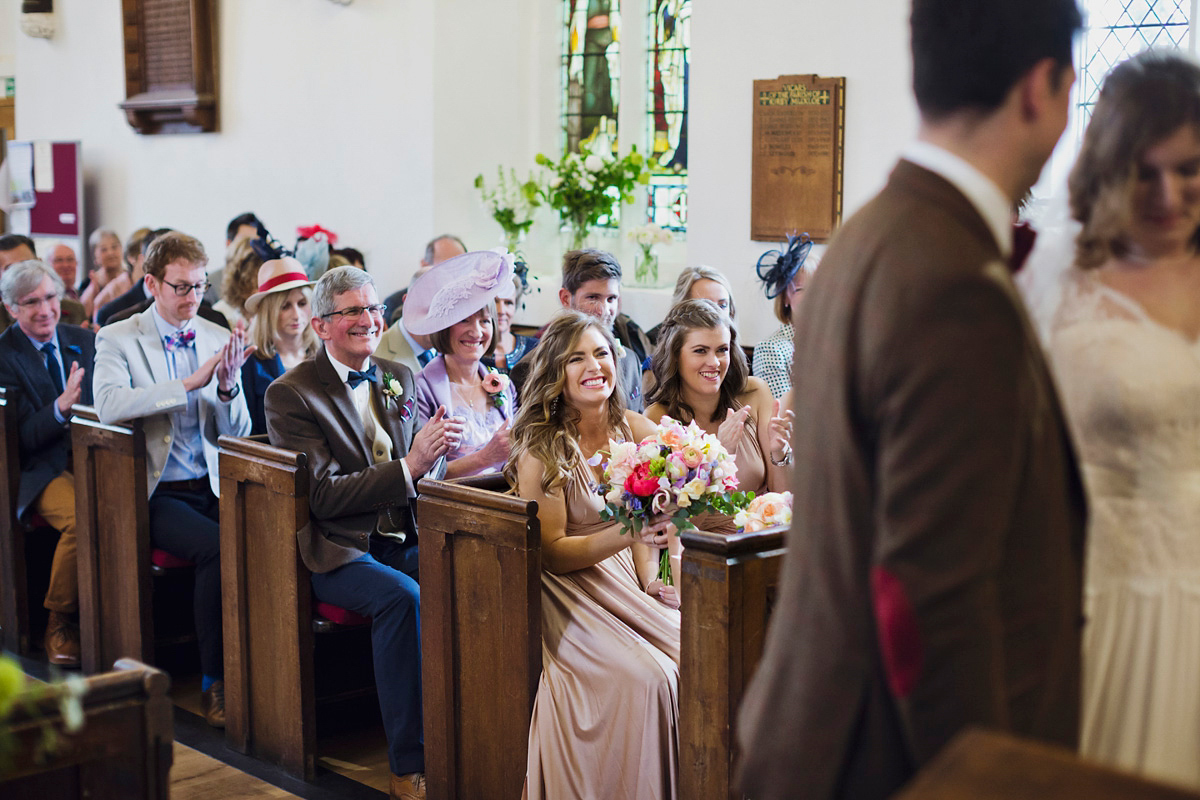 "We also had an extract from Sonnet XVII by Pablo Neruda…"
I love you without knowing how, or when, or from where.
I love you straightforwardly, without complexities or pride;
so I love you because I know no other way
than this: where I does not exist, nor you,
so close that your hand on my chest is my hand,
so close that your eyes close as I fall asleep.
"Our rings were from our local jeweller,Spencer the Jeweller. The rings were beautifully made and David created exactly what we had asked for, guiding us through the process from start to finish."
"We had a rowing oar 'guard of honour' as we came out of church – a little nod to where we first met."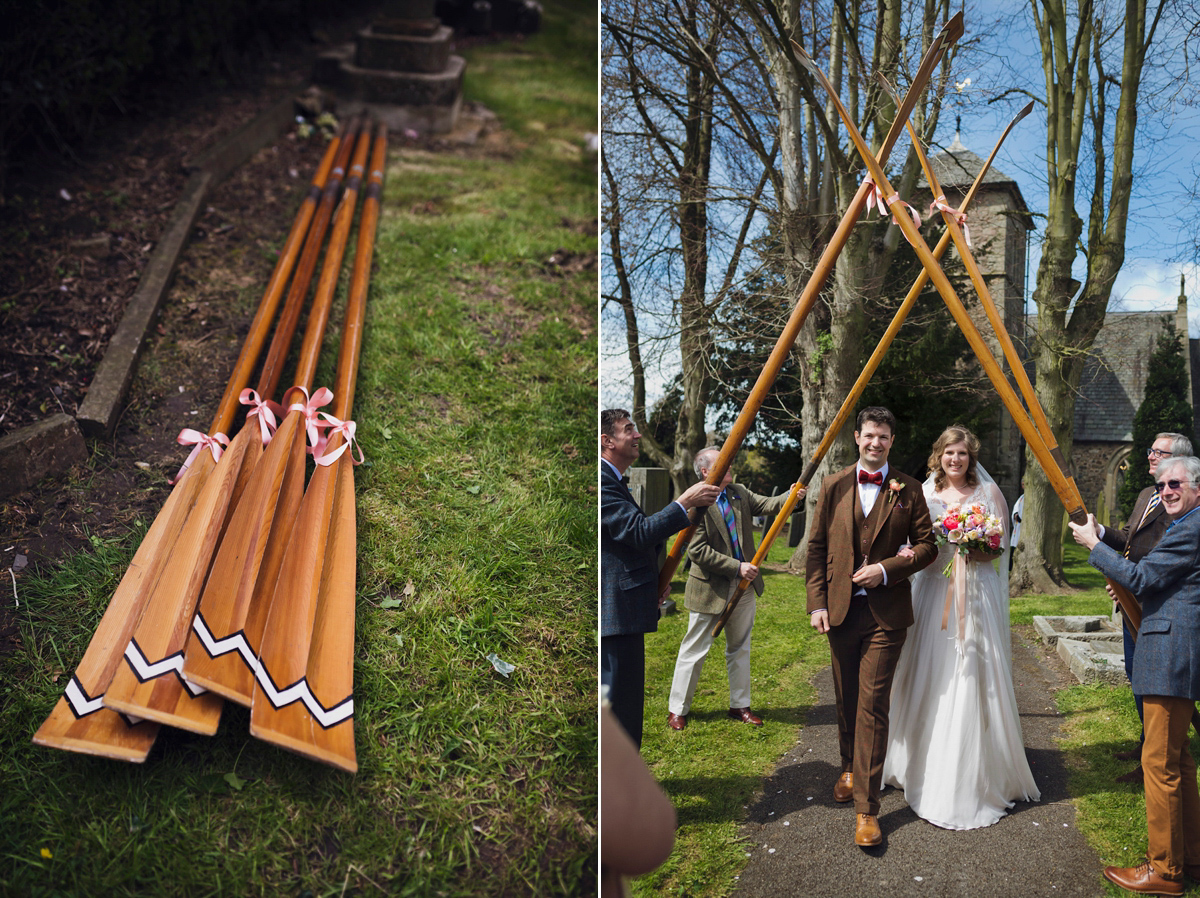 "Our photographer was the wonderful Mark Tattersall. When wedding planning was in its very early stages, Love My Dress was a fantastic starting point for browsing real weddings. I started bookmarking weddings that I liked because of the style, the quirky details and the relaxed photography. When I looked more closely, I was astonished to see that three of my five favourites were photographed by Mark. There was no doubt that he HAD to photograph our wedding!"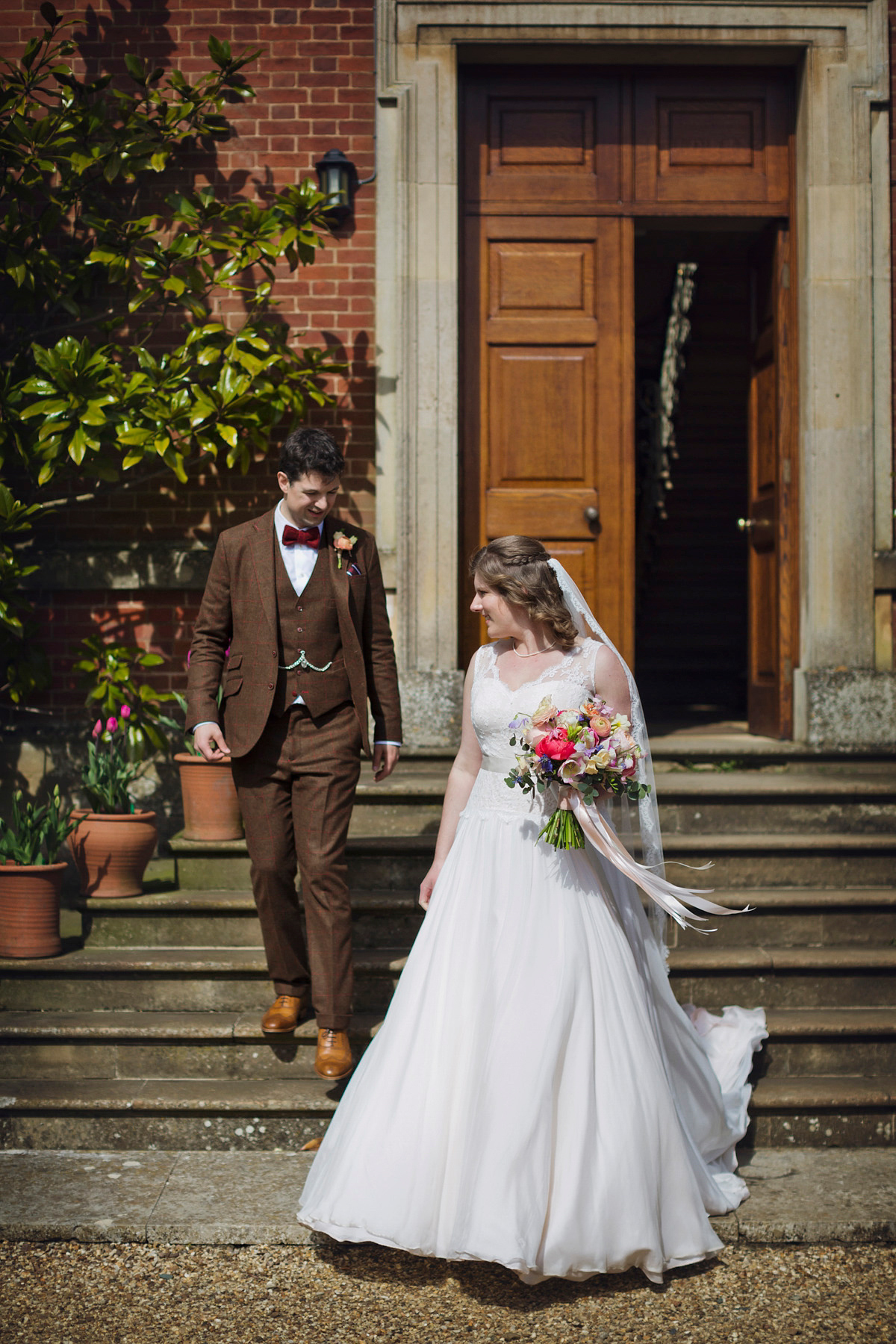 "I contacted him a little less than two years before the wedding and booked pretty much straight away. Mark is such a lovely person and made us both feel relaxed at our pre wedding shoot and on the day. The photos are absolutely amazing and so many of our family and friends said how friendly he was on the day. My brother saw the photos for the first time and said "Mark is a legend!" He certainly is and we would have absolutely no hesitation in recommending him."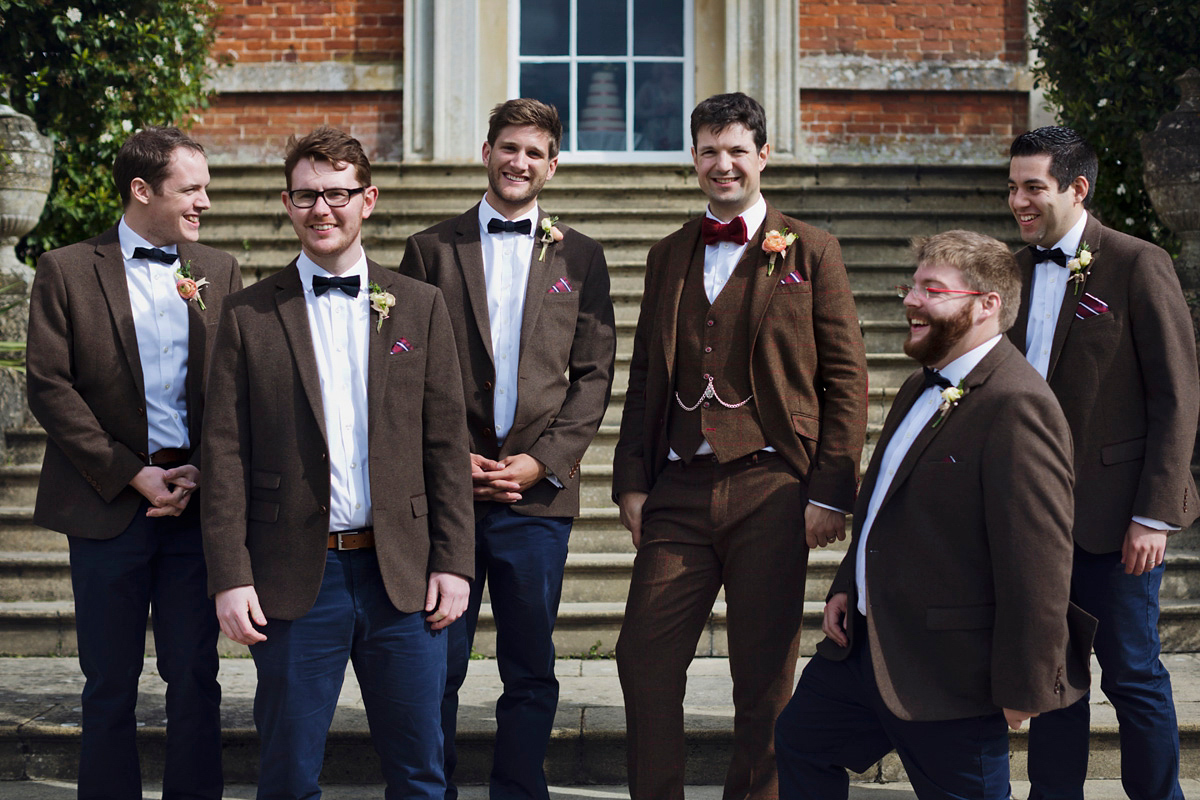 "We had a shortlist of three venues that were all completely different. We didn't think a venue like Kelmarsh Hall would ever be a possibility for us as we had an original guest list of around 180. We went and had a look anyway and completely fell in love as soon as we pulled up on the sweeping drive. The hall itself is stunningly beautiful and along with the pretty grounds and flexibility on the day (no rigid packages) we knew we'd found the one. It meant we had to cut the guest list in half for the day, but luckily we were able to invite lots of people to the evening."
"We met in 2007 at our local rowing club. I was at uni and Leon had just come home after finishing his masters degree. We got engaged in 2013 on a little trip away in Northumberland and were engaged for just over three years before getting married."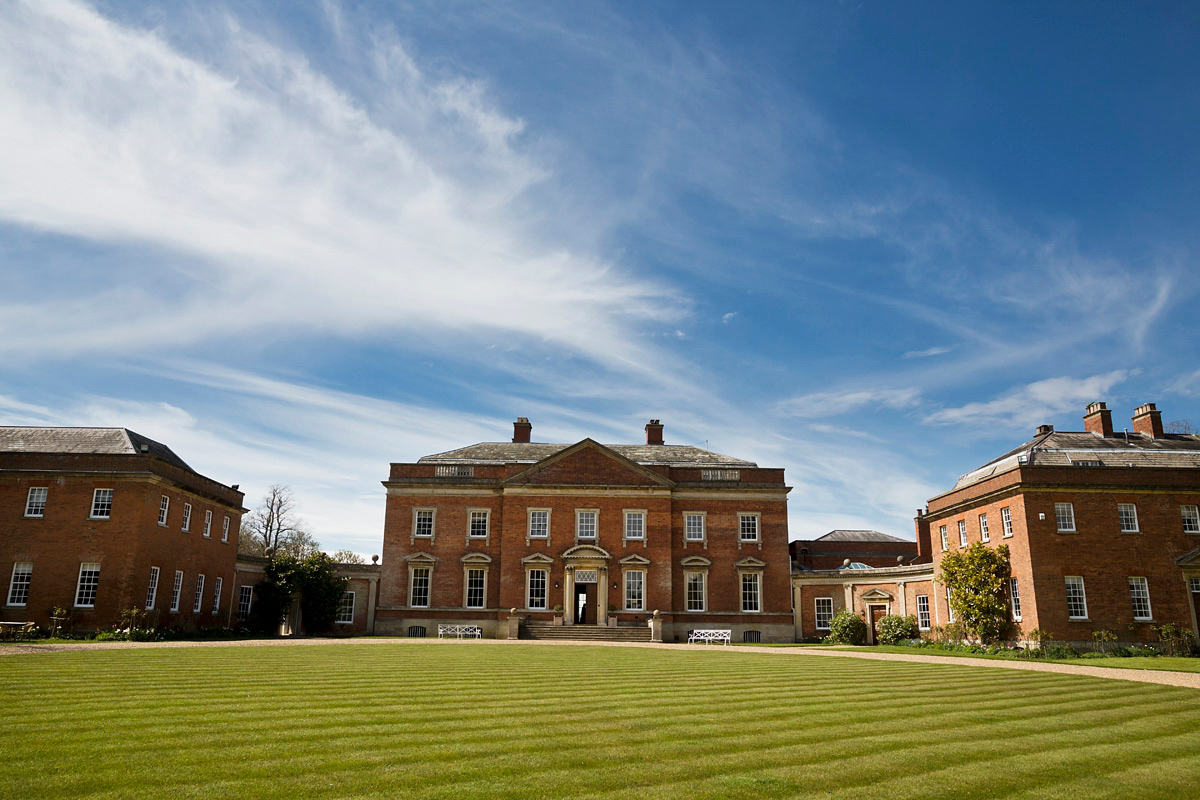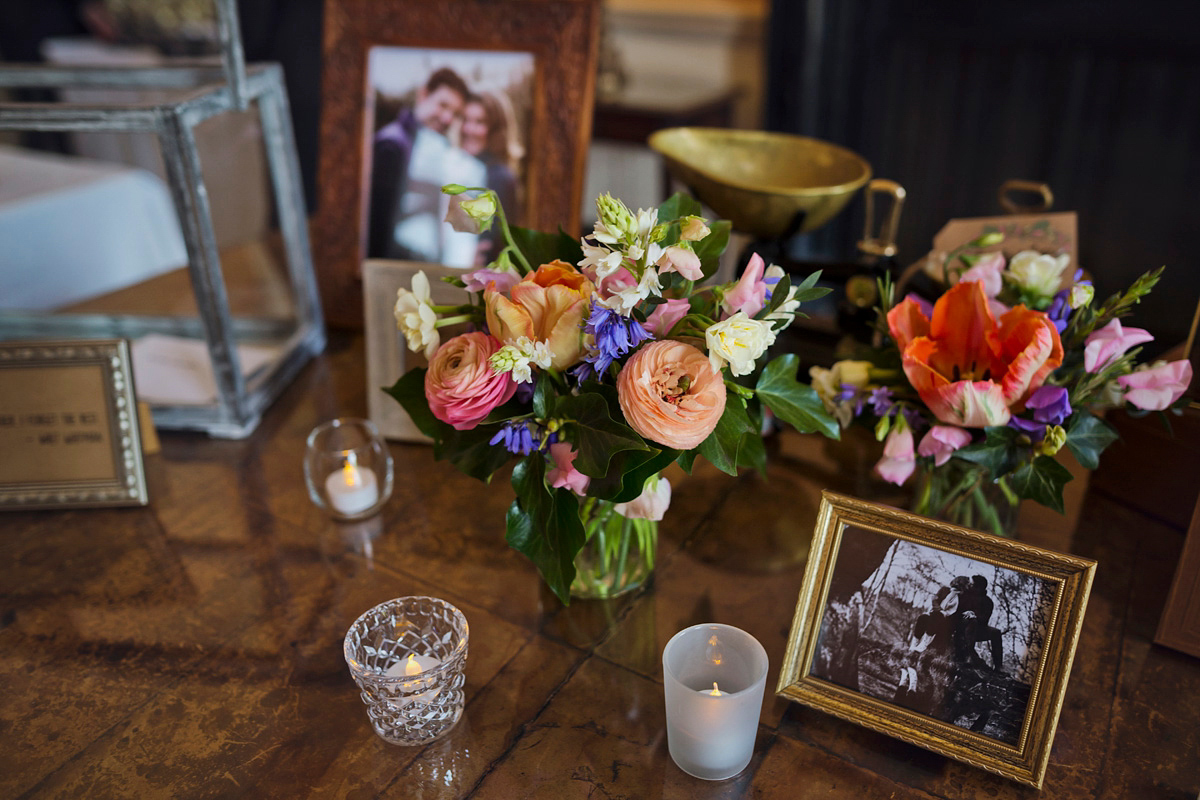 "Instead of putting favours on tables, we had an 'egg tree'. Every Easter, Leon's family use a traditional Polish egg dyeing technique to paint eggs. They are called 'Pisanki'. We wanted to include unique Leon and Natalie-isms in the day and this was a real focal point to the décor at the venue. Guests chose their favourite egg from the tree to take home."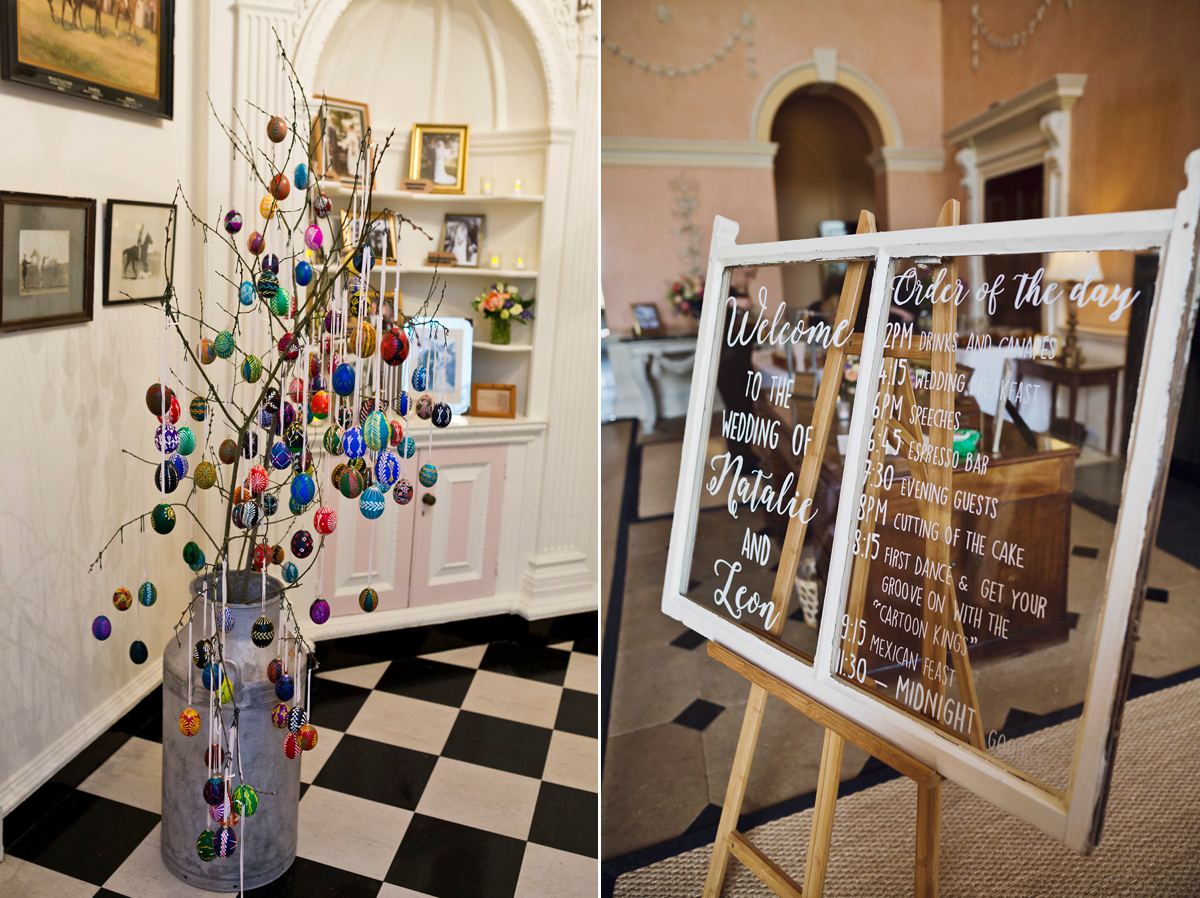 "A loose theme that we had running throughout the venue décor was glass. I wrote a welcome sign and the seating plan on old windows, our card box was a large glass candle holder, I bought hundreds of glass votives and we had glass charger plates on the tables."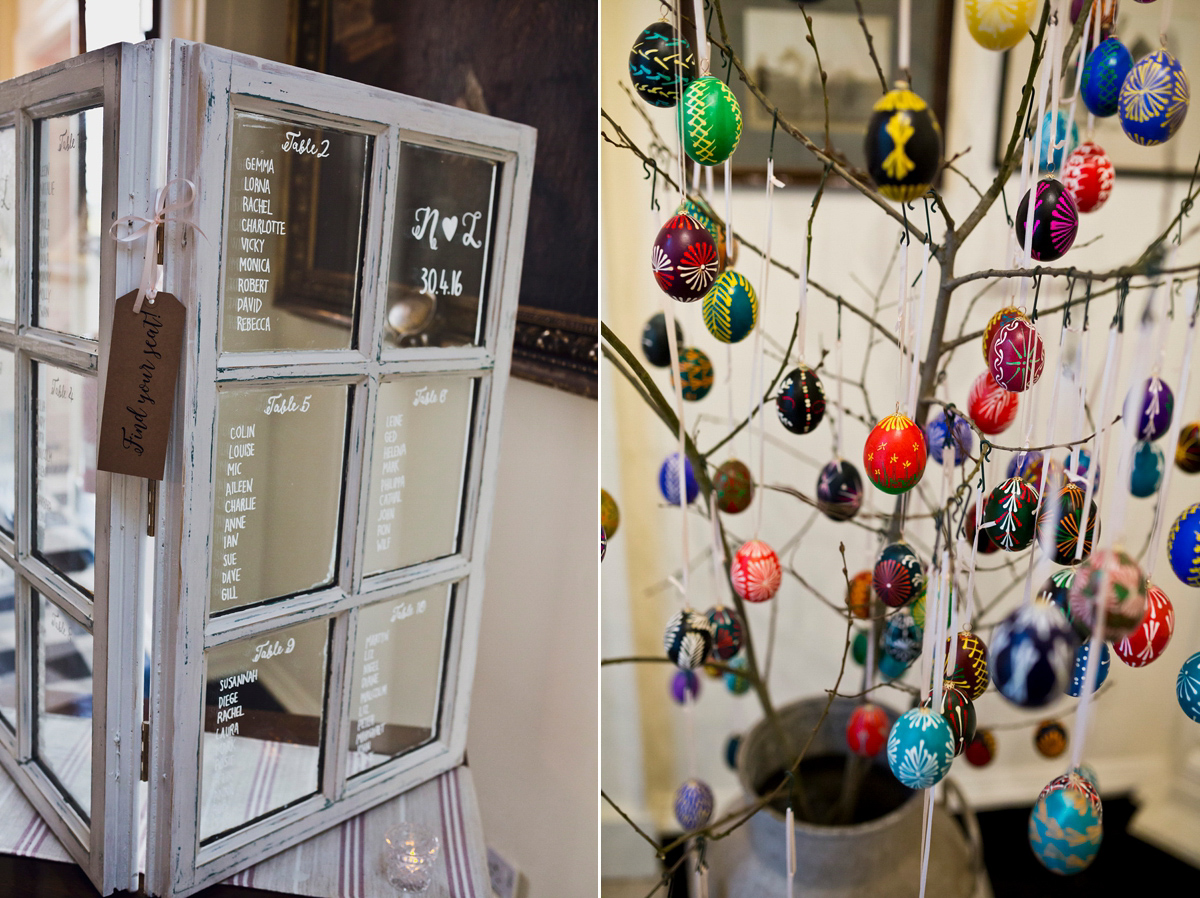 "I made our cake. We had five tiers – a mahoosive fruit cake as the bottom tier that took 8 hours to bake! We also had carrot (Leon's favourite), chocolate (my favourite), Victoria sponge and lemon. I kept things very simple with ivory sugarpaste and peachy ribbons to match the overall colour scheme with fresh flowers to match the bouquets. The top tier sat on a glass cake stand."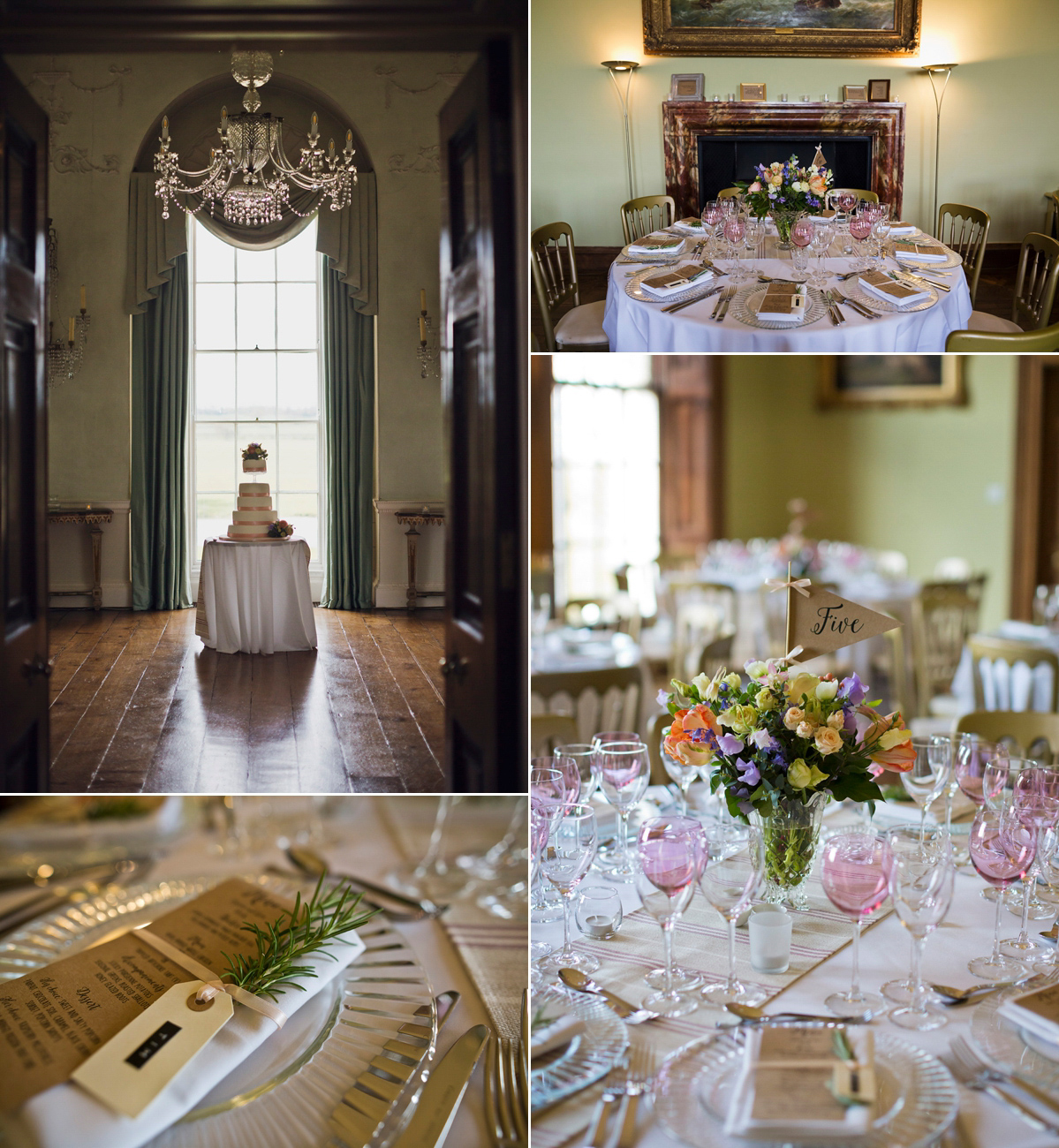 "I printed some 'love quotes' from literature, scripture and poems that I put in mismatched charity shop frames and dotted around the venue along with photos of our pre-wedding shoot by Mark."
"Our caterers Stones Events were amazing and the food was delicious! We went for local, seasonal produce with the wow factor."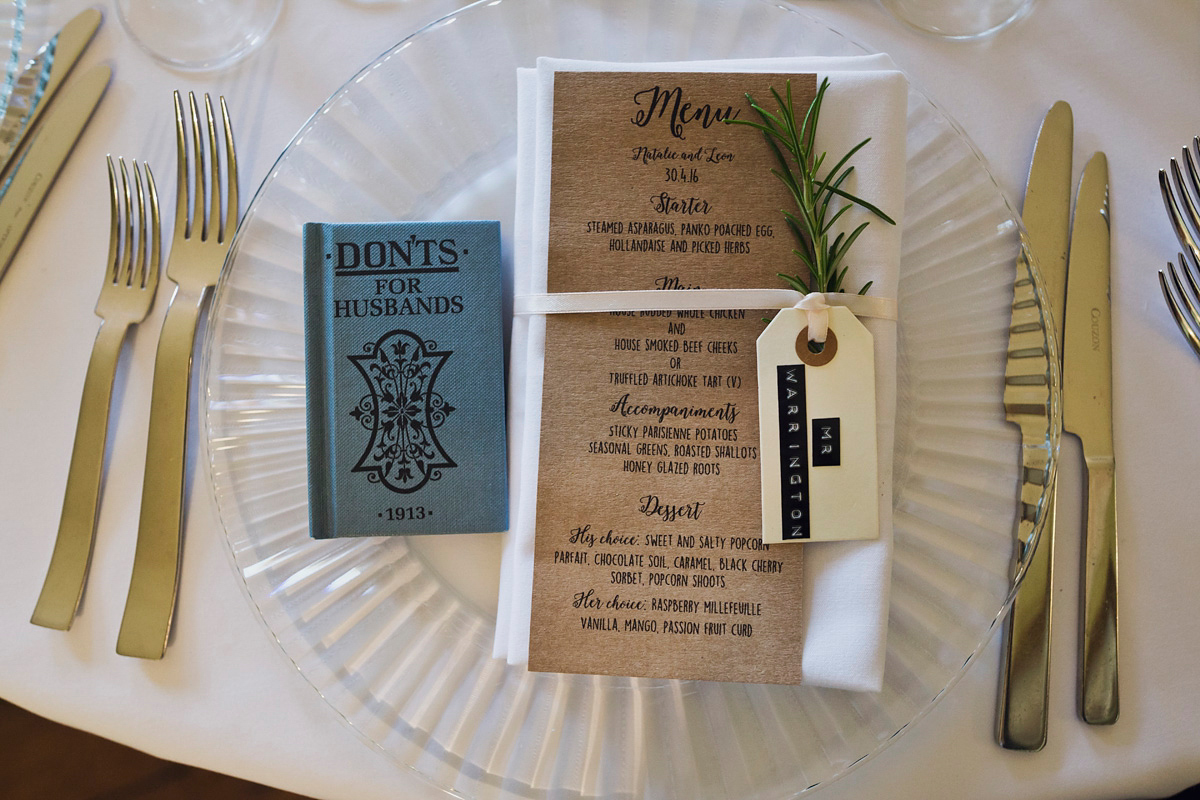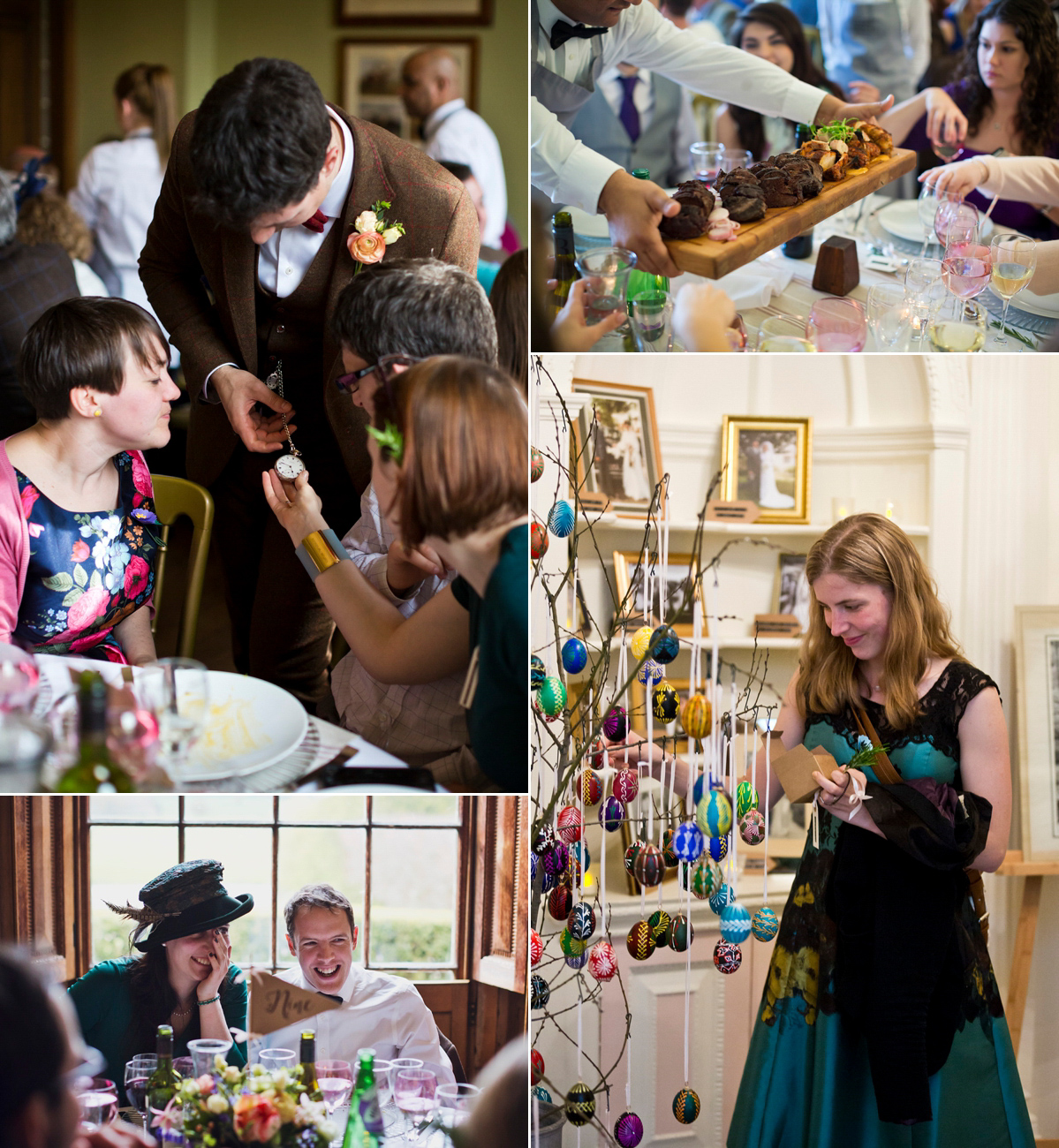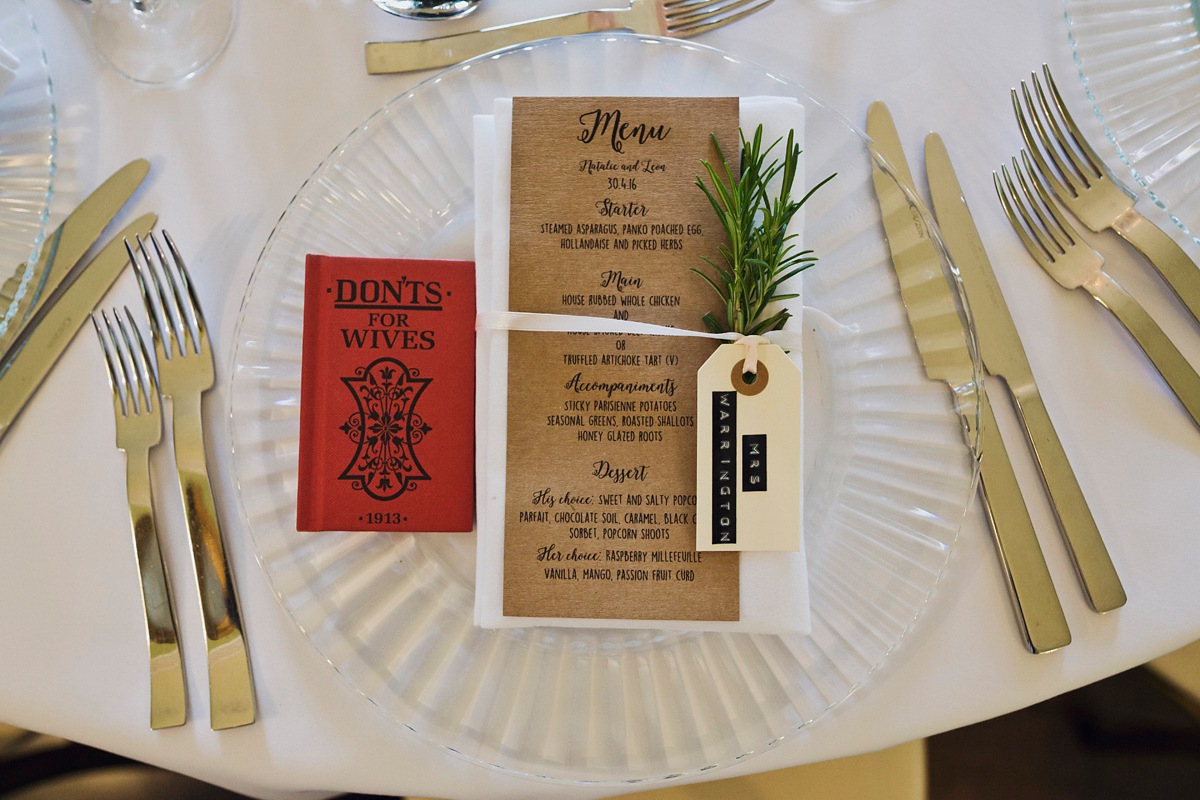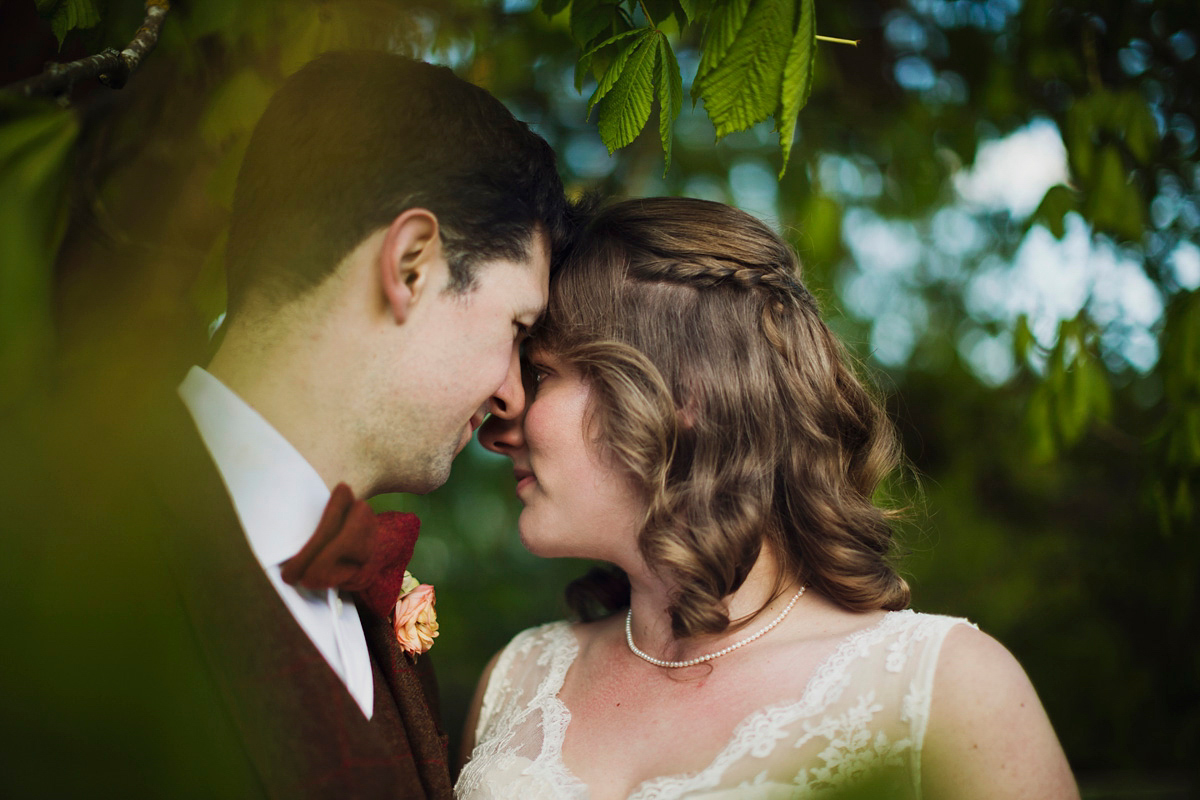 The couple danced to 'She will be loved' by Maroon Five…
Words of Wedded Wisdom
"Create a day that is special to you both as a couple, decide what's important and what's not and stick to your guns! Lots of people will have opinions on all sorts of things and it's so easy to be persuaded to do things to keep everyone happy and lose sight of the reason you are planning the day in the first place.
Take time on the day to take a step back just the two of you and soak up the atmosphere. Leon and I went for a little walk on our owns in the grounds of the venue just as it was getting dark and it was lovely to have a bit of 'just us time'."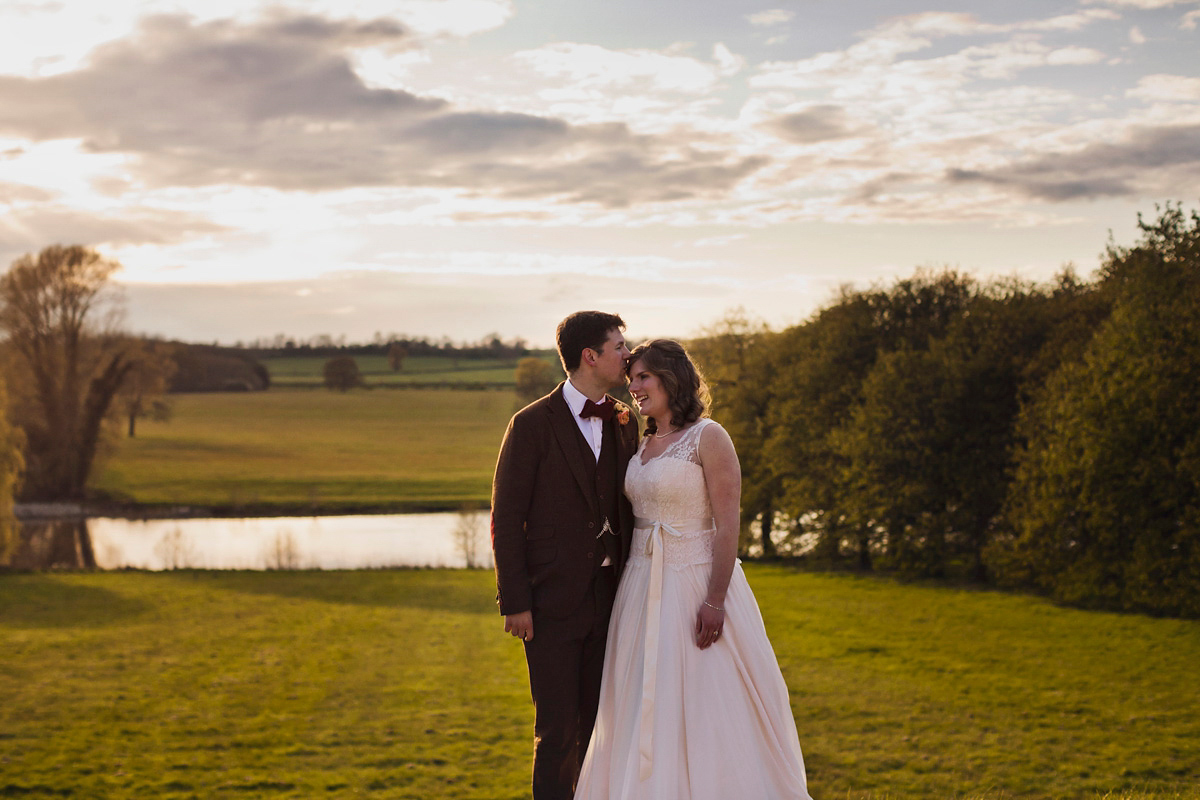 You can explore more photography by Mark Tattersall here on Love My Dress. You'll probably also want to see more brides wearing Naomi Neoh gowns.
Have a gorgeous Friday afternoon all,
Love Annabel xx