Sometimes the world does like to remind you that it's a really small place doesn't it?  Writing for our beloved blog, I'm lucky enough to see a lot of beautiful wedding photographs, so imagine my surprise when I open today's pictures and find people I know and love staring back at me!  I can't claim to know the bride and groom, which is a pity, as I would have loved to have been part of this very pretty, fun and laid back day, but it's a close second to know that some lovely friends were part of the merriment instead (and they tell me it was indeed as wonderful as it looks).
Meet Ellie, a doctor, and Ed, who runs a business specialising in rural diversification, who married at the utterly gorgeous Dewsall Court in Herefordshire on the 26th of September 2015, surrounded by family and friends.
"There wasn't really a set theme but if I was to describe it in hindsight, it would be woodland-esque with a touch of glamour.  We wanted a fun and relaxed day but one that was still accessible to all family generations and so we kept some of the traditional elements, personalised them and added in some things we liked too.  Lots of people contributed to the day which made it really special for us."
Photography by Bullit Photography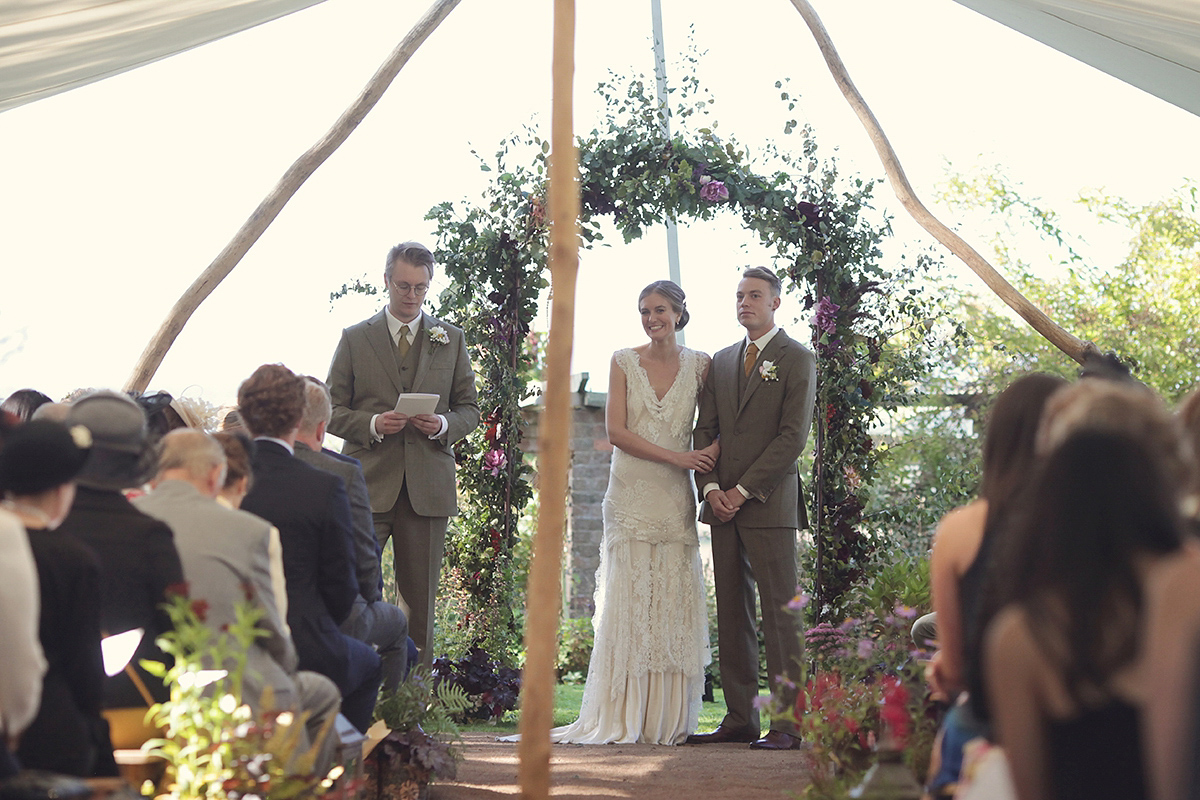 "We chose Dewsall Court because it is absolutely beautiful and it was a great place for our families and friends to celebrate together.  We are also good friends with the family that run it and have spent time there before which added a special something extra."
Ellie wore a beautiful original 1920's dress, purchased from Days of Grace Vintage. I absolutely adore the delicate lace and the elegant cut of the gown suits Ellie's slim figure perfectly.
"I had tried on loads of dresses that were either extremely expensive or so not me that I was getting a bit worn out with the whole malarkey before I went to the Chosen Wedding Fair in Bristol and saw this gown. I have always loved the 20's because it is glamorous but not restrictive and I fell in love with this gown because it was so elegant but fun and I had not seen anything quite like it."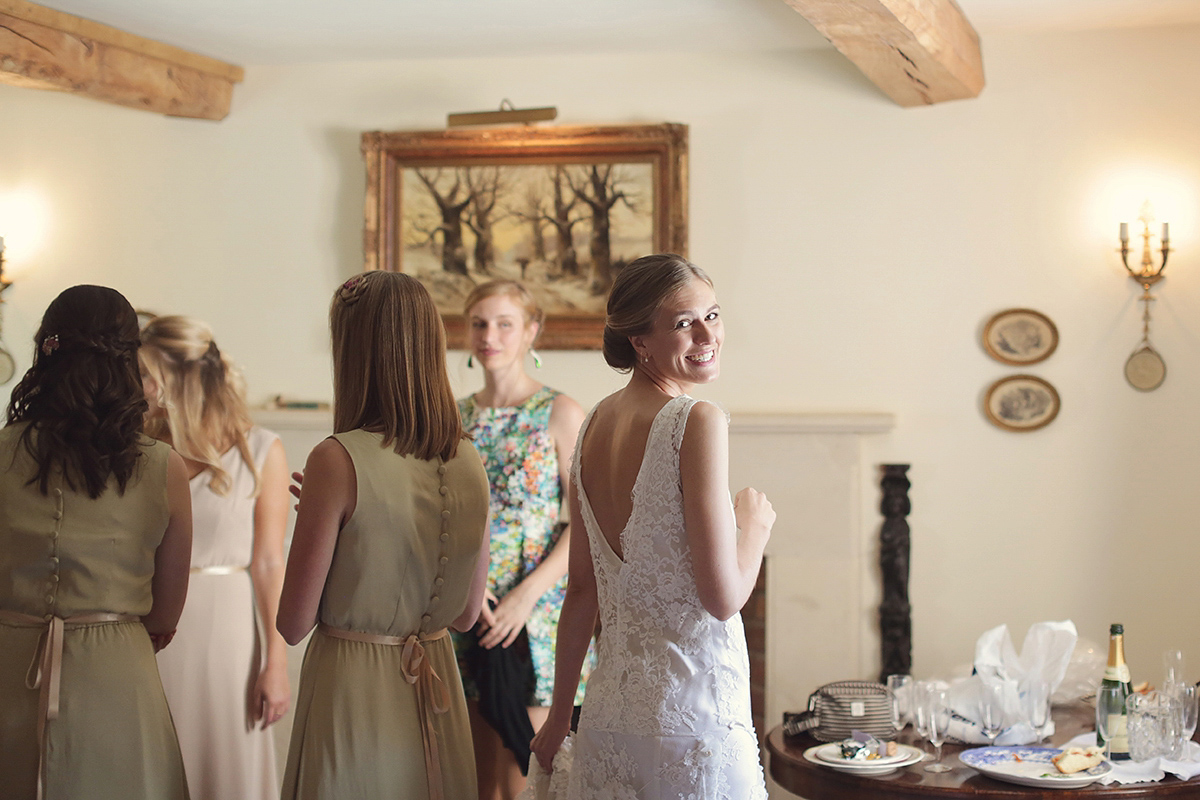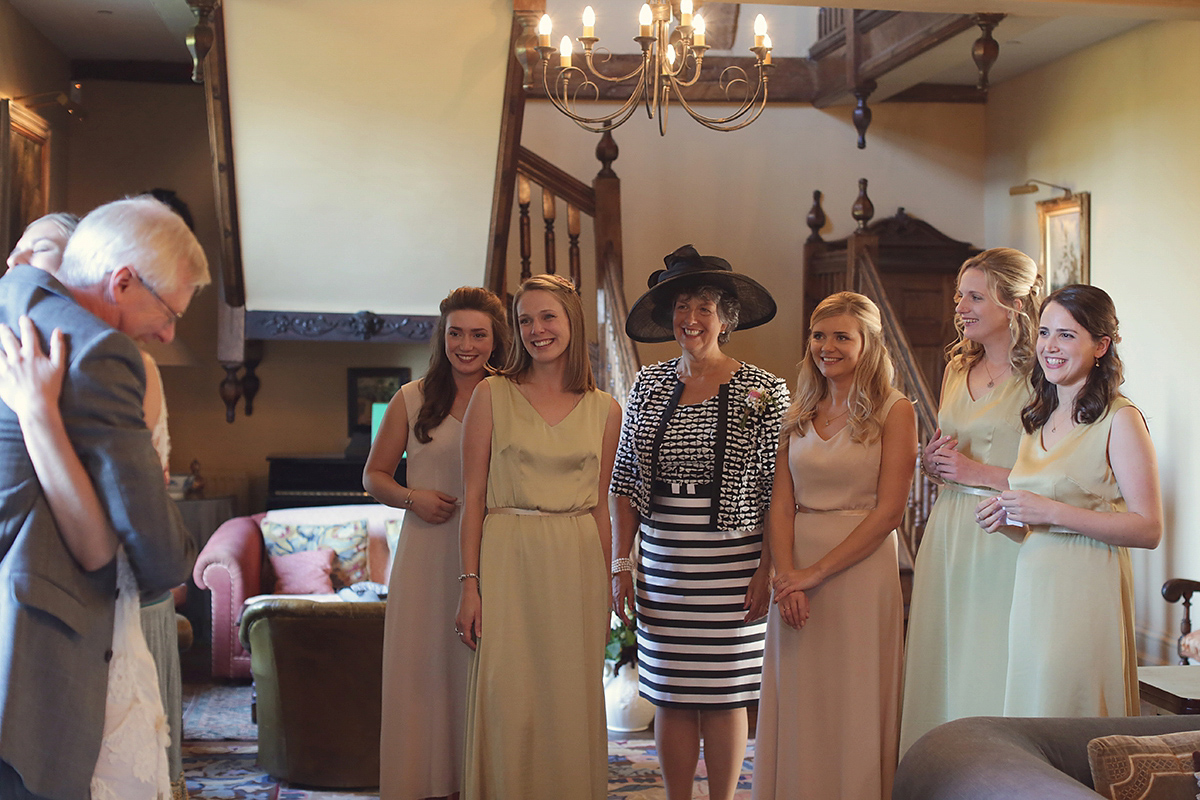 Ed looked quite the country gentleman in his tweed inspired custom made suit from Brown in Town, worn with a pair of cuff links which were a wedding present from Ellie.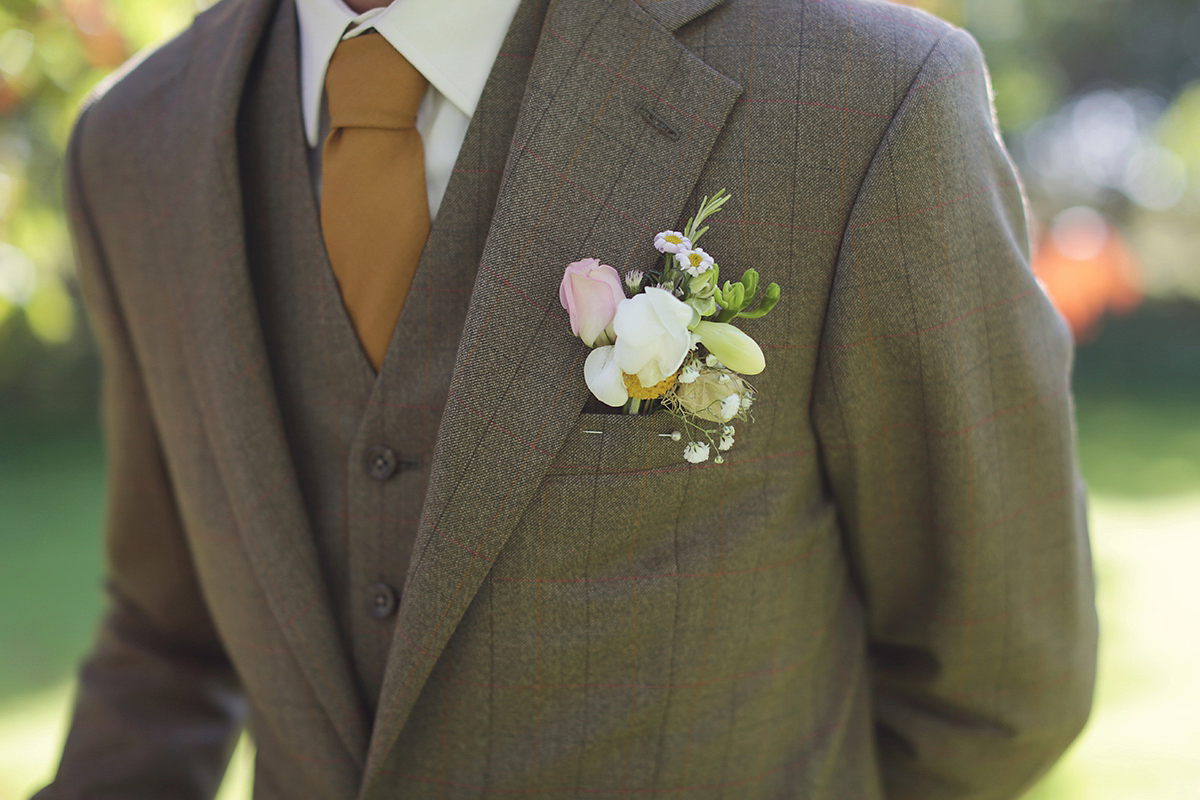 For entertainment, Ellie's talented brother and his friends got together a band for the ceremony music- I just adore those photographs of them playing everyone through the garden.
Later, everyone danced to a ceilidh and later still, to another band – Jamjah Sound.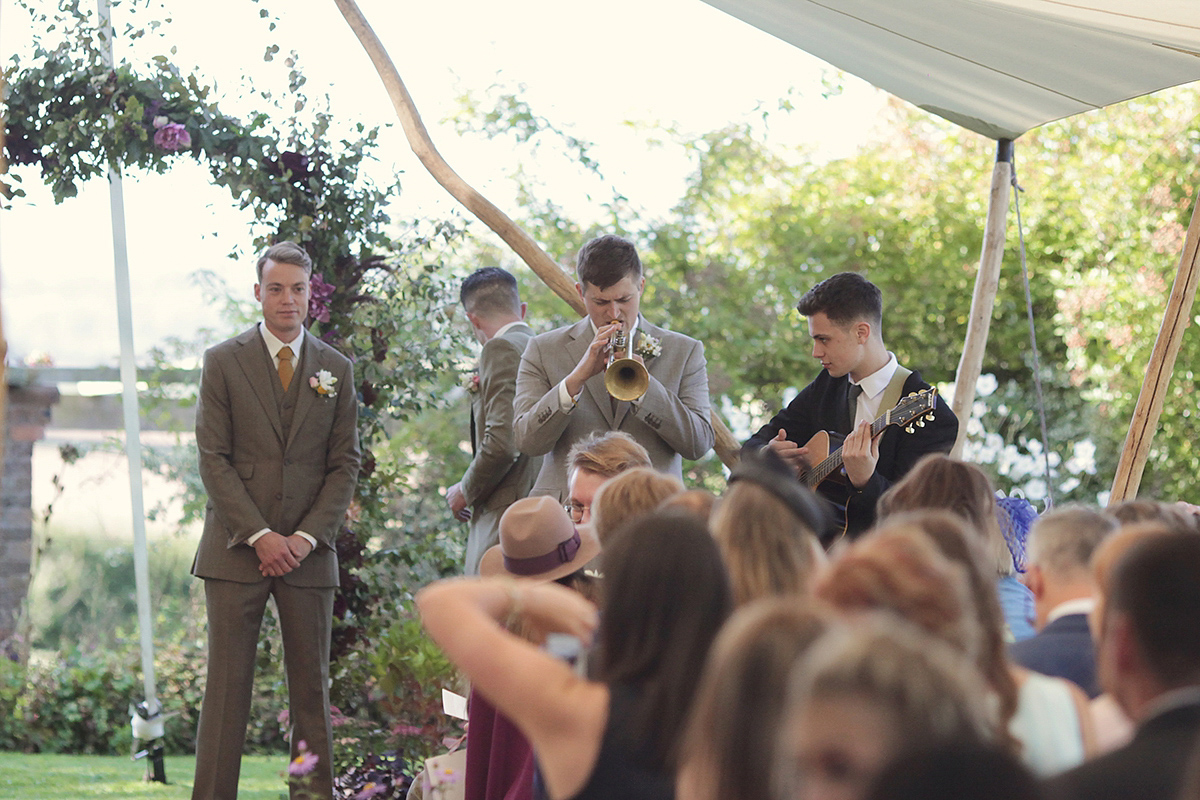 Ellie walked down the aisle on the arms of both her Mum and Dad, to an acoustic version of 'Georgia' by Ray Charles, played on the trumpet by her brother.  The couple exchanged their vows looking out onto the sunny Herefordshire countryside- utterly stunning.
"We wrote our own vows, but because we had a Humanist service, we met the celebrant Chris Edwards about six months before and he asked us all about our lives and then wrote a beautiful service for us."
For readings, they chose Shakespeare's 'Sonnet 116', an extract from 'Captain Corelli's Mandolin' by Louis de Bernières and an extract from Anne Morrow Lindbergh's 'Gift from the Sea', part of which reads as follows:
When you love someone, you do not love them all the time in exactly the same way from moment to moment. It's an impossibility. It's even a lie to pretend to. And yet this is exactly what most of us demand… We insist on permanency, on duration, on continuity when the only continuity possible in life, as in love, is in growth, in fluidity, in freedom, in the sense that dancers are free, barely touching as they pass, but they are still partners dancing in the same pattern…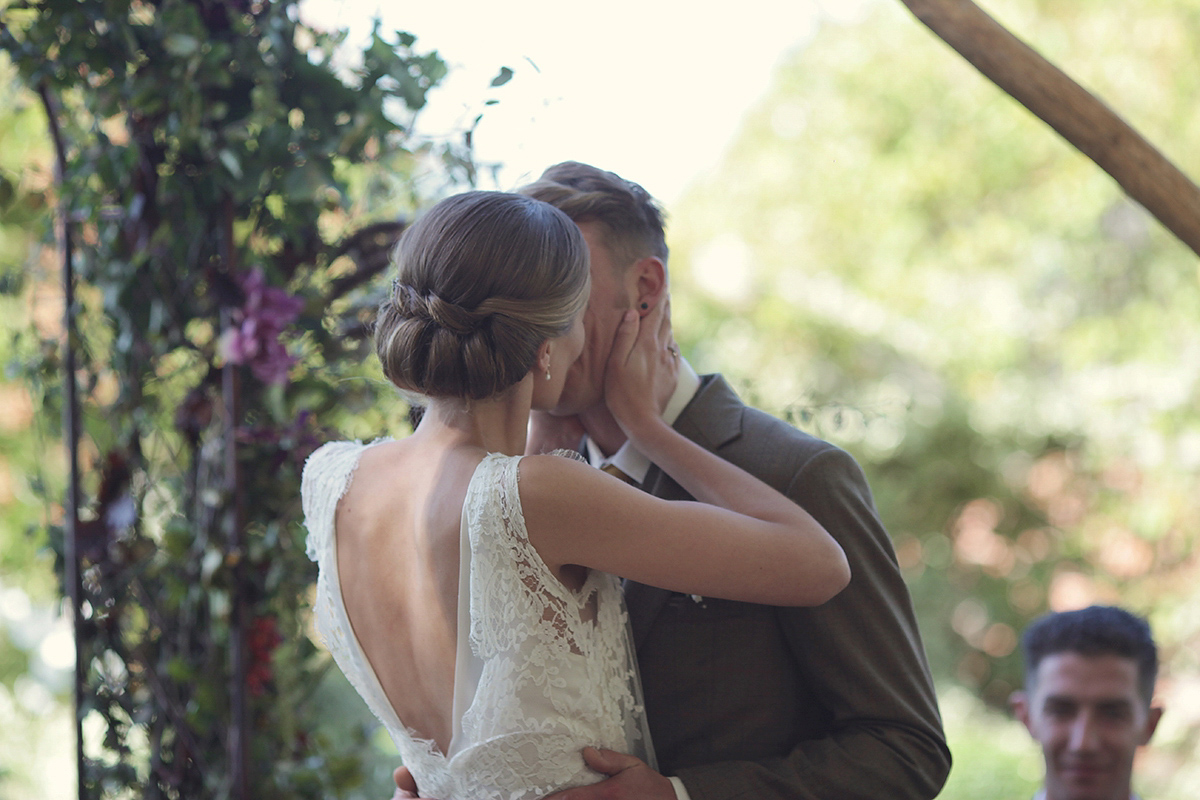 The couple exchanged rings from John Titcome.
"My ring was fair-trade gold and Ed's was recycled and they gave us great customer service, especially as we gave them a pretty tight time scale to work in!"
Flowers were the work of The Great British Florist, Herefordshire, and aren't they beautiful?  The flower arch under which the couple said their vows is just breathtaking.
"They grow all the flowers locally and use seasonal flowers which I really wanted.  I had no idea what the flowers looked like until the day before the wedding which I loved and I wasn't disappointed as they were stunning."
On her feet Ellie wore a elegant pair of Rachel Simpson shoes and for jewellery she chose tiny pearl droplet earrings belonging to her mum.  She finished with a spray of her favourite Prada Amber perfume and something special in her hair.
The bridesmaids looked fresh and lovely in custom-made gowns made by Pia of Heartfelt Vintage in Bristol, which they wore with their own shoes in mismatching styles.
"Pia was terribly clever and designed the dresses beautifully; they were exactly what I wanted and she was so lovely to work with.  Heartfelt Vintage (run by a lovely lady called Kate) was also where I got a vintage stole for the evening and also another dress for the night before the wedding. I can't rate them highly enough."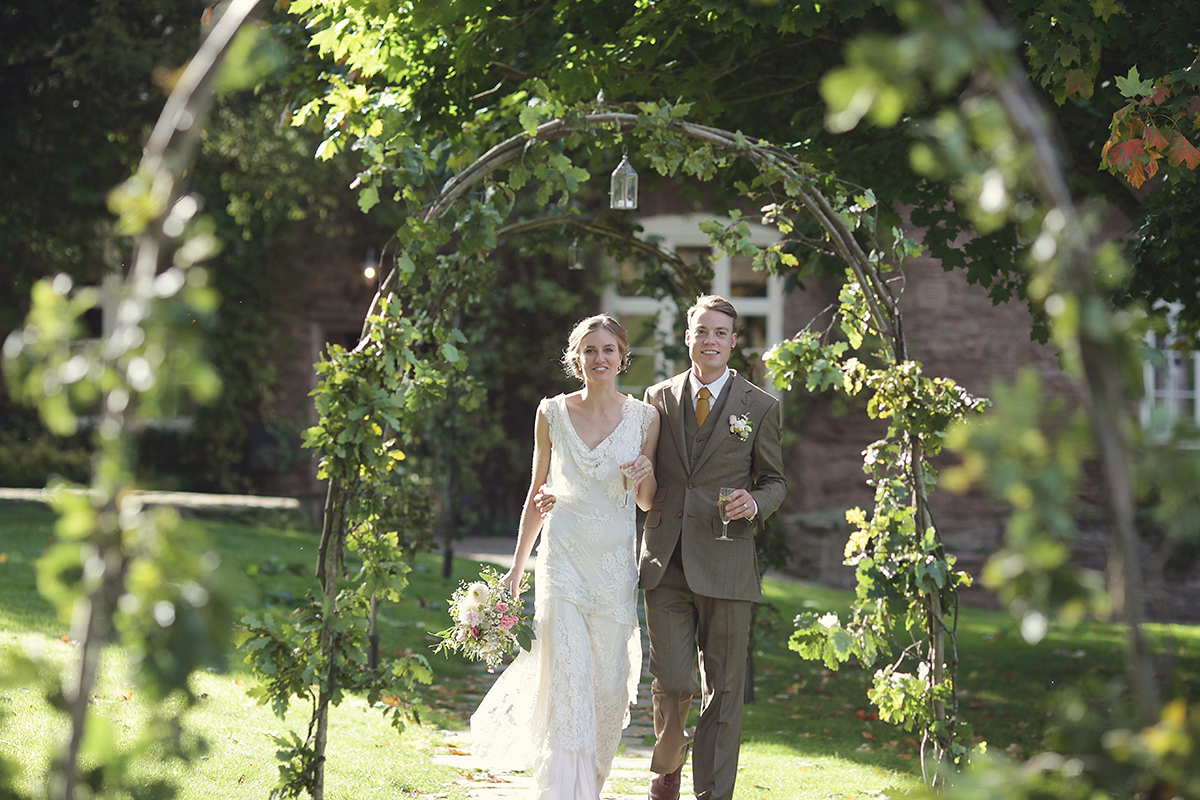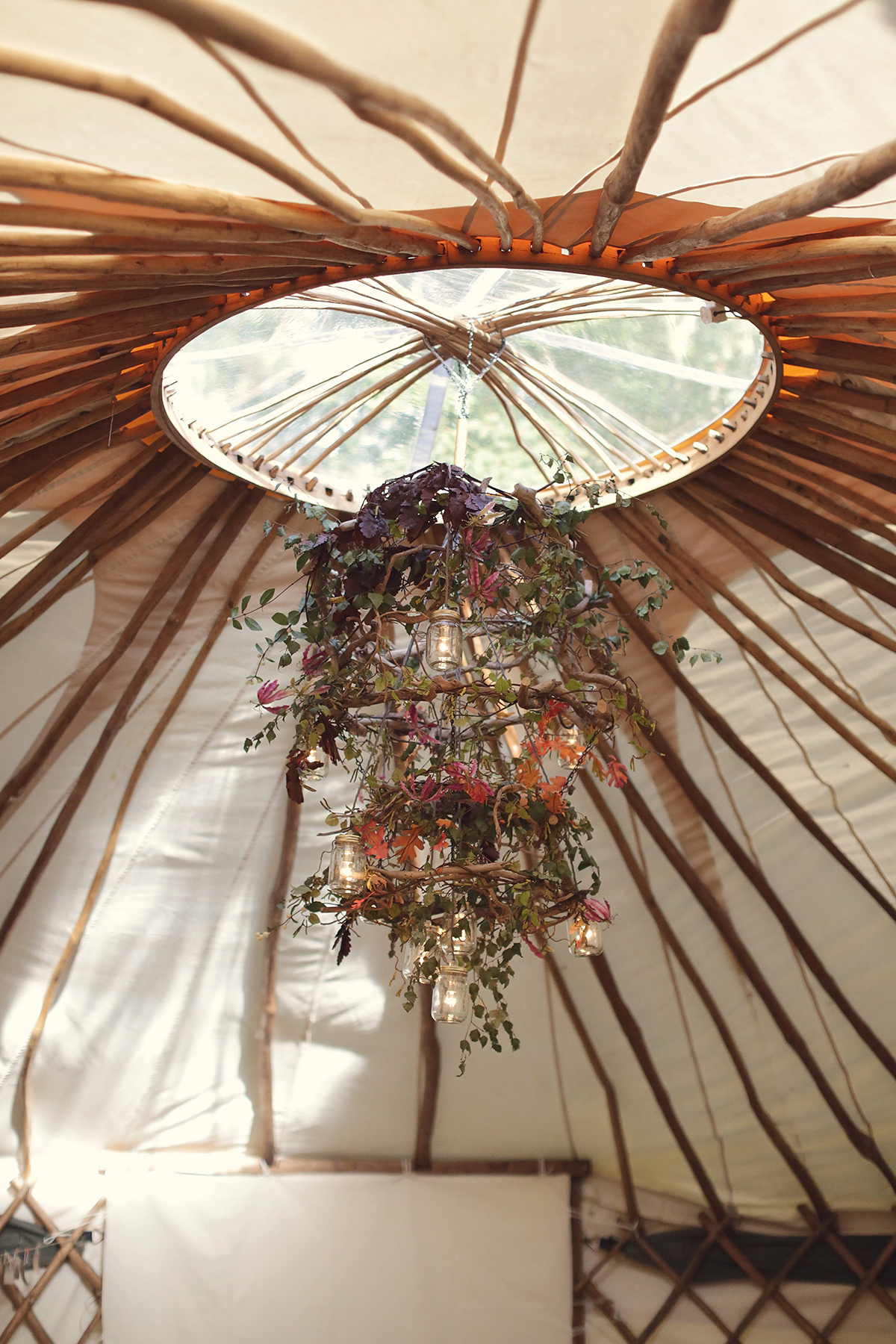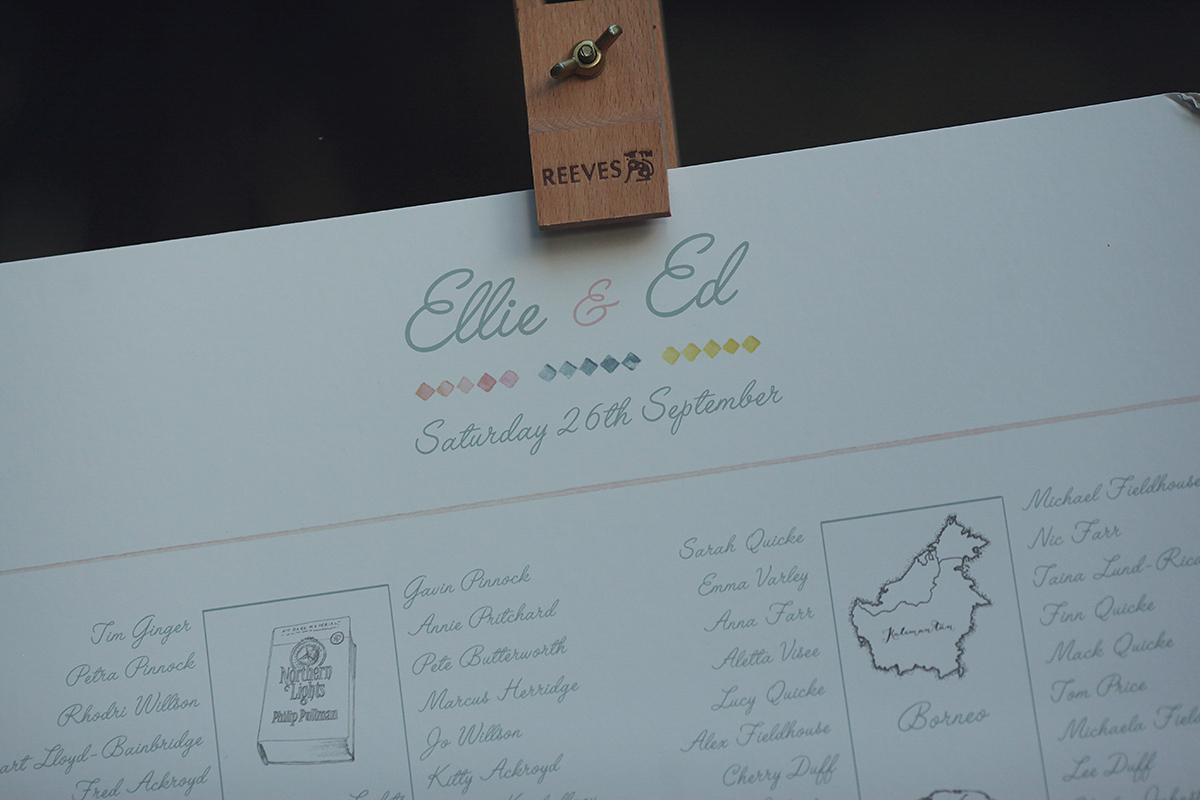 Favours were freesia bulbs in little hessian sacks, made by a friend and labelled and set out by a friend of Ellie's mum.  I love how much family and friends played a part in creating the day.
"Samantha Greenhalgh of Verdigris Venue Dressing, who is a friend of ours, did the decor for the barn, yurt and canopy as well as the table decorations.  We made a plan together earlier on in the year and then she worked her magic and created us a sort of woodland garden in which to enjoy the day."
The couple and their guests enjoyed a beautiful and delicious looking naked cake, which was made by one of their friends as a wedding gift, while the rest of the food was the work of A to Zest who were recommended by Dewsall.
The talent behind these fresh and light filled images was Robin of Bullit Photography.
"Robin took fantastic photos- just what we wanted- relaxed and fun.  He really captured the essence of the day for us.  He got loads of photos but they didn't disrupt the day at all and he knew the venue and got some amazing shots in places we wouldn't have thought of ourselves."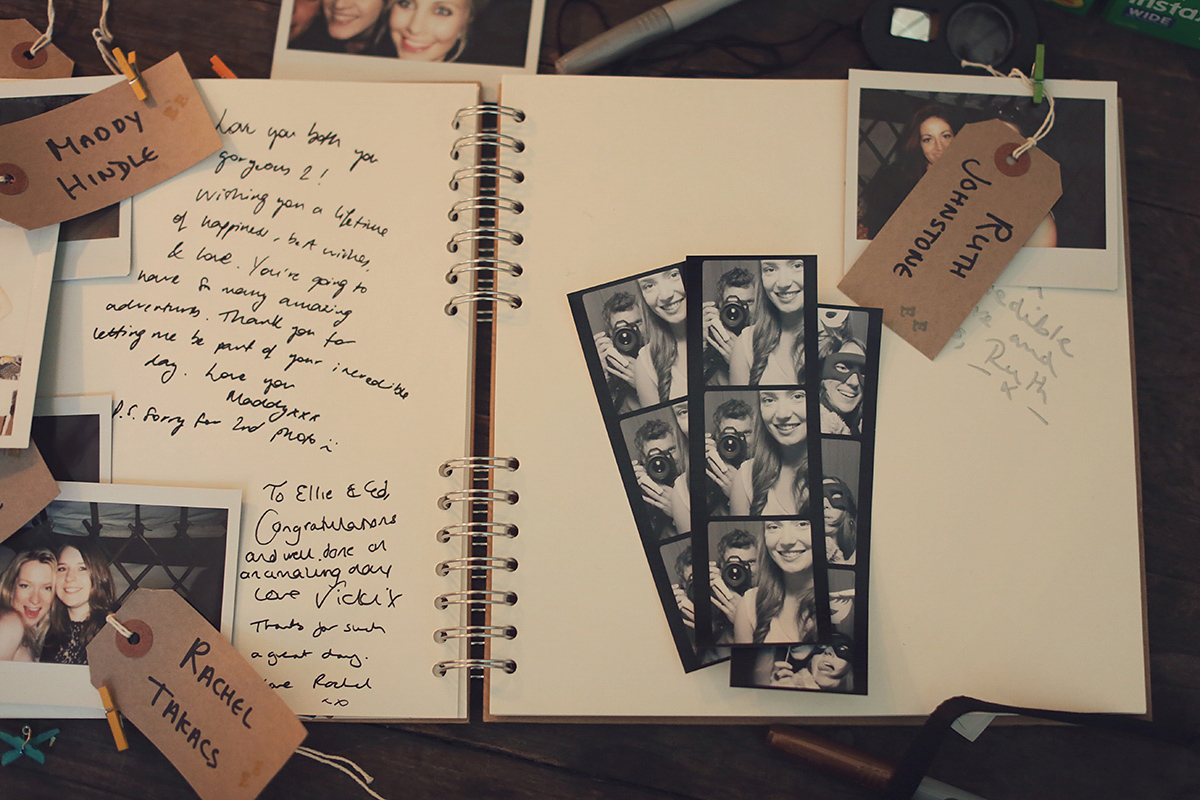 Words of Wedded Wisdom
"Relax!  You won't notice on the day if things go a bit awry so get those few important things like booking a venue done and the rest will follow.  Get family and friends  to help you out too.  I would also recommend going to a wedding fair but shop around so that you go to one that suits your taste."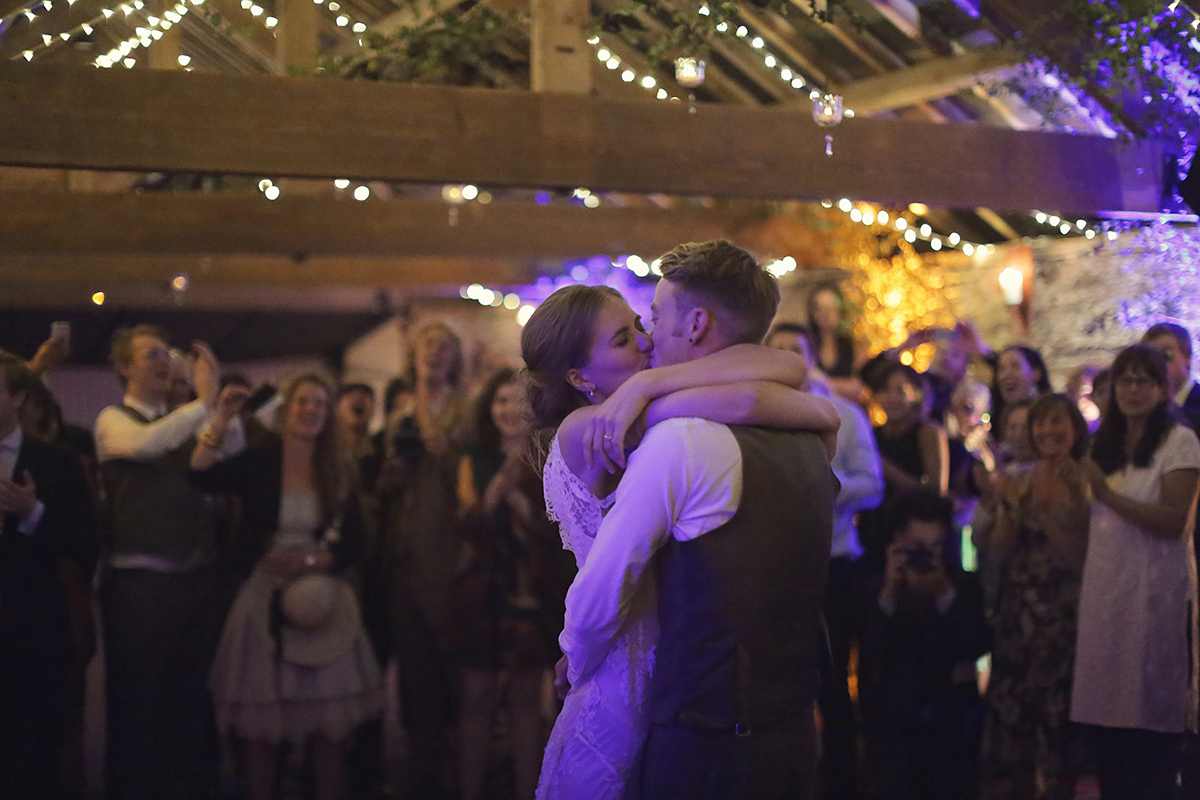 Ellie has a very good point about going to a wedding fair which suits your taste- they can be brilliant and full of inspiration but you do need to do your research beforehand to make sure its the right one for you.  Interested in a vintage gown of your own?  Have a look at these past features to get some inspiration and check out our weddings by era sections if you have something specific in mind.
Finally, huge thank yous to Ellie, Ed and photographer Robin of Bullit Photography for sharing this beauty with us today.
Much love,
Shona x