Good morning lovelies – what a beautiful morning it has been so far – may you all have a wonderful Thursday now we're past humpday (we're on countdown to the weekend already!). This morning's new wedding blog addition is most glamorous and colourful of weddings, shot by our most talented Little Book For Brides member, and fine art wedding and portrait photographer,  Faye Cornhill.
Publisher Liz married her Operational Risk Manager husband Andy on Saturday 25th June this year at Lillibrooke Manor in Maidenhead – an exceptionally beautiful Grade II listed venue in the Thames Valley. Their day was full of effortlessly elegant and glamorous style – from that divine Vivienne Westwood gown to all the super-inspirational reception details. I absolutely adore how Liz has gone to such effort to share so much supplier detail – this whole feature is like a goldmine of contacts! Bookmark this post today and make sure you take note of Liz's recommendations. Let's start off with this wonderful little film created by Ben Walton – enjoy all.
"Throughout our relationship, Andy and I had always had a running joke that we would name the tables at our wedding after condiments, after all that flirting over Mango Chutney. It was really important to us that the day reflected our personalities and passions, so we knew early that we wanted it to be a mega fun, colourful, jam-packed day of entertainment centred around our love of food and travel."
Film by Ben Walton Films
"As for the colour palette, I absolutely love to look at classic white and foliage weddings on Pinterest and wedding blogs, but I am a magnet for colour. I originally planned for cornflower blue, mint green and peach with whites and gold. What drew everything together was a Kate Spade 'flights of fancy' hot air balloon handbag (which I just had to have!) that we used to lead an 'Around the World' Phileas Fogg-style theme, and which introduced hot pink to the colour palette as well."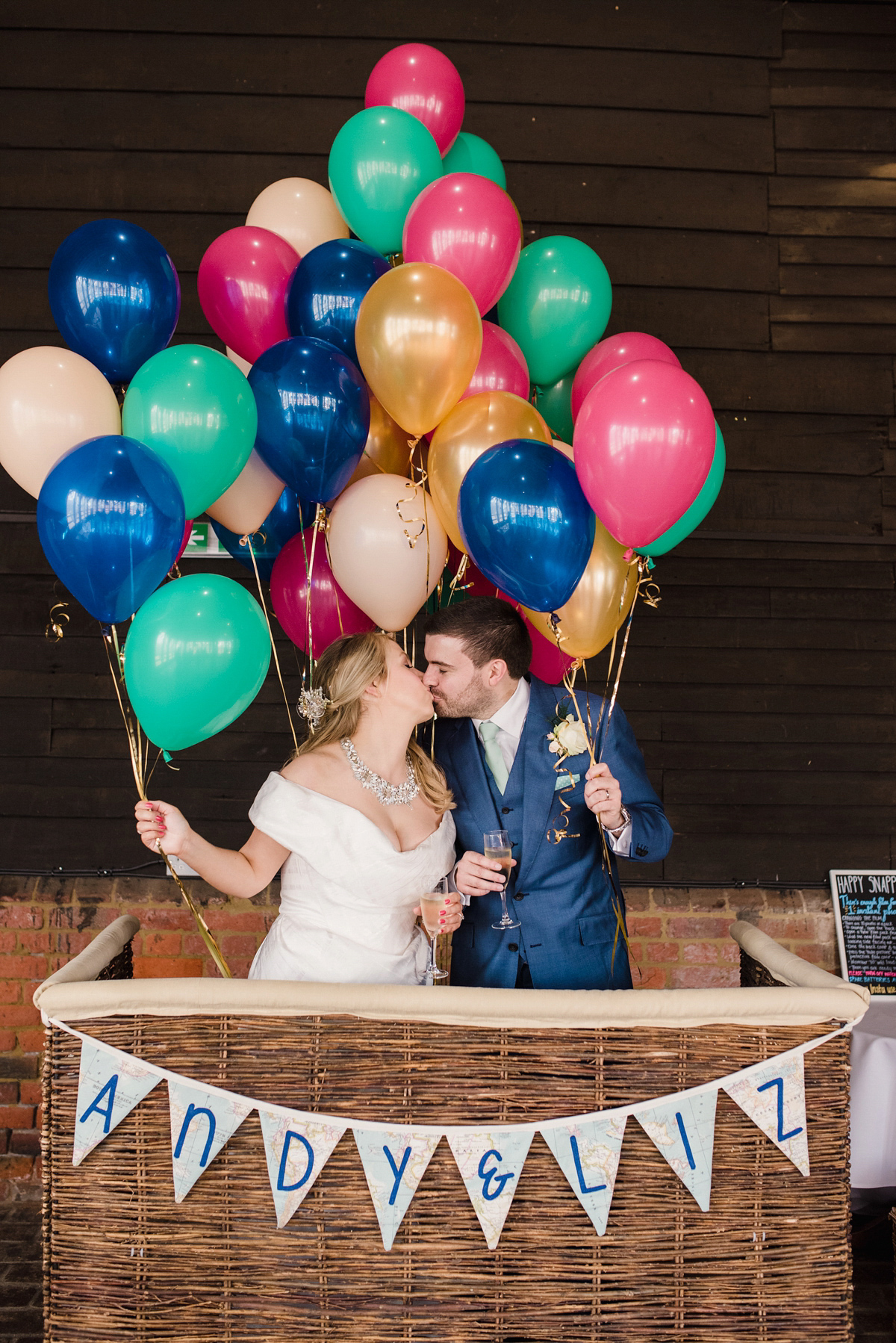 "I studied Graphic Design at university and was excited to polish up my rusty Illustrator skills when we first got engaged. I designed an illustration of myself and Andy in a hot air balloon, which along with air mail patterns in our colour theme became the foundation for all our stationery. After printing 'save the dates', invitations with 'Sunshine Flight' and 'Sunset Flight' tickets, guest book postcards, bucket list cards, the table plan balloons, place settings, personalised luggage tag inserts, table quizzes plus menus and programmes for 120 guests, I realised I had printed close to a 1,000 sheets on my ink jet printer!"
"Three of my friends from university moved into a house together in London and one of them asked their school friend Andy to take the fourth bedroom. We met at their housewarming party in June 2009, bonding over a shared love of cooking. It sounds a little odd but he talked me through the key ingredients in his kitchen cupboard and I was very impressed with the 1.5 litre jar of Mango Chutney he had. The rest, as they say, is history."
"In the build up to Christmas 2014 Andy suggested we took a few days off to go to the Cotswolds and he proposed up Broadway Tower – the highest point in the Cotswolds – a very beautiful spot."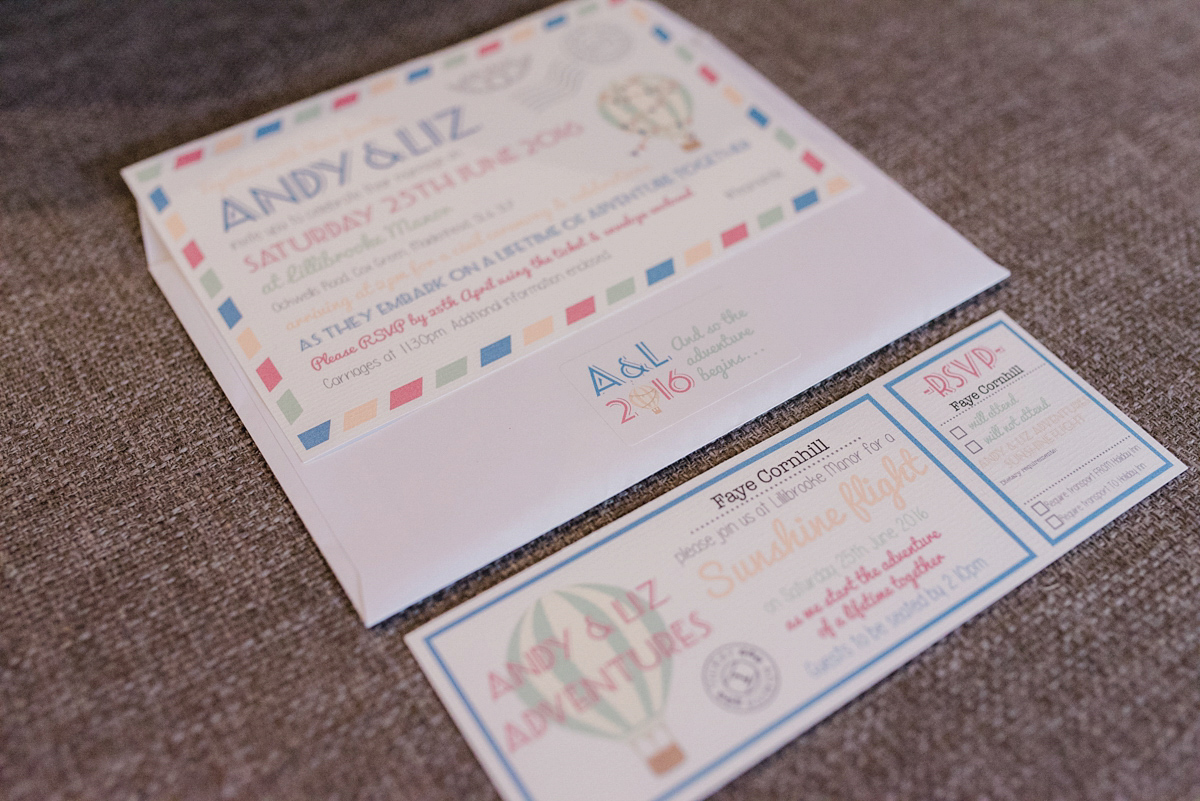 "My necklace was the 'Ikat' white opal design, by Jenny Packham. I'm well known for my statement necklaces and the neckline of the Cocotte meant I had plenty of room to wear some bling. The sparkling crystals perfectly suited the red carpet style I was after, and as they are all sewn onto silk organza it was so lightweight I would barely feel myself wearing it. I can't wait to wear it again."
"I knew I wanted a pop of colour for my shoes and something I could wear again. They were from a limited edition cruise collection, with day-glo iridescent metallic pink leather that turned different shades in the light."
"I had seen Sonning Flowers used at Lillibrooke on some real wedding blogs and the team were so friendly when we arrived for our first consultation that my Mum and I were sold. I wanted an English country garden relaxed style for the flowers, with big soft hydrangeas and antique roses alongside delicate foliage and scented stocks.
I felt I needed a colourful bouquet to stand out from the white dress and so we matched the flower colours to the overall palette of the day, with the same flowers used for the bridesmaids bouquets and table centrepieces. Two 2lb jam jars full of blooms were placed in IKEA crates made up by Dad and stuffed with wood wool to make them looking like packing crates of sauces that had just been imported, matching in with the Around the World theme."
"Sonning Flowers also supplied beautifully big bunches of gypsophila for the ceremony, tied to the chairs with satin ribbon I had bought, as well as flower crowns and hydrangea posies for the flower girls. I was very sad to accept that my bouquet and flower crown would not last forever."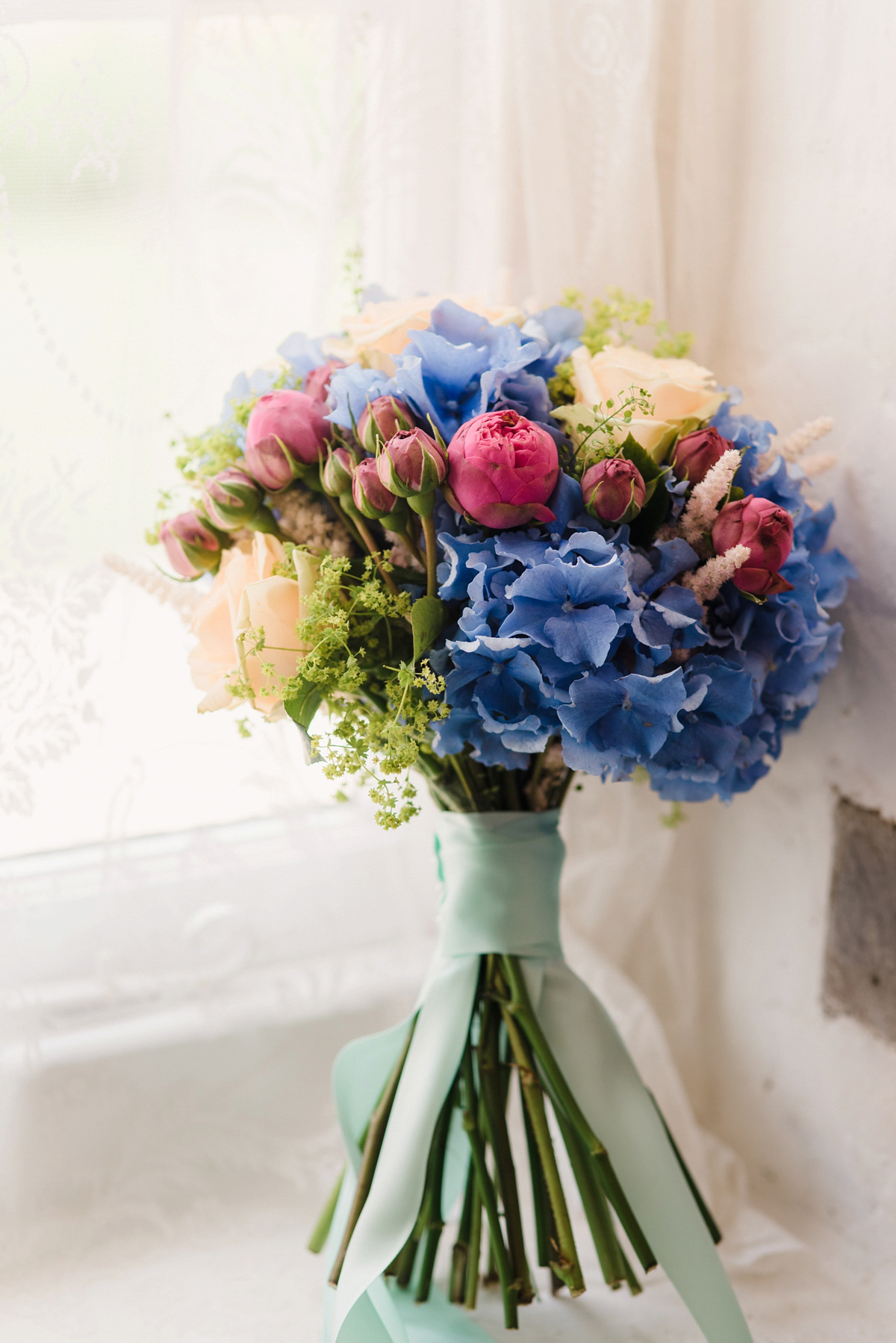 "I wasn't too fussed about other jewellery and only bought the bracelet from Coast a couple of weeks before the wedding as it tied the necklace and hair slide together. It's a lovely cheap and cheerful piece that I will get a lot of use out of now. The other jewellery I wore was what I wear every day – my grandmothers diamond eternity ring and white gold diamond princess-cut earrings from my nan. They have long since passed and it was lovely to think that they were there in some way on the day.
My maid of honour and I love Kate Spade, and needed no excuse to pop into one of her shops on the day we went dress shopping. I loved the hot air balloon bag as soon as I saw it, but wrote it off in my mind as a frivolous purchase. I couldn't stop thinking about it though, so caved in and bought it. I'm so glad I did because it tied together our travel and food ideas into a unique theme and will forever make me smile when I get it out."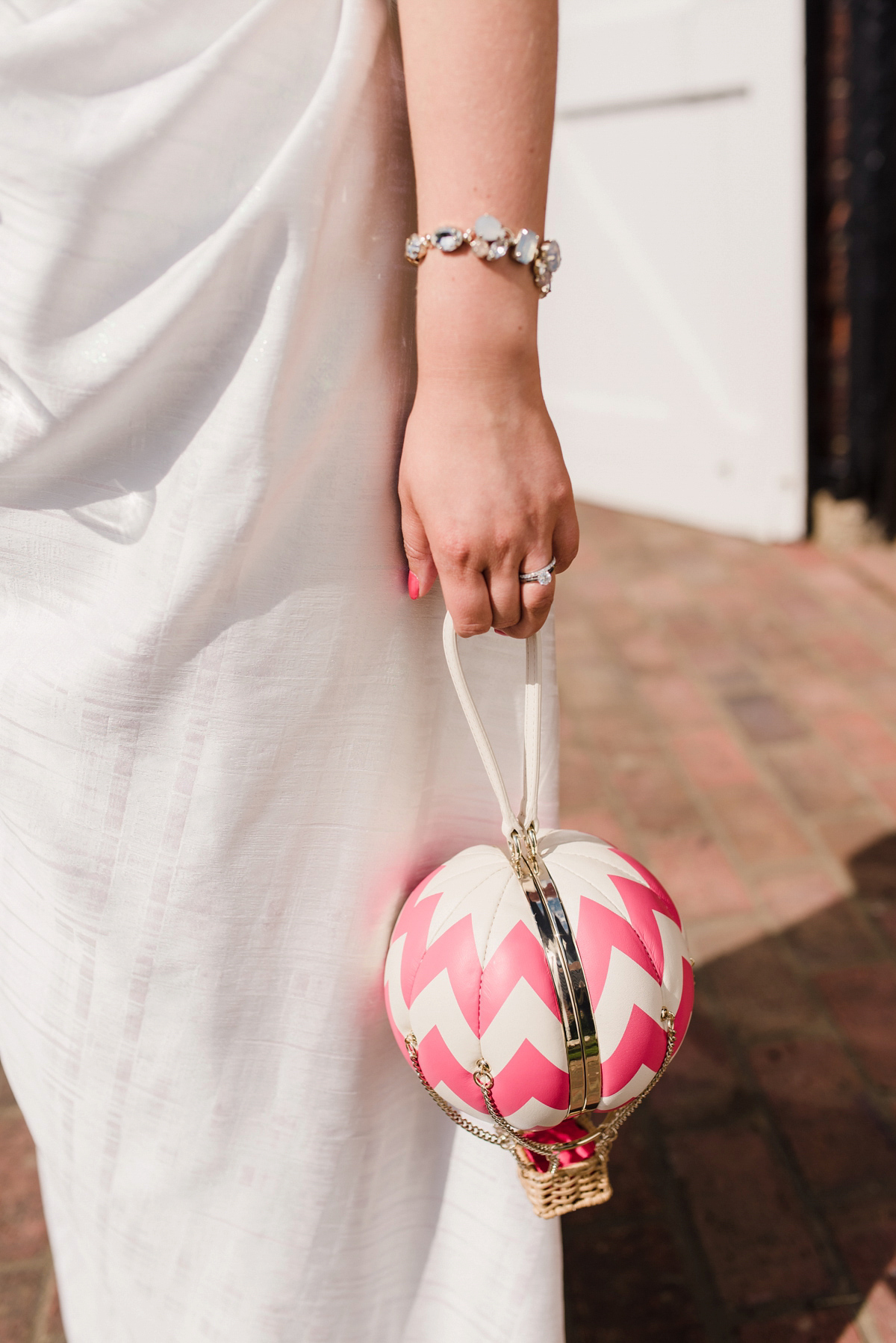 "I wore 'Cocotte' by Vivienne Westwood. You can only buy Vivenne Westwood bridal from her Gold Label and Couture stores in Davies Street or Vienna, so we went to Davies Street in London.
For many years I had looked out for celebrities wearing Vivienne Westwood in magazines and loved how her dresses suited curvy women. My mum and I knew years before that in an ideal world I would want one of her dresses for my wedding. I don't have the stature or personality for a traditional lace or modern sheath dress and had always been after that red carpet feel, so when I got engaged we didn't bother going to any wedding boutiques and headed straight to Davies Street in London."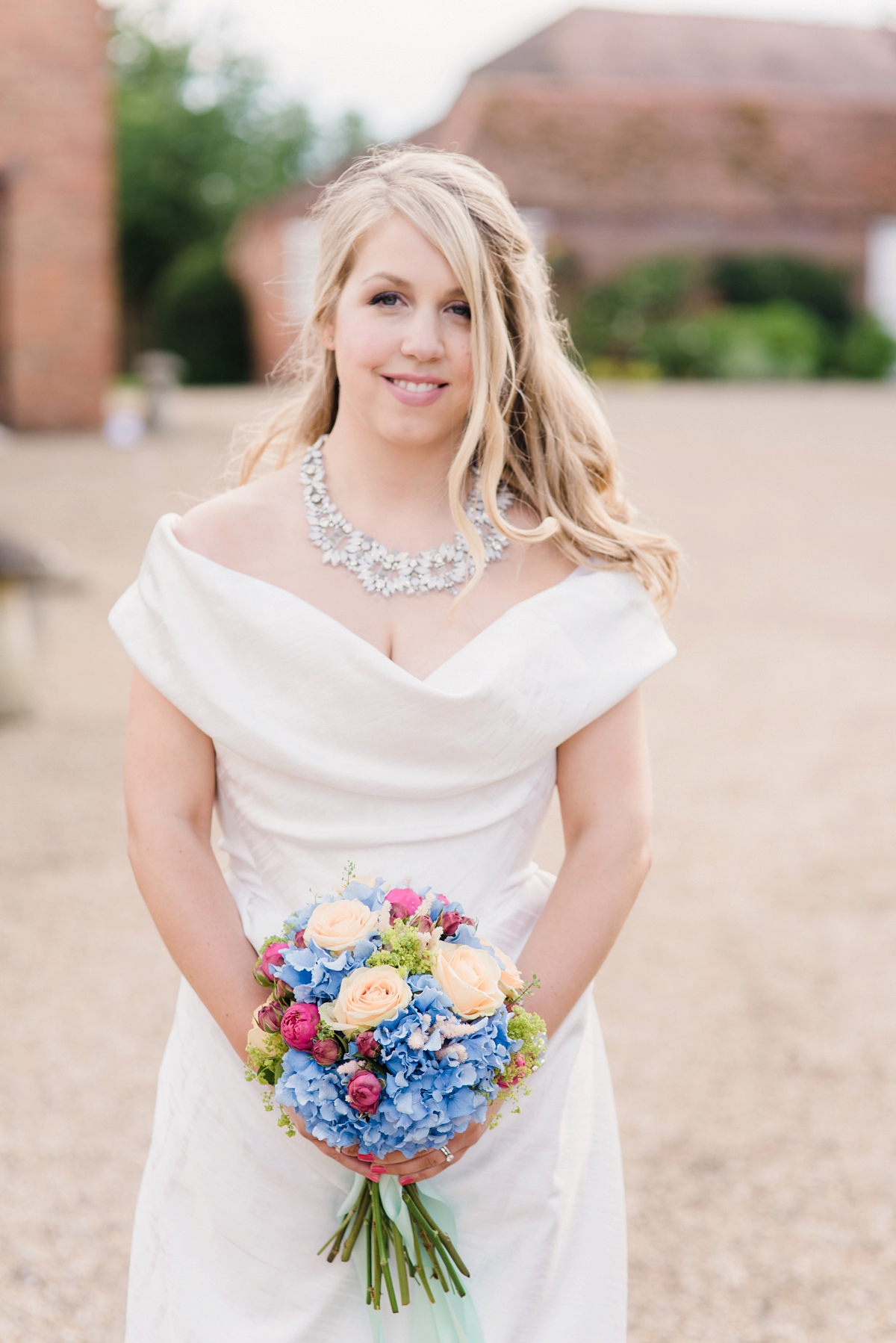 "I decided not to have a veil as I wasn't keen on what it symbolised and it didn't go with my red carpet vibe. I had originally dismissed having anything in my hair. It's very thick and I have a big head so a lot of the bridal slides and grips I saw would have been lost on me I felt. However, a few months before the wedding I visited my mum's milliner to see how her hat was progressing (she had made her dress and wanted someone to make a matching hat with the lace) where I realised that Bee also made bridal headpieces."
"I wanted something unusual but not too crazy, and I loved the idea of it being three-dimensional with ostrich quills alongside pastel-coloured waxed pearls and crystal beads. She was extremely patient in creating my vision, and I was really pleased with it."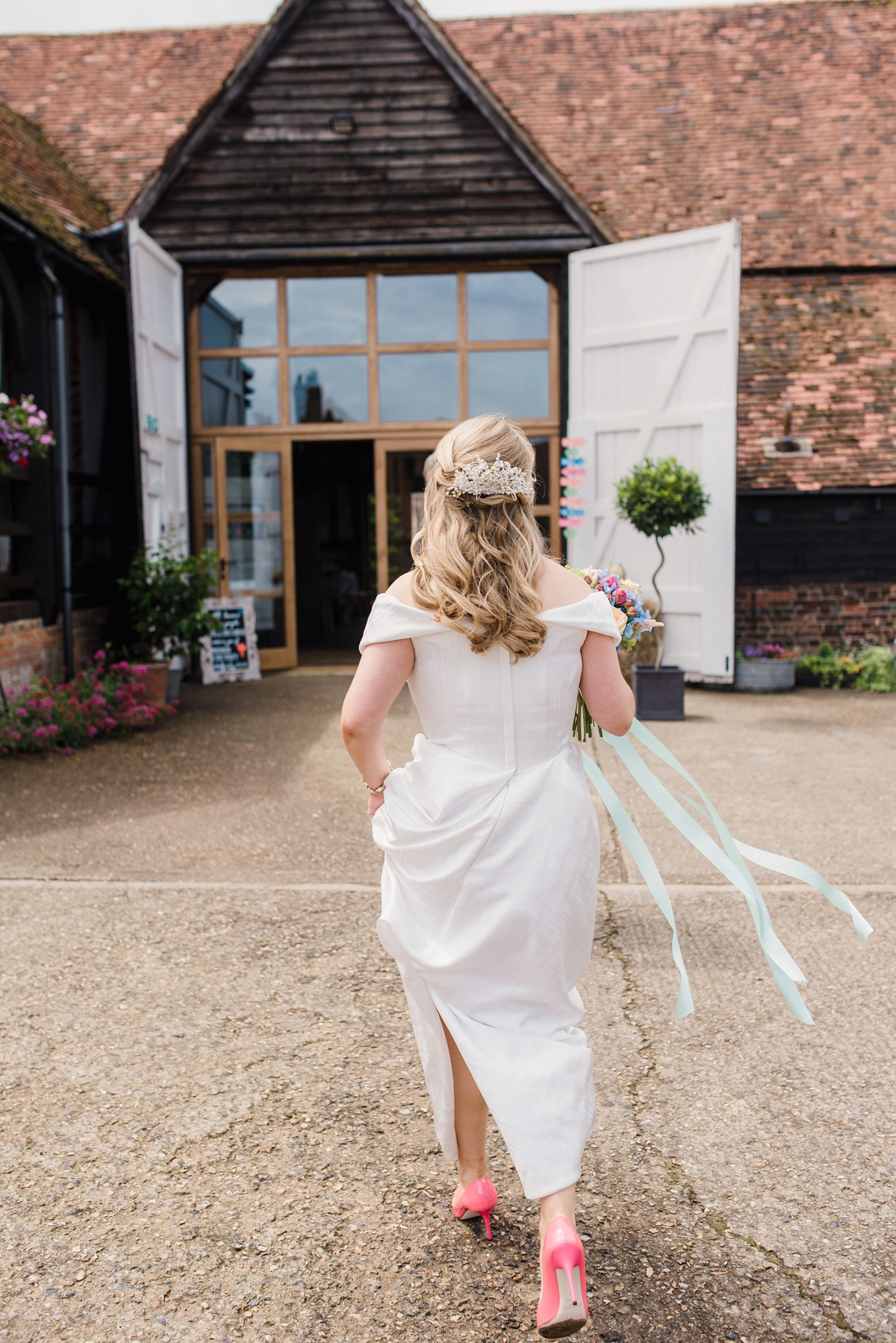 "I knew the dress that would suit me best was her Cocotte cut and as luck would have it the only one they had in my size to try on at my appointment was a Ready To Wear version in an iridescent woven silk fabric that only four dresses were made in. The slightly thicker silk created amazing structure and the shimmering fabric was just that little bit special without drawing attention away from the cut, and I felt amazing in it. I had the weekend to think about it, which I didn't stop doing, so went back five days later to buy it.
Fifteen months later we went back for alterations with Vivienne's amazing couture team who made it fit me perfectly. I'm planning to take it back to have the hem taken up to the knee so I can wear it as a cocktail dress in the future, perhaps on our anniversaries."
"We wanted the girls to be able to wear their dresses again over the summer before they grew out of them, so looked for pretty sundresses and miraculously Next had the same dress in mint green and peachy pink, which fitted the colour scheme perfectly. My mum then added matching satin ribbon sashes to make them a little more luxury for the wedding. The girls wore leather sandals from Boden, sunglasses from Claire's Accessories – which they refused to take off – and gypsophila flower crowns."
"I knew I wanted my girls in something knee length as the venue was more informal, and I wanted to avoid anything strapless. This really narrowed down our choices. Luckily, Julie at Wedding Frox had a huge range and all three of them loved how the True Bride dress flattered their figures, nipping them in at the waist and showing off their backs with the cowl drape. It was also great to be able to champion a small brand making hand-made dresses.
My bridesmaids wore Dune and Carvela sparkling gold peep toe heels and carried matching Dune handbags. They also wore mint and peach crystal hair slides from Jenny Packham No. 1 and a rose gold bangle from Notonthehighstreet.com and a rose gold Monica Vinader initial pendant and chain, which I gifted them on the morning of the wedding."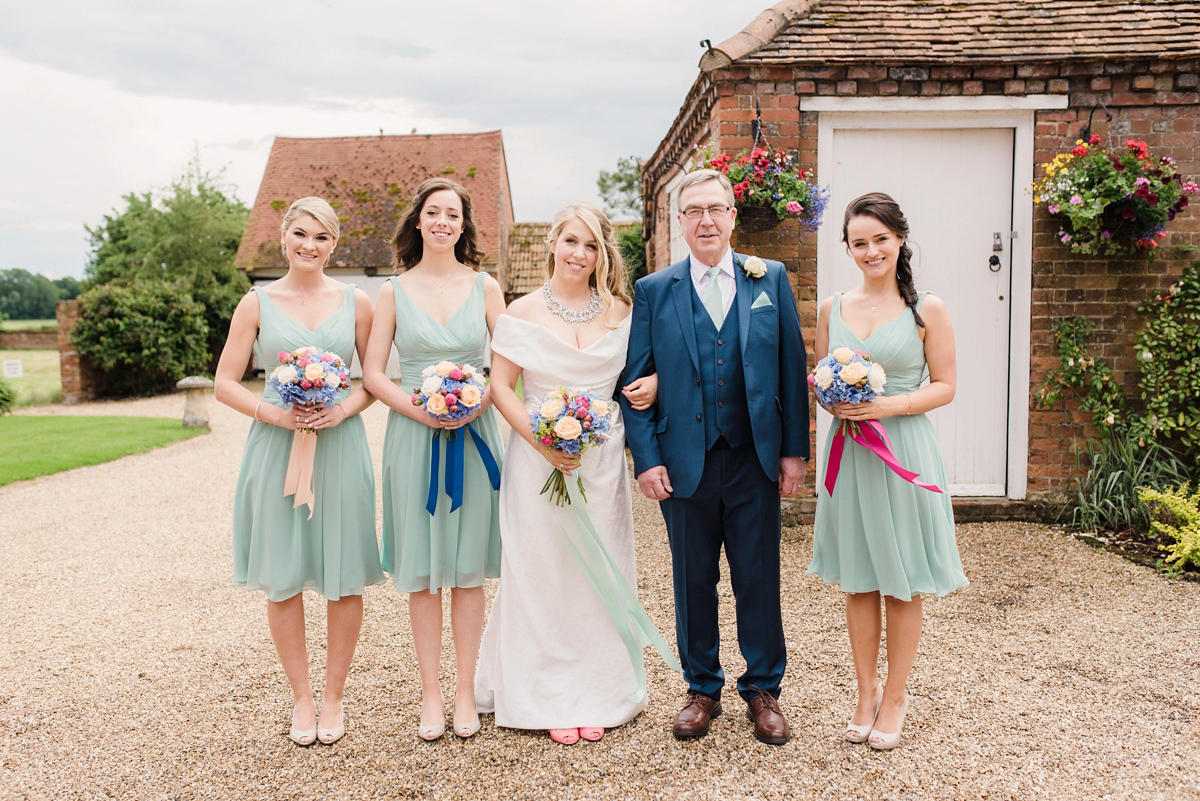 "A summer wedding was always on the cards as I wanted an outdoor ceremony, but we had lots of friends' weddings in 2015 and decided to wait until the following year. Besides, I had already pencilled in the 25th June 2016 as a potential wedding date in my mind long before we were engaged as it would be the 7-year anniversary of our first date.. So we had 18 months to plan, and ultimately to save money, which enabled us to have our dream day along with help from all our parents."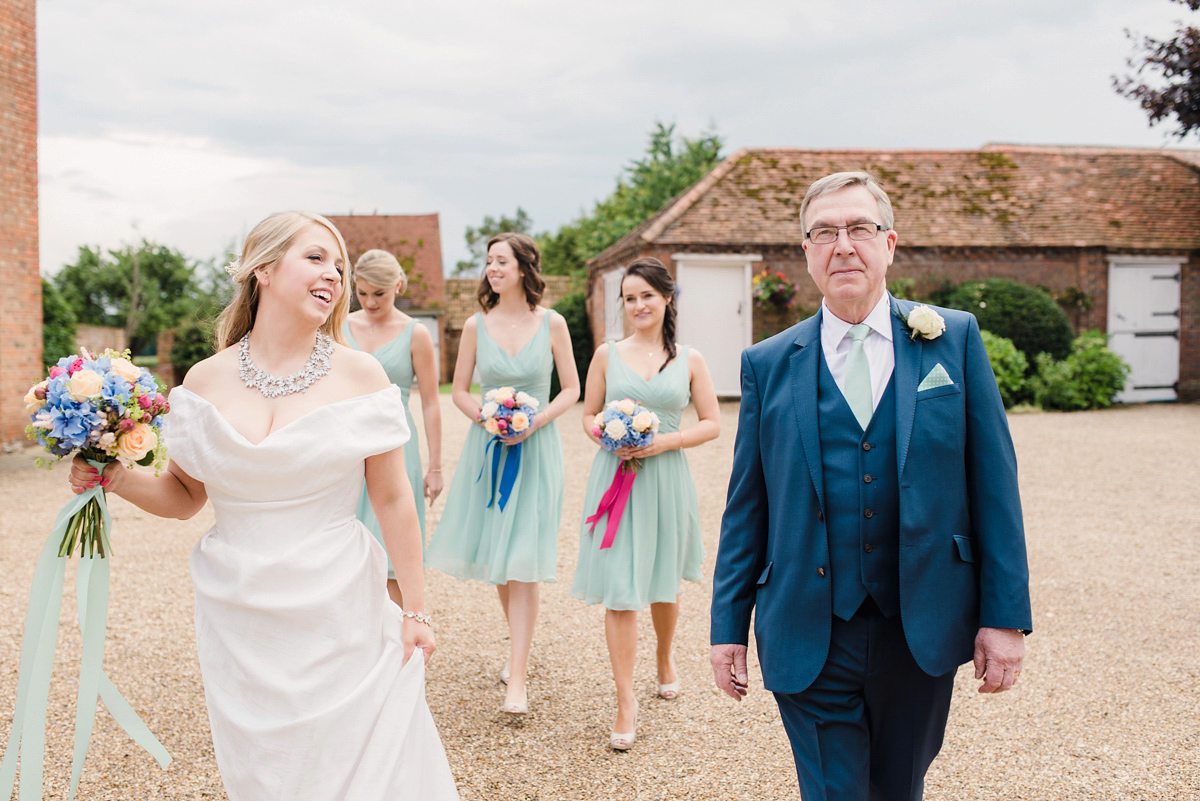 "I loved Lillibrooke Manor's Great Barn as soon as I walked into it, the timber and high ceilings felt rich with history and happy memories and there was a pretty cloistered garden that could be used for an outside civil ceremony. Andy couldn't picture the vision I had painted in my head, but could see how excited I was about the venue and knew I would make it look and feel amazing on the day. The other key factor in choosing Lillibrooke was that even if it did rain on the day, there was a separate small barn that could be used for the ceremony and an enormous former animal engine room that could be used for the drinks reception. This meant the day could be set up without any rearrangement of tables and decorations, and as the flow of the day was really important to us this was a deal breaker.
As it turned out, the forecast on the morning of the wedding was heavy rain all afternoon into the evening so we set up the venue for the rain contingency plan so I was relieved that we had chosen a venue with so many options. Miraculously though the rain came early when I was getting ready with my bridesmaids, and while we had the ceremony in the small barn the sun came out all afternoon, which meant we could utilise the garden and grounds for pictures and drinks."
"We didn't hire an event planner. As my Dad said in his speech on the day, I was the Project Manager and Creative Director with tight control on pretty much everything about the day. Andy is very chilled and while he was fully involved with decision-making, it was me who drove ideas for decoration to entertainment. He'll happily admit he isn't very creative and looked after things like rings and honeymoon."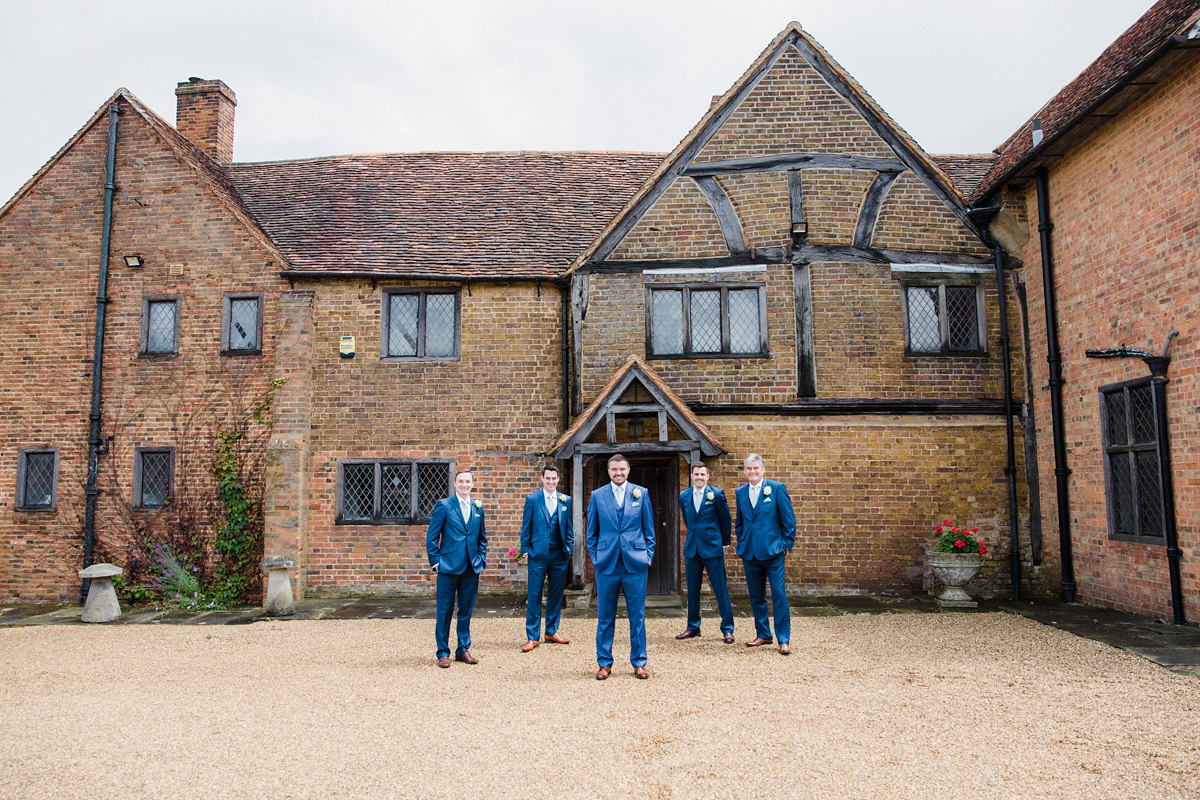 "Keeping our guests entertained throughout the day without any lulls was really important so we packed the day full of fun entertainment and activities. Musically we wanted to get away from the more traditional string quartet and wedding band combinations we had seen at other weddings, and wanted to have something that reflected our tastes.
Acoustic singer/songwriter Jon Hart was an obvious choice for drinks reception and wedding breakfast, having won a number of wedding awards for his fantastic music. We had so many guests asking us where we had found him as they loved his repertoire and sound and he set the mood perfectly."
"Dad walked me down the aisle. It's an absolute cliché but I so needed someone I loved dearly to hold onto. We got a bit excited though and ended up walking into the ceremony too quickly after the bridesmaids and ended up in a bit of a queue while everyone sat down. A top tip to other brides – remember to hang back and pace your steps."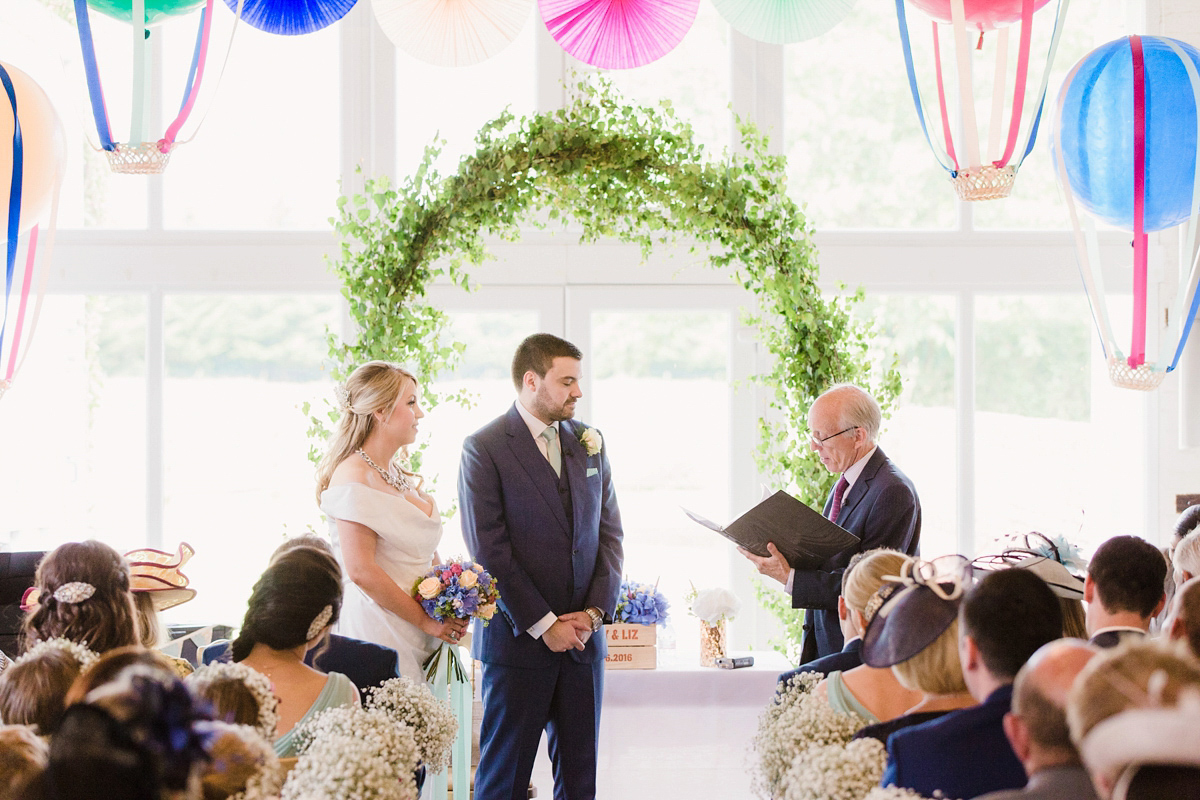 "Our extremely talented friend Harriet played the piano for our ceremony. It was so lovely to have her so close playing some of our favourite music. We opted for an instrumental version of John Legend's 'Ordinary People' for the procession as Andy and I both love the piano music and we've listened to it a thousand times in the car together on rainy evening drives.
It was followed by 'Seasons of Love' from the musical 'Rent' during the Signing of the Register, a beautiful piece of music that reminded me of my teenage years at stage school with my maid of honour and how far we've come."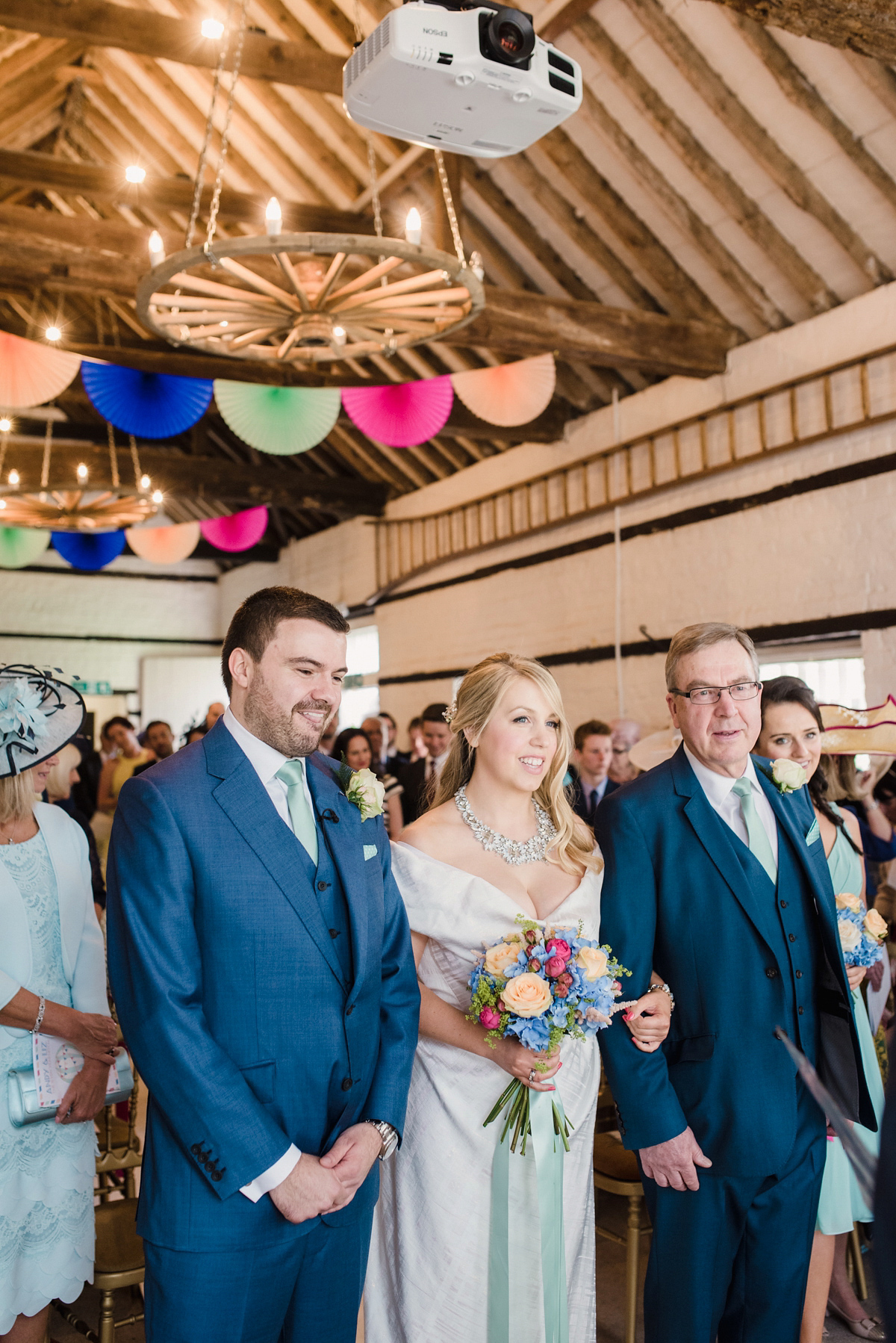 "As a very private couple, we were quite nervous about opening up in front of everyone during the ceremony so stuck with the registrar's options. We were lucky to have a wonderful registrar who made us and our guests feel really comfortable, which meant the ceremony went without a stumble or a mumble."
"We had two readings in the ceremony, read by my university friends, one of whom was living with Andy when I met him. Chapter One of a Thousand by OJ Preston was a reading I stumbled upon years ago, and I kept a copy pinned on my noticeboard ever since knowing I'd want it in my wedding one day. And the other was A Wedding Message by Amanda Bradley. Both readings were modern and reflected the type of life we want to build together."
"Andy had picked my solitaire and platinum engagement ring at Daniel Christopher, in Hatton Garden, following advice from a friend, and had really liked the service. They had matching wedding bands for my ring so we went back and ordered a plain platinum band for Andy and a half eternity ring set with diamonds for me. The team are fantastic and gave my engagement ring a good buff and polish before the wedding to ensure it was sparkly for the photographs."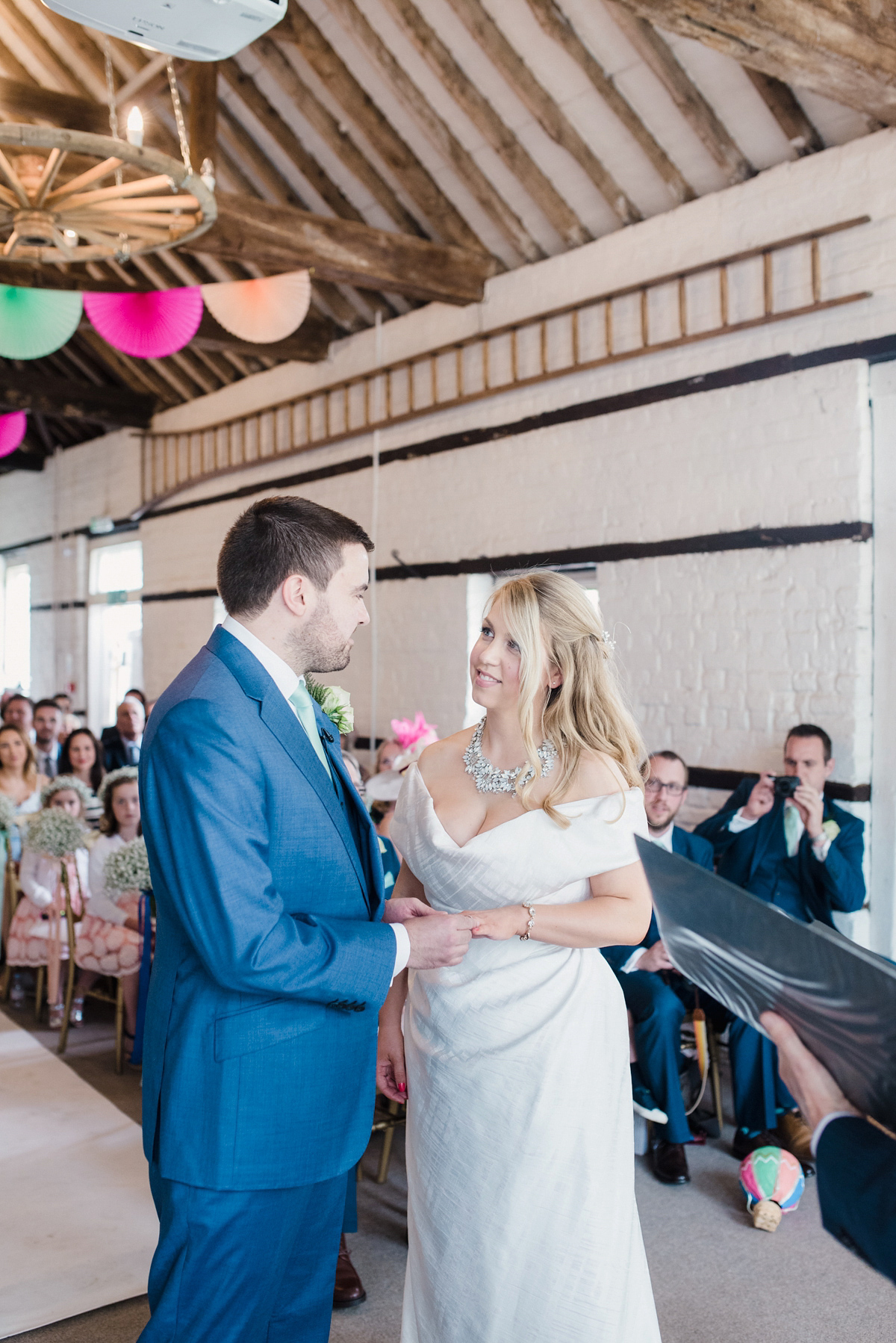 "Stressfree Hire built a gorgeous birch archway for the ceremony made up of fresh cuttings snipped that morning, as well as lovely ornate gold mirror we used for our Order of the Day, and barrel poseur tables for the dancefloor."
"I hadn't thought much about hair and make up and went into my first trial with a different artist completely unprepared, and I spent the next day crying. I had seen Gemma Sutton and her team on some wedding blogs so phoned up desperately hoping they had some artists available still. Fran who coordinates everything at Gemma's HQ was amazing and assured me that I would not leave the studio until I was 100% happy.
I opted for Miss Rose Gold as her profile said she delivered a gorgeous glow with a pop of colour, and she used a lot of hair and make up brands I was familiar with. She totally got the relaxed tousled simple look I was going for with my hair, and opted for pale pink shimmer on my eyes, which I would never have thought of. She also gave me lots of really useful hints and tips for general make up application. She and Miss Wisteria were such fun on the day when we were getting ready – the perfect people to have around when you're feeling a little nervous.?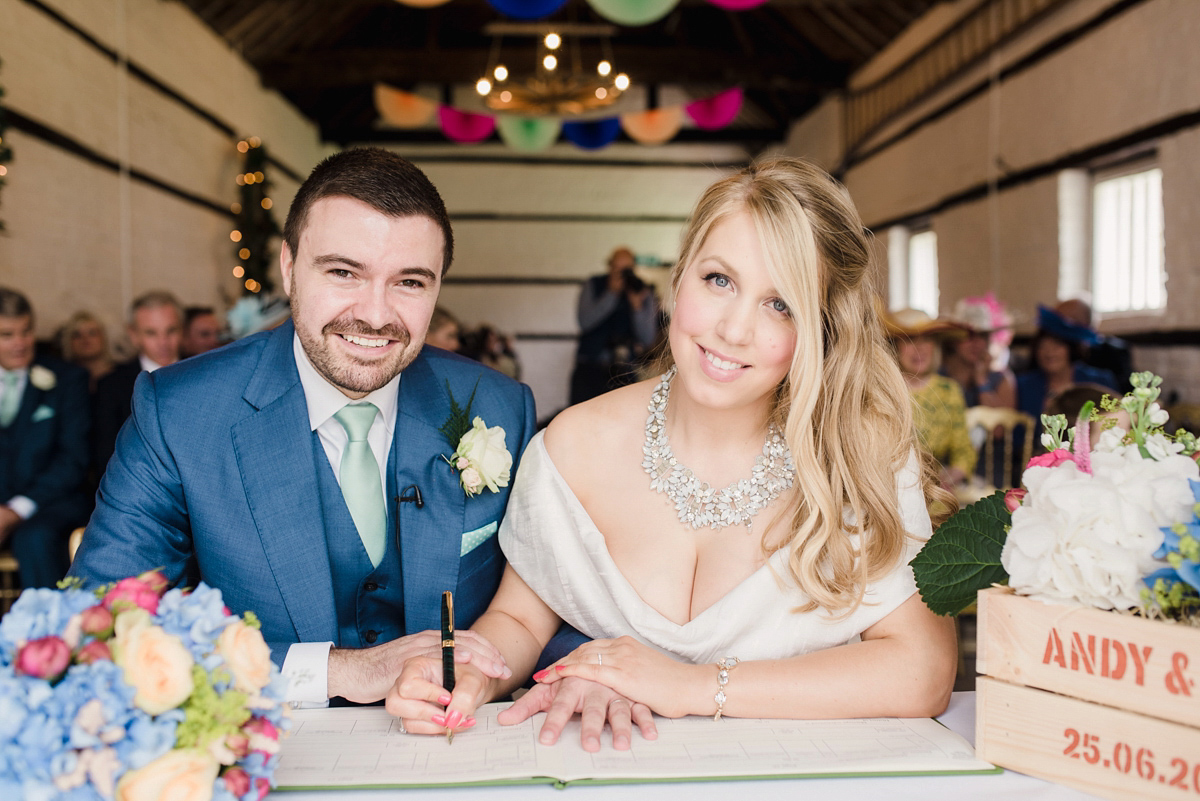 "We both agree that the ceremony was our absolute highlight. After all the months of planning and anticipation, it is a beautiful half hour celebrating the love between you and your partner. In some respect it is also the calm before the storm of the rest of the day, which whizzes by in a flash. You can see from photos that we were grinning from ear to ear when we first saw each other in the ceremony, which was such a wonderful memory to have captured by Faye. Andy's mum says she has never seen us come close to being that happy and smiling so much, so it must've been our favourite moment."
"Other than wishing we could have stopped the clocks for an hour or two to make the day last longer there isn't anything we would change about the day. Not everything went to plan, well quite a few things for a detailed obsessed bride like me, but you can't live with regrets. We both married the love of our lives, the sun shone and some of our guests have written to us to say it was by the far the best wedding they've ever been to. What more could you want.?"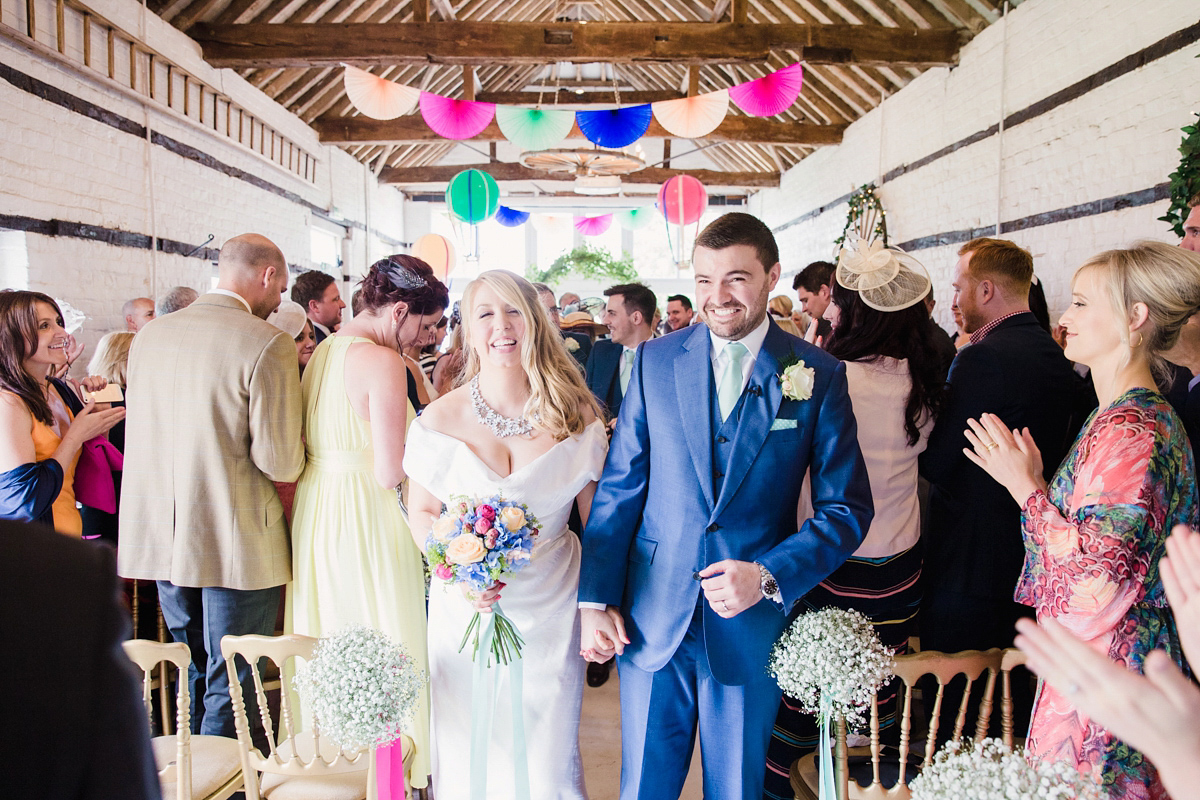 "Having spent many years commuting to work together on London buses we liked the idea of taking our guests on a big red bus to the venue. Once we had looked at the cost of getting me a separate car we decided economically and logistically it would make sense to have the bus make another trip with myself and the bridal party, including the seven family children in our procession. It was a little unorthodox but made for a really fun trip, which Faye our photographer joined us on, with lots of laughter.
I didn't realise until the day after but our original bus experienced engine problems and had been replaced that morning by another vehicle, which we thought was fantastic service from Rent A Routemaster to get me and our guests to the venue on time."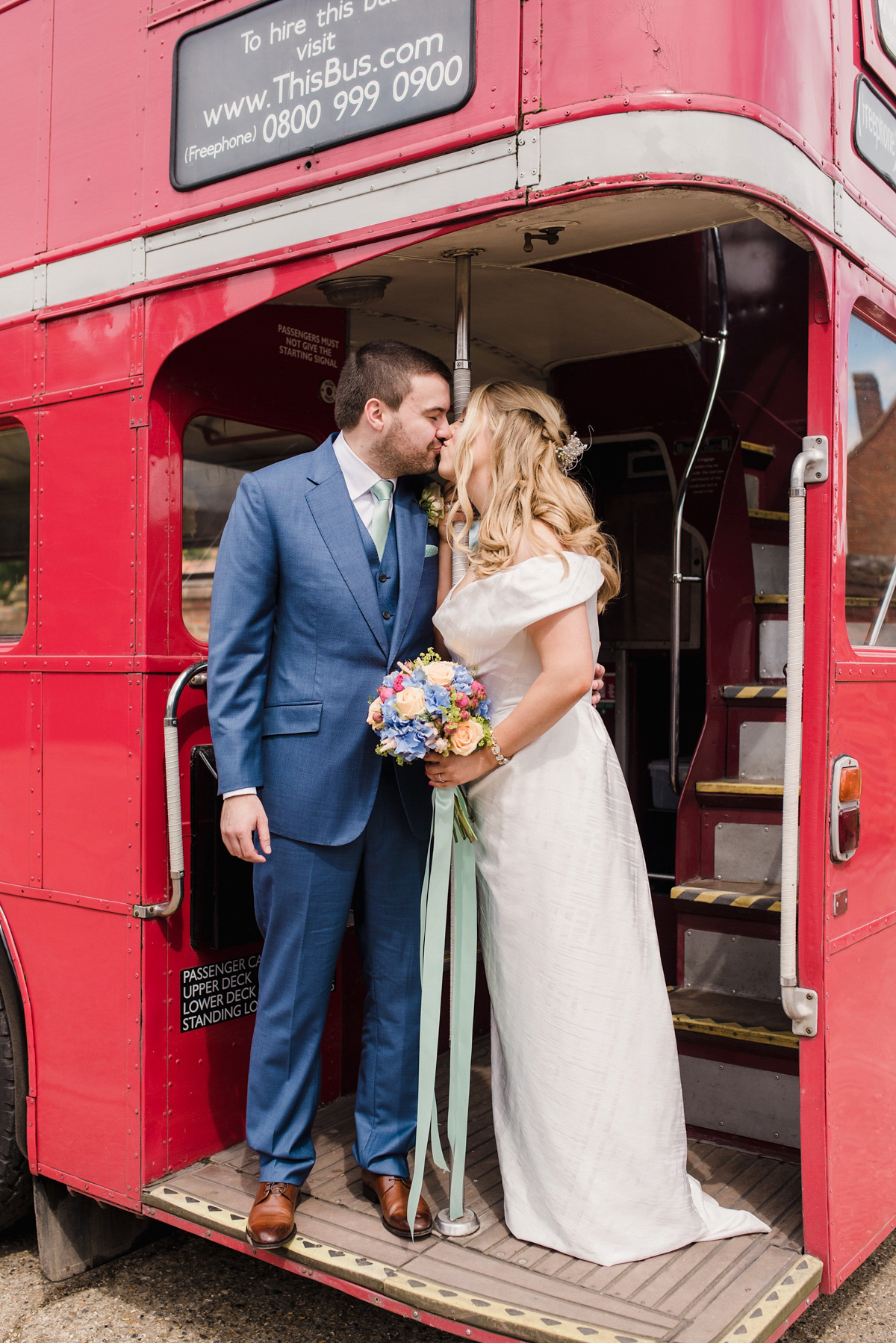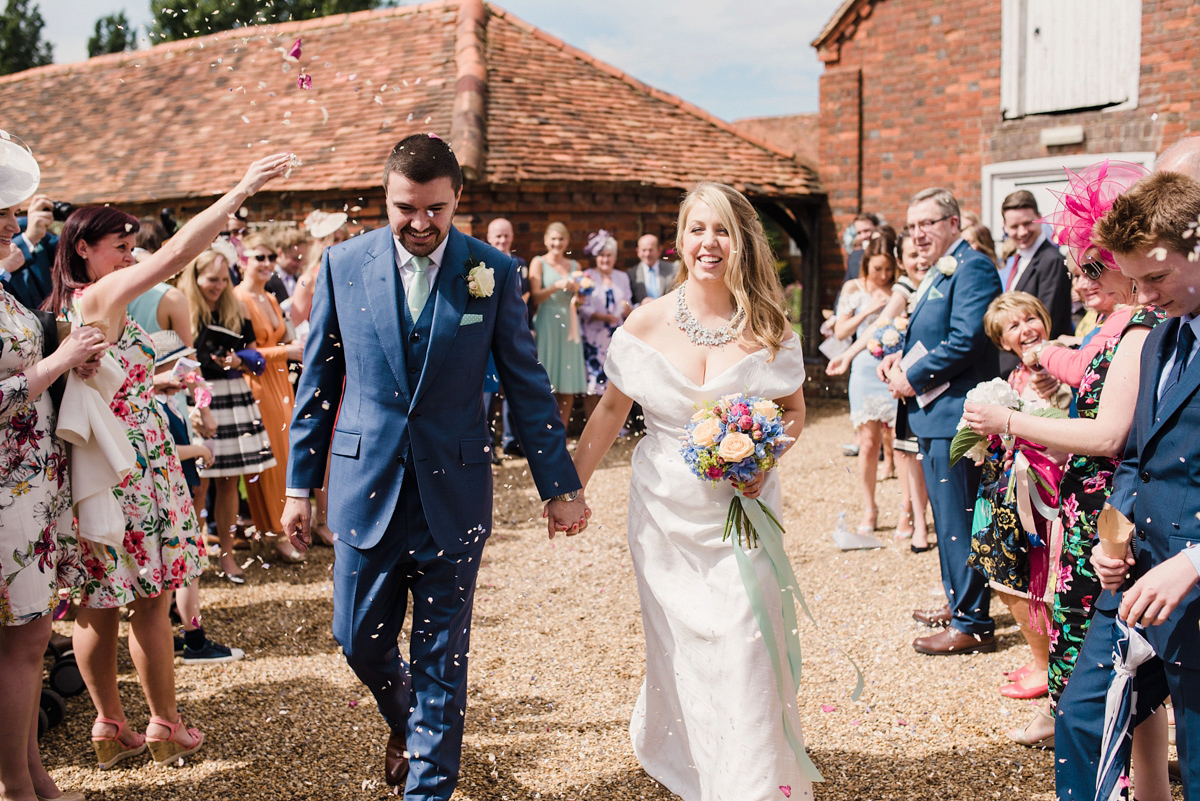 "Family was really important to our big day and to ensure everyone could make it we kept the wedding search to the UK and somewhere fairly close to where we lived. I had always loved the idea of getting married outside amongst nature in a more relaxed setting, and once we had seen and written off a couple of stately homes we realised this would probably mean a more rustic venue."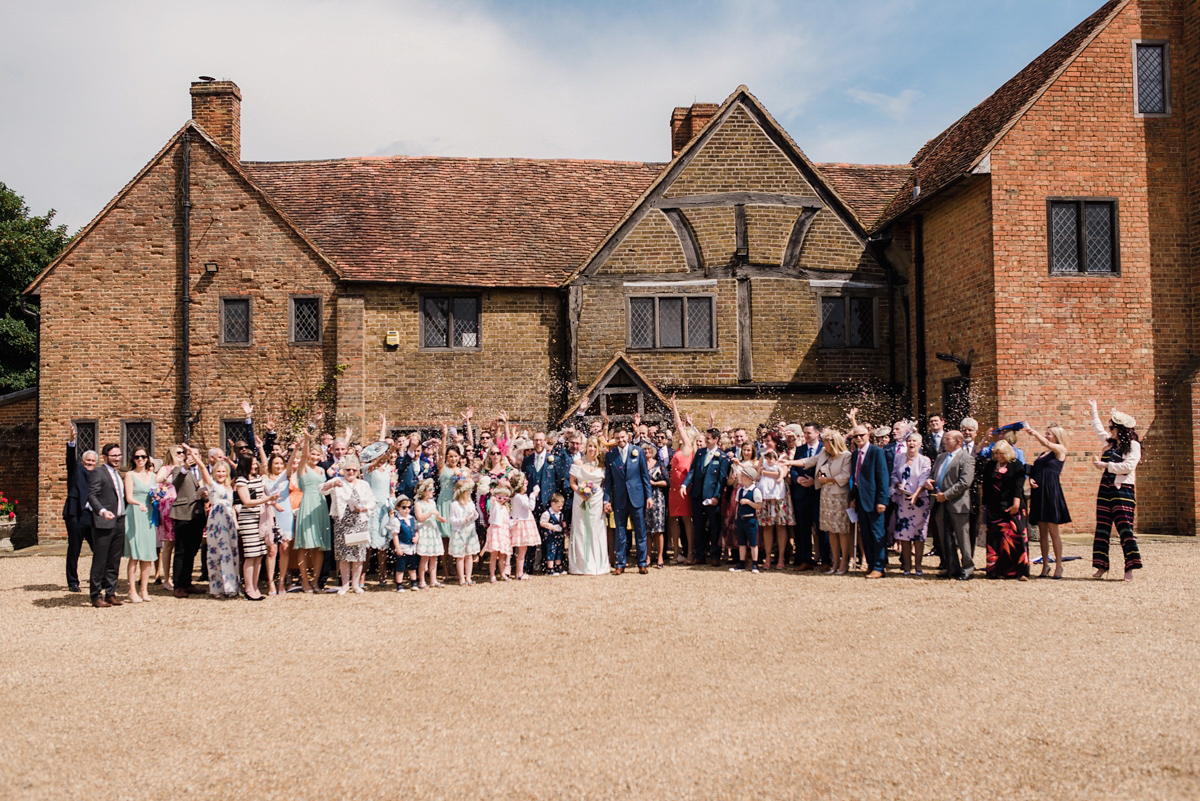 "My mum and I met photographer Faye Cornhill at a wedding fair early into the engagement. Style was always going to be important, but equally so was personality. Faye's booth had beautiful clean and light photos on display, which was the style we were after, and I instantly recognised a picture I had seen shared a thousand times on pinterest."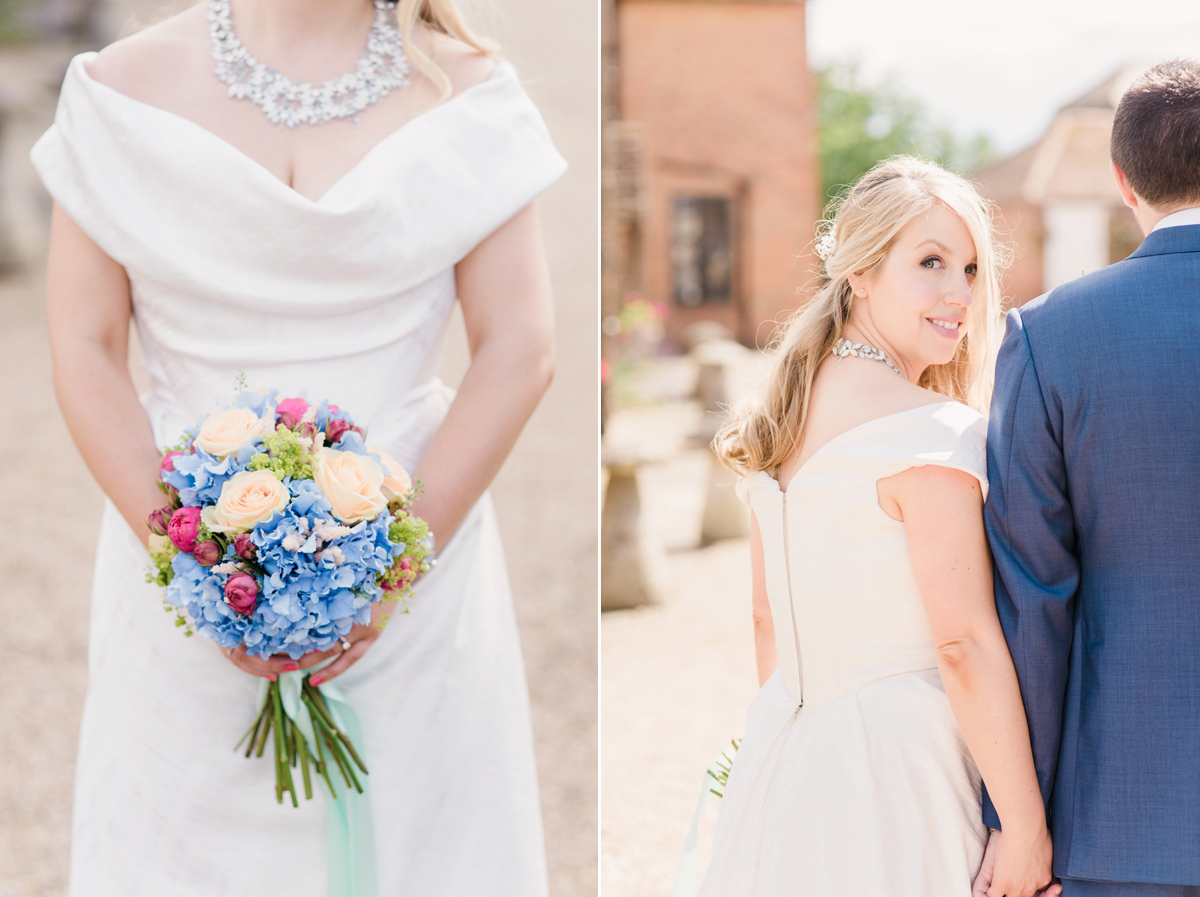 "We started talking and I realised that Faye was perfect for us – friendly and fun with a real passion for weddings plus the ability to direct guests and couples easily. I booked her straight away and Andy only met her a year later at our pre-wedding shoot. She made us feel so comfortable at that shoot, laughing and smiling all afternoon, that we knew she would capture the happiest day of our lives perfectly."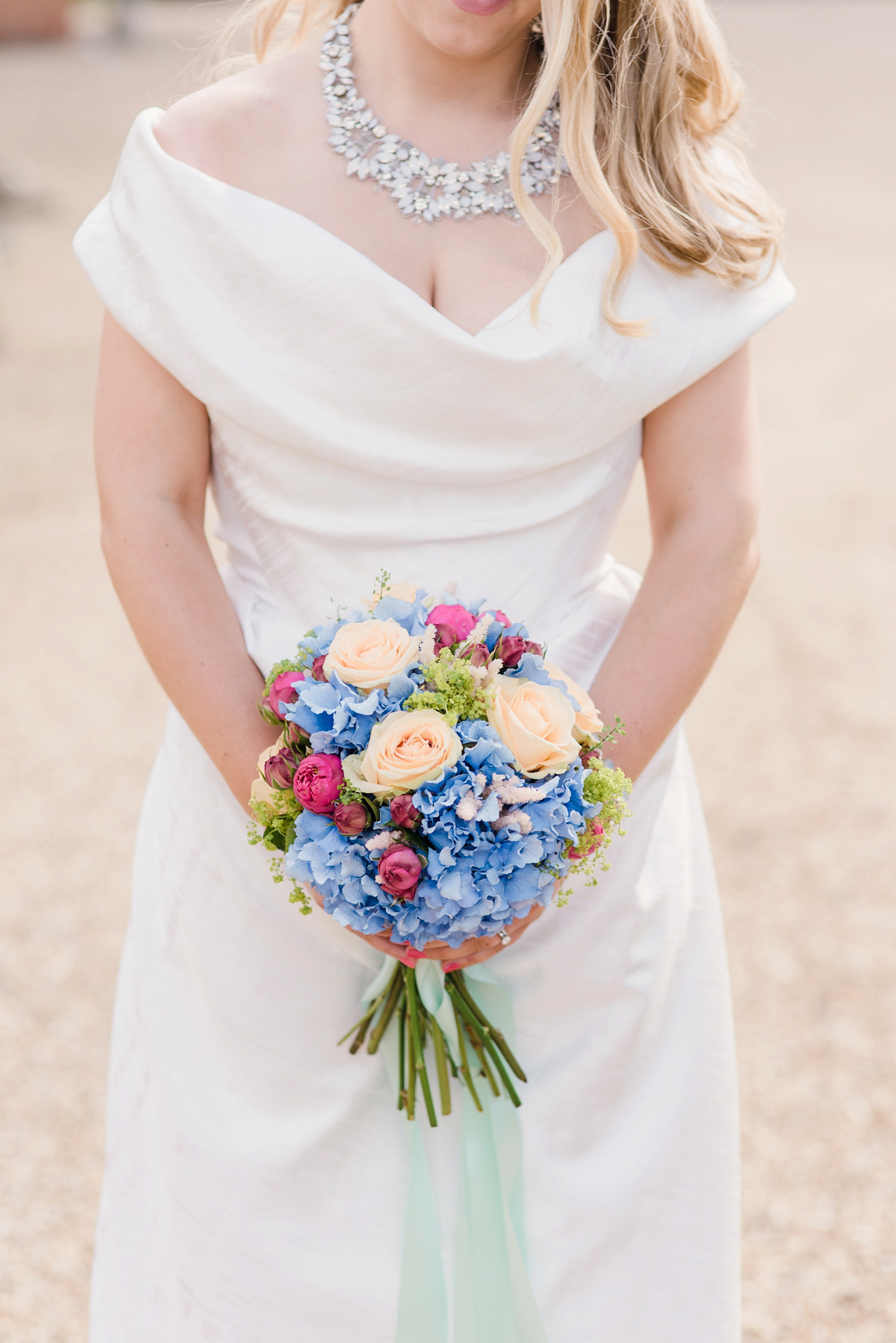 " Looking back, we were giggling all day at the wedding and the photos are a wonderful memory of what a joyous day it was. Faye was also a great support for me throughout the day when I had an emotional wobble or two, so I'm not sure what I would have done without her."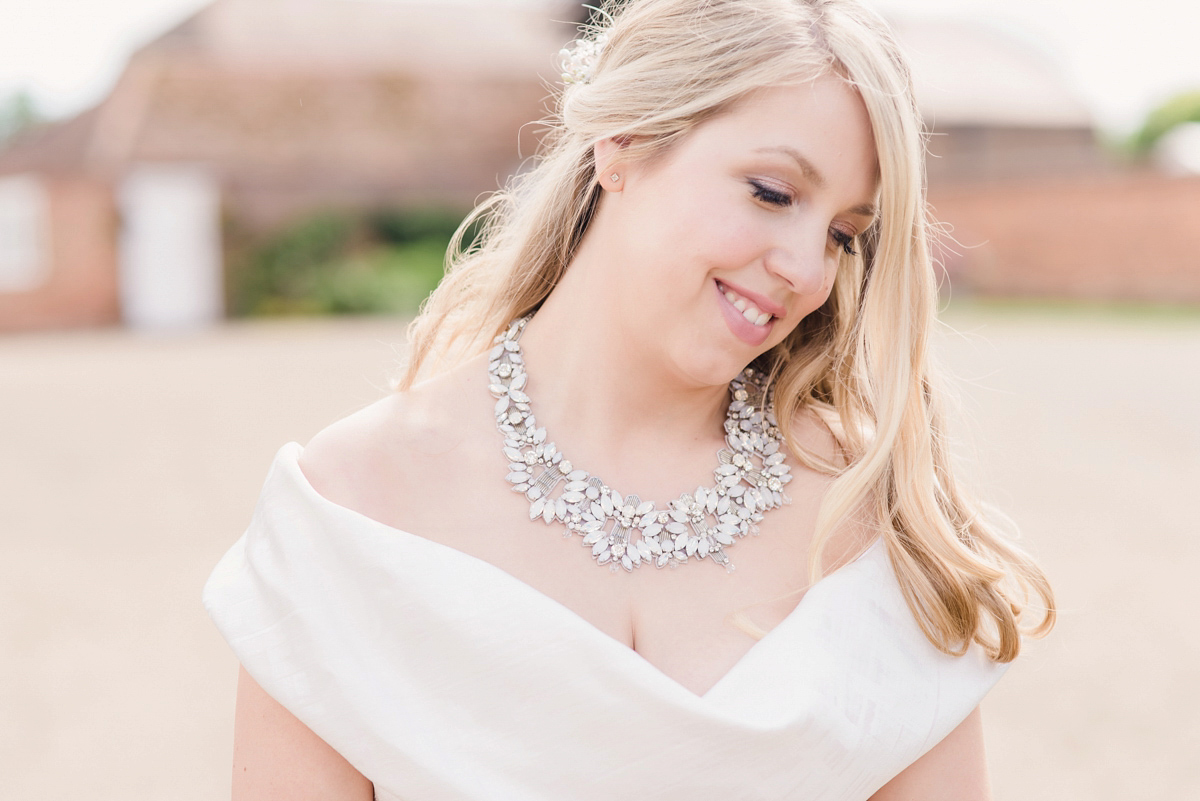 "Our filmmaker was Ben Walton. Ben had filmed a friends wedding in 2014 and as soon as I saw their highlights video I was obsessed. He is exceptionally talented, and the diversity of the films he shoots really add to the creative magic he conjurs up.
Although he isn't local to us we couldn't find anyone in the area that we felt compared to him, so booked him as soon as we could. Having a videographer is definitely a nice-to-have if you can afford it, but I knew early on I wanted to create budget for it as I would want to relive the day over and over again; leaves swaying in the trees, seeing friends and family laughing together, gliding around the dancefloor and most importantly saying 'I do'. It is the biggest regret of some of our friends, a piece of advice which is hard to ignore."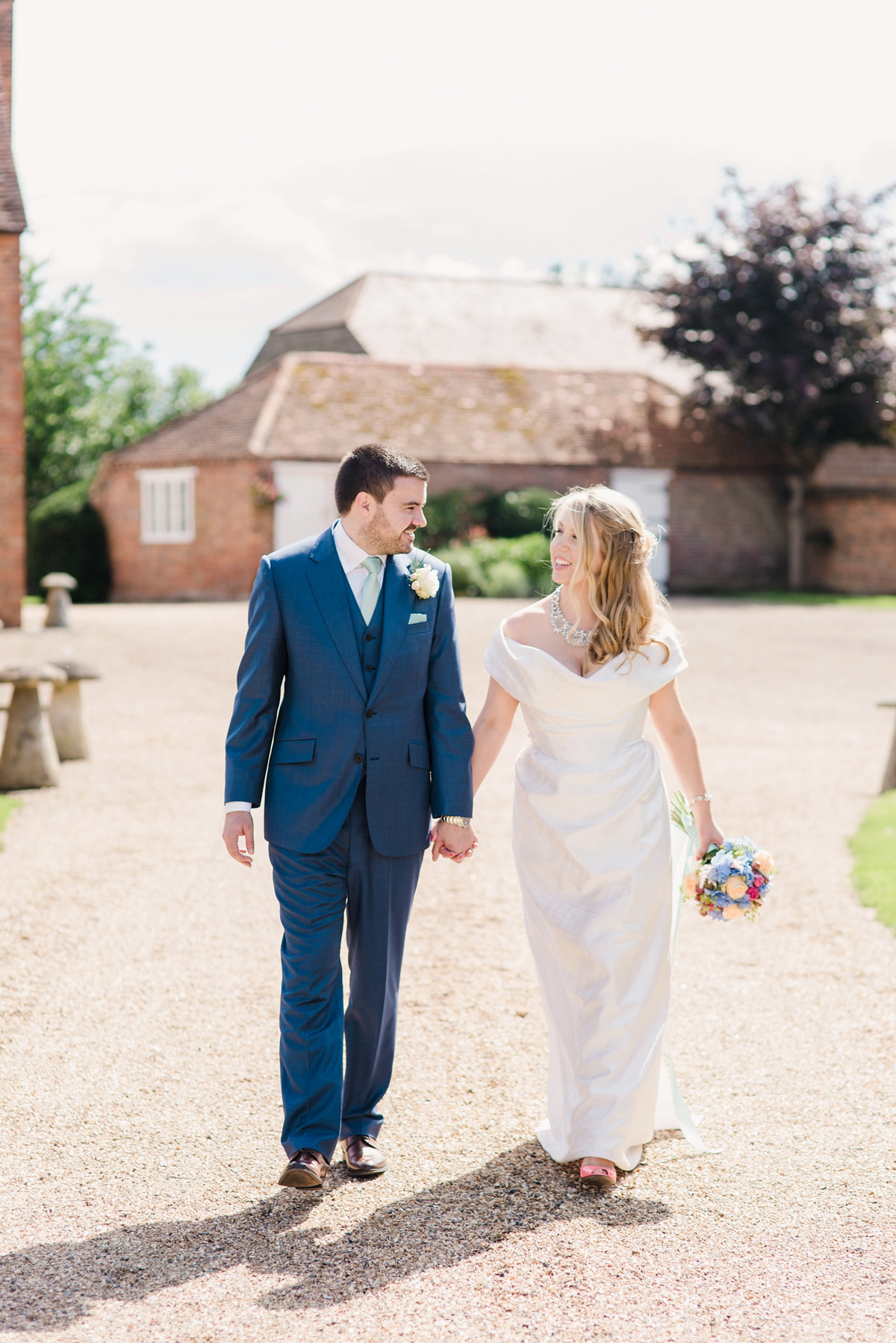 "We figured that if my dress made me feel amazing, Andy should have a suit that he felt really happy and confident in. I'd read a lot of good reviews about Cad and The Dandy on wedding blog sites and we visited their City store near Bank in London. The choice of fabric and cut was amazing. Andy has a long body, which meant the handmade approach meant his waistcoat and jacket fitted him perfectly, and they even made the left sleeve of his shirt a little bigger to accommodate his watch.
Although it was a lot of money he is going to get a lot of wear out of the suit over the years, more so than my dress probably."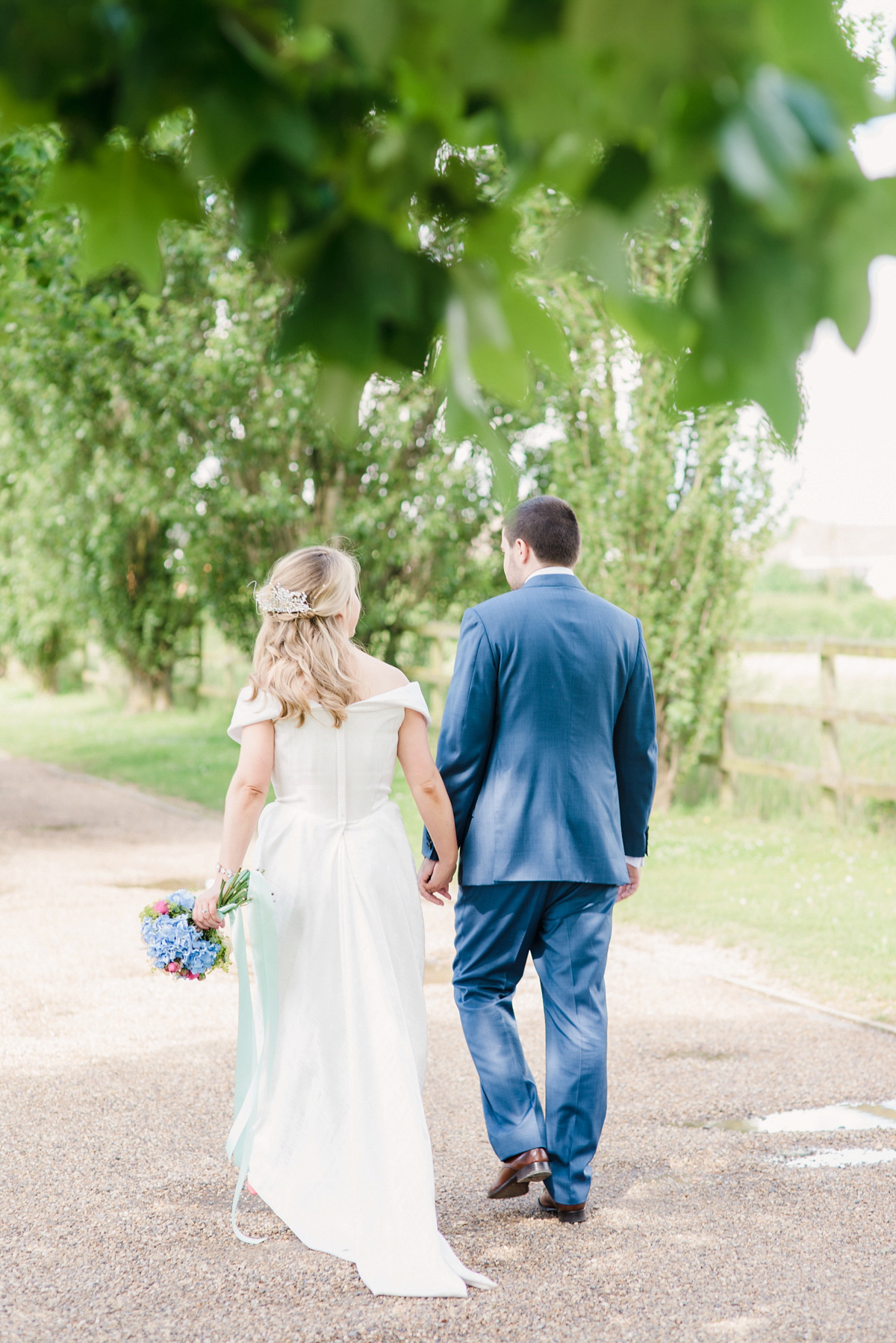 "A big entertainment feature of the day was the fit-for-a-fairytale white and blue bouncy castle from Vowed and Amazed, which we opened with a 'First Bounce'. Children and adults alike loved it, and it made for some fantastic photos throughout the day."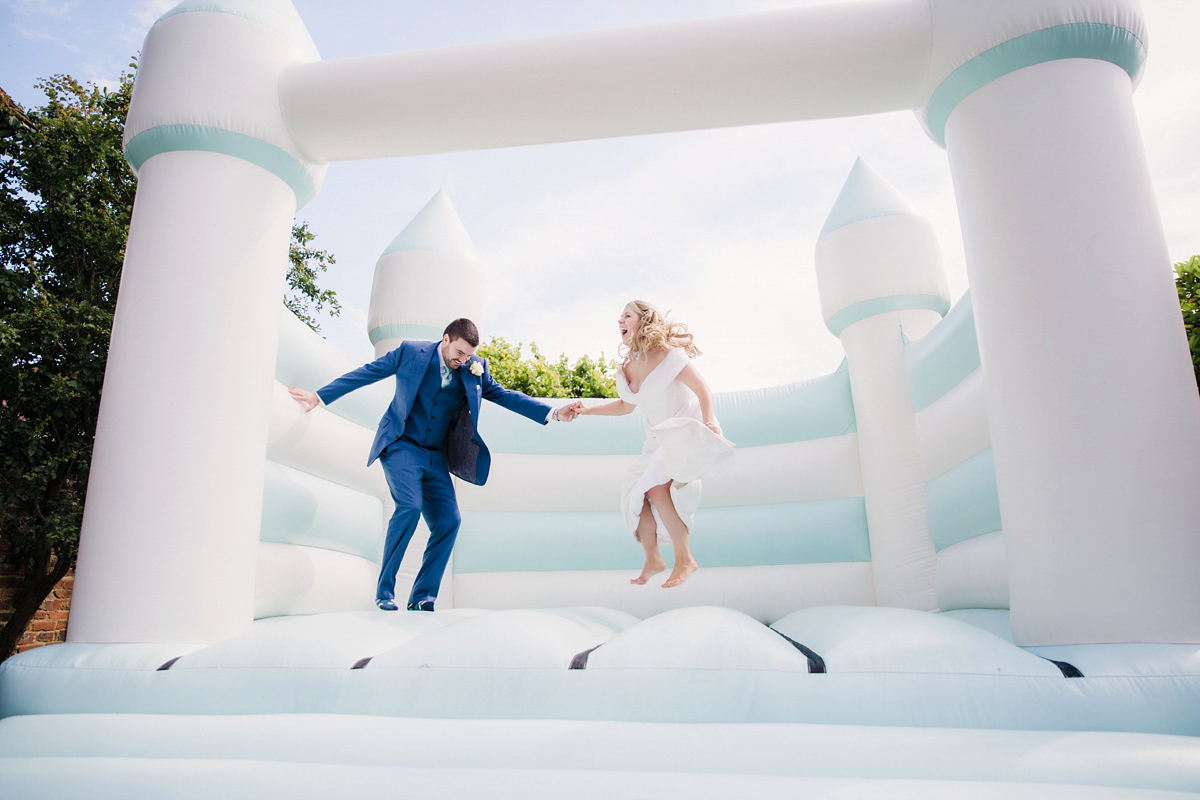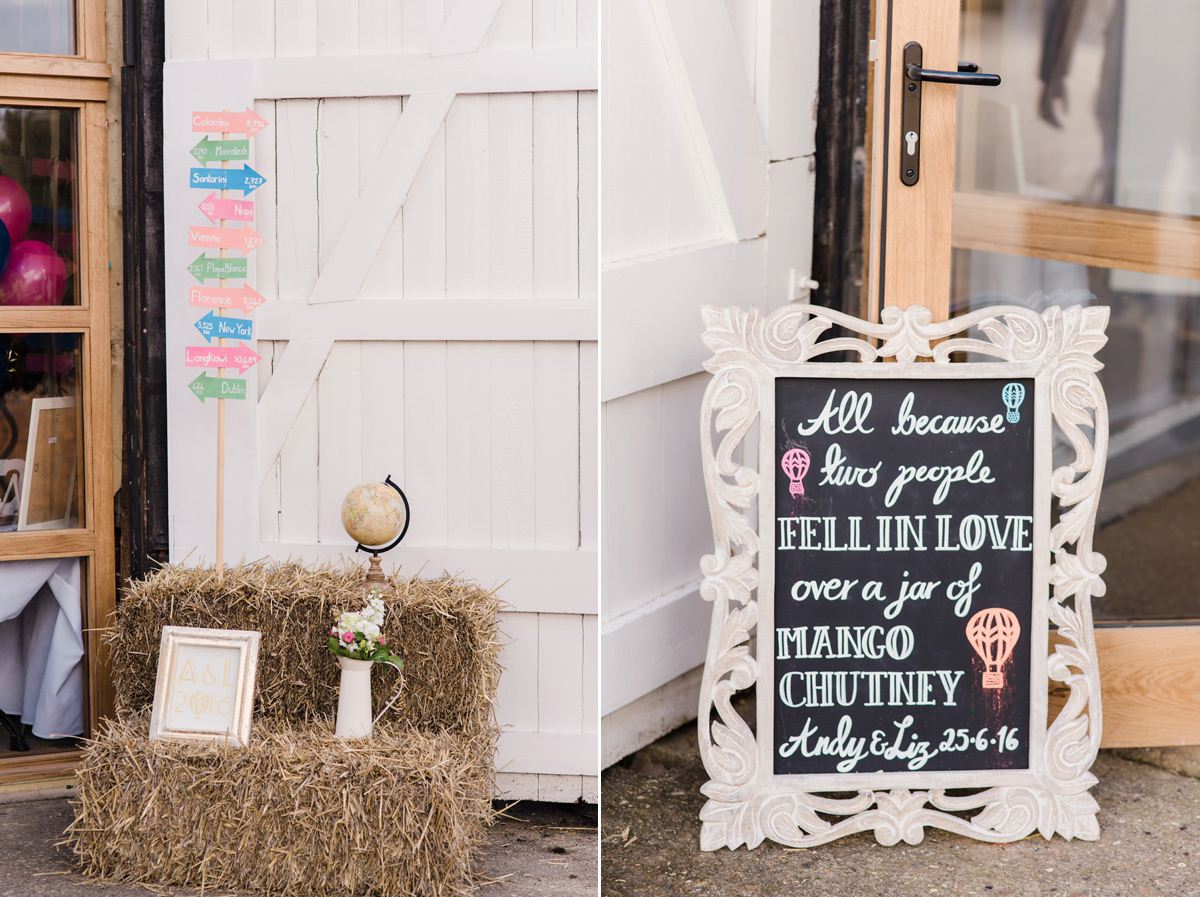 "A lot of people couldn't believe I was going to make our cake two days before the wedding, but that's exactly what my maid of honour and I did. As a couple, Andy and I don't really buy or eat cake, but what we do love is chocolate and sweets. We knew we wanted something a little different so decided to make a rice crispy cake bound together with marshmallows, as it wouldn't melt in the heat compared to chocolate."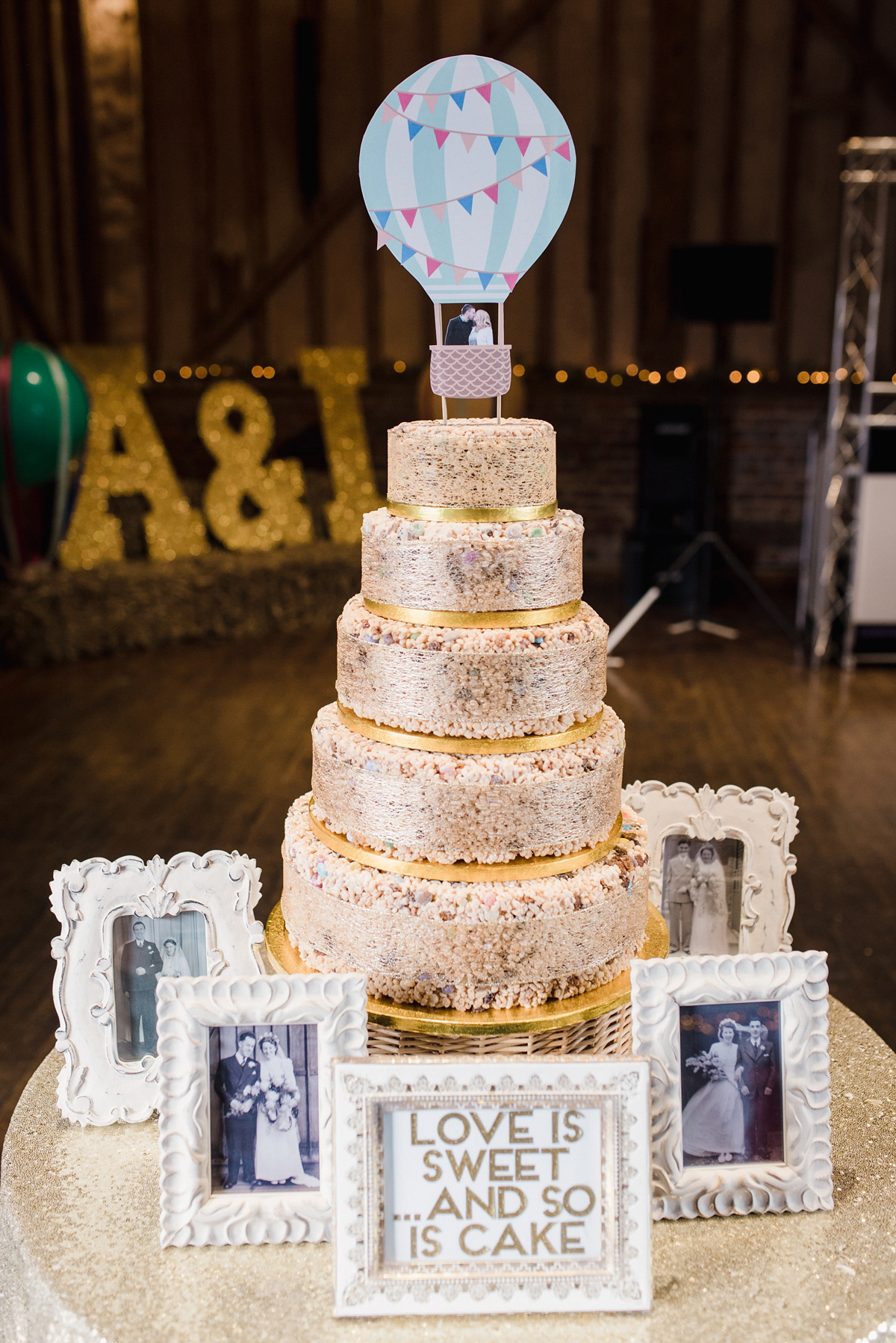 "We hired five round cake tins from the Steamer Trading Company and filled them with this sticky mix, which had bags and bags of Smarties, Jelly Tots, Giant Buttons, caramel Rolos and sultanas mixed throughout. It went down a treat, literally. Our guests have been raving about it for weeks after, and the best bit was that the tin hire and ingredients came to just £100."
"Partybales created huge hay bale sofas that we topped with blankets and cushions for guests to chill out in, as well as a hay bale Skittles Alley and a few other random bales dotted around the venue to add to the rustic feel." 
"Everything else was created by me and my parents. This included my mum making hundreds of atlas material pennants for the Great Barn bunting; my dad and me making huge light-up letters out of foam board, glittery gold wrapping paper and fairy lights; painted paper lanterns with mini baskets suspending underneath them to look like a sky full of hot air balloons over the bar; metres and metres of hot air balloons crafted out of card in the Animal Engine Room; toiletry and sweetie baskets in the toilets – the list goes on!"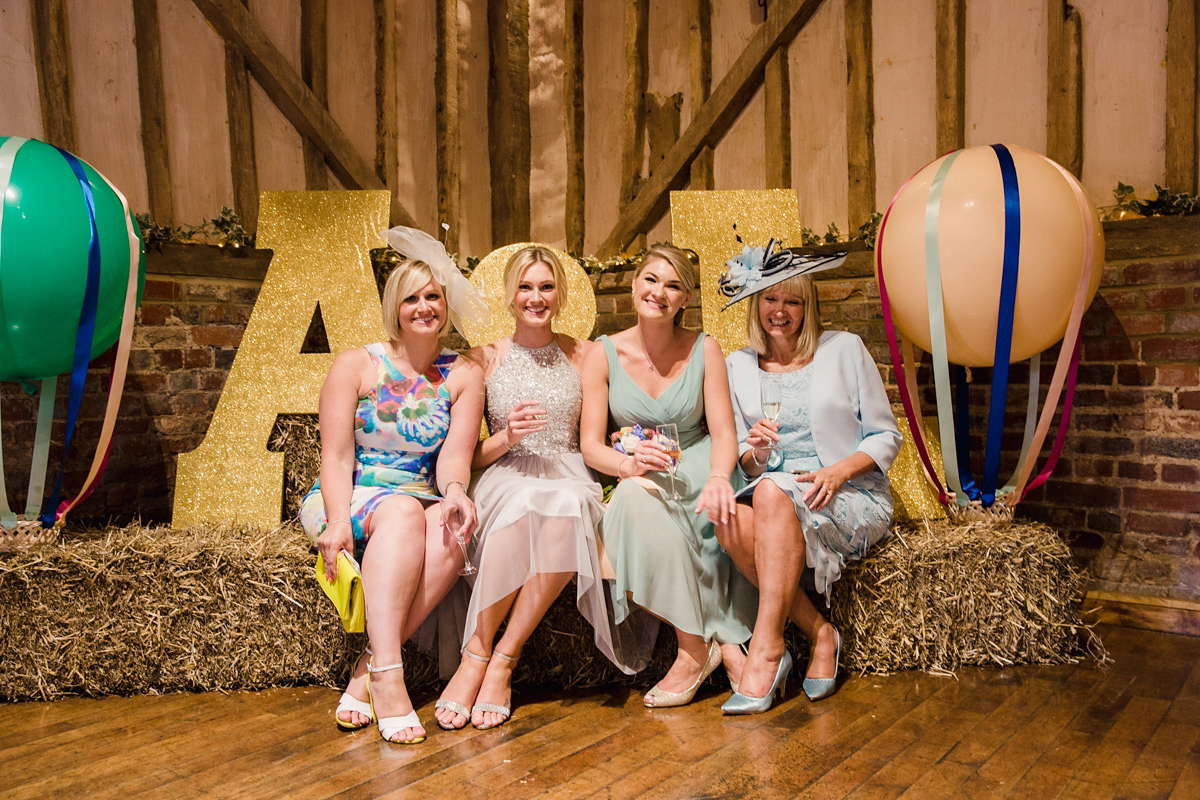 "We used a few suppliers to supplement a large amount of DIY décor. Thankfully the lovely ladies at Bubblegum Balloons were willing to take on my balloon experiment, which involved me attaching long lengths of satin ribbon to wicker baskets that their team then attached to their giant balloons to create huge hot air balloons. In particular these looked incredible in the ceremony barn. They also provided all the balloons for our 'Up'-style photo booth."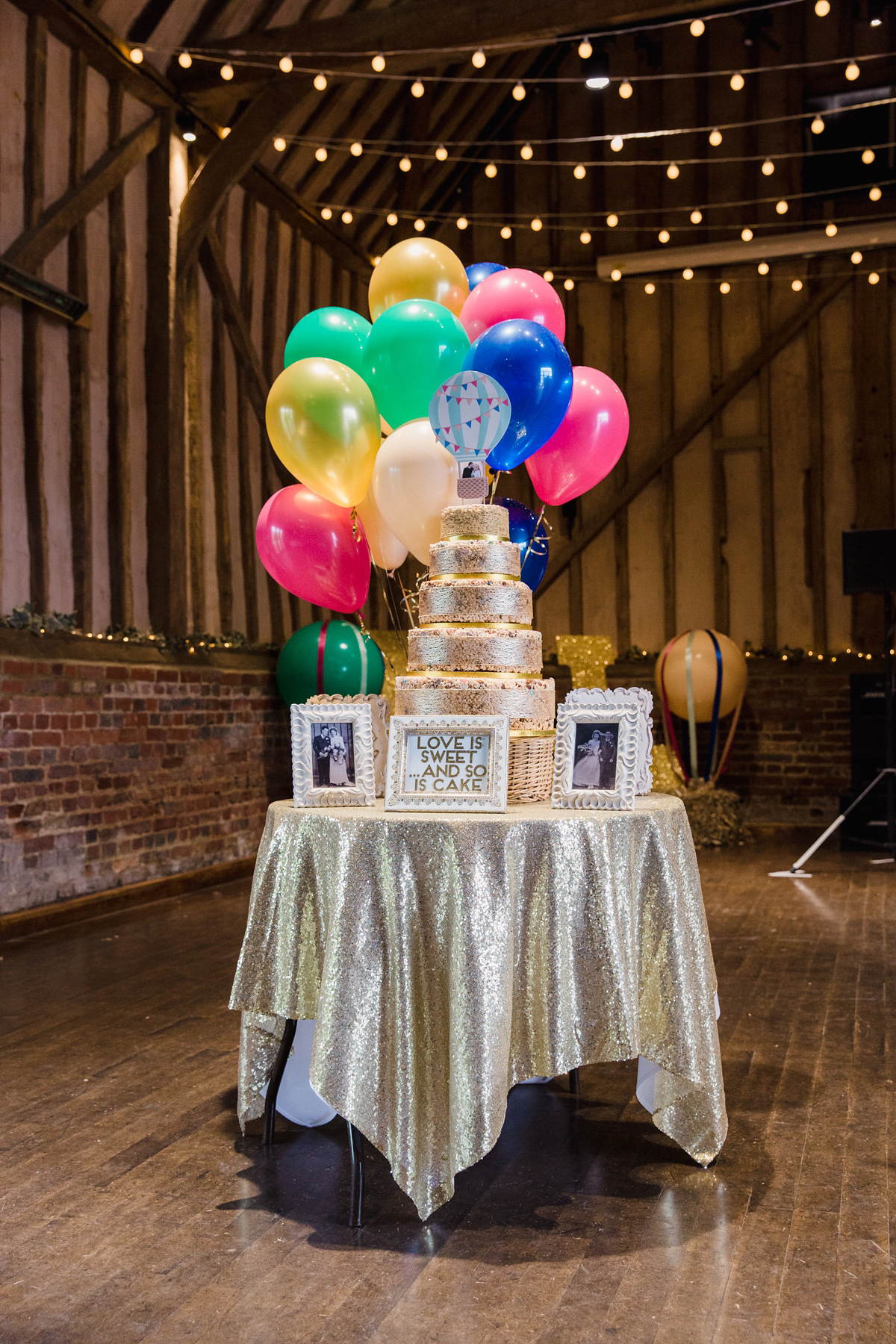 "The rest of the entertainment we put on throughout the day was crafted by us. This included a food and travel quiz completed during the starters with medals for the winning team, then an 'Up'-style hot air balloon photo booth with hats from around the world, a post card guest book and a bucket list."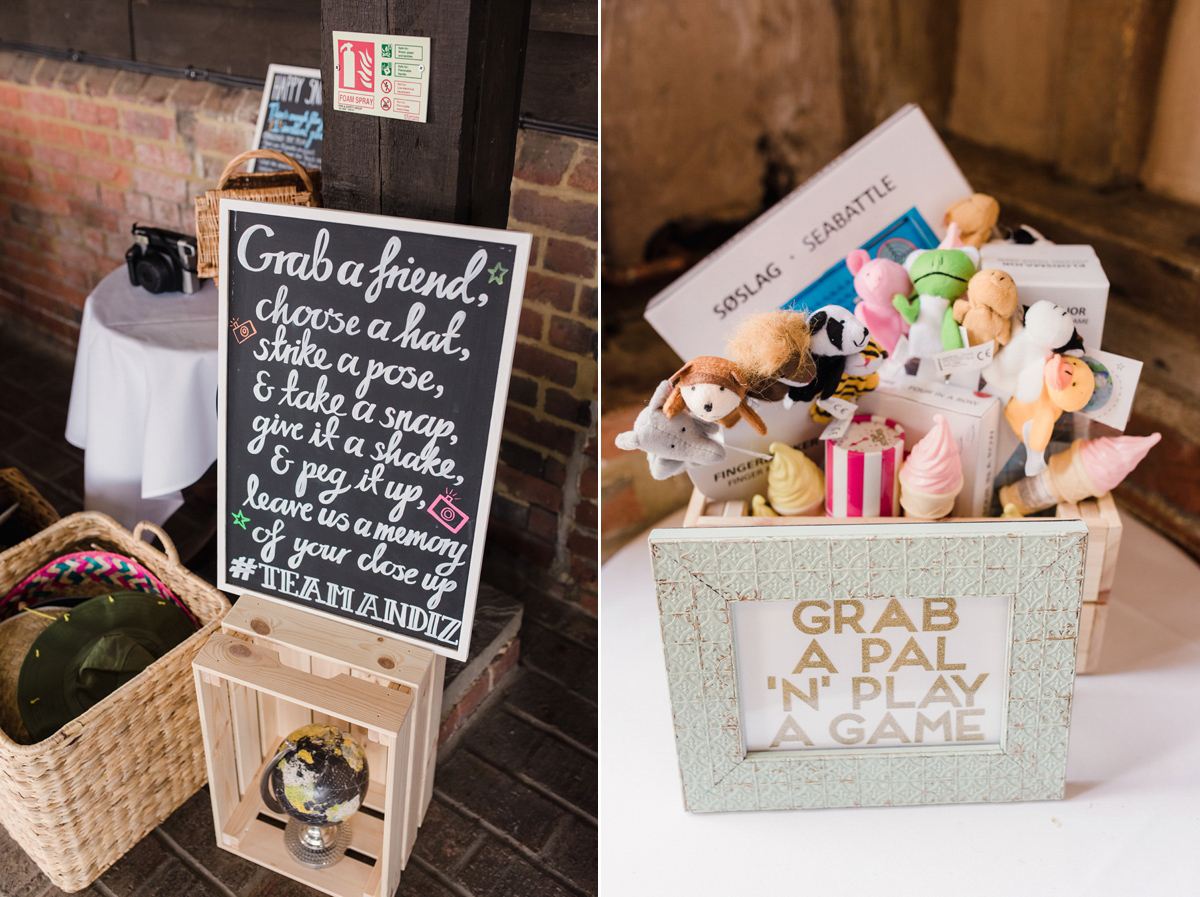 "The production line of decorations started in earnest around 9 months before the wedding, and I'm so glad we did start then because I'm not sure we would have finished otherwise. Our guests were blown away by the detail and personalisation of the day, which pleased me so much. Even Andy couldn't stop expressing how amazed he was that all the things that had been sitting in boxes in our flat and my parents house looked so fantastic together now they were strung up and laid out. My vision had paid off."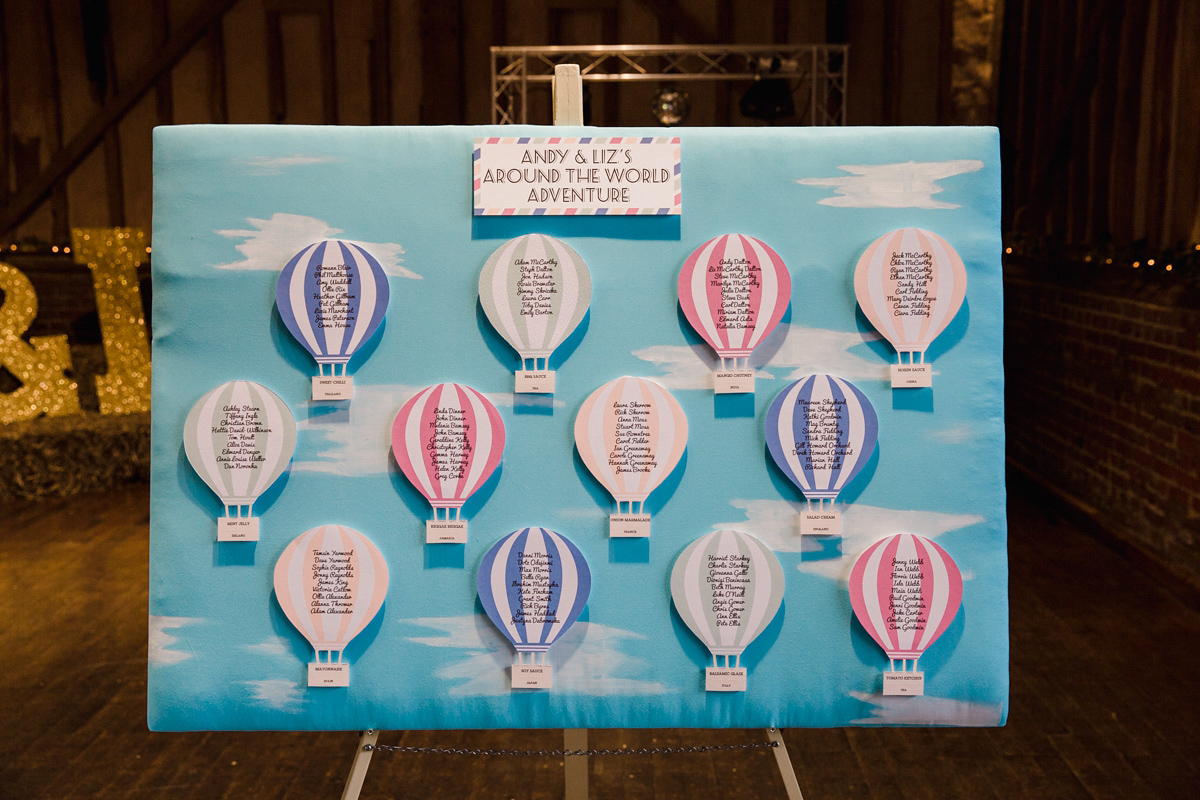 "Our catering company was Heritage Venues who run Lillibrooke Manor, provided the catering. They have a huge range of food options from BBQs to pies to afternoon teas. We opted for a traditional three course meal but gave our food for the whole day a little twist by opting for light summer dishes from around the world to keep in with our theme. This led to us having a Chinese-inspired duck starter, a Moroccan lamb main, a French dessert trio and a Greek evening buffet of skewers, pita and tzatziki, which we nicknamed 'The Souvlaki Station'.
Our guests were extremely complimentary of the food – I just wish I had more of an appetite on the day to eat it all but unfortunately adrenaline had taken over and it didn't take much to make me feel full."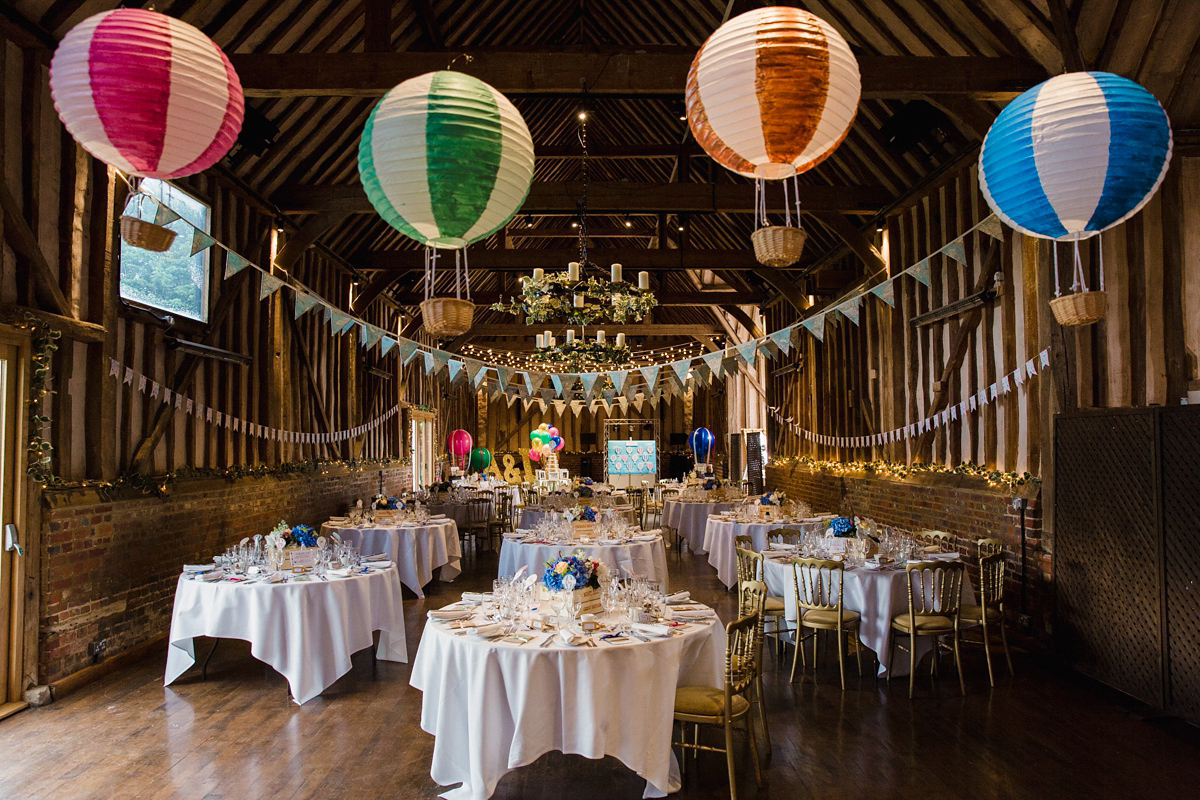 "Keeping with the travel theme, and wanting something that guests could easily slip into their pockets or clutch bags to take home, we decided luggage tags would be fun. Trying to find 120 good quality but economical leather tags was a challenge though. Luckily after extensive research, my Dad found a Florida-based company called Porter Leather on eBay who made escort tags aimed at the American market. We bought tan leather for the men and a pearlised white for the ladies, and made personalised inserts to go into them thanking our guests for joining us to celebrate."
"One of our biggest musts was that the dancefloor was full all evening, and so when we came across Stick It On and found out more about what they did we were really excited. The DJ starts the evening off, but after your first dance you take to the decks followed by your guests – who have applied to DJ for 15 minutes with their top three floor fillers – to keep the party thumping. It was one of the best decisions we made as so many friends and family stayed up dancing much longer than they normally would to see their favourite people play their favourite tunes. This is the next step to asking guests for a song request, and well worth it."
"Whilst buying props for our photo booth I tried on a fake flower crown and realised I really wanted a fresh one to wear in the evening, because when else are you going to.? Andrea at Sonning Flowers made me one up in colours matching the rest of the flowers, with the tie made of the mint green used on my bouquet. I loved it so much I didn't want to take it off at the end of the night."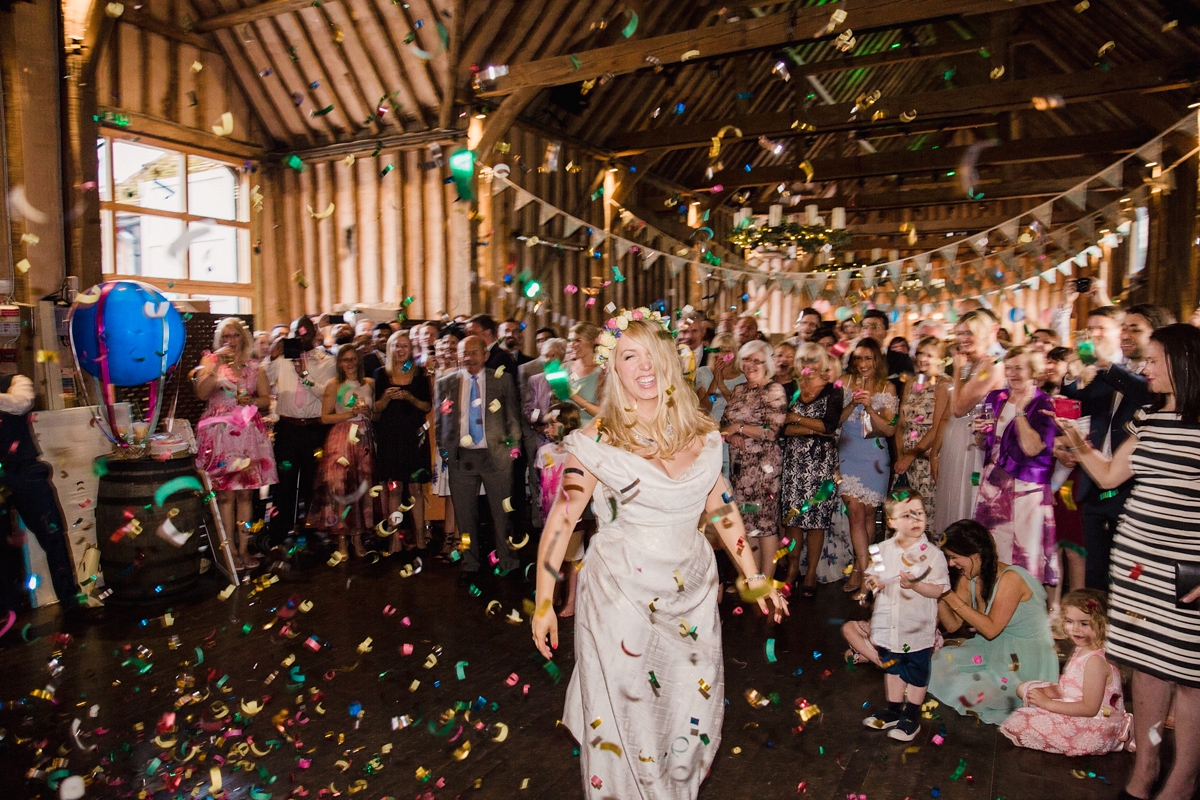 "We'd never had a specific 'song' but we like a lot of upbeat pop, soul and dance music so a slow ballad was out of the question. We wanted something timeless and so opted for Nat King Cole's 'Let There Be Love' as it's twinkly, has wonderful lyrics, feels good and was short enough to be able to learn a routine to."
"We had four 90-minute lessons with a great choreographer from Start The Dance in the couple of months leading up to the wedding, which gave us the confidence to twirl around for the full two and half minutes with big moments for our groomsmen to let off confetti cannons to. We've adopted it as 'our song' now and are determined to remember the moves for years to come."
Words of Wedded Wisdom
"I set myself high expectations for the day, from the décor to the entertainment to the fashion. I knew the detail and volume would be stressful but I had been dreaming of this day for so long. Then I had a few people – some guests, some not – ask me if 'all of it was necessary'. The honest answer is no, severe arm ache from painting paper lanterns and getting stiff fingers from repetitive scalpel action is not necessary. However, if you want something and love the idea of it, don't let anyone rain on your parade. Looking around on the day and seeing my vision come to life and our guests admiring the personal touches made me so happy, which made Andy happy and which made our parents happy.
If you see something you love and you're still thinking about it the following week – and you can afford it – just book it or buy it. Searching for 'just another hour' on Google when choosing your suppliers just in case a better option than the brilliant one in front of you is wasted time and energy. Similarly, things in shops and online sell out. I bought my hot air balloon handbag just in time, my online satin ribbon supplier went out of business and BHS where we got the groomsmens' suits from went bust.
It is absolutely fine and normal to feel overwhelmed and have wobbles in the build up to the day. There is a lot to do and organise and you will grow sick of people asking you 'Is everything sorted' rather than 'How are you feeling today?' when clearly your to do list has all those little niggly bits and bobs on it. Do try and relax where possible, but the best thing I found was just to talk about it and let it out. So many other people around you will have been through the same thing or something similar and it is so cathartic to share this. After not sleeping on the second night of my hen do, following a panic attack that evening about the looming wedding day and everything that needed to be finished, my friends rallied around me and made the load feel so much lighter.
Having everyone you love together is the most important thing over the fancier things in life. We had initially looked to book an independent boutique nearby for our family and wedding party to stay at, which would have meant beautiful surroundings for getting ready, but most in the area were booked out for weddings themselves. The Holiday Inn Windsor and Maidenhead was a four-minute drive from Lillibrooke Manor and was our only option really as we wanted to stay the night before, to set up the venue on the morning of the wedding, as well as the big day itself.
"We booked all the suites in the hotel and our guests booked another 50 rooms or so as the prices were so reasonable. While the bridal suite wasn't the most picturesque room you'll have ever seen, I would sacrifice sumptuous surroundings any day to have over 100 guests stay up drinking, chatting and giggling with us into the early hours and then cheer us into breakfast the next morning as a married couple.
In hindsight, hiring a wedding planner for the day to hand over to might have been a good idea as our parents, Andy and the groomsmen plus family friends were running around on the morning of the wedding putting on the finishing touches together and that didn't leave them with a leisurely morning to get ready. We couldn't have done it without them or the event management team at Lillibrooke, led by the fantastic Alys."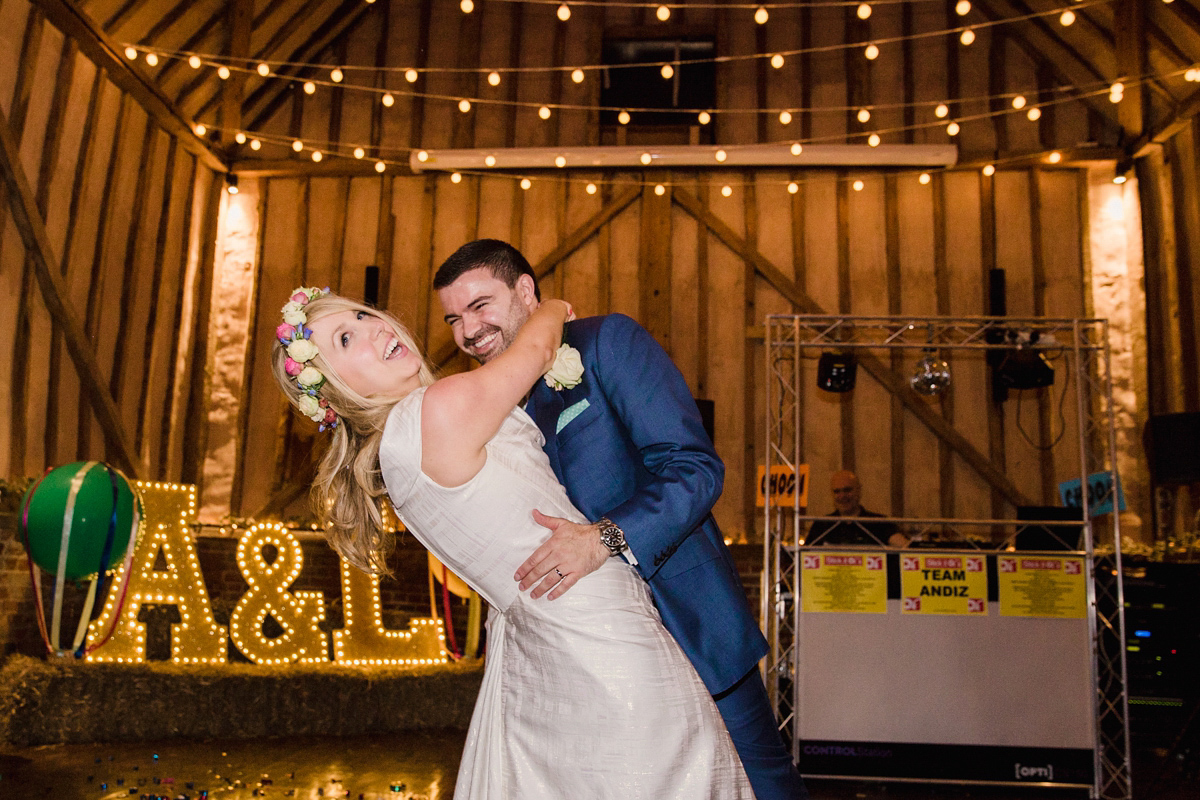 My huge love and thanks to you Liz for sharing so much fantastic information to inspire and inform our readers! You look sensational!
Thanks also to our brilliant Little Book For Brides member, photographer Faye Cornhill for so kindly sharing her work. We love Faye's photography and are proud to recommend her as a supplier. You can see more of Faye's weddings here on Love My Dress.
Love Annabel x